By now, we are no strangers to the 8 to 10 hour bus rides. Our first experience occurred in Nepal, then India, and now that we are in Cambodia, we take long distance buses much more frequently than we really want to.
When traveling around the world for a year, costs have to be cut somehow, and where better than when traveling from city to city. Sure, we could spend $75 to $100 per person to fly between cities, but it is hard to justify that expense compared to $8 per price person for a bus ride. It would be great to fly right to the next place, but what is the fun it that? By traveling overland we get to see the local way of life, what most fast pace travelers miss by taking the plane.
What is Bus Travel in Southeast Asia Really Like?
Some bus trips have been OK, some have been downright miserable.  By now we have learned to avoid the buses that stop for locals.  These buses take you far off the quickest route, stopping a frustrating number of times to drop off and pick up local people who are going a much shorter distance.
In a lot of places the road is bad condition, causing us to bump and swerve for hours on end.  Usually there is no bathroom on board, which in my opinion is a very good thing, but this makes us take the obligatory fifteen minute stop every few hours to keep everyone on board feeling comfortable and happy.  We still have many bus rides in our future, but here is a typical day for us when traveling from one city to another.
A Typical Day Traveling by Bus
Departing Siem Reap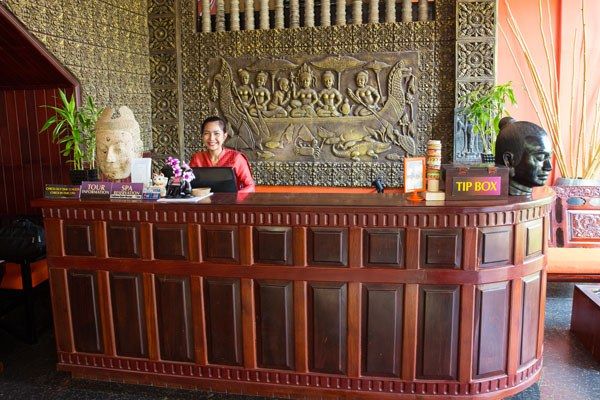 On January 25th, we traveled by bus from Siem Reap to Phnom Penh, Cambodia.  This journey was 320 km (200 miles).
Having had numerous experiences so far, we booked today's journey with a good company, Giant Ibis Bus Service.  We were looking at a six and a half hour journey to Phnom Penh.
The four of us were picked up at 7:45 am from our hotel, the Golden Butterfly Villa, a place that we loved and one of our favorite hotels of the trip.  This was a place where the hotel staff knew us by first name and excelled in customer service.  Kara gave the hotel staff hugs goodbye and we were all so sad to be leaving, but, like always, we were excited to be moving on to another new place.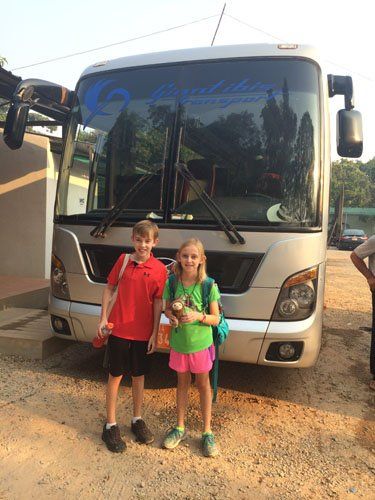 We arrived at the Giant Ibis bus station in Siem Reap at 8 am and waited in their outdoor waiting area until our 8:45 departure.   Why we had to arrive so early I have no idea.  Still, we left fifteen minutes late, crawling through Siem Reap's streets at 9 am.
The bus was very nice.  It was clean and comfortable, the air conditioner actually worked, we even had power outlets and a TV to watch.  What we have learned is that no matter how nice the bus is, if the roads are in disrepair (which these were!), we would still have a somewhat unpleasant journey.
On the Road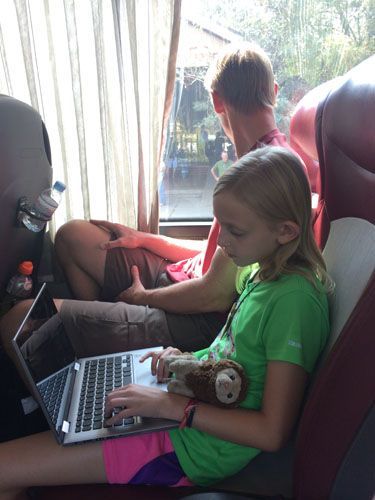 The roads for the first half of the trip resembled those in Botswana.  Asphalt that was once wide enough for two lanes of traffic was now disintegrating at the edges, narrowing the roads down to almost a single paved lane in some places.  At times it was hard for the traffic in both directions to pass.  Sometimes we would have to pull off the road onto the bumpy dirt shoulder to let traffic pass.
Along the roads were many open shops, lots of people walking or traveling by bicycle, and we saw house after house on stilts.  The land here was completely flat, covered with rice fields, dotted by palm trees and people's houses.
Pitstops Along the Way
Our bus swerved and bumped along the roads, making decent time.  We stopped for a brief bathroom break and later for lunch at noon.  Here we stopped at a typical roadside rest stop…semi clean bathrooms and a small restaurant serving a mix of western and local food.  Like always, we had brought our own food:  dried fruit, bread and Nutella, and cookies, and made a lunch out of this.
Part 2 of Our Journey
The afternoon drive took a lot longer.  A huge portion of the road was under construction.  In sections the asphalt was torn up so we were riding on dirt and gravel.  Orange dust was being kicked up by all of the traffic, coating the bus, trees, houses, and people with a fine layer of dirt.  We were now making much slower progress, but in a year or two, this will be a much nicer journey!!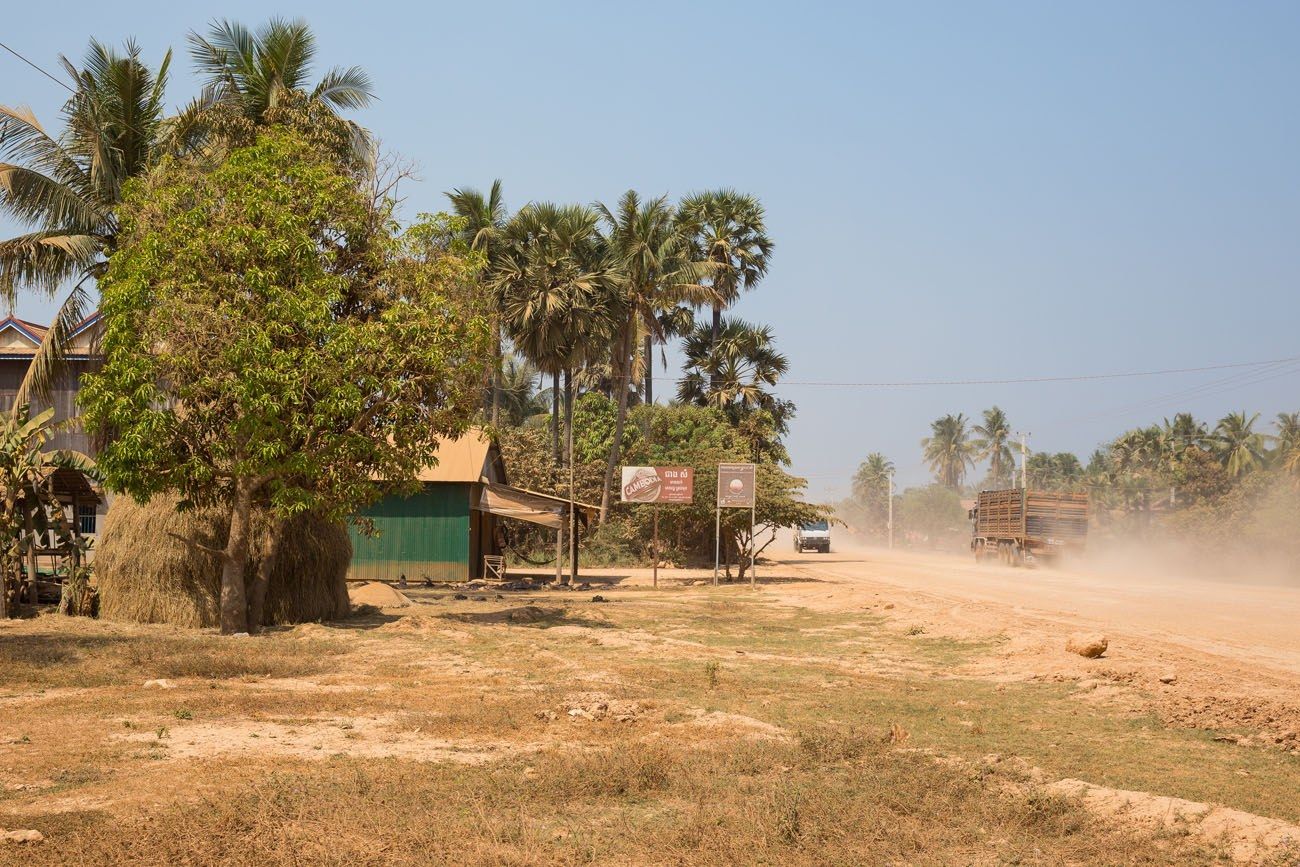 While on the bus, we spent our time doing homeschooling, reading our Kindles, doing future trip planning, and using our computers.  Having the power outlets was a huge plus…both Tyler and Kara could play games on their computers while the hours passed by.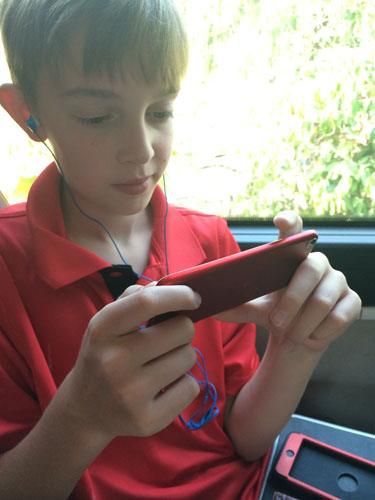 Arriving in Phnom Penh
Eventually we arrived in Phnom Penh, but the going got even slower here.  The narrow streets were lined with shops and very rickety houses.  People were everywhere and bikes and tuk-tuks were always in the way of our giant silver bus.  We saw more poverty than I was expecting, especially now that we had arrived in the capital of Cambodia.
Things did not look much better once we arrived in the heart of Phnom Penh.  The roads were paved and there were some modern buildings, but it was crowded and very dirty.  We arrived at the bus station at 4:30 pm, ending our seven and a half hour journey by bus.  We were one hour late arriving into Phnom Penh, also not unusual for bus travel in Southeast Asia.
First Impression of Phnom Penh
Phnom Penh was a lot different than I was expecting.  After being in very touristy Siem Reap, I was not expecting the amount of dirt, trash, and poverty that we saw here.  It was also very crowded, reminiscent of India. Since it was only a short distance from the bus station to our hotel, Tim and I decided that we should walk. We all really needed the exercise after sitting all day on the bus.
I thought that walking would get easier once we exited the sea of tuk-tuks at the bus station, but no, now we were walking down a crazy Phnom Penh street. There were sidewalks, but we couldn't walk down them since they were being used as parking spaces for food carts and scooters. So, that left us walking down the street.
What craziness! We were dodging cars, scooters, bicycles, men pushing carts full of coconuts, mobile food carts, and other pedestrians. It was so hard to walk and not made any easier by carrying our backpacks.
Meanhwhile, we were constantly refusing the requests from tuk tuk drivers to take us to the hotel. Hiring a tuk tuk would have only cost us $1 or $2 but this turned out to be much more interesting!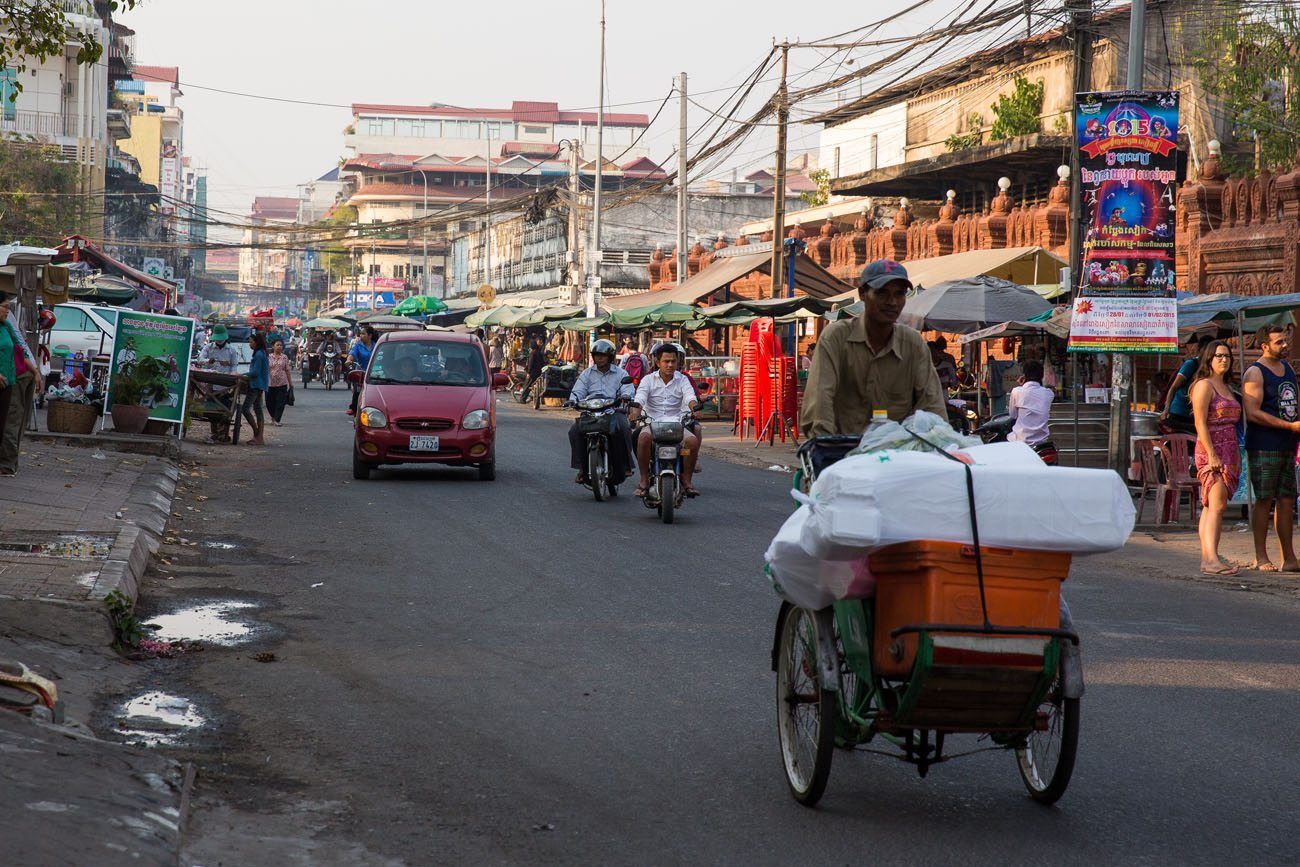 As we walked down the street, our loads started feeling heavier, we were working up a sweat, and Tyler was getting very aggravated doing this, as I had made his backpack heavier than normal.
I also think that the crazy streets are more overwhelming for Tyler and Kara than for Tim and me. Tim and I are fascinated with seeing new places and new people, sometimes the crazier the better. For both of us, even with all of its insanity, this walk was almost enjoyable. For Tyler and Kara, it was torture.
It was only a twelve minute walk to our hotel, the Artist Guesthouse, our home for the next three nights. Our hotel is named for the art school across the street and the shops lining the road all selling identical oil paintings of Angkor Wat. Fortunately, it was a little quieter here than on the street that we just walked down.
We checked in and lugged our backpacks up three flights of stairs to our very spacious room. We had two double beds so Tyler and Kara would be sharing a bed again. Amazingly, they have not had to share a bed since Calcutta, India. How did we manage to work that out?
We also had a balcony and could look out over Phnom Penh. This was not hard to do from our fourth floor balcony, as high rise buildings are few and far between here. We were staying very close to the Royal Palace but were unable to see it because of the trees surrounding it. We could see a homeless family sleeping on blankets out in front of our hotel.
Dinner in Phnom Penh
After getting settled, unpacking in the 85th hotel of the trip (a rough estimate), it was time for dinner. We walked a short distance to Cocina Cartel, a Mexican/Cuban restaurant. This restaurant was similar to Chipotle (a place we have not seen since Maryland and miss SO MUCH; I think Kara fantasizes about eating at Chipotle now). We picked our meat, chose between tacos, burrito, quesadillas, or a burrito bowl, and picked our toppings. It was so good to have quality Mexican food again.
Who knew, Mexican in Phnom Penh that tasted excellent!
Our day ended with a walk back to our hotel and a little time in front of the TV. We actually have a FOX Movies station, a nice perk. It's funny while traveling, how some things are the same and some things are different than at home. Today we took a long bus ride on rutted roads through rice paddies, followed by Mexican for dinner and a movie on the TV.
Traveling is awesome, at times unexpected, sometimes unpleasant, but never, ever boring.
---
More Information on Cambodia:
---
You May Also Like: