Our travels in New Zealand started in Queenstown on the South Island. April in New Zealand is autumn…chilly nights, changing leaves, cooler temperatures. As the weather got colder, we slowly moved north, trying to stay ahead of the cooler temperatures. Over the course of two weeks we gradually moved north into slightly warmer temperatures, traveling from Queenstown up to Wanaka and Aoraki Mt Cook, to the Banks Peninsula and Christchurch, through Kaikoura, and finally to Abel Tasman and the Marlborough wine region in the northernmost portion of the South Island.
With our travels northward also came almost two steady days of rain. One thing we have learned while traveling through New Zealand is that the weather can be very unpredictable. One minute there is not a cloud in the sky and just an hour later we would be standing under a blanket of clouds.
We have also learned that when it rains, it really rains. For one solid day while in Abel Tasman we were stuck indoors while the area received a steady, torrential rainfall. It was incredible how much it rained. Tyler and Kara weren't complaining…we found a way to have fun by watching the new Avengers movie at the tiny Motueka Theater that served the best popcorn ever!
Abel Tasman National Park
After our day of three inches of torrential rainfall we awoke to crystal clear skies. Finally, we could get out and tour Abel Tasman National Park.
Our original plan of the kayaking day tour along the coast got washed away with yesterday's rainfall but we were still able to find something fun to do. We booked a tour with Wilson's, having a boat ferry us along the coastline of Abel Tasman National Park. The scenery from the boat was nice but our views got even better once we got out on our own. From Medland's Beach we hiked a portion of the Abel Tasman Track along the coastline to Anchorage Beach.
For most of the time we were hiking through a temperate rainforest. The ferns and the calls of the birds had us feeling like we were in the movie "Jurassic Park." Even after receiving so much rain the day before, the trails were amazingly dry. The woods were damp and cool and very peaceful. Occasionally, we would have awesome views of the beaches and coastline below.
About two hours into our walk we approached Torrent Bay. A portion of Torrent Bay is an estuary that is covered with water during high tide and almost completely dry during low tide. We arrived during low tide, giving us the option to walk directly across the estuary. This shortened our walk (which Tyler and Kara were happy about) and gave us a change in scenery. Walking along the forested trail was nice but the monotony of it was boring Tyler and Kara.
We also learned that New Zealand may not have much in the way of animal life or even snakes, but there are enormous bees here. Several times giant bumblebees buzzed around us. They were really attracted to Kara's bright blue shirt and on more than one occasion they would land on her, her head, and even got caught in her hair. Kara is not afraid of bees but after her numerous close encounters with these bees she was getting a little jumpy every time one approached. I don't blame her, I would not want a bee stuck in my hair, either!
Our walk along the Abel Tasman Track concluded at Anchorage Beach, where we were picked up once again by Wilson's and transported back to Kaiteriteri. From here we headed east to our final stop on the South Island, the Marlborough wine region.
Marlborough Wine Region
The Marlborough wine region is New Zealand's premier wine region. This area is famous for its white wines, mostly Sauvignon Blancs, but also produces some lighter reds as well. We took a tour by bicycle, fun for the entire family. I was the one most excited for today…it's hard to beat cycling and wine tasting!! Add in the fall colors and more amazing New Zealand beauty and it's a perfect day.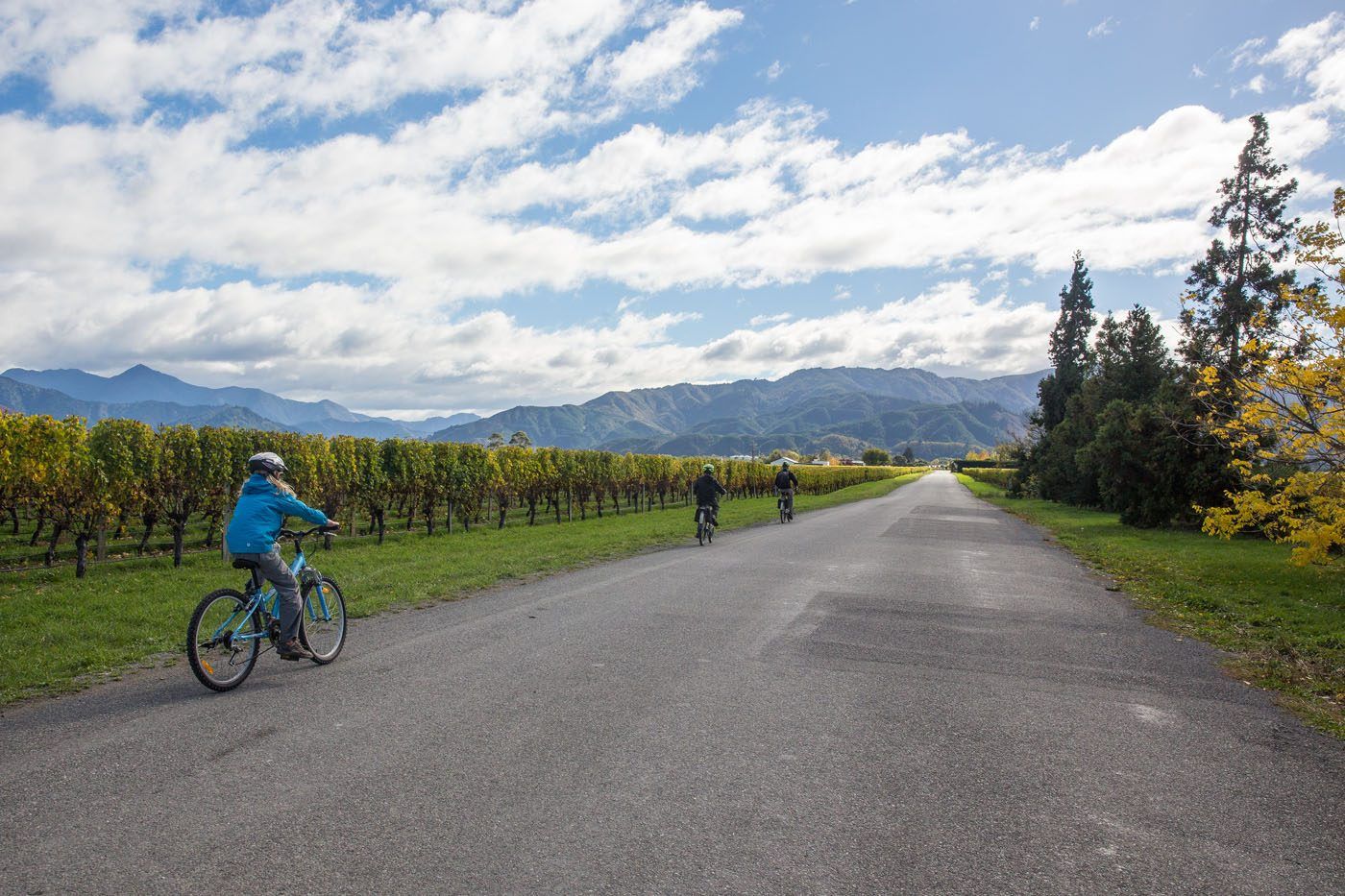 I like to joke around with Tyler and Kara that they learned the most important lesson of the trip today…how wine is made. We took a tour of the Hans Herzog winery and got an introduction into how to make good wine. We just missed grape picking by two weeks…bummer! That would have been really neat to see. Now the grapes have been pressed and the juice is now sitting in barrels, slowly fermenting and transforming from grape juice into delicious wine.
After our tour of the Hans Herzog winery the wine tastings began. The four of us visited five different wineries. While Tim and I tasted Sauvignon Blancs, Pinot Gris, Chenin Blancs, Pinot Noirs, and even a few Montepulcianos, Tyler and Kara would find a comfy, cozy spot by the fire and read their kindles. In between wine tastings it was back on our bikes for a short ride to the next winery, fun for all.
The wine tour was one of our highlights of visiting New Zealand. Tim and I now have several bottles of wine to drink before moving onto Australia, not a bad problem to have. We have to drink them now; neither of us wants to find out how well bottles of wine travel in backpacks on an airplane.
Since our visit in 2015, Tim and I returned to the Marlborough wine region. In our Guide to the Marlborough Wine Region, we list recommended wineries and restaurants and have suggestions on how to plan your time.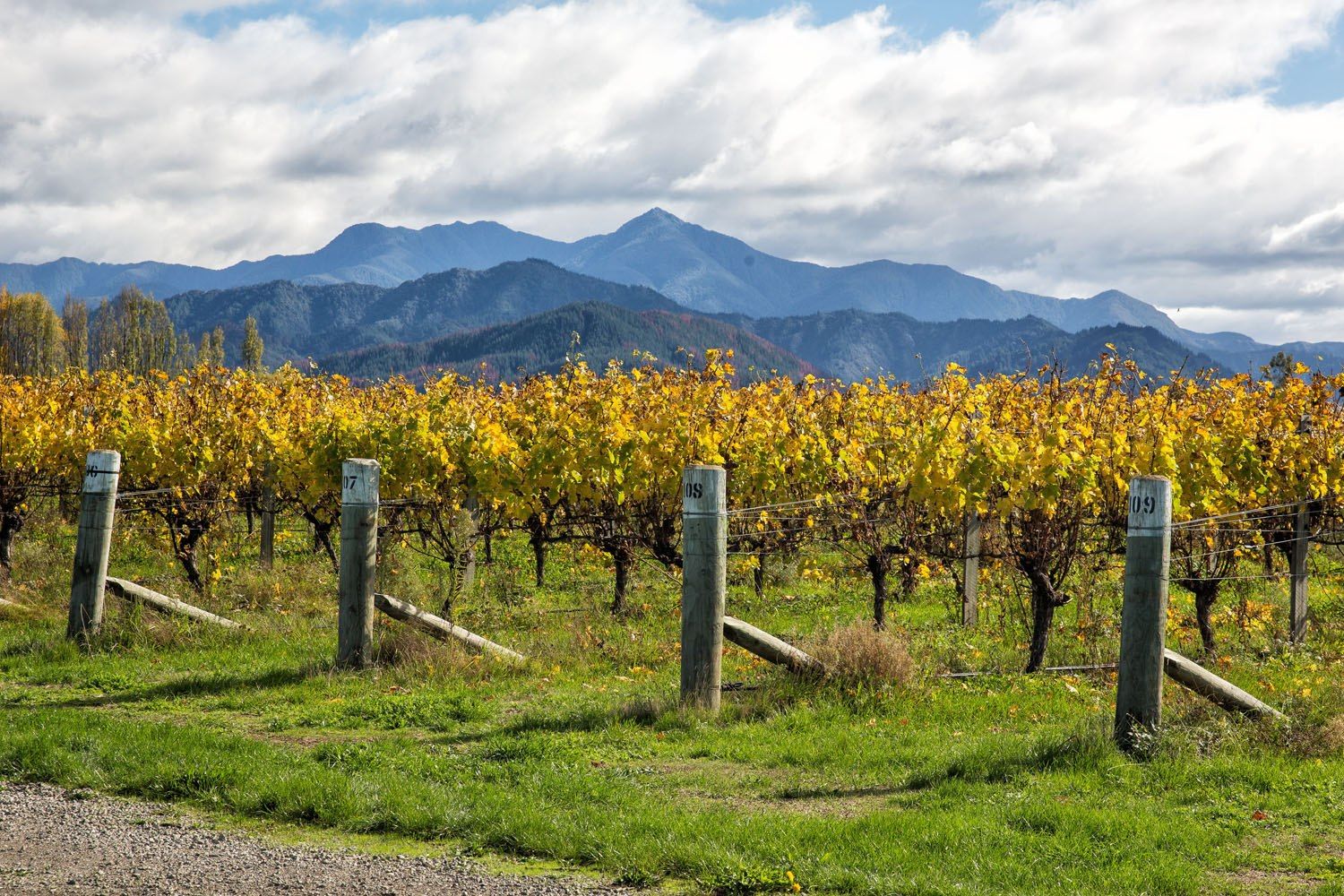 From Marlborough it was just a short drive to Picton. Here we took the Interislander Ferry across the Cook Strait, traveling from the South Island to the North Island. The trip took almost three hours and it was here that we bid farewell to the South Island of New Zealand, a place that all four of us have totally fallen in love with. I have no doubt that we will be back someday, but still it was sad to see it drift away as we traveled north towards Wellington and the North Island.
Wellington, New Zealand
This brings us to Wellington, our first stop on the North Island. Wellington is the capital of New Zealand and a very hip, vibrant city. We loved it here, too. The theme continues.
For those who may not know, New Zealand was where the Lord of the Rings (LoTR) and Hobbit movies were filmed. The variety of landscapes in New Zealand was the basis for Middle Earth. Lord of the Rings fans from all over the world flock to New Zealand to take tours of the country, seeing the different places where many of the scenes were filmed. The four of us are not big LoTR fans but we do like the movies.
It's hard not to become a fan while traveling through New Zealand. We found ourselves watching the LoTR trilogy in our hotel rooms at night, looking up where various scenes were filmed, and we even bought a guide on where to see some of the more popular filming locations.
Tyler, who is the biggest LoTR fan of our family, could tell us who the Nazgul were, what Isengard was, and various facts that any fan of the movies would know. As we drove through New Zealand, we stopped and looked at various filming locations, realizing that a lot of digital effects were added to the movie to make a basic field or mountain look much more foreboding.
Even Wellington was used as a filming location. Mt Victoria, a small park located in the heart of the city, was used to film several scenes in the first LoTR movie. Using our guide, we thought it would be easy to find the filming locations but nothing is as easy as it should be. After wandering along dirt trails amidst tall pine trees, a man out for a walk showed us where Frodo and his hobbit friends hid from the Nazgul. A large, manufactured tree was used in the scene which, of course, is no longer here today. Tyler and Kara had fun crouching here, pretending to be hobbits for just a minute or two.
Weta Workshop
Much easier to find was Weta Cave. Weta Workshop is the company that produced the props, costumes, and digital effects for the LoTR and Hobbit movies. Their facilities are open for tours, another highlight for LoTR fans.
While here we learned that they also worked on other popular movies such as Avatar, Narnia, Spiderman, and District 9. Kara now wants a job with Weta, making and designing props. Tyler has interest in digital effects; with his RTW video project and his desire to work with computers this may be perfect for him. Even though this is most likely not where they will end up in life, it is nice to spark some interest in career options that they may not hear about in mainstream life.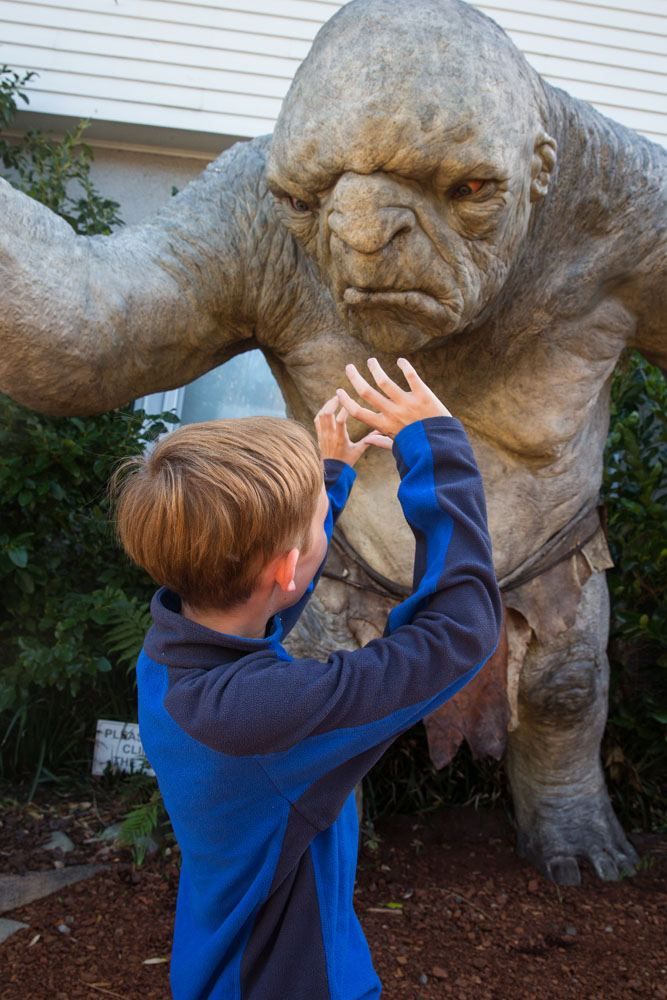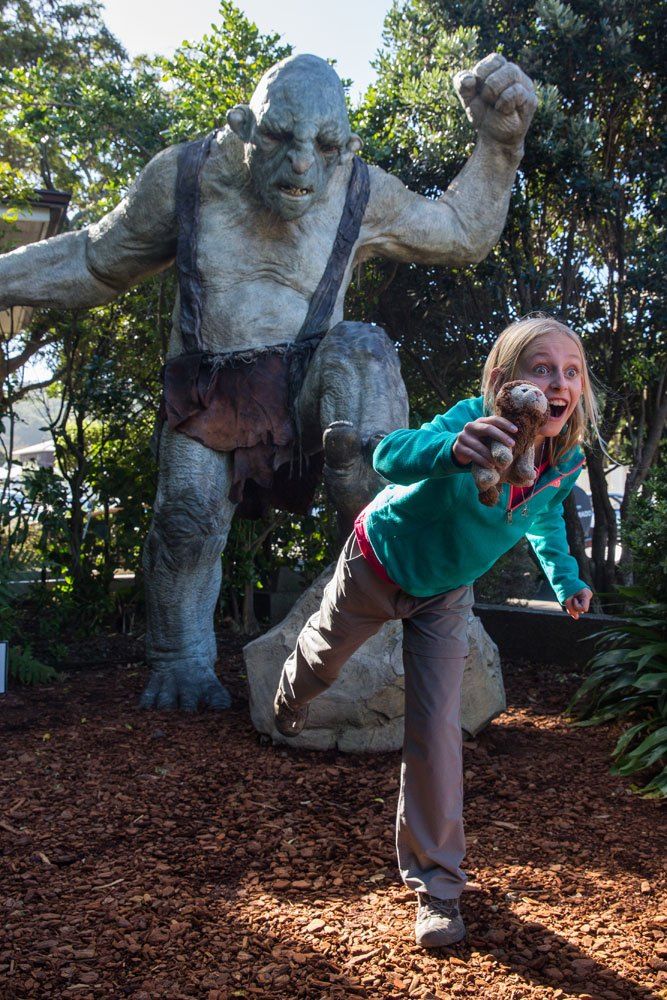 From Wellington we continued to move north, traveling up to Tongariro National Park and Taupo. Our adventures continue here as well as our Middle Earth tour of New Zealand, so stay tuned!
---
More Information about New Zealand
NEW ZEALAND ROAD TRIP: With 3 weeks in New Zealand, visit the highlights on a road trip to the North Island and South Island. If you have less time, you can shorten this itinerary by spending 2 weeks on the South Island.
SOUTH ISLAND: On the South Island of New Zealand, visit Milford Sound and Doubtful Sound, go bungy jumping in Queenstown, hike the Hooker Valley Track, and go on a helicopter flight to see Franz Josef and Fox Glaciers from the sky.
NORTH ISLAND: Top experiences on the North Island include the Tongariro Alpine Crossing (one of the best day hikes in the world), spending a day or two in Auckland, visiting Waiheke Island on a day trip from Auckland, touring Hobbiton, a visit to Taupō, and seeing the glowworms and blackwater rafting in the Waitomo Caves.
NEW ZEALAND WITH KIDS: Put Hobbiton, the movie set for The Shire in The Hobbit and The Lord of the Rings trilogies, on top of your list. Kids will also love The Luge and the jet boat rides in Queenstown, sleeping in a silo, and spending some time on the North Island.
TRAVEL AROUND THE WORLD: Learn more how to plan a trip around the world in our Around the World Travel Guide. You can also read our 13 Month Around the World Itinerary and a recap about our around the world trip.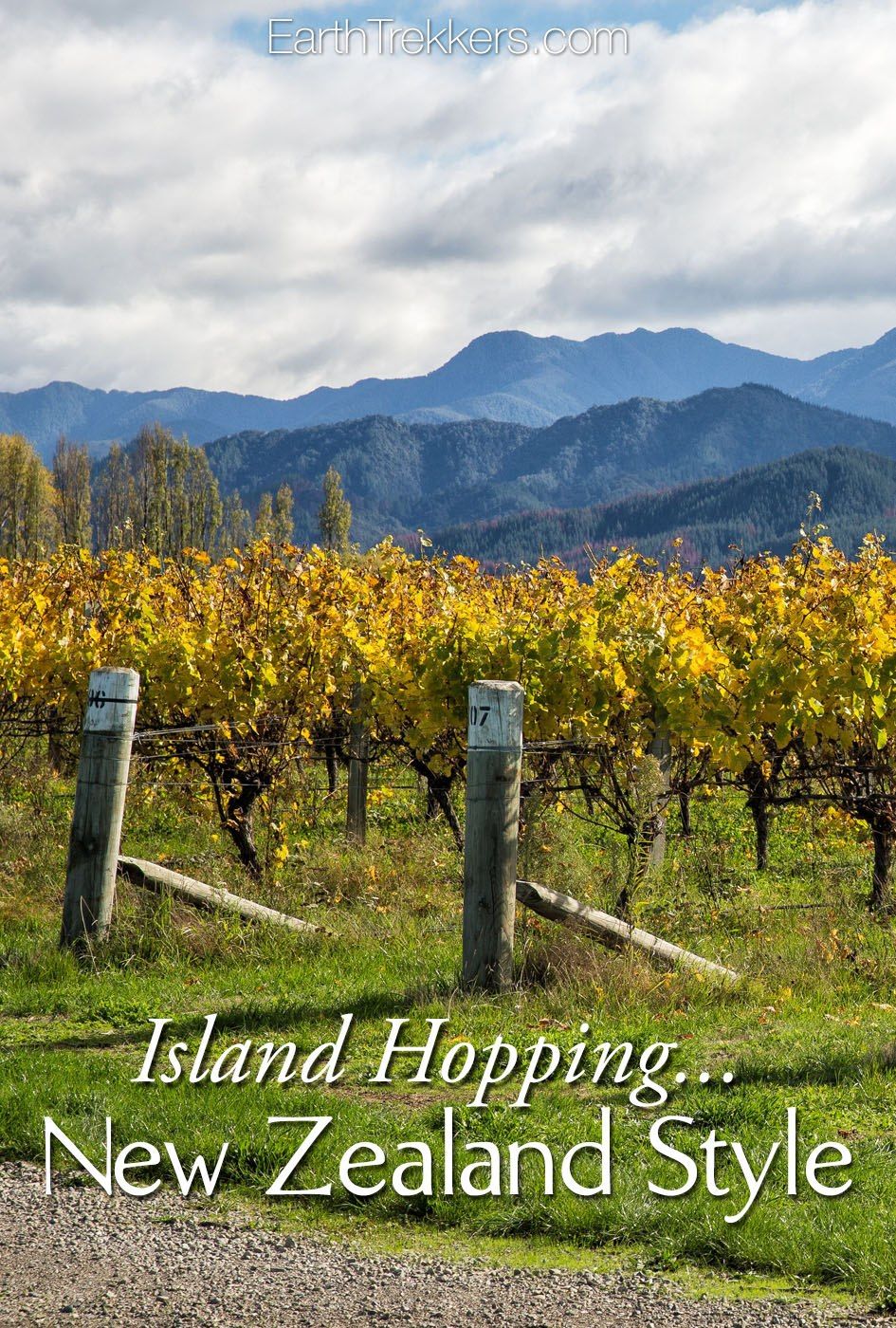 All rights reserved © Earth Trekkers. Republishing this article and/or any of its contents (text, photography, etc.), in whole or in part, is strictly prohibited.