The Isle of Skye is one of Scotland's hottest destinations. Every year, thousands of visitors flock to the island to see its breathtaking scenery, quaint towns, and stunning coastline. So, how do you plan the perfect Isle of Skye itinerary?
Whether you have one, two, or three days (or more, if you are really lucky!), we have great suggestions to help you make the most of your time here. A minimum of two days is ideal. On a map, the Isle of Skye may look small, but there is a lot to do here. Even if you only have a day to spare, you still have enough time to see the best of the island.
Those with three days or more have enough time to cover the majority of the Isle of Skye. Plus, the extra time gives you a better chance of touring the island during pleasant weather. During the summer months, consecutive days of rainy weather are not unusual.
If you do not have a car but want to spend a day on the Isle of Skye, check out the tour options at the end of this article.
Planning Your Isle of Skye Itinerary
For this itinerary you will need a rental car. Yes, it is possible to tour the Isle of Skye by bus, but you will be at the mercy of the bus timetables. Traveling by bus is economical but can waste a lot of precious time. We highly recommend having your own car, particularly if you have limited time.
How to Use This Map: Click the tab in the top left hand corner of the map to view the layers (points of interest and the driving routes). You can click the check marks to hide or show layers. If you click the icons on the map, you can get more information about each point of interest.

If you click the star next to the title of the map, this map will be added to your Google Maps account. To view it on your phone or computer, open Google Maps, click the menu button, go to "Your Places," click Maps, and you will see this map on your list.
1 Day Isle of Skye Itinerary
With only one day on the Isle of Skye, do not miss the Trotternish Loop. This peninsula contains the most popular, most epic scenery on the Isle of Skye.
Most people stay in Portree, the largest town on the Isle of Skye. This town contains the highest concentration of B&B's, hotels, and restaurants. Portree makes an excellent home base for the Isle of Skye.
With only one day, start early to maximize your time. That means getting started by 8:30 am if possible.
Most tour companies and travel guides recommend traveling counterclockwise around the Trotternish Loop. We recommend traveling clockwise, against traffic. It will help minimize crowds at several stops.
Important Note: I recommend packing a picnic lunch to bring with you. In our original itinerary we recommended the Pie in the Skye Cafe for lunch (just before visiting the Old Man of Storr). Unfortunately, the Pie in the Skye Cafe recently closed. On today's drive, there are no convenient places to stop for lunch, which is the reason why we recommend the picnic lunch. You also have the option to have a very late lunch in Portree after visiting the Old Man of Storr, but I doubt you will have enough time to get to Dunvegan Castle before closing time if you plan to also visit this on day 1.
Fairy Glen
The first stop of the day is the mystical Fairy Glen. Often overlooked on the most time limited itineraries, we still think it is worth a stop. Plus, if you get here early enough in the morning, you may get it all to yourself.
The Fairy Glen is a quick visit, easy to hike, and if there is anywhere you could possibly find a fairy on the Isle of Skye, it would be here.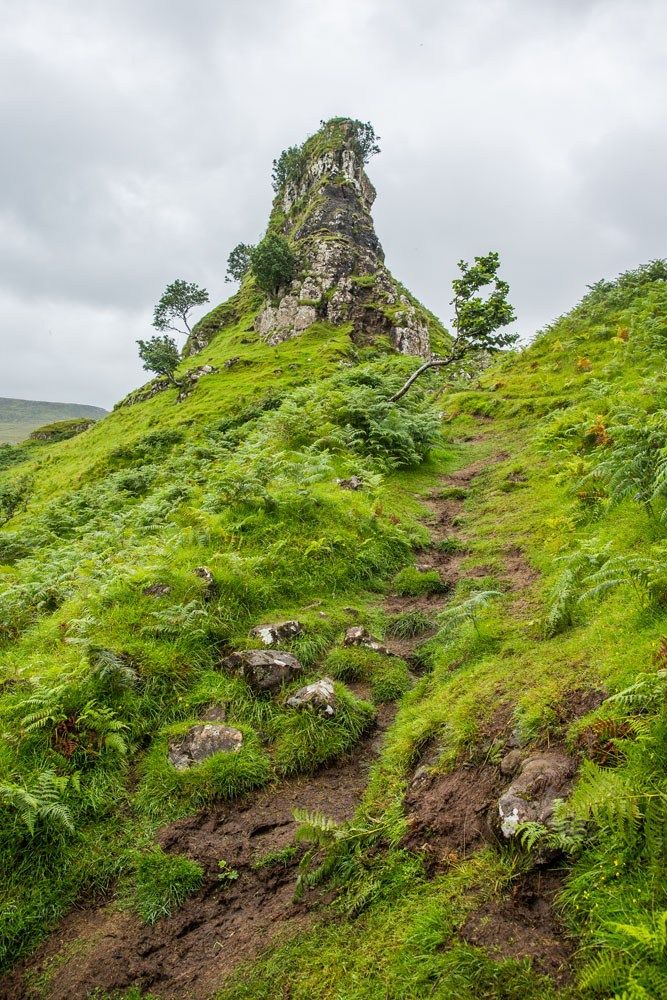 Fairy Glen | Isle of Skye Itinerary
Quiraing
The Quiraing is a gorgeous spot on the Isle of Skye. See it from the car park, follow the hiking trail for ten to fifteen minutes to leave most of the crowds behind, or hike the entire 4.5 mile circuit.
Pro Travel Tip: Travelers with only one day on the Isle of Skye may want to skip the full hike, putting their time into Neist Point and Dunvegan Castle.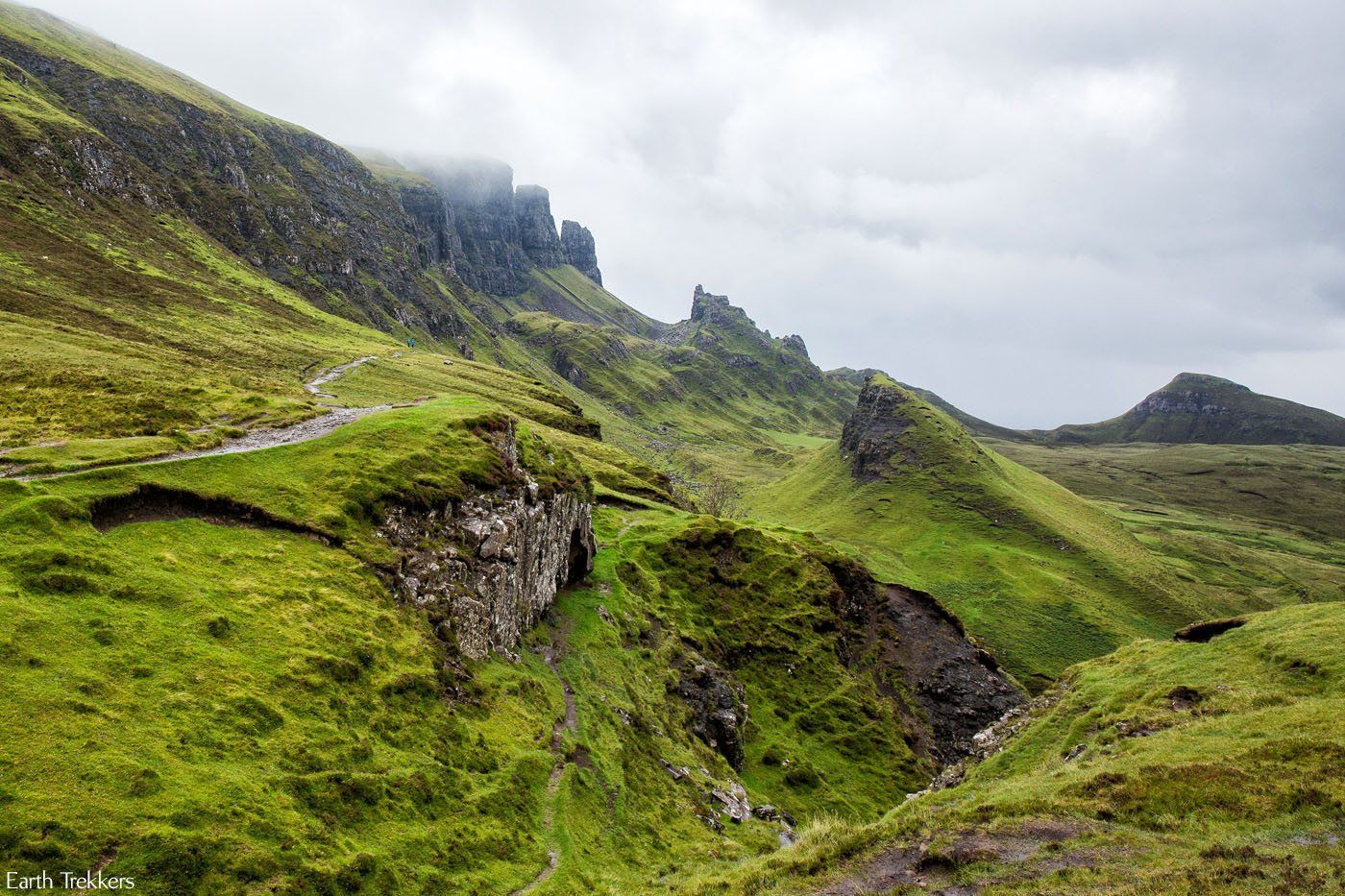 The Quiraing | Isle of Skye Itinerary
Kilt Rock and Mealt Falls
This is the quickest stop of the day and offers epic views along the coastline of the Isle of Skye.
To get here from the Quiraing, continue on A855, heading south past Staffin. 1.6 miles south of Staffin, on A855, there will be a car park, labeled for Kilt Rock and Mealt Falls.
Pro Travel Tip: From the viewpoint, look north to see Mealt Falls and Kilt Rock. If you look south, the scenery is almost as beautiful and you can see Rubha nam Brathairean (Brother's Point) off in the distance. This is your next destination.
Rubha nam Brathairean (Brother's Point)
This is the Isle of Skye's hidden gem. Very few people seem to know about this place, which makes it that much more special. If you like the idea of doing a short, relatively easy hike to stunning coastal scenery, Brother's Point should be #1 on your list of places to see on the Isle of Skye.
Pro Travel Tip: Just do it! For us, Brother's Point was one of the highlights on the Isle of Skye. It is unexpectedly awesome.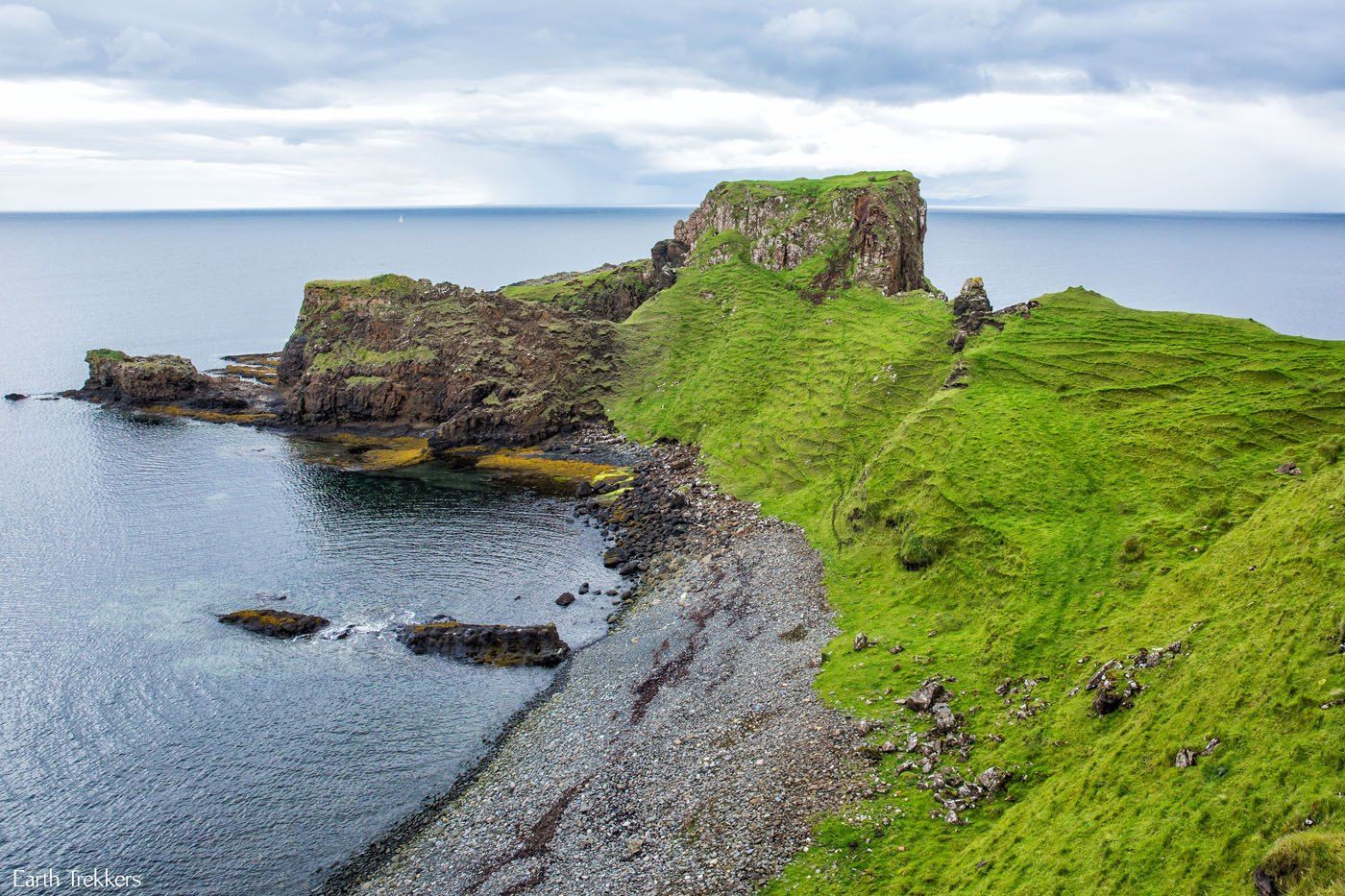 Old Man of Storr
The Old Man of Storr is one of the Isle of Skye's icons. It is on everyone's list of things to see, so expect huge crowds. Even so, it is absolutely worth it.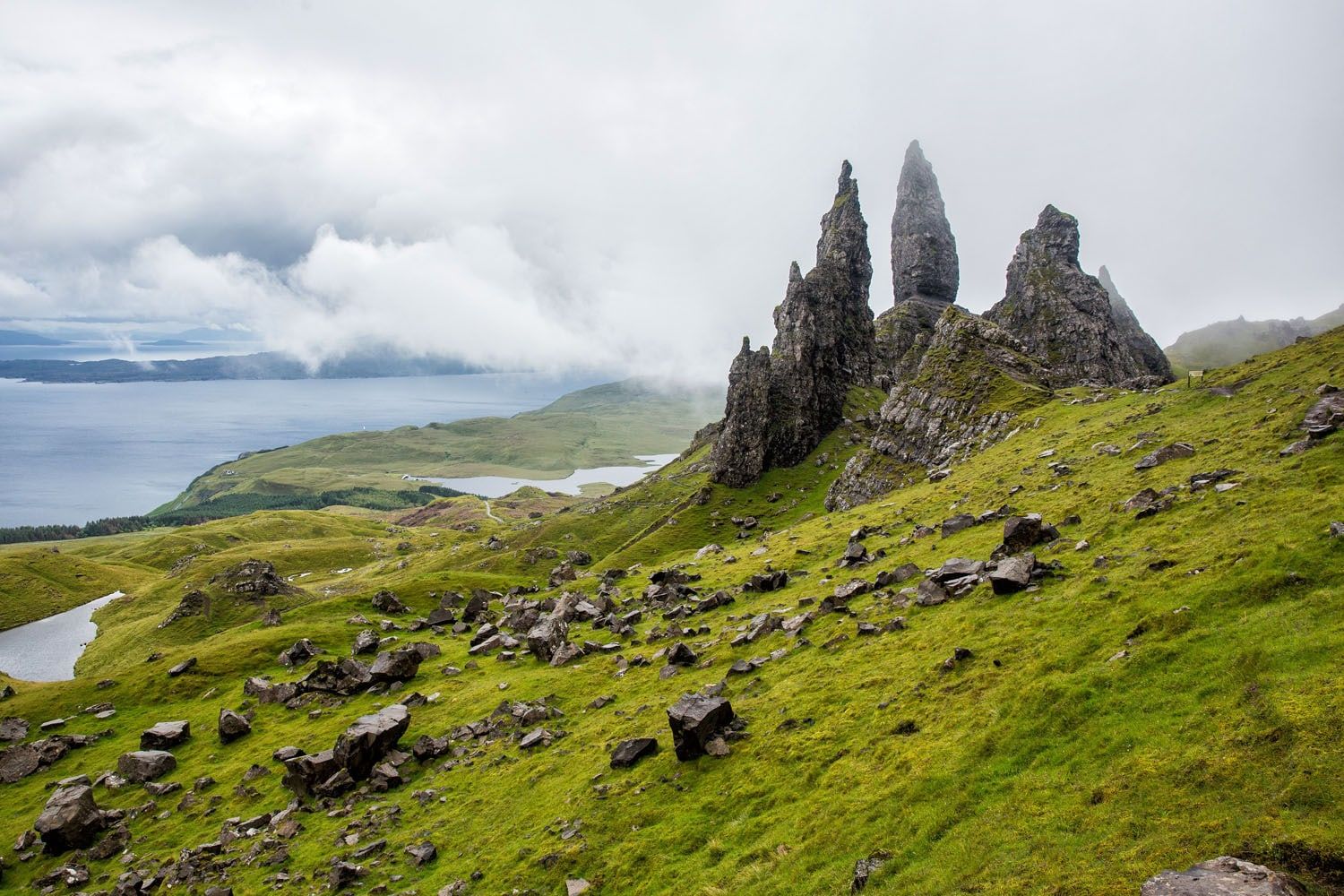 Old Man of Storr | Isle of Skye Itinerary
By now it is mid to late afternoon, depending on how much hiking you did at each stop. Those with two or more days on the Isle of Skye can return to Portree for dinner. If you only have this one day, consider continuing your Isle of Skye tour.
Dunvegan Castle
From the Old Man of Storr, drive west to Dunvegan. This drive takes approximately 45 minutes. If you arrive by 4 pm, tour the Dunvegan Castle.
For full details, visit the Dunvegan Castle website.
Neist Point
Neist Point is the Isle of Skye's most popular place to watch the sunset. Expect an overflowing car park and lots of people. You can walk all of the way out to the lighthouse (2 miles, allow 1 – 2 hours), or just walk uphill from the car park along the coast for this view of Neist Point: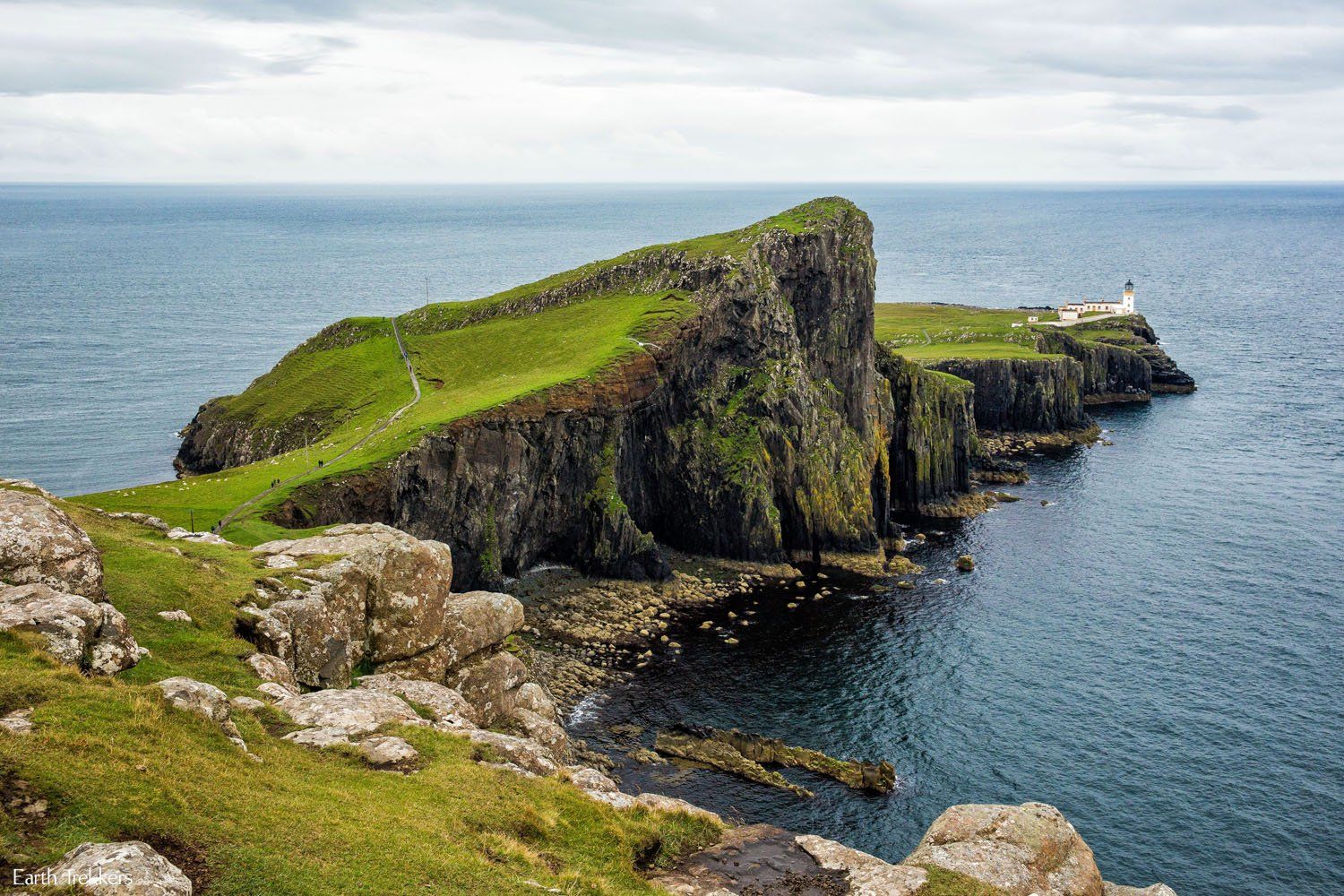 Neist Point | Isle of Skye Itinerary
Getting Here: Neist Point requires another 30 minutes of driving from Dunvegan. From Dunvegan, take B884 west, and then follow signs to Neist Point. Parking can be a major issue, especially during the busier months. It can take an additional 10 – 30 minutes to find parking, as the narrow car park becomes gridlocked with cars.
After visiting Neist Point, return to Portree.
---
2 Day Isle of Skye Itinerary
Day One: Follow our Trotternish Loop drive
Day Two: Fairy Pools, Talisker Distillery, Neist Point, Dunvegan Castle
Fairy Pools
This is another popular spot. Getting here early, preferably earlier than 9:30 am, will help minimize the crowds. From Portree, it takes approximately 35 minutes to drive to the Fairy Pools.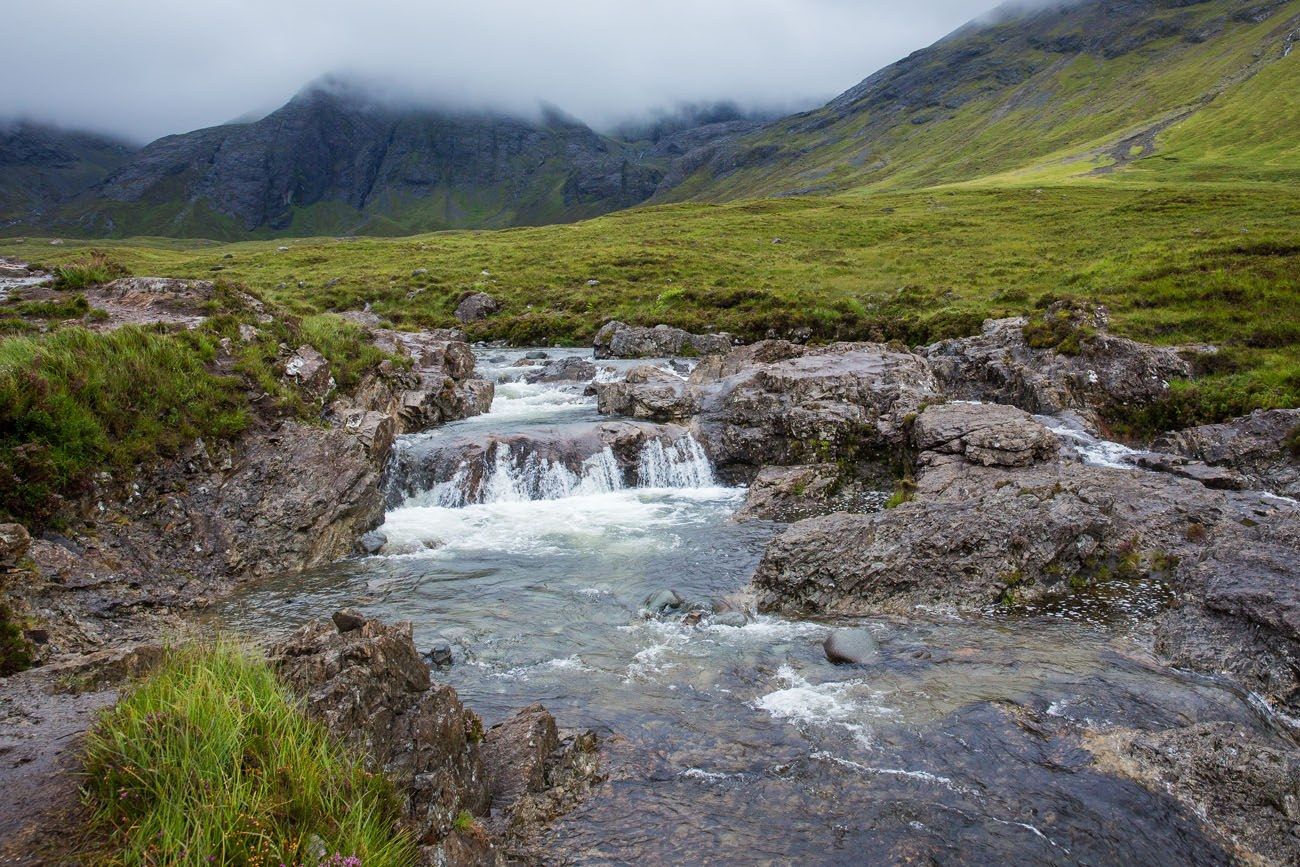 Fairy Pools | Isle of Skye Itinerary
Talisker Distillery
The Talisker Distillery is the only whisky distillery on the Isle of Skye. Take a tour, do a whisky tasting, or simply purchase some whisky in the souvenir shop.
Getting Here: From the Fairy Pools, drive 5 miles north to the town of Carbost.
Lunch at The Old Inn
This cozy pub serves great food. It's warm, inviting atmosphere is great, especially during the cooler months, or if you got stuck out in the rain earlier at the Fairy Pools. The Old Inn is located in Carbost, within walking distance of Talisker Distillery.
Neist Point and Dunvegan Castle
If you did not do this yesterday, spend the afternoon here. Finish your day by having dinner in Portree.
---
3 Day Isle of Skye Itinerary
Option 1: Bla Bheinn (Blaven)
For a hike that offers 360° views of the Cuillins, this hike is a great option. We attempted this hike in rainy weather, which really is not a great idea. But, if you love hiking, and if you have a clear day while on the Isle of Skye, consider this hike.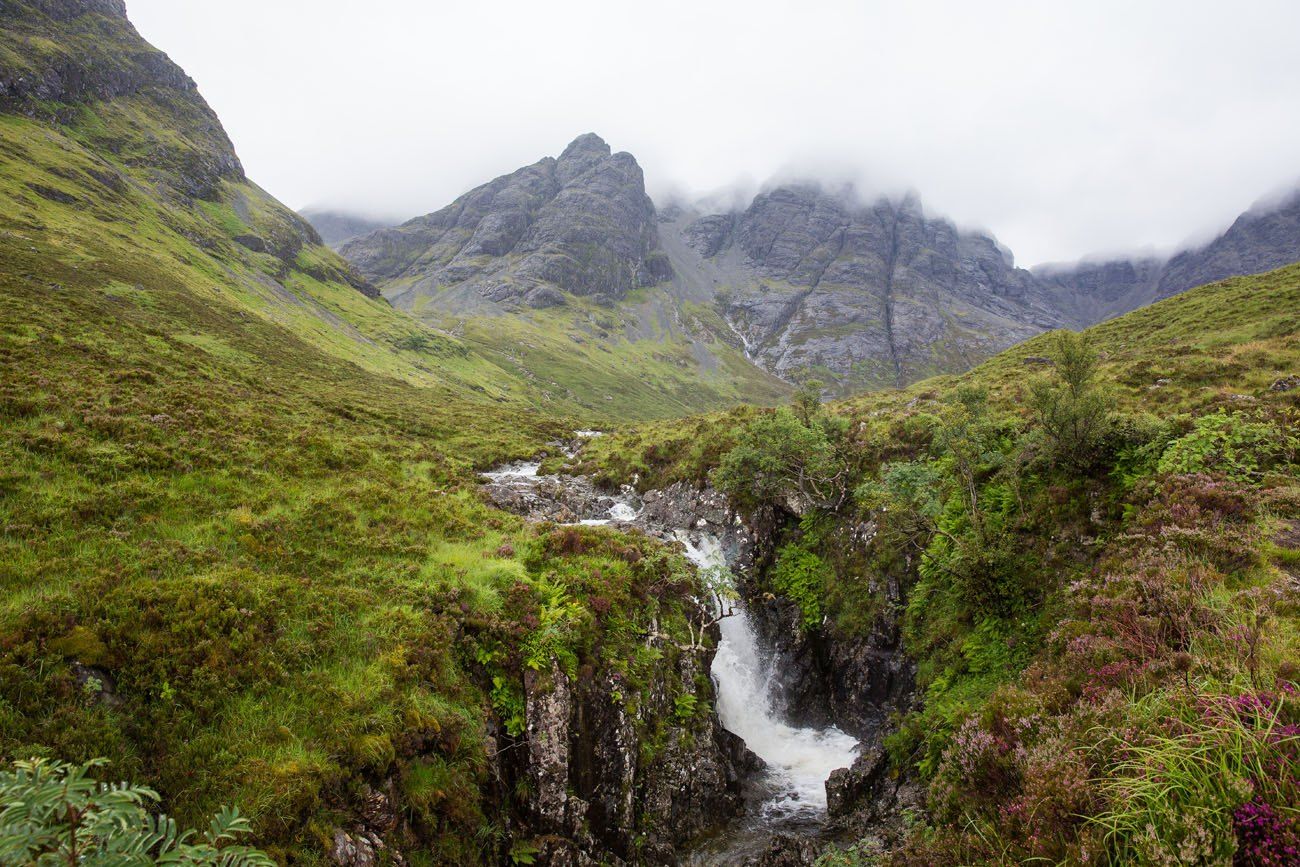 Option 2: Boat Trip from Elgol to Loch Coruisk
This trip takes up the majority of the day. Those who do it, rave about it. From Elgol, a boat will take you to Loch Coruisk. Along the way, you have the chance to spot puffins, dolphins, and even Orcas. Once at Loch Coruisk, walk along the scenic lake, spotting seals on the shore.
For more information, visit the Misty Isle Boat Trips website.
---
One Day Tours to the Isle of Skye
If you would like to visit the Isle of Skye, only have one day, and are not planning on renting a car, here are three highly rated tours from Inverness. To get to Inverness from Edinburgh, you can take the train, a journey which takes approximately three and a half hours.
About this Isle of Skye Itinerary
If you plan on visiting the Isle of Skye for several days, the order of the itinerary can be changed. It is better to visit the Trotternish Loop and Blaven during clear weather. If you have a rainy day, go to the Fairy Pools and Talisker Distillery.
This post was originally written in September 2016 and it is updated on a regular basis.
---
Do you have any questions about this Isle of Skye itinerary? Let us know in the comment section below.
More Information about Scotland
You Might Also Like: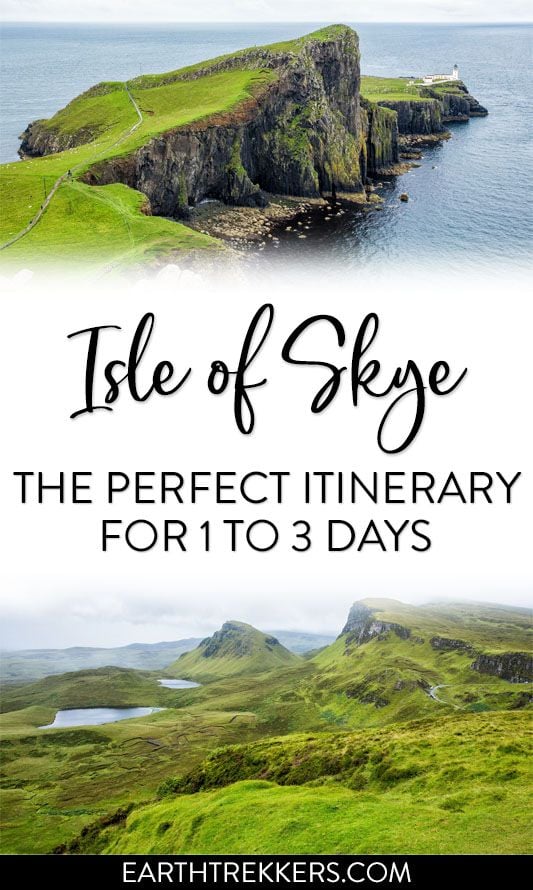 Note: This post contains affiliate links. When you make a purchase using one of these affiliate links, we get paid a small commission at no extra cost to you.
All rights reserved © Earth Trekkers. Republishing this article and/or any of its contents (text, photography, etc.), in whole or in part, is strictly prohibited.