We have been traveling around the world for nine months now. In some countries we have seen monkeys. They are friendly and come up to people because they are used to being fed by humans.
It was in Africa where we saw monkeys for the first time. In Africa, we saw signs saying, "Don't feed the monkeys!" Why? If the monkeys are always fed by people then they get used to being around humans. After awhile the monkeys start coming up to people, begging for food. If the monkeys want you to feed them and you don't, the monkeys get aggressive and might attack people. When this starts happening, the monkeys have to be euthanized to protect people.
In St. Lucia, Africa, we had our first close encounter with monkeys. We just got back from swimming and there were monkeys everywhere! While drying off from swimming while standing next to our car, we had our car doors open. There were some monkeys brave enough to go right inside of our car and steal some of our food. Do you believe that?! We watched as they ate our sandwich bread and had a very nice meal.
In Capetown, near the Cape of Good Hope, we saw baboons walking down a row of cars. They were walking from one car to the next, trying to open the car doors for food!
In Krabi, Thailand, Dad was walking with a banana in his hand. A monkey came and jumped on his head to try to get the banana! Dad dropped the banana on the ground. Luckily, the monkey did not bite Dad to get the banana. That would have been really bad!
In Zhangjiajie, China, a storm of monkeys came running down a trail! Nearby, a group of people fed the monkeys by hand. Almost all of the monkeys stopped and ate directly from a person's hand. I am worried if they keep feeding these monkeys then they will get aggressive. There were signs here, too, telling people to not feed the monkeys.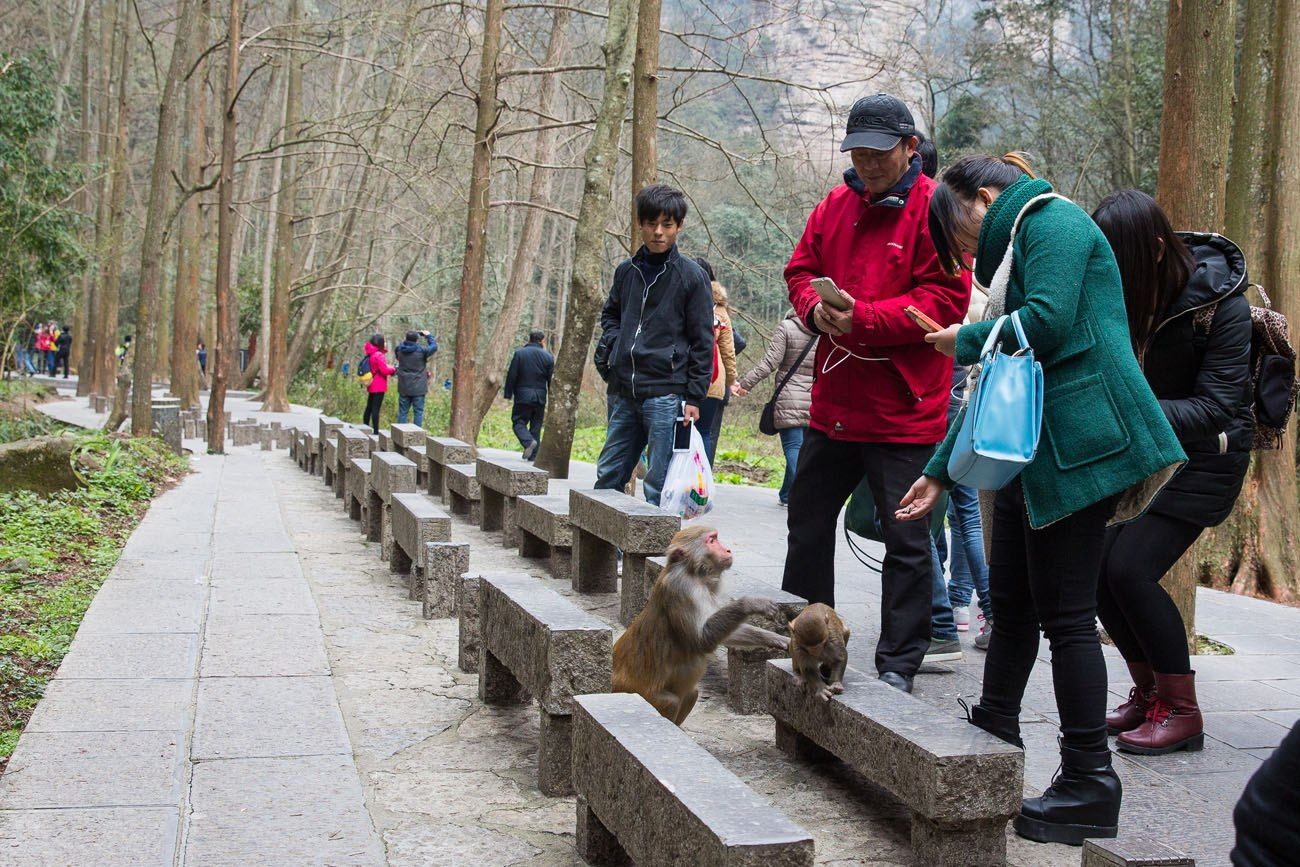 Finally, in Taiwan, we once again saw people feeding a monkey. There were warning signs here, also. This is where I got the idea to write this post.I do not want people to feed the monkeys because I do not want them to be put to sleep. It is up to humans to leave the monkeys alone so we do not change their behavior and cause them to become dangerous to humans. If you are traveling to places where there are monkeys, please don't feed the monkeys.
All rights reserved © Earth Trekkers. Republishing this article and/or any of its contents (text, photography, etc.), in whole or in part, is strictly prohibited.