Can you tell us a little about your adventures – where you went and what you did.
We're Caspar and Nichola – together with our 3 children – Bluebell (10), Columbus (8) and Willow (3), we're sailing around the world. We spent 5 years planning our adventure and on 20th August 2014 we set off from UK shores.
We've sailed some 30,000 ocean miles together now and experienced massive highs and some challenging lows from gale force winds and seas, serious boat failure problems mid ocean, to medical problems such as Bluebell getting Dengue Fever and Willow cracking her head open hundreds of miles away from medical help.
We've learnt to live with each other and have had to cope with our relationships changing from seeing each other only a few hours a day to living together 24 hours a day for what has now been 16 months together.
Our travels have taken us to some incredible places through France, Spain, Portugal, Madeira and the Canary Islands in Europe. From there, we sailed the Atlantic making landfall in the Caribbean. We then worked our way through a number of Caribbean Islands before crossing the Caribbean Sea to the San Blas Islands and on through the Panama Canal. From there, we crossed the massive expanse of ocean that is the Pacific and over a 6 month period visited countless islands and unexplored worlds including the Las Perlas Islands, Galapagos, the Marquesa's, the Tuamoto's, French Polynesia, Fiji, Tonga, the Cook Islands and Vanuatu before arriving in Australia.
We sailed around Australia landing in Indonesia, then across the Indian Ocean stopping at Christmas Island, Cocos and Keeling, Mauritius and Reunion before making landfall in South Africa. We've now been in South Africa for a month having sailed our way around the coast to Cape Town.
We'll stay here until early January when we sail back in the Atlantic to St Helena and then to Brazil and the Caribbean. From there, it's likely we will sail to the East Coast of the States and settle there for several years.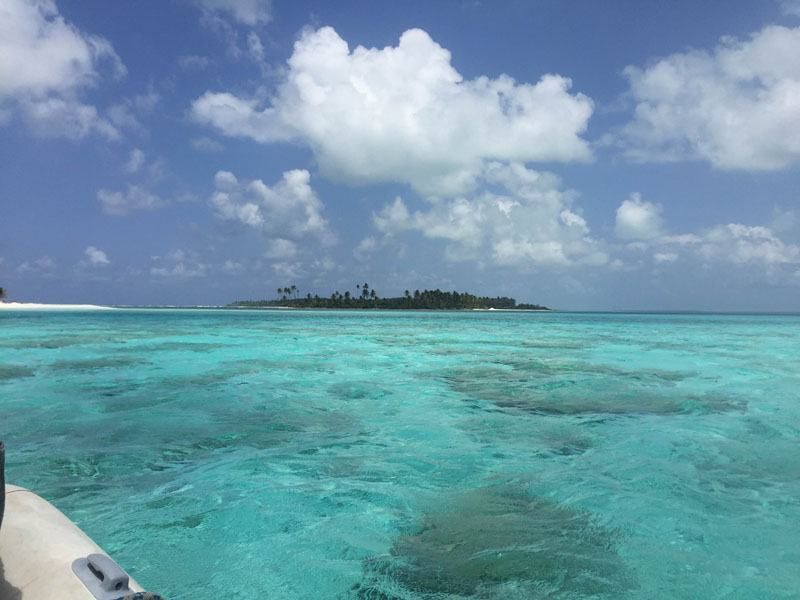 What were your fears before you started, and what did you friends and family say – were they encouraging or fearful?
We had plenty of fears! Number one was would we be able to afford it. Shortly followed by safety – more of the children than us. After that, it was down to our ability to run and manage an ocean going yacht. I'd sailed around the world before, but Nichola had never sailed out of sight of land and suffered from seasickness.
Some friends and family were super supportive – more thought we were nuts and some family even refused to talk to us! I guess when you put something out there that's beyond most peoples comfort zones, then you're always going to get a reaction.
What was your inspiration for doing the trip?
It was actually my wife, Nichola's idea. We were at my sisters 40th birthday party and my brother in law told us a story about a family who sailed around the world and then went on to say how ridiculous it was. Nichola's reaction was "screw you" – we're going to do that. In that moment, it was born and the idea evolved from that moment onwards. We spent a lot of time working on our vision for our adventures and what were our reasons why. It boiled down to creating magical life changing experiences for us and our children.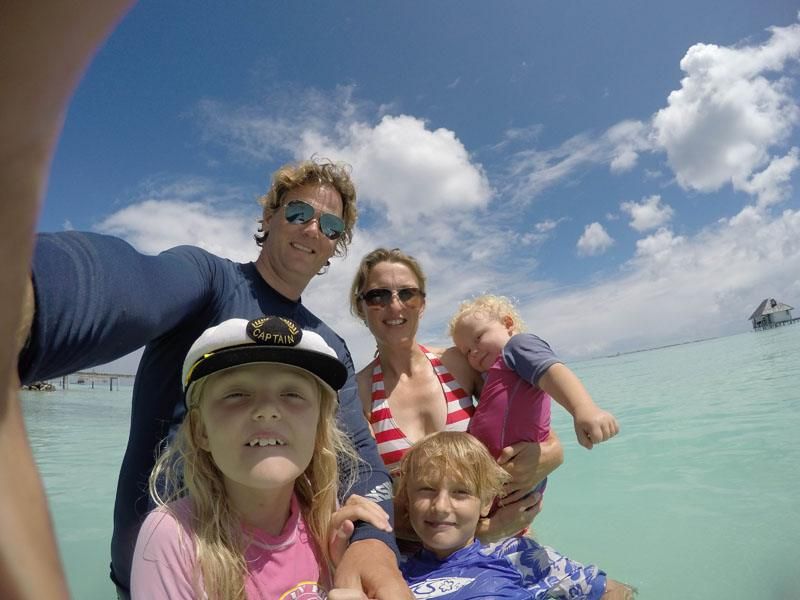 Can you share how you financed your travels and what your monthly budget was? Were you under or over budget?
We worked solidly for 5 years to create the finances to do this. Part came from launching a new online business which Nichola runs which provides most of our income. Part came from selling my business which we only actually sold whilst we half way across the Pacific Ocean. Running a yacht is no small undertaking and our monthly budget varies between $5-10,000 a month depending on what needs doing or fixing. We're pretty much on budget.
What were the big benefits for you from doing the trip?
Being able to teach our children what we believe is important in life – to spend time with them watching them grow up and to share experiences with them.
Experiencing the amazing world we live in – meeting new people and new cultures – the learning is limitless. We have truly visited some of the most remote places in the world and have experienced some real magic.
Taking time out from our careers to recharge – we'd worked solidly for many years and to be able to take time out and recharge means that we'll be starting our next ventures with full tanks of energy and drive.
Did you get things that you didn't expect from the trip?
Meeting and connecting with so many inspiring people with a "Yes" attitude is amazing.
How has the trip changed you and your family – in particular your relationship with your children and your husband?
Absolutely – our relationship with each other has changed and grown beyond our wildest dreams – we love spending time with each other and its taken our relationship to an entirely new level. I didn't foresee this and it did take some time and work but its probably the best thing to have come from this.
Our children now know who I am – I spend time with them – teaching them, playing with them, exploring, learning and discovering. I'm getting to know who they are as people.
What is life like afterwards? What you planning to do next?
When I sailed round the world before, I didn't have plans for afterwards and went back to the same job, same apartment. It was really hard and it was as though my world had stopped.
This time, we've taken a lot of time to plan what's next – we are planning to launch new businesses and will most likely relocate to the East Coast of the USA but haven't settled on where yet.
What would you say to someone who is inspired by this but is fearful about the impact on careers, how they'd fund it, and whether they should listen to everyone who tells them all the reasons they shouldn't do it?
When in 2000, I was fortunate enough to be part of the BT Global Challenge – a round the world yacht race for amateur sailors. I was interviewed by Sir Chay Blyth, the founder of the race who said something to me that has stayed with me ever since. His words were…
"Caspar – there will come a day. A day when you are lying down looking at your toes. As you draw your final breath, you'll ask yourself have I done everything I want to do in life. If the answer is no, you're going to be pretty brassed off. So stop messing around, work out what you want to do and get on with it!".
Great advice and words I have carried with me every time I face a dilemma or difficult decision or I start to listen to the naysayer voices in my mind or from other people.
There are many reasons you shouldn't do something but really it all boils down to having one reason why you should. Follow that reason and the rest usually falls away. Follow your dreams.
To follow the Craven family's journey, visit their site,
familysailing.co.uk.