Our welcome to Australia came with a one week stay on the island of Tasmania. Tasmania is home to great cheeses and wines, the Tasmanian Devil and wallabies, and as we quickly learned, highly unpredictable weather. We were here during the autumn season, time for cooler temperatures and wetter than normal weather. This week, it was much cooler than average, with one nearby area receiving its first snowfall since 1986! The cooler temperatures and constant threat of rain made our first few days in Tasmania very interesting.
Wild Tasmania
Our first full day was a Tuesday. The forecast, from several sources, called for light showers in the morning followed by "fine weather spells" in the afternoon. Either the weathermen totally got the forecast wrong or "fine weather spells" means torrential rainfall interspersed with periods of lighter rainfall. A few times, very briefly, we did get a quick view of blue sky, but that quickly vanished, pushed aside by more heavy, gray rainclouds.
We stayed in Hobart, the largest city on Tasmania, located not far from the southern coastline. This is a great little city but this is the last place you want to be on a rainy Tuesday. Nothing is open on Tuesdays. All of our potential indoor activities were closed so we filled our day by hanging out at our apartment and going grocery shopping. Those glimpses of blue skies had us hopeful a few times that we would actually be able to get out and do something, but before we knew it, it would be pouring again.
We had a long list of things we wanted to see and do, and by our second full day we no longer had the luxury of sitting around, waiting for the weather to clear. Time for a day trip!
Day Trip to Bruny Island
A half an hour south of Hobart, we took the twenty minute car ferry out to Bruny Island. Our day started off great…sunny skies with a chill in the air, but we weren't going to complain about it being cold, not after yesterday! There was a slight chance of rain later in the day so we knew to enjoy those clear skies while we had them.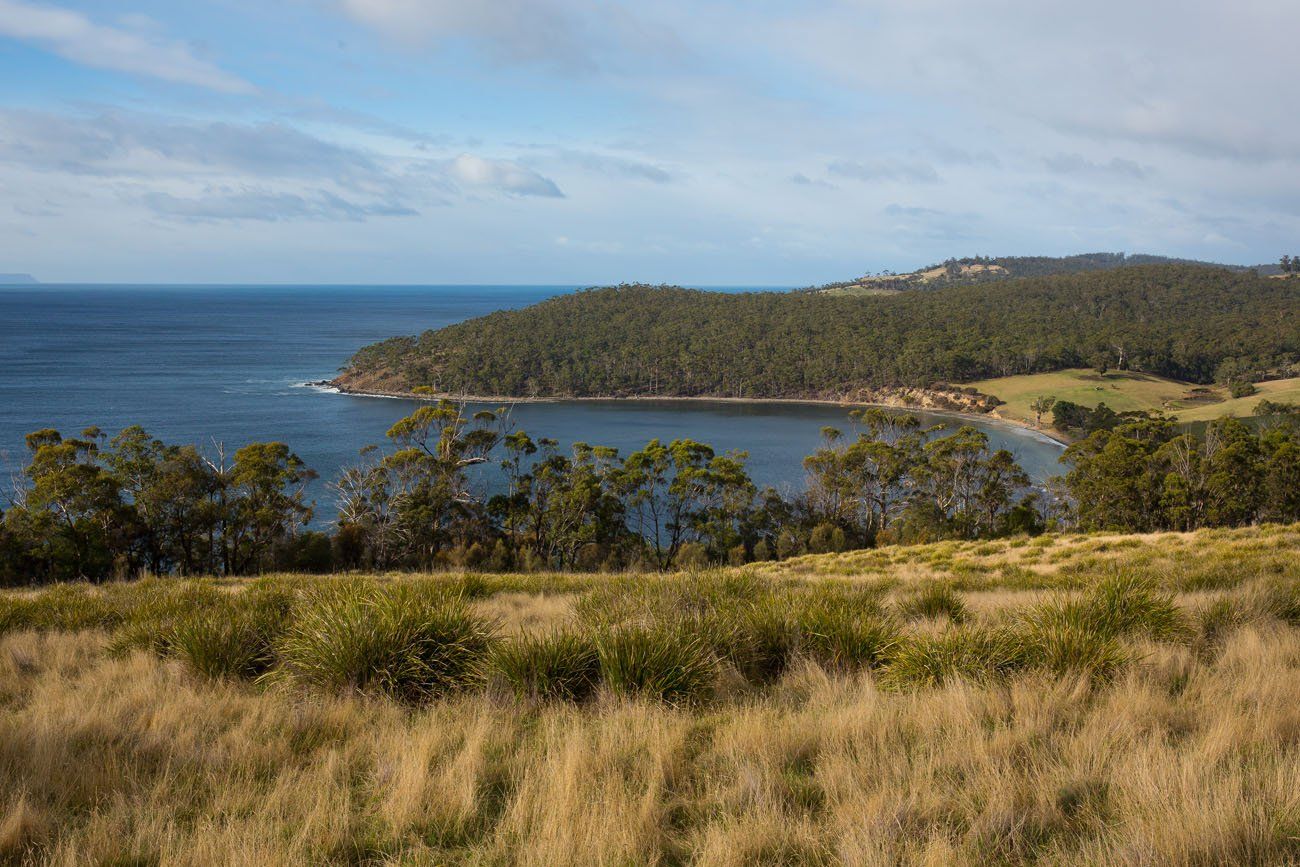 Bruny Island is one of Tasmania's southernmost islands. It is a very popular destination for those on holiday, particularly those who like to get out into the great outdoors and for those who are foodies.
Bruny Island is home to Australia's southernmost vineyards, fresh oysters, and whisky distilleries. At 100 kilometers in length, it is deceptively large but home to only 620 people. We were renting a car so we had the freedom to explore the island at our own pace.
First Taste of Raw Oysters
Our first stop was "Get Shucked Oysters," a raw oyster bar. With a slogan "fuel for love," our two very inquisitive children were asking the meaning behind these phrases, leaving us to explain what an aphrodisiac is and how that pertains to oysters. Even though our homeschooling lessons are over their education continues.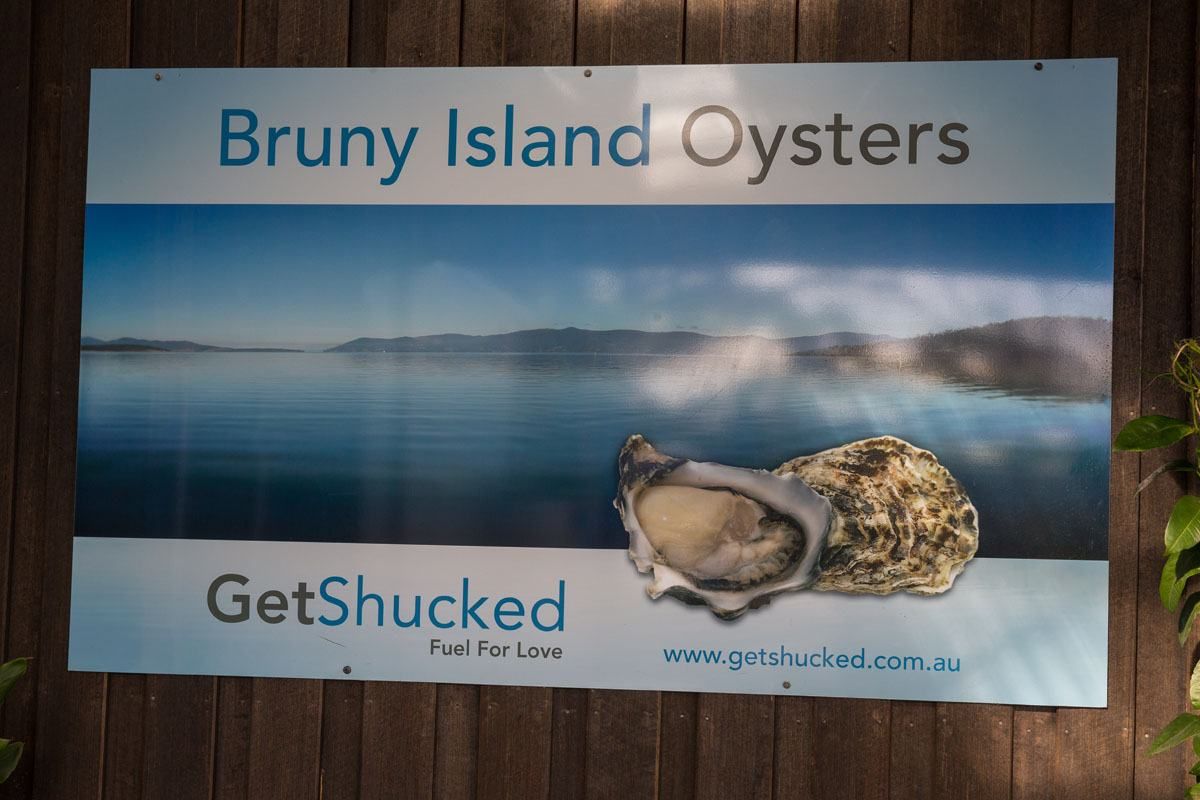 Eating raw oysters was a first for all of us. Yes, Tim and I have eaten scorpions, tarantulas, and stinky tofu, but as of yet still had not eaten raw oysters. I was never much of a fan, not until our recent Thanksgiving celebrations at home, when Uncle Mark fries up some delicious oysters. Tyler and Kara cannot get enough of those! Now it was time to try them raw.
We were served a dozen beautiful, raw oysters, and each took turns slurping the slippery little suckers right out of their shells. Tim and I loved them! Delicious! Why have we waited so long to eat these yummy little morsels?
Kara didn't agree, not at all. She gagged big time as she swallowed her treat. Surprisingly, Tyler gulped his down, saying it was good, but not good enough for seconds. While Tyler and Kara feasted on sourdough bread, Tim and I finished off the rest of the oysters.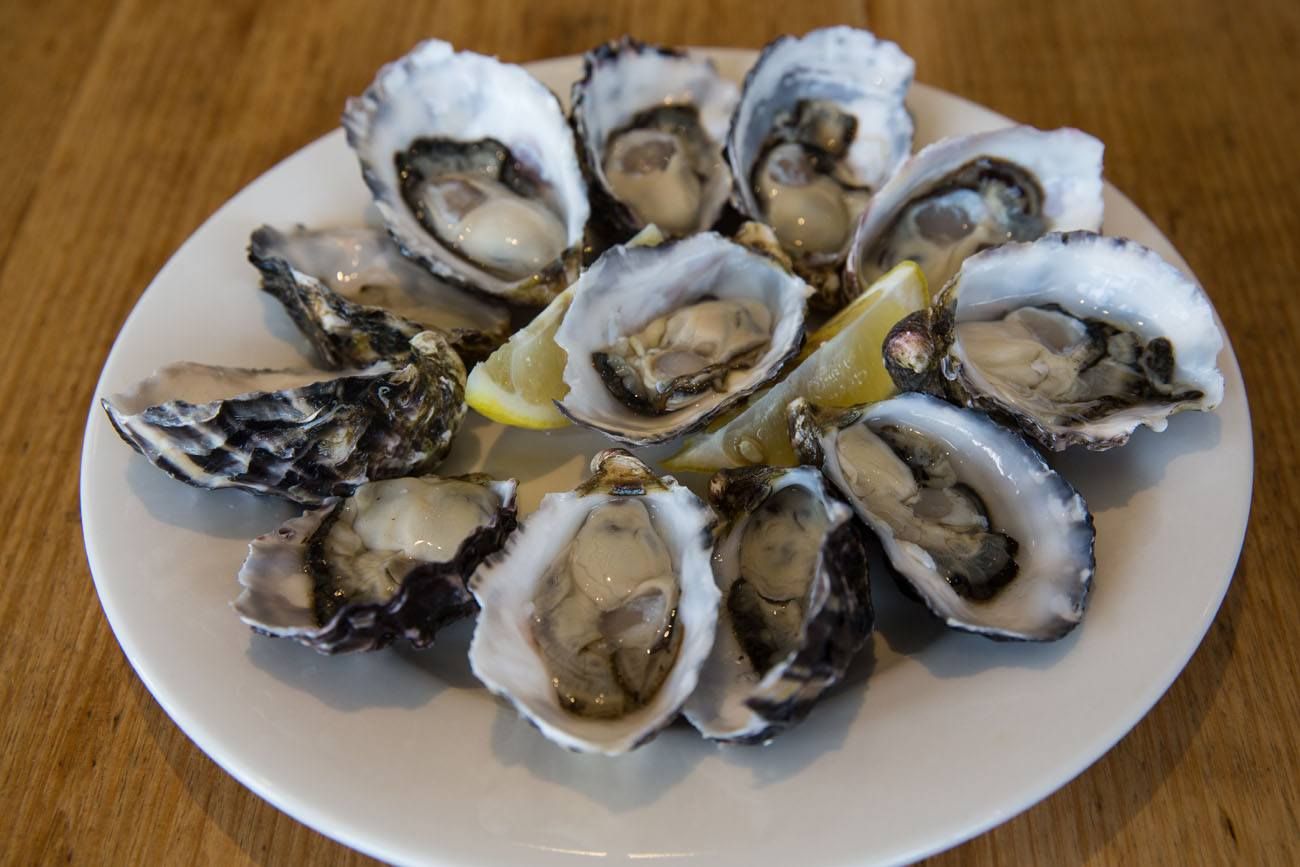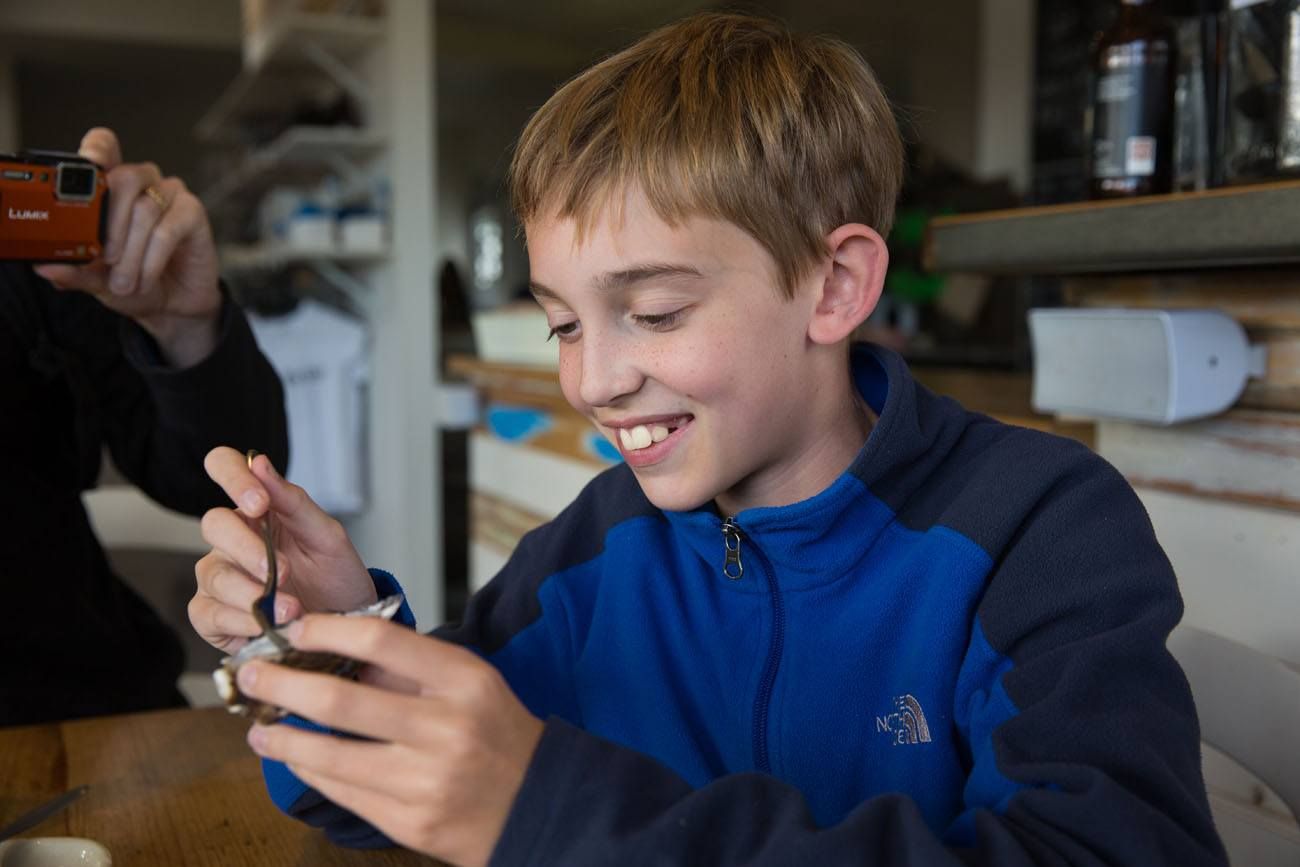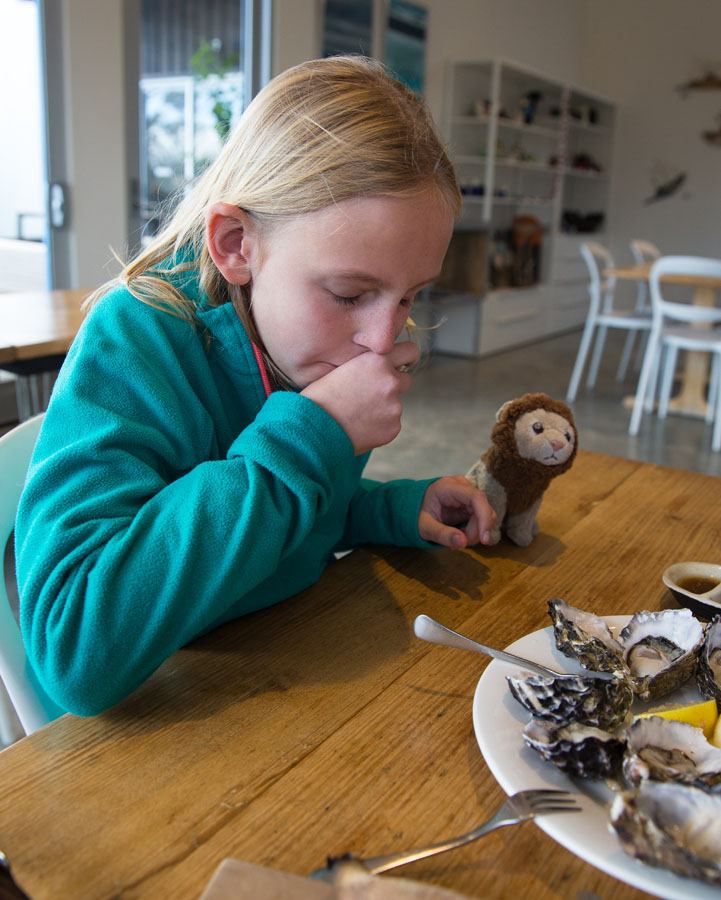 Bruny Island Cheese Company
Next up was the Bruny Island Cheese Company. Here we sampled seven different cheeses. Our waitress rattled off the names and descriptions of each of the different cheeses, all of which we immediately forgot, all that is except for "Grannie's Undies." Who can forget a name like that? And who would want to eat something with a name like this? This hard rind cheese was named for the lavender and thyme used to fragrance the cheese, like the sachets women put in their underwear drawers. We all liked the cheese and thought the name was hilarious.
What was not so hilarious was a softer cheese that marinates in grape leaves and pinot noir. Sounds awesome, right? Nope. This was the worst thing I have eaten yet this year. To me, this cheese just tasted downright wrong. It was like food gone bad, like eating something out of the trashcan. I would eat stinky tofu again before eating this cheese (of which the name escapes me, as I could remember nothing after Grannie's Undies).
Tim, Kara, and I tried another cheese that was almost as bad. The best way to describe it would be like eating a cow fart, not that I have ever done that. But this cheese tasted just like a cow with a bad case of gas. Nasty.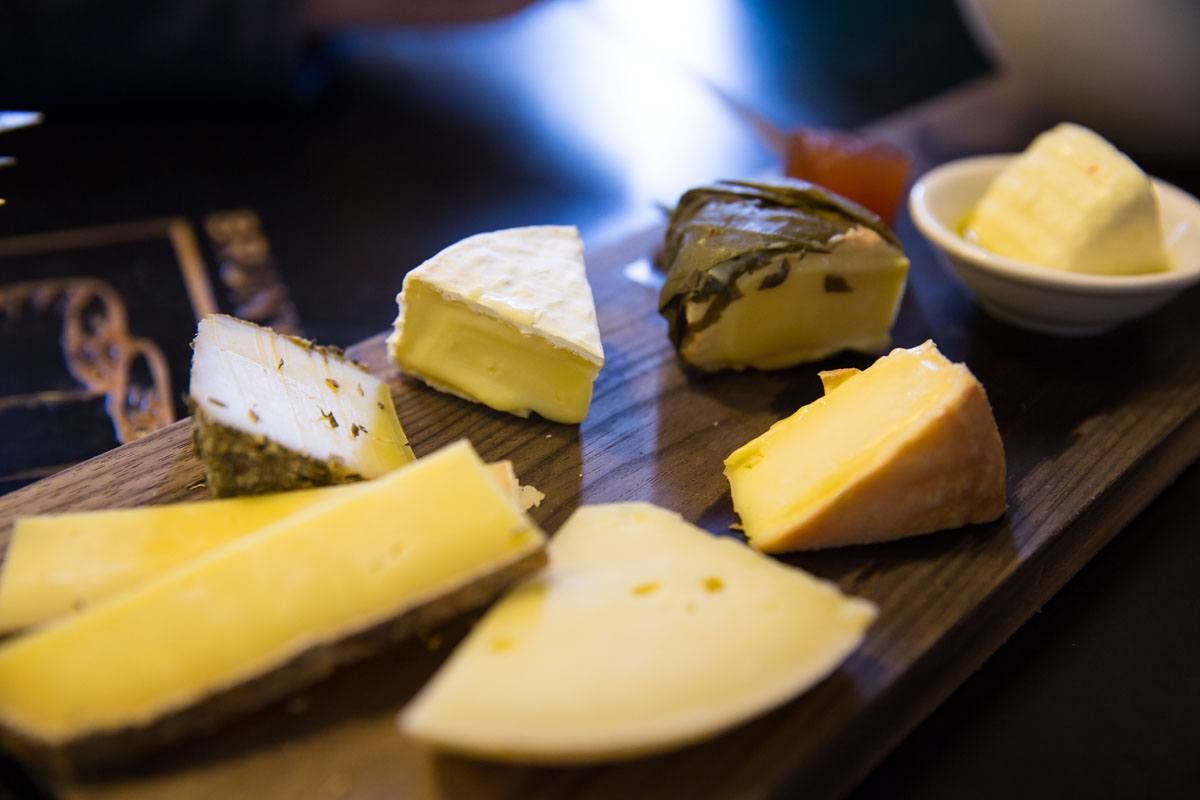 There were several cheeses we did like, our favorite being cheese similar to brie. Now we're talking. The cappuccino and hot chocolates were good, too.
With bellies full of oysters, cheese, bread, and coffee, it was time for some more island exploration. The sunny skies had disappeared and dark clouds were closing in. The rain was coming.
Bruny Island Isthmus
The midsection of Bruny Island gets squeezed thin, an isthmus of land diving two bodies of water. It was here that we climbed a long series of steps for an excellent viewpoint, and learned how wild Tasmania weather can be.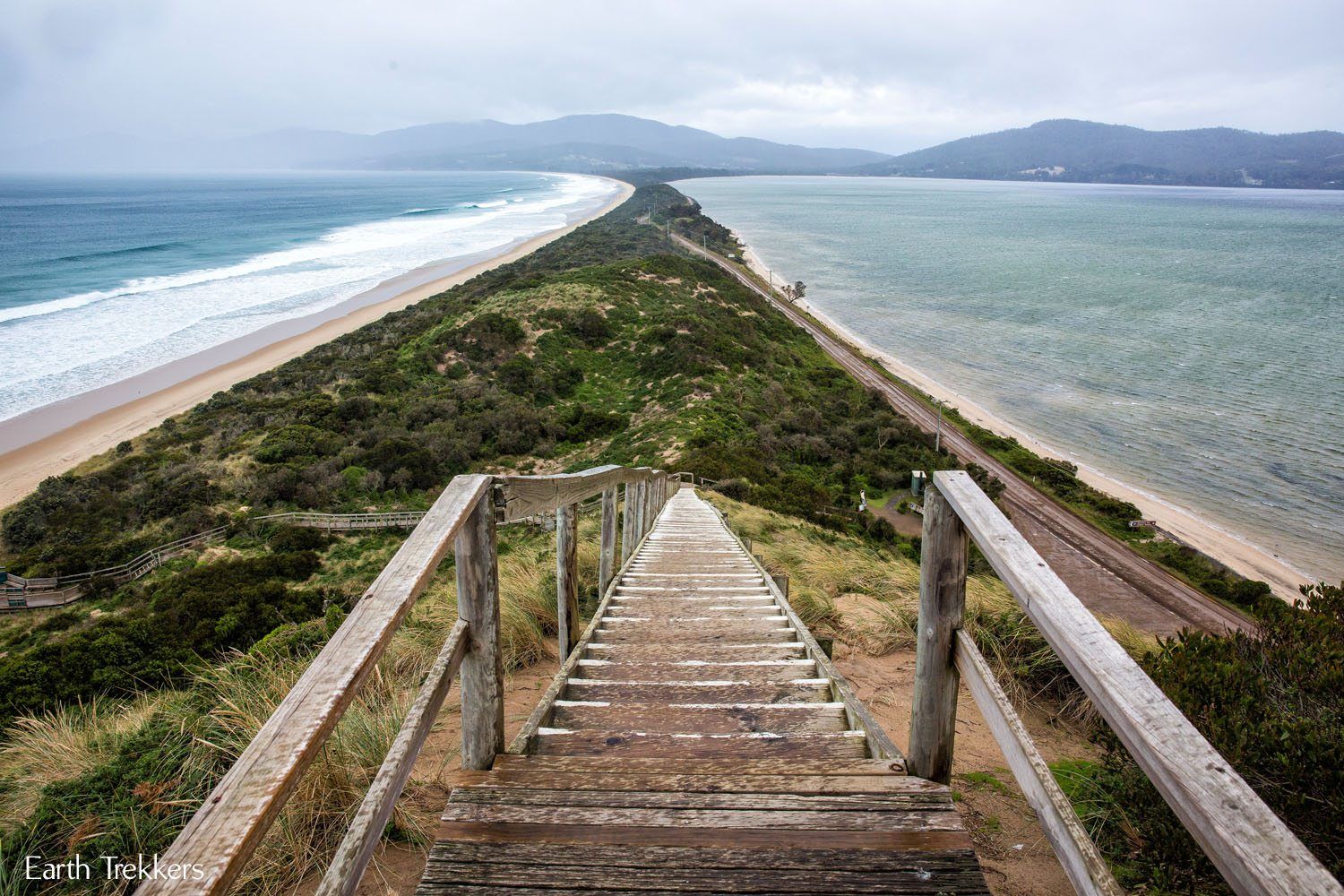 As we climbed those stairs, it started raining. Wind, and I am talking gale force wind, was blowing from the west, hitting us on our left side as we climbed those stairs. Good thing that railing was there to keep us from blowing over onto the hillside below.
The wind was so strong that it made the raindrops hitting us feel like we were getting pelted by hail. And the wind was blowing so hard that it was almost knocking Kara over. It was so wet, cold, and wild that it was fun. We laughed the whole way up those stairs, enjoyed the view, and then ran back down the stairs to the beach.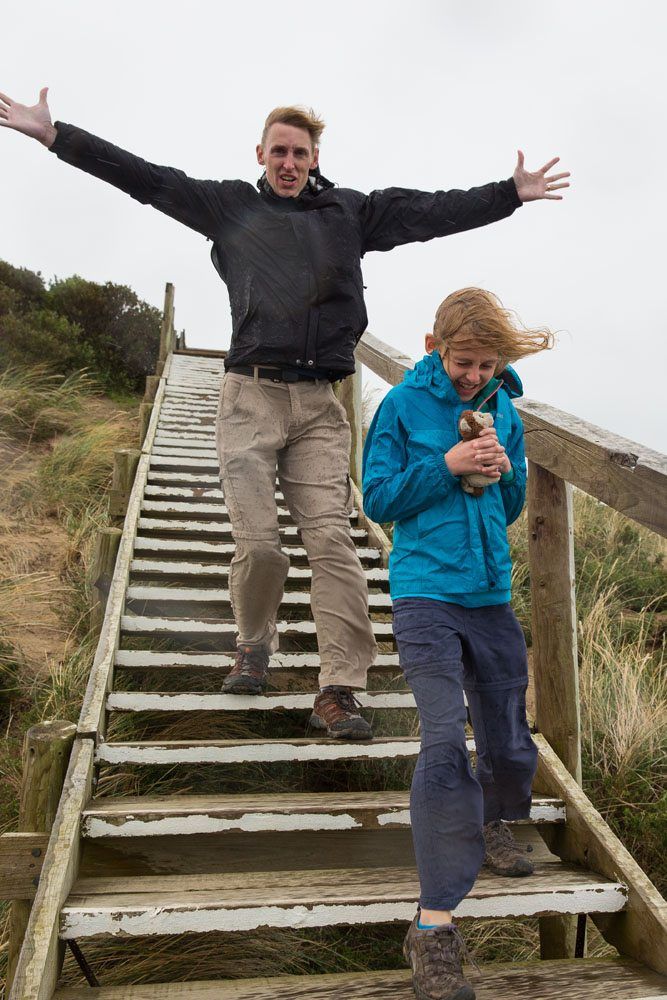 While on the beach, the rain abruptly stopped like someone turned off a faucet. We were treated to a beautiful view of a rainbow.
And here we were again, on an amazing beach, and we had it all to ourselves. We were supposed to be sharing this beach with a bunch of small penguins, but they were nowhere to be seen. We did not spend long here, as more dark rainclouds were quickly closing in on us.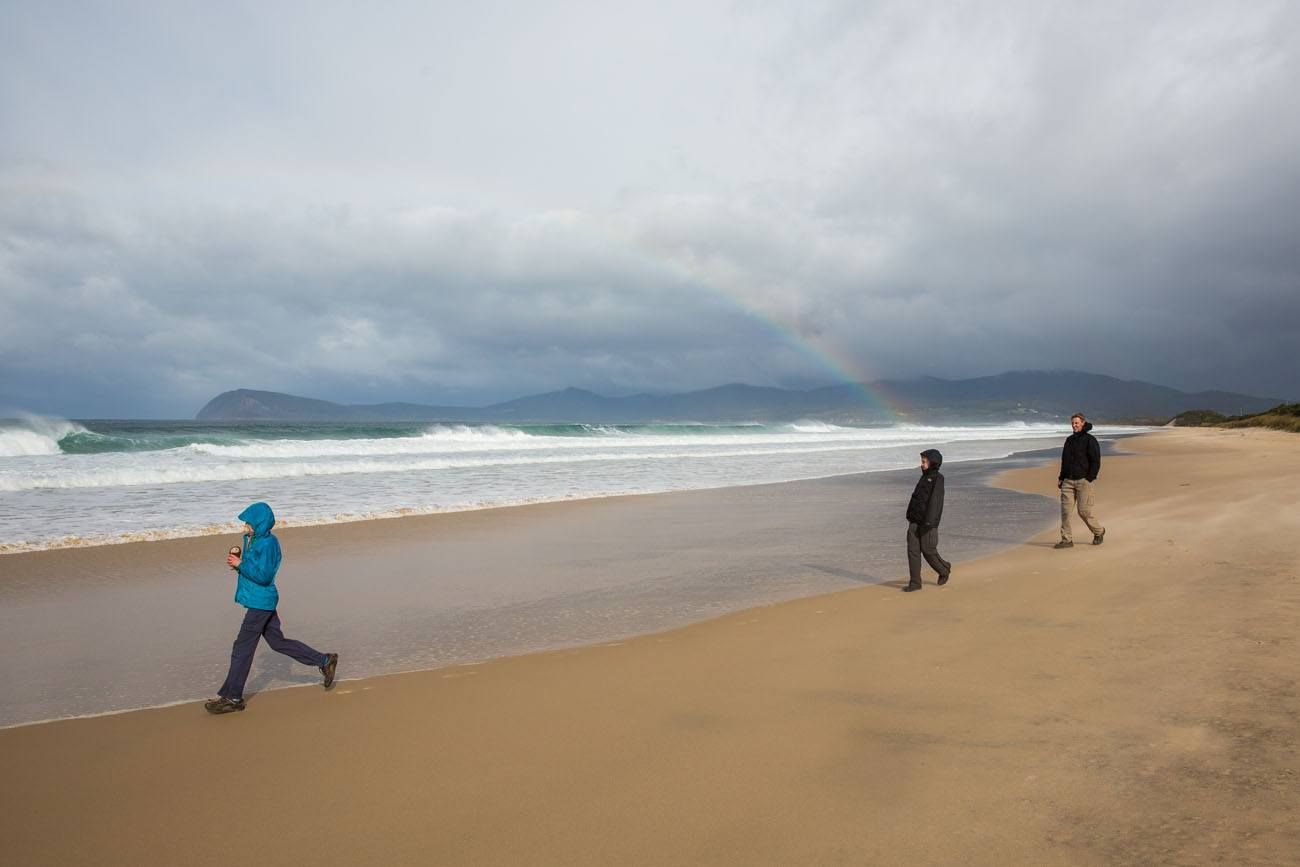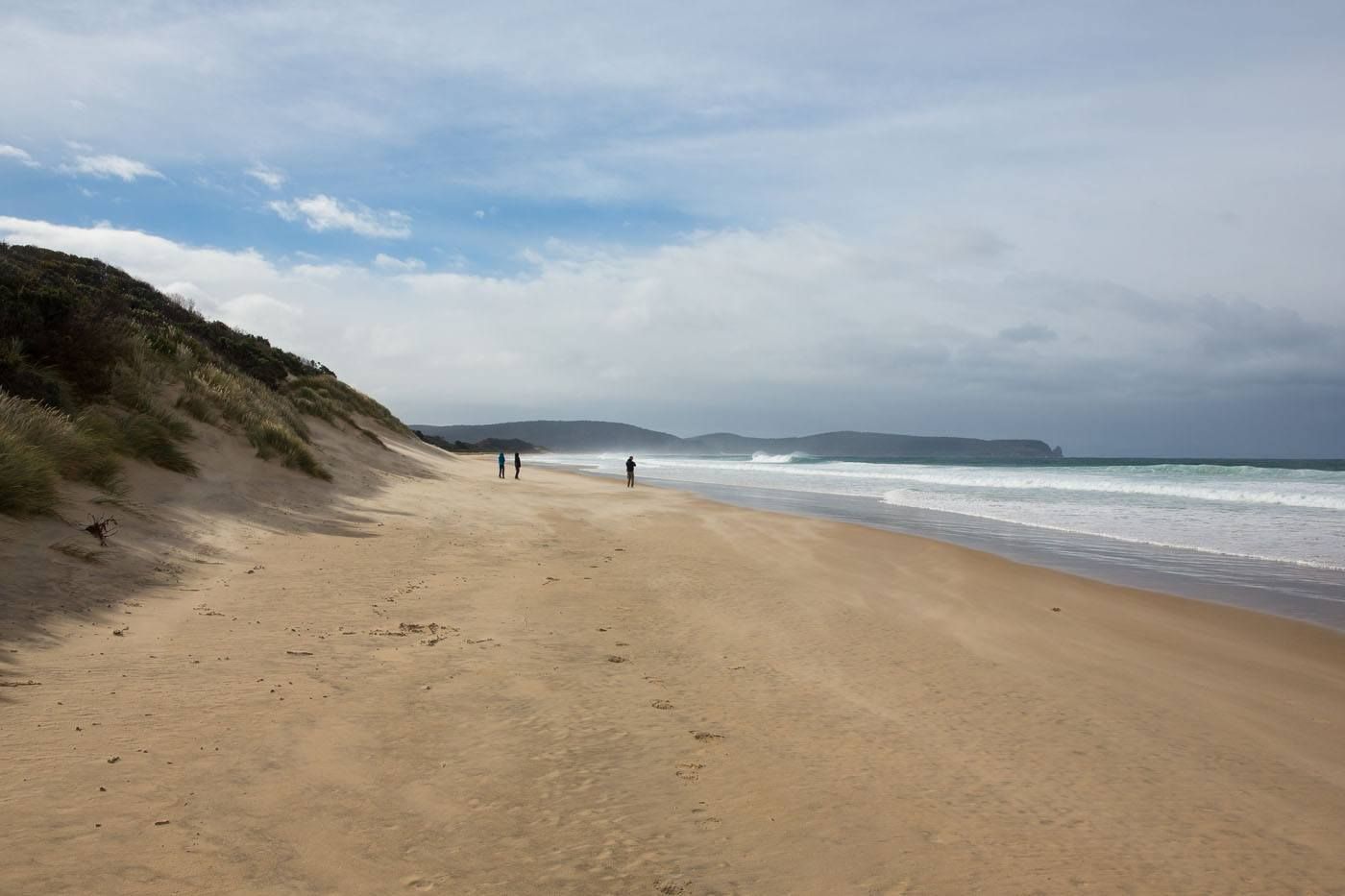 Cloudy Bay
Back in the shelter of our car, with the heat blasting, not only to warm us up but to also dry us off, we continued our drive south to the southernmost point of Bruny Island. With the clouds and rain we did not have high expectations for stunning views, but we had already come so far, why turn around now? Many of the roads on Bruny Island are unpaved. Tim drove us along packed, dirt roads that were in great condition, even with the rain. These roads were in better condition than many paved roads we have been on in other countries.
We had a "fine spell" of weather when we arrived at Cloudy Bay. It was overcast and very windy but at least the rain had stopped, at least for a few minutes. Tim and I walked out onto the wide beach, watched some seagulls, and went dashing back to our car once the rains recommenced.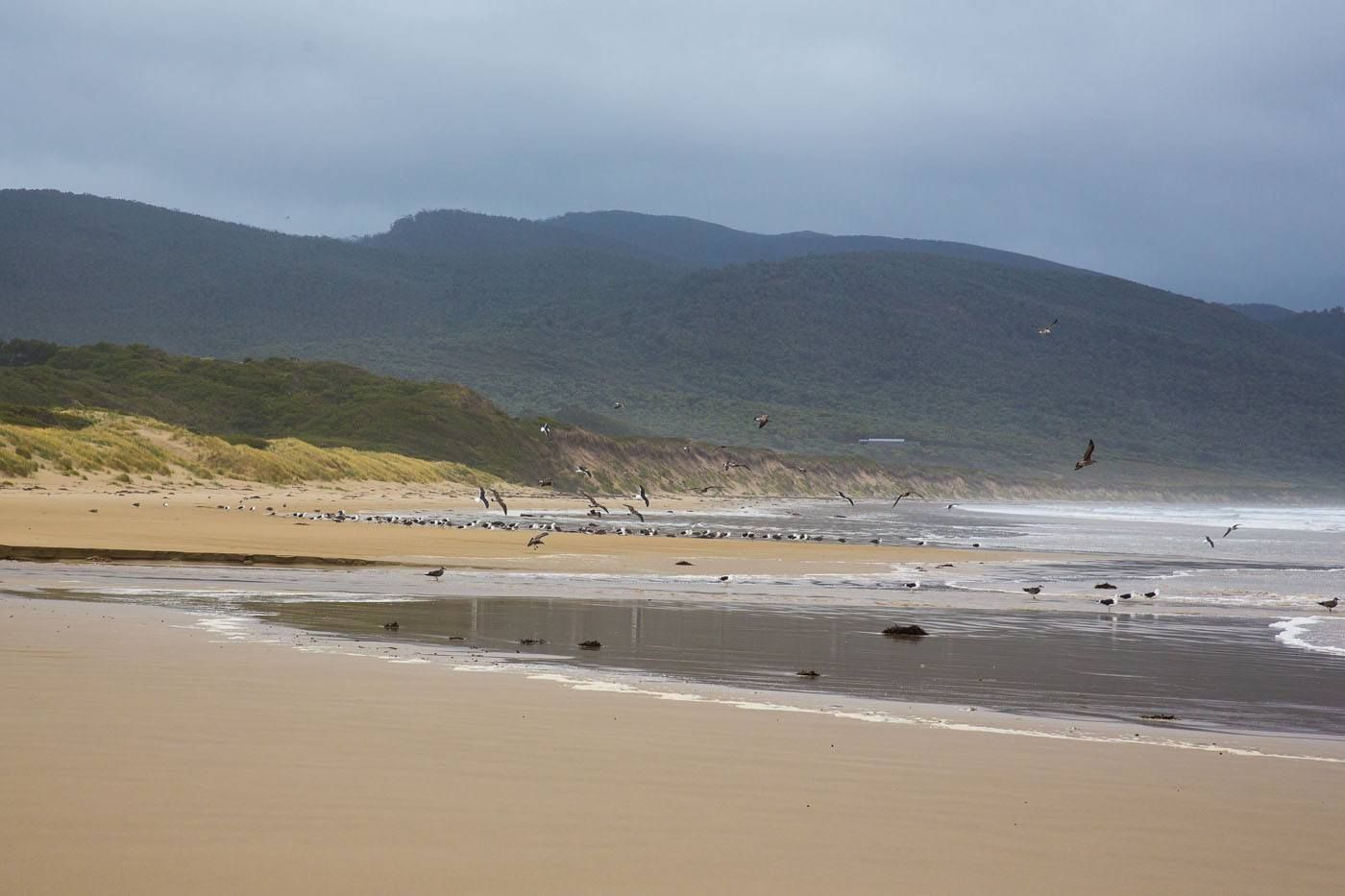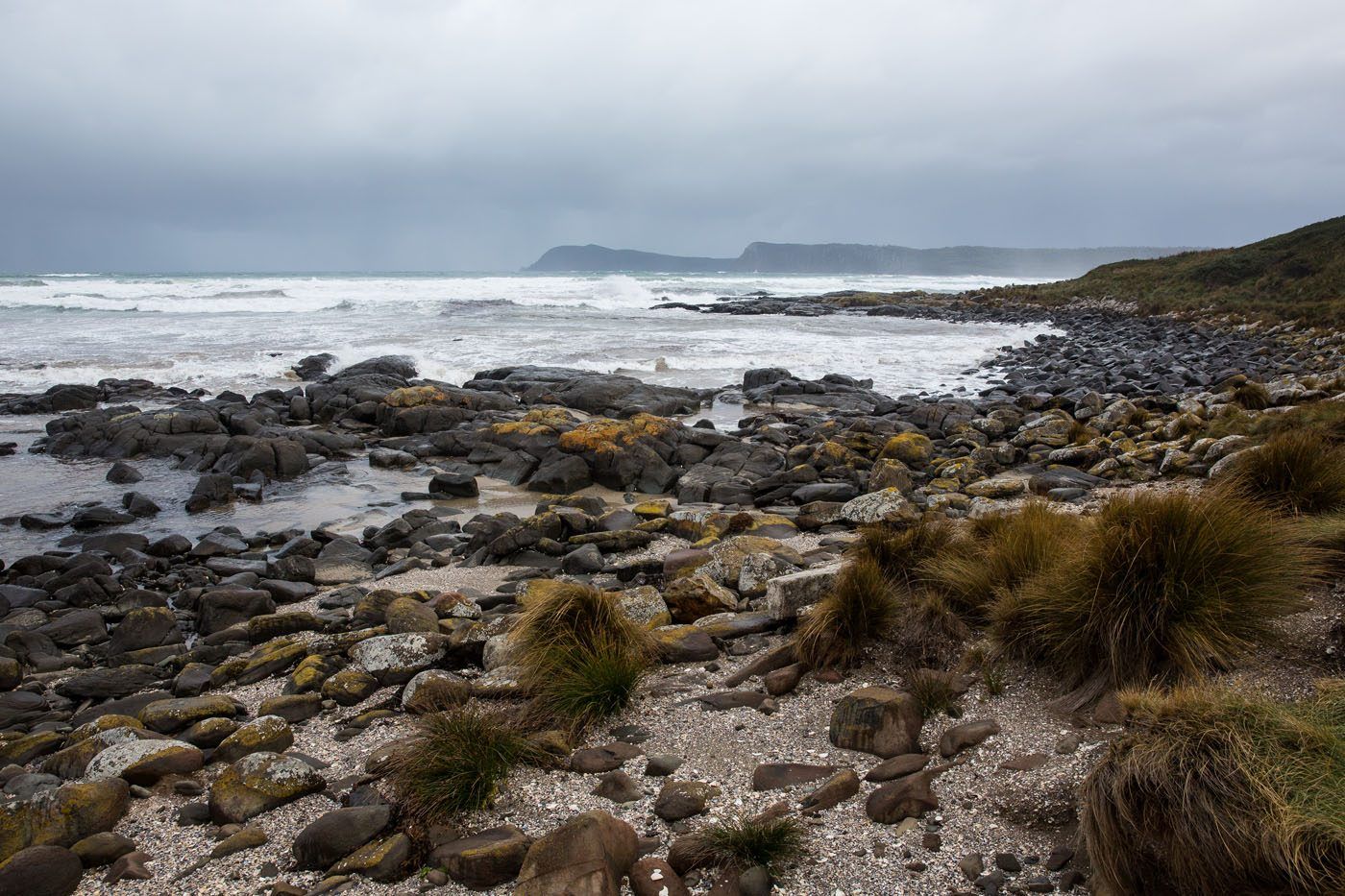 Cape Bruny Lighthouse
Our final stop was Cape Bruny, the location of the lighthouse on Bruny Island's southern shore. Here, the weather was at its worst. The winds felt like they were hurricane force and the rain was falling quite steadily.
We took shelter at the only place possible, in the door way of the historic lighthouse. The four of us took turns stepping out from the doorway, feeling the force of the wind and the feel of the raindrops painfully hitting our faces, enjoying the changing moods of Mother Nature.
When I think of Tasmania, I think of a place that is wild and almost foreboding, and our experience today seemed perfect. The scenery is rugged yet beautiful, the weather is wild and unpredictable, and we all had a really good time. If the weather had stayed sunny and warm this would have turned out to be a much more boring day.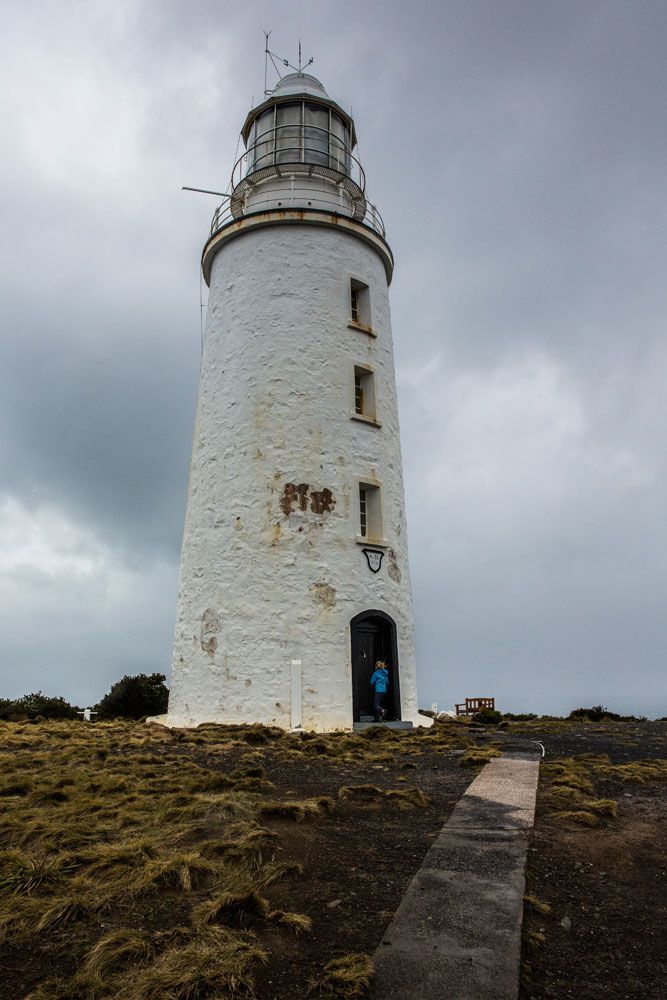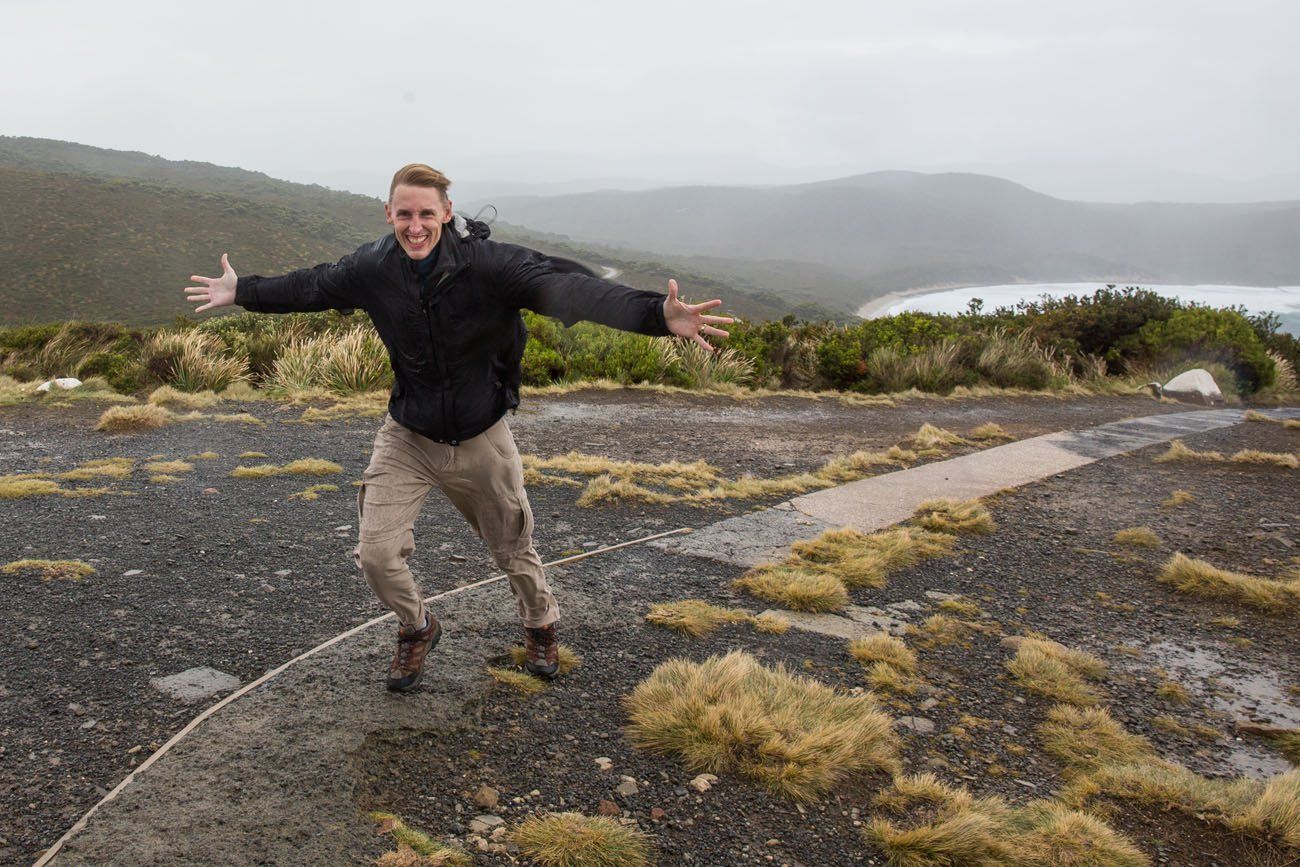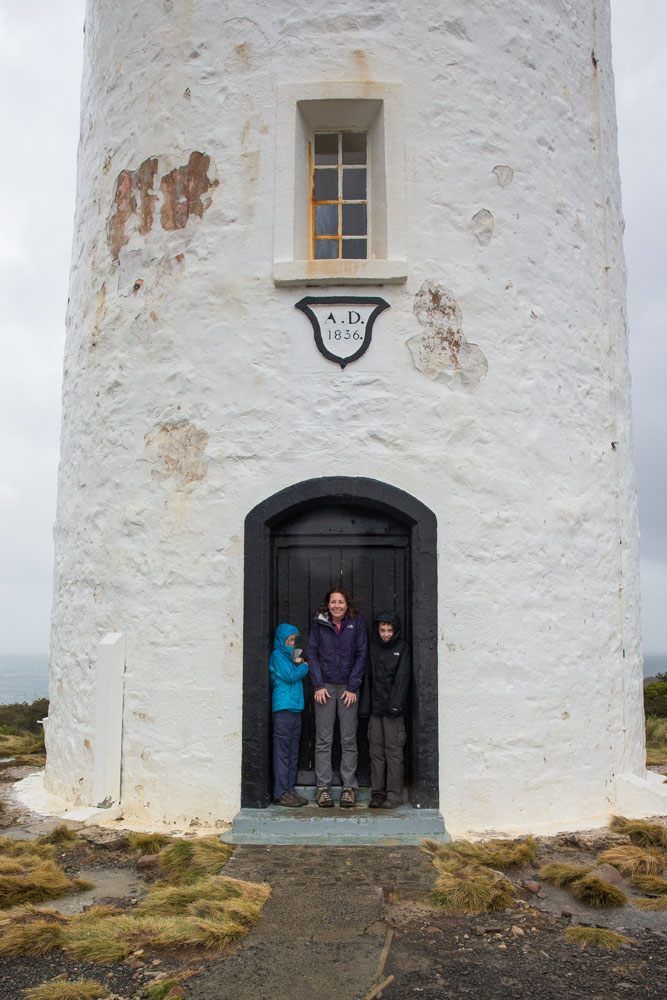 Saying Goodbye to Bruny Island
From the lighthouse we had to retrace our steps to the north, an hour's drive back to the car ferry. Along the way we ate a very late lunch at Hotel Bruny, making it in time for the 4:30 ferry back to the mainland. During our drive north, those rainclouds dissipated, leaving us with glimpses of the sun yet again.
Our day full of fun was coming to an end, we had just made more amazing memories, our car was much dirtier, and the four of us were very excited as to what Tasmania had in store for us during the remainder of our week here.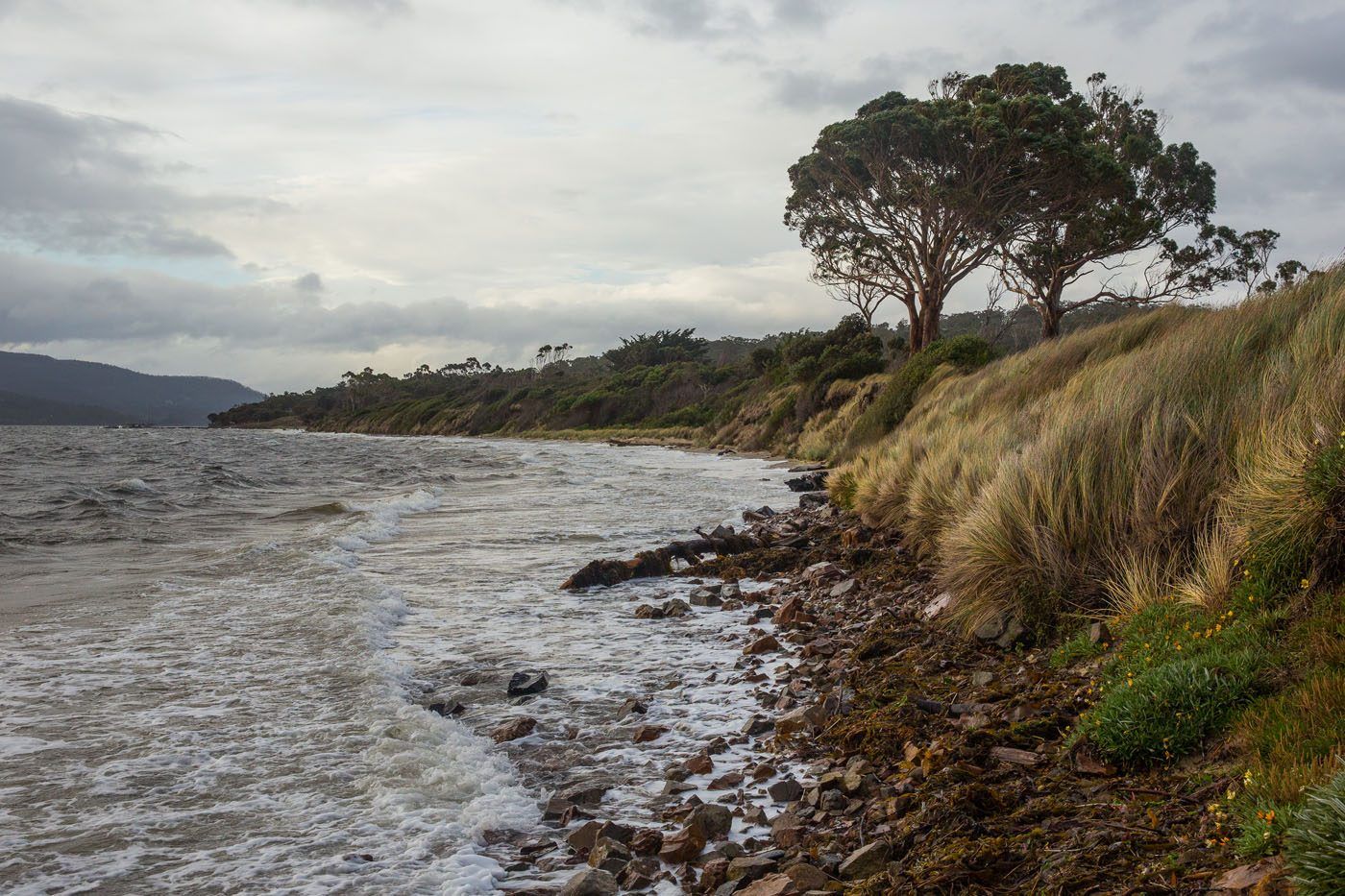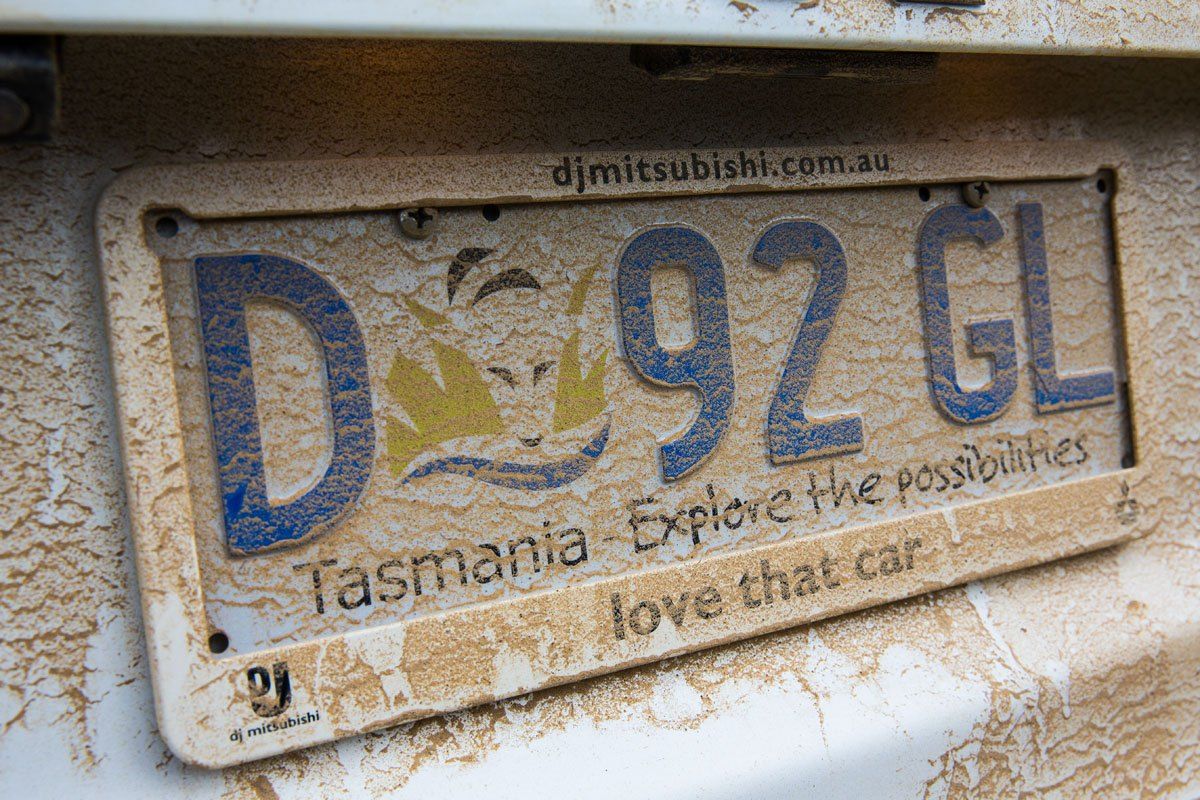 Post updated May 2018.
---
You May Also Like: