We're on the road again, and this time it is just Tim and I. Tim is on his first international business trip to Israel and I get to tag along. How lucky I am!! I wish Tyler and Kara were just as lucky but they could not miss school for this trip, no matter how much they would have gotten out of it.
Our flights from the US to Frankfurt to Tel Aviv were thankfully uneventful. We arrived in Jerusalem at 5 pm (10 am EST). It was Friday afternoon, the beginning of Shabbat. Shabbat is a day of rest and spiritual enrichment for Jewish people. Early Friday afternoon, Jewish businesses close for the day. Families attend a religious ceremony in the evening, followed by dinner. Shabbat continues on Saturday, with more praying, leisurely activities, and family time. Jewish businesses typically reopen on Sunday.
We had read that the Western Wall is best visited during Friday evening and that it is an almost magical experience. What better way to kick off our tour of Israel?
Tim and I walked through the very quiet city streets of Jerusalem, on our way to the Western Wall. Families were dressed in their finest clothes, walking to the synagogues. We saw Orthodox Jewish men dressed all in black, also on their way to the Western Wall. It was a very festive atmosphere.
Walking towards Jaffa Gate of the Old City
Walking through to Old City blew away our expectations. Old, narrow cobblestoned streets lined with fruit juice stands and small shops snaked their way towards the Western Wall. It felt a little bit like we were walking the hallways of the Grand Bazaar in Istanbul.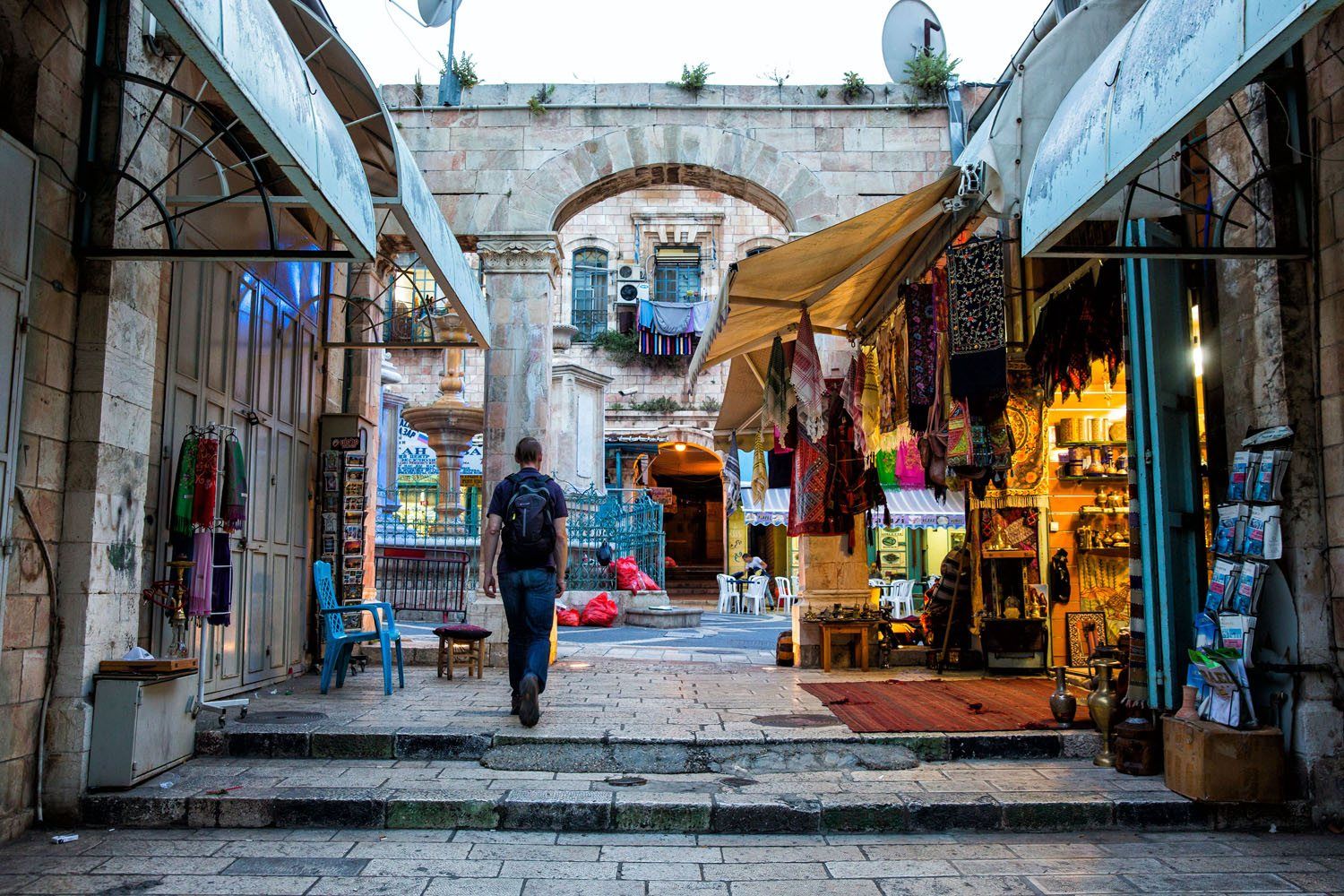 We arrived at the Western Wall just before dusk. Every visitor passes through a security check before entering the area around the Western Wall. As soon as we entered the area, we could hear chanting and praying. In front of us was the legendary Western Wall with people quietly in prayer. Up the hill to our right was a group of young men, cheerfully singing and chanting, while a large group of curious onlookers (like ourselves) watched the show.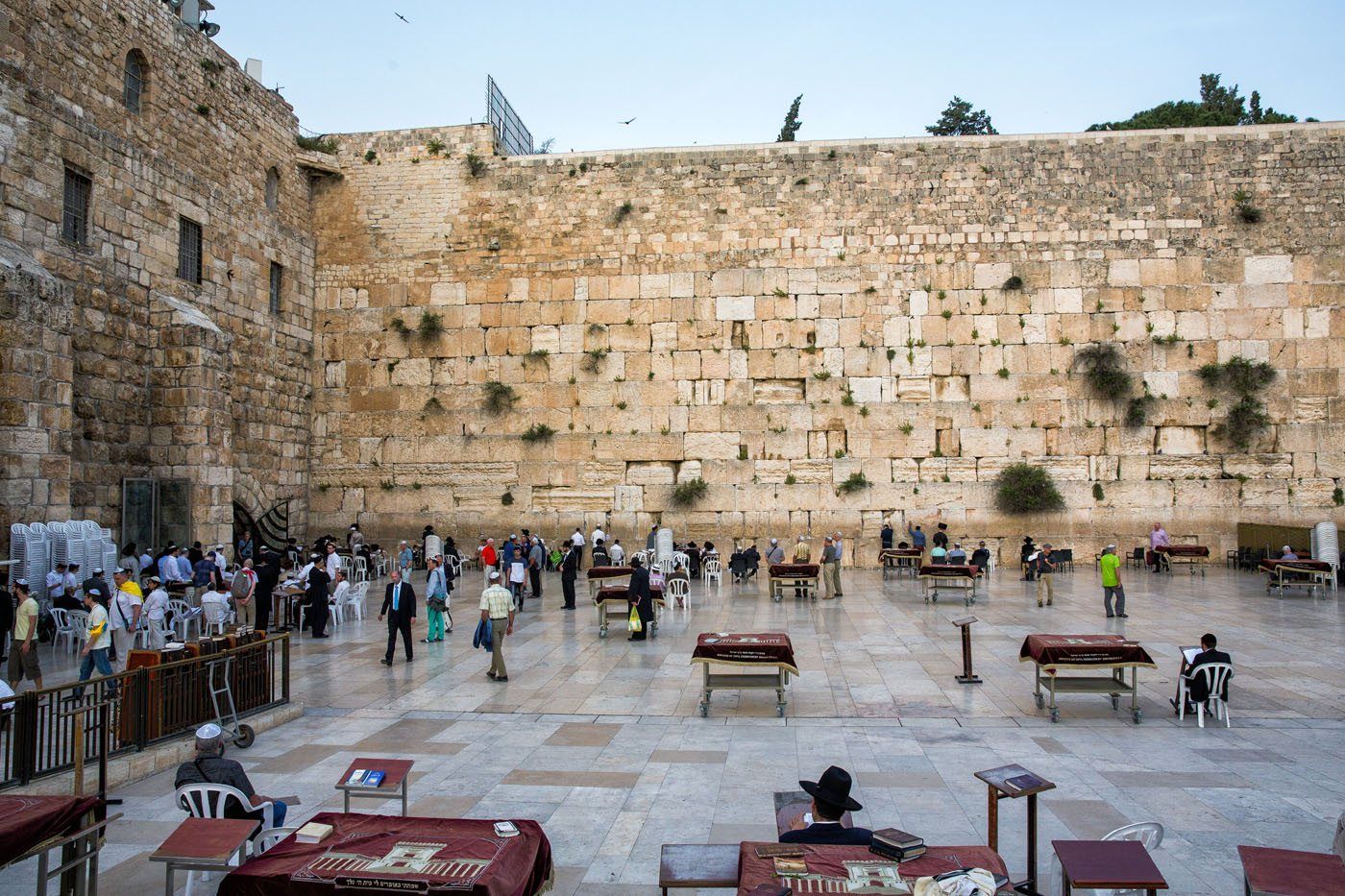 There were just as many tourists here as there were Jewish people in prayer. On a Friday night this is one of the most religious spots on the planet and it was amazing to witness it.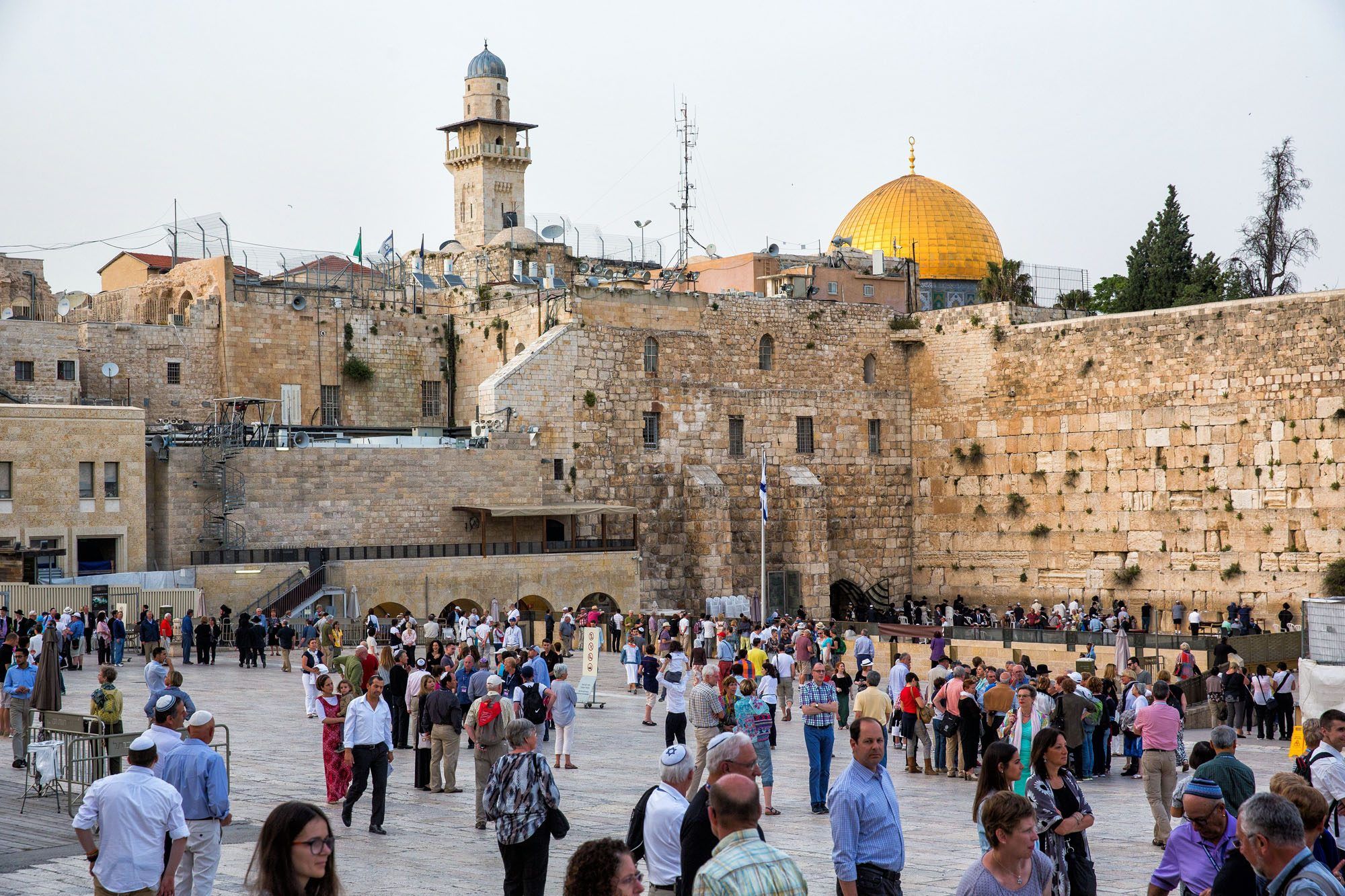 The Western Wall, structurally speaking, is the retaining wall for Temple Mount. It was built 2000 years ago. In 70 A.D., the Temple was destroyed and the Jews were exiled from Jerusalem. Later, when the Jewish people were able to return, they had lost the location of the Temple, so they began praying at this exposed, outer wall. The Western Wall became a place of pilgrimage and now serves as an open air synagogue. Friday afternoon, the beginning of Shabbat, brings the largest crowds of people.
For people watching, this place is awesome. This is a great spot to stand back and watch the action, but I still wanted to participate. I wrote my prayer on a piece of paper and approached the Western Wall. I was raised as a Catholic but currently do not think of myself as a very spiritual person. As I took my place on the wall, I was surprised how moved I was to be here. I actually had tears in my eyes as I said my prayer and stuck my paper in a crack in the wall. It totally took my by surprise!!
Tim and I stayed a little longer, taking in the magic of this place.
On our way out of the Old City we had our first taste of hummus. Delicious! And I ate way too much. Actually, I wasn't at all hungry, which was kind of strange…
Once back at the hotel, I began feeling bad. Very bad. I spent the night and a good chunk of Saturday running to the bathroom. I assume I picked up Kara's stomach virus and it hit me the first night in Israel.
While I lost a precious day sightseeing Jerusalem, Tim got out and saw some of the sights. He also took over the role of photographer. Here are some of the places he visited:
Mount of Olives
Dominus Flevit Church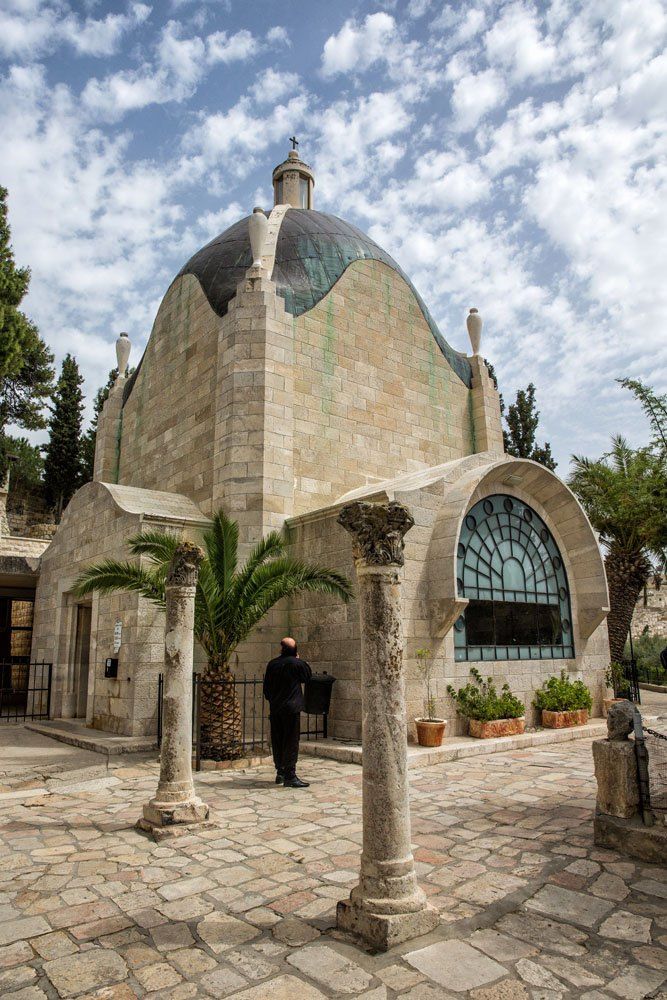 Gethsemane Church and Garden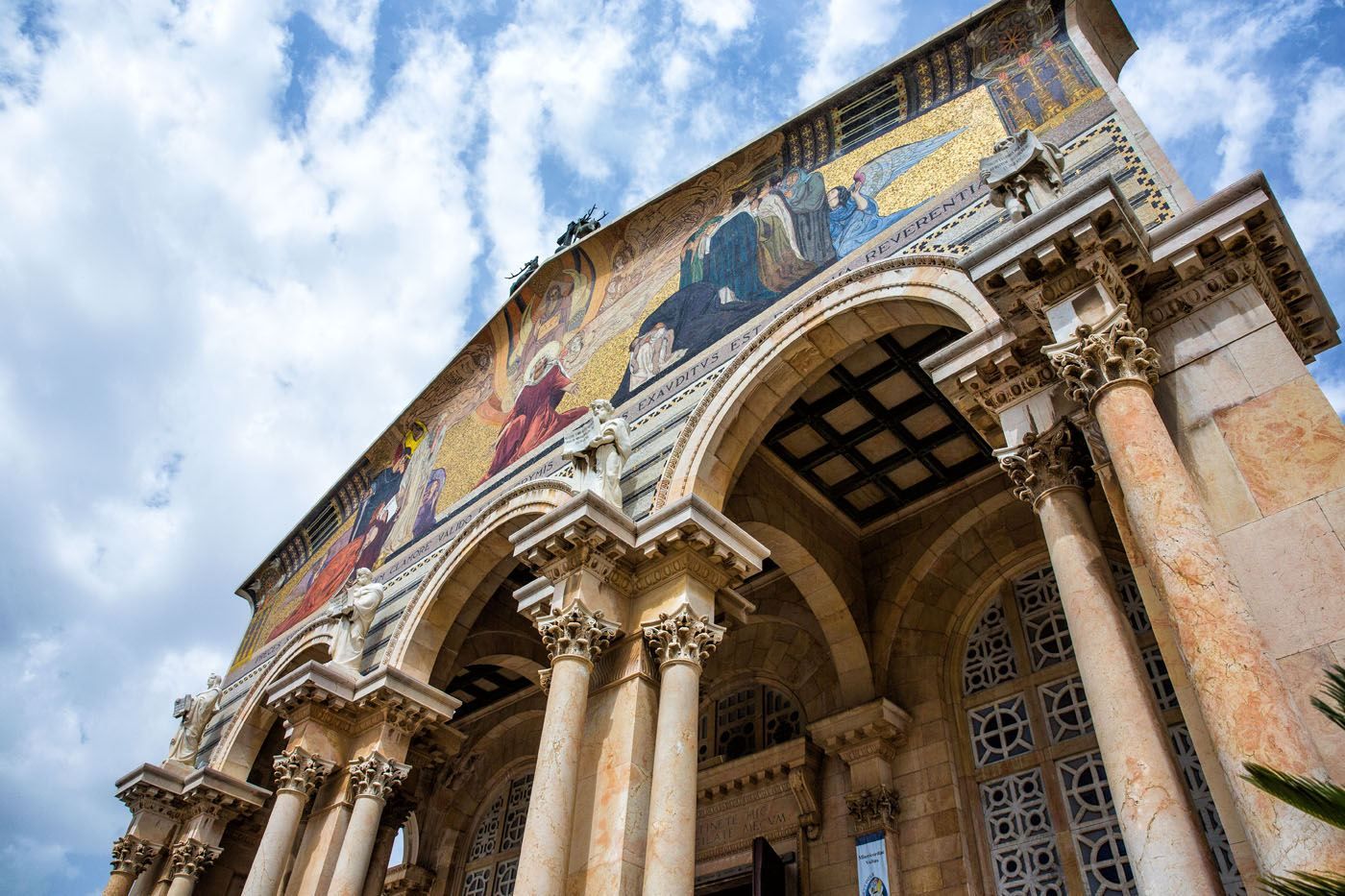 He walked the Via Dolorosa, also known as the stations of the cross.
Church of the Holy Sepulchre (where it is said the Jesus was crucified and rose from the dead)
And he walked the Ramparts, the top of the wall around the Old City
It would take me days to recover from that stomach bug (it really hit me hard!). Currently we are in Tel Aviv. I will be doing some exploring on my own while Tim is in meetings. At the end of the week, when he is free, we have more time to explore Israel and we also travel to Jordan to visit Petra.
---
All rights reserved © Earth Trekkers. Republishing this article and/or any of its contents (text, photography, etc.), in whole or in part, is strictly prohibited.