Temple Mount is one of the most important religious sites in the world. Located on Temple Mount is the Dome of the Rock, one of the most recognizable structures in Jerusalem. The golden dome of Dome of the Rock is seen from the Western Wall, Mount of Olives, Tower of David, and many of Jerusalem's city streets.
A visit to Temple Mount is a popular activity on many tourist's itineraries, but getting in is not so easy. Visiting hours are limited, there are restrictions for non-Muslims, and lines can be long.
Here are the things you should know before going to Temple Mount.
Visiting Temple Mount and the Dome of the Rock
What is Temple Mount?
Temple Mount is a large platform constructed on top of one of the hills in the old city of Jerusalem. It is the holiest site in the world in Judaism, the third holiest site in the world in Islam (after Mecca and Medina), and an important site for Christians.
For Jewish people, Temple Mount is also called Mount Moriah. It is here that the first two Temples were built and this is the location for the Holy of Holies. To avoid walking on the Holy of Holies, many Jewish people will not walk on Temple Mount, since the exact location of the Holy of Holies is not known. Jewish people now pray at the Western Wall, which structurally is a retaining wall for Temple Mount.
For Muslims, Temple Mount is known as the Noble Sanctuary or Haram al-Sharif. The Al-Aqsa Mosque is the 3rd holiest site in the world in Islam. The Dome of the Rock is a shrine that contains the Foundation Stone and marks the spot where Muhammad ascended into heaven. Muslims once faced this place to pray, until Muhammad changed the direction of prayers to Mecca after a revelation from Allah.
Controversy over Temple Mount
Until the mid-twentieth century, non-Muslims were not permitted on Temple Mount. Since 1967, non-Muslims have been permitted to enter the site but prayer is forbidden.
Visiting Hours
For non-Muslim visitors, Temple Mount can be visited Sunday through Thursday:
Summer: April through September: 7:00 – 11:00 am and 1:30 – 2:30 pm
Winter: October through March: 7:00 – 10:30 am and 12:30 – 1:30 pm
Temple Mount is closed to tourists on Fridays, Saturdays, and during Muslim holidays. Sometimes Temple Mount can close without notice. Get updated hours on Google before you go.
During peak season, plan on arriving at least an hour early since queues can be long and only limited numbers of people are allowed to enter.
There is no charge to visit Temple Mount.
Where to Enter Temple Mount
The entrance for visitors is via the wooden walkway that is seen from the Western Wall. Access to this walkway is outside of the Western Wall area, near the Dung Gate of the old city of Jerusalem. Here you will go through security, passing through metal detectors and sending your belongings through x-ray scanners. Ascend the long, wooden platform to enter through the Bab al-Maghariba gate.
Are Jewish People Permitted to Enter Temple Mount?
Yes, Jewish people are permitted to enter Temple Mount, but prayer is not allowed, and religious artifacts cannot be brought onto the site. There is some controversy over whether or not Jewish people should enter Temple Mount. There is a Jewish law that forbids Jews from entering this site so they do not set foot on the "Holy of Holies," located where the first two Temples stood. Despite the law, nowadays more and more Jewish people are visiting Temple Mount.
Update: Recently, we we received a comment that Jewish prayer is allowed, if performed inconspicuously. You can also learn more here.
Dress Code
Modest dress is required. Men should wear long pants and a shirt that covers their shoulders. Women need long pants or a long skirt with a shirt that covers their shoulders and elbows. Clothes should be loose fitting. Sandals are permitted. A head scarf is not necessary.
While we were here, a young woman was asked to leave because her pants were too tight.
Dome of the Rock and Al-Aqsa Mosque
Non-Muslims are not permitted to enter the Dome of the Rock or Al-Aqsa Mosque. We were scolded for just trying to peek inside of the Dome of the Rock.
About Our Experience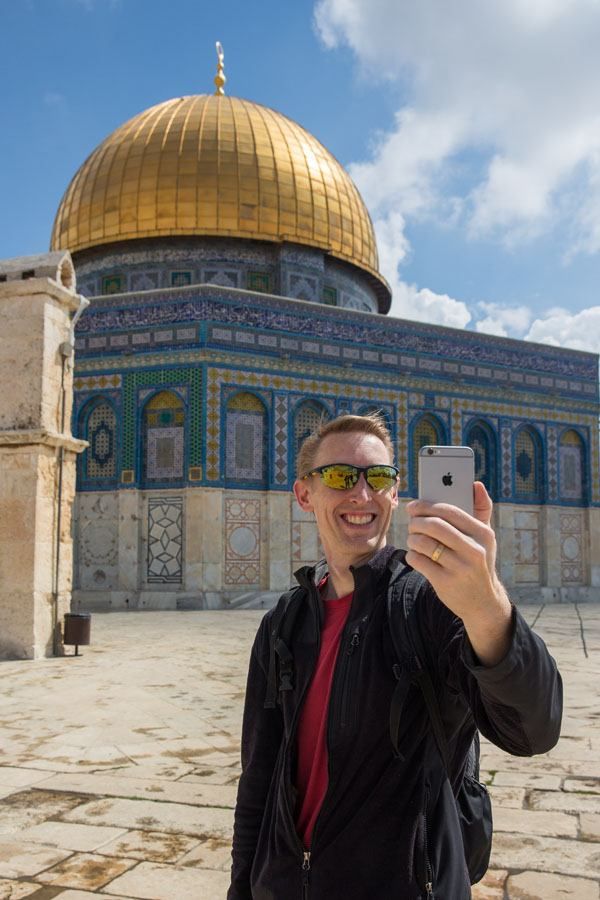 After hearing stories of people getting turned away for not dressing appropriately or waiting in very long lines, we got very lucky. Tim and I visited Temple Mount in mid-April on a Wednesday. We arrived at 10:30, just a half hour before closing time for the morning. There was no line, we breezed right through security, and passed by several men armed with semi-automatic rifles before walking up the wooden ramp to the entrance gate. Unsure if a head scarf was necessary, I wore a scarf over my head, just in case.
Walking around the large, open area of Temple Mount was calm, quiet, and peaceful…much different from the hustle and bustle of Jerusalem's streets. There were small groups of other tourists walking around as well as groups of Muslims. I took my head scarf off since it was not necessary.
Tim and I walked past Al-Aqsa Mosque and then up to Dome of the Rock. The sun had just come out and this building is beautiful when illuminated by sunlight. Tim and I took our time walking the circumference of the Dome of the Rock, taking photos, and people watching. Several Muslim men approached us, giving us small books about Islam.
Five minutes before 11, security guards began politely telling people it was time to exit the site.
Temple Mount was one of our favorite spots in Jerusalem. Maybe it is because the Dome of the Rock is gorgeous and it was awesome to see it up close. Or maybe it is because we passed all of the rules to enter Temple Mount, a place that is notorious for denying people entry. Prior to our visit, I had read horror stories about how people got turned away for "looking too Jewish" or not wearing the right clothing, so I knew it was possible that we could get turned away, also.
If you get the chance to visit Temple Mount while in Jerusalem, it is worth it!
Photo Tour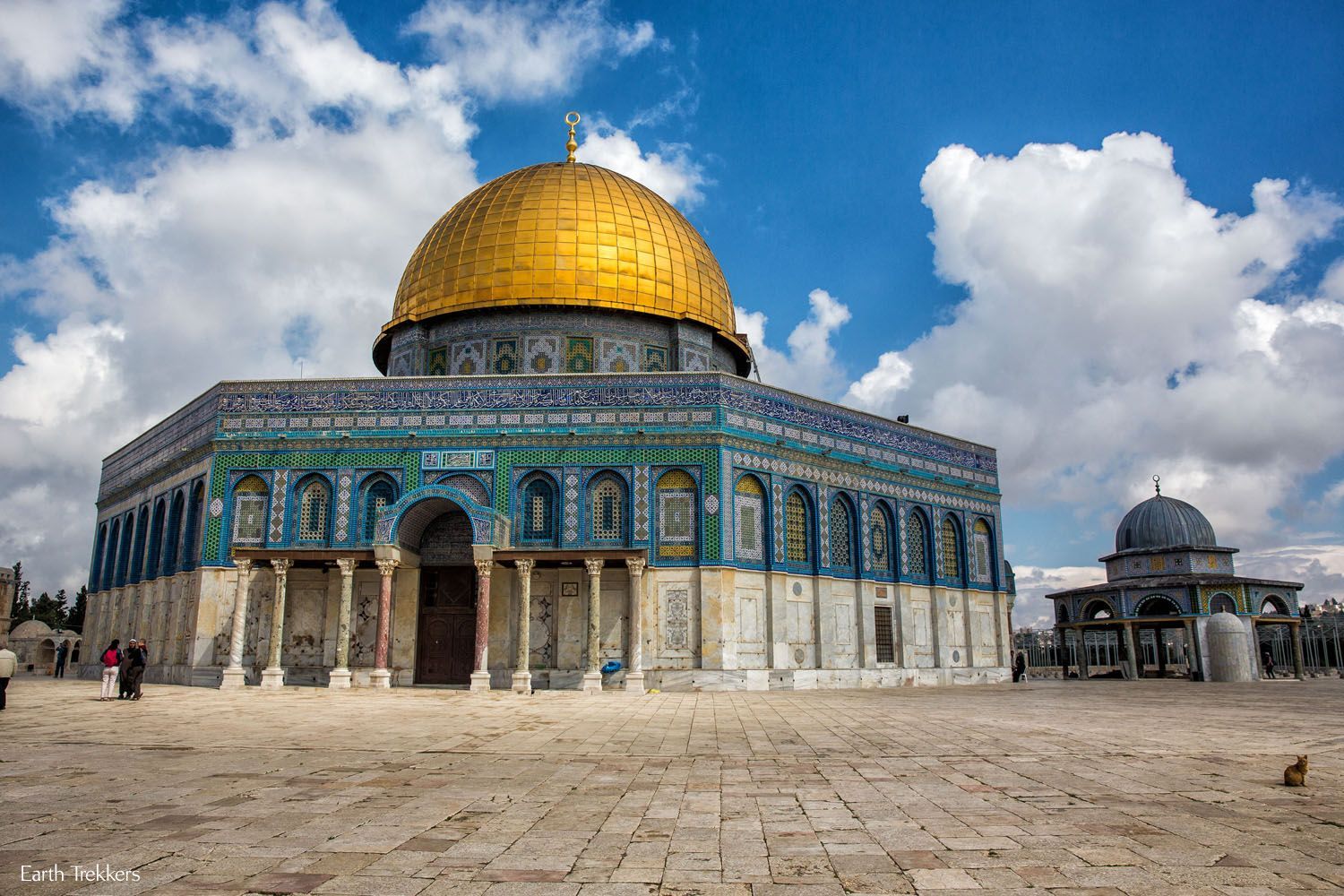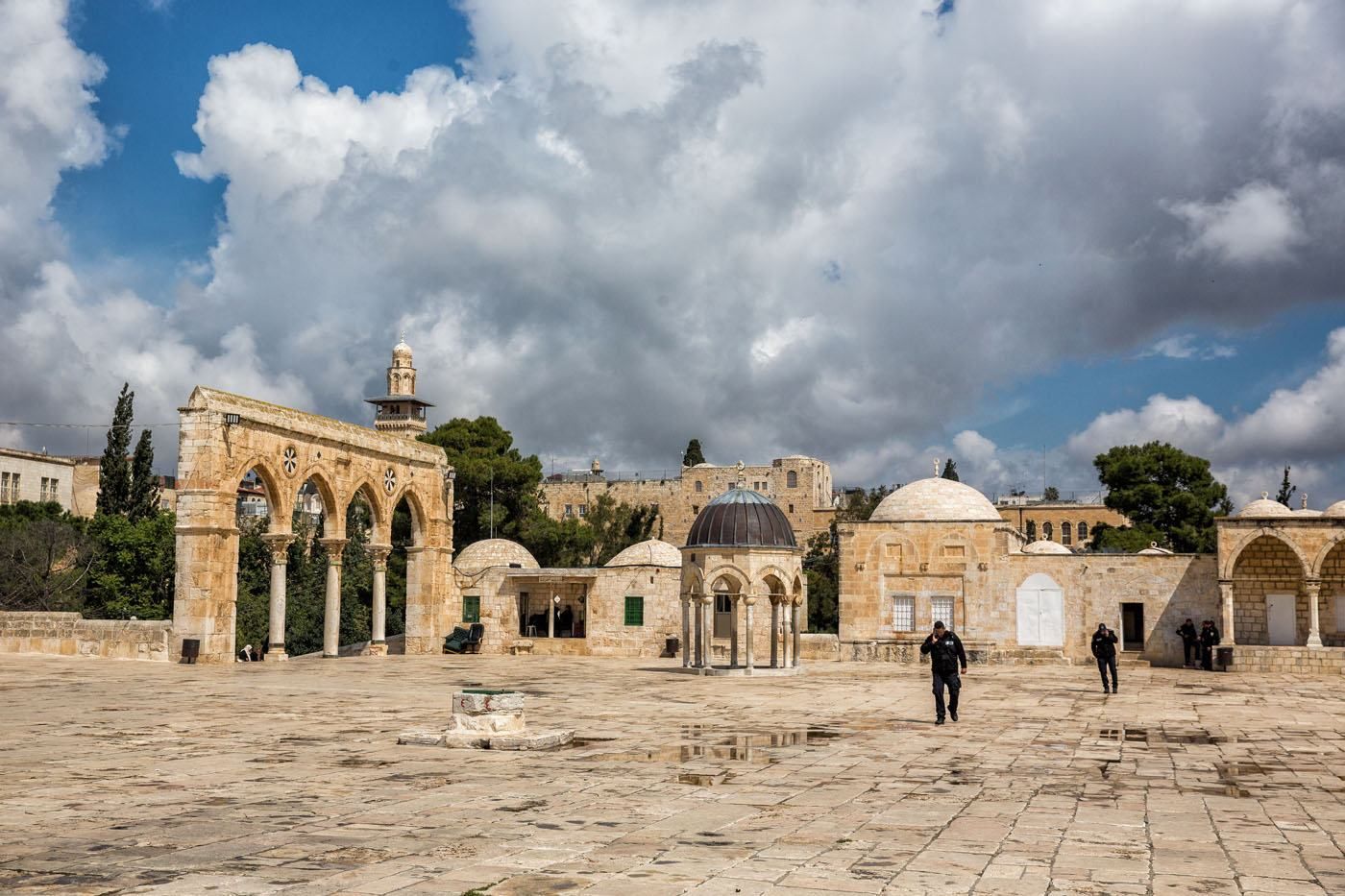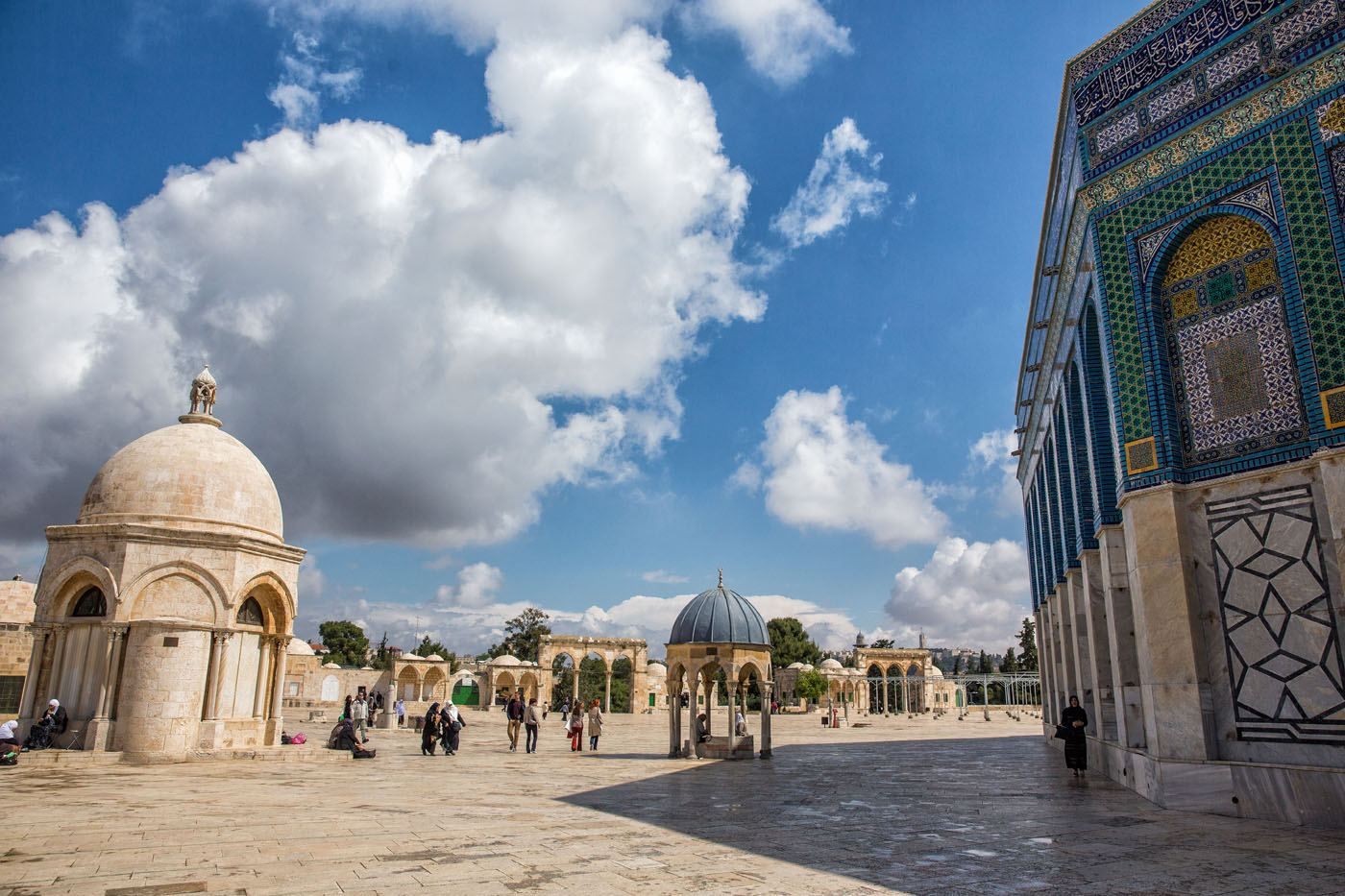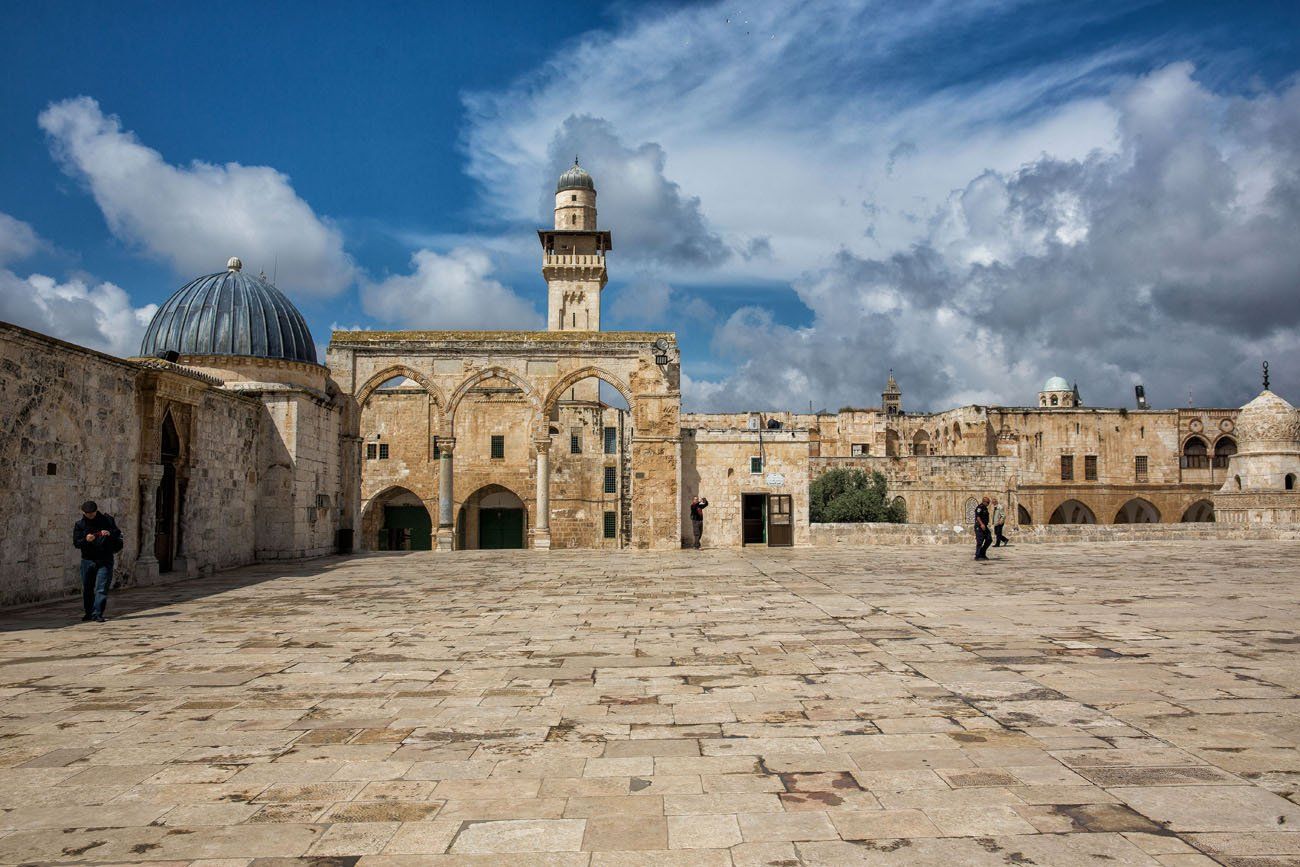 Final Tips
Arrive early! Queues can be very long during peak season.
Do not bring any religious artifacts with you, Christian or Jewish. If security finds these in your bag or on your person you can be denied entrance.
Dress modestly. Again, not following this rule can deny you entrance.
There are groups of security guards throughout Temple Mount, all armed with rifles. Do not take their photos! You will be asked to delete them from your camera.
---
More Information for Your Trip to Israel
PLACES TO GO IN ISRAEL: Learn about the best things to do in Jerusalem, get information on how to visit Masada and the Dead Sea, and what it is like to road trip through the Negev Desert.
ISRAEL & JORDAN ITINERARY: In our 10 Day Israel and Jordan Itinerary, learn how to visit the highlights of both countries, with travel tips and essential planning information.
TRAVEL PHOTOGRAPHY: For more information about the camera gear we carry, check out our Travel Photography Gear Guide. And tips and tricks for taking great photos in our article How to Take Better Photos while Traveling.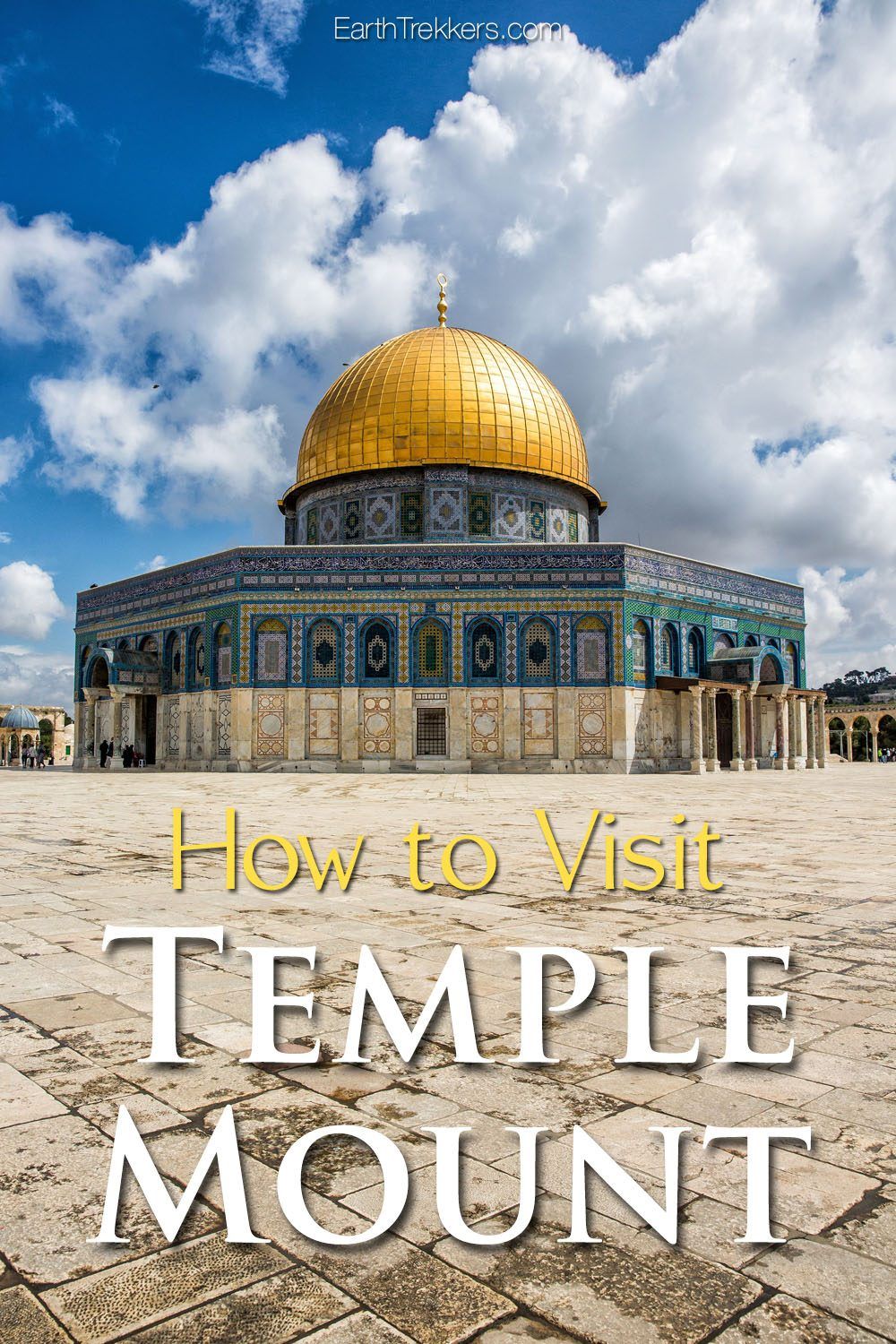 All rights reserved © Earth Trekkers. Republishing this article and/or any of its contents (text, photography, etc.), in whole or in part, is strictly prohibited.