Ten days in Israel and Jordan…a trip that started out badly but ended well. Tim had to travel to Israel for work and I got to tag along. We had a few precious days to tour Israel and we tacked on some extra time to go to Jordan. Here is an overview of our trip to Israel and Jordan.
Day #1 Arrive in Jerusalem
We arrived in Jerusalem on a Friday afternoon. It was the beginning of Shabbat, the period of rest for Jewish people. The Western Wall, an important religious site in Jerusalem, is the place to visit on a Friday evening. This place is festive and lively and for Tim and I it was a great introduction to this historic city. We saw just enough to get us very excited for our upcoming time in Israel.
Unfortunately, a few hours later, I came down with a stomach virus (that I think I picked up from Kara just before leaving the US). This stomach virus would kick my ass and leave me feeling miserable for days.
Day #2 Tim goes Sightseeing in Jerusalem
While I spent the day feeling miserable in our hotel room, Tim got out and went exploring in Jerusalem on his own. He visited a lot of the main sights, such as the Mount of Olives, the Ramparts, the Church of the Holy Sepulchre, and more.
To read more about our first two days in Israel, read First Impressions of Israel.
Damascus Gate
Gethsemane Garden
The view from the Mount of Olives
Day #3 Travel to Tel Aviv
Sunday we did not do very much. We moved from Jerusalem to Tel Aviv, which are just an hour and fifteen minutes apart by taxi, since Tim would be working in Tel Aviv this week. He spent a good chunk of the day in meetings.
We were staying at Herod's Hotel, a large hotel right on the ocean. I managed to get up and take a walk on the beach but that was about it for me today. For me, it was very frustrating, feeling so terrible. There was so much I wanted to do but I was exhausted.
I had planned on sampling as much hummus as I could while in Israel and had even hoped to post solely about the best places in Israel for hummus. After Friday night, the thought of eating hummus turned my stomach for the rest of the trip. Bummer.
Day #4 Tim's Presentation
Today was a huge day for Tim. He and a co-worker, Roberto, gave a presentation on Cesium and Systems Tool Kit to a packed house of 150 attendees. It was an all day event and the main reason why we were in Israel. Tim's presentation went great but it was a huge relief once it was over.
I took a few photographs at the beginning of the presentation and then went exploring on my own. I spent some time in Jaffa, the old city just south of Tel Aviv. I still felt very fatigued and even a little nauseated so I didn't last too long.
The view of Tel Aviv from Jaffa
No Fishing sign in Tel Aviv
Day #5 Julie Goes to Jerusalem
While Tim spent the day in meetings in Tel Aviv, I took a taxi back to Jerusalem to see everything I missed on Saturday. I got all caught up with Tim, visiting everything he did except for the Mount of Olives. It was a rainy, chilly day but there were still a lot of people out on the streets.
Mary Magdalene Church
Inside the Virgin Mary's tomb
At one point, I got stuck up on the Ramparts Walk, the top of the walls that surround the old city of Jerusalem, during the worst downpour of the day. I had a rain jacket but no umbrella so I huddled up against the wall, trying to stay as dry as possible. I laughed through the whole thing and ended up getting pretty wet and cold. But, I was finally feeling back to normal today so I was not going to complain about a little bit of rain.
View from the ramparts
Day #6 Jerusalem
Tim had the day off from meetings so we spent the day touring Jerusalem. It was a beautiful day…bright blue skies with big puffy clouds. In the afternoon more rain showers moved in but it was much nicer weather than yesterday.
This was our last chance to see Jerusalem so we toured the city like crazed travelers on a mission to experience as much as possible.
We started off visiting the Dome of the Rock, an Islamic shrine on Temple Mount.
We took the Western Wall Tunnels tour, a tour where we learned about the significance of Temple Mount and the Western Wall to Jewish people. Jerusalem has been leveled and rebuilt numerous times over the past two millennia and during this process the street levels have gradually been rising. We descended down to the base of the Western Wall to where ground level originally was in Jerusalem. From here we walked the tunnel that runs along the base of the Western Wall, learning about Jewish religion and the history of Jerusalem. Tim and I learned a lot and we recommend this tour to anyone visiting Jerusalem.
We also visited the City of David, a city that dates back to 3000 years ago. The best thing to do here is to walk Hezekiah's Tunnels, a 500 meter underground tunnel with rushing water at knee-level. We skipped this one since we were not dressed appropriately but if we ever return to Jerusalem this will be number one on our list of things to do.
One of our favorite things to do in the old city of Jerusalem is to wander the streets. This is a very photogenic city.
The Jewish Quarter was our favorite area of the old city of Jerusalem. It is cleaner and quieter than the other sections.
The Cardo
Hurva Synagogue was really neat to see and from the top of the Synagogue we had great views over Jerusalem.
Not far from the Jewish Quarter there is a viewpoint with amazing views of the Western Wall.
Next to the Western Wall more excavations are being done. From here we could see Temple Mount and Mount of Olives. What a beautiful day.
At Mt Zion, we visited the Cenacle, which is the room of the Last Supper, as well as King David's tomb.
For the best views over Jerusalem (and a great museum documenting the history of this city) go to the Tower of David.
Our day ended with a quick visit to Mahane Yehuda Market, located outside of the old city of Jerusalem. If you like visiting markets, this one is a good one!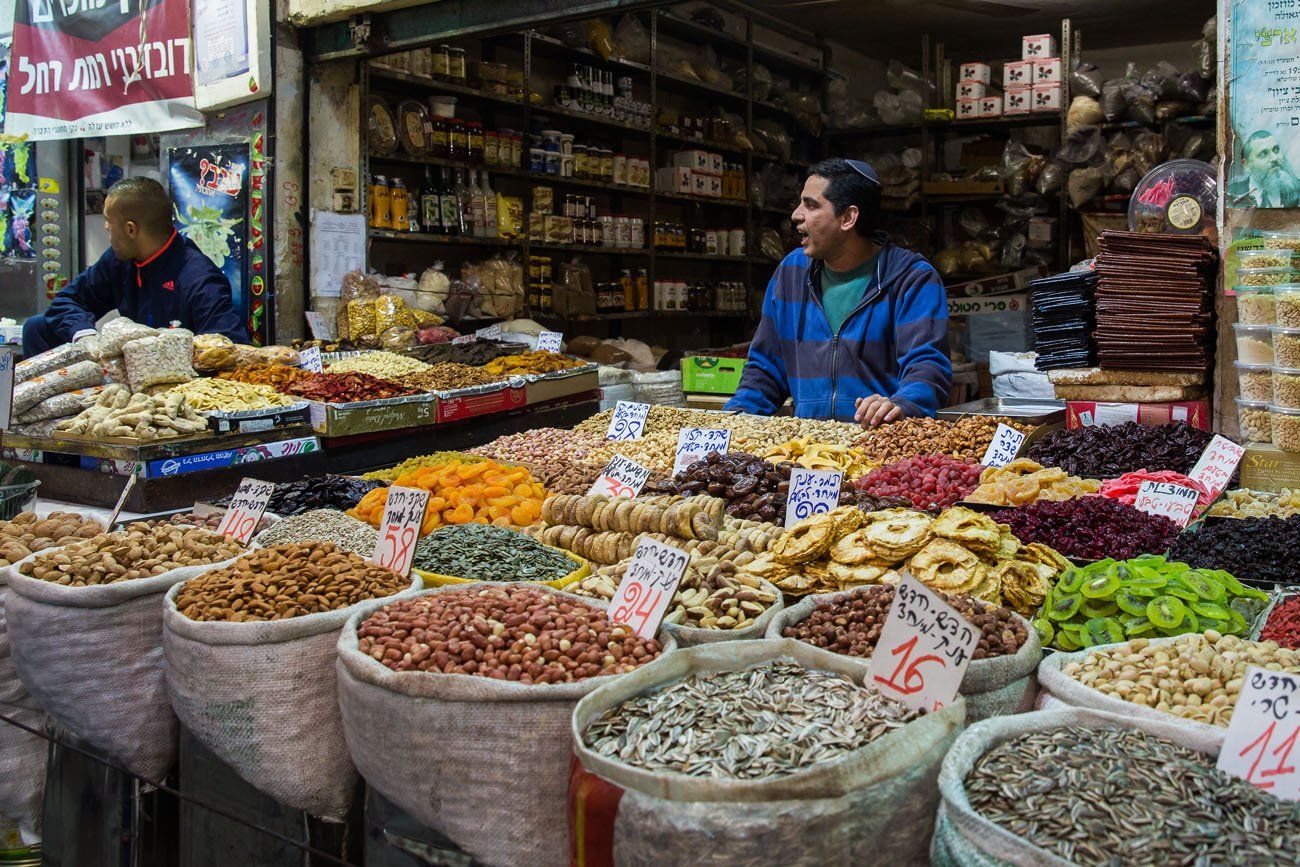 We got back to Tel Aviv late at night. Both of us were very tired, a theme that would continue for the rest of the trip. There is just so much to see and do here and we didn't want to miss anything!
Day #7 Meetings for Tim, Fly to Eilat
Tim spent the morning and midday in meetings. I packed up our things and went for a long walk through Tel Aviv. In the afternoon we flew to Eilat, a beach town on the Red Sea. This is a very popular vacation destination for Israelis and many, many people were headed here for the weekend.
We ate dinner at an Italian restaurant and then called it a day. We were not here to explore or to party. For us, Eilat was our gateway to Jordan. Tomorrow we would be crossing the border and then spending the day exploring Petra.
Day #8 Petra, Jordan
At 8 am we crossed the border between Israel and Jordan. Things just got more difficult because as of January 2016 you must have a Jordan visa before arriving at the Yitzhak-Rabin border. For this very reason, we hired a tour with Desert Eco Tours because they could obtain our visa ahead of time and also take us on a tour of Petra and Wadi Rum.
Petra has been something Tim has always talked about visiting, so we decided to take this two day trip into Jordan while we were in Israel. Why not, we are so close, right?
We had concerns about safety and security while in Jordan. It is so close to everything we hear on the news about Syria and Isis. Was it smart to go to Jordan?
Yes. Our two day experience was amazing. We actually felt much safer here than in Israel. The people in Jordan are so friendly and so welcoming, and it felt much different than being in Israel. Tim and I fell in love with this country and we would love to return again someday.
Petra is a UNESCO World Heritage Site that dates back to 300 BC. It is a collection of tombs and shrines. Everyone recognizes the pictures of the Treasury, the building carved from the wall of a mountain. The Treasury is the most beautiful sight at Petra but there are a lot of similar looking buildings. We spent the day exploring Petra, climbing to the High Place of Sacrifice and walking out to the Monastery. In the evening, once everyone left, we were able to take a few photos of just us and the Treasury. This place is awesome.
We ended the day by drinking wine at the Cave Bar. Yes, a cave that is transformed into a bar. Awesome!
Day #9 Wadi Rum, Jordan
At the crack of dawn, Tim and I were up and walking back into Petra. I wanted some early morning photos before the place was busy with tourists again. This is the best time to visit Petra. Not only is the lighting beautiful but we had Petra all to ourselves for twenty minutes before anyone else arrived. It was almost magical to be there on our own.
We spent the rest of the day in Wadi Rum, another UNESCO World Heritage Site in Jordan. Ali, our guide for the day, drove us on sandy roads in Wadi Rum, taking us to the most scenic spots in this desert area.
The best part of the day was hiking to Jebel Burdah, a challenging, at times technically difficult hike to an arch that sits hundreds of meters off of the ground. The highlight of the hike is walking over the arch and taking photos standing on it. Yes, it was freaky and dangerous but it was also a lot of fun.
We came to Jordan to see Petra but it was Wadi Rum that blew us away. This place is spectacular!! We were even more impressed with Wadi Rum than Petra. If you are planning to visit Petra, take another day and visit Wadi Rum. Do not miss this!!
We got back to Eilat by 5 pm. While in Eilat we just had to put our feet in the Red Sea. Off in the distance, you can see Jordan, its mountains and it's border city of Aqaba.
Our day ended with dinner and wine at an Italian restaurant on the beach. Today was amazing, the best day of the trip. It is days like these that make me feel so fortunate to be able to travel like this.
Day #10 Masada and the Dead Sea
Today we rented a car and drove through a good-sized chunk of Israel. From Eilat we drove north through the Negev Desert, stopping at viewpoints along the way like Maktesh Ramon (looks similar to the Grand Canyon). This part of Israel is mountainous and beautiful and worth driving through at least one time. While visiting the tomb of David Ben-Gurion we were lucky enough to see a family of ibex.
We arrived at Masada at 2 pm, the perfect time of day to hike up to the top of this mountain. Not! It was a hot day and a strenuous climb to the top, but we weren't going to ride the funicular up. What's the fun in that? But, ha ha, we would ride it back down once we were finished visiting Masada.
Masada is one of Israel's most popular tourist sites. It is ancient fortification on top of a mountain. It was used by Jewish people who were trying to escape the Romans. Once the Jewish people realized that they were about to be overtaken by the Romans, they committed mass suicide. Now, visitors can walk among the ruins of this fortification, which date from 2000 years ago.
Masada sits right next to the Dead Sea. And this was our final stop in Israel.
The Dead Sea is the lowest point on earth, sitting 1,400 feet below sea level. The water is almost ten times saltier than the ocean. This saltiness is what makes it so easy to float in the Dead Sea. The water has an oily appearance and coats your skin with oily, salty film. Any nicks or cuts you make have burn when they come into contact with the water.
Tim and I were surprised at how easy it was to float in this water. It's crazy and a lot of fun!
On our drive from the Dead Sea back to Tel Aviv, we stopped at this viewpoint over the Dead Sea.
The following day we flew back to the US. It took 21 hours door to door to get from Tel Aviv, Israel to Maryland.
---