When planning our trip to Giza, we kept reading about camel rides around the pyramids. It sounded touristy and overrated. We decided to do it, but we weren't excited about it.
The four of us have ridden camels before. In India, we traveled by camel into the Thar Desert and slept outside at night under the stars. After this experience, walking around the pyramids on a camel did not sound all that thrilling. Honestly, it just sounded like another way to spend money for a touristy, overrated experience.
On our first day in Giza, we reluctantly climbed atop the camels and started our journey around the pyramids.
It was so much fun. What made it even better is that the views you get are unbelievable. Even though the pyramids were swamped with visitors, once we were on a camel, we were out in the desert, away from the crowds, with some of the most beautiful views that we had on our entire trip to Egypt.
On our final day in Egypt, we had a free morning, so we returned to the Giza plateau for another camel ride. It was one of the highlights of our trip and I can't wait to share it with you in this post.
This article is filled with photos from both rides, with all the details on where to get the same shots and do this same ride.
Should You Ride a Camel at the Pyramids of Giza?
Before we go any farther, one important question to address is should you ride a camel at the Pyramids of Giza? There have been reports about animal abuse, not just to camels, but horses too, at the pyramids. In some cases, the animals are sometimes beaten and overworked during the day, and offered little chance to take a break.
We were unaware of this before our visit and only learned about it after writing this post.
On our visit, we did not see any signs of abuse with the camels that we rode. The camels we rode looked in good health and seemed to be getting plenty of rest. Both times, the camels were sitting on the ground, getting some downtime both before and after our ride. Had we seen any signs of mistreatment or poor health, we would have skipped this experience.
For more information about how to have an ethical camel riding experience, read this article on Matador Network. To read more about the treatment of horses and camels in Egypt, read this article on the New York Times.
Camel Ride at the Pyramids of Giza
We did two camel rides in Giza. Both rides started at the same point but we rode the camels on two different routes, in order to get different views of the pyramids.
Camel Ride #1: Pyramid of Menkaure to the Sphinx
The first camel ride was at the very end of the day, right before closing time (4 pm). We rode the camels for 30 minutes, starting at the Pyramid of Menkaure and ending next to the Sphinx.
We visited Egypt at the end of December, over winter break. Sunset time in Cairo was 5:00 pm on the day we did this. These photos were taken about an hour and a half before sunset.
In the afternoon, crowds can be huge at the pyramids, and our visit was no different. However, once we were on the camels, we left the crowds behind and it was a wonderful experience.
We visited Egypt with our mothers, Kathy and Valerie. My mom chose to skip the camel ride and Valerie joined us.
Below is our journey in photos.
Here is the route of the camel ride, starting next to the Pyramid of Menkaure and ending near the Sphinx.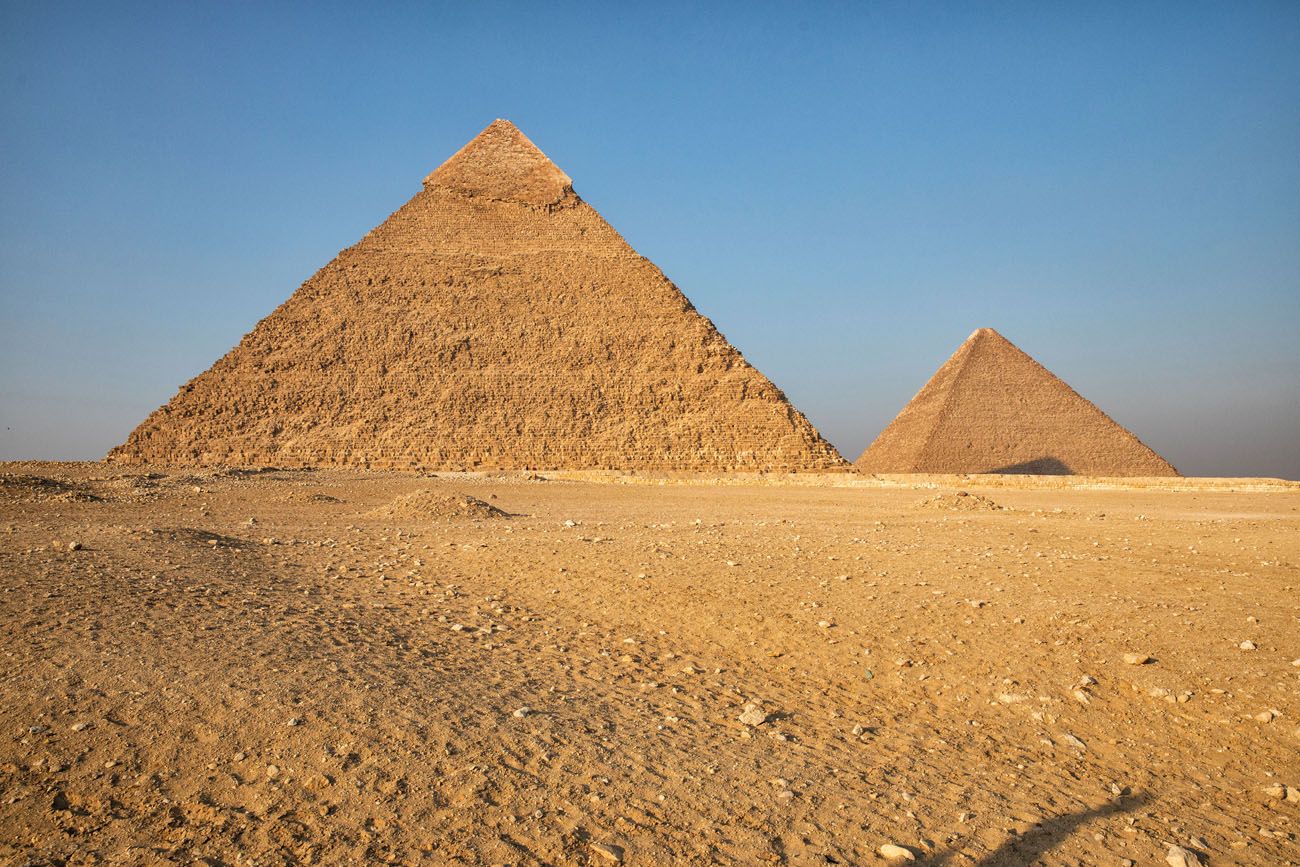 Camel Ride #2: Amazing Views of the Pyramids
There is a classic view of the pyramids where you can see all nine of them lined up together. We added on the second camel ride just to get this view. There are rules about where you can walk on your own and we were told that the only way to get to this viewpoint is by camel or by horse.
We did this second camel ride in the morning at 10:15 am. The lighting was much different and we even had some clouds in the sky. We also got very lucky with the weather conditions, since in the winter months, Cairo and the Giza Plateau can be covered in haze. There was very little haze this morning, perfect conditions for photography.
For this camel ride, we started at the same point, next to the Pyramid of Menkaure. We even had the same camels and guide, since we arranged both rides through our tour company, Egypt Tailor Made. On this ride, we rode round trip out to the photographic point to see all nine pyramids.
I liked this route a lot more than the first one. We went farther out into the desert and the views, as you will see below, are incredible. If you have to choose one route and only have time for a 30-minute ride, this is the one that I recommend.
Here is our camel ride in photos.
Pyramid of Menkaure
Looking back at the Pyramid of Khafre
Pyramids of the Queens
Planning Your Visit
What We Did: We arranged both of our camel rides through Egypt Tailor Made, the tour company we used in Cairo (and most of Egypt). Our guide, Laila, arranged both of these rides for us, so we did not have to negotiate prices or routes. Which is good, because at the time, we had no idea where to go.
How Much Does This Cost?
For a 30-minute camel ride, the average price is 300 EGP, which is about $20 USD. However, this price can vary a lot, based on your negotiating skills, the length of time of the camel ride, and where you ride the camels.
We also tipped our camel guides at the end of the ride.
Routes for Camel Rides
When you are at the Giza Plateau, you will see camels everywhere…down by the Sphinx, in front of the Great Pyramid, at panorama point, and scattered along the roads around the pyramids. Finding a camel to ride should not be difficult. But where you start your ride will have big impact on what you get to see.
Both times, we started right next to the Pyramid of Menkaure. Laila, our guide with Egypt Tailor Made, arranged our ride ahead of time, so the camels were waiting for us.
Our first camel ride was point-to-point. Laila dropped us off at the Pyramid of Menkaure and then met us at the Sphinx when the ride was over. We did not have to deal with any hassle of arranging transportation or walking long distances…she thought of everything and made our visit very smooth.
If you are doing this on your own, there were a lot of camels at Panorama Point (on Google Maps this location is labeled Panoramic View of the Pyramids). This is also a very nice viewpoint of the pyramids and I think that this would be a good spot to start a camel ride. You are a bit farther away from the pyramids but you can get some great views from here.
Before getting on the camel, negotiate the route and the price with your camel guide. Make sure you know exactly what you are getting before you agree to anything. You will pay your guide at the end of the ride.
This photo was taken on our second camel ride.
Best Time of Day for a Camel Ride
We visited the Giza Plateau twice, in the morning and in the afternoon shortly before sunset.
The best time of day to visit the Giza Plateau depends on which season you visit Egypt.
If you will be visiting Egypt during the winter months (from November through February), it is common for the pyramids to be hazy in the morning. On our first two days in Cairo, a haze did cover the pyramids, but this typically burned off between 10 am and noon. On the day we did our second camel ride, we got very lucky that there was minimal haze. But you can't count on this happening.
Because of the possibility of hazy skies in the morning, the best time to visit the pyramids in the winter months is midday and in the afternoon. If you prefer to go in the morning, when the pyramids are less crowded, you will have to keep your fingers crossed for clear skies.
If you will be visiting Egypt between March and October, that morning haze is unlikely. But it will be much hotter. I recommend visiting the Giza Plateau at opening time to avoid the heat and the crowds.
Visiting the Giza Plateau on a Tour
If you want to eliminate the hassle of negotiating camel rides, getting around the Giza Plateau, buying tickets, etc., then consider taking a tour. We typically do not take tours, but in this circumstance, having a guide and a driver made our visit hassle free and very enjoyable.
We hired Egypt Tailor Made, a tour company that offers private day trips throughout Egypt. For our time in Cairo, we had a van, a private driver, and a guide.
---
If you have any questions about this camel ride or about visiting the Giza Plateau, let us know in the comment section below. If you would like to share your experience, we would like to hear about that too!
More Information for Your Trip to Egypt:
You Might Also Like:
Note: This post contains affiliate links. When you make a purchase using one of these affiliate links, we get paid a small commission at no extra cost to you.
All rights reserved © Earth Trekkers. Republishing this article and/or any of its contents (text, photography, etc.), in whole or in part, is strictly prohibited.