Do you have plans to visit Egypt? If so, you might be wondering how much does it cost to visit Egypt?
Good news…Egypt is relatively easy on the wallet. Compared with places like Europe, North America, Japan, Australia, and New Zealand, Egypt is cheaper to visit.
Traveling through Egypt is similar in price to traveling through Southeast Asia. If you are a budget traveler, you can see and do a lot in Egypt without spending a lot of money. And if you like the idea of adding in upscale hotels and a cruise on the Nile River, you can do so without spending a small fortune.
We spent 12 days in Egypt at the end of December 2019. We traveled as a family of six people…four adults and two teenagers aged 15 and 16. Our mothers traveled with us to Egypt, which is why we were a total of six people for this trip.
In this article, I list average trip costs, including internal flights and travel expenses, food, hotels, tours, and starting prices for a Nile River cruise. At the end of the article, I add it all up, giving you the grand total if you are a mid-range traveler who spends 10 days in Egypt.
Note: 1 US dollar = 30 EGP (as of October 2023); for reference, in January 2022, 1 US dollar = 15 EGP, so check the exchange rate before you go
How Much Does It Cost to Visit Egypt?
Visa on Arrival
Total Cost: $25 USD
If you are a citizen of the USA, Canada, the European Union, Australia, New Zealand, Japan, Norway, Russia, and a handful of other countries, you can obtain a Visa on Arrival at the airport.
In the Cairo International Airport, just before passport control, there is a bank window where you will purchase your visa. It costs $25 USD and you will pay in cash.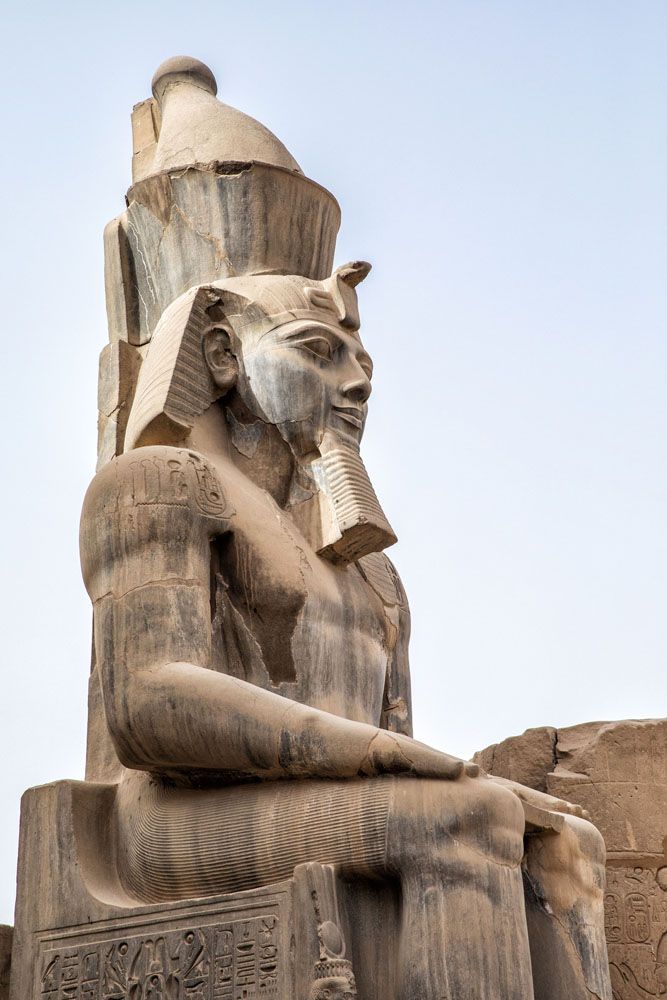 Statue of Ramesses II in Luxor Temple
SIM Card
If you want a SIM card for your phone, in order to have data while traveling through Egypt, you can get one at the Orange kiosk near baggage claim in the Cairo International Airport.
We paid $17 USD per SIM card (in December 2019). This gave us 10 GB of data for 30 days.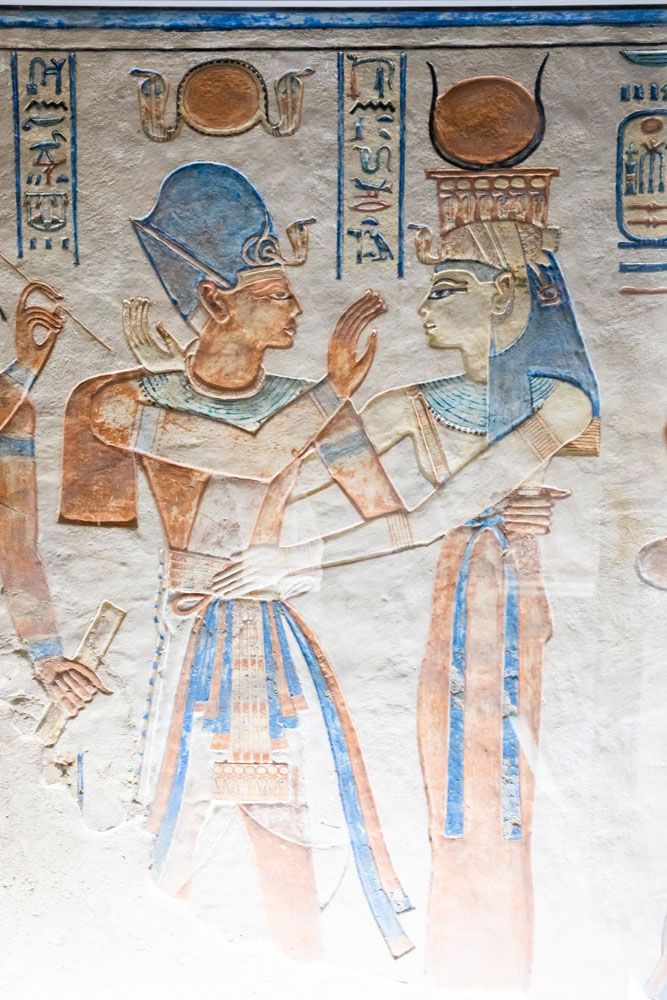 Inside the Tomb of Amen-Khopshef
Airport Transfers
To get from the airports to your hotels, you have several options, depending on the city.
Taxis are the cheapest option. The price depends on how far you will be traveling. Taxi fares can range from 40 to 200 EGP ($1 to $7 USD), depending on location and distance.
Pre-arrange a transfer through your hotel. The price for this depends on the city and the distance you will be traveling, but on average, we paid $45 USD (for a transfer for 6 people in 2019).
What We Did: We used a combination of transfers arranged through our hotel and transfers through our tour company, Egypt Tailor Made. Since we were six people, we didn't want the hassle of negotiating the fare on two taxis. For us, it was worth the extra money to have this arranged ahead of time.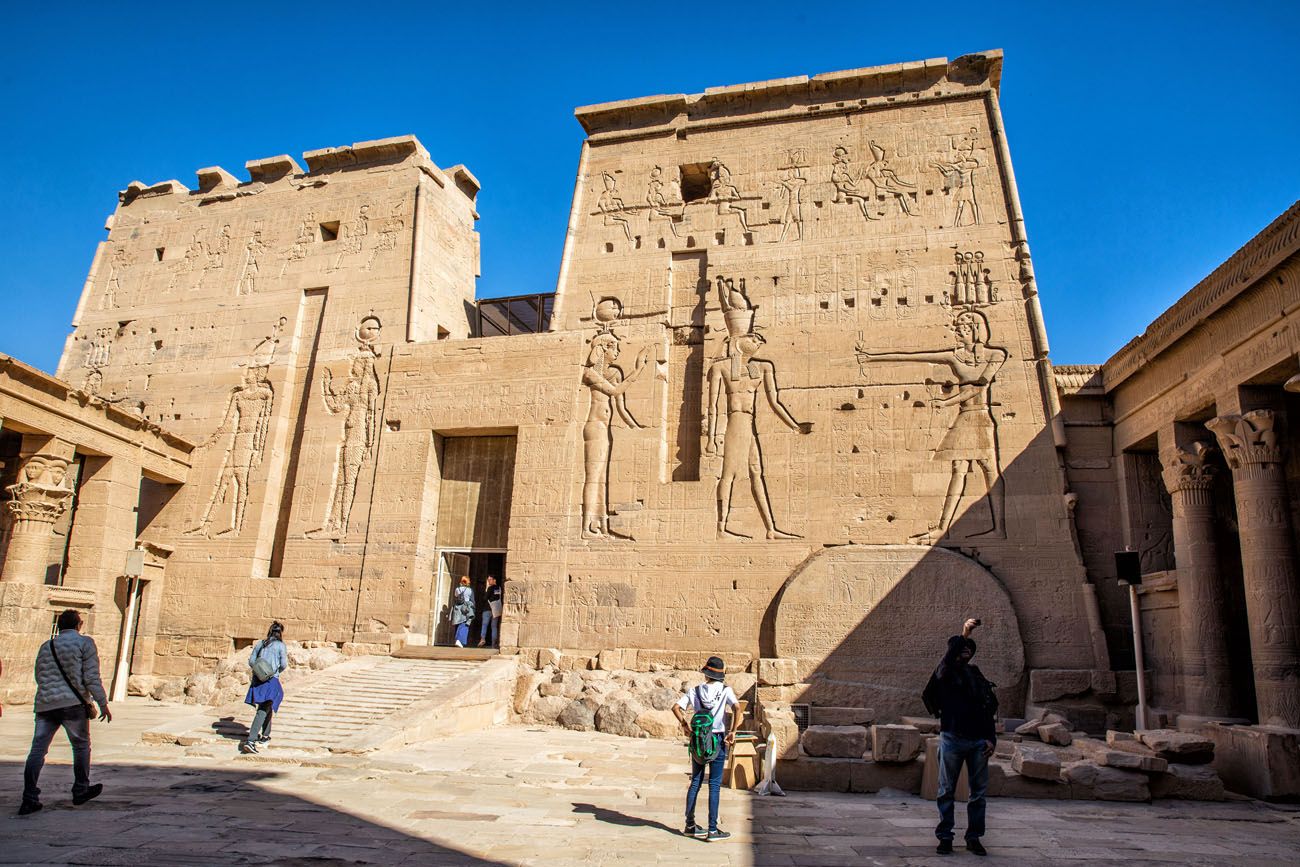 Inside Philae Temple in Aswan
Average Hotel Costs in Egypt
Prices can vary based on location and time of year. Here is a general idea of what to expect. All prices are in USD.
Budget: $10 – $50
Mid-Range: $50 – $150
Luxury: $150 and up
A budget hotel is a 2-star hotel or a hostel. A mid-range hotel is a 3-star hotel. Luxury hotels are 4 and 5-star hotels, including the Marriott Mena House in Giza, the Ritz-Carlton in Cairo, and the Hilton Resort in Luxor.
Prices will be higher during Christmas season and from December through February, which is peak season in Egypt.
Check prices for your trip to Egypt on Booking.com.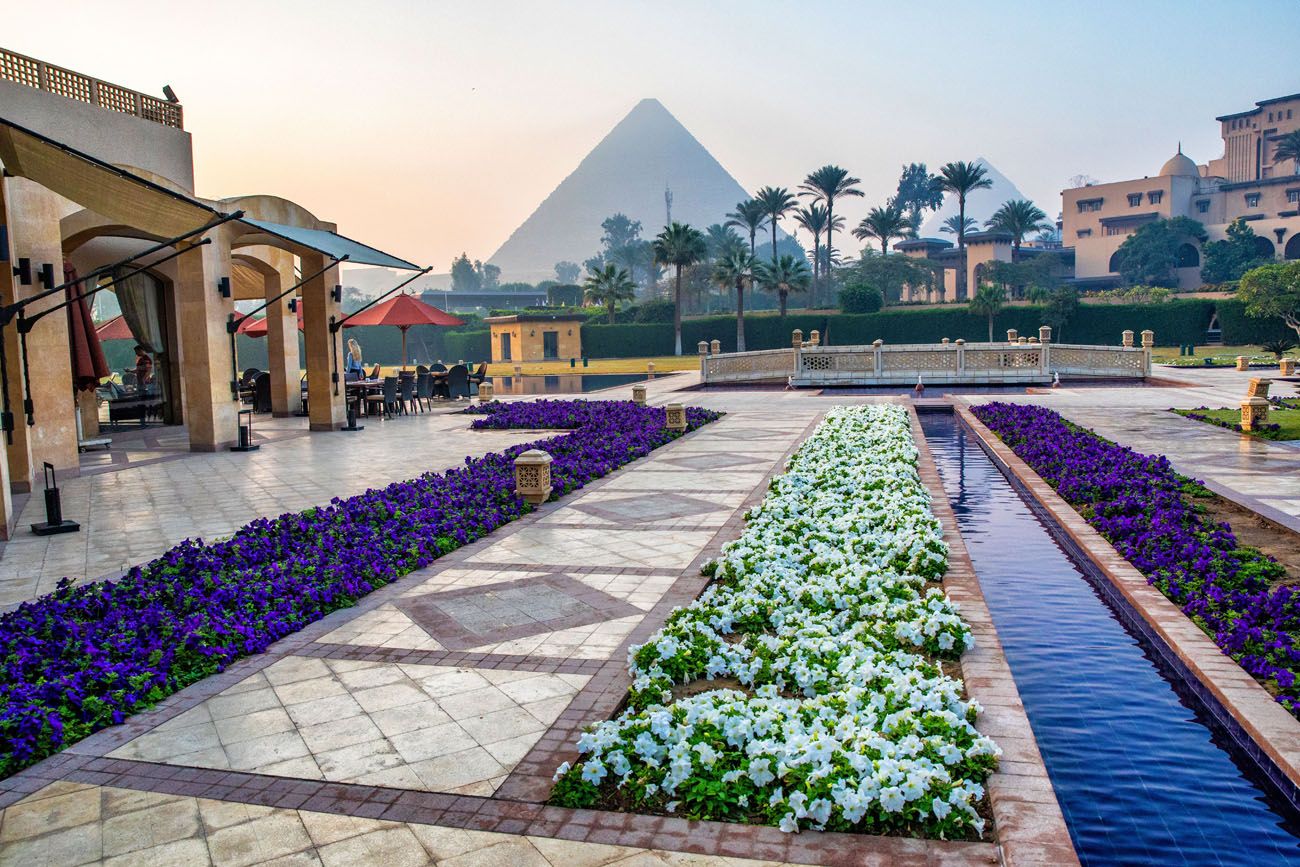 Marriott Mena House in Giza
Cost of Food
Vegetarian meals, local food, and street food can average as little as $1 to $2 per meal. Falafel sandwiches were my favorite food in Egypt and these cost roughly $1 per sandwich.
Sit down meals range from $5 to $12 per plate in many restaurants. In upscale hotels and restaurants, the cost per plate will be higher.
Tipping: For a sit-down meal, it is customary to tip 5 to 10% of the bill.
What We Did: Breakfast was included at all of our hotels. For lunch, what we did varied quite a bit. Sometimes we had a quick, cheap lunch (it's hard to beat those falafel sandwiches!) and once or twice we had a meal at a restaurant. There were a few occasions where we skipped lunch all together, just eating snacks that we brought from home or provided by our tour company. Every night we had a sit down dinner. Usually, but not always, this was at our hotel.
Getting Around Egypt
To get between cities, you can fly, take the train, hire a driver, or take a Nile Cruise.
Average Flight Costs
Flying is the fastest way to travel between cities, however, it will also be the most expensive option. All prices are in USD.
Cairo to Luxor: $100 to $145
Cairo to Aswan: $100 to $155
Aswan to Luxor: $100 to $150
Round Trip Aswan to Abu Simbel: $150 to 325
Average Train Costs
If you are traveling on a budget, taking the train is your best option. These are the prices in USD for the Express trains and the Special Express trains. All prices are in USD.
Cairo to Alexandria: $3 – 4 1st class; $2 – $3 2nd class
Cairo to Luxor: $17 1st class; $80 to $110 for a sleeper cabin
Luxor to Aswan: $8 1st class; $5 2nd class
For more information on using the trains, here is a great article on seat61.com.
Hiring a Driver
You can also get from city to city by hiring a driver. Of course, the price you pay depends on how far you are traveling.
From Luxor, if you plan to hire a driver to take you to Aswan, it costs 1600 EGP ($55 USD). A day trip to Dendera and Abydos from Luxor also costs around 1500 EGP ($50 USD) for a driver.
If you like the idea of hiring a driver, and you do not have plans to take a tour or a cruise, contact your hotel for pricing.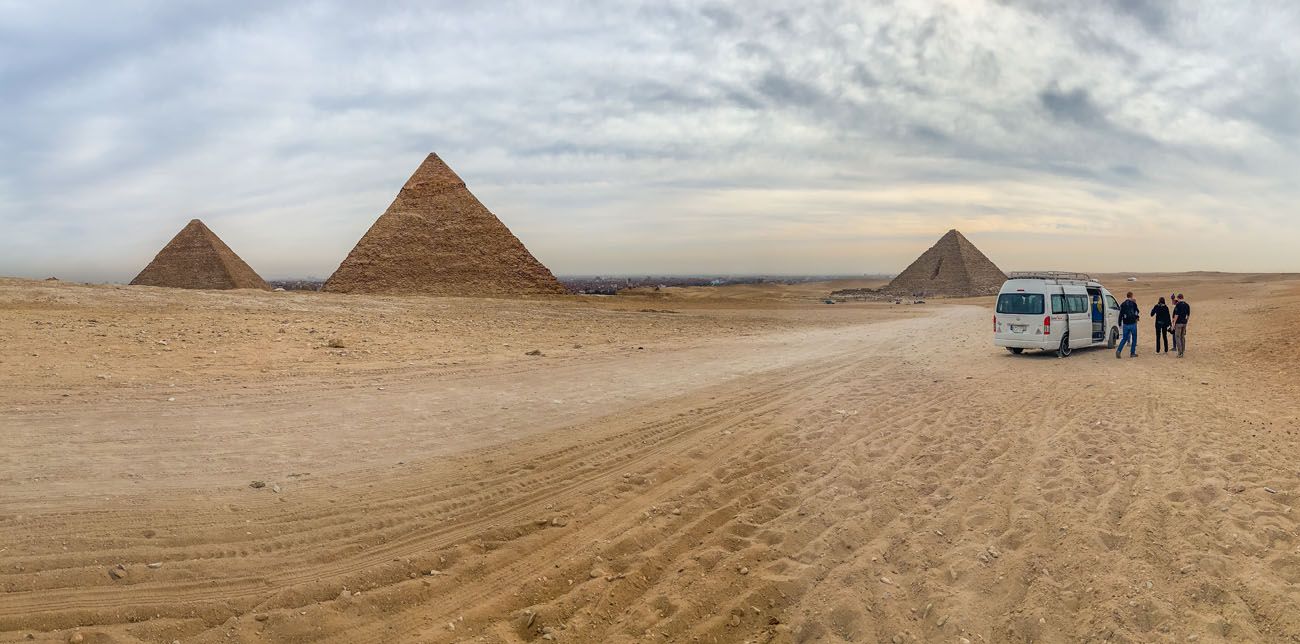 Our van and a view of the Pyramids on the Giza Plateau
Tour Costs in Egypt
Taking a tour in Egypt has several advantages. Your transportation is taken care of, you get to travel in a small or private group (depending on the tour that you choose), and you can visit the sites with a knowledgeable Egyptologist.
For our trip to Egypt, we hired the company Egypt Tailor Made. This tour company offers day tours and multi-day tours throughout Egypt. We basically strung together ten of their day tours into one customized itinerary.
For these 10 days, we traveled privately. We had a driver, a large, clean, air-conditioned minivan, and a guide or Egyptologist. The price we paid also included some extras and several of our airport transfers that we did not arrange through our hotel.
The price that we paid per day did not include entrance fees or meals. However, it did include bottled water and snacks.
We paid $220 USD per day in December 2019. This was for six people, which averages out to $37 per person per day.
Tim and I had planned to visit Egypt in March 2019, but Tim got a kidney stone the night before our flight to Egypt, so we rescheduled our trip to December. In March 2019, our average daily cost for two people was $142 per day, for a very similar itinerary. This averages out to $71 USD per person per day.
Group size and time of year will have an impact on your daily tour cost. You will pay a higher fee per person if your group size is small. The daily tour cost will also be higher from the end of December through February. We have also been getting recent reports that tour costs have escalated in 2023, as much as double what we paid in 2019. Contact Egypt Tailor Made for more information on pricing. Right now, I would assume a fee of roughly $100 per person per day.
If you have read some of our other articles on Egypt, then you know that we highly recommend hiring a guide and driver, especially through Egypt Tailor Made. Typically, we travel independently, without a guide, but Egypt is different. The places you will be visiting have such a long, rich history and it is really worth the extra expense to hire an Egyptologist.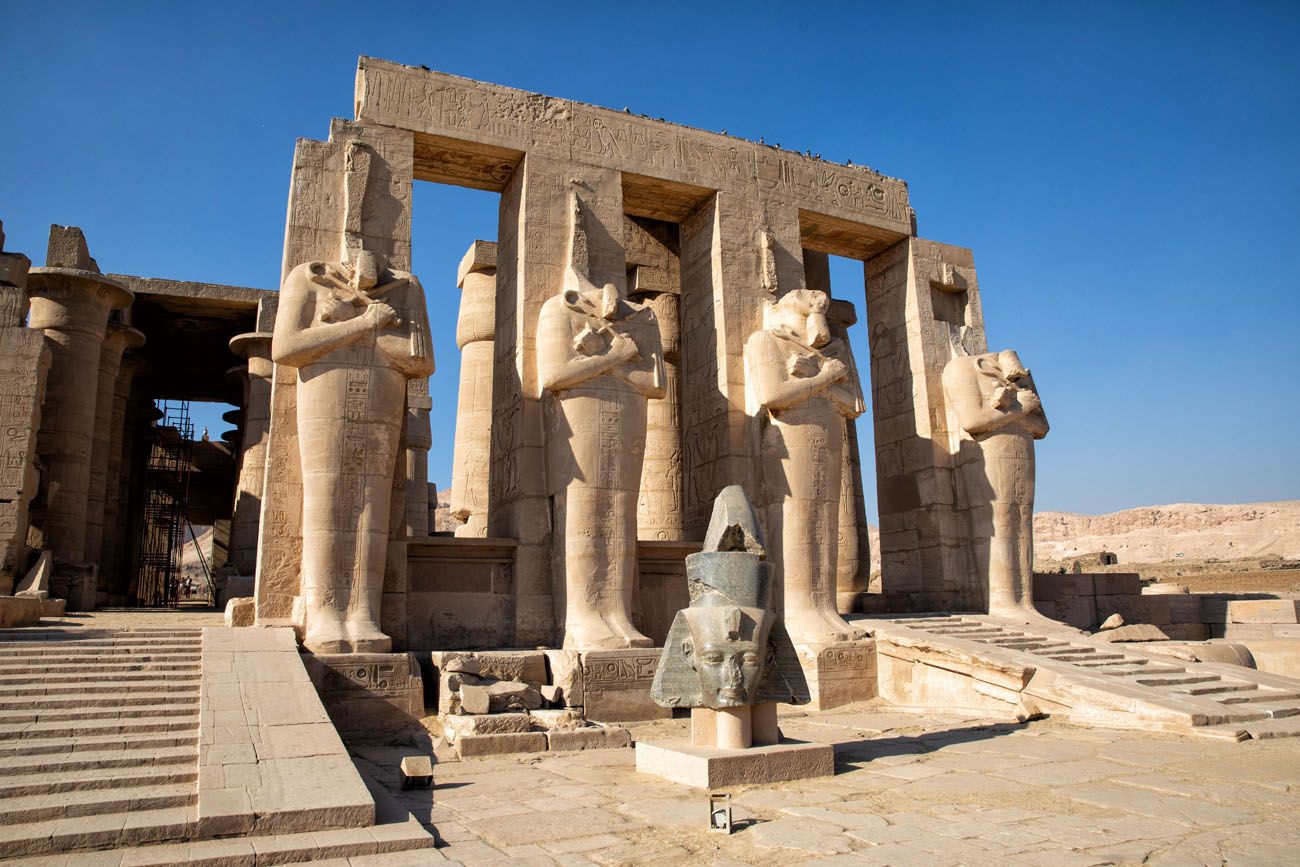 Ramesseum on the west bank of Luxor
Entrance Fees
Most entrance fees range from 150 EGP to 450 EGP ($5 to $15). There are several bigger ticket sites, such as Abu Simbel (600 EGP) and the Giza Pyramids (540 EGP).
There are also several special sites that have a much larger entrance fee, such as the entrance ticket into the Great Pyramid (600 EGP), the tomb of Seti I in the Valley of the Kings (1400 EGP), and tomb of Queen Nefertari in the Valley of the Queens (1600 EGP).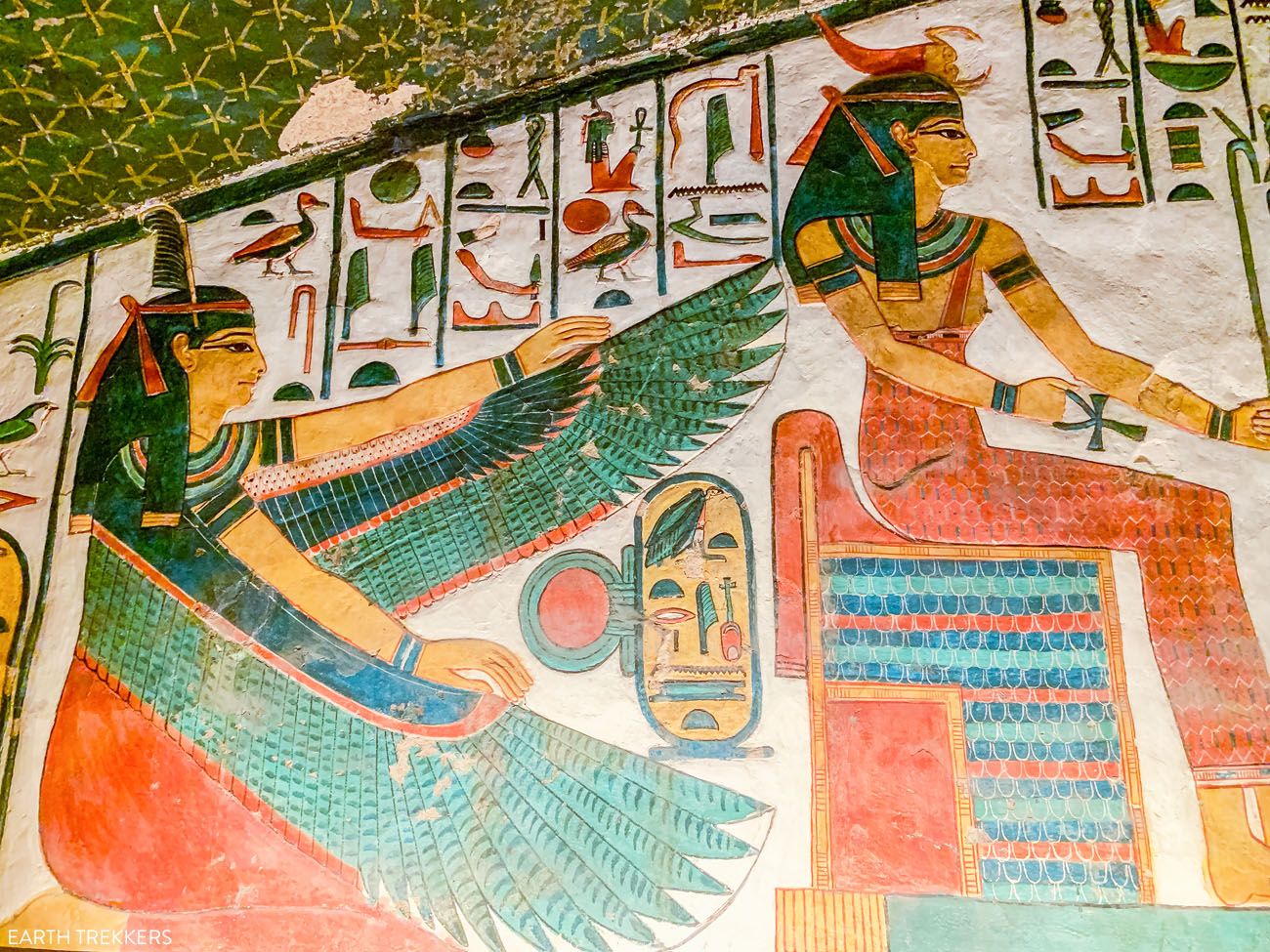 Inside the tomb of Queen Nefertari
We spent 10 very busy days in Egypt, visiting the Giza Plateau twice, Dahshur, Saqqara, numerous sites in Cairo and Aswan, Abu Simbel, several days on the east and west banks of Luxor, we took a day trip to Dendera and Abydos, and we saw Esna, Edfu, and Kom Ombo on the drive between Luxor and Aswan.
We spent $500 per person in entrance fees, but that was at a very different exchange rate, since our trip was in 2019. However, there was a big price increase in 2023 so even with the exchange rate, you'll pay about the same amount that we did.
However, we visited the west bank of Luxor and the Giza Plateau twice, visited the Valley of the Kings twice, and added on extra temples and pyramids in several locations, so our entrance fee total will be higher than most visitors to Egypt.
If you plan to spend at least two days in Luxor, with visits to the east and west Bank, then it might be worth it to purchase the Luxor Pass. For $130 USD, you can visit all of the archaeological sites in Luxor, with the exception of the tomb of Nefertari and the tomb of Seti I. For $250 USD, you can visit all of the archaeological sites in Luxor, plus the tomb of Nefertari and the tomb of Seti I.
For updated pricing for 2023, here are the links to our articles about Egypt. Each of these articles has full pricing information.
If you follow our 10-day Egypt itinerary, you can expect to pay 12,190 EGP (which is $395 USD in October 2023) in entrance fees, if you include the additional tombs, such as the tombs of Nefertari and Seti I.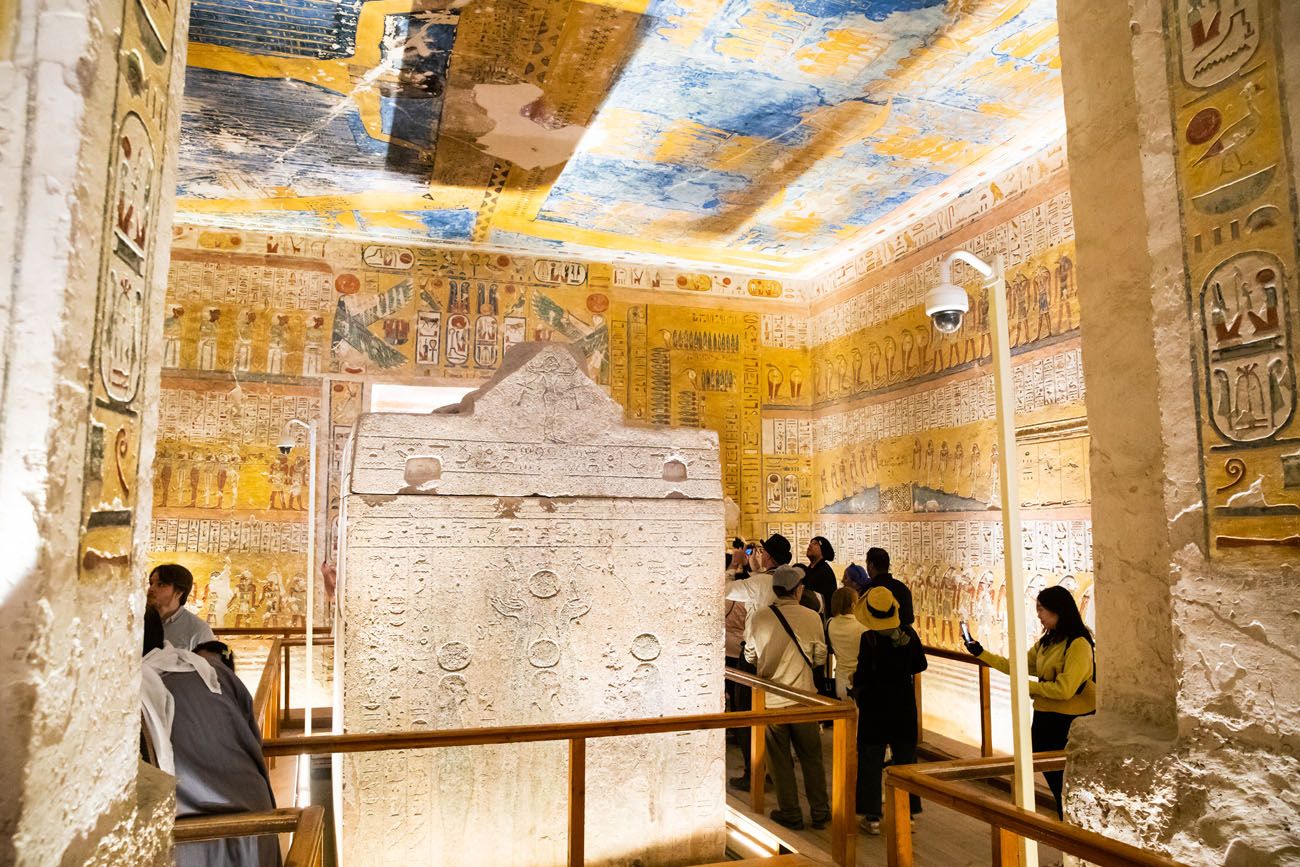 Tomb of Ramesses IV in the Valley of the Kings
Nile Cruise
Taking a Nile Cruise is a very popular thing to do in Egypt. Cruises range from 4-day 3-night to 8-day cruises.
Standard cruises start at $450 per person for a 3-day cruise. Adding on extra days and amenities can really bring up the price. A 5-day luxury cruise starts at $2400 per person.
Most cruise fees include your entrance tickets, an Egyptologist, and your meals.
Whereas it is possible to cruise the Nile and not pay a lot of money, I have read that you really do get what you pay for on a cruise. It is worth it to spend the extra money for an upscale or even luxury experience.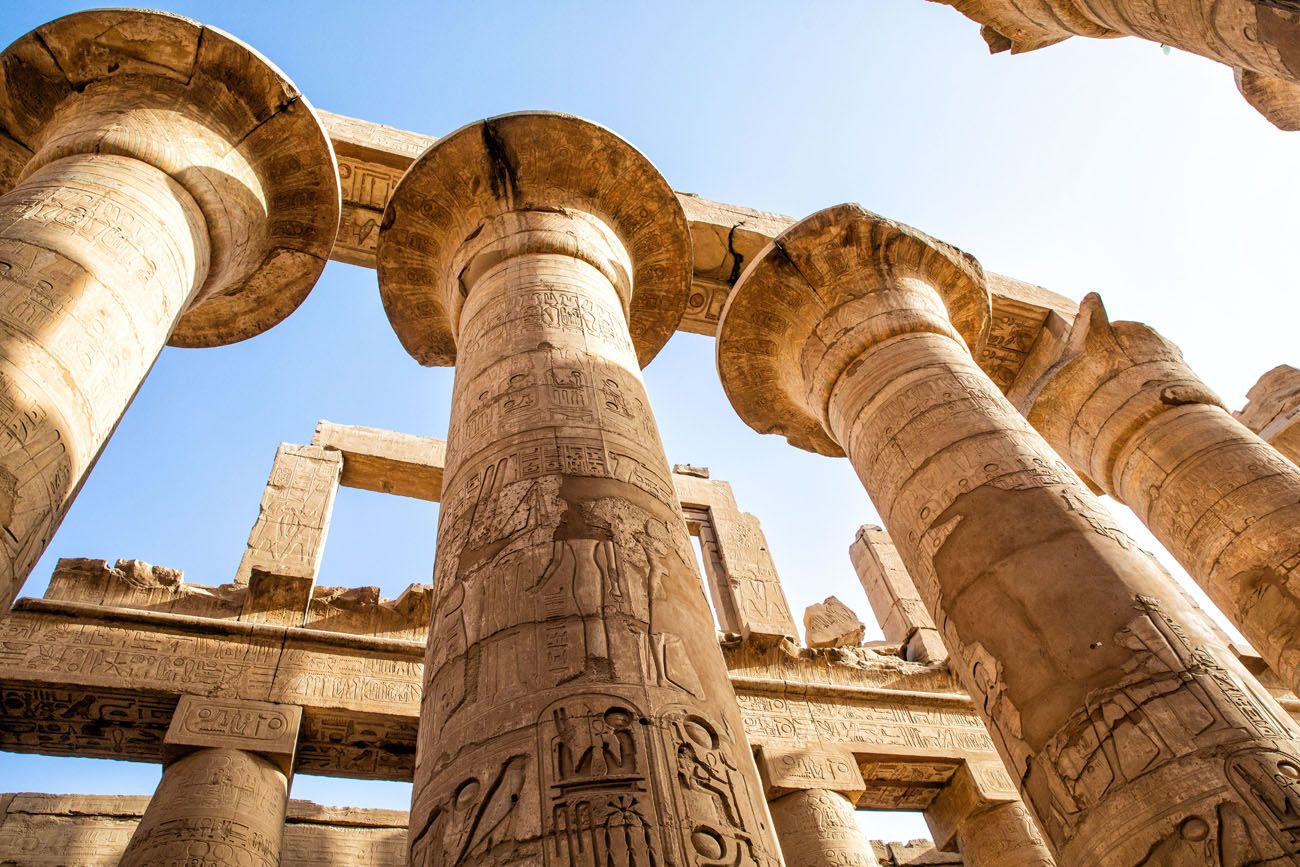 Karnak Temple, Luxor
Grand Total
So, if you add all of this up, how much does it cost to visit Egypt?
If you are a mid-range traveler and spend 10 days in Egypt, with visits to Cairo and Giza, Luxor, Aswan, and Abu Simbel (as written in our 10-day Egypt itinerary), here are average trip costs (per person):
Accommodations: $75 per night for 9 nights = $675 USD
Meals: $25 per day for 10 days = $250 USD
Entrance Fees: 12,190 EGP ($395 USD) + $70 USD for a felucca ride
Internal Flights: $625 USD
Visa on Arrival: $25 USD
SIM Card: $17 USD
Guide and Driver: $100 USD per day for 7 days = $700
Note about entrance fees: This includes all of the entrance fees that we list on our 10-day Egypt itinerary, along with a felucca ride in Aswan.
Note about internal flights: This includes three internal flights: Cairo to Luxor, a round trip flight to Abu Simbel, and Aswan to Cairo. You can save a lot of money by traveling by land, rather than flying.
Grand Total: $2,757 USD per person
This grand total excludes your flights to and from Egypt, souvenirs, airport transfers, and miscellaneous fees such as tipping.
Of course, you can visit Egypt for much less than what is listed above. To save money, take the train instead of flying, hire taxis instead of arranging airport transfers, and stay in budget hotels. By doing this, you can save $1000, bringing your grand total to $1800 for a 10 day trip through Egypt.
If you have plans to visit Egypt over the Christmas holiday season, hotels and cruise fees can be slightly higher than what we list in this article.
---
If you have any questions about how much it costs to visit Egypt, let us know in the comment section below.
More Information about Egypt
EGYPT ITINERARY: With 10 days in Egypt, visit Cairo, Luxor, Aswan and Abu Simbel.
LUXOR: Get on overview on what to do in our article Best Things to Do in Luxor. We also have detailed guides to the East Bank of Luxor, the West Bank of Luxor, and the Valley of the Kings.
CAIRO: Start with our article Best Things to do in Cairo. We also have a 2 day Cairo Itinerary, information on how to visit the Pyramids of Giza, and how to day trip to Dahshur, Memphis, and Saqqara.
ASWAN: For a list of the top experiences, read our article Best Things to Do in Aswan. We also have a guide on how to visit Kom Ombo, Edfu, and Esna while driving between Aswan and Luxor.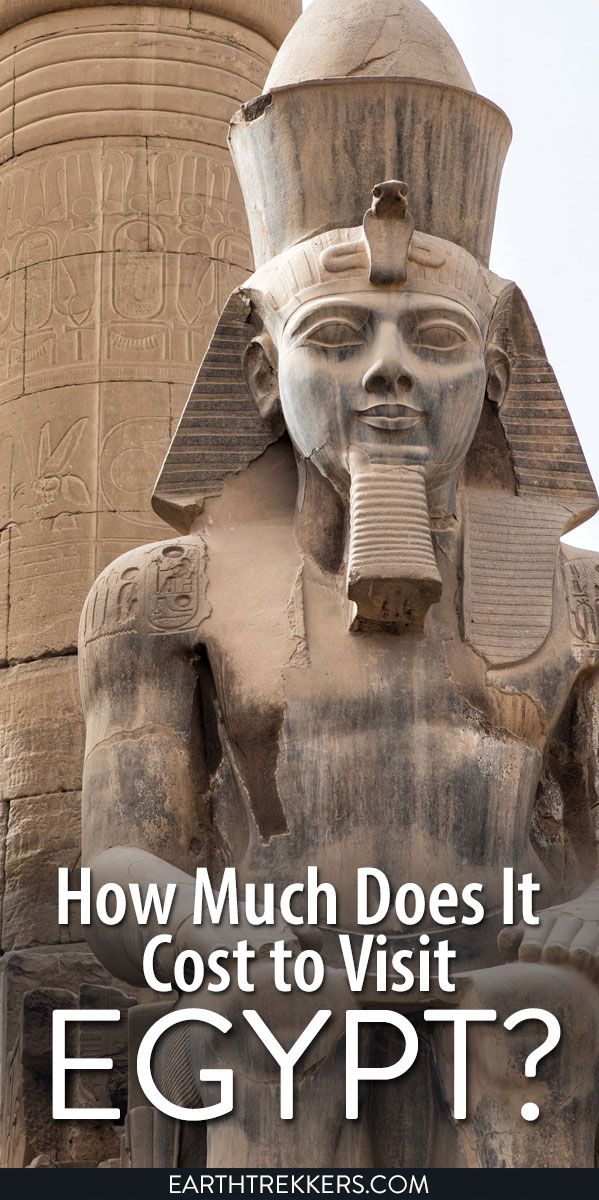 All rights reserved © Earth Trekkers. Republishing this article and/or any of its contents (text, photography, etc.), in whole or in part, is strictly prohibited.
Note: This post contains affiliate links. When you make a purchase using one of these affiliate links, we get paid a small commission at no extra cost to you.