North Cascades National Park is one of the least visited national parks in the United States, but for those who venture here, it is a serene, beautiful experience. It is just a short drive from Seattle, Washington but North Cascades only gets a handful of the visitors that flock to nearby Mount Rainier and Olympic National Parks.
With jagged, snow-capped mountain peaks stretching as far as the eye can see, North Cascades is also called "The American Alps." At times, it really does look like you are standing in Switzerland.
This is one of the most wild, rugged, and remote areas in the lower 48 states. The North Cascades Range, which runs through the park, is the largest glacial system in the United States outside of Alaska. In fact, there are an estimated 300+ glaciers here.
In the northern area of the park is the Picket Range, a collection of mountains, most rising over 8,000 feet. Somebody had fun naming these mountains: Mount Terror, Phantom Peak, Poltergeist Pinnacle, Mount Fury, and Ghost Peak.
And for hikers, this place is paradise. 400 miles of hiking trails criss-cross their way through this mountainous landscape.
NORTH CASCADES NATIONAL PARK STATS
Founded: October 2, 1968
Annual Visitors: 30,000 in 2022, making it the 6th least visited national park in the USA that year.
Size: 500,000 acres
Location: Washington
Entrance Fee: Free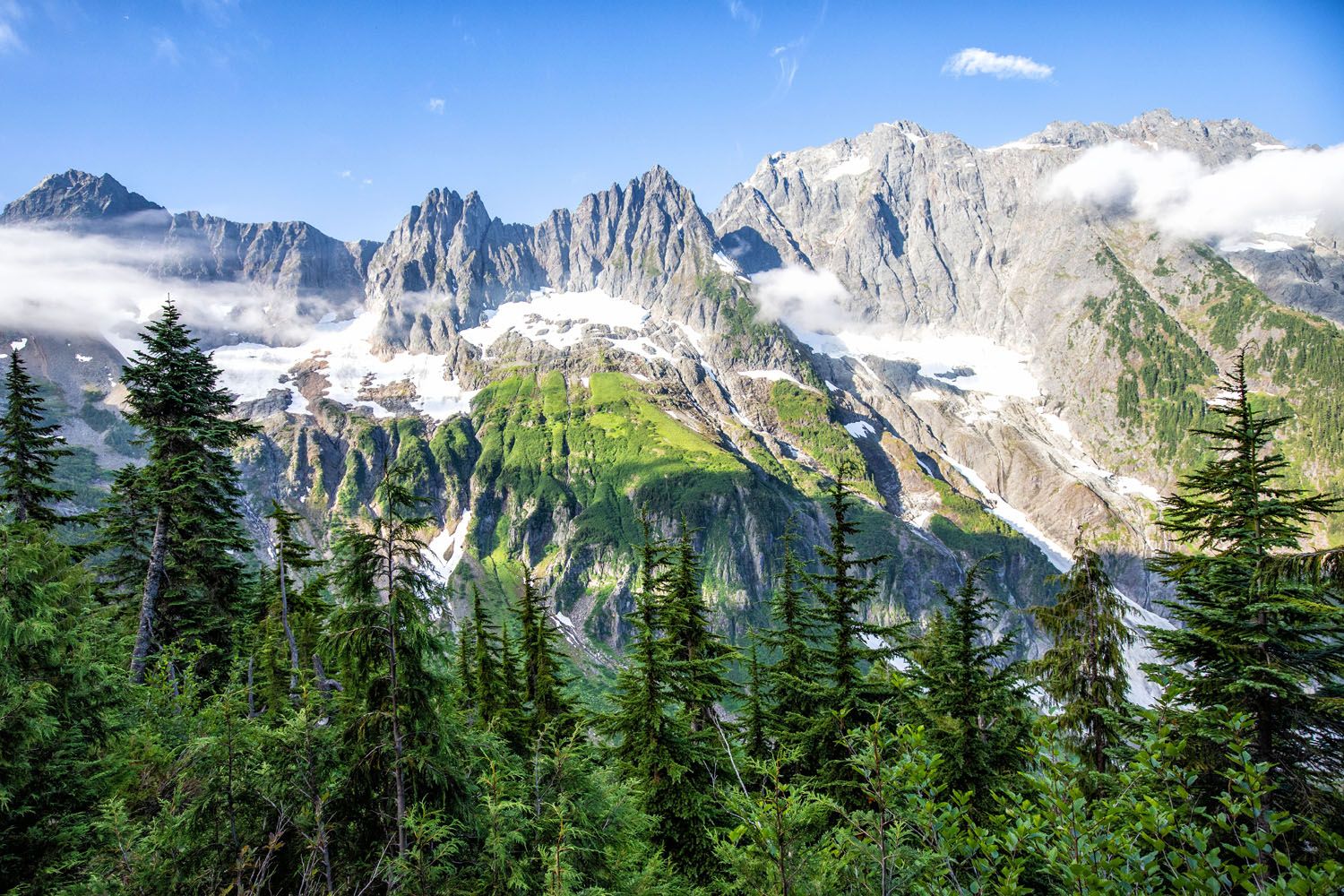 Go for a Scenic Drive on North Cascades Highway. North Cascades Highway is the only paved road in the park. It travels east-west along the Skagit River. During the 30 miles the road travels through the park, there are several overlooks, short hikes, and lakes to visit.
Diablo Lake Vista Point. The view of Diablo Lake, with its brilliant emerald water, is one of the most stunning views in the park.
Hike the Maple Pass Loop. The Maple Pass Loop offers a little bit of everything…wildflowers, old growth forests, a visit to a lovely alpine lake, and (the best part) panoramic views of the North Cascades.
Take a stroll to Rainy Lake. This is a flat, easy to walk paved trail that ends with gorgeous views of Rainy Lake and the mountains of North Cascades National Park.
Visit the Gorge Lake Overlook. From this overlook, you get a view of the Skagit Gorge and the Gorge Dam, a hydroelectric dam.
Hike to Cascade Pass and Sahale Arm. Often labeled as the best day hike in North Cascades National Park, the Sahale Arm hike is gorgeous every step of the way. You will hike through evergreen forests, through fields of heather and wildflowers, past marmots, mountain goats, and maybe even bear. Once at the Sahale Glacier Camp, you get to enjoy spectacular views over Doubtful Lake and layers of jagged, snow-capped peaks.
Follow the Footsteps of Jack Kerouac and Hike to Desolation Peak. In 1956, Jack Kerouac (author of On the Road) spent part of the summer on top of this peak, serving as a watchman in the fire tower. To get here, it is a challenging, steep hike. Once at the summit, you are treated to views of Skagit Peak, Little Jackass Mountain, and Ross Lake.
Visit Stehekin. Stehekin is a small community located on the far northern end of Lake Chelan. There are no roads to Stehekin so the only way to get here is by boat, plane, or on foot. Once here, you can explore Stehekin Valley on foot, go camping, and discover the cultural history of the people who live here.
Washington Pass Overlook. This is technically located outside of the North Cascades National Park Complex but it is still well worth the visit. From this overlook, you have an outstanding view of Highway 20 and Liberty Bell Mountain.
Hike to Blue Lake. Like the Washington Pass Overlook, the Blue Lake is located just outside of the park boundary. However, this is a great to add on to your North Cascades to-do list. It's short and relatively easy, so it's perfect for almost all ages and ability levels. The trail ends at the Blue Lake, a brilliantly blue lake that is surrounded by towering mountains.
Learn More about North Cascades National Park
When to Visit North Cascades National Park
Highway 20, the main road in North Cascades National Park, is typically closed from early November through early May, although these times can change depending on snowfall amounts.
If you want access to the entire park, plan your visit for the summer months, when all of the roads are open. This is also your best chance for sunny skies and warm temperatures, although rain and snow are a possibility all year long.
Cascade River Road, the gravel road that ends at the trailhead for the Cascade Pass to Sahale Arm hike, is only open from July through October.
North Cascades National Park appears in our Best US National Parks Month-By-Month series as a great park to visit in July and August.
How Many Days Should You Spend in North Cascades National Park?
You need a bare minimum of one full day for North Cascades National Park. Of course, more time is always better.
If you just want to drive through the park, visit the overlooks, and hike a short trail or two, one day is plenty of time.
However, if you are an avid hiker, plan on spending a few days in North Cascades National Park. The hikes here are incredible and the list is long. Not only are there many great day hiking options in the park, you can also take a few days and go backpacking, or spend some time in the protected areas around the North Cascades, such as the Mount Baker area.
ONE DAY IN NCNP
With one day in North Cascades National Park, drive North Cascades Highway, visit the overlooks, and do one or two hikes. If you prefer short, easy hikes, we recommend Rainy Lake, Blue Lake, or Thunder Knob. For something more challenging that will offer spectacular views of the North Cascades Range, the Maple Pass Loop is amazing.
Where to Stay
If you want to stay in the national park along Highway 20, Ross Lake Resort is the only lodge in this area of the park. There are also campgrounds in Newhalem and at Diablo Lake.
East of North Cascades National Park you can stay in Winthrop. It looks like something out of the wild west and it is worth the drive out this way just to see it. In Winthrop, River's Edge Resort, Mt Gardner Inn, and Methow River Lodge all get great reviews.
A little farther down the road from Winthrop is Twisp. This tiny town isn't as scenic as Winthrop and doesn't have nearly as many restaurants, but we stayed here and loved it. We stayed at Twisp River Suites in a 2-bedroom apartment. In the evenings, we would get carryout and wine, sit in the river (yes, you read that right), and have dinner. It was an awesome way to end the day and worth the extra drive time into the park (about 1 hour and 15 minutes to Ross Lake).
The closest town on the western side of North Cascades National Park is Marblemount. This "town" is made up of a handful of hotels and restaurants. We stayed at the North Cascades Inn. It's nothing fancy but rooms are clean, quiet, and the WiFi worked well.
There are three sections to North Cascades National Park Complex: the Chelan Lake National Recreational Area (which includes Stehekin), Ross Lake National Recreational Area, and North Cascades National Park.
The area along Highway 20 and around Ross Lake is called the Ross Lake National Recreational Area. This is where most visitors spend the majority of their time.
Lake Chelan is in the southeast part of the North Cascades National Park Complex. From Chelan, you can take a boat, plane, or hike to Stehekin, a very small town that is located at the northern end of Lake Chelan.
The remainder of the complex is called North Cascades National Park. This includes the area north and south of Highway 20. To get to these regions, you can either drive on one of the dirt roads or get here on foot.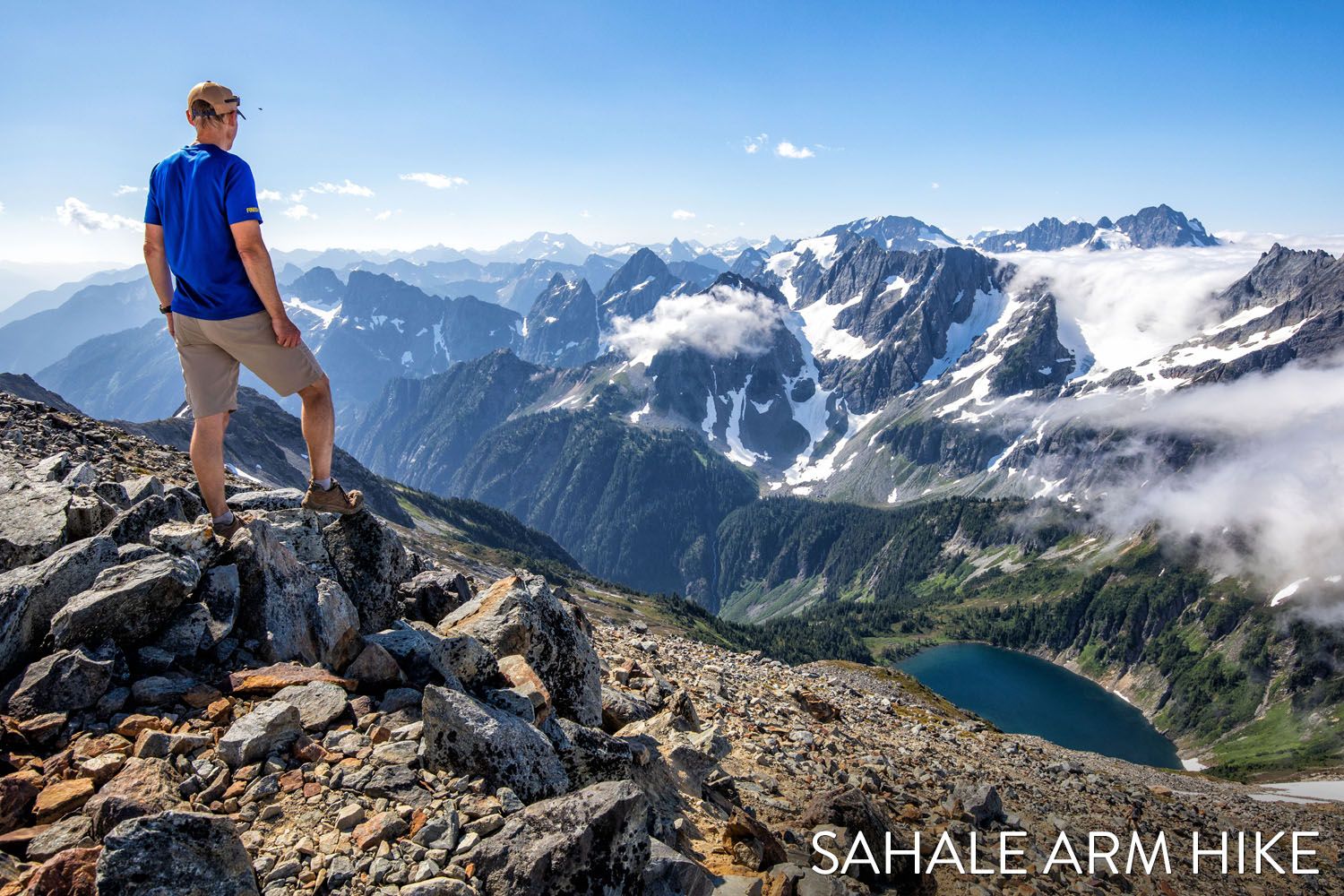 North Cascades National Park Map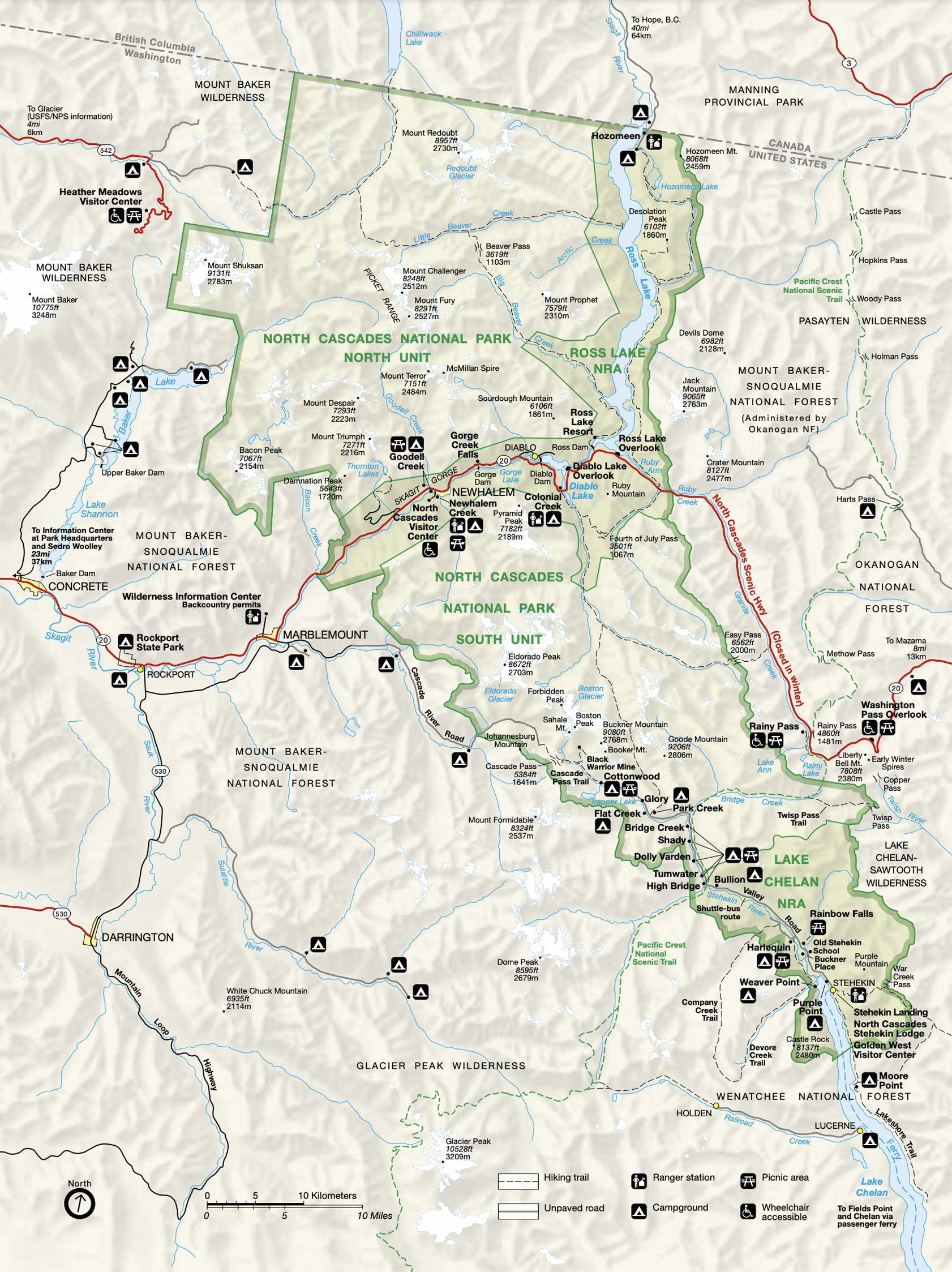 North Cascades National Park in Photos
If You Like North Cascades, You'll Also Like...
In our US National Parks List, get information on all of the US national parks, including interesting facts, the most and least visited national parks, and a FREE printable national parks checklist with map.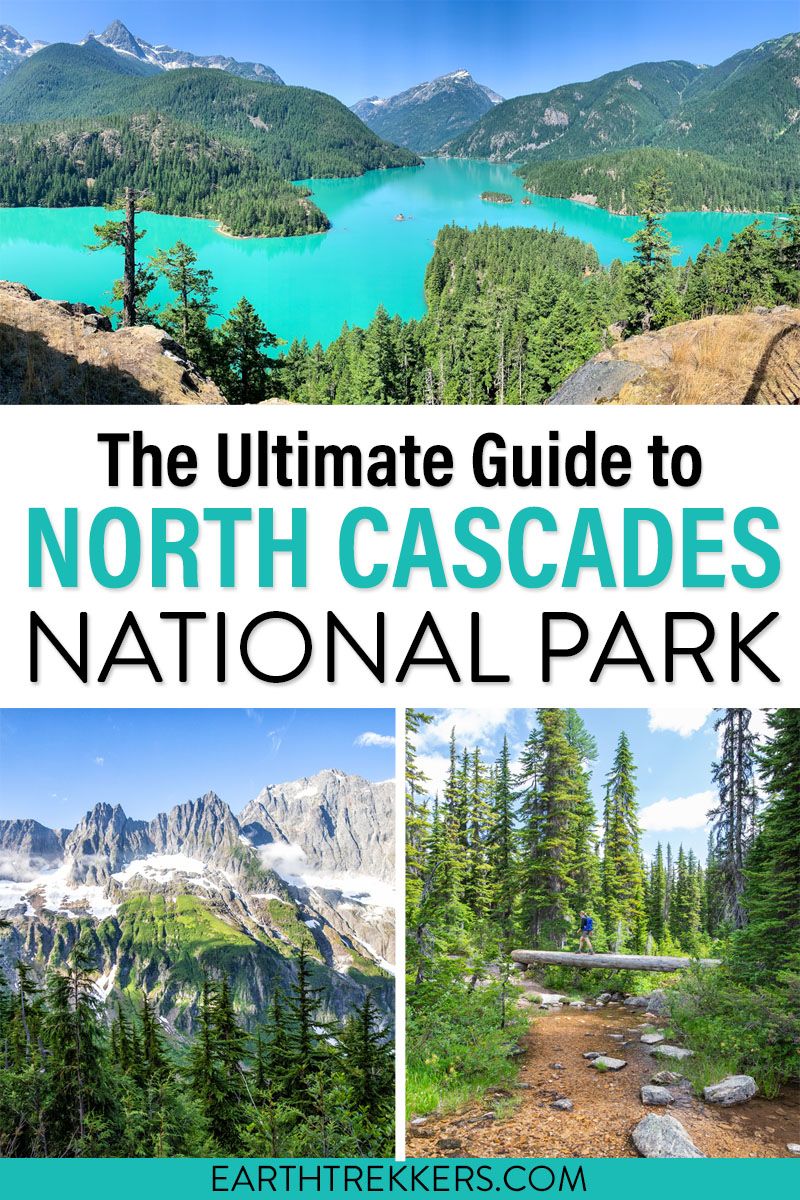 Note: This page contains affiliate links. When you make a purchase using one of these affiliate links, we get paid a small commission at no extra cost to you.
Visit More National Parks