When planning a trip to the national parks, one of the most important things to consider is the time of year that you are planning your visit. With a few exceptions, most national parks have an optimal time to visit, based on factors such as weather, crowd levels, and road closures.
In this guide, we cover the best time to visit each US national park, based on these factors.
First are the links to our guides about the best parks to visit, month-by-month. This is followed by a series of tables that illustrates the best time to visit each national park based on weather and crowd levels.
When to Visit the National Parks: By Month
Below is a series of 12 guides, one for each month of the year. Each national park is listed at least once and many are listed multiples times.
These guides take many factors into consideration: weather, crowd levels, special events, fall colors, best time to go hiking, road closures, and our personal experiences in the parks. We haven't been to all of the national parks, at least not yet, but we have done a lot of research as to the optimal times to visit these parks.
Complete List of the National Parks
In the tables below, we list each of the 63 national parks in alphabetical order, and provide data for the best months to visit each of these parks.
The green line indicates the best months to visit each national park. The red line indicates the most crowded times to visit the park.
There are two different ways to use these tables.
If you have a particular month or season that you are planning your trip, you can look at that column (for example: May) and the parks that are highlighted in green for that month make great options for your trip.
If you have a park that you would like to visit (for example, Bryce Canyon National Park), scroll down to Bryce Canyon and the months highlighted in green are the best times to visit this park.
The tables are broken up into 8 national parks each, just to keep them manageable. In the caption for each table, we have links to our national park guides, if you want to learn more about the parks listed in that table.
To learn more about what the green and red bars indicate, scroll past the tables to the section "More Information about These Tables" or skip ahead now.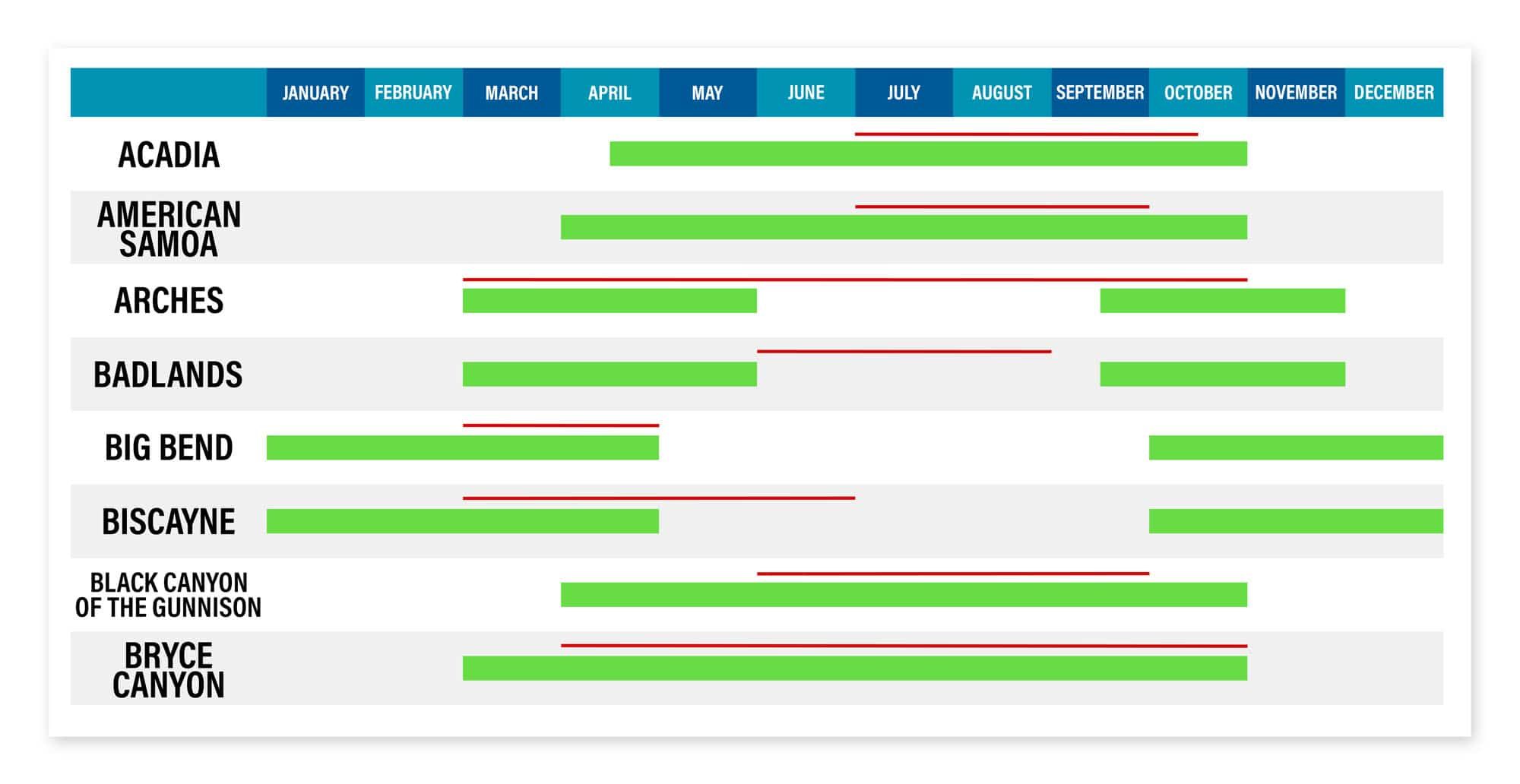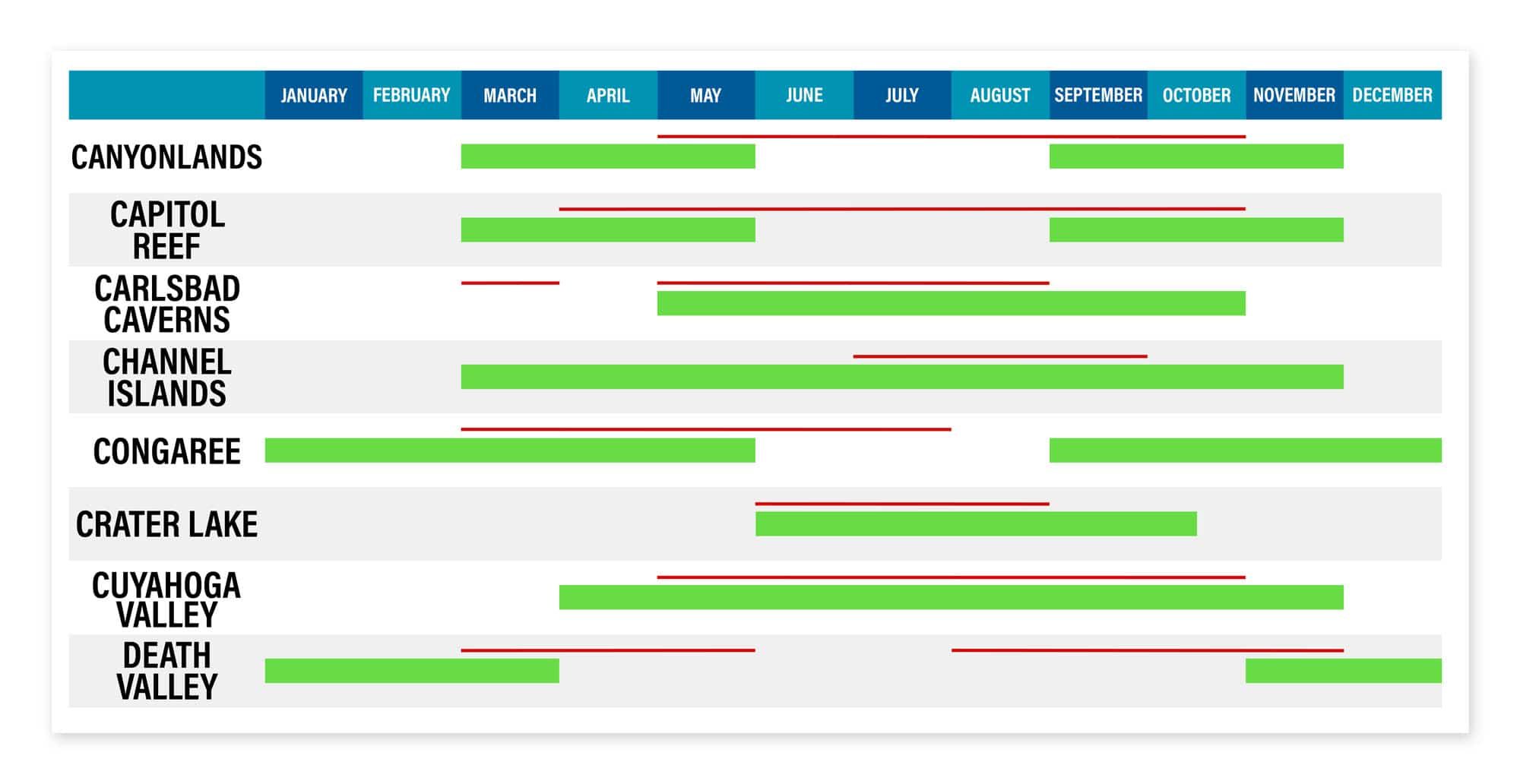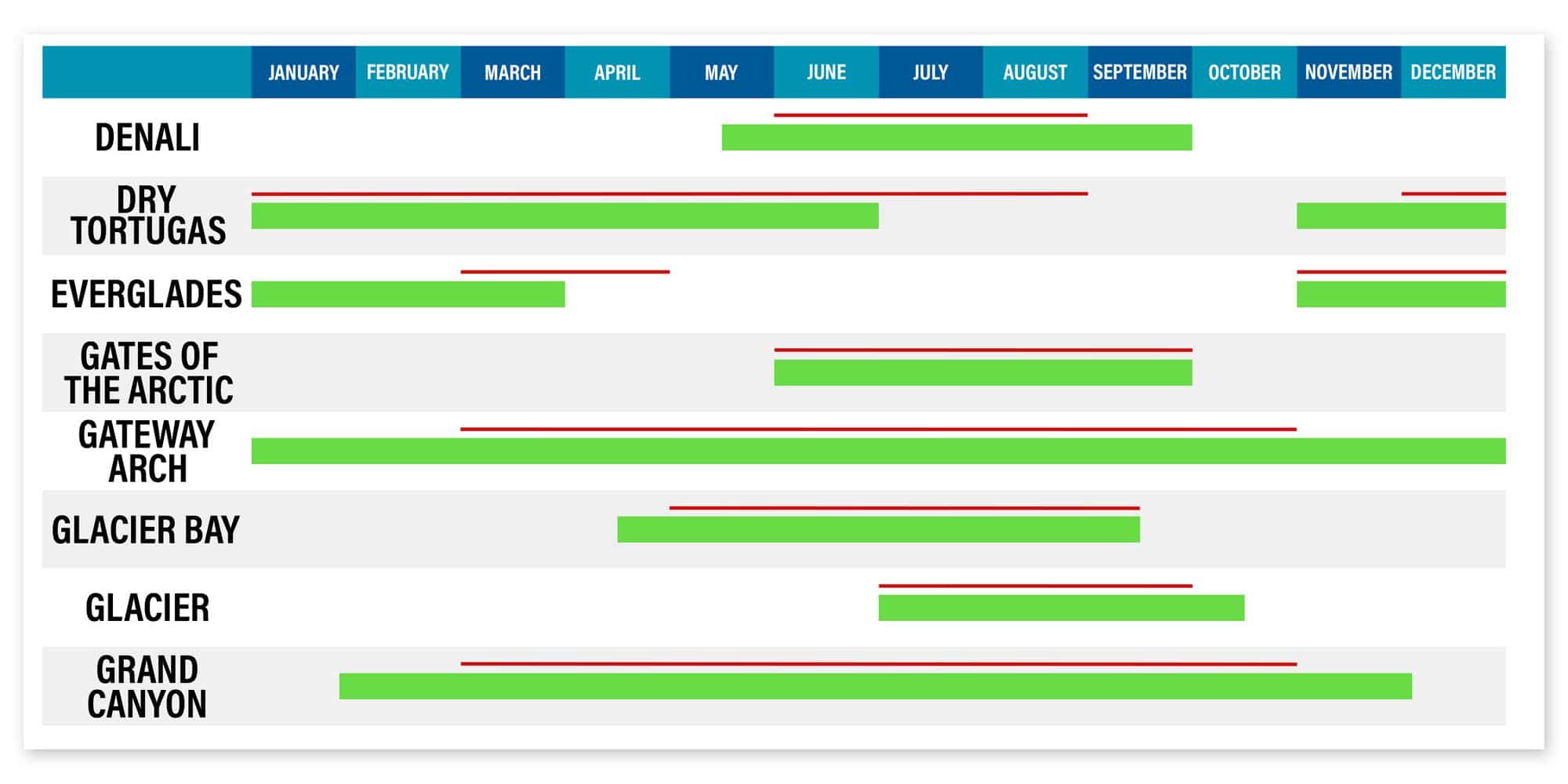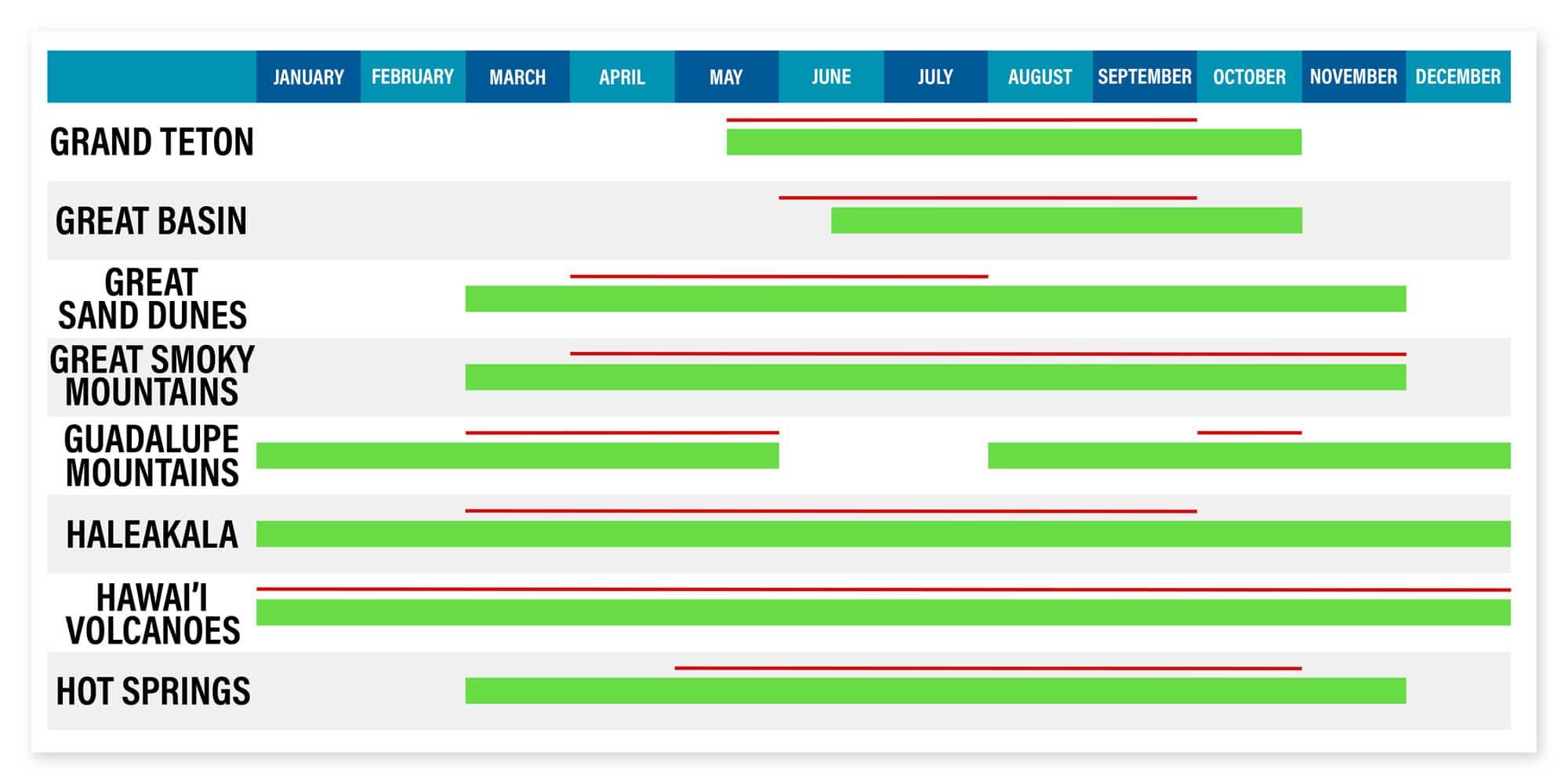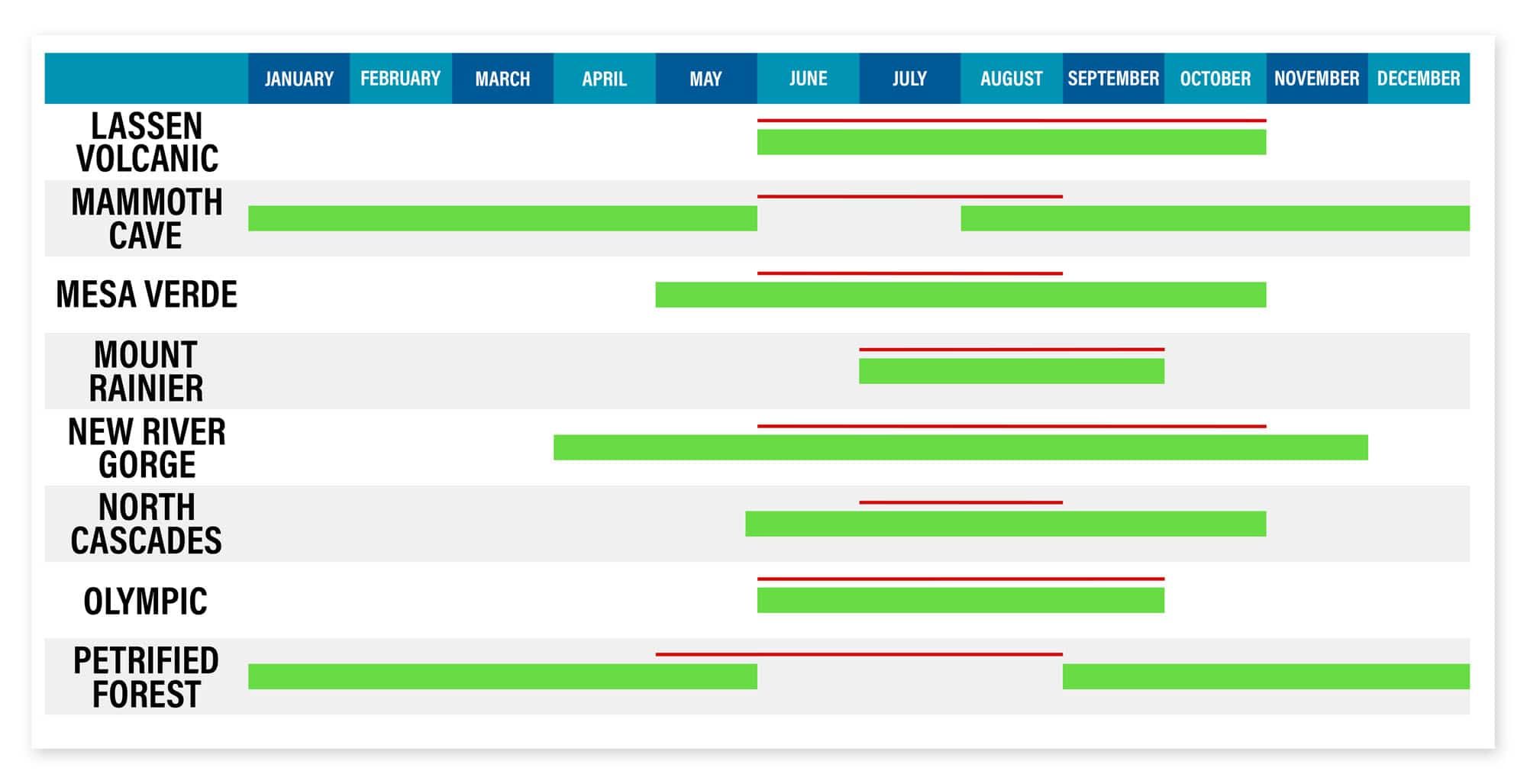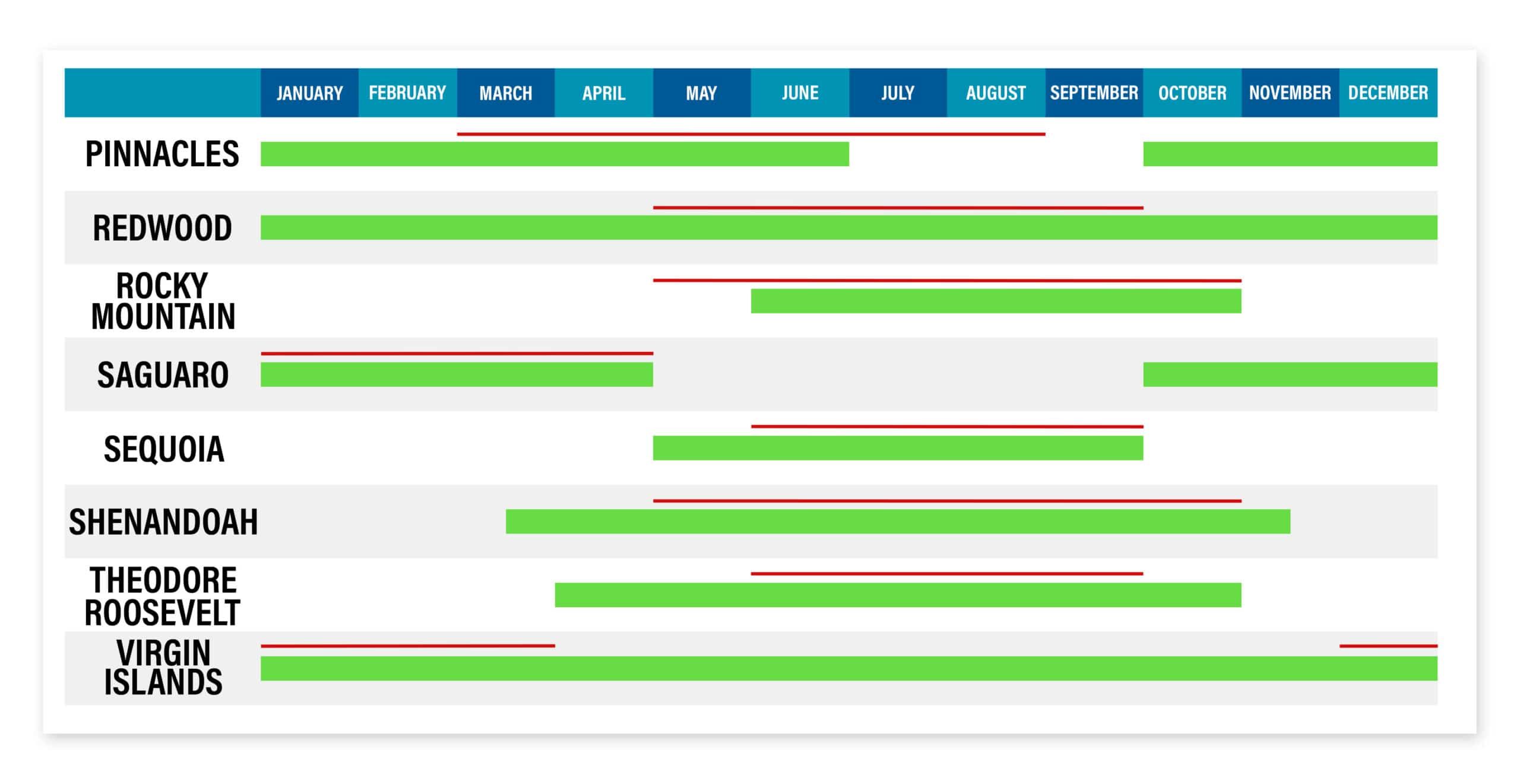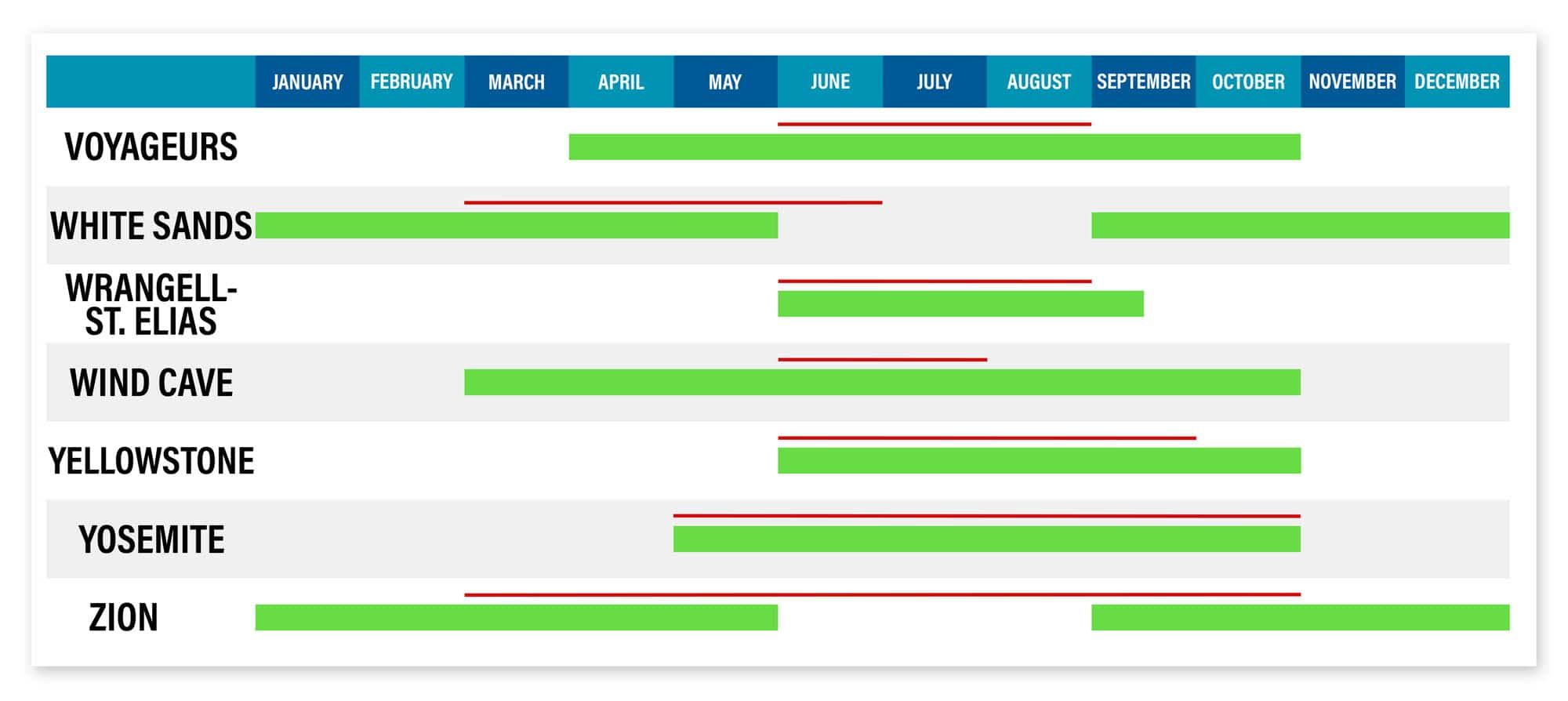 More Information about These Tables
The red lines indicate peak visitation for each national park. This data comes from the National Park Service website based on monthly statistics for the last four years.
The green bars indicate the optimal time to visit each national park, based on several criteria: average high and low temperatures, road closures, and average monthly rainfall. We also used our personal experiences in these parks.
Average Temperature: "Ideal weather" is subjective, but for a month to get a green bar, the daily average high had to stay below 90°F (32°C) and the daily mean had to be above freezing. Since this is based on average temperatures, it does not account for a heat wave or an unusual cold front.
Road Closures: There are many parks that close some or all of the park roads in the winter due to snowfall. For example, Going-to-the-Sun Road in Glacier National Park is only open from mid to late-June to late September. If this is a once in a lifetime trip, most likely you want to go when you can visit all areas of the park. On the table above, only July through September is listed as a good time to visit Glacier National Park, when all of the park roads are open. However, that doesn't mean that you cannot visit Glacier National Park in June…you just won't have access to everything in the park. So, a park won't get a green bar for any month with a possible road closure.
Special Events: Some parks have special events that only happen one or two months out of the year. Examples of this are the superbloom in Death Valley, seeing the cacti bloom in Saguaro National Park, or watching as bats emerge from Carlsbad Caverns. These also make great times to visit these parks and you can find them listed in our monthly guides (coming soon).
For parks where trees are the dominant feature (Shenandoah, Great Smoky Mountains, and Acadia are a few examples), the presence of foliage is a factor for "optimal time" to visit these parks. For example, Shenandoah is much more picturesque in June, with leaves on the trees, than in February, when the trees are barren.
"Earth and sky, woods and fields, lakes and rivers, the mountain and the sea, are excellent schoolmasters, and teach some of us more than we can ever learn from books."
More Information about the National Parks