Olympic National Park, with its mountain ranges, temperate rainforests, and rugged coastline, is one of the most diverse national parks in the United States. In this post, we share with you interesting facts, important planning tips, and the best things to do in Olympic National Park.
Please practice the seven principles of Leave No Trace: plan ahead, stay on the trail, pack out what you bring to the hiking trail, properly dispose of waste, leave areas as you found them, minimize campfire impacts, be considerate of other hikers, and do not approach or feed wildlife.
Interesting Facts about Olympic National Park
Olympic National Park is one of the larger US national parks, with an area just under 1 million acres. This park is located on the Olympic Peninsula, a region that home to numerous ecosystems.
In one national park, you can walk through old growth temperate rainforests, climb peaks as high as 8,000 feet, and stroll along beaches littered with driftwood and enormous sea stacks.
There are four main areas to Olympic National Park: the Pacific coastline, the alpine region in the center of the peninsula, the temperate rainforest, and the mountains on the east side of the park. The sheer diversity of landscapes and wildlife that this park protects is astonishing.
Olympic National Park officially became a national park on June 29, 1938. This park is also designated a UNESCO World Heritage Site and Biosphere Reserve. In 2022, Olympic National Park received 2.4 million visitors, making it the 14th most visited US national park.
Map of Olympic National Park
Here is a map with the best things to do in Olympic National Park color coded by geographical area.
How to Use This Map: Click the icons on the map to get more information about each point of interest. Click the star next to the title of the map to add this map to your Google Maps account. To view it on your phone or computer, open Google Maps, click the menu button, go to "Your Places," click Maps, and you will see this map on your list.
Best Things to Do in Olympic National Park
This list of things to do in Olympic National Park is organized by geographical area. Visiting Olympic National Park is different than visiting a park like Zion, Arches, or Yosemite, when most of the top things to do are located along one road that cuts through the park.
At Olympic National Park, the roads form a loop around the perimeter of the peninsula, with short access roads that cut towards the center of the park. If you want to see and do everything on this list, you will need a bare minimum of three days and it is best to plan your visit as a road trip.
Things to do in Olympic National Park by Location
Northern Olympic National Park
The first area I cover is the northern region, which includes Hurricane Ridge and Lake Crescent. When exploring this part of the park, the best place to stay is in the town of Port Angeles.
Hurricane Ridge
If you want panoramic views of the Olympic mountain range with very little effort, this is the place to go. The views from Hurricane Ridge, where you will look out over snow-capped mountains, forests of evergreen trees, and Mount Olympus, is one of the best experiences in Olympic National Park.
To get here, you will drive 18 miles (about 30 minutes) on Hurricane Ridge Road from Port Angeles. This winding road climbs from the coastline into the mountains. The closer you get to Hurricane Ridge, the better the view.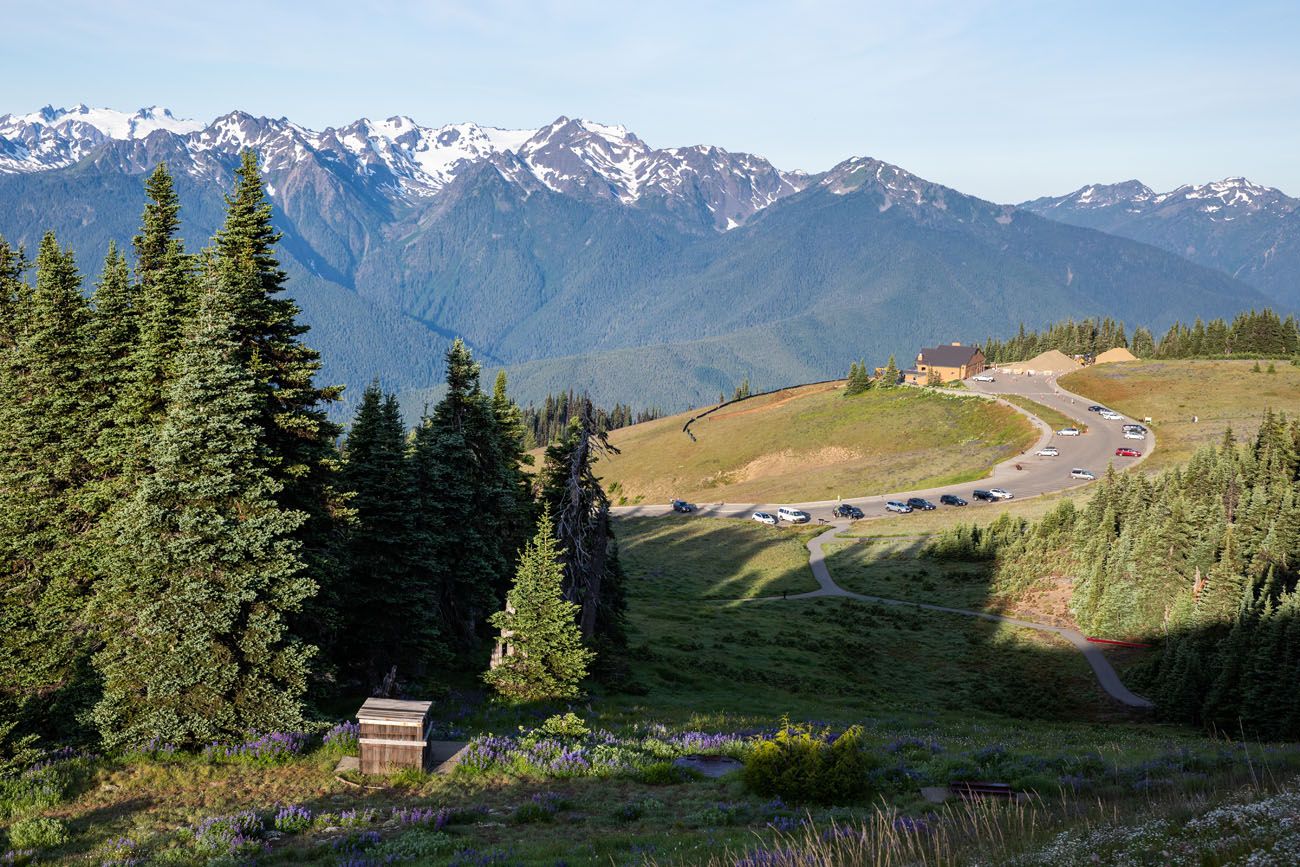 Hurricane Ridge Parking Lot
The road dead-ends at a large parking lot and the Hurricane Ridge Visitor Center. From here, you can simply enjoy the view. If you want to go a little higher, which I strongly recommend, hike one of the short trails that start at the parking lot.
For a short walk, hike the High Ridge Trail. This paved trail turns to dirt just before a spectacular viewpoint. The views get even better as you walk farther along the trail.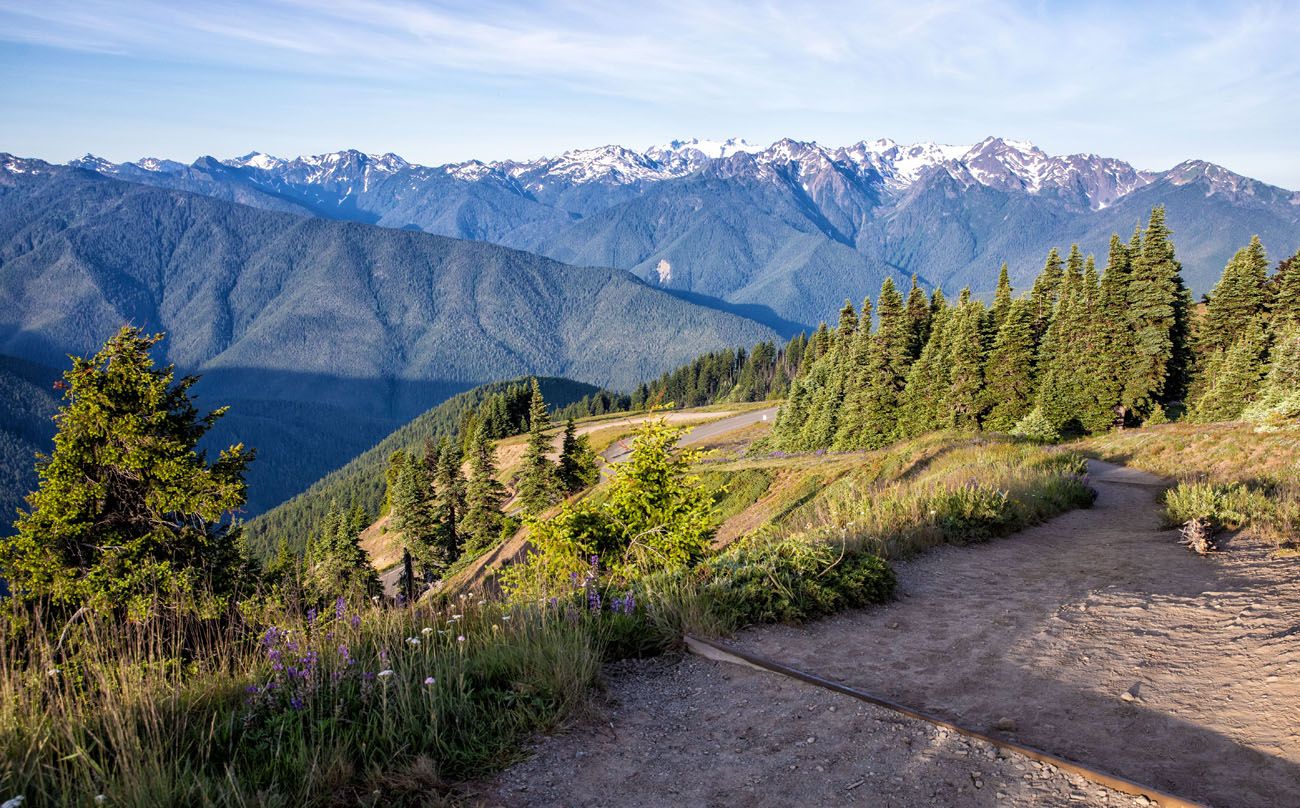 For a real adventure, hike to the peak of Mount Angeles, where you will have 360° views of Olympic National Park, Puget Sound, and Mount Rainier.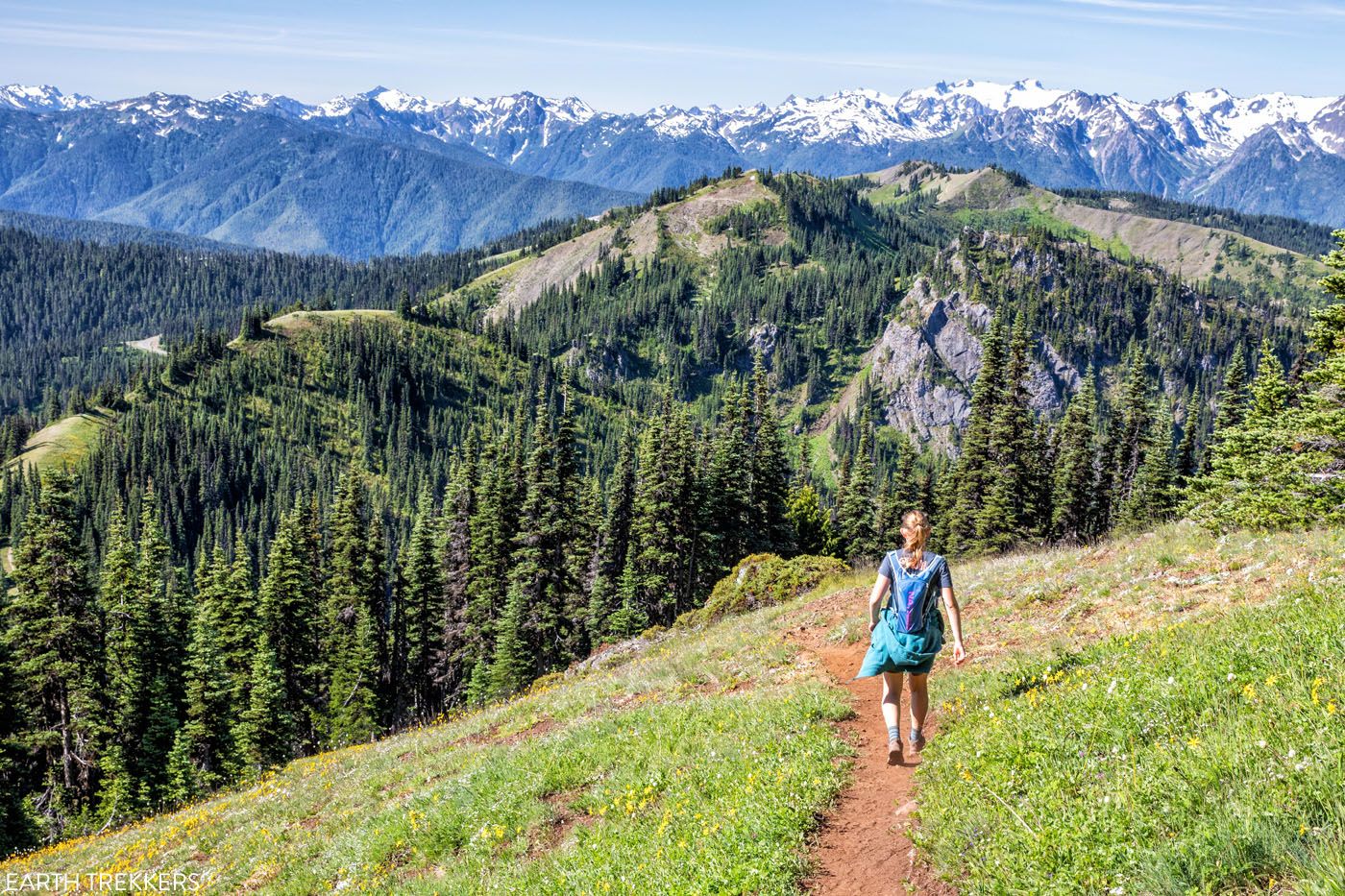 Klahhane Ridge Trail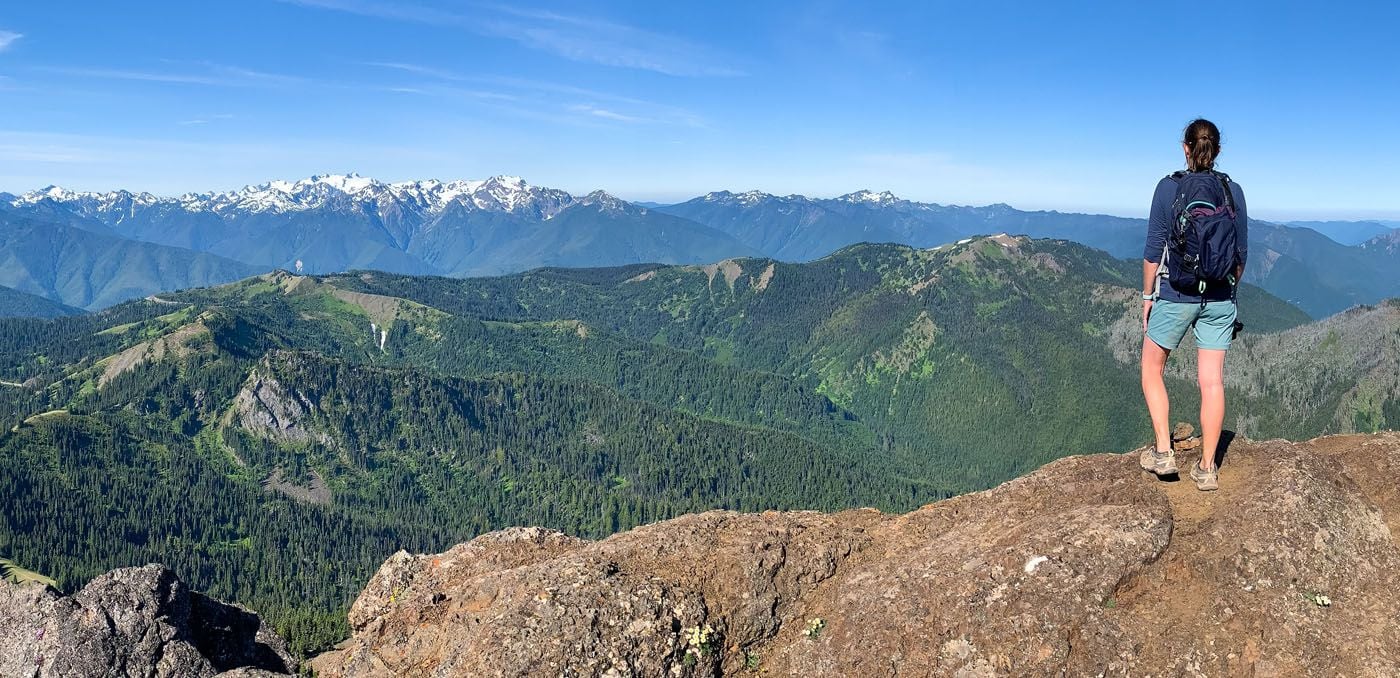 View of Hurricane Ridge from Mount Angeles
The hike to Mount Angeles is our favorite in Olympic National Park. Click here to learn more.
PRO TRAVEL TIP: Hurricane Ridge is open on weekends during the winter months. If you like snow shoeing, downhill or cross-country skiing, this is a great place to go. I read that Hurricane Ridge gets over 30 feet of snow per year! Learn more here.
Drive Obstruction Point Road
Obstruction Point Road is frequently called Washington's scariest road. This gravel, alpine road starts at the Hurricane Ridge parking lot and ends at Obstruction Point at an elevation of 6,150 feet.
It's narrow, it has steep drop-offs at a few spots, and has some tight turns as it travels through the mountains. But along the entire drive the views are phenomenal.
Once at Obstruction Point, you can take your pick from the trails that head further into the mountains. Grand Ridge Trail is one of the highest trails in Olympic National Park. It is 15 miles round trip and rated as strenuous. The Deer Park Trail is a popular hike to do from Obstruction Point (14 miles round trip, strenuous).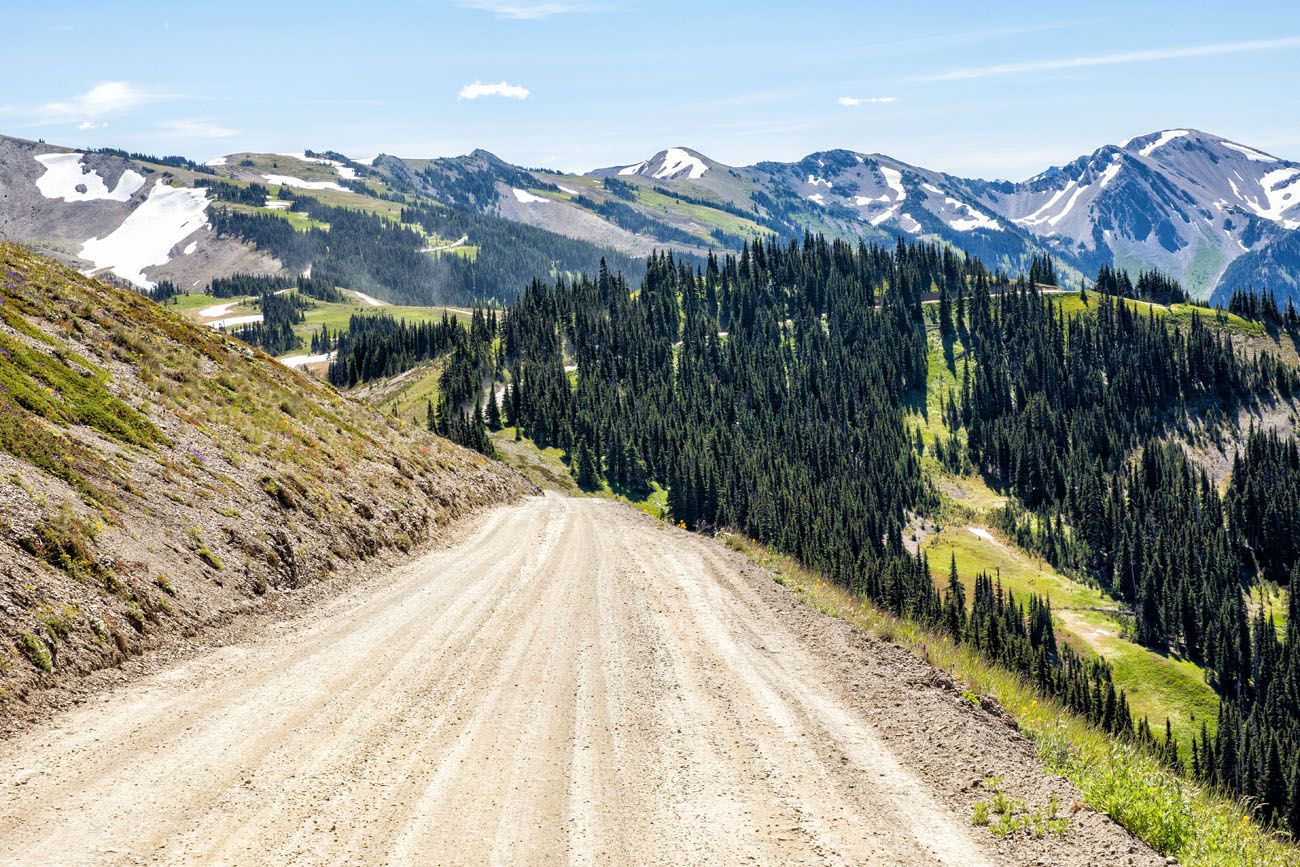 Important Note: This road is generally open from mid-July through October. A standard car is suitable for this drive but RV's and trailers are not permitted on this road.
Lake Crescent
This glacially carved lake is a great place to go canoeing or kayaking. Fishing is permitted but as catch-and-release-only.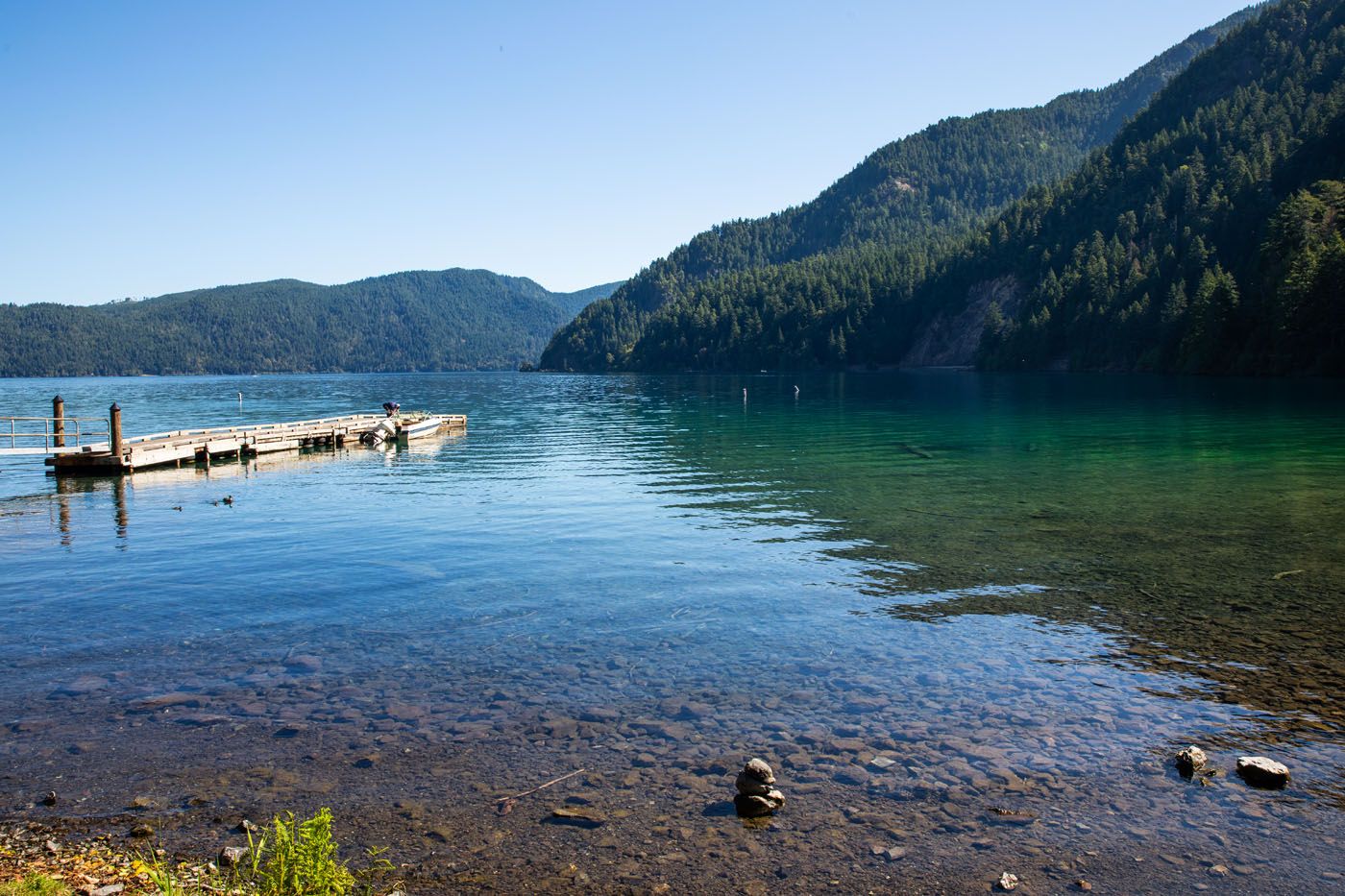 Several great hikes start from this lake. Hiking to the top of Mount Storm King is one of the best things to do in Olympic National Park. The views over Lake Crescent are unbeatable. The walk to Marymere Falls, discussed next, also starts at Lake Crescent.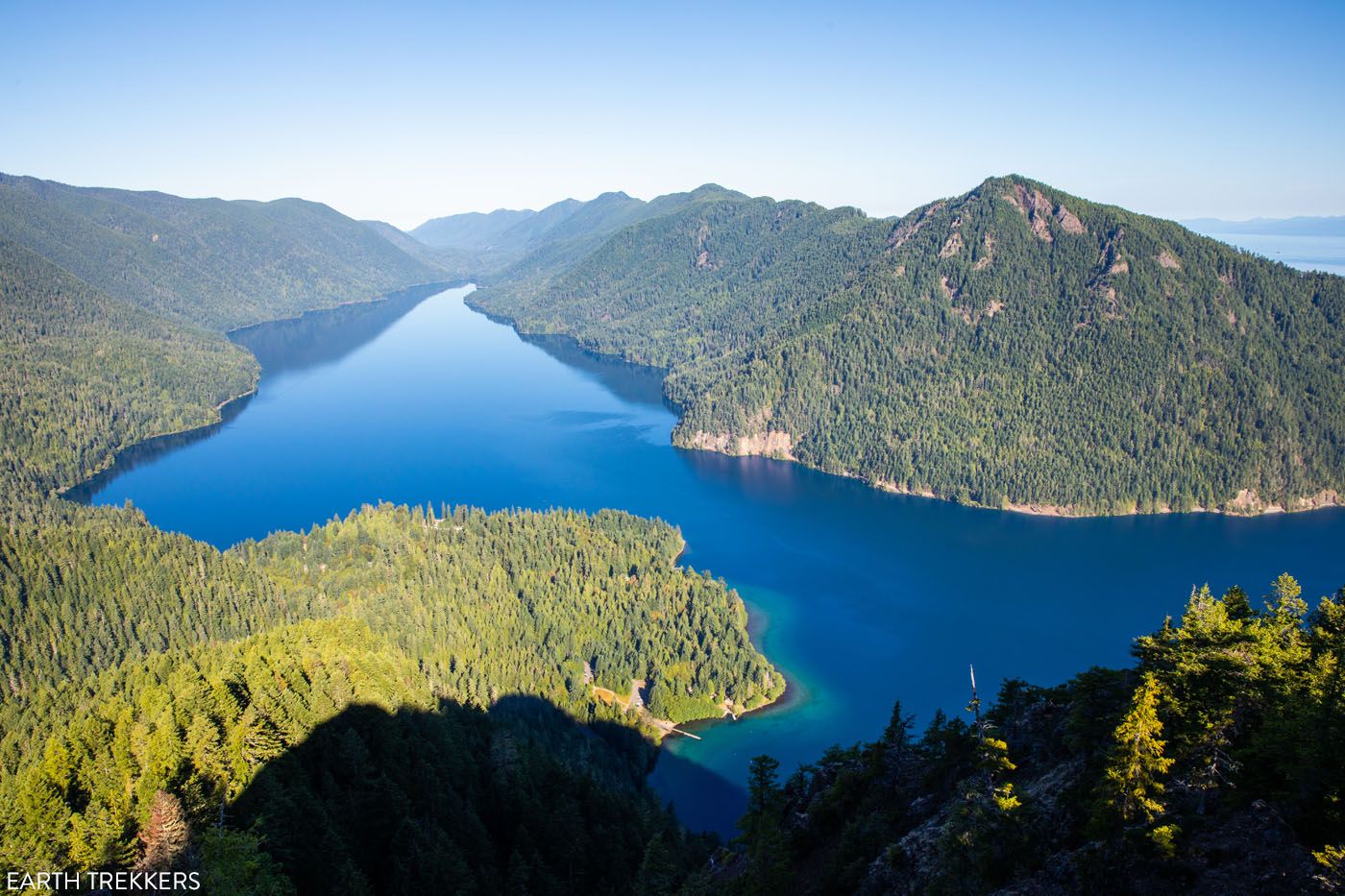 The view of Lake Crescent from Mount Storm King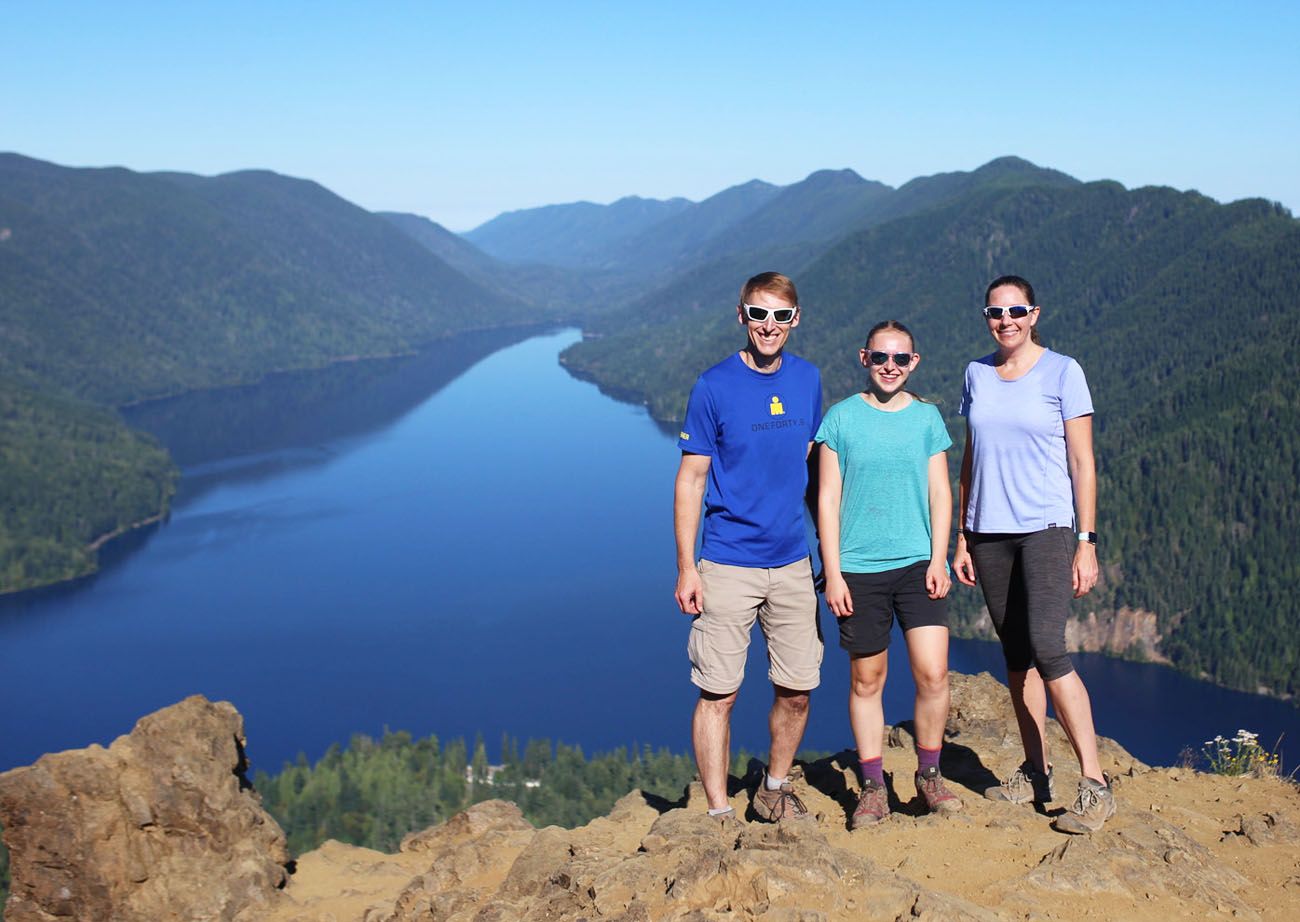 Marymere Falls
This beautiful waterfall is tucked away in an old growth forest. It's a mostly flat, easy walk to get here (just under 2 miles round trip). The last portion of trail climbs some steps to get you to the viewpoint of the waterfall.
I don't know what we liked more…walking amidst the giant spruce trees or the view of Marymere Falls.
Trail to Marymere Falls and Mount Storm King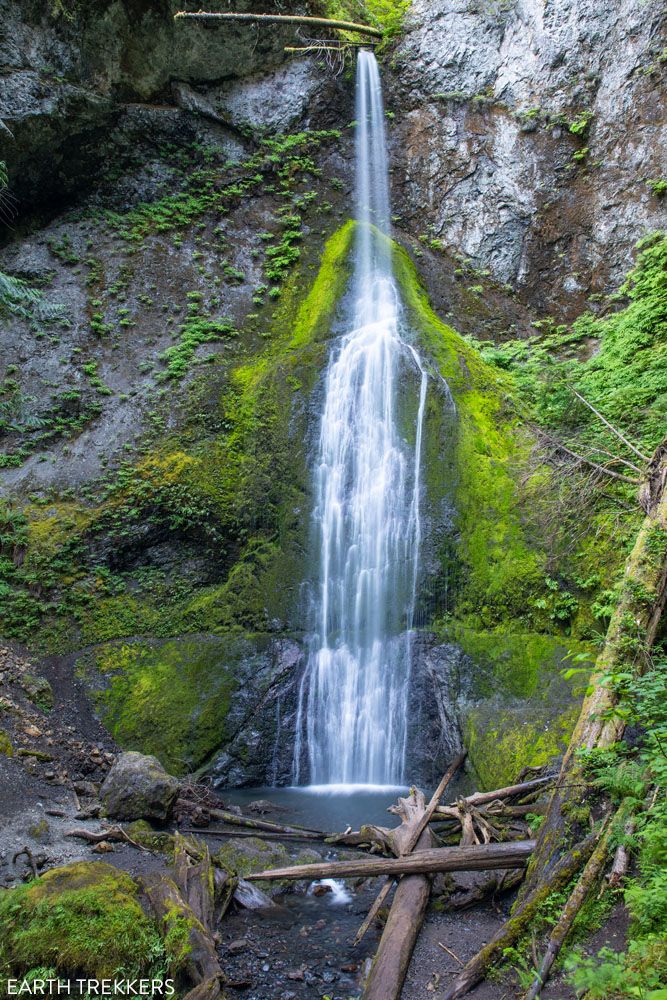 Marymere Falls
Bridge to Marymere Falls
Sol Duc Falls
Sol Duc Falls is a waterfall that is located in the temperate rainforest of Olympic National Park.
To get here, take Sol Duc Road to the end. From the parking lot, it is an easy 2.25 mile round trip walk to the waterfall.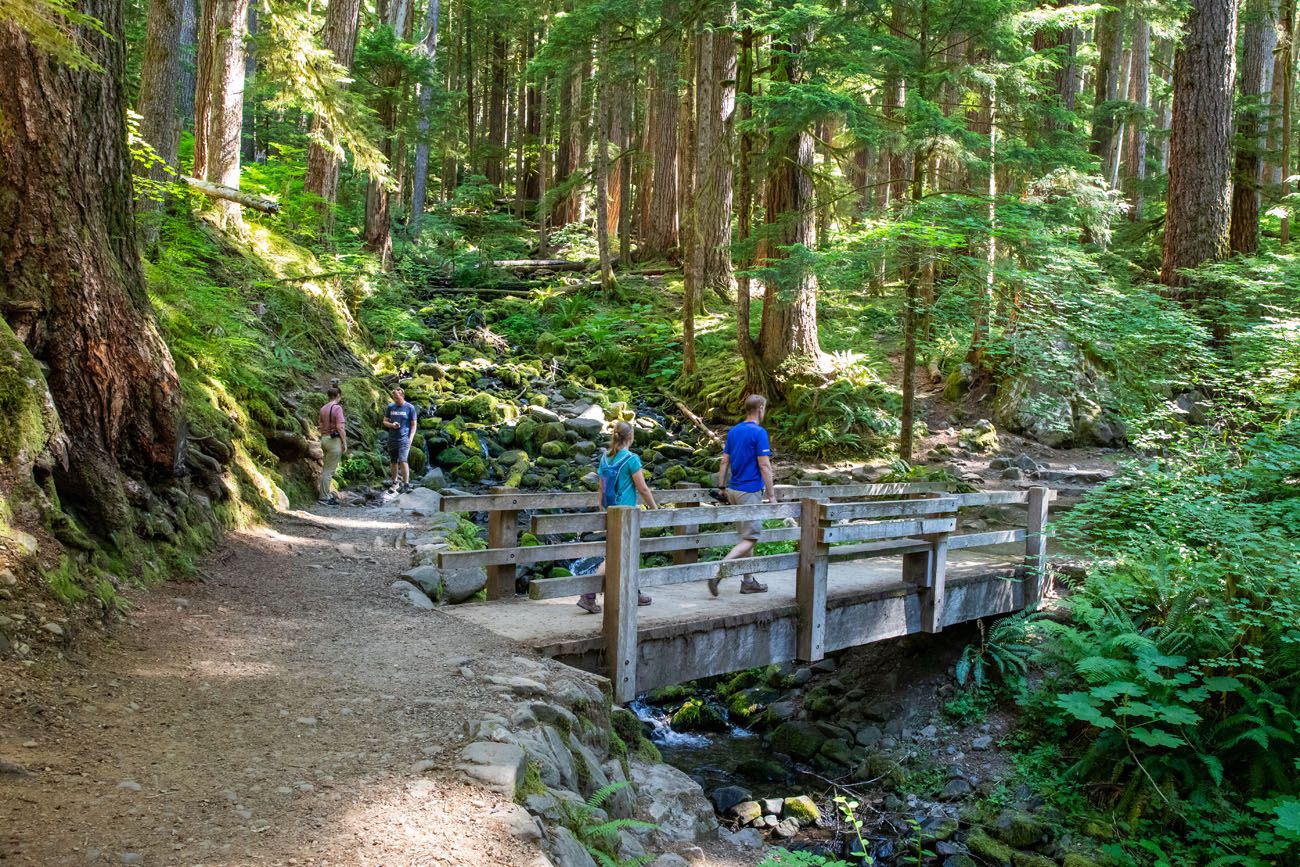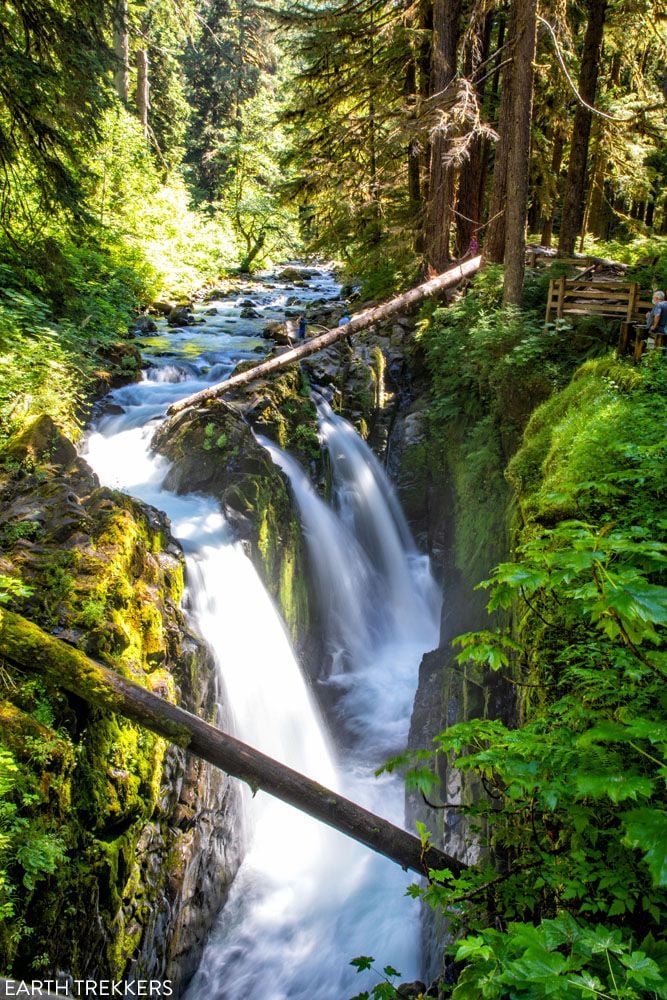 Sol Duc Falls
Dungeness Spit Wildlife Refuge
This is not part of Olympic National Park but it is still a worthwhile place to visit.
This long spit of sand starts on the Olympic Peninsula and juts out into the Strait of Juan de Fuca. It is the longest natural spit in the United States.
The Dungeness Spit is a 30 minute drive from Port Angeles. Park in the parking lot and then it is a half-mile walk through a forest to get to the coastline. Just before reaching the beach, you will have a nice view along the spit.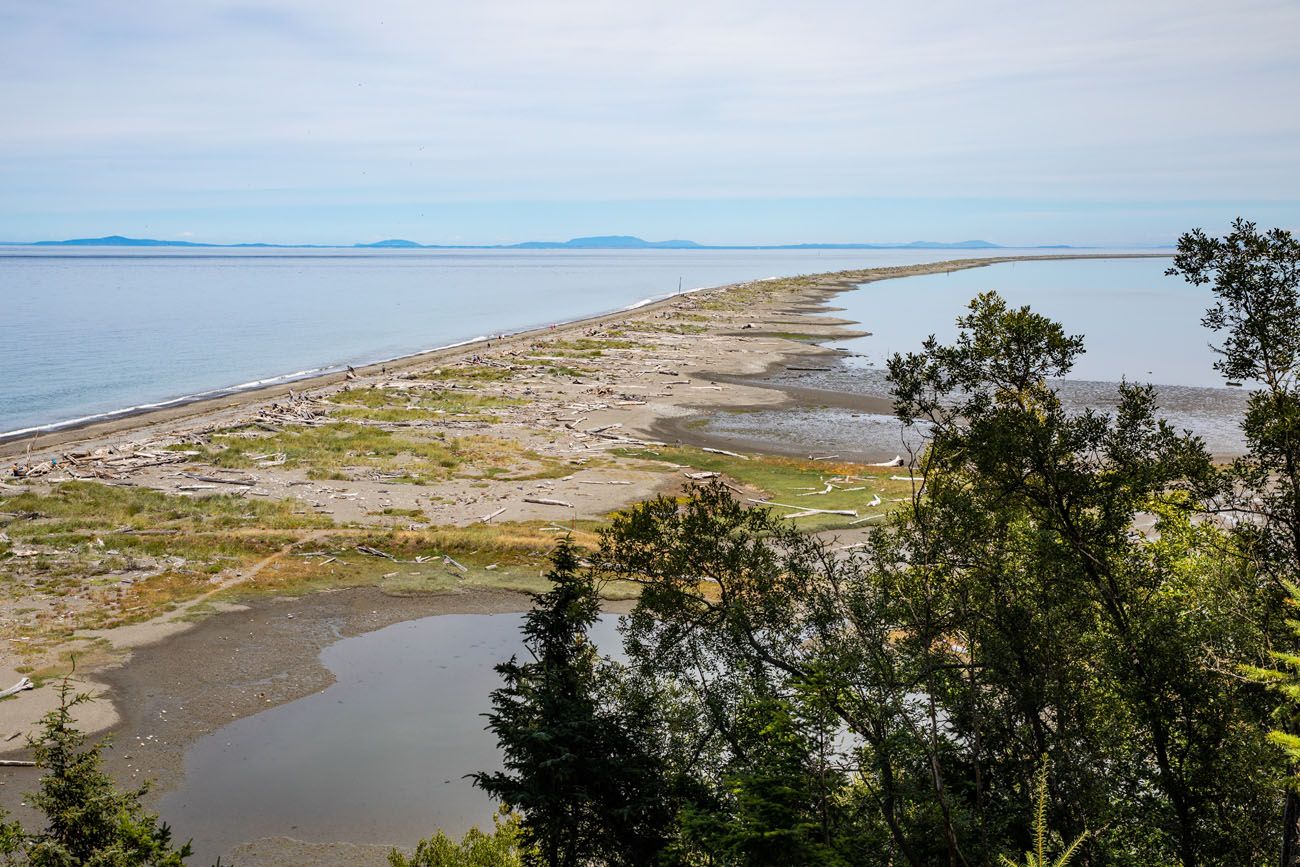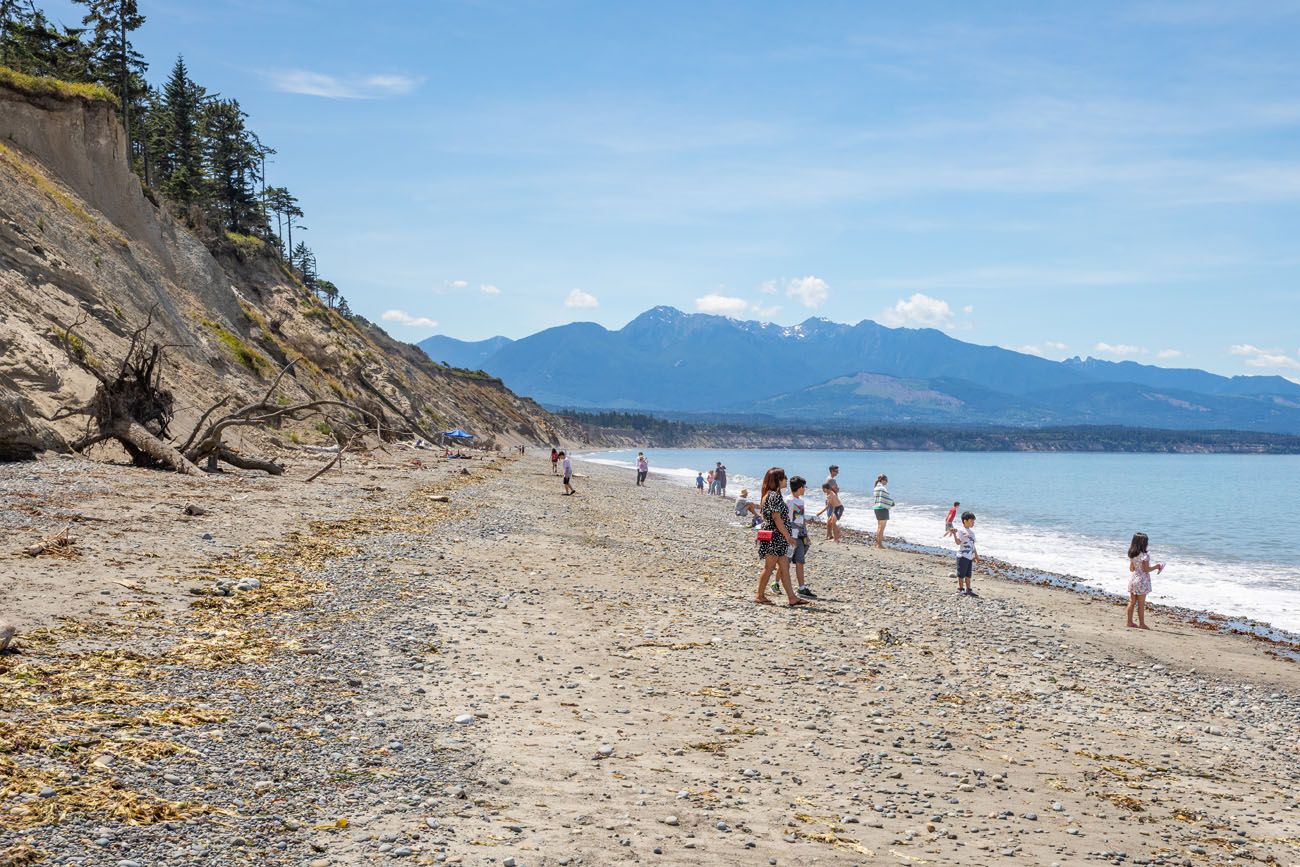 The view looking towards Port Angeles and the mountains of Olympic National Park.
Many people come here to relax on the beach. You can also walk 10 miles round trip on the spit to visit the Dungeness Spit Lighthouse.
Pacific Coastline
When exploring this part of the park, the best place to stay is at the Kalaloch Lodge or in the town of Forks.
Cape Flattery
Cape Flattery is the northernmost point of the continental United States. It is located at the point where the Pacific Ocean meets the Strait of Juan de Fuca.
To get here, it's a short, easy hike (1.5 miles round trip).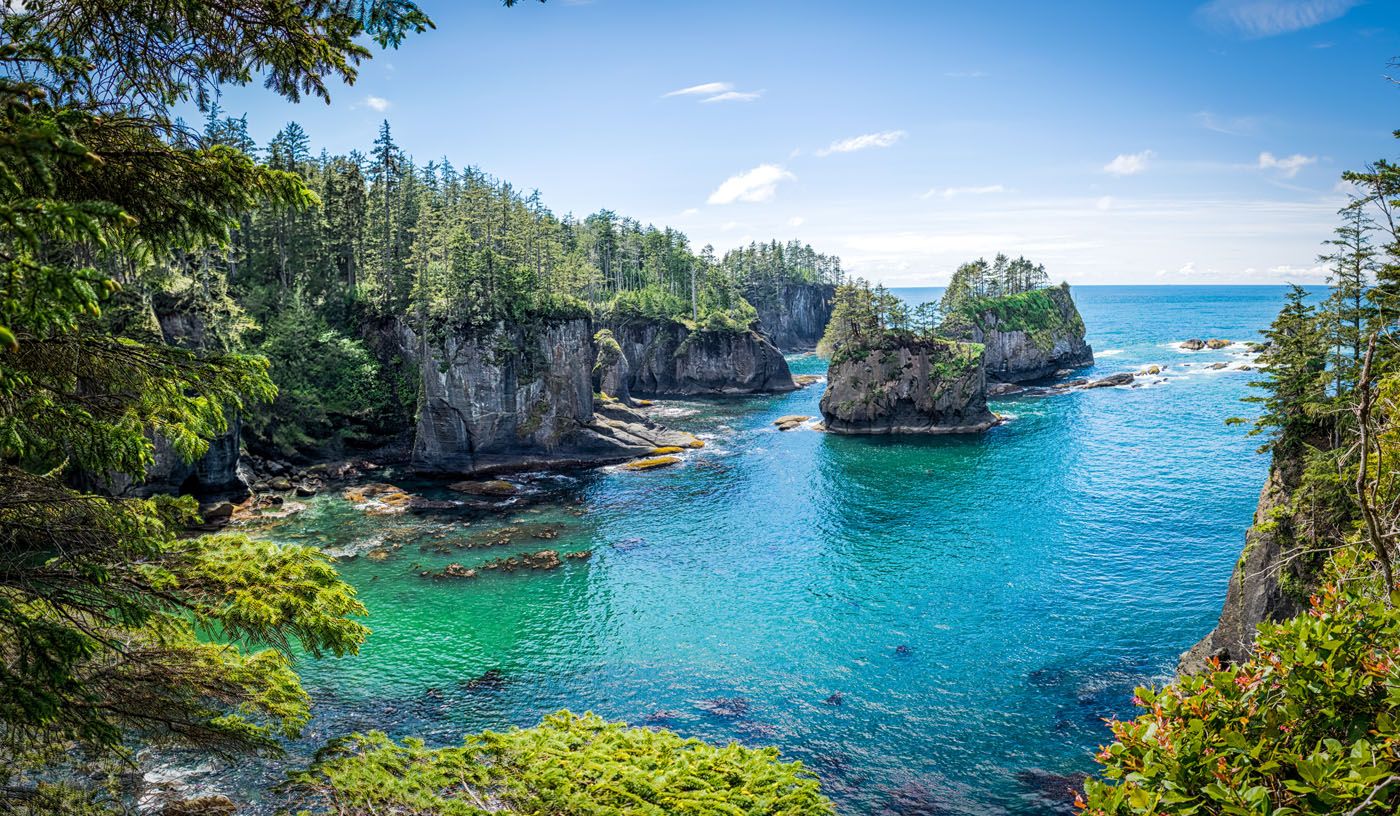 mabahamo/shutterstock.com
Shi Shi Beach
Shi Shi Beach is one of the most beautiful beaches in Olympic National Park. It is here that you will see tide pools and the rocky pinnacles that make this beach so unique.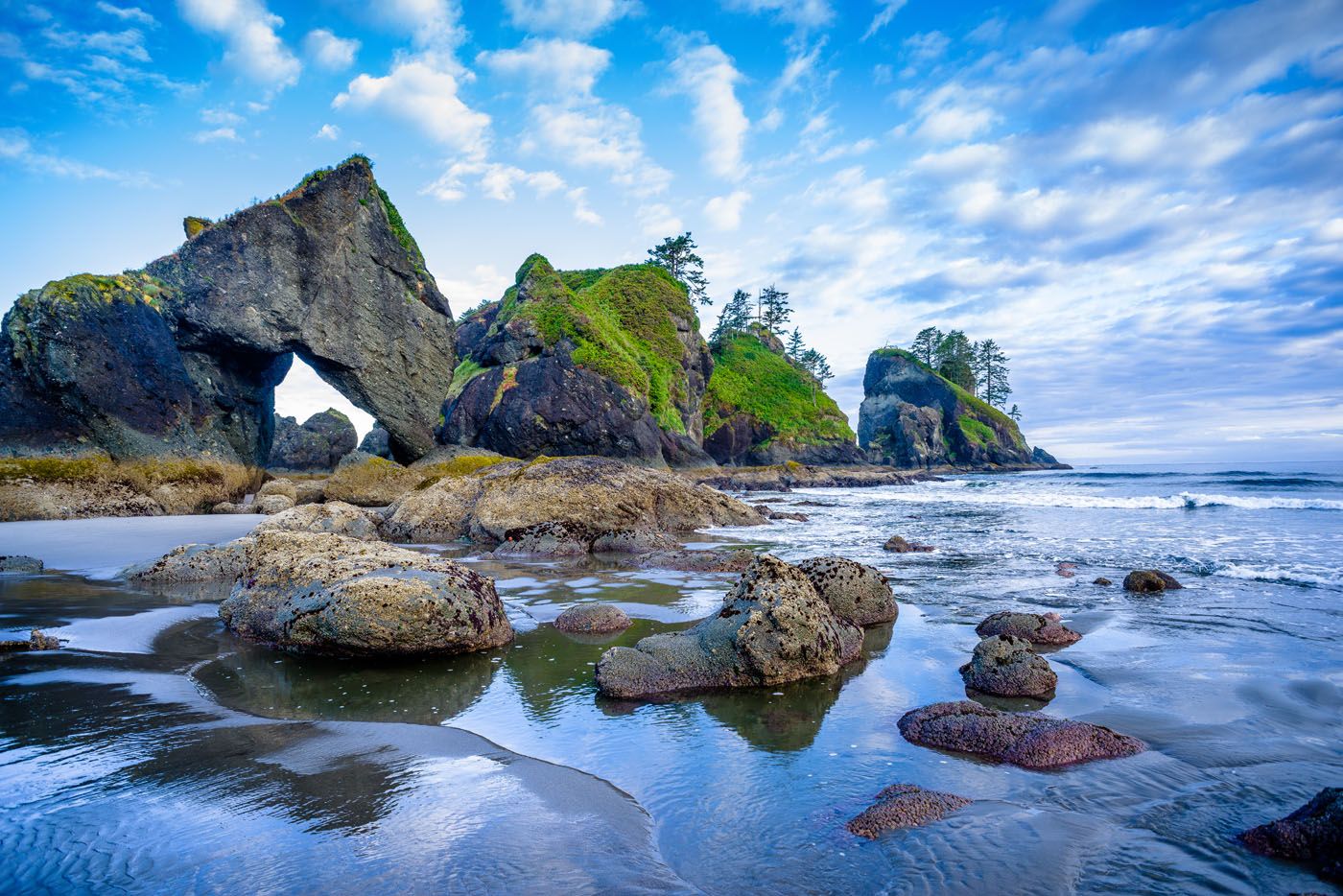 william p teed/shutterstock.com
To get here, you will need to do some hiking…6 to 10 miles round trip, depending on how far down the beach you will go.
The beach is located in Olympic National Park but access to the beach is on the Makah Reservation. To visit Shi Shi Beach, not only do you need to pay the Olympic National Park fee but you will also need a Makah Recreation Pass.
Shi Shi Beach is great as a long day hike or as an overnight camping experience.
Rialto Beach
This stretch of beach allows you to explore more of Olympic National Park's rocky coastline. It is easier to get to than Shi Shi Beach and it is not located on a reservation, so there is no additional fee, other the national park fee, to visit this beach.
To visit Rialto Beach, park at the Rialto Beach parking area, which is located next to the beach, and then walk right out to the beach. You can walk in either direction but the best direction to go is north, where you get to see the sea stacks sitting along the coastline.
For the best experience, walk to Hole-in-the-Wall, a 3.5 mile round trip stroll where the beach is the hiking trail.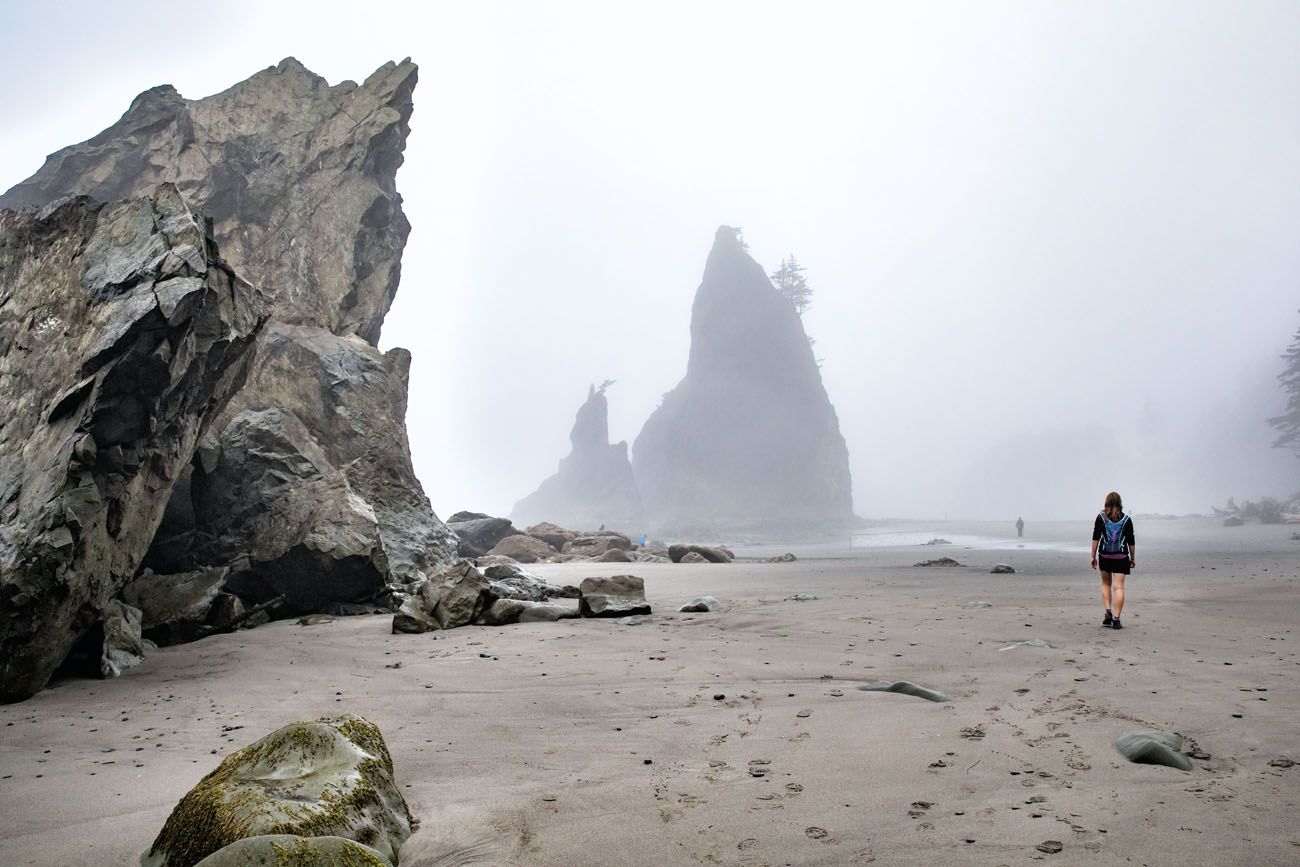 Rialto Beach
Hole in the Wall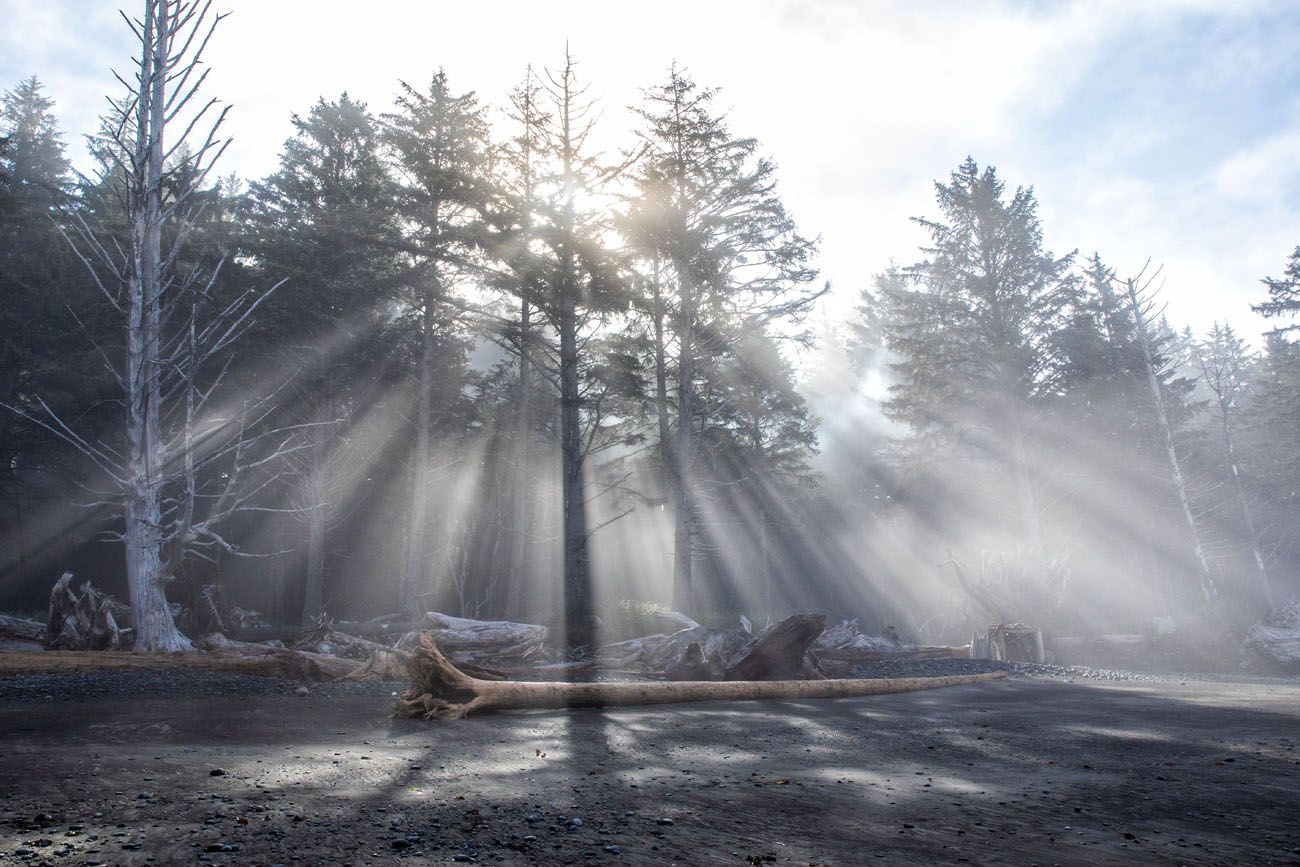 La Push Beaches
The La Push Beaches are a group of three beaches that are located near the community of La Push. These beaches are named First, Second, and Third Beaches, with First Beach being the northernmost beach.
Second Beach is located on Quileute Tribal Land. When we visited Olympic National Park in the summer of 2020, First and Second Beaches were closed due to the pandemic.
Third Beach is the most remote of the La Push beaches. To get here, it is a 1.6 mile one-way hike through a forest. For the most part, it is a flat, easy hike, but it is a rather monotonous walk through the trees.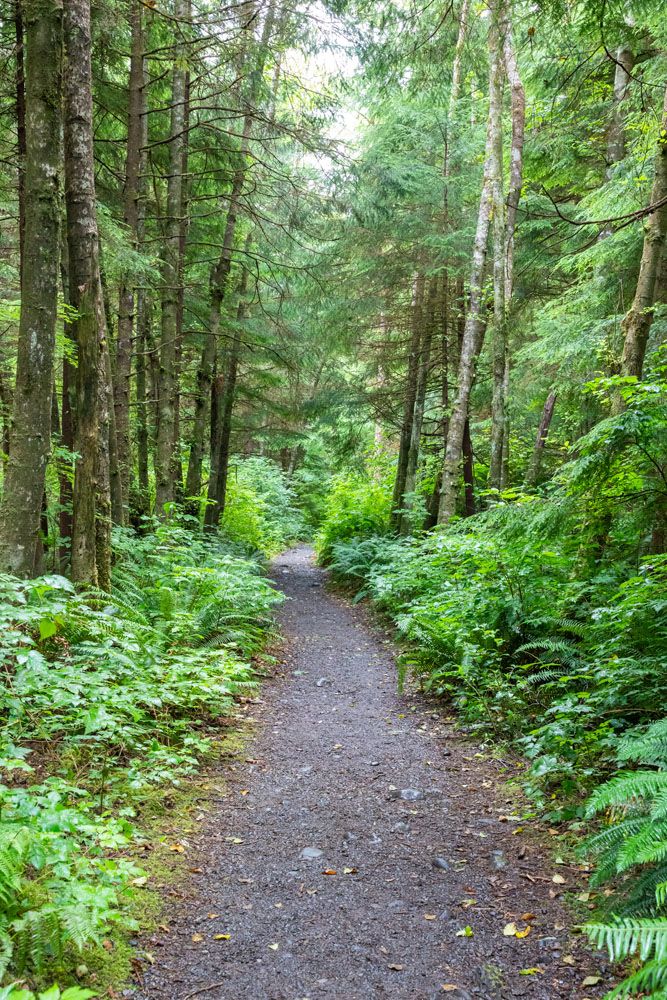 Here is the view once you get to the beach.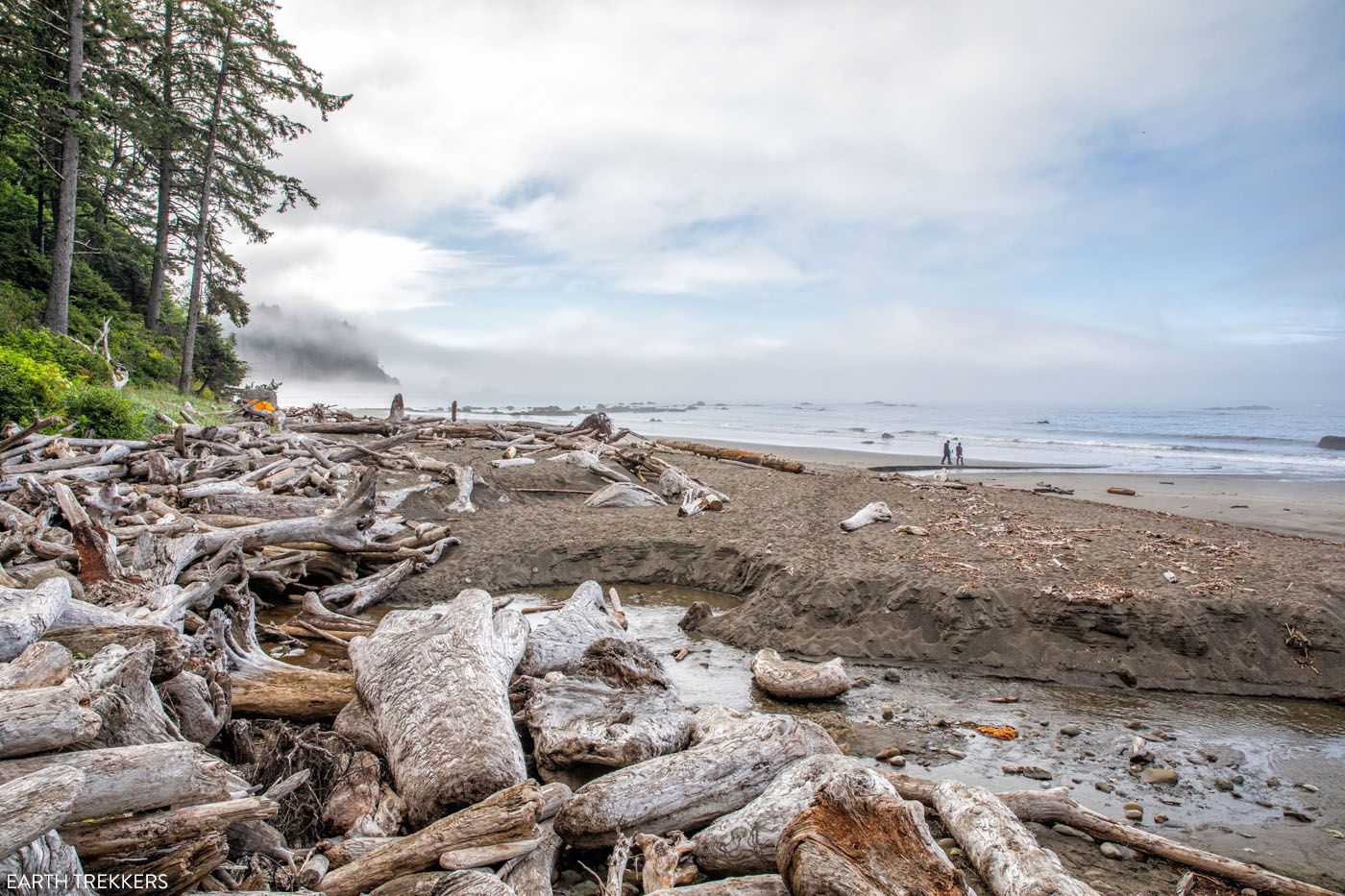 If you only have time for one beach stroll, we recommend Rialto Beach and the walk to Hole-in-the-Wall.
Ruby Beach
This easily accessible beach is a very popular destination and one of the best things to do in Olympic National Park. It gets its named from the ruby-colored crystals in the sand.
To visit Ruby Beach, park in the large parking area and then it is a downhill walk to the beach. You can either explore this stretch of coastline or hike north to the Hoh River (6 miles round trip).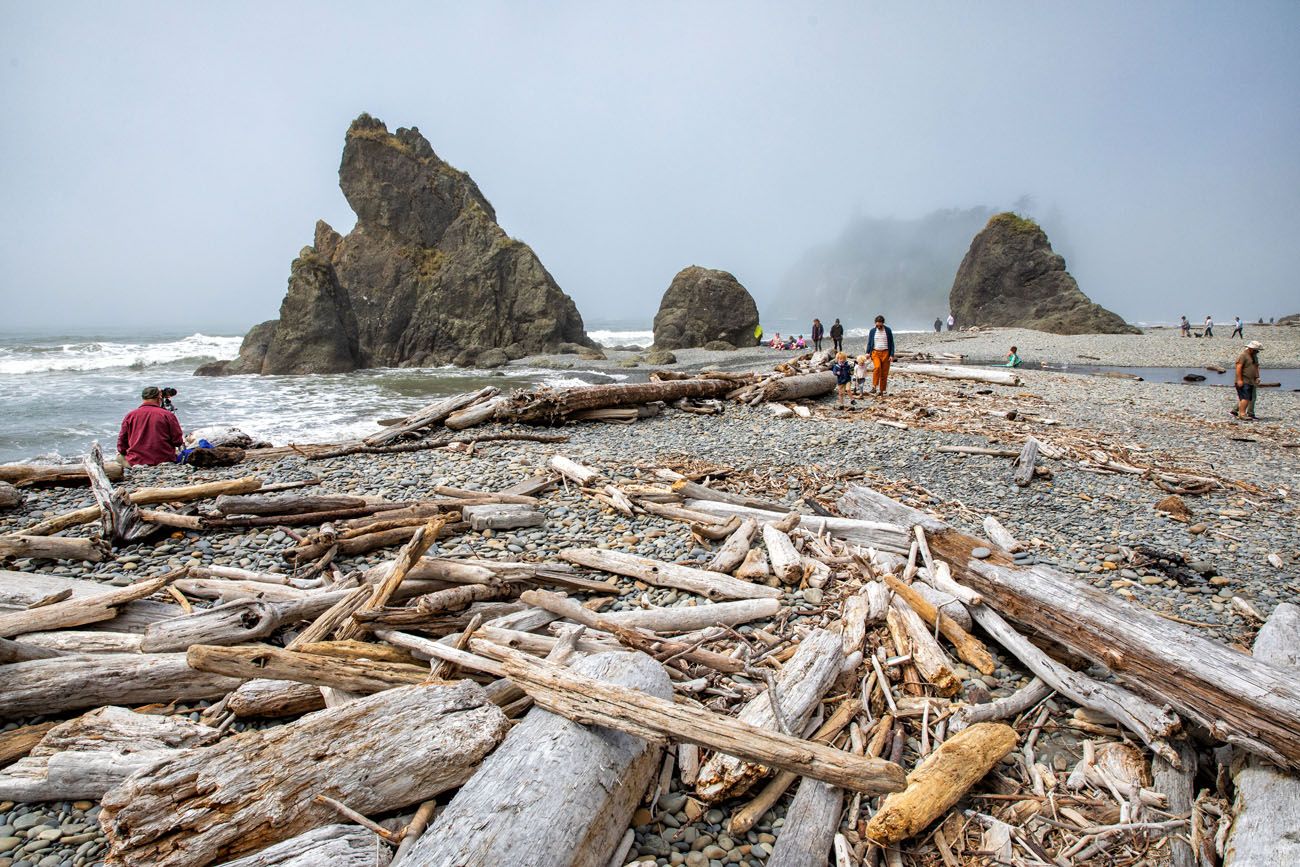 Ruby Beach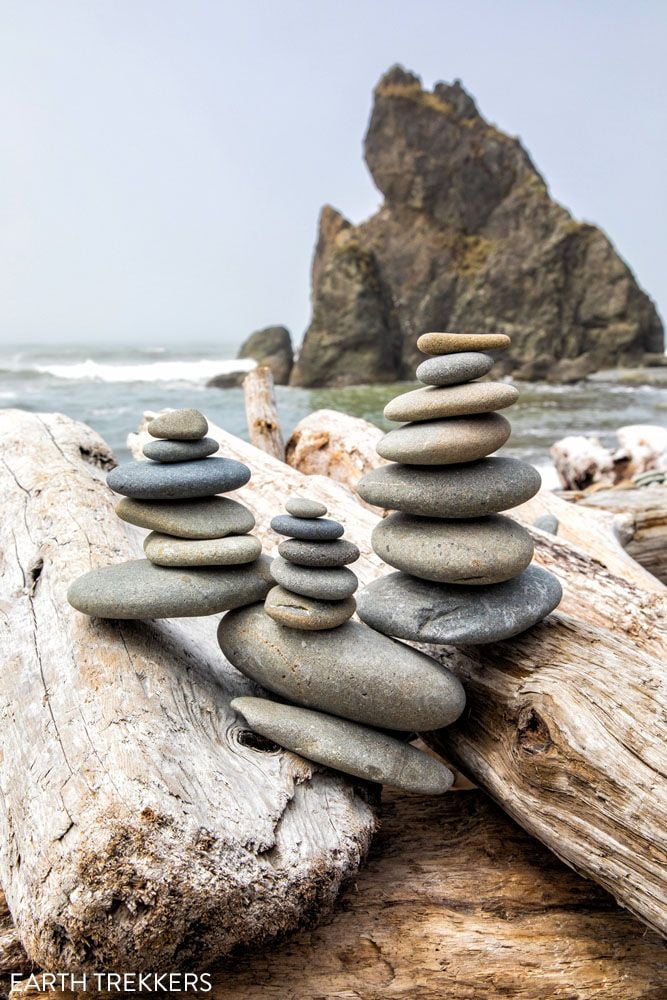 Rock cairns on Ruby Beach
The Temperate Rainforest and Western Olympic National Park
The temperate rainforest is found on the wetter, western section of Olympic National Park. These old growth forests are home to trees that are over 700 years old. Just imagine the history that has unfolded during the lifetime of some of these trees. To stand in their presence is both humbling and mind boggling.
When visiting this part of the park, the best place to stay is in the Quinault Valley, the Kalaloch Lodge, Forks, or Aberdeen.
Hoh Rainforest
Visiting the Hoh Rainforest is one of the best things to do in Olympic National Park. For some, this is the main reason for visiting Olympic National Park.
When you walk through the Hoh Rainforest you feel like you are journeying back in time, when dinosaurs ruled the planet. Moss drips from trees that are over 250 feet tall and hundreds of years old. The understory is filled with fallen trees, saplings, and ferns. Keep an eye for deer, the northern spotted owl, elk, raccoon, and black bear. The Hoh rainforest is cool and damp, quiet, and it smells wonderful.
The Hoh Rainforest gets between 12 to 14 feet of rain each year. Most of this falls in the winter months. But to put this into perspective, Mount Waialeale in Kauai, Hawaii receives 32 feet of rain each year (10,000 mm) and Mawsynram, India receives almost 40 feet of rain a year (11,900 mm)!
To get here, drive Upper Hoh Road/Hoh Valley Road to the end. There are two trails to walk here. Both are short, easy strolls.
The Hall of Mosses is 0.8 miles round trip. It loops through some of the oldest trees in the area. As its name implies, it is also one of the best places to capture the moss hanging from the trees.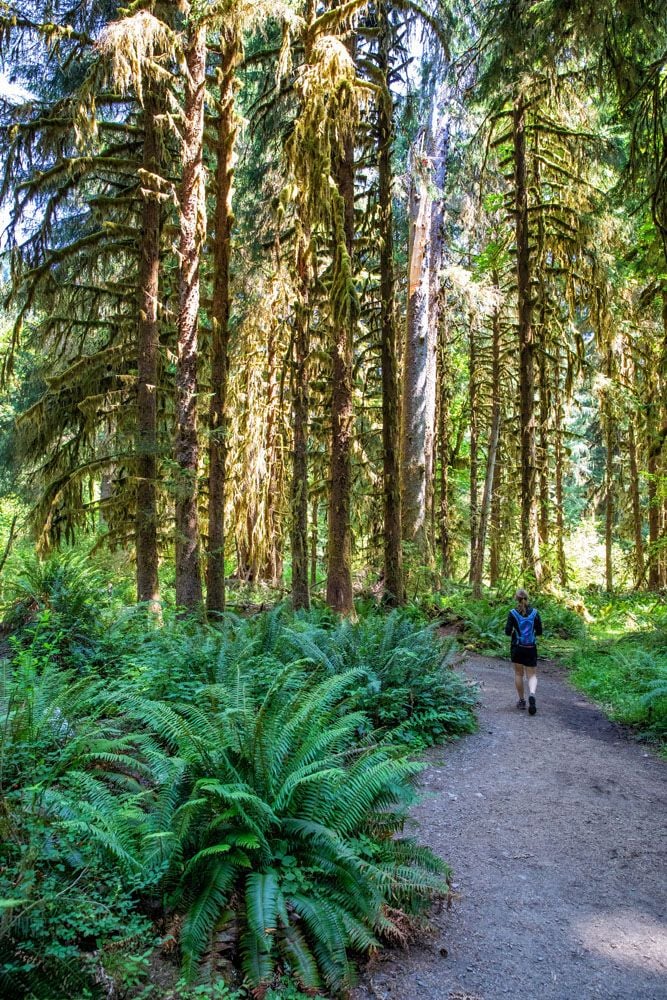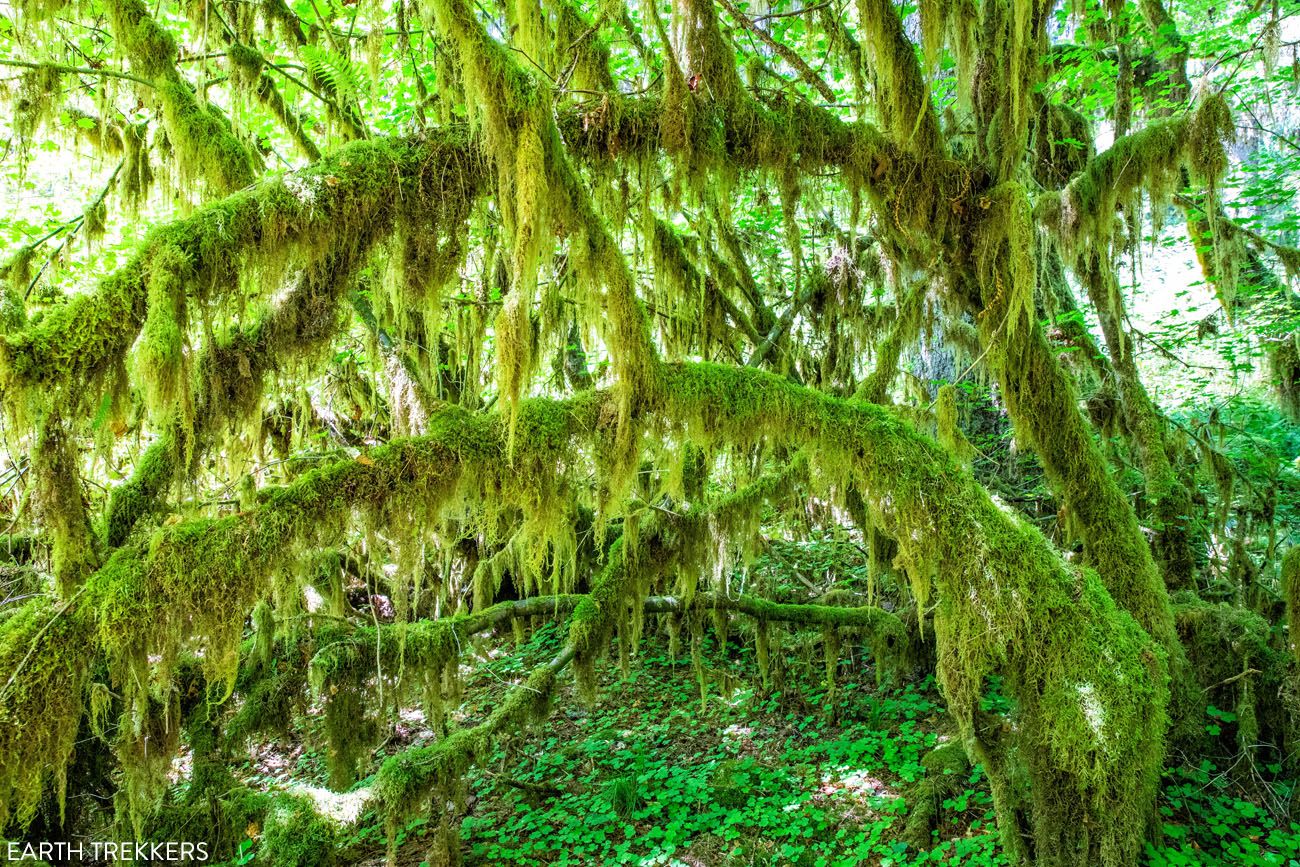 Hall of Mosses
The Spruce Nature Trail is a 1.2 mile loop which features more views of the rainforest and the Hoh River. This trail tends to be less crowded than the Hall of Mosses. We spotted a black bear on this trail.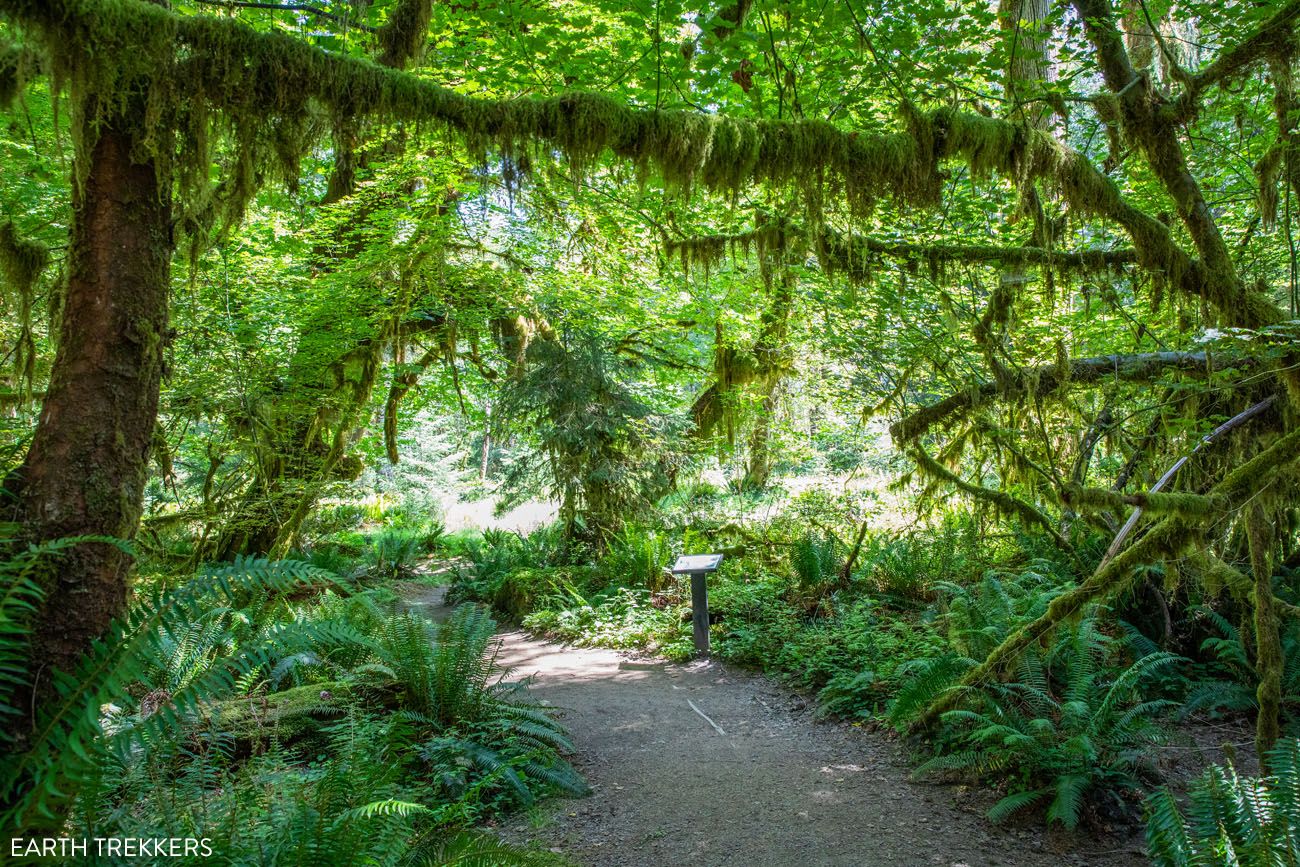 Spruce Nature Trail
Lake Quinault
Lake Quinault is a very pretty lake that is located in southwestern Olympic National Park. You can see the world's largest Sitka Spruce, walk the short trails near the lakeshore, and walk the Quinault Rainforest Nature Trail.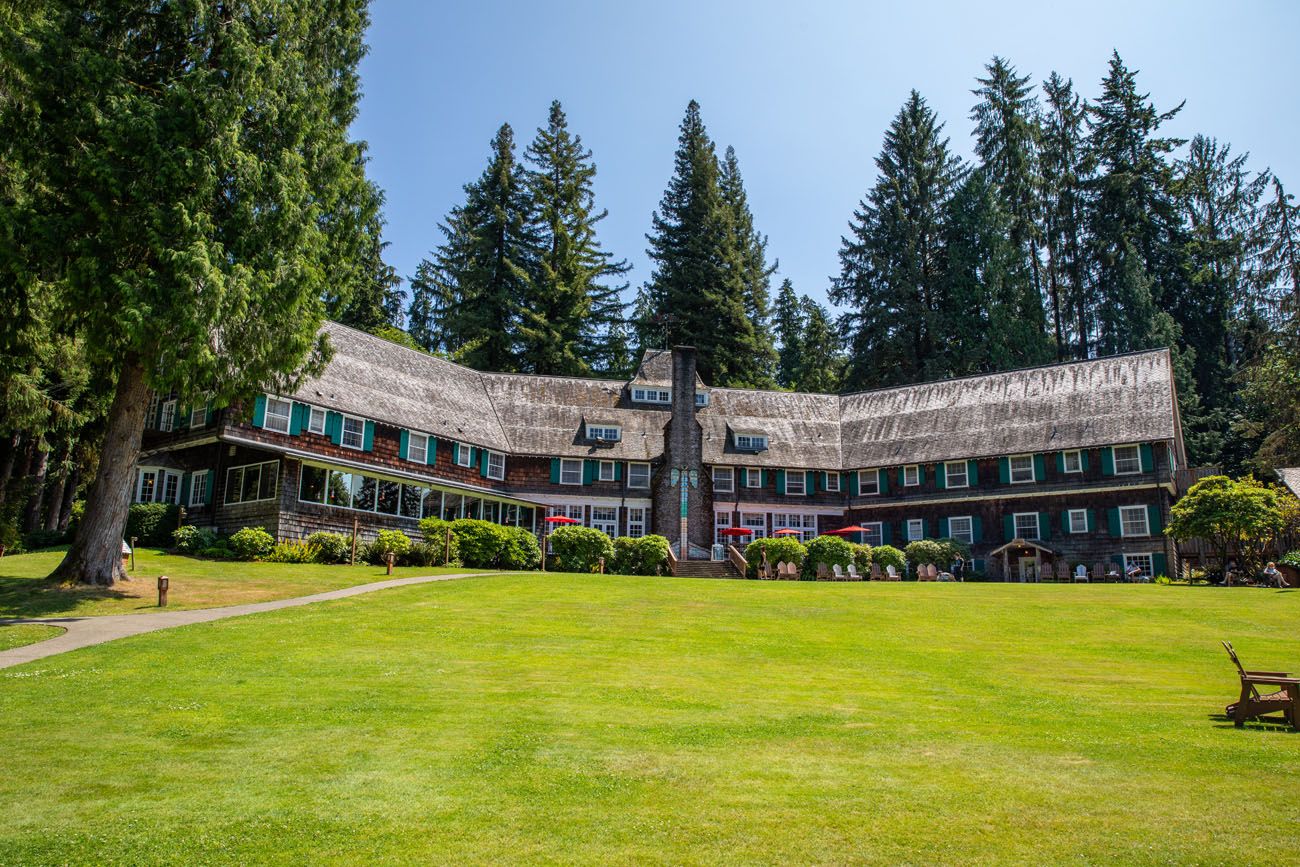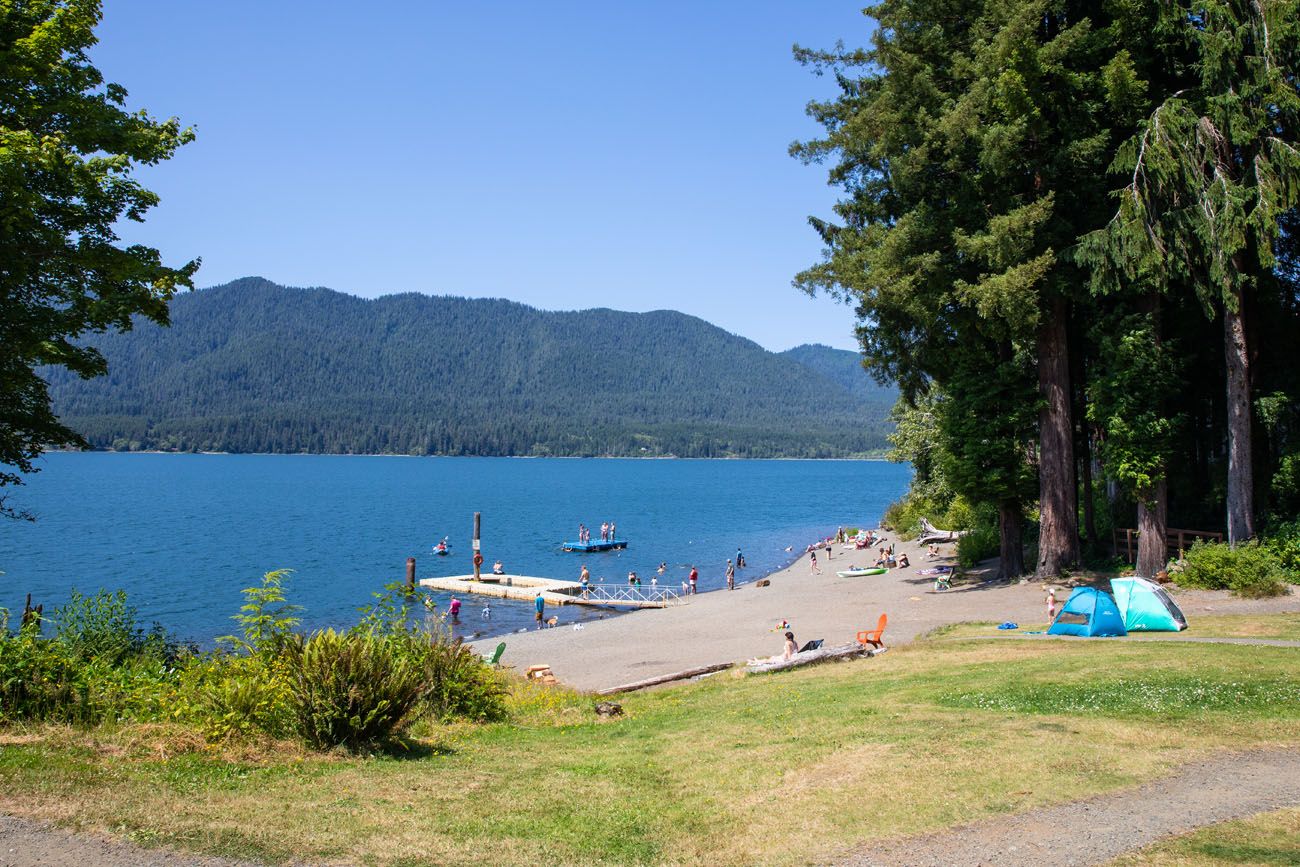 The Lake Quinault Lodge is a historic lodge that was built in 1926. This is a great place to stay for exploring the Pacific coastline and the western side of the park.
Enchanted Valley
Hike to the historic Enchanted Valley Chalet on an overnight backpacking trip.
This trek starts near Lake Quinault. For 13 miles, you will hike the East Fork Quinault River Trail through old growth forests until you reach the chalet. Bear, elk, coyote, mountain lion, and deer can sometimes be spotted along the trail.
This is typically done as an overnight backpacking trip. With a permit, you can camp at Enchanted Valley, Pyrites Creek, O'Neil Creek, or Pony Bridge.
Note: The national park service is considering dismantling and removing the chalet. Learn more here.
Staircase & Eastern Olympic National Park
The Staircase region is located in the southeastern corner of Olympic National Park. This is where you will find more old growth forests and some of the best hikes in the park. This area, because of its location, is often overlooked by many visitors and tends to be less crowded.
When visiting this part of the park, the best place to stay is Olympia or Skokomish.
Staircase Rapids Loop
Just under 3 miles long, this trail loops up and around Staircase Rapids. With waterfalls, dense forests, and fallen trees, this is a beautiful place to explore.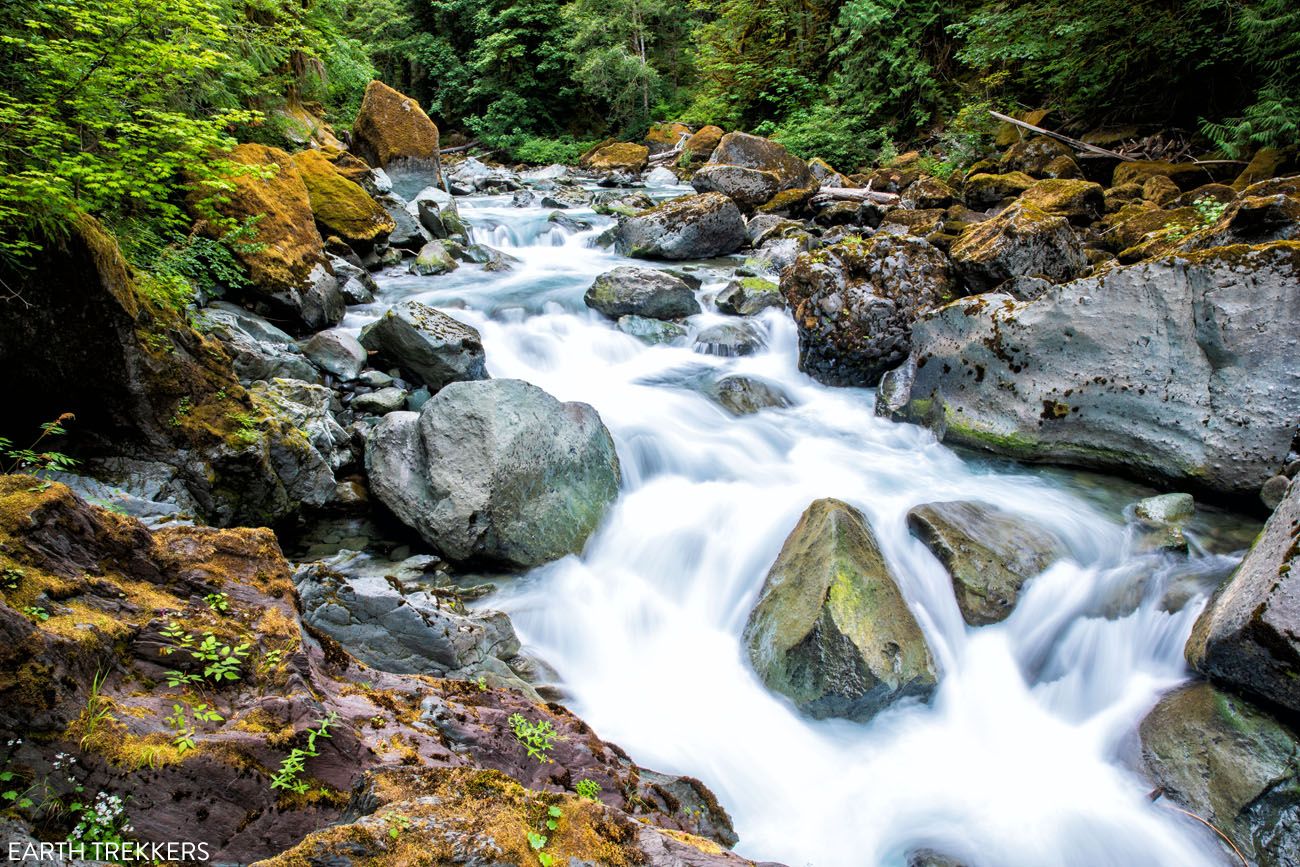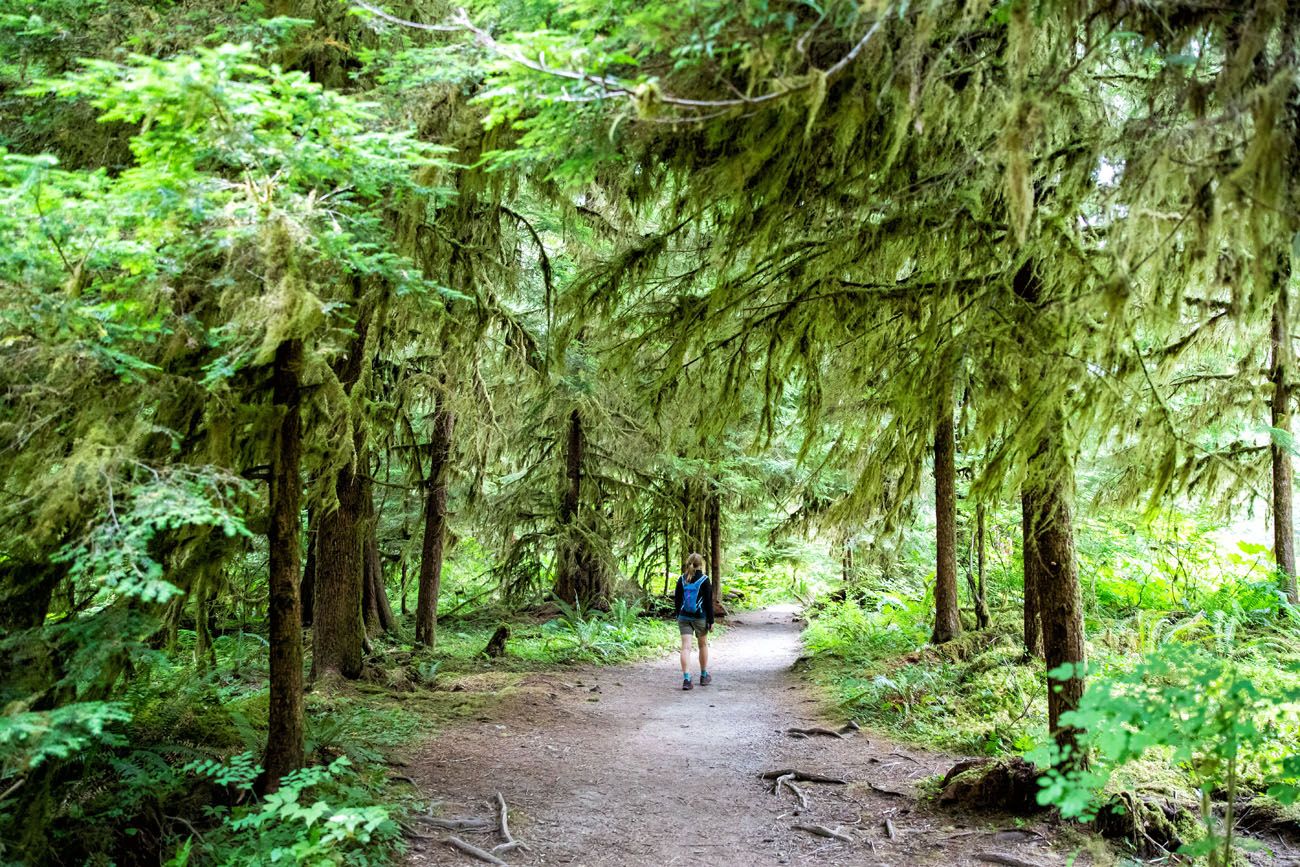 We loved this hike. When we did this, we saw just one other family. The views are similar to what you get at the Hoh Rainforest, with enormous trees covered in moss and lichen, but with far fewer people, this was a much more enjoyable experience.
Mount Ellinor
This was a hike that was high on our to-do list, but drizzly weather and low-lying clouds created unfavorable conditions. We have learned from past experiences that if clouds cover the mountain peaks, you might as well as stay in bed and pull the covers over your head, because you'll have the same view.
Mount Ellinor is one of the tallest mountains on the eastern side of Olympic National Park. This hike is 6.2 miles round trip with 3,300 feet of elevation gain. Your reward is panoramic views over the Olympic Peninsula and out to Mount Rainier and Mount Baker.
High Steel Bridge
This is a bit off-the-beaten-path, but it's worth the quick visit, if you like the idea of seeing something different than a hiking trail or waterfall.
The High Steel Bridge spans the south fork of the Skokomish River. It was built in 1929 as a rail line for logging on the Olympic Peninsula. In 1964, it was converted to a roadway and it continues to be used for logging.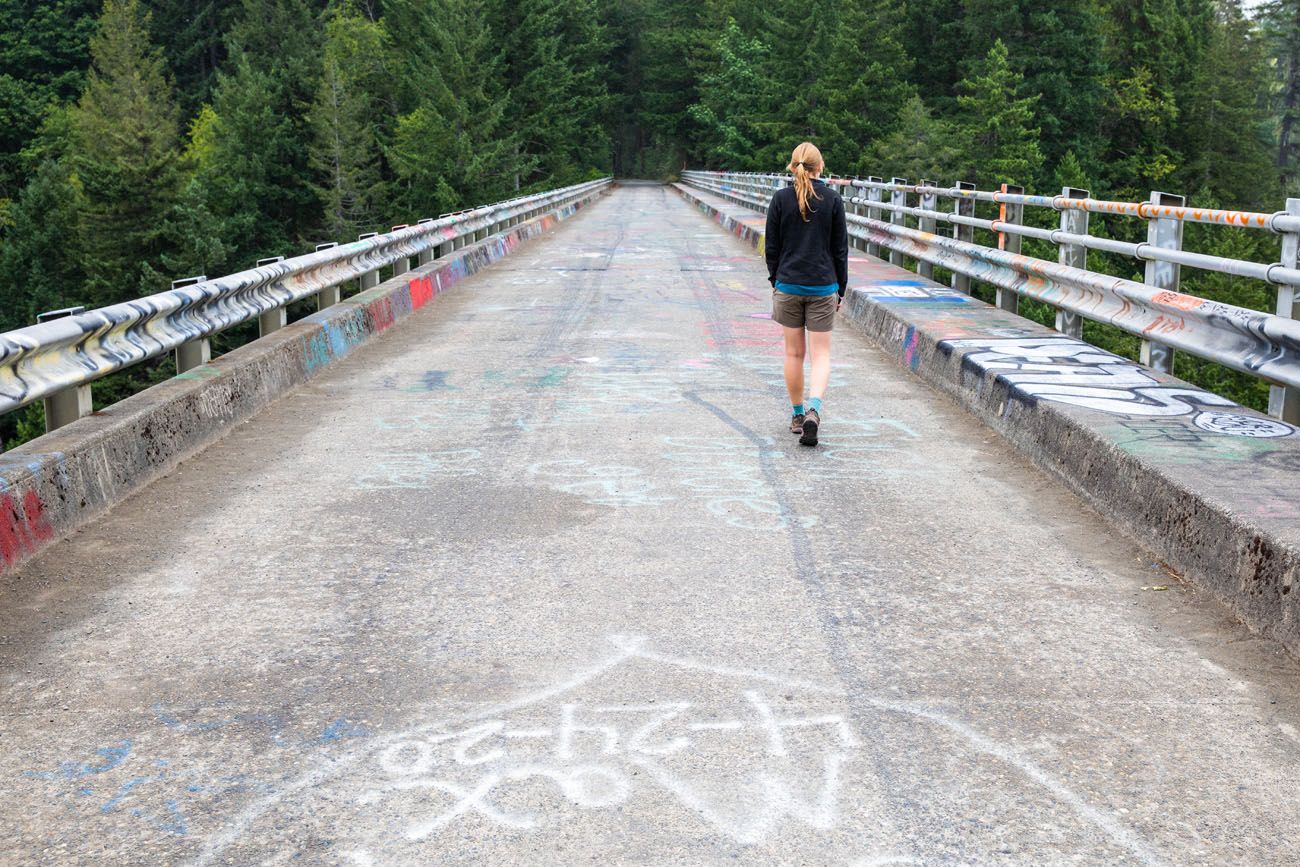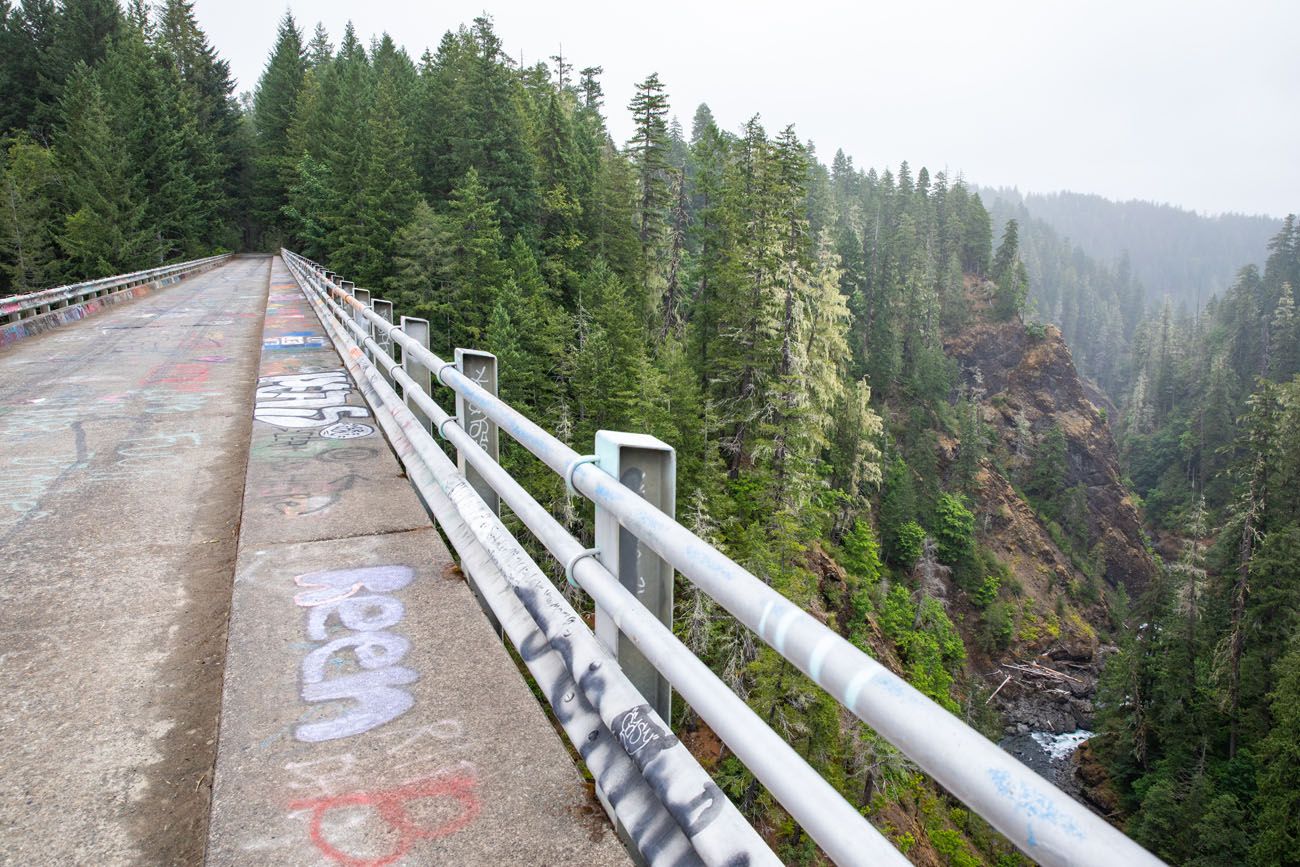 Maybe it was the cloudy, foggy conditions, but our visit here felt a bit creepy. It is eerily quiet here, except when a logging truck passes, which can be quite alarming, especially while standing on this narrow bridge.
How Much Time Do You Need in Olympic National Park?
At a minimum, you need three full days in Olympic National Park, if you want to visit Hurricane Ridge, the Pacific Coastline, and the temperate rainforests. However, more time is better, as it allows you to hike more trails and it gives you some contingency time should it rain or snow, which is entirely possible.
On the quickest of visits, with one or two days, stay in Port Angeles and visit Hurricane Ridge and the western section of the park. Just note that you could be driving an hour and a half one-way to get to places like the Hoh Rainforest and Ruby Beach.
With three or more days, you can road trip around the peninsula. Hop from Port Angeles to Forks to Quinault or Aberdeen to Olympia, visiting the sights along the way.
If you can, plan on spending 5 to 7 days in Olympic National Park to fully explore all of the different regions.
When is the Best Time to Visit Olympic National Park?
Spring is a wonderful time to visit Olympic National Park. Temperatures are warming up and by April, the wet season is ending. Springtime is one of the best times of the year to see wildlife, where animals like bear and elk become active in the river valleys.
The most popular time to visit Olympic National Park is during the summer, when all of the roads are open, the weather is warm, and rainfall chances are relatively low. This is also when the park is the most crowded.
Autumn is another great time for wildlife viewing. September is mating season for the elk. Snow and wetter weather arrives in October. Some campgrounds and roads will close during this time.
Winter is the wet season. This means huge amounts of rainfall in the rainforests and snow in the alpine regions. Hurricane Ridge can get 30 feet of snow per year. Hurricane Ridge is usually open, making this part of the park a great place to visit if you like cross country skiing, tubing, or snow shoeing.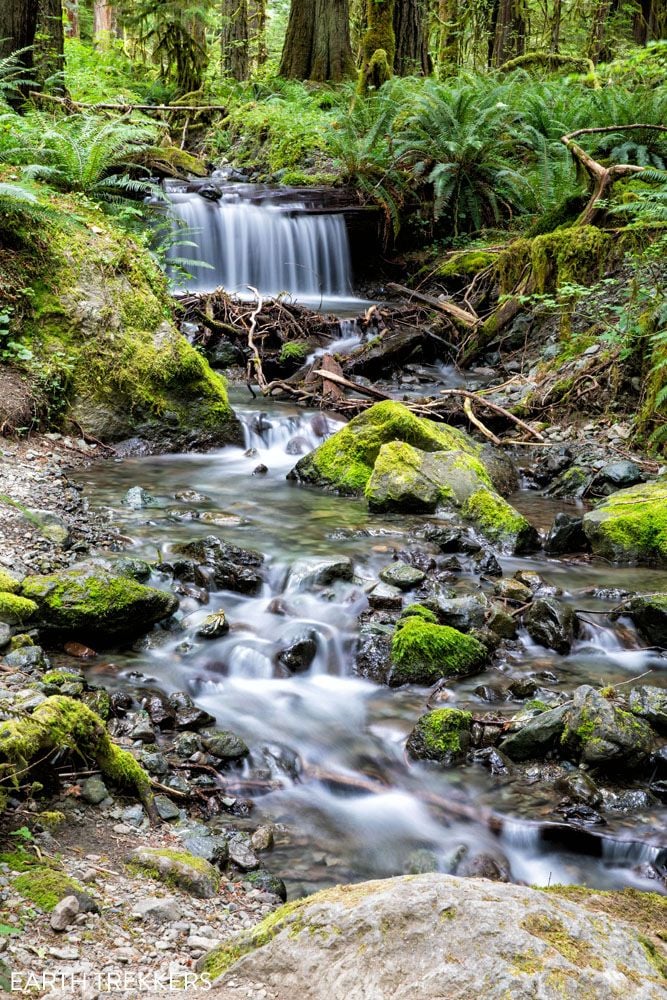 Waterfall along the Staircase Rapids Loop
Practical Information
Park Hours: Park entrances are open 24 hours a day, 365 days per year.
Park Fee: $30 per vehicle, valid for 7 days.
Get updates on trail closures and park conditions on the National Park Service website.
---
If you have any questions about the best things to do in Olympic National Park, let us know in the comment section below.
More Information about Olympic National Park and Washington
HIKES IN OLYMPIC NATIONAL PARK: Take your pick from 17 awesome hikes in Olympic National Park. We also have detailed trail guides for Mt. Storm King, the hike to the peak of Mount Angeles, and the underrated Staircase Rapids Loop.
BEST OF THE NORTH CASCADES: Don't miss the beautiful Maple Pass Loop and hiking to Sahale Arm for stunning views across the park. Get the full list in our article Best Things to do in North Cascades National Park.
MOUNT RAINIER: Check out our Mount Rainier National Park Travel Guide for important travel planning tips, sample itineraries, advice on when to go, where to stay, and more.
WASHINGTON ITINERARY: Take the guesswork out of planning your trip to Washington with our Washington Road Trip Itinerary.
VISIT THE US NATIONAL PARKS: Looking for your next big adventure? Read our article about the 15 Best National Parks, where we narrow down the long list into 15 must-see parks. You can also learn more about the national parks (and get the full list) in our Guide to the US National Parks.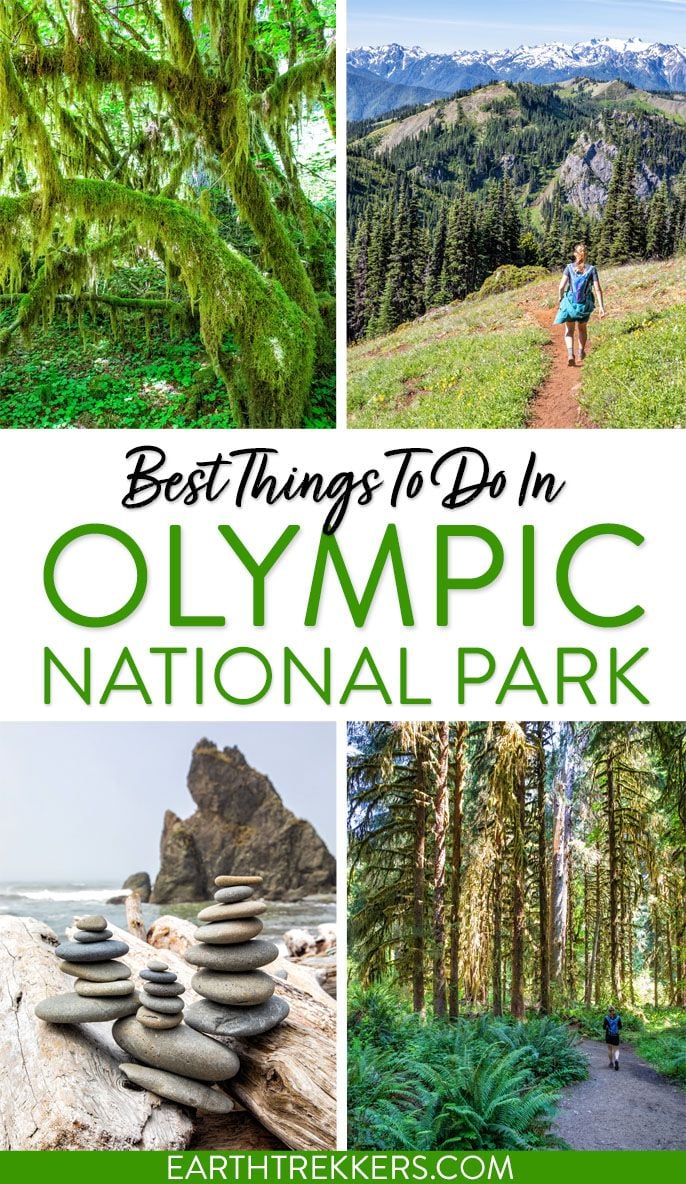 All rights reserved © Earth Trekkers. Republishing this article and/or any of its contents (text, photography, etc.), in whole or in part, is strictly prohibited.