Once people get past the shock of hearing our crazy idea and then getting the rundown on the places we plan on visiting, the next question we usually get asked is "how are you doing this?"
It took us one year, from the time we decided to go on our around the world journey, to taking that first flight out of the country. During this time we had to decide what to do with our careers, houses, cars, and our kids' education, in addition to planning an around the world trip. Here's how we prepared for our one year trip…
Note: This post was originally written in 2014 right before the start of our trip around the world.
We Sold Our House
This, at first, was a tough decision, but we feel like it was the right one. The four of us lived in a beautiful house in western Howard County, Maryland. We lived in one of the best school districts in the USA and Tyler and Kara had many close friends. But we lived in a house that was more than what four people really needed, and neither of us wanted to pay a mortgage on a house that we wouldn't be living in for one whole year. So, our house went on the market in October 2013 and six very long and stressful months later it finally sold. We put our things in storage and we have been living with my mother for the past month. Not having a house and mortgage is a very liberating experience.
Our Careers
Tim is taking a leave of absence from his career with Analytical Graphics, Inc.. I quit my job as a Physician Assistant working in orthopedic surgery, a position she held for the past fifteen years.
Education
Tyler will be missing his sixth grade year of school and Kara will be missing her fifth grade year. Tim and I will be homeschooling them while traveling using Calvert Education. It took some research to figure out how to enroll them in a program that Howard County would accept upon our arrival back into normal life.
We are currently in the process of digitalizing textbooks and schoolwork. Both Tyler and Kara will have a small laptop computer on which to do their work everyday. They, of course, are thrilled to have their parents as their teachers. Just kidding! But it will be an interesting experience for all four of us.
Tyler and Kara (and me to a lesser extent) are learning Mandarin in preparation for six weeks in China and Taiwan. We are using Fluenz, a computer program similar to Rosetta Stone. I have used Fluenz to learn Spanish and French and I highly recommend their programs.
Cars
This was easy. Both of our cars are eleven years old so we will be selling them to Carmax the week before we leave.
Health Insurance
We are keeping our US health insurance in case something disastrous occurs. We also have a policy with World Nomads which acts as basic travel insurance but also provides emergency medical coverage in foreign countries as well as evacuation services (which is necessary in order to trek to Everest Base Camp).
Communications
I purchased an unlocked iPhone 5. Tim is using his Samsung Galaxy 3S. We have global SIM cards for basic international service (which we never used once during 396 days of travel – update from 2017), which is much cheaper than getting service through a US provider. In most countries we will be purchasing local SIM cards to get on the local network. From our research, this is the cheapest way to have phone service while traveling.
Plane Tickets
Round the world ticket or purchase each flight individually? Tim spent hours, maybe even days, researching this question. He was able to price out flights bought individually $8000 cheaper than purchasing an around the world plane ticket for our family. So, no RTW tickets for us. Aside from the cost savings, purchasing tickets individually gives us more flexibility to change our itinerary as we travel as well as keeps our return flight home open ended. Most round the world plane tickets give a maximum of 365 days to complete the journey around the globe. Buying our own tickets lets us add a few more weeks on if we like…and I am pretty sure we like that idea!
Read more: RTW Ticket vs. One Way Tickets, Which One is Better?
Trip Itinerary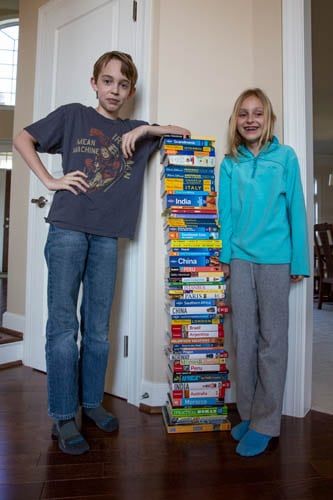 Now this was the fun part. There's nothing like spreading out a map of the world and picking all of the places you want to go.
All four of us had input on the places to visit. Tyler picked Italy, both Tim and I really wanted to see Nepal and trek to Everest Base Camp, and Kara wants to go to both South Africa and Australia.
We planned the itinerary around the Base Camp trek since there are only very short windows of time in which to do this, and then worked the itinerary out from there.
We are trying to have an "endless summer" to minimize the amount of clothing and gear we need to bring along with us. Now we literally have a stack of travel books almost as tall as Kara and we have become geography experts. We have a tentative itinerary for the year but it will be interesting to see how much this changes once we start traveling.
Visas
This was the second biggest headache in preparing for this trip, other than selling the house.
There are six visas we need to have before arriving in the country: India, China, Bhutan, Myanmar, Vietnam, and Thailand (because of the length of time we will be there combined with the fact that we will be exiting and entering several times).
Each country has its own set of rules about when Visas can be applied for, how long they are valid, and what kind of paperwork is involved. China Visas (which we just picked up a few days ago) are valid for one year but they require an itinerary complete with hotel reservations and a flight out of the country. We spent weeks planning our itinerary, contacting and booking hotels, and then purchasing flight tickets out of the country, all for March of 2015, almost one year away!!
India wasn't any easier. They wanted copies of every official document we had pertaining to Tyler and Kara, as well as numerous other forms and paperwork. The Visa applications were dropped off at the very inefficient Cox and Kings Company (India outsources its Visa applications…ha!) for three to five day processing. Fourteen days later our Visas were ready to be picked up. Well, at least we have them, and we are going to India!!
Bhutan can only be visited with a tour company. Our tour company, Bridge to Bhutan, is handling these Visas for us. Myanmar, Vietnam, and Thailand Visas will be obtained while traveling.
Vaccinations and Medications
We all have been vaccinated against Yellow Fever, Typhoid Fever, Hepatitis A and B, and received Tetanus boosters. Tyler and Kara just received their meningitis vaccinations and Tim and I received Polio boosters (which may soon become a requirement for visiting India). We did not receive vaccinations against rabies or Japanese Encephalitis. We felt that the risks and costs for these vaccinations outweighed the benefits. It would cost our family of four $4800 just for the rabies vaccine. It would cost $1200 for Japanese Encepalitis.
Several times during the trip we will be traveling through areas with a risk of malaria. We will be carrying with us a supply of Malorone. Although it is not cheap, it has a low side effect profile and there is very little resistance to it, versus many of the other prophylactic malarial medications.
Tyler has an allergy to peanuts which should make our travels through Southeast Asia and China somewhat interesting (and stressful!!). Are 25 Epi-Pens too many to take?? Just kidding. But we will be carrying quite the arsenal of Epi-Pens and Benadryl along with us.
In addition to all of this we will have a supply of Ciprofloxacin for traveler's diarrhea, zithromax for strep throat or sinus infections, Medrol Dose Paks for rashes or orthopedic complaints, and Advil for the occasional headache.