If you are planning to travel around the world, you have two options for booking your flights: a RTW ticket or a series of one-way tickets. Both options have pros and cons, with the main factors being cost and flexibility.
If you will be traveling around the world, don't automatically assume that you need to book a RTW ticket. There are a lot of rules and small print that go along with these tickets and you need to decide if a RTW ticket is right for you.
What is a RTW ticket?
A RTW ticket is a series of flights linking cities around the world, all offered by one airline alliance. The two main companies offering RTW tickets are Oneworld and Star Alliance. When you buy a ticket with Oneworld, you will fly with American Airlines and all of its partners. When you fly with Star Alliance, you fly with United and all of its partners.
Advantages of a RTW Ticket
Easy and Convenient. You pre-book your flights before starting your trip. This eliminates the hassle of searching for and booking flights as you travel.
Cheaper, sometimes. By pre-booking all of your flights, you get a discount. Sometimes, but not in all cases, this works out to be cheaper than piecing together one way tickets as you travel.
Airline Perks. As you log thousands of miles on one airline, your frequent flyer mileage add up, bringing you the perks that come along with a huge bank of airline miles.
Disadvantages of a RTW Ticket
All flights must be booked before departure. Therefore, you must know your entire itinerary before starting the trip.
You must start and end in the same country. However, you can utilize two cities. For example, your first flight could leave from New York City and your final flight can land in Washington DC.
There are a lot of rules and regulations. Depending on the airline alliance, there are rules as to how many stopovers you can have, how many continents you can visit, and/or how many miles you can travel. With Star Alliance, you purchase your ticket according to the number of miles you will travel, from 26,000 miles to 39,000 miles. You also have a maximum of 16 stopovers with this ticket. Oneworld's Explorer Pass keeps things simple, charging you based on your airline class and the number of continents visited.
The maximum duration of your trip is one year. All trips must return to the starting country within 12 months of the first flight.
Backtracking is allowed, but you get penalized for it. Once you fly across the Atlantic or Pacific Ocean, you are not permitted to fly back across it. However, you can backtrack across a continent. For example, if you fly from New York to Budapest, and then fly from Budapest to Lisbon, this is backtracking. It is permitted, but this mileage gets applied to your overall mileage allowance.
Inflexible. Once you start your trip, you cannot go back and change your route, at least not without paying a fee. If you have a flight booked to Beijing and you want to change it to Tokyo, you will have to pay roughly $125 to do so.
Limited Seats. Limited seats are available for RTW tickets. This means that you may not be able to fly on the exact date you want. If you have to reschedule a flight at the last minute, your availability will be even more limited.
Your entire route is pre-determined. It can be very difficult to nail down an entire RTW itinerary for a year. As you travel, your interests change. By having all of your flights booked, you are set on one itinerary. Things may change toward the end of your trip…you may want to add more time, you may want to visit a country you never thought of during the planning process, maybe you even want to come home early. With a RTW ticket, you do not have the ability to make these changes, not at least without paying lots of fees or losing money in the process.
How Much does a RTW Ticket Cost?
A RTW ticket costs between $3500 and $10,000 for an economy ticket. The price is based on the number of miles flown, when you travel, and how many stopovers you have. For $3500, you are getting just several stops around the globe. For more money, you get to visit more continents and have more stopovers.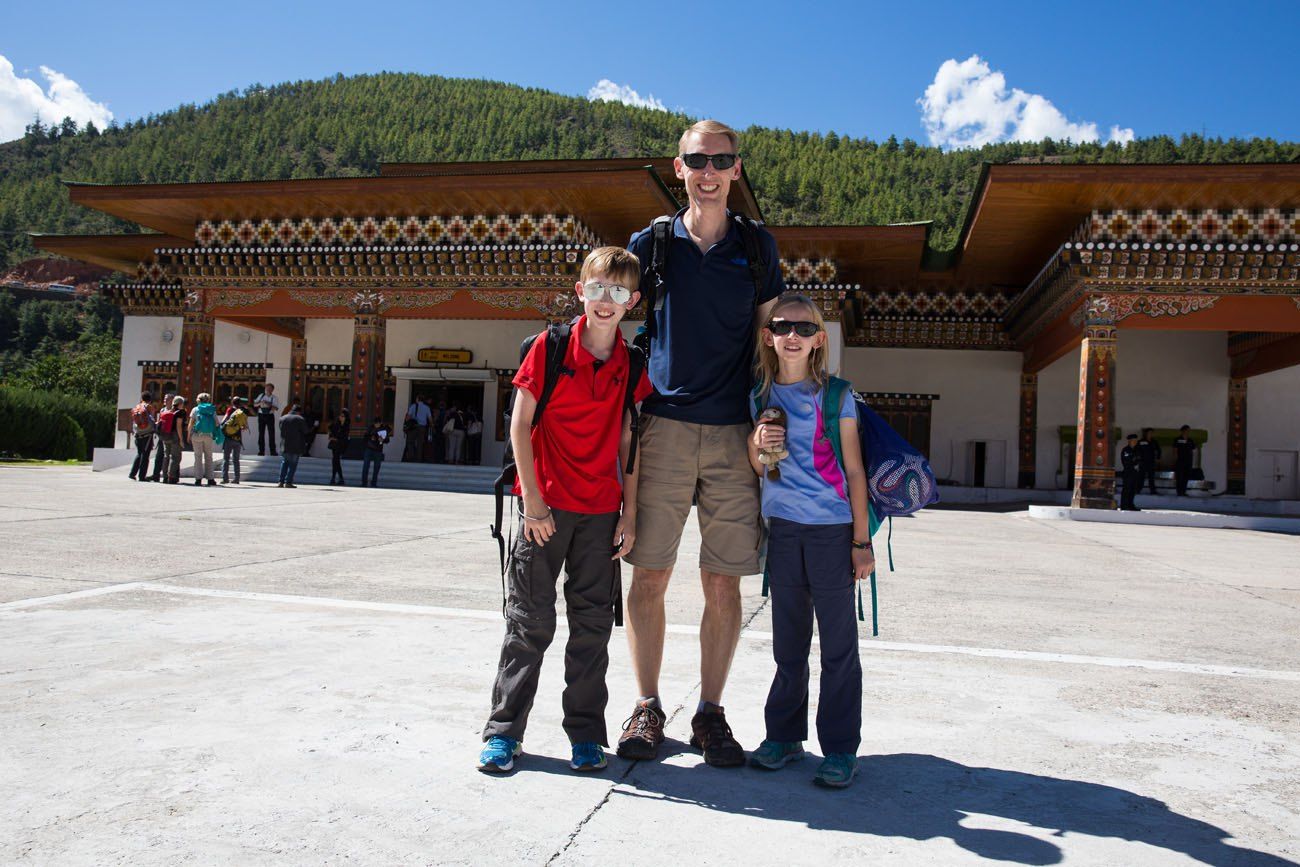 Paro Airport, Bhutan
Booking One Way Tickets as You Go
Another option is to book one-way airline tickets as you travel. Like booking a RTW ticket, this also has advantages and disadvantages.
Advantages of Pay As You Go
Flexibility. Since you are booking as you go, all you need is your first flight scheduled. You can plan as you go, backtrack all you want, travel for over a year…you get the idea.
Your entire itinerary does not need to be planned out. This is huge. Things happen when you travel. You may fall in love with a place and want to stay longer. You may hate a place and want to leave earlier. If you are booking your flights as you go, this is a huge advantage. But it's also great having an open-ended schedule and not have every destination planned out a year ahead of time.
It's cheaper, sometimes. By booking as you go, you can take advantage of flight deals and discounts. By traveling on off days or at off times you can save a lot of money, and when you are traveling long-term, you have this type of flexibility.
Disadvantages of Pay as You Go
It's more work. It takes more time to sift through various airlines to book flights. And you will have to do this from time to time while you are traveling. For some people, this may seem like too much of a hassle.
It can also be more expensive. In general, RTW tickets do offer cost savings over pay as you go, but the savings are not huge. With all of the rules and regulations of RTW tickets, sometimes it's worth paying a bit more for the flexibility of booking a series of one-way tickets.
AirTreks, your Third Option
AirTreks is a company that books RTW flights but does so using most airline carriers. They also have less rules and regulations than Oneworld and Star Alliance (for example, you can backtrack, travel longer than one year, and start and end in two different countries). If you want the convenience of a RTW ticket with less rules, consider AirTreks.
Their website is worth the visit just to use the Trip Planner to help design your around the world route.
What We Did
For our RTW trip, we opted to book one-way flights as we traveled. Tim spent hours and hours on OneWorld and Star Alliance, mapping out itineraries and getting prices. Then he did the same thing on Kayak.com, piecing together one-way flights. In our circumstance, it was cheaper to book a series of one-way flights. Of course, it was also more time intensive.
Flying on one-way tickets had huge advantages for us. Our 12 month trip turned into a 13 month trip, something we would not have been able to do had we purchased a RTW ticket.
Also, we changed the end of our itinerary. Instead of spending our final month in Indonesia, like we originally planned, we chose to visit South Korea and Japan instead. To do this with a RTW ticket would have required us to pay extra fees to make changes to our schedule. We loved not being locked into one set itinerary while we were traveling.
Finally, we backtracked several times. We also flew from Asia to Oceania, spending two months in Fiji, New Zealand, and Australia, then flew back to Asia. Entering a continent for a second time is not allowed with RTW tickets with Star Alliance and Oneworld. This was another big advantage to booking our own one-way flights.
Our Route Around the World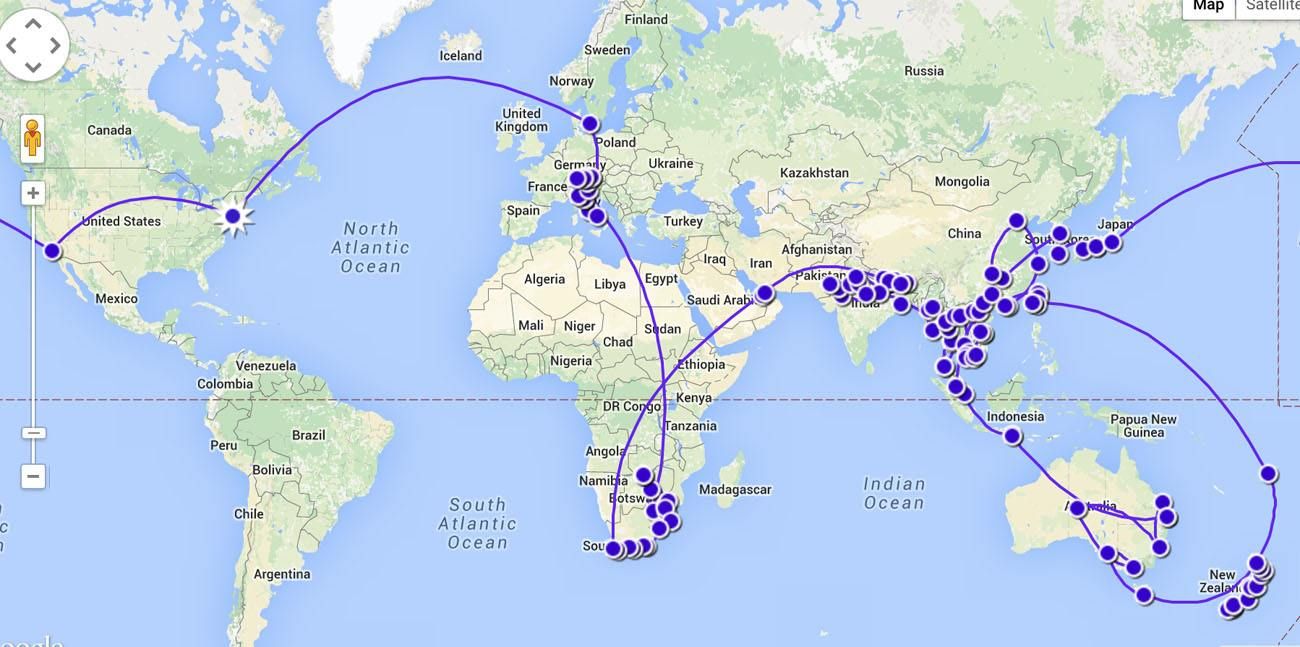 To give you some perspective, we traveled a total of 87,314 miles (59,351 miles by airplane), visiting 35 countries on five continents. We moved very frequently and visited more countries than most people do on a RTW trip. Most people visit between fifteen and twenty countries in twelve months.
Click here to see our around the world itinerary in detail.
Our main flights:
NYC to Rome, Italy

Munich, Germany to Johannesburg, South Africa

Johannesburg, South Africa to Abu Dhabi, UAE

Abu Dhabi, UAE to Kathmandu, Nepal

Kathmandu, Nepal to Paro, Bhutan

Siliguri, India to Mumbai, India

Kolkatta, India to Yangon, Myanmar

Hong Kong to Taipei, Taiwan

Taipei, Taiwan to Nadi, Fiji

Nadi, Fiji to Auckland, New Zealand

Auckland, New Zealand to Sydney, Australia

Brisbane, Australia to Bali

Kuala Lumpur, Malaysia to Seoul, South Korea

Seoul, South Korea to Osaka, Japan

Tokyo, Japan to Los Angeles, USA

Los Angeles, USA to NYC, USA
In total, our schedule included 16 stopovers. In between those cities, we filled in the gaps with car, bus, and trains and short flights on budget airlines.
What Should You Do?
Now it's time to do your own research. If you have an itinerary planned out, or a few must-see destinations around the world, visit the Oneworld, Star Alliance, AirTreks, and Kayak.com (or other search engines for flights like Momondo or Google Flights), and start plugging in your cities. Build your routes and get a price estimate for your trip. It's a lot of work, but it is kind of fun, too.
There are so many places just waiting to be explored.
Important Links
Flight Search Engines
Kayak.com. This is usually our go-to website when first researching flights.

Momondo.com. This is a new site for us but it is quickly becoming my favorite. It gets great reviews, particularly from Frommers. I love that you can put in your hometown airport and click "Take My Anywhere." Plus, the prices on Momondo beat those on Priceline by a few dollars per flight.

Google Flights. It's Google, so it's incredibly fast. The prices popped up even before I got my final destination typed into the search box. One downside is that it did not include Southwest Airlines flights, whereas Momondo did.

We use these flight search engines to find economical flights to our desired destination. Then we book the flight directly with the airline.
---