Our 13 month trip around the world began on June 29, 2014. Our journey began with a bus ride from Baltimore to New York City and then a flight from JFK to Copenhagen. We were newbies to long term travel. We had such high expectations for this year ahead of us but so much uncertainty as well. It was an exhilarating time.
I kept a journal (actually, what grew to be a stack of journals) while we traveled. My very first entry explains exactly how we were feeling. Here is my journal entry on June 29, 2014.
The Journey Begins…
Our journey has begun. The four of us are on the Bolt bus, traveling from Baltimore to New York City. Now that we are on our way, I am feeling mostly excited but also a little sad for what we are leaving behind, and nervous for what lies ahead.
Our journey really began five years ago when I first learned about this type of travel. For the past year Tim and I have been preparing and planning for this trip. This past week has been the craziest. We have been cramming to get as much done as possible in order to start the trip.
This past week we sold our cars, made last minute purchases, spent hours on the phone setting up health insurance and ordering malarial pills, tweaked the blog, backed up our computers, and basked in our "popularity" that came along with our Baltimore Sun article. The online version went up mid-week, giving us a lot of attention on our Earth Trekkers website and Facebook. Then, the print version came out yesterday and we are the front page of the Travel section. Unbelievable! We're famous! Now we are getting offers to be guest speakers and schools across the country are following us. Plus, I was interviewed for WBAL Radio, which will air on Monday.
I feel like this trip has become bigger than just the four of us traveling around the world. Now we have so much support and fans following us. I feel like I am living an alternate life. What an amazing thing we are doing!
So, this bus will drop us off in Manhattan, we will see a little bit of one of my favorite cities in the world, then board our flight to Europe. Here's to being optimistic for the having the best, most adventurous, unforgettable year of our lives, with bulging muscles at the end from carrying around overloaded backpacks.
Later in the Day (on the flight to Copenhagen)…
The bus ride to NYC was quick. I did some homeschooling with Tyler and Kara which made the time go by faster. Before we knew it we were in NYC.
Walking from the bus stop to Mom's hotel was a learning experience. Currently, we are each carrying a backpack, Tim and I have daypacks as well, and I am carrying a smaller bag with my camera inside of it. Our backpacks are way too heavy. All four of us were struggling to make it to the hotel. It was frustrating and humorous but we seriously need to drop some weight. To make matters worse, we were blocked from the hotel by a Gay Pride Parade on 5th Avenue. What an introduction to the start of the trip.
Eventually we arrived at The Chandler Hotel, beating Mom, who had driven up from Maryland behind us. We spent that time downsizing our backpacks.
The problem is, we feel like we need everything we brought. Before leaving the house I eliminated the camcorder and my back up camera and Tim eliminated his sandals. So this time we got rid of a few pairs of clothes, our folding hangers, my shampoo and conditioner, and a few other things. It's not enough but we can make adjustments once we get the hang of traveling this way.
We spent the afternoon having dinner at an Irish pub while watching World Cup soccer and then visiting Times Square. Originally, I wanted pictures of us in Times Square with our backpacks on, but there was no way we were going to lug those monsters around just for a few pictures.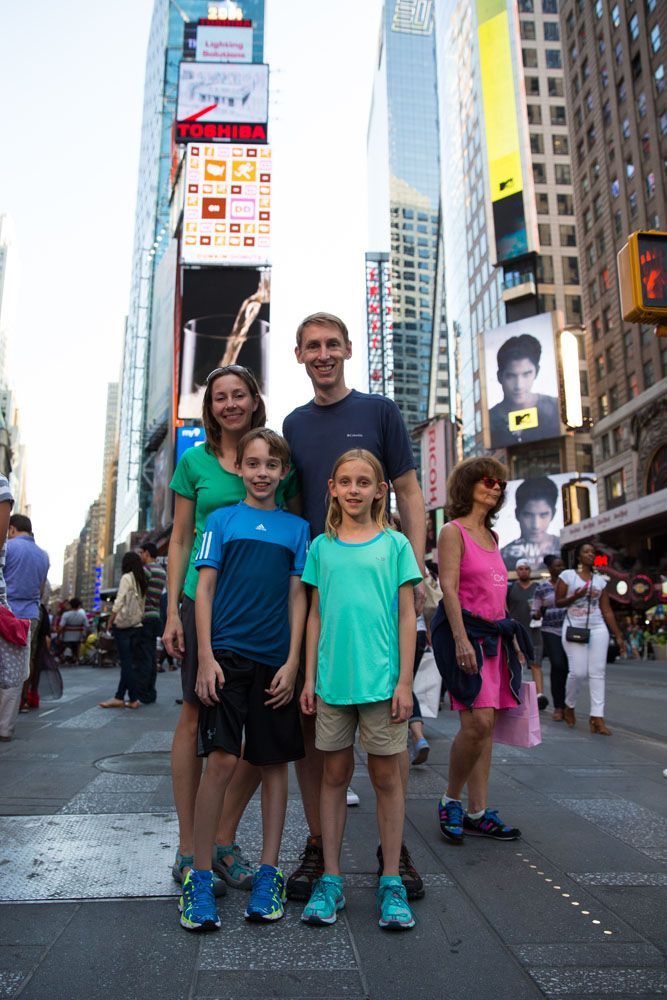 Before we knew it, it was time to go to the airport. Mom made the trip out to Long Island with us to see us off at the airport. It was a teary goodbye, at least for Mom and me.
We boarded the plane and take off was at 11:45 pm. This was one of those moments I had always thought about since deciding to take this trip around the world. What would it feel like to take that first flight, knowing we were leaving the country for one year? Honestly, I was exhausted by this point. I was having a hard time keeping my eyes open. But it does feel like a crazy thing to leave the US for so long. For the next year everything will be new to us, almost everyday. We will struggle to learn and understand new languages and cultures, eat new foods, meet new people. It is going to be a wild year and I am really looking forward to it.
There is part of me that wishes we didn't have such a following now through Facebook and the Baltimore Sun article. Now there is this pressure to make this thing work and look amazing for all of those following us.
And we have a lot to learn: how to get SIM cards for our phones to work, how to homeschool and travel at the same time, how to keep trip planning and blogging and travel and relax. It seems like we are going to be incredibly busy during the next year.
Anyway, the kids and I were able to sleep most of the first flight. I think Tim had a harder time. But nine hours from now we will be in Rome, we can lay our heads on nice, comfy pillows, and get some much needed sleep. We are landing in Copenhagen now. Talk again soon!
---
Continue the Journey:
All rights reserved © Earth Trekkers. Republishing this article and/or any of its contents (text, photography, links, etc.), in whole or in part, is strictly prohibited.