There are several ways to travel between Aswan and Luxor. Cruising the Nile River is the most popular option, but you can also drive or take the train between these two cities. If you choose to drive between Aswan and Luxor, you have the option to add on three important sites: Kom Ombo, Edfu and Esna.
It takes just a few hours to drive between Aswan and Luxor. But if you have a full day to spare, and if you want to visit several more of Egypt's amazing temples, it is very easy to turn the drive into a sightseeing road trip.
In this article, learn what it is like to drive between Aswan and Luxor and how to visit Kom Ombo, Edfu, and Esna along the way.
Aswan and Luxor Road Trip
Overview of the Drive
Length of Time: 9.5 hours (includes time to visit all three temples)
Driving Distance: 245 km, roughly 5.75 hours of driving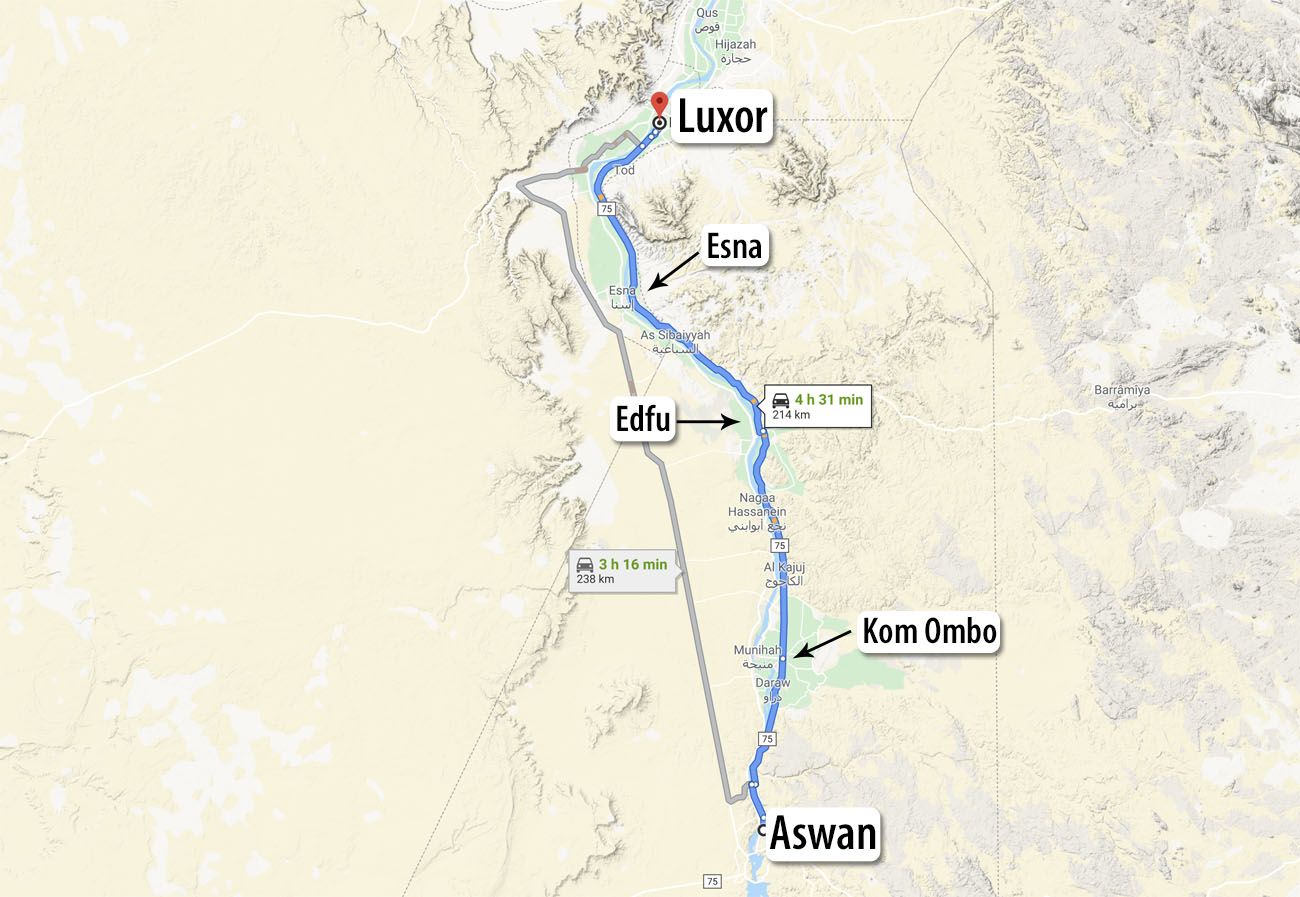 If you were to drive directly between Aswan and Luxor, without time for stops, it takes just over 3 hours, if you take the highway. By "scenic route," the rural roads along the east bank of the Nile River, it takes four and a half hours. Add in the extra driving in each city to get to the temples and you are looking at almost six hours of driving time.
There are three important temples and historical sites to visit on the drive, in Esna, Edfu, and Kom Ombo. With these three stops, it takes about 9 and a half hours to travel from Aswan to Luxor.
For this road trip, we will start in Aswan and end in Luxor (since that is the way that I have it written in our 10 Day Egypt Itinerary). However, it can easily be done in the opposite direction (this is how we did it).
Temple of Kom Ombo
Driving Distance and Time: 47 km, 1 hour
Kom Ombo sits just a short distance north of Aswan. In about one hour you can be standing inside the temple.
The Temple of Kom Ombo is a double temple that was constructed for two sets of gods. One half of the complex is dedicated to Sobek, the crocodile-headed god who is associated with fertility of the land along the Nile River. The other half is dedicated to Horus, the falcon-headed god.
Interesting Facts About the Temple of Kom Ombo:
This temple was constructed during the Ptolemaic Period, between 108 to 47 BC.
Some of the engravings are the first representations of surgical instruments.
Much of the temple was destroyed by earthquakes, floods, and builders who used the stones for other buildings.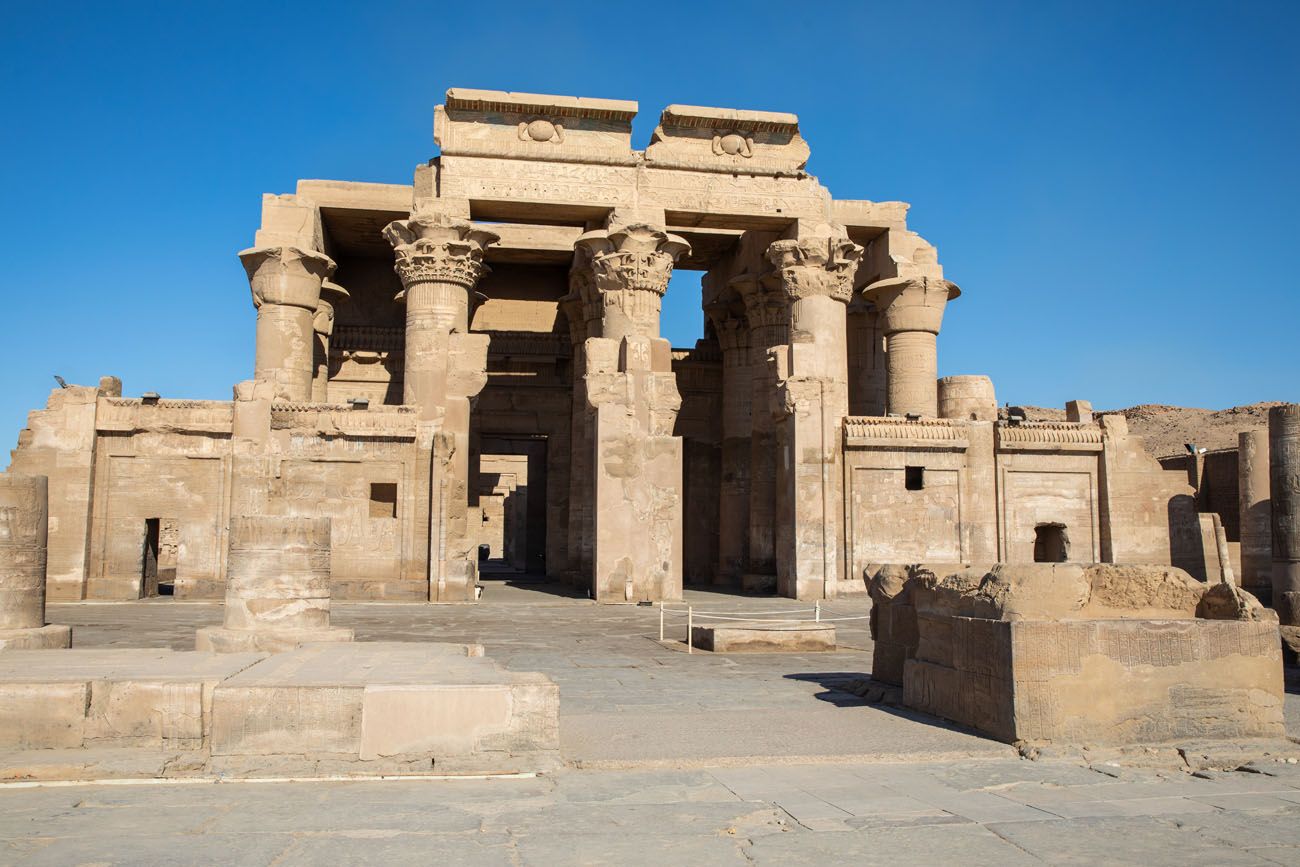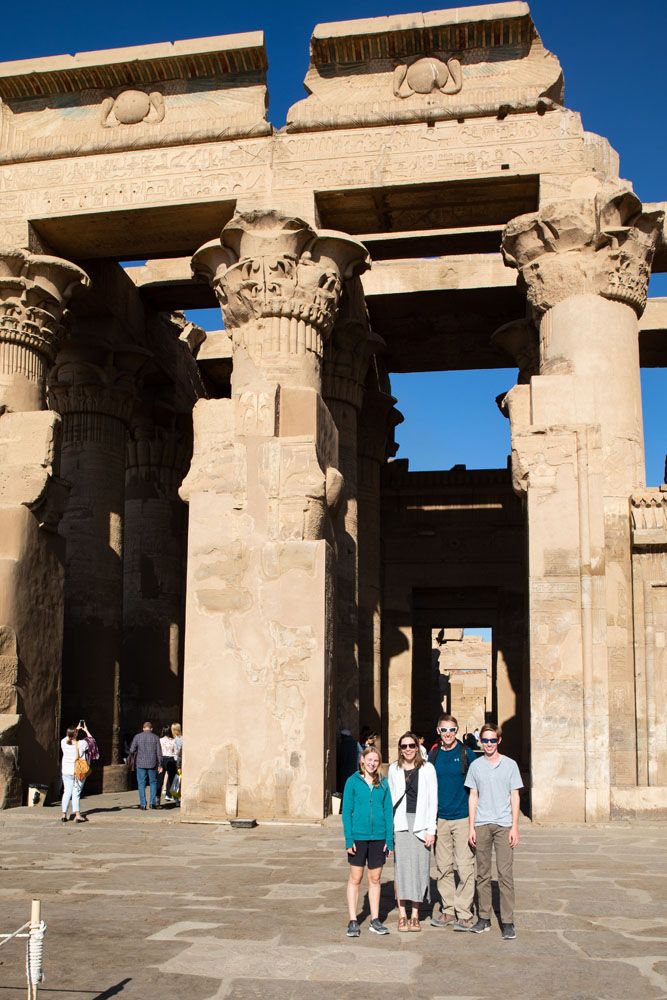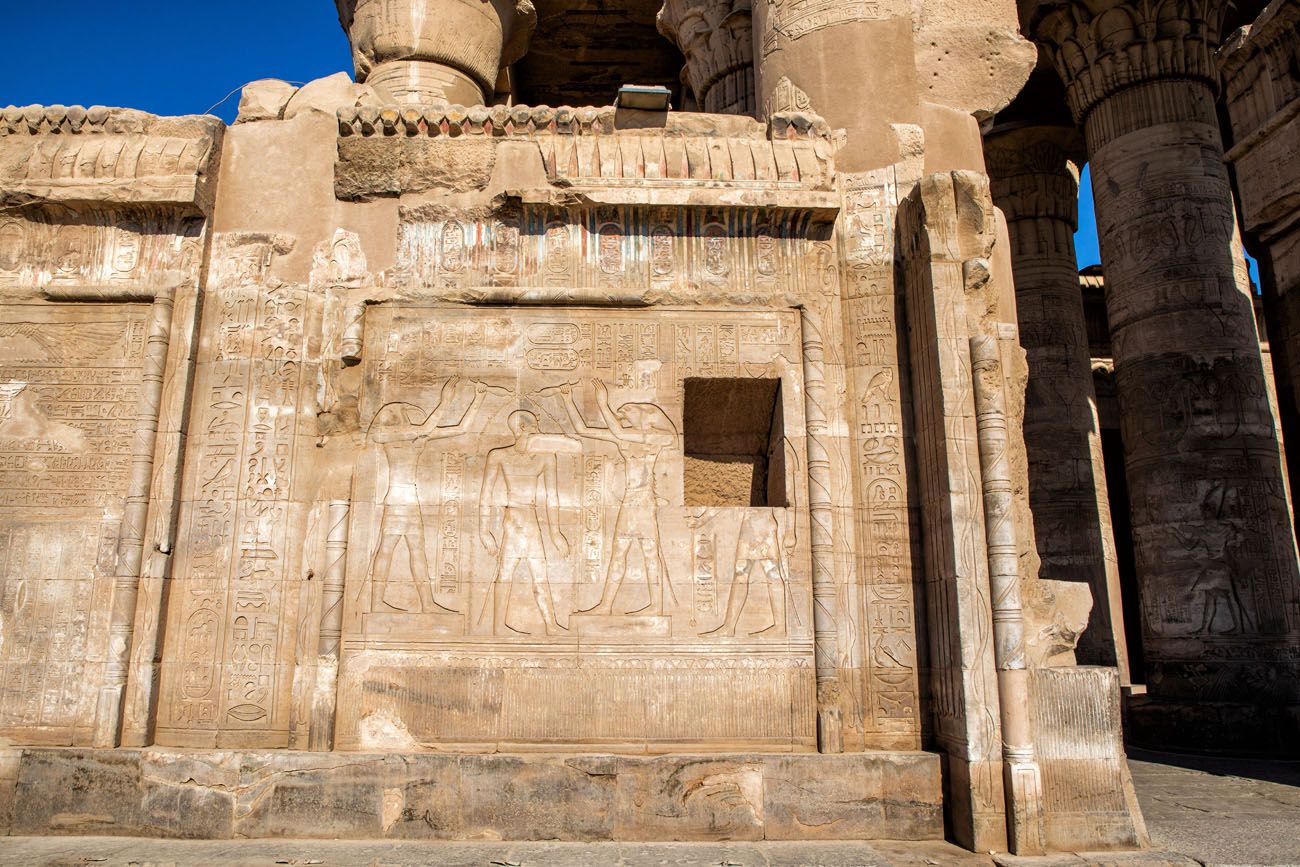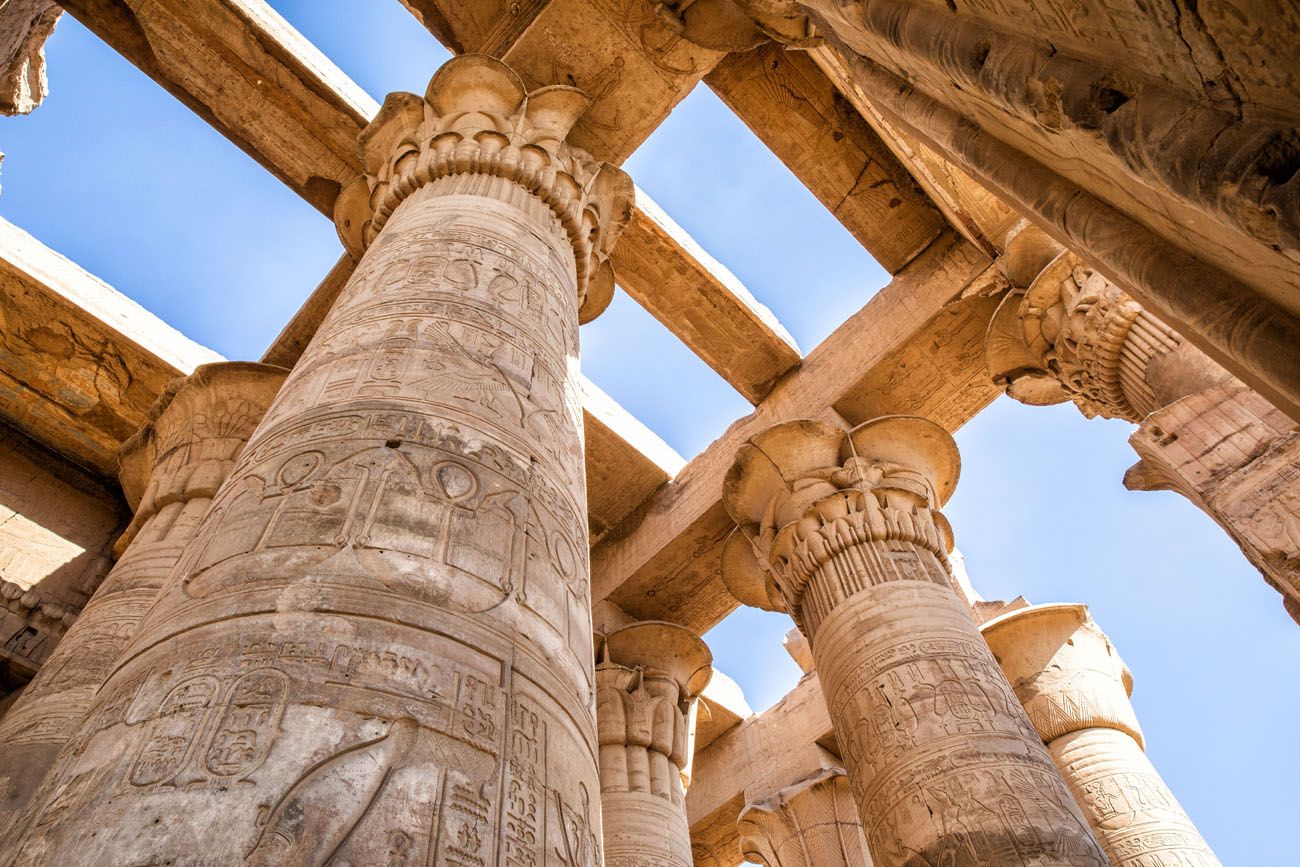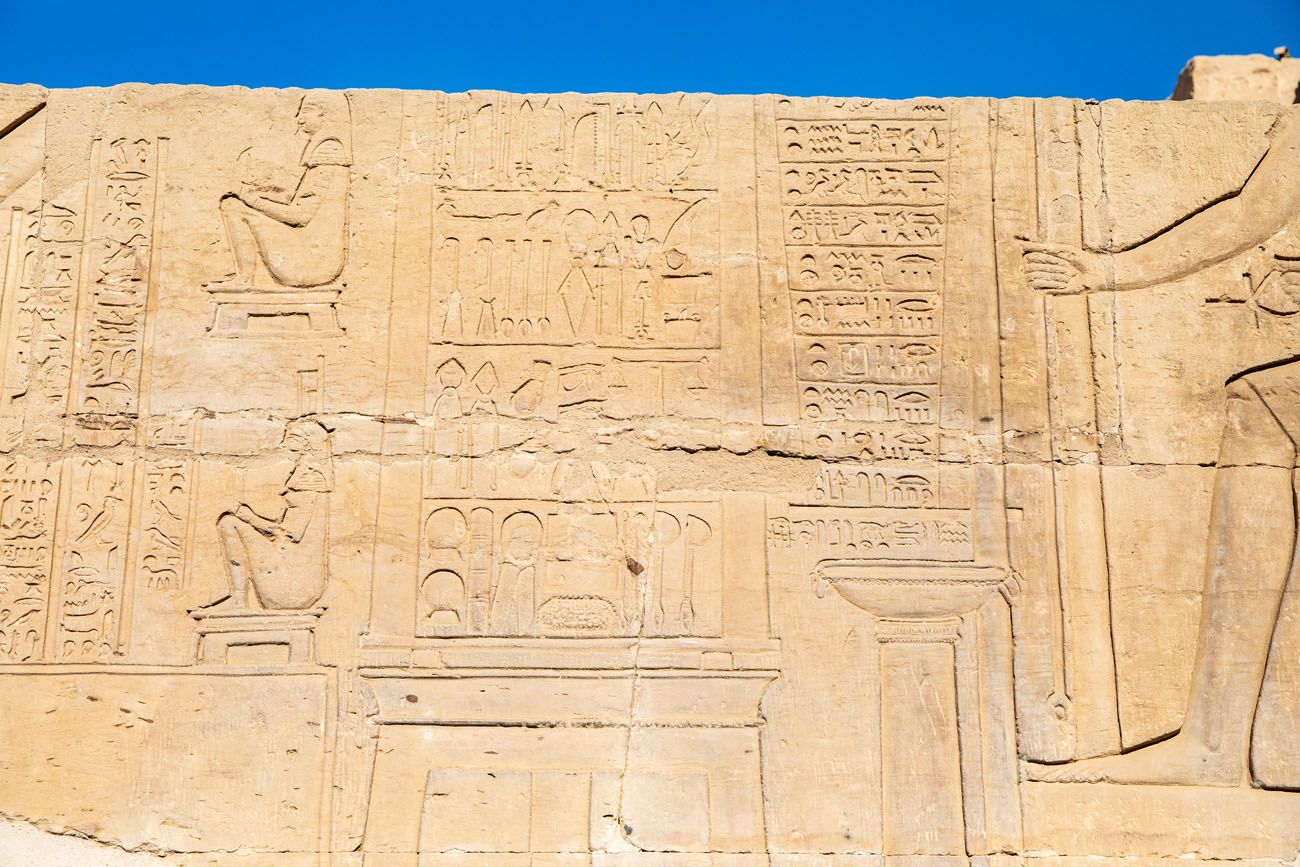 Engravings of surgical instruments
Next to the Temple of Kom Ombo is the Crocodile Museum, where you can see the mummies of different sized crocodiles that were discovered around the temple (it is estimated that 300 crocodile mummies were discovered in this area).
Temple of Horus at Edfu
Driving Distance and Time (Temple of Kom Ombo to the Temple of Horus): 70 km, 1.75 hours
The Temple of Horus is the largest temple dedicated to the god Horus. It was built in the Ptolemaic period between 237 and 57 BC.
This is a magnificent temple. It is in excellent condition, despite being over 2,000 years old (although it is relatively young by Egyptian standards). The first pylon is in almost perfect condition and you really get an idea of how these temples looked when they were first constructed.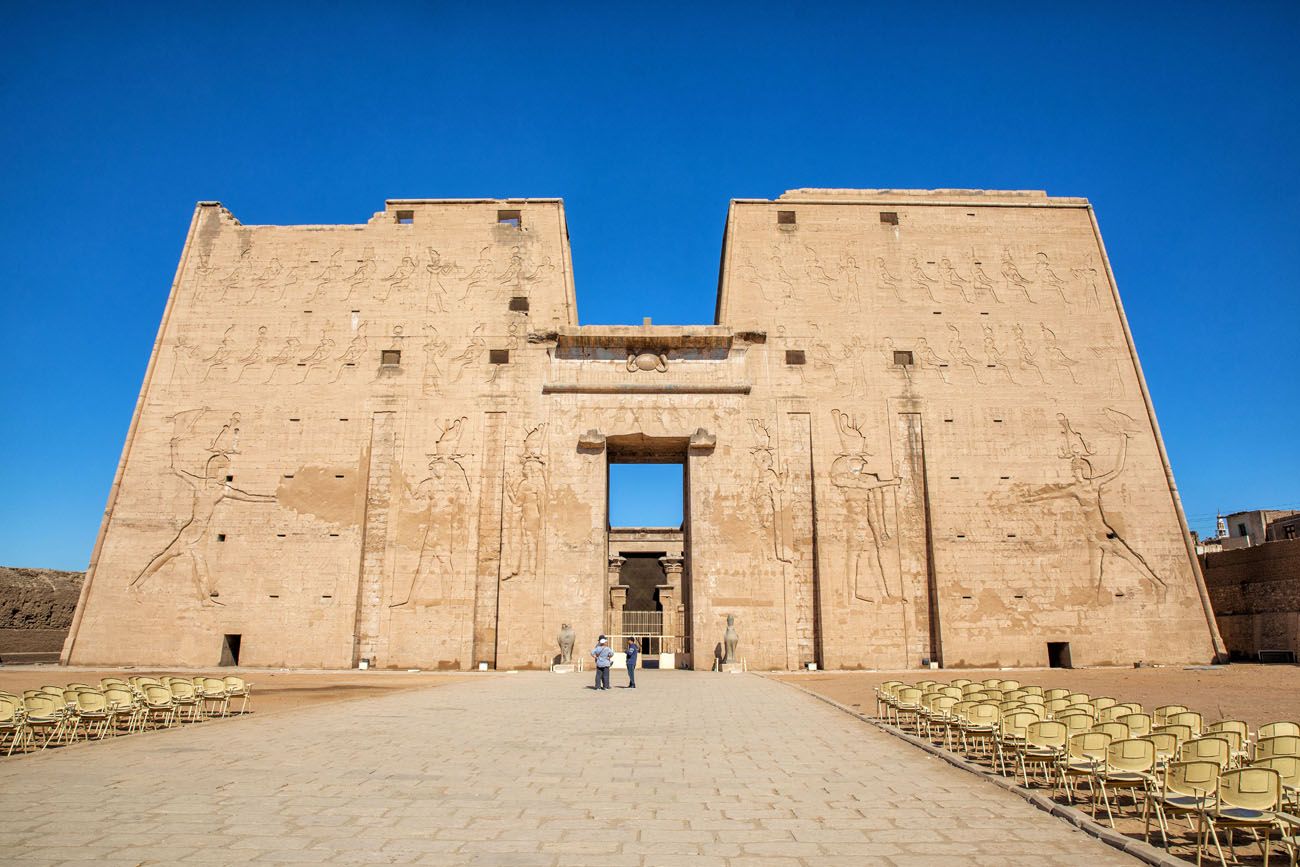 In the enormous courtyard, look for the black granite statue of Horus, whom this temple is dedicated to.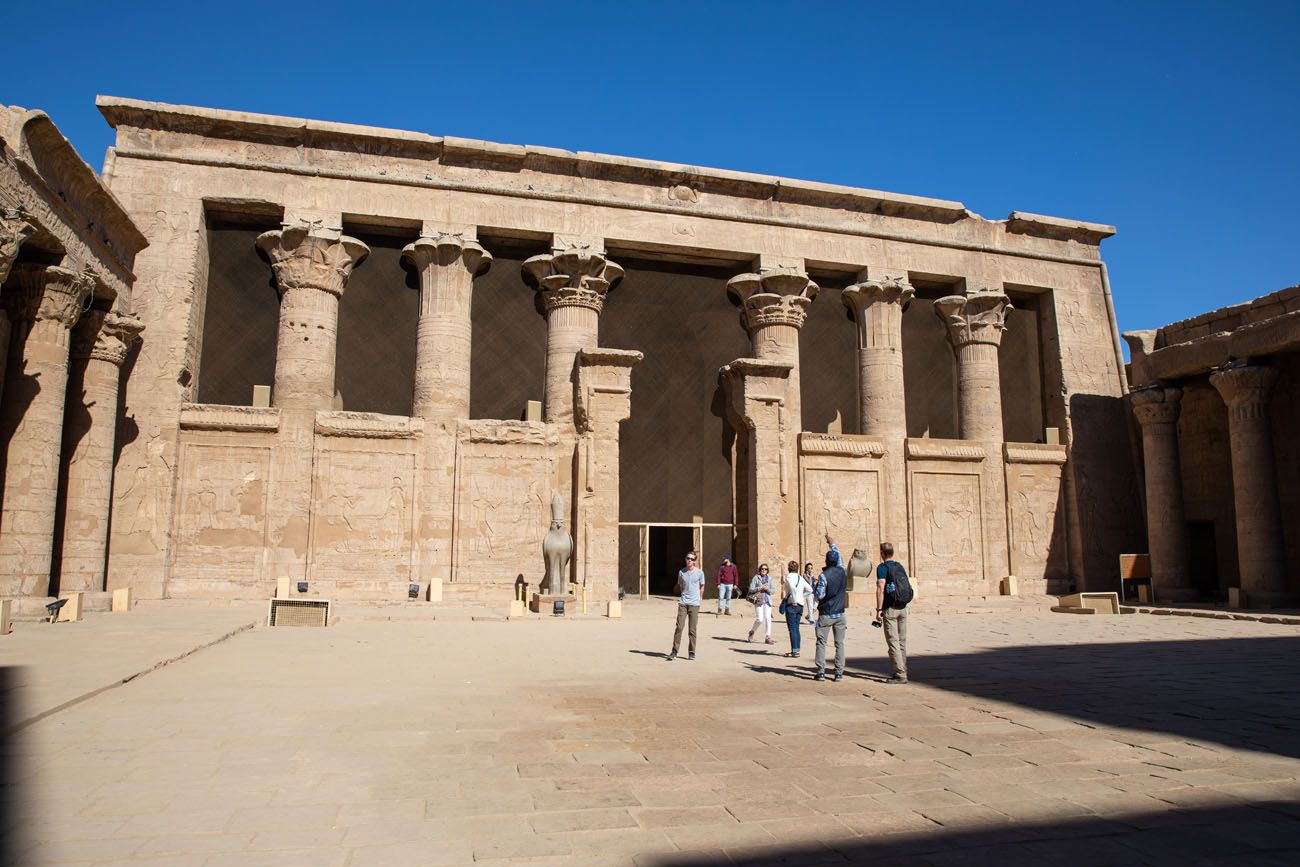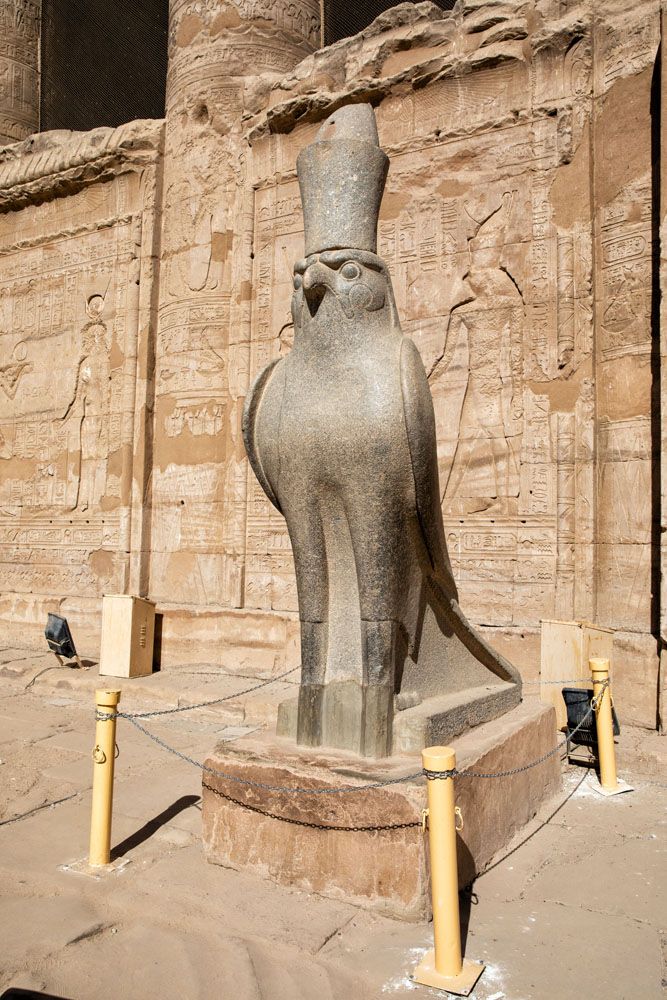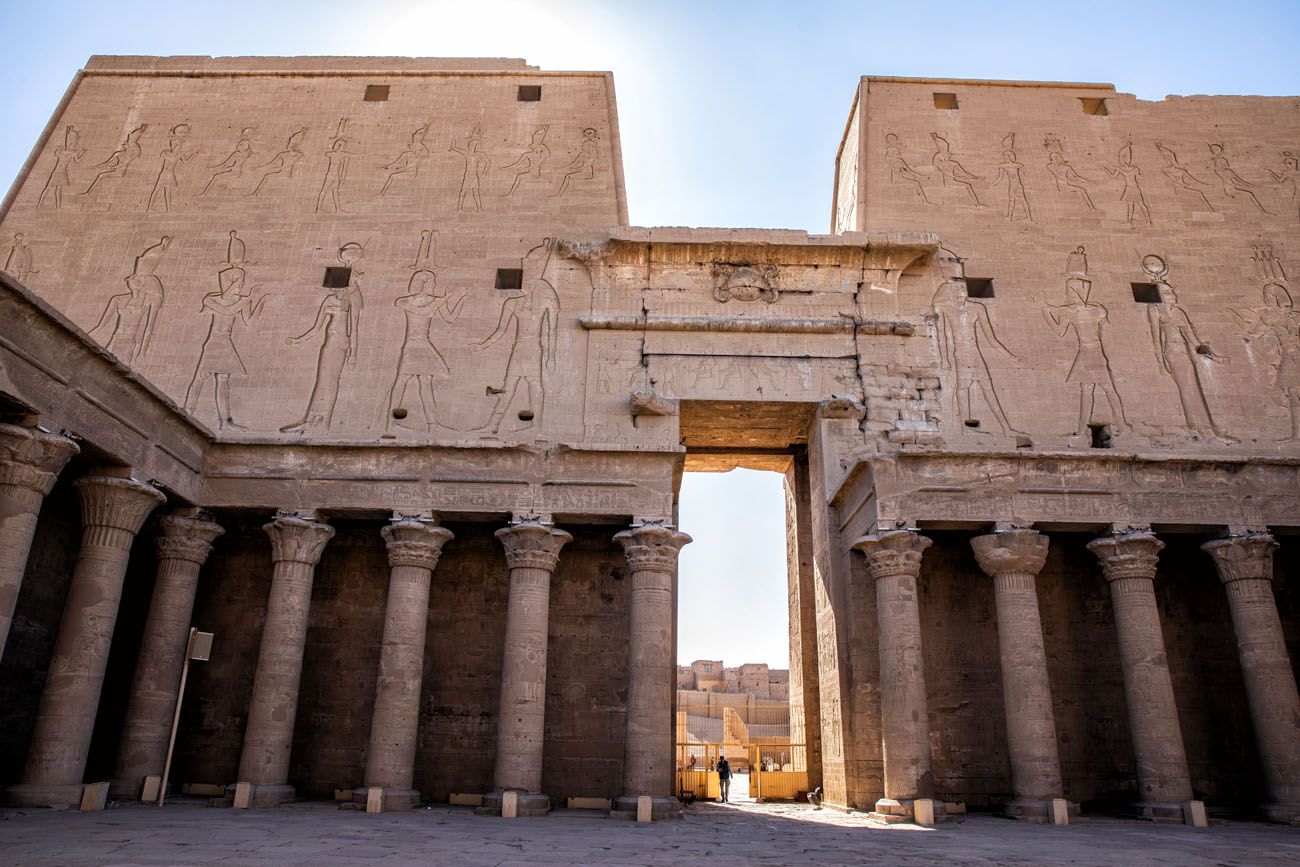 Beyond the courtyard sits a hypostyle hall and several antechambers. Don't miss the Sanctuary, where a golden statue of Horus once sat on a granite shrine.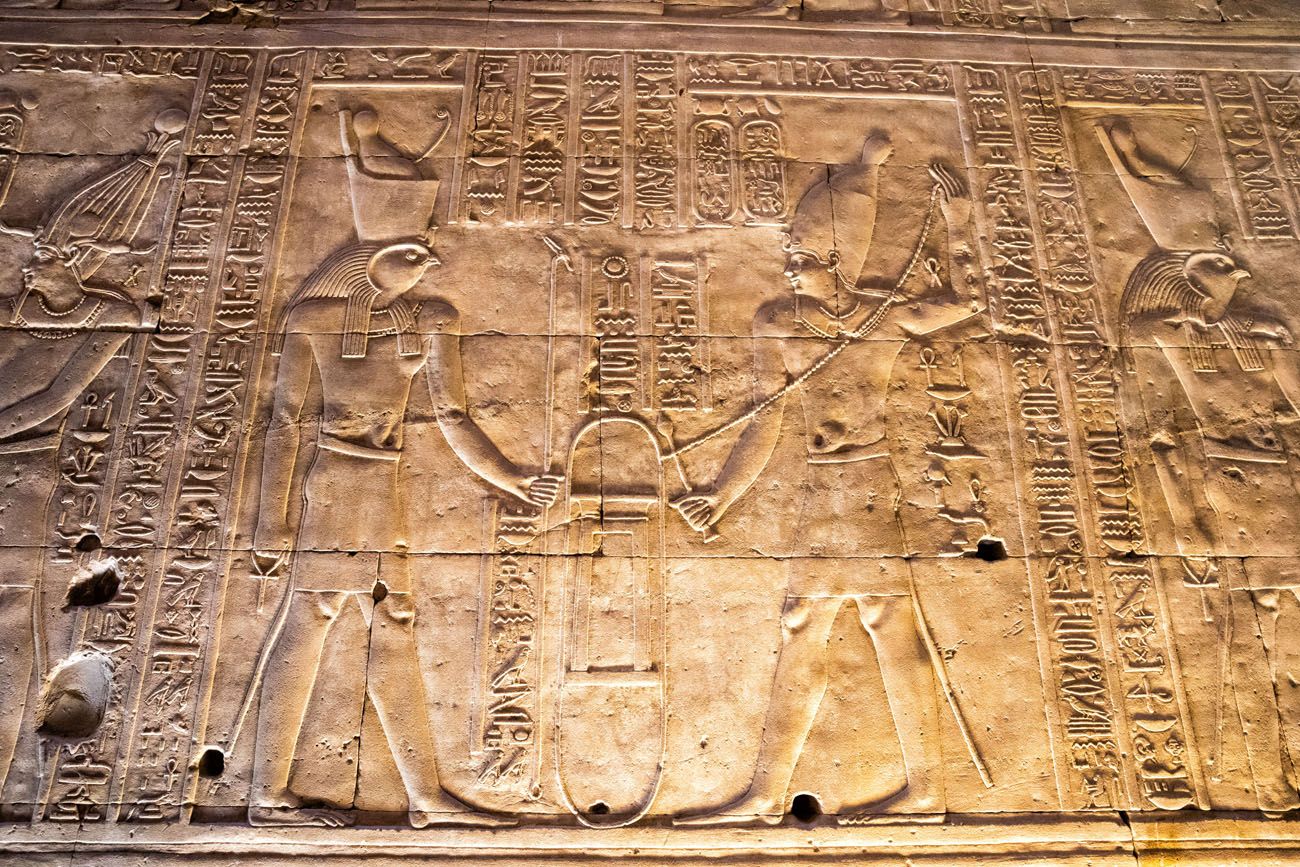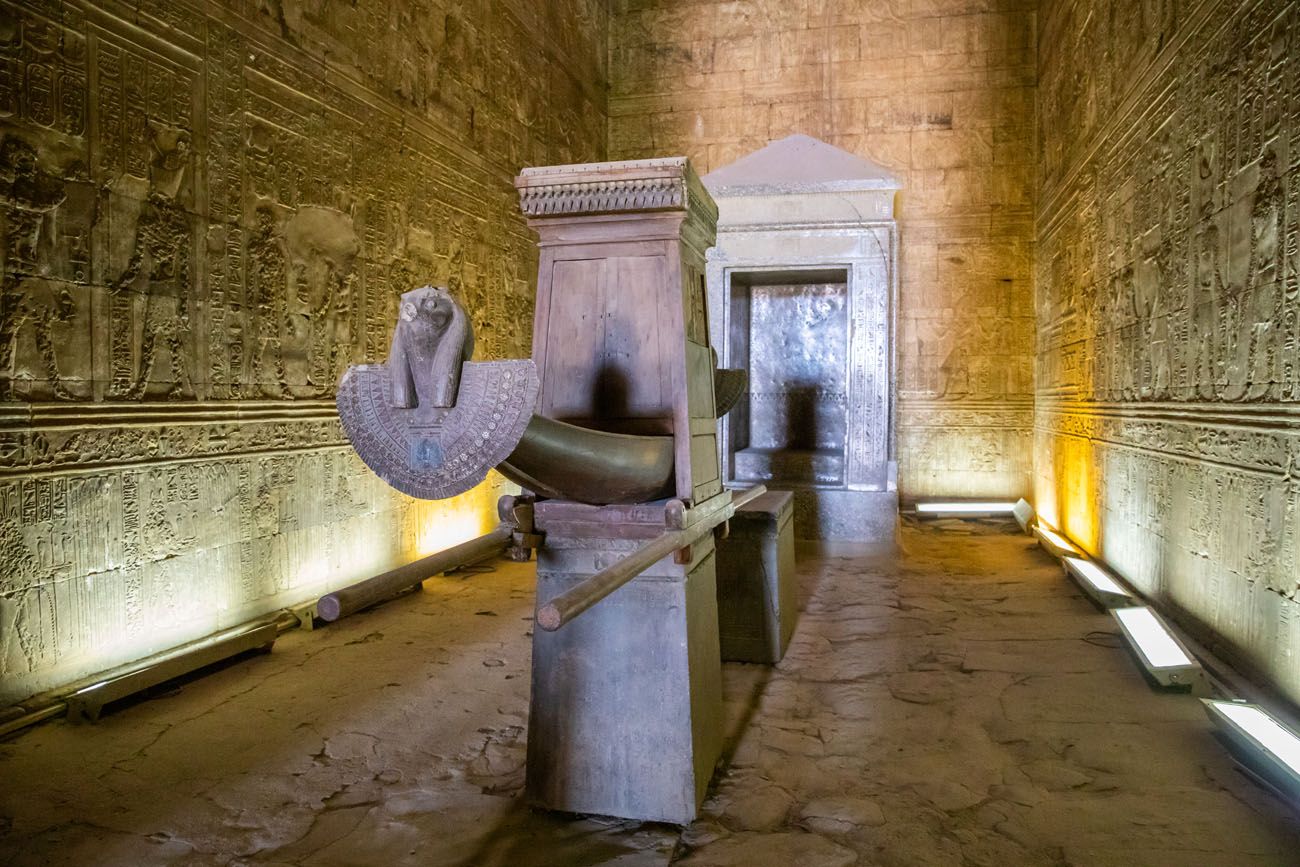 Temple of Khnum in Esna
Driving Distance and Time (From the Temple of Horus to the Temple of Khnum): 64 km, 1.5 hours
The temple in Esna is dedicated to the god Khnum, his consorts Menhit and Nebtu, their son, Heka, and the goddess Neith. Khnum is one of the earliest-known Egyptian deities, a ram-headed god who molds people out of clay from the Nile River on a potter's wheel.
The temple sits 9 meters below street level. Over several millennia and the repeated flooding of the Nile River, the city slowly built up around this temple.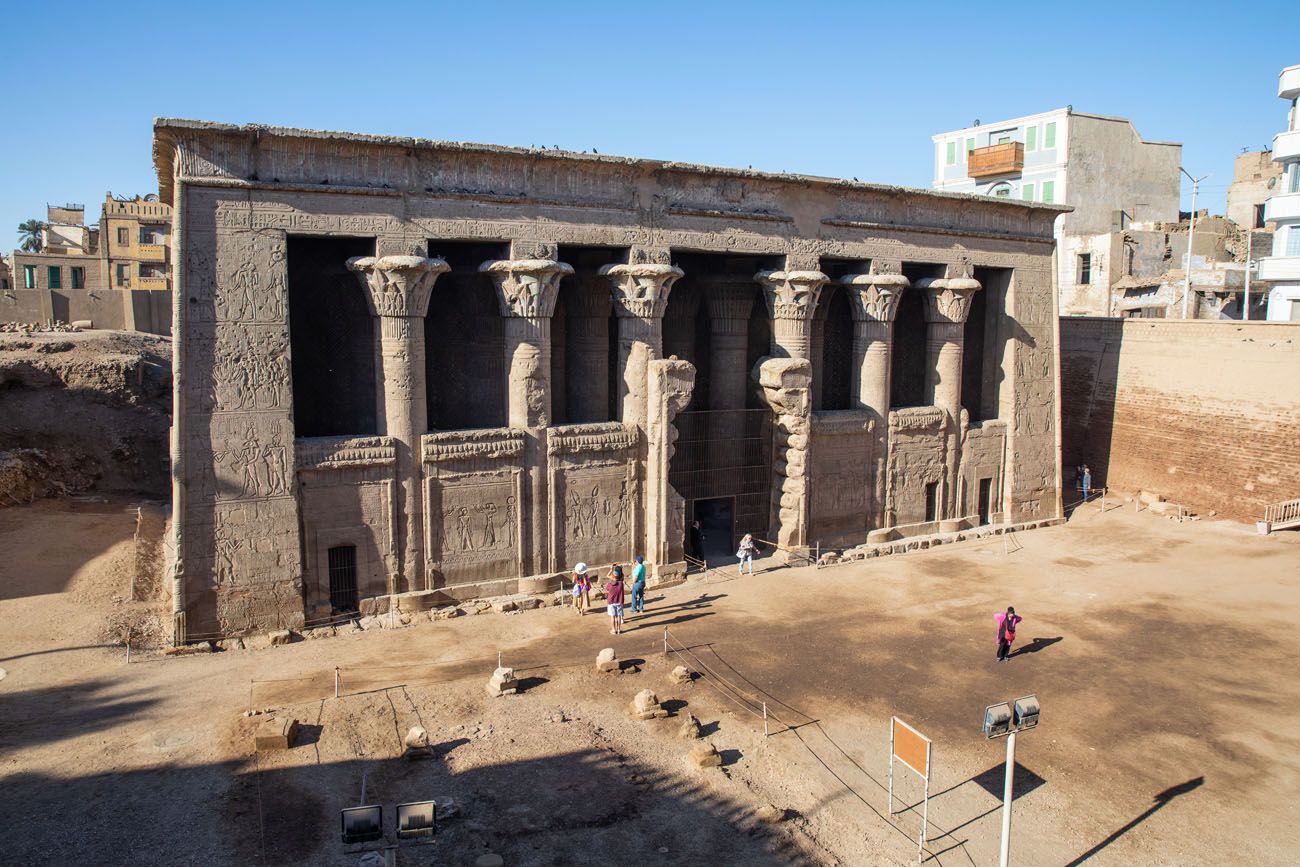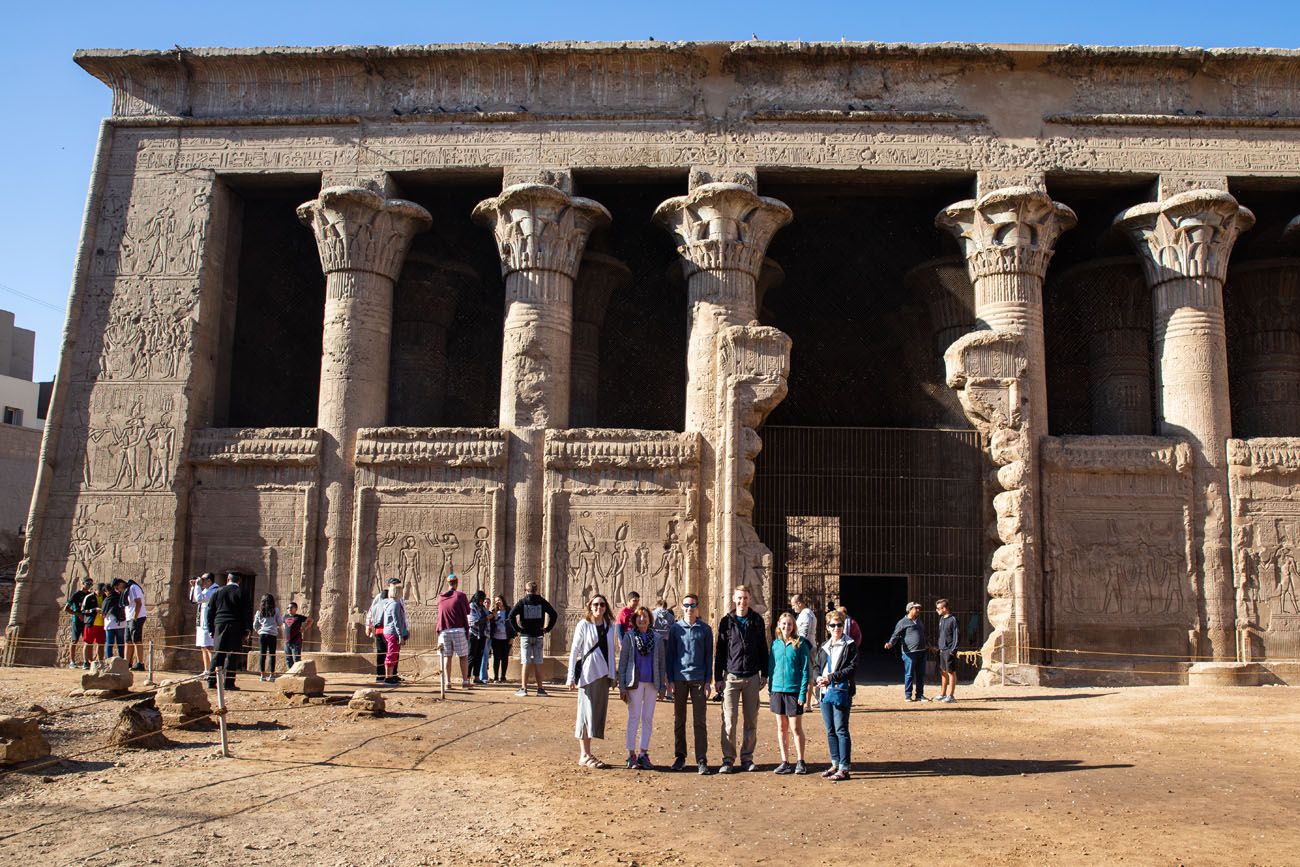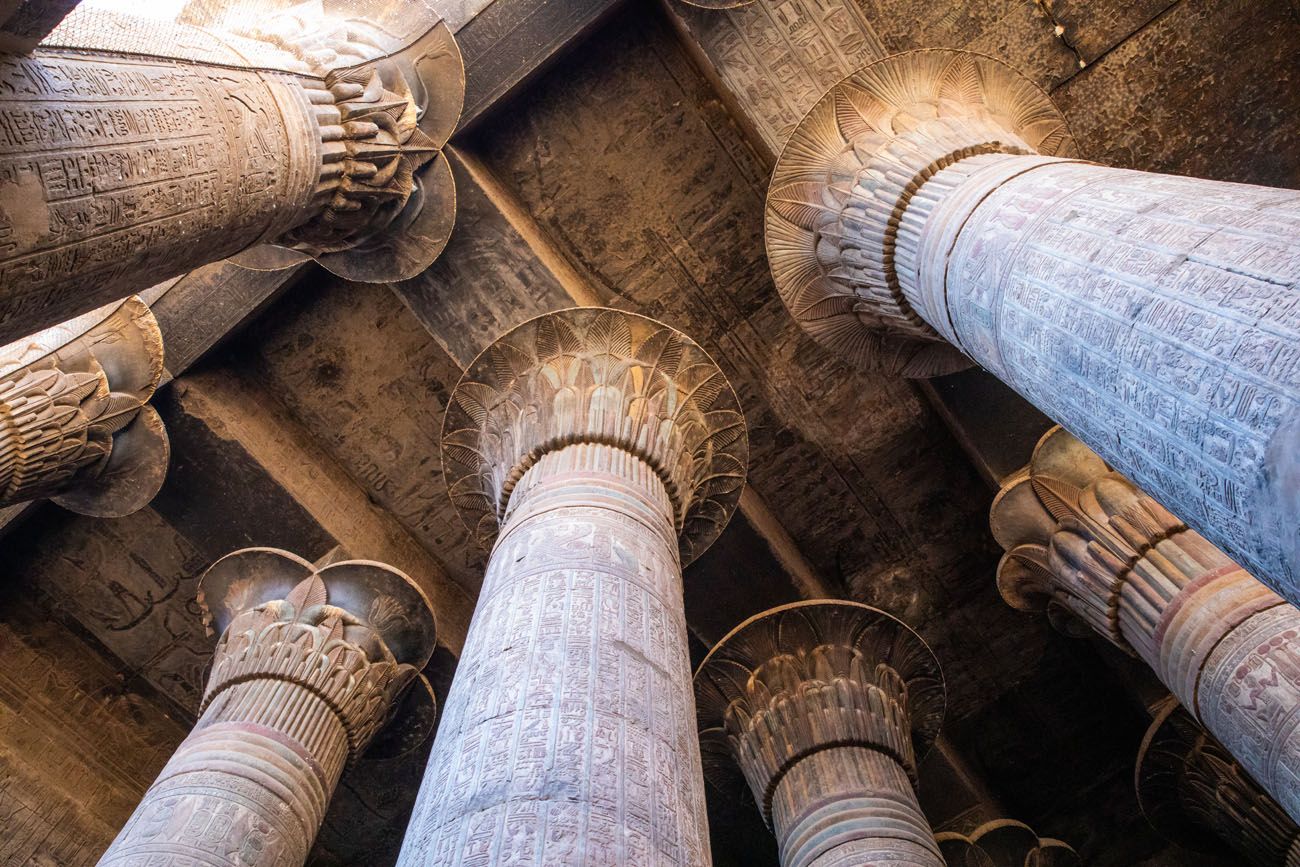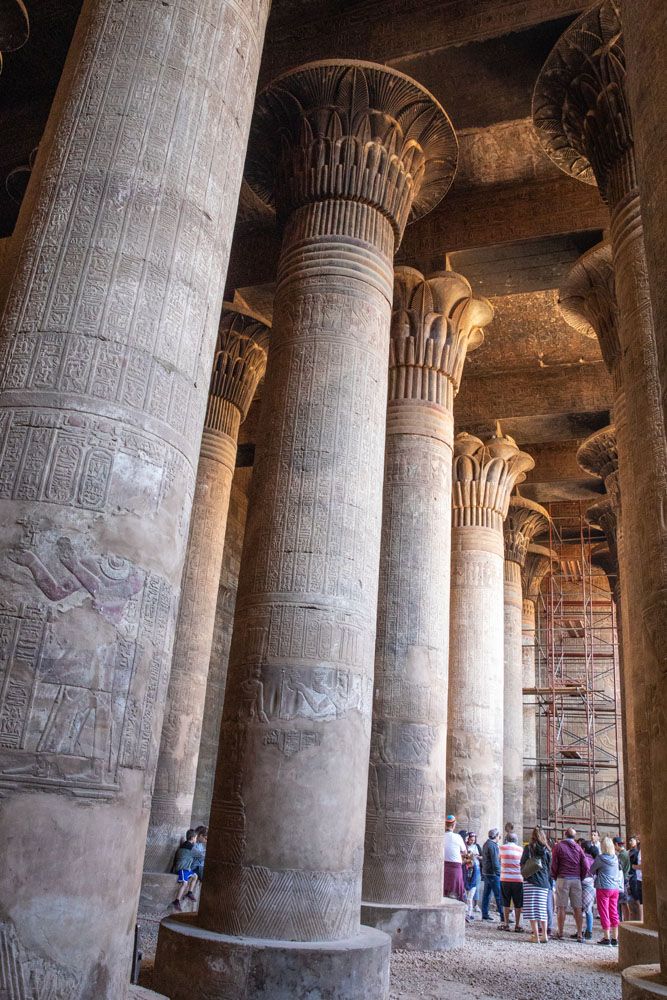 To drive from Esna to Luxor, it is a 64 km drive that takes 1.5 hours.
Is it Worth It to Visit All Three Temples?
This can be a long day, and with the number of tombs and temples you will visit in Aswan and Luxor, you may be wondering if it is worth it to visit all three of these temples.
Kom Ombo and Edfu are absolutely worth it. Kom Ombo is unique in that it is a double temple and it has a beautiful setting right on the Nile River. Edfu was my favorite of the three. It is in excellent condition and seeing that first pylon is incredible.
The Temple of Khnum in Esna is just OK. If you were to take one off of the list, this would be the one. However, it is still worth your time, especially since you drive right past it. While you are in the area, why not see one more temple? 🙂
Practical Information
Entrance Fees
Kom Ombo Temple Entrance Fee
Cost: 360 EGP adult; 150 EGP student with valid ID
Camera Ticket: None necessary for Kom Ombo Temple; photos are permitted with all cameras without an extra fee
Crocodile Museum: Photos with a cellphone are free; if you want to take photos with something other than a cellphone, you will have to purchase a camera ticket (but this is not worth the extra cost)
Temple of Horus at Edfu Entrance Fee
Cost: 450 EGP adult; 230 EGP student with valid ID
Camera Ticket: There is no camera ticket for this site, you are permitted to take photos with all camera types at no extra cost
Temple of Khnum at Esna Entrance Fee
Cost: 150 EGP adult; 75 EGP student
Camera Ticket: There is no camera ticket for this site, you are permitted to take photos with all camera types at no extra cost
Ticket Booth: The ticket booth is located on the Nile River, near where the cruise ships dock. From here, it is a short walk down a shopping street to get to the temple.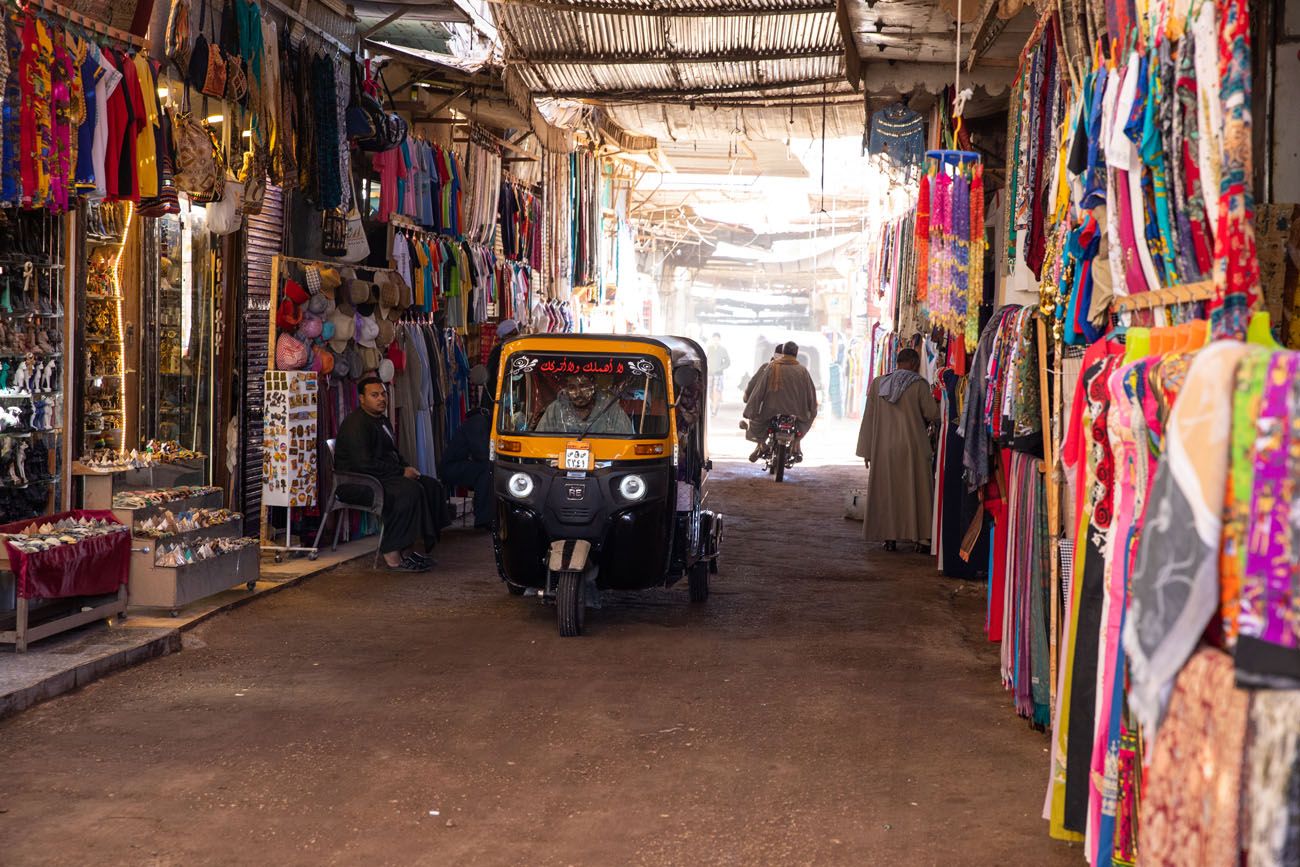 Shopping street in Esna
Hours of Operation
Kom Ombo Temple: 7 am to 9 pm
Temple of Horus at Edfu: 7 am to 5 pm; after 5 pm is the Sound and Light Show
Temple of Khnum at Esna: 7 am to 7 pm
Timeline: Driving from Aswan to Luxor
8:00 am: Leave Aswan
9:00 am: Arrive at Kom Ombo Temple; visit the temple and the Crocodile Museum
10:30 am: Drive to Edfu
12:00 pm: Arrive at Edfu Temple, visit the temple
1:30 pm: Drive to Esna
3:00 pm: Arrive in Esna, visit the Temple of Khnum
4:00: Drive to Luxor
5:30 pm: Arrive in Luxor
What is it Like on the Roads between Aswan and Luxor?
If you plan to visit Kom Ombo, Edfu, and Esna, you will drive on the rural roads on the east bank of the Nile River.
This narrow, two-lane road travels parallel to the Nile River. The side of the road closest to the Nile River is brilliantly green and filled with fields of sugarcane and date palms. This green, fertile land abruptly transitions into a barren, dusty desert, not far from the river and the road you will be driving along.
On the drive, you will pass through small towns and numerous police checkpoints. You will share the road with all types of vehicles…black and yellow tuk-tuks, tractor trailers, people on motorbikes without helmets, giant tractors covered in colorful artwork, taxi trucks filled with people, cars, police vehicles, and tourist vans. Donkeys pull carts loaded down with sugarcane, lemons, bananas, and the biggest cauliflower I have ever seen.
Speed bumps punctuate the road every 100 to 200 meters in some places, to keep speeds low. That's a good thing, since there are so many types of vehicles on this road, all traveling at different speeds.
I imagine that cruising on the Nile River is quiet, tranquil experience (unlike this drive). This drive is a chaotic, jarring experience, but if you want a glimpse at the way of life in this part of Egypt, skip the cruise and go by car.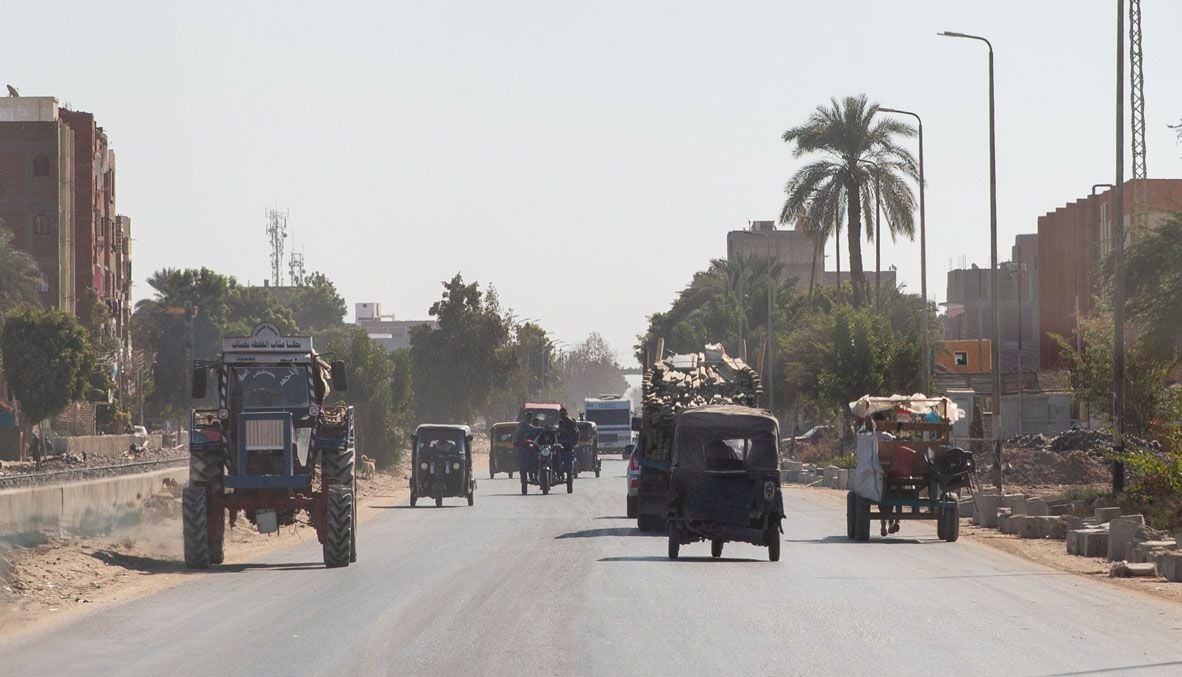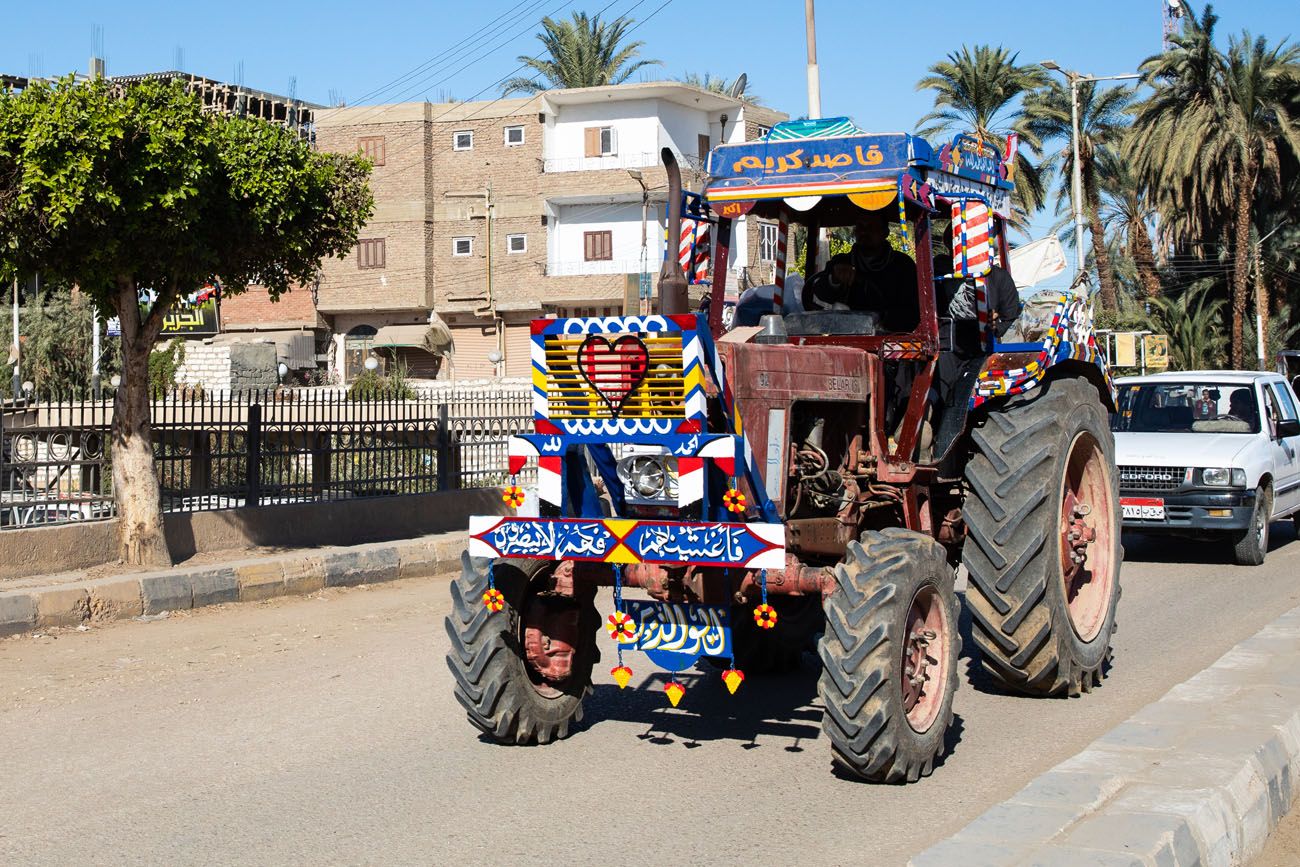 Can You Drive Between Luxor and Aswan Independently?
Yes, you can rent a car and drive between Luxor and Aswan on your own, but we don't recommend it.
The roads in Egypt are congested and chaotic. Traffic rules are different in Egypt than in places like the United States and Europe, and at times, it almost seems as if there are no rules.
There is a different flow and rhythm to the traffic in Egypt, and if you are not accustomed to it, driving can be stressful and difficult.
On the rural roads, there are security checkpoints and you need to be able to effectively communicate with the officers. We had a driver and a guide. Our guide conversed with the officers at these checkpoints in Arabic. It did not seem as if the police at these checkpoints spoke much English, so if you are on your own, getting through these checkpoints would be much more stressful than if you had a guide and driver.
Finally, the rural roads are just as crazy as the city roads, but in a different way. Congestion is lower but speeds are higher. These two-lane roads are treated as three lane roads. The center of the road is the passing lane, for both directions of traffic. That means you will play a lot of games of "chicken" with the oncoming cars. Meanwhile, you or your driver are keeping a lookout for donkeys, tuk-tuks, motorbikes, tractor trailers, and pedestrians.
We highly recommend hiring a driver, rather than renting a car, for your trip to Egypt.
How to Get from Aswan to Luxor
The best way to get from Aswan to Luxor is to hire a driver. You can either hire a taxi, hire a private driver through your hotel, join a small group tour, or hire a private driver with a guide.
Taxi's will be cheaper than arranging a driver through your hotel. Just be aware that your driver may not speak English and I have read other's trip reports about taxis breaking down during the drive. Prices start around 800 EGP (about $50 USD) but the price you pay will depend on the driver and your negotiating skills.
To arrange a driver through your hotel, prices can start at 1,200 EGP (about $75 USD).
We hired Egypt Tailor Made, not only for our drive between Luxor and Aswan, but also for the remainder of our time in Egypt.
Note: You also have the option to take the train, but in each town, you will also have to hire a taxi to get to and from the train station, so hiring a driver is more convenient.
---
If you have any questions about the drive from Aswan to Luxor, or if you want to share your experience, let us know in the comment section below.
More Information for Your Trip to Egypt
LUXOR: In our guide Best Things to Do in Luxor, get an overview of places to go on the East Bank and West Bank. We also have a photo tour of the Tomb of Queen Neferatari, a guide to the Valley of the Kings, and how to day trip to Dendera and Abydos.
ASWAN: For a list of the top experiences, read our article Best Things to Do in Aswan.
PYRAMIDS OF GIZA: Plan your visit with our article How to Visit the Pyramids of Giza. We also have an article about where to get the best views of the pyramids.
ABU SIMBEL: In our guide to Abu Simbel, we cover what you need to know to plan your day trip.
EGYPT ITINERARY: With 10 days in Egypt, visit Cairo, Luxor, Aswan and Abu Simbel.
All rights reserved © Earth Trekkers. Republishing this article and/or any of its contents (text, photography, etc.), in whole or in part, is strictly prohibited.