Dry Tortugas National Park is an underrated gem in the national park system.
The Dry Tortugas are the last group of islands of the Florida Keys, sitting 70 miles west of Key West. Most of the park is water, but it is also home to coral reefs, bird nesting grounds, and historic Fort Jefferson.
Most people visit this national park as a day trip, getting here either by ferry or seaplane. Once here, tour Fort Jefferson and walk the old fort walls, go snorkeling or swimming, and take a stroll on an empty beach. With more time, you can go camping and kayak out to Loggerhead Key.
DRY TORTUGAS NATIONAL PARK
Founded: October 26, 1992
Annual Visitors: 84,000 in 2021, making it the 9th least visited park this year.
Size: 65,000 acres
Location: Florida
Entrance Fee: $15 per person, valid for 7 days
Notable Fact: Everglades and Dry Tortugas form the UNESCO Everglades and Dry Tortugas Biosphere Reserve.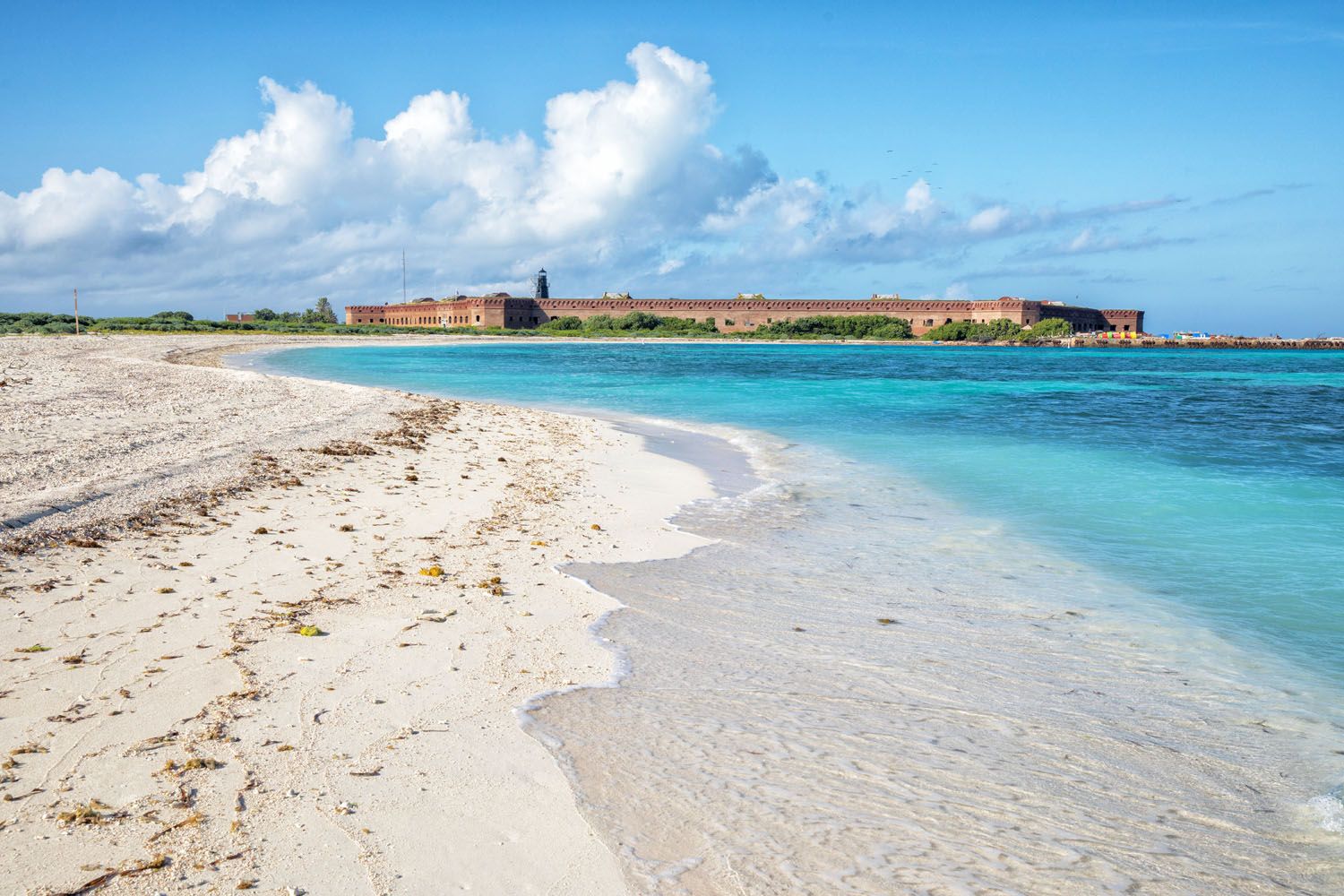 Explore Historic Fort Jefferson. Fort Jefferson is the largest brick structure in the Western Hemisphere. You can tour the fort on your own or take a ranger guided tour. Walking the trail along the top of the fort was the highlight for us.
Go snorkeling. The Dry Tortugas are home to some of the best snorkeling and scuba diving in Florida. Coral, tropical fish, and sea turtles can all be seen here.
Go for a Swim. If snorkeling is not your thing, there are several beautiful beaches where you can get into the water. The South Swim Beach is the best, in my opinion. With crystal clear water, no waves, and great views of Fort Jefferson, this is a great place to go swimming.
Take a Stroll on Bush Key. Bush Key is open from October through January (the remainder of the year it is closed because it is a bird nesting site) but it is the most beautiful walk in the Dry Tortugas. The white sandy beach is your walking trail and the views of Fort Jefferson and Garden Key are spectacular.
Wildlife Viewing. These islands serve as the nesting site for nearly 300 species of birds. You can also see sea turtles and if you go snorkeling or scuba diving, see tropical fish, sharks, and octopus.
Camp on Garden Key. Spend the night on Garden Key. The star gazing is incredible and so are the sunsets. Plus, you will be here with just a handful of people, a great way to experience this park without a lot of people.
Did You Know?
Dry Tortugas National Park is made up of seven islands: Garden Key, Loggerhead Key, Bush Key, Long Key, Hospital Key, Middle Key and East Key.
Garden Key, which is the arrival point for the boats and the seaplanes, is also home to Fort Jefferson. This is where most visitors will spend their time. Bush Key sits right next to Garden Key and, if it is open, walking around this small island is one of the best things to do on a visit to the Dry Tortugas.
Loggerhead Key sits about 3 miles from Garden Key, so you will need a boat to get here.
The remainder of the islands are closed all year since they are home to bird nesting sites.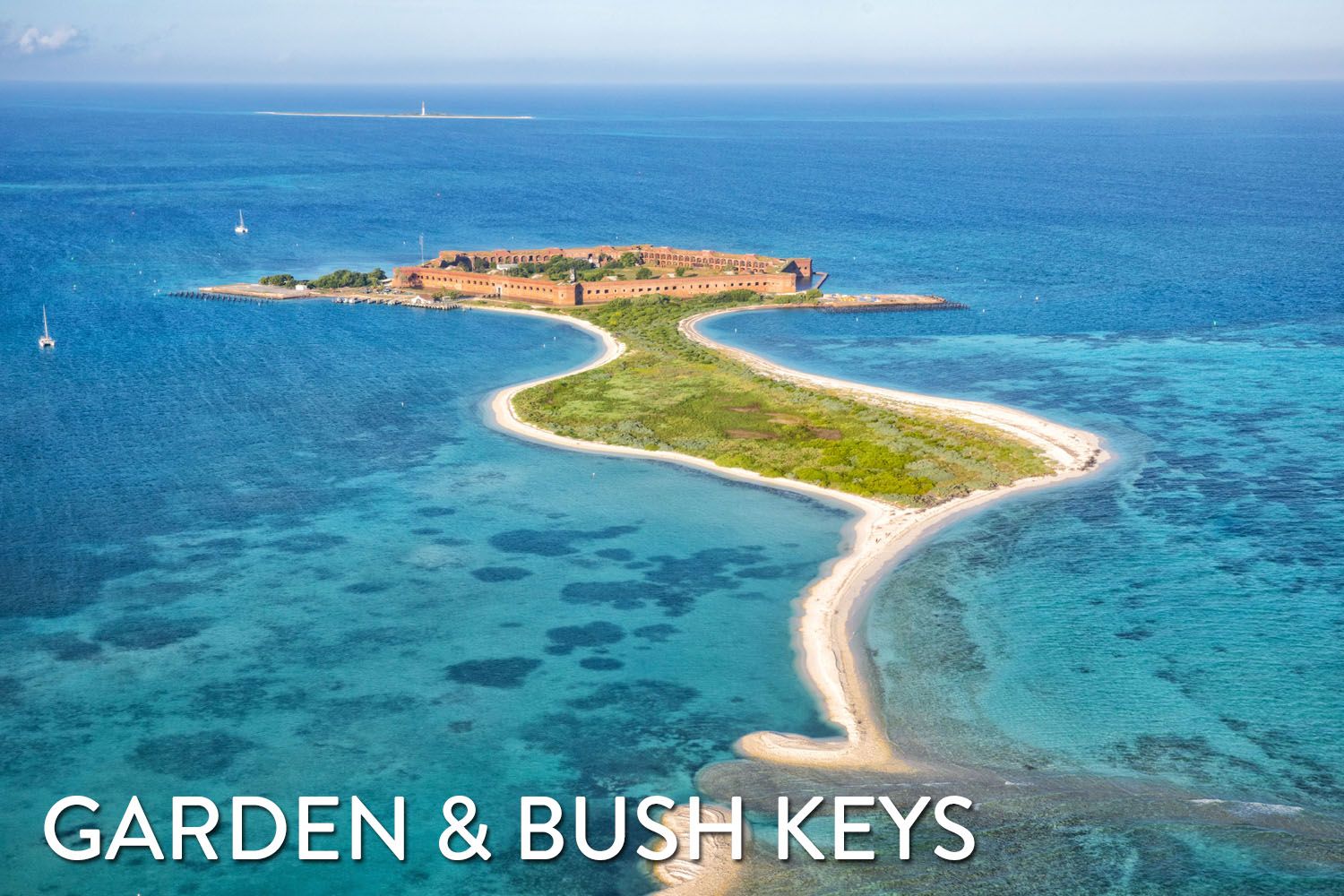 Learn More about the Dry Tortugas
How to Get to the Dry Tortugas
There are two ways to get to the Dry Tortugas: by seaplane and by boat. Both leave from Key West, Florida.
The seaplane is the quickest way to get to Dry Tortugas National Park and Key West Seaplane Adventures is the only company that flies to Dry Tortugas National Park. They offer flights throughout the day, and you can choose between a half day visit and a full day visit.
The Yankee Freedom is the ferry that connects Key West to Dry Tortugas National Park. It is a full day experience and most of that will be spent on board the ferry.
If you have your own boat, you can visit Dry Tortugas National Park without taking the ferry or seaplane. Before your visit, you will need to get a permit. Learn more on the National Park Service website.
Best Time to Visit the Dry Tortugas
With warm sea and air temperatures, Dry Tortugas National Park is a great place to visit all year.
October through January is one of the best times to visit Dry Tortugas National Park, when Bush Key is open. Walking around this key was one of our favorite experiences in the park.
We visited Dry Tortugas National Park in early December. The high temperature for the day was 80°F and the water also felt very warm. We had calm weather while we were here.
During the winter months (November through April), brief periods of windy conditions can create large swells of water. This makes snorkeling and kayaking difficult and there is an increased chance of seasickness on the ferry. It is also possible that the ferry may not run if the sea is very rough. We were told that flights are seldom cancelled during this time due to weather.
The hurricane season runs from May through October. In general, the winds are calm and sea visibility is excellent. However, hurricanes can disrupt travel during this time.
Dry Tortugas National Park appears in our Best US National Parks Month-By-Month series as a great park to visit in January, April, and December.
How to Plan Your Time
Here are several sample itineraries, depending on the amount of time you have and which mode of transportation you choose.
HALF DAY BY SEAPLANE: If you choose the seaplane day trip option, you will only have 2.5 hours in the Dry Tortugas. Explore Fort Jefferson first and then go for a stroll around Bush Key and visit one or two snorkeling spots.
FULL DAY BY SEAPLANE: With a full day by seaplane, you now have 6.5 hours in the Dry Tortugas. Visit Fort Jefferson first, then go snorkeling and swimming. End the day with a stroll around Bush Key.
DAY TRIP ON THE FERRY: If you want to take the ranger guided tour of the fort, do this first thing. Then spend the rest of your time snorkeling, swimming, and walking around Bush Key. If you don't want to take the ranger guided tour, go snorkeling and swimming first, and visit Bush Key. Then tour the fort later in the day, when it is less crowded.
Florida Keys & Dry Tortugas Itinerary
Since the seaplane and Yankee Freedom ferry leaves from Key West, most people visit the Dry Tortugas on a trip to Key West and the Florida Keys.
On a road trip through the Florida Keys, not only can you visit Key West and Dry Tortugas National Park, but you can also visit two more national parks, Everglades and Biscayne. For more information on how to do this, take a look at our Florida Keys Itinerary.
Dry Tortugas National Park Map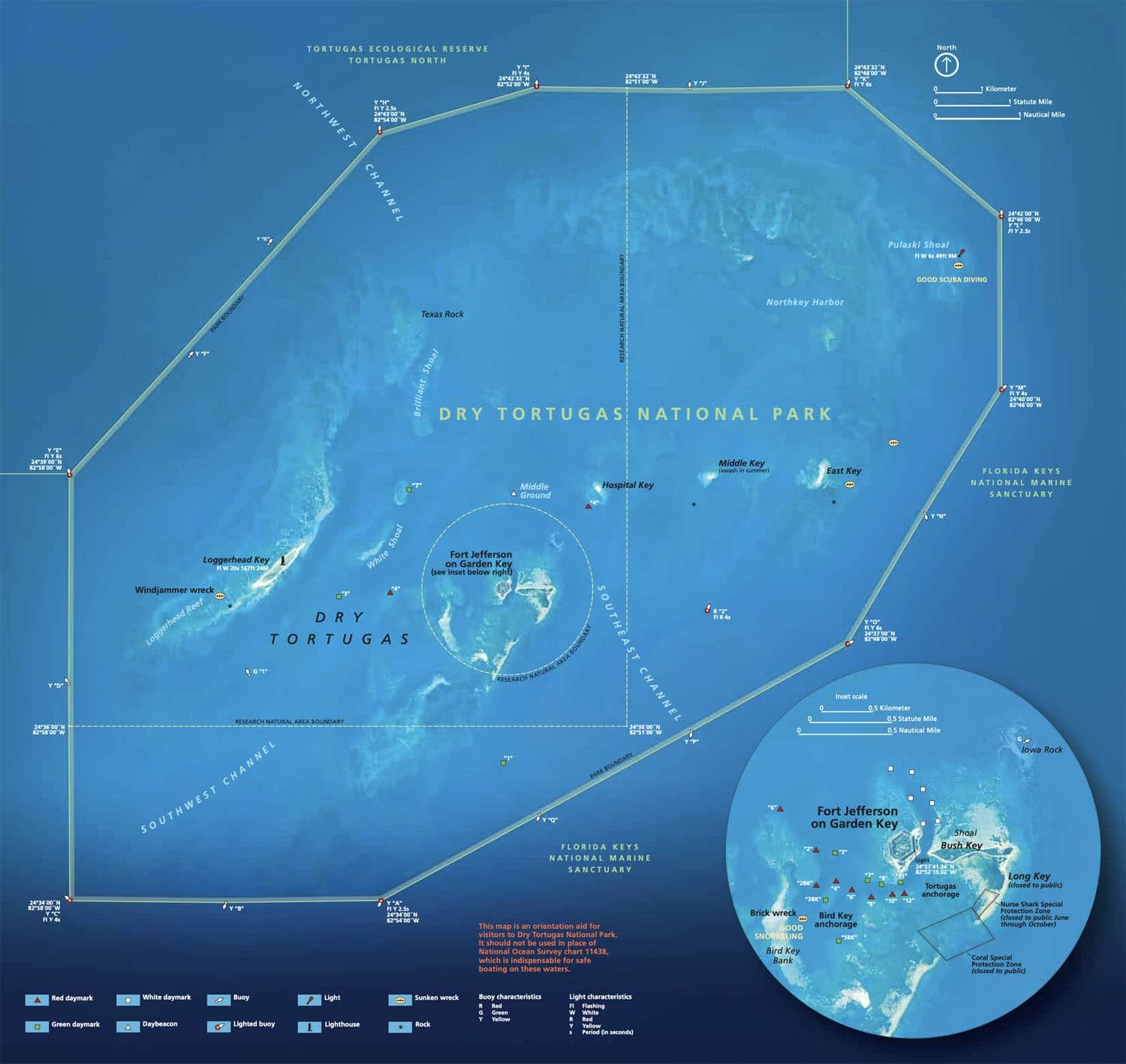 Dry Tortugas National Park in Photos
In our US National Parks List, get information on all of the US national parks, including interesting facts, the most and least visited national parks, and a FREE printable national parks checklist with map.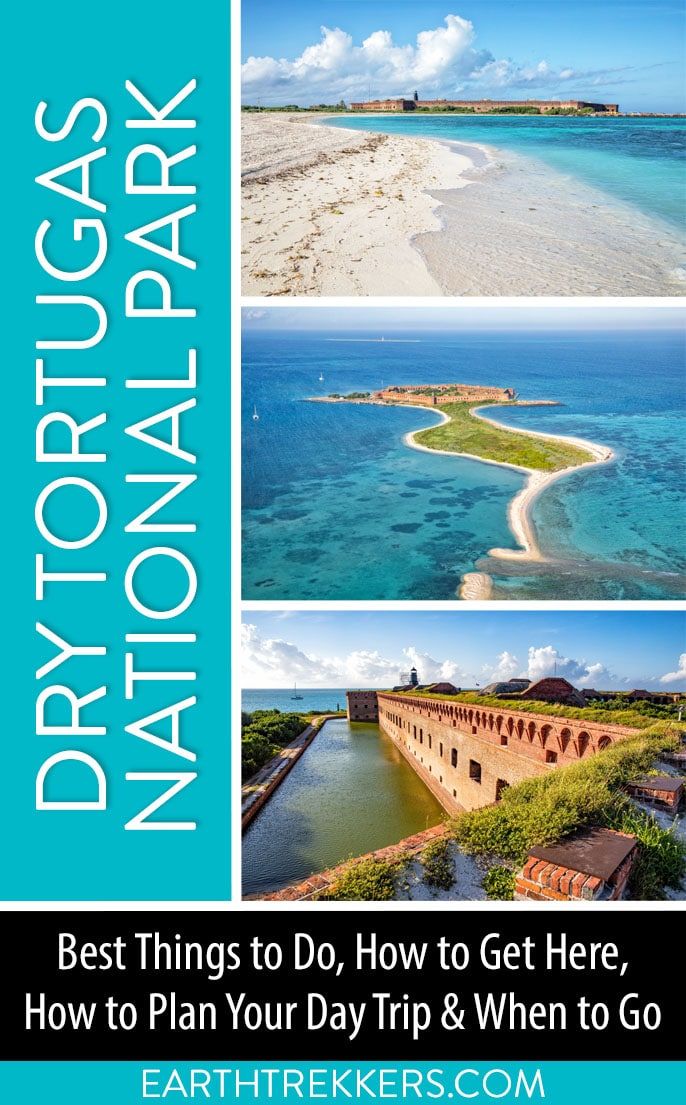 Note: This page contains affiliate links. When you make a purchase using one of these affiliate links, we get paid a small commission at no extra cost to you.
Visit More National Parks