What is the first thing that comes to mind when you think of Key West? Gorgeous sunsets from Mallory Square? Bar hopping on Duval Street? Lounging on the beach in the shade of a palm tree? Key West may be a small place, but there's a lot here to keep you busy. In this guide, we cover the best things to do in Key West.
We have visited Key West multiple times over the past 25 years. Our most recent trip was in 2018 and you will see us here again in December 2021. We plan to do a few favorites on this list (the Tiki Boat, restaurants, nightlife, and getting out on the water) but we also have plans to visit some new spots as well. Have fun planning your trip to Key West and let us know if you have any questions in the comment section below.
Best Things to Do in Key West
Visit Mallory Square
Mallory Square is located in the heart of Key West. Every evening hundreds of people gather here to watch the legendary Key West sunset. The Square becomes a hive of activity, as street performers, musicians, and food vendors gather to provide food and entertainment. It's a very festive atmosphere so come join the party during your visit to Key West.
Ernest Hemingway's House
Ernest Hemingway called Key West home from 1931 to 1939. His house is now a historic landmark and a visit here is one of the most popular things to do while in Key West.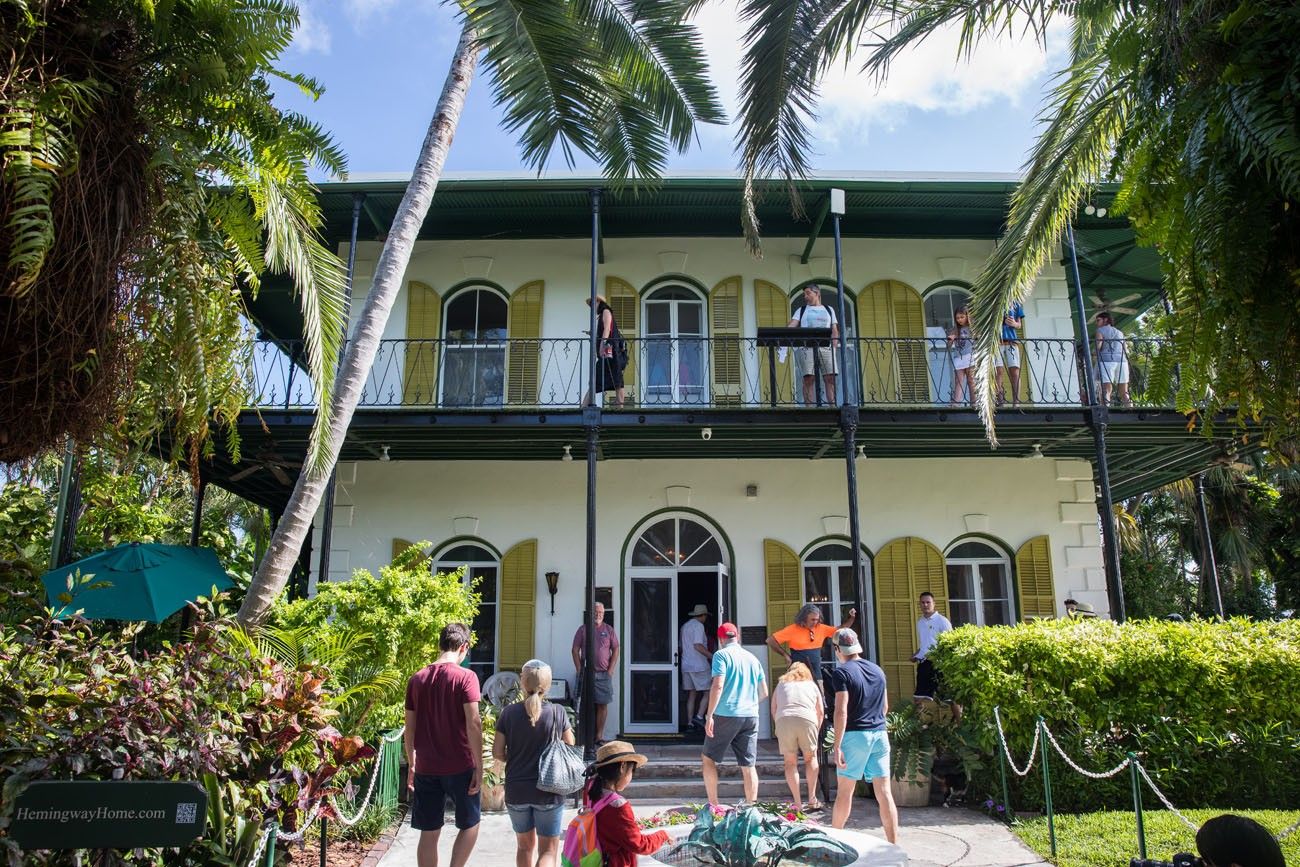 During your visit, you will not only learn about Ernest Hemingway, but you also get a nice dose of Key West history.
Just be prepared to see a lot of cats. And check out their tiny paws…the cats that roam the Hemingway property are famous for having six and seven toes!
Take in the View from the Key West Lighthouse
Just across the street from the Hemingway House is the Key West lighthouse. Climb the stairs to the top for one of the best views over the city.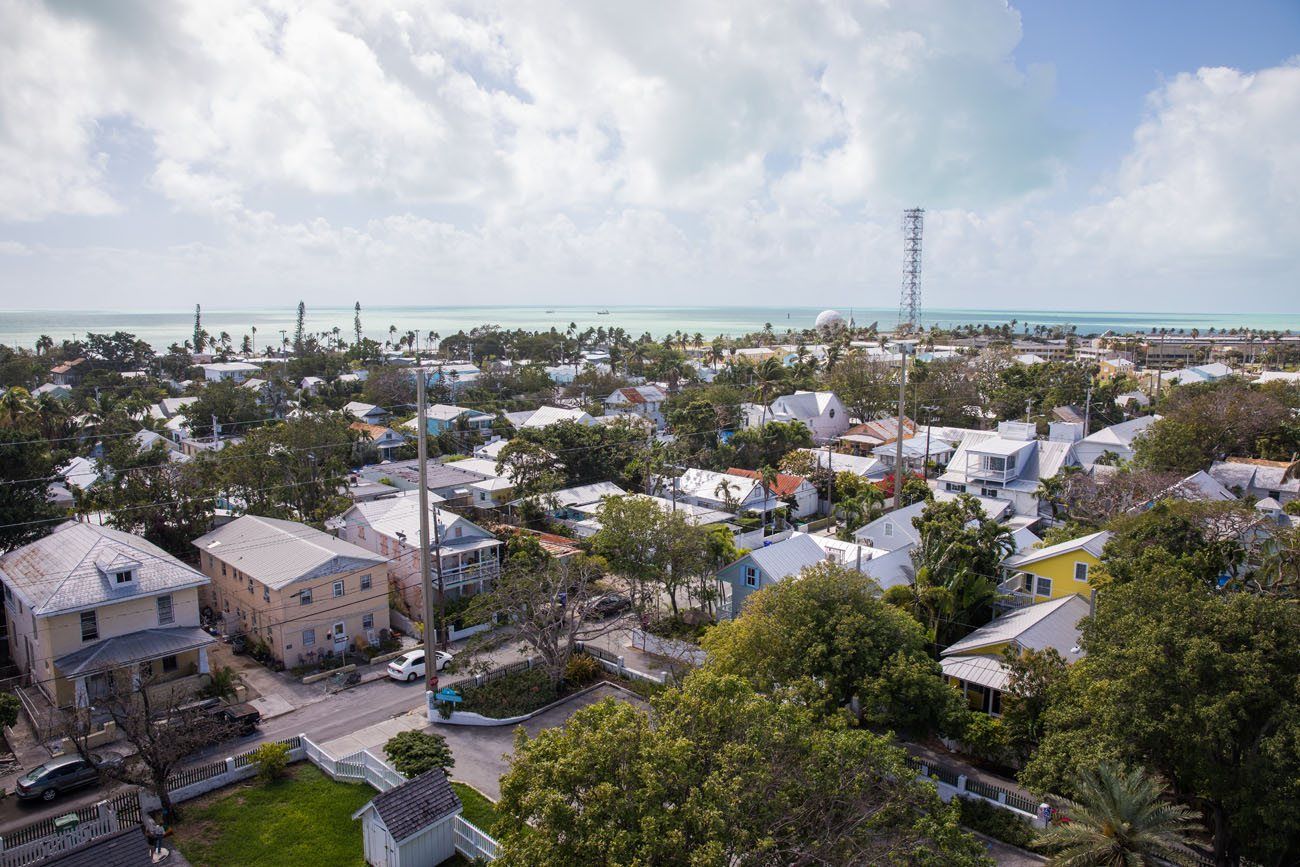 Bar Hopping on Duval Street
For many in the over-21 crowd, bar hopping your way down Duval Street may be one of your favorite things to do. In fact, many people travel to Key West to simply partake in endless days of bar hopping and partying.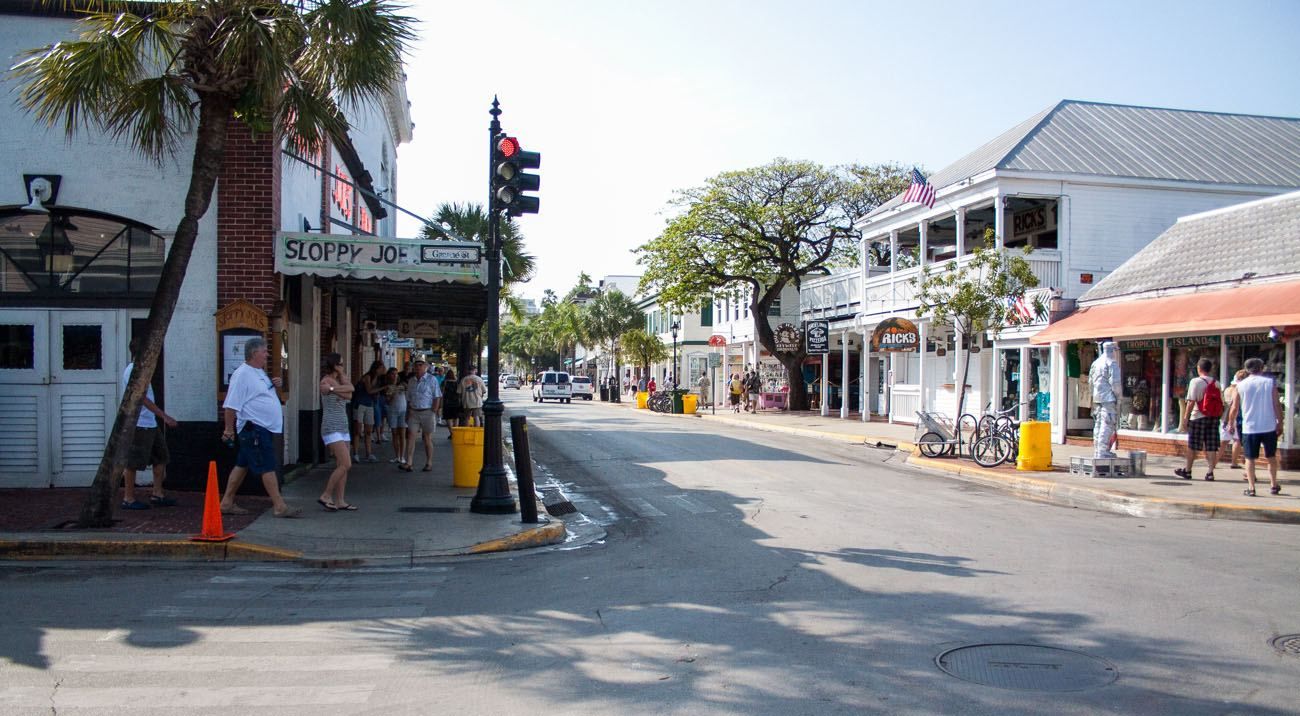 Sloppy Joe's is Key West's most famous bar. It opened in 1933, the day after Prohibition ended. Ernest Hemingway was a frequent visitor here.
The Schooner Wharf is another popular spot to visit. We were here at noon at the place was packed. It's five o'clock somewhere, right?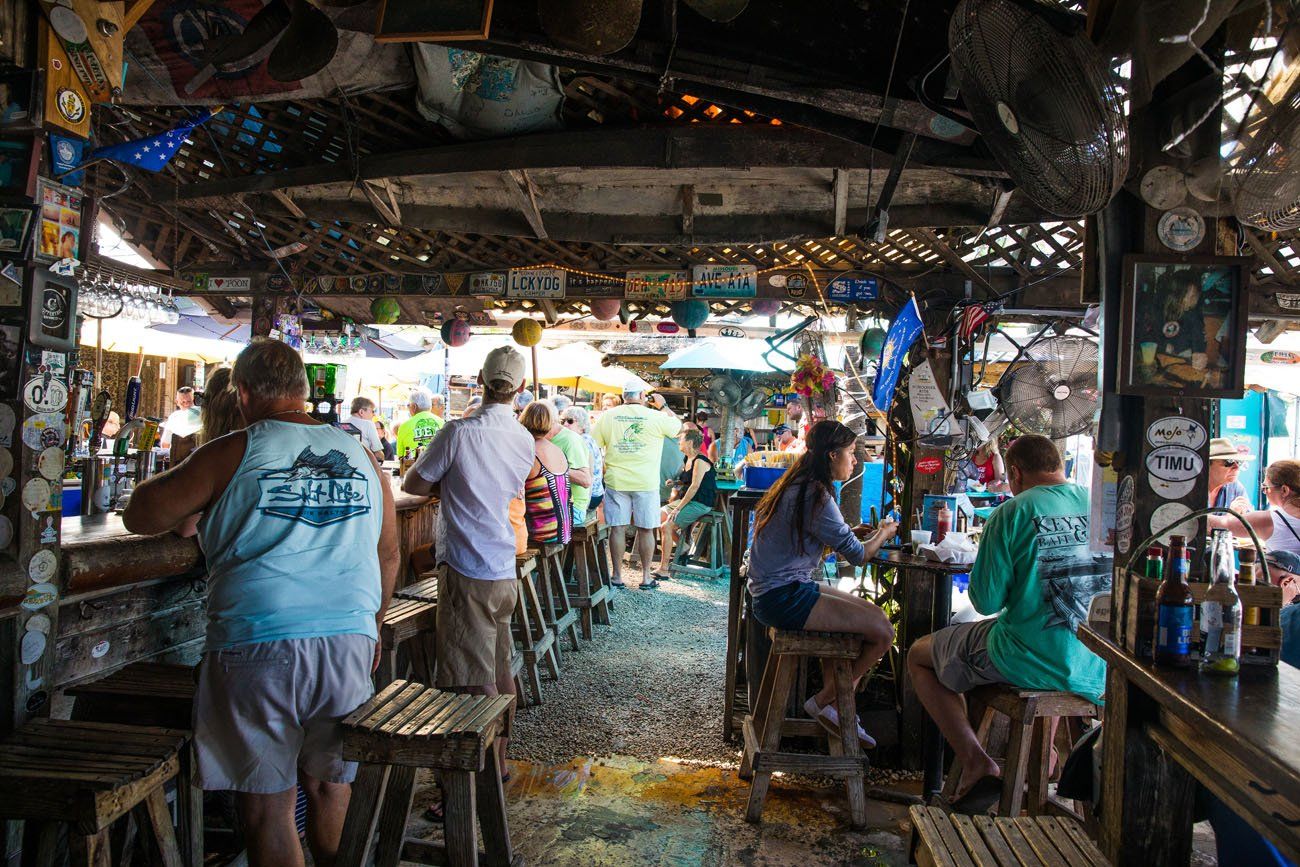 Other popular spots include the Hog's Breath Saloon, the Green Parrot, the Bourbon St. Bar, and the Bull and Whistle Bar. We really liked Caroline's Other Side, a small bar that crafts gourmet mixed drinks.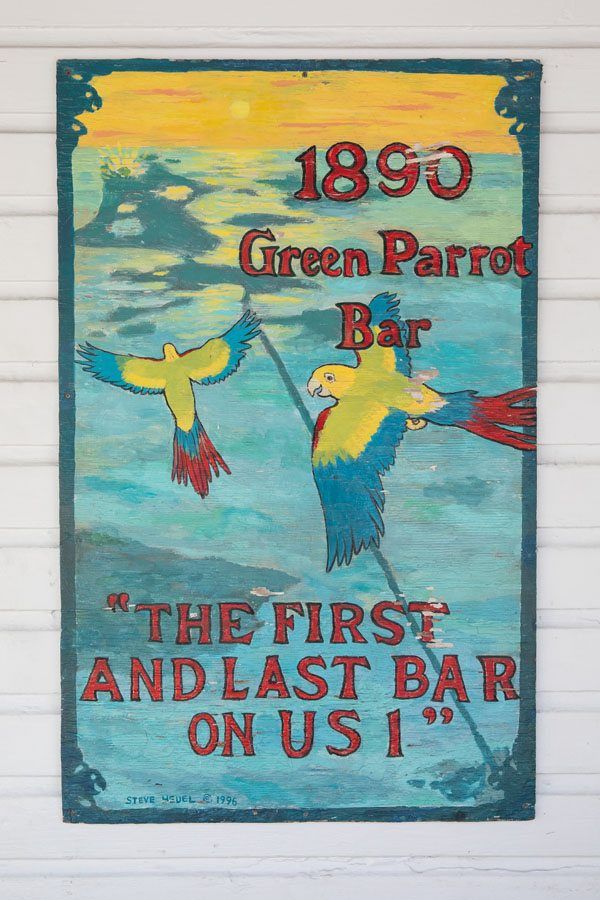 If you like the idea of watching a drag show (it's a big thing here in Key West!), the best clubs are Aqua, La Te Da, and Bourbon St. Bar.
One more idea…how about a guided pub crawl along Duval Street?
Visit the Key West Butterfly and Nature Conservatory
This place is wonderful! Wander through a small but lovely greenhouse, filled with tropical plants, birds, and of course, butterflies. We loved watching the two flamingoes, Rhett and Scarlett, who were in the midst of a mating ritual. Their squawking was hilarious.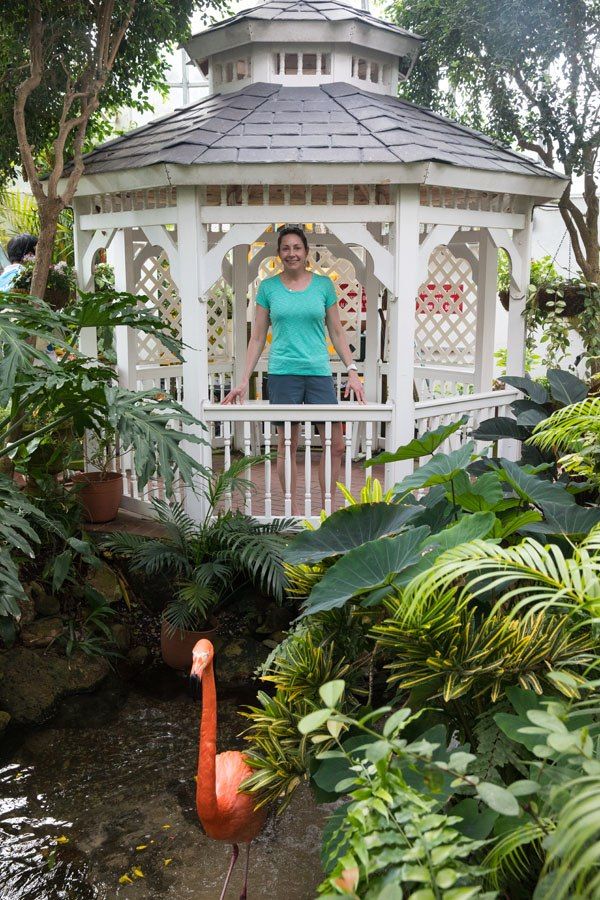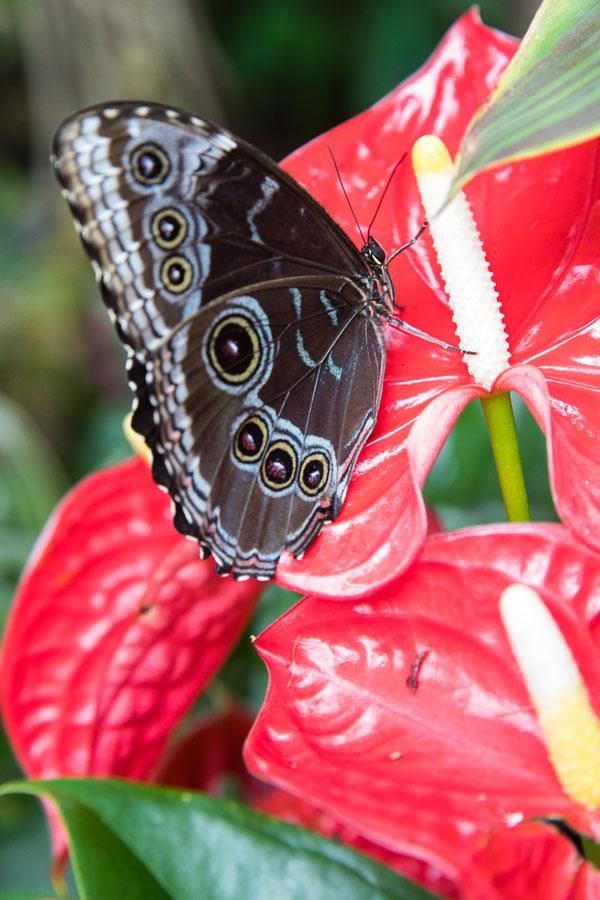 Note: If you do not like the idea of butterflies landing on you, you might want to skip this. The butterflies, and the flamingoes, seem to be attracted to aqua and blue colors. I was wearing a bright aqua colored shirt and the butterflies would not leave me alone.
Visit a Rum Distillery
If you want to learn about how rum is made and do a tasting, you have several options in Key West.
The Key West First Legal Rum Distillery opened in 2013 and offers free tours Monday through Saturday.
Papa's Pilar, a newer game in town, crafts rum named in honor of Ernest Hemingway. We tried their dark rum and it is quite good.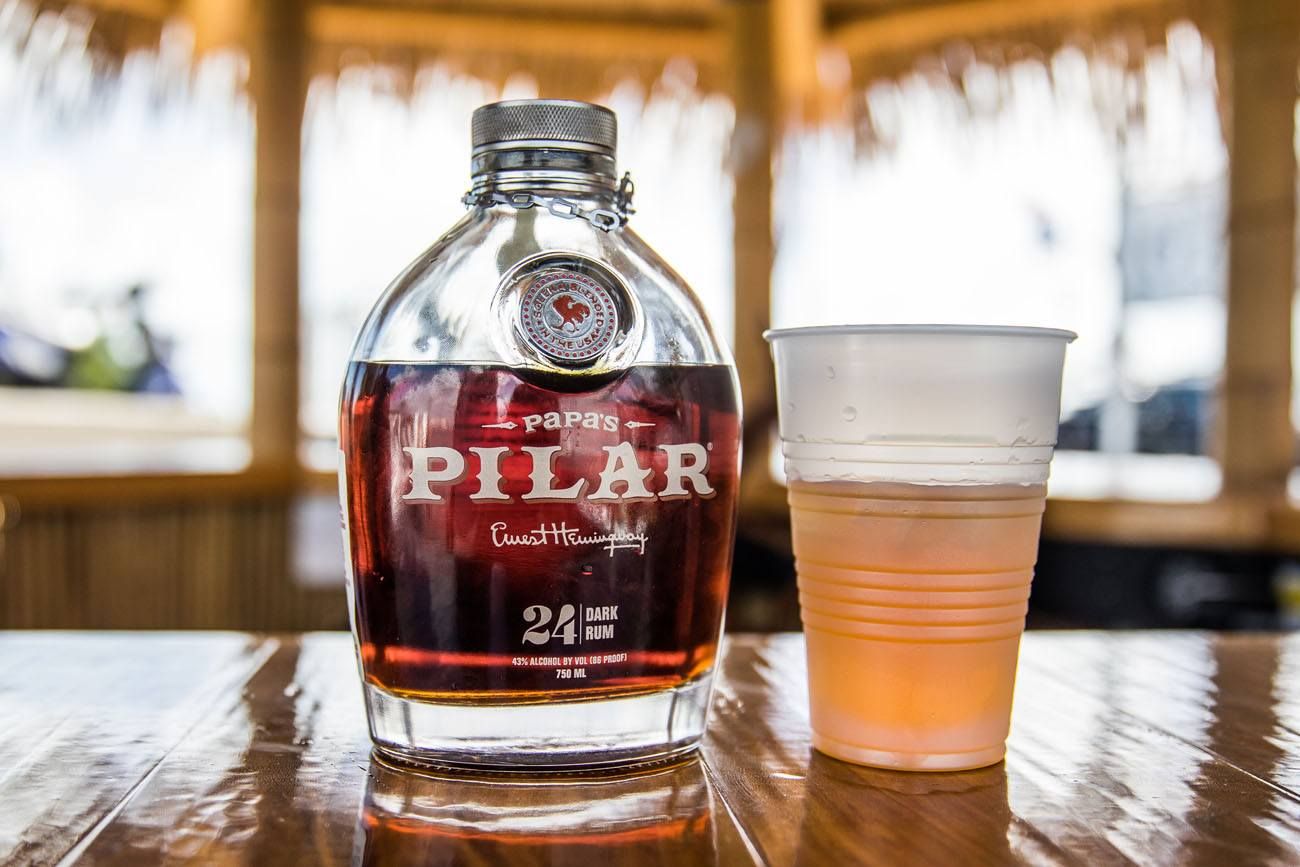 Key West Distilling offers craft distilled rum, vodka, gin, and whiskey.
How About a Ride on a Floating Tiki Bar?
If you are looking for something fun and unique to do, how about a ride on a tiki boat? Imagine cruising around beautiful Key West, sipping tropical drinks, all while seated at a tiki bar.
We did this and it was one of our favorite experiences in Key West. You can make your reservation through Cruisin' Tikis or GetYourGuide.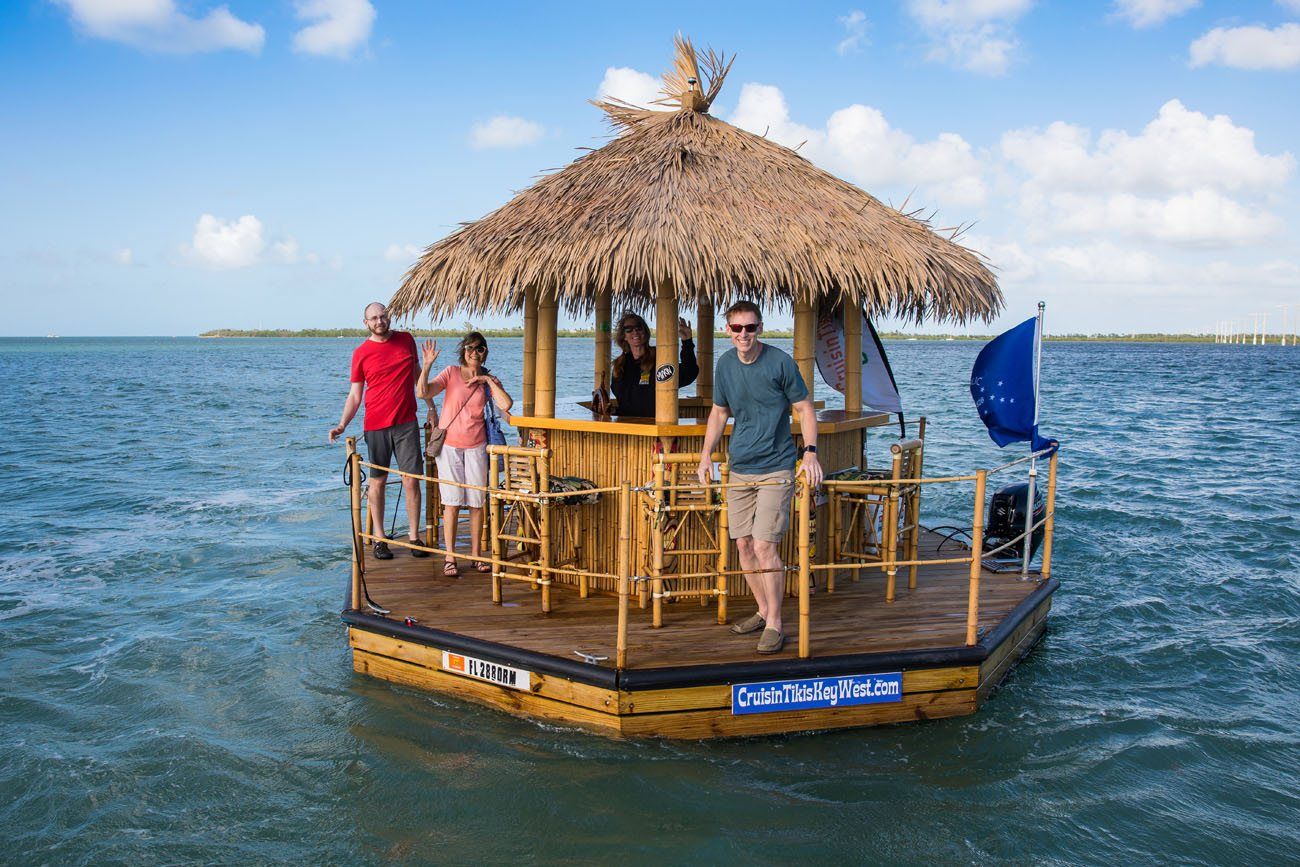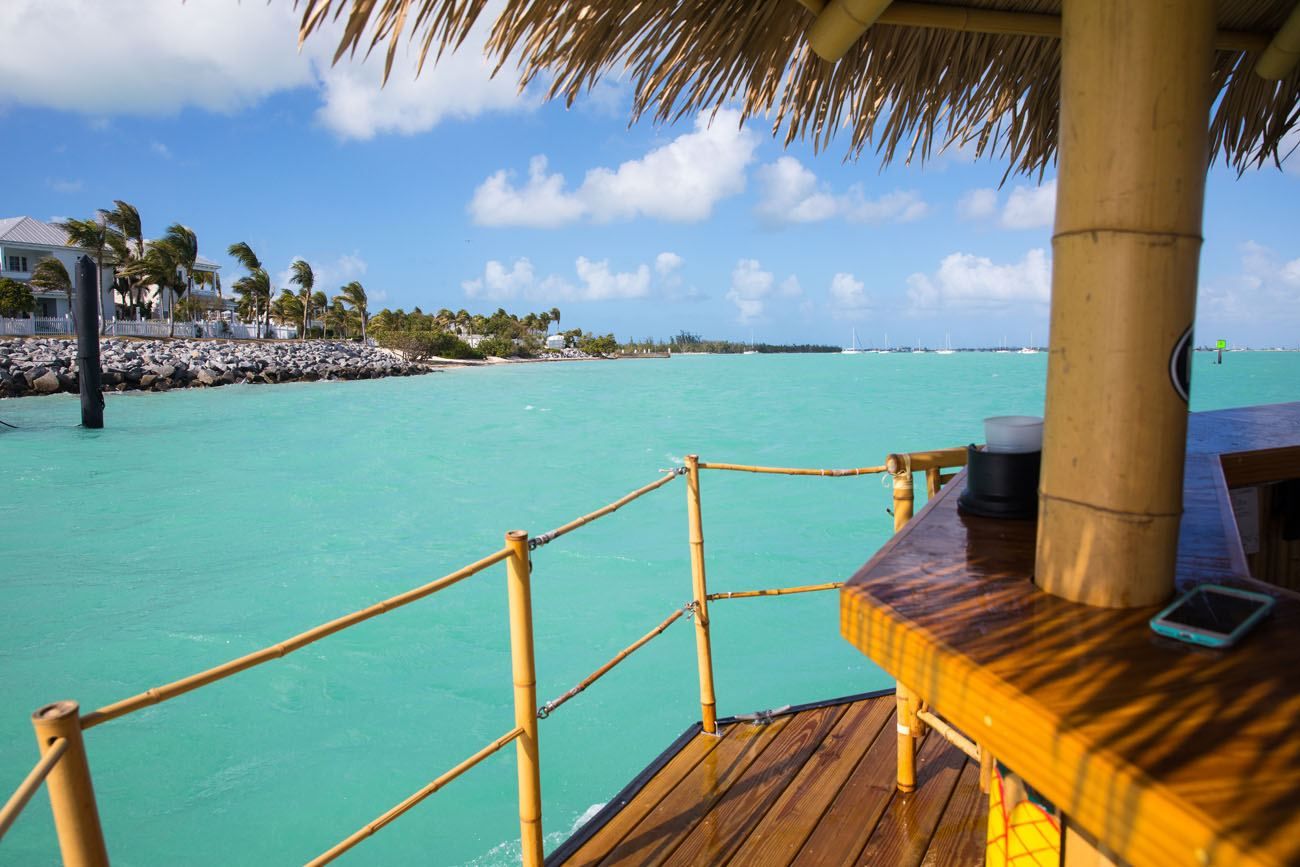 Lounge on the Beach
A visit to Key West just would not be complete without a visit to one of its beaches. Some are more beautiful and more secluded than others. Here's a quick run down.
Smathers Beach. This two mile long stretch of white sand is Key West's most popular beach to visit. It is located on the south side of the island near the airport.
Fort Zachary Taylor Beach. This is our favorite beach in Key West because it's beautiful and it does not seem to get as crowded as the other beaches. This is also a great spot to go snorkeling.
Higgs Beach and Rest Beach. These pretty beaches sit side by side. From here, you can walk out onto the Edward B. Knight Pier, a great place to watch the sunrise and sunset.
Harry S. Truman Little White House
This historic building served as the winter White House for President Truman in 1946. Since then, it has been used as a retreat for other US Presidents, including Eisenhower, Kennedy, and Clinton. Bet you didn't know you could learn some US history on a visit to Key West.
Here is a highly rated tour if you like the idea of taking a guided tour.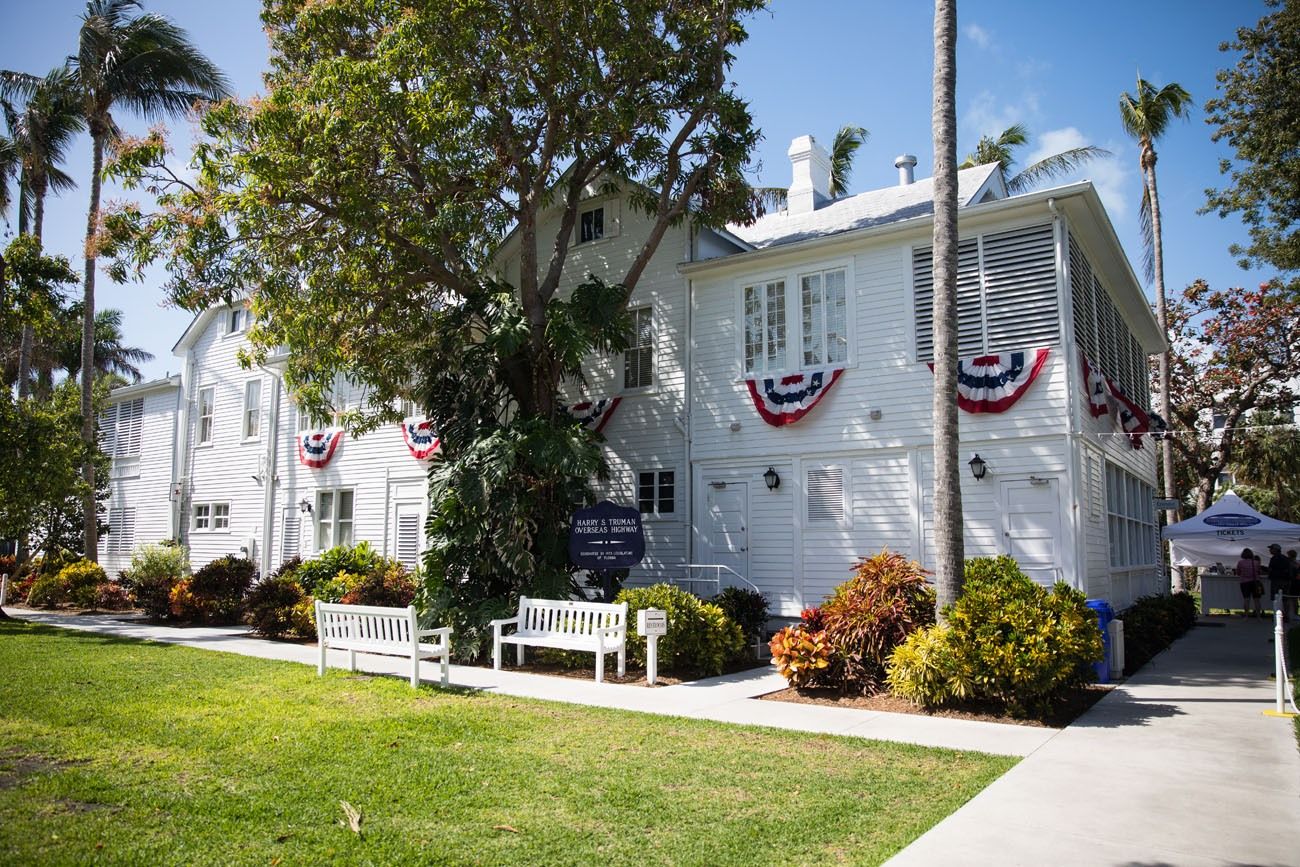 Eat your way through Key West
Key West has some fabulous restaurants to try. Here are a few of our favorites.
Blue Heaven. For breakfast and brunch, this is a must-visit. Dine outdoors in this quirky, creatively decorated restaurant that serves amazing food. Get here early or be prepared to wait up to an hour for a table.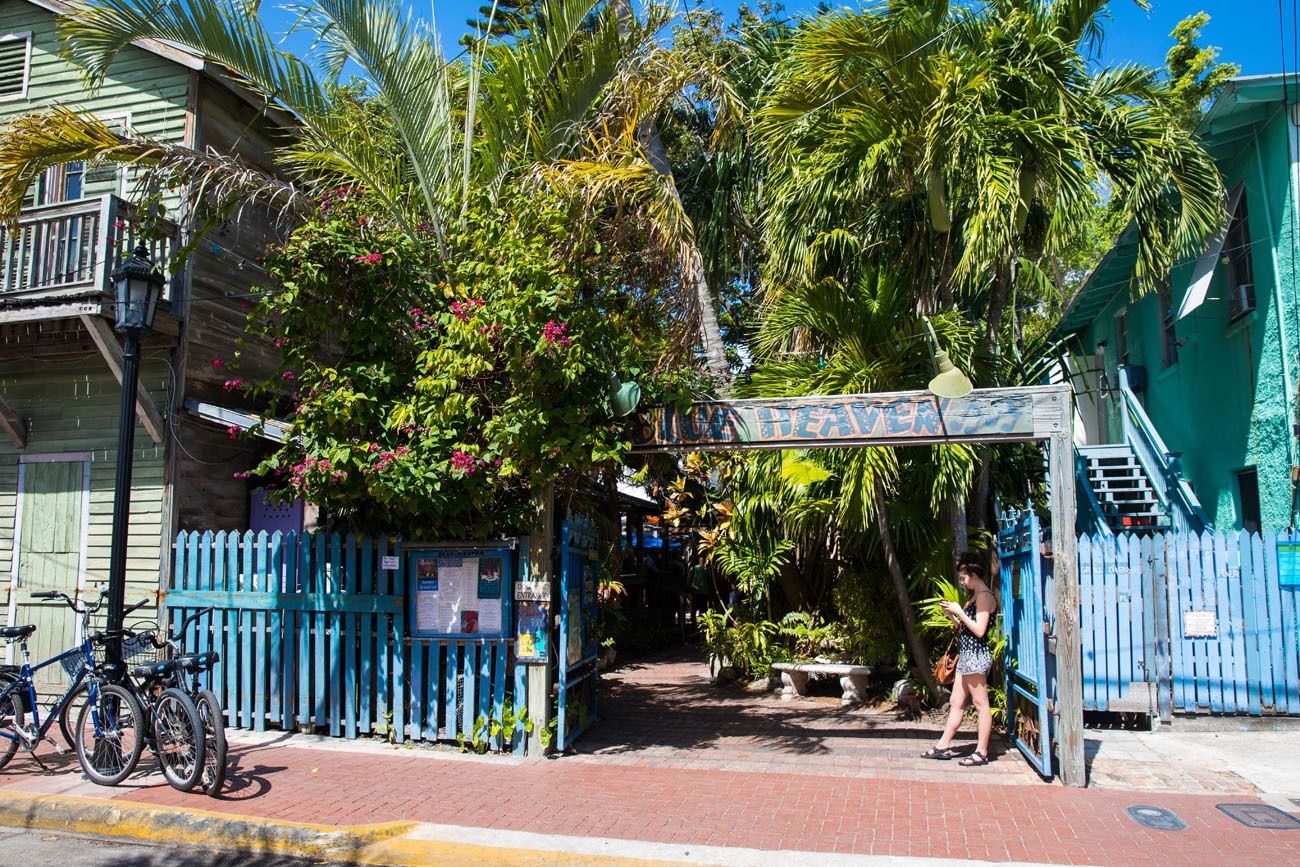 Cuban Coffee Queen. We had one of our best meals at this outdoor food stand. Located near the Key West Historic Seaport, this small restaurant serves Cuban cuisine and the best coffee that I had in Key West.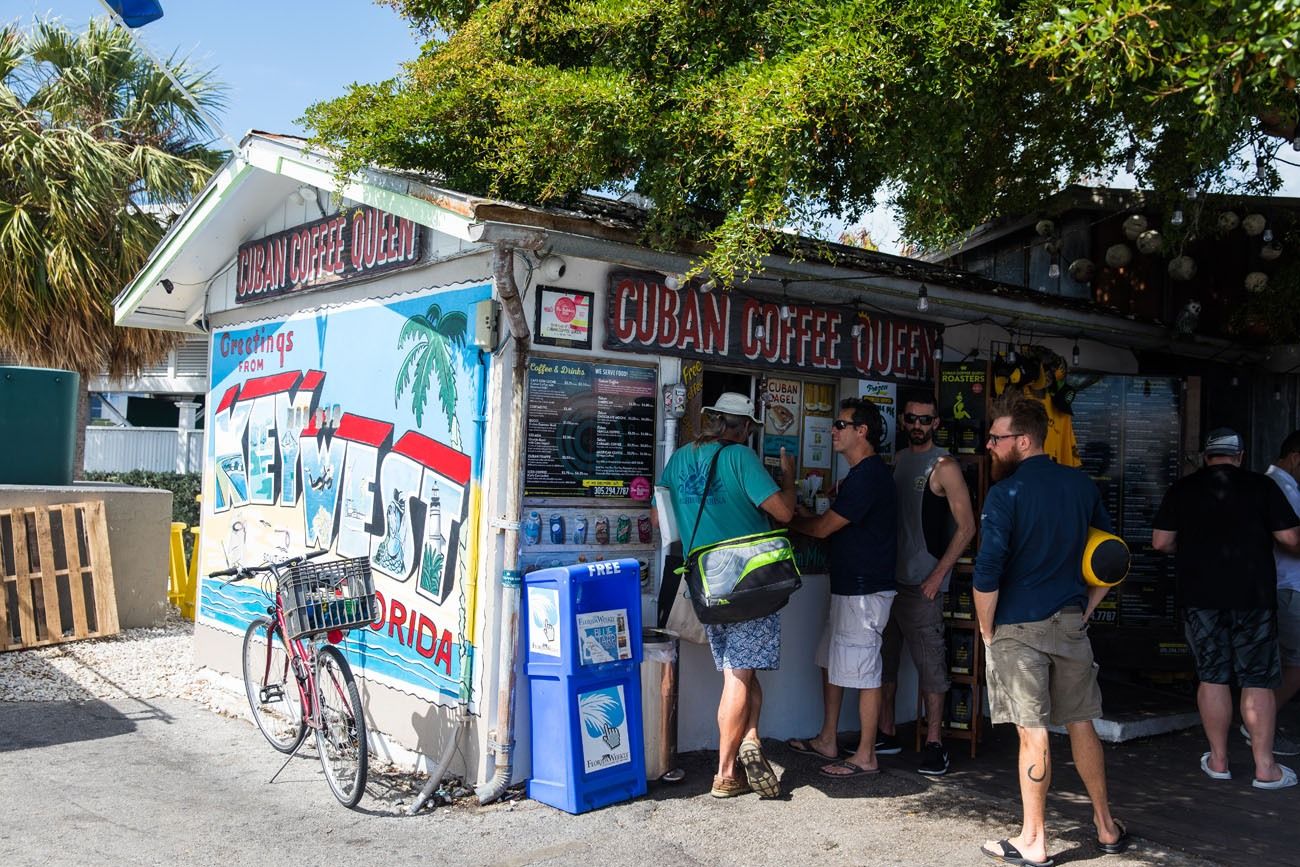 Latitudes. This is fine dining restaurant that is located on Sunset Key. The food is wonderful and this is another prime spot to watch the sunset.
Santiago's Bodega. Tapas, anyone? Again, this place is soooo good. Dare I say the best food on the island? If you like the idea of small plates of gourmet food, put this spot on your list.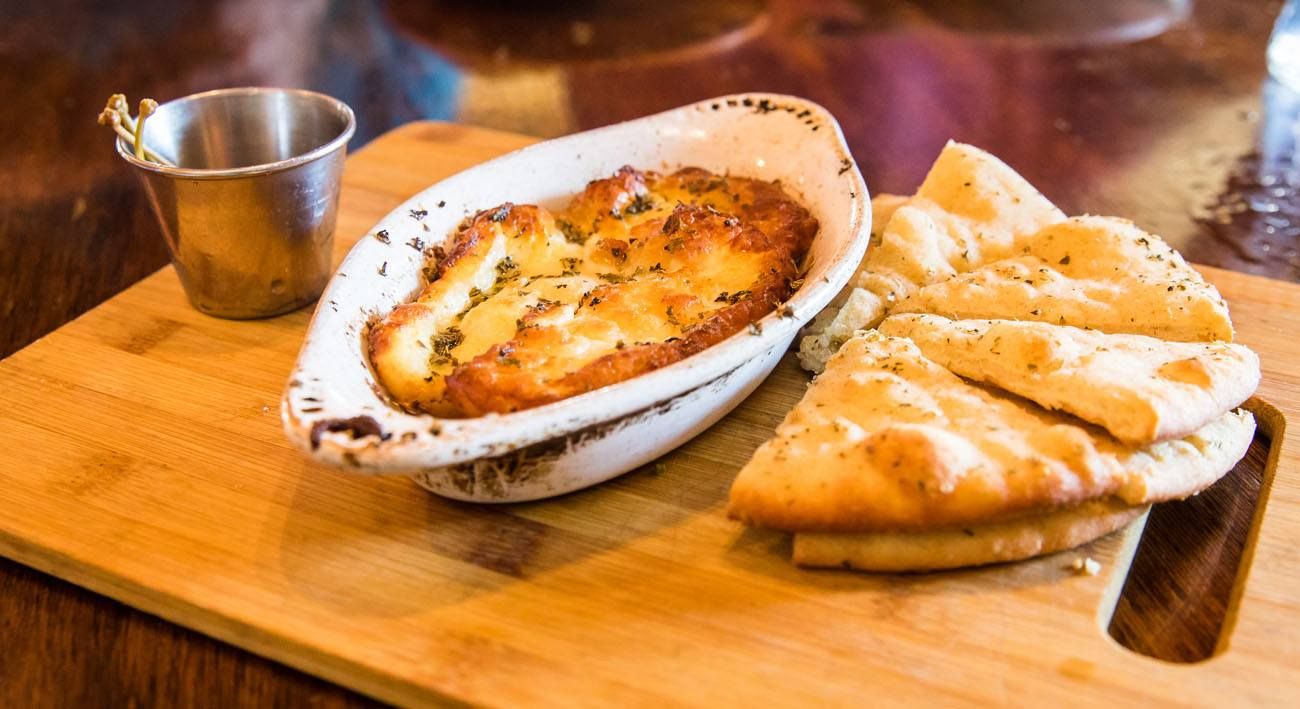 Better Than Sex – A Dessert Restaurant. If you like the idea of eating decadent desserts in an intimate setting, consider this unique restaurant. It's another one of those uniquely Key West experiences. You will be seated in a semi-private booth and can order desserts with names like The Morning After, Italian Stallion, and Cookie Nookie Pie. Tim and I shared the Peanut Butter Perversion and it was delicious. The atmosphere of the restaurant is rather unique, but in some ways it did have the feeling that we were in a strip club. I think I'd take the kids elsewhere.
Take a food tour of Key West. On this small group walking tour, sample iconic Key West dishes such as Key Lime pie and conch fritters, and explore the cultural neighborhoods of Key West.
The Southernmost Point
Ok, this really isn't one of the best things to do in Key West, unless you like waiting in line, but it seems like I couldn't ignore it, because it is such a popular thing to do.
Midday, expect a long line of people. Worth it? That's for you to decide.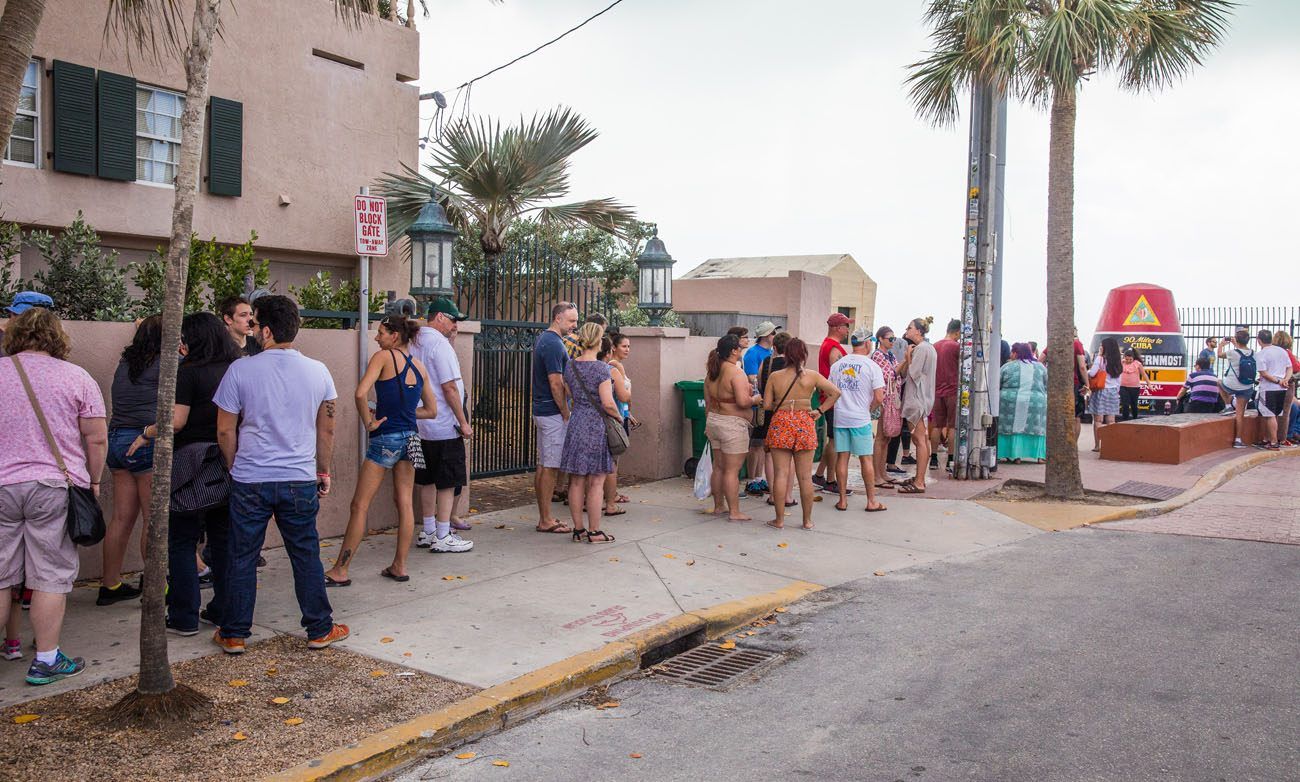 Stroll along the Key West Historic Seaport
This is a pretty spot to visit. Hundreds of boats and yachts are docked here. Restaurants and bars line the harbor. While you are here, belly up to the bar at the Schooner Wharf or grab a cup of coffee at the Cuban Coffee Queen.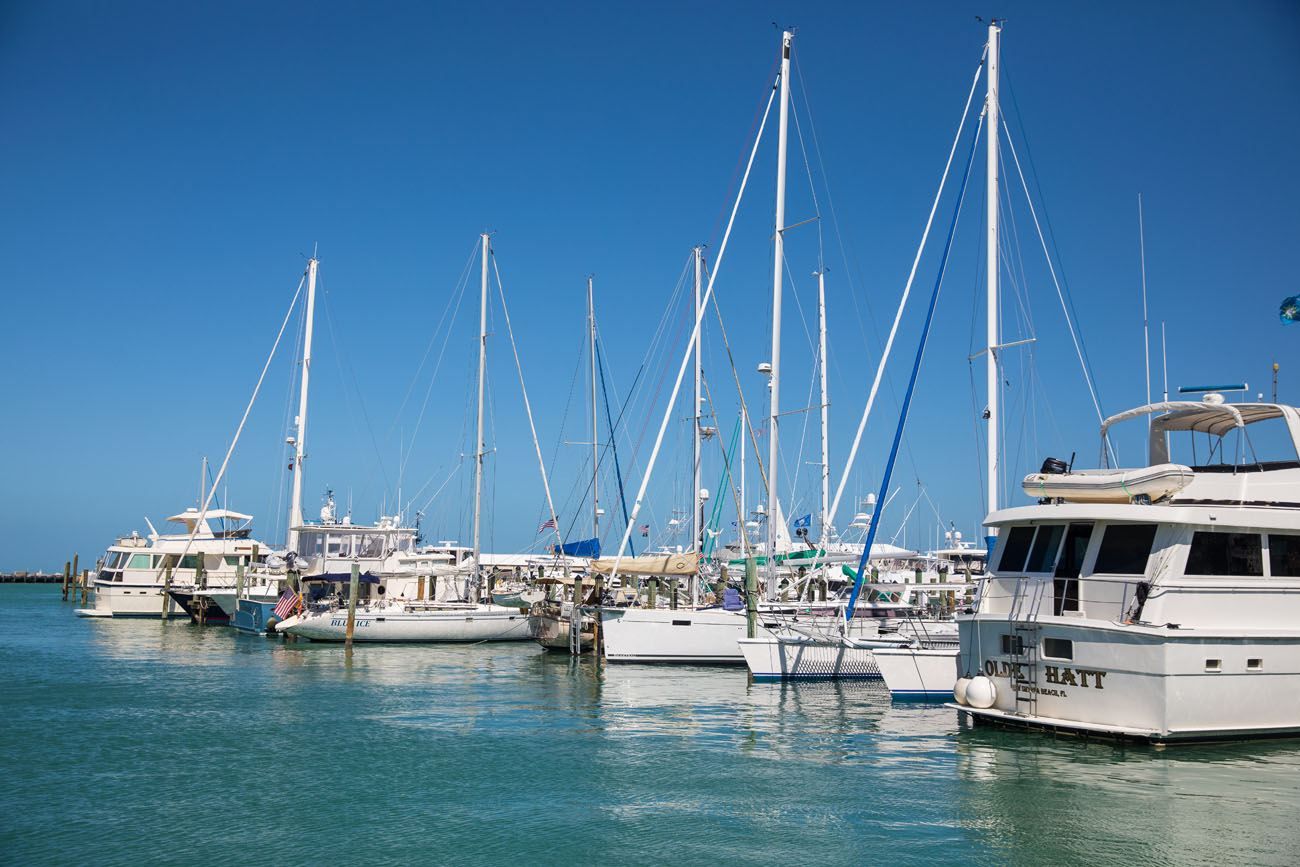 Day trip out to the Dry Tortugas
Dry Tortugas National Park is a collection of seven small islands. The reefs that surround these islands caused numerous shipwrecks. The United States used these reefs to its advantage, establishing one of the most strategic harbors in US history.
You can tour these islands and historic Fort Jefferson.
The Dry Tortugas are located 67 miles from Key West, so a visit here is a full day trip from the city. Learn more here.
Get Out on the Water
There are numerous options for getting off dry land and touring Key West and the nearby sea by boat. For thrill seekers, a sunset tour around the island by waverunner is a blast. Tim and I did this way back in 2000 and it is still one of our favorite memories of Key West.
You can take an Eco Tour of the mangroves, take a SUP tour, go on a dolphin cruise, or take a sunset catamaran cruise.
Where We Stayed
Tim and I visited Key West for a family wedding. My mother rented a house in Key West for the weekend, and we joined her along with several other family members. Six of us shared an amazing house in downtown Key West that was conveniently located near most of the hot spots. In just 15 minutes, we could walk to the bars on Duval Street, the Southernmost Point, and a handful of great restaurants.
The property we stayed in is called Absolutely Paradise and offered through Key West Hideaways. This is a three bedroom, 2.5 bath house with a kitchen, living room, laundry room, and deck with a small swimming pool. It was wonderful and we would definitely stay here again.
---
Have you been to Key West? What is your favorite thing to do here? Comment below!
More Information for Your Trip to Florida:
You Might Also Like: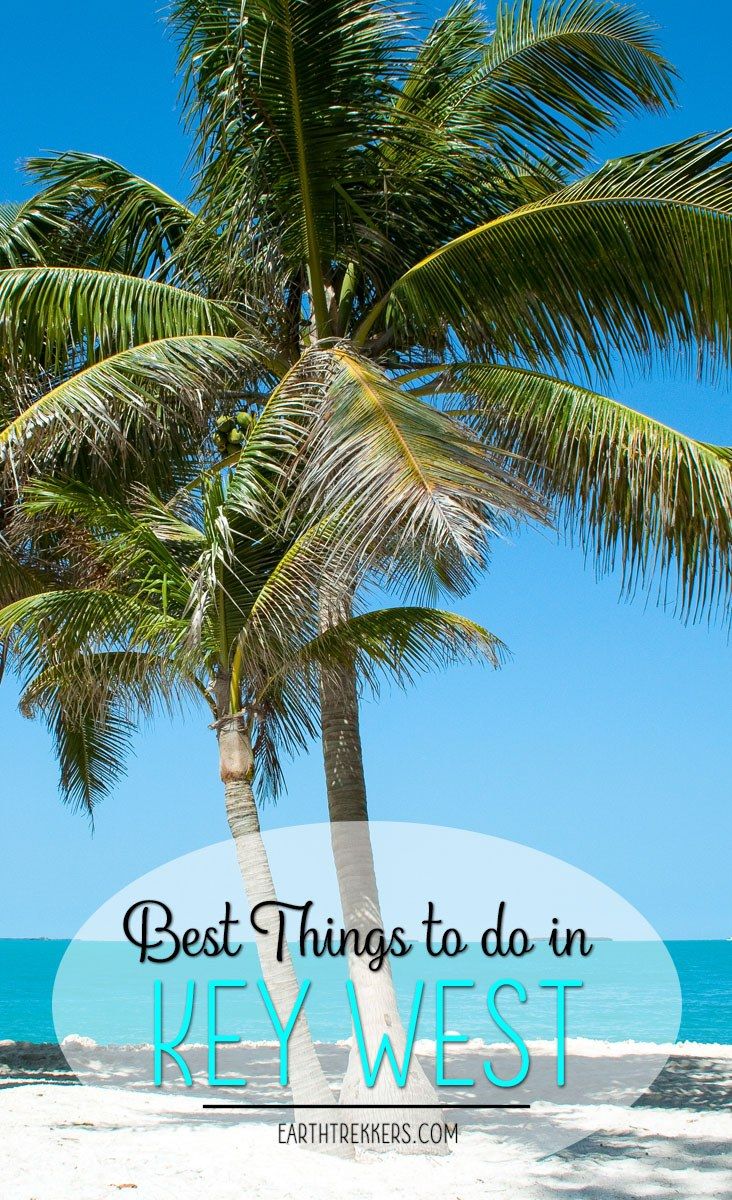 Note: This post contains affiliate links. When you make a purchase using one of these affiliate links, we get paid a small commission at no extra cost to you.
All rights reserved © Earth Trekkers. Republishing this article and/or any of its contents (text, photography, etc.), in whole or in part, is strictly prohibited.