"This is heavier than what I carried on the trip!" exclaimed Tyler from his bedroom.
Down the stairs he comes, wearing his black backpack he took around the world, this time filled with the binders, notebooks, pens and pencils, and all of the other paraphernalia that goes along with starting middle school. It is good to see him still getting use out of his backpack, although I have to admit, it is sad to see it filled with three ring notebooks rather than our travel clothing. This is just another reminder of how quickly our lives are changing.
Note: This post was written in August 2015, three weeks after the conclusion of our around the world trip.
Resuming "Normal" Life
You have not heard from us for awhile, only because life has been insane for the past two weeks. We have had to buy two cars, find a new home, and get Tyler and Kara registered for public school, all within a three week time span.
Along with the stresses of re-assimilating back into "normal" life, I was having a hard time finding the motivation to update this blog. To me, the blog feels like a different life, my travel life. Now that I am back in Maryland, I am having a hard time incorporating my old "travel self" into who I am here. I have a list of topics to write about but find it very hard to sit and focus on these. Honestly, I am finding it hard to focus on anything right now, and I almost feel a little lost now that I am home. There is so much I have to do but am having a hard time getting up the motivation to do it. Hopefully that will change in the days ahead once we get ourselves into more of a routine.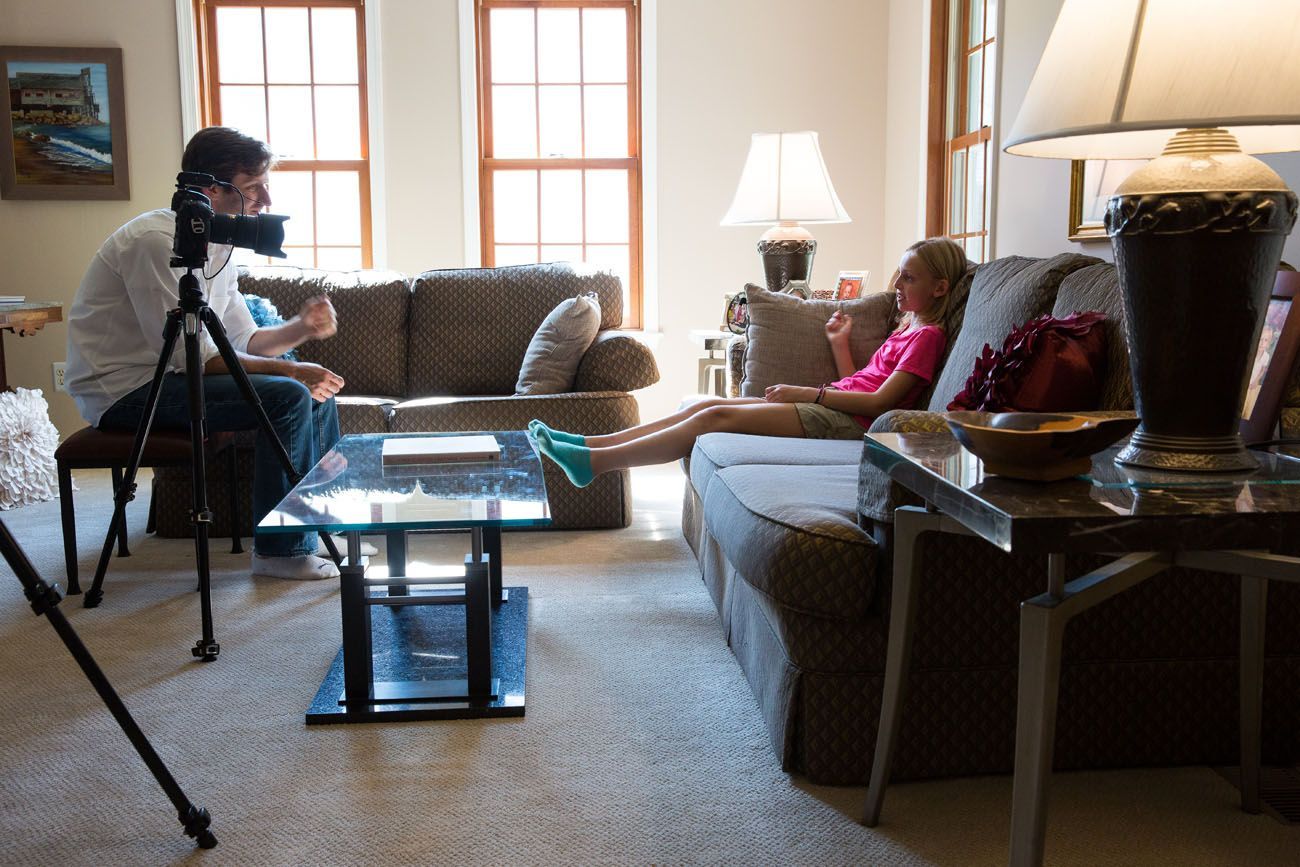 Kara being interviewed for Baltimore Lightroom
We have been back in Maryland for three weeks already, and during that time, our months of travel are already beginning to feel like a dream. Tim and I have been so consumed with everything that has needed to be done to get our lives in order that we have not had much time to reflect on the past year. Then, a song will play on the radio, one that we listened to while driving in a rental car while traveling, and just like that, I'll be transported back to Australia or Taiwan, and the memories come flooding back.
As crazy as things have been the past few weeks, I would not change anything we have done…our thirteen months of travel makes all of this insanity absolutely worth it.
One thing that truly amazes me is how quickly we readjusted back to life in Howard County, Maryland. Driving familiar roads, visiting my old grocery store (and appreciating it so much!), playing badminton in the back yard, driving Tyler and Kara over to their friend's house, it all feels so normal. It's alarming how quickly we have fallen back into our old routines. Yes, I see things with a different perspective, but now that I am back, I can't help but wonder if this trip changed me less than I originally thought it would.
Before setting foot on that first airplane, I knew we would come home thirteen months later as different people. How exactly we were going to change I did not know at the time, and this of course was one of the biggest reasons for traveling for so long…to see how much our perspective of the world would change. No longer do I take for granted our good fortune to live in such a great area, to have the jobs and the job security that we do, and to be able to afford simple things that many people in other countries struggle to own, but what shocked me is that now that we are home, in many ways I feel exactly like my old self.
I am not saying that this past year has not changed us. Just the other day, I took Kara out shopping for some back to school clothes, buying her a pair of jeans and three shirts. When she said, "Wow, I feel like I have so many clothes now!" I realized that we do have a different outlook on life and what we need to make us happy.
Now that we are settling in, our cars are downsized (Tim and I each bought used cars), our house is downsized (yes, finally we have a contract on a house), and our closets are downsized. We continue to walk around in the same clothes we wore around the world, at least the things that still look decent. We each now have two or three other shirts we throw into the mix but that is about it. Once we move into our house and unpack our storage unit, then we will really feel like we have a lot of clothes and a lot of stuff.
In some ways, I am really looking forward to seeing what sits in those boxes that have been patiently waiting for us for almost 16 months now. It may feel like Christmas opening some of them up, but I also hate the idea of letting all of that "stuff" back into our life. Life was so simple before we started looking for a house.
But, it was a house we needed. Yes, we considered renting, but with the high costs of the area we live in to have such a small space, it just did not seem worth it.
Plus, another thing that surprised Tim and I was that we wanted a house and we wanted to feel settled. As Tyler and Kara get older, we want them to have a house to come home to, some stability over the next few years as they transition between middle school and high school and then even on to college.
College will be here before we know it, which is exactly why we chose to take this trip now. Yes, the idea of another long-term trip sounds tempting, but with college looming out in our future and then the busy, changing lives that come with having a teenager, I do not know if another long-term trip will happen in the near future. In the meantime, we are going to fill our summers and time off of school with as much travel as possible, as that is the thing the four of us cherish the most, quality time spent traveling together and making memories.
Without a doubt, the four of us are so much closer now than before we started the around-the-world trip. We really enjoy just being together, hanging out and watching a movie, playing a game, or even just having dinner together. Sure, those are all very normal family activities, but the bond that we share now is so strong. Something feels different between the four of us, something that is hard to describe, something intangible but very real. Even though our year traveling around the world may be starting to feel like a dream, I am still thankful everyday for what we did and the memories we made together.
In just a few short days Tyler and Kara go back to school. Fortunately, we were able to find a house that has them going to their original middle school, the same school they would have gone to had we never sold our house and traveled around the world. Therefore, Tyler and Kara will have some friends and old classmates to help ease their transition back into school.
Tyler will be going into 7th grade and Kara is going into 6th grade. Wow…middle school, and it will be brand new for both of them. That means lockers, changing classes in the middle of the day, a bigger school, and a lot more homework. Tyler and Kara are nervous and excited…it is yet another huge change in their lives this month and they are handling everything like rock stars. Another brand new adventure awaits them.
Over the next month, life will hopefully settle into a rhythm for us. Tim will go back to work, the kids will go back to school, and I will have the task of turning Earth Trekkers into something more than it already is. Even with the recent stresses there is an excitement for where we are heading, another "new normal" for us. One thing is for certain…life is never boring.
---
Continue the Journey
All rights reserved © Earth Trekkers. Republishing this article and/or any of its contents (text, photography, etc.), in whole or in part, is strictly prohibited.