With glacier-capped mountains, dazzling aquamarine lakes, and some of the most exciting hiking trails in the country, it's no wonder that Glacier National Park is called the "Crown of the Continent."
Drive Going-to-the-Sun Road, one of the best scenic drives in the United States. Along the way, you get jaw-dropping views from the overlooks as the road twists and turns through the mountains.
But this is also the type of national park that just begs you to get out of the car and go exploring. Take a boat ride across Lake McDonald, paddle a kayak on Swiftcurrent Lake, or take your pick from epic hiking trails scattered throughout the park.
This is one of the most beautiful national parks in the United States and we can't wait to share it with you in this guide.
GLACIER NATIONAL PARK STATS
Founded:  May 11, 1910
Annual Visitors:  3 million. In 2019, Glacier was the 10th most visited national park in the USA.
Size: 1 million acres
Location: Montana
Entrance Fee: $35 per vehicle, valid for 7 days
Notable Fact: Just across the border with Canada is Waterton Lakes National Park. Together, these two parks form the Waterton-Glacier International Peace Park, the world's first international peace park.
Drive Going-to-the-Sun Road. For 50 miles, this road twists and turns through the mountains and up and over the Continental Divide. It tops out at Logan Pass, where you can park, stretch your legs, enjoy the view, and even take your pick from several hiking trails that start here.
Visit Logan Pass. At 6,646 feet (2025 meters), Logan Pass is the highest point on Going-to-the-Sun Road and part of the Continental Divide. This is the highest point in Glacier National Park that can be reached by car. Jagged mountains, fields of wildflowers, and the chance to see bighorn sheep, mountain goats, and other wildlife are the highlights.
Hike to Hidden Lake. This is one of the most popular hikes in Glacier National Park. Not only do you get to see Hidden Lake, but there's a good chance that you will spot mountain goats and maybe even bighorn sheep.
Visit Many Glacier. This is a gorgeous area of the park. Numerous trails start here and this is one of the best places to see wildlife in Glacier National Park. If you are an avid hiker, plan on spending several days in this part of the park.
Hike to Grinnell Glacier. This hike has it all: stunning alpine scenery, waterfalls, emerald green lakes, a glacier, and a great chance to spot wildlife. We saw moose, mountain goats, and bear on this hike. This is a gorgeous hike every step of the way.
Iceberg Lake. Many people state that this is the best hike in the park. Starting in Many Glacier, it's a 10-mile round trip hike to a stunning lake.
Visit Two Medicine. Two Medicine is less crowded than Many Glacier and Going-to-the-Sun Road. It's also a great place to go hiking.
Hike to Avalanche Lake. This trail starts at Trail of the Cedars and continues along Avalanche Creek until you get to Avalanche Lake. It's a wonderful hike with views of an alpine lake. 
Spend some time at Lake McDonald. Lake McDonald is the largest lake in the park. Visit the historic lodge, take a boat tour of the lake, or go hiking.
See Wild Goose Island. Wild Goose Island is a tiny island located on Saint Mary Lake and it is one of Glacier's most photographed spots (it was used in the opening scenes of the movie The Shining).
When to Visit Glacier National Park
The park is open all year.
However, Going-to-the-Sun Road, the main road through the park, is only open during the summer months (typically from late June/early July through mid-October).
If you want to go hiking in Glacier National Park or if you want to be able to visit the entire park, you will have to plan your visit during this narrow window of time.
July and August are the busiest months to visit Glacier National Park. Crowds begin to lessen in September.
For good weather and low crowds, plan your visit between the end of September and early October.
How Many Days Should You Spend in Glacier?
Ideally, plan on spending at least two days in Glacier National Park. This gives you enough time to drive Going-to-the-Sun Road, hike one or two trails, and visit the Many Glacier or Two Medicine areas.
Every day you add to Glacier National Park gives you more time for hiking, to explore more regions of the park, or day trip to Waterton Lakes National Park.
ONE DAY IN GLACIER
If you have just one day, drive Going-to-the-Sun Road, visit Logan Pass, and hike one or two short hikes (Hidden Lake and Avalanche Lake are great options).
Where to Stay
Where you choose to stay really depends on how much time you have and what you plan on doing in Glacier National Park.
If you want to visit several areas of the park (Many Glacier, Two Medicine, and along Going-to-the-Sun Road), it might be wise to stay in two different places. This cuts down on how much driving you will do and makes it easier to get an earlier start in the mornings.
There are numerous lodging options inside and outside of Glacier National Park. West Glacier (on the west side of the park) and Many Glacier (on the east side of the park) are two of the best locations for lodging. St. Mary and Lake McDonald are also excellent locations.
To learn about lodging options inside of Glacier National Park, click here. 
Waterton Lakes National Park
Glacier National Park and Waterton Lakes National Park form the Waterton-Glacier International Peace Park.
Waterton Lakes, which is located in Canada, feels like a quieter, mellower version of Glacier National Park.
Hiking and biking are popular things to do here, as well as some experiences you wouldn't expect to have in a national park. Have high tea at the Prince of Wales Hotel, go shopping at the boutique stores in the town of Waterton, or take your pick from one of many great restaurants in town. One of the best things to do is to take a guided boat tour on Waterton Lake. You will cross the border back into the United States, see remote Goat Haunt, and look for wildlife.
Learn how to add on Waterton Lakes to your visit to Glacier National Park here.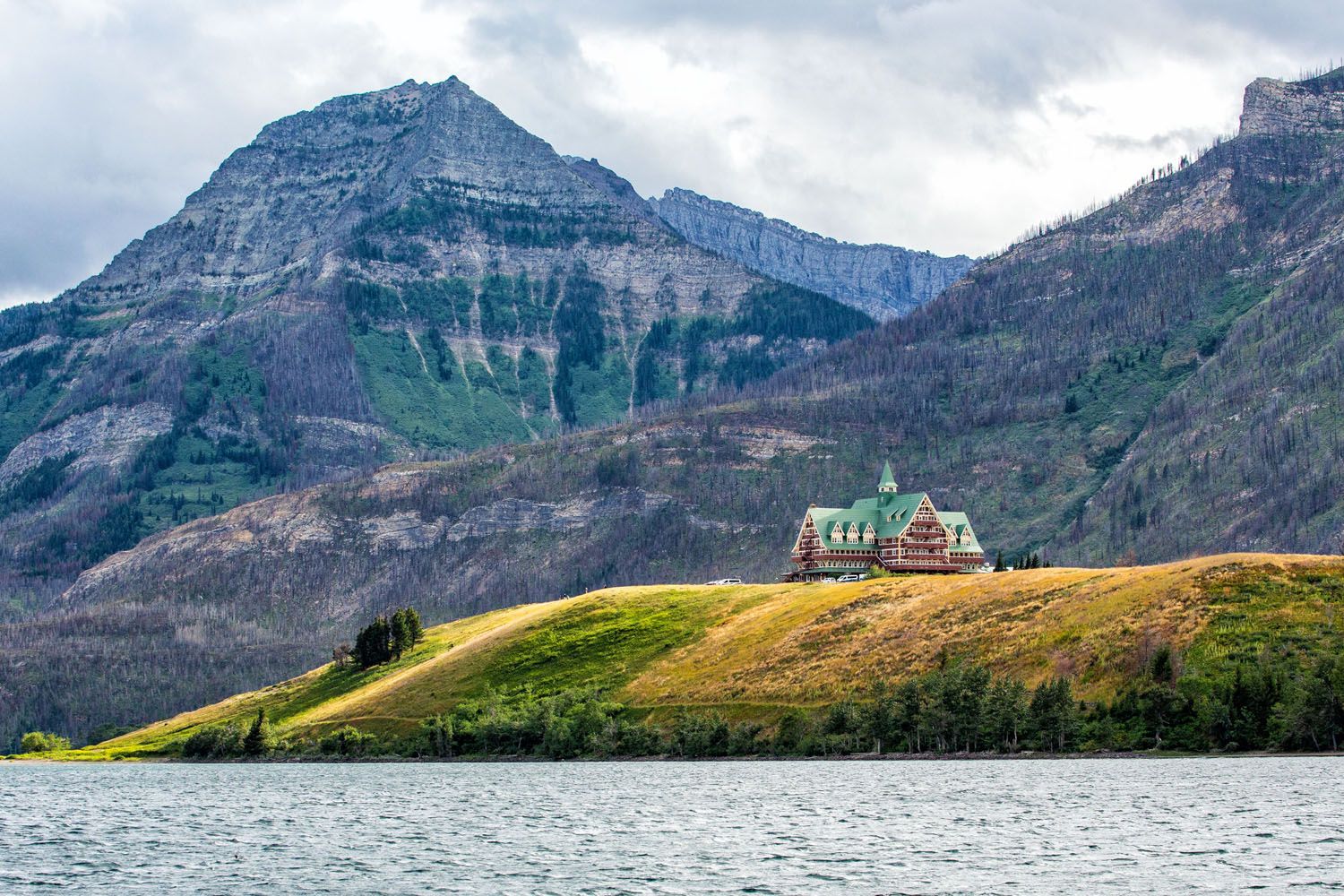 Glacier National Park Map
Glacier National Park in Photos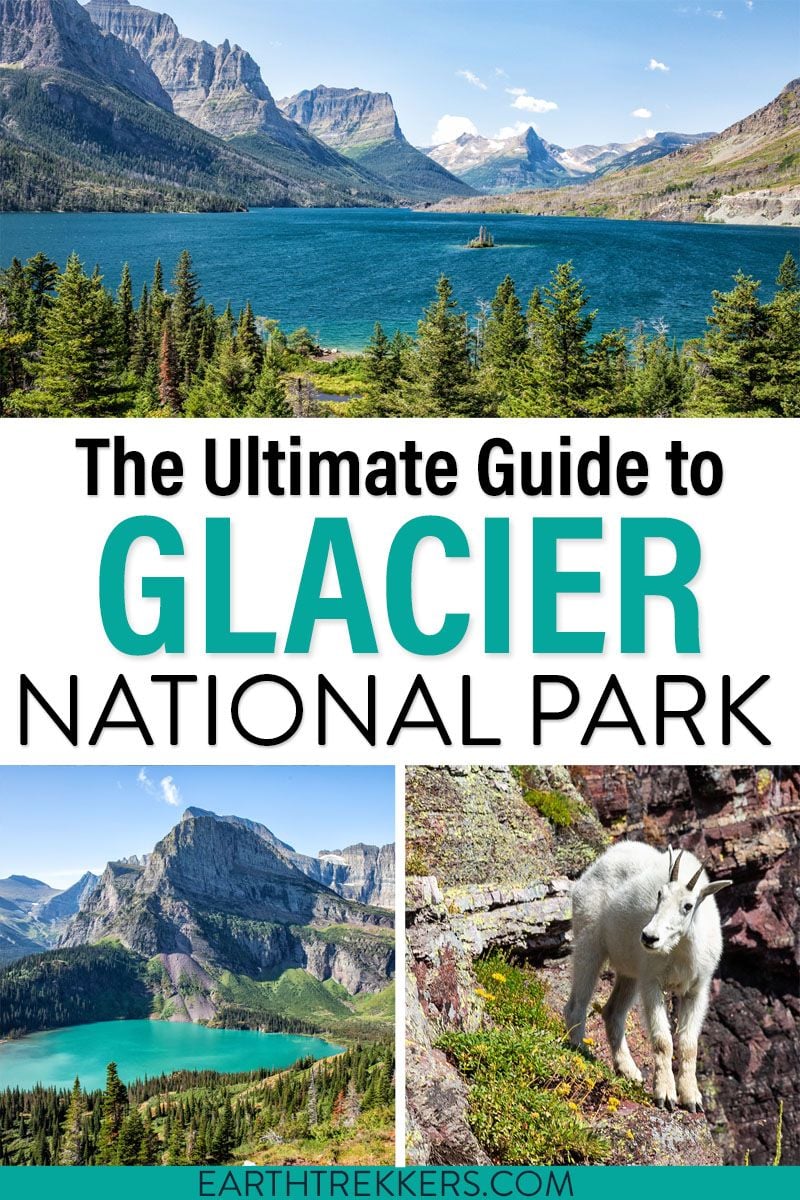 Note: This page contains affiliate links. When you make a purchase using one of these affiliate links, we get paid a small commission at no extra cost to you.
Visit More National Parks