Waterton Lakes National Park sits just across the border from Glacier National Park in the United States. With beautiful lakes, jagged mountains, thrilling hiking trails, and a small town to explore, this is a smaller, laid-back version of Glacier National Park.
Hiking and biking are popular things to do here, as well as some experiences you wouldn't expect to have in a national park. Have afternoon tea at the Prince of Wales Hotel, go shopping at the boutique stores in the town of Waterton, or take your pick from one of many great restaurants in town.
Here are 10 great things to do in Waterton National Park, with advice on where to stay and how to plan your time.
About Waterton Lakes National Park
Waterton Lakes National Park is located in the southwest corner of Alberta. It shares a border with the United States to the south and British Columbia to the west.
In 1932, Waterton Lakes National Park and Glacier National Park were combined to form the Waterton-Glacier International Peace Park, the world's first international peace park. Both parks are Biosphere Reserves and a World Heritage Site.
In September 2017, a wildfire ripped through the park and nearly wiped out the town of Waterton. Firefighters worked around the clock to save the town and the Prince of Wales Hotel. However, more than 47,000 acres of land were burned in and around Waterton, dramatically altering the landscape.
We visited Waterton Lakes in 2019 and could still see the impact of these wildfires. Hiking trails were still closed, as were some scenic drives. The charred remains of the trees covered the hillsides, but signs of life were abundant. Wildflowers were blooming and seedlings were sprouting amidst the burnt trees.
Best Things to do in Waterton Lakes National Park
Explore the Park on a Bicycle
One of the best things to do in Waterton Lakes is to explore the park by bicycle. Rent bikes in town and go for a ride on one of several scenic roads that cut through the park.
Red Rock Parkway
Red Rock Parkway is a 14 km (8.7 mile) road that starts in the grasslands and then cuts through a dramatic valley. This paved road is closed to cars so the only way that you can see it is by bicycle or by walking.
It's a beautiful bike trip but there are a few challenging spots. Rolling hills can make this tiring, especially for young kids and those who haven't recently been on a bicycle.
Along the way, you have a chance to spot wildlife such as black bear, bighorn sheep, elk, and whitetail deer.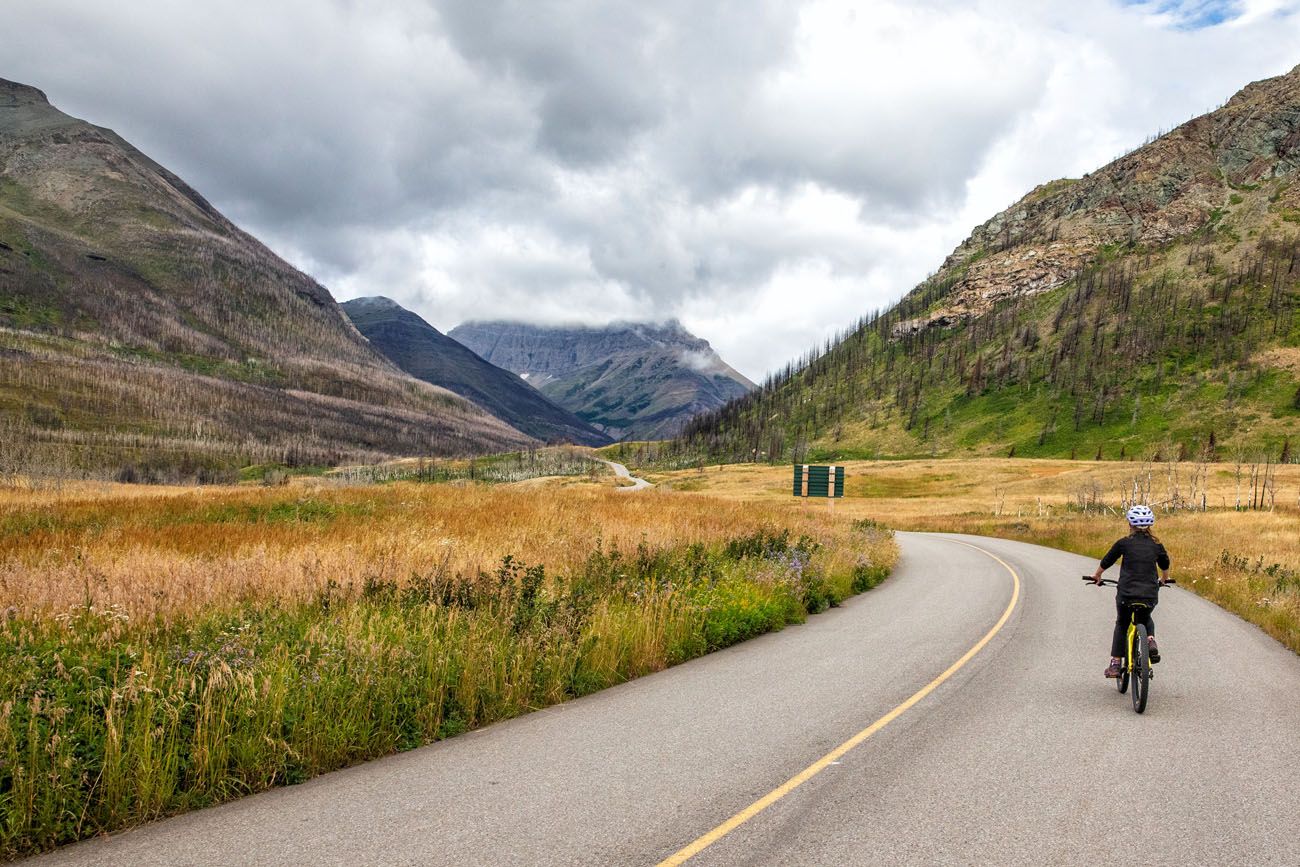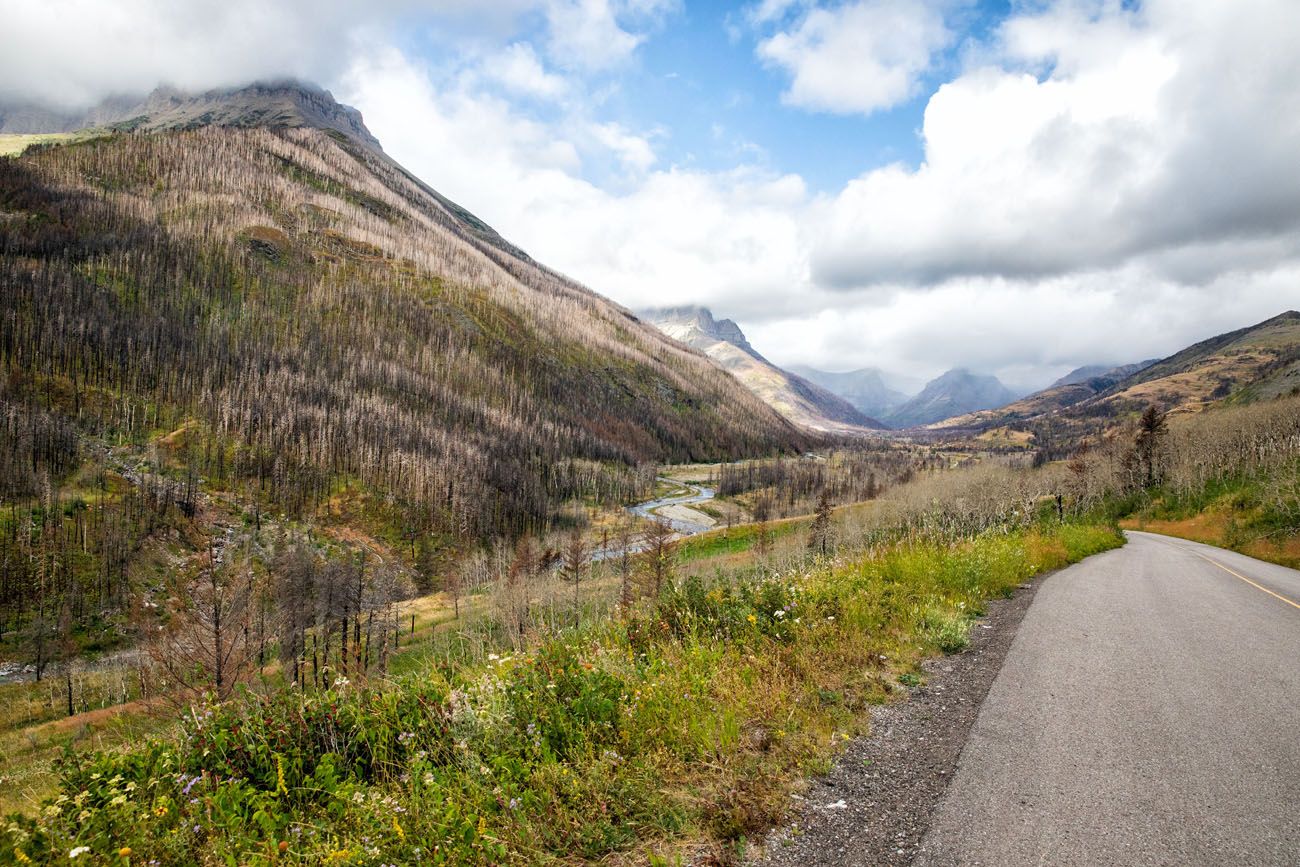 The road ends at Red Rock Canyon, a popular place to go swimming on hot summer days. From here, there are two hiking trails, the Blakiston Valley Trail and the Snowshoe Trail, which can be joined together as a big day hike.
It takes anywhere from 2 to 4 hours to cycle out and back on Red Rock Parkway, depending on your speed. You can also add on hikes to Crandell Lake (2.4 miles round trip) or Blakiston Falls (1.2 miles round trip) along the way.
Akamina Parkway
Similar to Red Rock Parkway, this is a paved road that cuts through the park. This is typically open for cars, however, during our visit in 2019, it was only open to bikes.
Kootenai Brown Trail
This multi-use pathway runs from the town of Waterton towards the main entrance. It's a narrow, paved path that runs alongside Route 5. If you rent bikes in town, you will cycle on this to get from town to the start of Red Rock Parkway.
PRO TRAVEL TIP: Make the quick detour to Driftwood Beach for a great view of the Prince of Wales Hotel. We have it marked on our map (below).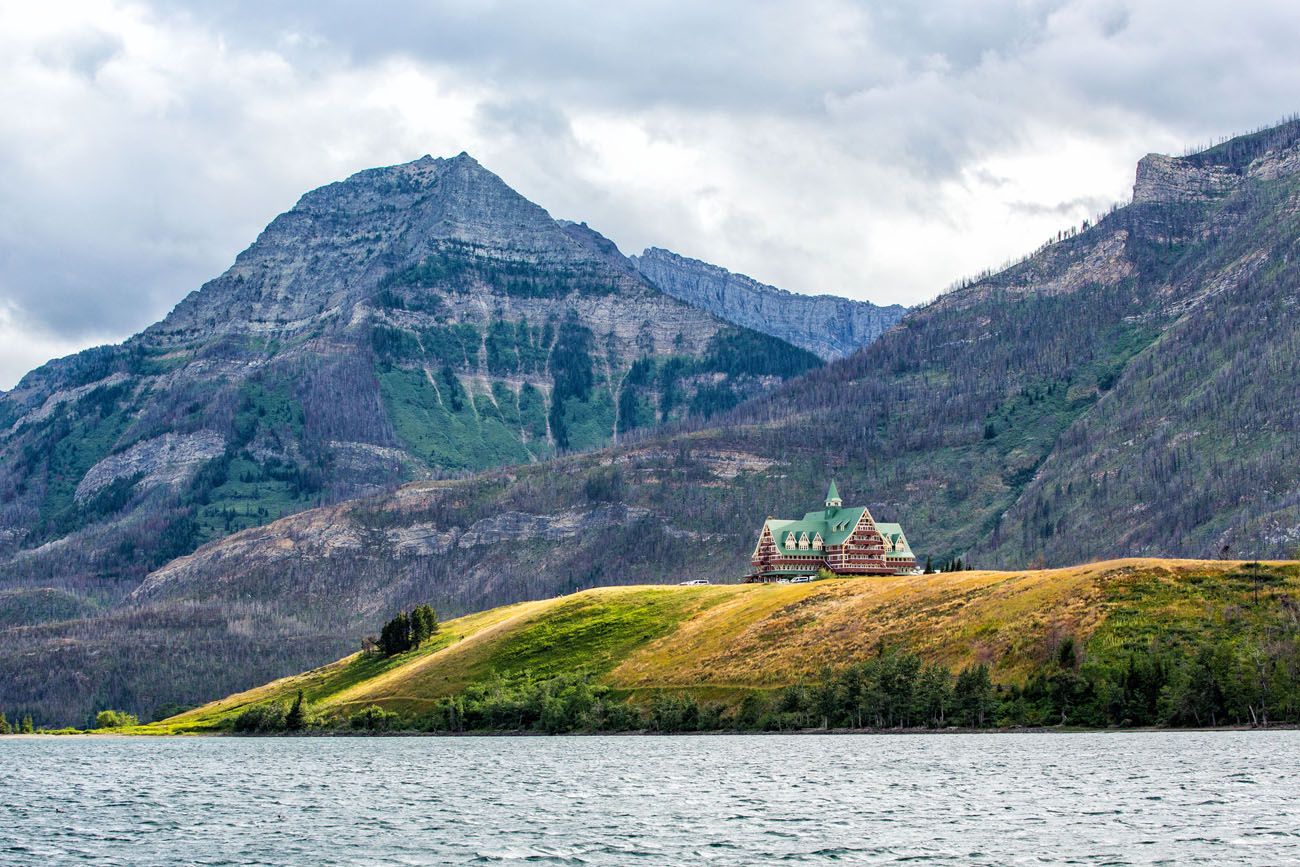 View from Driftwood Beach
Mountain Biking
There are five mountain bike trails in Waterton Lakes. When you rent your bike at Pat's, they will give you a map and can explain these trails to you.
Rent Bikes at Pat's Waterton Gas & Cycle Rental
In the town of Waterton, this small shop is part gas station, part convenience store, and part bicycle rental shop. They rent a variety of bikes, including mountain bikes, kid-sized bikes, and e-bikes. If you haven't cycled recently, I recommend renting an e-bike to help you get up some of the hills on Red Rock Parkway.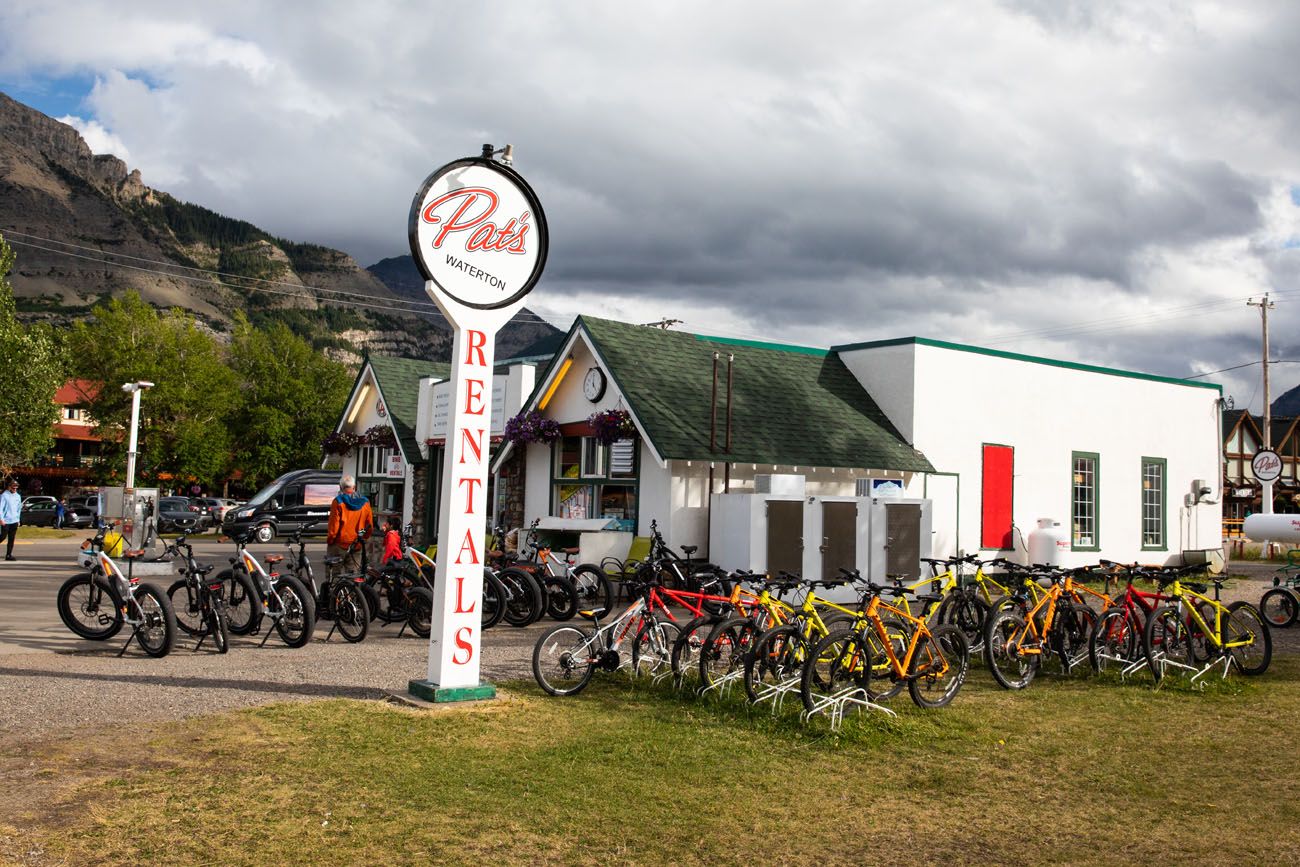 Pat's is located 4 km from the start of Red Rock Parkway. You get to test out your legs as you bike past the Prince of Wales Hotel, the first decent sized hill of the day.
Hike Bears Hump
Before our visit to Waterton, many people we spoke to recommended the hike to Bears Hump. It's a relatively short hike and your reward is an amazing view over the town of Waterton and the lakes. Unfortunately, it was still closed for restoration due to the Kenow fire during our visit.
This hike is 2.8 km (1.8 miles) round trip and takes about one hour of your time. It's a short, hefty climb up to the viewpoint but active kids should be able to handle this. If you are looking for a short, sweet hike to do in the park, this sounds like a good one.
While in Waterton Lakes National Park, please practice the seven principles of Leave No Trace: plan ahead, stay on the trail, pack out what you bring to the hiking trail, properly dispose of waste, leave areas as you found them, minimize campfire impacts, be considerate of other hikers, and do not approach or feed wildlife.
Cameron Falls
Cameron Falls is a beautiful waterfall located on the edge of town. It's quick and easy to visit, since you can drive right to it and park in the nearby parking lot.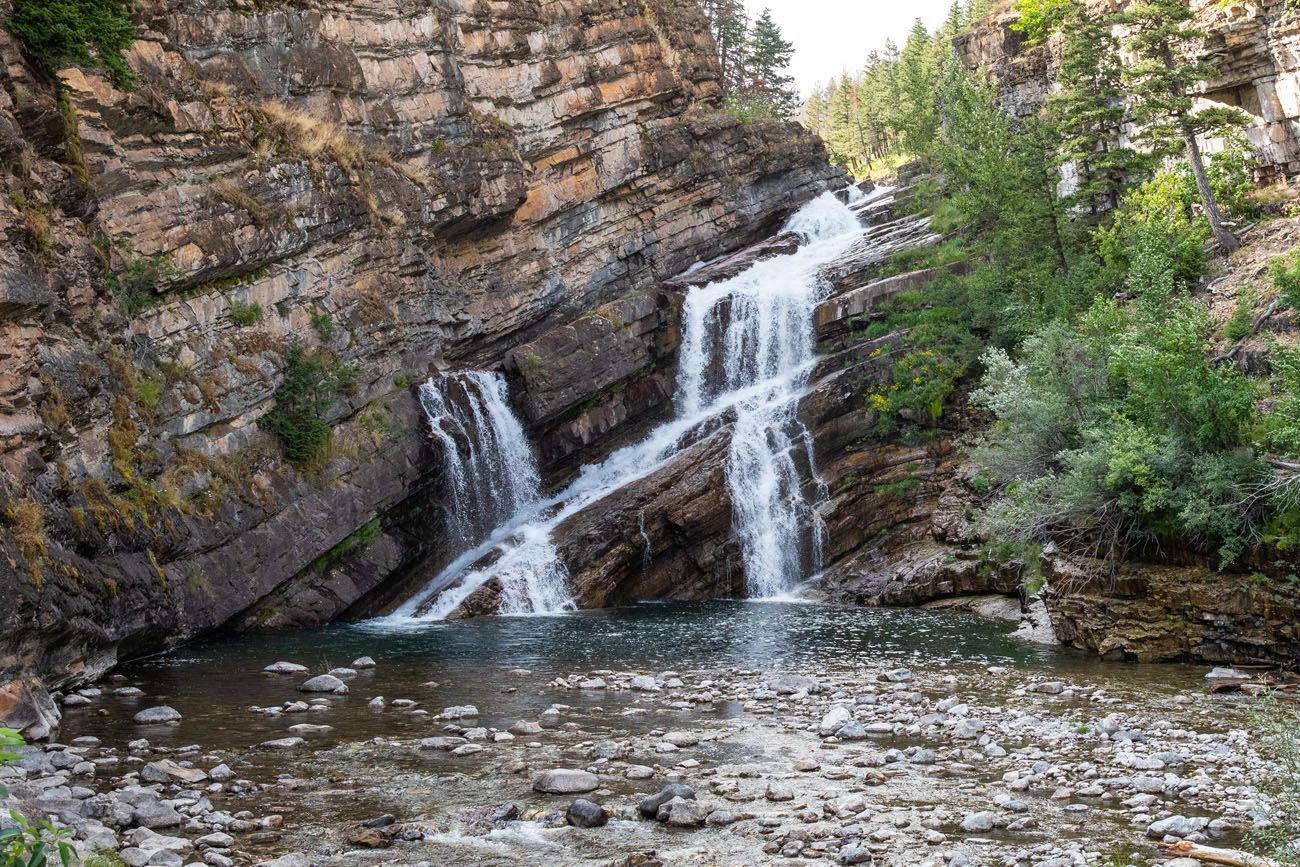 Hike to Bertha Falls
This hike is a bit longer than Bears Hump but it also provides stunning views over the park. The trail climbs up to a wonderful viewpoint over the park. Keep going to see Lower Bertha Falls. This is about 5 km (3 miles) round trip.
For those that want to go farther, continue along the trail to Bertha Lake or Bertha Peak.
---
For more hiking ideas in Waterton Lakes, visit the official Waterton Lakes National Park website.
---
Take a Boat Tour of Waterton Lakes
One of the best things to do at Waterton Lakes is to get out onto the lake. Cruises leave several times per day and last approximately 2 hours.
On this cruise, you cross the border between Canada and the United States, with a quick stop in Goat Haunt in Glacier National Park. Along the way, your guide fills you in with lots of interesting facts about Waterton, the International Peace Park, and the Kenow wildfire. It's educational, it's interesting, and it's a beautiful way to spend two hours in the park.
The 10 am photographic cruise is the best time for photography.
The 7 pm Evening Wildlife Cruise is the best time to spot wildlife. This cruise is only offered from the end of June to the end of August.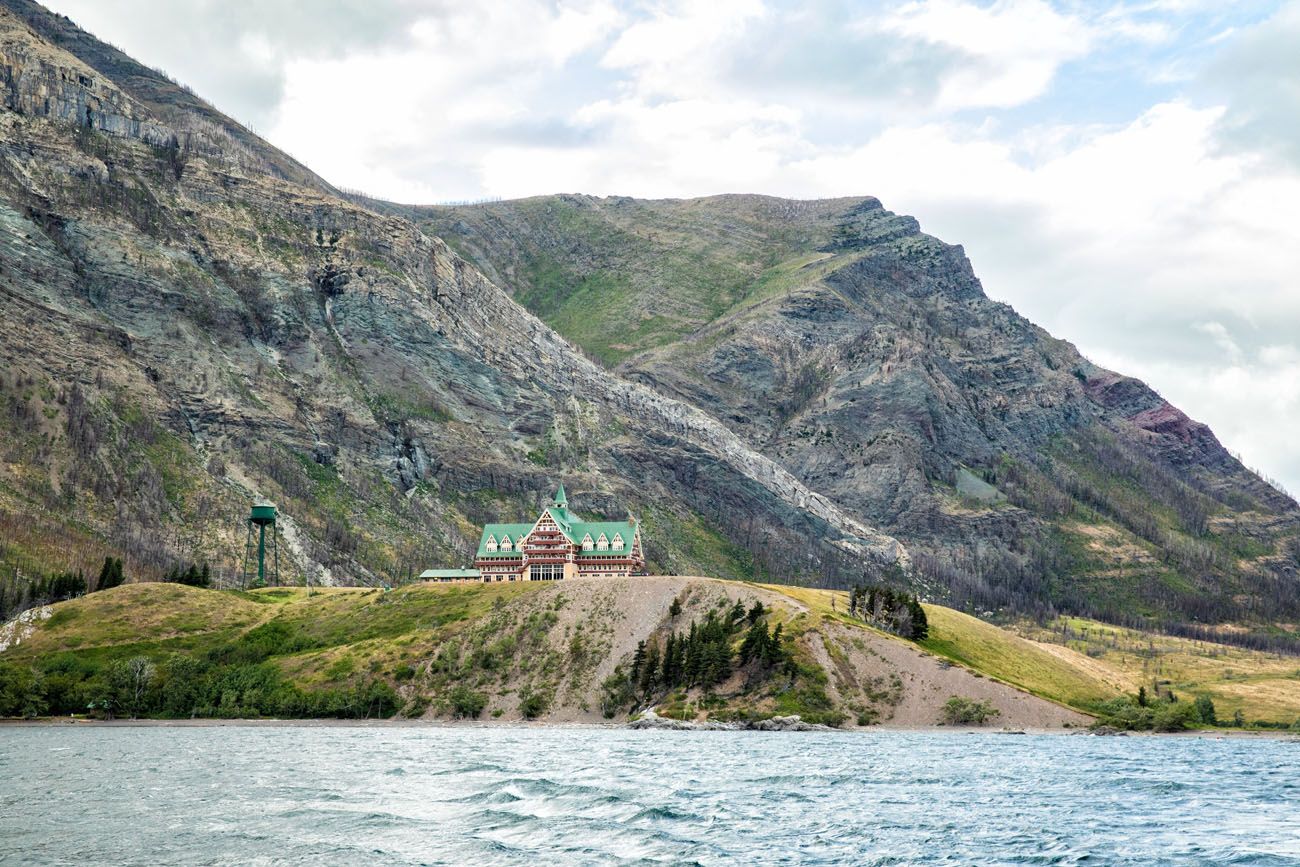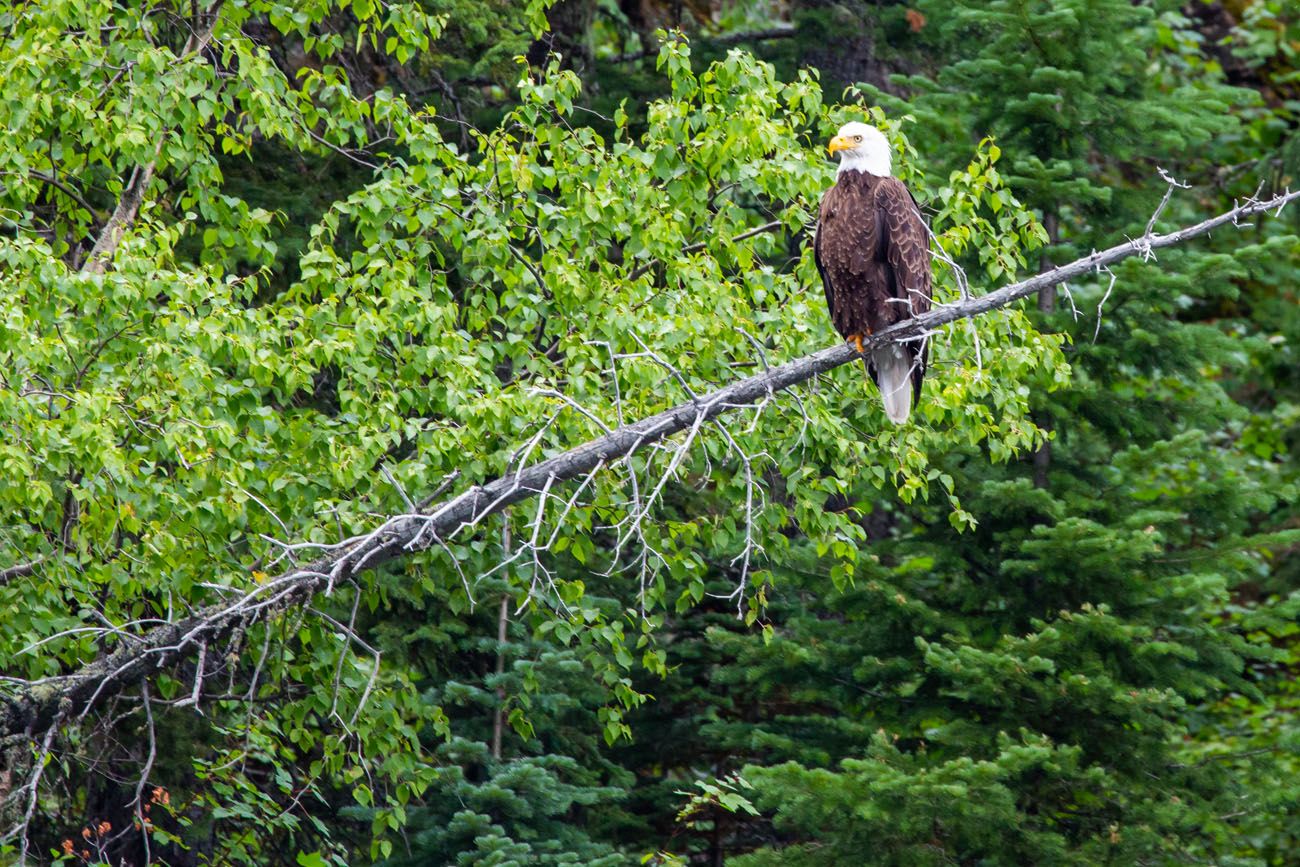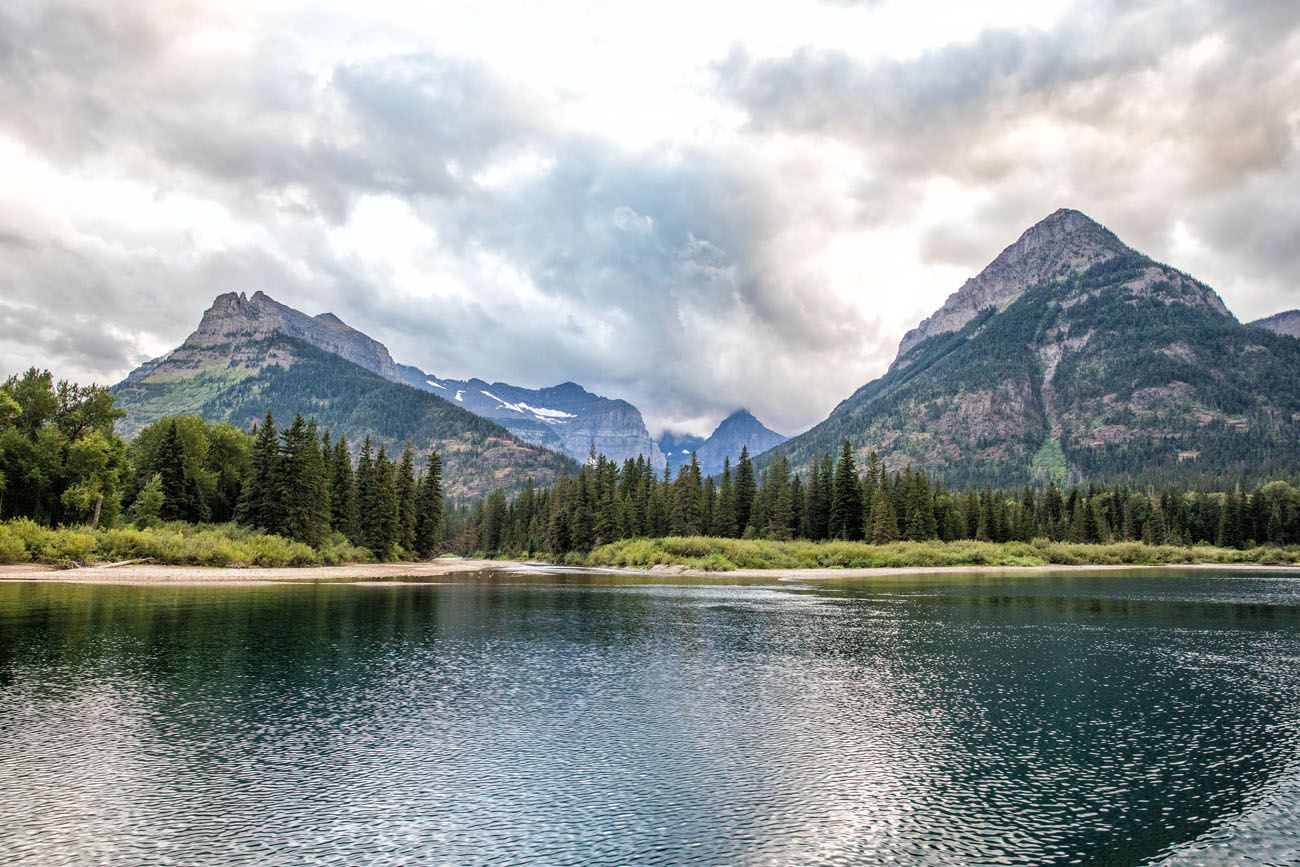 Goat Haunt
We took the 7 pm wildlife cruise. We saw bald eagles and other birds but we weren't lucky enough to spot black bear. Even without seeing a lot of wildlife, Kara and I really enjoyed this. Only a handful of people were on our cruise, our guide was very knowledgeable, and this is a nice, low-key activity to do at the end of the day.
Tickets & Pricing
Cruises are run by Waterton Shoreline Cruise Company. Tickets cost $60 CAD for people 13 years and older and $30 CAD for youths aged 0 to 12.
Click here for updated pricing and the hours of operation.
We bought our tickets the same day and there were plenty of available tickets for the 7 pm wildlife cruise. However, the 1 pm and 4 pm cruises were completely filled. We did this on a Monday in early August.
Hike to Crypt Lake
National Geographic has called the Crypt Lake Hike one of the world's most thrilling trails. This hike features a boat ride on Upper Waterton Lake, 4 waterfalls, a passage through a mountain tunnel, a section of trail where you hike along a cliff, holding onto chains, and then a walk around beautiful Crypt Lake.
This is an 18 km (11 mile) hike with 700 meters (2,300 feet) of elevation gain, so it's a strenuous day hike.
In order to do this hike, you will take the boat shuttle across Upper Waterton Lake. During the summer months in 2021, boats depart Waterton at 8:30 am and 9:00 am daily. To return to Waterton, boats depart Crypt Landing at 4:00 pm and 5:30 pm. Round trip tickets cost $30 CAD.
Click here for updated hours and pricing.
Have Afternoon Tea at the Prince of Wales Hotel
This is not your typical national park activity.
Every day from 1 pm to 5 pm, afternoon tea is offered in the lobby of the Prince of Wales Hotel. While you sip on tea and dine on scones and cakes and tiny sandwiches, enjoy beautiful views across Upper Waterton Lake.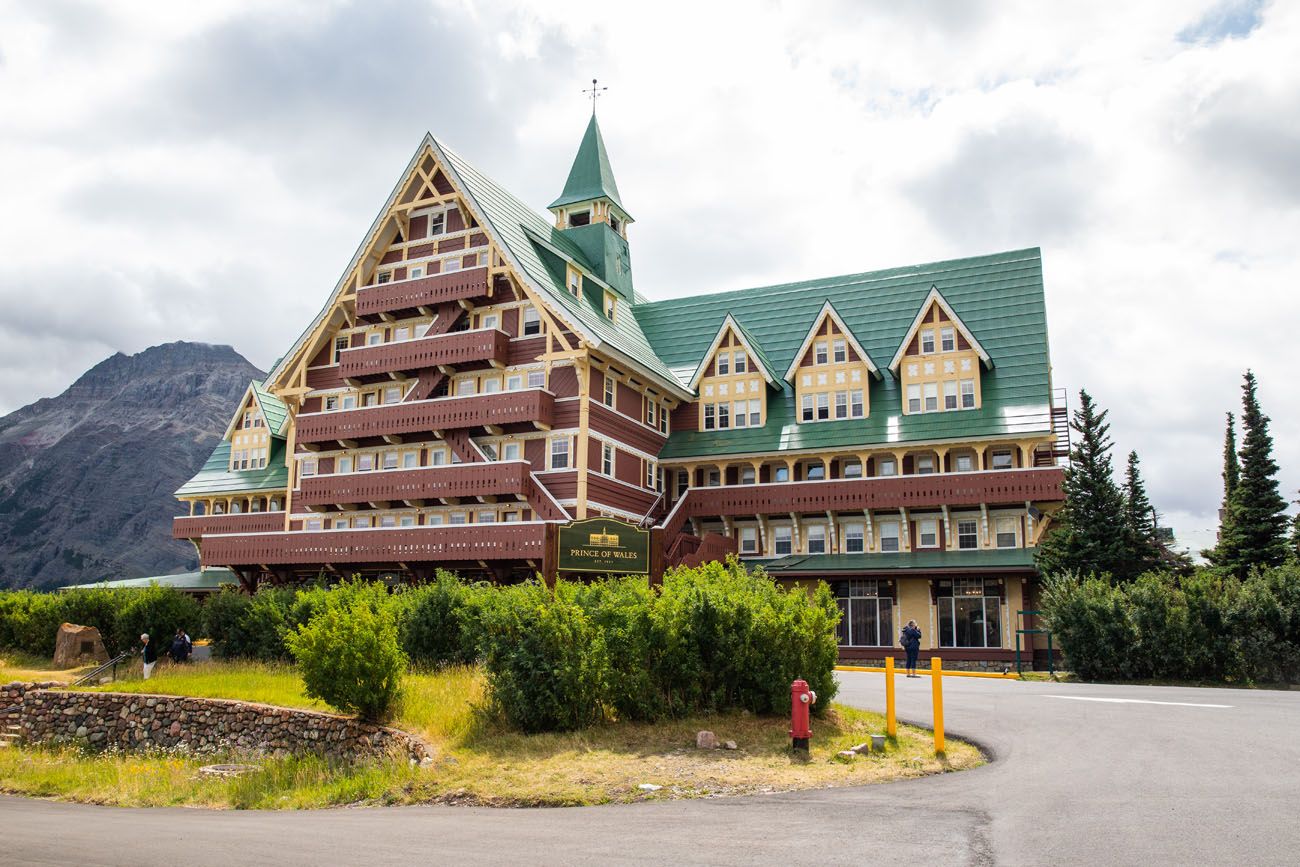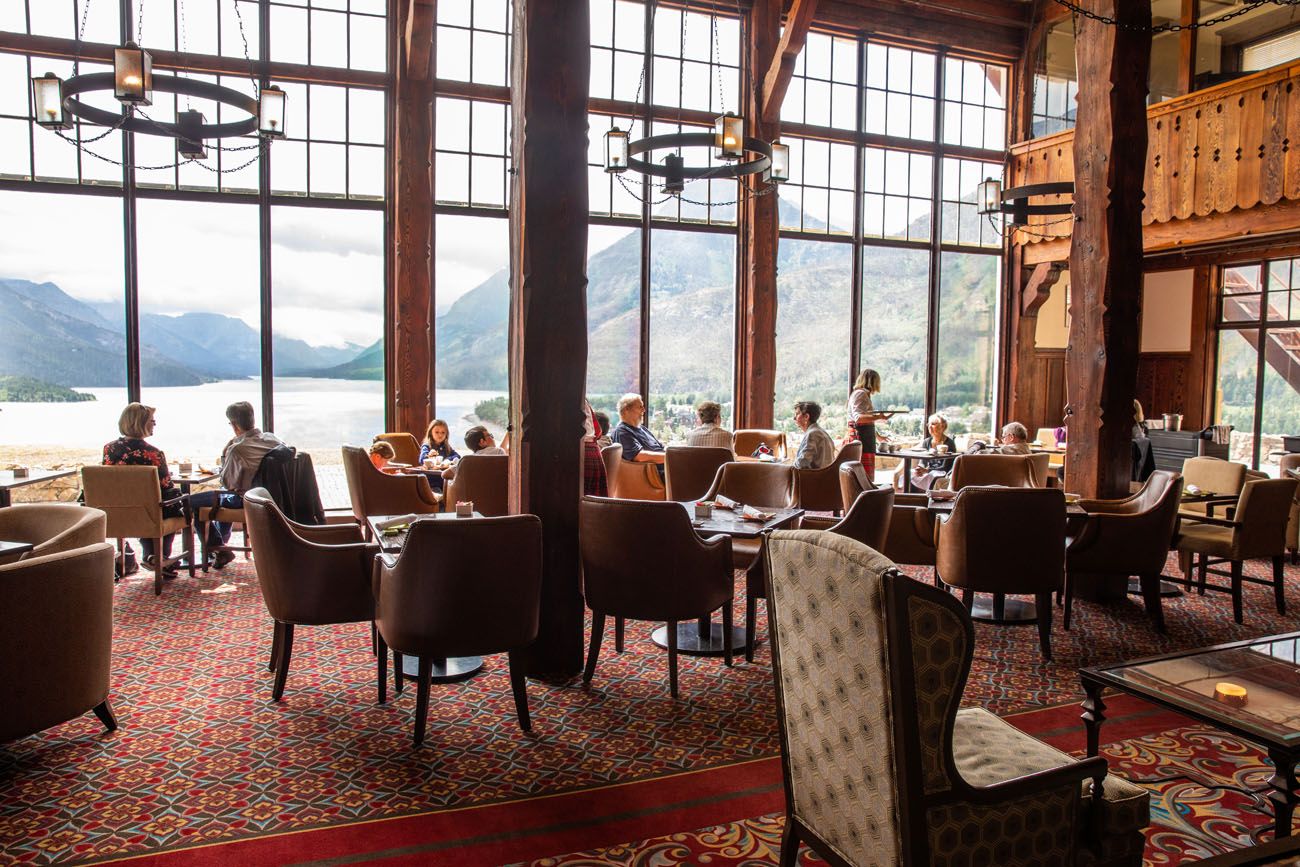 This costs $33 CAD for adults and $18 CAD for children.
Explore the Town of Waterton
The town of Waterton sits within Waterton Lakes National Park. This small town is filled with restaurants, boutique shops, and beautiful houses. Deer and bighorn sheep frequently make appearances in town.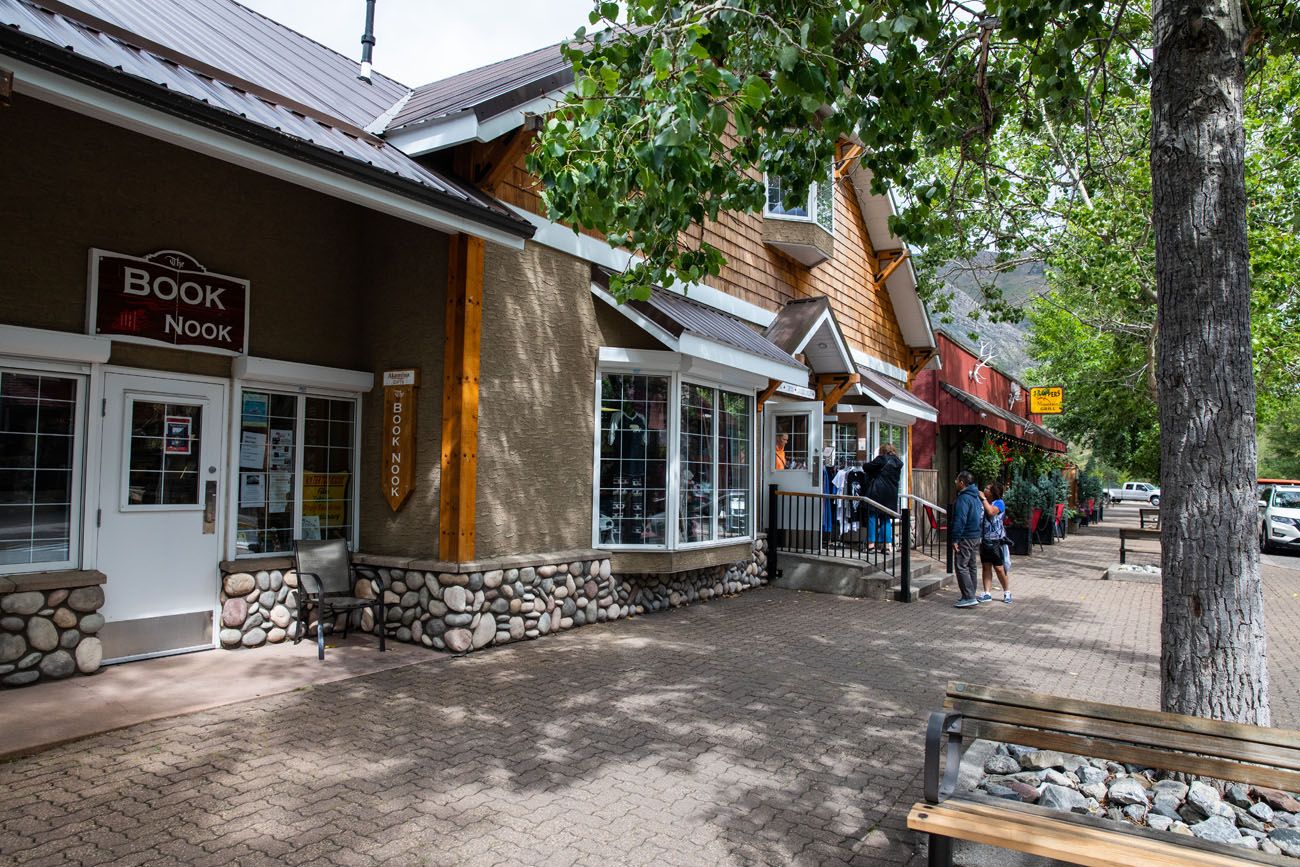 Go Stargazing
Waterton Lakes National Park is recognized by the International Dark-Sky Association as a Dark Sky Park.
The best places in the park for dark sky viewing are Red Rock Parkway, Cameron Bay, and the Bison Paddock overlook.
Go Canoeing, Kayaking, or SUP on the Lake
If it is a hot summer day, get out on the lake and go kayaking, canoeing, or stand-up paddle boarding.
You can rent equipment at Blakiston and Company in the town of Waterton.
See Them All on a Map
How to Use This Map: Click the tab in the top left hand corner of the map to view the layers (best things to do, where to stay, where to eat, and border crossings). You can click the check marks to hide or show layers. If you click the icons on the map, you can get more information about each point of interest.

If you click the star next to the title of the map, this map will be added to your Google Maps account. To view it on your phone or computer, open Google Maps, click the menu button, go to "Your Places," click Maps, and you will see this map on your list.
Planning Your Trip to Waterton Lakes
How to Get Here
From Glacier National Park
From Glacier National Park, there are two border crossings into Canada and the best one depends on the time of year you are visiting.
The Chief Mountain port of entry is open from May 15 to September 30. Hours vary but in the peak of summer they are from 7 am to 10 pm. If you are driving to Waterton Lakes from Glacier National Park, this is the closer of the two border crossings. Click here for updated hours.
The Carway port of entry is open year-round from 7 am to 11 pm, but it will be a longer drive to go through this border crossing. Get updated hours here.
During the summer months, take route 89 north from St. Mary and turn left onto Chief Mountain Highway (route 17). Chief Mountain Highway winds its way through the forest where you need to be on the lookout for deer, elk, bear, and bighorn sheep. Both times we did this drive, there was a giant herd of cows on the roadway. Cross the border into Canada and follow signs to Waterton. It takes roughly one hour to drive from St. Mary to the town of Waterton.
During the remainder of the year, take route 89 north to the border, and once in Canada, take route 2 and then route 5 to get to Waterton Lakes National Park. This takes one hour and twenty minutes.
From Other Parts of Canada
In Canada, Calgary is the closest airport, which is 270 km away (about a 3-hour drive). If you are driving down from Banff National Park, it is a 370 km drive and takes 4.25 hours.
Park Fees and Hours of Operation
Waterton Lakes National Park is open year-round. During the fall and winter months, the entrance gate has variable hours of operation, which you can get here.
Park Fees: $10 CAD for an adult and $20 CAD for families.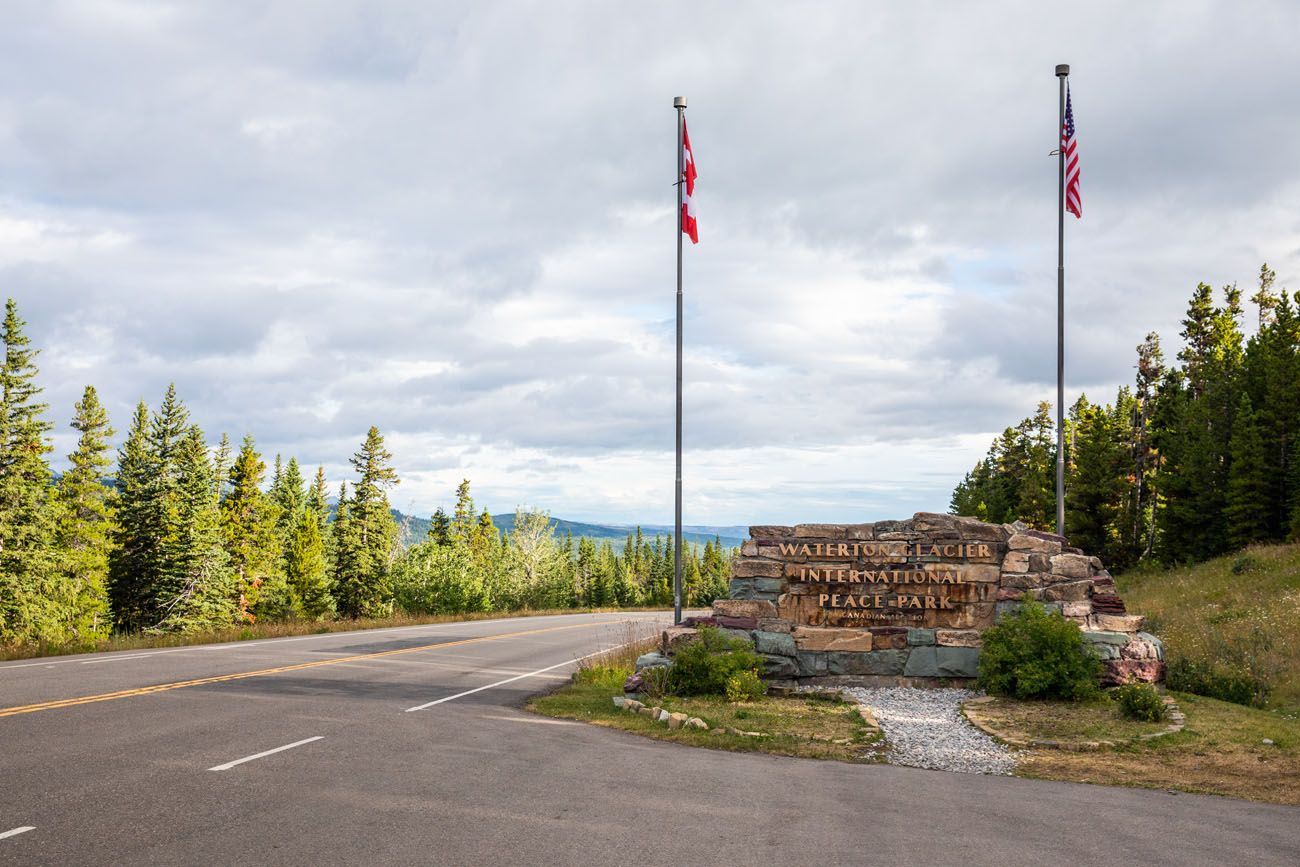 Best Time to Visit Waterton Lakes
Summer is peak season at Waterton Lakes. The weather is generally warm and sunny with cooler nights. Weekends can get very busy so expect big crowds on the hiking trails and the boat tours. Make your hotel reservations in advance and try to get an early start in the day.
We visited Waterton Lakes in early August. Compared to Glacier National Park, Waterton Lakes felt wonderfully empty, but maybe we just visited on a quieter than normal day.
Spring is the best time to see wildflowers in the park.
Fall is the best time to spot wildlife. This is the mating season for elk, deer, and bighorn sheep and the time when birds migrate through the park.
The park is covered with snow during the winter months, making this a haven for skiers and snowshoers.
How to Plan Your Time
Day Trip from Glacier
Waterton Lakes can be visited as a day trip from Glacier. If you are interested in doing this, it is best to stay in Many Glacier, St. Mary, or Babb, in order to minimize your driving time. Check the hours of operation for the border before you go (both opening and closing hours). To maximize your time, plan to cross the border as early as possible, so you have a full day in the park.
With one day, you have enough time to do a boat cruise, rent bikes for a few hours, explore the town or go on a short hike, and have afternoon tea at the Prince of Wales Hotel.
24 Hours in Waterton Lakes
An overnight stay lets you do more without feeling rushed. Arrive at Waterton Lakes as early as possible and spend the day doing your favorite things from what we have listed. Spend the night in the town of Waterton and the following day, continue on to your next destination.
This is what we did. Starting in Glacier National Park, we crossed the border at 7 am and spent one full day in Waterton Lakes. Kara and I biked Red Rock Parkway, explored the town of Waterton, had afternoon tea, saw Cameron Falls, and went on the 7 pm wildlife boat cruise. We spent one night at Northland Lodge and early the next morning drove back to Glacier.
Two or More Days in Waterton Lakes
Two or more days is perfect if you want to go cycling and hiking in the park. Spend one day hiking Crypt Lake and your second day biking along the Red Rock Parkway, going on a boat cruise, kayaking, having afternoon tea, or exploring the town of Waterton.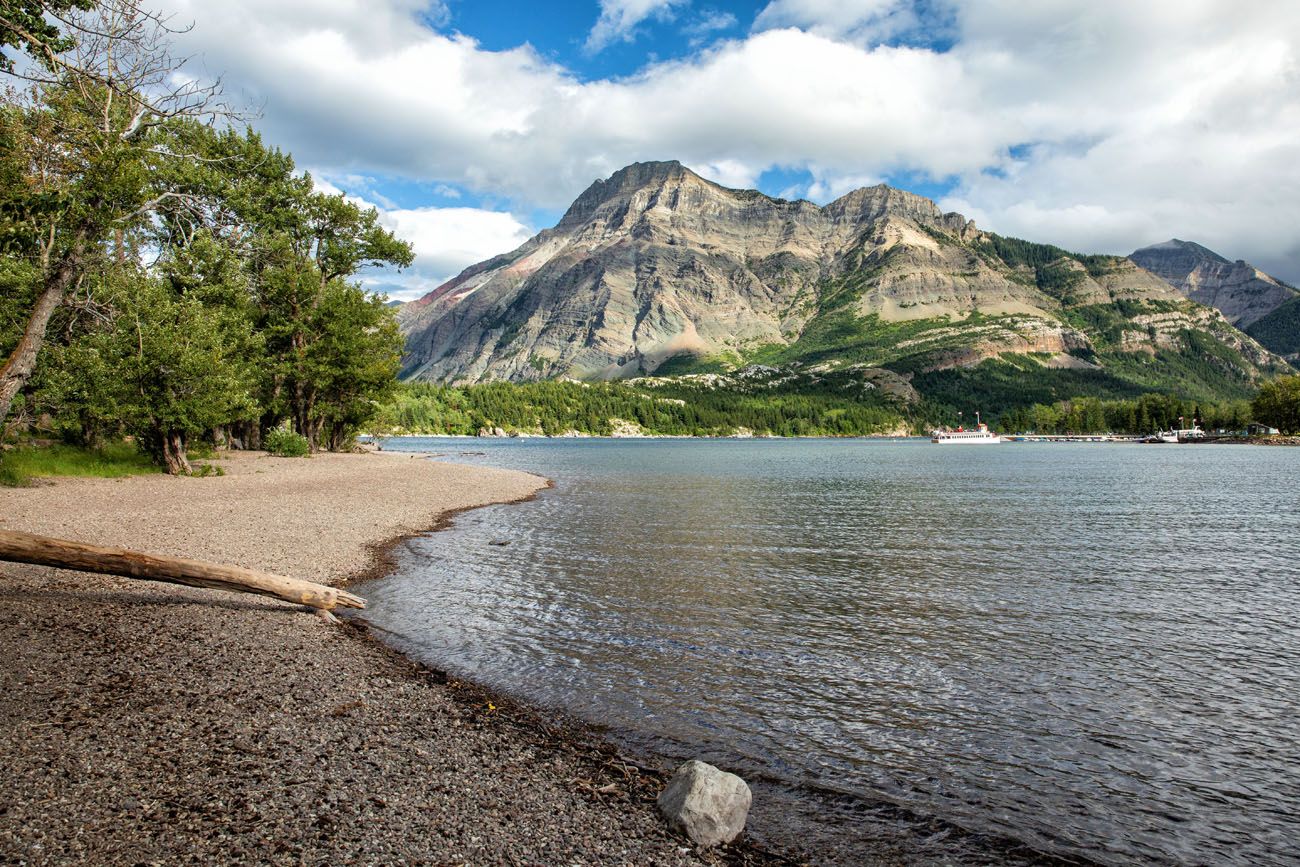 Upper Waterton Lake
Where to Eat
Wieners of Waterton. This busy restaurant serves delicious hot dogs at reasonable prices. It is located right next to the harbor, so it makes a great lunch spot or place to get a midday snack, before or after taking a boat cruise.
The Lakeside Chophouse is an upscale restaurant with decent food. Prices are a bit expensive but they offer a wide range of dishes on their menu.
Thirsty Bear Kitchen and Bar also gets great reviews. This brew pub serves craft beers, burgers, and French fries.
Where to Stay
Northland Lodge. This is where we stayed and we had a nice experience. This is basically a bed and breakfast and you will stay in a bedroom in an older house. It's nothing fancy, but rooms are clean and quiet and breakfast is included. The Wi-Fi works well. Kara and I stayed in a double room with two double beds and we had a private bath and lots of space. This property is located on the edge of town near Cameron Falls.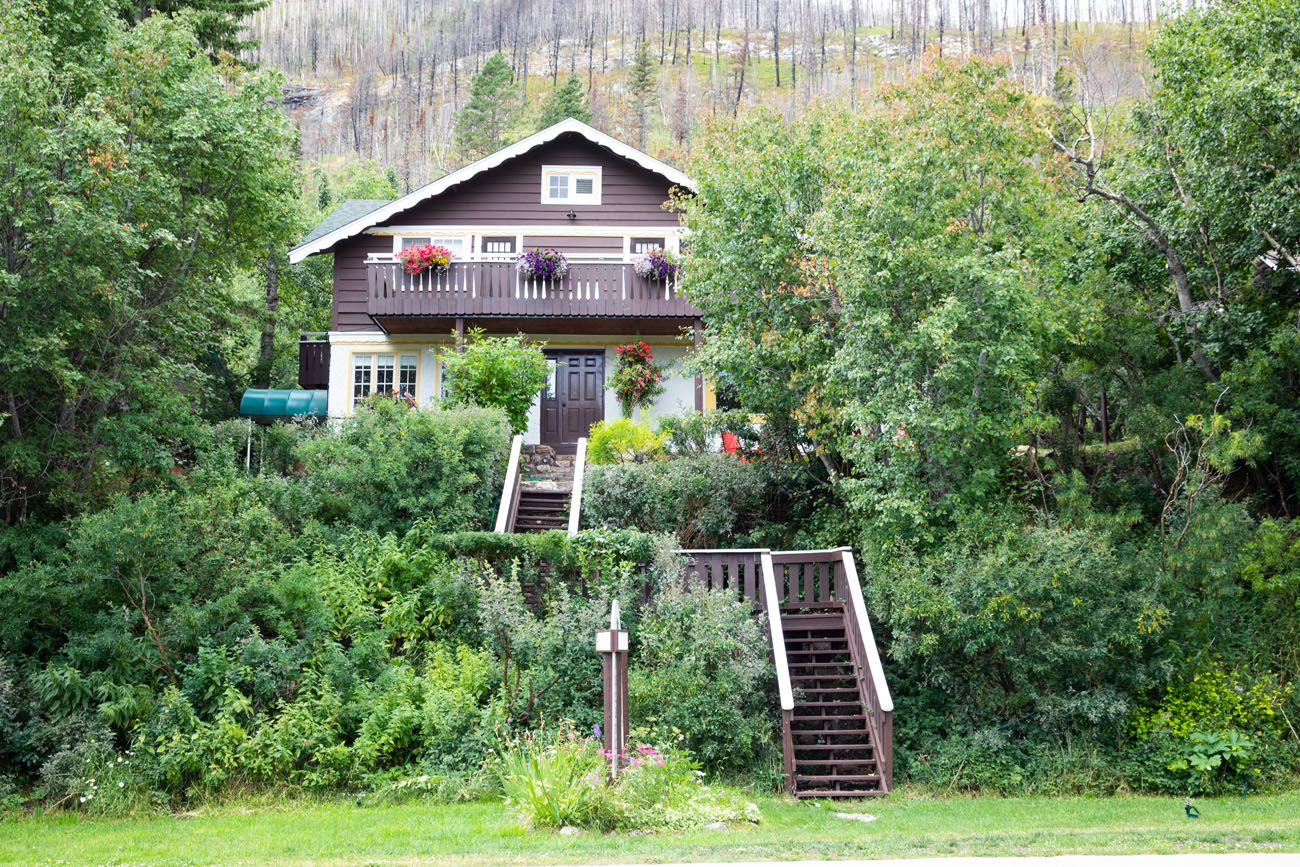 Waterton Glacier Suites. All rooms are suites and come with a fireplace, a small refrigerator, and a microwave. Some rooms offer separate living areas, so this is nice option if you plan to spend several nights in Waterton.
Prince of Wales Hotel. This historic hotel opened in 1927 and was named as a National Historic Site of Canada in 1992. It is a beautiful property, with a grand foyer and stunning views from the hotel rooms. Prices start at $240 per night.
Glacier National Park
If you also have plans to visit Glacier National Park, here are several articles to help you plan your trip.
For more information about Glacier National Park, read our Guide to Glacier National Park. Get important travel planning tips, sample itineraries, advice on when to go, where to stay, and more.
---
If you have any questions about Waterton Lakes National Park, or if you want to share your experience, comment below.
You Might Also Like:
Note: This post contains affiliate links. When you make a purchase using one of these affiliate links, we get paid a small commission at no extra cost to you.
All rights reserved © Earth Trekkers. Republishing this article and/or any of its contents (text, photography, etc.), in whole or in part, is strictly prohibited.