The hike to Grinnell Glacier is one of Glacier National Park's most beautiful hikes. This hike has it all…stunning alpine scenery, waterfalls, emerald green lakes, wildflowers, the chance to see wildlife, and of course, a glacier.
On this hike, we spotted moose, mountain goats, and bear. The wildlife sightings and the gorgeous scenery made this was one of our favorite experiences in Glacier National Park.
Here's how to do it.
Grinnell Glacier Hiking Stats
Distance: 10.6 miles
Elevation Gain: 1600 feet
Difficulty: Strenuous
Length of Time: 5 to 7 hours
When to Go: Mid-June through September, when the road to Many Glacier and the trail are free of snow.
Location: The Many Glacier area of Glacier National Park
Grinnell Glacier Elevation Profile of the round trip hike from the trailhead on Continental Divide Trail.
There are two ways to do this hike. The hiking stats listed above are for the round-trip hike from main trailhead on Continental Divide Trail.
You can shorten this hike by taking the boat across Swiftcurrent Lake and Lake Josephine. Taking the boat shaves off 3.4 miles, for a grand total of 7.2 miles of hiking. This is a great option if you are traveling with kids, want to add a scenic boat ride to the hike, or just don't like the idea of hiking over 10 miles.
In this article, I cover both ways to hike to Grinnell Glacier. First, learn what to expect along the trail, from the trailhead to Grinnell Glacier. Then, learn how to use the shuttle service across the lakes.
Please practice the seven principles of Leave No Trace: plan ahead, stay on the trail, pack out what you bring to the hiking trail, properly dispose of waste, leave areas as you found them, minimize campfire impacts, be considerate of other hikers, and do not approach or feed wildlife.
How to Hike to Grinnell Glacier
Step-By-Step Trail Guide
Getting to the Trailhead
The Grinnell Glacier trailhead is located on Continental Divide Trail, the road that connects the Many Glacier Hotel with Swiftcurrent Motor Inn and the Many Glacier Campground. On Google Maps, it is labeled "Grinnell Glacier Trailhead."
There is a small parking lot here. Get here early (before 8 am although even earlier is better) to ensure that you get a spot. If you can't get a parking spot, you will either have to park along Continental Divide Trail or at one of the lodges and walk to the trailhead. This could add on quite a bit of mileage and time to your day.
PRO TRAVEL TIP: If you are day tripping to Many Glacier, you will need a timed entry ticket in the summer months. Get the full details on the National Park website.
From the Trailhead to Lake Josephine
For those of you planning to take the shuttle boats, this is the section of trail that you will skip.
From the trailhead, it is a 2.1 mile walk to get to the far end of Josephine Lake. It is a mostly flat walk so it goes by fast. For the most part, you walk through a pine forest with nice views of both lakes. This is not the most exciting walk, so if you choose to take the boat shuttles, you really are not missing out on much. However, we did see moose from this part of the trail.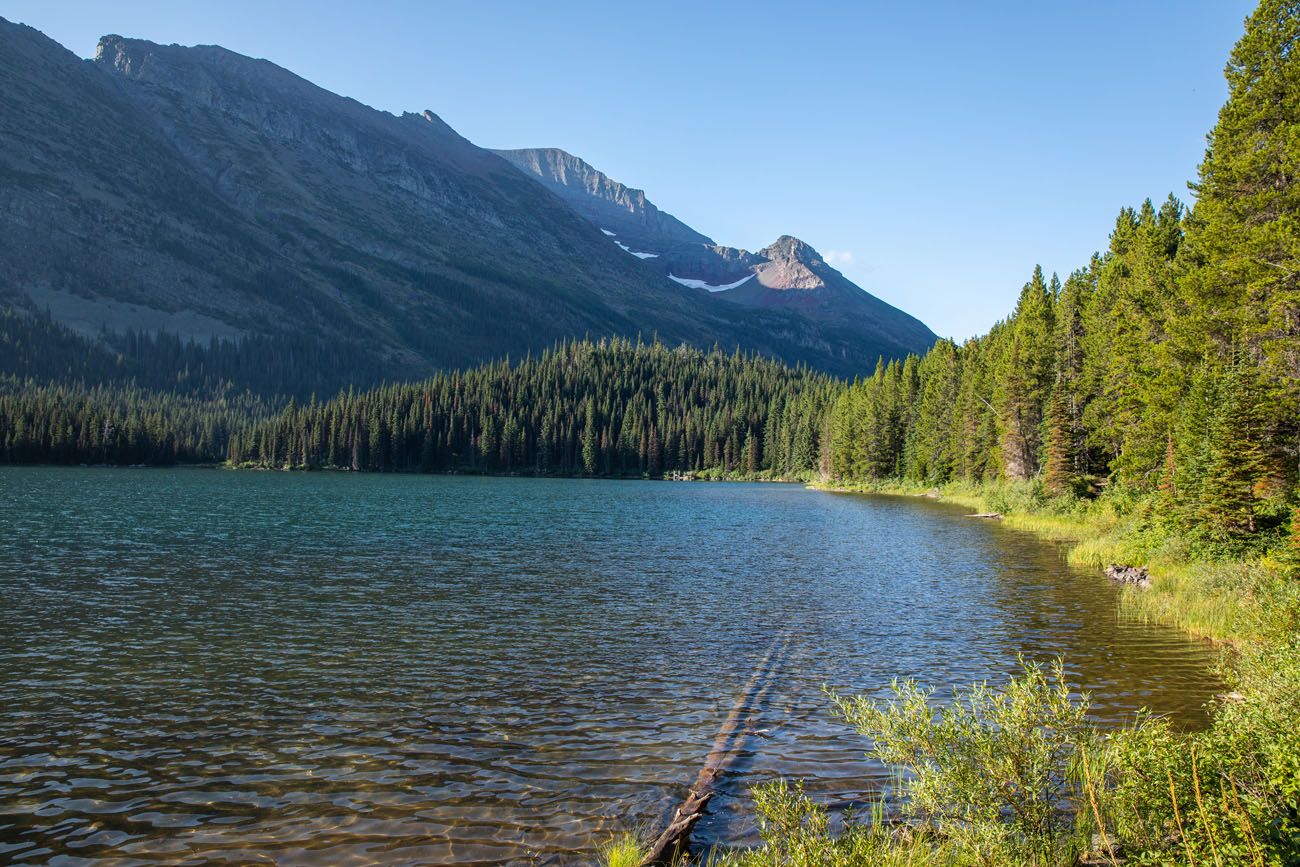 Swiftcurrent Lake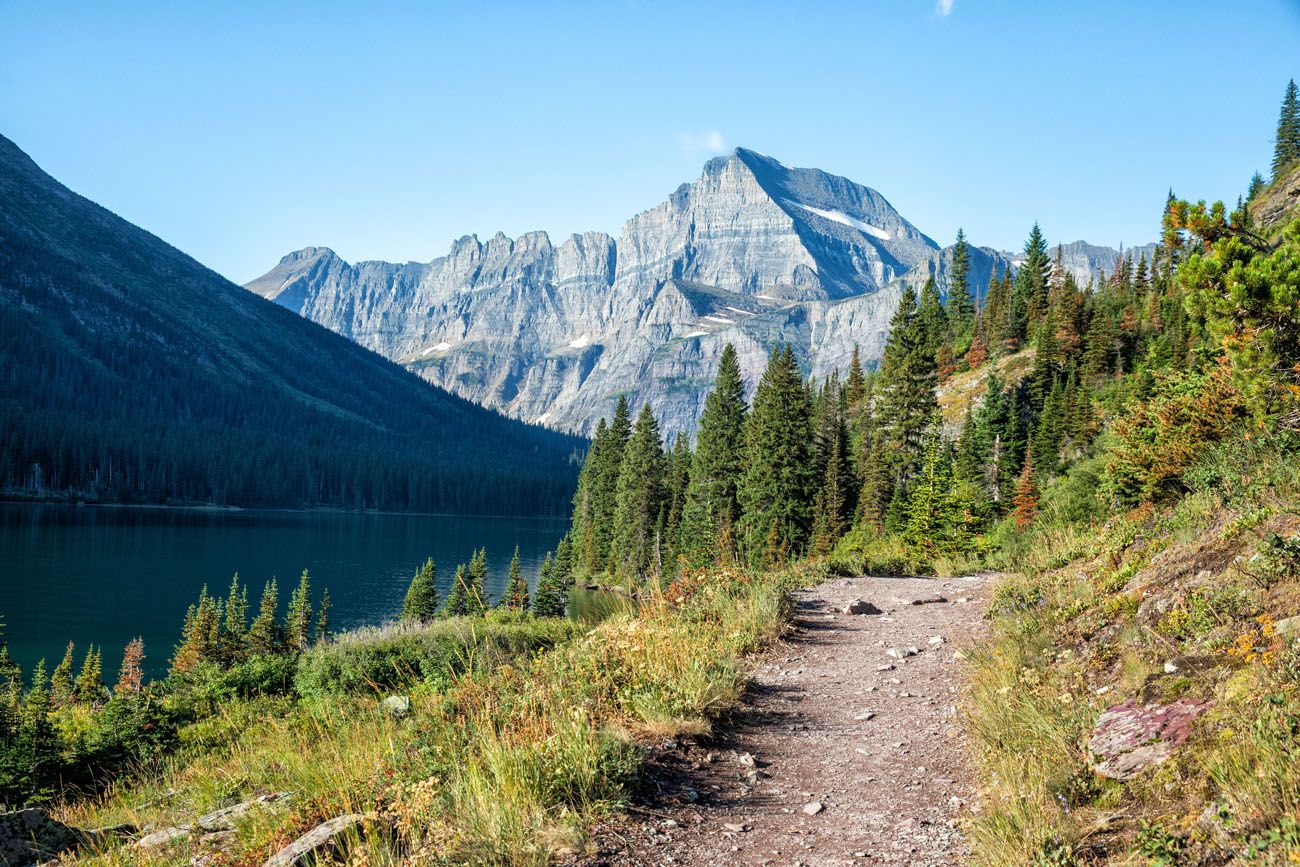 The trail along Lake Josephine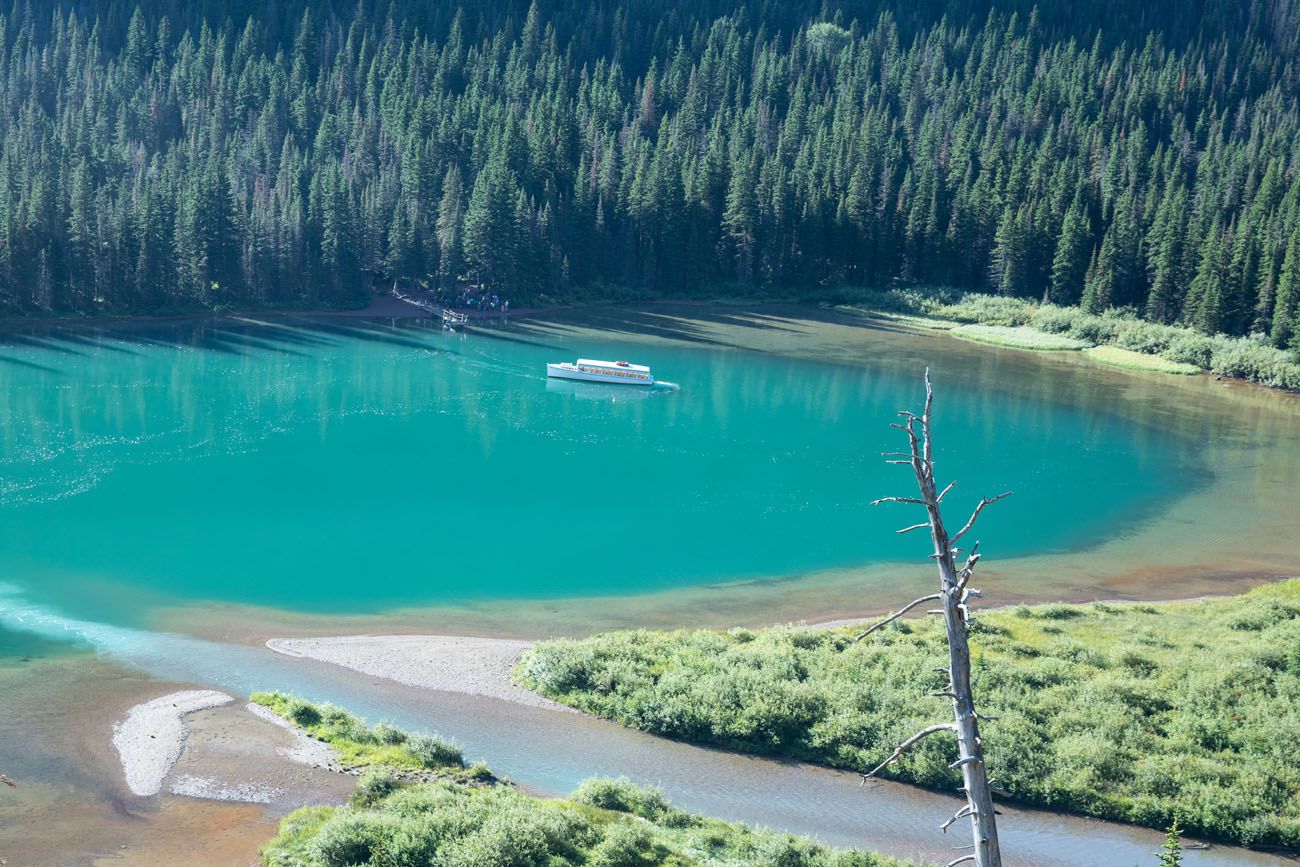 The view of Lake Josephine and the boat shuttle from the hiking trail.
Lake Josephine to Grinnell Glacier
The main trail and the trail from the Lake Josephine boat dock join up at the far end (the western end) of Lake Josephine. This is where the climbing begins and the views really start to get good.
It's just over 3 miles, one way, to Grinnell Glacier from this point. Three gorgeous miles.
From Lake Josephine, it is a steady, uphill walk to Grinnell Glacier. The higher you go, the more the views open up. On a clear day, this hike is literally jaw-dropping. You stop to take a photo, walk another twenty feet, and stop again. Just when you think the view can't get any better, somehow, it does.
Here is the trail in photos.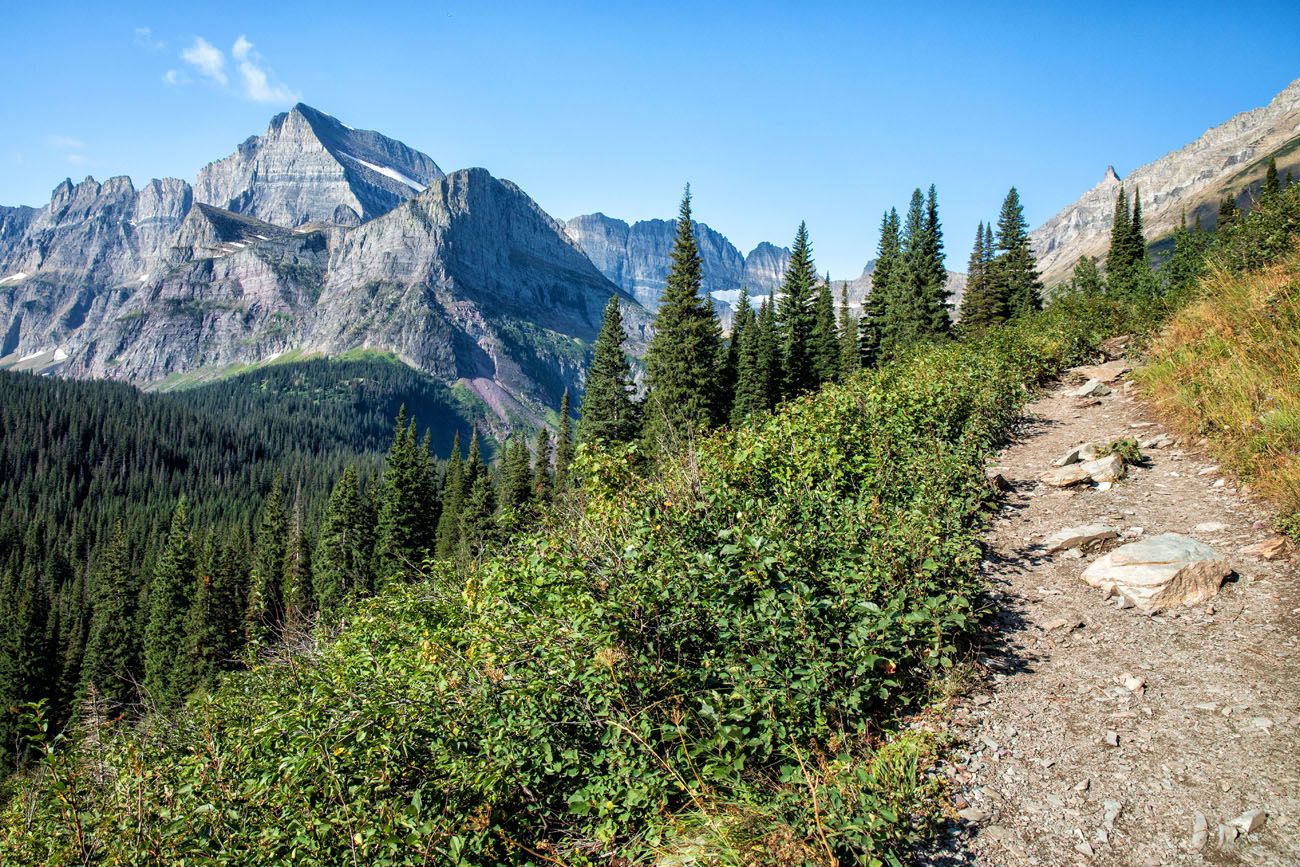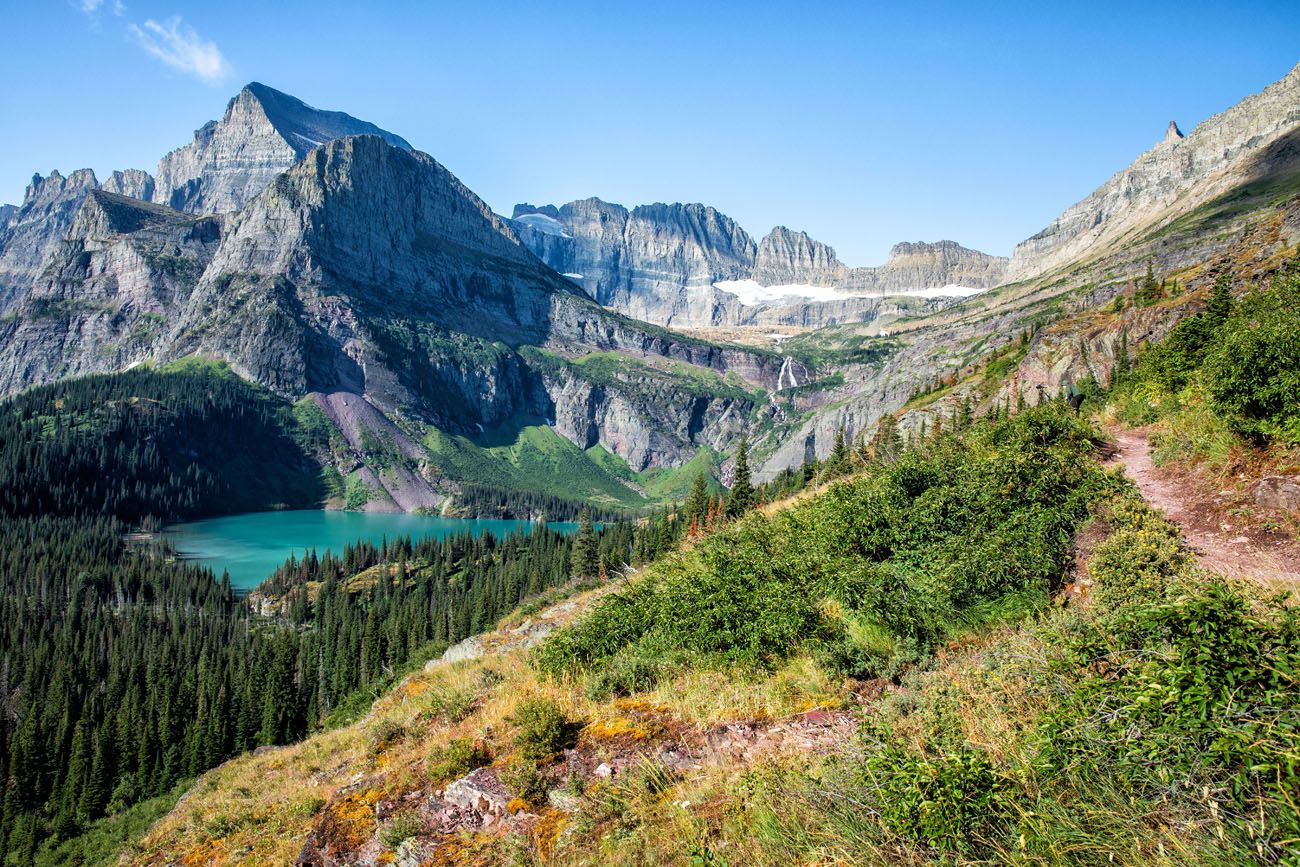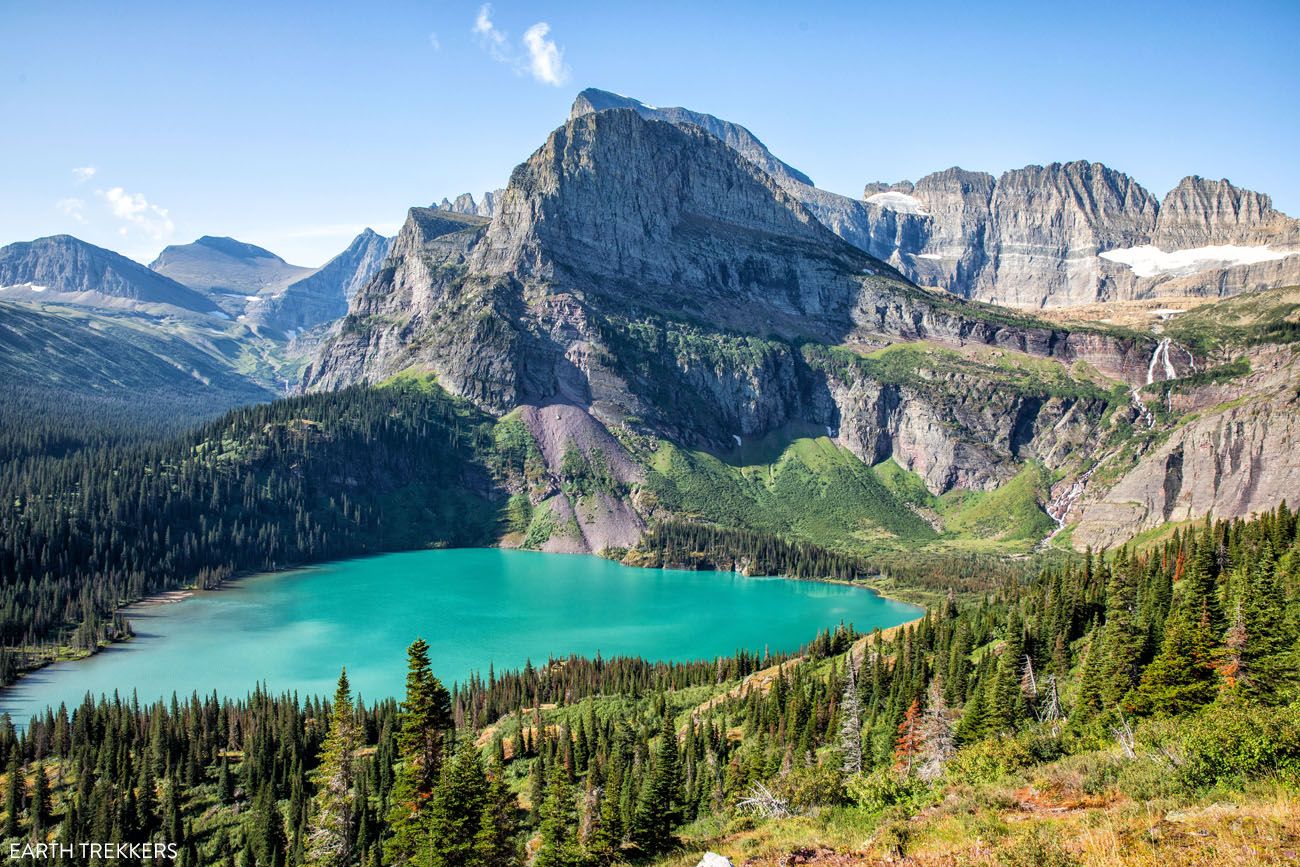 Hiking up alongside this waterfall is the "trickiest" part of the hike. It's not so bad going up, but coming back down, it can be slippery.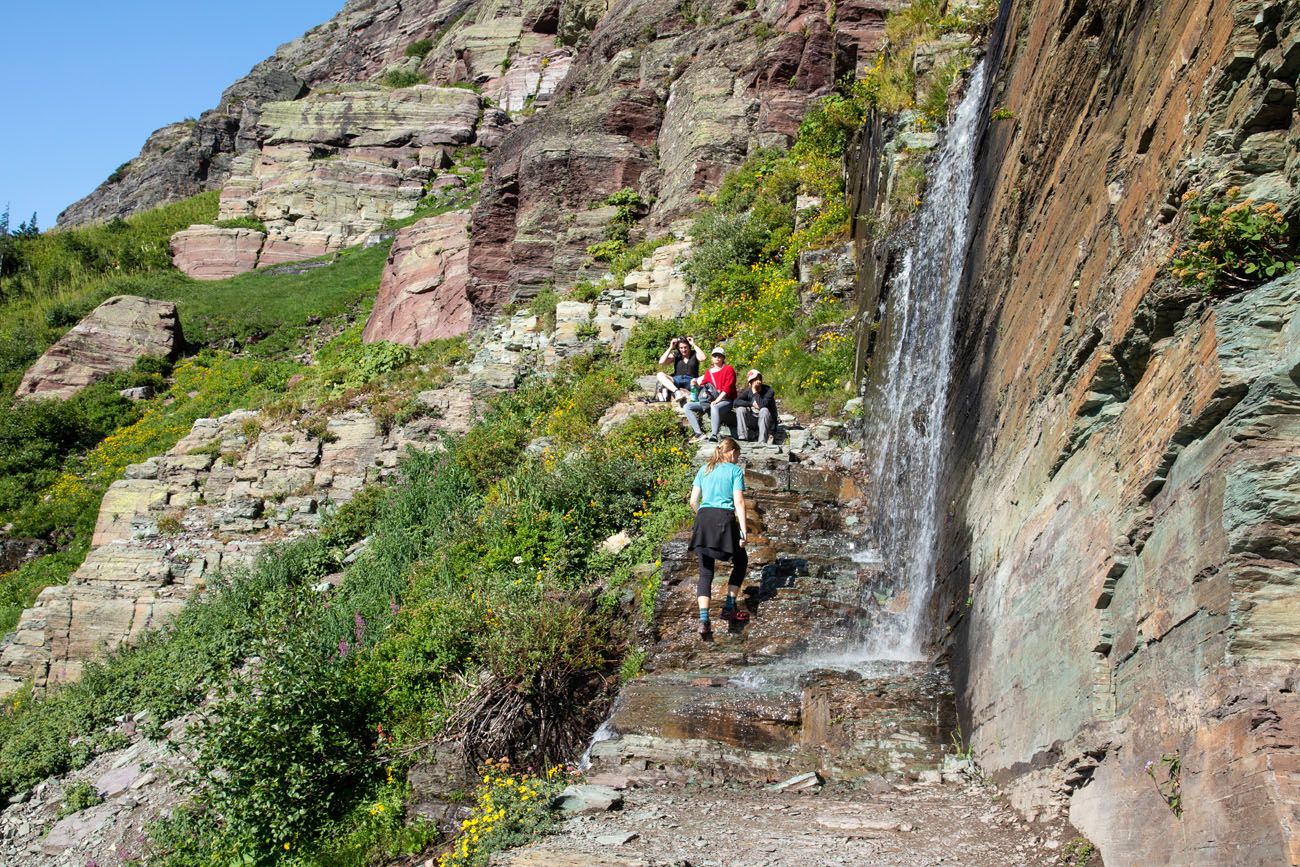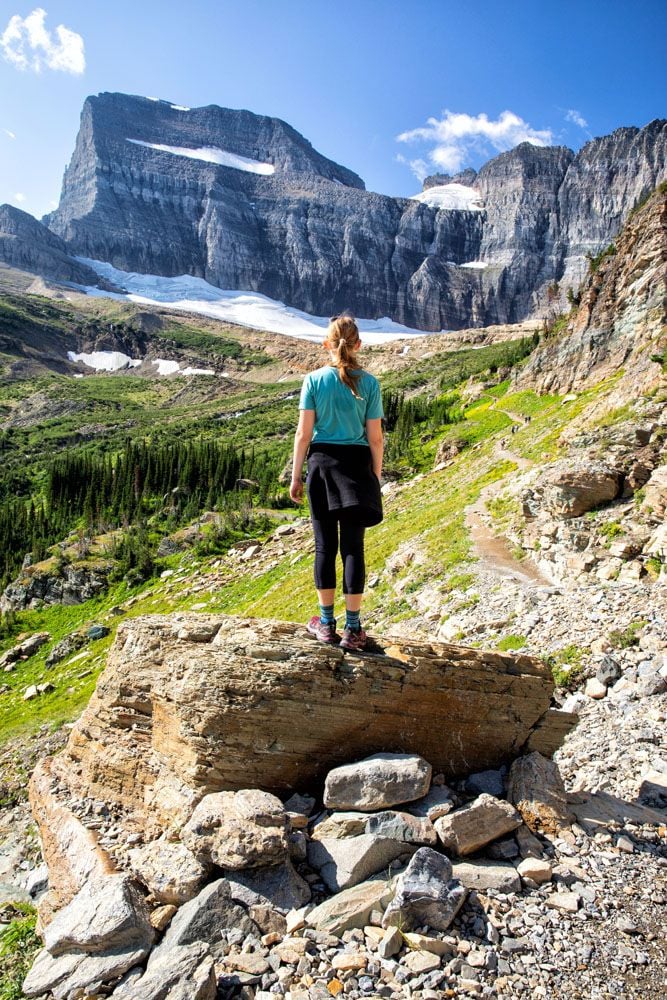 The steepest part of the hike comes right before you get to Grinnell Glacier. You'll climb several sections of staircases made of giant rocks and boulders. But once you get to the top, it's a short walk to the Grinnell Glacier viewpoint.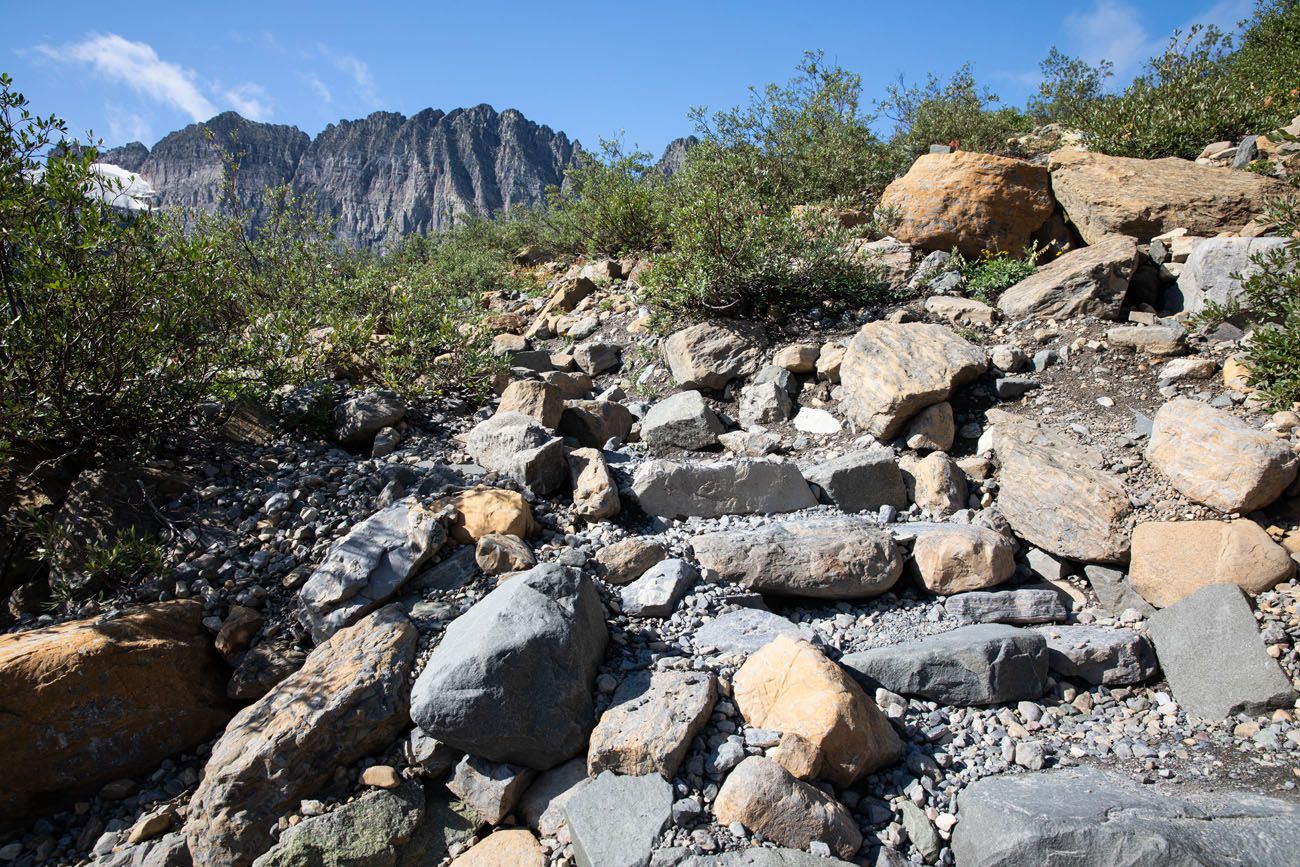 Once at the lake, enjoy the view. This is a great spot for a picnic (just pack out everything you bring in).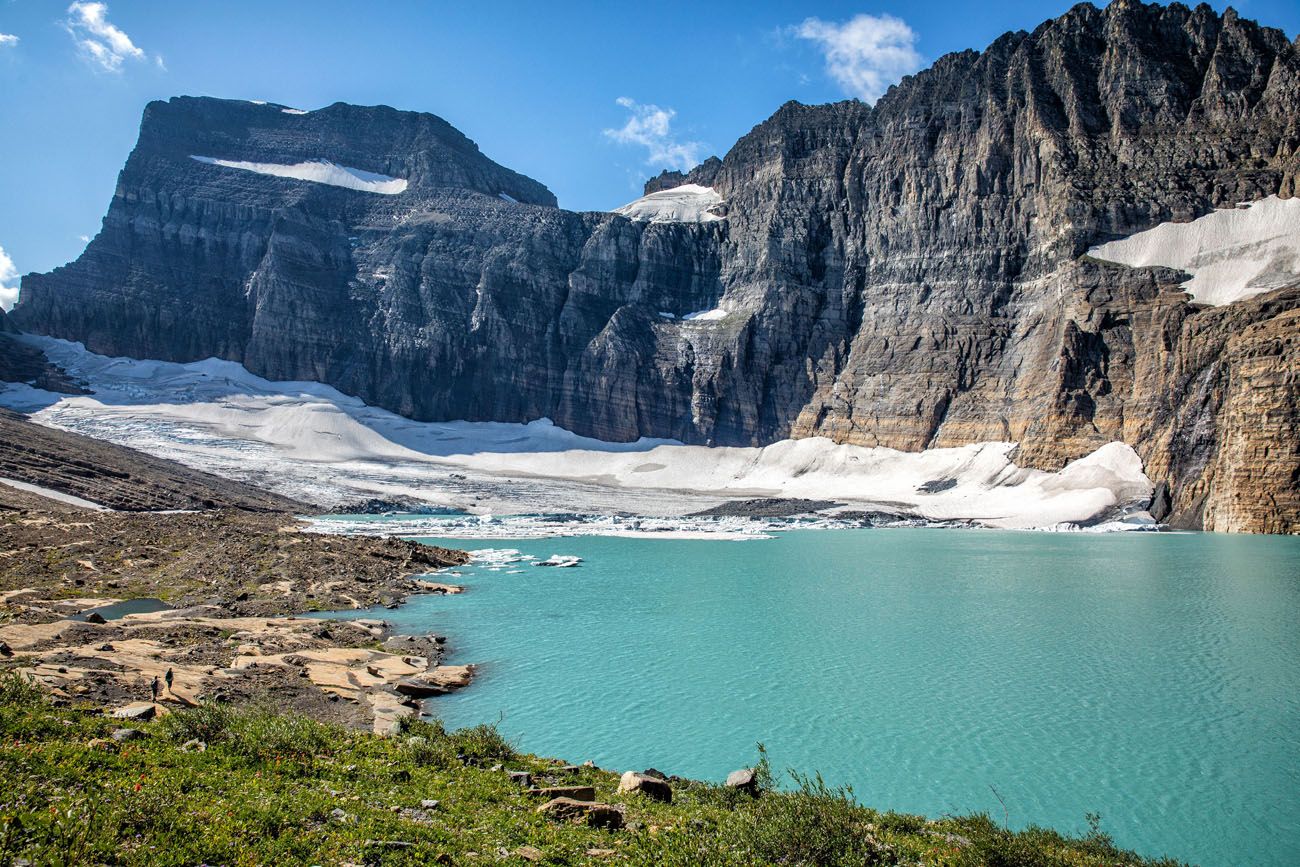 Ending the Hike
To finish the hike, return the same way you came. It's faster hiking back, now that it is mostly downhill.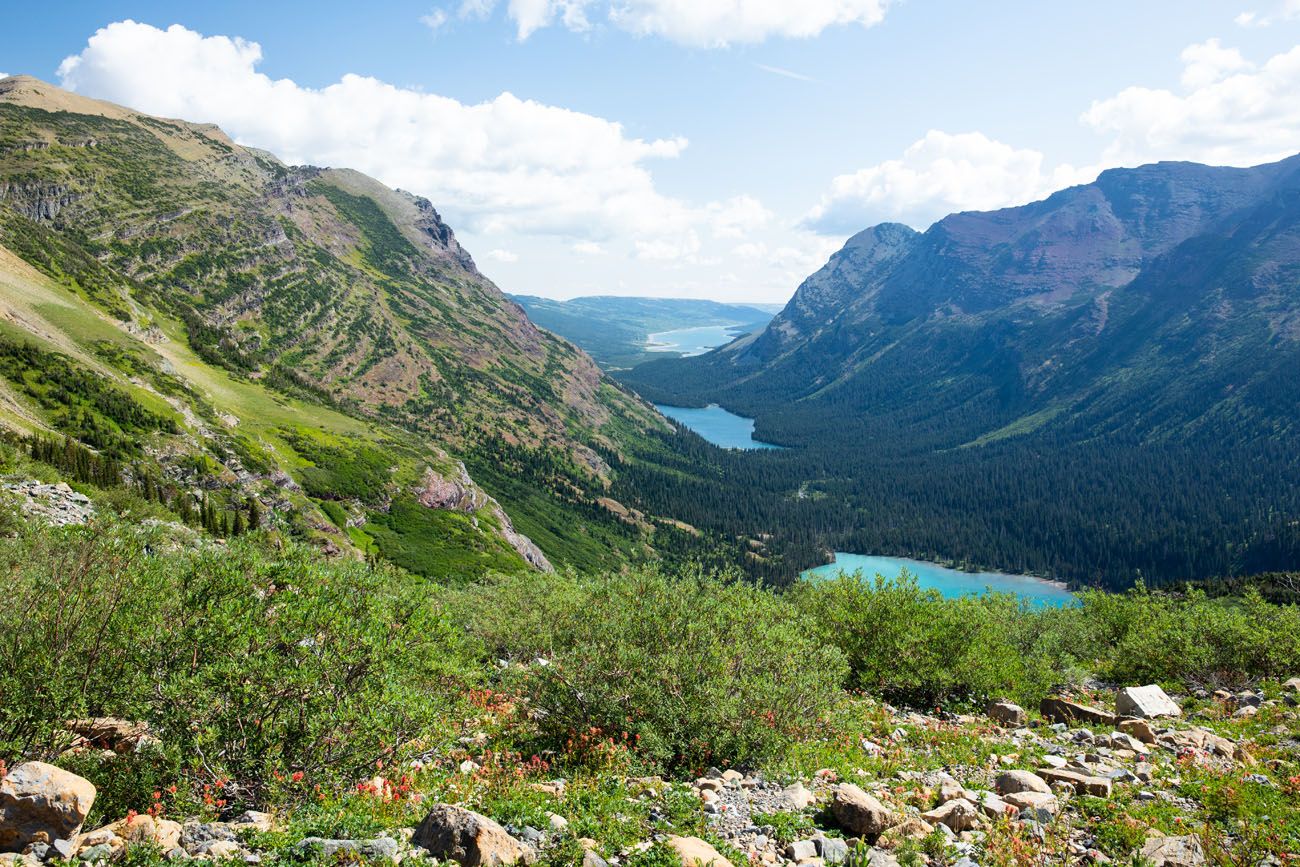 This is the view looking back to Many Glacier Hotel.
This is when we had our best animal sightings.
About a half mile from Grinnell Glacier, we spotted several mountain goats at different locations along the trail.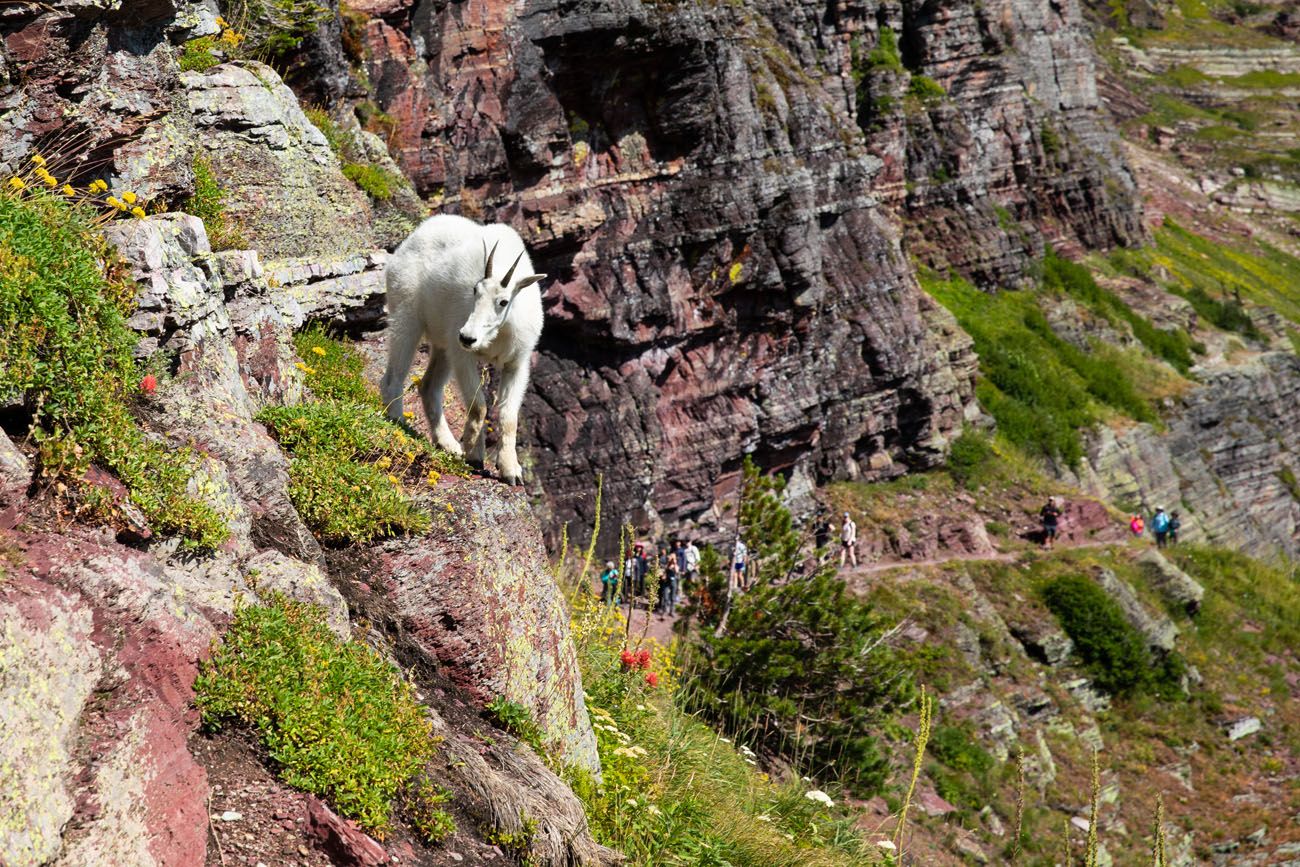 Not five minutes later, as we rounded a bend, a black bear and her cub walked right up onto the trail.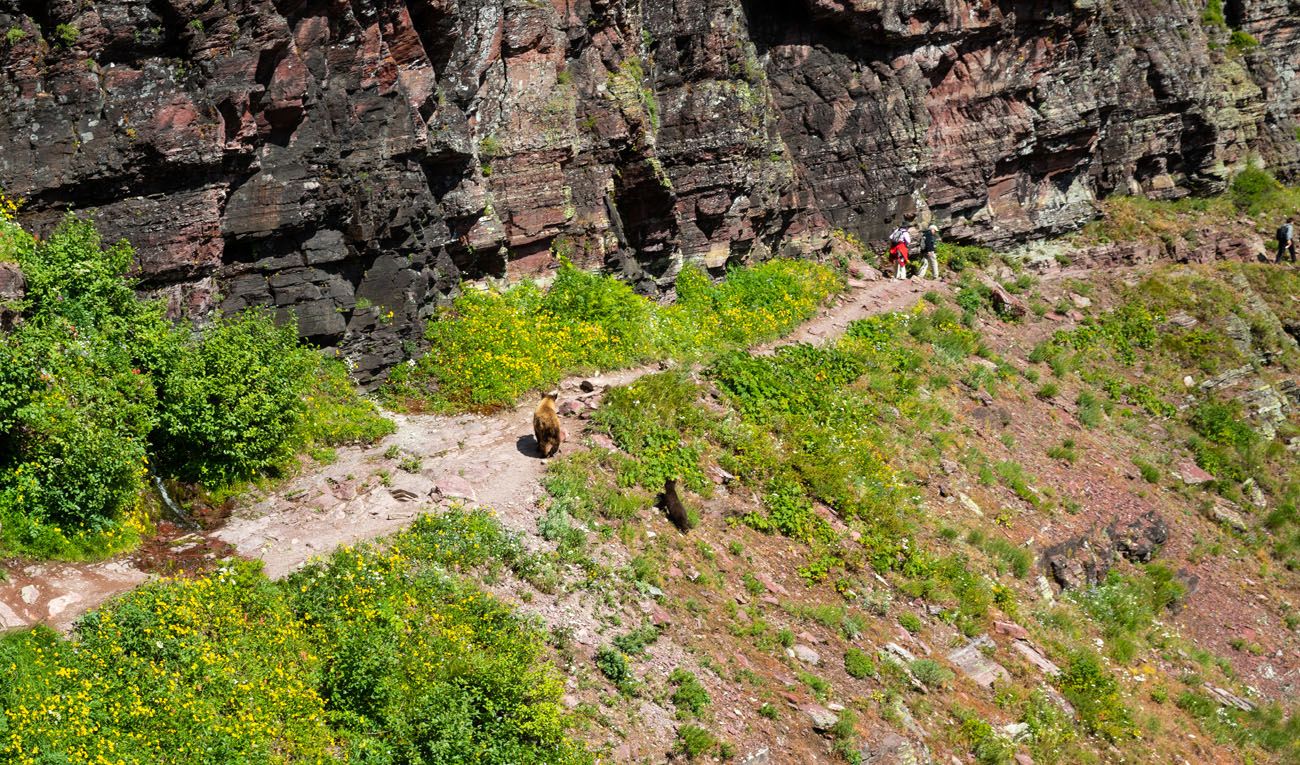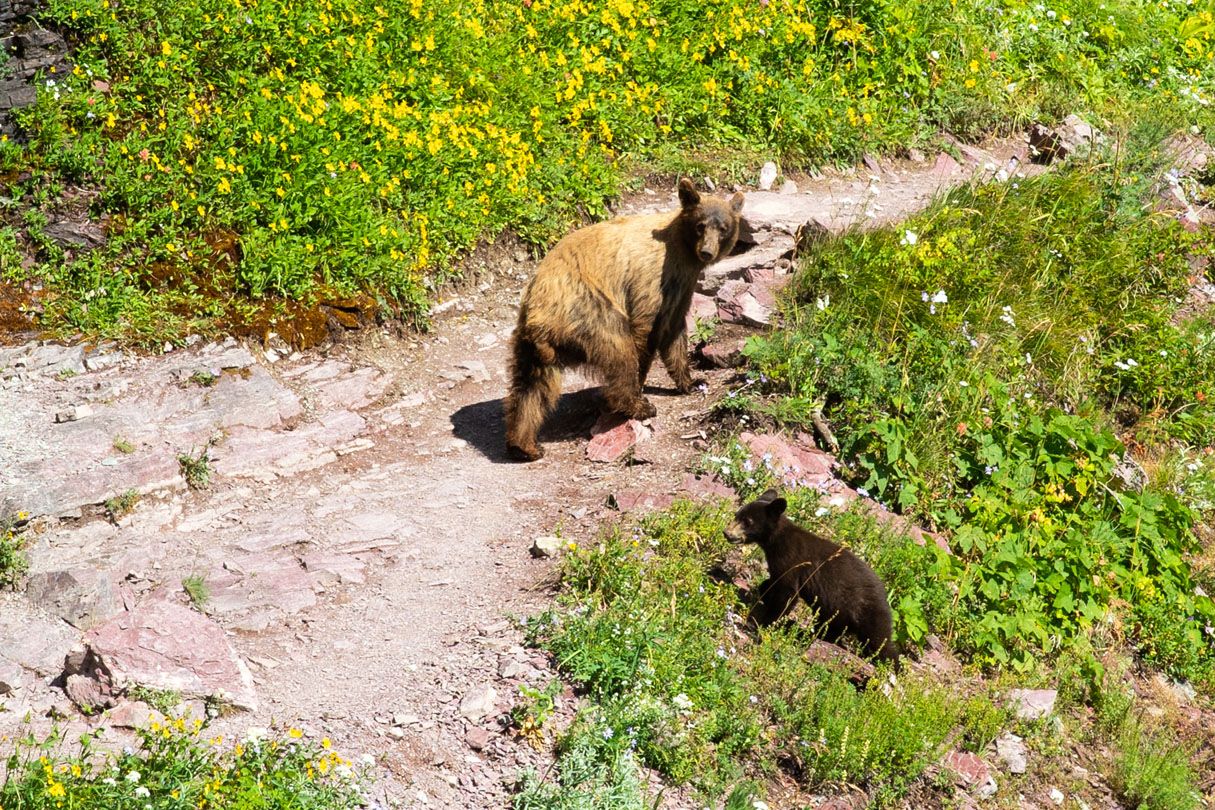 The trail was very busy now. It was approaching midday and there just happened to be a park ranger leading a large group on a hike out to Grinnell Glacier. At the advice of the park ranger, Kara and I joined their group and backtracked at least a quarter of a mile back to Grinnell Glacier. After a brief wait, and yet another mountain goat sighting, it was safe for us to continue on our way.
What a thrill to see so much wildlife in such a short period of time. But you must always be on alert for bear when hiking in Glacier National Park, even on a crowded trail. Keep up a conversation, carry bear spray, and keep a lookout for bear, not only in front of you on the trail, but also in the brush and the trees along the trail.

Using the Boat Shuttles
The boat shuttle consists of two separate boats: one from Many Glacier Hotel that crosses Swiftcurrent Lake and a second shuttle that crosses Lake Josephine. These shuttles are operated by Glacier Park Boat Company.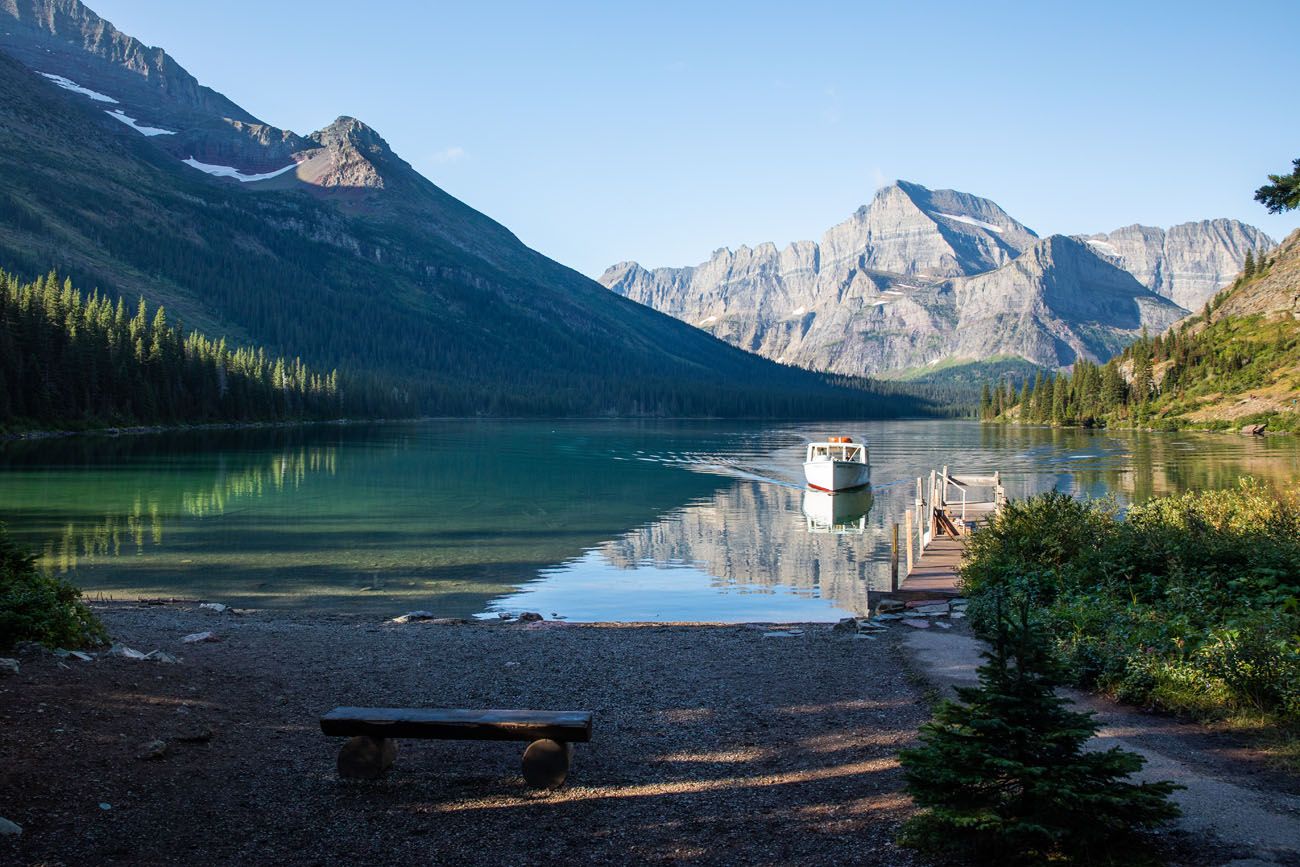 The boat on Lake Josephine.
From the Many Glacier Hotel, you will take the shuttle across the Swiftcurrent Lake, a journey that takes about 10 minutes. Disembark this boat and walk 0.2 miles to Lake Josephine. Board a second boat and then it is a 12-minute ride to the far end of Lake Josephine. From the boat dock, you will walk 0.4 miles to the main trail to Grinnell Glacier.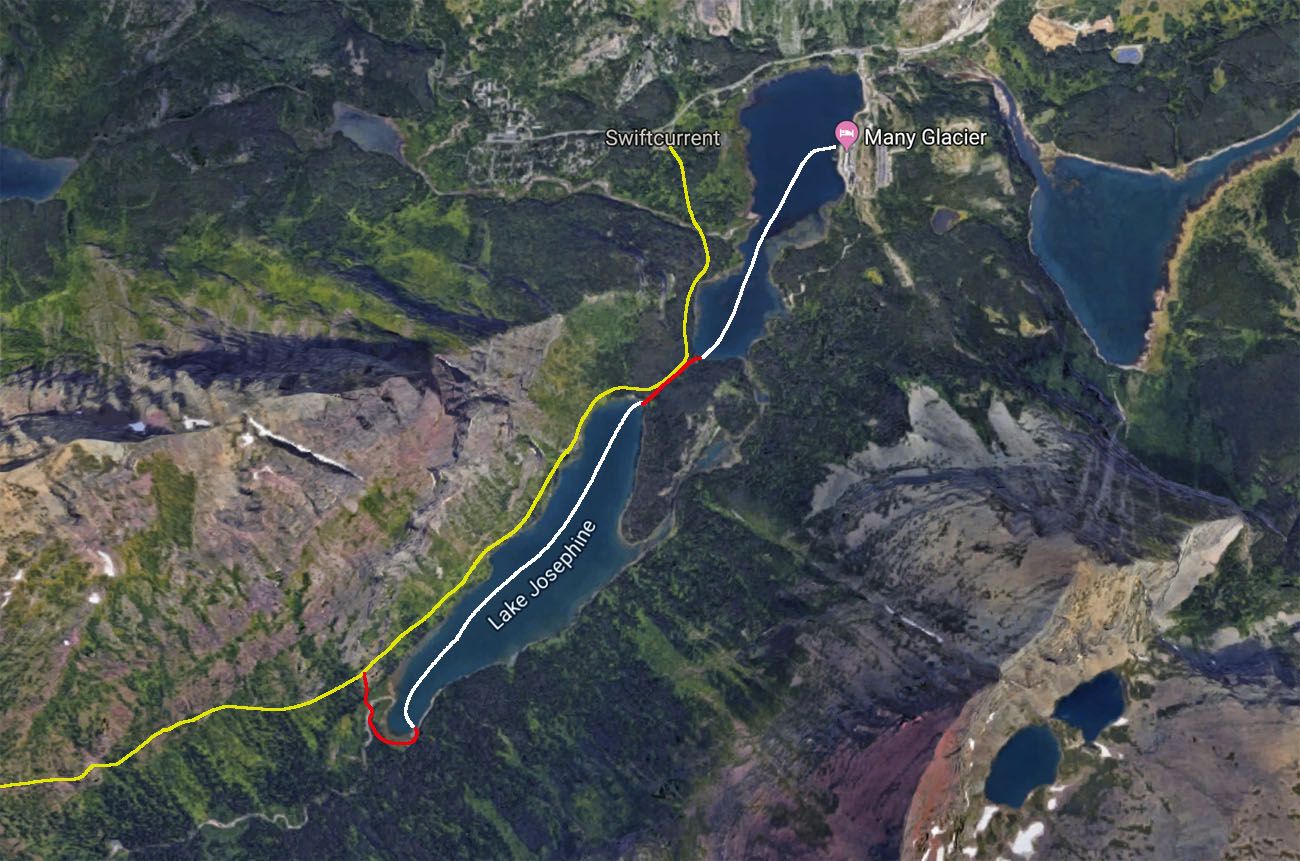 Map of the hiking trail and boat shuttles. The main hiking trail is yellow. The boat shuttle routes are white. The red lines are the short hikes between the two lakes and the hike to get to the main trail from Lake Josephine.
There are three options: out-and-back from Many Glacier Hotel to Lake Josephine to Many Glacier Hotel, out-and-back from Many Glacier to Lake Josephine to Many Glacier Hotel plus a guided hike to Grinnell Lake, and a one-way ticket from Lake Josephine to Many Glacier Hotel.
All tickets must be purchased in advance. You will not be able to purchase a ticket at the last minute for the one-way trip from Lake Josephine to Many Glacier Hotel. It's best to purchase your tickets at least one day in advance because they can sell out. Learn more on the official website.
Important Note: If you don't want to hike with a big crowd, skip the boat shuttle and start your hike early. The first shuttle leaves Many Glacier Hotel at 8:30 am, so these hikers join the main trail between 9 and 9:30 am. We were able to stay ahead of the crowds on the way out to Grinnell Glacier, but we saw them on our hike back to our car. And crowds can be huge. This is a very popular hike in Glacier National Park.
What to Bring on the Grinnell Glacier Hike
Food and water

Sunscreen.

There is very little shade on the trail.

Bear Spray
If you are new to hiking or are curious about what you should bring on a hike, check out our Hiking Gear Guide. Find out what we carry in our day packs and what we wear on the trails.
Before You Go
Get updates on park status and road closures here.
The trail can close due to snowfall and bear activity. Get trail status updates here.
---
If you have any questions about hiking to Grinnell Glacier, comment below.
More Information on Glacier National Park
GLACIER NATIONAL PARK: Check out our Glacier National Park Travel Guide for important travel information, sample itineraries, and how to plan your visit. Don't miss our article Best Things to Do in Glacier National Park for more great things to do in the park.
HIKING IN GLACIER: Check out our article Best Hikes in Glacier National Park for great hikes to add to your to do list. We also have detailed hiking information about the Highline Trail, another great hike to do in Glacier National Park.
MORE GREAT HIKES IN THE NATIONAL PARKS: From hikes to the tallest peaks to beautiful coast trails, read our Guide to the Best Day Hikes in the US National Parks. If you prefer to keep your hikes short and sweet, read our guide to the Best Short Hikes in the National Parks.
ROAD TRIP ITINERARY: Learn how to put together Grand Teton, Yellowstone, and Glacier National Parks into one amazing 10 day road trip.
NATIONAL PARKS: In our Guide to the US National Parks, get the full list of national parks with important travel planning information, such as things to do in the parks and sample itineraries.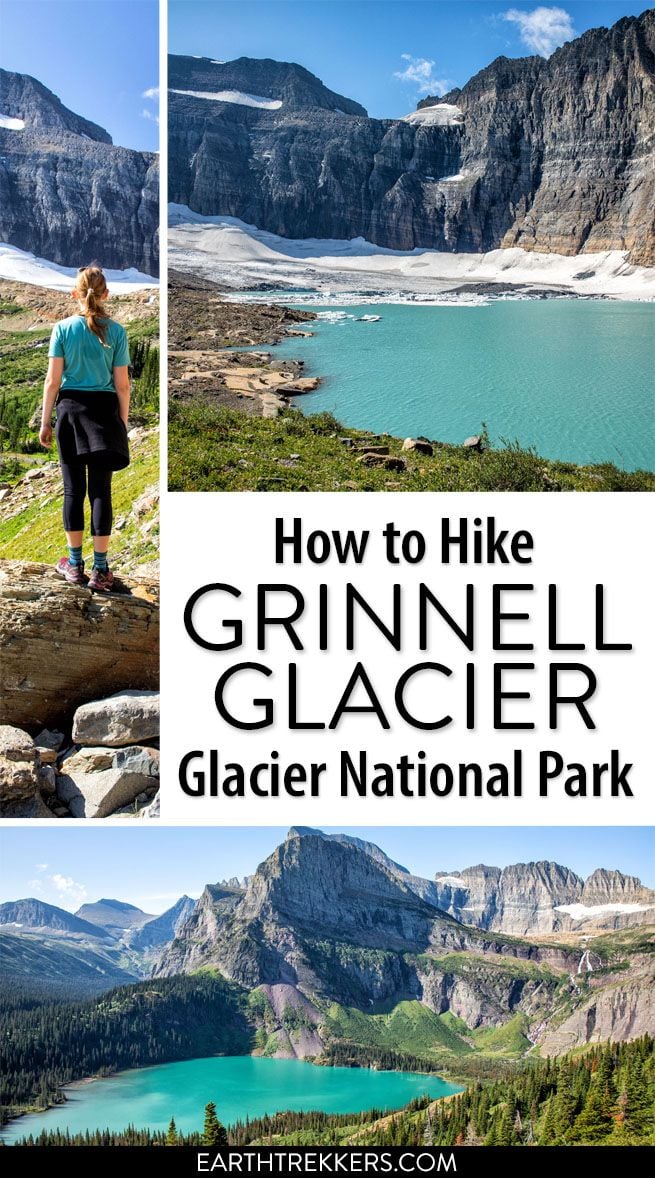 All rights reserved © Earth Trekkers. Republishing this article and/or any of its contents (text, photography, etc.), in whole or in part, is strictly prohibited.