Seeing the unique scenery of Cappadocia from the vantage point of a hot air balloon is an unforgettable experience. If you have plans to visit Cappadocia and are wondering if the hot air balloon ride is worth the high price tag, I say yes! This was our favorite experience in Turkey and to this day, these photos are some of my favorite travel photos, ever.
A Hot Air Balloon Flight Over Cappadocia
About Our Experience
Taking this hot air balloon flight would be a first for the four of us. We wanted a company that would provide a safe and enjoyable experience, and Royal Balloon lived up to all of our expectations.
Our day started incredibly early. Alarms went off at 4:30 am so we could be ready for a 5 am pick up by Royal Balloon. We were picked up at our hotel and driven to the the Royal Balloon headquarters. Here we ate breakfast and paid for our flight. As we ate breakfast we could see the first balloons rising into the sky. It was a calm, clear morning, but chilly. It was only 40 degrees at dawn and slowly warmed up through the ride (we visited Cappadocia at the end of March).
A van drove us and the other twelve people who would be riding in our balloon to a plateau overlooking Love Valley. This was our take off point. Within minutes we were climbing into our balloon.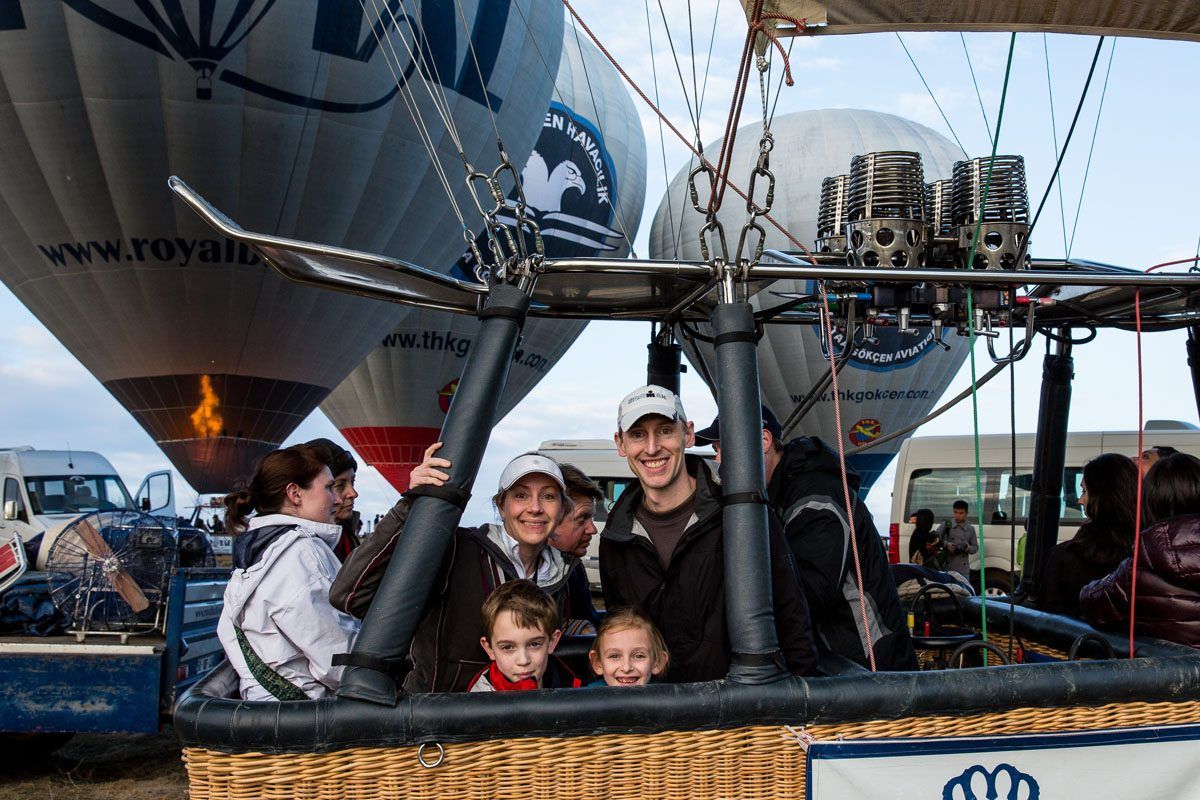 Our pilot was Nigil, a senior pilot for Royal Balloon, who is originally from England. He travels all over the world flying balloons. He said he made his first flight at the age of 5!
Lifting Off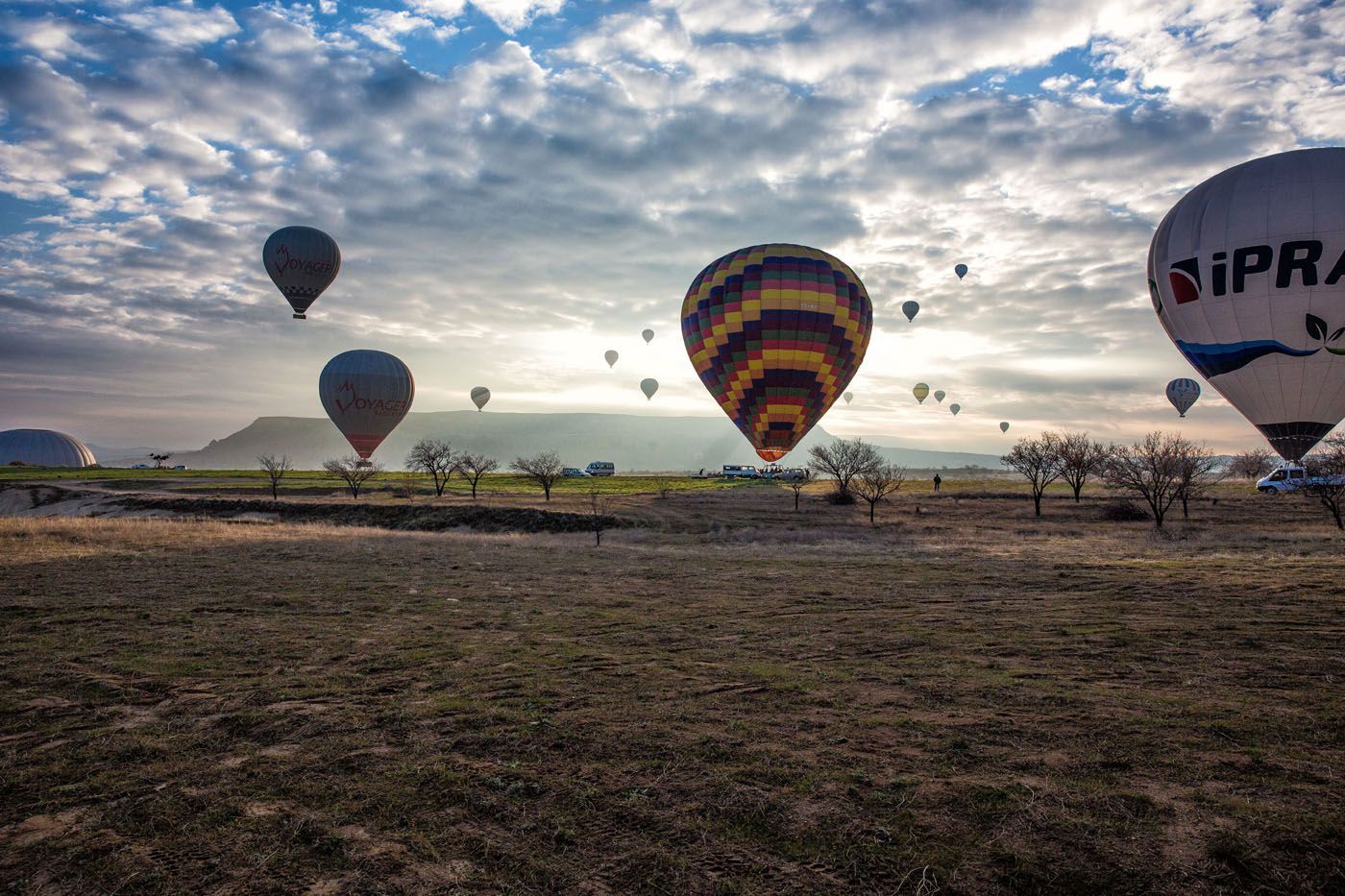 At 6:30 am our balloon lifted off of the ground and quickly rose into the sky. The heat from the flame over our heads helped to keep us warm.
The flight was incredibly smooth and before long we were high above Cappadocia. The views were breathtaking! About 100 balloons dotted the skyline. All four of us were having a great time and it was definitely worth the early morning for an experience like this.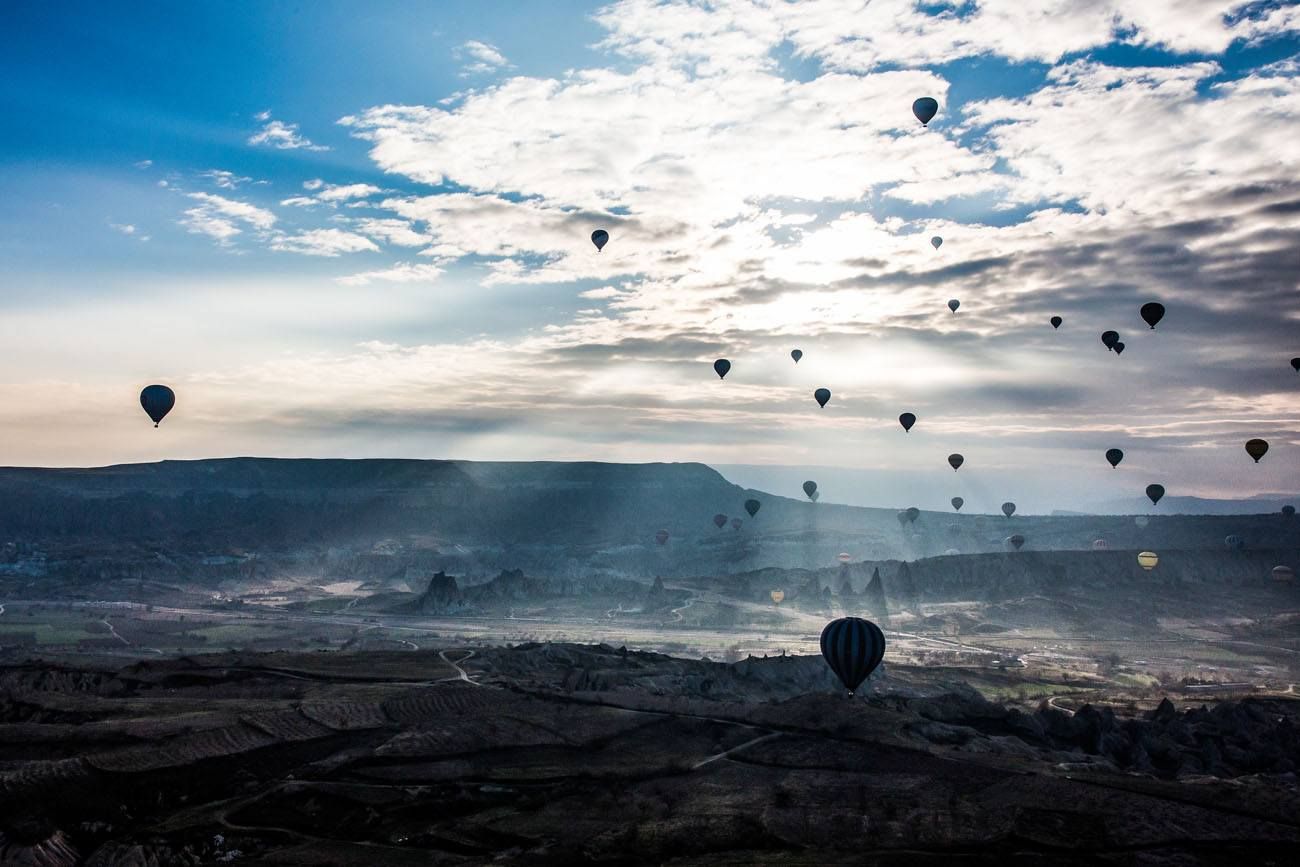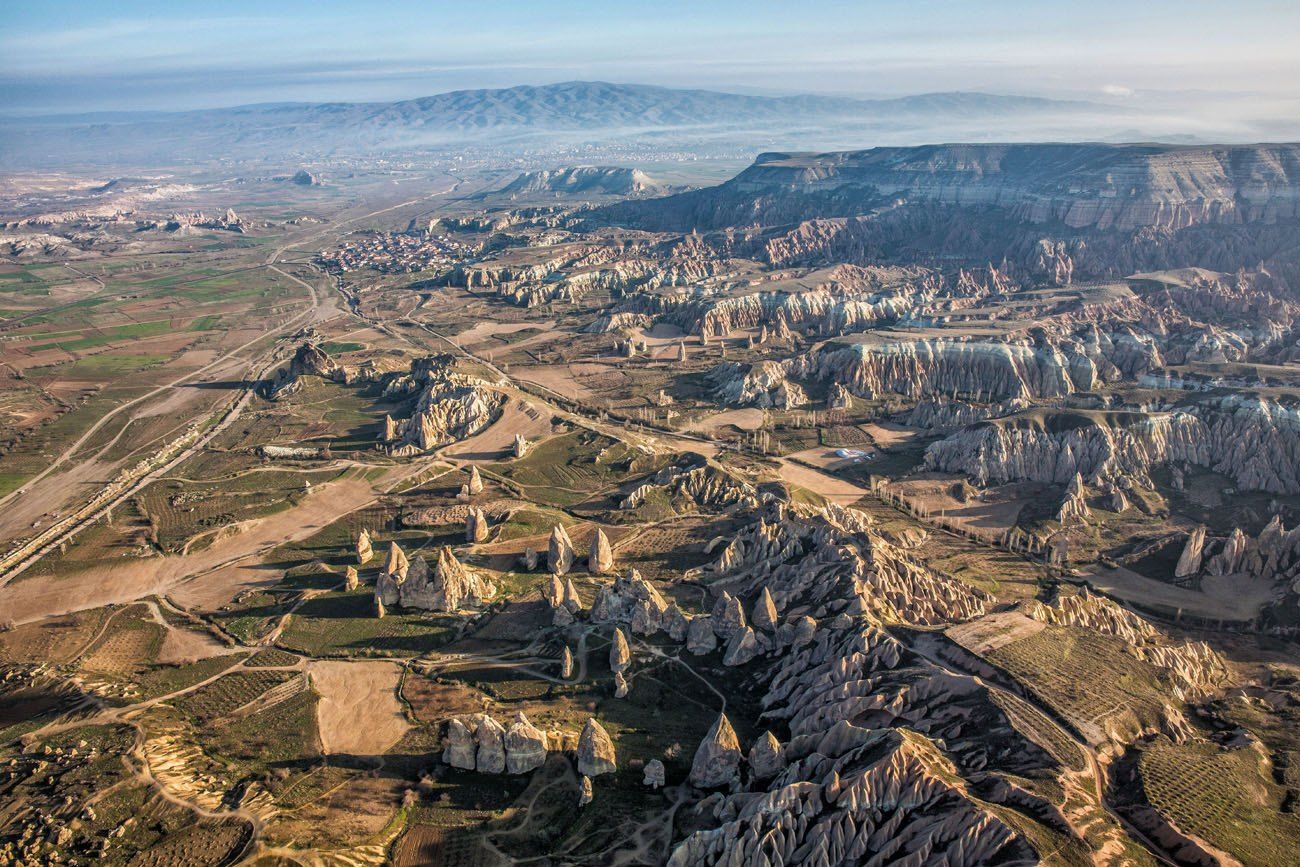 Love Valley
We descended down into Love Valley, so close to the ground that our basket almost brushed the treetops. We could look down through the valley and see where we hiked yesterday. It was amazing.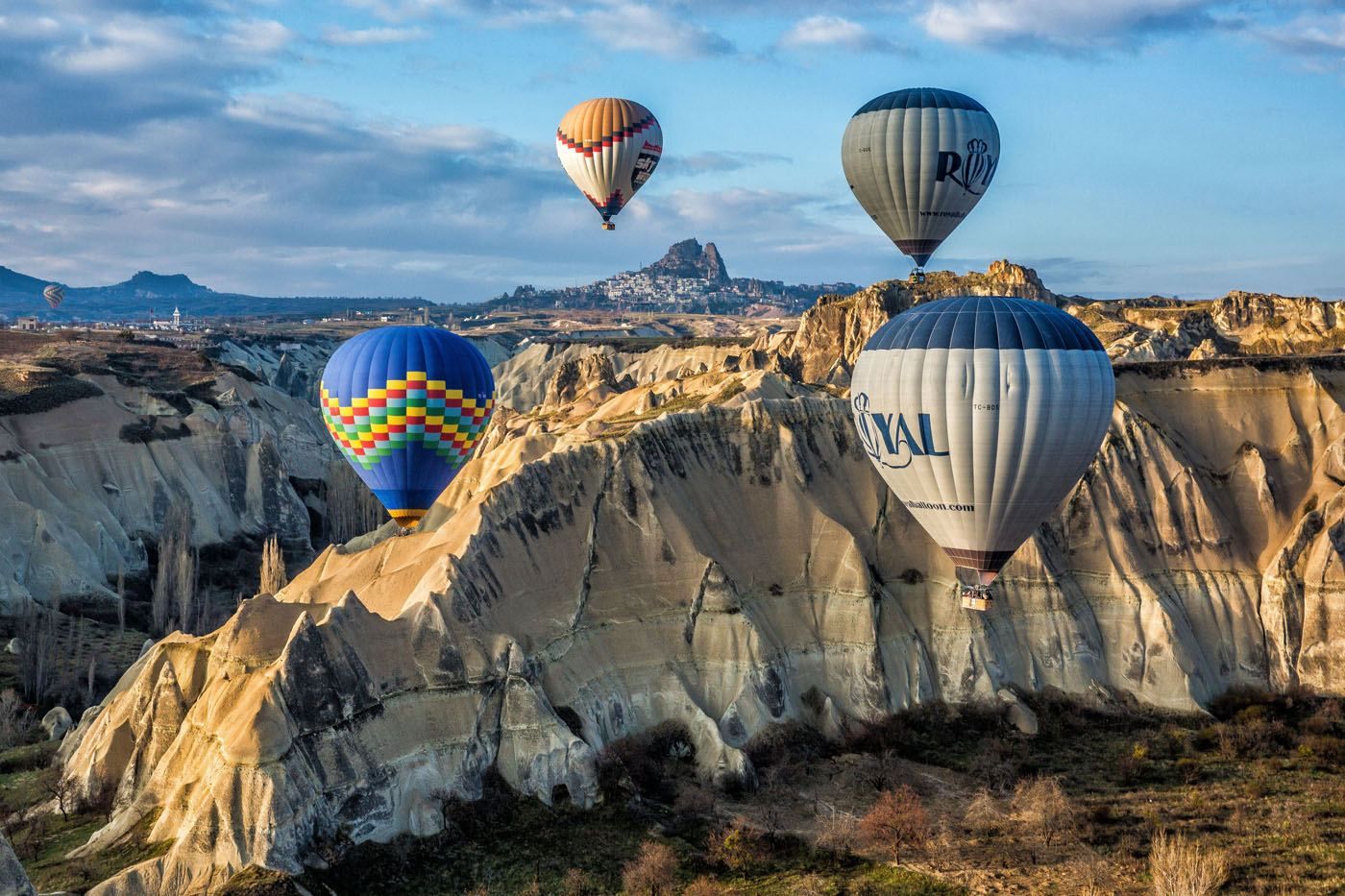 High Above Cappadocia
After the up and close personal visit with Love Valley, Nigil took us up to our highest height of the day. The views were amazing! We were so high it was a little unsettling, but also exciting. We could see all of the towns we had been visiting: Goreme, Uchisar, Urgup, and others we had heard of like Avanos, Ortahisar, and Mustafapasa. What a beautiful place.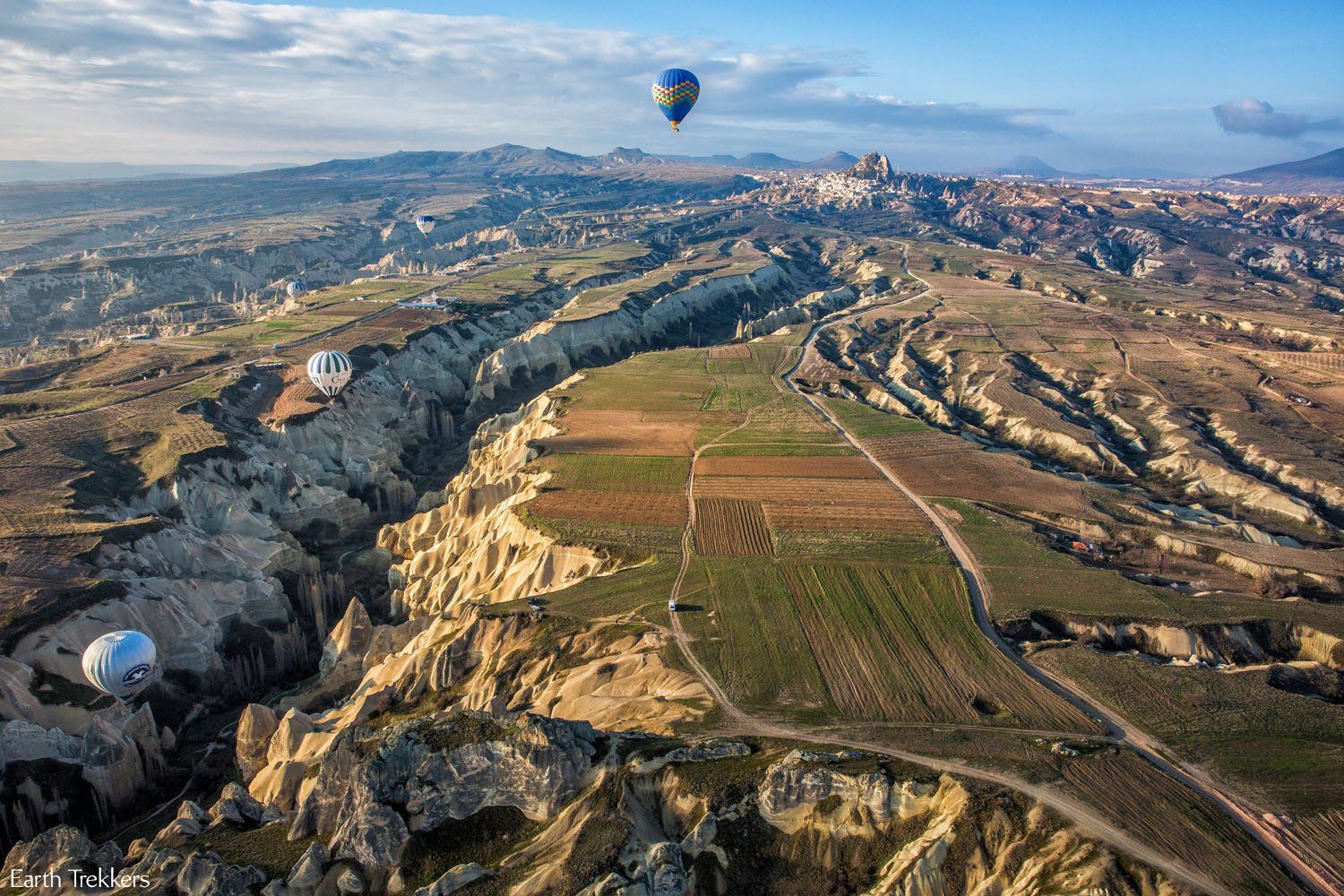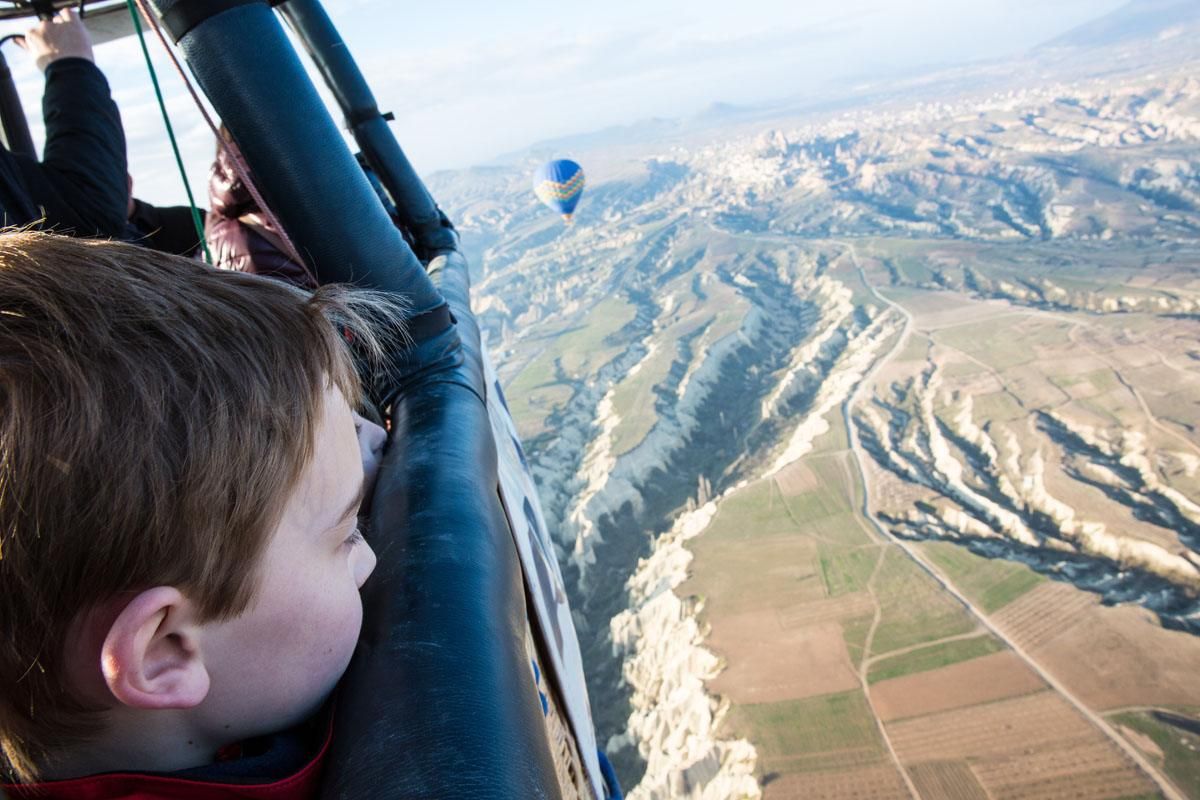 Back on the Ground
We descended back down, hovered near the Goreme Open Air Museum, and then landed the balloon in a pasture. Nigil, with the help of ground crew, landed the balloon directly on a trailer. It was a surprisingly smooth and easy landing.
Once our feet were back on the ground Tyler and Kara helped deflate the balloon while running on top of it. Finally, we had a post flight "party" where champagne was served and medals were handed out.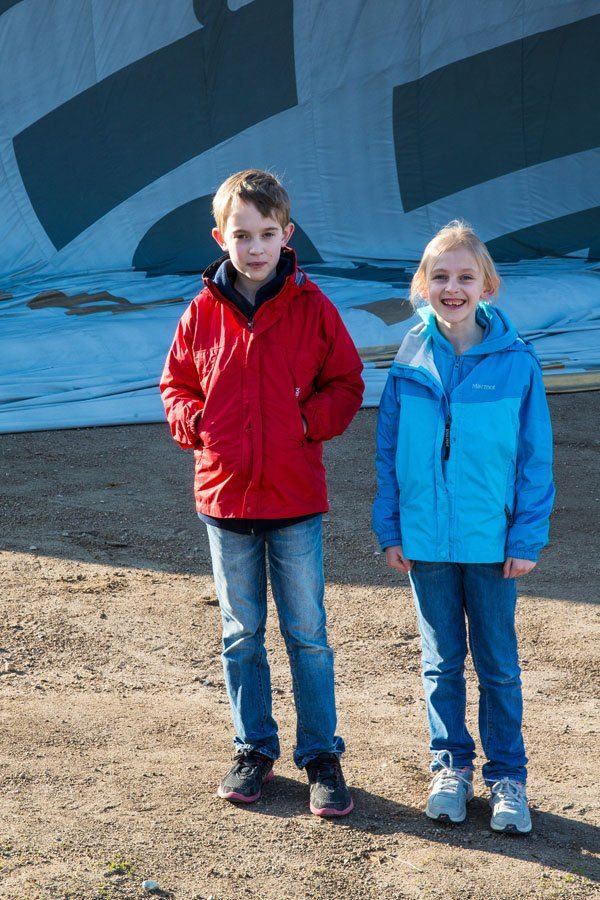 What an amazing experience. The hot air balloon flight was the highlight of our trip to Turkey. And it was only 8 am; we still had the entire day ahead of us.
Does this look like something you want to do?
We flew with Royal Balloon, a company with high standards for safety and customer service. We did the "Royal Queen" flight, which lasts for 60 minutes. They offer longer flights with less people but you will pay extra for this. I felt like 60 minutes was more than enough time, especially since we traveled with kids. Learn more about Royal Balloon on their website.
Is this worth it for kids? Tyler was 10 and Kara was 8 years old. They seemed interested during the flight but later said that it was boring. Kara also had a difficult time seeing over the side of the basket. Based on our experience, it would be hard to justify the expense for kids younger than 8, although they are allowed on the flight.
---
More Information for Your Trip to Turkey:
You Might Also Like: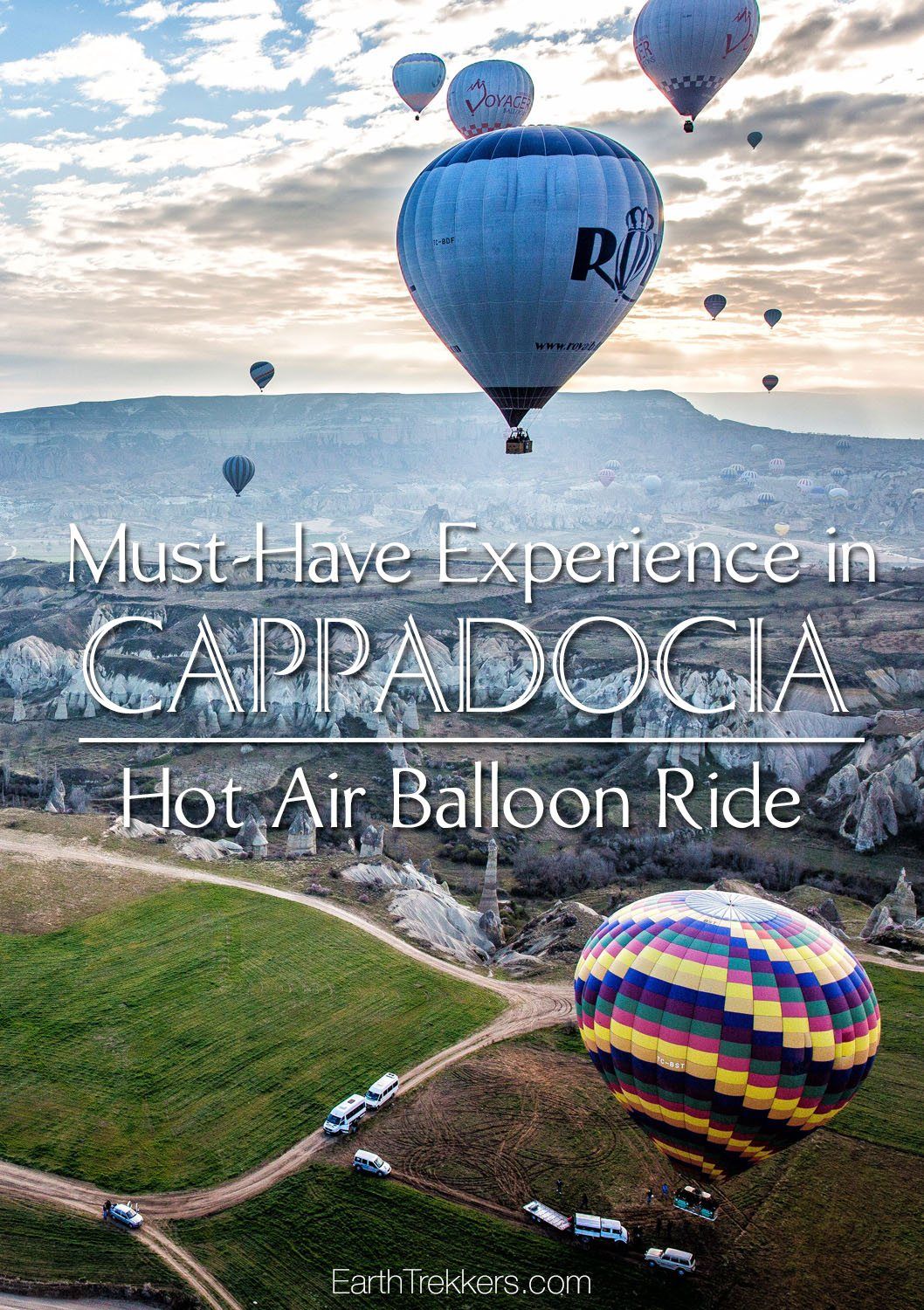 All rights reserved © Earth Trekkers. Republishing this article and/or any of its contents (text, photography, etc.), in whole or in part, is strictly prohibited.