Cappadocia is the perfect place to go hiking and exploring. The scenery is very unique, the trails are just challenging enough to keep it fun for kids, and while we were here in March, there were very few people on the trails. Tyler and Kara could run off all of their extra energy, explore ancient caves, and just have a fabulous time. They fell in love with Cappadocia, and these hikes were their favorite thing we did during our entire 11 day tour of Turkey. Here we have listed some of the best hikes in Cappadocia with kids.
Best Hikes in Cappadocia with Kids
Love Valley Hike
Our first hike was the very short 1.5 mile hike through Love Valley. This hike took us through one of the local valleys with the reward of seeing large cone shaped spires at the end of the hike.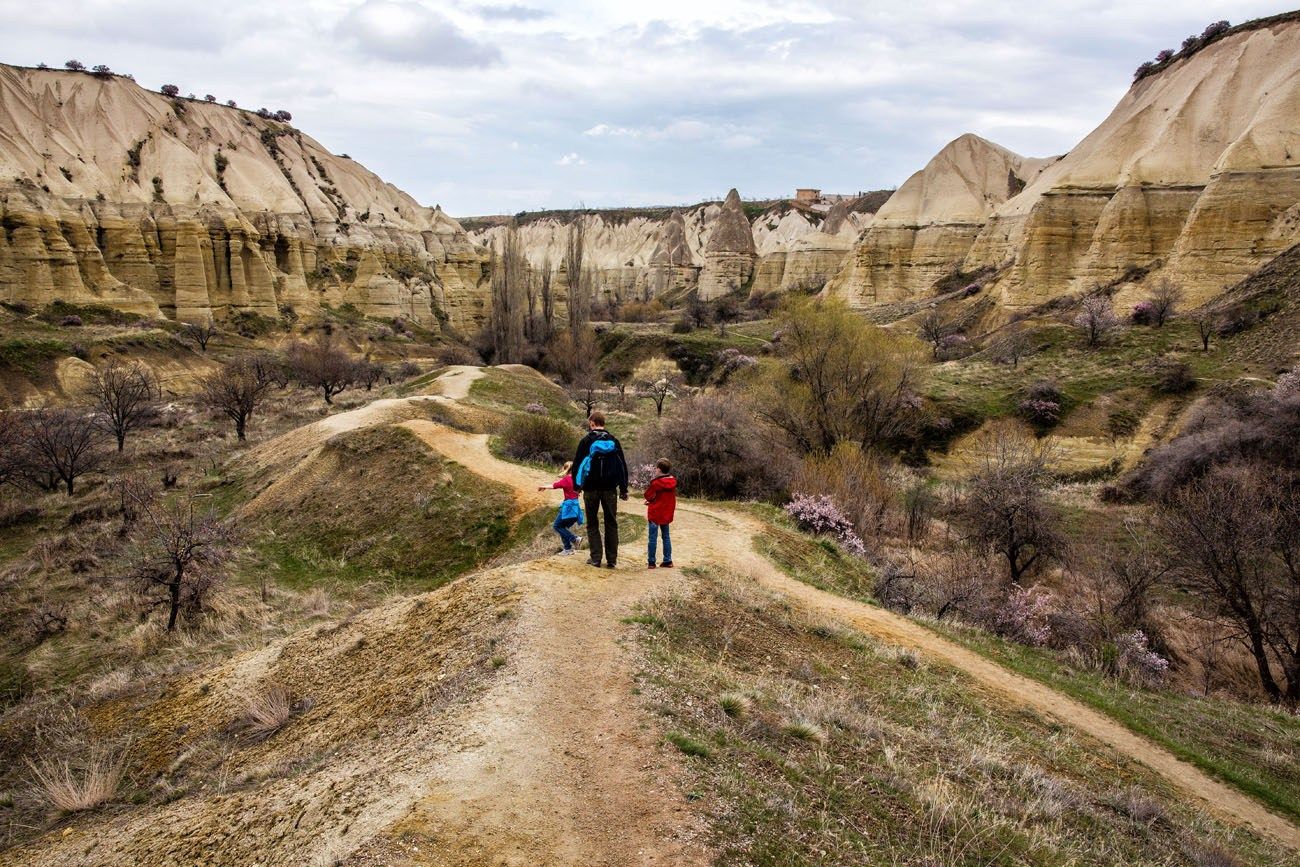 We descended into the ravine, down slippery slopes to the river valley. For an hour and a half we followed dirt and stone trails through the valley.
At the end of the hike we could see why it was called "Love Valley." Giant, phallic spires rose out of the ground in front of us. This made for some interesting conversations with our kids.
The hike through Love Valley was a short, fun hike and a great introduction to the scenery of Cappadocia.
Love Valley Hiking Stats
Distance: 1.5 miles one way
Duration: 1 – 2 hours
Start: Uchisar
End: Cavusin
Difficulty Level: Easy
Red and Rose Valley Hike
This was our favorite hike in Cappadocia.
The Red and Rose Valley Hike is a three mile hike through a landscape that looks like a cross between Love Valley and the Grand Canyon. Here we hiked among stone spires that were pink, red, and white. Tyler and Kara explored more caves, but mostly they had fun running up and down the hills. The valley is beautiful and like nothing we have ever seen before.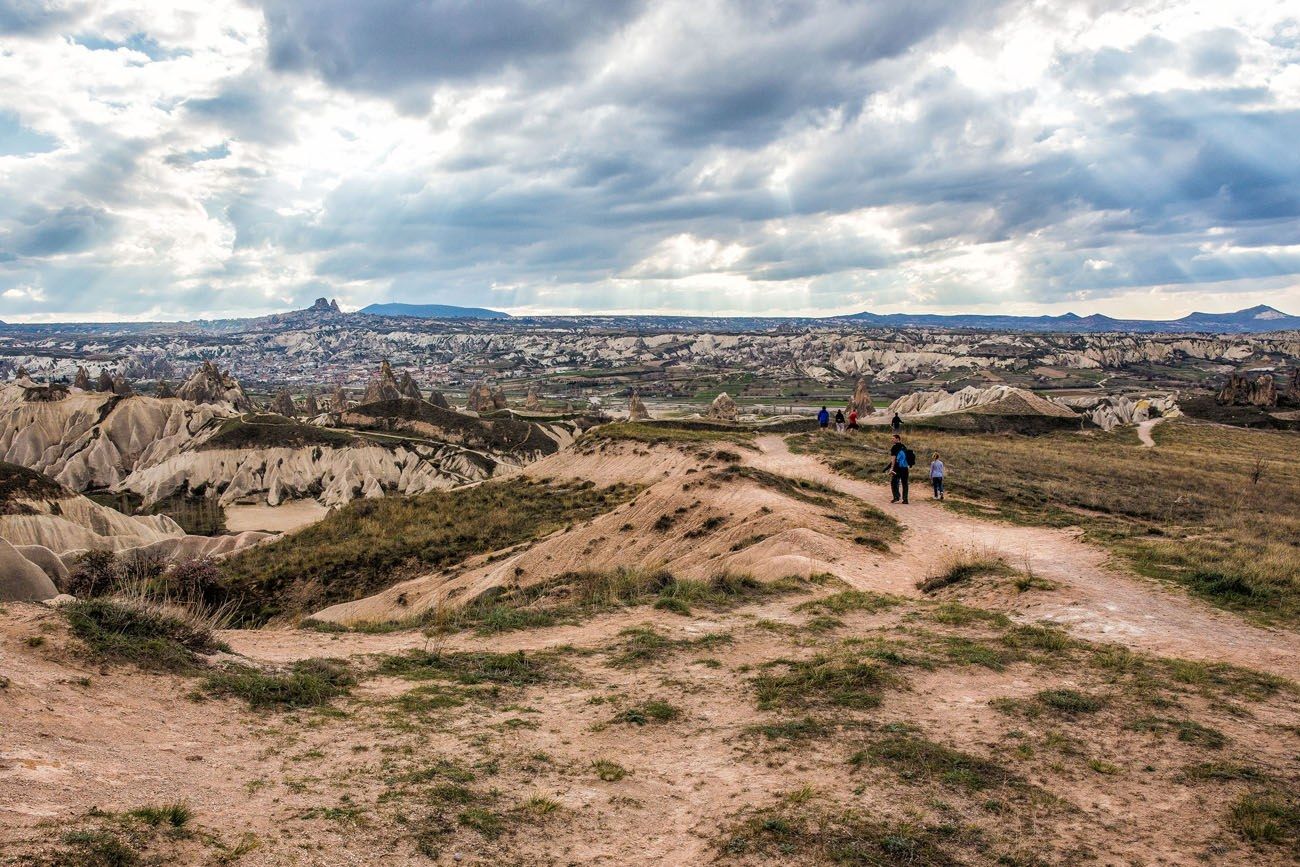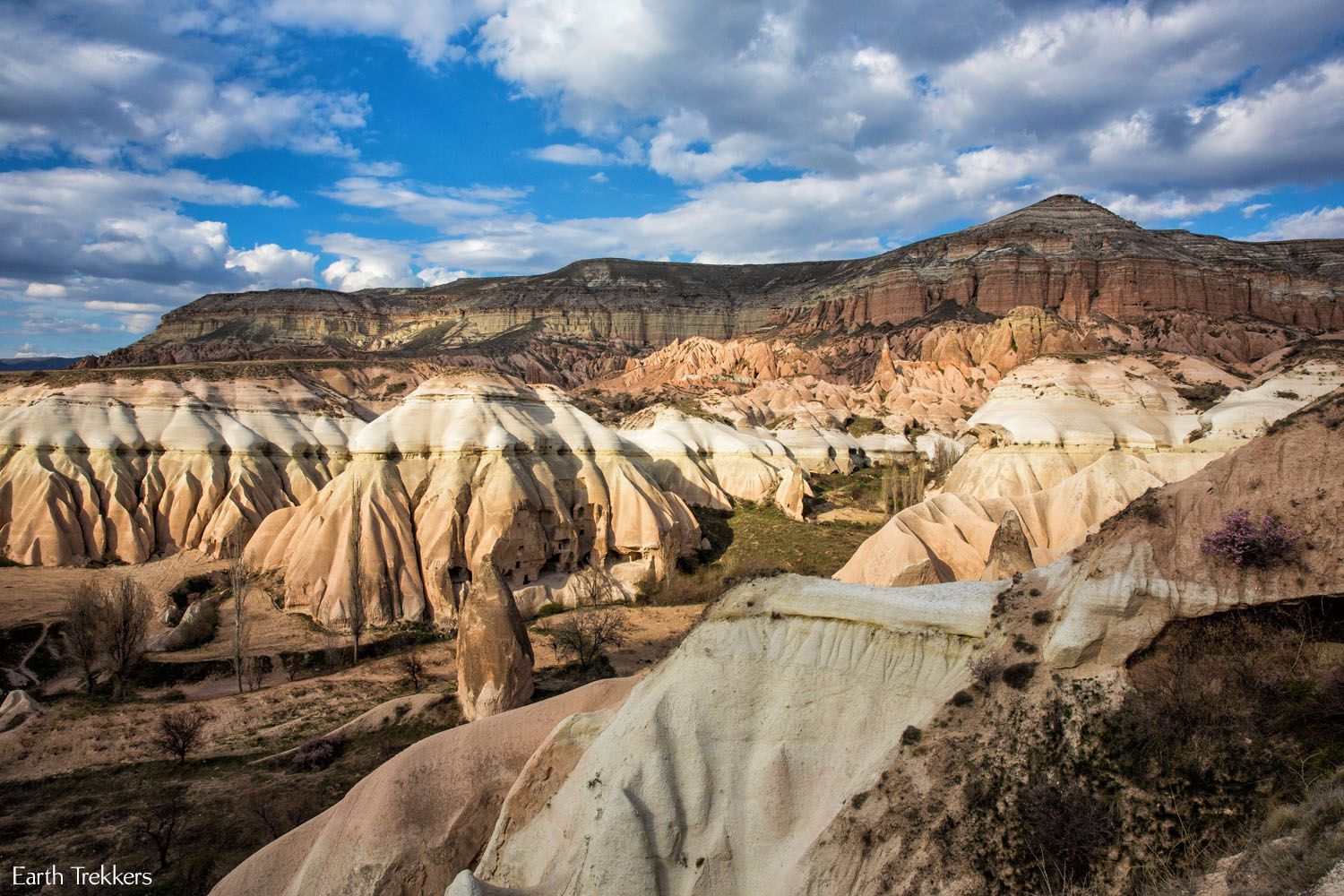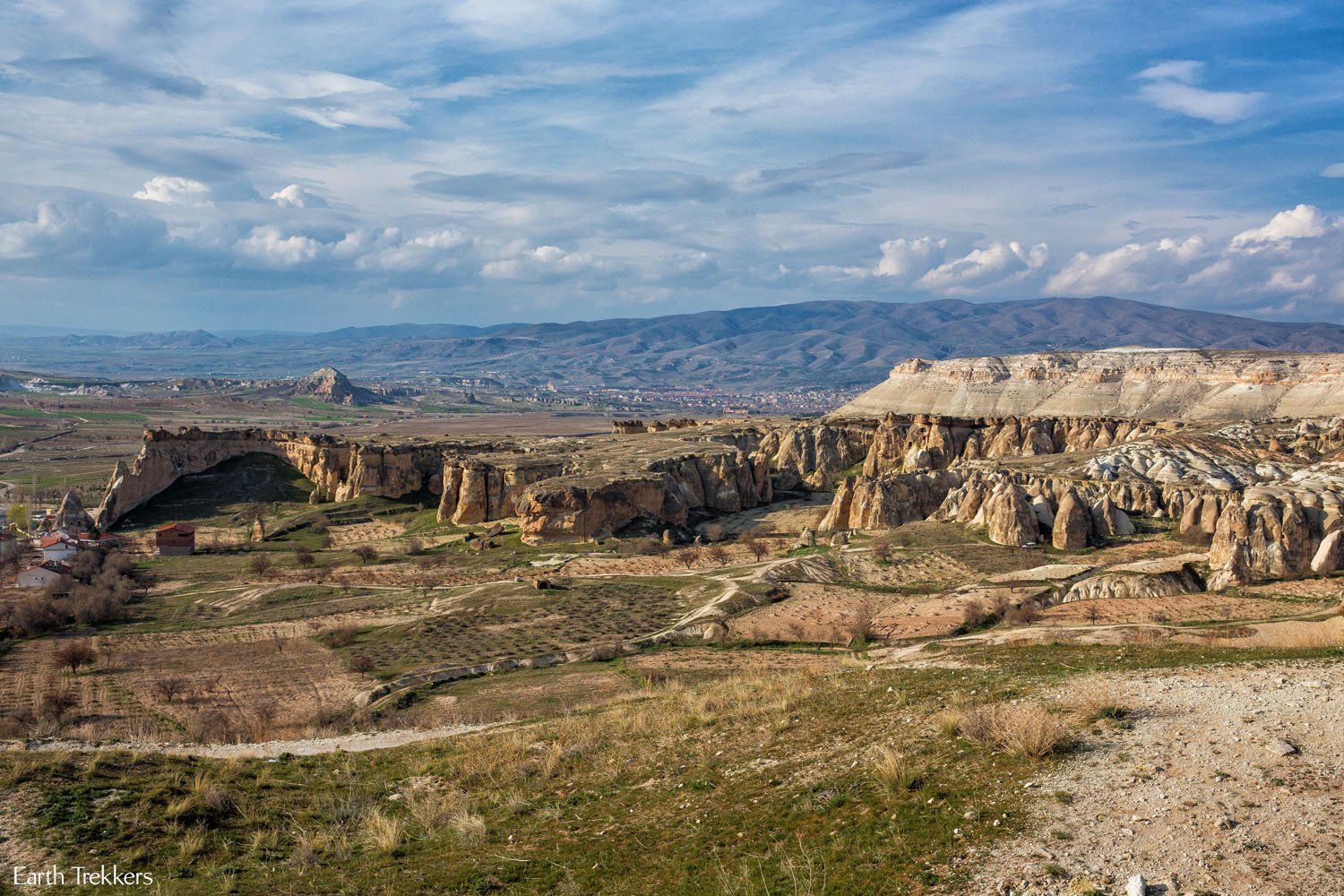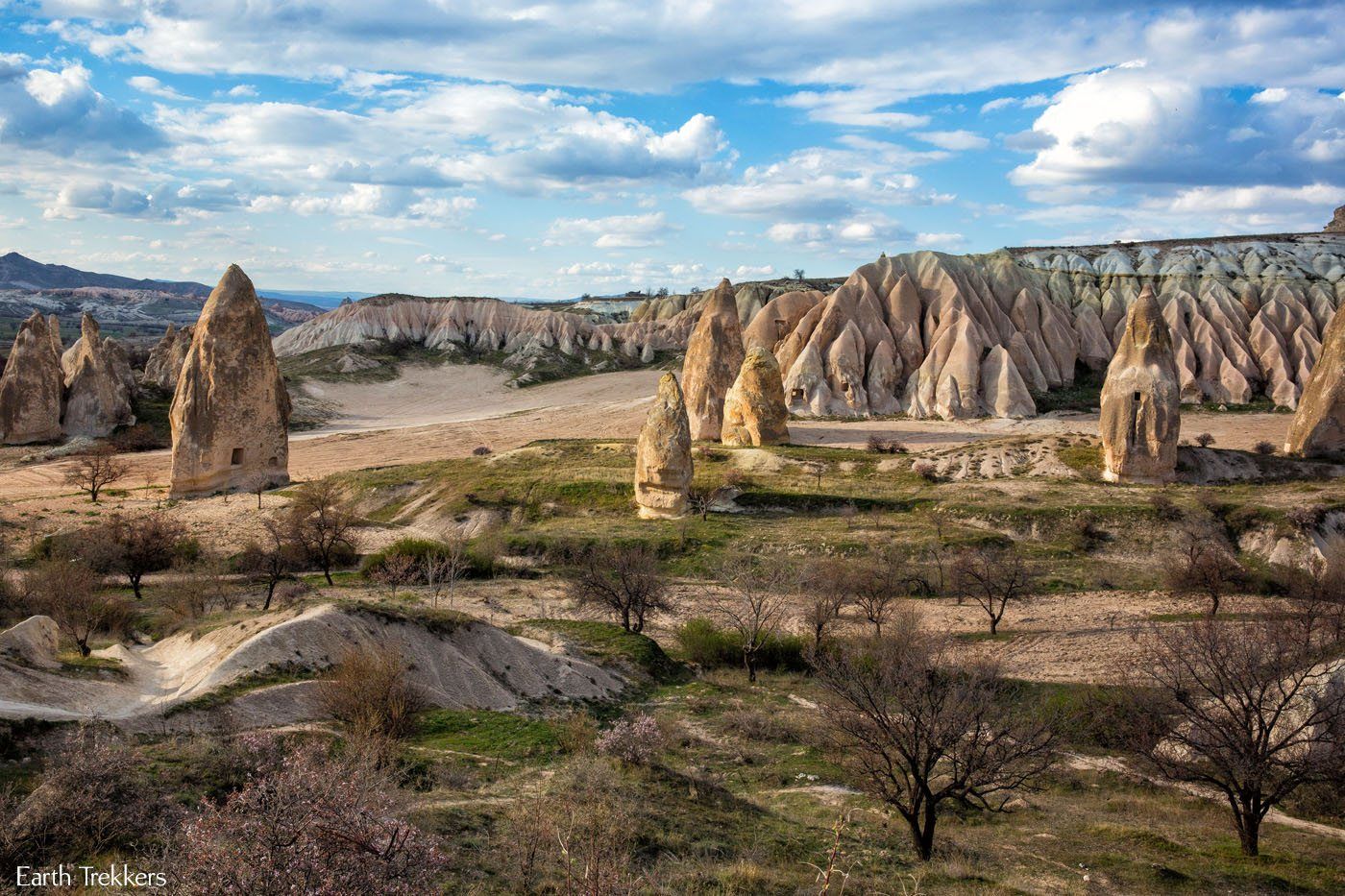 Red and Rose Valley Hiking Stats
Distance: 3 miles
Duration: 2 – 3 hours
Start: Sunset Point
End: Cavusin
Difficulty Level: Easy
Planning Your Transportation
Both the Love Valley and Red and Rose Valley Hikes are point to point hikes. They can be done as a return hike (walking out and back along the same trail) but you are unnecessarily repeating the hike. If you have your own car, you may have to do these hikes as return hikes.
A better option is to hire a driver while you are in Cappadocia. Your driver can drop you off and pick you up at different points, which is very convenient, especially if you are traveling with kids. Also, your driver will know exactly where the hikes start and end, taking the headache out of planning your routes through Cappadocia. We hired a driver through our hotel (the Yunak Evleri) and this was one of our best decisions while in Cappadocia. You can also hire a driver through this private car service.
More Activities for Kids in Cappadocia
Climb the Rock Castle at Uchisar
The rock castle is the highest point in Cappadocia and the views from here are awesome. Tyler and Kara liked climbing up the hill to the viewpoint and exploring the castle.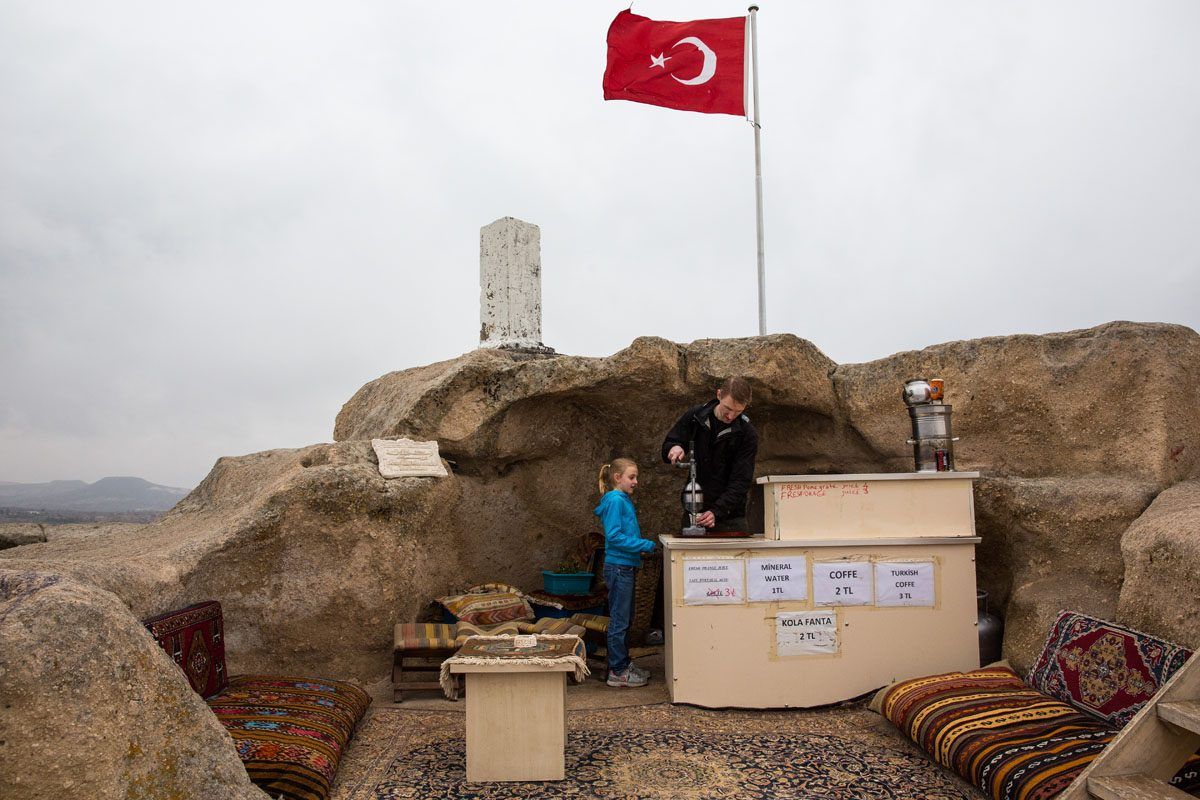 Hike up the Hillside of Cavusin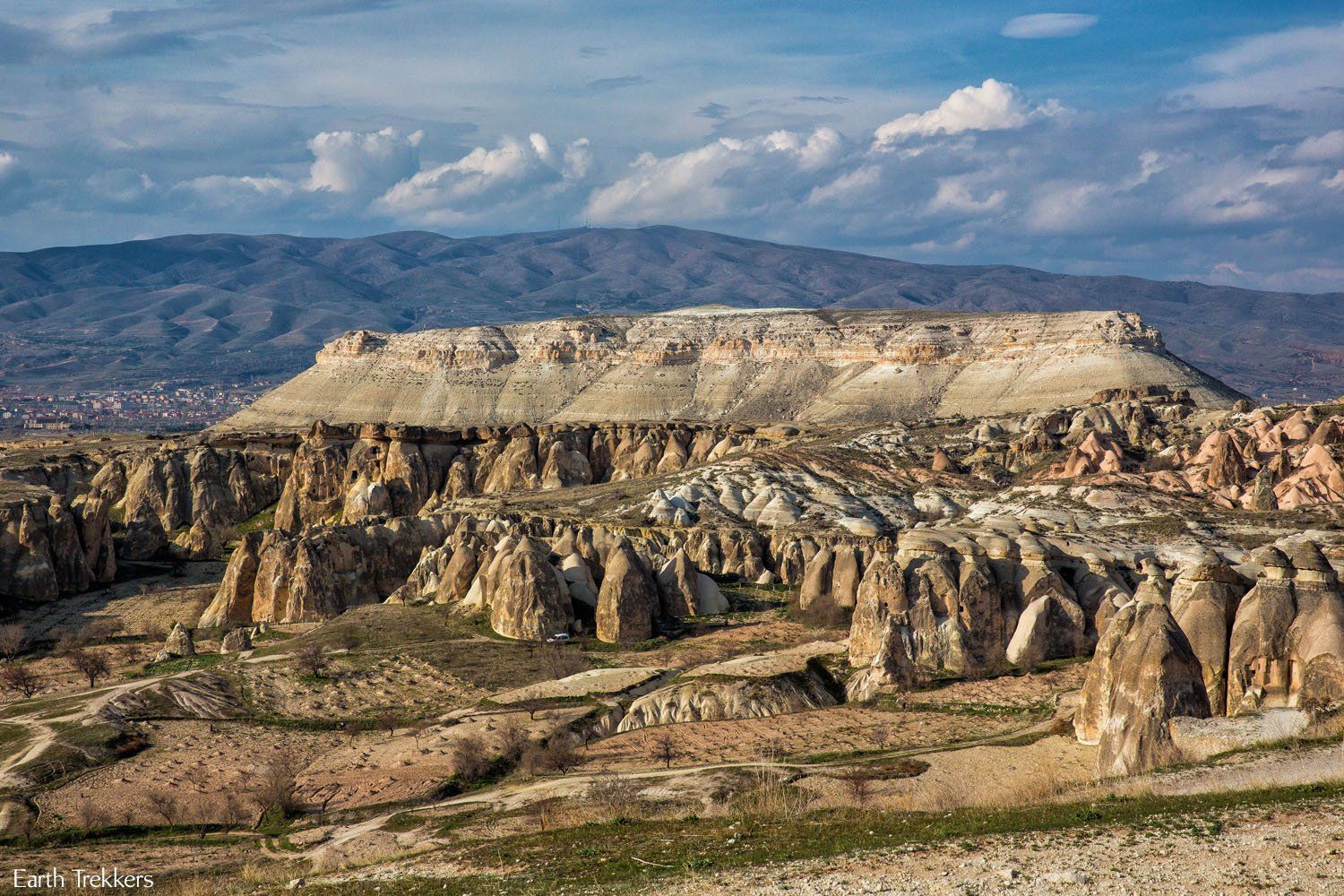 Cavusin, the location of St. John's Church, is worth a visit on a trip to Cappadocia. This church is carved out of the mountainside and dates back to the 5th century AD. Tyler and Kara loved exploring this ancient church and climbing the hillside overlooking Cavusin. Tim and I loved the views out over Cappadocia from here. What a beautiful place!
Monks Valley
We made a quick stop here to see the fairy chimneys. This was another great place Tyler and Kara could run around and explore caves and climb rocky slopes of the mountains.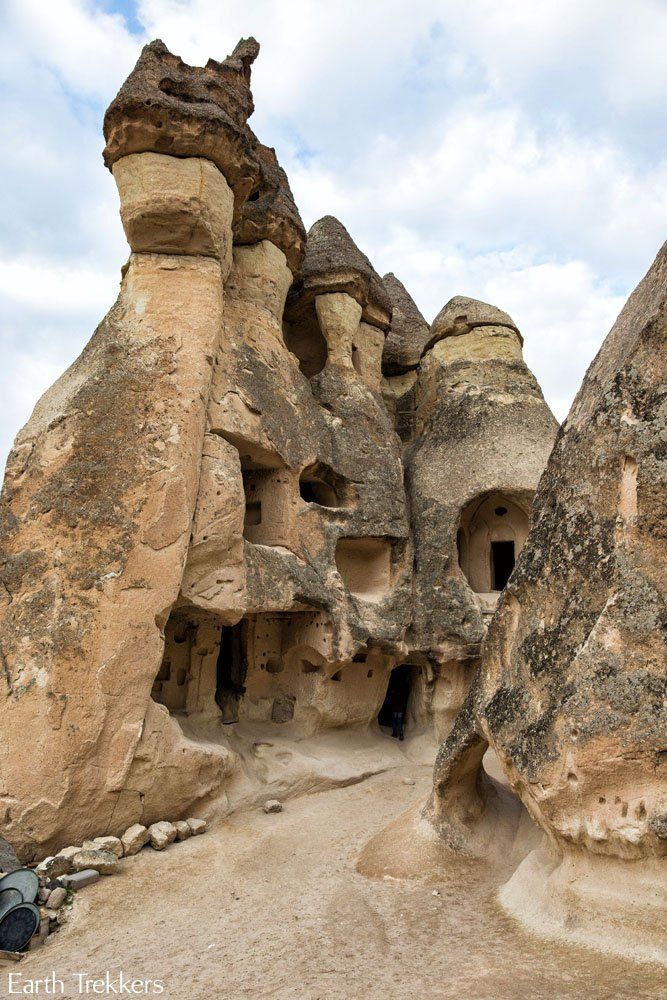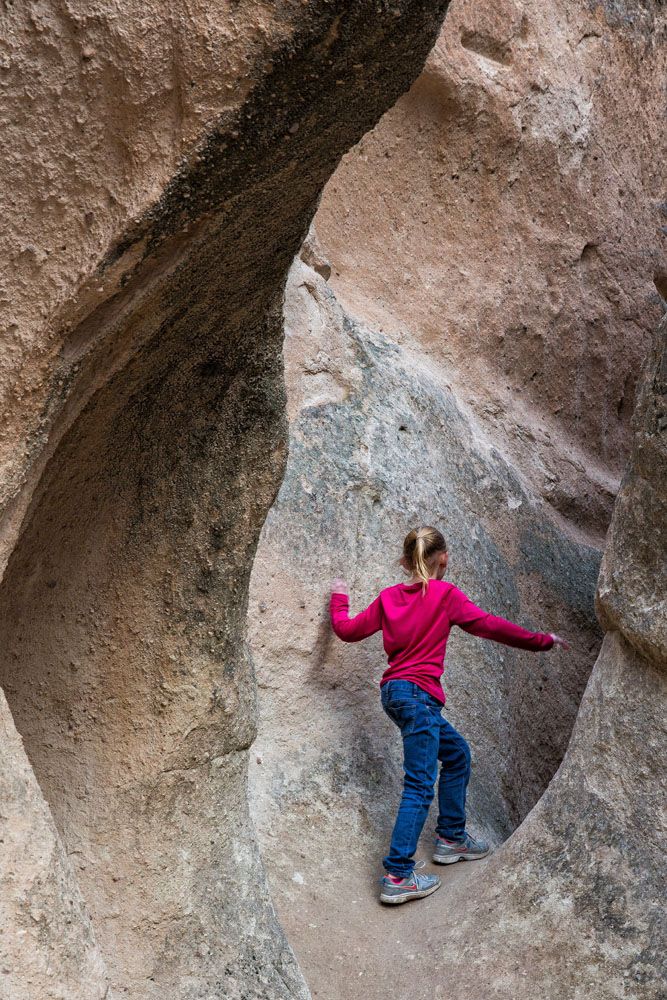 Devrent Valley
Devrent Valley, also known as Imagination Valley, is a great place for kids. There are rock formations shaped liked camels, seals, lions, and whatever else you can imagine. For Tyler and Kara it meant more exploration but also a fun time naming the different shapes they saw. What a great place to let your kid's imagination run wild!

Soganli Valley
Soganli Valley is located a half an hour south of Urgup. To get here we drove in and out of valleys through a landscape that looked like a miniature version of the Grand Canyon.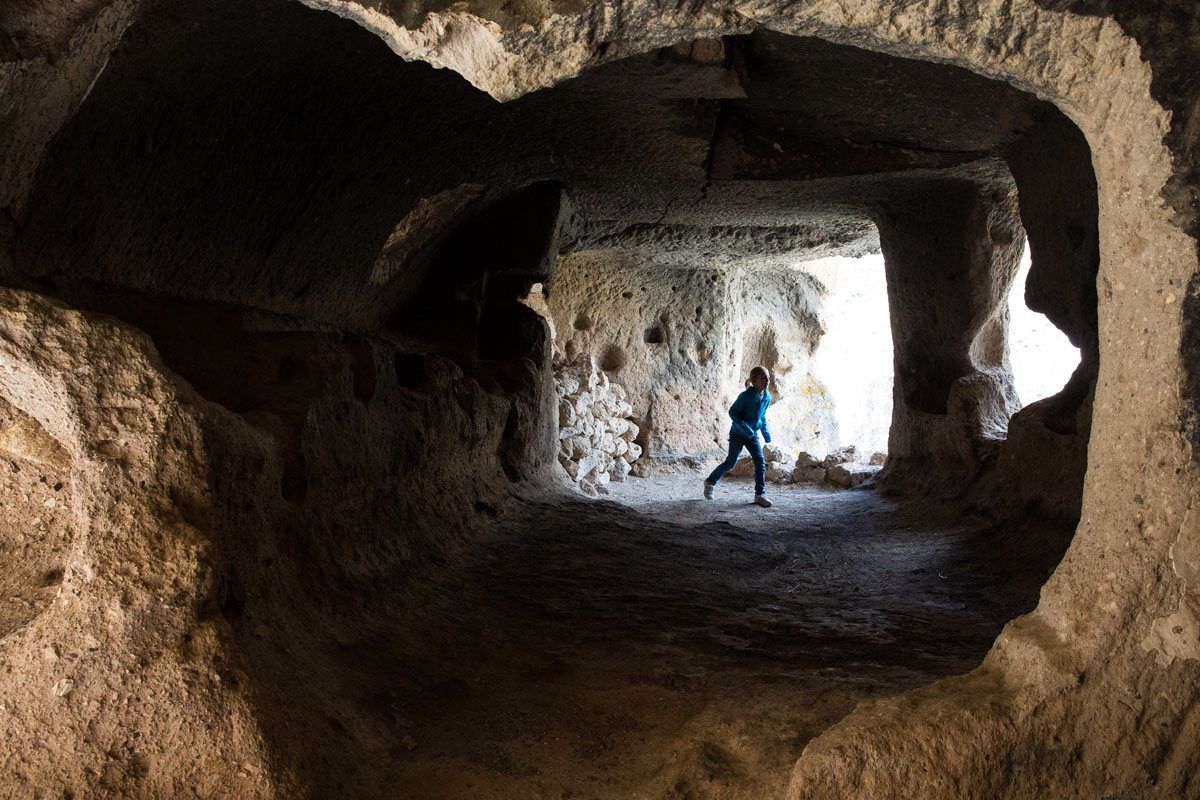 In Soganli Valley we spent about an hour and a half exploring churches that were carved into the sides of the mountains many hundreds of years ago. Tyler and Kara had a blast doing this. We followed dark tunnels into the mountain (with the aid of the flashlight app on our phones), the kids took videos on their iPod touches, and Tim and I had fun exploring with them. This was so much better than the Goreme Open Air Museum. The churches were more interesting and during the entire time in the valley we saw only one other tour group.
Take a Balloon Ride Over Cappadocia
This was one of the highlights of our time in Turkey. Seeing Cappadocia from a hot air balloon is a magical experience and gives you a different perspective of amazing Cappadocia.

Sleep in a Cave
While in Cappadocia we stayed in the Yunak Evleri Hotel in Urgup. This place is fantastic! The staff are very helpful and attentive, the location in Cappadocia is central to most attractions, we could easily walk to numerous restaurants for dinner, and sleeping in a real cave is an awesome experience. Prior to starting our around the world trip, this cave hotel was Tyler and Kara's favorite accommodation. It's one of my favorite places, too.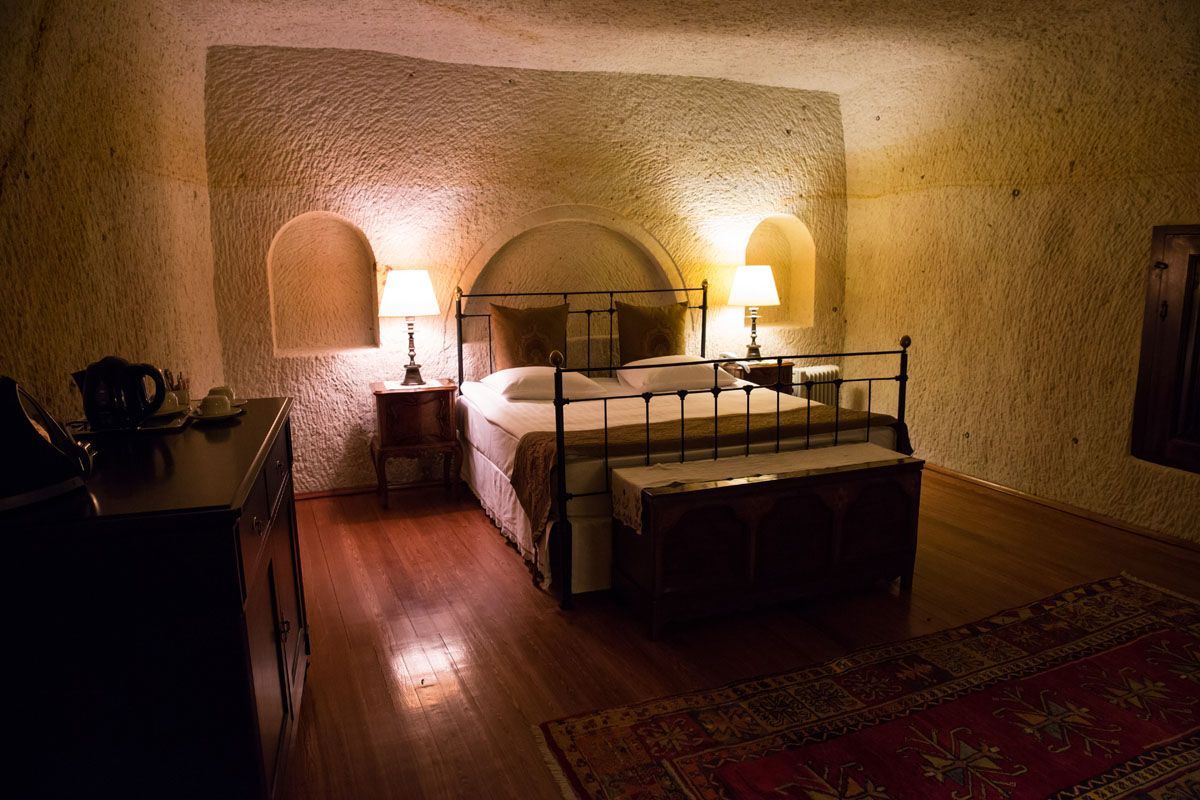 Cappadocia, Turkey is a great place to travel with kids. The unique scenery, the hiking trails, the churches carved into mountainsides, and the very friendly people of Turkey make this an unforgettable place to visit.
---
More Information for Your Trip to Turkey
CAPPADOCIA: In our 3 Days in Cappadocia itinerary, learn how to plan your visit here, with daily itineraries, hotel and restaurant recommendations, and helpful tips. And learn more about taking a hot air balloon ride in Cappadocia, one of our favorite experiences in Turkey.
TURKEY ITINERARY: Learn how to plan your visit to Turkey with our 10 day Turkey Itinerary, which includes Istanbul, Cappadocia and Ephesus.
ISTANBUL: For things to do on a visit to Istanbul, read our article Best Things to Do in Istanbul. We also have information about shopping in the Grand Bazaar.
SELCUK & EPHESUS: In our guide to Selcuk, we cover the best things to do in Selcuk and how to plan your visit to Ephesus.
MORE GREAT HIKES: For more great hikes to do around the world, read our article 20 Best Day Hikes in the World.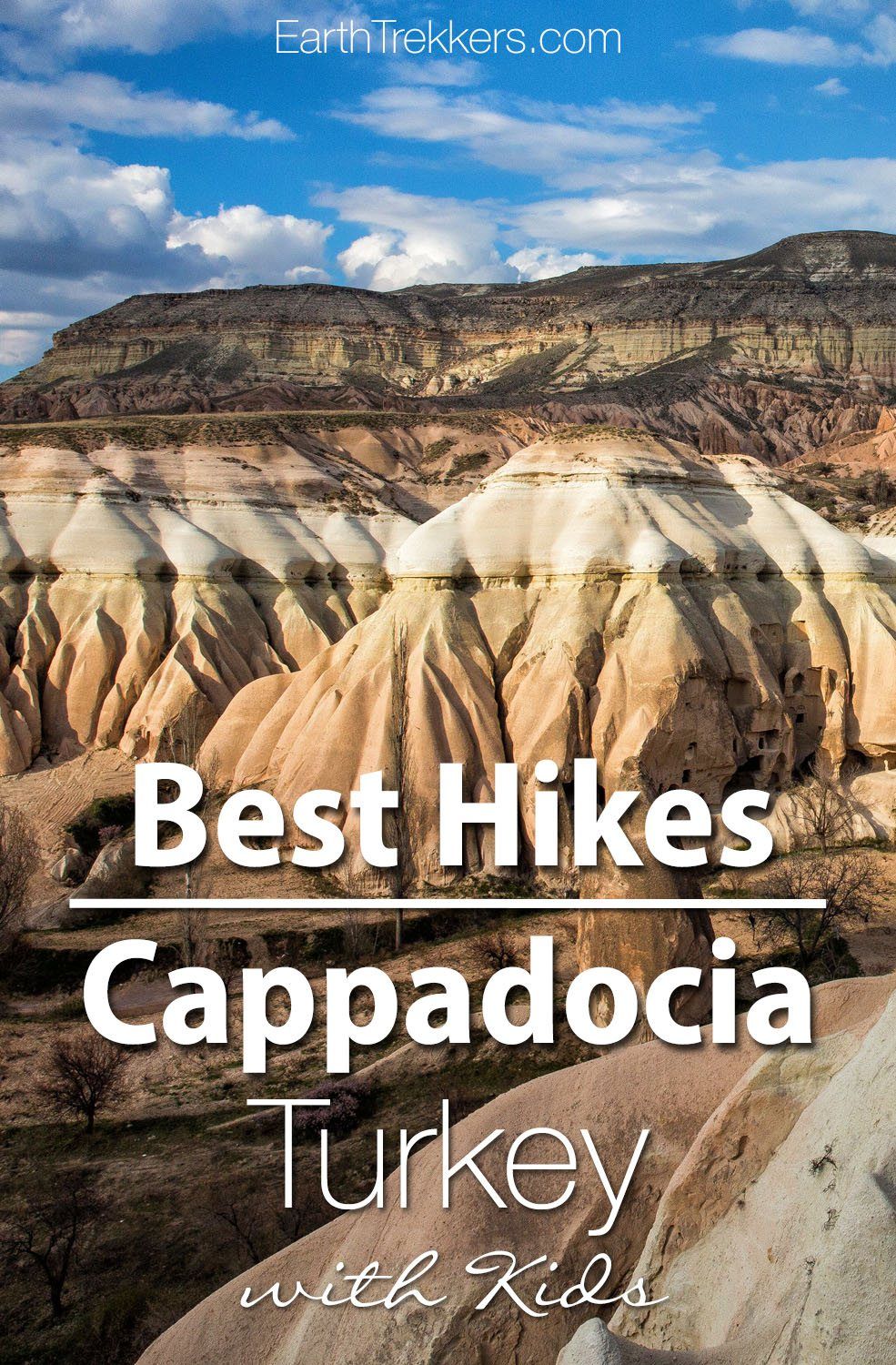 Note: This post contains affiliate links. When you make a purchase using one of these affiliate links, we get paid a small commission at no extra cost to you.
All rights reserved © Earth Trekkers. Republishing this article and/or any of its contents (text, photography, etc.), in whole or in part, is strictly prohibited.