When is the best time to visit the Algarve?
If you want sunny skies, warm temperatures, warm water, and relatively low crowds, October is a fantastic time to visit the Algarve.
We spent 9 days in the Algarve in early to mid-October. With warm weather and brilliantly sunny days throughout our visit, the weather was perfect. This time of year, the towns and beaches in the Algarve are far less crowded than the summer months, making it easier to get reservations and book boat tours, and visit the beaches without enormous crowds of visitors.
Weather in the Algarve in October
In October, the average high is 26°C (80°F) at the beginning of the month and 23°C (73°F) at the end of the month. Typically, most days are very sunny and rain is relatively rare.
During our visit (October 5 through October 14) the weather was warmer than average. Daytime highs ranged from 26°C to 29°C. We had one morning of clouds and drizzly rain on the second to last day of our visit, but other than this, skies were clear and sunny.
In the evenings, it does cool off, but in our experience, it never got chilly. In the evenings, we were very comfortable in a short-sleeved shirt and long pants or a long skirt.
The other thing to consider is water temperature. In October, the average sea temperature is 20°C (during our visit it was 22°C), with the water temperatures in August and September being just one degree warmer. In the spring, you can avoid the hot summer temperatures and crowds, but the water tends to be much chillier, so keep this in mind if you plan to go swimming.
Below is the weather forecast during our visit in October (source: weather.com).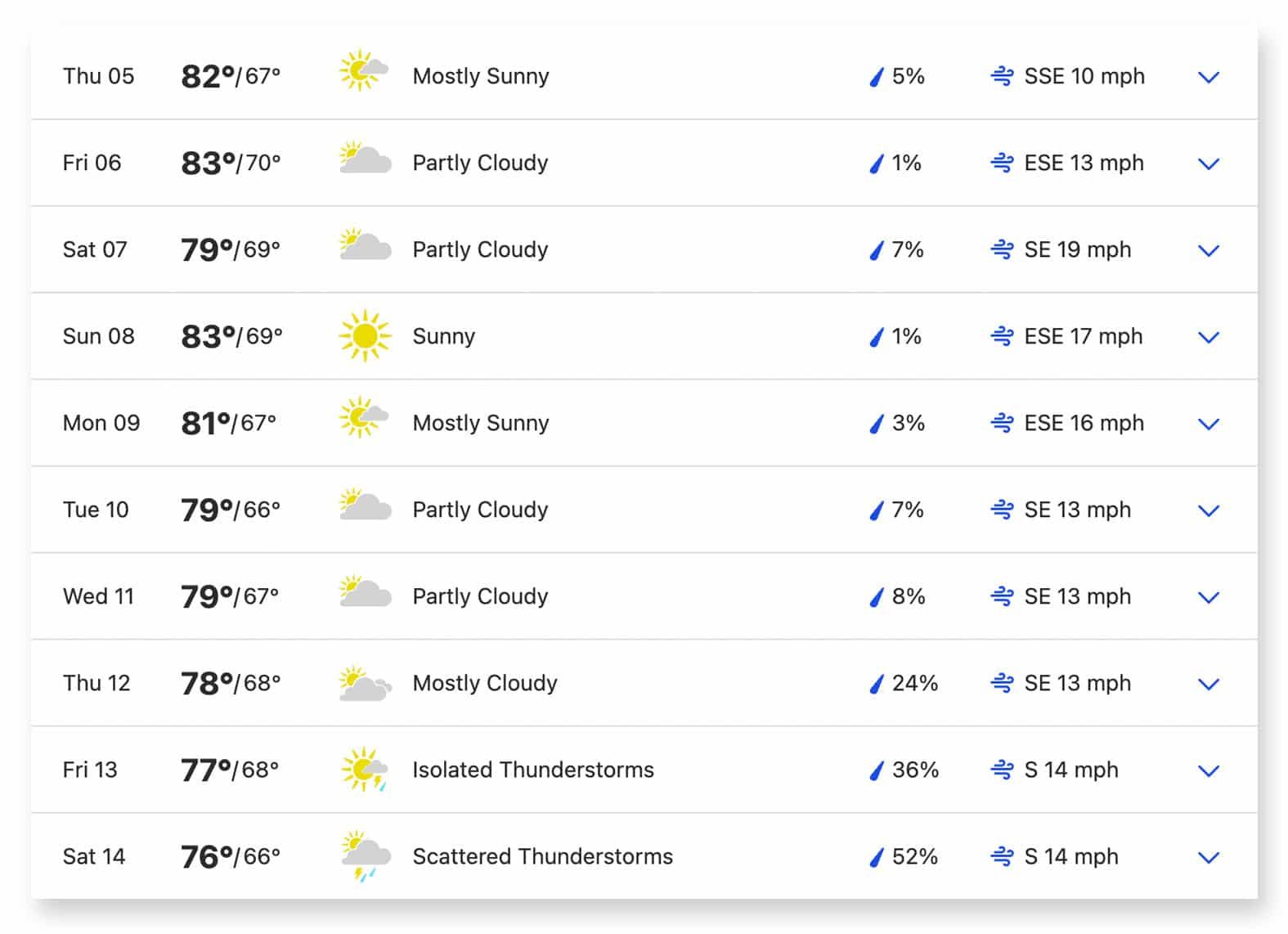 How Crowded is the Algarve in October?
Peak season in the Algarve is July and August. Crowds tend to lessen in September and by October, are much lower than the summer months. Even so, some places can still feel busy, in particular the most popular beaches, Benagil Cave, and the towns of Lagos and Albufeira.
Only but a few restaurants we visited were filled to capacity, and most were about half full. It was very easy to get dinner reservations and at some, the reservations weren't even necessary.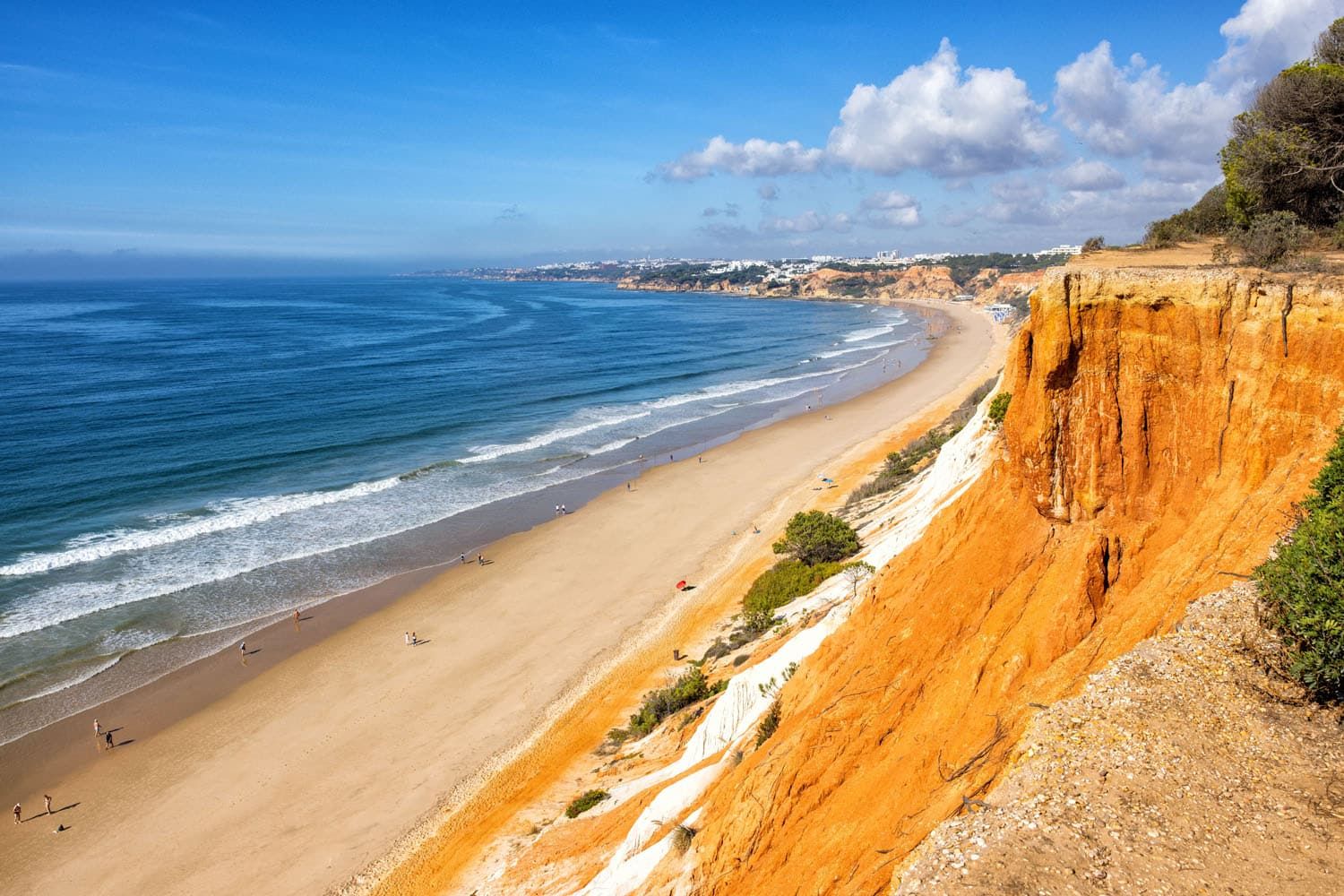 Falésia Beach at 11 am on a Saturday in October
Sunrise and Sunset Times
In early October, the sun rises at 7:30 am and the sun sets at 7:16 pm. By late October, sunrise is at 7:50 am and sunset is at 5:40 pm.
On the last Sunday of October, daylight savings time in Europe ends, so clocks fall back one hour. In 2024, this falls on October 27. On October 26, sunset is at 6:40 pm. On October 27, due to the time change, sunset is at 5:40 pm.
What Will Be Open in October?
In October, everything remains open, with the exception of a few water parks. Hotels and restaurants remain open and boat excursions continue to run.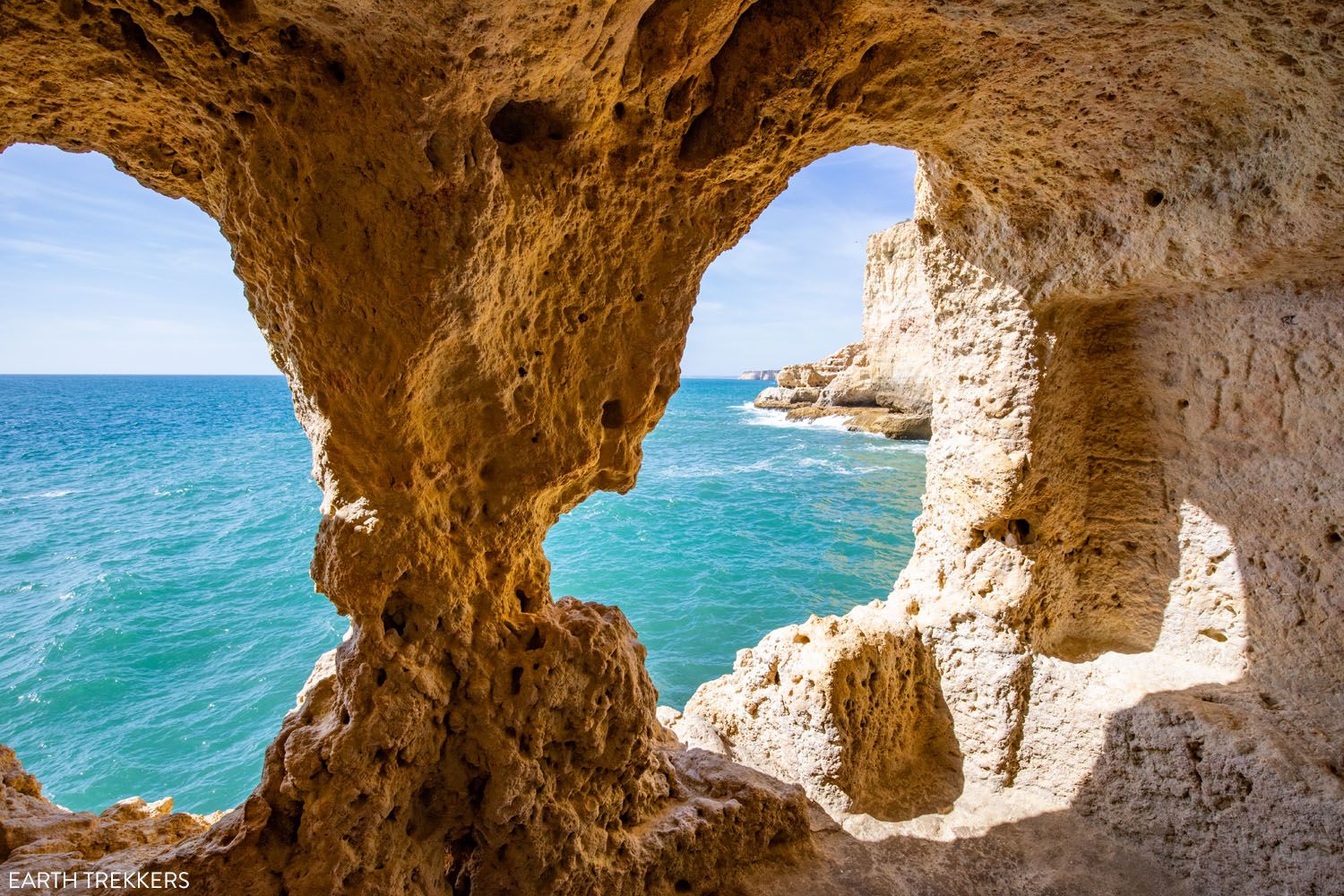 The famous cave at Algar Seco. In the summer there can be a line to enter this cave but during our visit we were able to walk right in and take our photos.
The Advantages of Visiting the Algarve in October
The weather is just about perfect this time of year. If temperatures are a little warmer than normal, as they were in our case, it's still warm enough to visit the beach or relax by the pool, but not so hot that sightseeing or hiking is unpleasant.
The water temperatures are warmer than in the spring months, which is better for swimming and water sports.
Crowds are much lower than the summer season, when the Algarve can feel overrun with visitors. Many locals commented on how nice it is to be in Algarve in October, with great weather and relatively low crowds.
Since the Algarve is a lot less busy in October, it's easier to arrange for boat tours just a day or two in advance, or show up at the more popular restaurants without a reservation with the chance to still get a seat (although I still recommend making a reservation in advance whenever possible).
You'll also sit through less traffic on the roads and have a much easier time finding a parking space at the beach parking lots.
And finally, since it is no longer peak season, hotel prices will be lower than the summer months.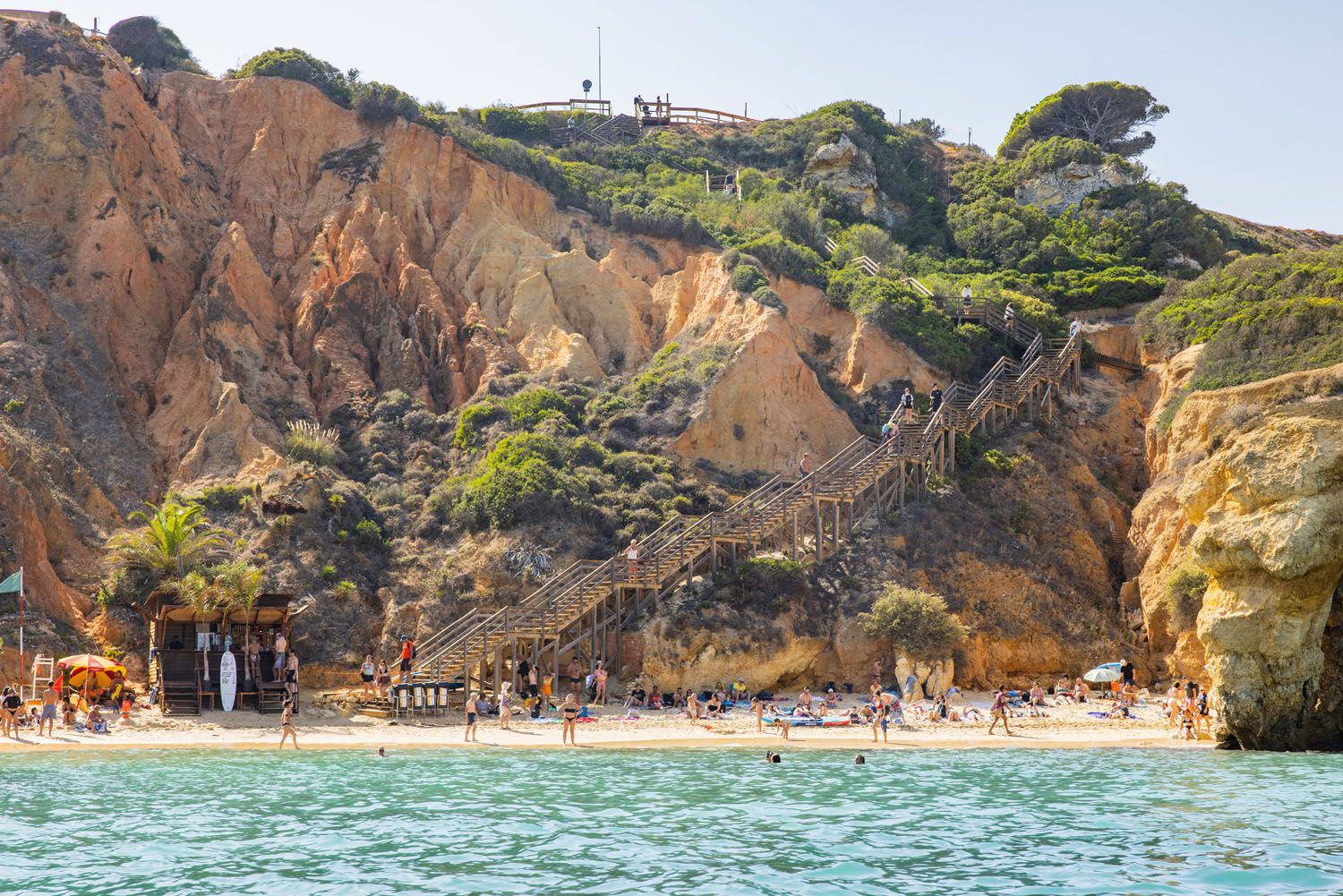 Camilo Beach is one of the Algarve's most popular beaches. This is the view midday in October. It's still busy but our boat captain said this same beach is wall to wall beach blankets in the summer.
The Disadvantages of Visiting the Algarve in October
There aren't many.
The water is cooler, so for some people, October isn't a great time to visit the Algarve if you plan to go swimming.
There is a slightly increased chance of cloudy or rainy weather in October compared to the summer months, so there is a chance you could see a few rain drops during your visit.
Sea conditions get rougher in October, compared to the summer months, which can cancel or delay some boat trips. During our nine day visit, boat tours did not run on four of those days. If you plan to take a boat tour while in the Algarve, schedule it at the beginning of your visit, which gives you time to reschedule it, should it get cancelled due to rough seas.
Is it Worth Visiting the Algarve in October?
With gorgeous weather and lower crowds, October is one of the best months to visit the Algarve.
In our opinion, October is a better month to visit than September, since it is less crowded during this time. I also think that October is a better time to visit the Algarve than May or June, since the water is warmer in the early fall.
Based on our experience in October, I also think early November would be a very nice time to visit the Algarve. Rain chances do go up a little bit, and not everything will be open (a few restaurants and resorts will close but not enough to discourage you from visiting at this time), but during this month, the weather can still be very pleasant and crowds will be even lower than those in October.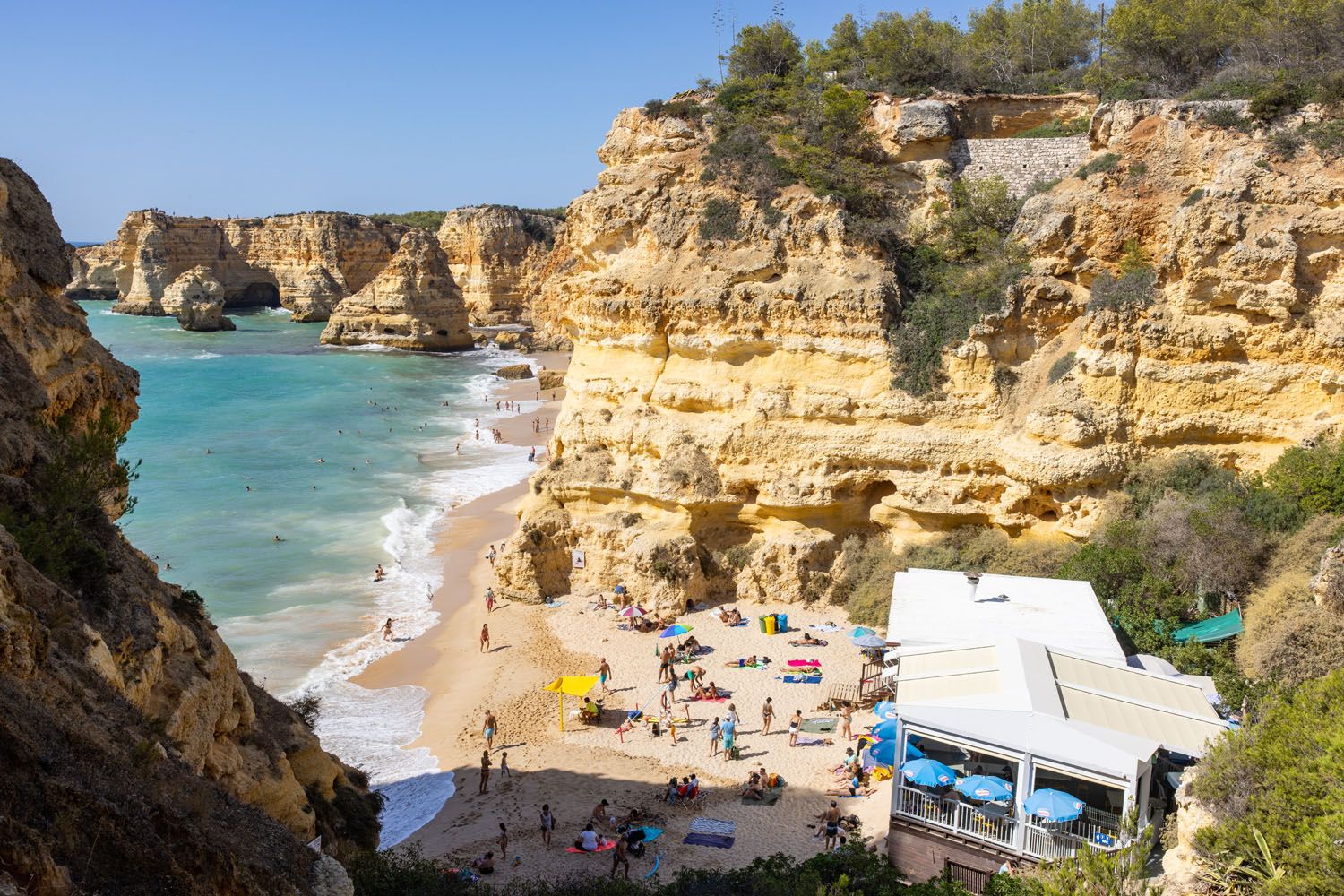 Marinha Beach
Frequently Asked Questions
Is October a good time to visit the Algarve?
October is one of the best times of the year to visit the Algarve. The weather is warm, skies are generally sunny, and crowds are easing up as the region transitions into the off season. With lower crowds, hotel prices tend to be lower and it's a lot easier to find parking at the popular beaches. If you want fabulous weather without huge crowds, it's hard to beat the Algarve in October.
What is the weather like in the Algarve in October?
The average high in October is 24°C (75°F) and the average low is 17°C (63°F). Sunny skies are the norm, with clouds and a few rain showers more likely at the end of the month than at the beginning.
What are the best things to do in the Algarve in October?
In October, everything remains open. This is a great time to go hiking, relax on the beach, take a boat or kayaking tour, visit the small towns, or simply soak up the sun. Since the weather remains warm and sunny, October is a great time to enjoy all of the wonderful activities this region has to offer, with less crowds than the summer months.
---
If you have any questions about what it is like to visit the Algarve in October, let us know in the comment section below.
More Information for Your Trip to Portugal
ALGARVE, PORTUGAL: Learn how to hike the Seven Hanging Valleys Trail, one of the most beautiful walks in Europe. And don't miss our guide to Algar Seco, a famous photography location in the Algarve.
SINTRA: In our article Best Things to Do in Sintra, we cover the top sights to see in Sintra, plus everything you need to know to plan your visit, with time saving tips, transportation options, and a sample itinerary.
PORTO: We cover the best things to do in Porto in our Porto Bucket List. In our Guide to the Wine Cellars in Gaia, get recommendations on which wine cellars to visit and how to plan your time.
ÓBIDOS: Óbidos is a hillside town that is a joy to explore. Learn more in our Guide to Óbidos.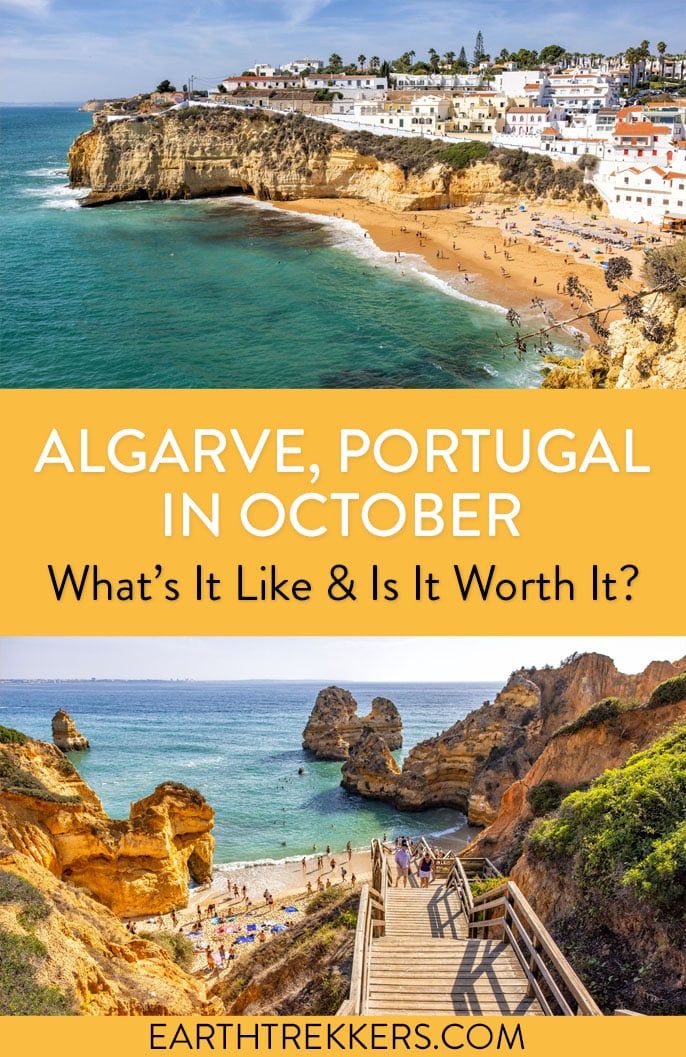 All rights reserved © Earth Trekkers. Republishing this article and/or any of its contents (text, photography, etc.), in whole or in part, is strictly prohibited.