Sydney is home to some of the most beautiful beaches in the world. Boasting over 100 beaches in and around the city, Sydney is unmatched globally as one of the best cities in the world when it comes to seaside escapes. With long, white stretches of sand, crystal clear aquamarine water, and a steady sea breeze to keep you cool, the beaches in Sydney are spectacular!
In Sydney, each beach offers a slightly different experience. Some are iconic for surfing, some are secluded and (almost) private, and some are filled with tons of fun things to do. If you are looking for that perfect beach in Sydney, check out our list below. Grab your favorite swimsuit and surfboard and start exploring!
Best Beaches in Sydney
In no particular order, here are the best beaches in Sydney. At the end of this list, you can see all of them on a map.
1. Bondi Beach
Bondi Beach is world famous. This beach is consistently rated as one of the most popular beaches in the world due to both its natural beauty and collection of restaurants.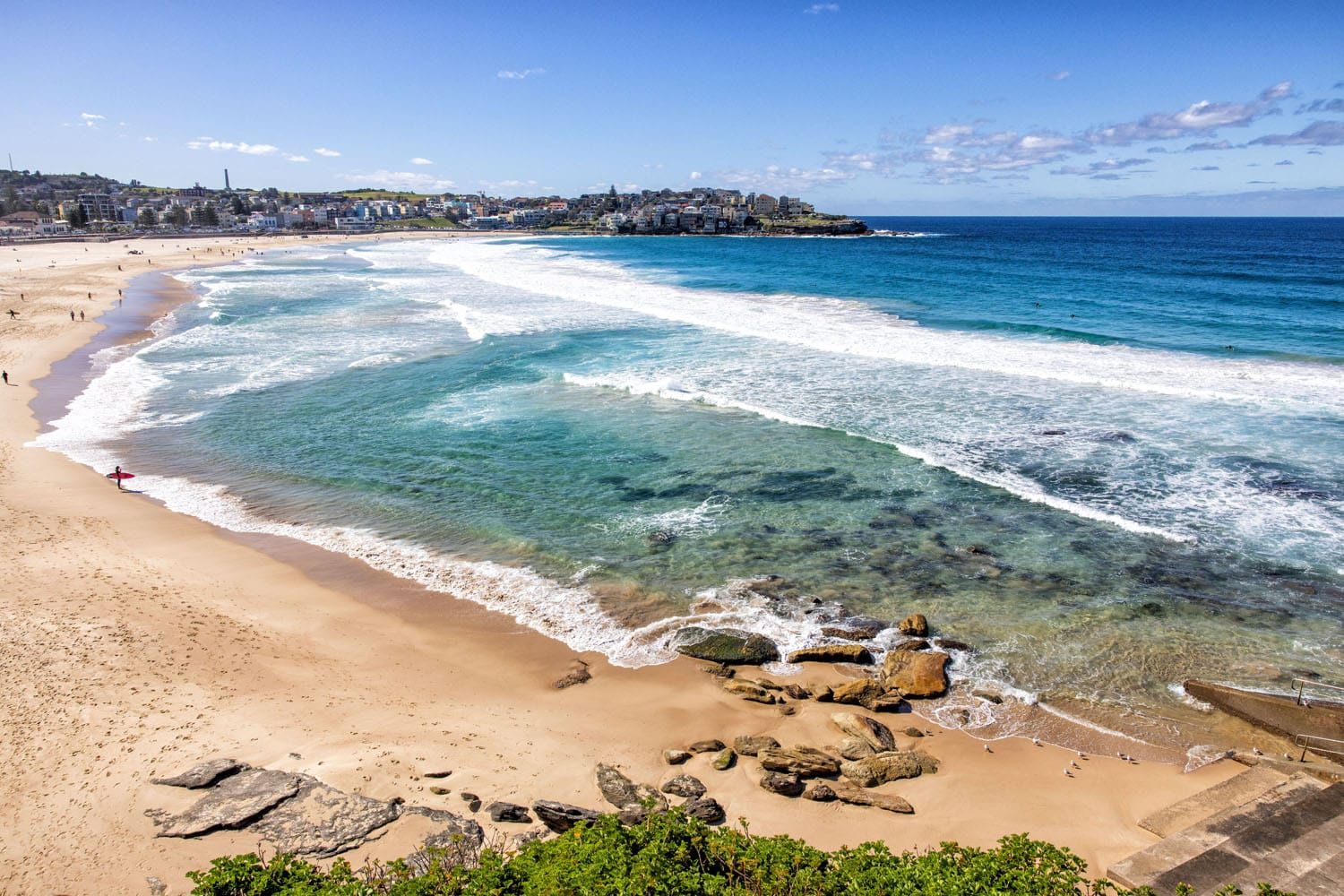 Bondi Beach | Best Beaches in Sydney
The wide crescent-shaped stretch of white sand and fantastic surf make Bondi a beach-lovers paradise. The show Bondi Rescue has been filmed here for the past 17 years, where viewers are offered an inside-look into the lives of Bondi's lifeguards. Due to the popularity of the beach, you may also find a celebrity enjoying Bondi's beauty, if you're lucky.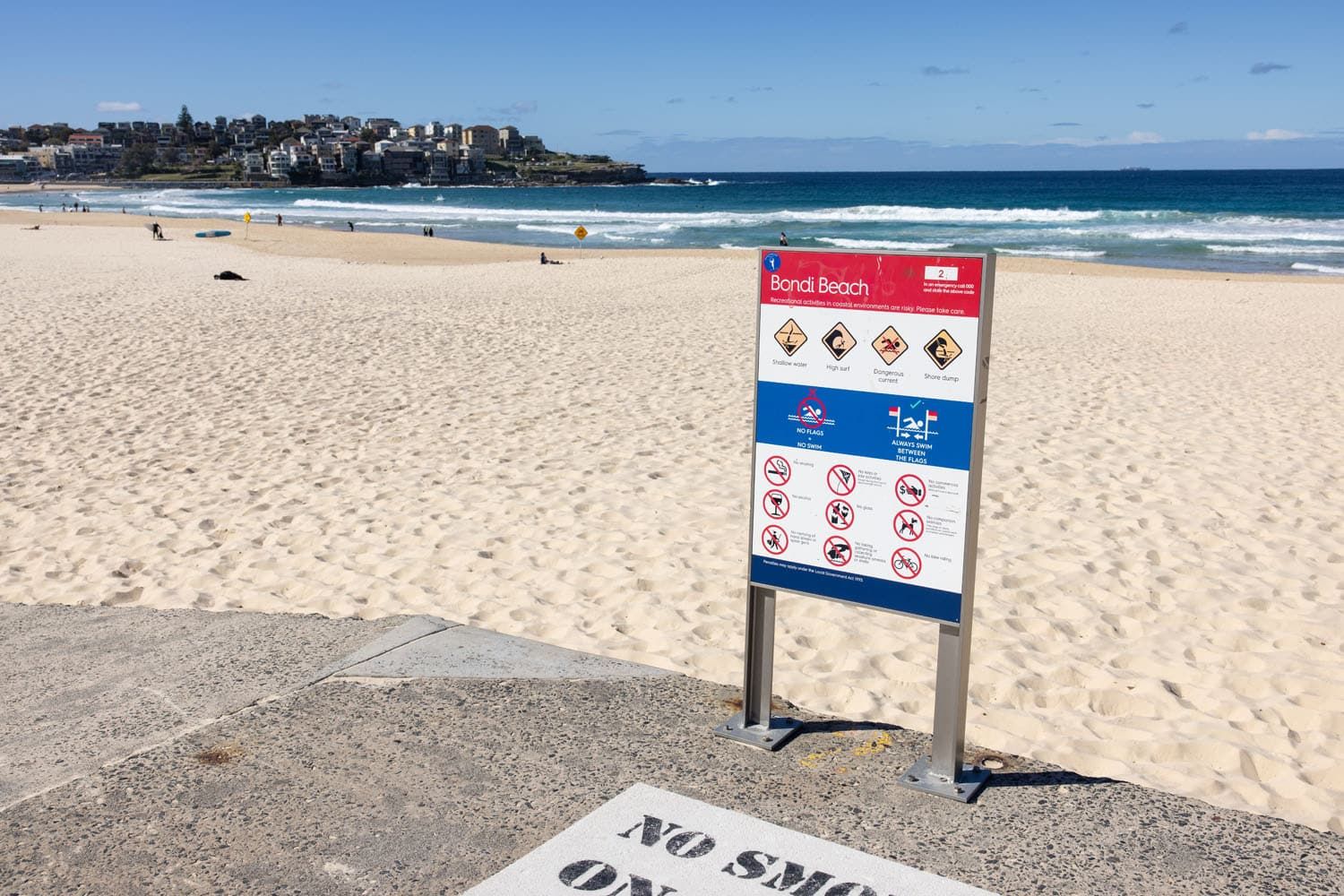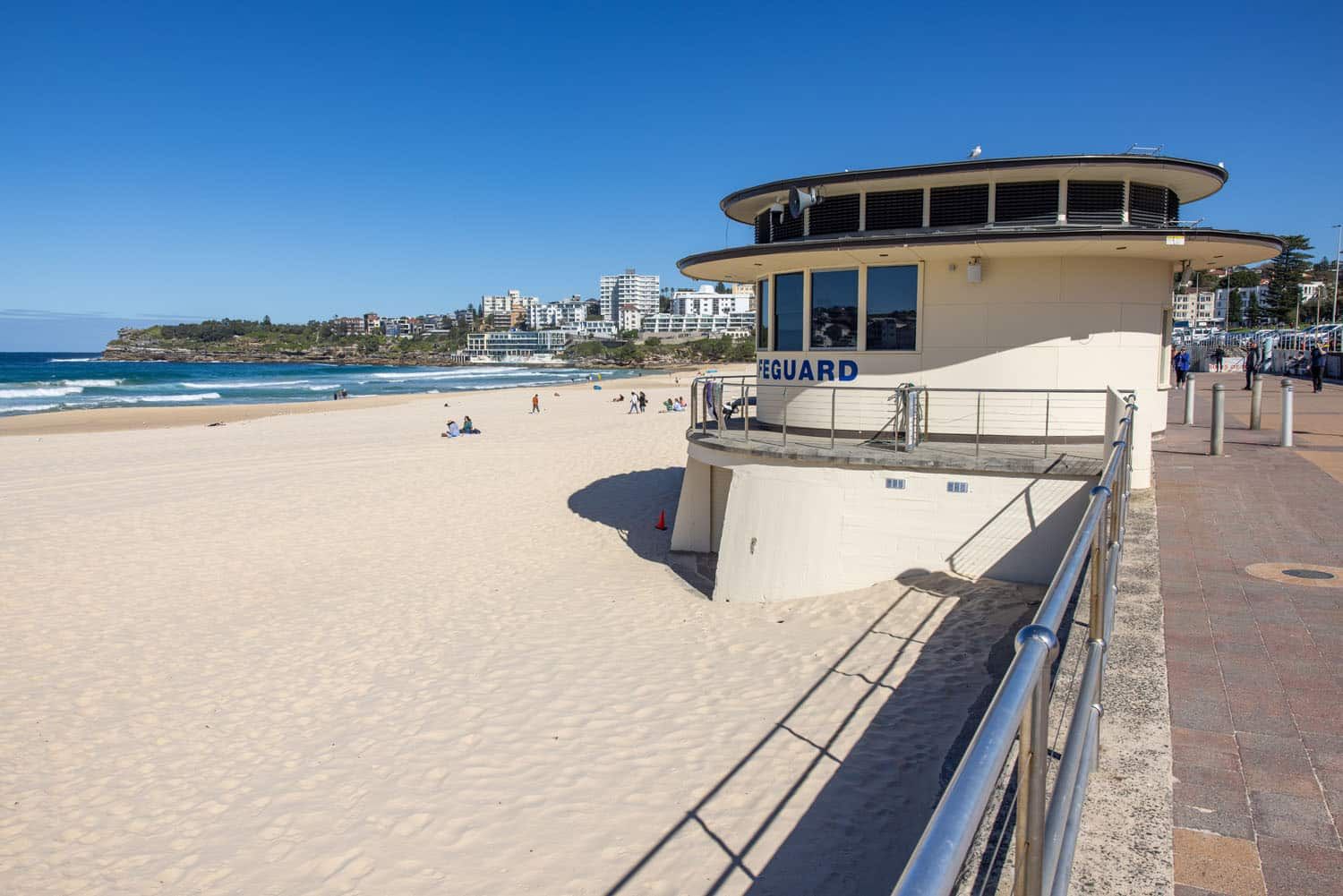 Bondi Beach lifeguard stand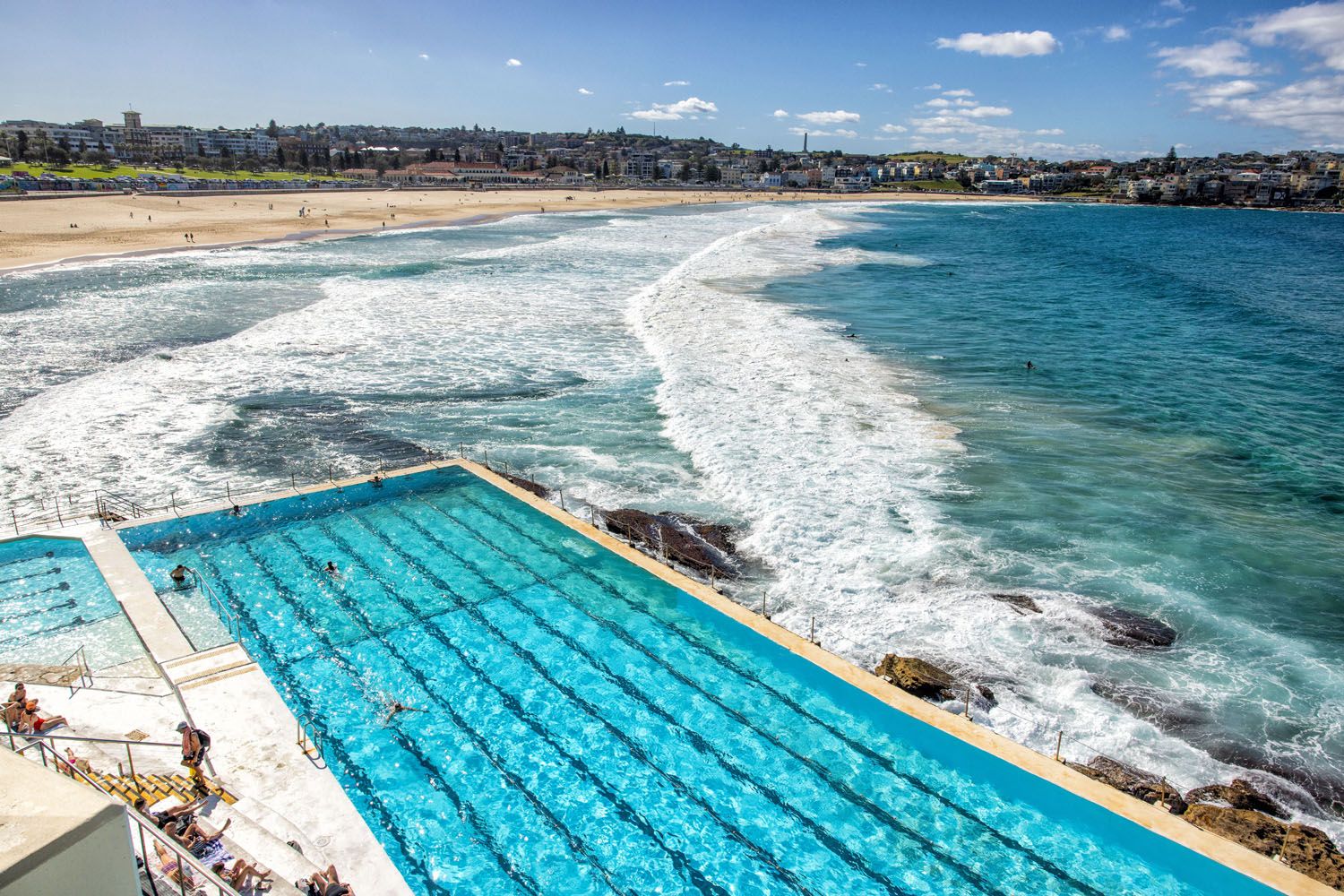 Icebergs Pool and Bondi Beach
Bondi Beach also hosts the Icebergs Club, a restaurant/bar as well as an iconic swimming pool. Built on the southern edge of Bondi Beach, Icebergs features one of the most photographed pools in the world. Come here for a quick swim and stay to enjoy a delicious meal and a cocktail in the sun as you look out over beautiful Bondi Beach.
Bondi is also one of two endpoints of the Coogee to Bondi Coastal Walk, a 4 mile (6.4 km) walk along Sydney's eastern shores. You'll pass some of the best local beaches in Sydney, such as Bronte Beach, as well as a collection of small bays and parks.
From Sydney Harbour, it takes 40 minutes to reach Bondi Beach via public transit.
2. Coogee Beach
Coogee Beach is much smaller than Bondi Beach but is just as vibrant. The beach is in a sheltered bay, surrounded by a quaint suburb full of enjoyable restaurants and bars. With plenty of nearby park space, you'll often find people picnicking out in the sun and enjoying panoramic views over the beach from Goldstein Reserve.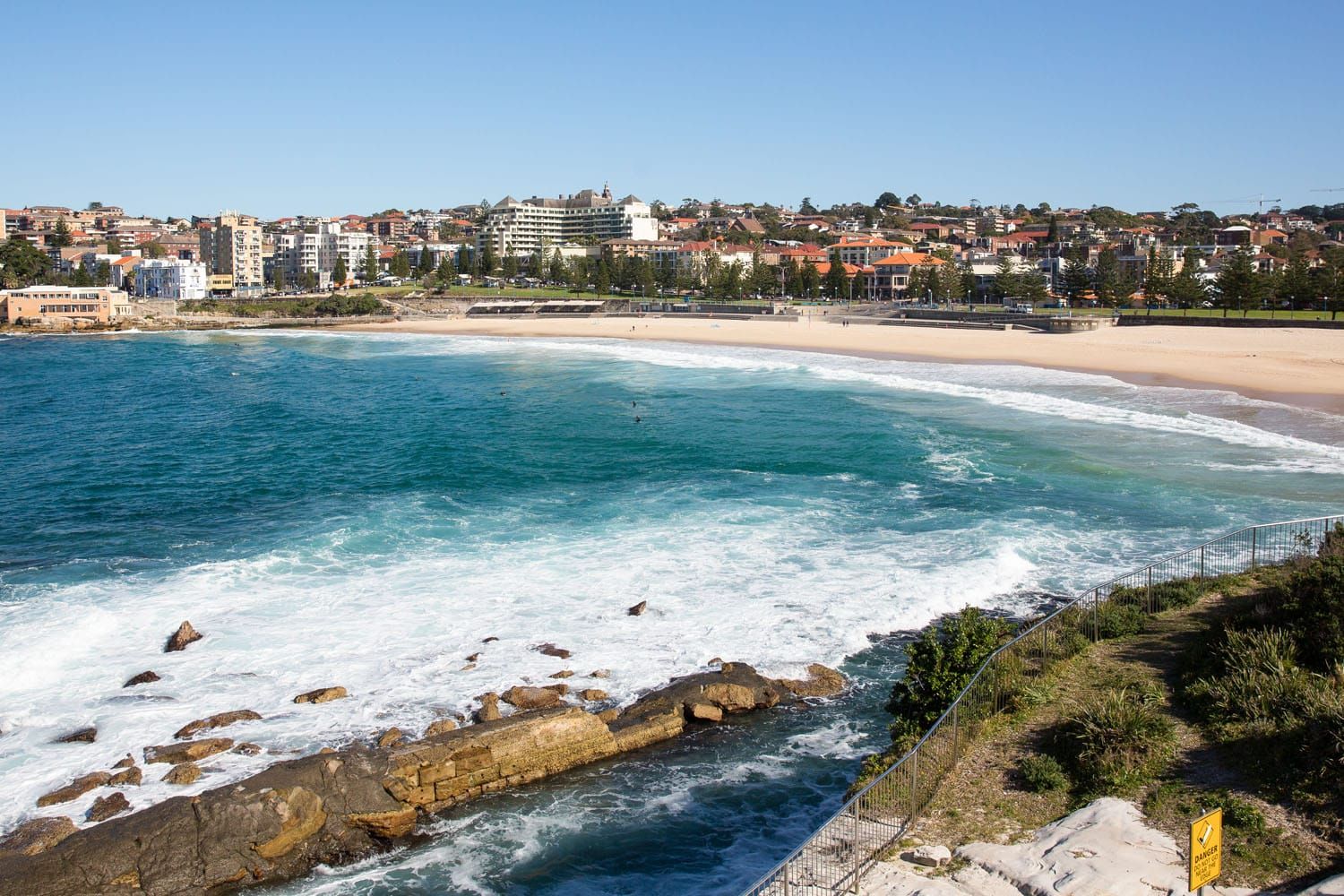 Coogee Beach | Best Beaches in Sydney
The southern end of Coogee features Grant Reserve, another large park space with walking trails, a playground, and several coastal pools.
There is usually minimal surf at Coogee Beach. If looking for a spot to surf for a few hours, we recommend Maroubra, Manly, or Bondi.
Coogee Beach is the other endpoint of the Coogee to Bondi Coastal Walk. It takes 30 minutes to reach Coogee Beach from Sydney's CBD via public transit.
3. Bronte Beach
Bronte Beach is located in the Eastern Suburbs of Sydney. It is one of the beaches you will see if you plan to do the Coogee to Bondi Coastal Walk.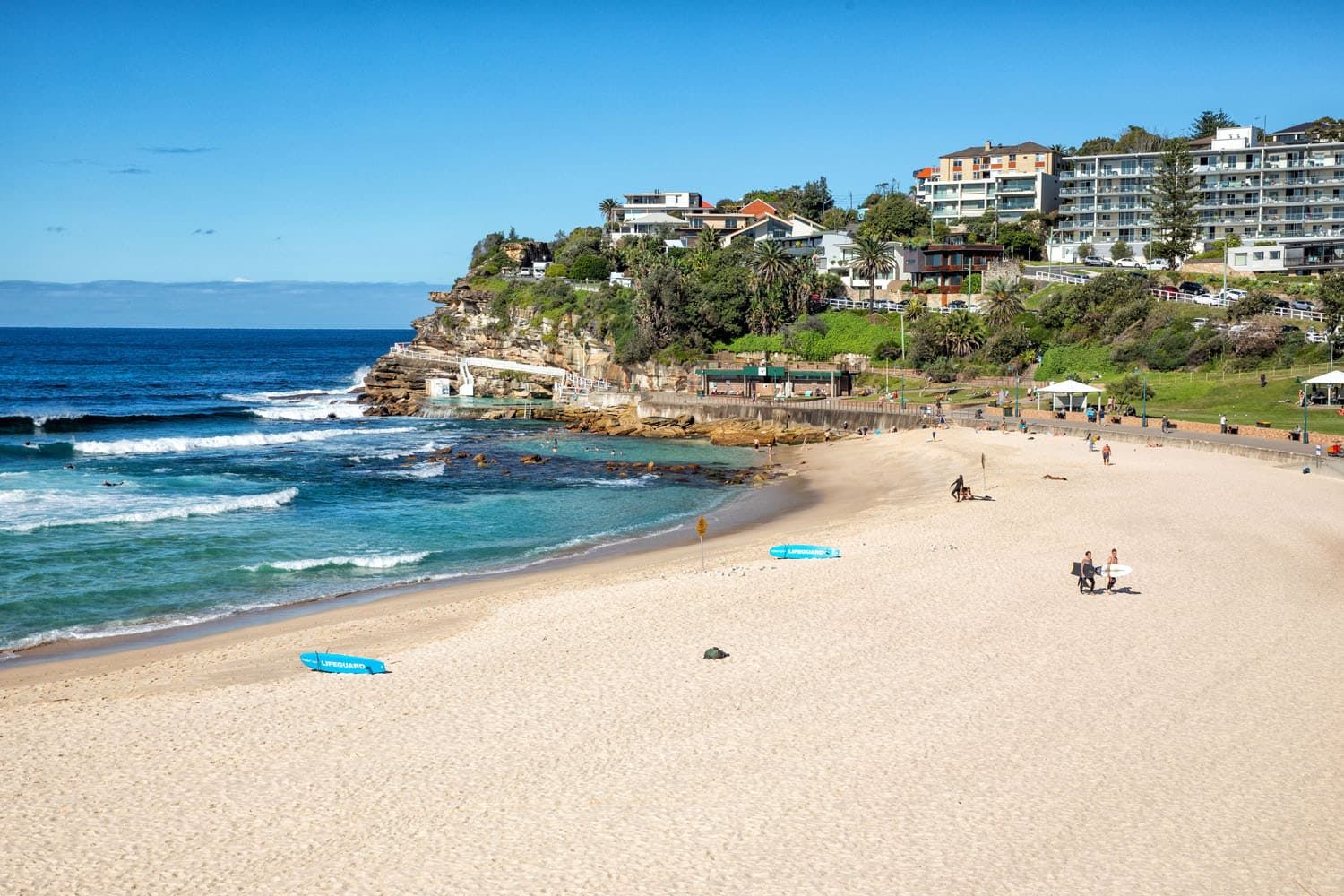 Bronte Beach | Best Beaches in Sydney
This beach is home to a saltwater swimming pool. It is another popular surfing location in Sydney. With picnic areas and local restaurants dotting the shoreline, there is something here for everyone.
4. Tamarana Beach
This tiny beach is also located along the Coogee to Bondi Coastal Walk. It's just a few steps from Bronte Beach.
Sitting within a protected cove, this beach is surrounded by distinctive sandstone cliffs. As far as amenities, this beach lacks the restaurants like many other beaches on this list, but if you are looking for a quiet but picturesque beach, this one is a good pick.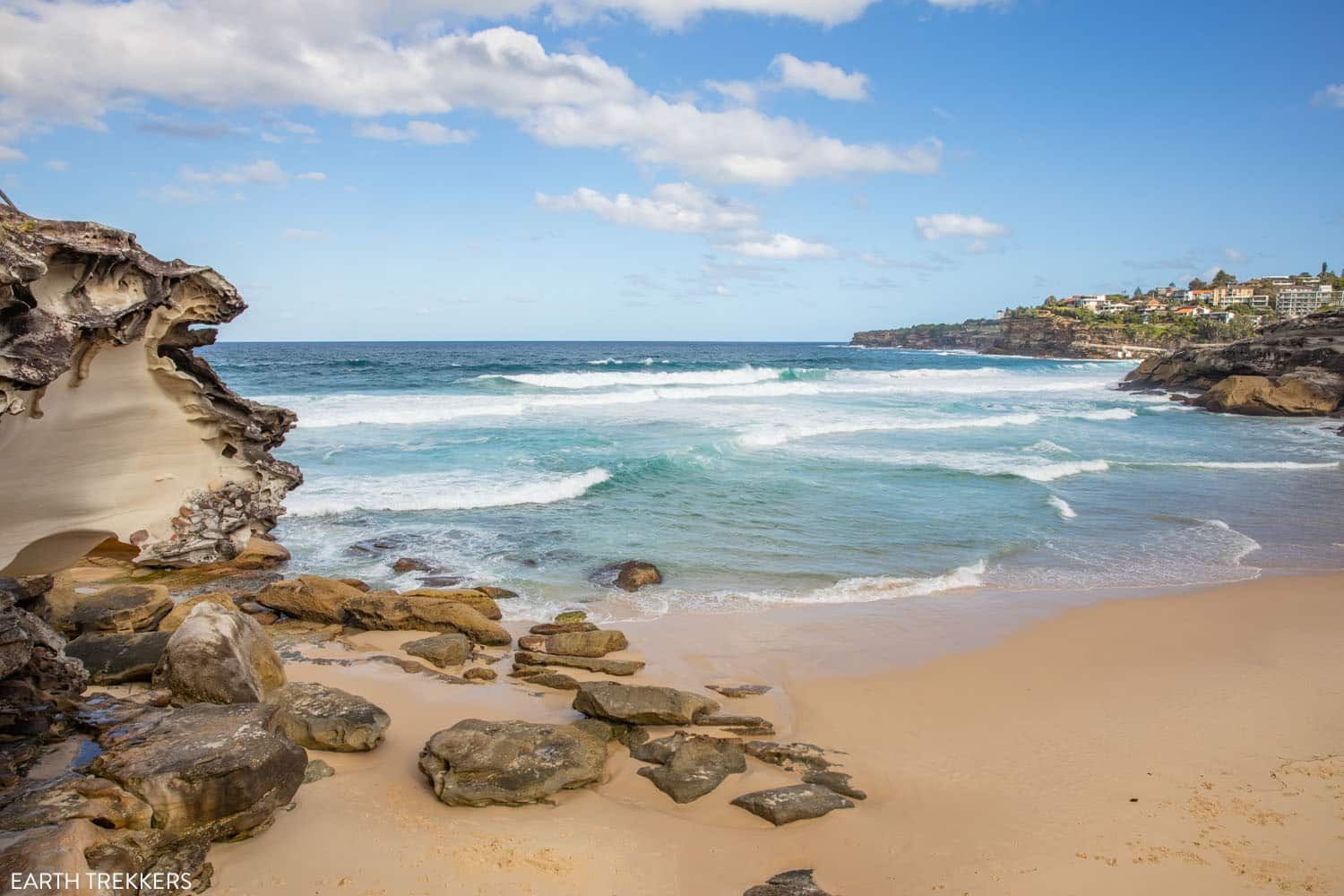 Tamarama Beach | Best Beaches in Sydney
5. Maroubra Beach
Maroubra became a second home for me while I lived abroad in Sydney. I spent a large majority of my afternoons here surfing and eating, making it my goal to eat at all of the nearby oceanside cafes.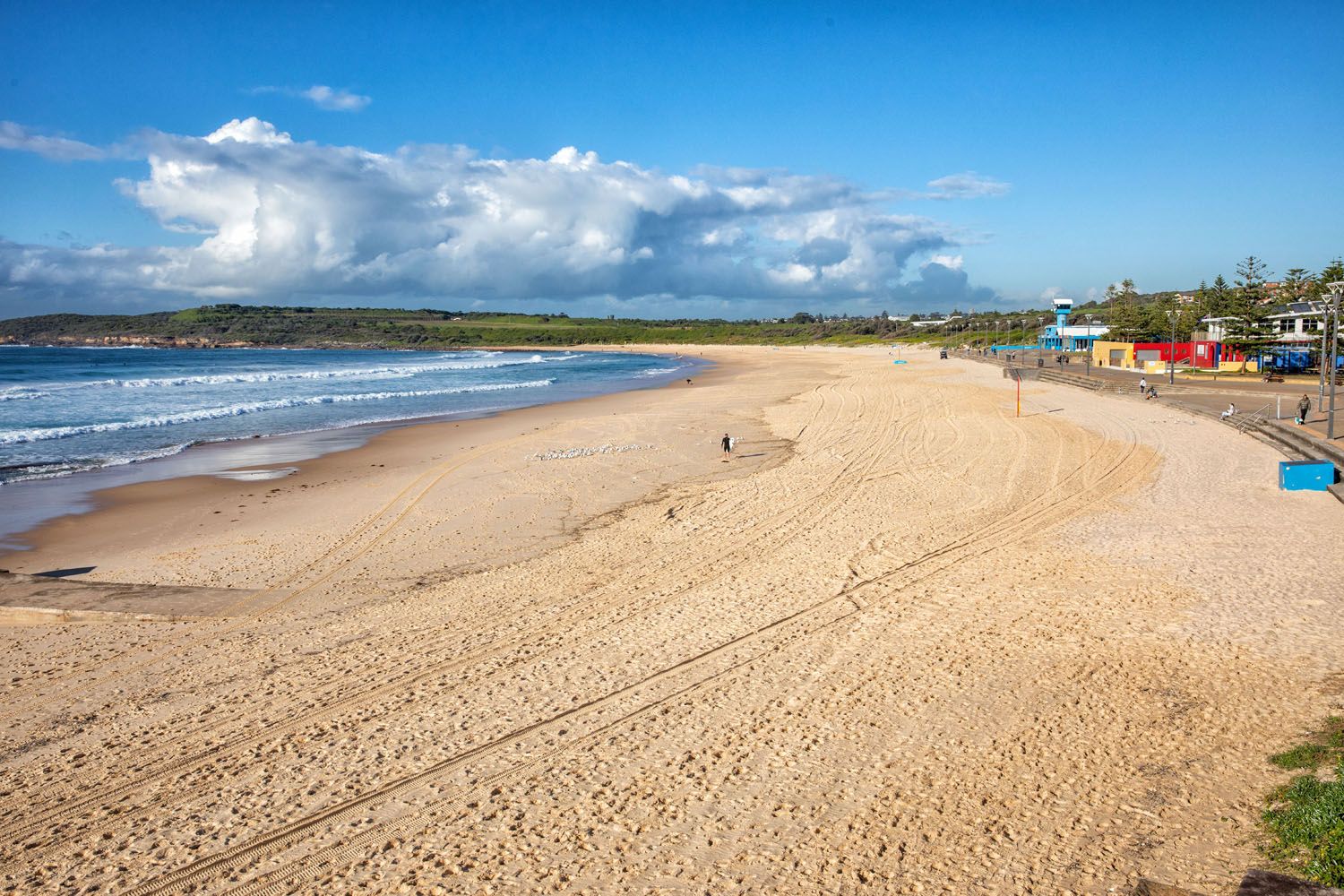 Maroubra Beach | Best Beaches in Sydney
Maroubra can be considered more of a local beach with more advanced surf and a small main street packed with great places to eat and drink.
Since it's not as popular as other nearby beaches, you'll often find a much more laid-back vibe here. There were a few days where I pretty much had the entire beach to myself, which I found surprising given the vast size and beauty of this beach.
If you're looking to try your hand at surfing but need a board, rent from Maroubra Beach Surf & Skate. This small surf shop rents a good number of foam boards of various sizes, as well as sells all sorts of surf and skate necessities and accessories.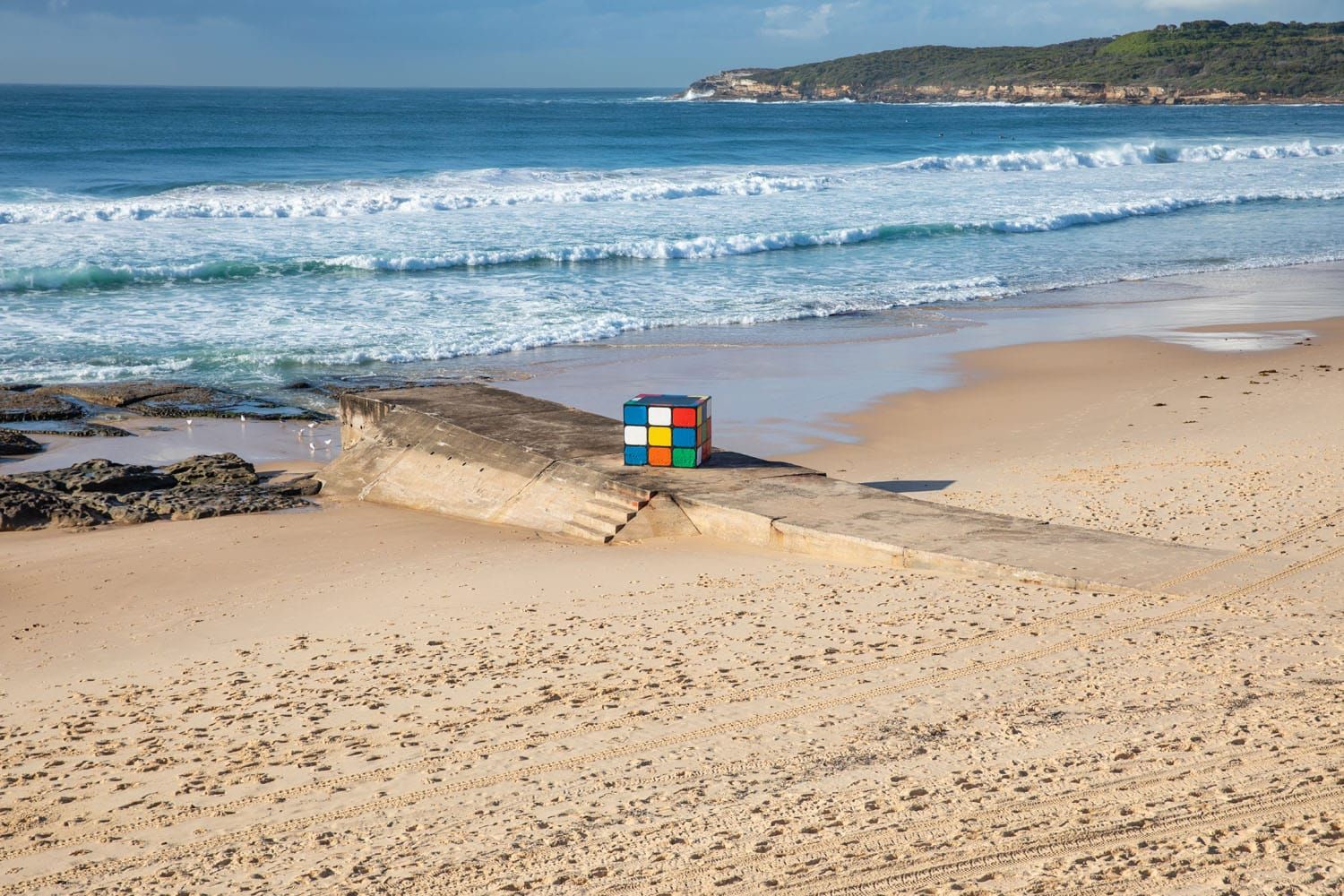 Maroubra Beach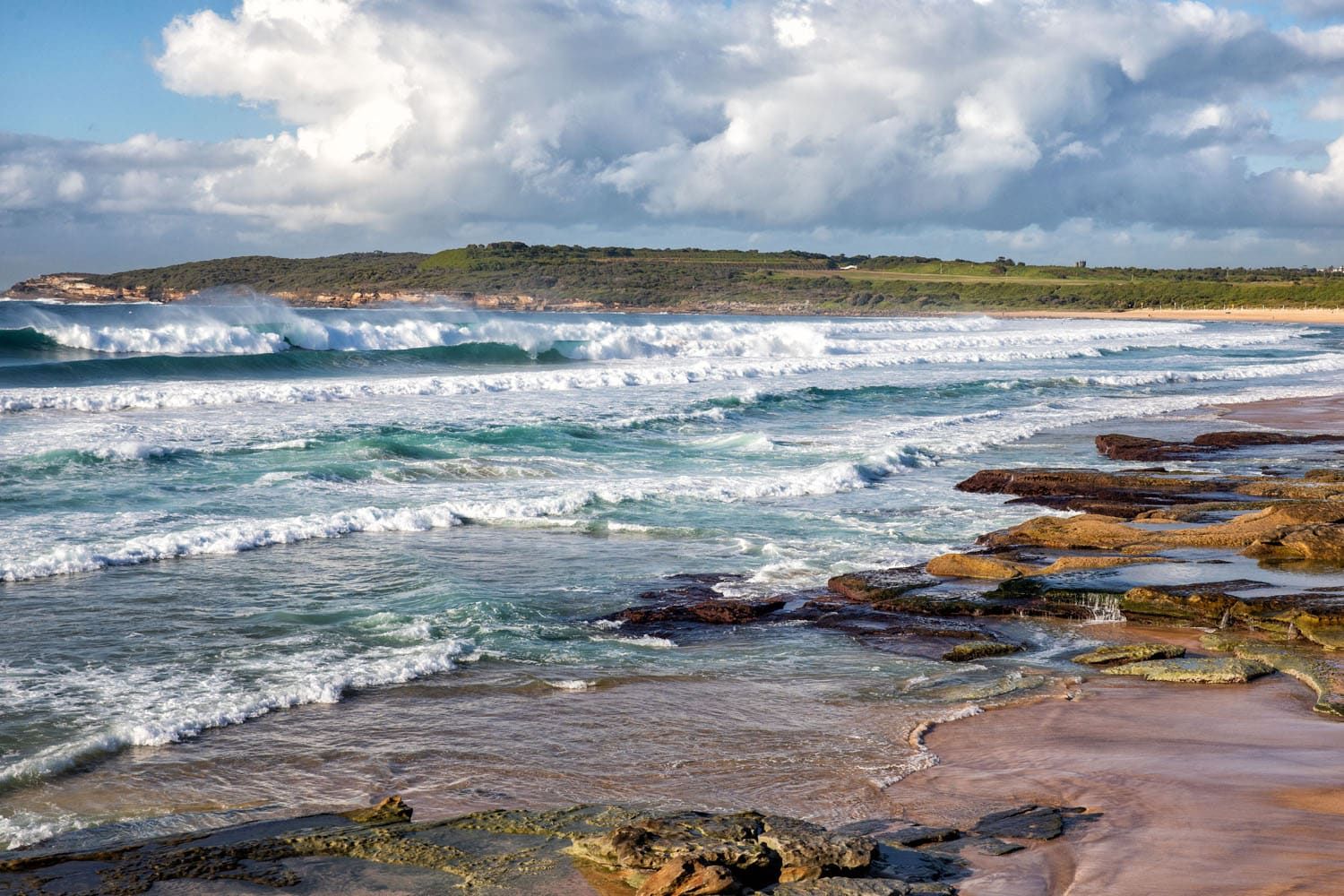 Waves at Maroubra Beach | Best Beaches in Sydney
6. Cronulla Beach
Cronulla is a great family beach with fantastic surf along a wide stretch of white sand. The name "Cronulla" comes from the Aboriginal word kurranulla, which translates to "place of pink seashells".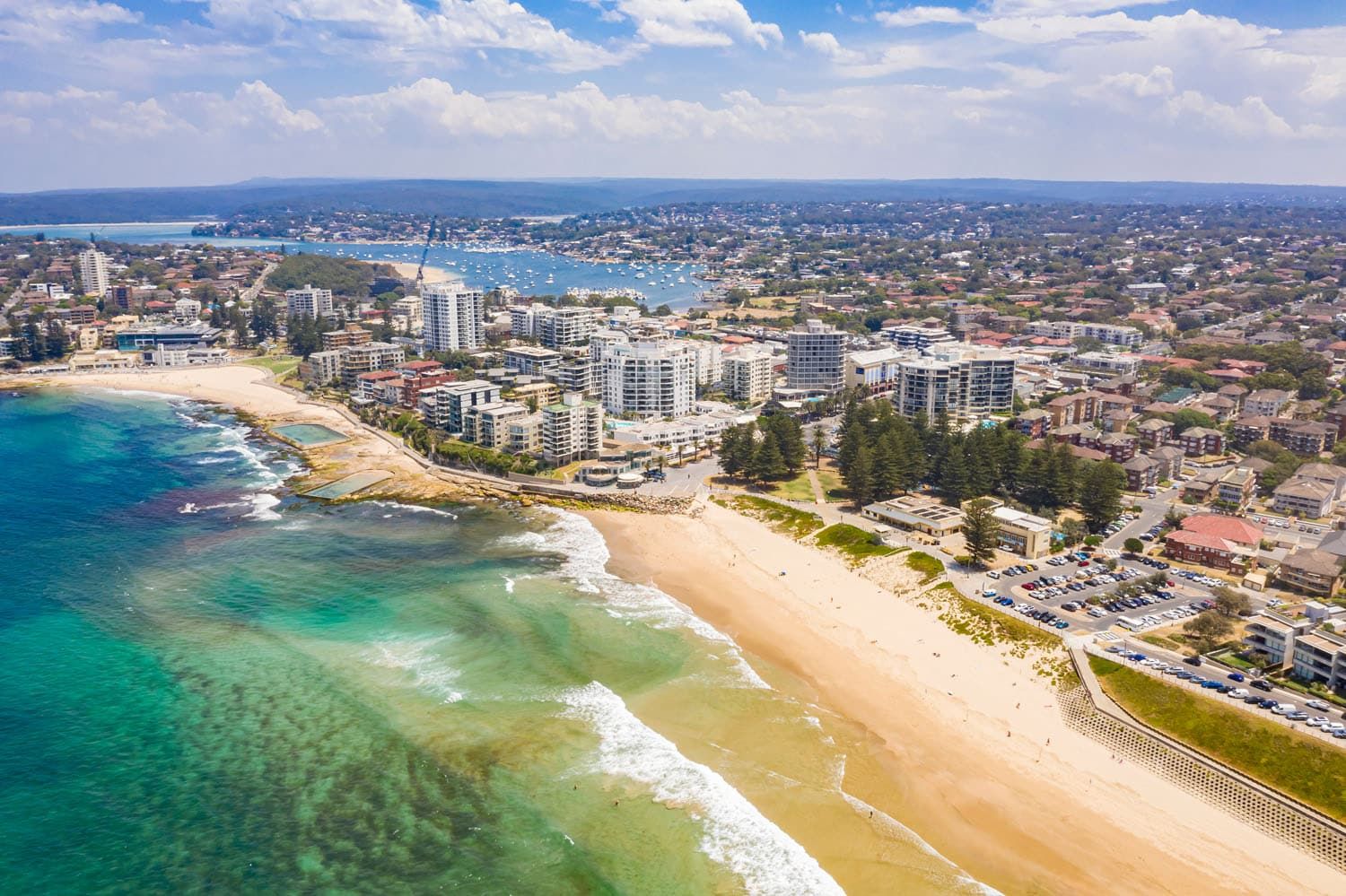 Cronulla Beach | Steve Tritton/shutterstock.com
Cronulla is actually composed of several smaller beaches yet is one continuous stretch of sand. In its entirety, it runs for over 3 miles, making it the longest beach on this list.
Cronulla is the only beach in Sydney that can be reached by train. The beach is located to the south of Sydney's CBD, on the opposite end of Botany Bay from the Sydney Airport. It takes about 35 minutes to reach Cronulla from Sydney's CBD.
7. Watsons Bay & Camp Cove
Located on the South Head peninsula in East Sydney is a seaside enclave that makes a great day trip from the city center.
Walk the South Head Heritage Trail, a short walk along the end of the peninsula that takes you past Lady Bay Beach to the Hornby Lighthouse. Along this walk, you can see the Sydney skyline in the distance. It's flat, about 1 km long and takes 30 minutes. During the winter into early spring, it's possible to see humpback whales from Hornby Lighthouse.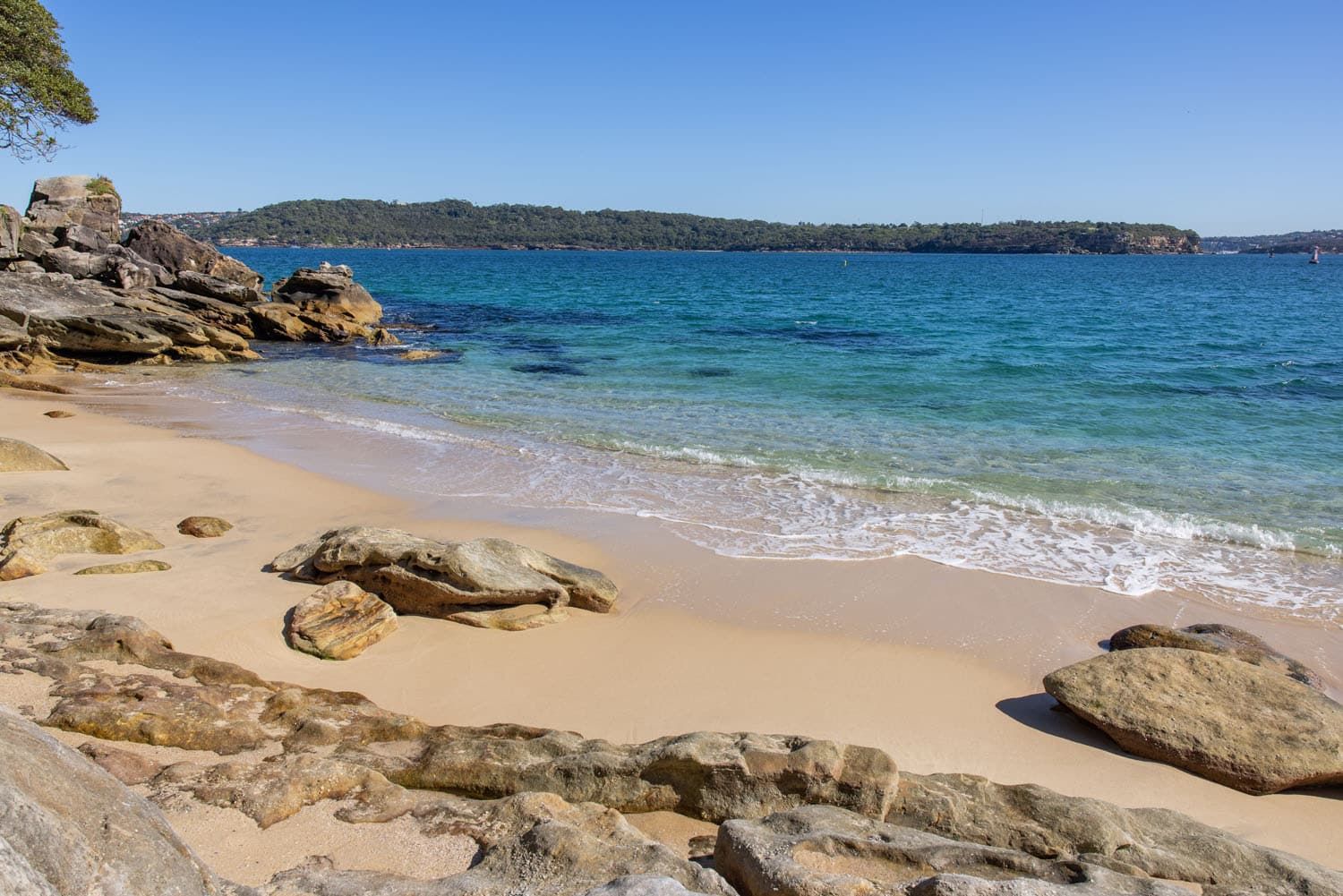 Lady Bay Beach | Best Beaches in Sydney
The South Head Heritage Trail starts at Camp Cove, a quaint, sheltered beach that has a small café and great views of Sydney.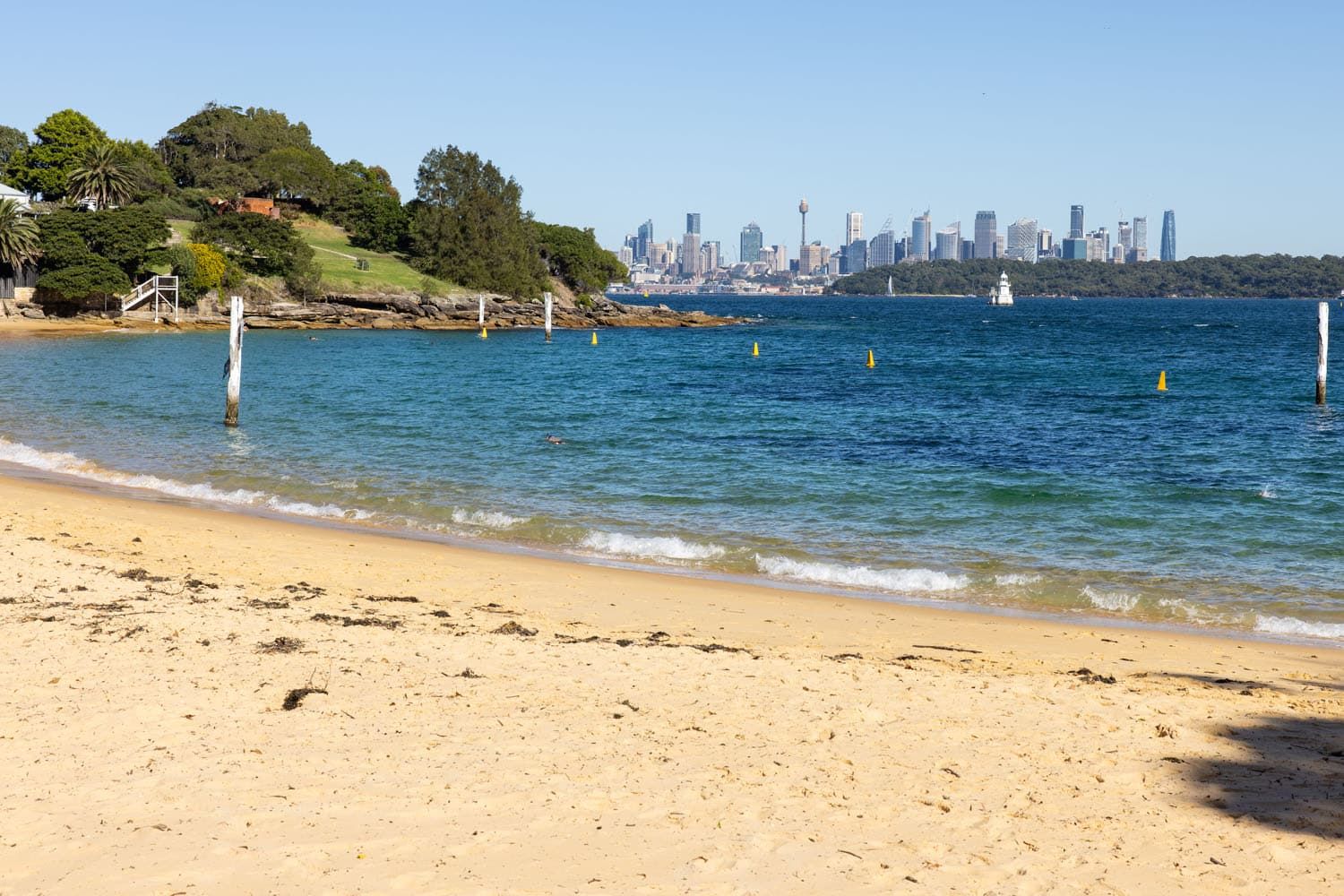 Camp Cove Beach and its view of the Sydney skyline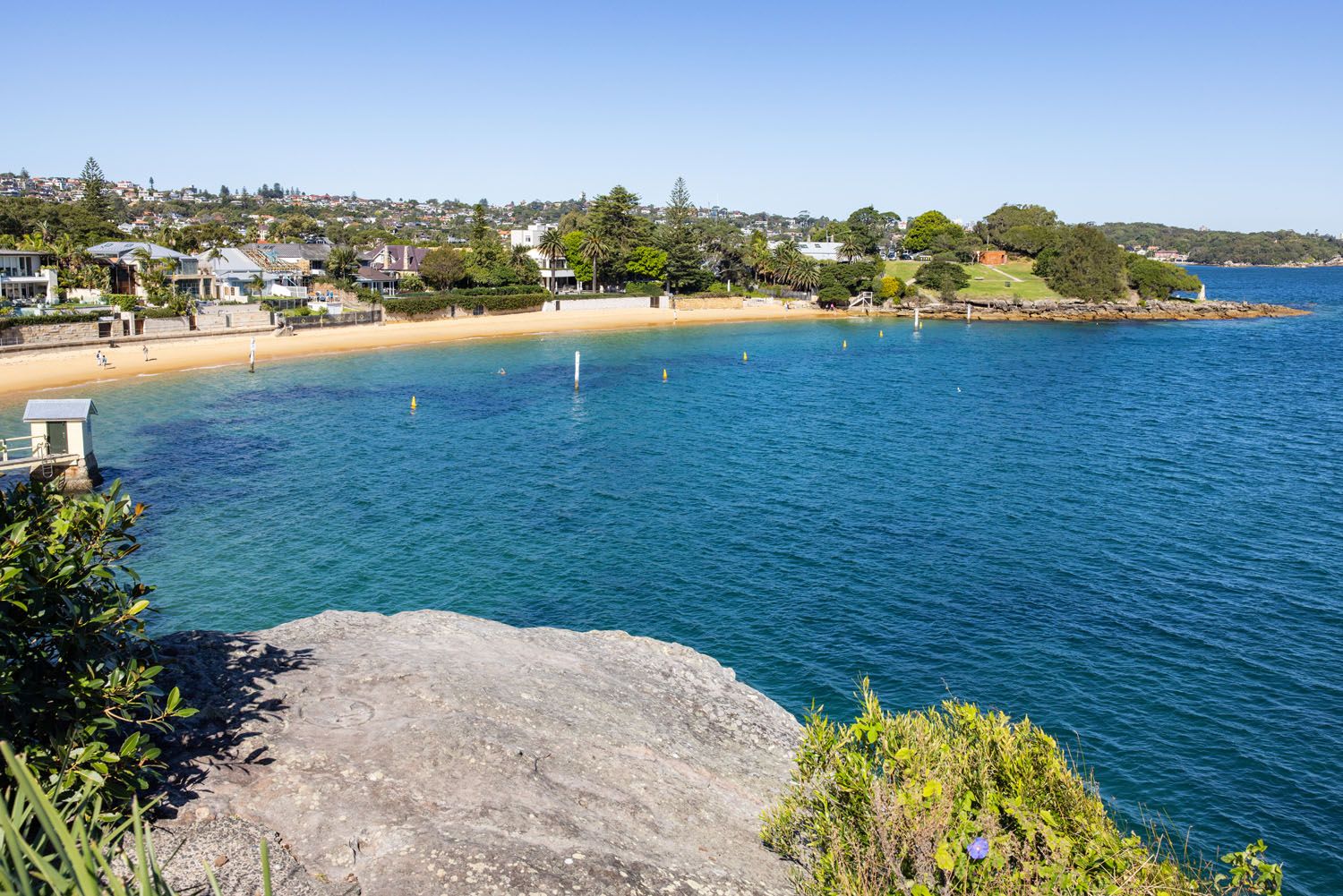 Camp Cove | Best Beaches in Sydney
At Watsons Bay Beach, you can relax on the beach or go stand up paddle boarding. There are also shops and restaurants in the area.
Getting to Watsons Bay: The easiest and most scenic way to get here is on the ferry from Circular Quay. Once at Watsons Bay, walk to Camp Cove and continue to the Hornby Lighthouse for the best views.
8. Manly Beach
Manly Beach is a mile-long strip of golden sand lined with shops, restaurants, and Norfolk pines.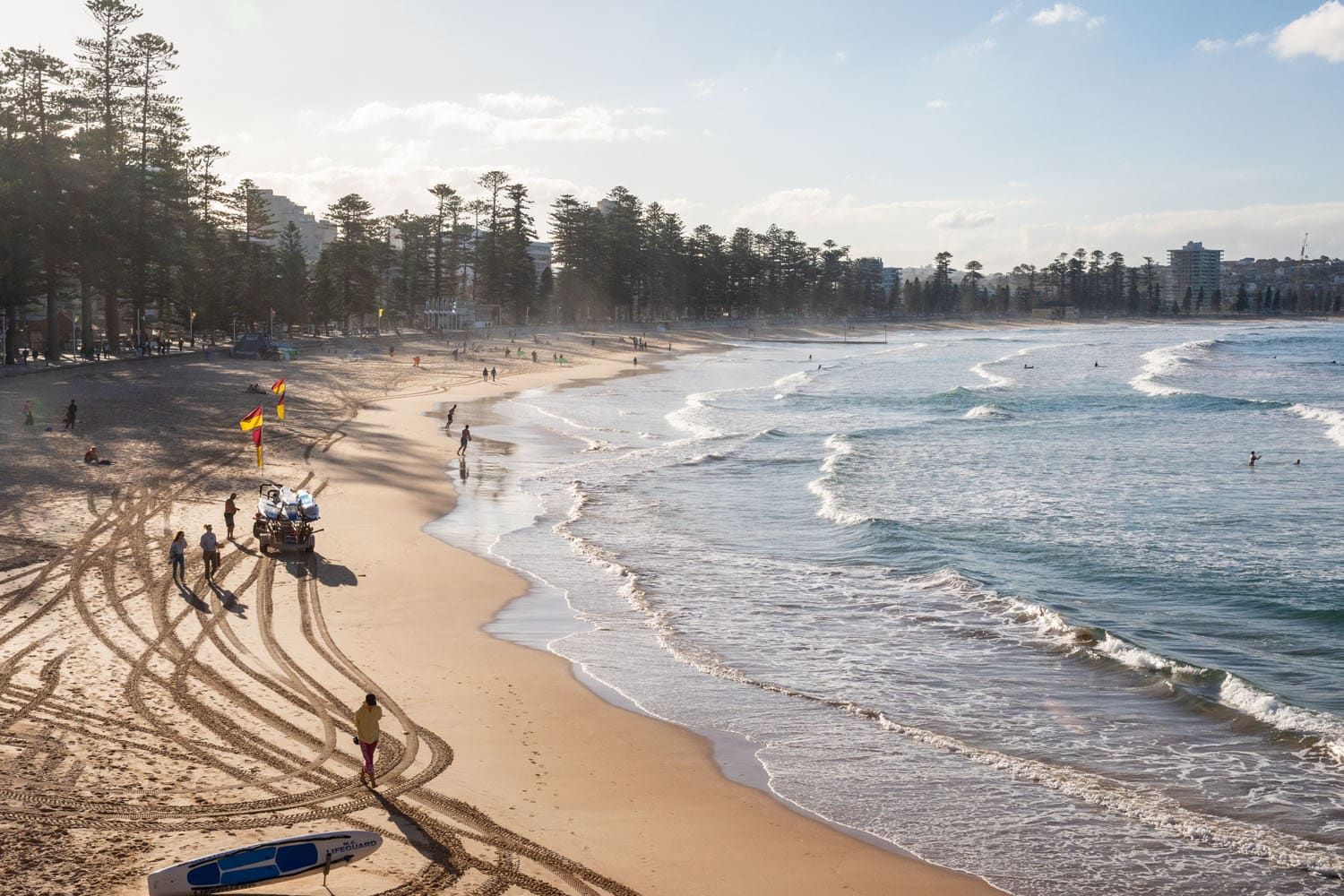 Manly Beach | Best Beaches in Sydney
Manly offers some of the best and most consistent surf in the Sydney area, so you'll see plenty of surfers in the water. The waves are perfect for beginner to intermediate surfers. If surfing's not your thing, there's also plenty of beach volleyball courts. The beach is not only larger than Bondi, but also generally less crowded. You'll find a more laid-back vibe here compared to other beaches like Bondi or Coogee.
Manly is located northeast of Sydney Harbour and is one of the two endpoints of the Manly Ferry. The best way to get to Manly Beach from Sydney Harbour is via the Manly Ferry, which is a scenic 20-minute ride one way. This ferry from Circular Quay to Manly is iconic and offers some of the best views of the Sydney Harbour Bridge, the Opera House, and the Sydney skyline.
Here you'll also find one of the two endpoints of the Spit to Manly Coastal Walk. This 10km (6.2mile) adventure is filled with a variety of breathtaking lookouts and lesser-known local beaches and is one of the most famous treks in the Sydney area.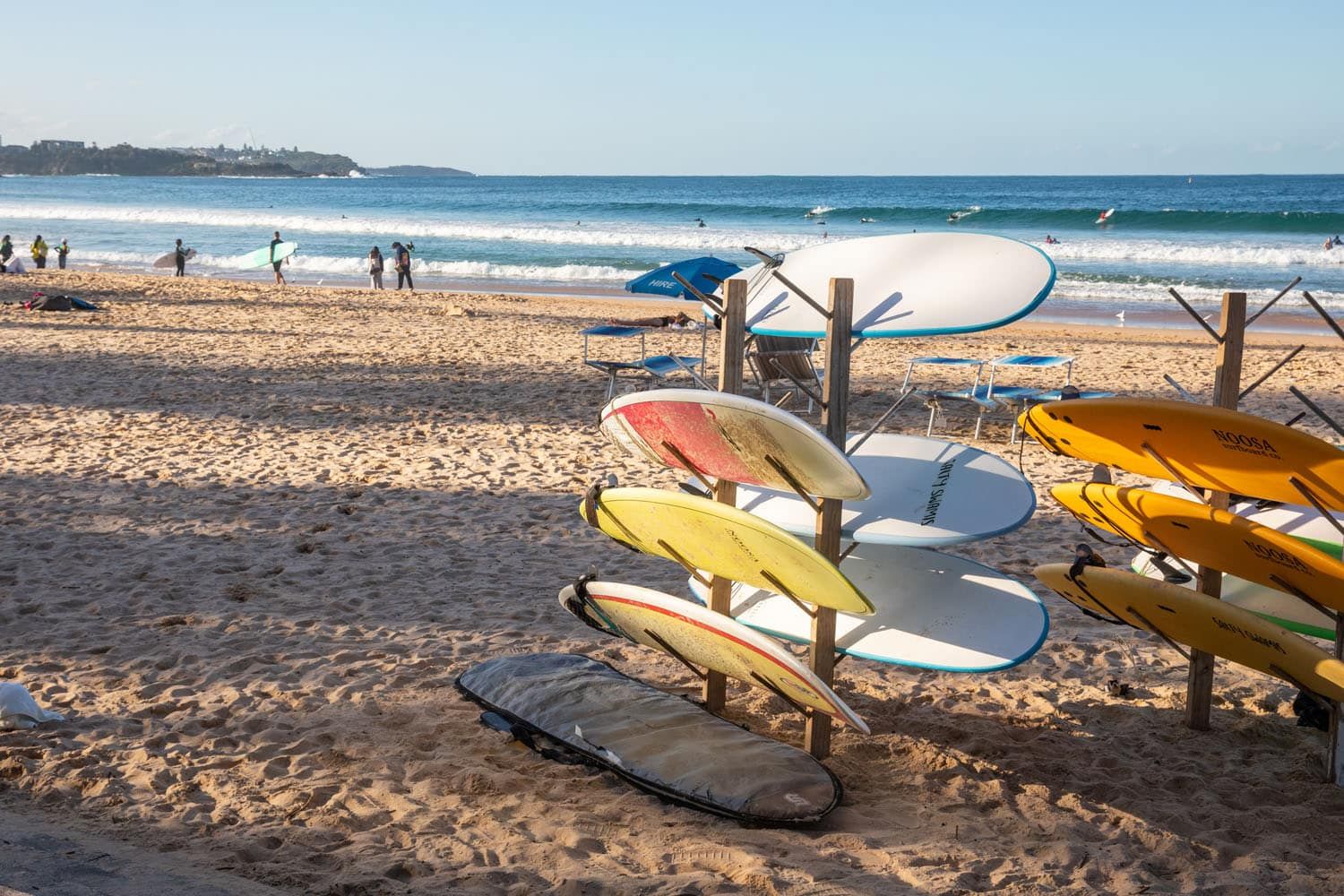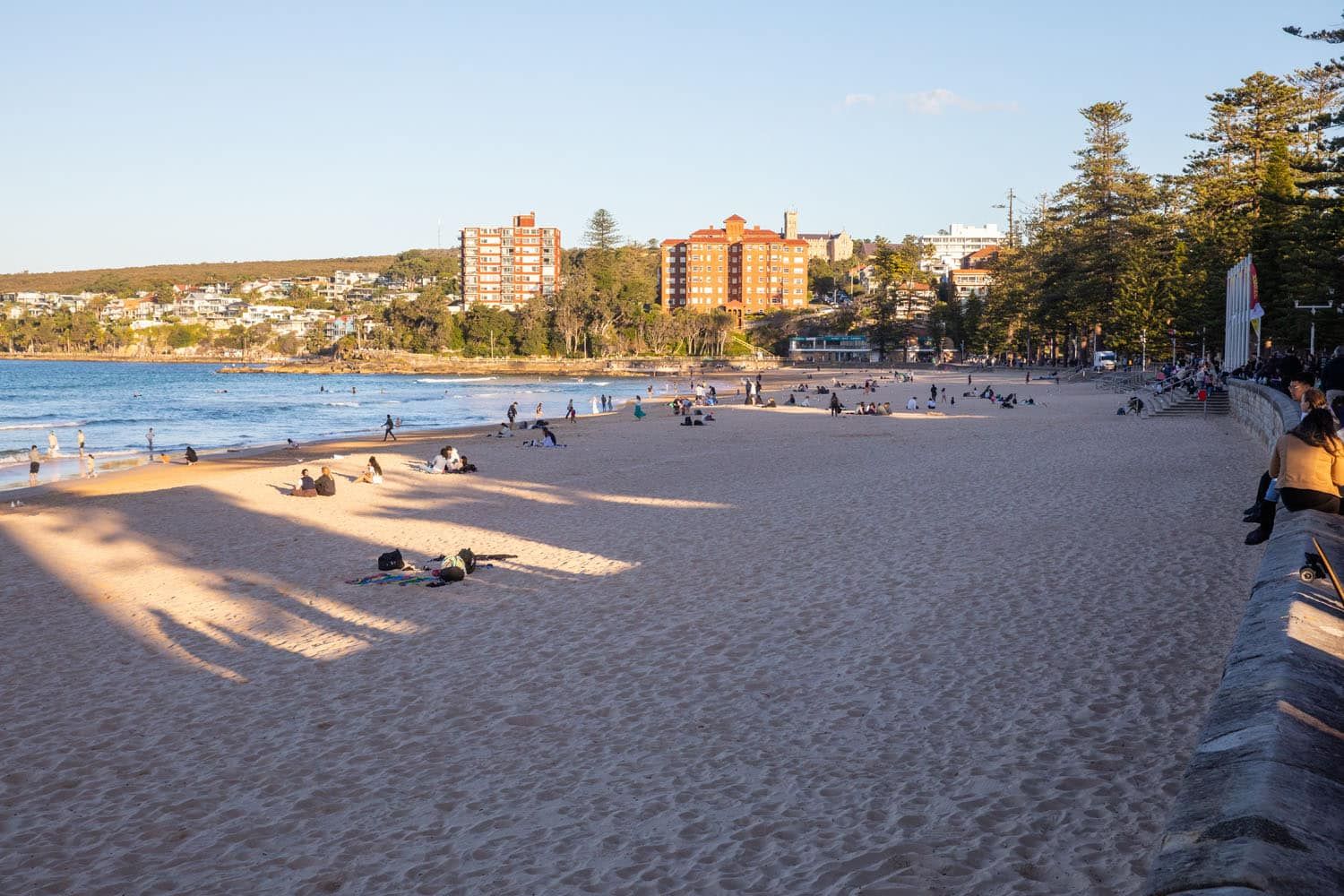 Manly Beach in the afternoon
9. Narrabeen Beach
One of the top surf spots in all of Sydney, Narrabeen Beach is perfect for those looking to hit the waves. With a world-famous surf break and a long, 2-mile stretch of golden sand to match, Narrabeen Beach makes for a great weekend getaway location. There's also not one, not two, but four surf lifesaving clubs scattered along the beach, so you'll always be under good protection.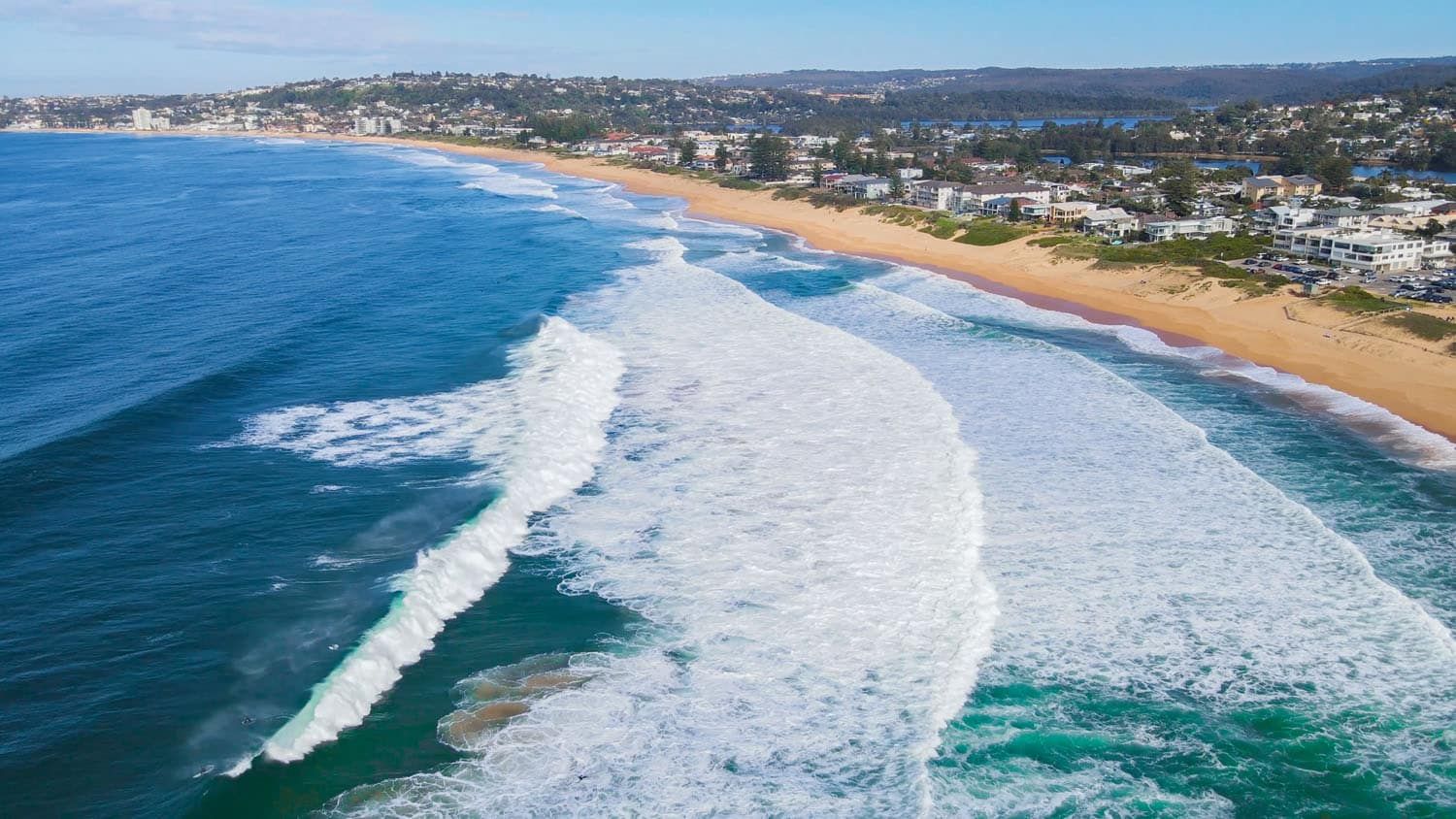 Narrabeen Beach | Steve Tritton/shutterstock.com
Lining the beach is a long strip of restaurants, shops, and surfboard rentals. Grab some food and a beach blanket and enjoy a picnic on the sand. There's also a multi-lane natural swimming pool at the southern end of the beach.
Narrabeen Beach is a 35-minute drive north of Sydney's CBD, or 50 minutes via the Sydney bus system. We'd definitely consider Narrabeen a local beach, so you won't find crowds here like you would at Bondi or even Manly.
10. Palm Beach
At the end of a long, narrow peninsula lies Palm Beach, the perfect spot to spend a day at the beach. With great surf on the northern end, calmer waters to the south, and a large collection of park space and restaurants, Palm Beach has it all.
Palm Beach | RugliG/shutterstock.com
Not only is Palm Beach great for swimming, surfing, and sunbathing, you can also kayak in Pittwater Bay. Book a 3 hour tour with Pittwater Kayak Tours as you cross the Pittwater, complete a bushwalk, and enjoy views out over Palm Beach, Broken Bay, and Barrenjoey Lighthouse.
From Palm Beach there is also a short trail to Barrenjoey Lighthouse. This sandstone lighthouse was built in 1881 and is the perfect spot to watch the sunset.
Palm Beach is an hour drive north from Sydney's CBD. Although a bit of a journey to get here, it's worth a trip if you can make the time.
Best Beaches in Sydney: On a Map
How to Use This Map: Click the icons on the map to get more information about each beach. Click the star next to the title of the map to add this map to your Google Maps account. To view it on your phone or computer, open Google Maps, click the menu button, go to "Your Places," click Maps, and you will see this map on your list.
---
If you have any questions about the best beaches in Sydney, let us know in the comment section below.
More Information for Your Trip to Sydney
SYDNEY: Get started with our Sydney Bucket List, which contains 40 of the best things to do in Sydney. We also have a guide to 20 great restaurants and bars in Sydney, a guide to the Sydney Bridge Climb, and the best viewpoints and photography locations in Sydney. Sydney is one of the most scenic places in the world to go skydiving and you can learn more in our Guide to Skydiving in Sydney.
BLUE MOUNTAINS: Get started with our article Best Things to Do in the Blue Mountains. We also have a guide on how to visit Scenic World, how to hike the Wentworth Falls Track Loop, and a detailed trail guide for the Grand Canyon Track.
TASMANIA: In Tasmania, hike to Cape Raoul and Wineglass Bay, explore the Tasman Peninsula, spend some time on Bruny Island, visit Bonorong Wildlife Sanctuary, and cruise to Tasman Island.
GREAT OCEAN ROAD: Driving the Great Ocean Road is one of the most scenic drives in the world.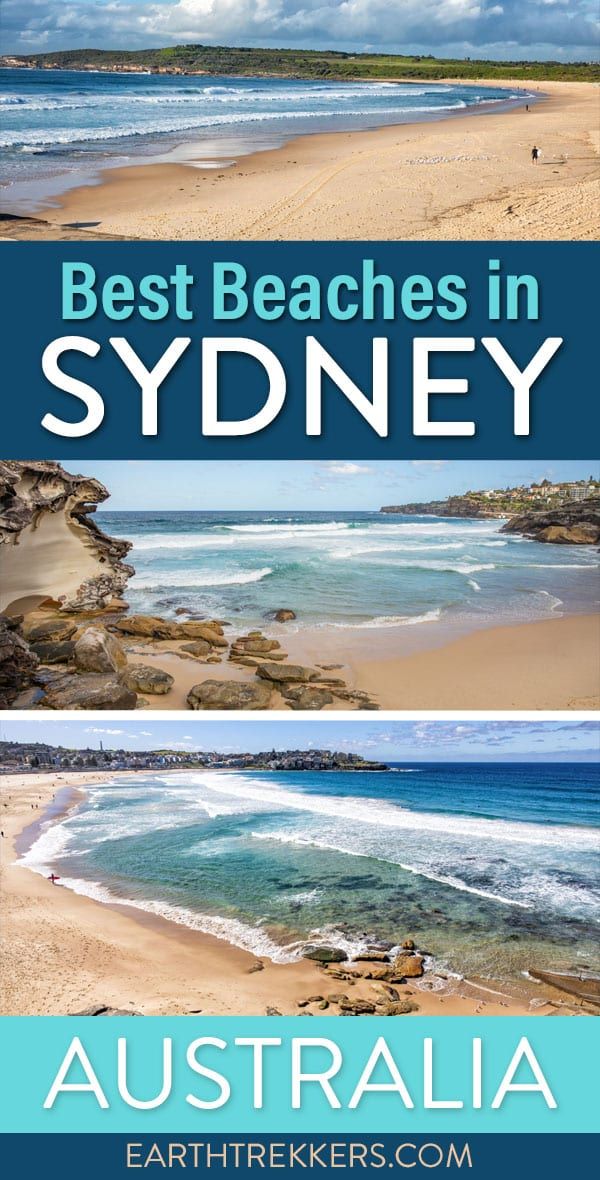 All rights reserved © Earth Trekkers. Republishing this article and/or any of its contents (text, photography, etc.), in whole or in part, is strictly prohibited.