Australia, the land down under, beckons with its breathtaking beauty and unparalleled adventures. This is a country that has it all, with awe-inspiring wonders like the Great Barrier Reef and the uncharted lands of the Outback. Encounter wildlife that cannot be found anywhere else in the world on Australia's islands and sanctuaries. Additionally, learn about the world's oldest living culture by connecting with Indigenous communities. Australia is a place for travelers to unleash their adventurous spirit and make memories that will last a lifetime.
Australia Stats
Official Language: English
Population: 26 million
Capital City: Canberra
Currency: Australian Dollar (AUD)
Power Outlet: Type I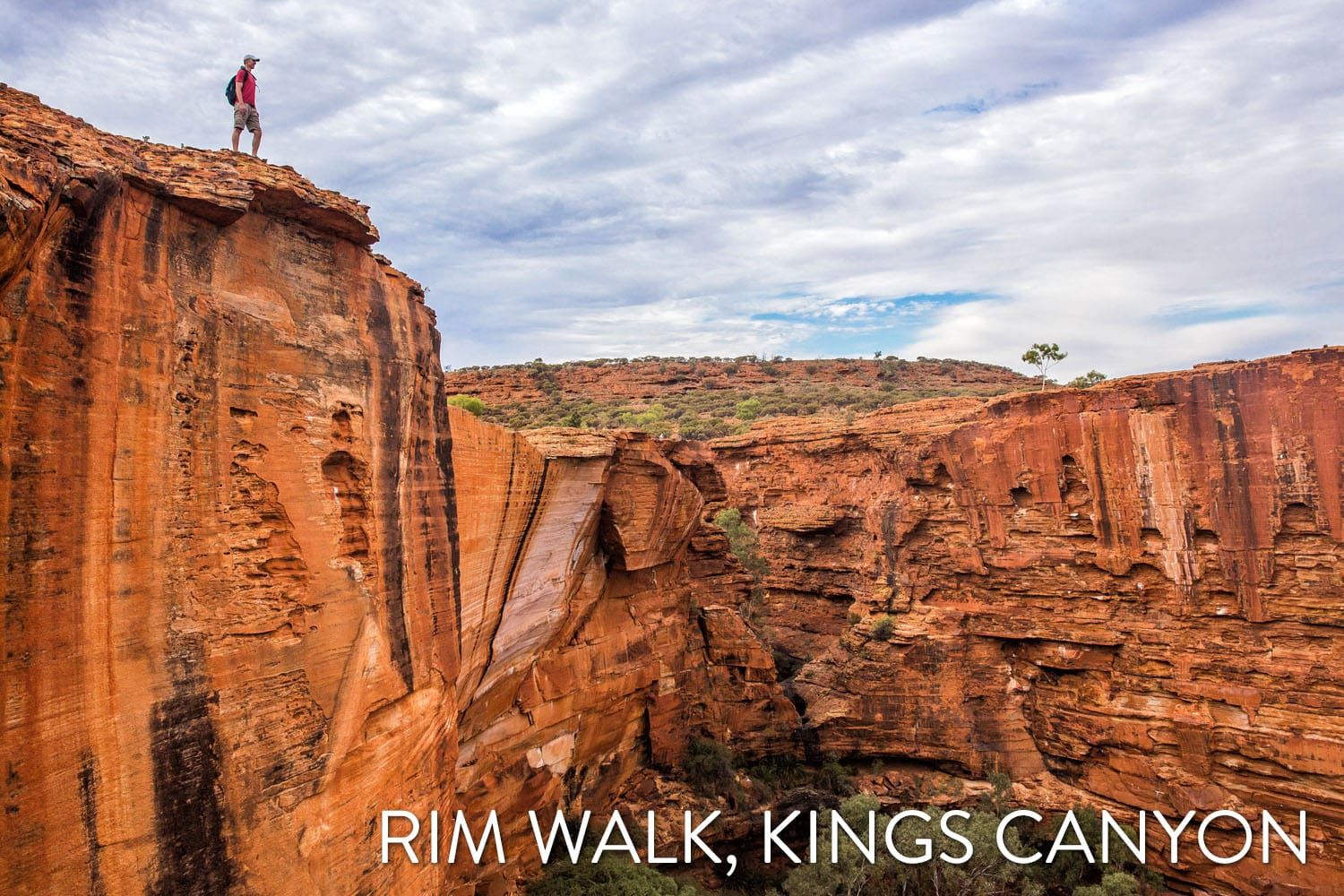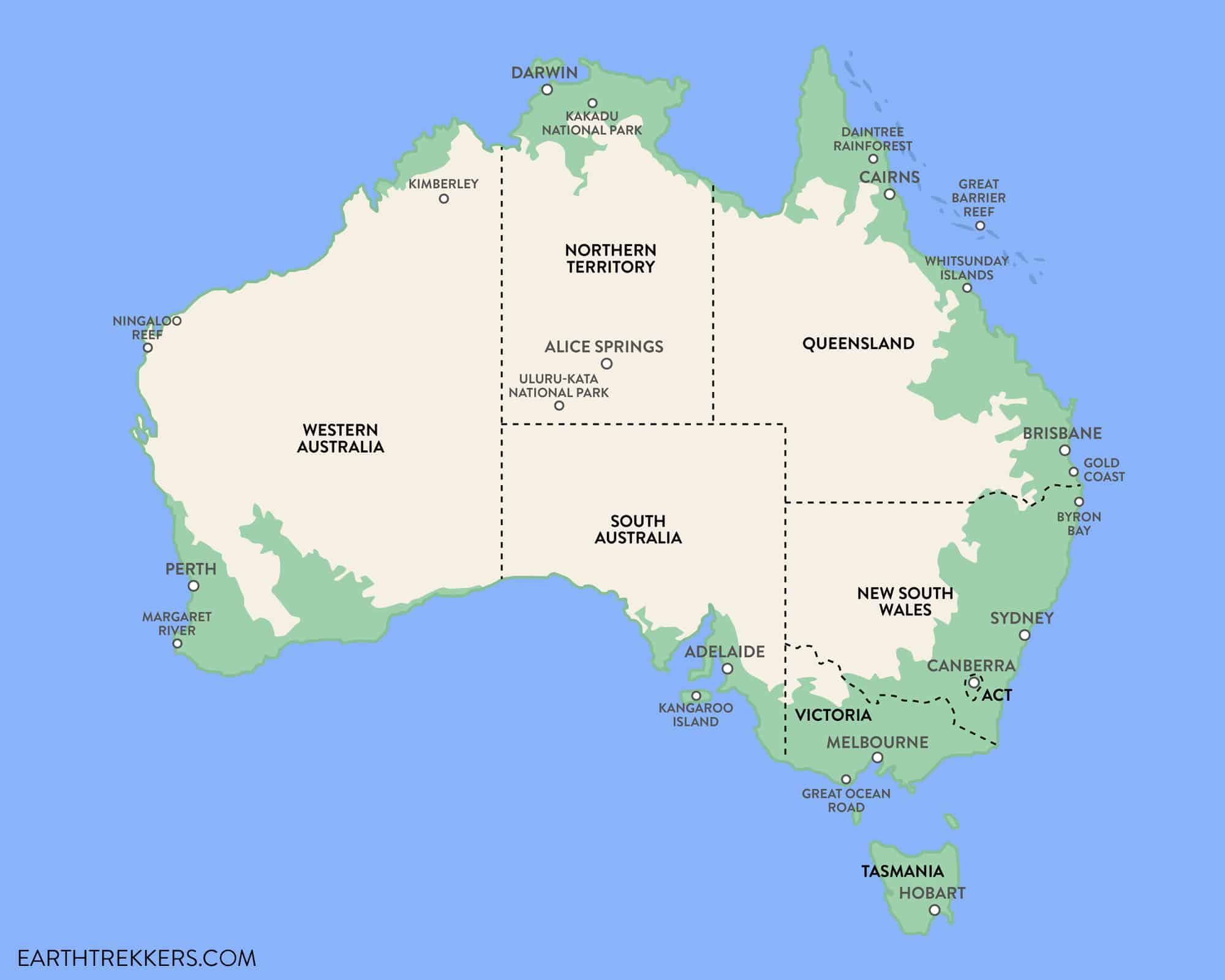 New South Wales beckons travelers far and wide, and it's easy to see why. With impressive Sydney at its forefront, the enchanting Blue Mountains in its backyard, and paradise beaches lining the Pacific coast, New South Wales is a destination with a little something for everyone.
Top Experiences in New South Wales
Sydney. A trip to Australia would not feel complete without a visit to Sydney. With its impressive harbor, world-famous sites, coastal beaches, and luxurious restaurants, we fell in love with Sydney, and we are sure you will too.
Blue Mountains. The Blue Mountains are a place of enchantment for nature enthusiasts. Its vast array of trails, eucalyptus canopies, waterfalls, and mountain vistas make this region one of Australia's best hiking destinations. Below, impressive limestone caves unveil large caverns filled with twinkling glow worms. 
Byron Bay. Byron Bay is one of Australia's favorite get-away destinations. Its golden beaches, aquamarine waters, and magical lighthouse draw beach-goers and tourists from all over New South Wales to spend the day in the sunshine. 
Port Stephens. Port Stephens is home to the longest moving sand dunes in the Southern Hemisphere. With a special beach permit, visitors are free to sandboard, quad bike, and ride a camel on the impressive dunes. Additionally, Port Stephens is also a great destination for wildlife adventure, and they offer tranquil snorkeling, sailing with dolphins, and koala spotting.
Mount Kosciuszko. If you are eager for a breathtaking hike, you'll want to climb Mount Kosciuszko, the highest mountain in mainland Australia. The mountain reaches a height of 2,228m (7,310ft), making it the easiest of the Seven Summits, but the peak's sweeping panoramic views are unparalleled.
Dominated by lively beaches, modern cities, a gorgeous coastline, and most notably, the world's largest coral reef system, Queensland Australia is a magical getaway destination.
Top Experiences in Queensland
Brisbane. Brisbane is a modern, upcoming city, and though there is not much to do here it is a great stop to visit if you are traveling up the Gold Coast. In Brisbane you can visit the world's largest Koala Sanctuary, walk along the city's gorgeous riverside, and head to the city's twilight food market.
Cairns. Cairns is a lively tropical city that will entice any passionate divers and enthusiastic roadtrippers. Its location in northern Queensland makes Cairns a perfect base for travelers exploring the Great Barrier Reef, Daintree Rainforest, and Cape Tribulation. Within the city, thrill seekers will revel in the range of water sports, and travelers can cool off in the city's tropical lagoon.
Great Barrier Reef. The Great Barrier Reef is one the Natural Wonders of the World, joining the list with sites like Victoria Falls, Mount Everest, and the Grand Canyon. This is the world's largest single structure formed by living organisms and it can be seen from outer space. This system of coral reefs and islands supports a wide range of wildlife, including fish, birds, sharks, sea turtles, and crocodiles.
Daintree Rainforest and Cape Tribulation. The emerald canopy and extraordinary ecosystem of the Daintree Rainforest has been growing for at least 135 million years. That makes it the planet's oldest tropical rainforest and one of Australia's key natural sights. Within the ancient forest's lush foliage lie epic hikes, crocodile cruises, guided tours, and Aboriginal experiences. And, don't forget to head to Cape Tribulation where the green forests meet the aquamarine sea, and where the beautiful coast feels untouched by man.
Whitsunday Islands and Airlie Beach. The Whitsunday Islands are a true tropical paradise located in the heart of the Great Barrier Reef. Its turquoise waters and secluded beaches rival even that of the Maldives, Fiji, and Tahiti. Travelers can unwind on the island's luxury resorts, or reside in Airlie Beach on mainland Australia: a perfect base from which to explore the paradise islands.
Gold Coast. The Gold Coast is a destination dedicated to beach lovers and surf enthusiasts. Its stretches of golden sand, turquoise waves, soaring metropolises, and family-fun attractions create the perfect site for your next paradise vacation.
At the southern tip of mainland Australia lies Victoria, a destination perfect for anyone looking for breathtaking coastal views and mountain vistas. In Victoria's heart lies Melbourne, one of our favorite cities to explore for its lively art centers, sports games, and delicious culinary scene.
Top Experiences in Victoria
Melbourne. Melbourne is one of our favorite cities in Australia. Clean, quiet, compact, with tons to do, we fell in love with this city. It may not have the big sights like the Sydney Opera House and the Harbor Bridge, but there is a laid-back vibe in Melbourne. This is a place that welcomes you and makes you feel like you are home. Spend a few days here and fall in love with Melbourne, too.
Great Ocean Road. The Great Ocean Road is one of Australia's great drives. It is comparable to Big Sur in California with coastal views, winding roads, and many, many scenic viewpoints. For many people, the Great Ocean Road is a highlight when visiting Australia.
Phillip Island. Phillip Island hosts a wonderland of wildlife encounters and majestic beaches. The island is most famous for its Penguin Parade where you can watch hundreds of penguins waddle onto shore. Travelers can also meet furry friends at the Koala Conservation Park, and take a walk along Cape Woolamai's jagged coastline. Phillip Island is only a 2 hour drive from Melbourne, making this destination a perfect day trip from the city.
Grampians National Park. The forested canopy and sandstone ridgelines of Grampians National Park offer beautiful views and some of Victoria's best hiking. There is also an abundance of wildlife and a fascinating Aboriginal culture to be found. Since this park is only a short drive from Melbourne, a day of exploration here is a wonderful addition to your Australian adventure.
Sip a glass of wine on an idyllic vineyard in South Australia: the country's premiere wine region. Along with its world-class wineries, South Australia is filled with a variety of nature's wonders. Here islands hop with Australian wildlife, coastlines emulate Mediterranean beauty, and the harsh desert outback rules the north. 
Top Experiences in South Australia
Adelaide. Adelaide is a sophisticated, laid-back city dotted with art centers, thriving restaurants, and parklands. While there is not much to do within Adelaide, its historical heritage and beachside boutiques makes the city a joy to explore.
Barossa Valley. Barossa Valley is one of Australia's most popular wine regions, and many even rate it one of the best in the world. Here, guests are treated to world class wine-tastings that feel both sophisticated and friendly, all while looking out over the Valley's luscious green landscape and rolling vineyards. 
McLaren Vale. McLaren Vale…welcome to one of our favorite places in Australia. The wine that is produced in this region is outstanding…big, bold Shirazes, fruity Cabernet Sauvignons, and full-bodied Chardonnays. Additionally, the region has a wonderful, laid-back feel to it. With cozy indoor tasting rooms and expansive patios that offer vistas of the vine covered hills, McLaren Vale's allure extends far beyond its liquid treasures.
Kangaroo Island. Kangaroo Island is one of Australia's top destinations to see wildlife, for the island is abound with wild koalas, short-beaked echidnas, tammar wallabies, penguins, seals, sea lions, and, of course, kangaroos! Additionally, the large size of Kangaroo Island provides lots to do, from a beautiful coastline to drive, impressive waves to surf, wildlife parks to visit, and geological formations to admire.
Eyre Peninsula. Embrace the sea on South Australia's Eyre Peninsula. Here dolphins, sea lions, whales and great white sharks roam the aquamarine waters, and quaint seaside towns dot the peninsula's pristine shores. If you are a fan of marine adventure or want to taste world-renowned seafood, the Eyre Peninsula is a place you won't want to miss.
Tasmania is an island state off the coast of southern Australia. Its aquamarine coastline, isolated beaches, and mountainous landscape make Tasmania a captivating place to explore. Outdoor enthusiasts will fall in love with Tasmania's hikes, diverse wildlife, and island cruises. 
Top Experiences in Tasmania
Hobart. Hobart is Tasmania's picturesque capital city, surrounded by mountains and aquamarine bays. In Hobart, head to the top of Mount Wellington for spectacular views over the city, walk around historic convict sites, and visit award-winning breweries.
Bruny Island. A visit to Bruny Island is a perfect day trip from Hobart. Covered in verdant forests with long stretches of rocky coastlines and beaches, this island feels rugged and remote. Outdoor enthusiasts can go hiking or explore South Bruny National Park. There are also vineyards and whiskey distilleries to visit and the entire island is one awesome scenic drive.
Tasman Peninsula. The Tasman Peninsula may look small on a map, but there is a lot to do here. Speed boat cruises, ghost tours, hiking, touring one of Australia's many penitentiaries, bird watching, whale watching, and multi-day trekking. Here, you'll find a bit of adventure for everyone.
Bonorong Wildlife Sanctuary. Tasmania is home to some of the most unique wildlife in the world. But many of its species are endangered, so many wildlife sanctuaries are working hard to save these animals. With a visit to one, you can feed kangaroos, pet a wombat, and play tug-of-war with a Tasmanian devil.
From the luscious canopy of Kakadu National Park to the red canyons of the outback, Australia's Northern Territory is a vast region calling all adventure seekers. The desolate landscape, unique natural wonders, and prominent Aboriginal heritage of this land leaves travelers with a thrilling and unforgettable experience.
Top Experiences in the Northern Territory
Uluru-Kata Tjuta National Park. Uluru, also known as Ayers Rock, is a giant sandstone monolith that rises dramatically out of the Australian outback. Its immense size brings a sense of wonder and powerful presence to onlookers, and it is culturally significant to the local Aboriginal people. Hiking trails run around the perimeter of Uluru, providing a closer look to the important spiritual sites that surround this impressive monolith.
Kings Canyon. Kings Canyon, located in Watarrka National Park, is one of the area's best spots for hiking. It is an other-worldly place with an amazing landscape of red canyons, cliff views, and colorful desert scenery. If you are heading out to Australia's Red Centre, make sure to add Kings Canyon to your to-do list.
Alice Springs. Alice Springs is named the gateway to Australia's Red Center, for this small city is a common pit stop on the way to Uluru and Kings Canyon. Set amidst the arid outback, Alice Springs encapsulates a love for all things adventure. Here visitors can take a hot air balloon ride over the red desert, feed kangaroos at the Kangaroo Sanctuary, ride a camel at sunset, and admire Aboriginal art galleries.
Darwin. At the northernmost tip of Australia lies the smaller, laid-back city of Darwin which hosts a gorgeous waterfront, nearby National Parks, and Asian and Aboriginal influence. You'll find rich galleries and museums of Aboriginal artwork, nighttime food markets, and opportunities to get a close look at a crocodile.
Kakadu National Park. Made famous from the filming of the movie Crocodile Dundee, Kakadu National Park is a beautiful biodiverse landscape any outdoorsman would love. It is also a land very important to Aboriginal culture, as Aborigines have been living on the land for over 65,000 years. As you explore Kakadu, appreciate the ancient rock art that presents one of the longest historical records of any civilization.
Western Australia is the country's least traveled–to state, however it is encompassed with mesmerizing wonders and outdoor adventure. From pink lakes, a wildlife region larger than most countries, and an island full of quokkas, Western Australia is a place for those searching for  lesser-known adventures and an authentic Australian experience.
Perth. Though Perth is a modern metropolis, it hasn't forgotten its love for the outdoors. Stroll along pristine beaches, get a view of the city from the picturesque native bushland, visit the Fremantle historic district, and day trip out to the diverse lands of western Australia. 
Play with Quokkas on Rottnest Island. Rottnest Island is a little piece of paradise just a ferry ride away from Perth. And the top thing to do? Greet the island's adorable native quokkas! On top of these furry friends, the island is open to a variety of outdoor adventures. Cycle the island's coastline, snorkel in crystal clear water, and try to spot seals and dolphins.
Cruise the Kimberley. The Kimberley is Australia's last frontier. It is a region larger than most of the world's countries, and it is encompassed with more natural wonders than civilizations. The Kimberley feels like a whole new world with fascinating geographic formations, immense waterfalls, dinosaur fossils, camel rides, and rare wildlife. Access to the best parts of Kimberley are best seen by boat, so cruising this region deserves to be on your bucket list.
Ningaloo Reef. Ningaloo Reef's turquoise lagoons swarm with some of the world's most incredible marine creatures, including manta rays, humpback whales, turtles, dolphins, and most notably, whale sharks: the world's largest fish. This reef is an incredible spot for scuba diving and snorkeling, and you can safely swim amongst the reef's harmless giants.
Margaret River Region. The Margaret River region is found on the south-western tip of Australia, not far from Perth. Here travelers are beckoned by an alluring wineries, some of the world's best surf spots, fascinating cave systems, hiking trails, and marine life. This region is a top vacation spot with a mix of both luxury and outdoor adventure.
The Pinnacles. Practice your moonwalk at the Pinnacles, where limestone pillars rise dramatically from bright yellow desert sand. This area of Nambung National Park is truly one of Australia's most perplexing sites.
Australia's Pink Lakes – Lake Hillier. Australia is a wonderland of natural features, but its pink lakes are beyond extraordinary. These mesmerizing wonders can be found all around the southern end of Australia, but where better to view one than at Lake Hillier, the country's most famous and vibrant pink lake. Lake Hillier lies on Middle Island in Western Australia's Recherche Archipelago. The lake can be reached by boat, but it is best seen from above on a scenic flight.