Bruny Island is one of Tasmania's southernmost islands. Covered in eucalyptus forests with long stretches of rocky coastlines and beaches, this island feels rugged and remote. But it is just a twenty minute ferry ride away from the mainland of Tasmania.
Bruny Island is really two islands connected by a thin isthmus of sand. Approximately 620 people call this island home. At one time, timber was the main export off of the island. Nowadays, most of the island's commerce comes from tourism.
A visit to Bruny Island makes the perfect day trip from Hobart. Are you the type of person who travels for food? Dine on fresh oysters, pungent cheeses, and fresh berries. Outdoor enthusiasts can go hiking or explore South Bruny National Park. There are vineyards and whiskey distilleries to visit and the entire island is one awesome scenic drive. If you are planning a visit to Bruny Island, here are six awesome things to do while you are here.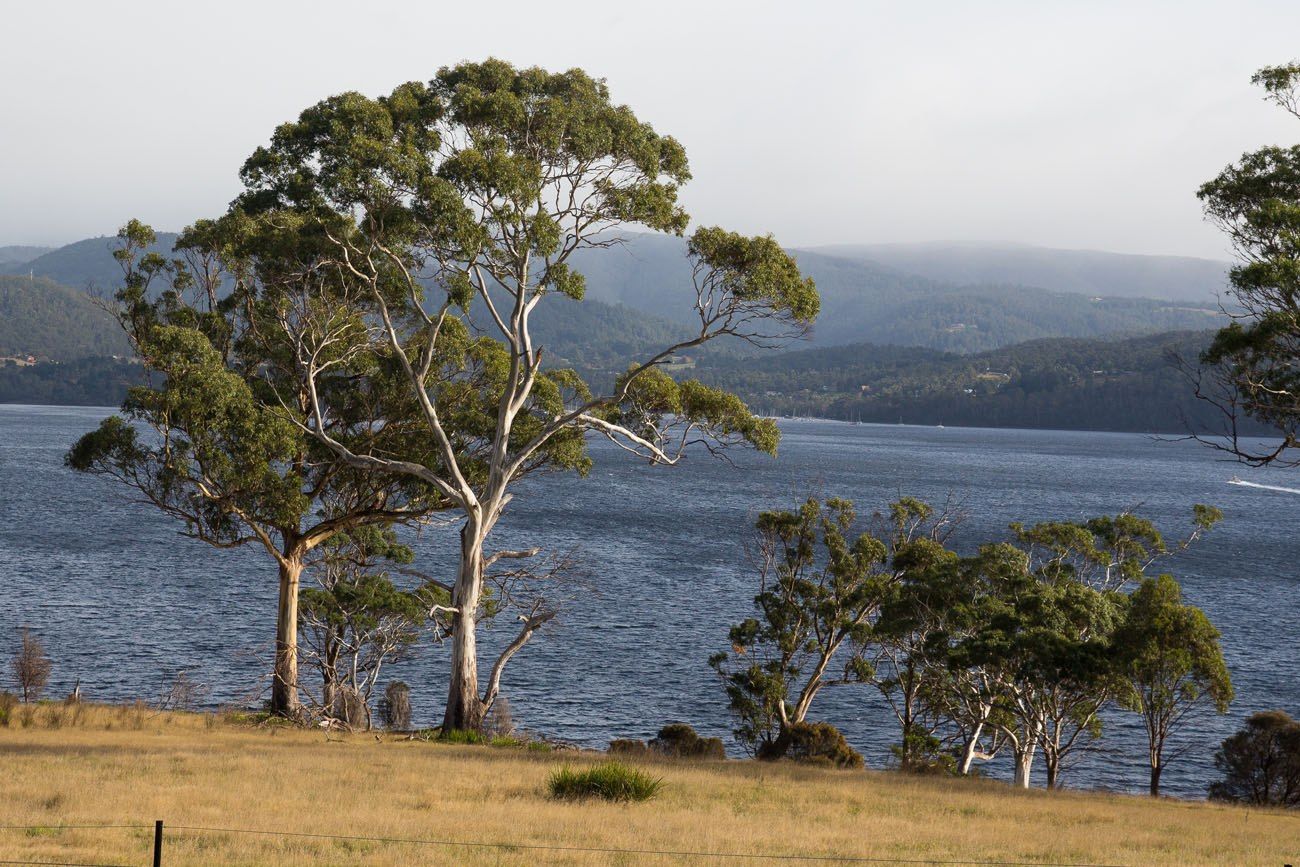 The view from Bruny Island back to the mainland
Best Things to Do on Bruny Island
Enjoy 360° Views from "The Neck"
The Neck is the thin isthmus of land that connects the northern and southern islands that make up Bruny Island. Park in the small carpark and climb the wooden steps to the viewpoint. This is one of the most scenic points on the entire island.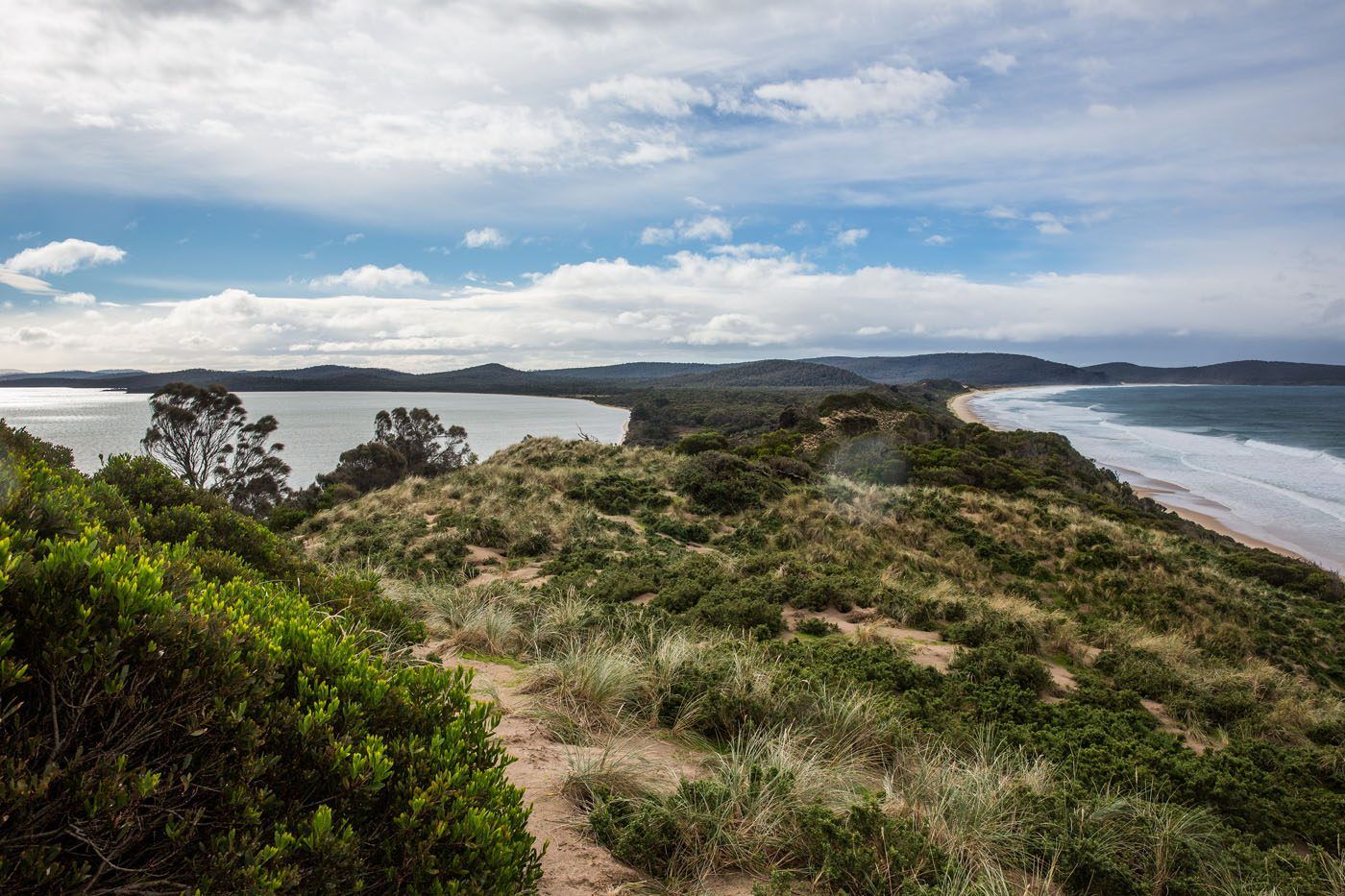 Looking north from the viewpoint
The beach on the eastern side of The Neck is home to penguins. During our visit, those little penguins were nowhere to be seen. Instead, we were treated to some of Tasmania's infamous weather: rainstorms with gale force winds.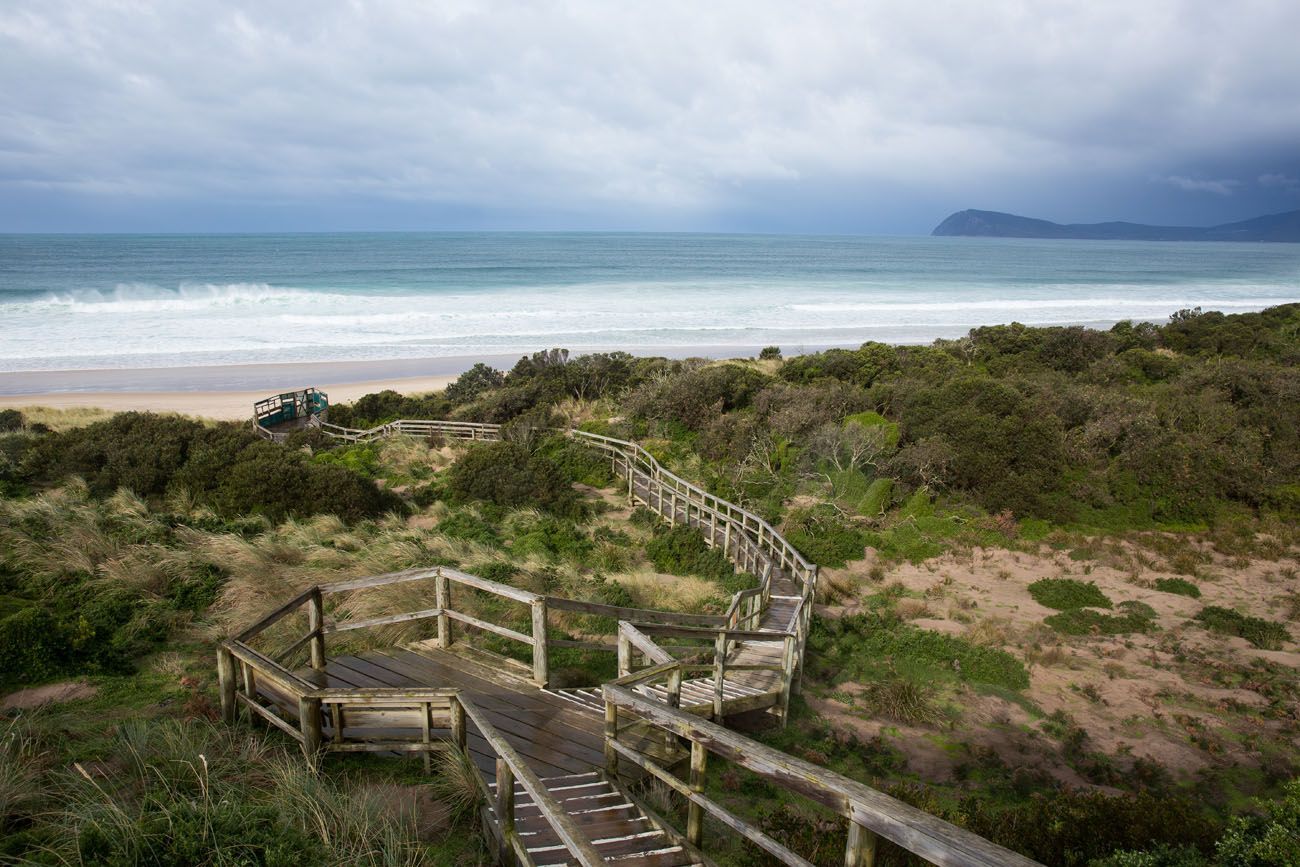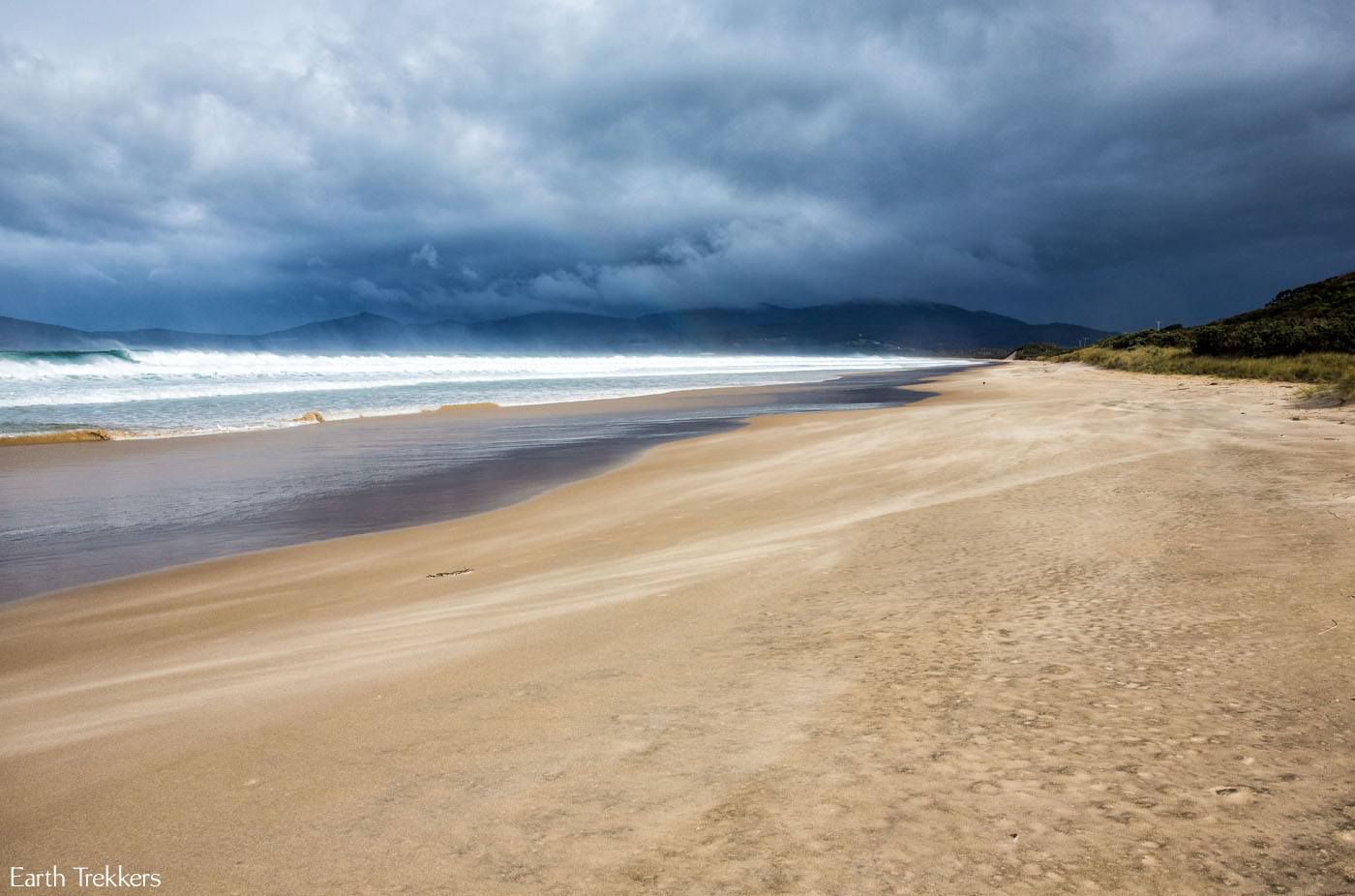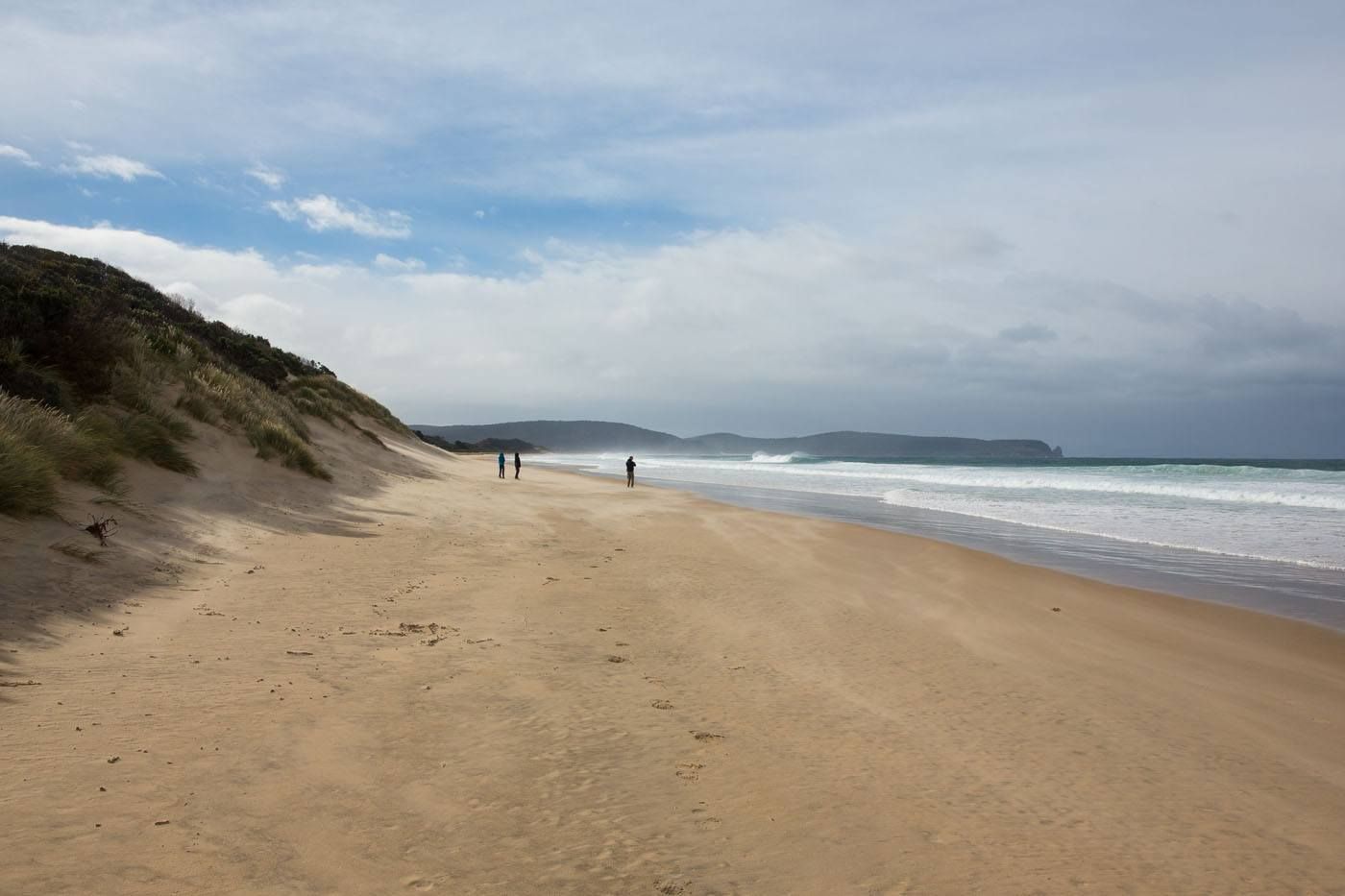 The weather can change in an instant, which we learned during our visit here. One minute it's sunny, the next it's like someone turned on a faucet. Make sure you bring wet weather gear while on Bruny Island.
Get Shucked Oyster Bar
For oysters that are out of this world, visit Get Shucked Oyster Bar. Their oysters are sustainably farmed directly from the waters off of Bruny Island. And with a slogan "Fuel for Love," how can you not visit this place?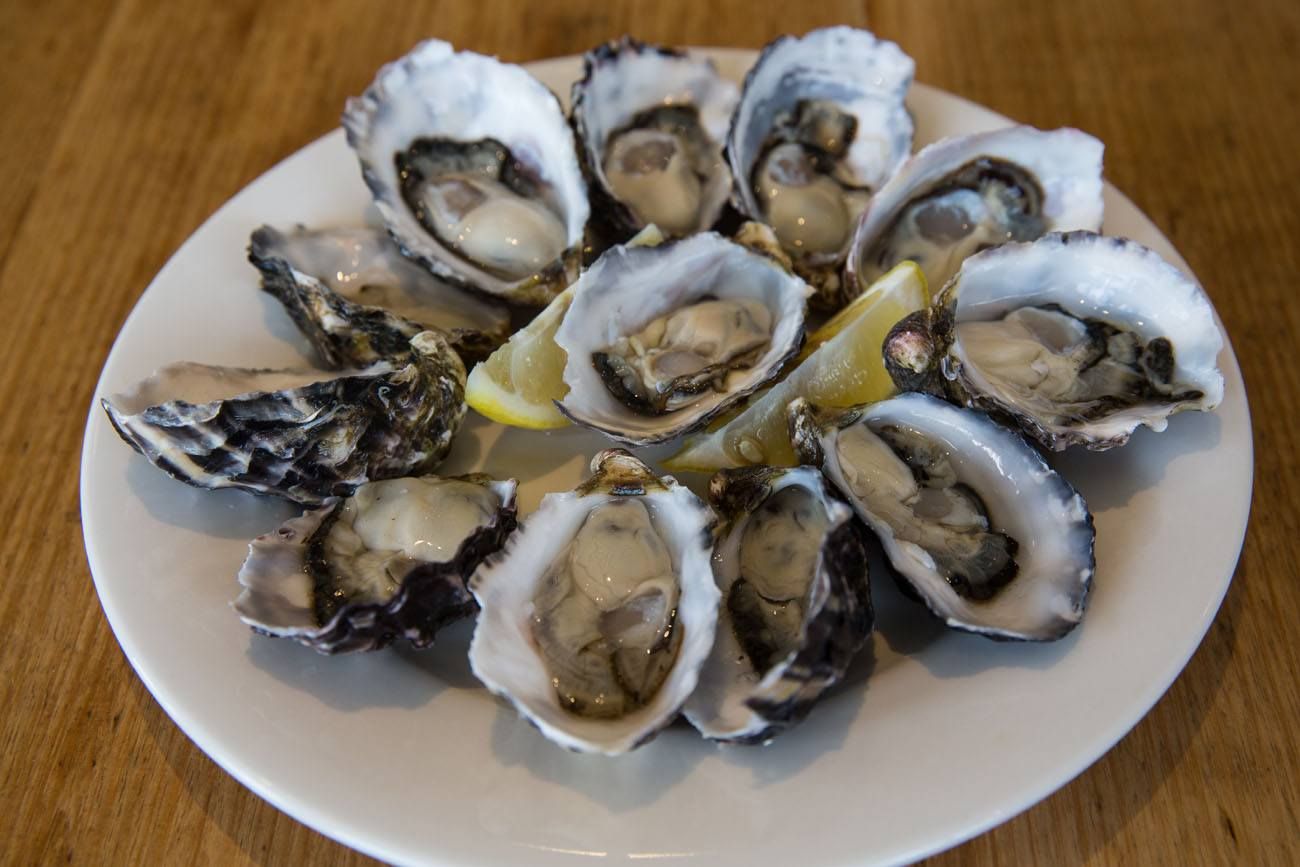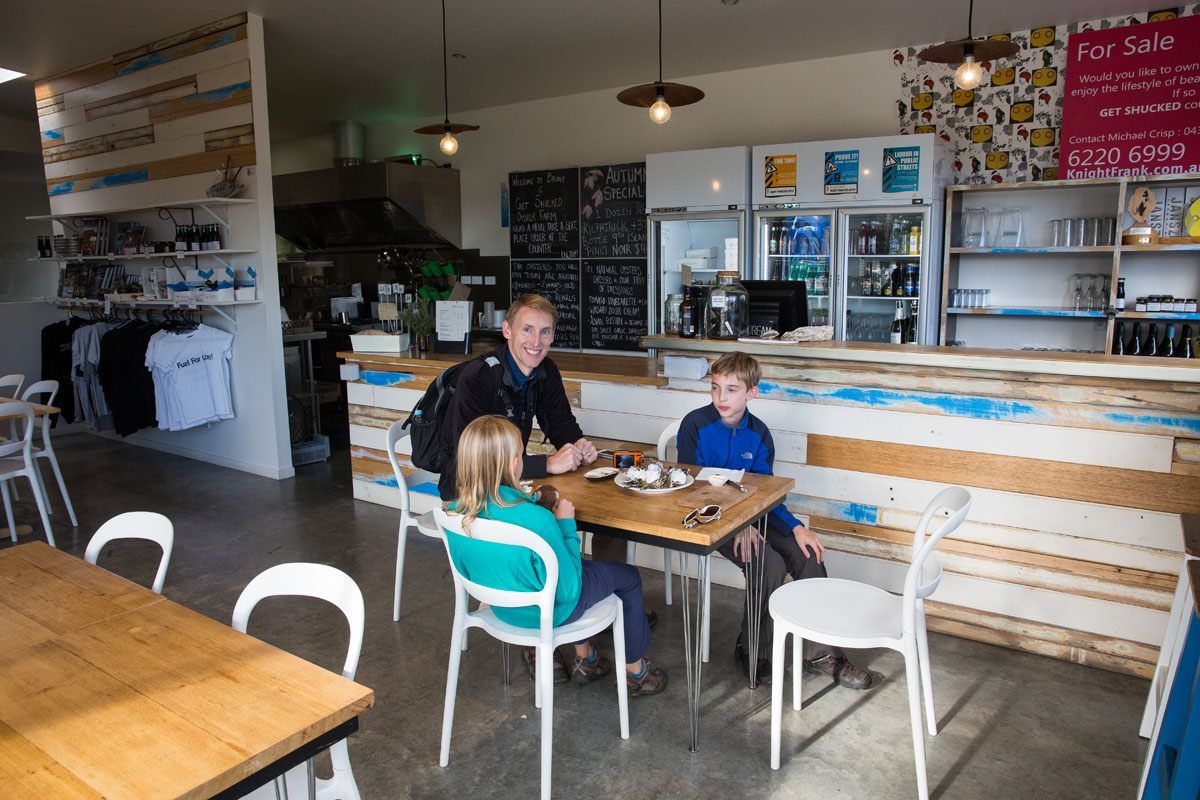 Slurp down raw oysters or order cooked oysters. For the non-oyster lovers in your group, they also serve fresh bread (delicious!!). Get Shucked even operates a drive thru.
They are open every day of the year except Christmas. If you want to learn more, visit their website.
Bruny Island Cheese Company
Just down the road from Get Shucked is the Bruny Island Cheese Company. This is another very fun spot to visit. All of their cheeses are made on Bruny Island using sustainable farming practices.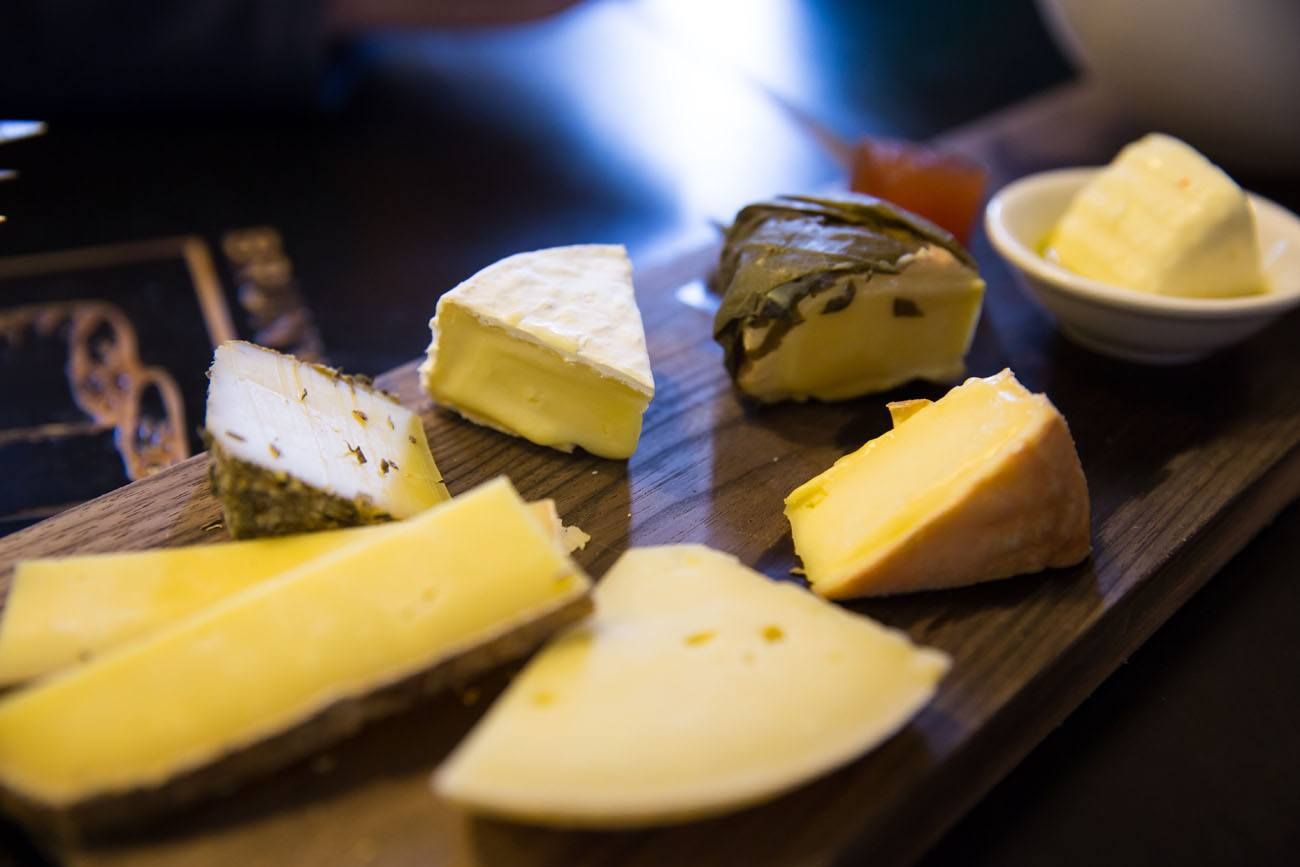 Here we sampled seven different cheeses. Some we liked, some we loved, some were just not to our tasting. The most memorable cheese was called "Grannie's Undies."
Our waitress rattled off the names and descriptions of each of the different cheeses, all of which we immediately forgot, all that is except for "Grannie's Undies." Who can forget a name like that? This hard rind cheese was named for the lavender and thyme used to fragrance the cheese, like the sachets women put in their underwear drawers. We all liked this cheese and thought the name was hilarious.
While you are here, you can also order fresh sourdough bread, coffee, hot chocolate, and their handcrafted beer.
Cape Bruny Lighthouse
The Cape Bruny Lighthouse is located on the southernmost point of the island. It is a very scenic drive to get here, taking approximately 45 minutes from The Neck. As you approach Cape Bruny, you really start to feel like you are out on your own. Windswept coastlines, wild birds, rolling hills, and wide beaches…this is a beautiful spot that is definitely worth visiting.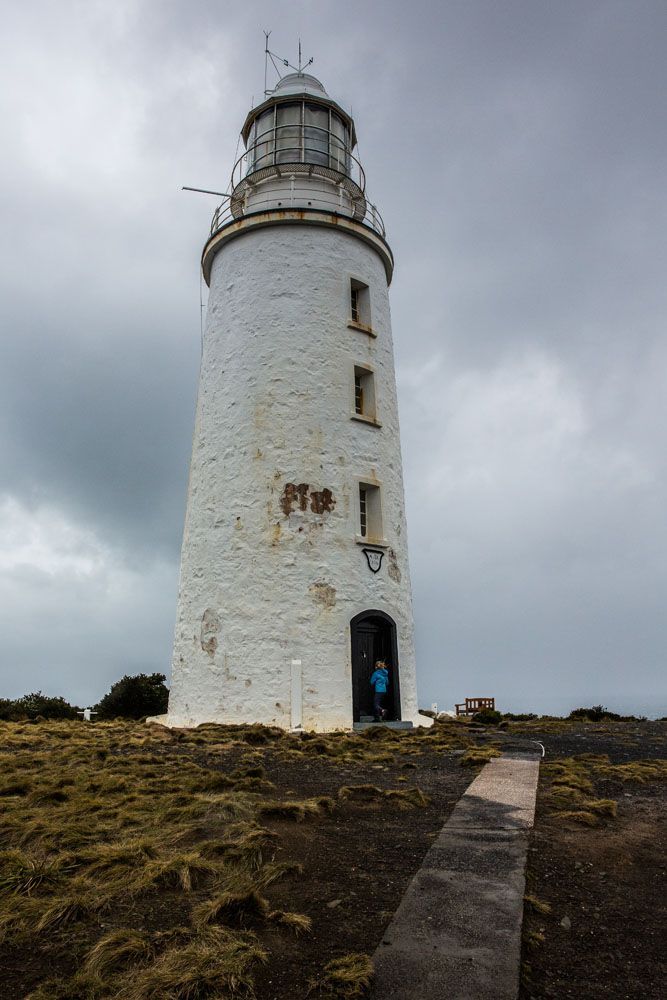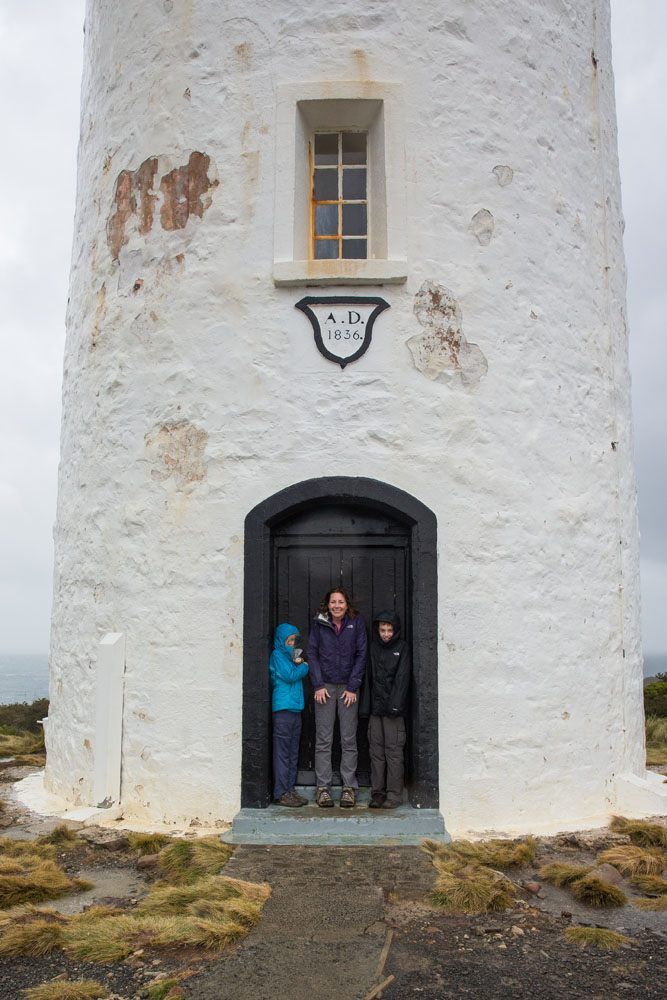 We were here during some wicked rainstorms which only added to the wild feeling of this area. Getting caught in the wind and rain here was one of our favorite memories on Bruny Island.
South Bruny National Park
South Bruny National Park encompasses most of the southern island of Bruny Island. The national park includes the Cape Bruny Lighthouse, Cloudy Bay, Adventure Bay, Fluted Cape, and more. One of the best places to spot whales is at Adventure Bay during June to October.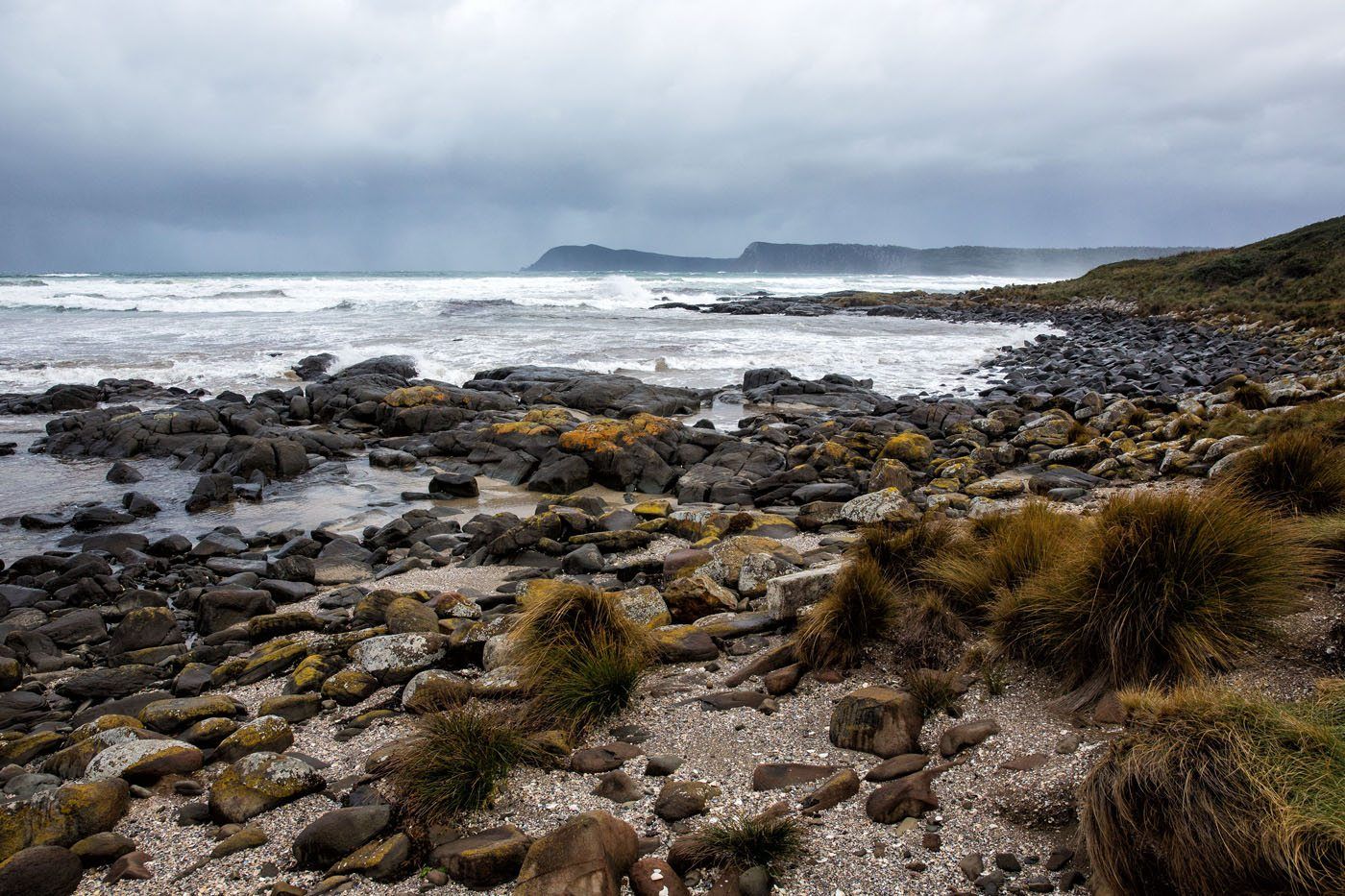 View of Cloudy Bay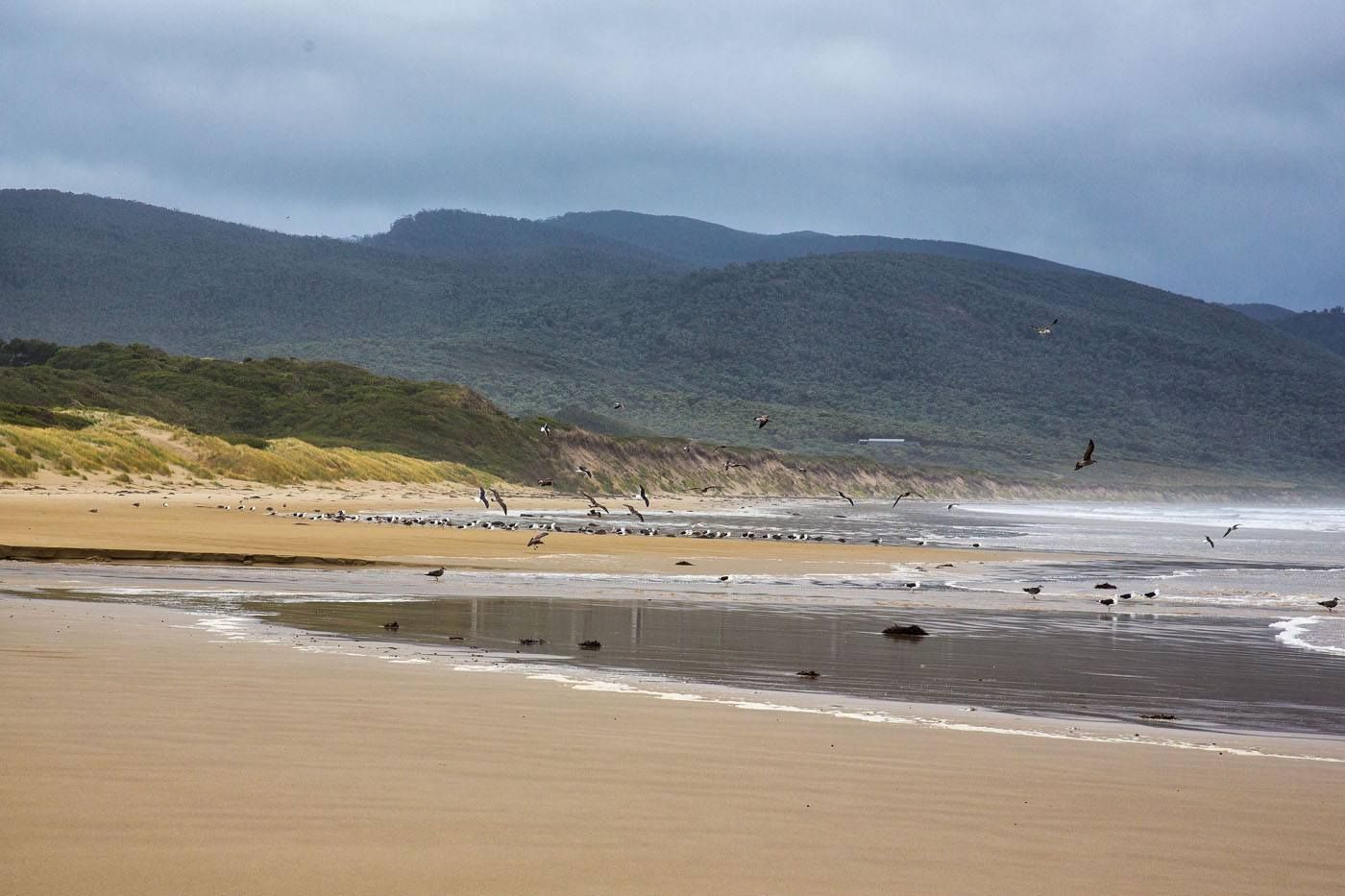 There are numerous walking trails just waiting to be explored. For a two hour walk, consider visiting Fluted Cape, where you will have views out to the Tasman Peninsula and the coastal cliffs on Bruny Island.
For more information on hiking on Bruny Island, visit Parks & Wildlife Service website.
Hotel Bruny Bistro
This is a great spot for a meal. Hotel Bruny is located on the southern island of Bruny Island, just thirty minutes from the ferry. They serve steak, fresh seafood, pasta dishes, and fresh oysters. And, just like their name states, they offer accommodations, perfect if you are planning to stay longer than one day on Bruny Island.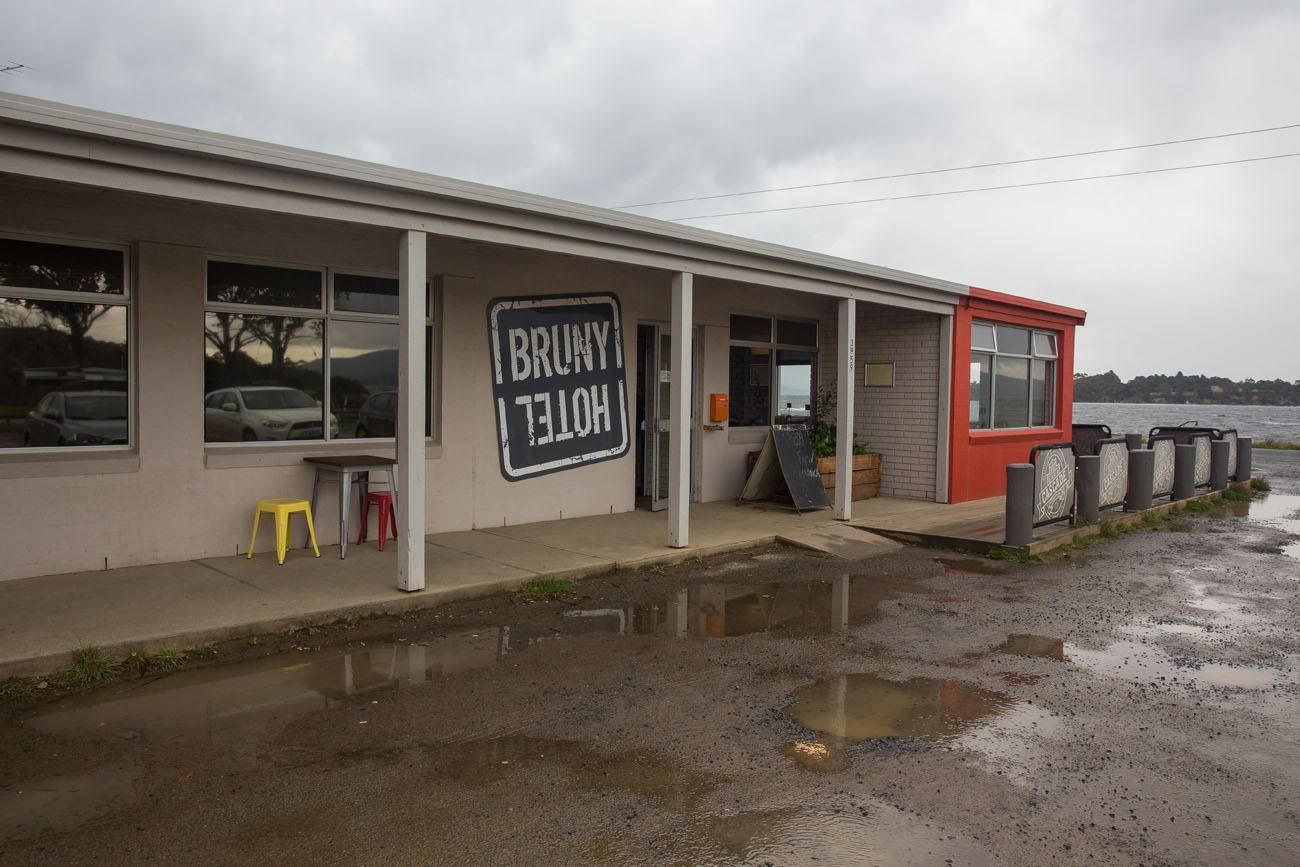 Getting to Bruny Island
The only way onto the island is by ferry. The Bruny Island ferry connects Kettering, on the main land, with Bruny Island. Kettering is located 40 minutes south of Hobart. The ferry trip takes 20 minutes and during the ride you have excellent views of the D'Entrecasteaux Channel. It is a vehicle ferry so you can drive your car right onto Bruny Island.
For full details on ferry timetables and ticket prices, click here.
---
More Information about Australia
TASMANIA: In Tasmania, hike to Cape Raoul and Wineglass Bay, explore the Tasman Peninsula, visit Bonorong Wildlife Sanctuary, and cruise to Tasman Island.
THINGS TO DO IN AUSTRALIA: Visit the cities of Melbourne and Sydney, hike Kings Canyon, visit Tasmania, go on a road trip on the Great Ocean Road, and explore the Barossa Valley and McLaren Vale wine regions.
SOUTH AUSTRALIA: In our Guide to McLaren Vale, get recommendations for 18 exceptional wineries to visit. We also have a recap about our visit to McLaren Vale and Barossa Valley from our first visit to Australia.
TRAVEL INSPIRATION: Here are 15 fairytale destinations to visit around the world. And if you are considering a trip to Europe, check out our article 30 Beautiful Places to Visit in Europe.
All rights reserved © Earth Trekkers. Republishing this article and/or any of its contents (text, photography, etc.), in whole or in part, is strictly prohibited.