Stroll the picturesque streets, walk the castle walls, and drink ginja in a chocolate cup …these are all things to do in Óbidos, Portugal.
If you have been to Tuscany, Italy, a visit to Óbidos will feel very much like exploring one of Italy's smaller hill towns, such as Montepulciano or San Gimignano.
Óbidos is a compact town, perched on a hillside overlooking the surrounding area. This town is encircled by castle walls, which are fun to explore and offer amazing vantage points over the town. Its city streets are lovely, with blooming bougainvillea in the summer, colorful shops, and small cafes.
Óbidos makes a wonderful stop on a road trip through Portugal. In this guide, we cover the best things to do in Óbidos plus tips to help you plan your visit.
Interesting Facts About Óbidos
Óbidos is a small village that is located in the province of Estremadura, about 85 km north of Lisbon.
Óbidos is home to one of the best-preserved castles in Portugal. In fact, in 2007, Óbidos Castle was named as one of the Seven Wonders of Portugal. Its fortified walls surround a labyrinth of cobblestone streets that are a delight to explore.
The Moors were the first to settle here. In the 12th century, Alfonso Henriques, the first king of Portugal, took over the area from the Moors. In 1228, King Dinis I gifted the town of Óbidos to his wife, Elizabeth of Aragon. Óbidos continued to be the dowry of many queens of Portugal until the 19th century, which is one of the reasons why there are so many churches in town.
In Óbidos, the Vila Literária project helped to rehabilitate degraded buildings in town, transforming them into bookstores. In 2015, UNESCO considered Óbidos to be a literary city as part of its Creative Cities Network program.
Best Things to Do in Óbidos
In no particular order, here are the best things to do in Óbidos. At the end of this list, you can see all of them on a map.
1. Porta da Vila
Porta da Vila is the main entrance gate into Óbidos. Whether you arrived by car, by public transportation, or on a tour, this will be your introduction to the village.
Once you enter through the gateway, you will see the beautifully blue tiled balcony. These tiles were added between 1740 and 1750 and depict the Passion of Christ.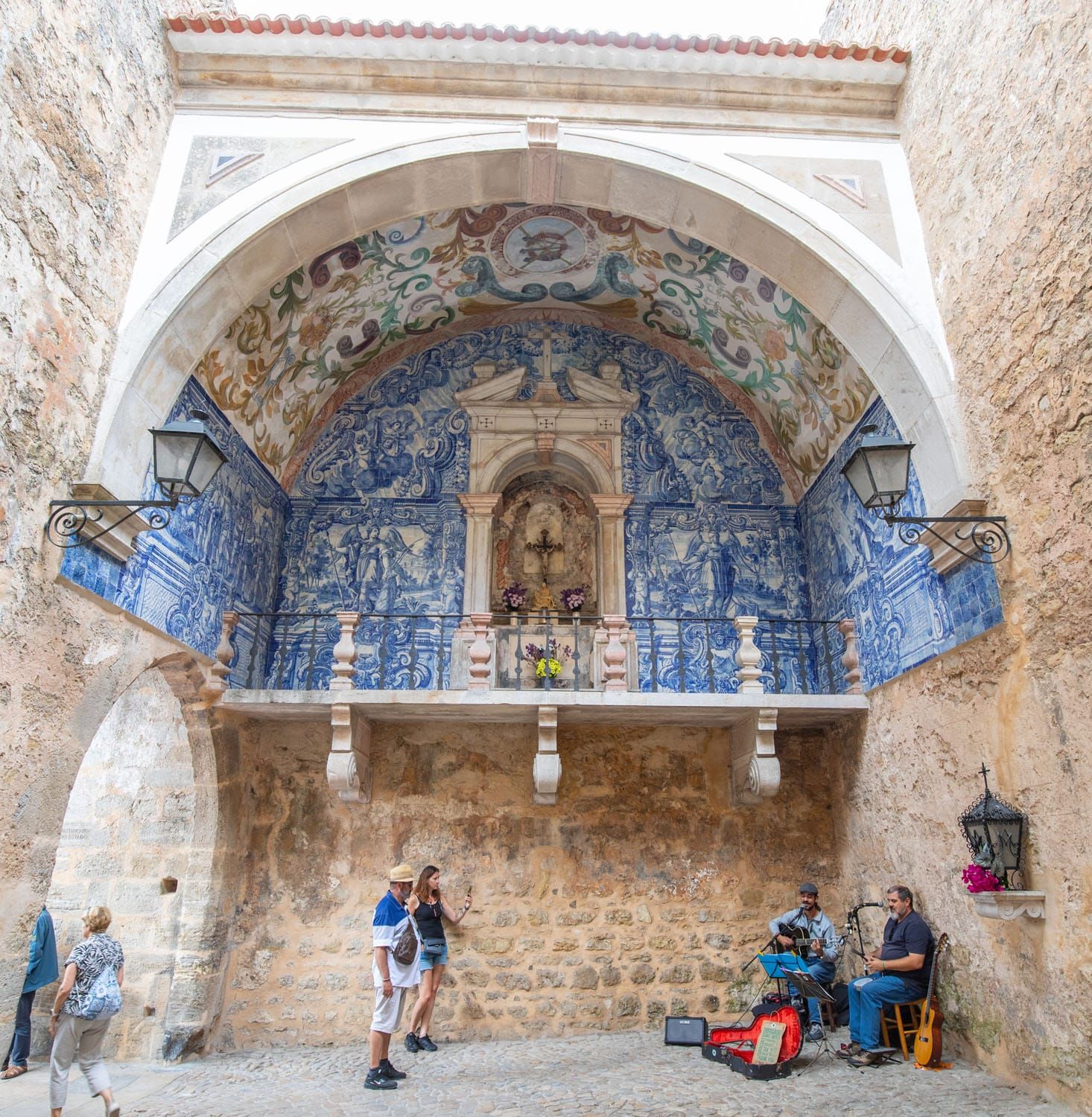 Porta da Vila | Best things to do in Óbidos
2. Walk the Fortified Walls
One of our favorite experiences in Óbidos was walking the fortified walls that encircle the town. These walls form a 1.5 km loop around Óbidos. From the walls and its towers, you are treated to the best views over town and the surrounding area.
The walls are free to visit.
Walking the castle walls feels like an adventure. The walkway is narrow (roughly 1 meter wide) and there are no guardrails, so there is a drop off on one side of the walls, which sit quite high above town. When there is two-way traffic, this can be a bit unnerving. If you have an issue with heights or suffer from vertigo, consider skipping this walk on the castle walls.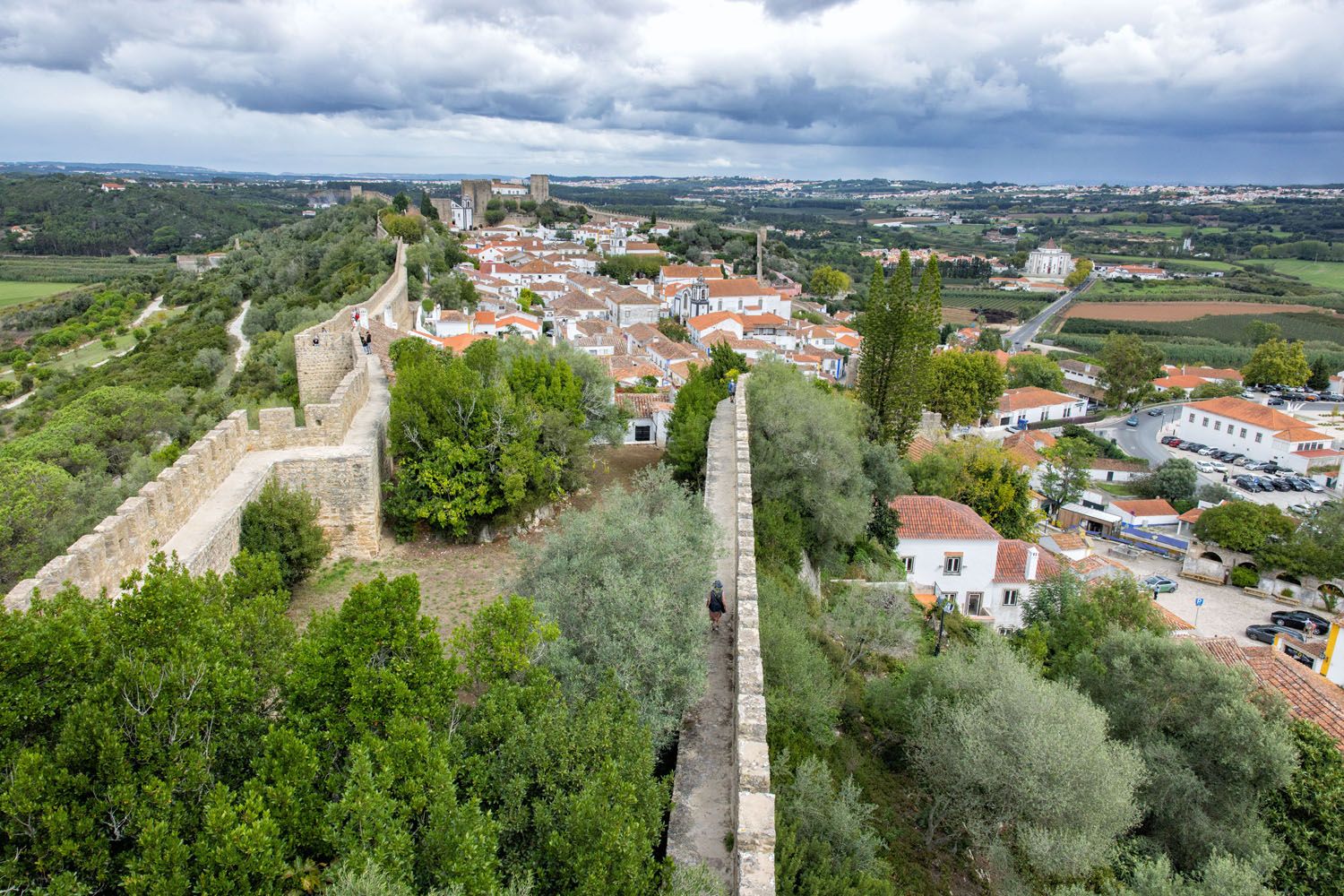 View of Óbidos from the tower on the southern end of the walls
The tower on the southern part of the walls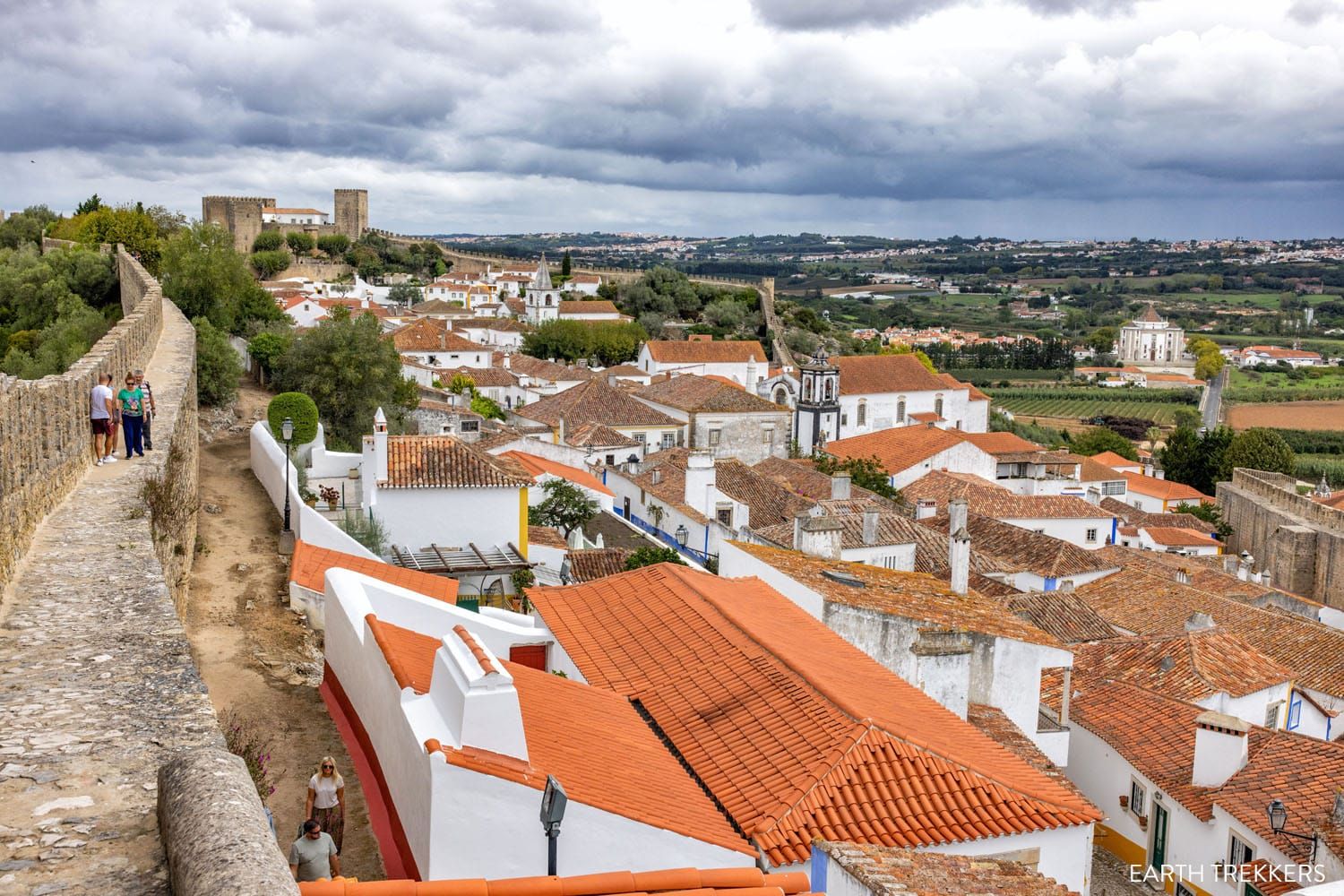 View from the walls | Best things to do in Óbidos
How to Walk the Fortified Walls
After you walk through Porta da Vila there will be a staircase immediately on your left. These stairs are very steep, as are the other staircases located at several points along the walls. From the top of the stairs, enjoy your first view over Óbidos.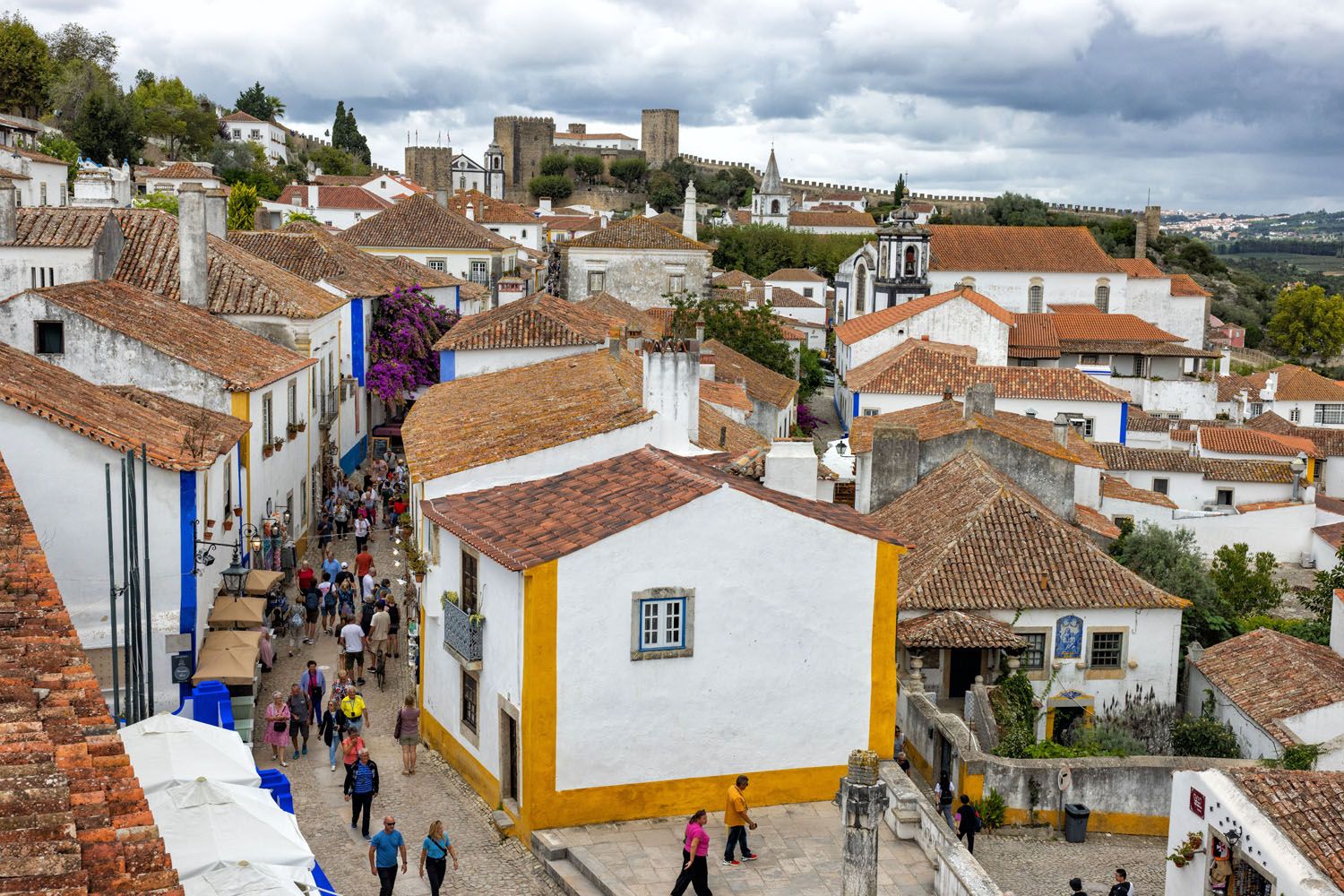 From this point, you have the choice to go right or left. We chose to go right, opting to first walk along the higher side of town. Going right leads to the walls on the far southern end of town and towers with panoramic views of Óbidos.
We followed the walls along the west side of Óbidos, walking the walls until we reached Óbidos Castle.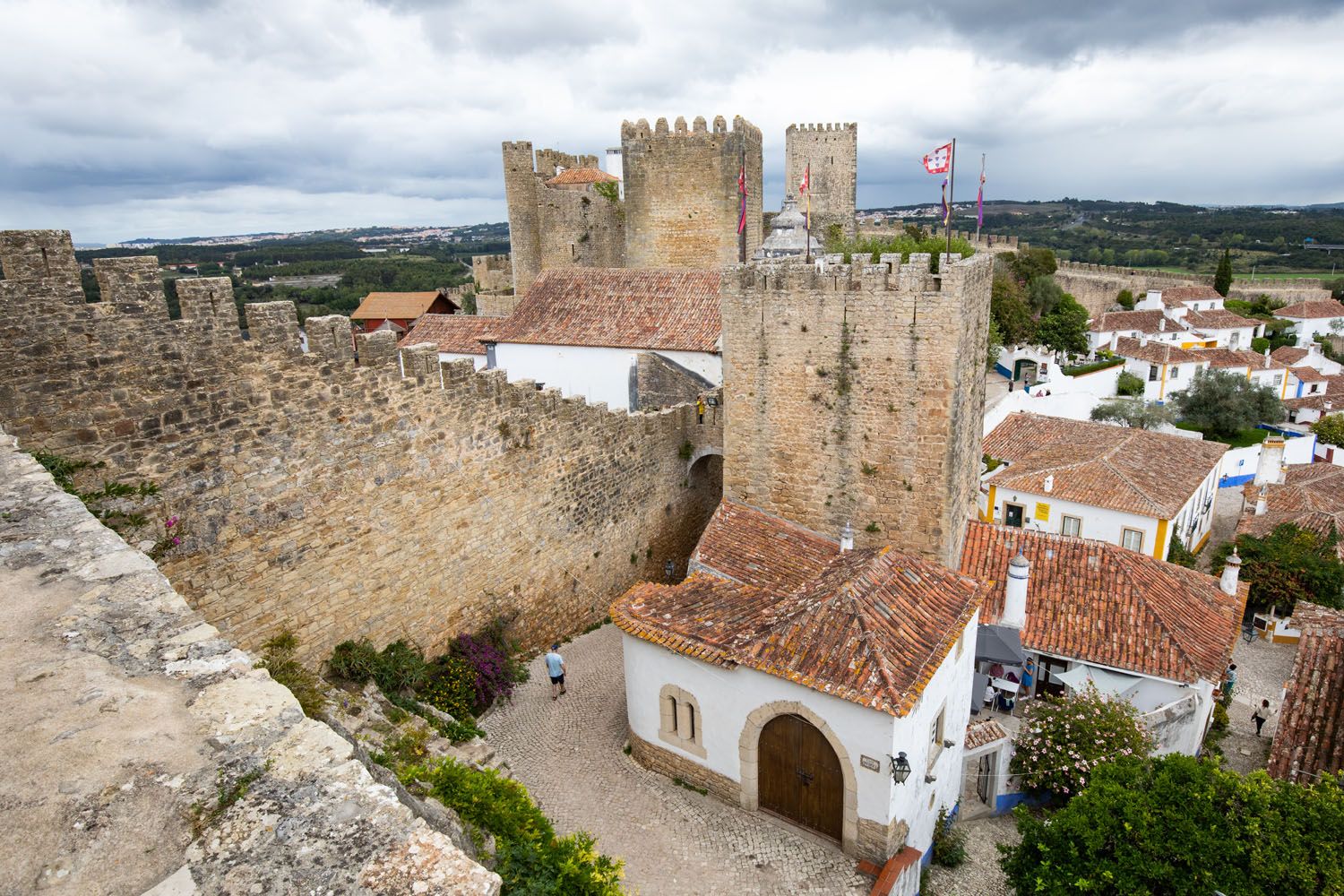 Occasionally, there are staircases where you can descend into town, but these are few and far between (they are also very steep and usually don't have guardrails).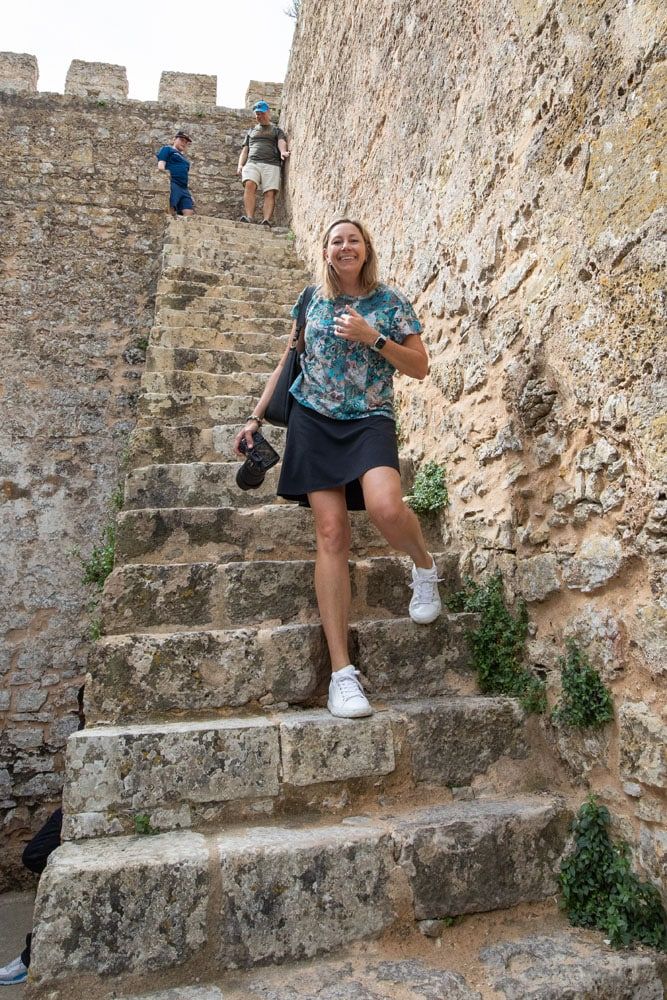 One of the staircases along the castle walls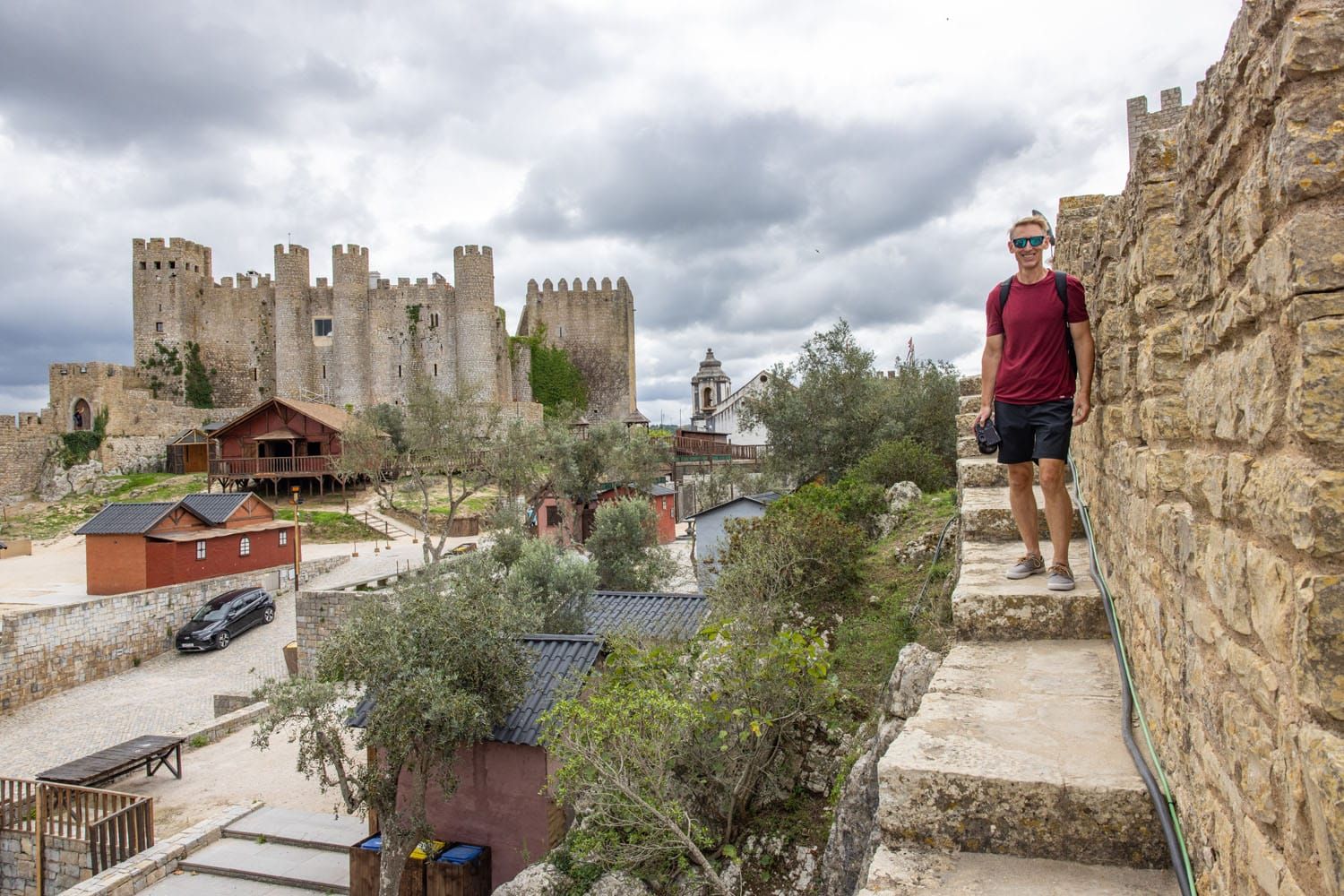 Tim is standing on one of the narrowest section of the walls
To walk one half of the walls as just described, this will take about 30 minutes. If you want to walk the entire loop, allow one hour.
3. See the Castle of Óbidos
The Castle of Óbidos dates back to Roman times, was later fortified under Arab rule, and then taken over during Christian rule in 1148. It was severely damaged in the 1755 earthquake and renovated the 20th century.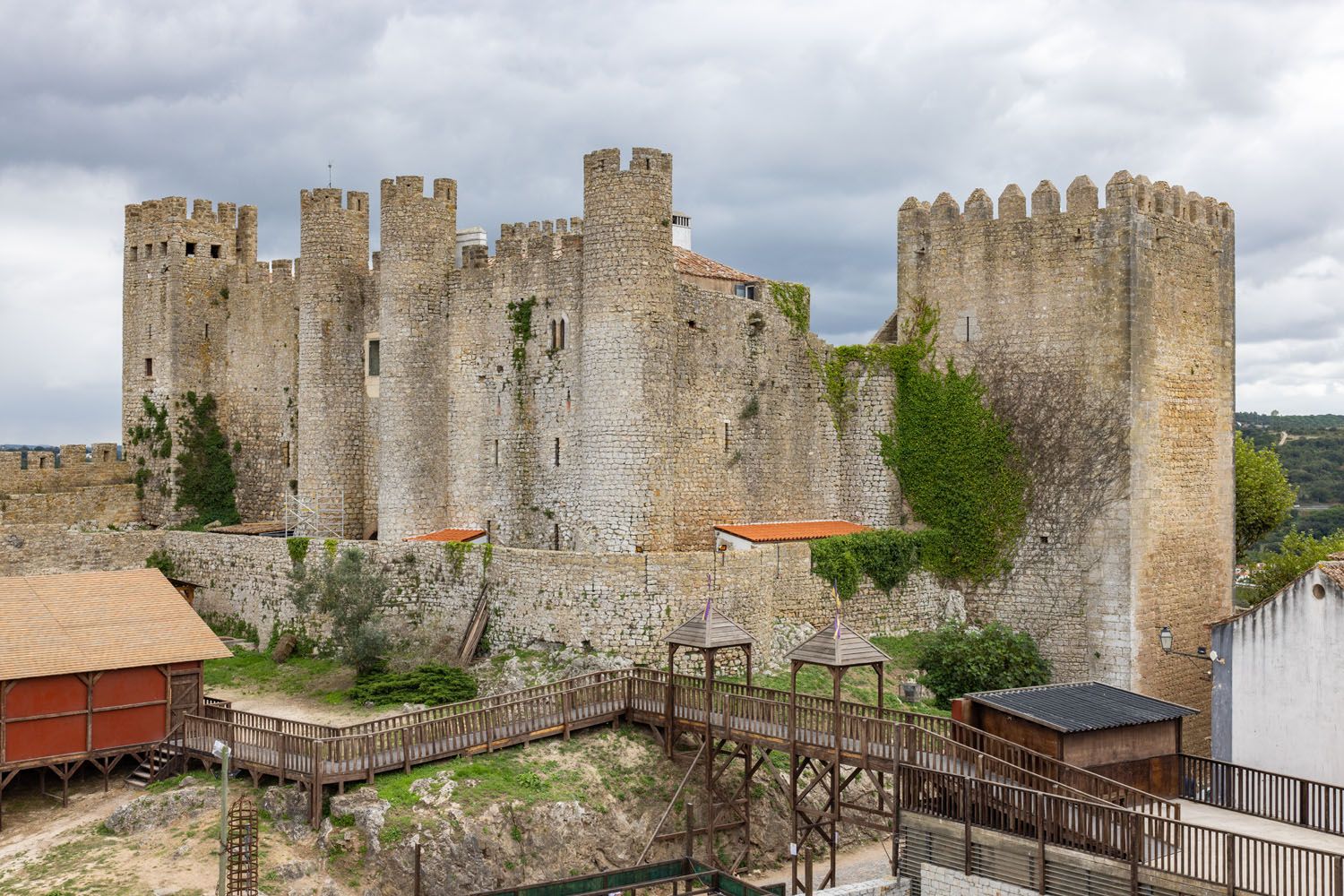 Castle of Óbidos | Best things to do in Óbidos
The Castle of Óbidos is now a 4-star hotel and restaurant (Pousada Castelo de Óbidos). As a visitor, you can enter the castle and see its courtyard, but the remainder of the castle is off limits, unless you are a guest of the hotel or dining in the restaurant. It's worth climbing the stairs in front of the castle, because from its terrace you get a nice view of Óbidos.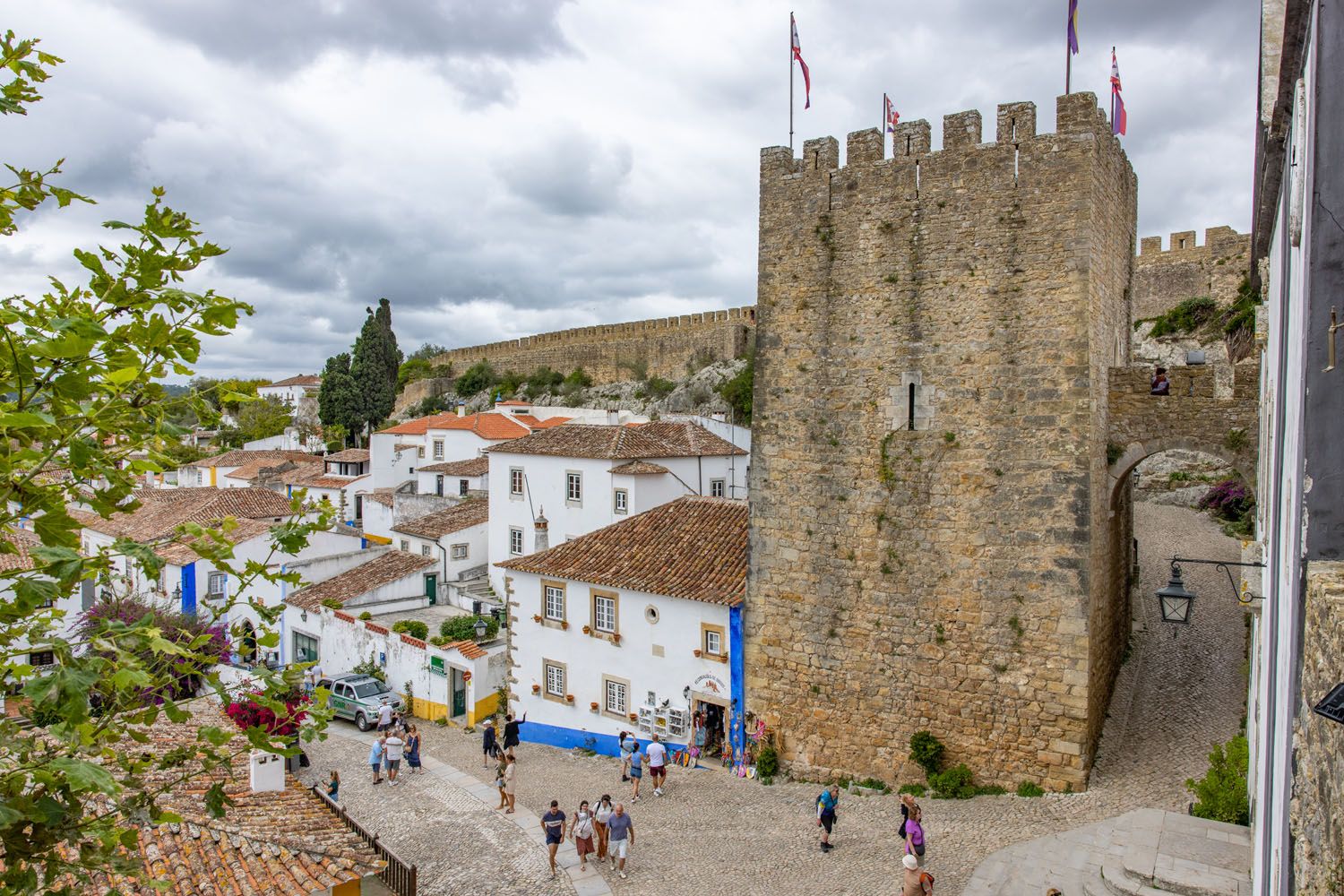 View from the terrace
4. Stroll along Rua Direita
Rua Direita is the main street that runs through the heart of Óbidos. It connects Porta da Vila to the castle.
This street is lined with shops, cafes, and restaurants. It only takes a few minutes to walk the full length of Rua Direita, but it will probably take you much longer, as you do a little shopping and sample ginja in chocolate cups.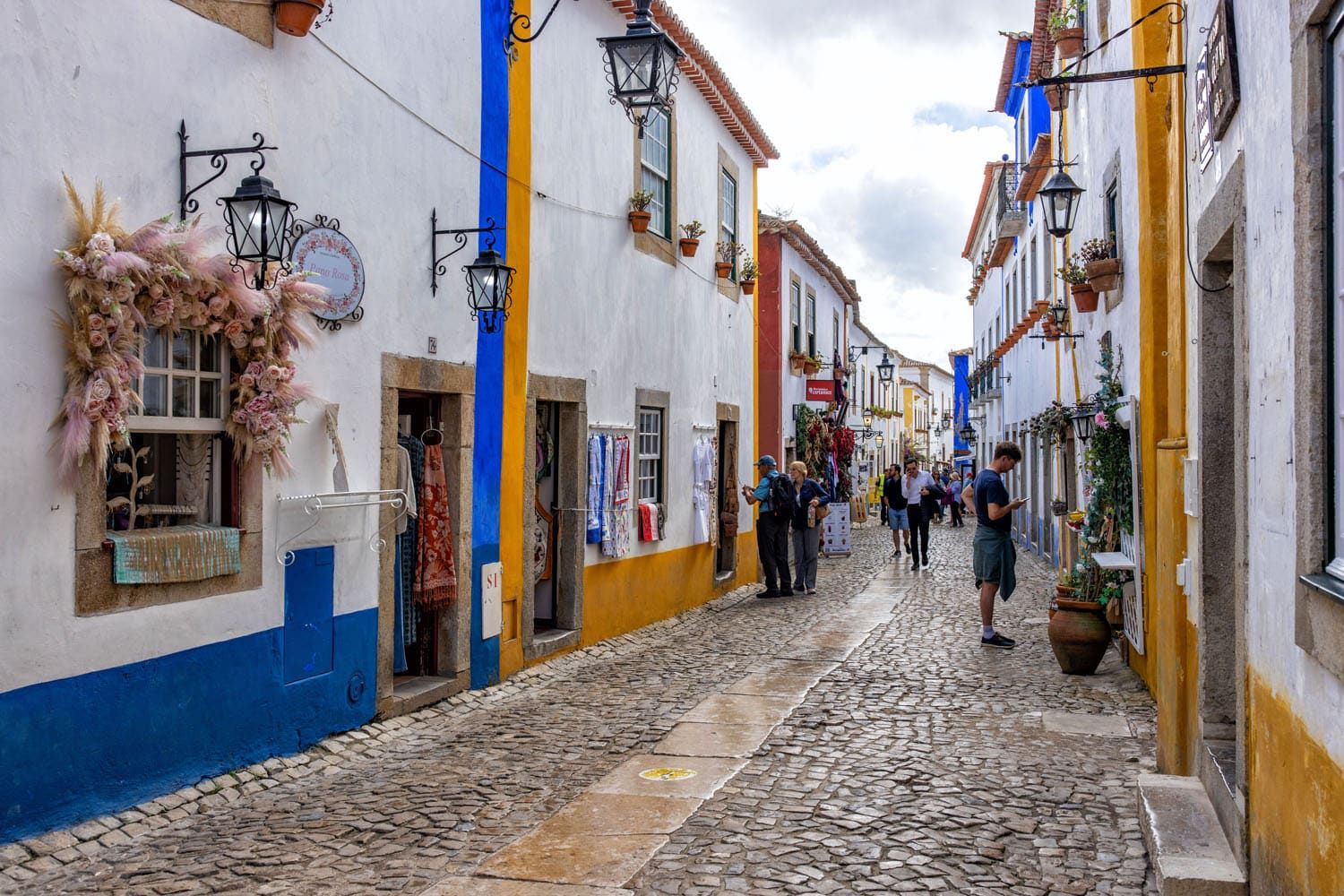 Rua Direita | Best things to do in Óbidos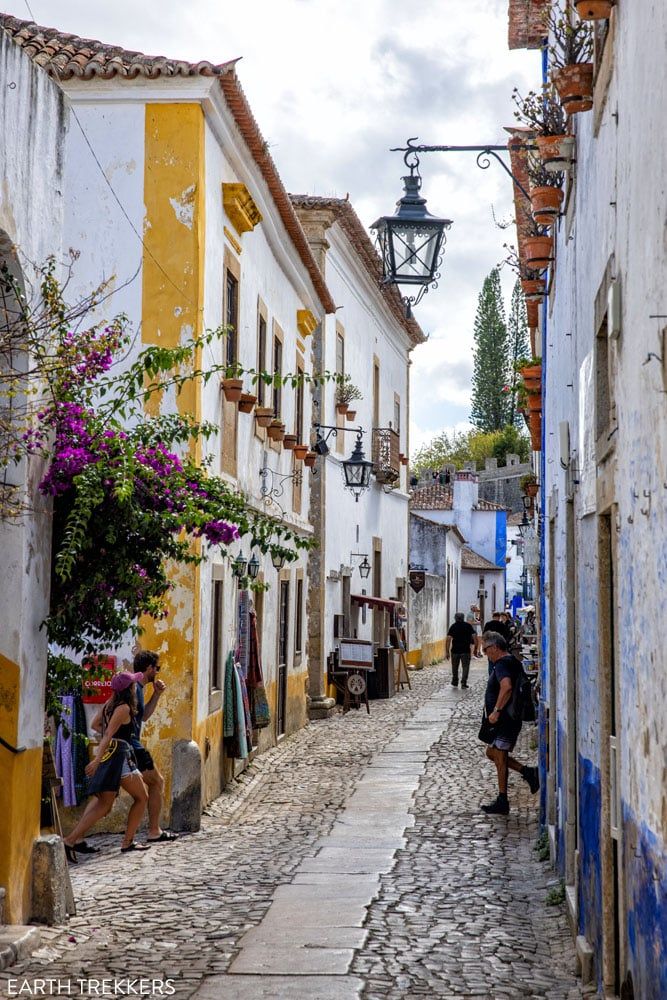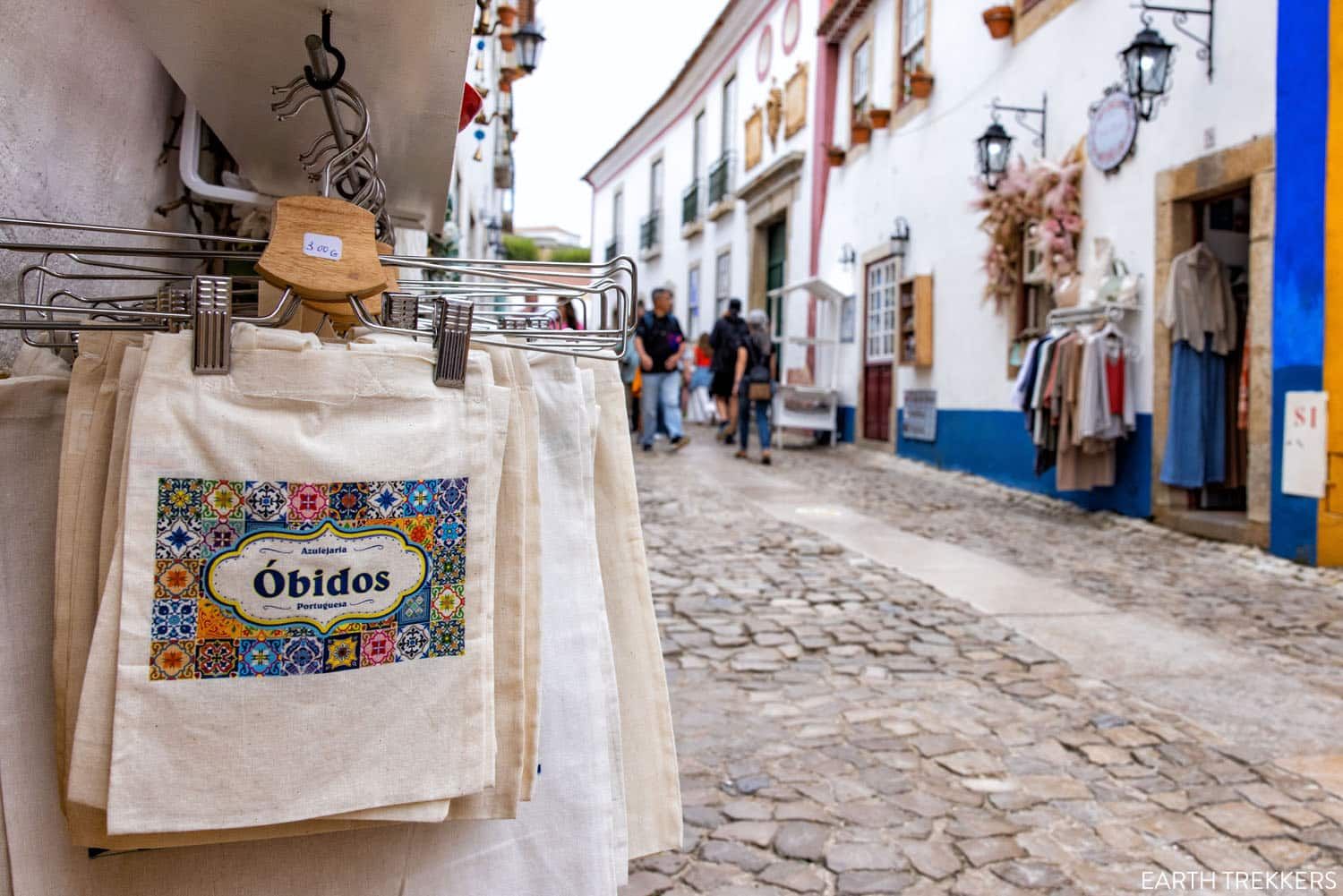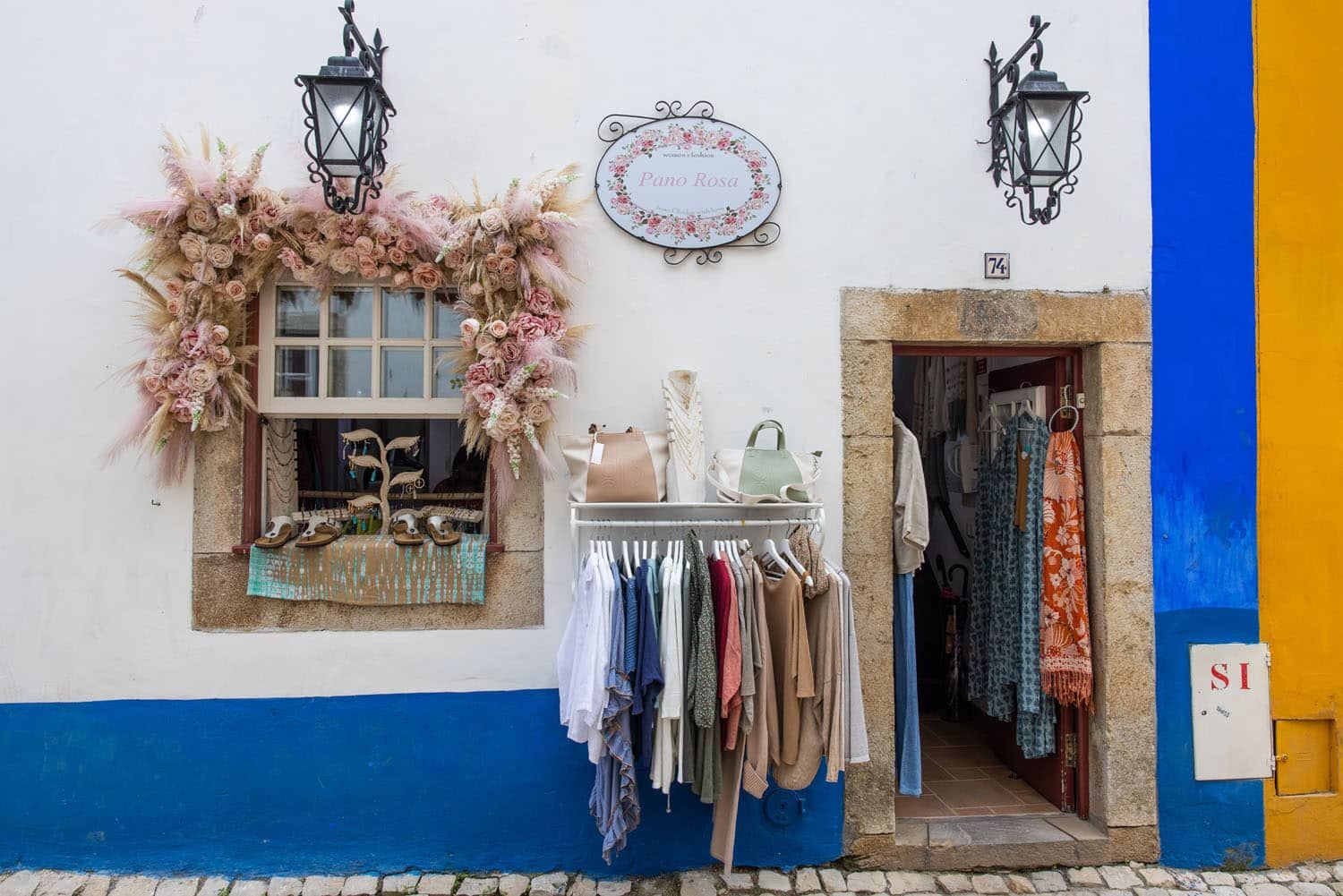 5. Explore the Side Streets
Rua Direita is very picturesque, but if you want the leave the crowds behind, explore the streets that branch off of Rua Direita. You'll find interesting viewpoints, quiet corners lined with bougainvillea, and more shops and restaurants.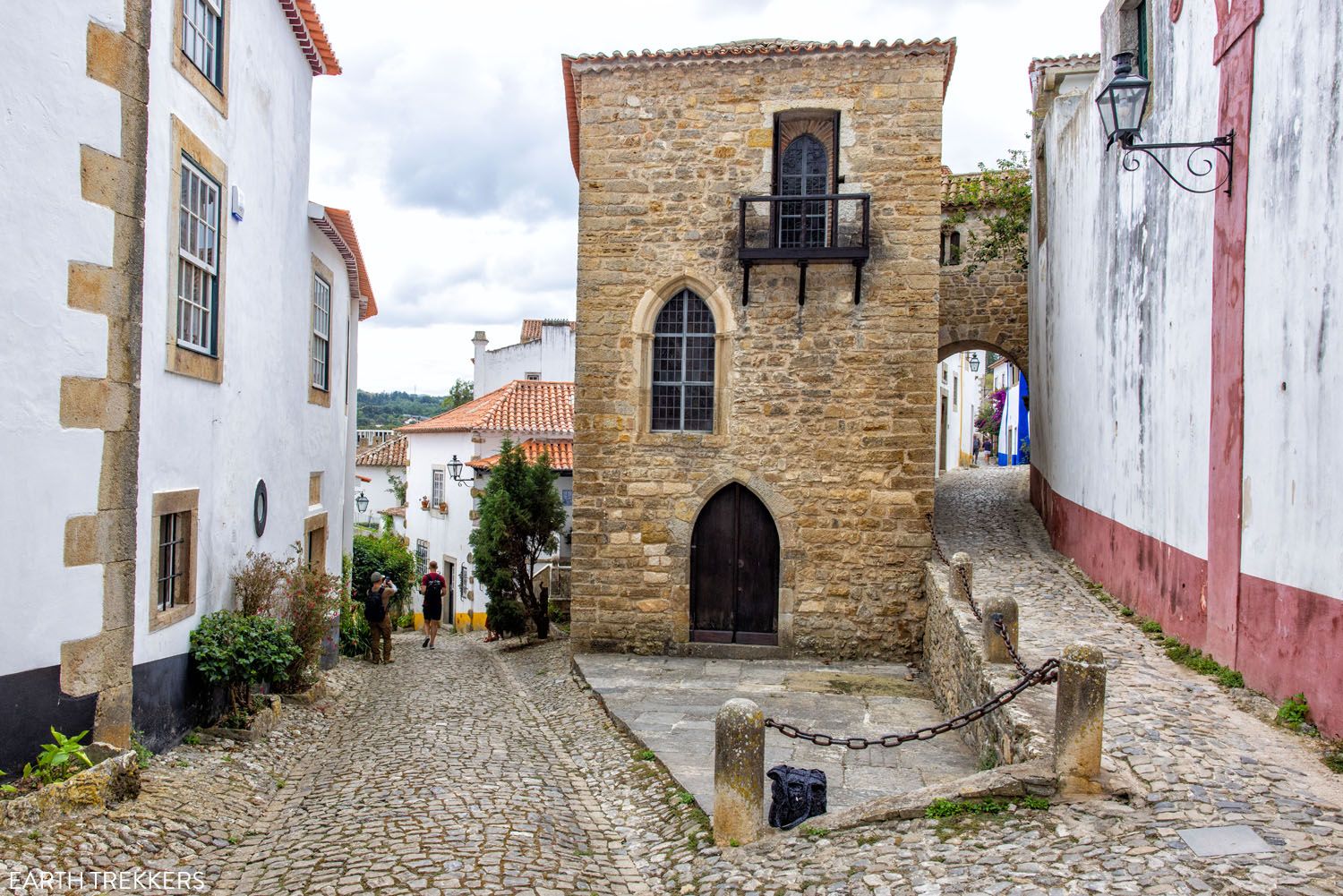 Torre de Maneys is not only a picturesque spot in Obidos but you can also spend the night here.
6. Try Ginja de Óbidos in a Chocolate Cup
Ginja, also called ginjinha, is a famous Portuguese liquor that is made from sour cherries. Ginja is produced throughout Portugal but the Óbidos ginja is one of the best.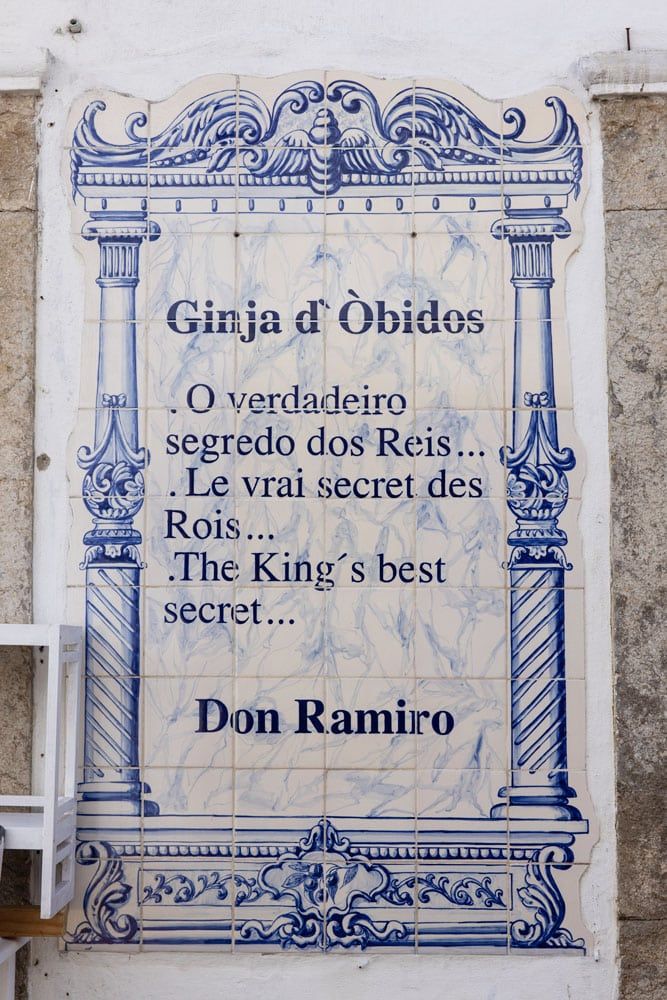 Sour cherries are harvested in June and then sit in a mixture of water, alcohol, and sugar for several months. The result is a cherry liquor.
Ginja is served in a glass or in a tiny cup made of chocolate, which adds some sweetness to the sour cherry taste. Sometimes, this is also served with a cherry.
The Ibn Errik Rex Bar (mentioned next) was the first to serve ginja in the 1950's. As you stroll along Rua Direita, you will see many other shops selling this boozy delight. Oppidum and Vila das Rainhas are two popular producers of ginja. As you walk down the street, you can sample them all or just one or two.
We sampled ginja at Bar Ibn Errik Rex, Pasteleria Don Alfonso, and Ginjinha da Porta 7 and they were all great (Pasteleria Don Alfonso served our favorite ginja but Bar Ibn Errik Rex has the best setting).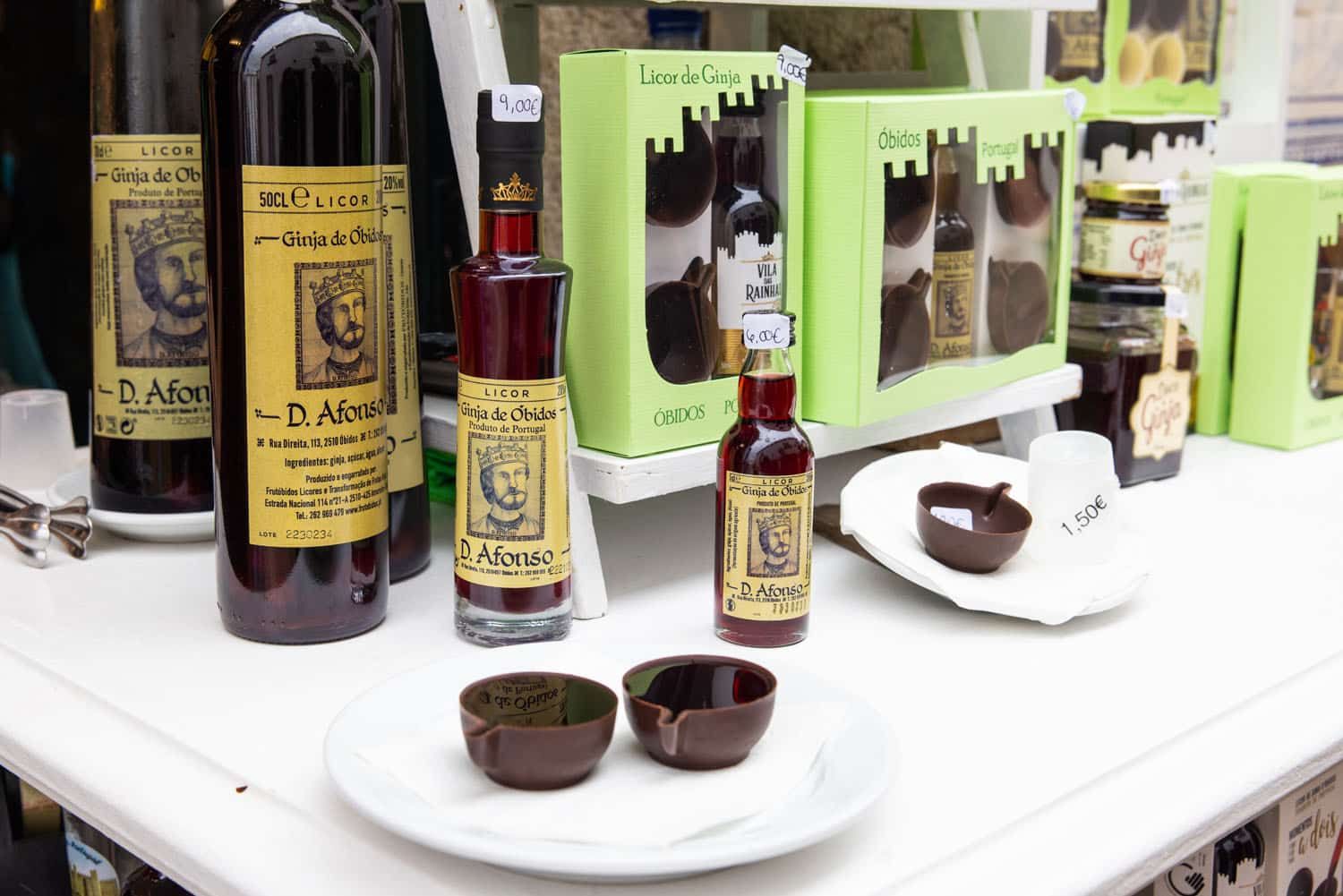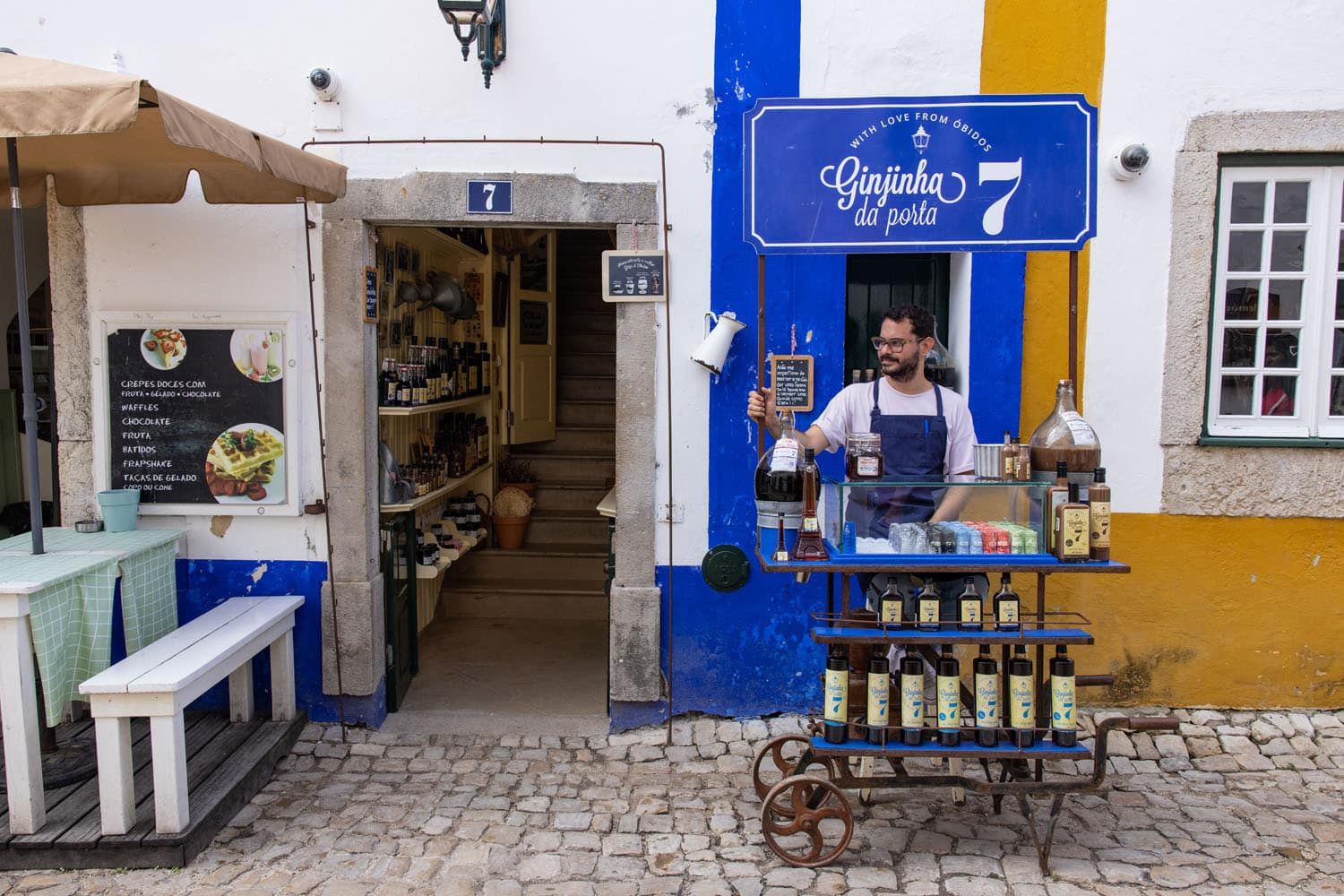 7. Bar Ibn Errik Rex
This was one of our favorite experiences in Óbidos.
Many people stroll right past it, sits its dark interior doesn't attract a lot of attention. But once inside, it's small, it's cozy, and it is the best place in Óbidos to try ginja or port.
In the 1950's, Bar Ibn Errik Rex was the first place in Óbidos to offer ginja tastings to its guests. You can still see the remnants from this, with ancient miniature bottles of ginja and port covering the ceiling.
There are just a few tables in this bar. The main thing to order is ginja, but you can also have port, beer, and soft drinks (we had port and ginja). If you're hungry, order the sausage, which is cooked right at your table.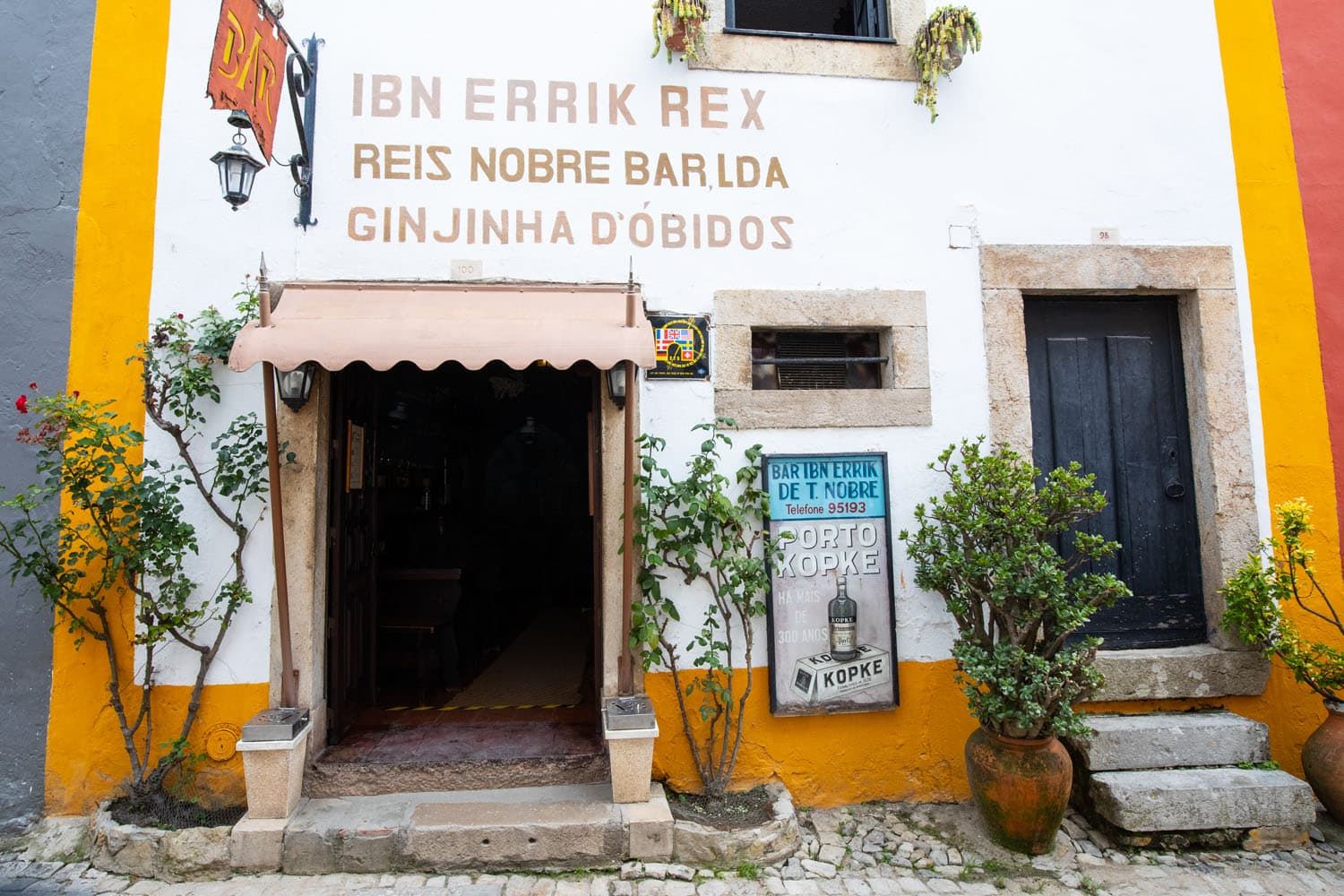 Bar Ibn Errik Rex | Best things to do in Óbidos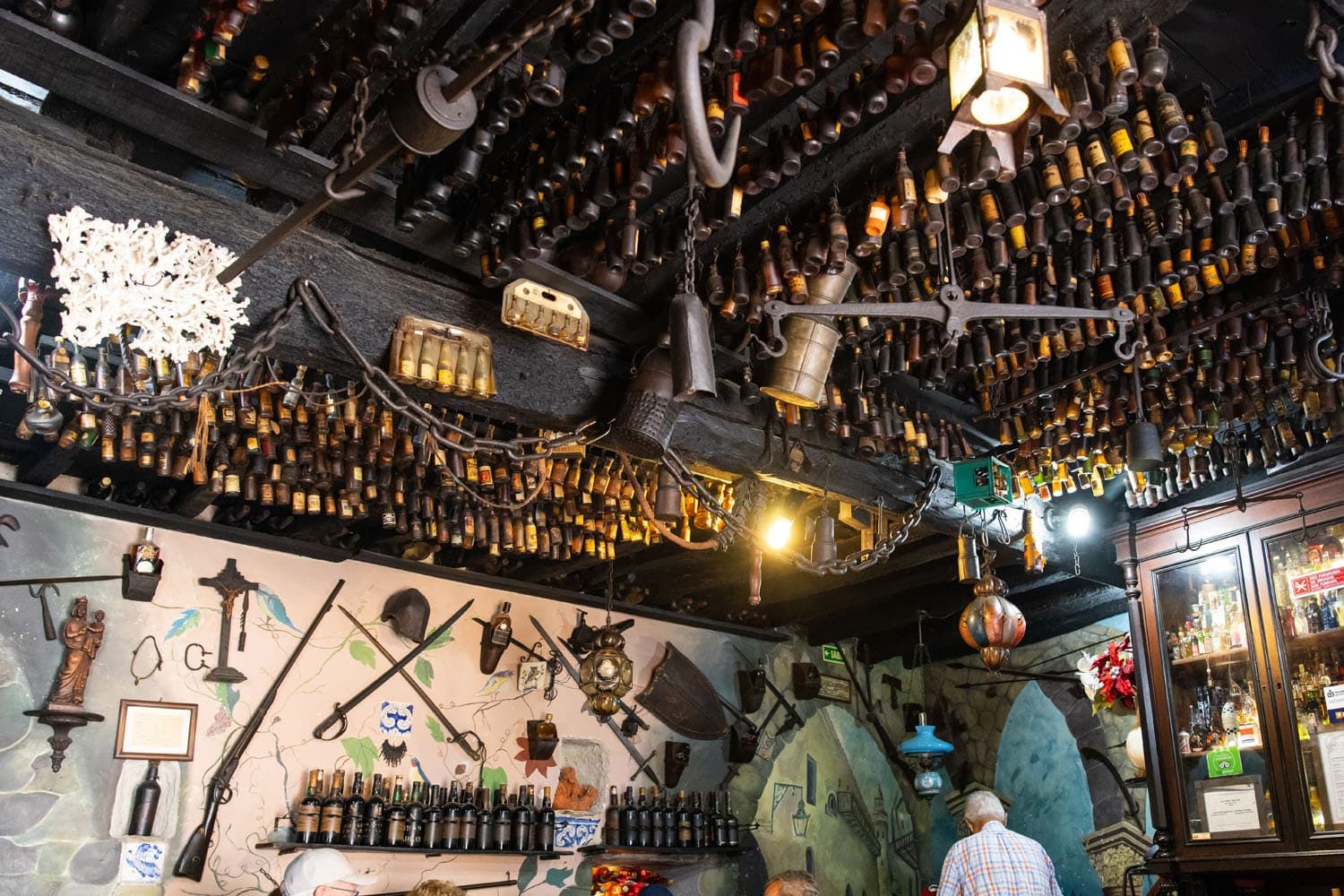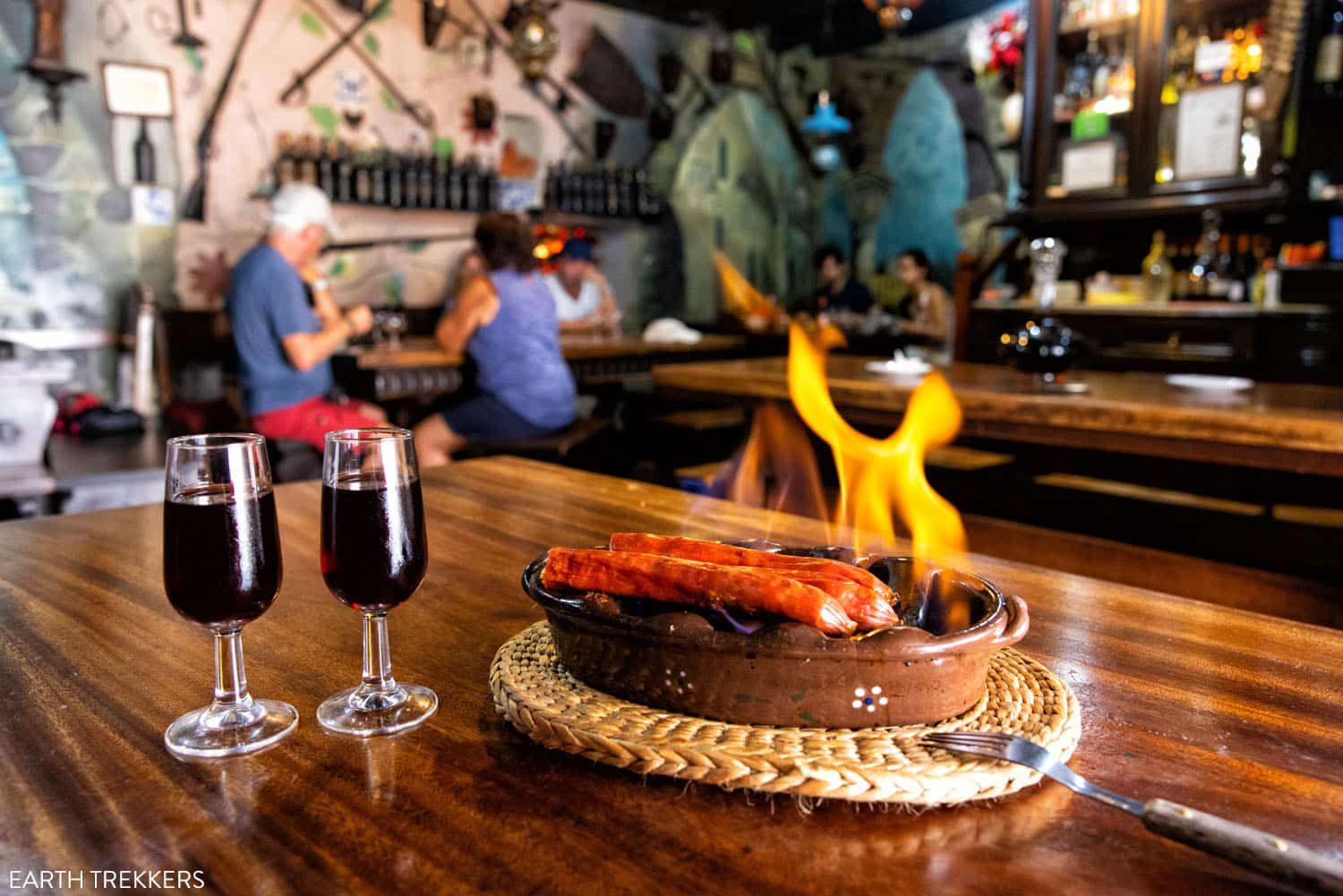 8. Church of Saint Mary
The Church of Saint Mary, also called Igreja de Santa Maria, is the main church in Óbidos. Inside, it is adorned with beautiful blue tiles. The tomb of D. João de Noronha and his wife D. Isabel de Sousa is one of the best examples of Portuguese Renaissance tombs.
This church has been the site of several royal weddings. On August 15, 1441, King D. Alfonso V married his cousin D. Isabel. They were just ten and eight years old.
The church is free to enter. In the summer, it is open from 9:30 am to 12:30 pm and 2:30 pm to 5:00 pm. Check hours here before you go.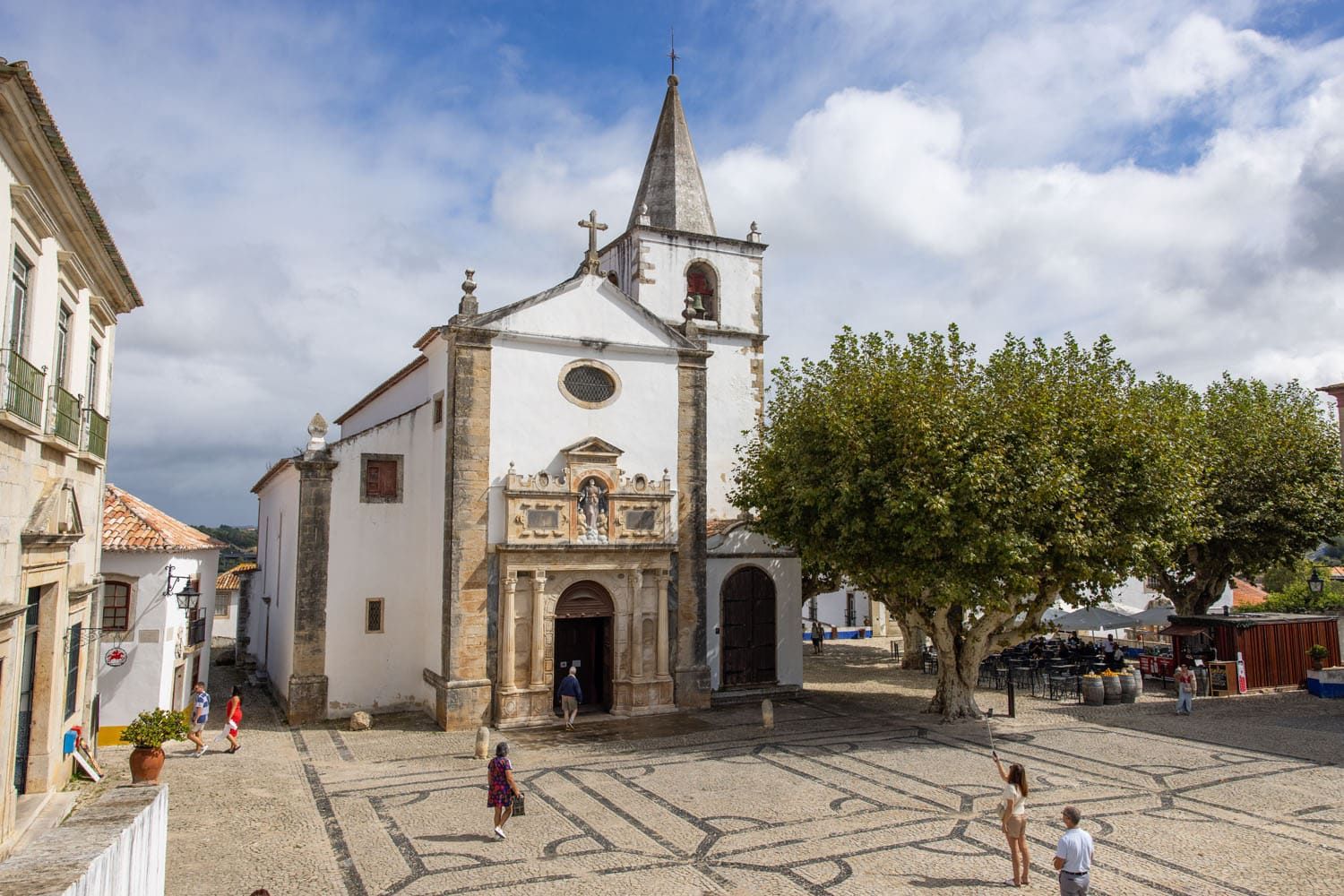 Church of Saint Mary | Best things to do in Óbidos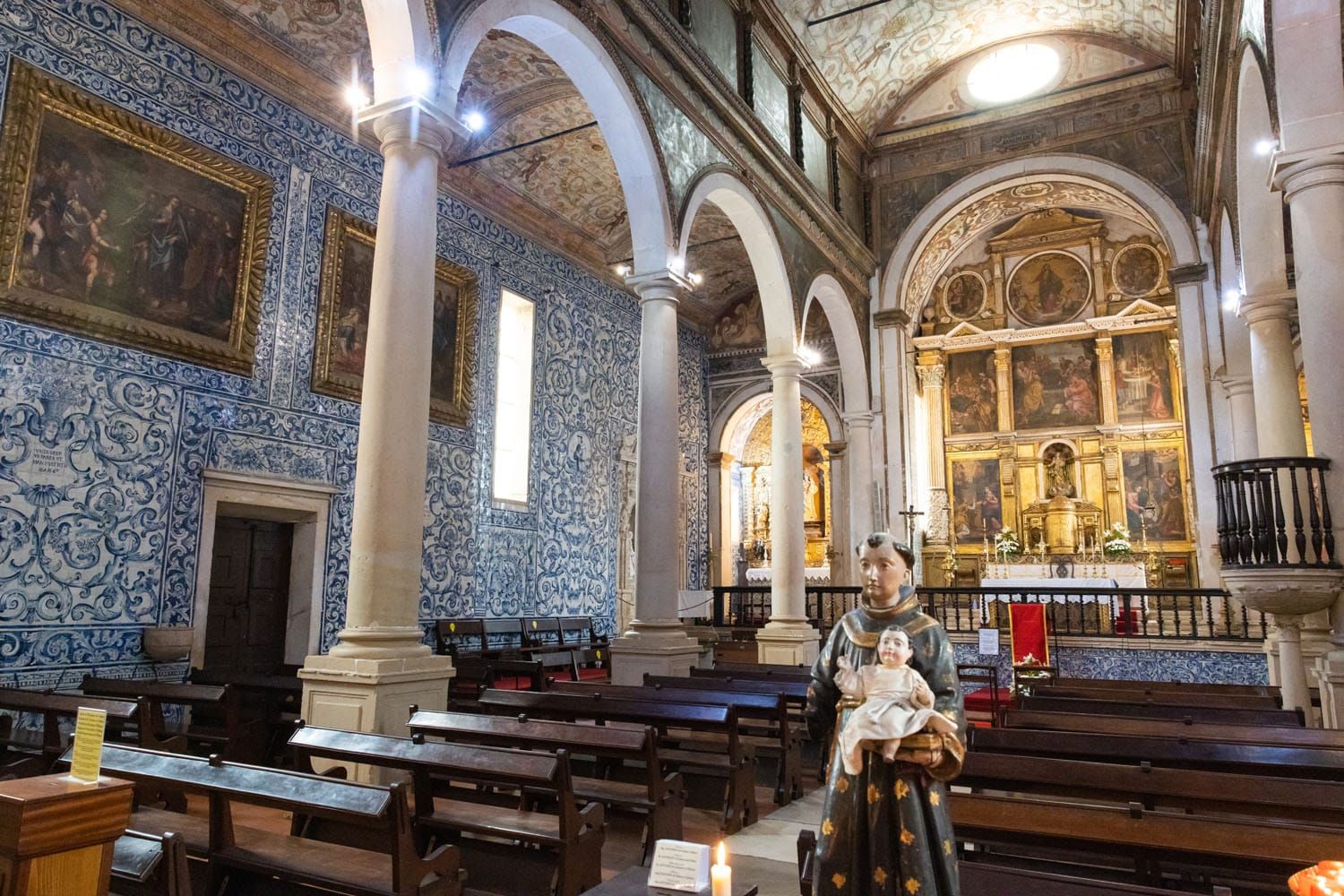 Inside the Church of Saint Mary
9. Igreja da Misericordia de Obidos
This church, also called the Church of Mercy or of the Almshouse, dates back to 1498 when Queen Leonor founded the almshouse. In the 17th century it was used as a place of worship for the sick and the poor.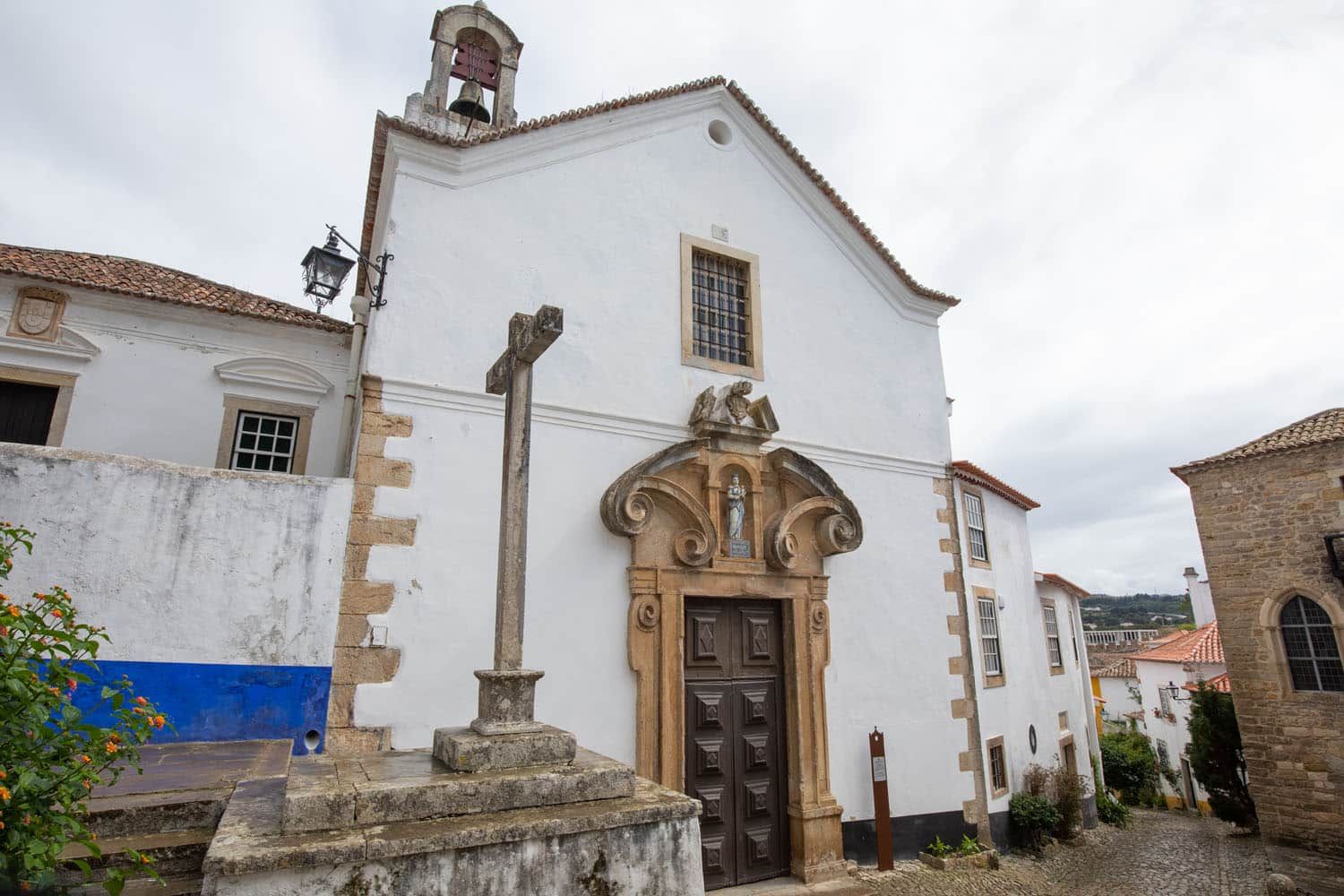 Inside, the walls are covered with blue tiles.
It is free to visit. The church is open from 9:30 am to 12:30 pm and 2:30 pm to 5 pm. It's closed on Thursday. Get hours here.
PRO TRAVEL TIP: This church is located on one of the prettiest side streets in Óbidos. From the church, continue the downhill walk about 30 meters to see one of the loveliest streets in Óbidos (photo below).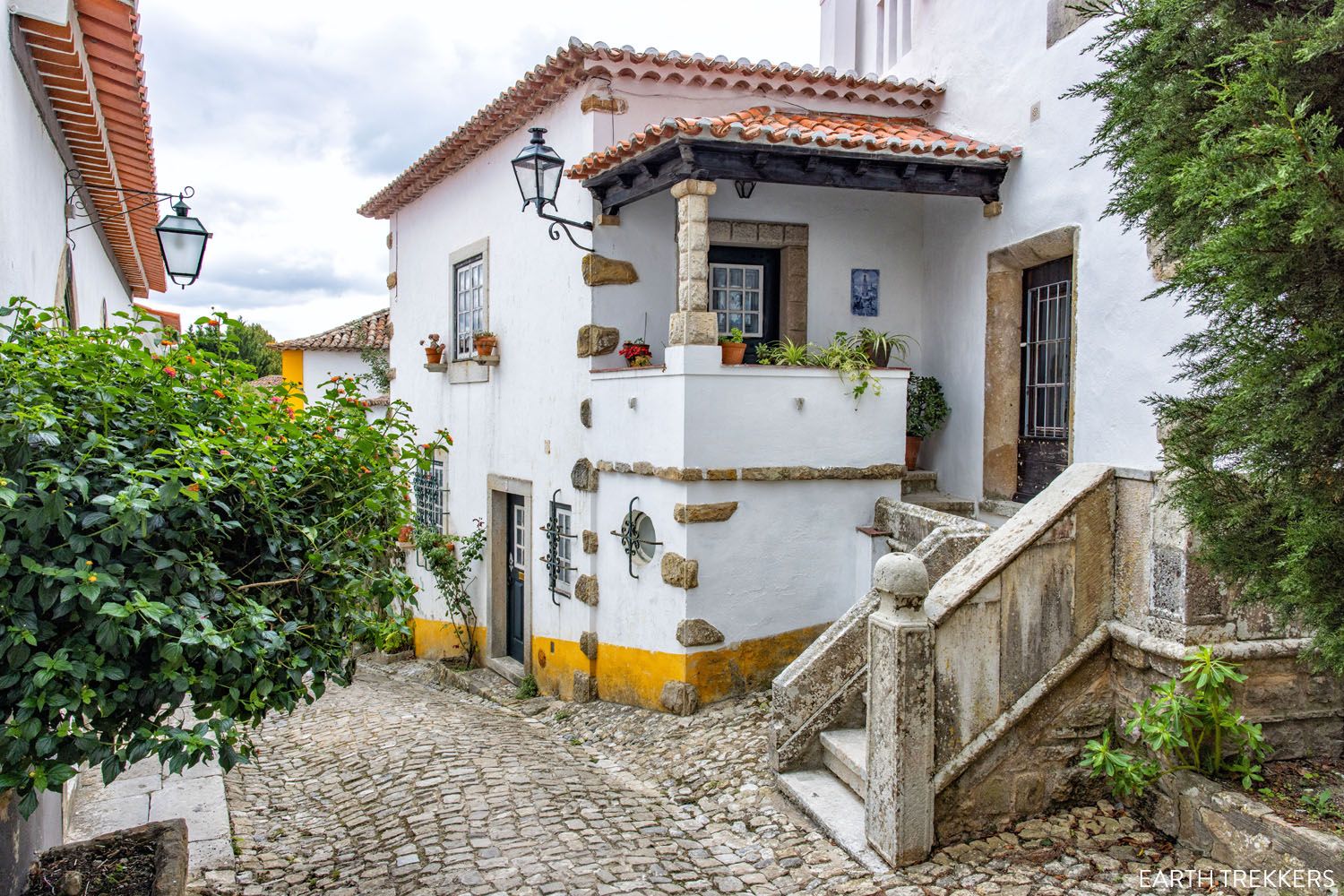 10. São Pedro Church & Chapel of Saint Martin
These two small churches sit across from one another on Largo de São Pedro.
The main sight inside of São Pedro Church is the baroque gilded altarpiece from the Johannine Period (17th to 18th century).
São Pedro Church | Best things to do in Óbidos
Saint Martin Chapel is much smaller. Inside are three tombs, one of which is decorated with a carved sword.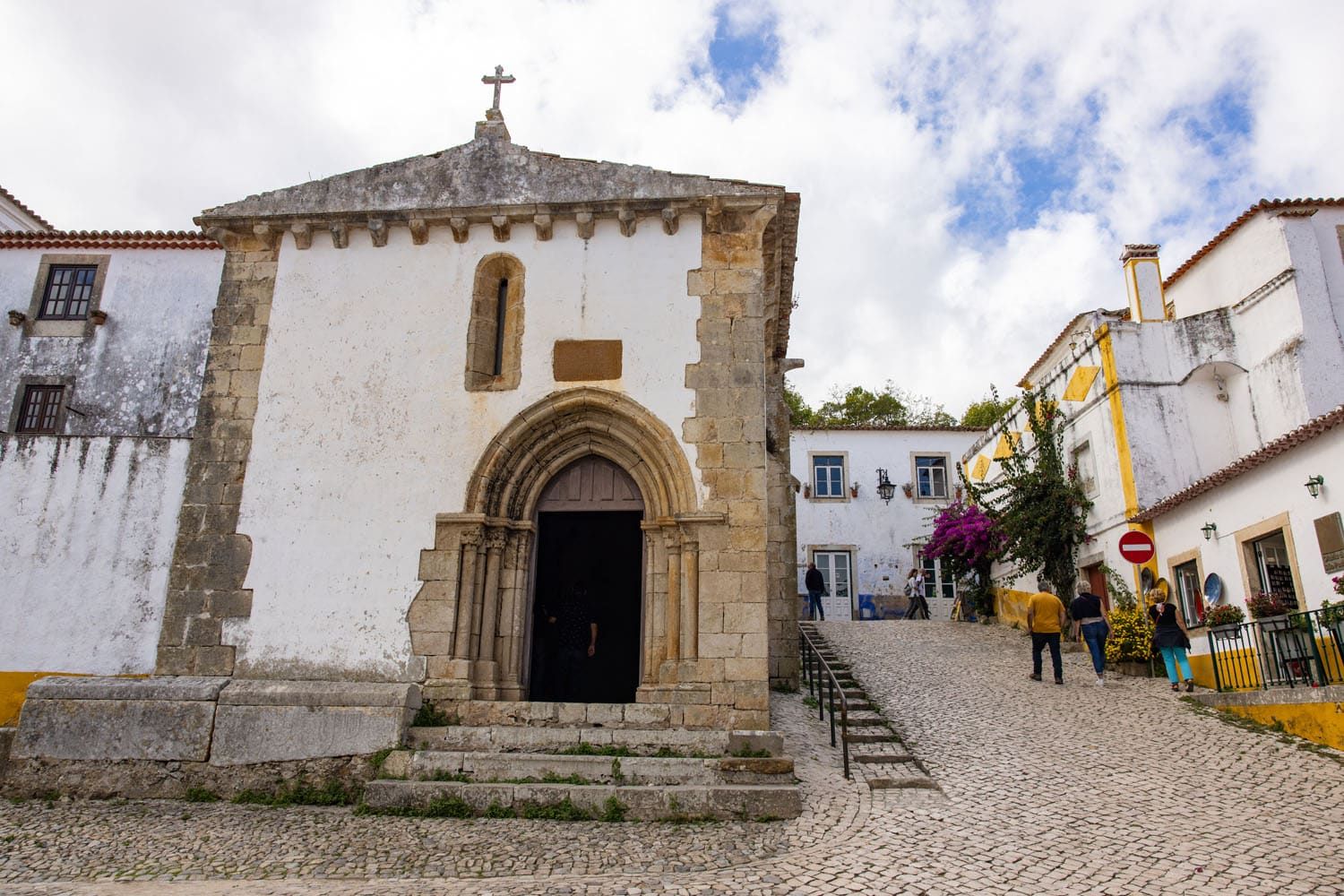 Chapel of Saint Martin | Best things to do in Óbidos
11. Sample the Local Foods
During our time in Portugal, one of our favorite things to do was to eat. In Óbidos, there are a few great restaurants to try.
We had a very nice lunch at Tasca Torta, a small restaurant that is located on Rua Direita. The sardines on corn bread were delicious as was the seafood rice.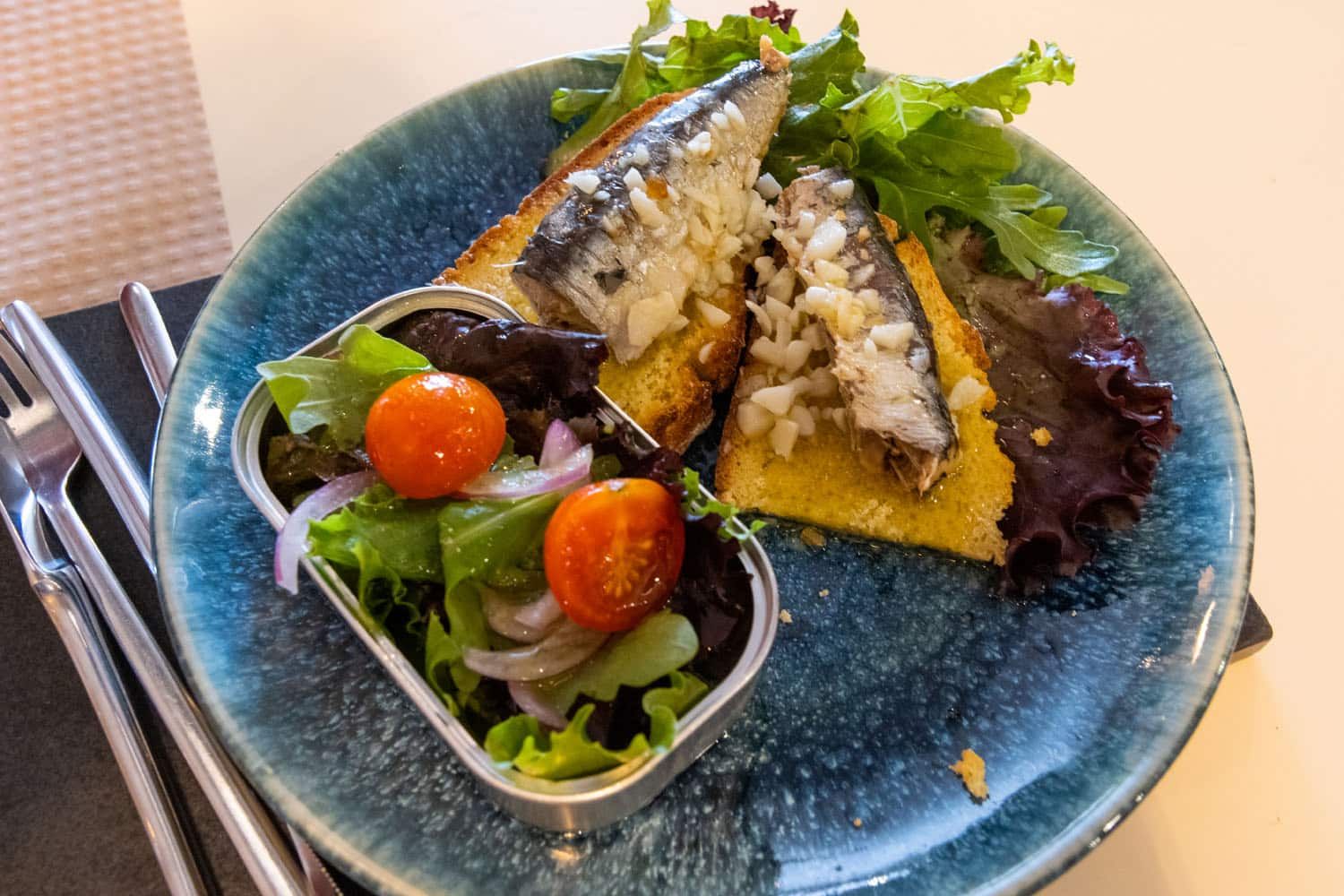 Sardines and corn bread at Tasca Torta
If you want a small snack, order the sausages at Bar Ibn Errik Rex and taste ginja or port.
Other restaurants that get very good reviews include Ja!mon Ja!mon, Potinha, and A Nova Casa de Ramiro (these sit just outside of the castle walls).
12. See the Aqueduct
Construction of the aqueduct began in 1573 and was used to supply water for two fountains in Obidos. You can see the aqueduct from the castle walls and from the parking areas just outside of town.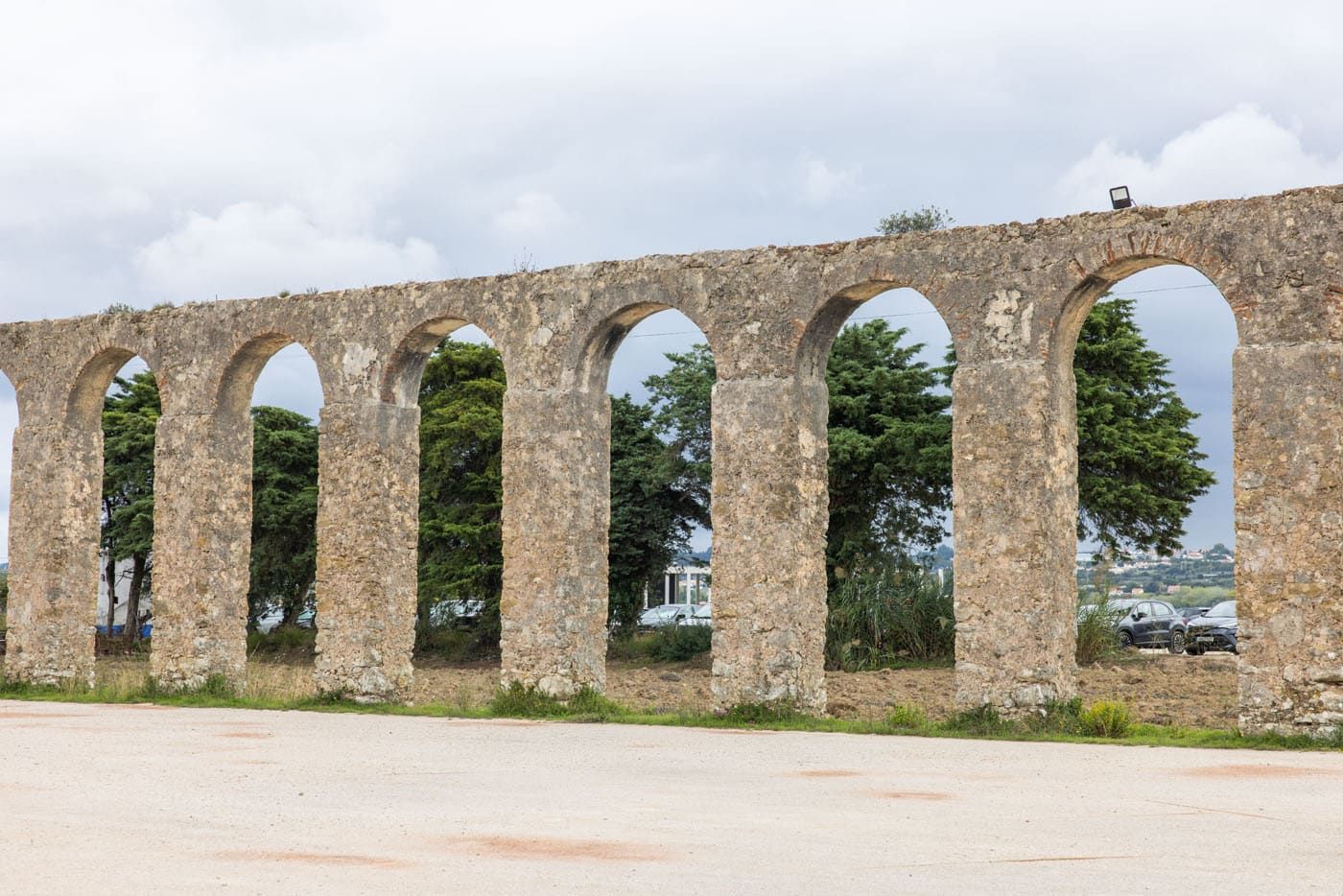 13. Livraria de São Tiago
Livraria de São Tiago is a bookshop located inside of a church. This bookshop/church sits at the north end of town, just a few steps from the castle.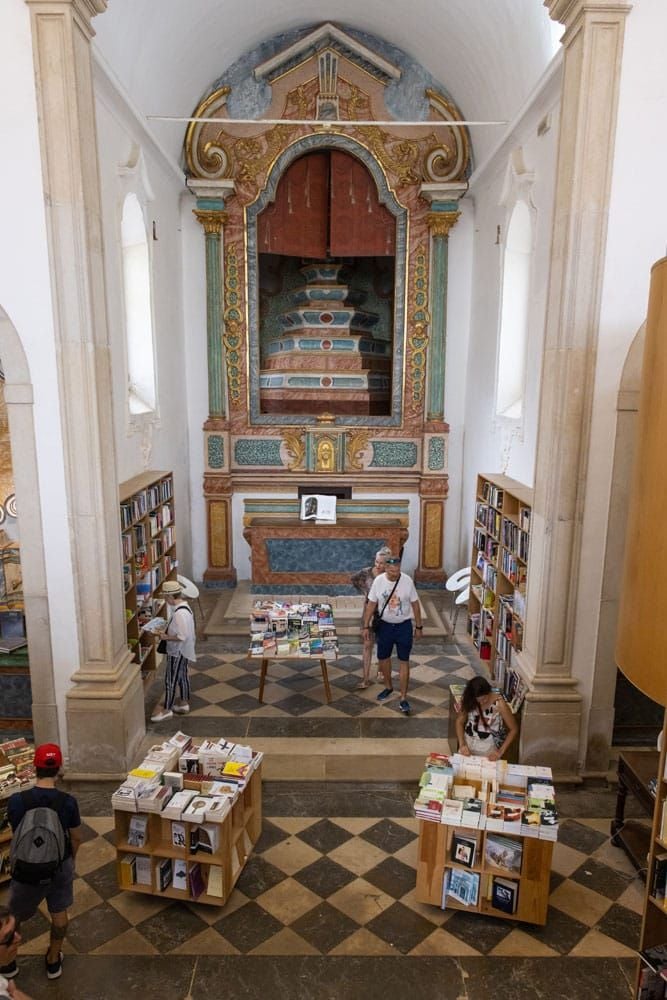 Livraria de São Tiago | Best things to do in Óbidos
14. Comur
This shop, designed to resemble a bookstore, in keeping with Óbidos' literary them, sells canned sardines and other canned fish and seafood. Comur shops are located throughout Portugal, as they are one of the largest producers of canned sardines, and they are a bit touristy, but this is one of the most unique, with its interior decorations.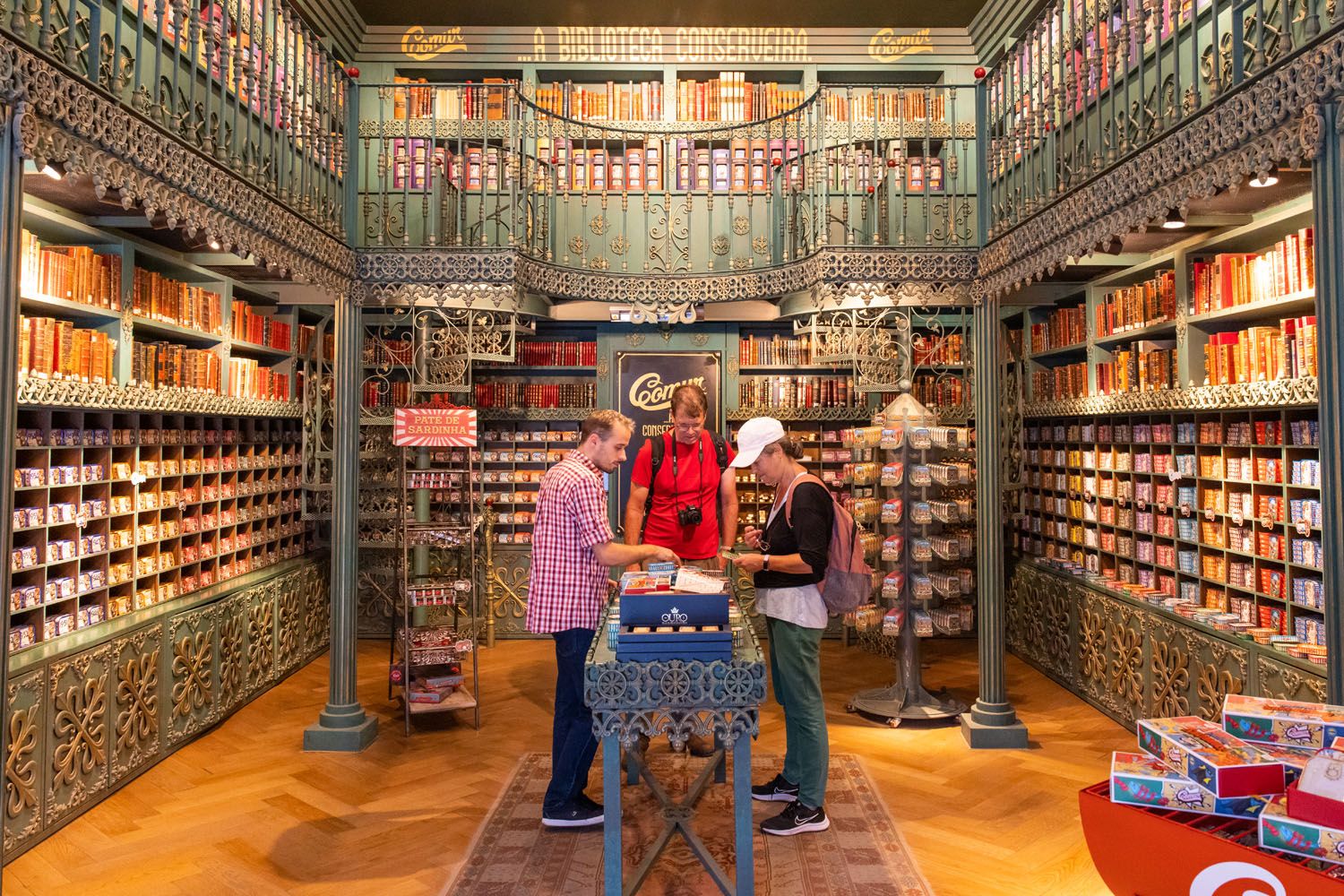 15. Sanctuary of the Lord of the Stone (Santuario do Senhor da Pedra)
This baroque monument sits just outside of Óbidos. This temple opened in 1747 and inside are three chapels and a stone image of Christ Crucified on the Main Altar.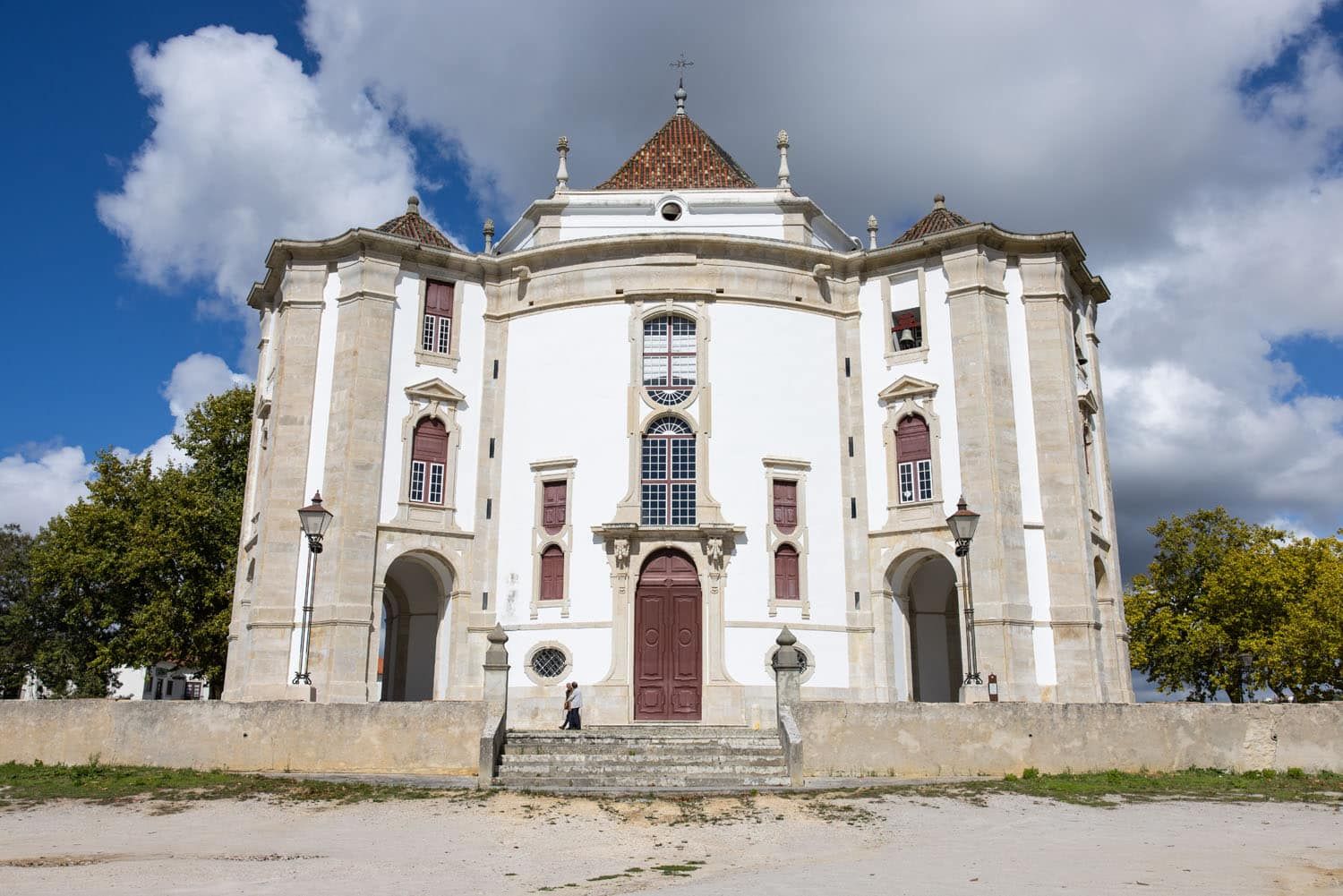 Sanctuary of the Lord of the Stone
Things to Do in Óbidos: On a Map
How to Use This Map: Click the icons on the map to get more information about each point of interest. Click the star next to the title of the map to add this map to your Google Maps account. To view it on your phone or computer, open Google Maps, click the menu button, go to "Your Places," click Maps, and you will see this map on your list.
How Much Time Do You Need in Óbidos?
To stroll through town, walk the fortified walls, go shopping, and have lunch or dinner, a few hours is really all the time you need. It's small size and short list of sights makes it a relatively quick visit.
If it works out in your itinerary, this would be a great place to spend the night. Midday, this town is packed with day trippers (ourselves included), and to be able to wander the streets in the evening and next morning without the crowds would be a wonderful experience.
WHAT WE DID: We visited Óbidos while traveling from Lisbon to Nazaré. At 9 am, we left Lisbon, visited the Palace of Mafra, and then arrived in Óbidos by 12 pm. We spent 4 hours in Óbidos and then visited Alcobaça Monastery on the drive between Óbidos and Nazaré. Our visit was in mid-September.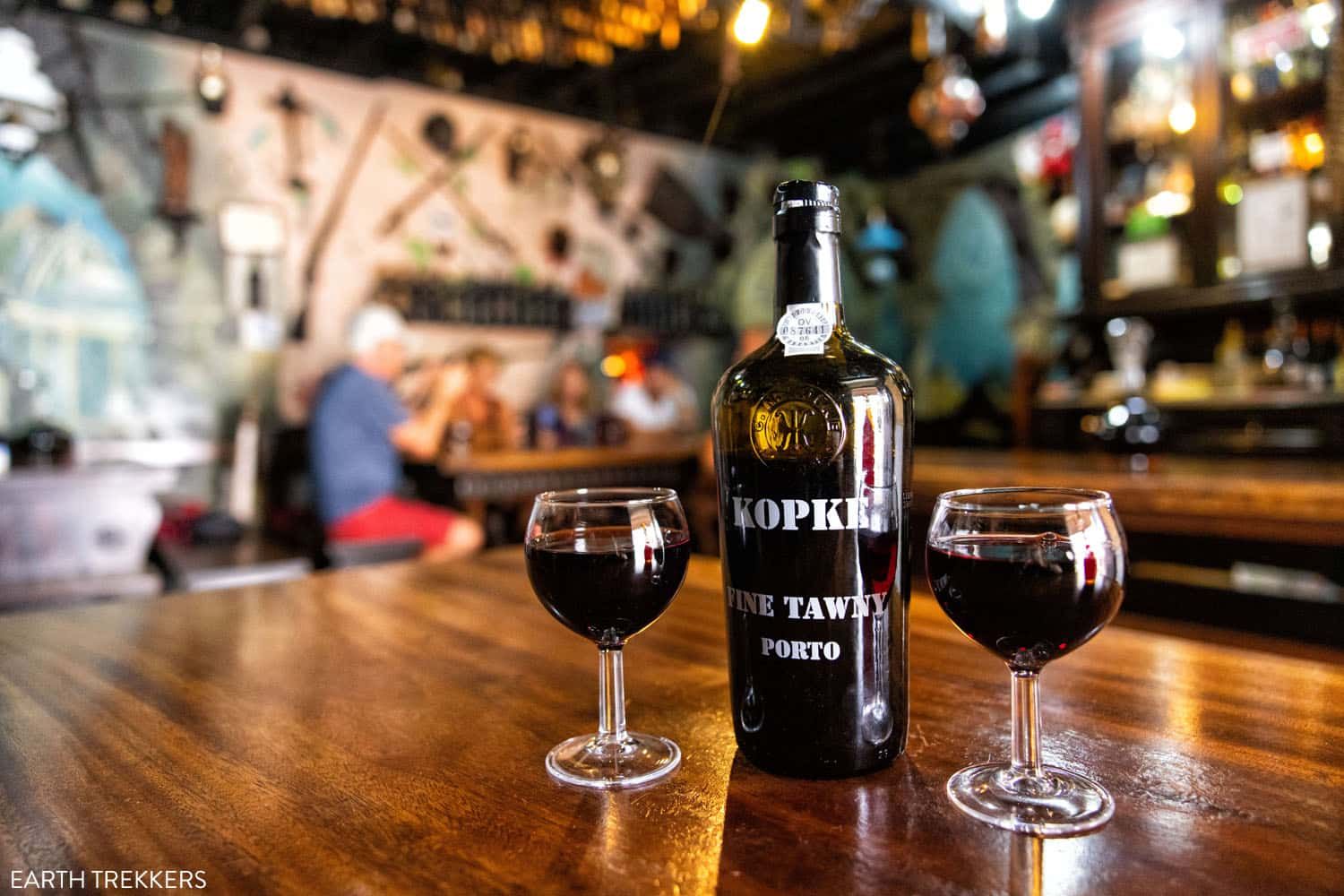 Drinking tawny port in Bar Ibn Errik Rex
How to Get to Óbidos
Public Transportation
By train, it takes roughly 2 hours to travel from Lisbon to Óbidos and 5 hours to travel from Porto to Óbidos. The Óbidos train station is 1 km from town. Check timetables here.
You can also get to Óbidos by bus. The bus station sits right outside of the city walls. Check bus timetables here.
By Car
The best way to get to Óbidos is by car. Here are the driving distances and times from nearby destinations:
Lisbon: 85 km, 1 hour
Nazaré: 40 km, 30 minutes
Mafra: 70 km, 50 minutes
Sintra: 95 km, 1 hour 15 minutes
Porto: 240 km, 2 hours 15 minutes
Parking in Óbidos
There are parking lots that sit right outside of the town walls. On Google Maps, Estacionamento Óbidos is the closest parking lot to the entrance of the historic area. If this parking lot is full, you will see two more that sit adjacent to it. These parking lots require a small fee.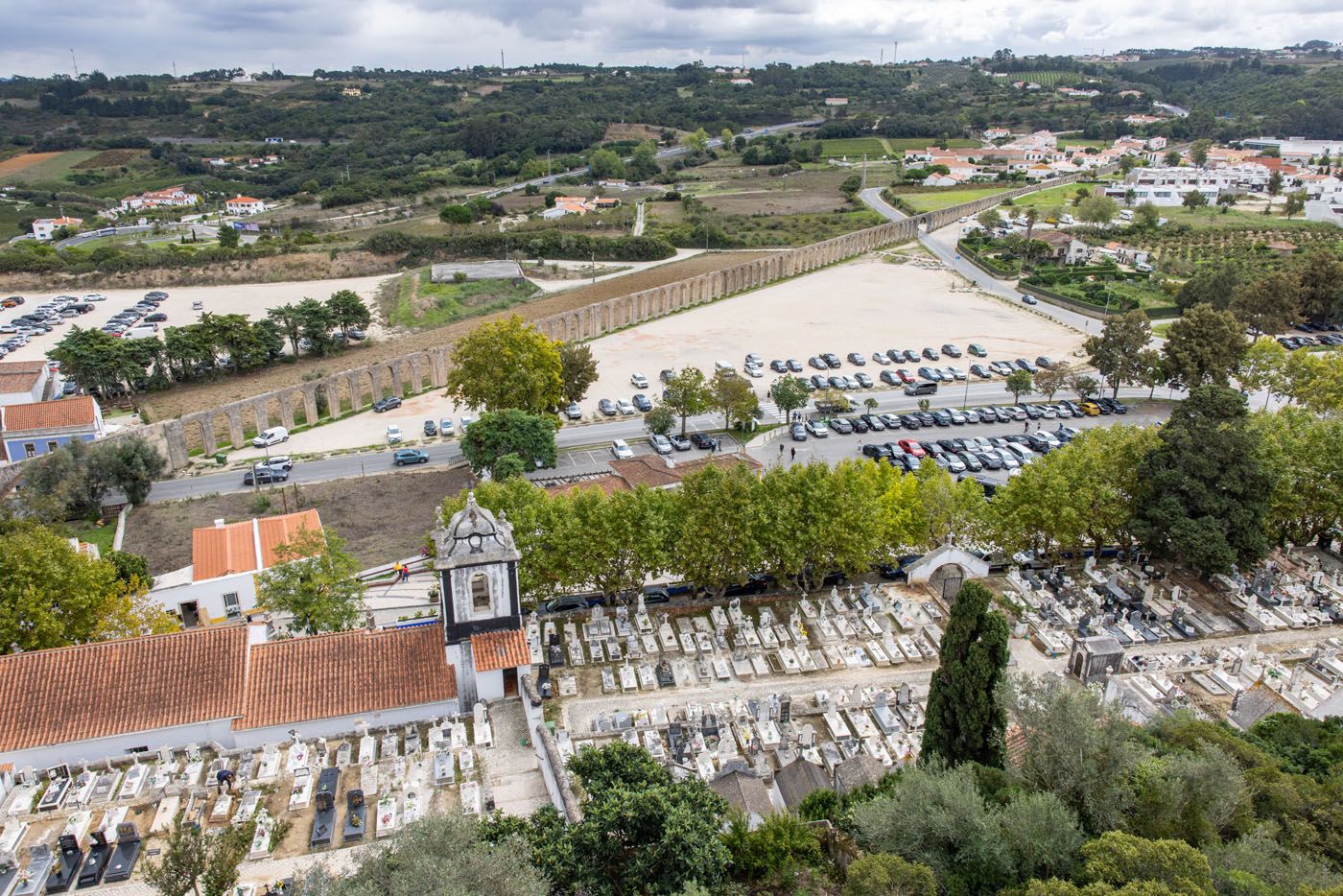 The view of the parking lots and aqueduct from the fortified walls.
Where to Stay in Óbidos
For something unique, you can stay in Pousada Castelo de Óbidos, which is the hotel located inside of the castle.
Casa Picva is a historic guest house located inside the medieval walls. This beautiful property is the one of the highest reviewed properties on Booking.com.
If you are a family or small group, take a look at Adubai Óbidos, a one-bedroom house with a kitchen and a washing machine.
Other hotels in Óbidos that get great reviews include Casa Elias, Casa da Talhada, and Torre de Maneys.
Things to Do Near Óbidos
Here is a list of things to do near Óbidos. Some day trip tours from Lisbon include a few of these places and they are also great to add on to a road trip through Portugal.
Alcobaça Monastery
The Alcobaça Monastery is a Gothic monastery that was built by monks of the Cistercian Order. Construction began in 1178. There is a lot to see here, but the highlights are the church, the multiple cloisters, the royal tombs, the old and new kitchen, and the dormitory. The Alcobaça Monastery is one of the Seven Wonders of Portugal and a UNESCO World Heritage Site.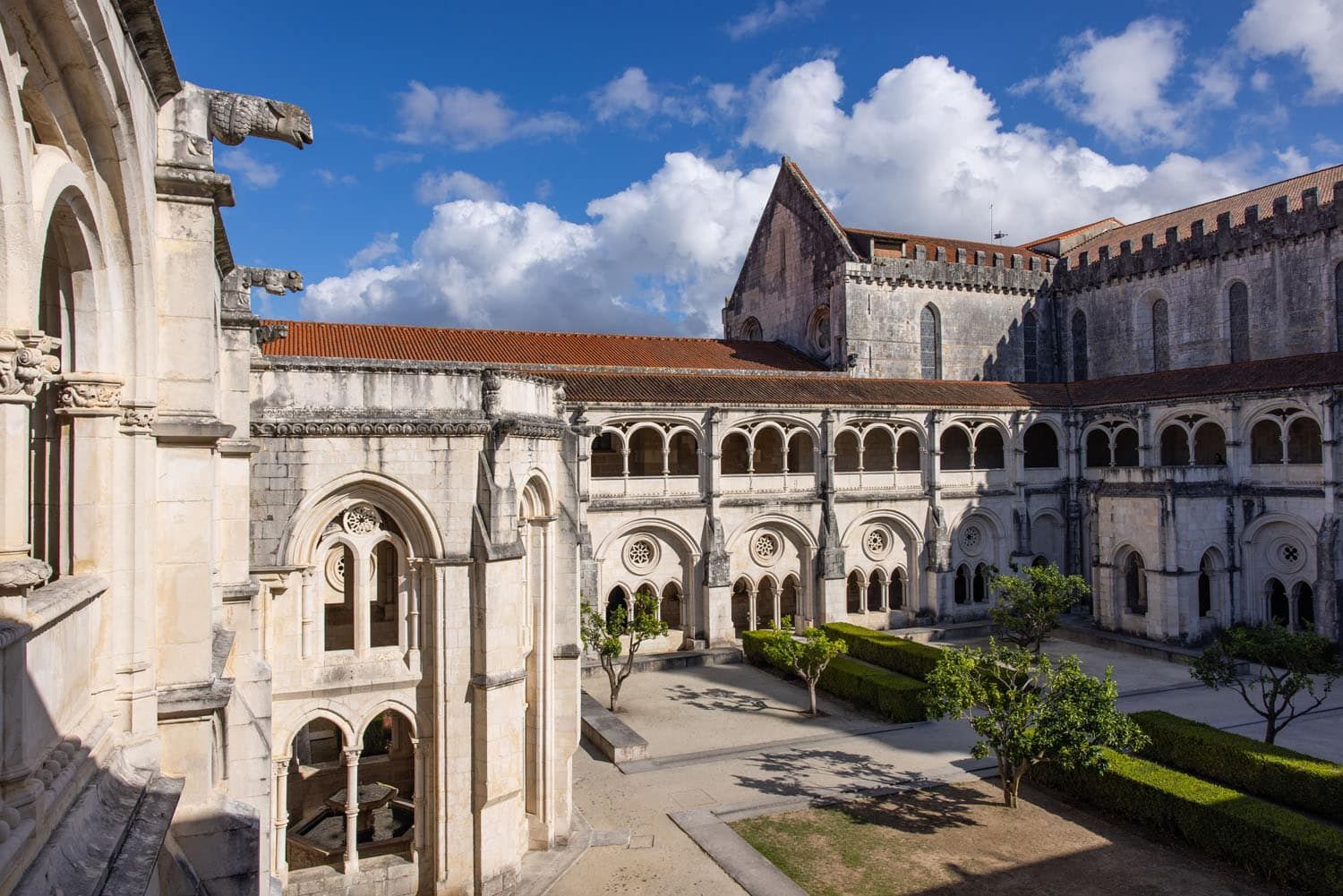 Alcobaça Monastery
Batalha Monastery
This Dominican convent was constructed between 1386 and 1517, in commemoration of the 1385 Battle of Aljubarrota. It later became a burial church for Portuguese royalty. On a visit here, you will see the church (the nave is incredible to see), visit the Founder's Chapel (the first royal pantheon in Portugal), the royal cloisters, and the unfinished chapels. The Batalha Monastery is one of the Seven Wonders of Portugal and a UNESCO World Heritage Site.
Batalha Monastery
Nazaré
This small coastal town is famous for its giant waves. During the winter season, waves can be 100 feet (30 meters) high, making these the largest in the world. It doesn't happen every day since conditions have to be just right to create the waves. But even if the sea is calm, Nazaré is still wonderful to visit. Dine on fresh fish and lobster right from the ocean, walk out to the lighthouse, take a stroll on the beach, and go shopping. We spent two nights here and loved it.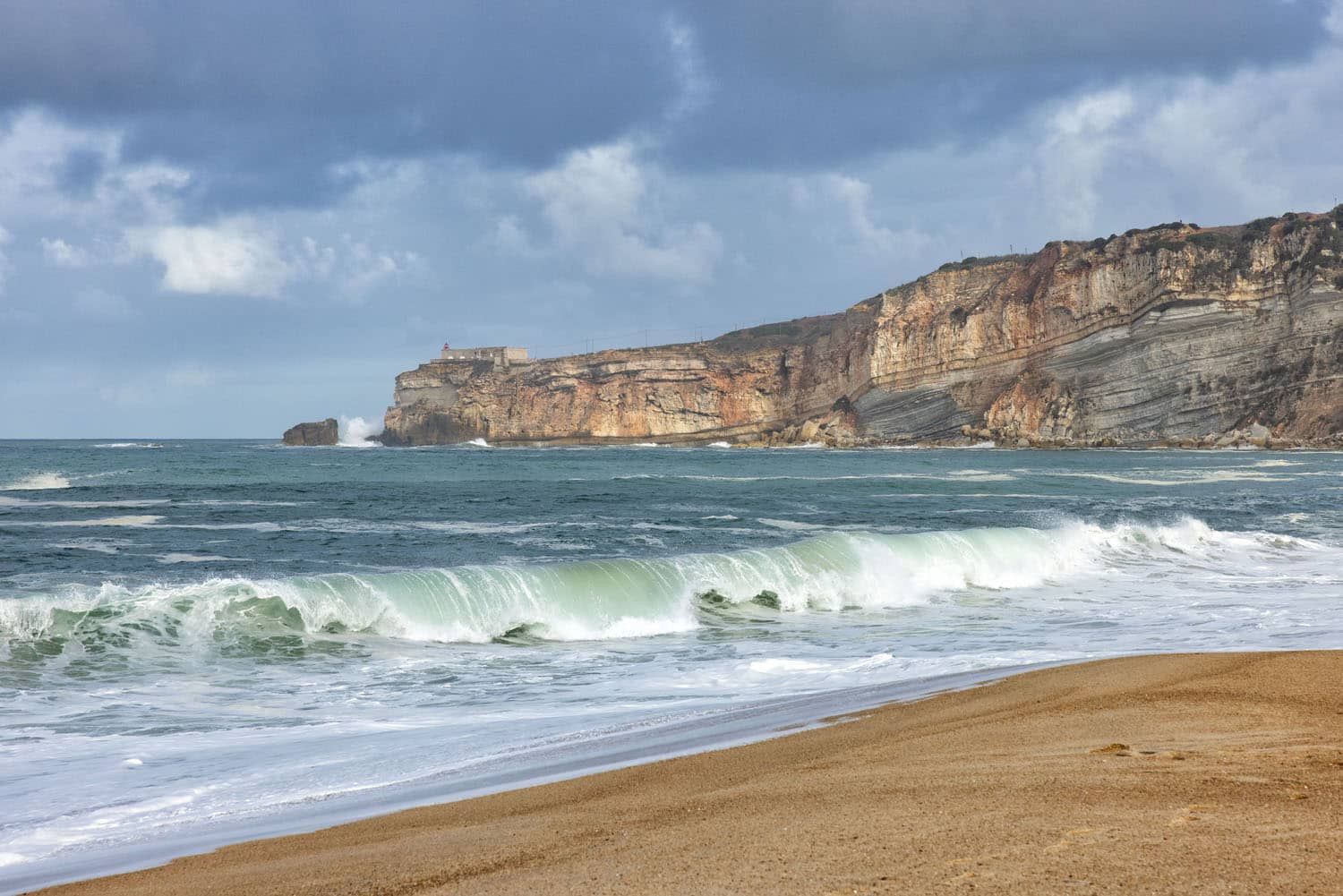 Nazaré
Fátima
Fátima is an important pilgrimage site in Portugal. Between May 13 and October 13, 1917, three children reported seeing apparitions of the Virgin Mary. The Chapel of Apparitions stands on the place where this occurred. Also in Fátima are the Basilica of Our Lady of the Rosary and the Basilica of the Most Holy Trinity.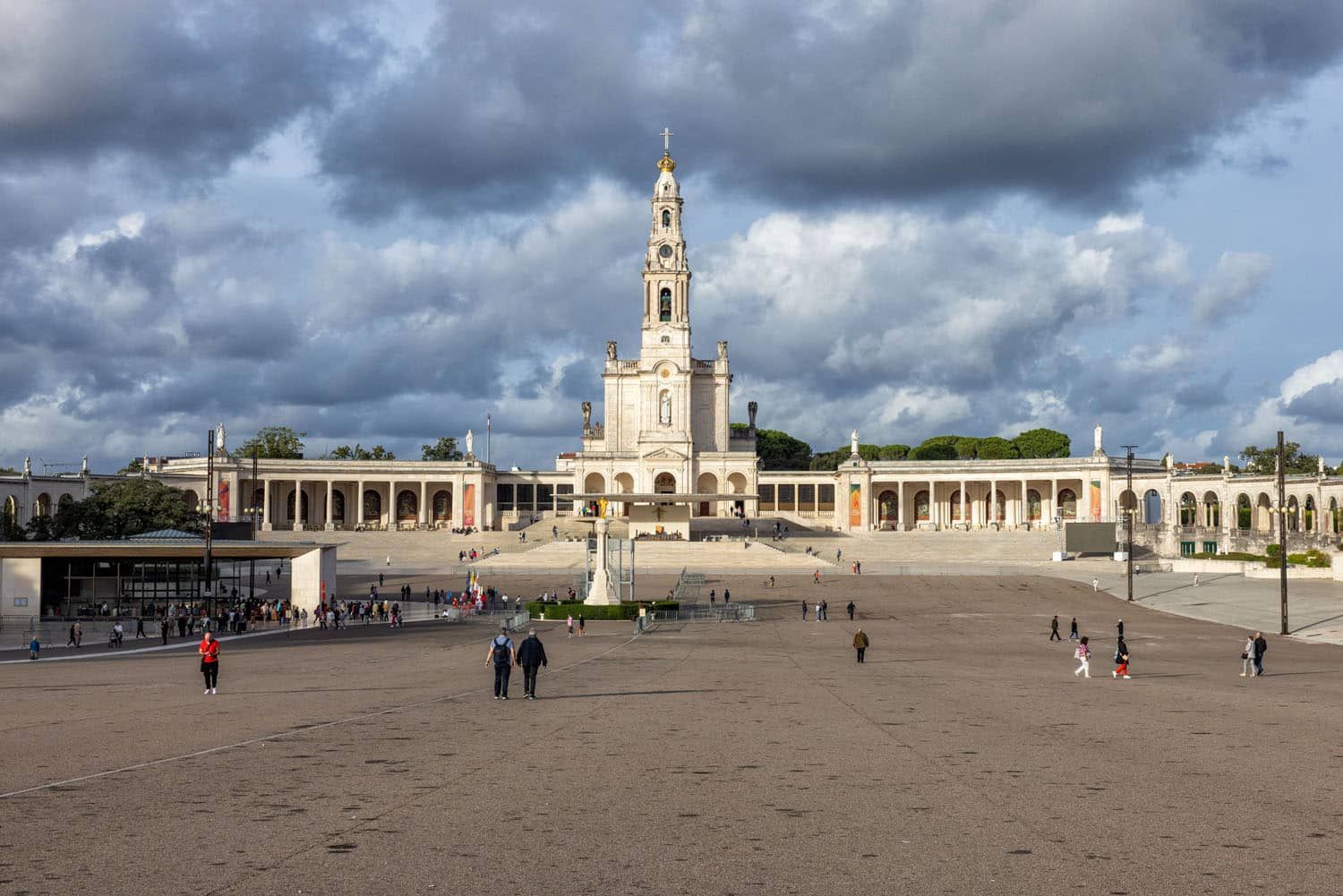 Basilica of Our Lady of the Rosary in Fátima
Palace of Mafra
Located in Mafra, about halfway between Lisbon and Óbidos, is the enormous Palace of Mafra. This UNESCO World Heritage Site and National Monument was constructed in the 18th century by King John V of Portugal as a royal residence. On a visit here, you'll tour the royal apartments and the basilica. But the highlight is the library, which contains over 30,000 books, making it the largest 18th century library located in one room (according to the sign in the Palace of Mafra).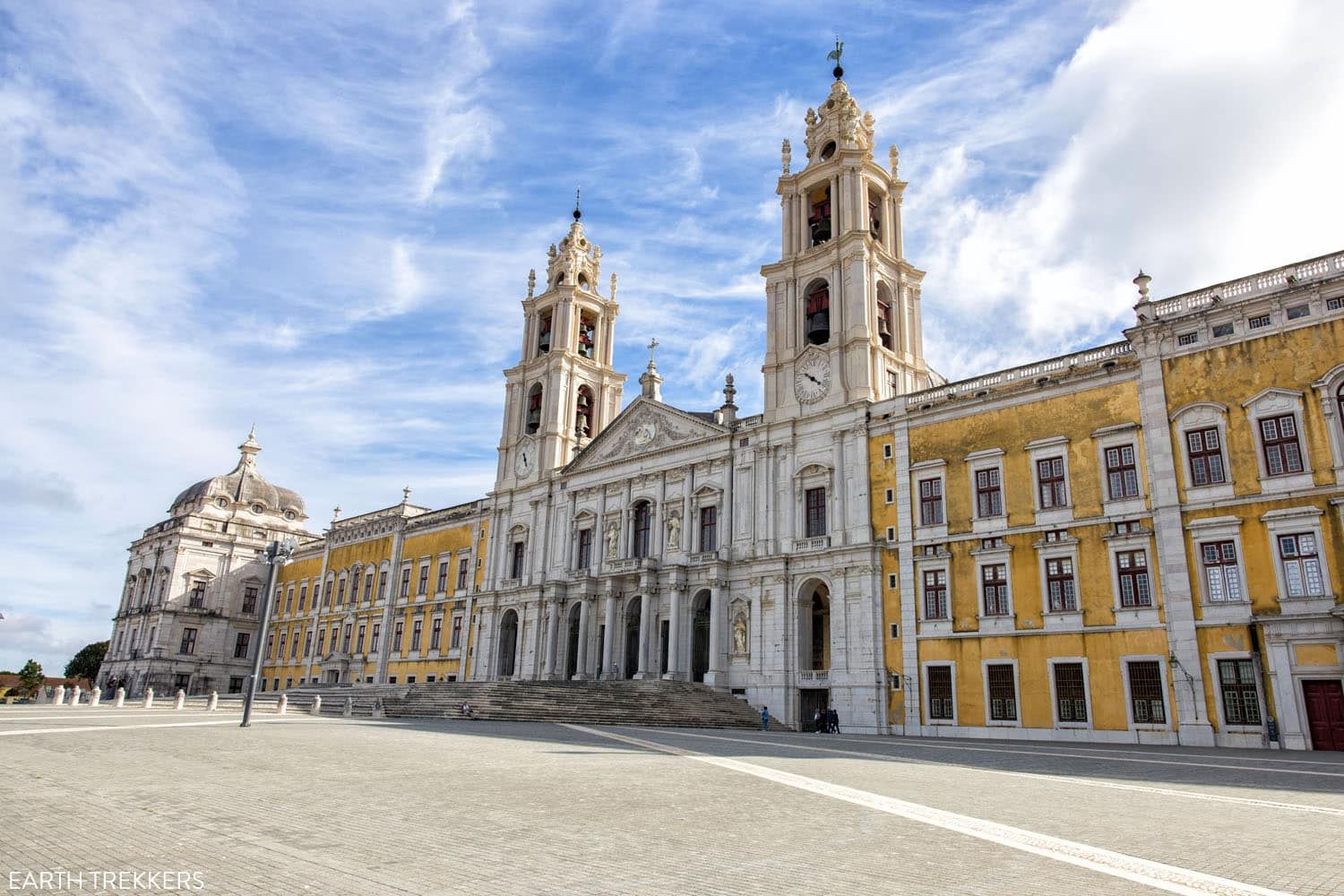 Palace of Mafra
Tours of Óbidos
From walking tours of the town to day trips from Lisbon that include nearby sights, such as the Batalha Monastery, the religious sites in Fatima, and the coastal town of Nazaré, here are several highly rated tours of Óbidos.
This self-guided scavenger hunt and sightseeing tour is done using an app on your phone and is a fun way to learn about the sights in Óbidos.
This two-hour walking tour of Óbidos hits the highlights and includes ginja tastings.
From Lisbon, visit Óbidos, Fatima, Batalha Monastery, and Nazaré on this 8 hour tour that gets rave reviews.
This is a similar tour as the one listed above, which includes Fatima, Nazaré, and Óbidos. It skips the Batalha Monastery (which is awesome to see) but it gives you more time at the other three places.
If you prefer a private tour from Lisbon, this tour visits Óbidos and Nazaré.
Frequently Asked Questions
Is Óbidos worth visiting?
With its picturesque city streets, small shops and cafes, and fortified walls you can walk for postcard views of the town, Óbidos is well worth adding to your trip to Portugal. This small town can be visited in just a few hours, so it is easy to add onto most road trips through Portugal.
What is Óbidos known for?
Óbidos is known as one of the best-preserved medieval villages in Europe. Óbidos Castle is one of the Seven Wonders of Portugal, a list that also contains popular places such as Pena Palace and Belem Tower.
How much time do you need in Óbidos?
To stroll through town, walk the fortified walls, go shopping, and have lunch or dinner, a few hours is really all the time you need.
---
If you have any questions about the best things to do in Óbidos, let us know in the comment section below.
More Information for Your Trip to Portugal
ALGARVE, PORTUGAL: Learn how to hike the Seven Hanging Valleys Trail, one of the most beautiful walks in Europe. Don't miss our guide to Algar Seco, a famous photography location in the Algarve and find out why October is the perfect time to visit the Algarve.
SINTRA, PORTUGAL: In our article Best Things to Do in Sintra, we cover the top sights to see in Sintra, plus everything you need to know to plan your visit, with time saving tips, transportation options, and how to plan your time.
PORTO: We cover the best things to do in Porto in our Porto Bucket List. In our Guide to the Wine Cellars in Gaia, get recommendations on which wine cellars to visit and how to plan your time.
EUROPE TRAVEL INSPIRATION: Get more travel ideas in our article 10 Days in Europe itinerary, which has 10 itineraries for your next trip to Europe. If you have less time, we also have an article that lists 25 different ways to spend one week in Europe.
Note: This post contains affiliate links. When you make a purchase using one of these affiliate links, we get paid a small commission at no extra cost to you.
All rights reserved © Earth Trekkers. Republishing this article and/or any of its contents (text, photography, etc.), in whole or in part, is strictly prohibited.