Perched on a hilltop, overlooking the rolling hills of Tuscany, sits Montepulciano. This medieval town, with its underground wine cellars, medieval churches, and scenic streets, is a delight to explore. In this guide, we list the best things to do in Montepulciano, where to go wine tasting with a view of Val d'Orcia, and how to plan your visit.
Interesting Facts about Montepulciano
Montepulciano is one of the larger hill towns in Tuscany. It dates back to the 4th century BC, to the time when this land was inhabited by the Etruscans. The Etruscan civilization lived in the region of Tuscany between the 9th century and 1st century BC. They left behind caves and ancient structures, some of which can still be seen on a visit to Montepulciano.
The Montepulciano that we see today was built around the 14th century AD. Like many of the other Tuscan hill towns, Montepulciano has a main street lined with shops and restaurants, a few piazzas, a few museums to visit, and a long list of churches.
Montepulciano has made an appearance in quite a few movies, including Under the Tuscan Sun, The Twilight Saga: New Moon, The English Patient, and A Midsummer Night's Dream.
Best Things to Do in Montepulciano
1. Stroll the City Streets
Montepulciano is long and narrow. In the north end of town, Porta al Prato marks the entrance into Montepulciano. A tangle of streets runs south, ending near Fortezza Medicea. As you walk into town on Porta al Prato, it is an uphill walk until you reach Piazza Grande.
The main road through town, also called Il Corso, changes names several times as it makes it way through Montepulciano. It starts at Porta al Prato and is called Via di Gracciano, Via di Voltaia, Via dell'Opio, and Via del Poliziano, before ending at Chiesa di Santa Maria dei Servi.
From Il Corso, the side streets lead to viewpoints, shops, wine cellars, and restaurants.
One of the best things to do in Montepulciano is to walk Il Corso and explore these side streets. You never know what you might find, but there is a good chance you'll come across small restaurants, boutique shops, and quiet corners away from the busier touristy areas.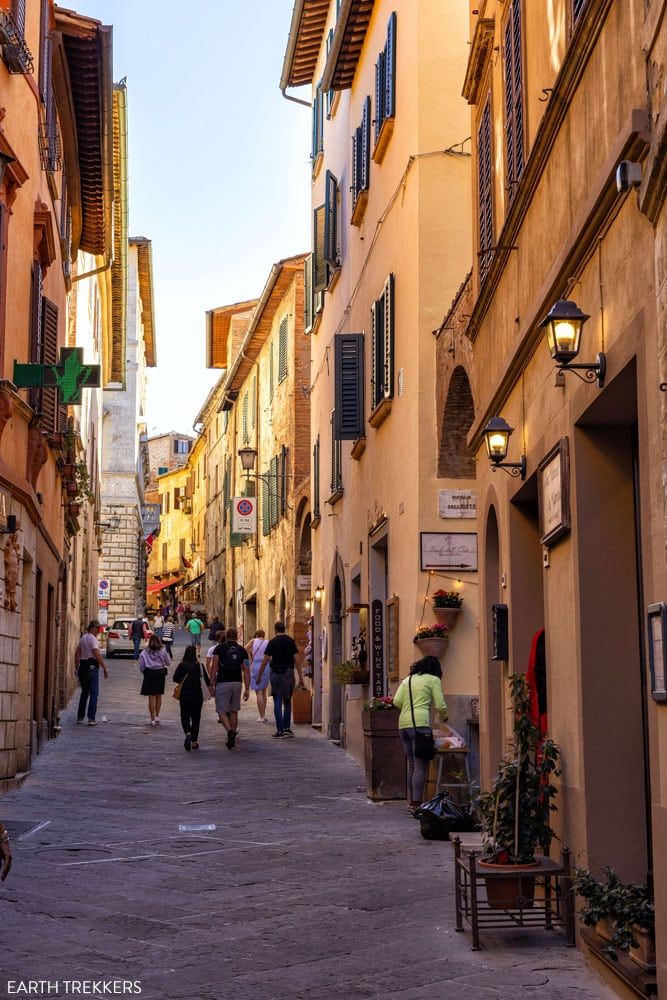 Il Corso | Best Things to Do in Montepulciano
Il Corso | Best Things to Do in Montepulciano
2. Piazza Grande
Piazza Grande is the main square of Montepulciano. This large, open square is lined with some of the most important buildings in Montepulciano, including Town Hall, the Cathedral of the Assumption, Contucci Palace, Palazzo dei Capitani del Popolo, and the Well of the Grifi and the Lions.
Sitting on Piazza Grande is the Cathedral of Saint Mary of the Assumption. This cathedral may not be as eye-catching as other cathedrals in towns like Siena or Lucca, but it does occupy prime real estate in Piazza Grande. The cathedral was consecrated in 1712 and inside is the Assumption of the Virgin, painted by Taddeo di Bartolo in 1401.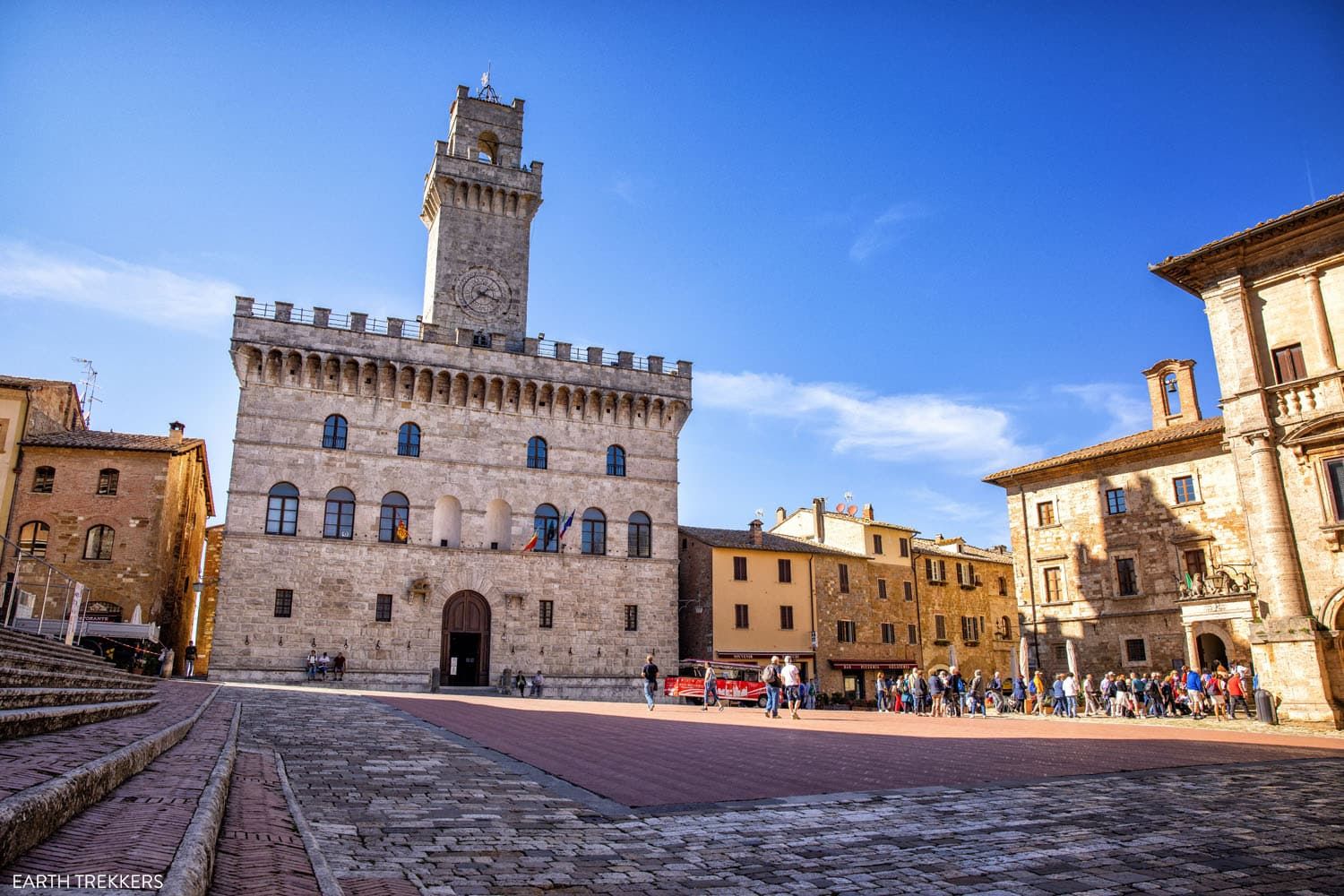 Piazza Grande | Best Things to Do in Montepulciano
Well of the Grifi and the Lions
3. Climb the Clock Tower on Palazzo Comunale
If you have plans to visit Florence, you may notice some similarities between the town hall of Montepulciano (Palazzo Comunale) and the town hall (Palazzo Vecchio) in Florence. Both buildings share an almost identical architectural style. The façade of the Palazzo Comunale dates back to 1424 and was designed by architect Michelozzo.
For one of the best views of Montepulciano, climb to the top of the clock tower on Palazzo Comunale. You have the option to take the stairs all of the way to the top (150 total) or ride the elevator to the terrace and walk the remaining 52 steps to the top.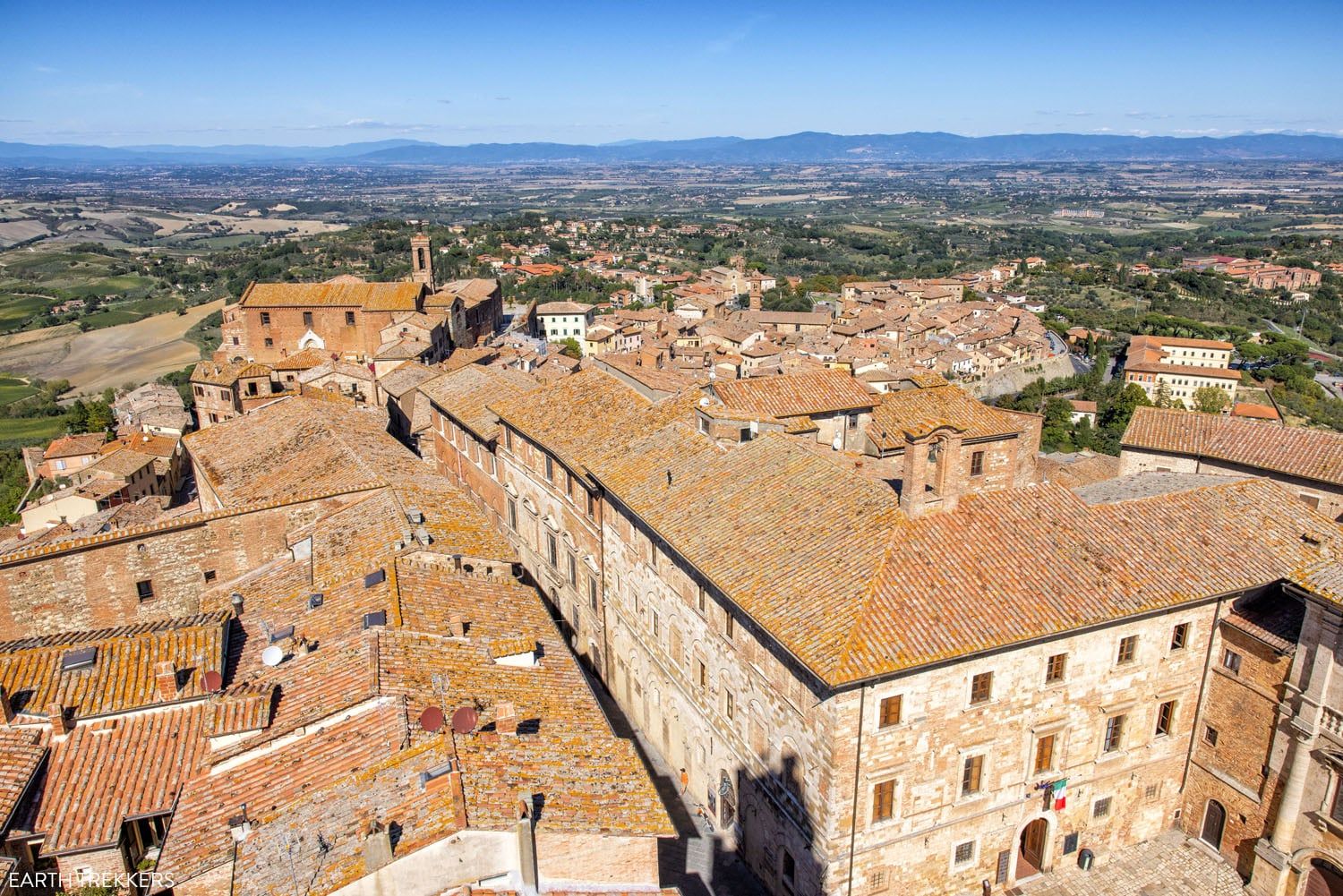 View from the clock tower | Best Things to Do in Montepulciano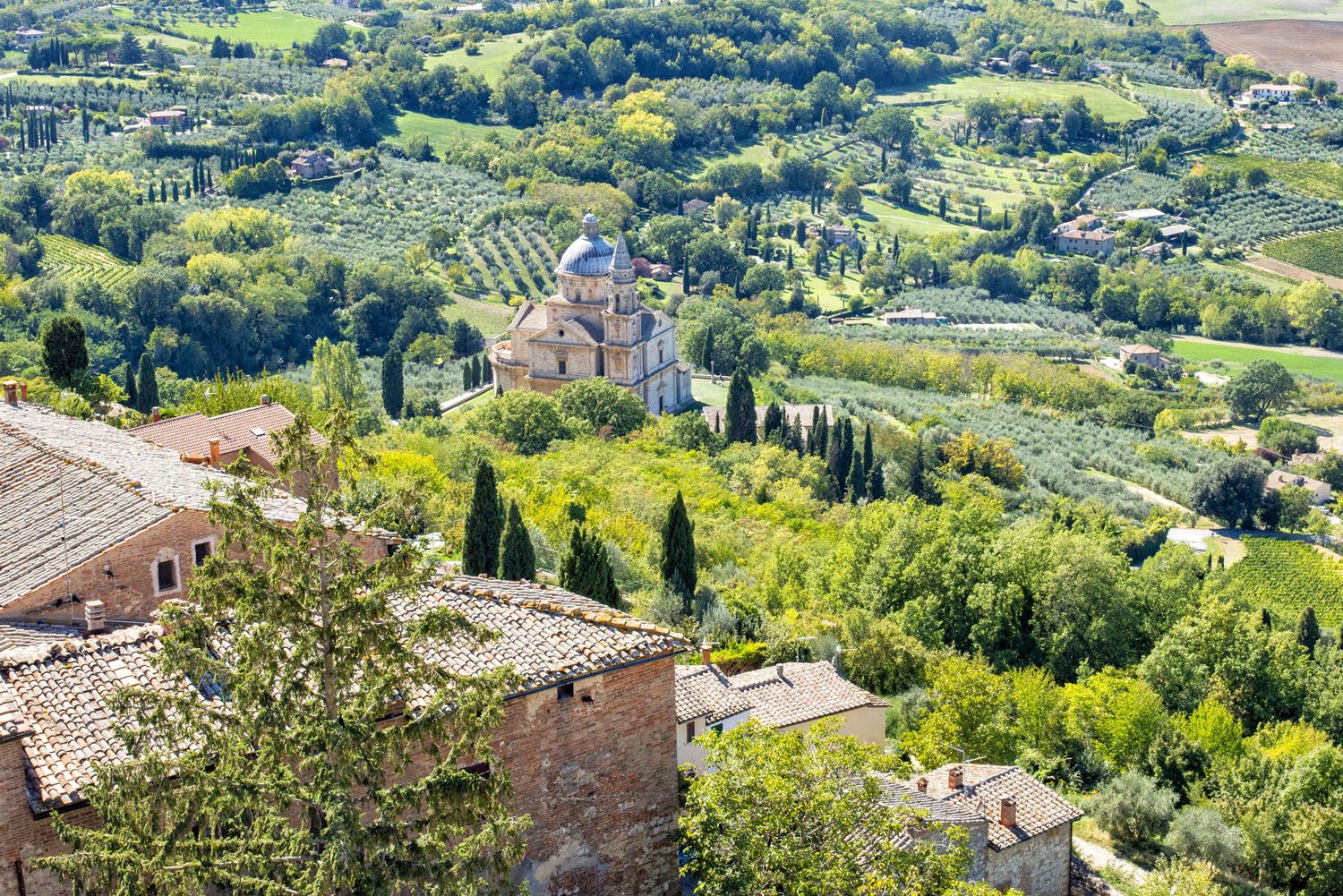 View of the Temple of San Biagio from the clock tower.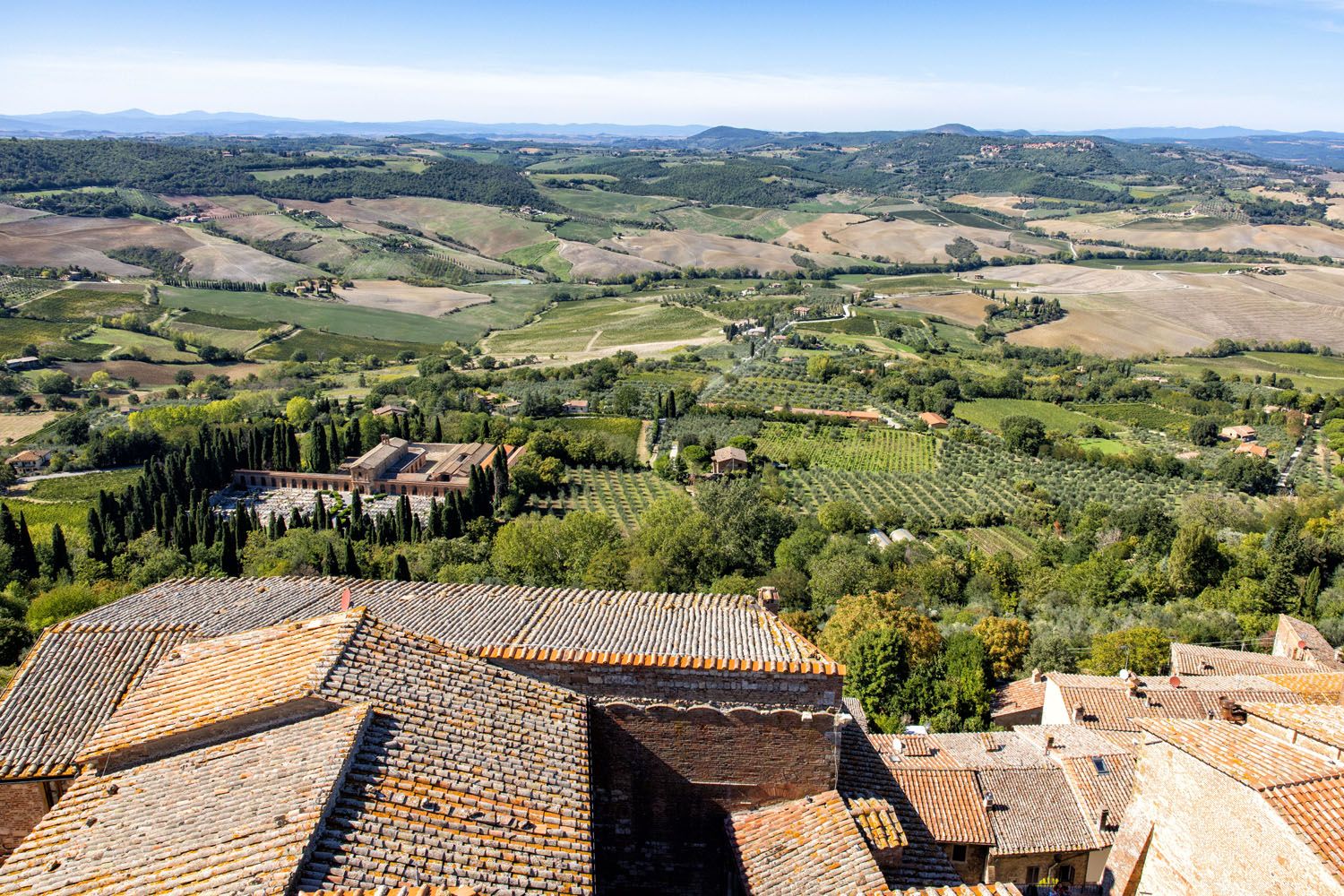 One more view from the clock tower.
4. Taste Vino Nobile di Montepulciano
Vino Nobile di Montepulciano is the main wine that is produced in the vineyards near Montepulciano. To be a Nobile di Montepulciano, the wine must be made from a minimum of 70% Sangiovese grapes, and it also contains small amounts of Canaiolo Nero and Mammolo. The wine is aged for at least two years, and at least one year of this needs to be in an oak barrel.
There are numerous places in Montepulciano where you can taste Vino Nobile di Montepulciano, ranging from enotecas (wine shops), restaurants, and underground cellars. More on this next.
We had a nice wine tasting experience at Pulcino Di Matassini Ercolani Gabriella Fattoria (say that three times fast!). This wine shop and restaurant is located on the north end of town. It's a nice place to end your visit to Montepulciano, if you parked on the north end of town, because if you purchase some wine, you won't have to carry it far to get back to your car.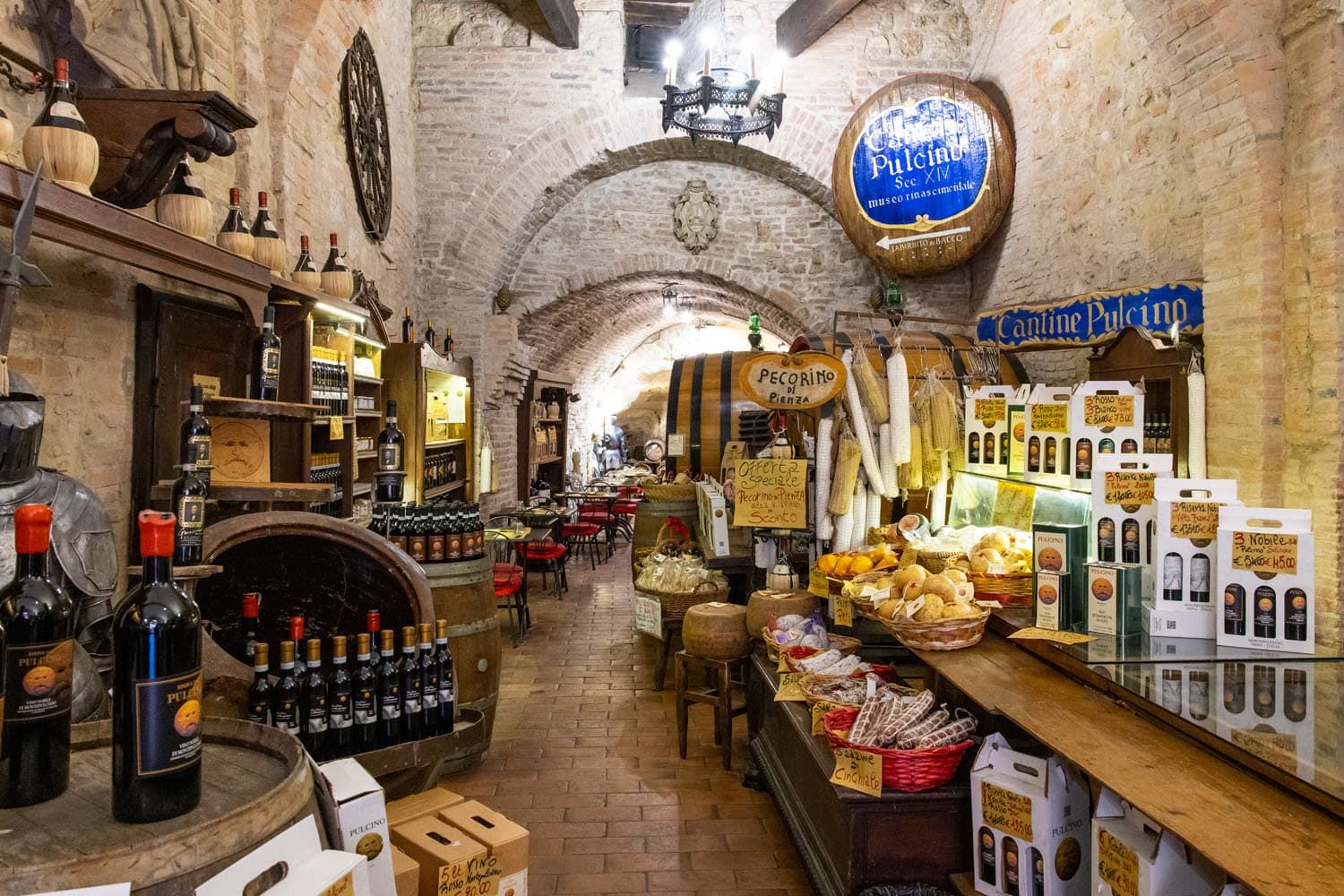 Pulcino Di Matassini Ercolani Gabriella Fattoria
5. Visit an Underground Wine Cellar
Visiting an underground wine cellar is one of the best things to do in Montepulciano. Some can be visited on a tour, some on a tour with a tasting, or you can simply do a tasting in the cellar.
De'Ricci Cantine Storiche is one of the most popular and well-known wine cellars in Montepulciano. With high vaulted ceilings, enormous barrels of wine, and even a few statues here and there, this is one to put on your list. For the best experience, book a tour and tasting, which you can do in advance on the official website.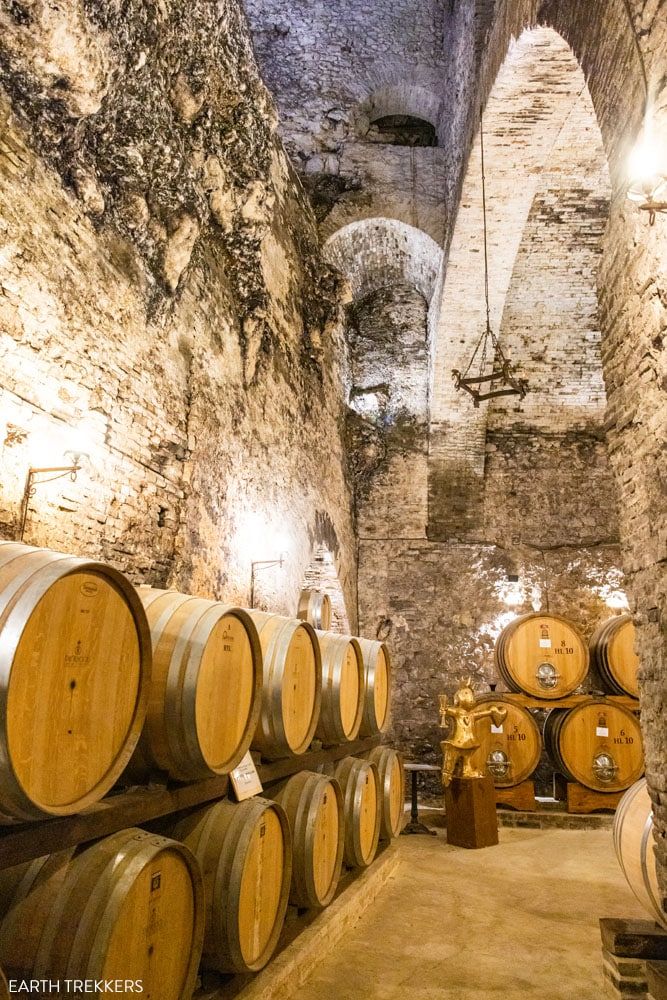 De'Ricci Cantine Storiche | Best Things to Do in Montepulciano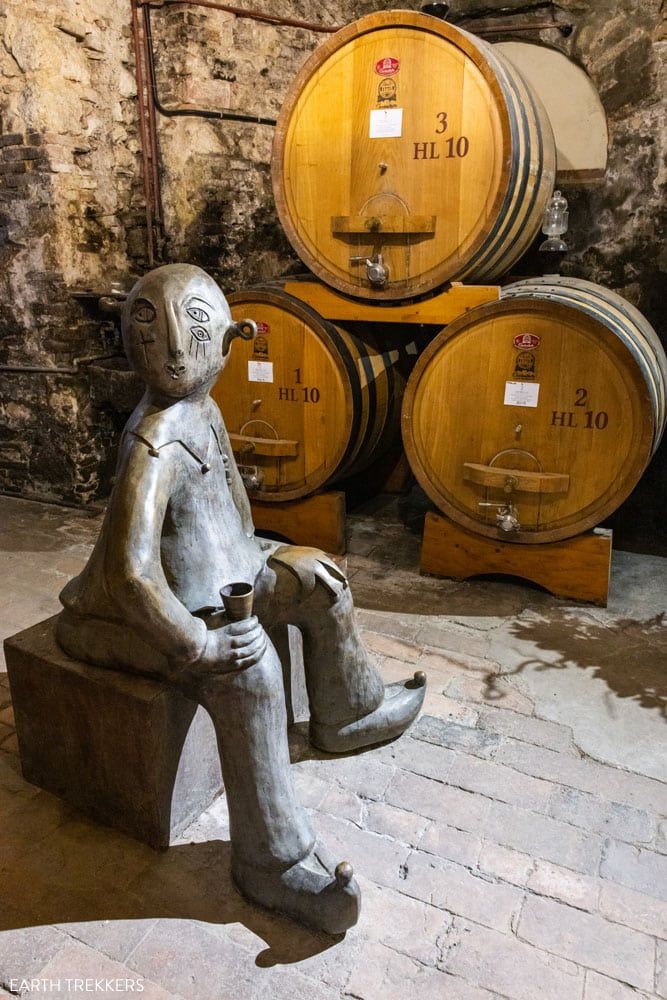 De'Ricci Cantine Storiche
Cantina Contucci is another wine cellar we recommend. We were permitted to walk through the cellar without doing a tasting or tour, so if you quickly want to see the inside of an underground wine cellar, this is one to consider.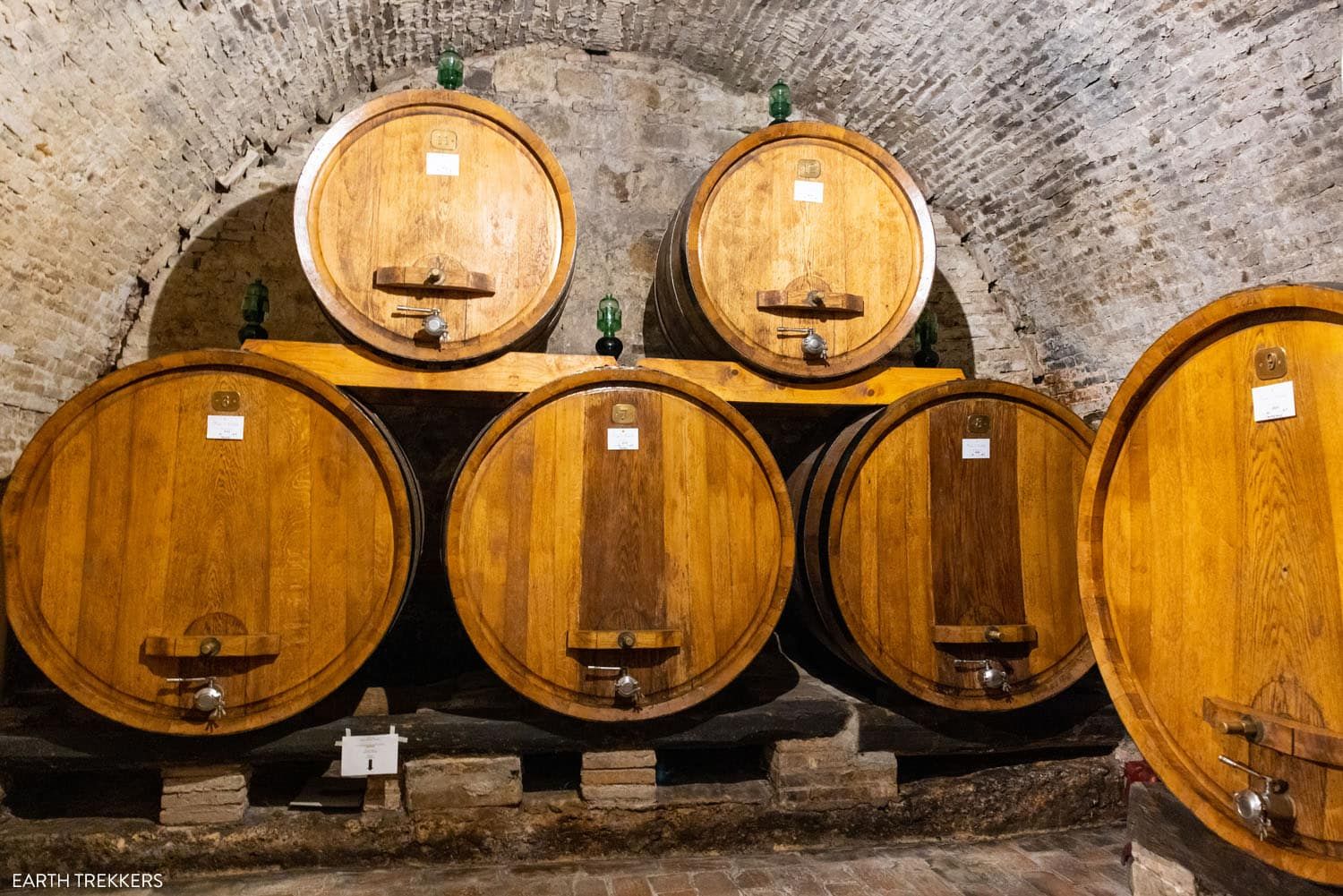 Cantina Contucci | Best Things to Do in Montepulciano
Cantina Ercolani, also called Azienda Agricola Ercolani, is another very popular cellar to visit. We have mixed thoughts on this one. The only way to see the underground cellar is on a free tour, which last 20 minutes, and are offered very frequently throughout the day. You learn some of the history of Montepulciano on this tour, which is interesting. The tour ends with a wine tasting, and when we did this, it was a crowded and rushed, and overall it was not a good experience.
Cantina Ercolani | Best Things to Do in Montepulciano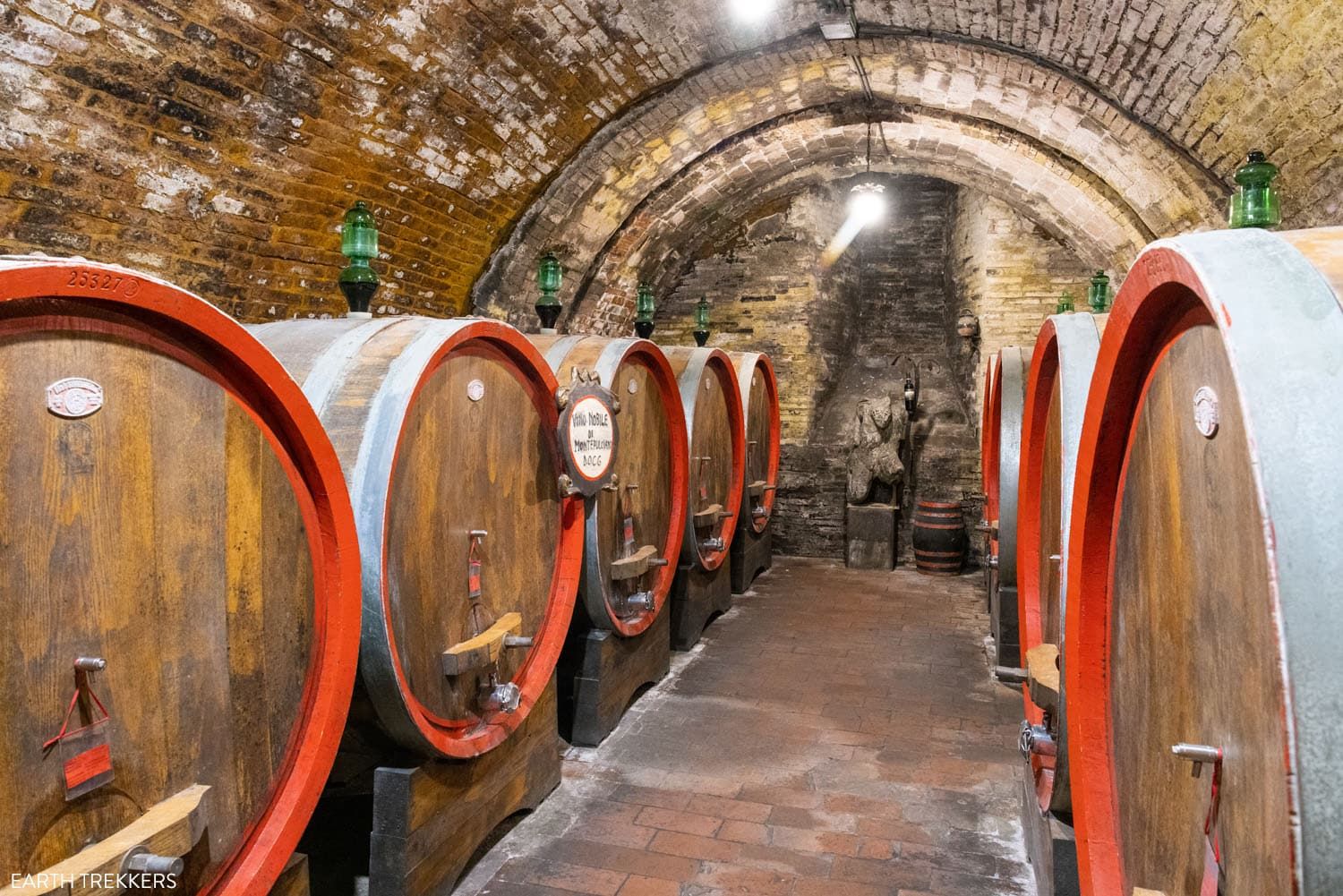 Cantina Ercolani Cellar
6. Visit Fortezza Medicea (& Go Wine Tasting)
This Medici Fortress sits on the south end of Montepulciano. There are no walls to walk or towers to climb, but you can stroll through a botanical garden and go wine tasting.
Inside of the fortress is Enoliteca Consorzio Vino Nobile. It is here that you can taste Vino Nobile di Montepulciano, Rosso di Montepulciano, and Vin Santo di Montepulciano wines.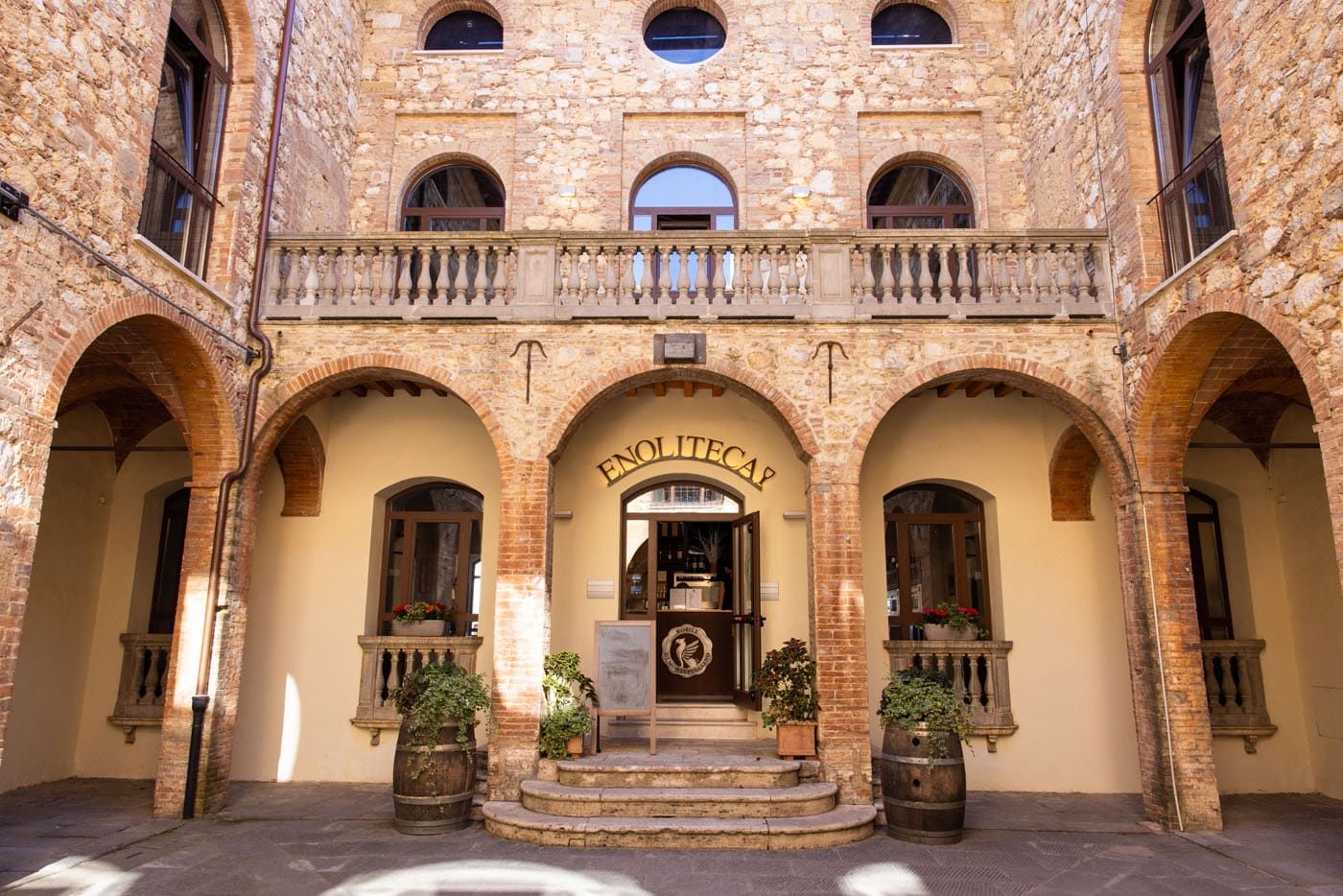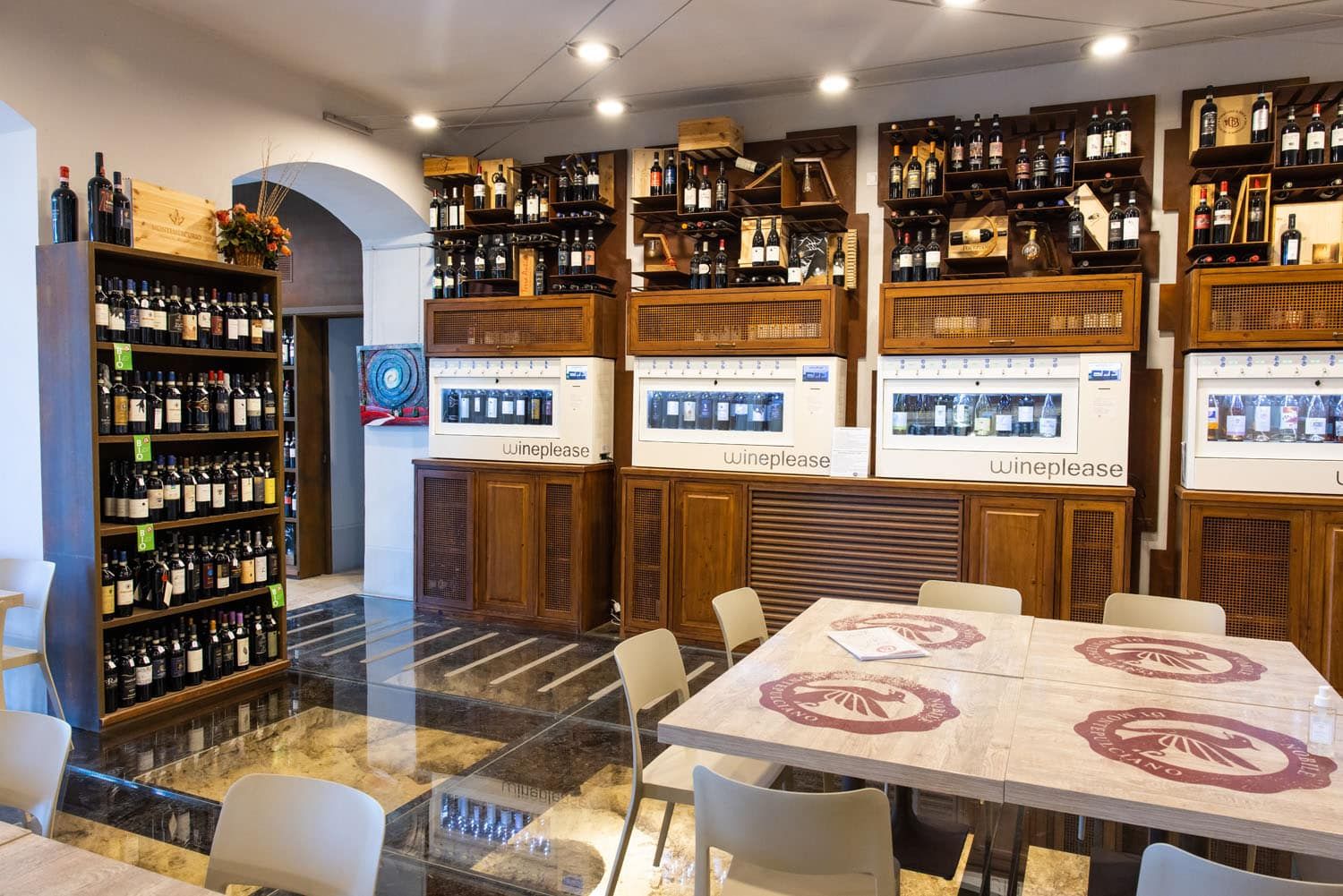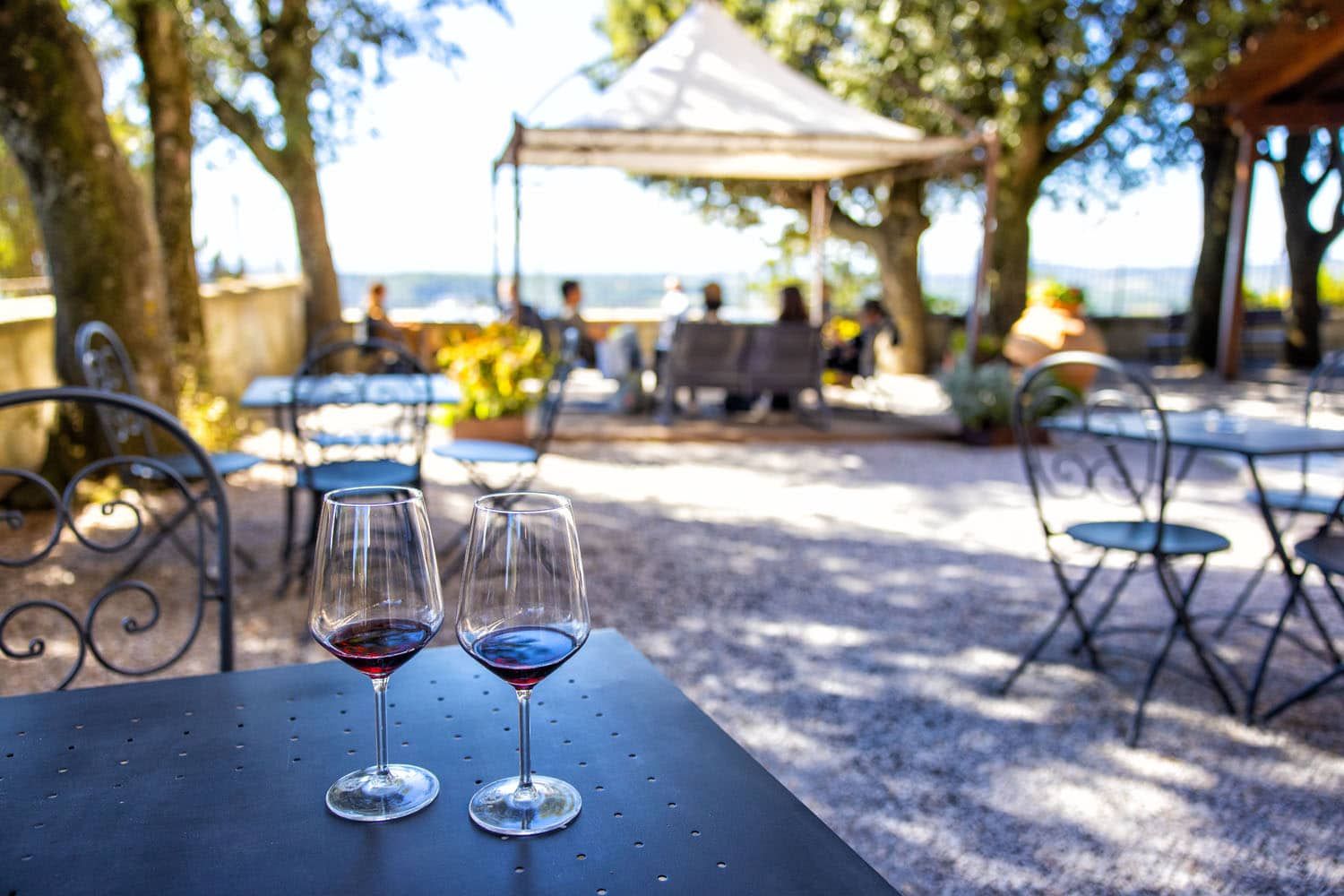 When you first enter, pick up a "credit card." This card gets inserted into the wine dispensary and you get charged for each wine you taste (the average cost in 2022 was €2 per tasting). The cost of the tasting and the cost of each bottle of wine is listed on the bottles.
As you walk through the shop, you are walking on glass floors and can look down into the excavations of the fortress. Once you have your wine, exit out of the back of the shop, have a seat at one of the tables, and enjoy the view, and the wine, of course.
If you taste anything you like, purchase it on your way out of the shop.
7. Vaduta Panoramica
For a view of the Tuscan countryside, visit Vaduta Panoramica. Here's the view (and here are the GPS coordinates so you know where to find it: 43°05'40.0″N 11°46'51.0″E).
Vaduta Panoramica | Best Things to Do in Montepulciano
8. Visit a Museum
If you want to learn more about Montepulciano, there are a few museums worth mentioning (but if you prefer to sip wine and stroll the city streets, and skip the museums, that's just fine, too).
The Civic Museum
The Civic Museum contains Etruscan artifacts and works of art, including two altarpieces that were formerly in Palazzo Comunale. For hours and pricing, visit the official website.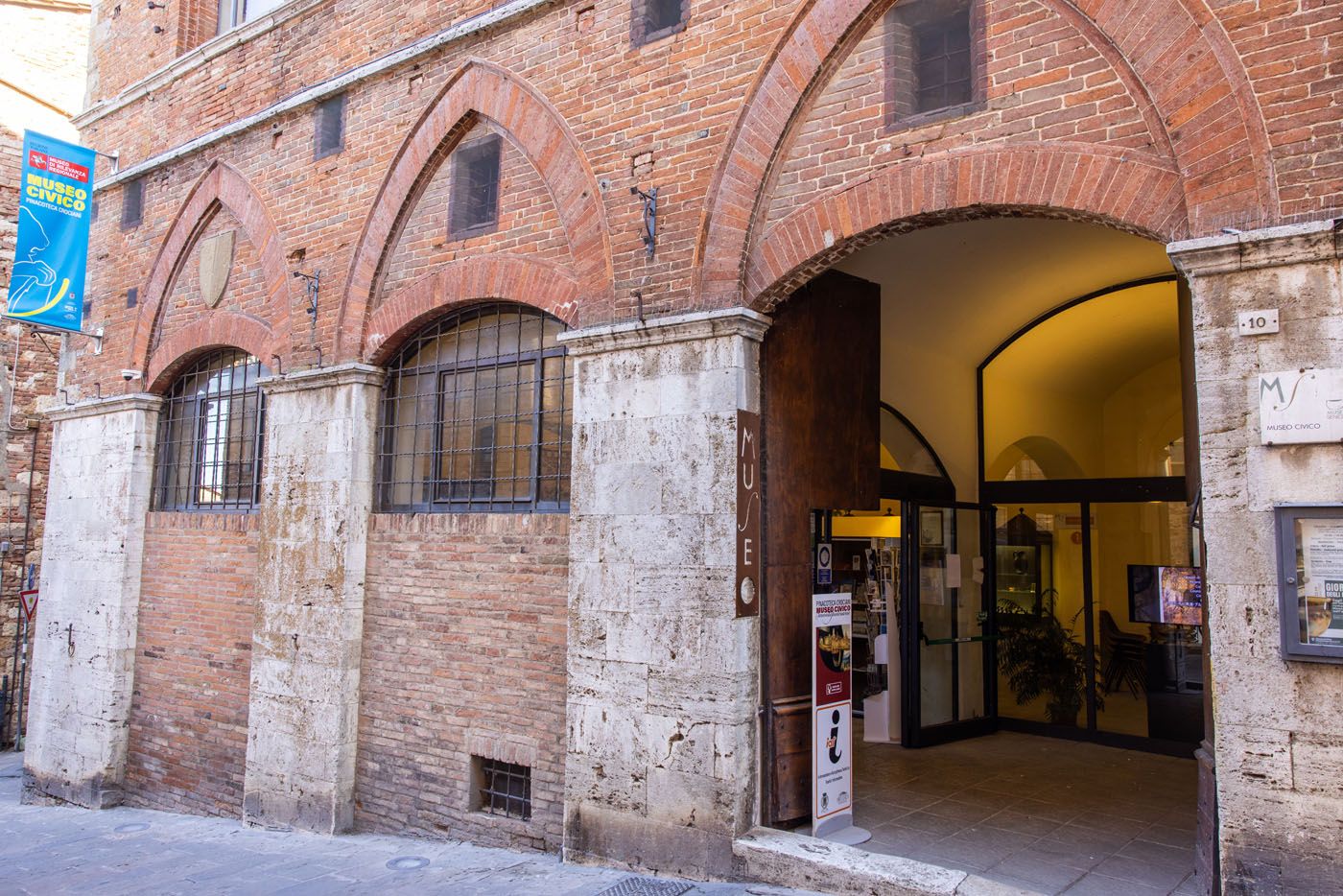 Civic Museum | Best Things to Do in Montepulciano
The Torture Museum
It seems like every small town in Tuscany has a Torture Museum, and Montepulciano is no different. For hours and pricing, visit the official website.
9. Temple of San Biagio (Chiesa di San Biagio)
The Temple of San Biagio is a church that was constructed between 1518 and 1548. It is different from many other churches one might see in Tuscany, with its Greek cross plan and central dome. It is an Italian Renaissance masterpiece.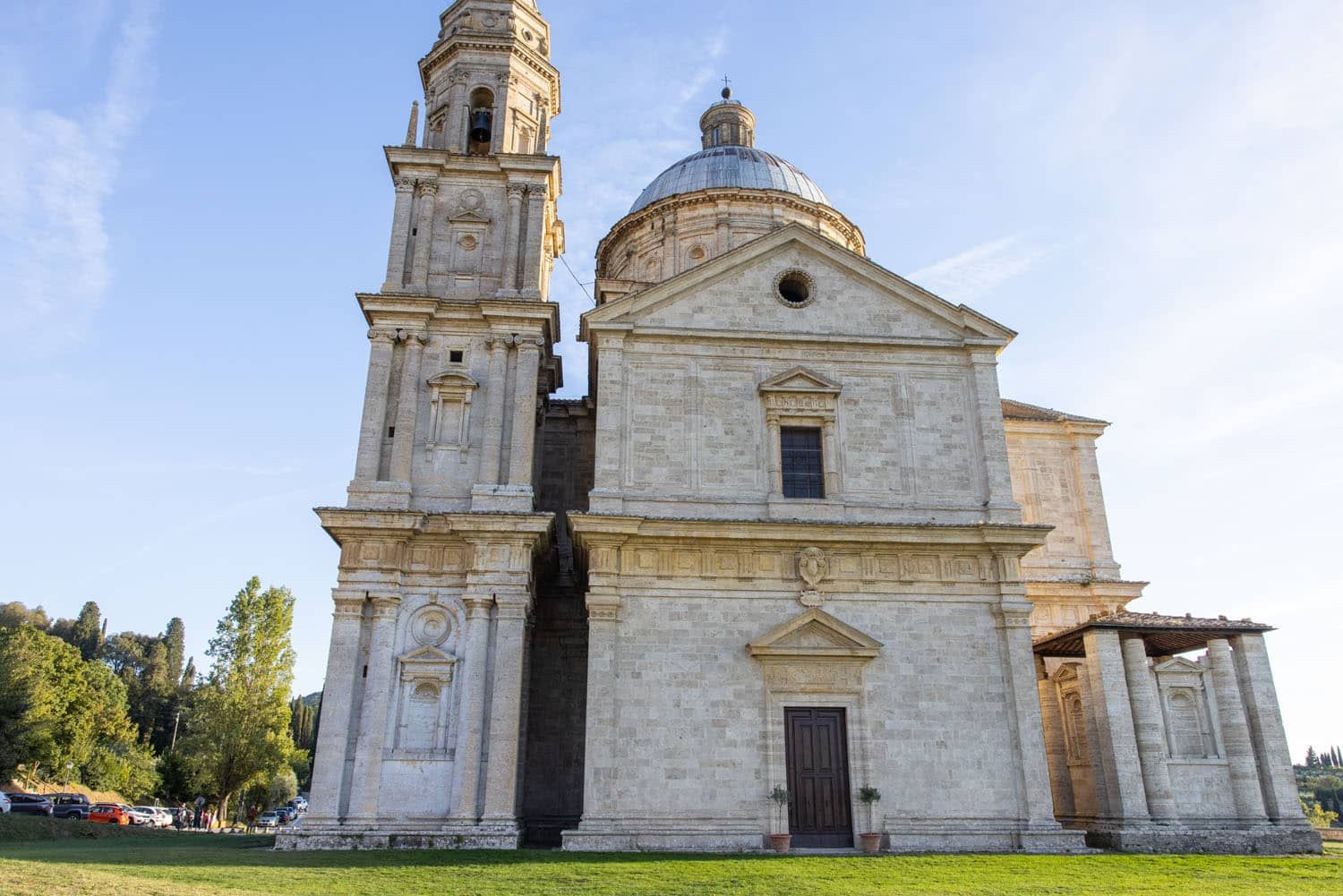 Temple of San Biagio | Best Things to Do in Montepulciano
This church sits just outside of Montepulciano, down the hill from the historic city center. To get here, we drove and parked in the lot next to the church.
There is a small fee to enter the church. For hours and pricing, visit the official website.
10. Take a Tour of Montepulciano
There are several great tours that you can take, including wine tastings, cellar visits, and food tastings.
On this tour, taste the wines of Montepulciano, tour a wine cellar, and learn about the history of winemaking in the area.
This tour includes a wine tasting and lunch in a wine cellar.
In this small group class, learn how to make tiramisu and several pasta dishes.
Things to Do in Montepulciano: On a Map
How to Use This Map: Click the tab in the top left hand corner of the map to view the layers (things to do and restaurants). You can click the check marks to hide or show layers. If you click the icons on the map, you can get more information about each point of interest.

If you click the star next to the title of the map, this map will be added to your Google Maps account. To view it on your phone or computer, open Google Maps, click the menu button, go to "Your Places," click Maps, and you will see this map on your list.
How Much Time Do You Need in Montepulciano?
To visit the main highlights of Montepulciano, you need about half of a day, or roughly 4 hours, in town. This gives you enough time to stroll the city streets, go shopping, climb the clock tower, go wine tasting at one or two places, and have lunch or dinner. With a full day, you can thoroughly explore Montepulciano and go wine tasting at several different cellars.
Helpful Tips for Visiting Montepulciano
To check the weather forecast, we used Meteo Italy and the forecast was relatively accurate. There is also an app that you can download onto your phone.
If you plan to have dinner in Montepulciano, make your reservation in advance. In our experience in Italy, you will need to have a reservation for dinner at the highly rated restaurants.
Where to Eat in Montepulciano
La Vineria di Montepulciano is one of the highest rated restaurants in town. They serve meat and cheese platters and an assortment of local pasta dishes. L'Altro Cantuccio Ristorante, Rosso Rubino Trattoria, and Le Logge del Vignola (a Michelin-starred restaurant) also get rave reviews.
How to Get to Montepulciano
By Train
There are no train stations in Montepulciano. Getting here using the train or bus is complicated and takes quite a bit of time.
If you are traveling by public transportation, it is possible to take a train from Siena to the Montepulciano train station, but this train station is located several kilometers from the historic city center, in Montepulciano stazione. From here, take a bus or taxi into town.
The Chiusi train station, which is farther away from Montepulciano, sits on a major train line, so if you are coming from Rome, Florence, or another Italian city, this is the station for Montepulciano. From here, take a bus to Montepulciano.
By Bus
Buses connect Siena and Montepulciano. You can check the bus timetable here.
By Car
The best way to get to Montepulciano is by rental car.
Here are driving distances and times from nearby destinations:
Montalcino:

36 km, 45 minutes

Pienza:

15 km, 20 minutes

San Quirico d'Orcia:

23 km, 30 minutes

Siena:

65 k, 1 hour

Florence:

110 km, 1.5 hours

Arezzo:

53 km, 55 minutes
Parking in Montepulciano
There are numerous parking lots in Montepulciano, outside of the historic city center.
On our most recent visit, we parked in a parking garage located under the Conad grocery store, just north of the historic city center. There are numerous parking lots (parcheggios) located around the city center. You can mark them on your Google Map before you go, or as you approach Montepulciano, there are signs directing you to the parking lots (P1, P2, etc). Midday, have some patience, because the lots can be full, particularly those closest to the city center.
Tours of Montepulciano
If you don't plan on renting a car while in Tuscany, you can visit Montepulciano on a tour. This takes care of your transportation to and from Montepulciano, which can save you a lot of time, since Montepulciano is not easily reachable by public transportation. Here are several tours of Montepulciano that start from nearby towns.
Things to Do Near Montepulciano
There are several Tuscan hill towns and viewpoints that can be added onto your visit to Montepulciano. In one day, it is possible to visit Pienza, Montepulciano, and Montalcino, if you move fast and don't mind visiting just the highlights of each town. If you want a more leisurely experience (and not feel like you are in a race), pick two of these towns.
Pienza is a very small town, much smaller than Montepulciano. Trying pecorino cheese and strolling the city walls are top experiences here, so a visit here cany be very quick. Pienza is a 20-minute drive from Montalcino.
Montalcino is a small town that is a 45-minute drive from Montepulciano. This is one of our favorite towns in Tuscany. It's small, it's a little less crowded than Pienza and Montepulciano, and there are numerous shops where you can taste (and buy) Brunello di Montalcino wine. Plus, you can climb the tower of the fortress for stunning views of Tuscany.
San Quirico d'Orcia is a lesser known but beautiful town in Val d'Orcia. A visit here is more about strolling the main street that runs through town, having lunch or dinner, and visiting a place that has a less touristy vibe than the towns mentioned above. It's just 20 minutes from Montalcino.
There are several wonderful vineyards to visit near Montepulciano. We visited Avignonesi, which is located between Montepulciano and Arezzo (try their vin santo…it's unlike anything else we tasted in Tuscany), but Icario Winery is also highly rated and it is closer to Montepulciano.
Where We Stayed
We spent three nights at Villa le Prata, which is a short drive from Montepulciano and a great home base for exploring Val d'Orcia. At Villa le Prata, we got the experience of staying in a Tuscan villa, which was extra special since the end of September is harvest season. At the villa, we had dinner each night, plus sunset wine tastings and tours of the vineyard.
Staying in a villa is a wonderful experience to have while in Tuscany. There are many villas located in the area, but we chose Villa le Prata since it gets rave reviews, and we have to agree. Staying here was one of our highlights of our time in Tuscany.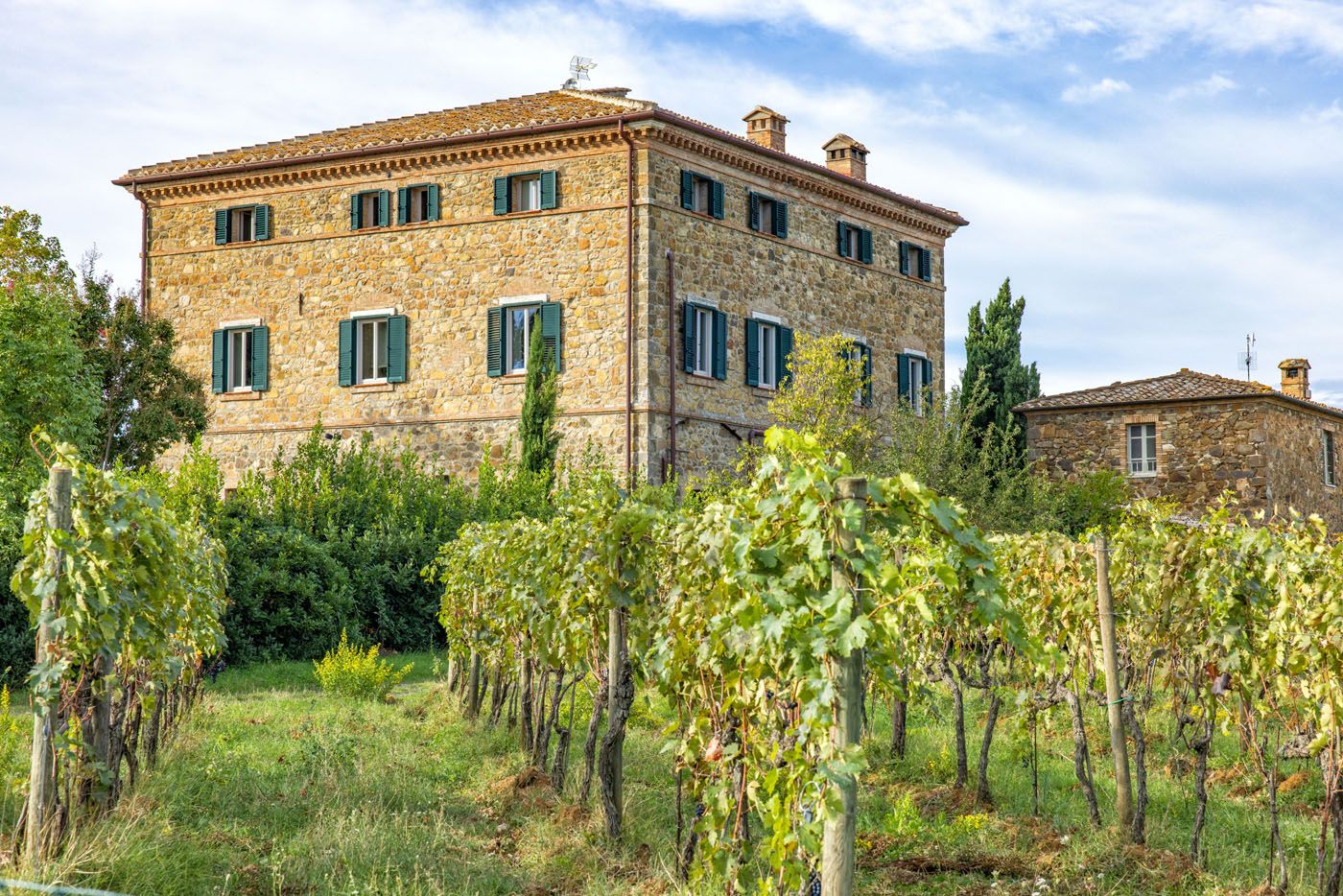 Villa le Prata
Frequently Asked Questions
Is Montepulciano worth visiting?
For wine aficionados on a visit to Tuscany, Montepulciano is not to be missed. From its underground wine cellars and enotecas, this town is the best place in Tuscany to taste a variety of Vino Nobile di Montepulciano. And if wine tasting isn't at the top of your to do list, Montepulciano is fun to explore, with its twisting streets, views over Tuscany, and boutique shops.
When is the best time to visit Montepulciano?
The best time to visit Montepulciano is in the late spring (May into mid-June), when the fields in Val d'Orcia are a vibrant green color. September into October is also a very nice time to visit, during the harvest season and when temperatures begin to cool off. During the summer months, expect large crowds and hot weather. We have been to Montepulciano in July and September and had a better overall experience in September.
Which is better, Montalcino or Montepulciano?
Montalcino and Montepulciano are similar in that wine tasting is the #1 thing to do. Montalcino is smaller and less touristy, so if you want to tour a town with fewer crowds, we recommend Montalcino. Montepulciano is a larger town with a longer to do list. Both times we were here, it was also more crowded than Montalcino. We really like both towns, but of the two, Montalcino is our favorite.
How much time do you need in Montepulciano?
To explore the streets of Montepulciano, go wine tasting, do a little shopping, climb the clock tower for the view, and have lunch or dinner, plan on spending about a half day (roughly 4 hours) here.
---
If you have any questions about the best things to do in Montepulciano, let us know in the comment section below.
More Information for Your Trip to Italy
FLORENCE: If you are planning your first visit to Florence, don't miss our guide to the 10 Best Things to Do in Florence and how to spend two days in Florence. We also have guides about the best rooftop bars in Florence, the best viewpoints in Florence, and how to visit the Florence Cathedral. Here are 15 day trips to take from Florence, with practical information on how to plan your day.
TUSCAN HILL TOWNS: Check out our detailed guides to Siena, Pienza, Montalcino, San Gimignano, Monteriggioni, Lucca, Volterra, Arezzo, and Cortona. For a full list of things to do, read our article Best Things to Do in Tuscany.
UMBRIA: In our article Best Things to Do in Assisi, we cover the top experiences to have, plus where to eat and where to stay. In our One Day in Assisi Itinerary, we have a detailed walking tour of the historic city center. And don't miss our guide to the Best Things to Do in Orvieto.
SAN MARINO: San Marino is a tiny country located entirely within Italy. It is gorgeous to explore and one of the most underrated places to visit in Europe.
AMALFI COAST: Pick out which towns you want to visit in our article about the best towns to visit on the Amalfi Coast. If you are active and adventurous, one of the best things to do on the Amalfi Coast is hike the Path of the Gods. We also have a 3-day Sorrento Itinerary and information on how to visit the Blue Grotto in Capri.
PUGLIA: Read about 15 beautiful places to visit in Puglia and the best things to do in Alberobello. We also have a guide to the best things to do on the Gargano Peninsula, how to spend one day in Vieste, and about how to take a boat tour to visit the Gargano sea caves.
We have TONS more information about Italy in our Italy Travel Guide, including Rome, Florence, Venice, Tuscany, the Dolomites, the Amalfi Coast, the Cinque Terre, and Puglia.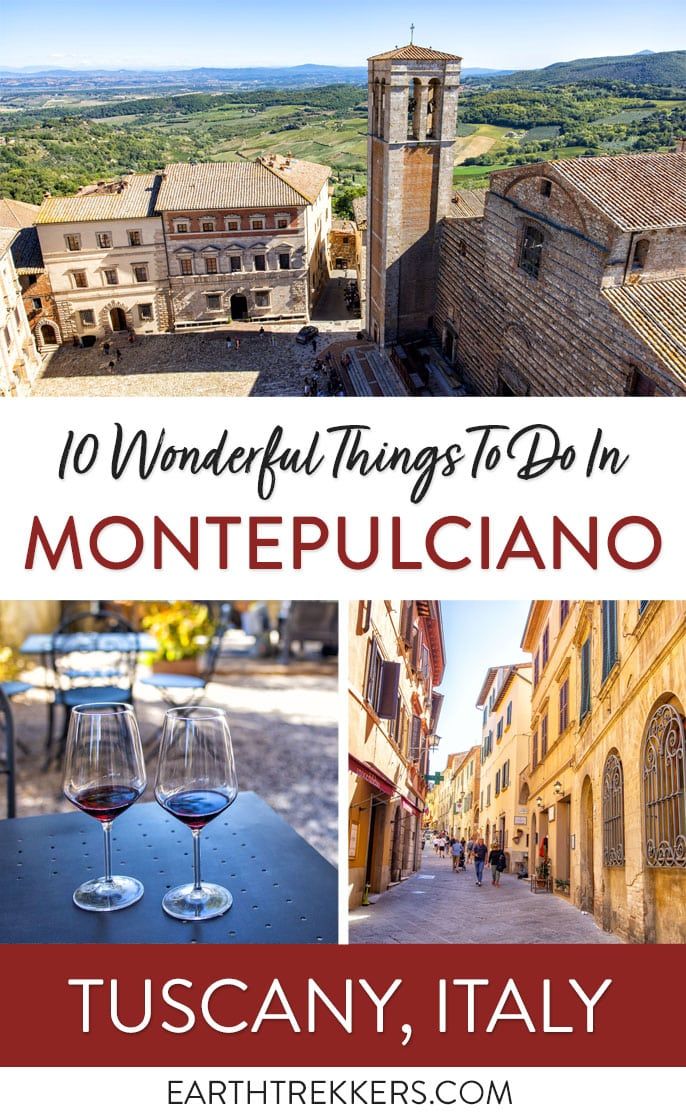 Note: This post contains affiliate links. When you make a purchase using one of these affiliate links, we get paid a small commission at no extra cost to you.
All rights reserved © Earth Trekkers. Republishing this article and/or any of its contents (text, photography, etc.), in whole or in part, is strictly prohibited.