Tuscany, Italy is known for its wine and splendid scenery, and we loved the time we spent here. The hill towns of Tuscany are small, walled, medieval towns perched on hilltops overlooking the countryside. Their views are stunning, their streets are a joy to stroll through, and the wine tastings are phenomenal. We visited several hill towns, and the very popular San Gimignano was one of our favorites.
If you are touring Tuscany and are trying to decide which hill towns to visit, consider San Gimignano! This town is very popular for good reason.
Best Things to do in San Gimignano
The Towers of San Gimignano
San Gimignano is famous for its medieval towers. In fact, San Gimignano has more medieval towers than any other hill town in Tuscany. Fourteen of these towers are still standing.
We were able to climb the Torre Grossa, also known as the Bell Tower, and the views were some of the best of Italy so far.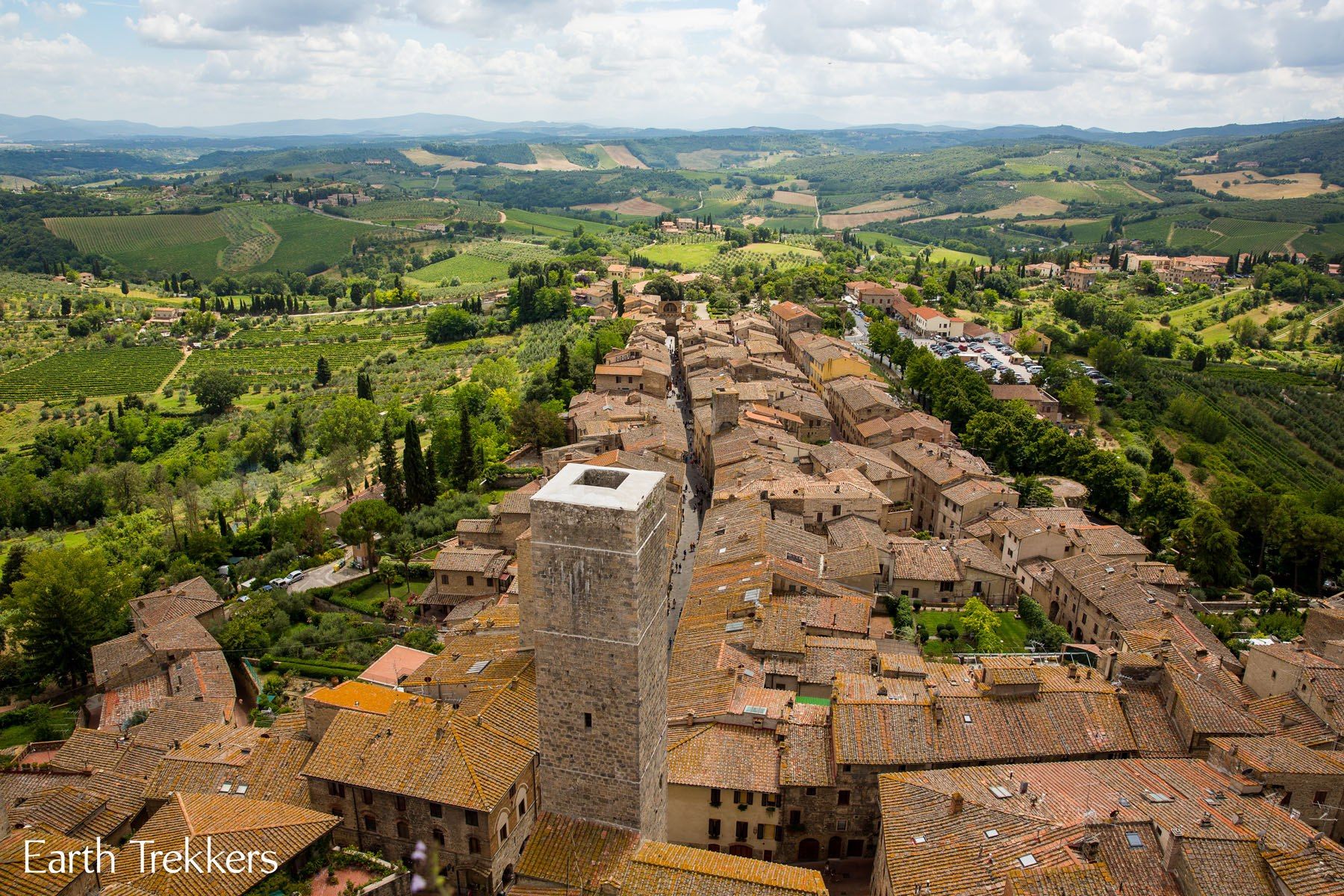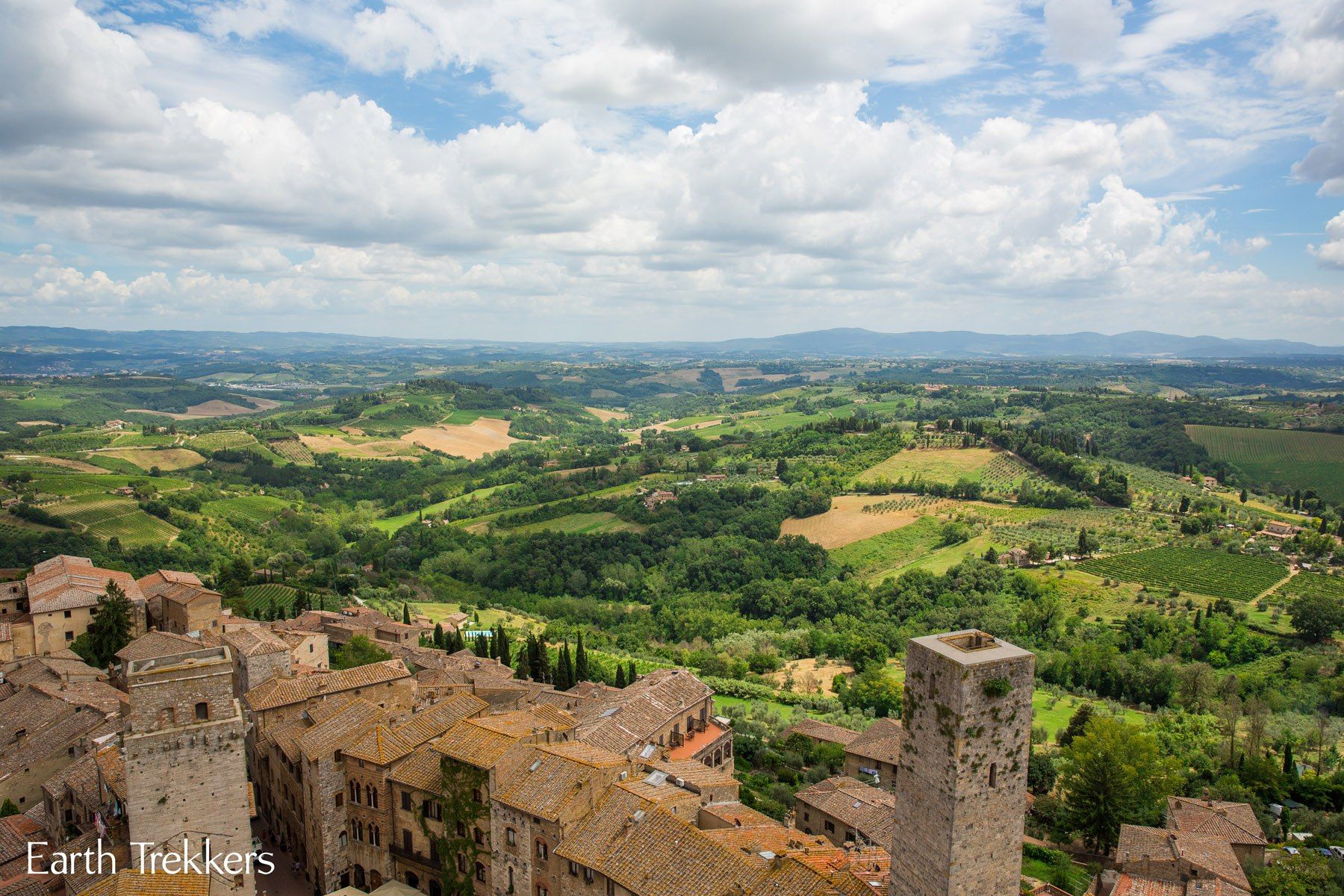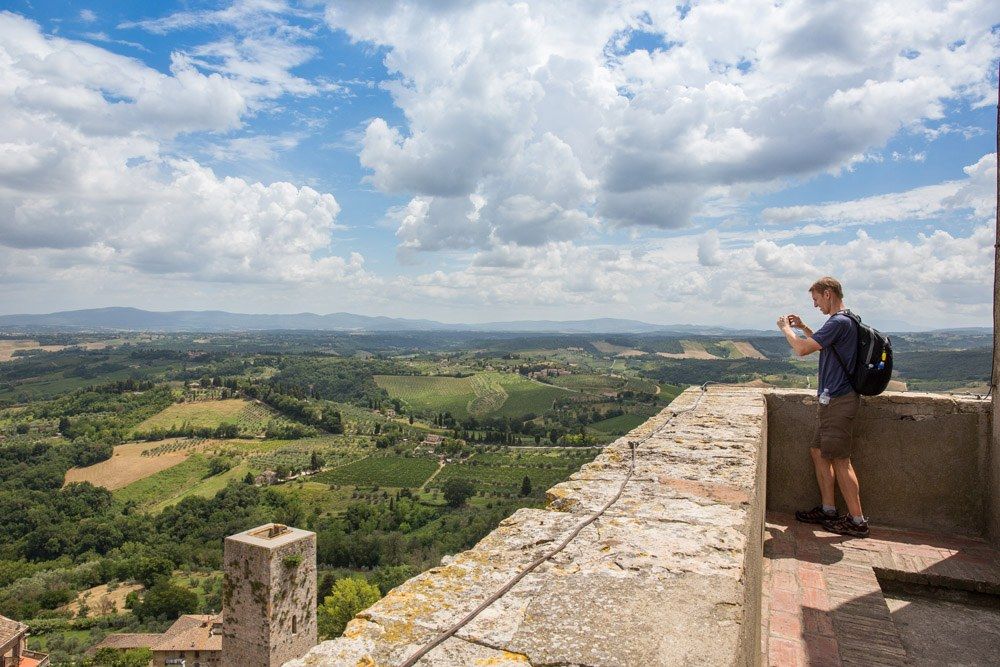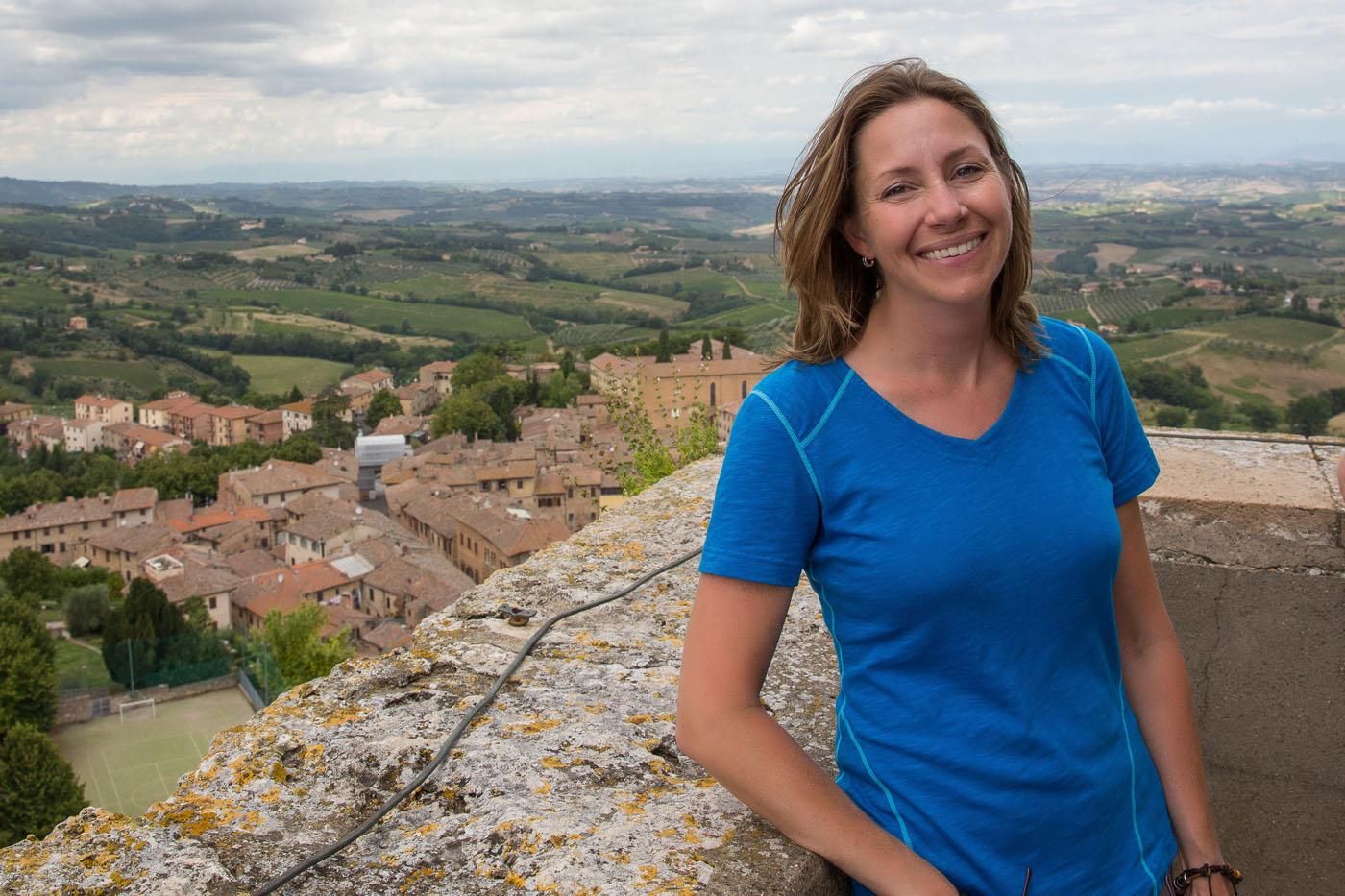 Wander the Narrow Streets
The views from the tower are awesome but we also really enjoyed walking through the streets. It is mostly a pedestrian only town, with the occasional small car navigating through the narrow streets.
Visit the Historic Centre of San Gimignano
The Historic Centre of San Gimignano is a UNESCO World Heritage Site. Several piazzas, or squares, make up this historic center. From here, you can visit the Duomo, a small museum called San Gimignano 1300, or find a cafe take in the scene.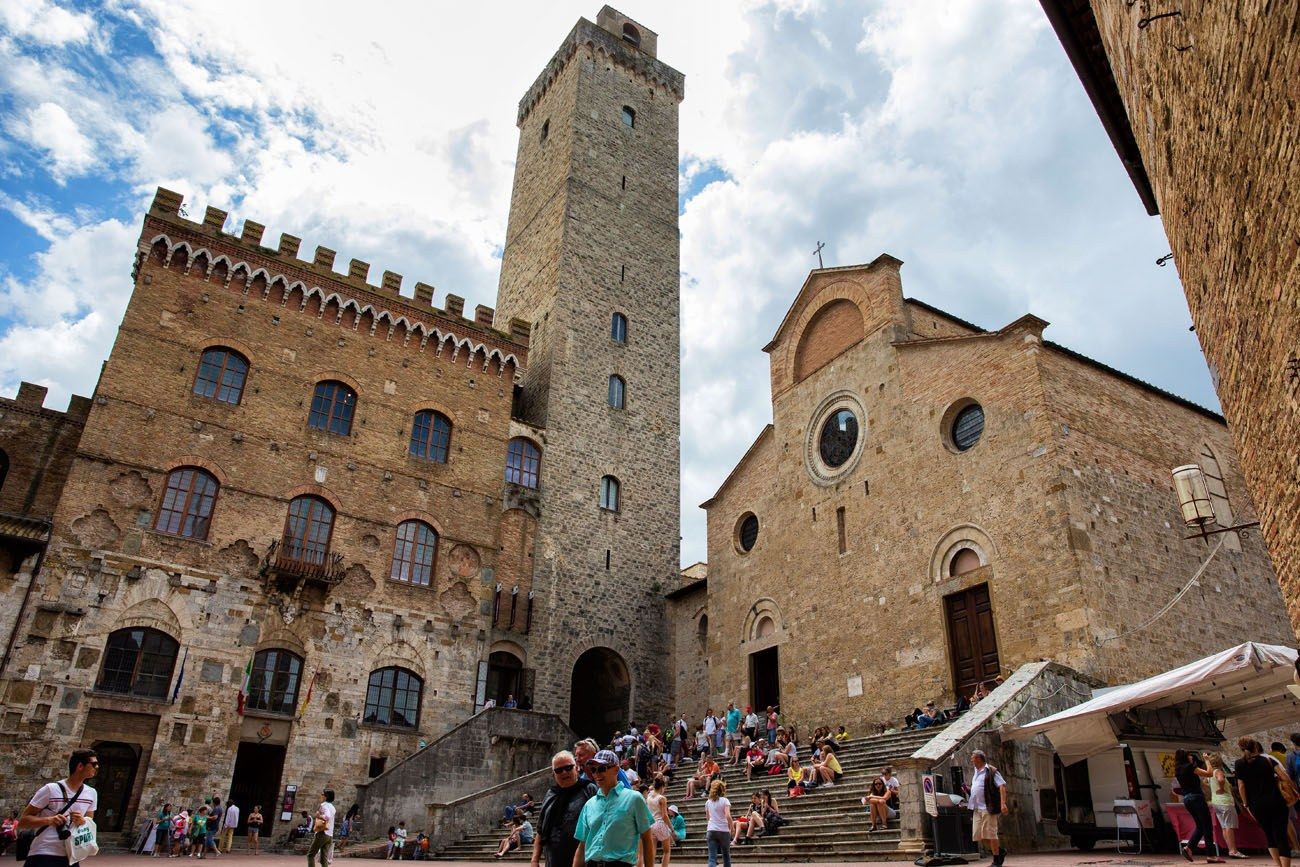 Explore the Side Streets
If you really want to see San Gimignano, don't hesitate to explore the side streets. We wandered off the main tourist drag, for a little time away from the larger groups of visitors. From here, we had a gorgeous view of Tuscany and we could take our goofy family photos that we love so much!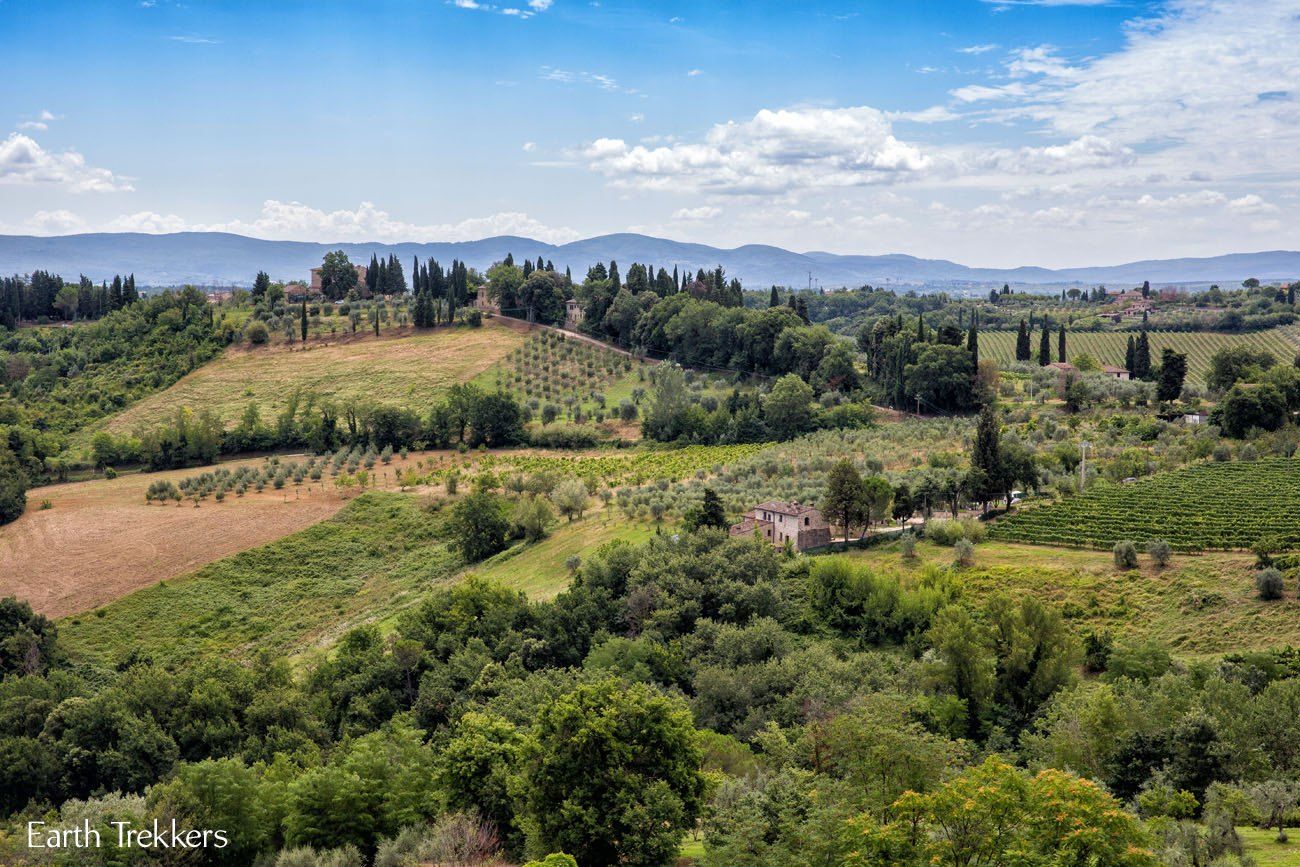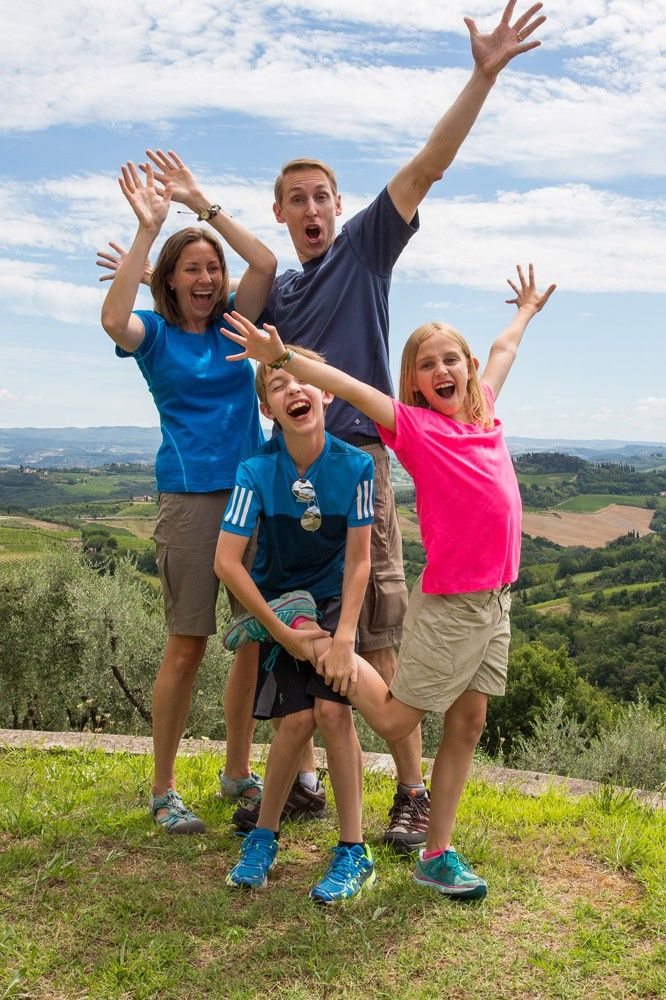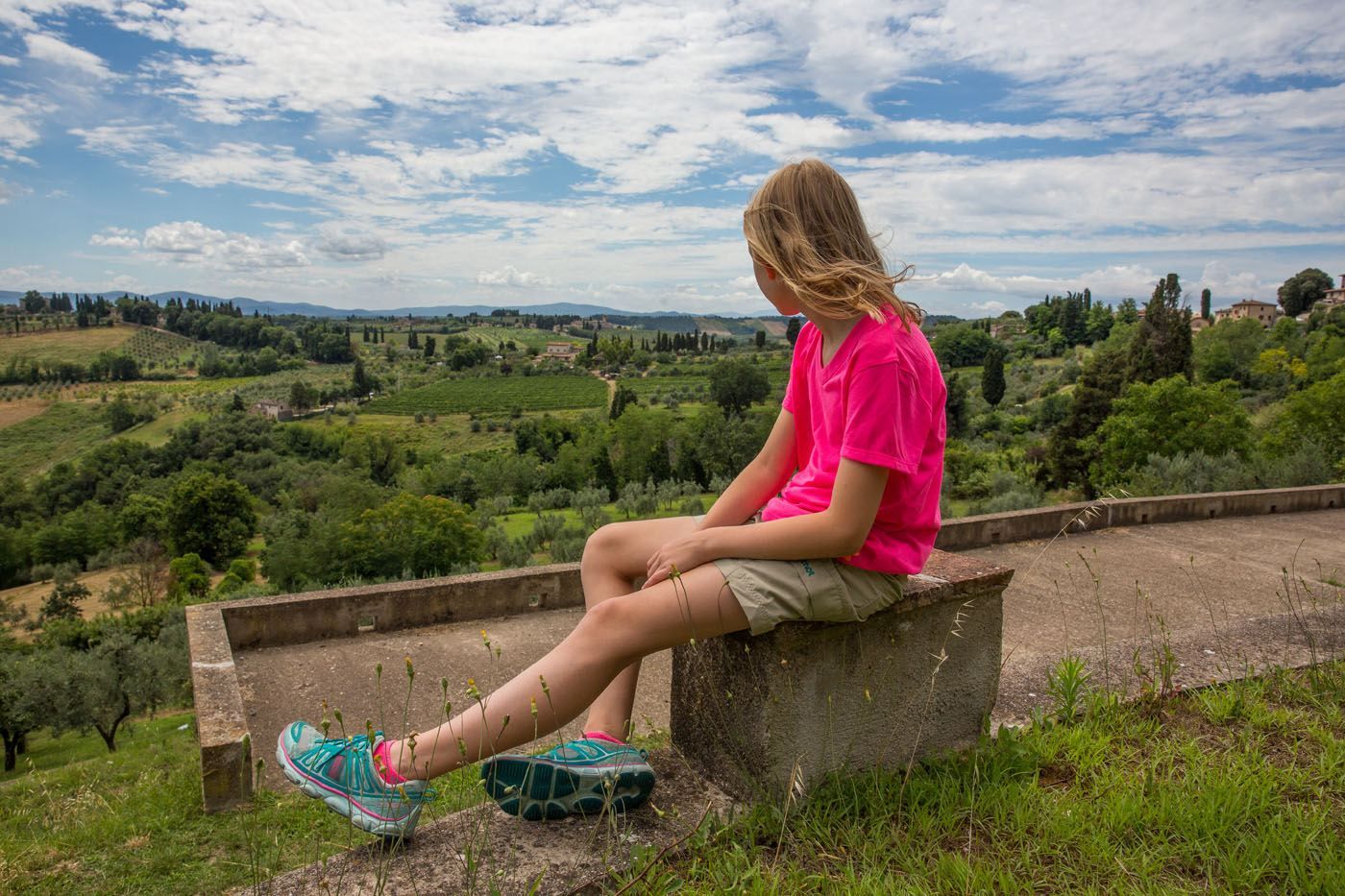 Go Shopping
We wandered into the small shops, did a little shopping, and bought the best salami we have ever eaten.
La Mangiatoia
And finally, it was time for a late lunch. We ate at La Mangiatoia, a great restaurant that was featured in Bon Appetite Magazine. We had our best meal in Italy so far, eating chicken and mushrooms, spaghetti with meat sauce, and spaghetti with cinghiale meat sauce. So good!!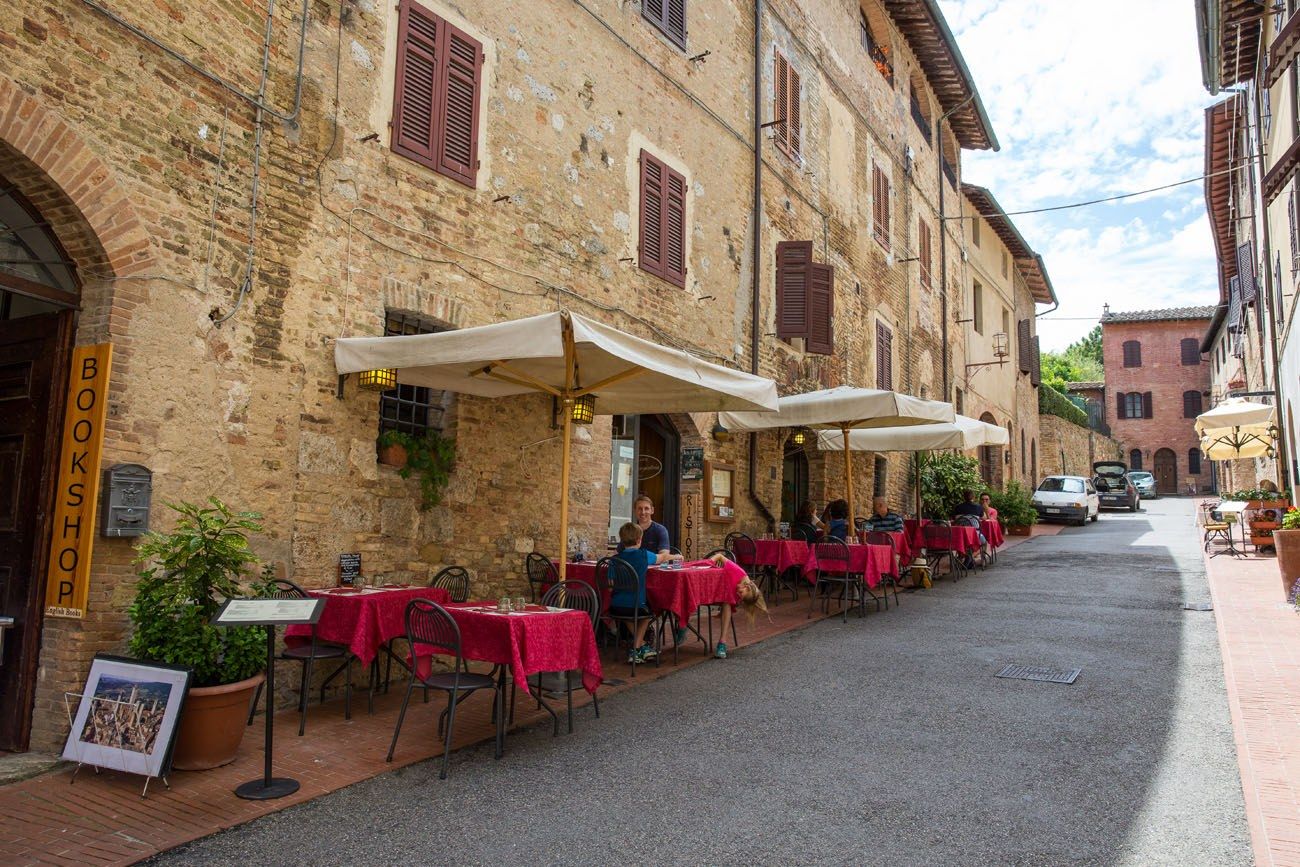 Getting Here
San Gimignano is a hill town that is easily connected by bus, although we did not have the best experience with the buses in Italy. Our home base to explore Tuscany was Siena. From Siena, we took the public bus to San Gimignano (about one hour).
In the afternoon, to get back to Siena, the first bus did not arrive, which left us (and a growing crowd of people) waiting an extra 45 minutes for the second bus. On multiple occasions in Italy we were left waiting for buses that failed to show up. So yes, you can get here by bus, but be prepared to put yourself at the mercy of the Italian bus system.
To learn more about getting to San Gimignano from Florence or Siena using public transportation, click here.
If we did it again, we would either rent a car or hire a driver. You can rent a car for the day from Florence or Siena. We rented a car for one day while in Siena to tour the Tuscan Hill towns, visiting Montalcino, Pienza, and Montepulciano. We used Hertz Noleggio Auto located near the train station and had a good experience.
You can also join one of these tours that includes several other hill towns in Tuscany.
---
If you have any questions about how to visit San Gimignano, or if you want to share your experience, let us know in the comment section below.
More Information about Italy
TUSCAN HILL TOWNS: Check out our detailed guides to Montepulciano, Pienza, Montalcino, Volterra, and Cortona. We also have a One Day Siena Itinerary.
FLORENCE: If you are planning your first visit to Florence, don't miss our guide to the 10 Best Things to Do in Florence. We also have a guide to the best rooftop bars in Florence and the best viewpoints in Florence.
ROME: For a list of the top experiences in Rome, read our article Best Things to Do in Rome. Learn how to put these together in our 2 Day Rome Itinerary, where to eat in our Rome Restaurant Guide, how to visit the Colosseum, and where to stay in our Rome Hotel Guide. And don't miss our guide to the Best Rooftop Bars in Rome.
VERONA: Verona is a beautiful city in northern Italy. Learn how to spend one perfect day in Verona.
MATERA: Matera is one of the most beautiful places to visit in Italy. Here is a list of the best things to do in Matera.
We have TONS more information about Italy in our Italy Travel Guide, including Rome, Florence, Venice, Tuscany, the Dolomites, the Amalfi Coast, the Cinque Terre, and Puglia.
Note: This post contains affiliate links. When you make a purchase using one of these affiliate links, we get paid a small commission at no extra cost to you.
All rights reserved © Earth Trekkers. Republishing this article and/or any of its contents (text, photography, etc.), in whole or in part, is strictly prohibited.