What should you eat while in Paris? Since French culture is deeply intertwined with food, the answer to this question is just as important as what you should see and do while visiting Paris. Dining on escargot and freshly baked bread, planning a picnic lunch in front of the Eiffel Tower, and dining at a sidewalk café are essential experiences to have in Paris. In this guide, we cover 10 foods to eat in Paris and where to get them.
About the Author
I'm Thomas, Julie's brother. You can find me in a few Earth Trekkers articles already. While planning a long-overdue honeymoon to Europe, Julie asked if I'd be willing to write an article about it, from my perspective. Where Julie and Tim focus on hiking, parks, and providing insight to the most common highlights for any trip, my travel choices are primarily Epicurean. Food, drink, and interesting experiences form the basis of my travel style.
Food, sometimes elevated into cuisine, is part of the fabric of French life. As its most cosmopolitan city, Paris offers an array of consistently high-quality food, from street-corner baguette sandwiches up to the highest rated restaurants in the world. In a city with more than 40,000 restaurants, finding the single best magret de canard, crepes, or cuisses de grenouille is almost an impossible task. Instead of creating a guide on where to eat, I'll focus on what to eat, and what are the best gustatory experiences.
10 Foods to Eat in Paris
1. Freshly Baked Bread
Anywhere within the confines of Paris' Peripherique, a boulangerie (bakery) is no more than a 6-minute walk away. Bread is the main building block of French food and it is delicious. Fresh, quality bread can be found almost anywhere.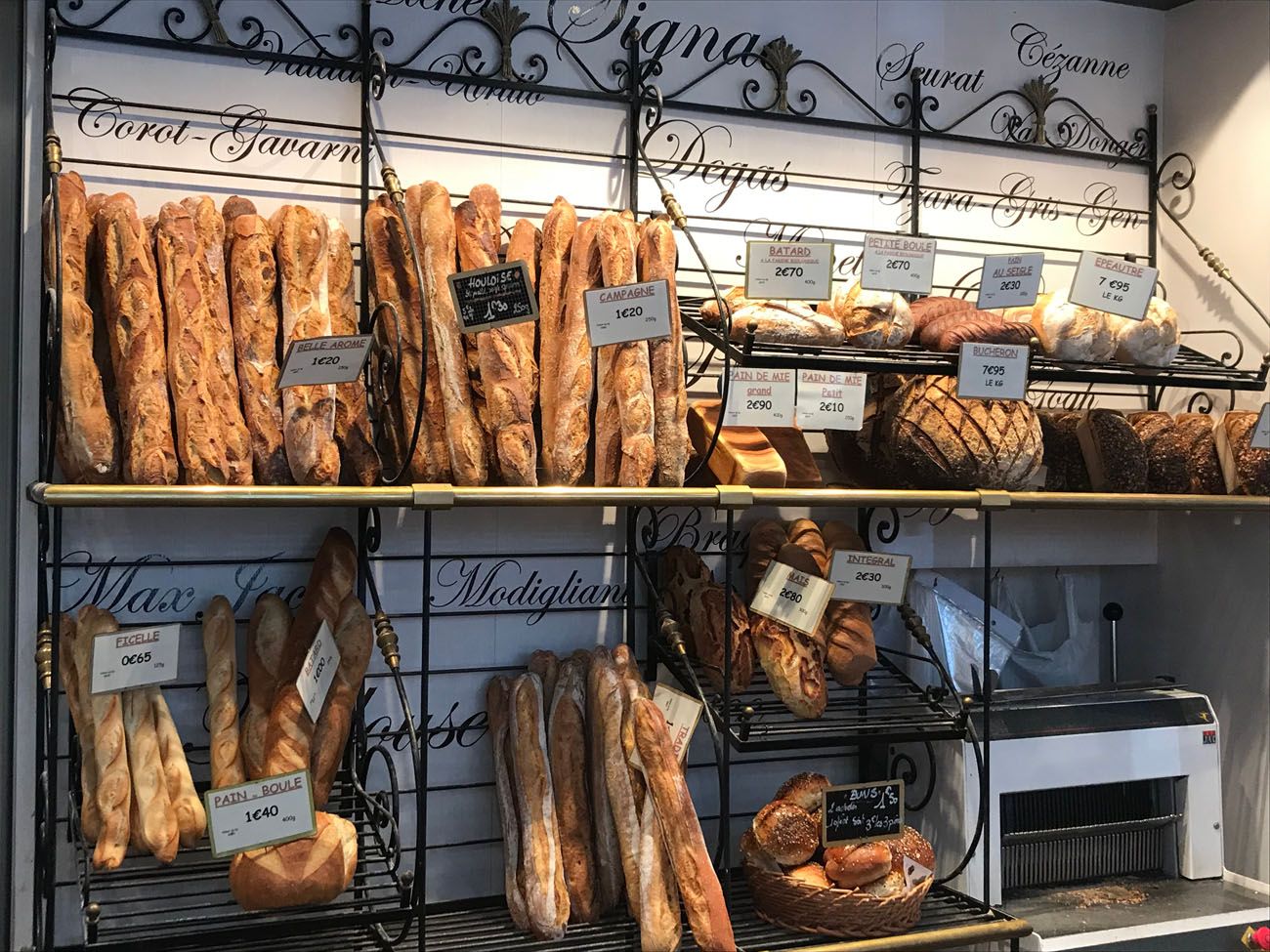 Fresh bread in Paris/ photo credit: shutterstock.com/JudeAnd
2. Cheese
If bread is the building block of French cuisine, cheese is its mortar.
As a snack, as a dinner course, or for dessert, cheeses of all flavors from mild to bold (or stinky!) can be a part of any meal. Surprisingly, in my own experience and opinion, the difference in quality between a cafe cheese plate and a Michelin-starred cheese course isn't huge.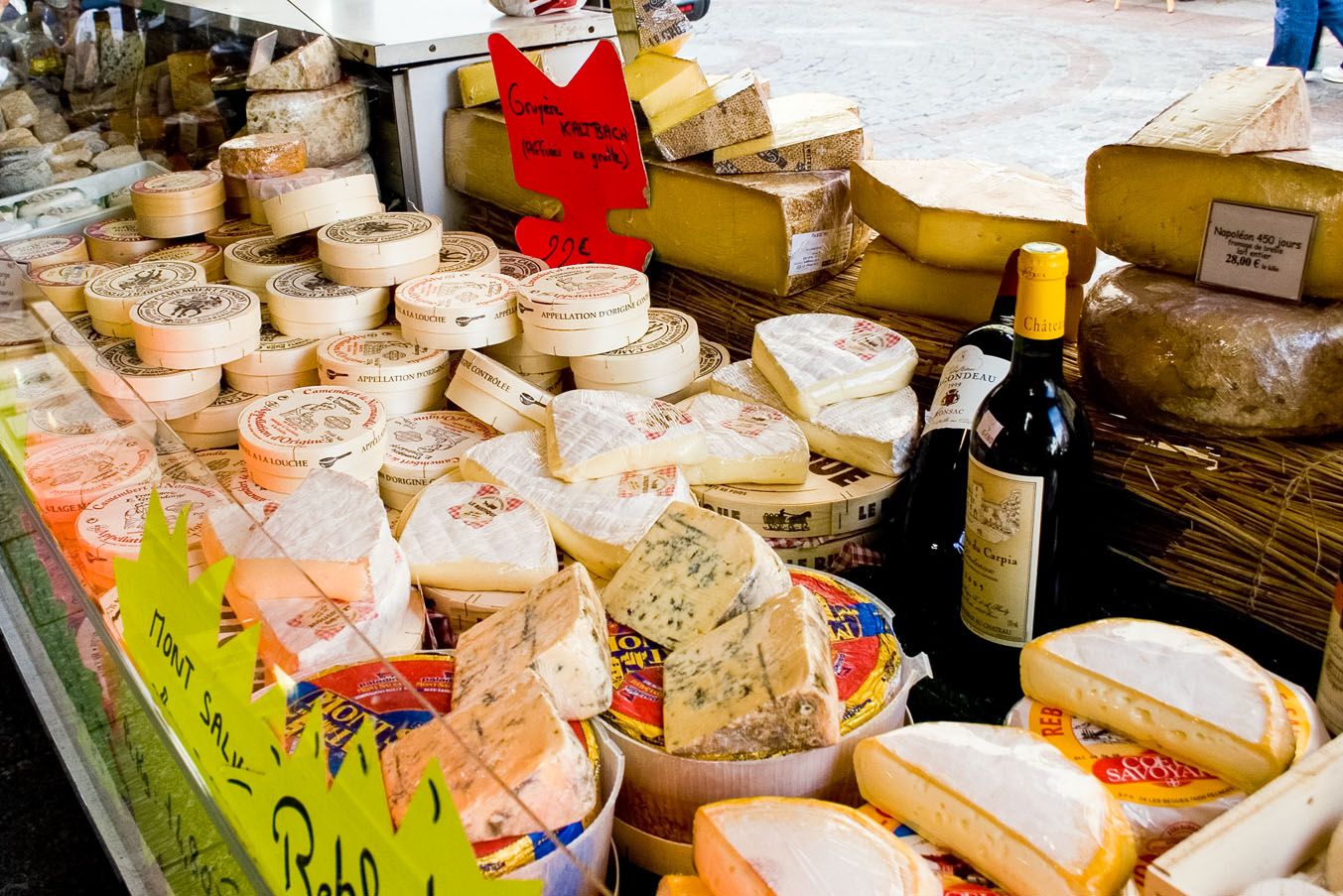 3. Croissants
Coffee and croissants at Angelina's were the perfect way to start our trip. While good croissants can be had at any quality bakery, Paris or otherwise, these are probably the best I've ever had. Light, flaky, and lacquered with a lightly sweet coating, one was enough to fill me up.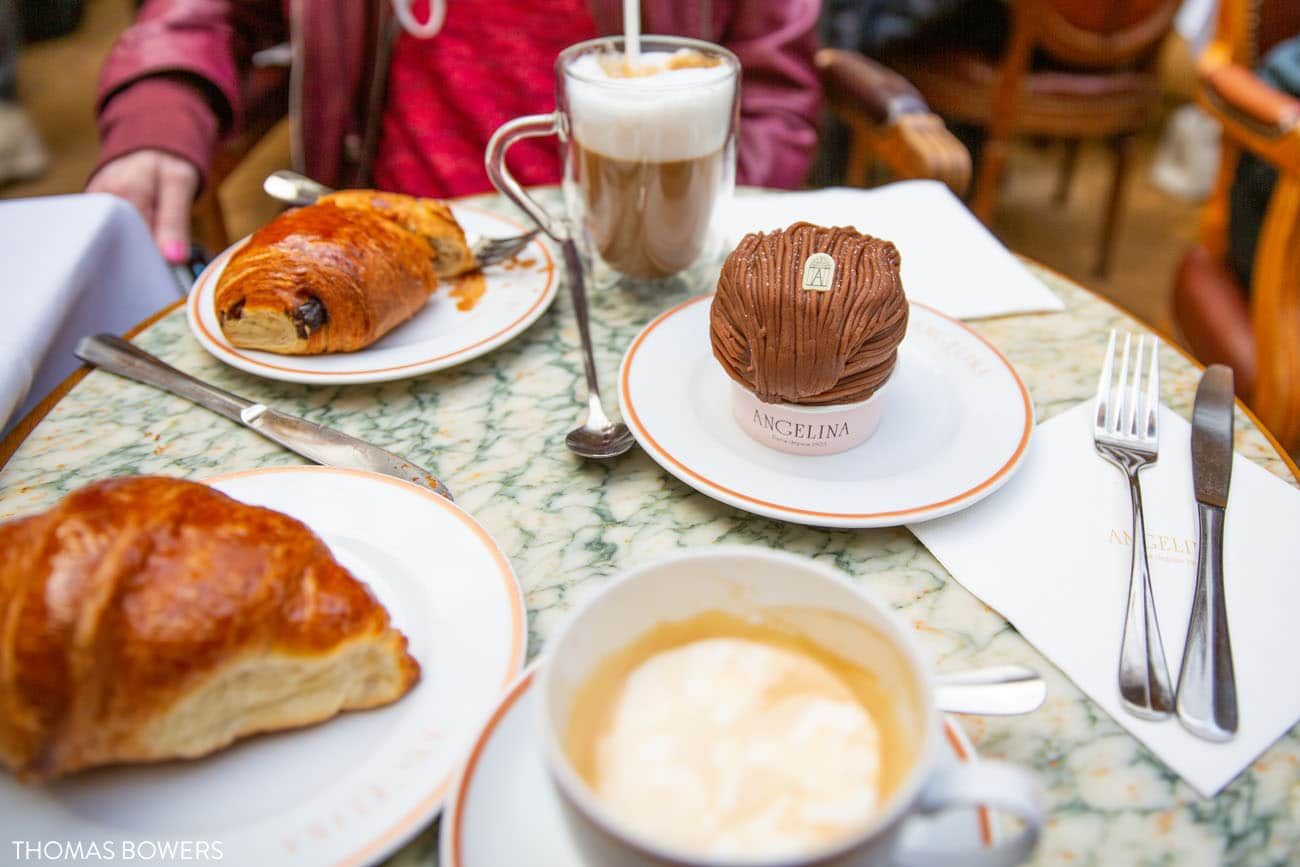 Croissants, coffee, and chocolate at Angelina Paris | Foods to Eat in Paris
PRO TRAVEL TIP: Grab a couple macarons on the way out and dine on these sweet treats as you stroll through the Tuileries.
4. Croques
Croque monsieur (a large slice of buttered bread, ham, and melted cheese) or croque madame (the same, but with a fried egg) are a traditional staple, also found in every cafe. Inexpensive, simple, and very filling, they're great for breakfast or lunch.
We stopped into cafe Au Coeur du Marais while wandering the Marais, before walking to Place des Vosges.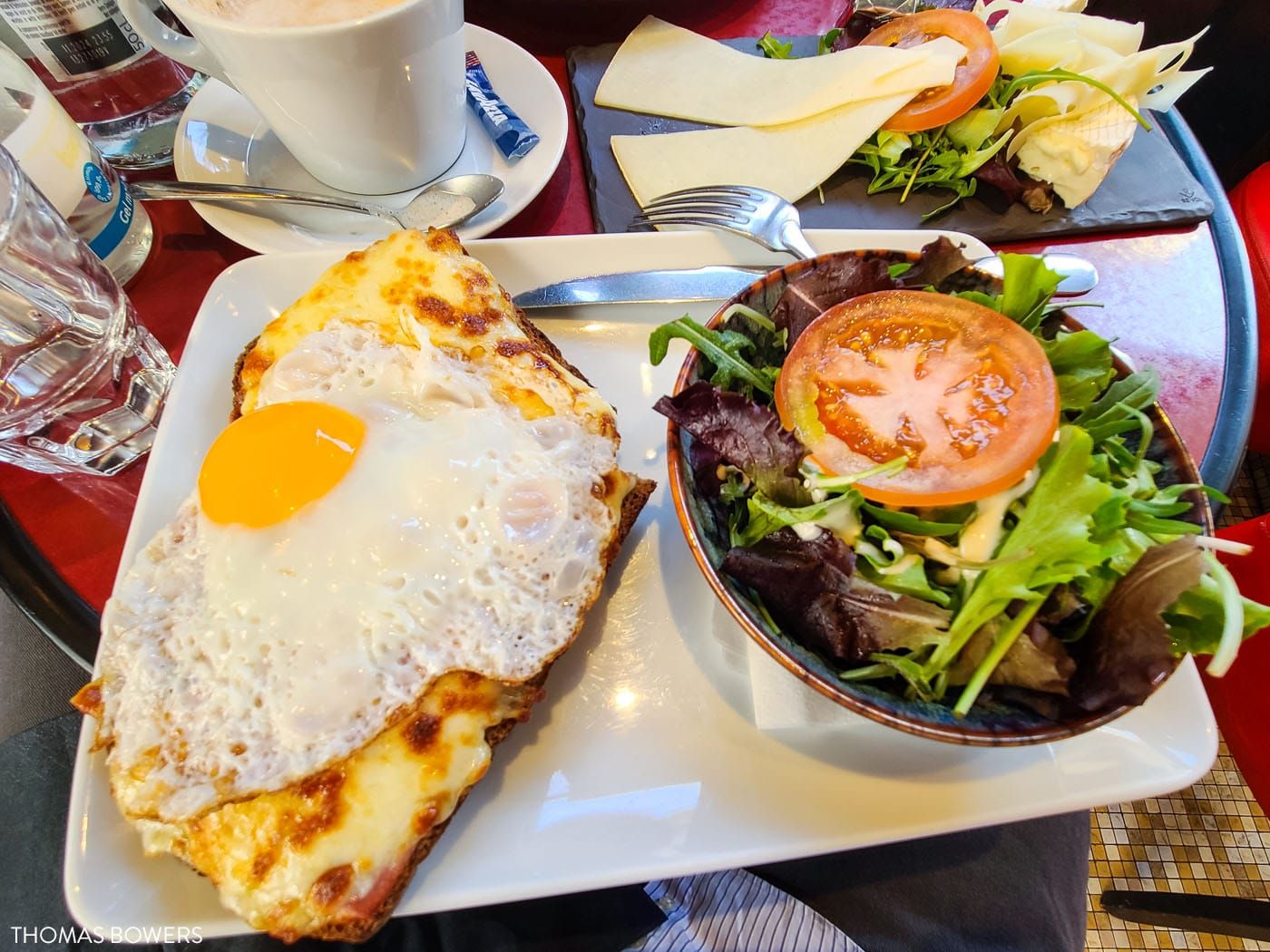 Croque madame | Foods to Eat in Paris
5. Crêpes
Similar to a very thin pancake, the flexible crepe can be breakfast, savory, flambéed with Grand Marnier, or served as dessert with a scoop of ice cream.
Grab one from a sidewalk crêperie for the street food experience, or sit-down in a cafe for the highest quality.
Where to get crêpes in Paris: Breizh Café (in Le Marais near the Picasso Museum), Crêperie le Petit Josselin (near Montparnasse Tower), and Krügen (11th arrondissement).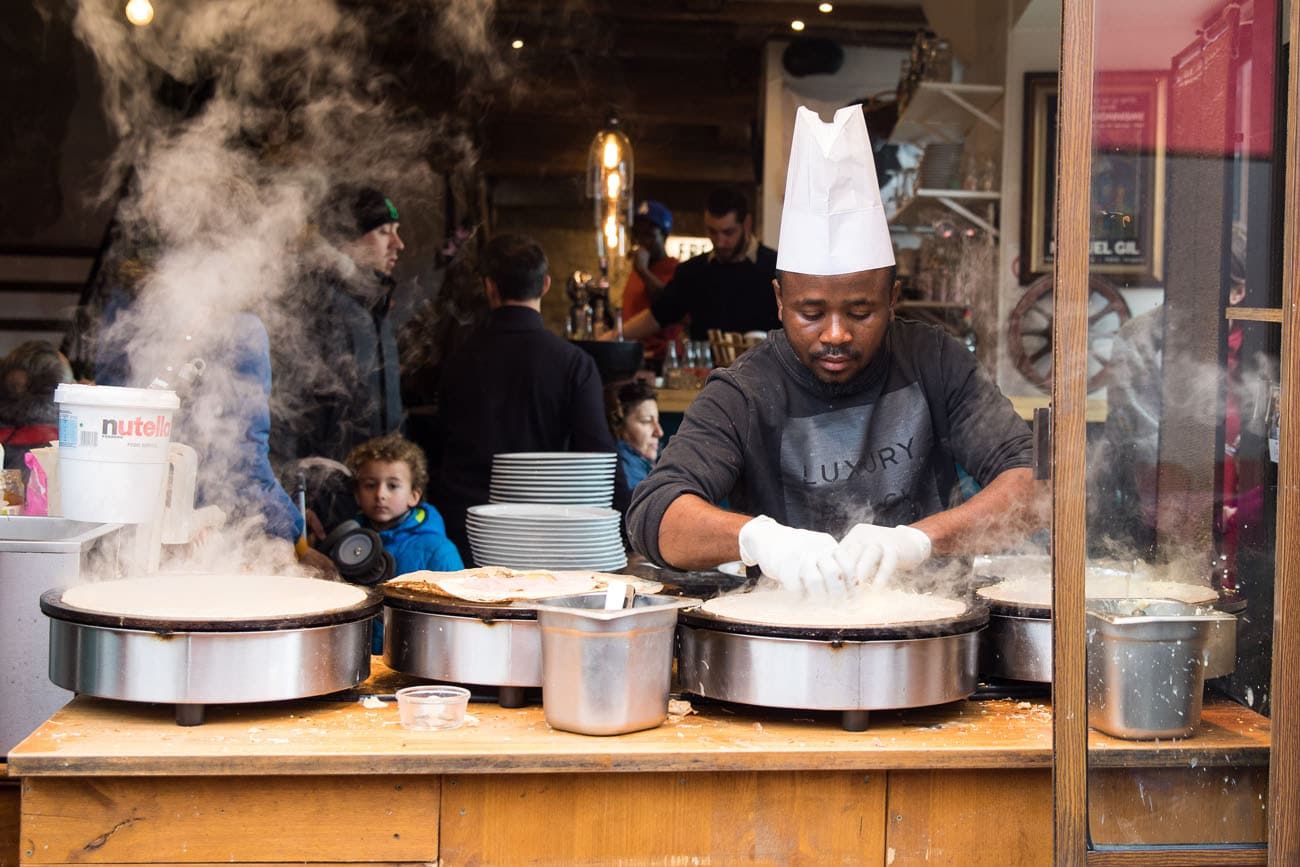 Street food crepes | Foods to eat in Paris
6. Duck
With its dark, steak-like texture and lush layer of fat, duck is one of my favorite foods. Because the conditions to raise ducks are more difficult than chickens, it's not as common to find in America as across Europe and into Asia.
Magret de canard (roasted duck breast, seared, then sliced and served with a sauce) and confit de canard (the whole leg, seasoned and slow-cooked for hours until it's fall-off-the-bone tender) are easy-to-find treats in any cafe or restaurant.
Sadly, the one order of magret de canard we had wasn't very good. I had cassoulet for lunch at Benoit, which was amazing and does have confit in it, but on the whole, we missed out on duck this trip. Next time!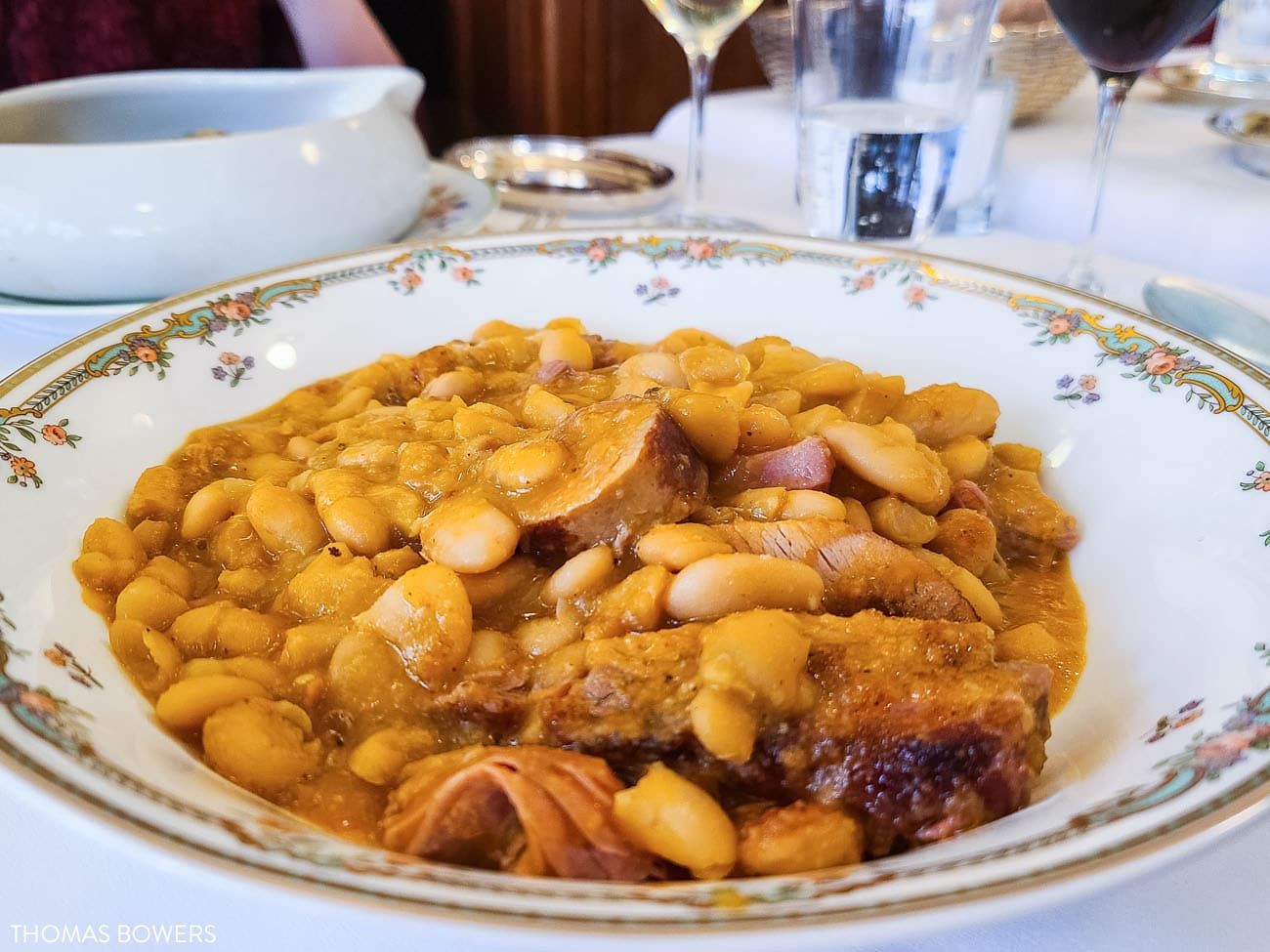 Cassoulet at Benoit | Foods to Eat in Paris
More places to eat duck in Paris: Le Petit Canard (9th arrondissement near the Pigalle metro station), La Jacobine (Saint-Germain-des-Pres), and Le Petit Marche (near Place des Vosges).
7. Escargots
Another staple on traditional menus across the city, the humble snail is a delicious appetizer. Served with copious butter, garlic, and parsley, eaten with a small fork and special pair of tongs, they have a delicate flavor and texture.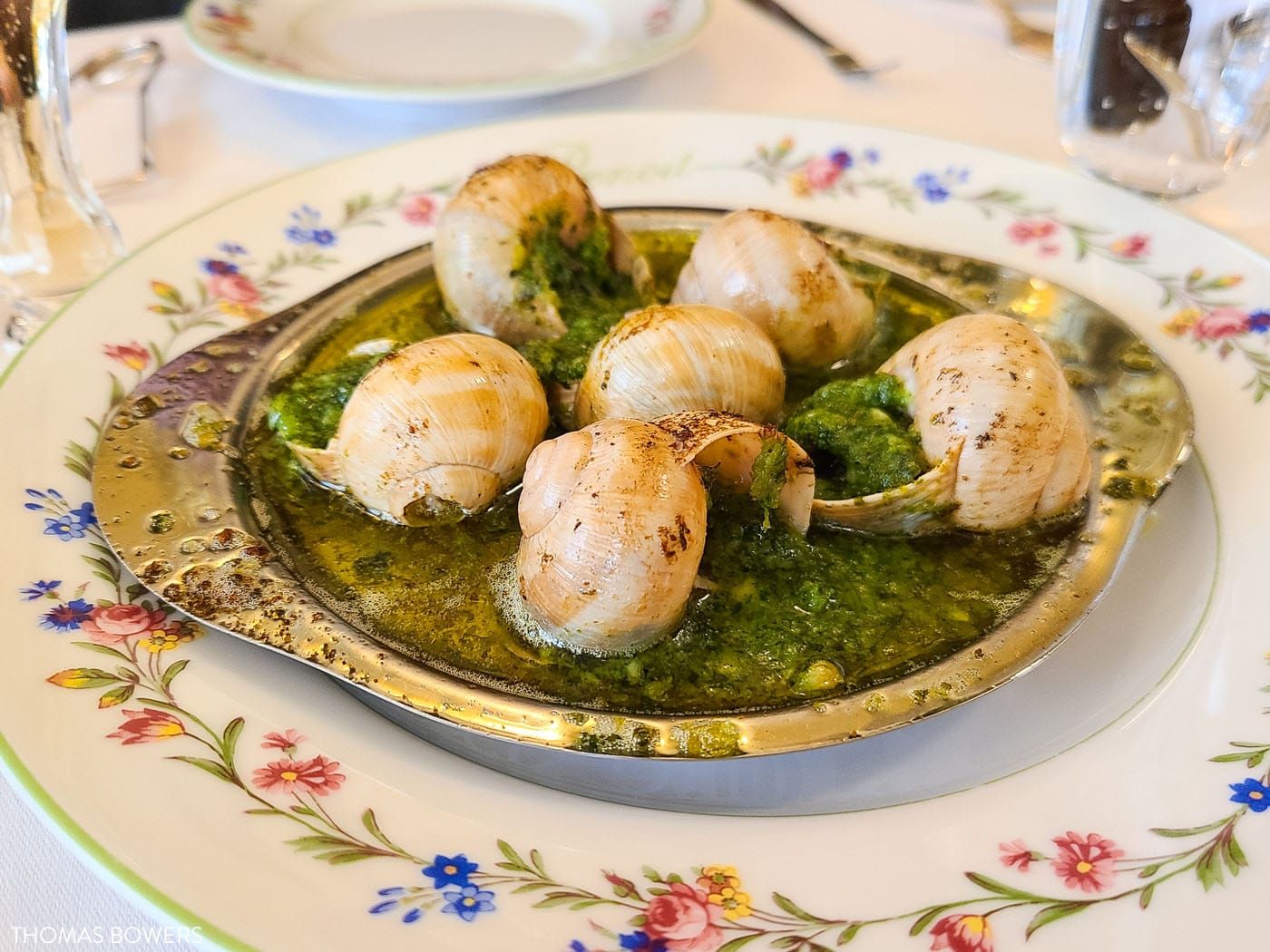 Escargots | Foods to Eat in Paris
We shared six as an appetizer for lunch at Benoit, a 1 star Michelin bistro specializing in traditional country French cooking. This is a great restaurant choice for anyone who wants to dip a toe into Michelin quality without going overboard on the bill.
Other top choices for escargot are Le Petit Châtelet, Du Pain et des Idees, and the venerable L'Escargot Montorgueil.
8. Frogs' Legs
After a show at Le Moulin Rouge, we wandered over to Le Chat Noir for beverages and a snack. A plate of cuisses de grenouille (aka frogs legs), a bowl of fries, and cocktails were perfect complements to the Frenchmen singing Bohemian Rhapsody and Wonderwall along with the bar's piano.
Imagine a smaller chicken wing, with more substantial meat, served with butter and herbs. These are a bit harder to find than escargots and were a pleasant surprise at Le Chat Noir.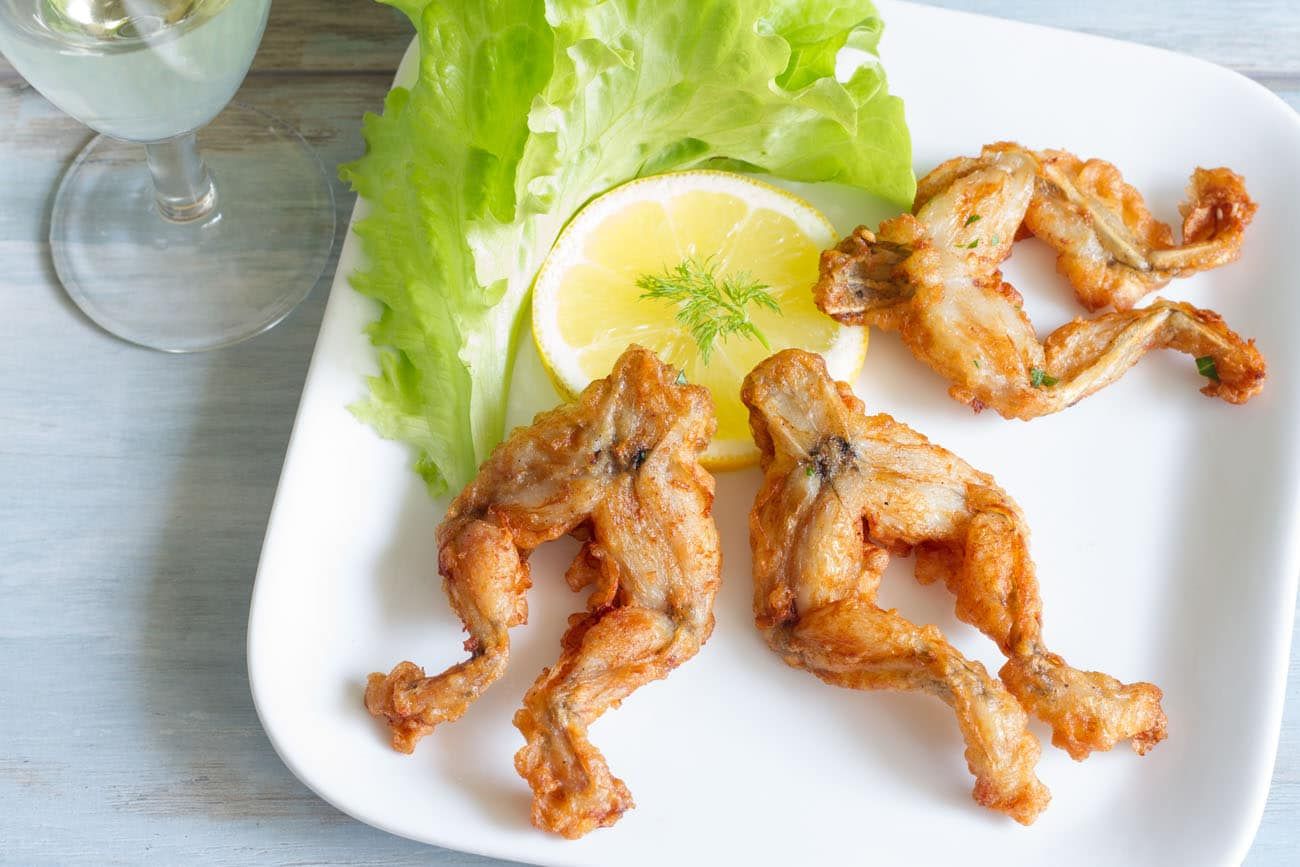 Frogs legs | photo credit: shutterstock.com/udra11
L'Escargot Montorgueil is also a great choice (two for one, as this is also a great place to get escargots, as its name implies), along with Au Pied du Sacré Coeur and Roger La Grenouille.
9. Onion Soup
In France, French onion soup is just "onion soup", or soupe à l'oignon. While easy to find in America, the French version will usually have less cheese and is more likely to be made from actual beef stock, not premade broth.
Like most options on this list, it can be found in every sidewalk cafe and most restaurants.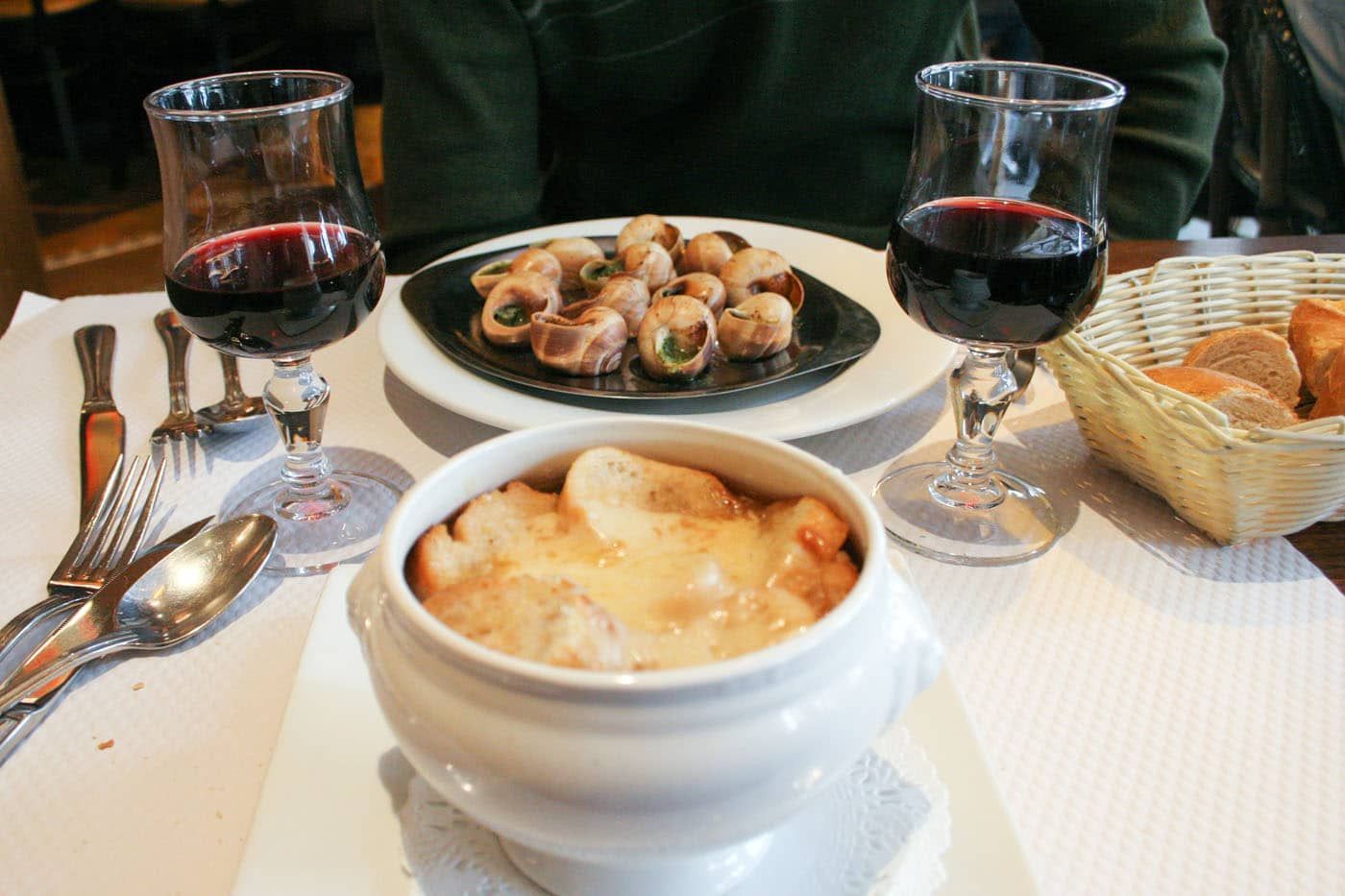 Onion Soup and Escargots | Foods to Eat in Paris
10. Macarons
These small, colorful cookies are one of Paris' most popular sweet treats. Made of meringue, almond flour, and sugar, they have a crunchy exterior and are filled with buttercream, jam, or ganache. They come in a variety of flavors, such as coffee, pistachio, raspberry, caramel, chocolate, and vanilla.
A visit to Ladurée is an essential experience to have on a first visit to Paris. With a location on the Champs-Elysées, it makes a great spot to visit as you stroll along this famous city street. Ladurée has several more locations in Paris, including Le Marais, Saint-Germain-des-Prés, and on Rue Cler.
Ladurée | Foods to Eat in Paris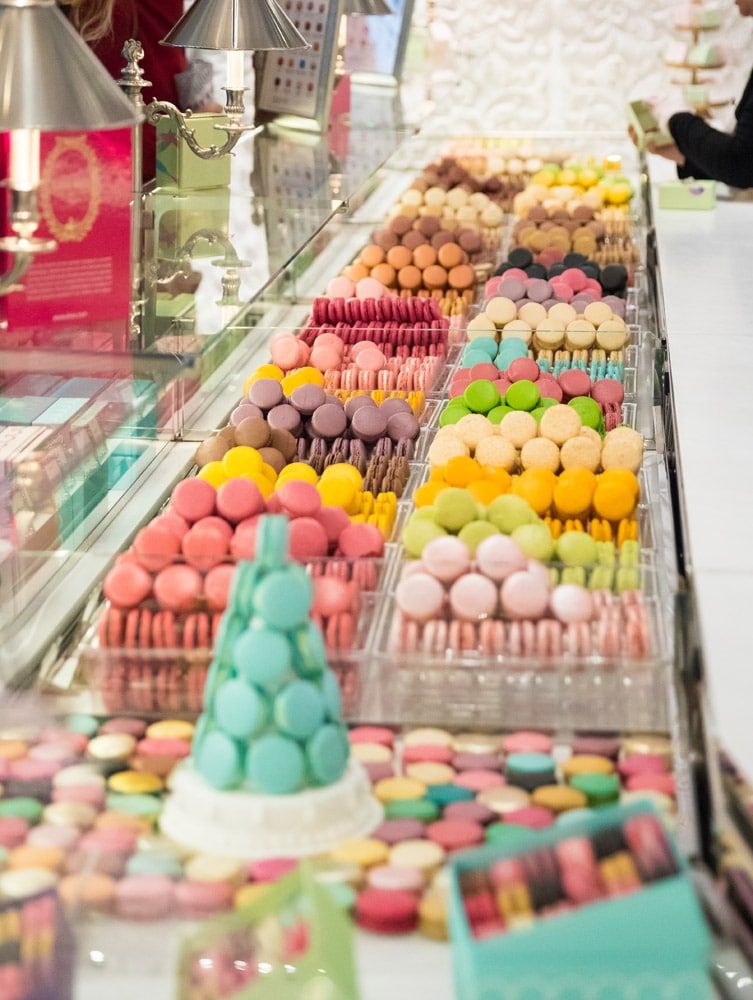 Macarons at Lauderée | Foods to Eat in Paris
3 Quintessential Dining Experiences in Paris
1. Dine at a Sidewalk Cafe
Spending an afternoon people-watching in a sidewalk cafe is the essential food-related experience in Paris. Order anything from a single cup of coffee through an entire meal, and breathe in the feel of city. There's no rush. Enjoy.
Most cafes have a wide selection of high-quality food. Choose one with a long history, and you'll dine where artists, authors, poets, and philosophers sat. We chose Le Select (Hemingway was a frequent bar patron) because it was close to the Catacombs tour.
Le Select | photo credit: Thomas Bowers
Les Deux Magots, Le Procope, and Cafe Le Nemours are other great cafes with a lot of history.
2. Michelin-Star Restaurant
One of the best pieces of travel advice I received long ago, while planning my first trip to Paris, was "Go eat at the best restaurant you can."
Each trip, I've gone to at least one Michelin-starred restaurant. It's certainly worth noting that dining in a restaurant of this quality can be extremely expensive. Lunch is usually less costly than dinner.
On our most recent trip to Paris, we chose two.
First was Benoit for lunch, where we had our escargot and the three course lunch tasting menu.
For dinner we selected the 2-star Alain Ducasse restaurant at the Meurice hotel.
The experience of eating at a restaurant of this caliber elevates food into both art and luxury. Our meal consisted of nine separate courses, each a masterpiece. The best approach to enjoying this event (it's far more than just a meal) is to select the chef's tasting menu and to put your palate in their very capable hands. Wine drinkers should request pairing choices from the sommelier as well.
As an example, the course that stood out to me the most was "Braised wild turbot", a white fish. The course consisted of a small piece of turbot, a few sprigs of broccolini, a thick creamy sauce on the side, and a freeze-dried and wafer-thin slice of candied grapefruit. A second sauce was drizzled over the fish after it was presented. At first, I didn't enjoy this course, because the sauce was bitter enough to overwhelm the delicate fish. It wasn't until the final bite, when I combined all five elements at once, that the combination of each flavor joined together into one amazing, delicious synergy.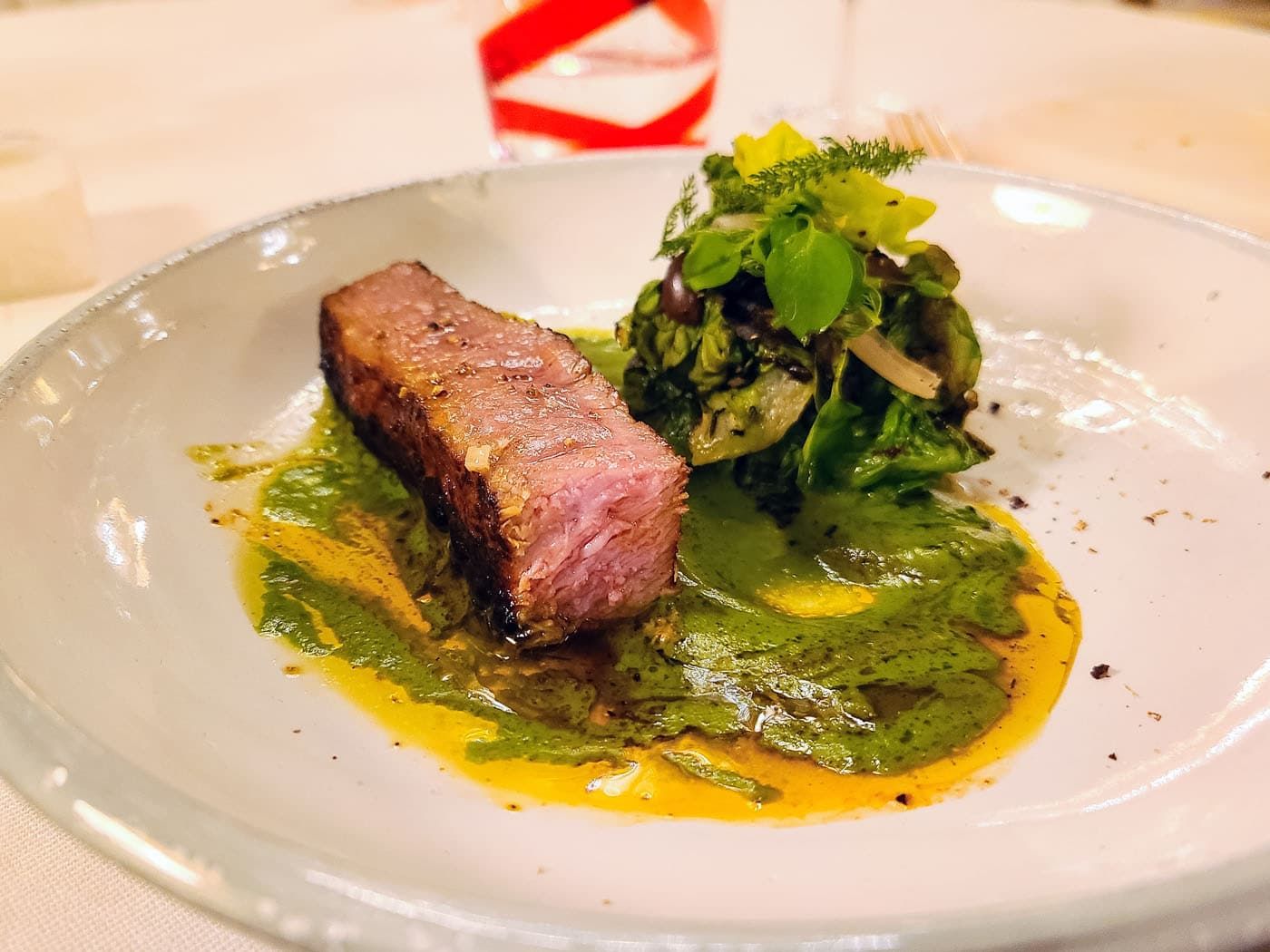 Dining at Restaurant le Meurice Alain Ducasse | photo credit: Thomas Bowers
3. Have a Picnic
Bread, cheese, cured meat, and a bottle of wine is a cheap, easy, delicious meal. Bakeries and small markets (think convenience store, but actually good quality) selling a wide array of food are plentiful across the city. Head to one of the city's many open spaces and soak in one of the most Parisian experiences possible.
Based on Julie's recommendation we stayed at Hotel Brighton and were lucky enough to have a small balcony in our hotel room. A light dinner watching sunset over the Tuileries perfectly capped our first day in Paris.
This is Julie chiming in. We love to assemble a picnic lunch while strolling the shops on Rue Cler. On this street, purchase bread, cheese, fruit, and wine and then head over to Champ de Mars for a picnic lunch with a view of the Eiffel Tower.
Picnic in Champ de Mars
Beer and Cocktails in Paris
Wine is the lifeblood of France, much more than other libations, and so finding quality beer and cocktails was more difficult than expected. Finding something better than a standard rum and coke or Heineken required some searching.
Isadora Cocktail Bar in Les Halles is intimate, dimly lit, staffed by creative and attentive bartenders.
Harry's New York Bar, with its white-jacketed bartenders and dark wood paneling, did feel like stepping back in time.
The first morning of our trip, jet-lagged, wandering past Ile de la Cite, we found Bieres Cultes Chatelet, a small store with a few sidewalk tables. The few shelves were stocked with many Belgian, French, and German Beers, along with some familiar American craft brews. Beer for breakfast did nothing to relieve our jet lag but was a fantastic way to begin a vacation.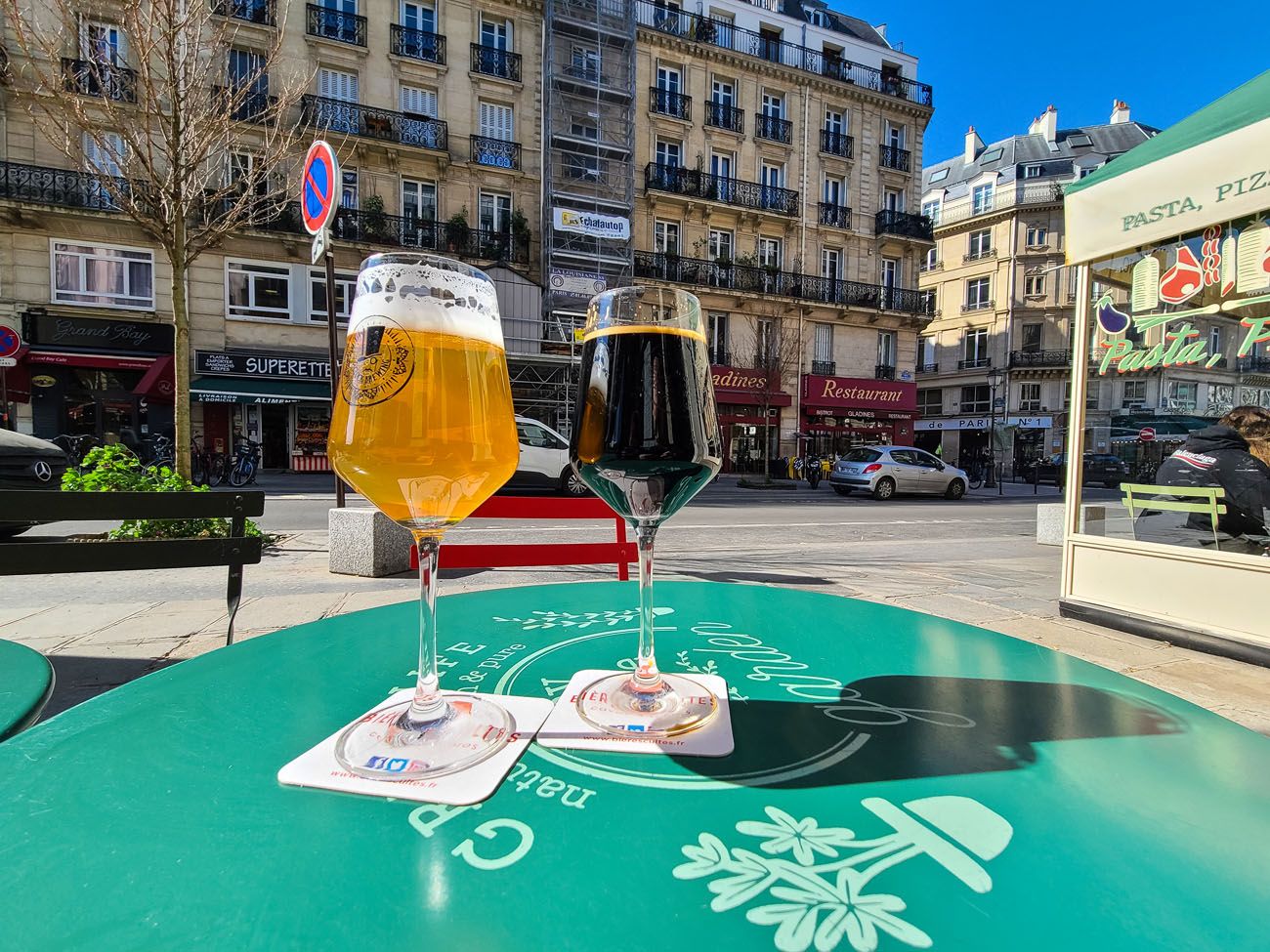 Bieres Cultes Chatelet | photo credit: Thomas Bowers
10 Recommended Restaurants in Paris
This list of recommended restaurants is a combination of my top picks plus a few of Tim and Julie's, from their trips to Paris.
1. Angelina Paris
Located on Rue de Rivoli, across from Tuileries Garden, Angelina Paris is a great place to add on a walking tour, if you plan to go for a stroll from the Louvre to Champs-Elysees. This tea room serves pastries, croissants, and the best hot chocolate in Paris.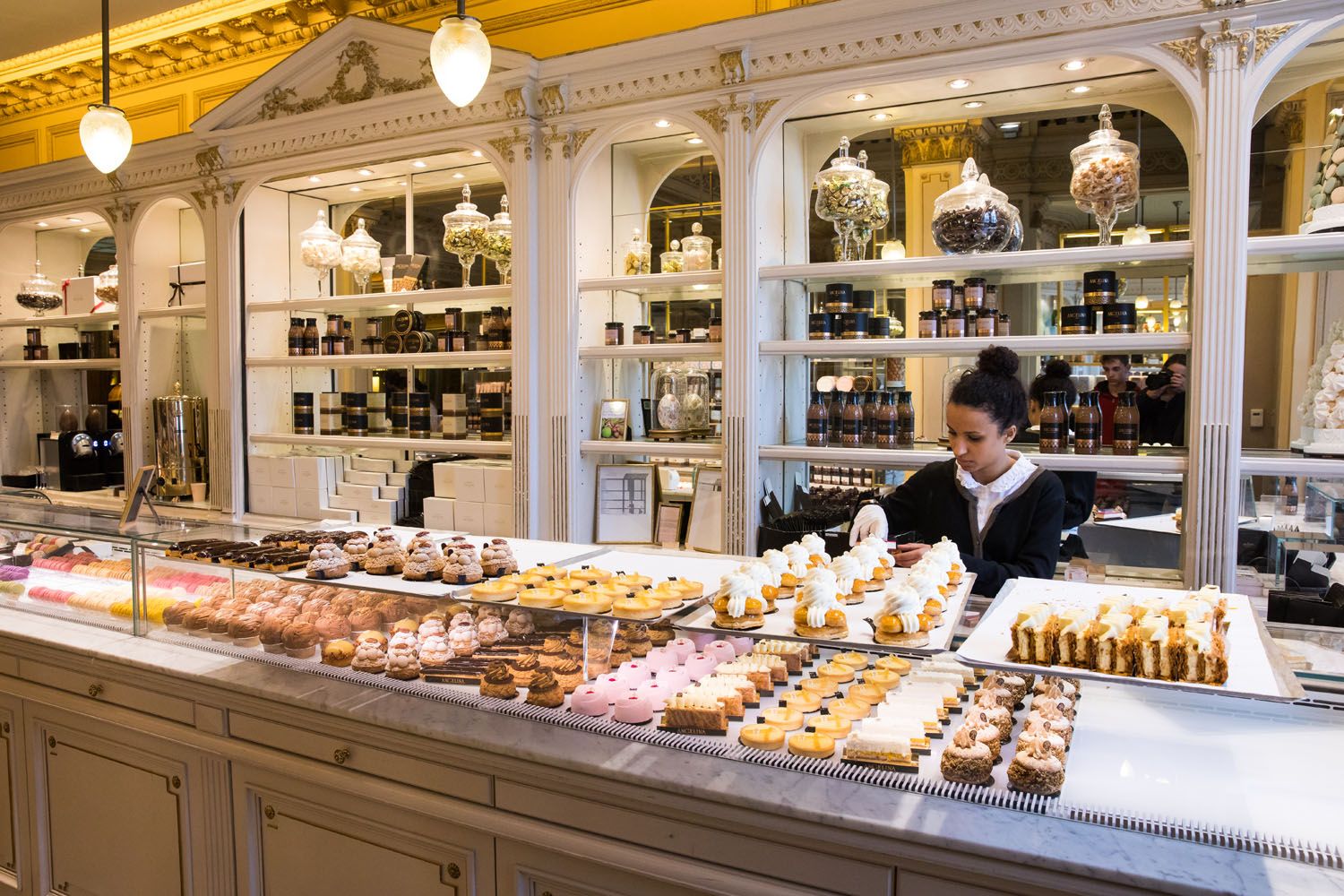 Angelina Paris | Foods to Eat in Paris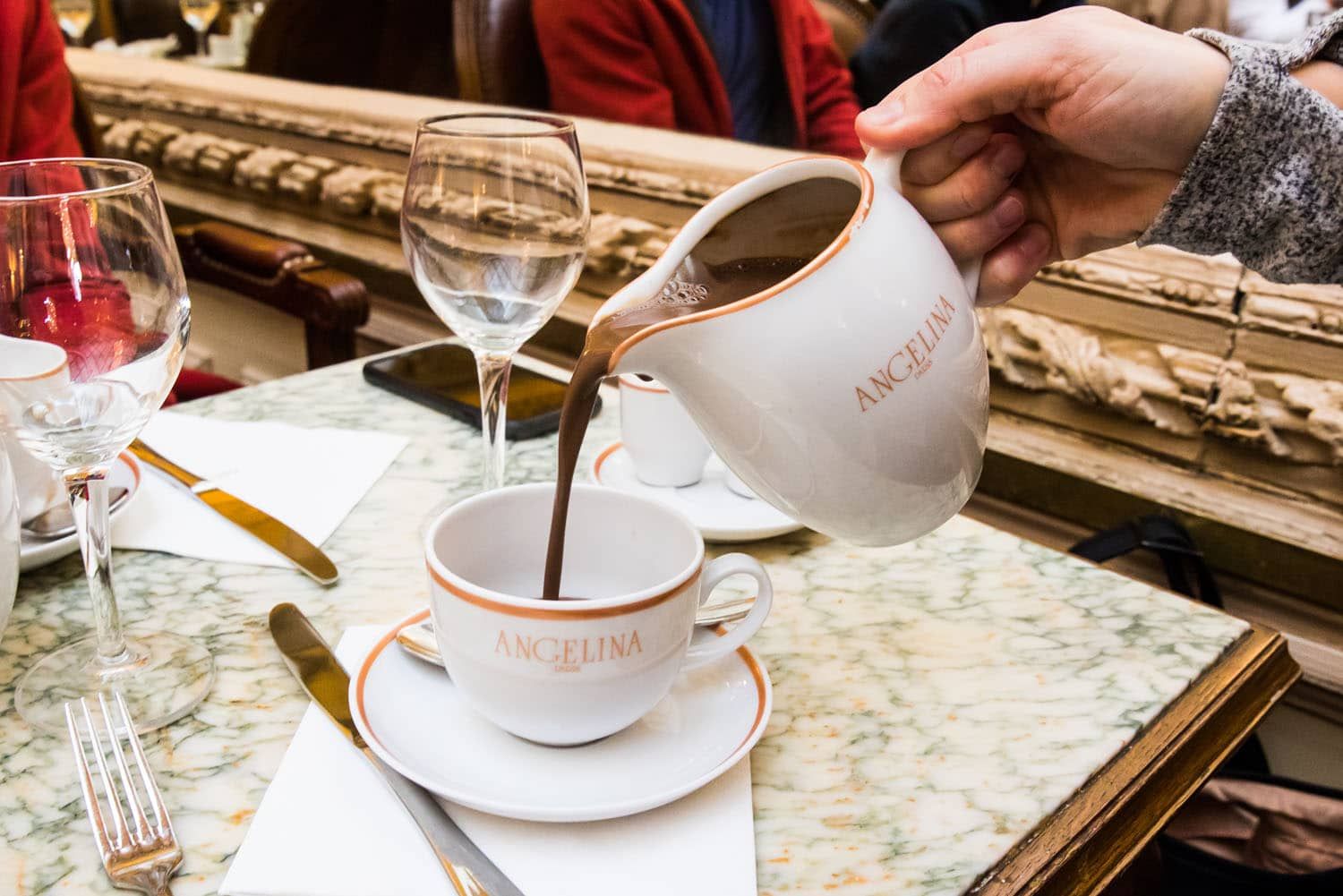 Hot Chocolate at Angelina | Foods to Eat in Paris
2. Ladurée
This is another spot to satisfy your sweet tooth. Take your pick from the long list of macarons and other treats on the menu. Enjoy them right away or slowly sample them as you stroll through the streets of Paris.
3. Le Maison Rose
This small restaurant, which serves French cuisine, is one of the most photographed places in Montmartre. Even if you don't plan to dine here, go for a stroll up Rue de l'Abreuvoir, past Le Maison Rose, and then continue on Rue de Saules, to Le Consulat, another famous cafe in Montmartre.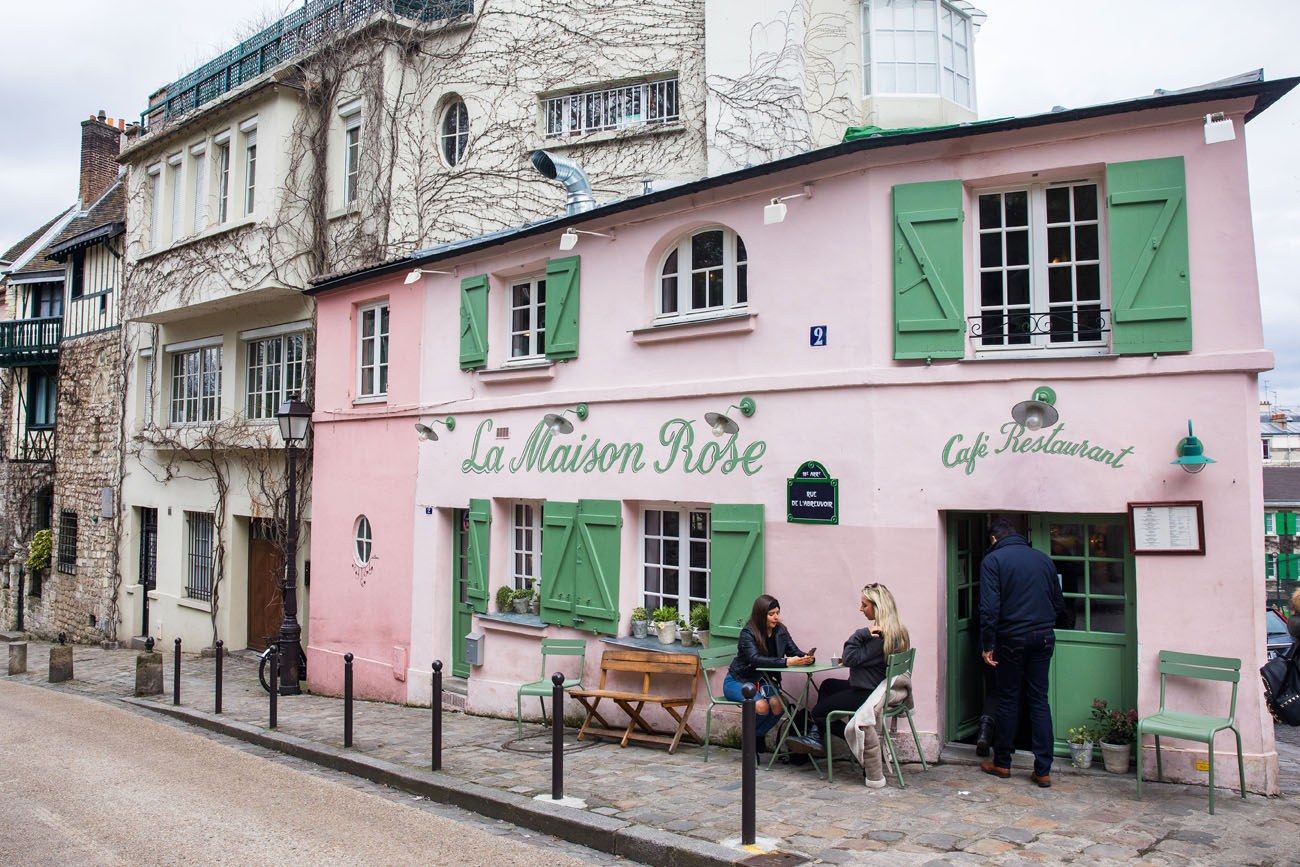 La Maison Rose
4. Le Petit Canard
Le Petit Canard, located in Pigalle, gets outstanding reviews and is one of the top restaurants in Paris that serves duck.
5. Les Deux Magots
Les Deux Magots is one of Paris' most famous cafes. Ernest Hemingway, Pablo Picasso, Julia Child, James Joyce, Jean-Paul Sartre, and Simone de Beauvoir all dined here.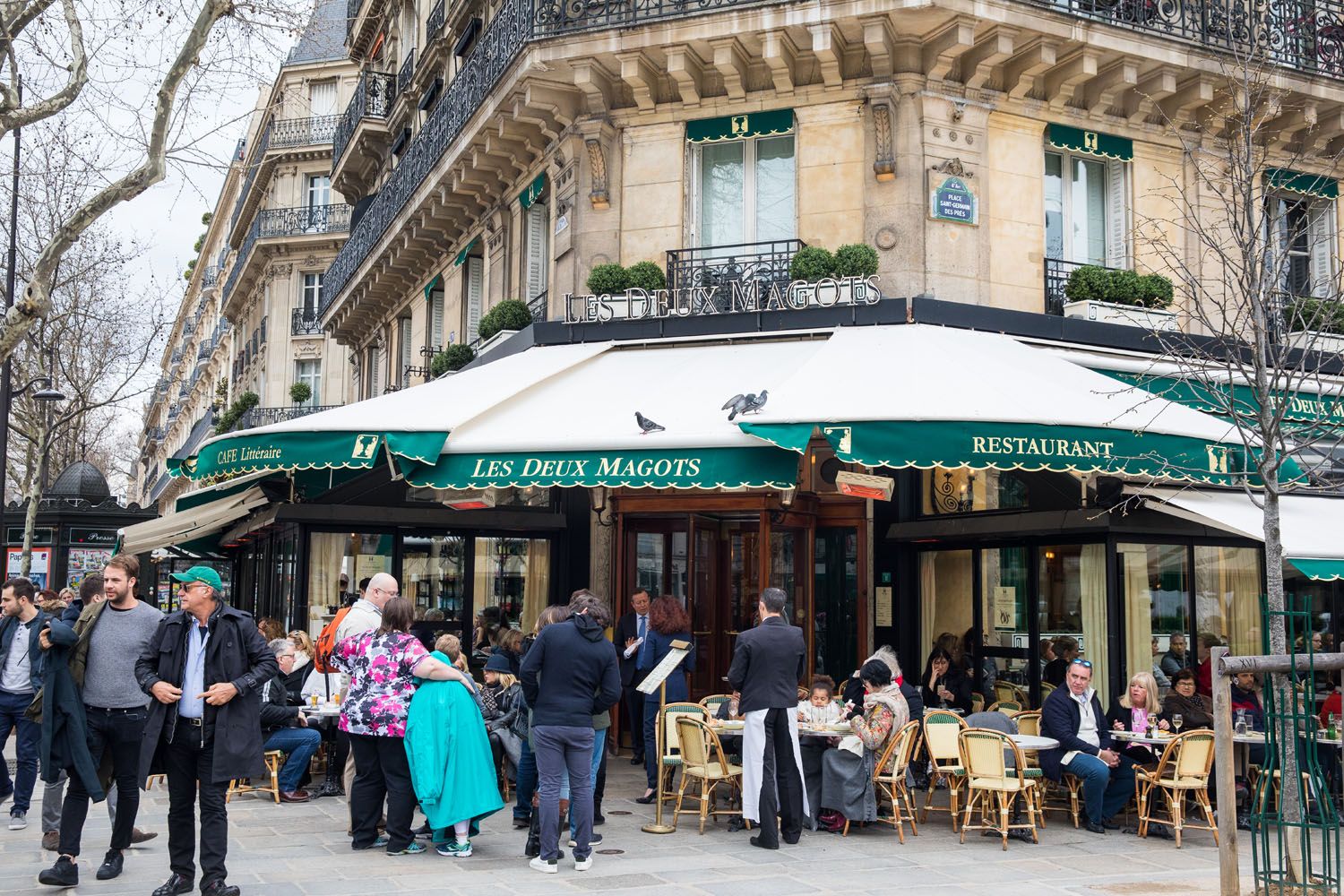 Les Deux Magots
6. Restaurant le Meurice Alain Ducasse
For a fine dining experience, put Restaurant le Meurice Alain Ducasse on your list.
Alain Ducasse is a French-born chef with world-class restaurants located around the world. He is a culinary genius, with more Michelin stars than any other chef (as of 2022). He also became the first chef to have three 3-star restaurants in three different cities.
7. Benoit
Benoit is another Michelin starred restaurant operated by Alain Ducasse. The experience and the food are not quite as extravagant as at the Alain Ducasse restaurant in Le Meurice, so if you want a fine dining experience without an enormous price tag, Benoit is a restaurant to consider.
8. Le Chat Noir
This was one of our best unexpected experiences in Paris. We wandered into Le Chat Noir after watching a show at Le Moulin Rouge. Not only was the food great (frogs legs, fries, and beer) but the live entertainment created a fun atmosphere.
9. Berthillon
Berthillon is a small but elegant tea room that serves the best ice cream that we (Julie and crew) have had in Paris. It is located on Ile Saint-Louis, next to Ile de la Cite, not far from Notre Dame Cathedral.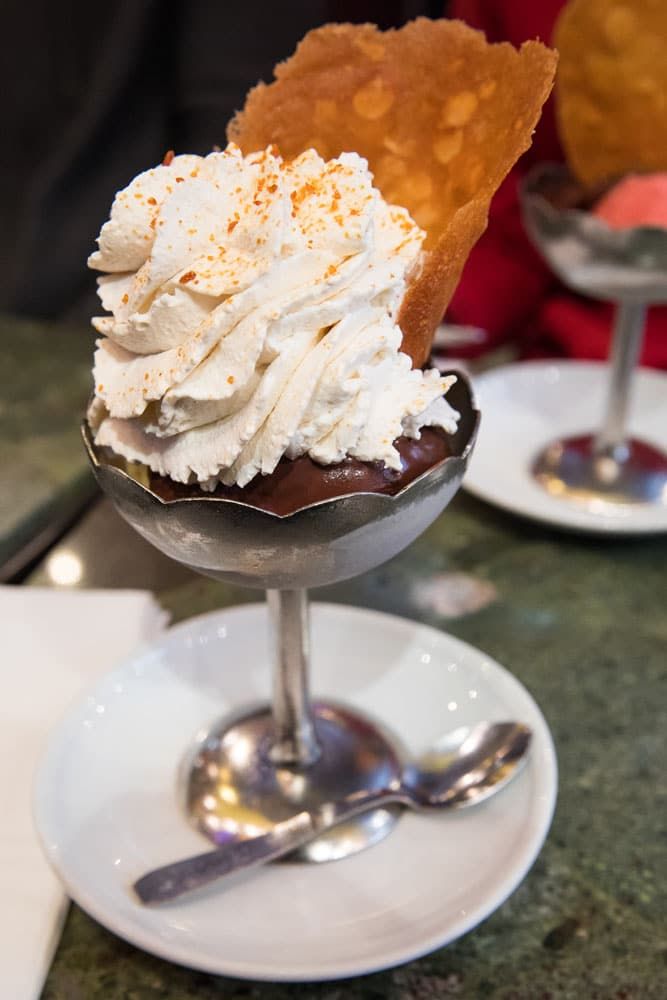 Ice cream at Berthillon | Foods to Eat in Paris
10. The Buddha Bar
If you are looking for a very cool dinner/drink spot, go to the Buddha Bar. The lower level is a restaurant and along the second level are lounge areas with views over the restaurant. It feels like you have left Paris and entered Asia. The Buddha Bar is located one block from Place de la Concorde.
Buddha Bar
Food Tours in Paris
In addition to sidewalk cafes, picnic lunches, and world-class dining in a Michelin-starred restaurant, there are also a number of food tours in Paris. On these tours, learn about French cuisine, sample street foods, go wine tasting, or even take a cooking class.
---
If you have any questions about foods to eat in Paris or restaurant recommendations, or if you want to share your experience, let us know in the comment section below.
More Information about France
BEST OF PARIS: Paris Bucket List: 45 Great Things to Do in Paris
PARIS WITH KIDS: Ten Fun Things to do in Paris with Kids
BEST VIEWS OF PARIS: Best Views of Paris: 15 Brilliant Spots to Try
EASTER IN PARIS: Easter in Paris: How to Have the Best Experience
WHERE TO STAY IN PARIS: Where to Stay in Paris: Best Hotels and Neighborhoods for Your Budget
ALSACE WINE REGION: 10 Fairytale Towns to Visit on the Alsace Wine Route
LONDON AMSTERDAM & PARIS: 10 Day London Amsterdam Paris Itinerary
FRENCH RIVIERA & PROVENCE: 10 Day French Riviera and Provence Itinerary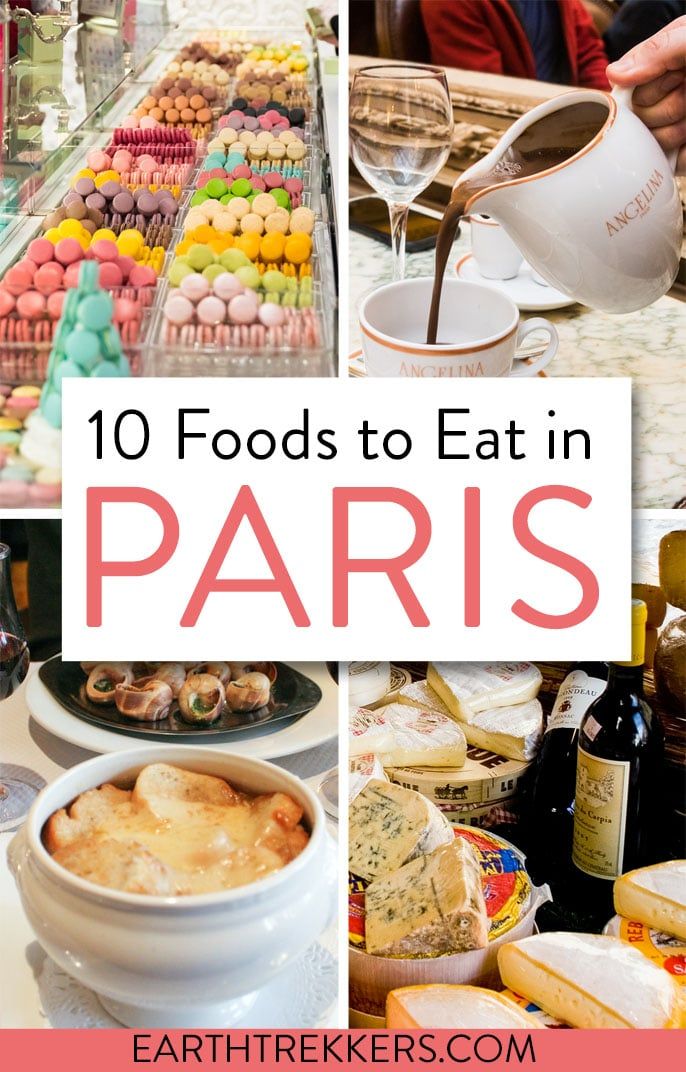 Header photo credit: shutterstock.com/Song_about_summer
Note: This post contains affiliate links. When you make a purchase using one of these affiliate links, we get paid a small commission at no extra cost to you.
All rights reserved © Earth Trekkers. Republishing this article and/or any of its contents (text, photography, etc.), in whole or in part, is strictly prohibited.