Easter in Paris…sounds nice, doesn't it? Spring flowers, warm temperatures, enjoying the view from the Eiffel Tower. Sure, that sounds nice, but it's not always the reality. You could get cold weather, rain showers, and long queues to get into the most popular tourist destinations.
I would love to tell you that Easter in Paris is a glorious experience, but that's not necessarily the case. There are some things you should know before planning that Easter weekend in Paris.
About Our Experience
We spent three days in Paris in 2018. This year, Easter was on April 1. We arrived on Good Friday and spent Friday, Saturday, and Sunday in the city. On Monday, we left Paris, taking a morning train to Luxembourg.
This was our third visit to Paris in the past ten years. Our prior visits were in mid-April (not during Easter) and mid-October.
During our three-day visit over Easter weekend, we experienced chilly, wet weather and the largest crowds we have seen yet in Paris. I wouldn't call it "nightmare" level crowds, but the lines to get into the Eiffel Tower and Notre Dame were hours long. Yes, hours is plural.
Easter in Paris: What to Expect
Paris Could Be Cold and Wet
Or it can be warm and sunny. It's spring…anything is possible.
On average, daytime high temperatures range from 8°C to 18°C (45 to 65°F) from the end of March into April. Rain showers are very common during this time.
In 2018, Paris (and Europe) experienced a colder than normal winter. These cool temperatures persisted into early spring.
During our visit, the high temperatures only reached 10°C (50°F). It was overcast for most of our visit, with a few scattered rain showers during the day. The weather wasn't terrible, but it was cold in the mornings and evenings and we got rained on a few times.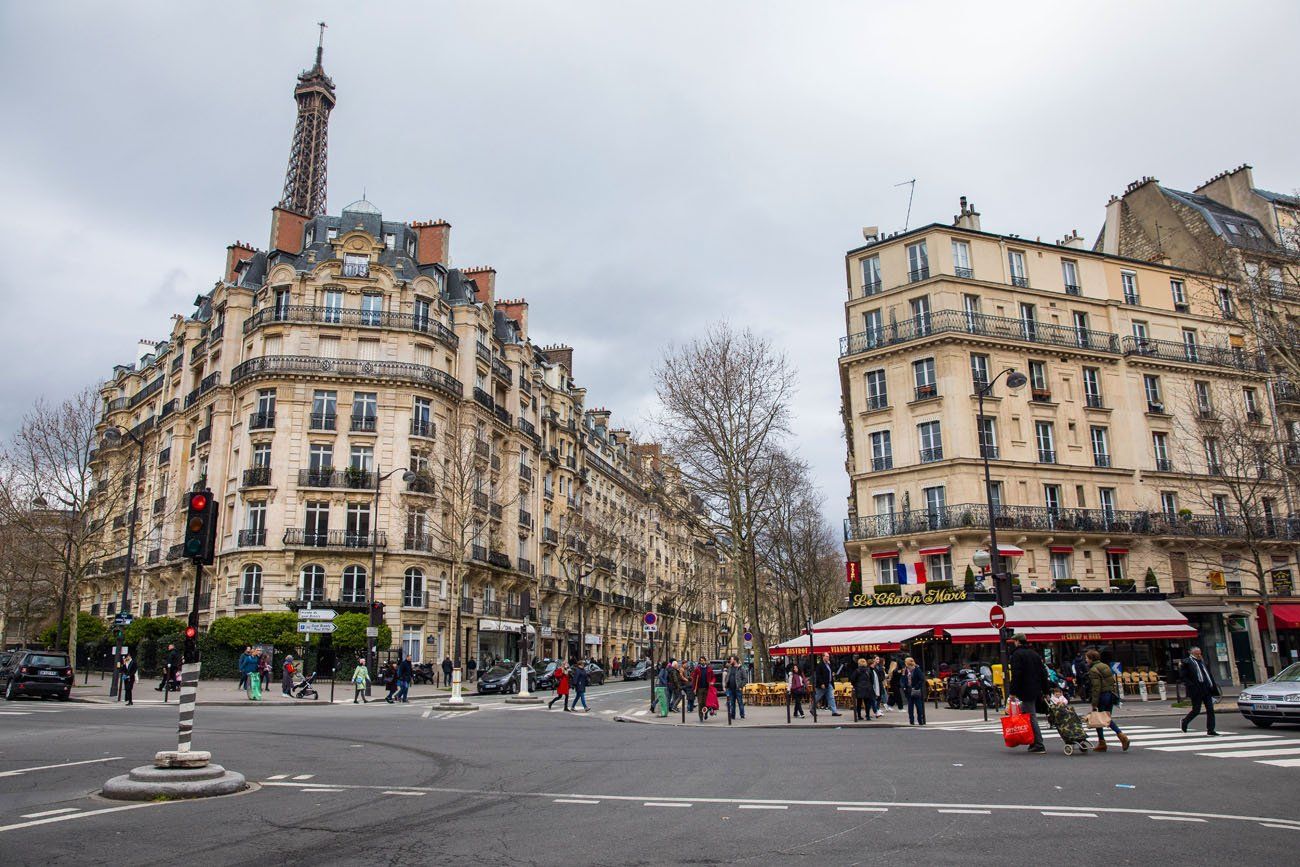 Since winter still had not released Paris from its grip, very few flowers and trees were blooming. This created a rather dreary atmosphere for a springtime visit to Paris.
However, those cold temperatures made it even nicer to pop into a café and get a warm drink. Few people were sitting outside at the street cafes during our visit, which is unfortunate, because it is one of the best things to do while in Paris. Some places have heaters, which we took advantage of.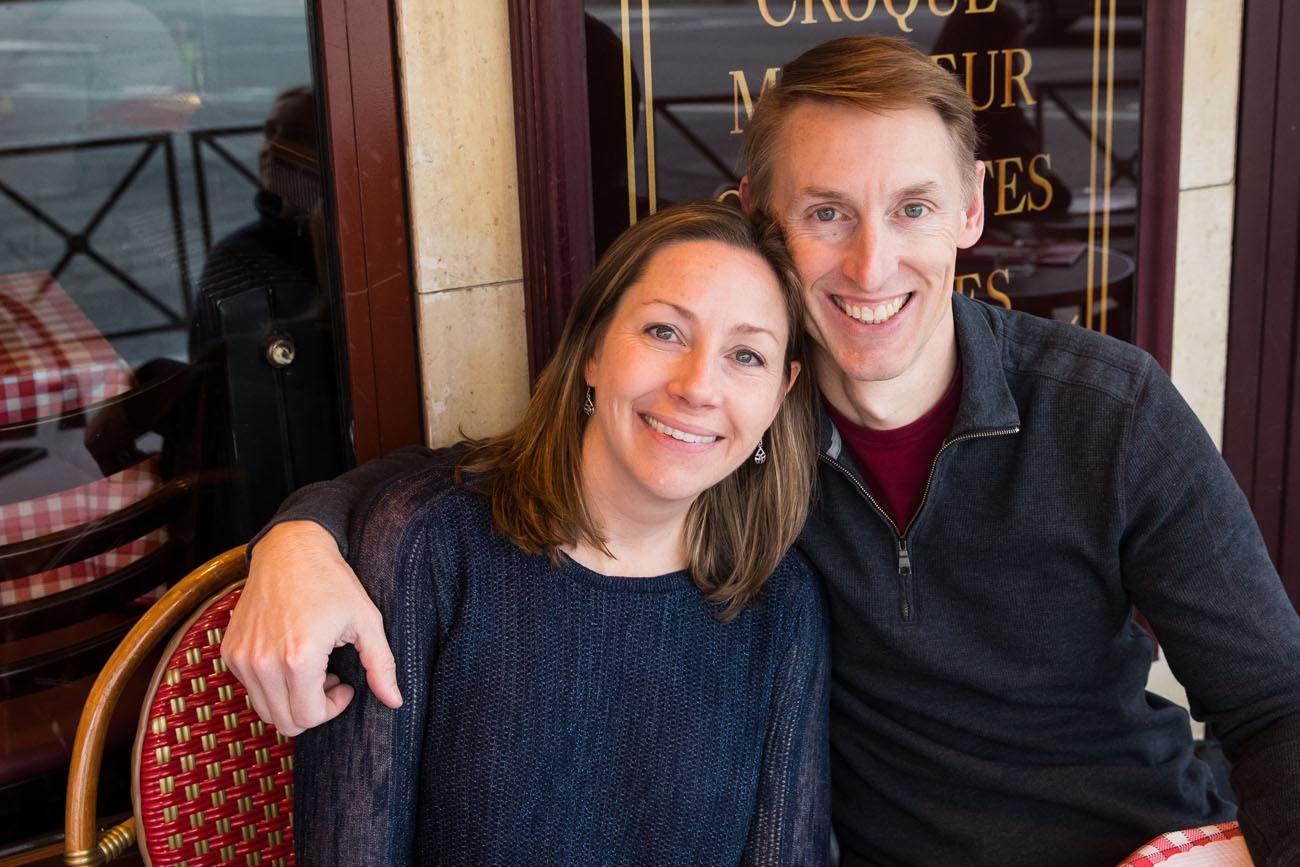 During our visit, the weather was colder and wetter than normal. This isn't always the case. A chilly day or a rainy day is to be expected, but not a whole string of them like we had.
Hopefully, you will get to see Paris with sunshine and warm temperatures.
Expect to Wait in Line
I was surprised at the length of the lines to get into the big tourist attractions. They were ridiculously long. We are talking several hours wait to get into places like the Eiffel Tower, Arc de Triomphe, the Catacombs, and Notre Dame.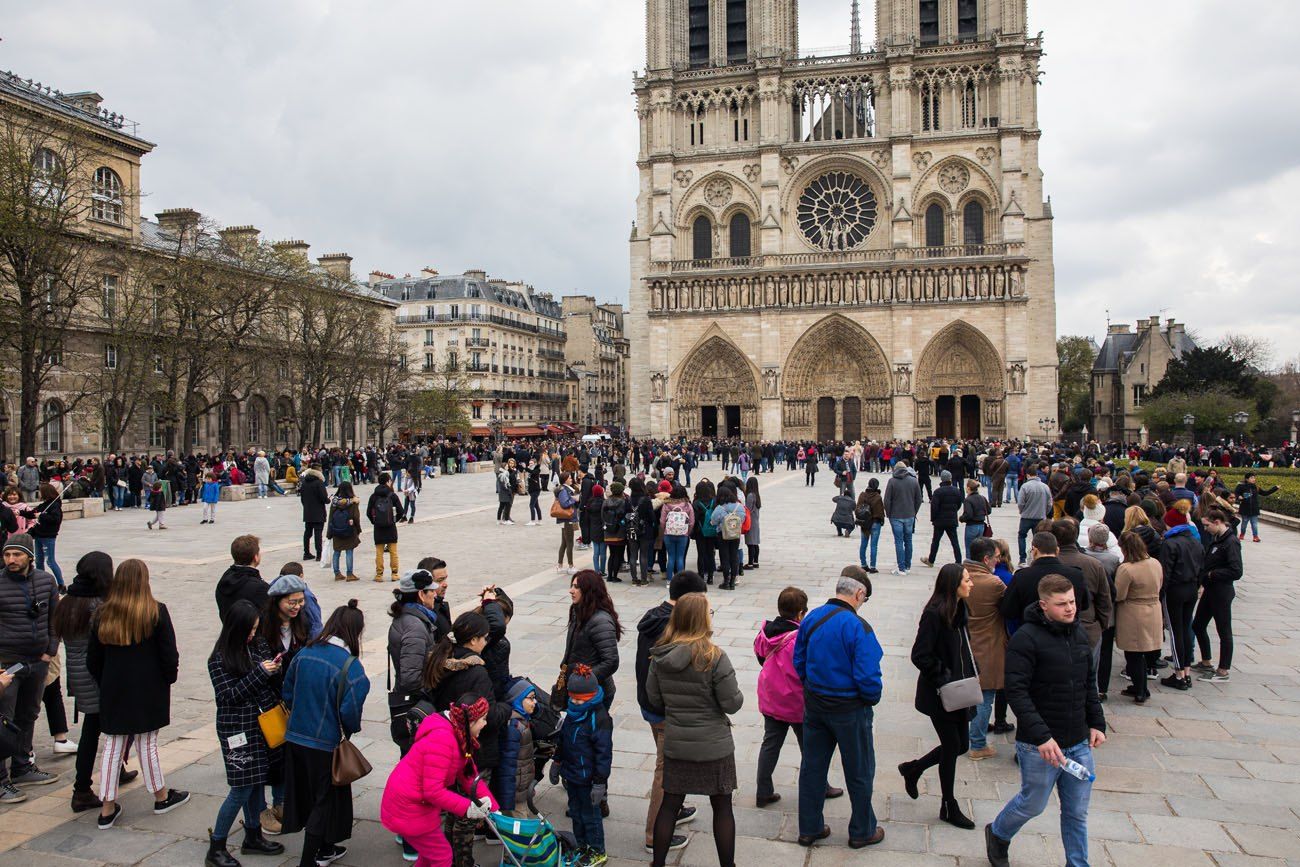 This is the line to get into Notre Dame on Easter morning (and this is just a small part of it!).
We have never seen lines this long in Paris. And to be honest, we have never seen so many long lines in one city at one time.
We tried to visit the Catacombs, arriving 45 minutes before opening time. The line was already so long that we were nowhere near the entrance to the Catacombs. And once it opened, the line painfully inched forward. We gave up, not wanting to waste our precious time in line.
What Will Be Open?
Easter is a holiday but this does not affect the hours of operation for the tourist attractions in Paris. If it's open on a Sunday, then generally, it's also open on Easter. All of the main tourist attractions (Eiffel Tower, Louvre, Musee d'Orsay, Arc de Triomphe, Catacombs, etc) are open on Easter.
Very few restaurants were closed and public transportation operates like normal.
Verdict: Is It Worth Visiting Paris at Easter?
Maybe.
If this is your first visit, I would not recommend visiting Paris at Easter. During your first visit, you want to take in the view from the Eiffel Tower, climb the Arc de Triomphe, see the Louvre, and climb the tower of Notre Dame. If you visit during Easter weekend, you will be waiting in queue after queue and you will have a horrible first impression of Paris. If you can visit one or two weeks before or after Easter, when lines are more manageable, I think you will have a much better experience.
If this is not your first visit to Paris, then a visit at Easter can be a very nice experience. For the attractions you want to visit, book your tickets in advance so you can skip the ticket lines. Then spend your remaining time wandering the less crowded neighborhoods and trying new restaurants.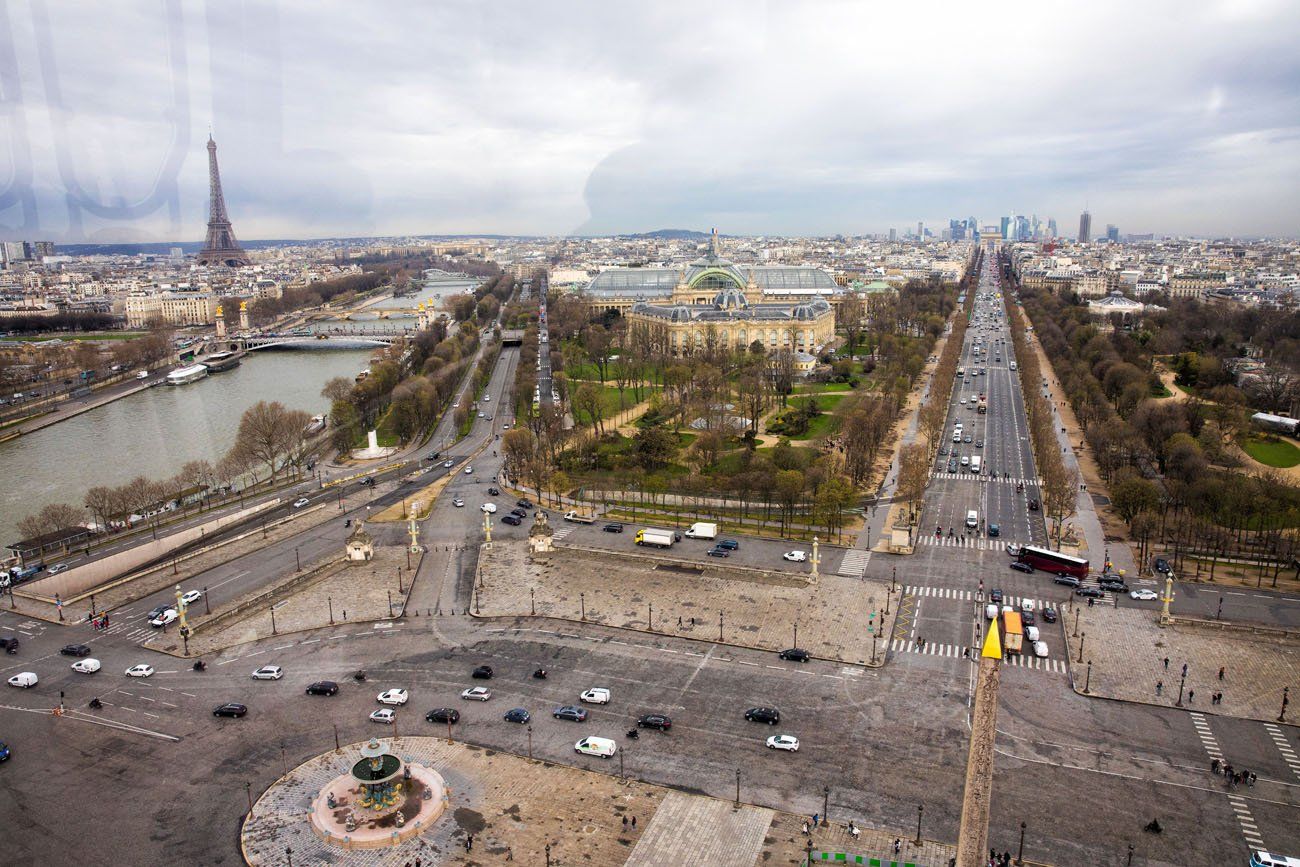 The view from the Ferris Wheel on Place de la Concorde
Tips to Have the Best Experience in Paris at Easter
If you are set on visiting Paris at Easter, there are some things you can do to make sure you have the best experience.
Buy the Museum Pass/Pre-Book Your Tickets in Advance
The Museum Pass is a card that covers the main sites in Paris (the Louvre, Saint Chapelle, Versailles, the Tower of Notre Dame, the Arc de Triomphe, and more) and allows you to skip the ticket line. You will still have to wait in the Museum Pass line, and in some places, this still can be quite long (it was at the Catacombs) but it will cut down on your waiting time.
For places that are not covered by the Museum Pass, such as the Eiffel Tower, you should book your tickets in advance. Again, you still will have to wait in line for the elevator but you will get to bypass the ridiculously long ticket line.
Get There Early
Getting to an attraction before opening time will also cut down on how long you have to wait in line. This helps a lot, even if you have the Museum Pass.
Don't Spend All of Your Time at the Touristy Spots
If you just wander five minutes away from the main touristy areas, crowds magically disappear. We spent a lot of time wandering and exploring different neighborhoods. There are a lot of great spots to visit in Paris other than the Eiffel Tower and the Louvre, so don't be afraid to take an afternoon and explore one of the "less popular" neighborhoods.
The areas that were the most crowded during our visit were Notre Dame and Ile de la Cite, the Champs-Elysees and the Arc de Triomphe, Place du Tertre in Montmartre, and Champ de Mars and the Eiffel Tower. Le Marais wasn't too bad, nor was Saint-Germain-des-Pres. Ile de la Cite was crazy but nearby Ile Saint-Louis was quiet and uncrowded. Even consider a visit out to La Defense, a place that almost felt like a ghost town compared to the rest of Paris.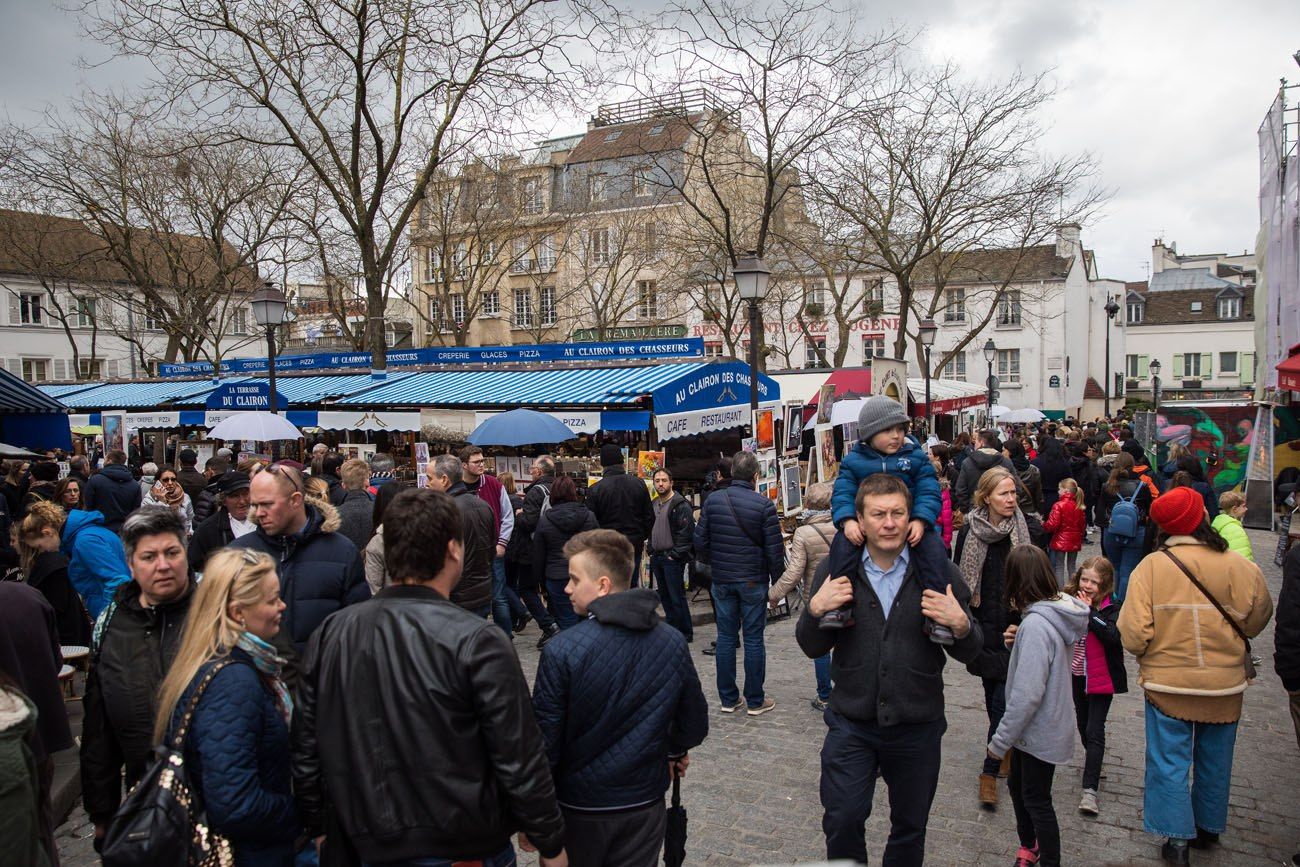 This is Place du Tertre in Montmartre on Saturday afternoon.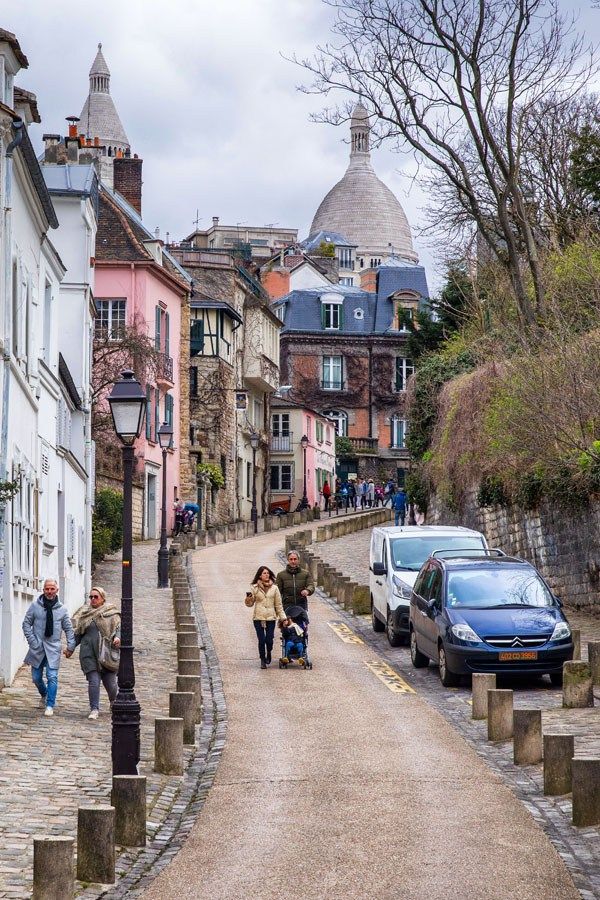 Just a five minute walk from Place du Tertre are quieter (and prettier) streets in Montmartre.
Best Time to go to Paris
Paris is a very popular destination, for very good reasons. It can be crowded almost all year, with the largest crowds between May and September and during the holidays of Easter and Christmas.
The best times to visit Paris are late April into May and the month of October. Temperatures are pleasant and crowds are not at their peak.
The weather in Paris from June through August is warm and sunny but this is also a time when many people take their vacations, so the city can get quite crowded.
Where We Stayed
On this most recent visit to Paris we stayed at Hotel Le Relais Saint Honore. Our favorite thing about this small, boutique hotel is its excellent location. The Louvre, Tuileries Garden, Place de la Concorde, and Palais-Garnier are all within a 10-minute walk. The Tuileries and Pyramides metro stations are less than 5 minutes away. The rooms are small but tastefully decorated and the staff is friendly and speaks English.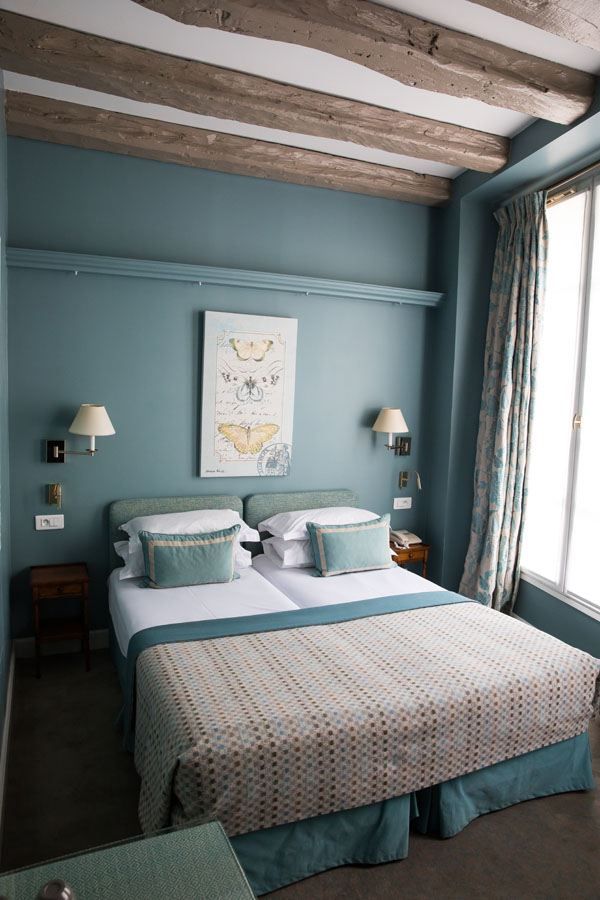 For more recommendations on where to stay, read our Best Hotels and Neighborhoods Guide for Paris. Learn where to stay for a great view of the Eiffel Tower and get recommendations whether you are looking for a budget hotel, luxury hotel, or if you are traveling as a family.
---
Have you visited Paris during Easter? Comment below if you have any questions or advice for other readers.
More Information for Your Trip to France
PARIS: For the top experiences in the city, read our article Best Things to Do in Paris. Learn how to visit Pere LeChaise Cemetery, plan your time with our 3 Day Paris Itinerary, learn where to get the best views of Paris, and read our Paris Food Guide for information on what to eat in Paris.
LONDON & PARIS: Learn how to plan a trip to Paris and London with our 10 Day London Paris Itinerary. You can also add in Amsterdam, visiting London, Amsterdam, and Paris in 10 days.
BELGIUM: Don't miss our guide on how to take a self-guided chocolate tour of Brussels that also includes the top sights in town. We also have a article about how to day trip to Bruges and Ghent.
NETHERLANDS: Learn how to spend 2 perfect days in Amsterdam and the best things to do in Amsterdam. We also have a guide on Where to Stay in Amsterdam and how to visit Utrecht and The Hague.
TRAVEL INSPIRATION: Here are 15 fairytale destinations to visit around the world. And if you are considering a trip to Europe, check out our article 30 Beautiful Places to Visit in Europe.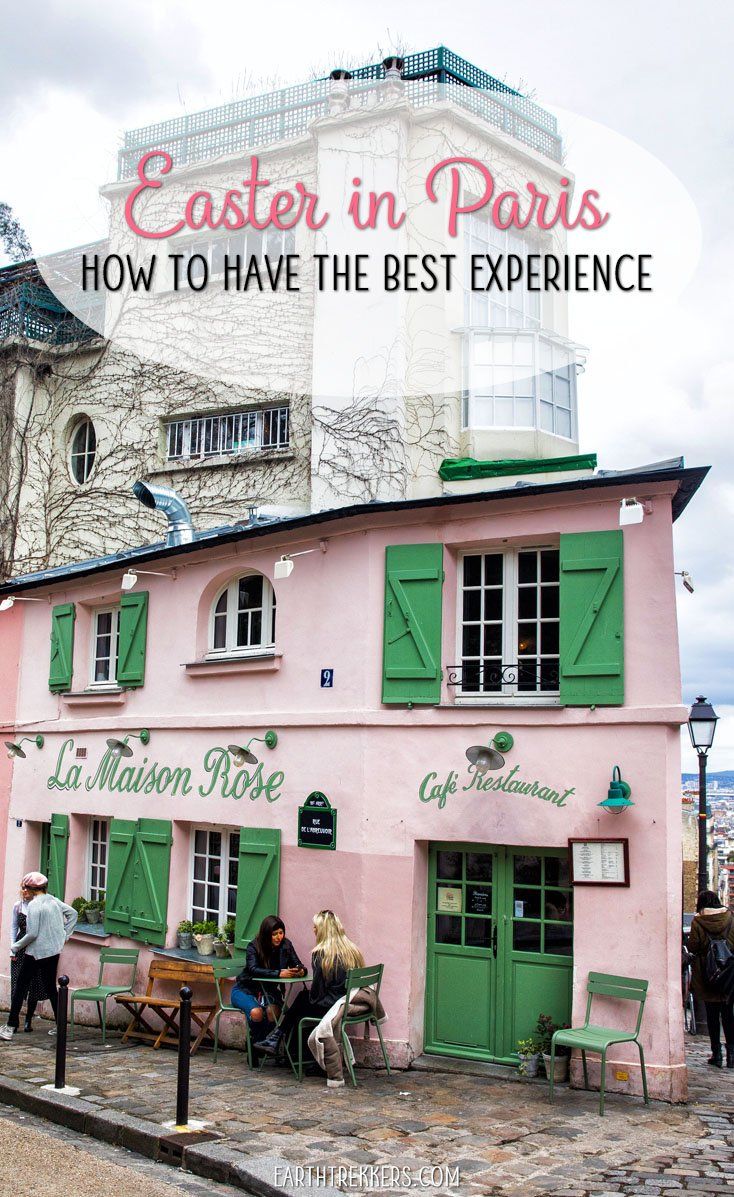 Note: This post contains affiliate links. When you make a purchase using one of these affiliate links, we get paid a small commission at no extra cost to you.
All rights reserved © Earth Trekkers. Republishing this article and/or any of its contents (text, photography, links, etc.), in whole or in part, is strictly prohibited.