So, you're planning a trip to Paris? Welcome to one of our favorite cities. With 3 days in Paris, you have enough time to take in the view from the Eiffel Tower, say hi to Mona Lisa in the Louvre, eat street food crepes, climb the Arc de Triomphe, explore several Parisian neighborhoods, and visit the amazing Palace of Versailles. We put together this 3-day Paris itinerary to help you have the best experience.
About this Paris Itinerary
Paris is one of Europe's most popular destinations and with that, lines can be long to visit the more popular sites. The last thing you want to do on vacation is to wait in line after line after line. What fun would that be?
I put a lot of research into how to skip the lines at these attractions. You will have to book some tickets in advance but it will save you hours once you are in Paris. All of the links to book your tickets are included in this post.
To avoid museum fatigue, I didn't put too many museums in one day. Yes, the art museums in Paris are amazing, but most people can't handle more than two museums per day. I know I can't!
Finally, all of the times in the daily schedule are rough estimates, just to give you an idea about timing throughout the day. Your times may differ, based on queues and how much time you decide to spend at each place. I did my best to anticipate waiting times and visiting times, but on very busy days (or very quiet days) these times can differ.
Paris Itinerary Day 1
Pinch Me, I'm in Paris!!
Bonjour! Today you get to visit some of Paris' biggest and most iconic sites: the Eiffel Tower, the Louvre, and the Arc de Triomphe. Get ready to take lots of photos and make some wonderful memories.
How to Use This Map: Click the tab in the top left hand corner of the map to view the layers. Clicking the icons on the map will give you more information about each point of interest.

If you click the star next to the title of the map, this map will be added to your Google Maps account. To view it on your phone or computer, open Google Maps, click the menu button, go to "Your Places," click Maps, and you will see this map on your list.
9 am: Eiffel Tower
Yes, the Eiffel Tower is super touristy but a visit to Paris would not be complete without a view from the tower, especially if this is your first time in Paris.
The line to visit the Eiffel Tower can be epic (I'm talking 2 to 3 hours wait on the busiest days). You can avoid this nightmare by arriving at or before opening time, booking your tickets in advance, or taking a skip-the-line tour.
There are two ways up the Eiffel Tower. You can take an elevator or you can walk up the stairs. The queues for the elevators are very long and the queue for the stairs is much shorter. The choice is yours. If you take the stairs, you get to eat more chocolate and crepes later!
If you plan to take the elevator, I highly recommend that you book your tickets in advance. Do this as soon as you know your dates of travel so you get the 9 am time slot (9:30 am between September and July). One of our readers recently wrote in that tickets were sold out over 6 weeks in advance (at the end of May they were attempting to purchase tickets for July and tickets were sold out for their dates of travel).
PRO TRAVEL TIP: Online tickets go on sale 60 days in advance for the elevator, 10 days in advance for the stairs.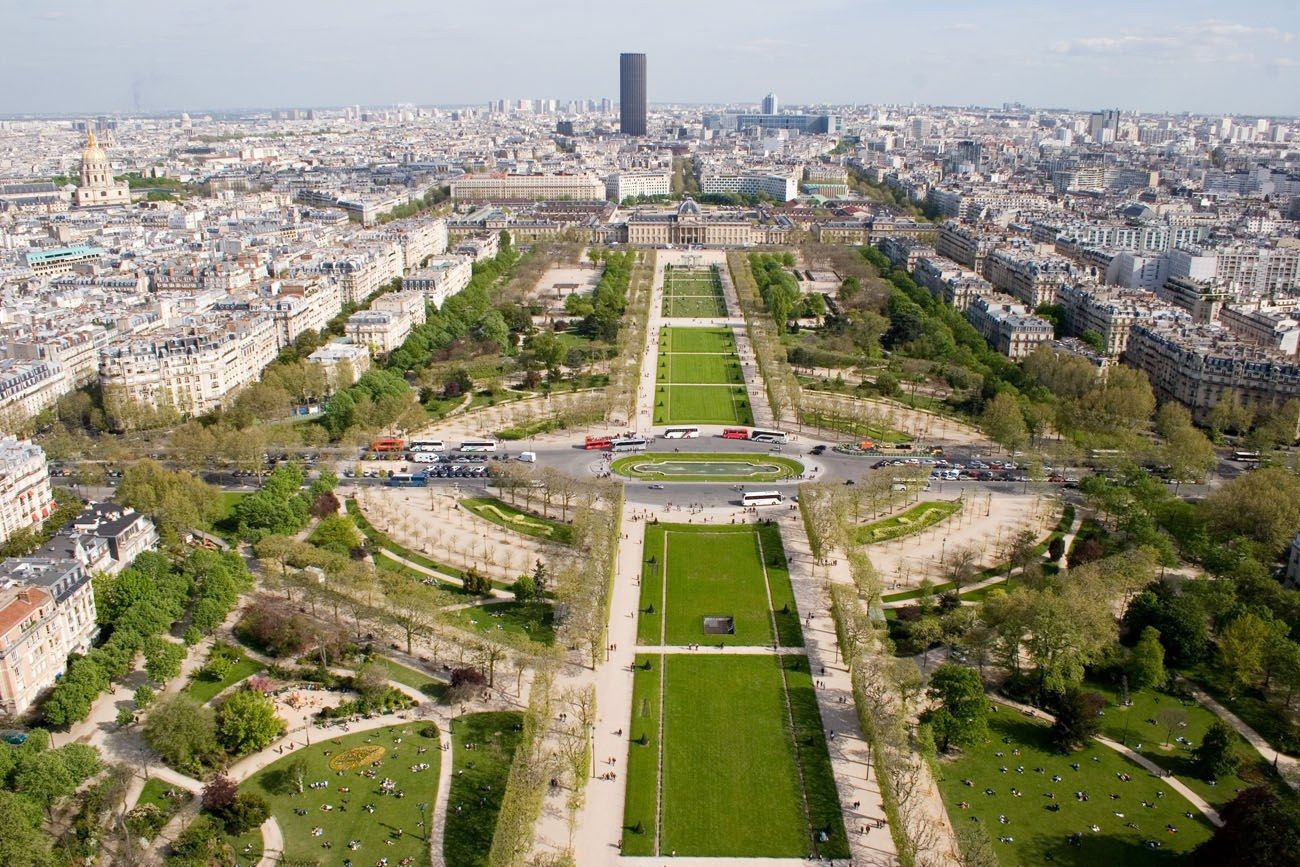 View from the Eiffel Tower | 3 Days in Paris Itinerary
Getting here by Metro:
Line 9, stop Trocadero; Line 6, Bir-Hakeim; Line 8, stop Ecole-Militaire. For the prettiest walk to the Eiffel Tower, get off at the Trocadero metro station and enjoy the view as you approach the tower (allow 15 minutes for this walk).
Hours:
For updated hours in 2022, visit the
official website.
Cost:
Elevator to 2nd floor €17.10; Elevator to the top €26.80; Stairs to 2nd level €10.70; Stairs to 2nd level and elevator to the top €20.40
Tickets:
Book your ticket in advance on the
official website
.
If tickets are sold out for your dates of travel, you can book a tour for skip the line access to the Eiffel Tower.
Here are several highly rated tours that allow you to skip the line at the Eiffel Tower.
11 am: Picnic in Champs de Mars
For the ultimate picnic experience, go shopping on a charming French street and enjoy your meal in Champs de Mars, the large park in front of the Eiffel Tower.
I have to give Rick Steves credit for this. On our first visit to Paris, Tim and I did this and it was one of many favorite memories from Paris. There's something about sitting in the park, eating cheese and chocolate, and enjoying the view of the Eiffel Tower. It was such a great experience that we did it again several years later with Tyler, Kara, and our mothers.
From the Eiffel Tower, it's another very pretty walk to Rue Cler. On this short shopping street, go shopping in the patisseries (pastry shops), boulangeries (bread shops), fromageries (cheese shops), and shops selling fruit and chocolate.
Take your food and find a nice spot on Champs de Mars and enjoy the view.
Champs de Mars | 3 Days in Paris Itinerary
1 pm: The Louvre
The Louvre is the world's largest art museum. This building was once the home to French Kings, including Louis XIV. During the French Revolution in the 18th century, the Louvre was converted to a museum.
This place is massive and you literally could spend days here. I find the Louvre to be crowded and overwhelming. My favorite part about visiting the Louvre is just taking in the grandeur of the building. The sheer size of this place is impressive. Several rooms, like the Apollo Gallery (where the crown jewels are kept), are gorgeous.
The Louvre | 3 Days in Paris Itinerary
If you are an art lover, take several hours and enjoy this spectacular place. However, if you just want to visit the highlights, you can do so in about an hour.
The main sites to visit in the Louvre are the Mona Lisa, Venus de Milo, and the Winged Victory.
How to Skip the Line at the Louvre:
There are several ways to avoid waiting in a long line to get into the Louvre.
Purchase the Museum Pass. This allows you to skip the ticket line but you may still have to wait in a much shorter security line. With the Museum Pass, you must book a time slot in order to guarantee access into the museum. You must provide the serial number of your Museum Pass, so you cannot do this until you are in possession of the Museum Pass. Learn more here.
Book your tickets online in advance. On the official Louvre website, you can purchase your tickets in advance. These cost €17 and the website advertises less than a 30 minute wait if you purchase your tickets in advance. You can also get a timed entry ticket here.
Take a Tour. There are numerous skip-the-line tours and guided tours that you can take. Click here to learn more.
Go first thing in the morning or on Wednesday and Friday evenings when the Louvre is open until 9:45 pm.
Getting here: From Champs de Mars, walk to the Ecole-Militaire metro station. Take Line 8, direction Creteil, transferring at Concorde to line 1, direction Chateau de Vincennes, to Palais Royal Musee du Louvre.
Hours: daily 9 am to 6 pm; closed Tuesdays; before COVID, there were late night openings some days of the week, get updated hours on the official website.
Cost: €15 adults at the museum; €17 purchased online; under 18 years are free; included in the Museum Pass
All visitors must reserve a time-slot, even if you have a free pass.
3:30 pm: Indulge at Angelina's
Hopefully you worked up a bit of an appetite because now it's time for a little indulgence. From the Louvre, walk through the Tuileries Garden and cross Rue de Rivoli to Angelina. Angelina serves decadent hot chocolate and delicious French pastries. Enjoy!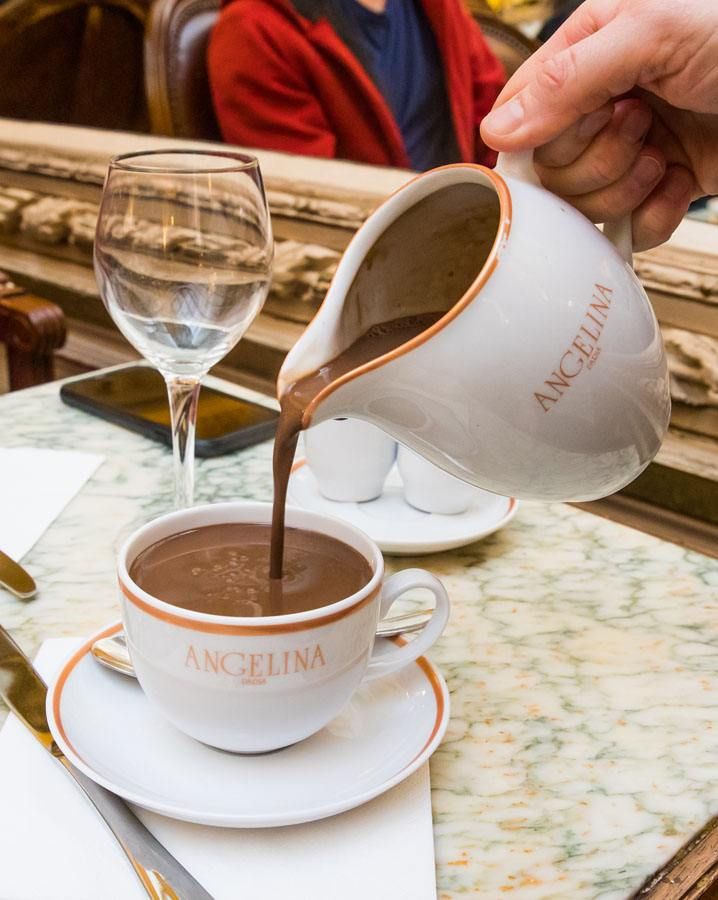 Hot Chocolate at Angelina's | 3 Days in Paris Itinerary
4:30 pm: Place de la Concorde
From Angelina, stroll through Tuileries Garden or along the Rue de Rivoli to Place de la Concorde. This famous square is full of French history. This was the spot during the French Revolution where King Louis XVI, Marie Antoinette and Robespierre were executed by guillotine.
From mid-November to early May a giant Ferris wheel sits in Place de la Concorde. If the line is short and you want a nice view of Paris, consider taking a ride.
5 pm: Champs-Élysées
The Champs-Élysées is one of the most recognizable streets in the world. It is famous as being the finish of the Tour de France and the location of the Bastille Day military parade. Restaurants, shops, the theaters line the Champs-Élysées. It has a touristy feel but it's still worth the stroll.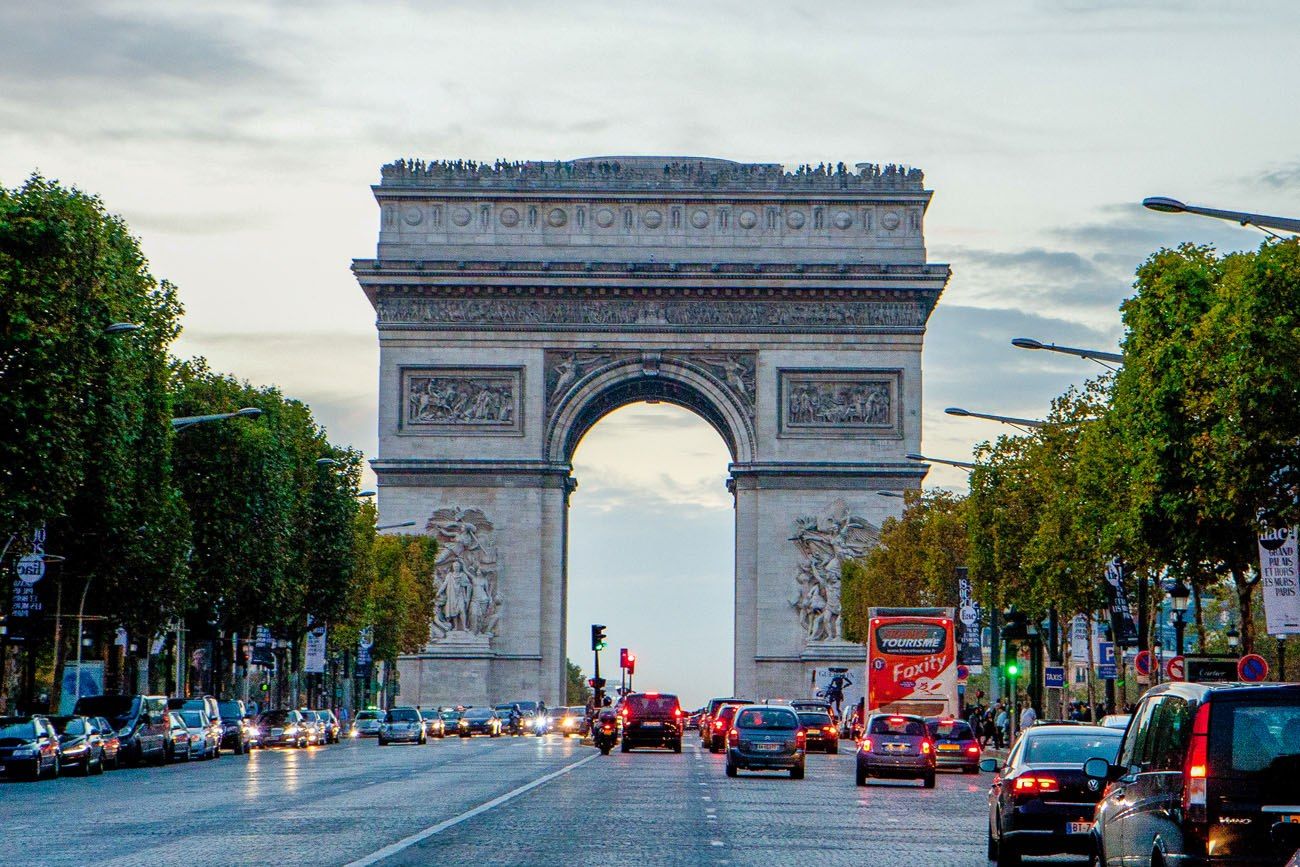 Champs-Élysées | 3 Days in Paris Itinerary
Along the way, if you want another French treat, consider stopping into Laduree for macarons.
From Place de la Concorde to the Arc de Triomphe, it is a 2.3 km (1.4 mile) walk. You can walk the entire length of the Champs-Élysées or shorten the walk by taking line 1 on the metro from Concorde to Franklin D. Roosevelt or George V.
6:30 pm: Arc de Triomphe
It's time to take in the view from the mighty Arc de Triomphe. This is my favorite view of Paris. There's just something about looking down the Champs-Élysées to the Louvre, out to La Defense, and of course, having the wonderful view of the Eiffel Tower.
While on top of the Arc, look straight down. You are standing at one of the world's largest round-abouts, where twelve avenues come together. Watching the cars navigate this circle is very entertaining.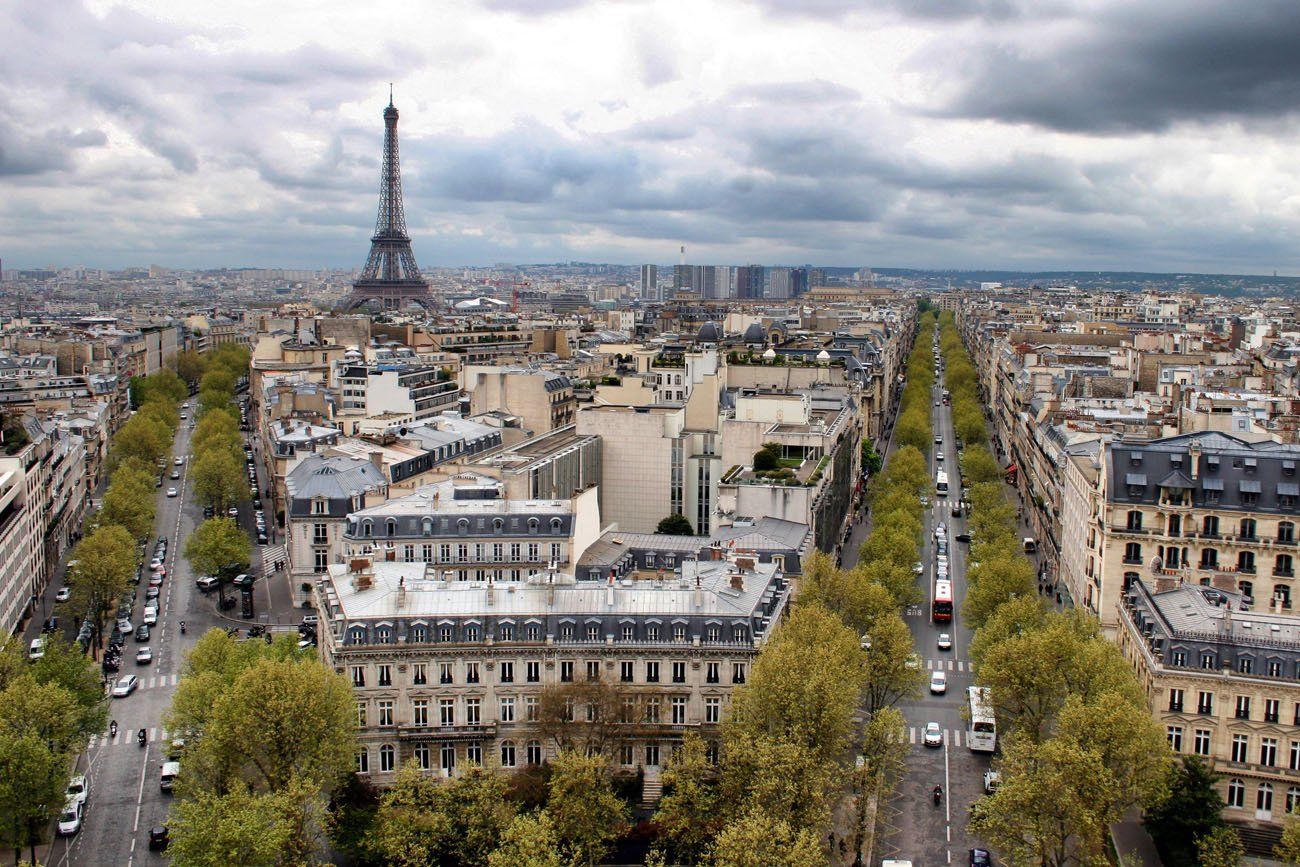 View from the Arc de Triomphe | 3 Days in Paris Itinerary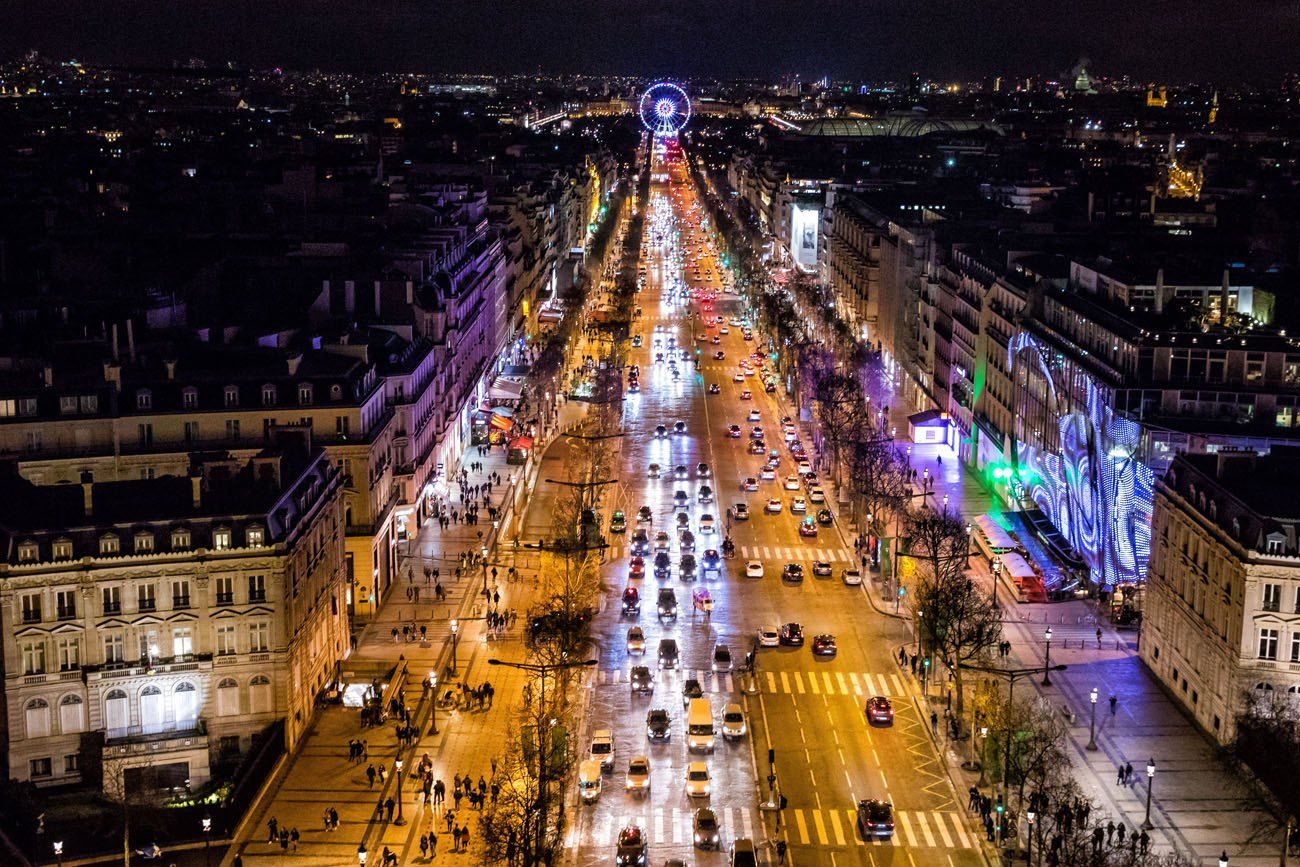 Champs-Élysées from the Arc de Triomphe | 3 Days in Paris Itinerary
Fun Fact: Did you know that the Arc de Triomphe was almost a statue of a giant elephant? 45 years before the Arc was built, French architect Ribart proposed to build a 3-level elephant at the same site. The French government shot down this proposal. Could you imagine a giant elephant in the center of Paris?
Hours: April 1 to September 30: 10 am to 11 pm; October 1 to March 31: 10 am to 10:30 pm; get updated hours here.
Cost: Adults €13; 17 and under are free; included on the Museum Pass. Click here to purchase a skip the line ticket.
Closest metro station: Charles de Gaulle Etoile lines 1, 2 and 6
Dinner and Drinks
End the day with dinner and drinks. If you are looking for a very cool dinner/drink spot, go to the Buddha Bar. We loved it here. The lower level is a restaurant and along the second level are lounge areas with views over the restaurant. It feels like you have left Paris and entered Asia.
There are two locations of the Buddha Bar. We visited both and by far the best location is 8-12 Rue Boissy d'Anglas. From the Arc de Triomphe, take the metro back to Concorde and then it is just a 5-minute walk to the Buddha Bar.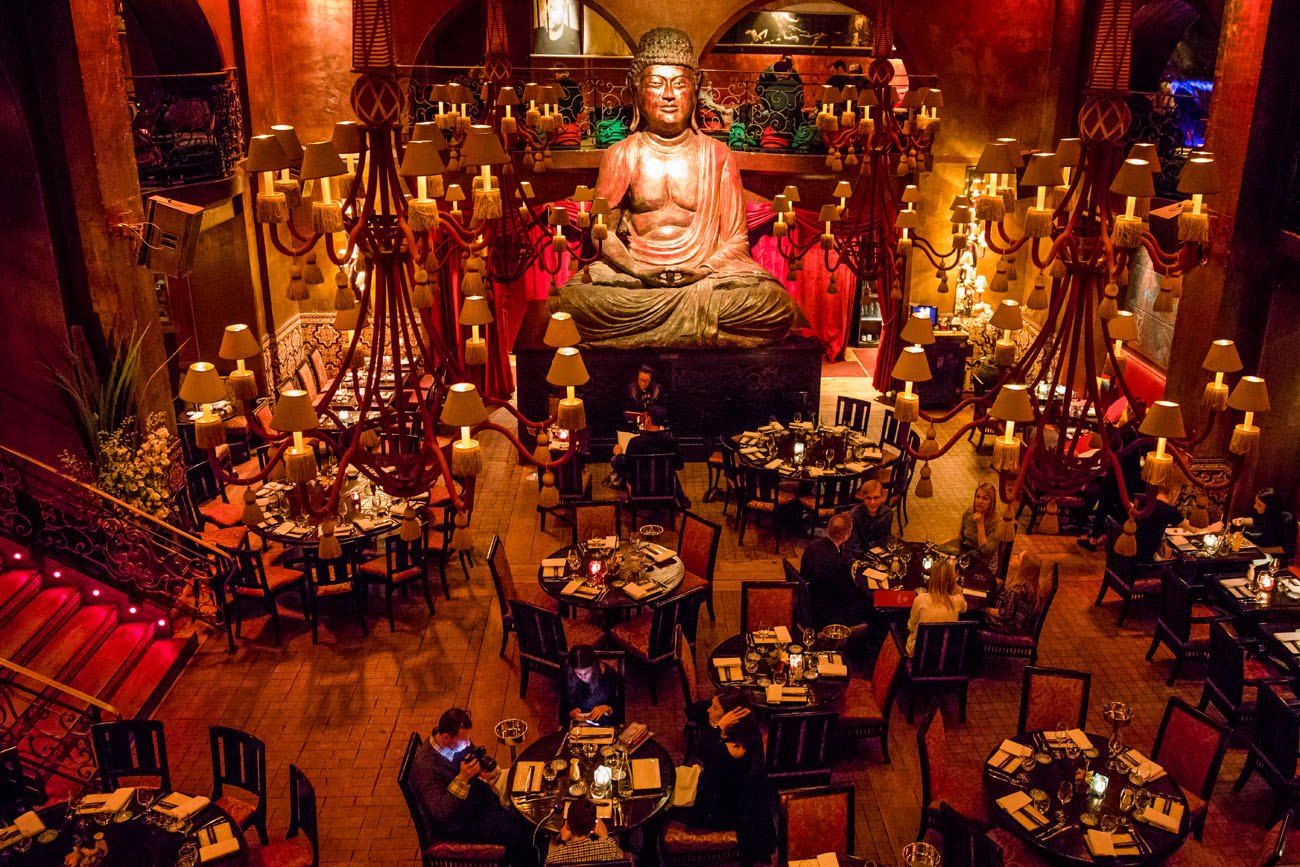 Buddha Bar | 3 Days in Paris Itinerary
---
Paris Itinerary Day 2
The Historic Center of Paris, Musee d'Orsay & Montmartre
8:00 am: Ile de la Cite
Our day starts with a visit to Sainte-Chapelle. You can take the metro to Cité, the closest station, but I recommend a more scenic route with just a little more walking.
Ile de la Cite is the small island in the center of Paris that is home to Sainte-Chapelle and Notre Dame. It is the historic heart of Paris. Approaching it from the Right Bank and crossing Pont Neuf onto Ile de la Cite (the oldest bridge in Paris) is a very scenic way to start the day.
I recommend taking the metro to Palais Royal Musee de Louvre or Louvre-Rivoli, walking towards the Seine, and then walking along the river to Pont Neuf. Pont Neuf is the stone bridge that crosses the Seine on the western edge of the island. From Pont Neuf, enjoy the view along the Seine, to the next bridge, Pont des Arts, and to the Eiffel Tower off in the distance.
This walk, of course, is optional. It takes 20 minutes and is 1.4 km (1 mile) long from Palais Royal Musee de Louvre to Sainte-Chapelle.
9 am: Sainte-Chapelle
Sainte-Chapelle is home to one of the world's best displays of stained glass. It is gorgeous inside, much prettier than the inside of Notre Dame Cathedral.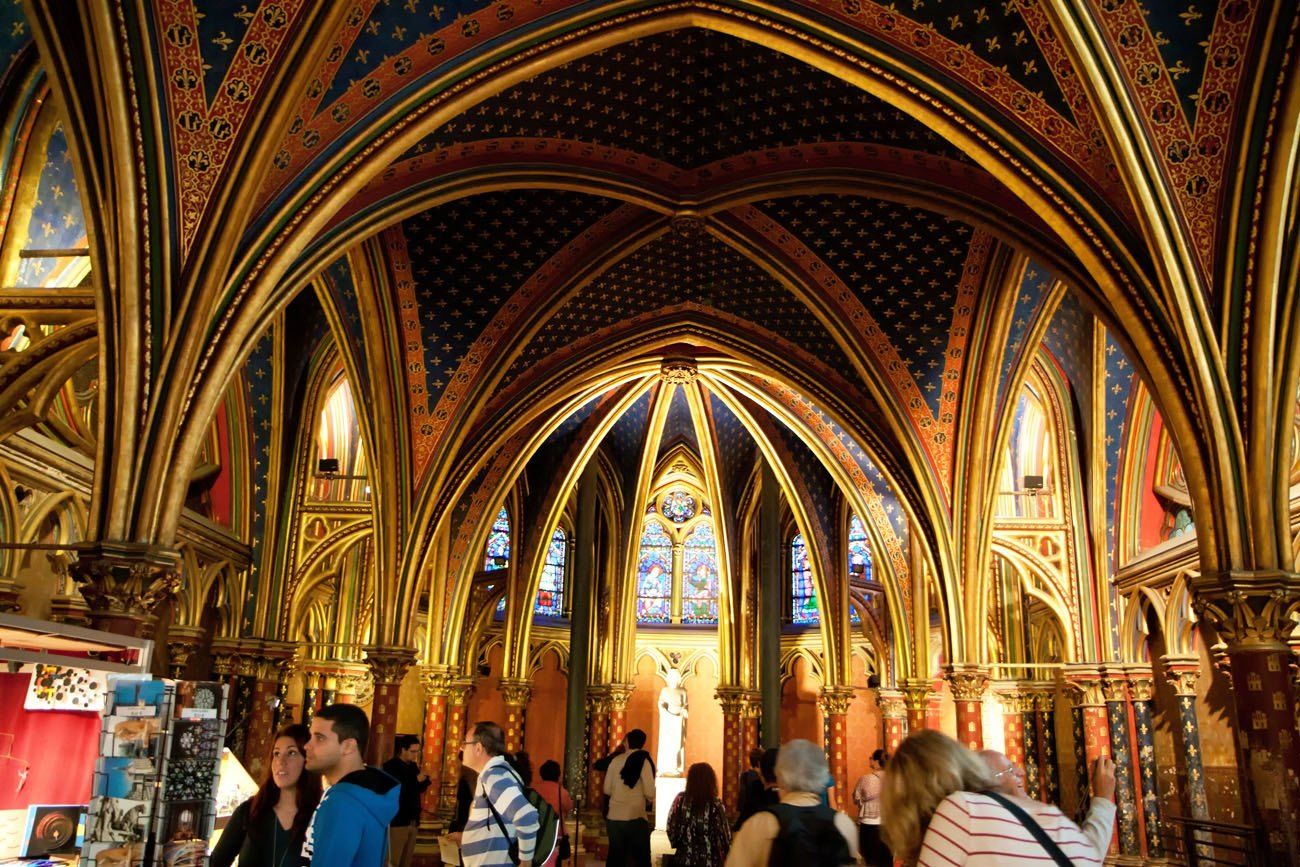 Sainte Chapelle | 3 Days in Paris Itinerary
This is another location that is notorious for having long lines so getting here at opening time (or a little before) helps you avoid the wait. The Museum Pass will let you skip the queue for tickets but lines can still be long for security. If you really want to skip the line, plan on arriving 15 to 30 minutes before opening time.
Hours: April 1 to September 30: 9 am to 7 pm; October 1 to March 31: 9 am to 5 pm; closed January 1, May 1, December 25
Cost: €11.50; included with the Museum Pass; tickets can be purchased online or at the Conciergerie (they are not sold at Sainte-Chapelle)
Combo Ticket with Conciergerie: €18.50
Metro Station: Line 4, Cite
Website: Sainte-Chapelle can close on other days during the year. Check their website to confirm hours before your visit.
Skip-the-Line Tickets: To purchase a skip-the-line ticket for Sainte-Chapelle, click here. You can also get a skip-the-line-ticket combination ticket for both Sainte-Chapelle and the Conciergerie.
The Conciergerie
This is optional, but for those with an interest in French history, you can visit the Conciergerie. This is where people were imprisoned before taken to Place de la Concorde to be executed. Marie Antoinette is the most famous prisoner.
The Conciergerie is located next to Sainte-Chapelle.
Hours: Open every day 9:30 am to 6 pm
Cost: €11.50; Combination ticket with Sainte-Chapelle €18.50; included with the Museum Pass
10:30 am: Notre Dame Cathedral
IMPORTANT NOTE: On April 15, 2019, Notre Dame suffered a devastating fire. The cathedral and the towers will be closed until further notice. Restoration work is currently being done, with a goal of reopening the cathedral in time for the 2024 Summer Olympics.
From Sainte-Chapelle it's a very short walk to Notre Dame Cathedral.
In front of Notre Dame Cathedral a small plaque marks Point Zero (Point Zero des Routes de France), the historic center of Paris.
Since Notre Dame is currently closed, you will only be able to see the cathedral from the outside.
Walk through Ile de la Cite and from Notre Dame, it is a quick walk to one of the prettiest storefronts in Paris, Au Vieux d'Arcole. This is a small cafe so you can eat an early lunch here.
Au Vieux Paris | 3 Days in Paris Itinerary
11:30 am: Ile Saint-Louis
From Ile de la Cite, cross Pont Saint-Louis to Ile Saint-Louis. This island gets fewer visitors than Ile de la Cite and it is a good place to go shopping and have lunch. A good lunch spot is Pom' Canelle, a restaurant that serves French and European food at reasonable prices (location: 27 Rue des 2 Ponts).
For an amazing ice cream shop, it is just a one minute walk to Bertillon Glacier. This place is world famous for its ice cream and sorbet. In fact, you could skip lunch and just eat here instead (we did!).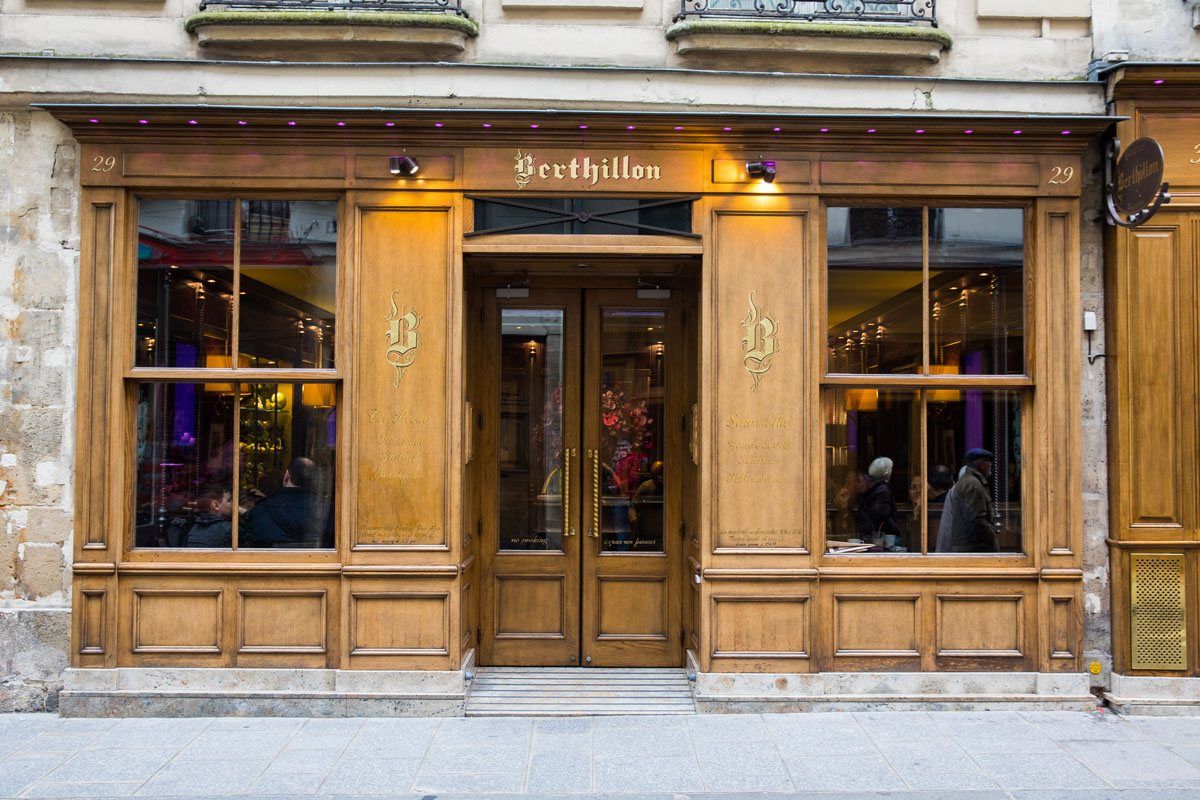 Note: There are several ice cream shops with name Berthillon in the area. You want to visit the one in this photo with the address 29-31 Rue Saint-Louis en l'Ile.
1 pm: Walk along the Seine
Cross Pont de la Tournelle to the Left Bank. Walk along the Seine. As you approach Pont de l'Archeveche you get a beautiful view of Notre Dame. Pont de l'Archeveche makes a great photo spot of Notre Dame.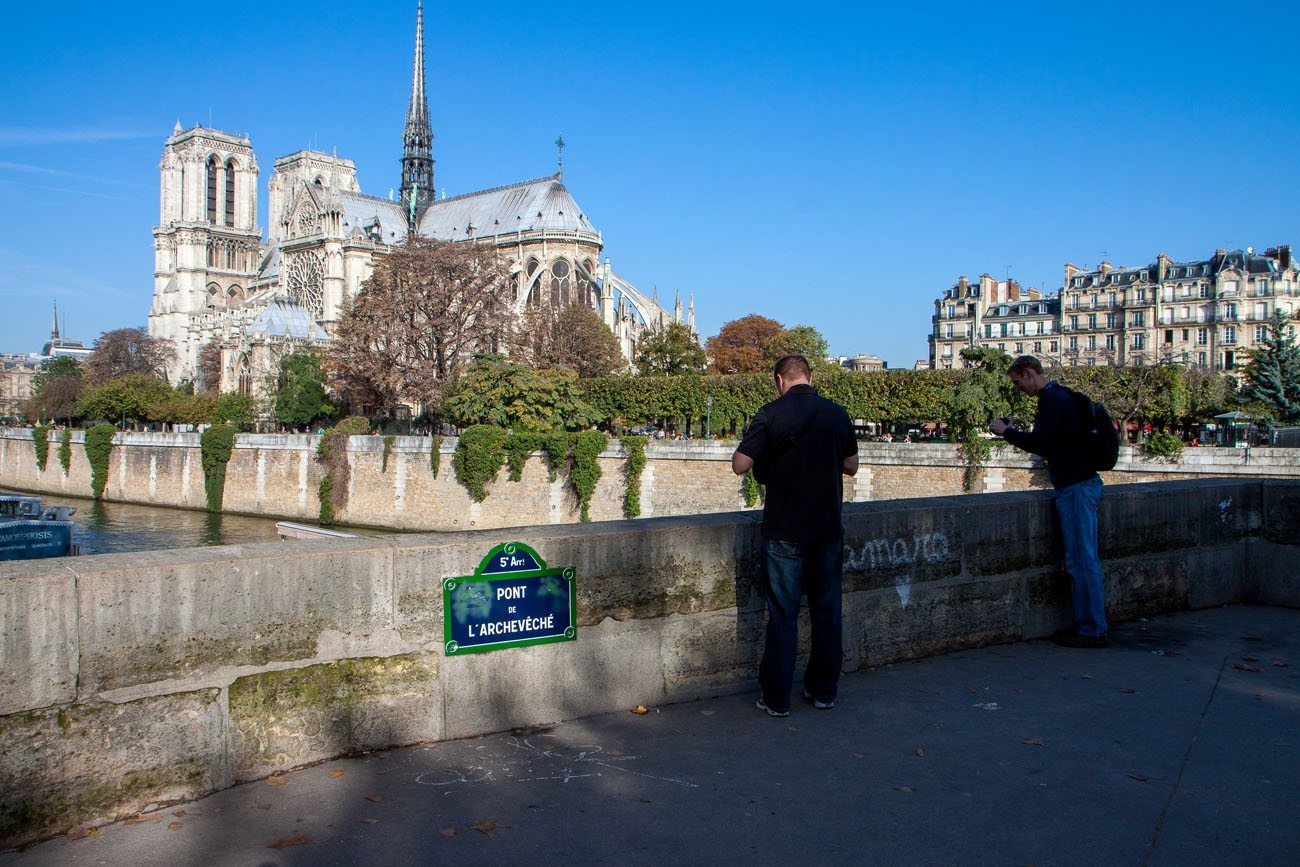 Pont de L'Archeveche | 3 Days in Paris Itinerary
As you continue your walk along the river you will notice stands set up selling books. These booksellers, or "bouquinistes" sell used books, magazines, and posters.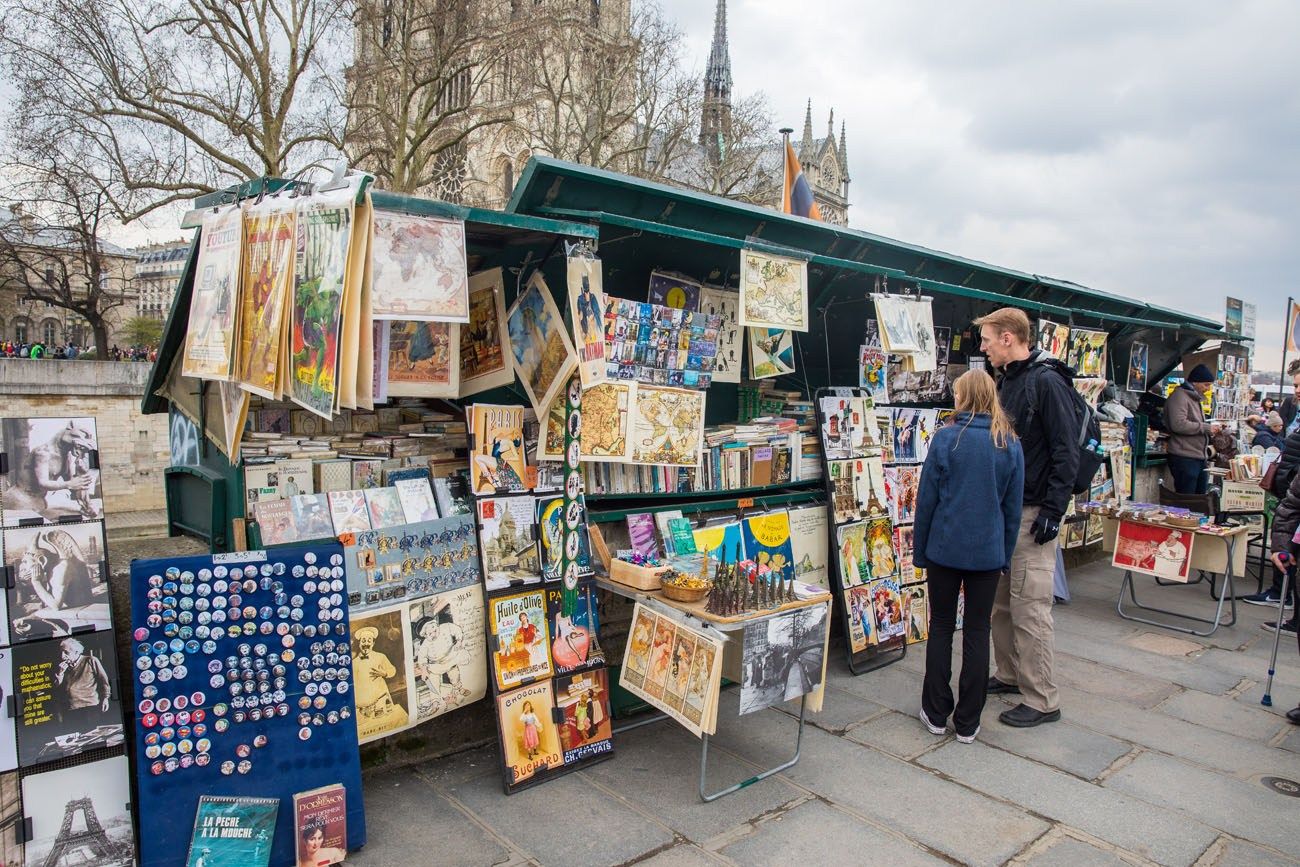 Bouquinistes | 3 Days in Paris Itinerary
You will also pass Shakespeare & Company. This bookstore opened in 1919 and was a gathering place for Ernest Hemingway, James Joyce, and Ezra Pound.
Continue the stroll along the Seine until you reach Musee d'Orsay.
2 pm: Musee d'Orsay
I will admit it, I am not an art museum lover. But I do love Musee d'Orsay. This museum is simply fabulous. If you arrive here at 2 pm, you have 4 hours to tour the museum, more than enough time to really enjoy the main exhibits.
Musee d'Orsay houses the largest collection of Impressionist art in the world. It is here that you can see Monet, Manet, Degas, Cezanne, Renoir, Van Gogh, Gaugin and more. It's literally a collection of the who's who in the Impressionist art world.
But this museum is more than just Impressionist art. The building is also a work of art. Musee d'Orsay was once Gare d'Orsay, an old train station, that was renovated and became this art museum. It is beautiful inside.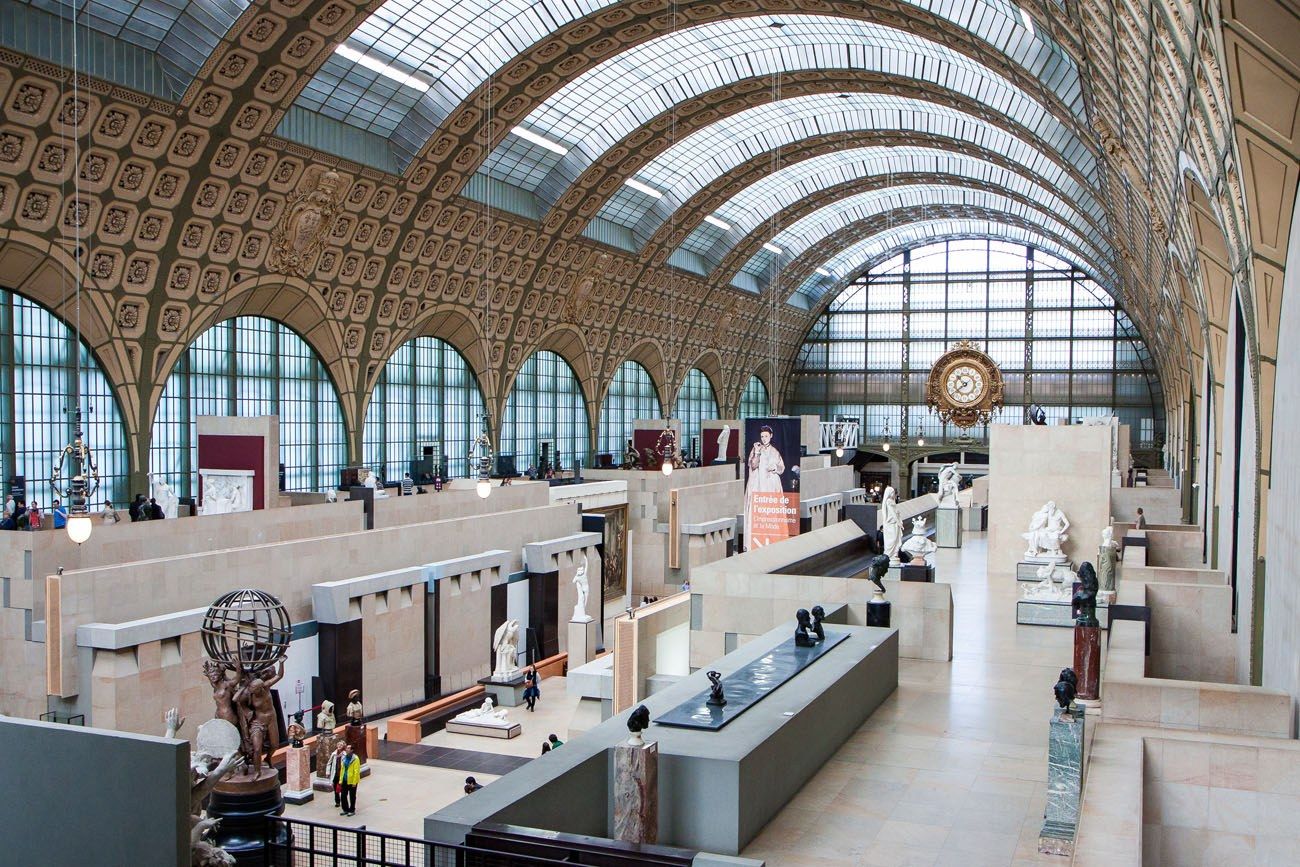 Musee D'Orsay | 3 Days in Paris Itinerary
On the top floor, look for the giant clock windows that give you a very unique view of Paris and make a creative photographic spot.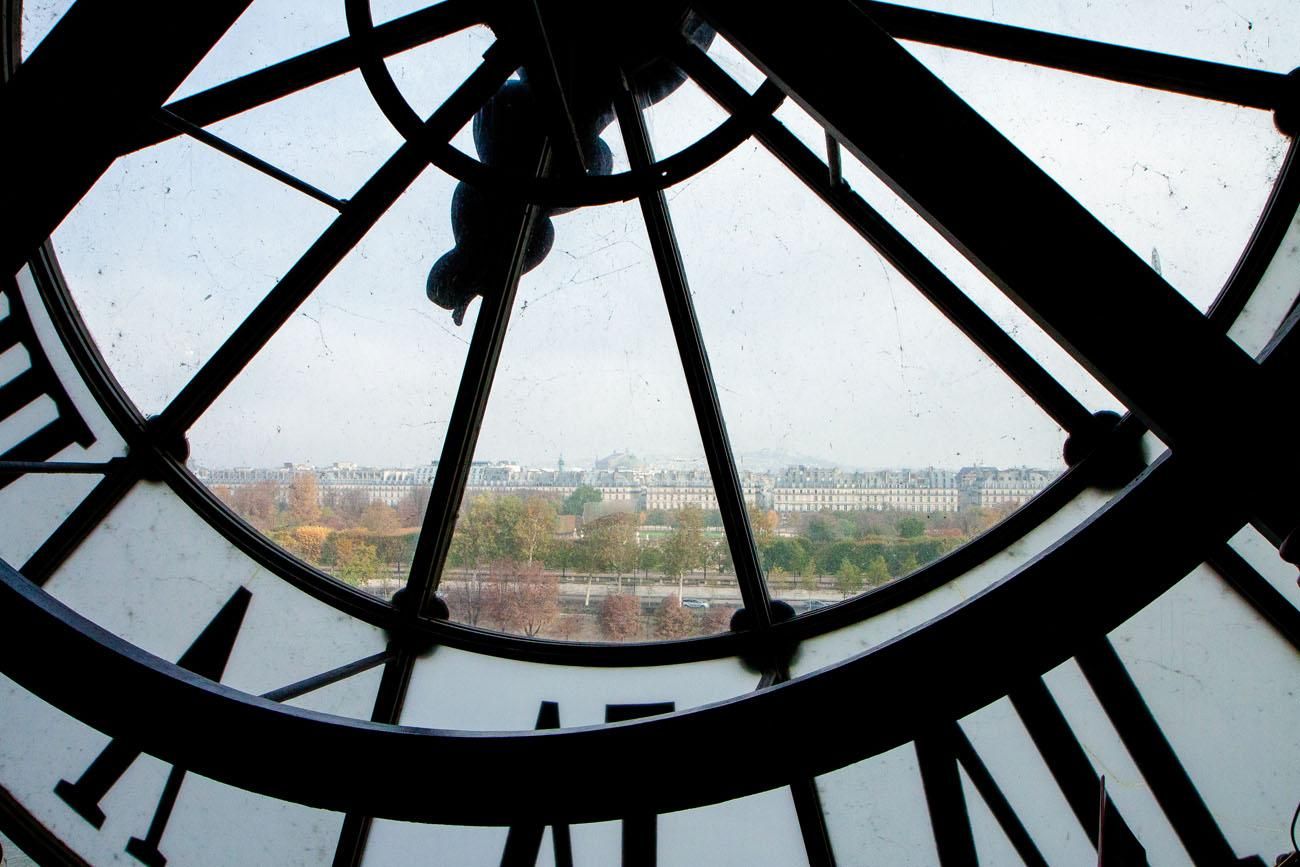 Hours: Daily 9:30 am to 6 pm; open until 9:45 on Thursday; closed Mondays, May 1, and December 25
Cost: €16, included with the Museum Pass. A combination ticket with Musee de l'Orangerie costs €20. You can purchase an advanced ticket on the official website or through GetYourGuide for the same price.
Website: Get updated hours and pricing on the official website.
Optional: Musee de l'Orangerie
This is a small museum that features Impressionist artwork. The highlights of this museum are the eight Water Lilies murals painted by Claude Monet. You can also see art by Picasso, Sisley, Cezanne, Matisse, and more.
Musee de l'Orangerie | 3 Days in Paris Itinerary
If you are doing good on time and like the idea of visiting another Impressionist art museum, it's easy to add Musee de l'Orangerie onto today. This museum is much smaller than Musee d'Orsay, so it doesn't take up much of your time. You could simply see the Water Lilies Murals or tour the entire museum.
Getting Here: From Musee d'Orsay, cross the Seine River to the Tuileries Garden. Musee de l'Orangerie is located on the southwest corner of Tuileries Garden, just a 10 minute walk from Musee d'Orsay.
Hours: 9 am to 6 pm, Wednesday through Monday; closed on Tuesday.
Cost: €13, included with the Museum Pass. A combination ticket with Musee d'Orsay costs €20.
Website: Get updated hours and pricing on the official website.
6 pm: Sacre-Coeur and Montmartre
Spend the rest of the afternoon and evening exploring Montmartre. This maze of hilly streets is one of Paris' prettiest neighborhoods to visit.
I recommend getting off at the Lamarck metro station and walking towards the Sacre-Coeur Basilica. This is a very nice walk that takes you past photogenic spots such as La Maison Rose and Le Consulat Restaurant.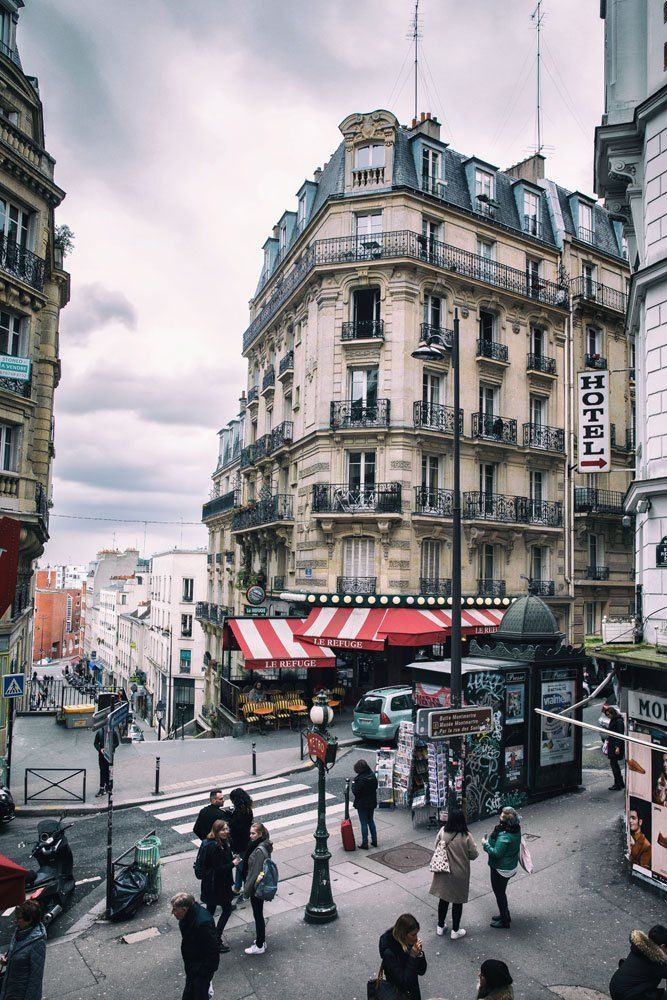 Montmartre | 3 Days in Paris Itinerary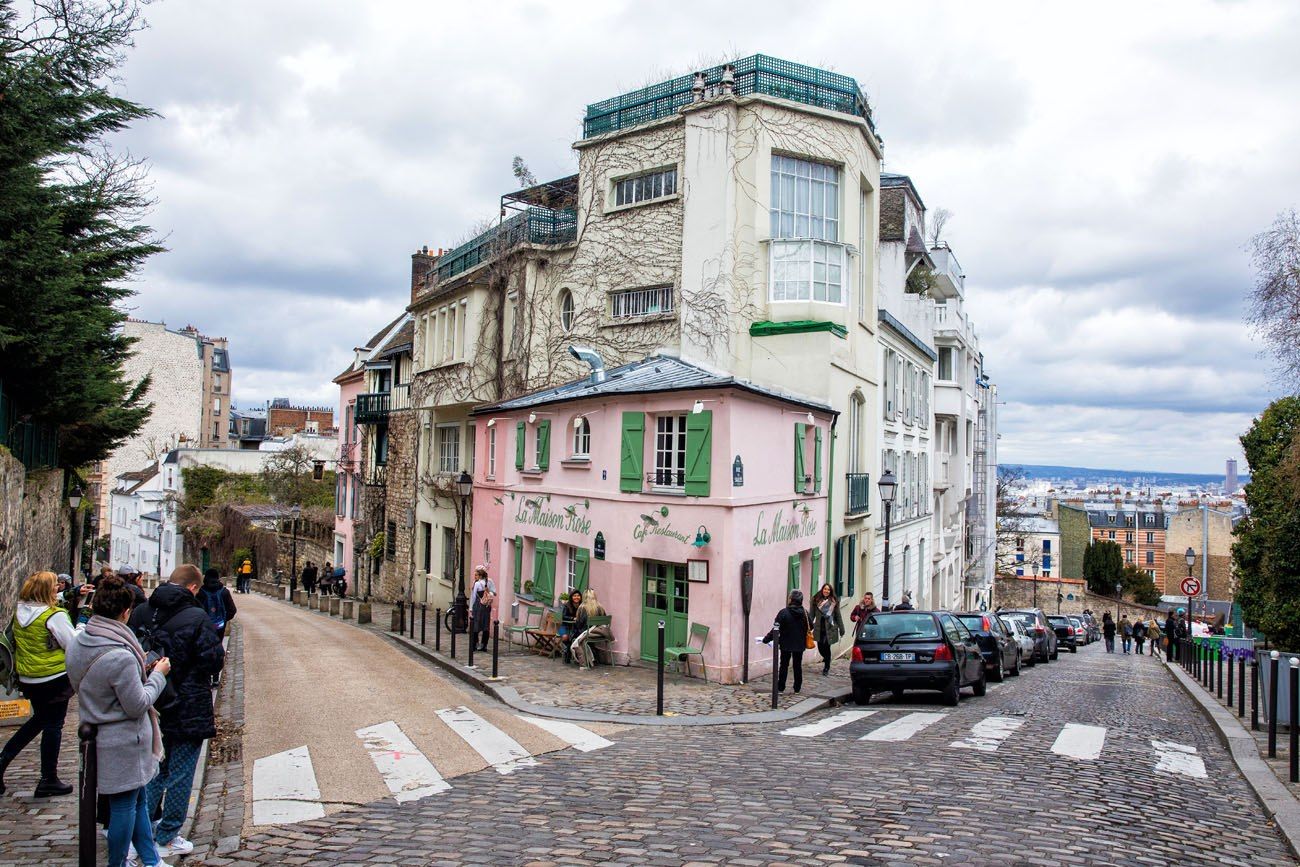 Montmartre | 3 Days in Paris Itinerary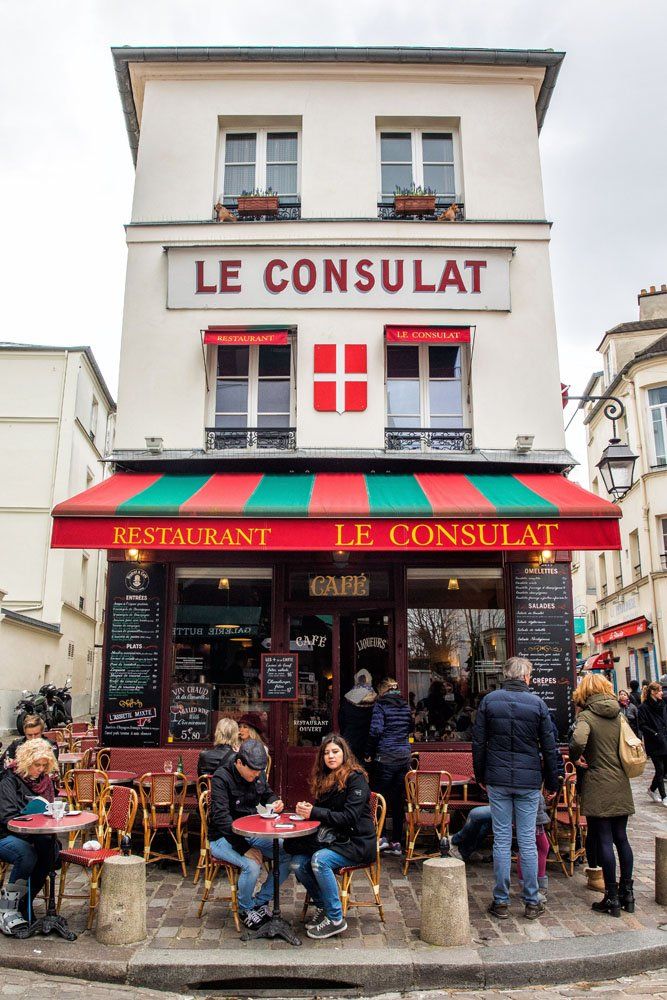 Before arriving at the basilica you will walk through Place du Tertre. This small square is filled with artists. Go shopping, grab a drink at a café, or have your portrait drawn.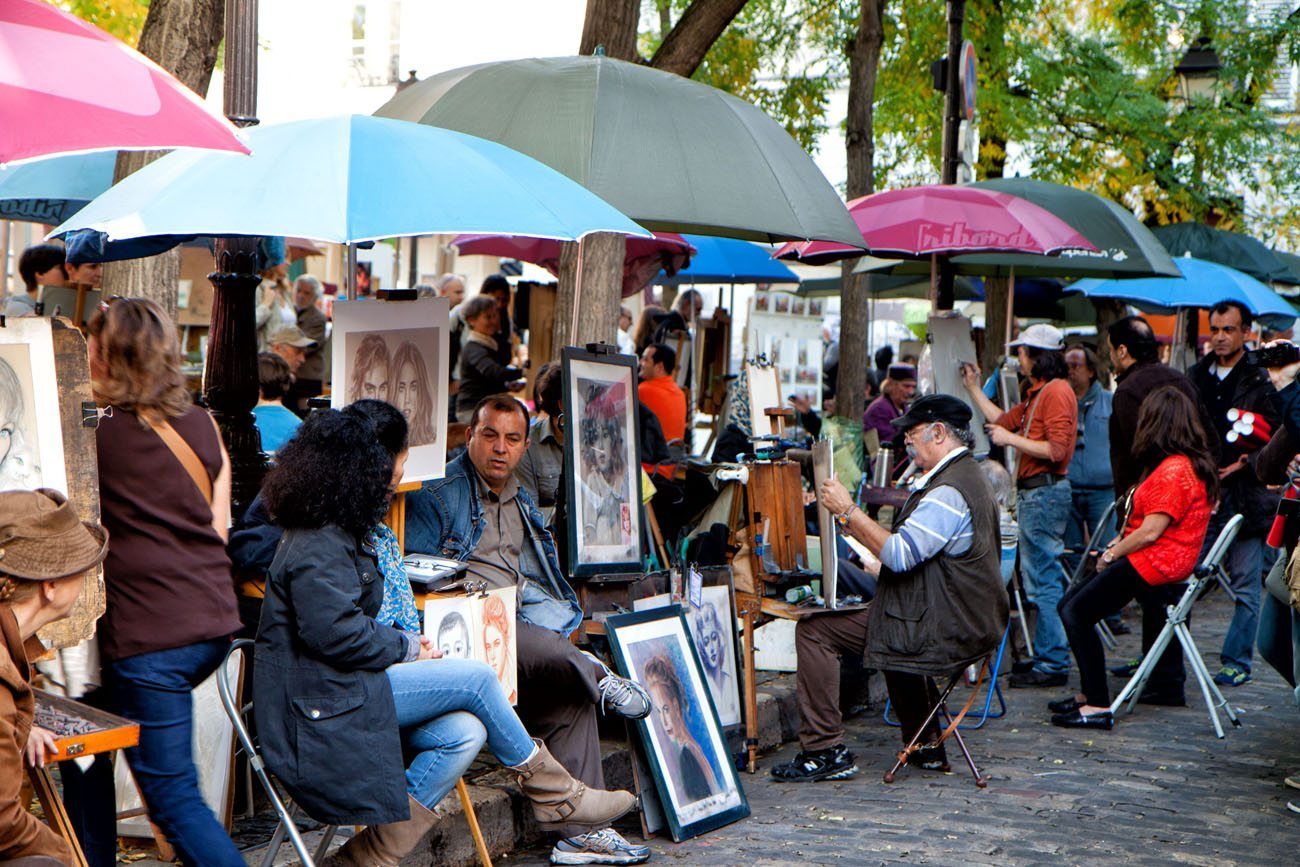 Place du Tertre | 3 Days in Paris Itinerary
The Sacre-Coeur Basilica sits atop the highest hill in Paris. The steps in front of the Basilica are a popular spot to watch the sunset. You also have the option to climb the 300 steps to the top of the Dome for an even better view.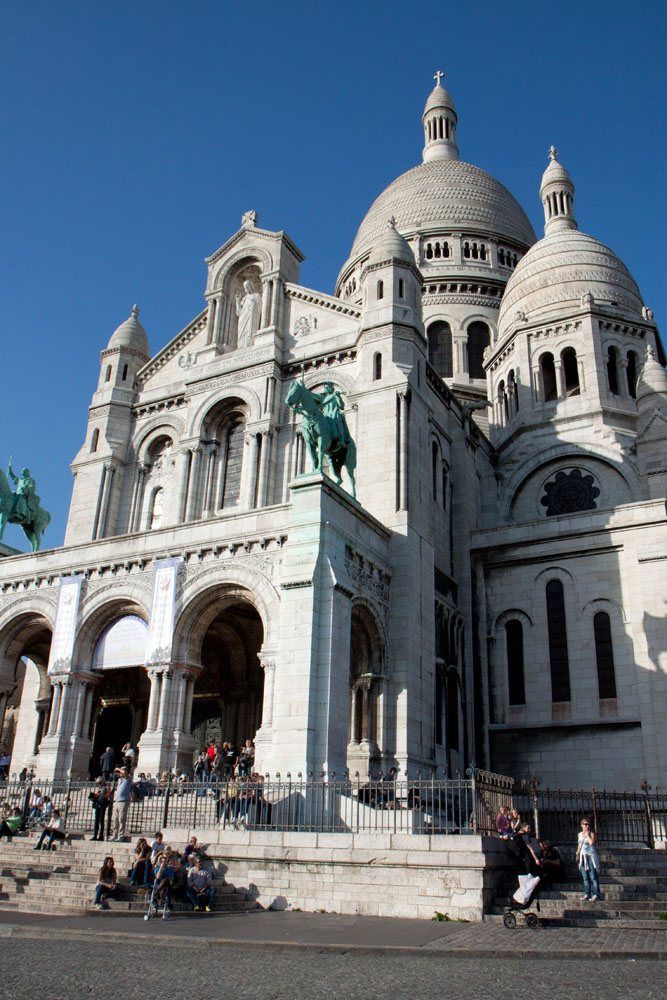 Sacre-Coeur | 3 Days in Paris Itinerary
Hours: 8:30 am to 8 pm May to September; 9 am to 5 pm October to April
For more information, visit the official website.
If you want to take a guided tour of Montmartre and the Sacre Coeur, this one hour tour gets excellent reviews.
For dinner, take your pick from restaurants in the area. We ate at Le Relais Gascon, a wonderful little place that prepares French food.
---
Paris Itinerary Day 3
Versailles
The Palace of Versailles
Versailles is a royal chateau located on the outskirts of Paris. In 1682, King Louis XIV moved the Royal Court from the Louvre to the Palace of Versailles. For a little more than 100 years, this was the seat of government for France. That ended in 1789 with the French Revolution. The monarchy moved back to Paris and since then, the city of Paris has remained the seat of government for France.
During your visit to Versailles you will tour the palace and get to stroll through the gorgeous gardens. We visited on a rainy day, not the best weather for photography, but on a sunny day this place looks stunning.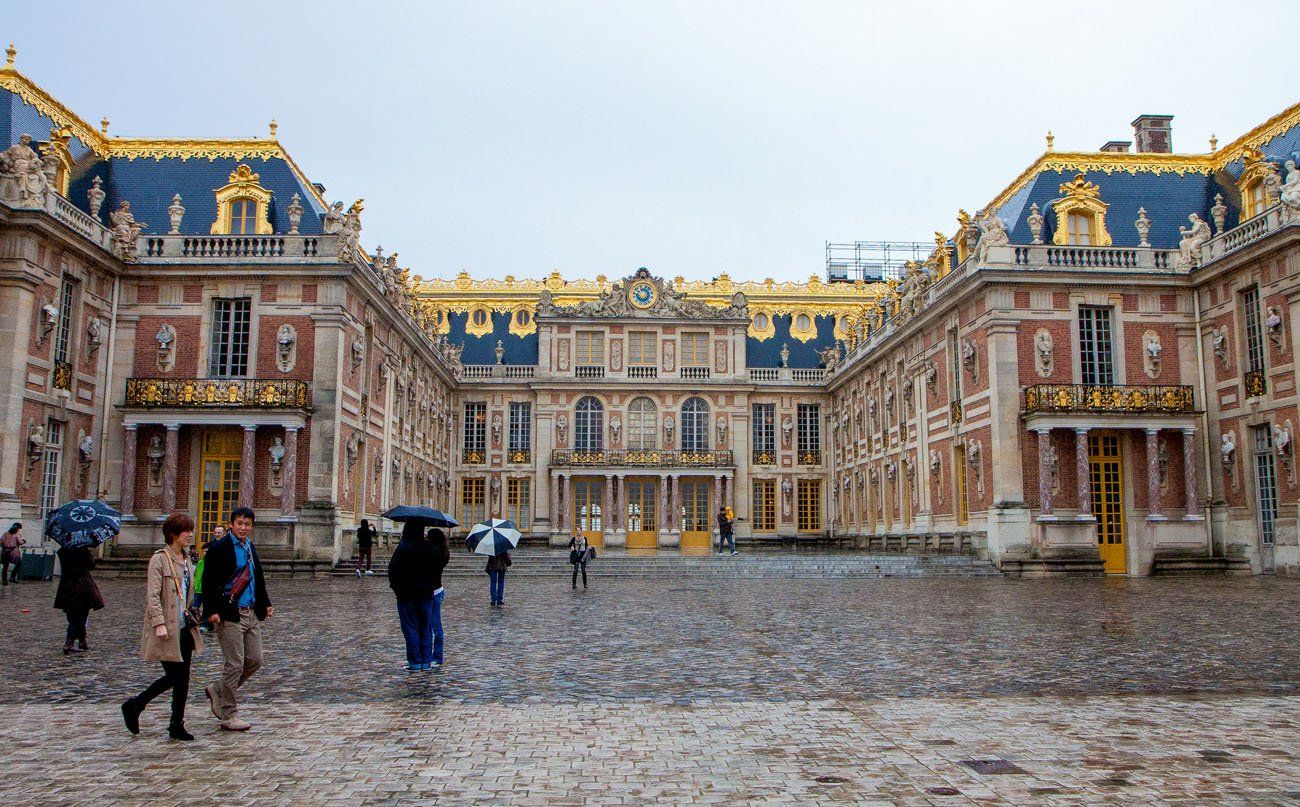 Versailles | 3 Days in Paris Itinerary
Inside Versailles | 3 Days in Paris Itinerary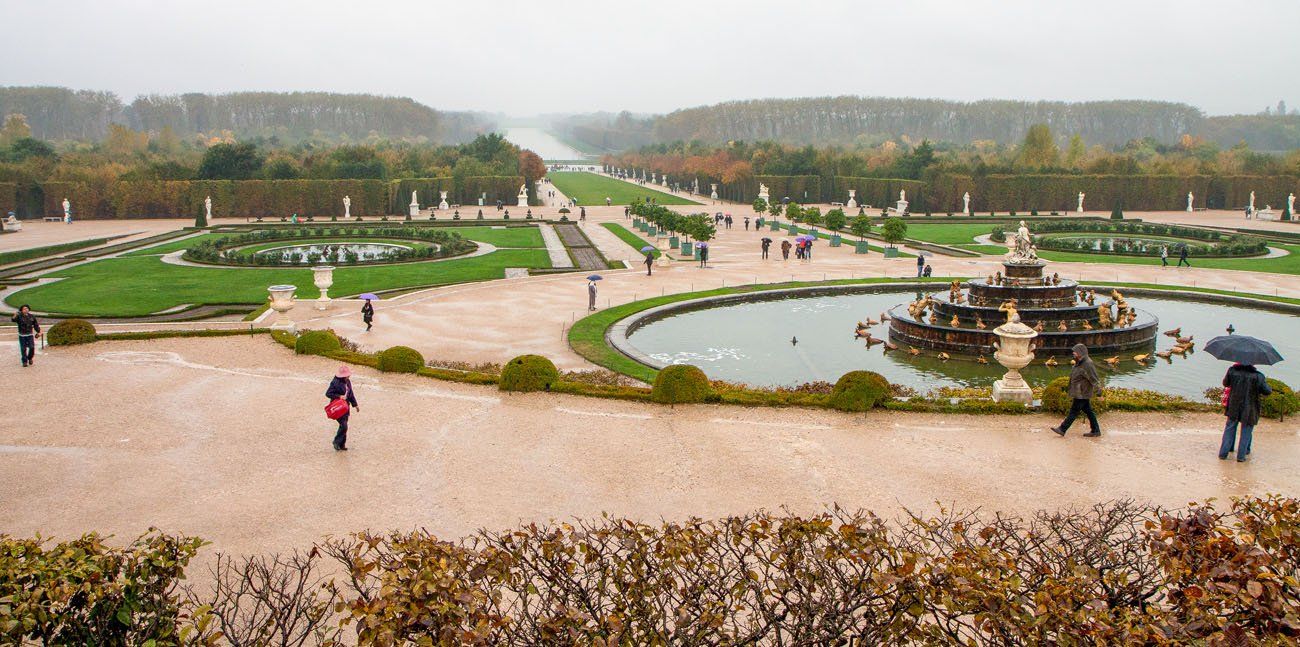 The Versailles Gardens in the rain | 3 Days in Paris Itinerary
How long does a visit last? If you're fast, it takes 3 to 4 hours to zip through the palace and walk a part of the gardens. Some people spend all day here, touring the entire gardens as well as the estate of Trianon.
Stay as long as you like today. We have some more cool spots to visit in Paris, just in case you get back to Paris in the afternoon.
Learn more about everything you can see and do in Versailles on the official website.
Hours: The palace is closed Mondays; the palace is open at 9 am to 5:30 pm; the gardens and the park are open every day and are free to visit.
Cost: 18€ to tour the palace; 20€ for the palace and gardens and the Trianon; €27 for the palace, gardens, and the Musical Gardens and Musical Fountain Shows
Museum Pass: The Museum Pass covers your entry into the palace, the Trianon, and the estate of Marie-Antoinette. It does not cover the Musical Gardens. You will have to purchase this ticket separately (and you should do so in advance) for €10.
Getting here: Take RER C from Paris to Versailles. This journey takes approximately 45 minutes. Since Versailles is outside of the city your travel card (if you have one) will not be valid for this trip. In the metro station you will have to purchase a separate round trip ticket to get to and from Versailles. It costs 7.10€. This detailed post explains how to get from Paris to Versailles.
Options for your Afternoon in Paris
If you do not spend all day in Versailles and get back to Paris during the afternoon, here are several spots to visit.
Take in the View from Montparnasse
For one of the best views of Paris, visit the observation deck of Montparnasse Tower. There are two levels to visit, the 56th floor, which is completely enclosed by windows, and the observation terrace on the roof. This is also completely enclosed by glass panels but there are a few strategic openings in the glass for your camera.
View from Montparnasse | 3 Days in Paris Itinerary
Hours: 11:00 am to 10:30 pm, last climb is at 10 pm; open 365 days a year
Cost: Adults €17; student €12.50; children 4 – 11 years €8
Metro Station: Montparnasse – Bienvenue lines 4, 6, 12, 13
Website: www.tourmontparnasse56.com
You can also reserve a roof top ticket with GetYourGuide.
Note: If you want to eat some of the best crepes in Paris, walk 5 minutes to La Creperie de Josselin (11 am -11:30 pm, closed Monday and Tuesday).
Take Your Pick from 2 Museums
Rodin Museum
This small museum features sculptures by Rodin. It's quick and fun to visit. If you are traveling with kids, this is a museum they may actually like. Just ask them to pose like the statues.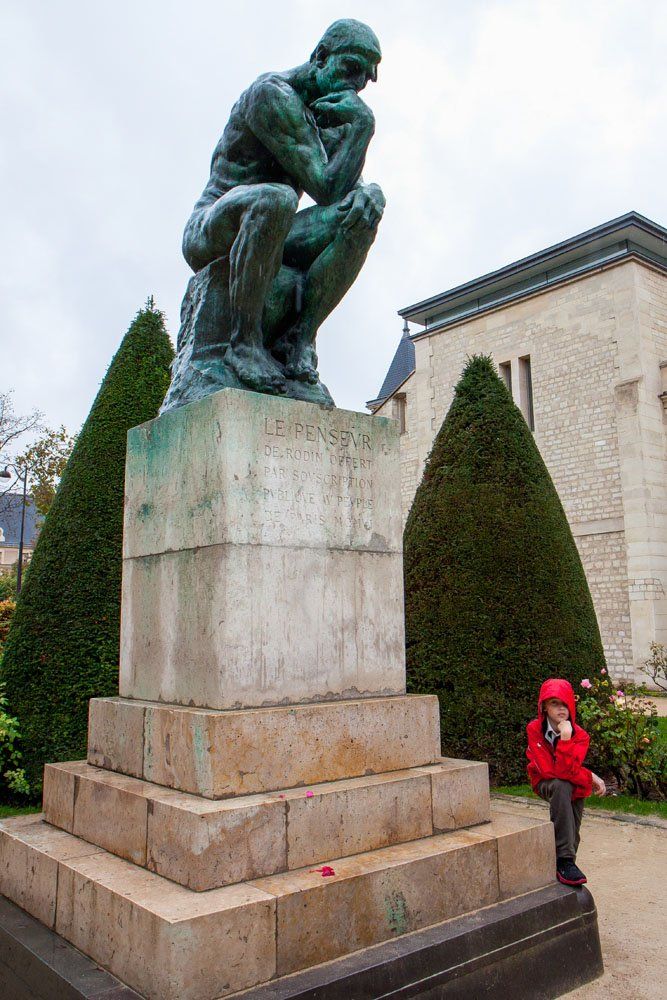 Rodin Museum | 3 Days in Paris Itinerary
Hours: 10 am to 6:30 pm, last tickets sold at 5:45 pm; closed Mondays
Cost: €13, included with the Museum Pass
RER: Invalides (line C) – perfect for taking the RER back to Paris from Versailles
Metro: Varenne (line 13) and Invalides (line 8 and 13)
Centre Pompidou
This is the largest modern art museum in Europe. It has an interesting design, with all of its plumbing and pipes located on the exterior of the museum, color-coded in vibrant colors. It's definitely a unique sight to see. This is large museum and you could wander here for hours. From the top level of the museum you are treated to another wonderful view of Paris.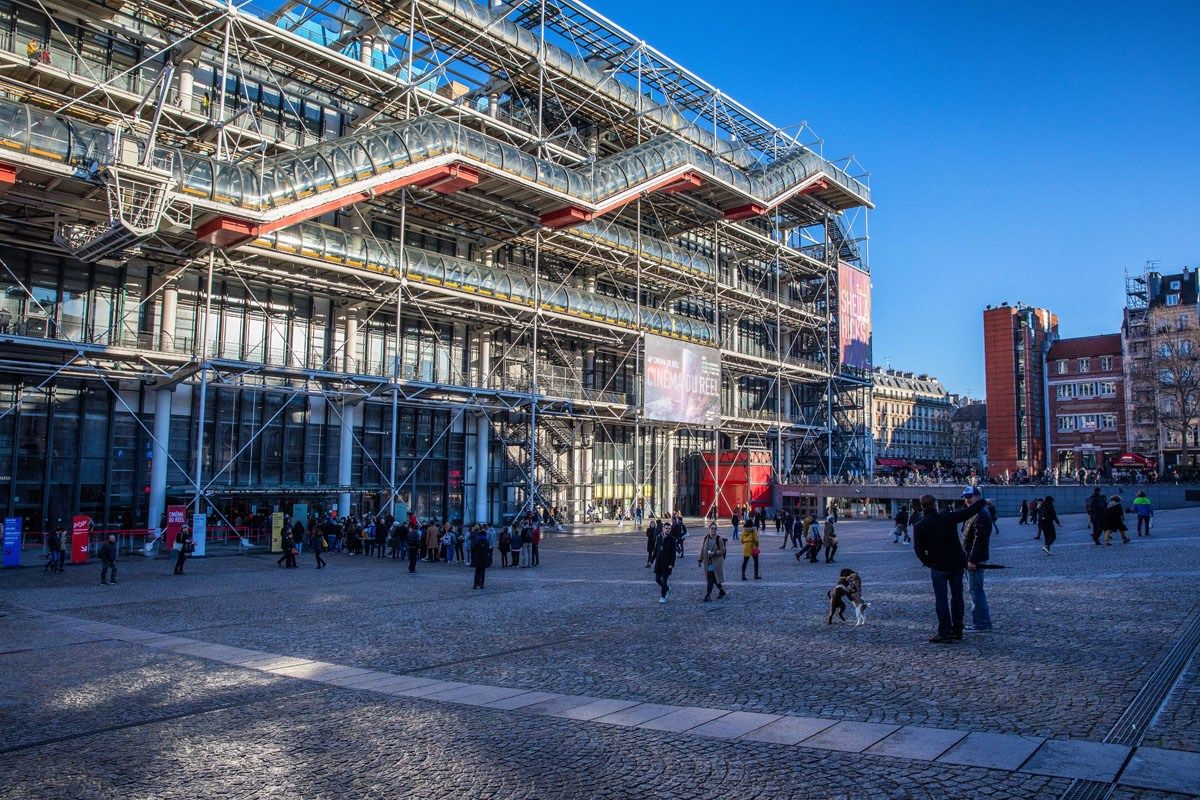 Pompidou Centre | 3 Days in Paris Itinerary
Hours: 11 am to 10 pm; until 11 pm on Thursdays; closed Tuesdays
Cost: €14; €5 for the view of Paris only; included on the Museum Pass
Metro: Rambuteau (line 11), Hotel de Ville (line 1 and 11), Chatelet (line 1, 4, 7, 11, and 14)
Visit the Catacombs
Descend under the streets of Paris and tour the labyrinth of tunnels lined with human bones. In the 18th century, cemeteries around Paris were cleared and the bones were moved to these underground tunnels. Now, this is the final resting place of six million Parisians.
The Catacombs can have one of the longest lines in all of Paris. Waiting times can be as long as 3 hours. Only 200 people are permitted in the Catacombs at one time, so the line moves very slowly.
Booking a ticket in advance is now mandatory and you can do so on the official Catacombs website (€29) or join a skip-the-line tour.
The Catacombs are open Tuesday through Sunday from 9:45 am to 8:30 pm, last admission at 7:30 pm. The least crowded time of day to visit the Catacombs is the last two hours of the day.
Visit Pere Lachaise Cemetery
Pere Lachaise Cemetery is one of the best known and most visited cemeteries in the world. A visit here may sound like a macabre way to spend an afternoon, but a stroll among the tombstones and mausoleums can be fascinating.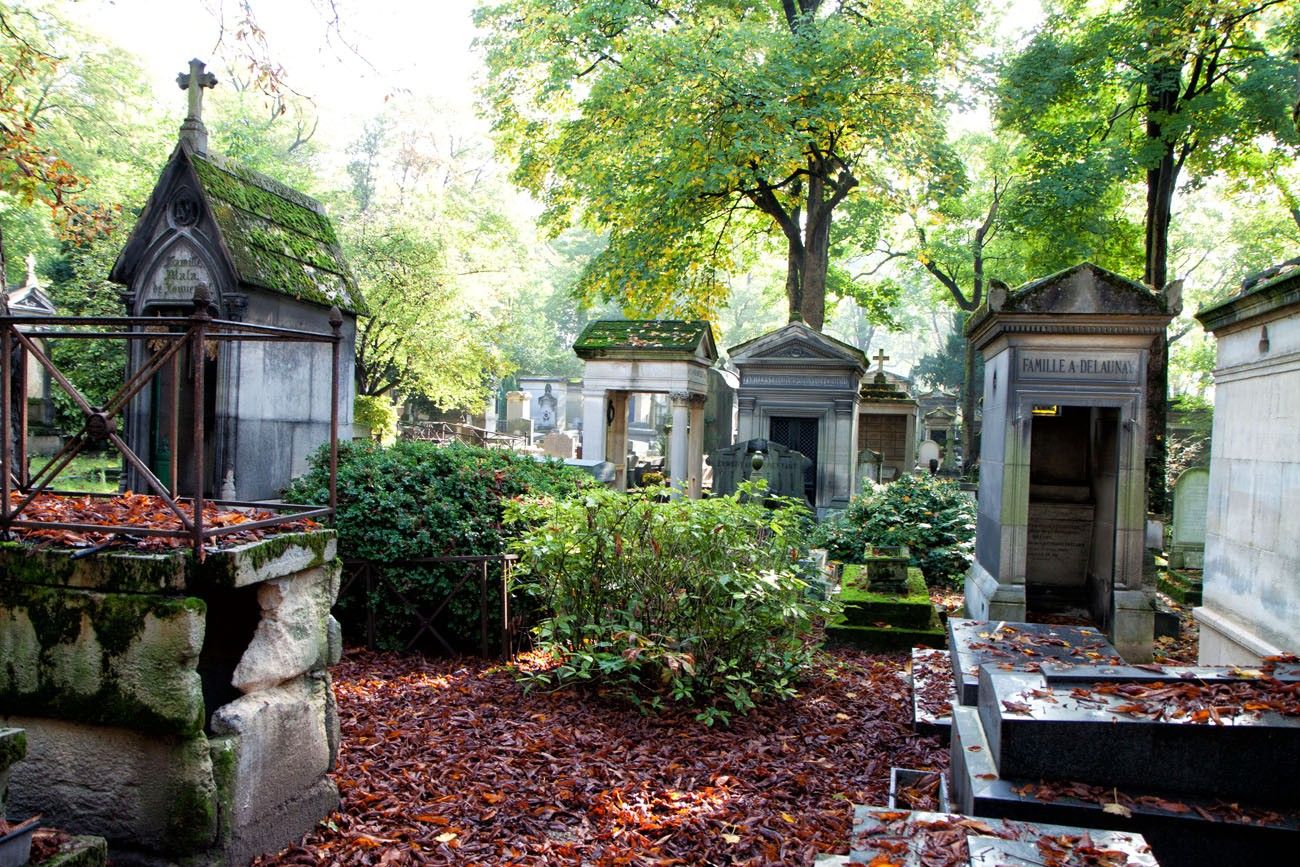 Pere Lachaise | 3 Days in Paris Itinerary
Pere Lechaise is free to visit but if you want to get more out of the experience, you can take a guided tour. This tour lasts 2 to 3 hours and you can see the final resting places of famous people such as Edith Piaf, Jim Morrison and Chopin.
Hours: Daily 8:00 am to 5:30 pm; on Saturday it opens at 8:30 am
Cost: Free
Metro: Pere Lachaise Line 2 and 3
Dinner and Drinks in Le Marais
End the day with a visit to Le Marais, one of Paris' most interesting neighborhoods.
If you are looking for a budget meal, consider trying one of the falafel restaurants along Rue de Rosiers. The most famous spot is L'As du Falafel. We ate at Mi-Va-Mi, another popular spot, simply because it was the only one open during our visit.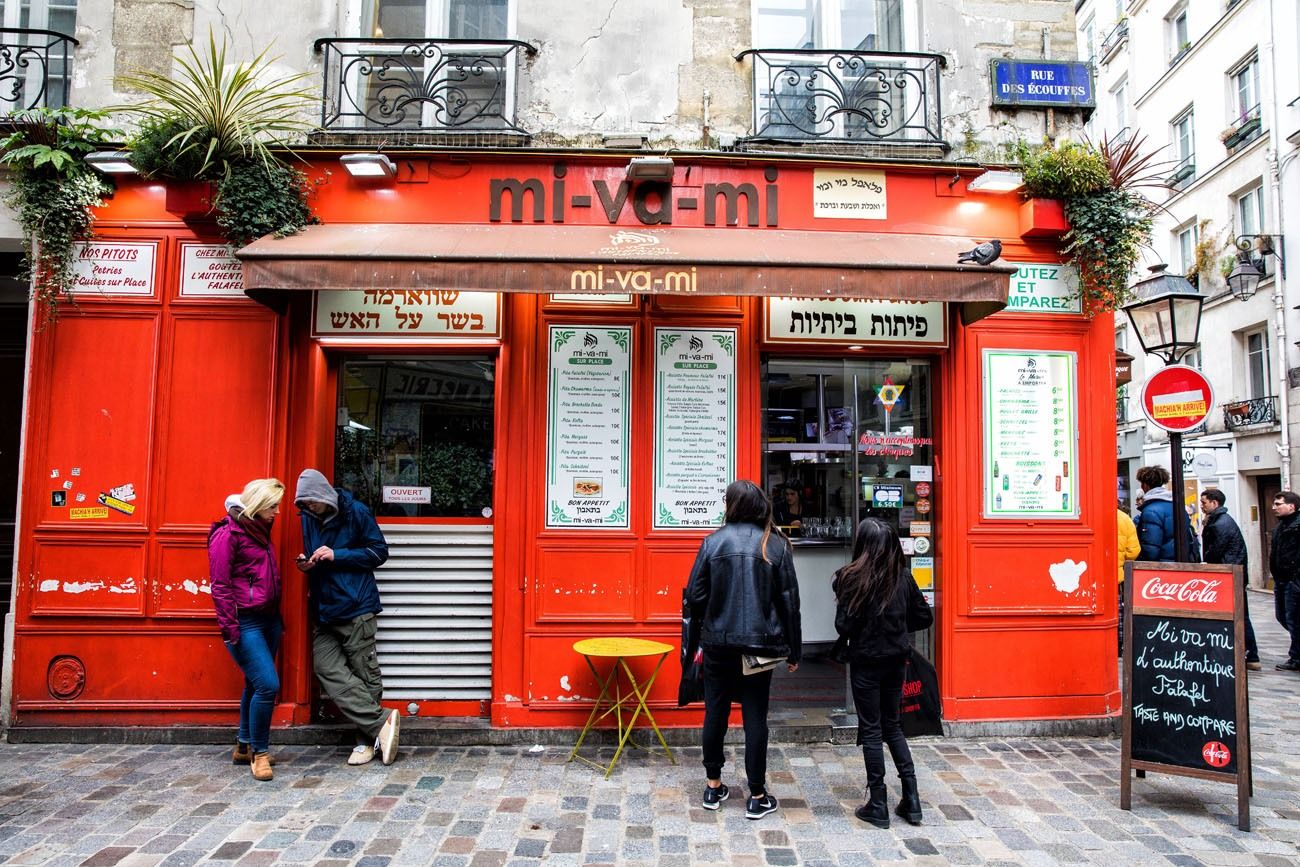 If you don't feel like eating falafel on your last night in Paris, there are many great cafes and restaurants in the area.
---
Tips to Help You Have the Best Experience
Learn a Little French
Sure, you can get by with just speaking English, but being able to say a few things in French is polite and friendly. At a bare minimum, say bonjour when walking into a restaurant or shop. If it's evening, say bonsoir.
In my experience, trying to speak the local language opens you up to much more meaningful interactions with people. Even if you are not perfect or you make a mistake, your effort is appreciated.
I am a big fan of Fluenz, a software program that teaches several different languages and is perfect if you want to learn a little bit of conversational French.
Beware of Pickpockets
Paris is very safe. Your chances of being a victim of violent crime are very low. However, pickpocketing is a problem in Paris. Our hotel staff warned us of pickpockets and the US Embassy even has an article about how to avoid pickpocketing in Paris that you can read here.
This article by Europe for Visitors has a lot of great tips that you should read, especially if this is your first time to Europe.
Museum Closings on Mondays and Tuesdays
Several museums close on either Monday or Tuesday. Take note of this when planning your trip. You may have to adjust the order of these three days if you will be in Paris on a Monday or Tuesday.
Closed on Monday:
Musee d'Orsay
Versailles
Musee Rodin
Closed on Tuesday:
Louvre
Musee de l'Orangerie
Pompidou Centre
Places that are closed on Monday will have larger than normal crowds on Sunday and Tuesday. Places that are closed on Tuesday will have larger crowds on Monday and Wednesday. This is just something to be aware of when planning your time.
How to Adjust this Paris Itinerary
If day one of your three days in Paris also happens to be the day that you are arriving in the city, you will need to adjust day 1 of this Paris itinerary. Even if you arrive in the morning, there's a good chance that you will be exhausted, especially if you flew a red-eye flight from outside of Europe.
Out of the big sites on day 1 (Eiffel Tower, the Louvre, and the Arc de Triomphe) you may just want to plan on visiting two of them and save the third site for the afternoon of day 3.
Should You Get the Museum Pass?
Absolutely! The Museum Pass covers your entrance fee into almost every site in this itinerary and it allows you to skip the ticket lines. Just be aware that it does not guarantee getting into every attraction without a line. During busy times, you still may have to queue for security.
The Museum Pass is only offered for 2 days (€52), 4 days (€66), and 6 days (€78). They do not have a 3-day option.
I recommend getting the 4-day pass. If you visit everything I have listed (not including the optional museums on day 3), you will pay €88.50. Even though you don't use the pass all four days, you still save €22.50. If you visit another museum on the afternoon of day 3, that's an additional €13 to €14 savings.
Click here for full more information and instructions on how to obtain your pass.
What About the Paris Pass?
You may also hear about something called the Paris Pass. This pass includes the Museum Pass, the Paris Visite Pass for unlimited transportation in Paris (zones 1 through 3 so Versailles is not included), and some additional sites and activities in town.
The cost is €129 for 3 days and only includes a 2-day Museum Pass. You have to pay €149 in order to get the 4-day Museum Pass.
Unless you also plan on taking the hop-on hop-off bus tour, a walking tour, a Seine River cruise, and visiting places like the Paris Aquarium, you will not get your money's worth.
Our Recommendation
Purchase the 4-day Museum Pass for €66 and a 3-day Paris Visite Pass for €29.40 for a grand total of €95.40. That's a savings of €53.60 off of the 4 day Paris Pass and €33.60 off the 3 day Paris Pass.
You can purchase your Paris Visite Pass at the ticket booths in the metro stations (do this the first time you ride the metro). This will pay for your transportation on the metro, RER, bus, and the Montmartre funicular. Learn more here.
Where to Stay in Paris
We have visited Paris three times and here is where we stayed.
Hotel Brighton. This is the most expensive hotel on this list but it's worth it if you want an awesome view over Paris. Located on Rue de Rivoli right across from Tuileries Garden, you will be able to see the Louvre, Notre Dame Cathedral, the Eiffel Tower, and the Arc de Triomphe from your room. Request a high floor, preferably one with a balcony, for the best experience.
Hotel de La Bourdonnais. This hotel is located near the Eiffel Tower. From our room, if we hung our head out of the window, we could see the top of the Eiffel Tower. This hotel is under new management since our visit and it looks like things have changed for the better. We liked it here, but not as much as the other two hotels in this list.
Le Relais Saint Honore. On our most recent visit to Paris we stayed at Hotel Le Relais Saint Honore. Our favorite thing about this small, boutique hotel is its excellent location. The Louvre, Tuileries Garden, Place de la Concorde, and Palais-Garnier are all within a 10-minute walk. The Tuileries and Pyramides metro stations are less than 5 minutes away. The rooms are small but tastefully decorated and the staff is friendly and speaks English. You don't get the awesome view in this hotel but we loved the friendly staff and the location.
For more recommendations on where to stay, read our Best Hotels and Neighborhoods Guide for Paris. Learn where to stay for a great view of the Eiffel Tower and get recommendations whether you are looking for a budget hotel, luxury hotel, or if you are traveling as a family.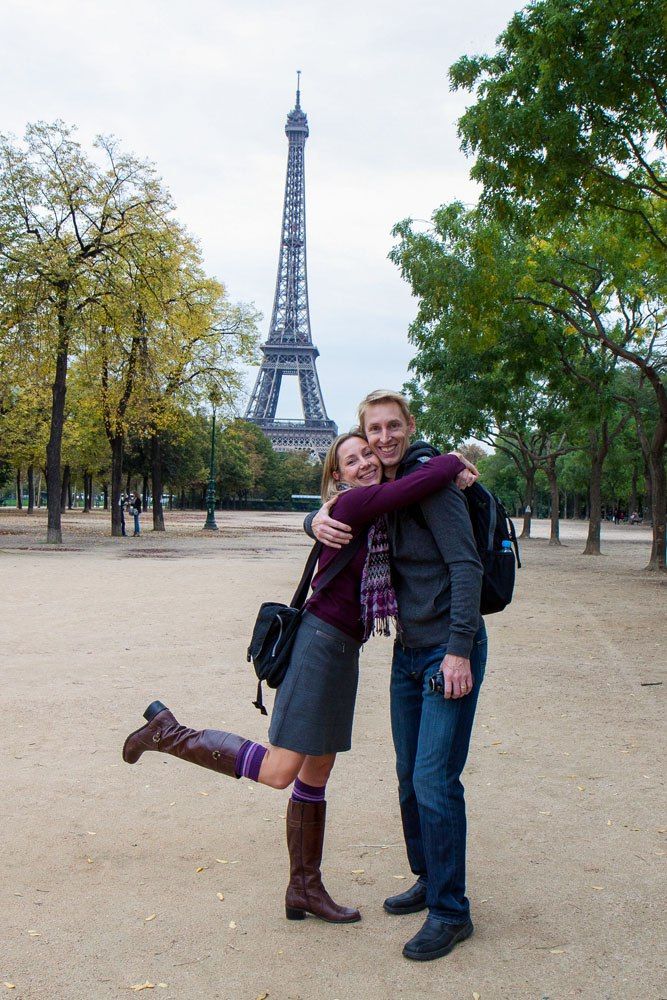 ---
Happy travels! If you have any questions about this Paris itinerary, comment below!
Recommend Reading and Travel Guides:
---
Where Are You Going Next?
If you plan to continue your tour of France and Europe, you might find these useful:
More Information for Your Trip to Paris:
Are you planning a trip to France? Read all of our articles about France in our France Travel Guide.
You Might Also Like:
Note: This post contains affiliate links. When you make a purchase using one of these affiliate links, we get paid a small commission at no extra cost to you.
All rights reserved © Earth Trekkers. Republishing this article and/or any of its contents (text, photography, etc.), in whole or in part, is strictly prohibited.