The Wadi Rum Desert blew away our expectations. We have heard nothing but rave reviews about this place but still, for some reason, we were blown away by Wadi Rum. Incredible desert scenery, red martian sand, rock arches, bedoin camps, wild camels, desert flowers…this place is gorgeous!!
We came to Jordan to see Petra but it was the Wadi Rum desert that really impressed us.
Wadi Rum is also known as "The Valley of the Moon," a desert area in southern Jordan encompassing 720 square kilometers. Its jagged mountains and reddish-orange sand makes it the perfect filming location for some very popular movies, such as "Lawrence of Arabia," "Transformers," and, most recently, "The Martian."
We spent one day here, on a tour with Desert Eco Tours. Our main excursion for the day was a hike to the amazing Jebel Burdah Rock Bridge, but we also spent several hours touring the desert by 4×4. There is something here for everyone, whether it be a short excursion by 4×4 or camel, rock climbing, hiking, or going on a multi-day trek through Wadi Rum desert. If you are looking for adventure, this is your place!! And just a few hours away is Petra.
If you are curious about what Wadi Rum is all about, take our photographic tour through this stunning desert.
Journey Through Wadi Rum Desert
Immediately upon entering the desert, we were greeted with views like these…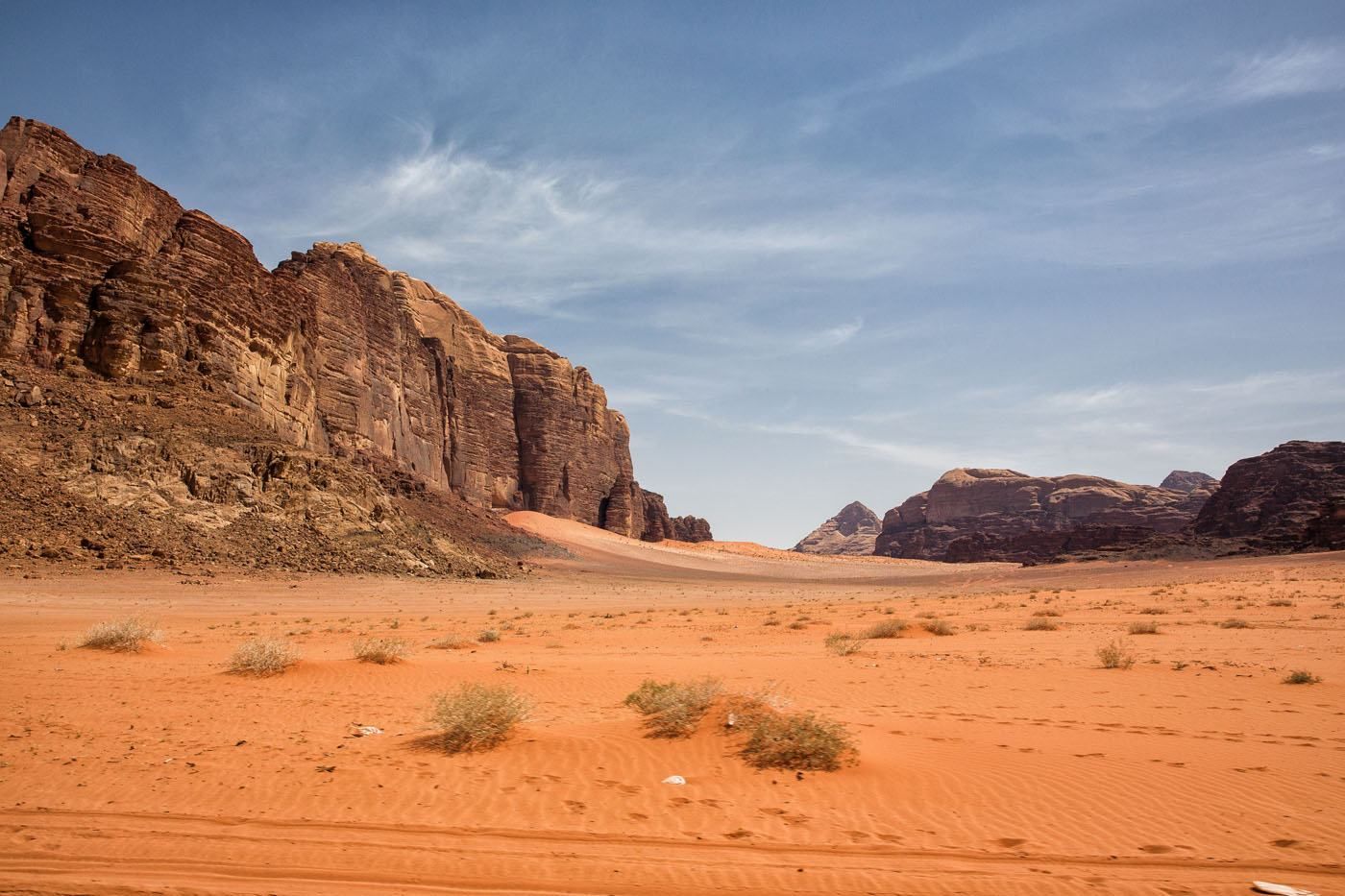 Camels roam wild here. Somehow, Tim captured this camel perfectly from our car window as we sped past.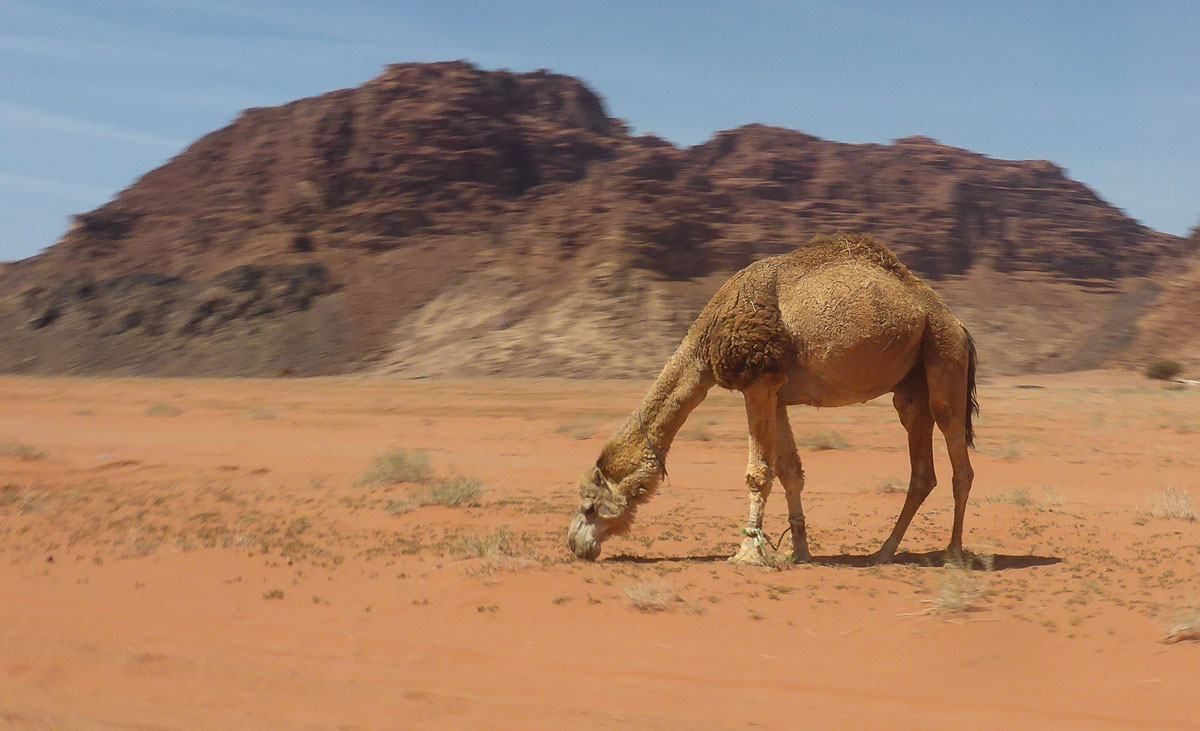 Tracks in the desert sand and more views of Wadi Rum.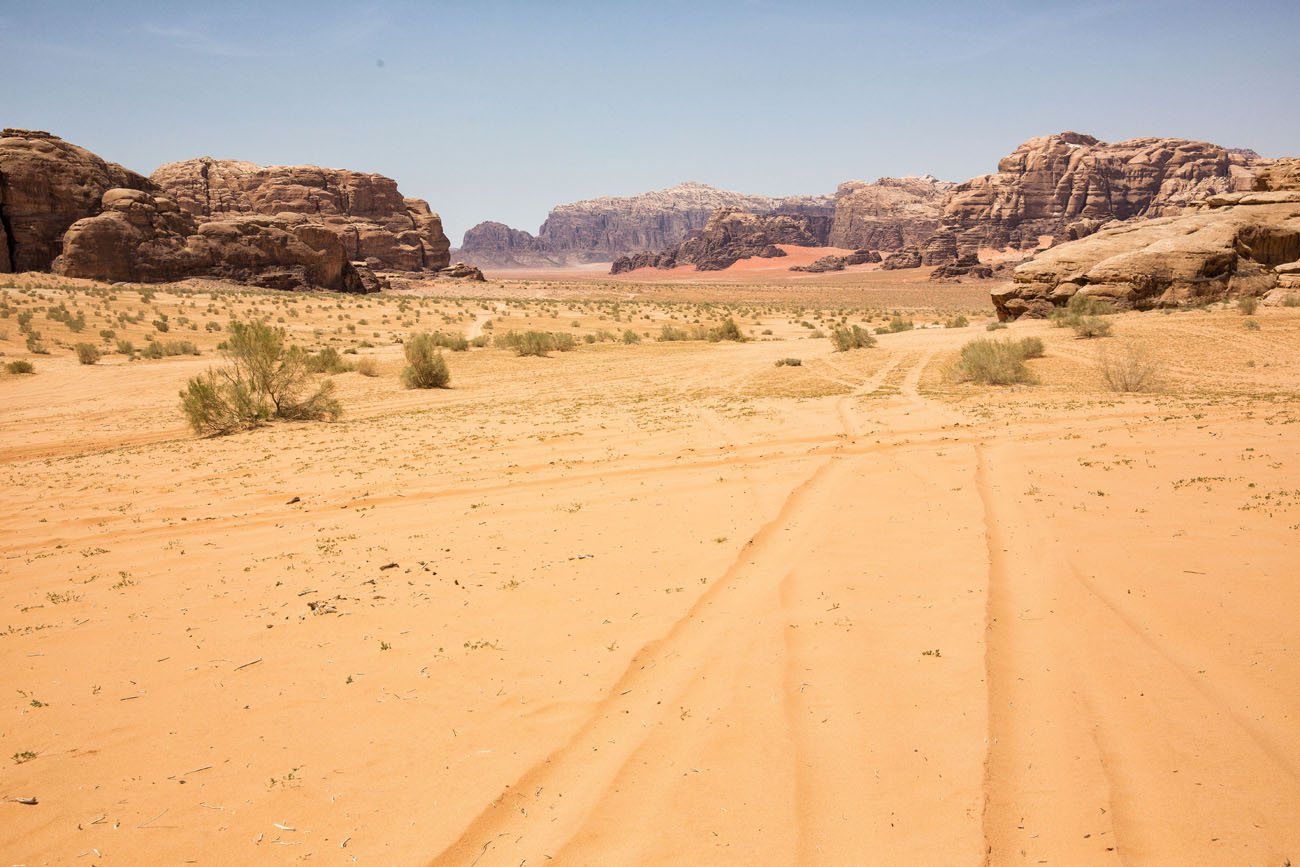 These mountains are found throughout the desert, perfect places for rock climbing.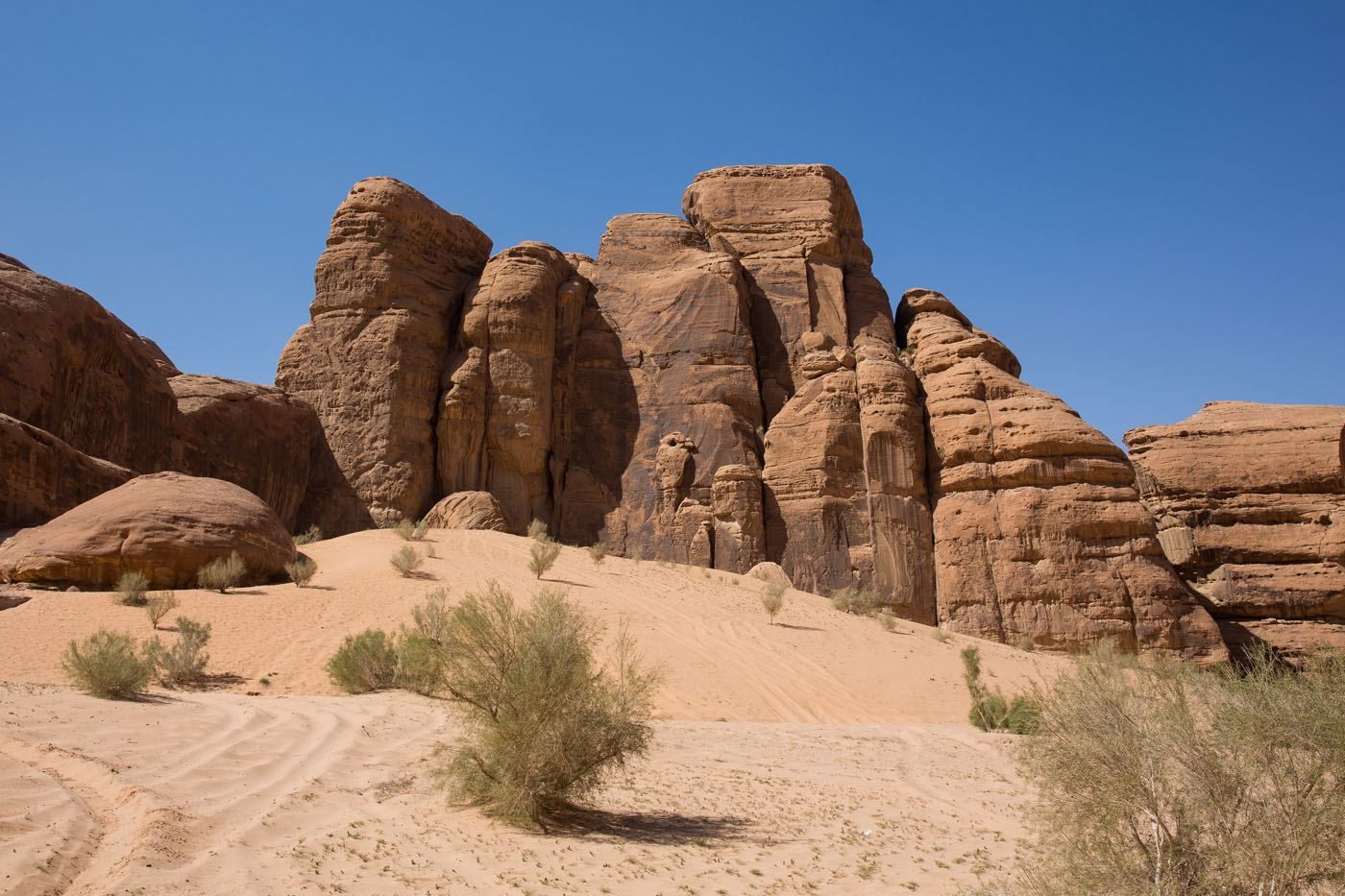 Tim and our guide, Ali, taking in the views.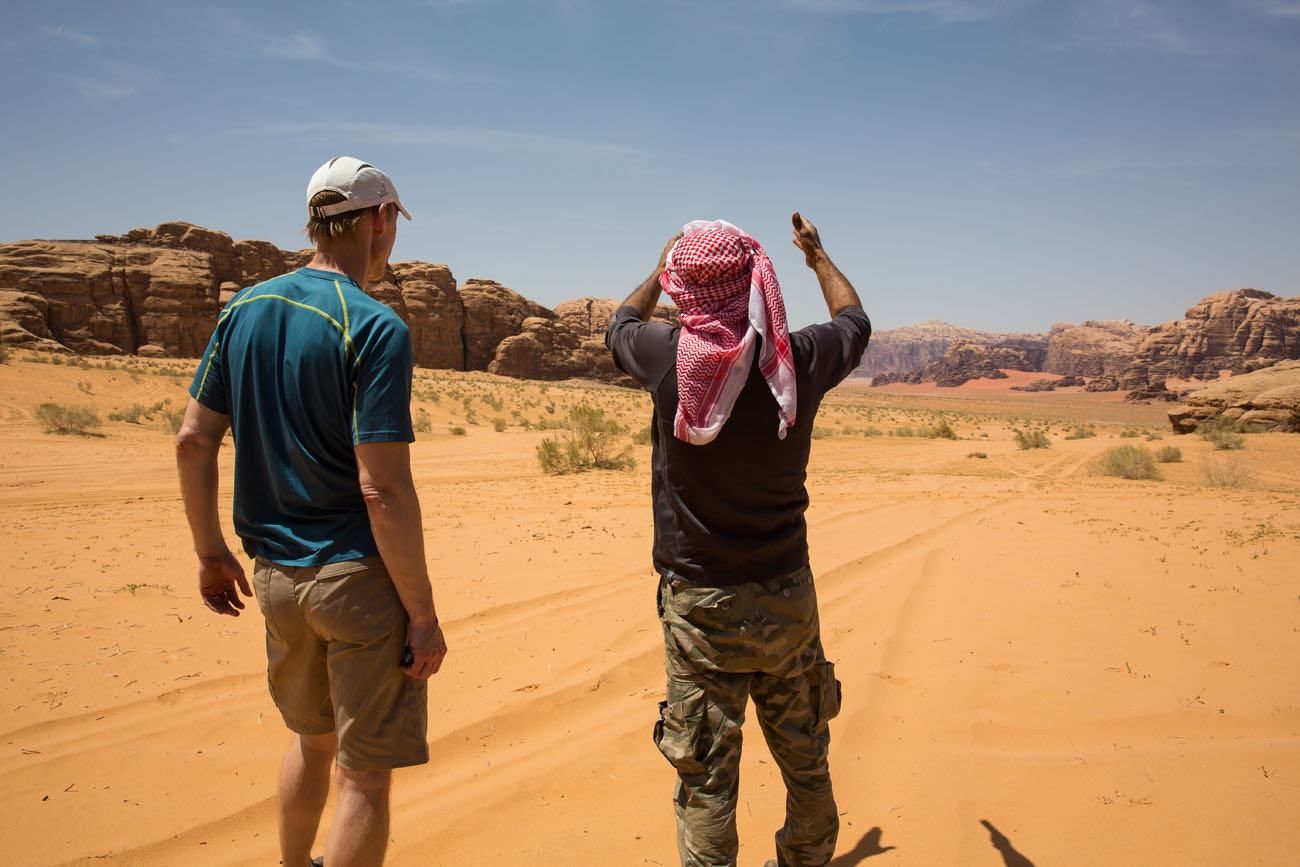 We went on an awesome hike to the Jebel Burdah Rock Bridge, seen in this photo. It was a challenging, slightly dangerous hike, with the best views of the desert we saw all day. If you plan on visiting Wadi Rum and enjoy hiking, put this hike at the top of your list. It was the highlight of Jordan for us.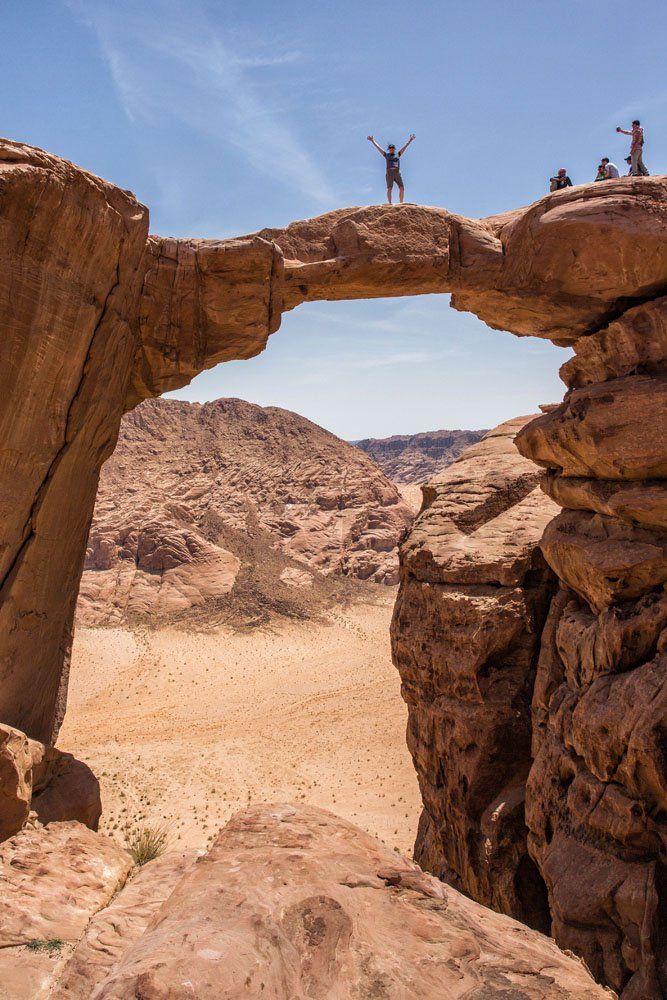 Our view over the desert from the Jebel Burdah Rock Bridge.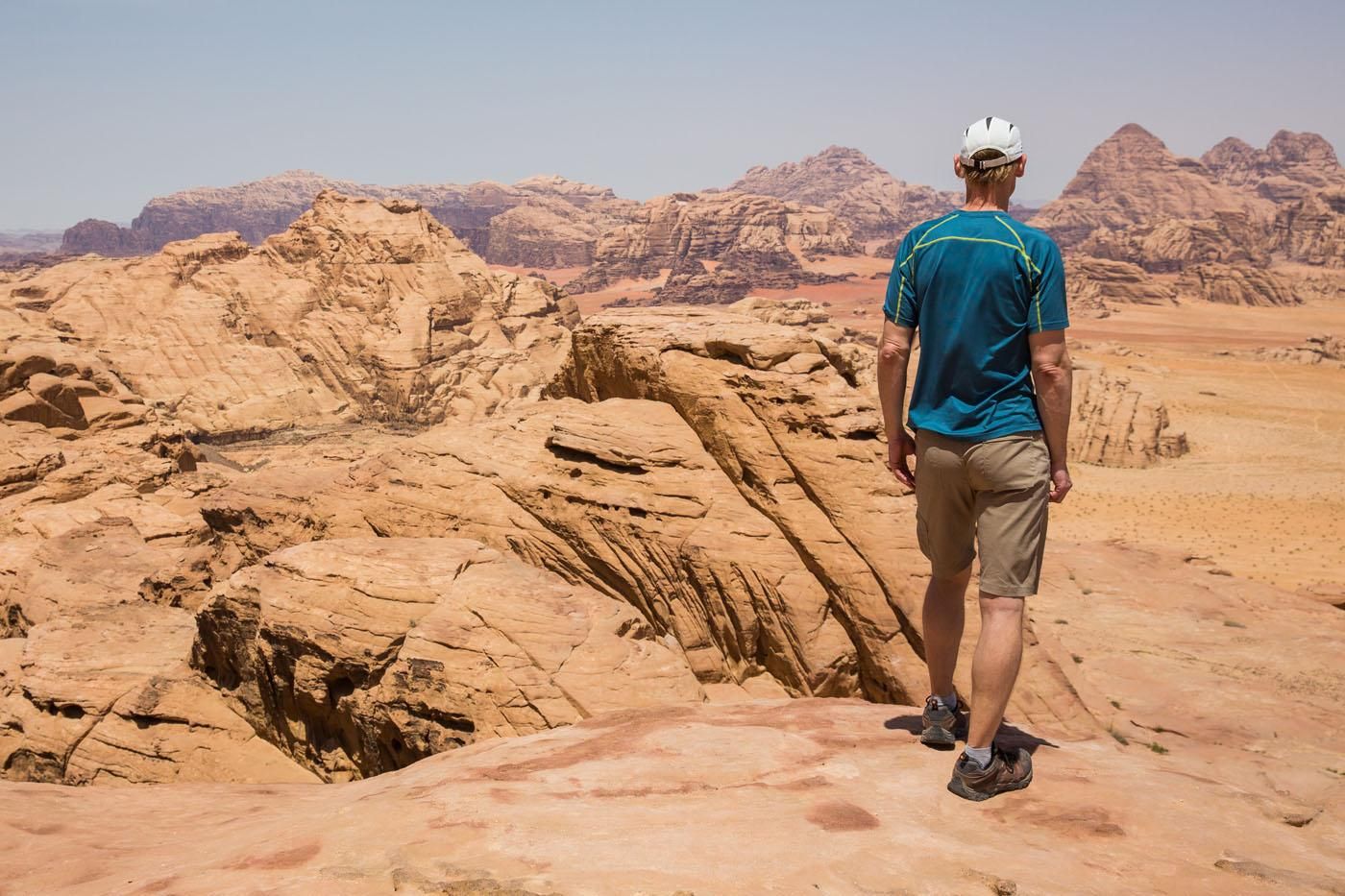 Another view of Wadi Rum from the hike.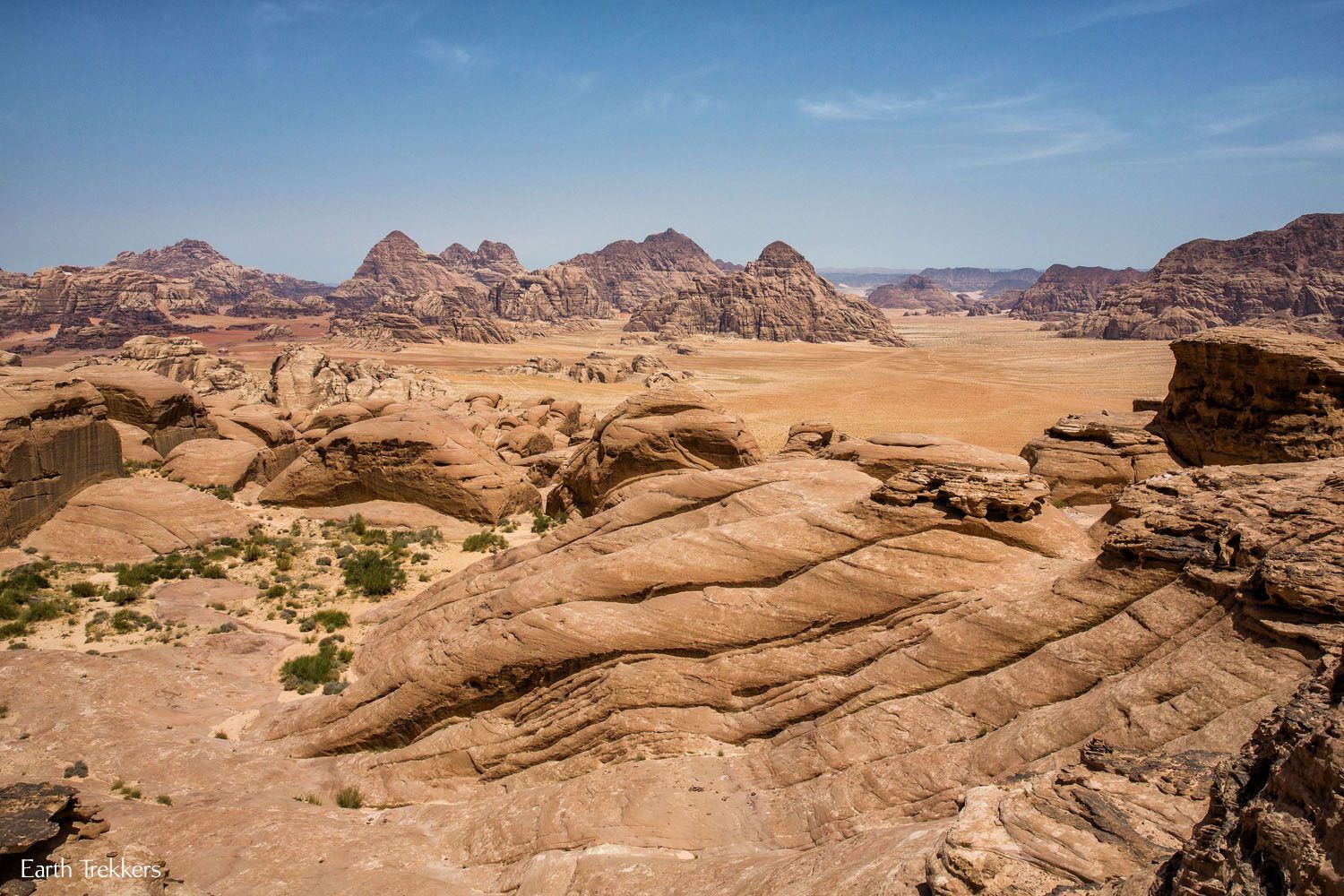 There are many unique rock formations and arches throughout Wadi Rum, like this Mushroom Rock.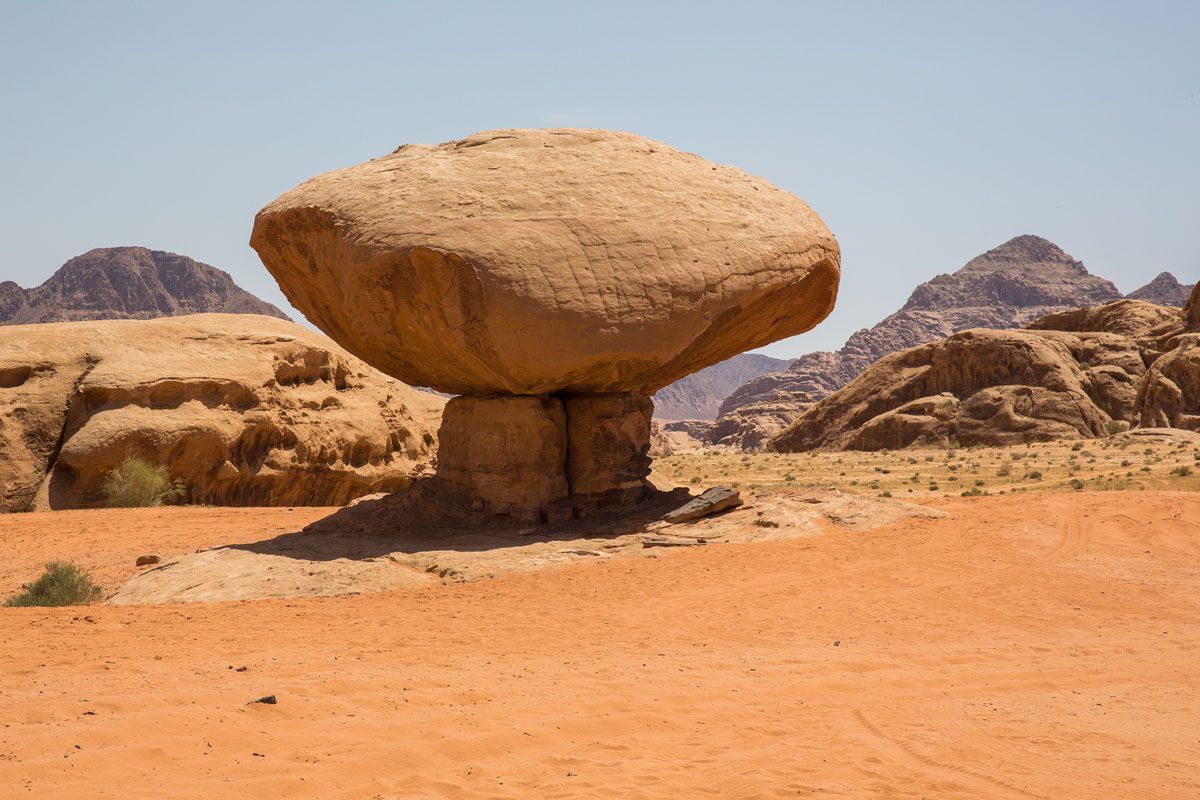 More mountains with another rock arch.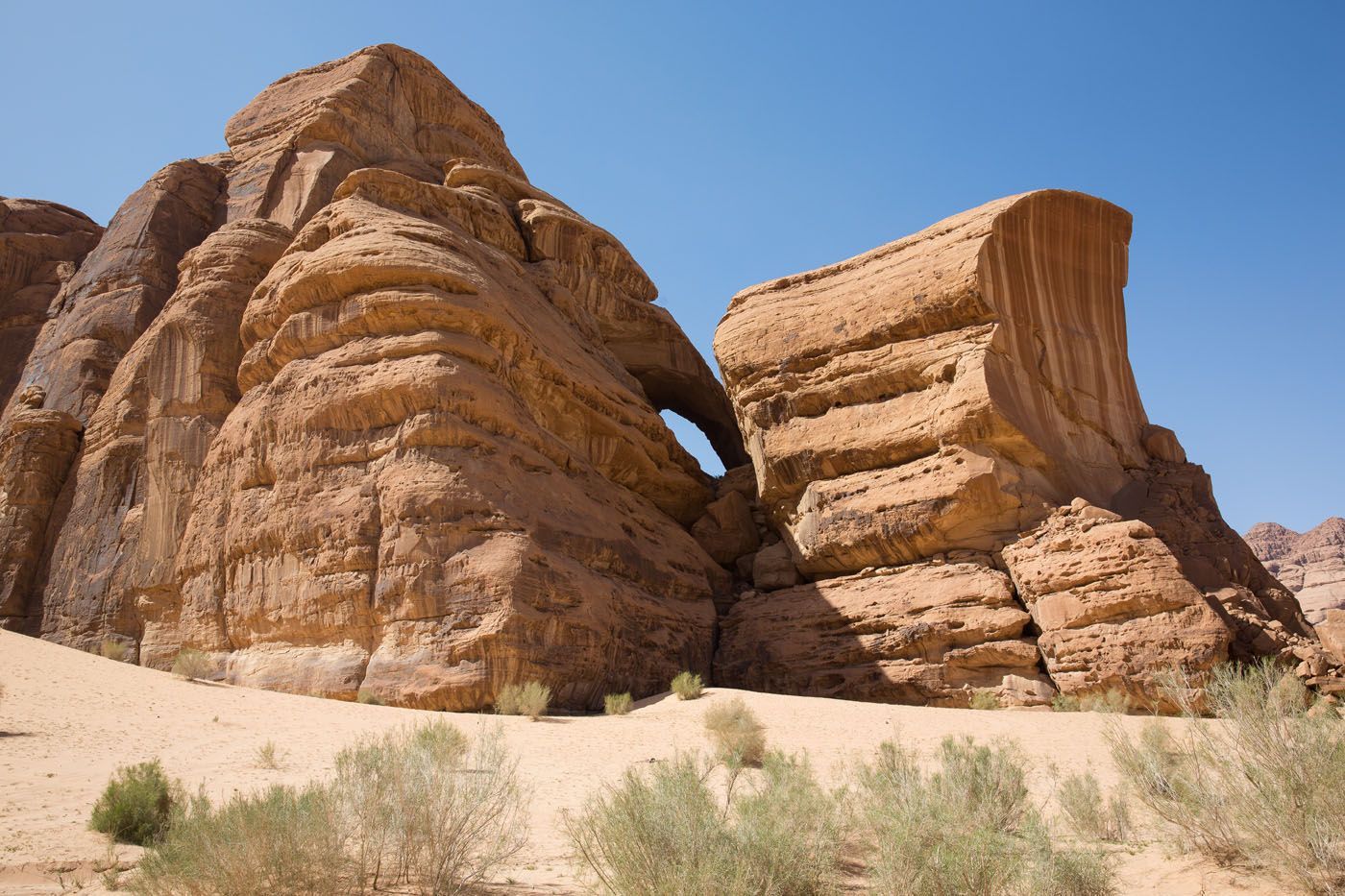 Here is our lunch spot in the desert. Ali cooked barbecue chicken with salad and hummus for lunch…delicious!!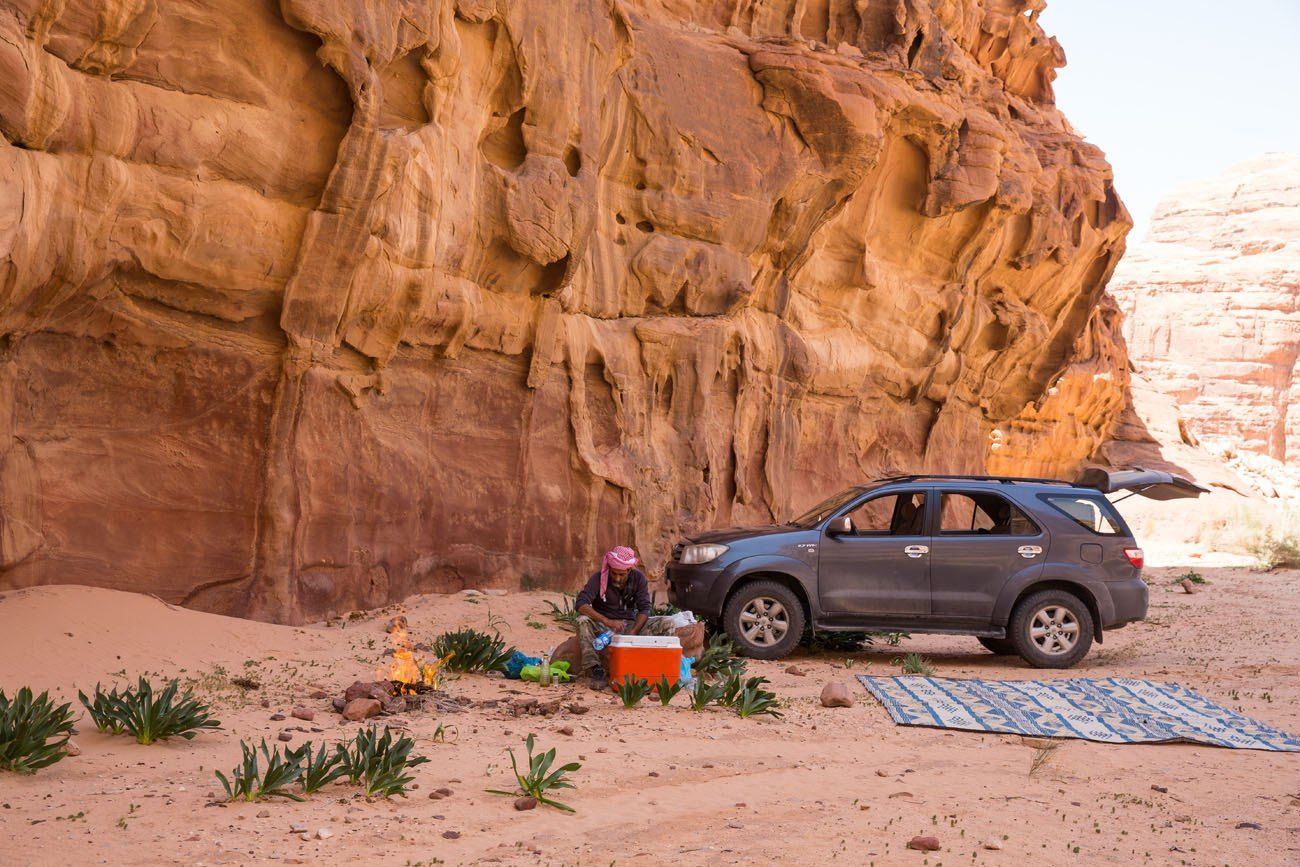 Off in the distance is the filming site for "The Martian." Ali told us that the Wadi Rum Desert has been getting above average rainfall the past few years, allowing vegetation to flourish in this normally barren landscape.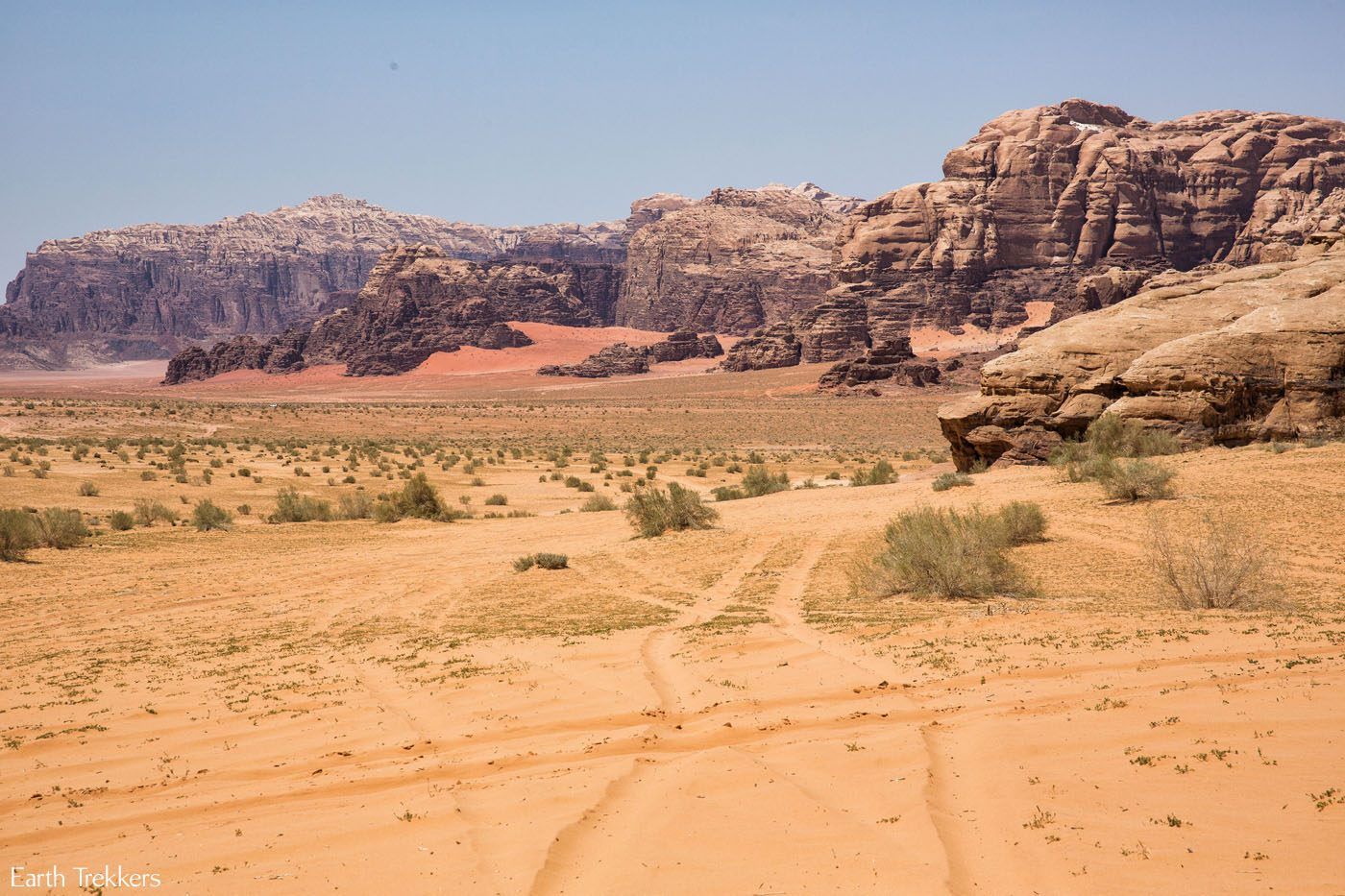 One last view of the desert, again taken by Tim out of the window of our moving vehicle. Nice!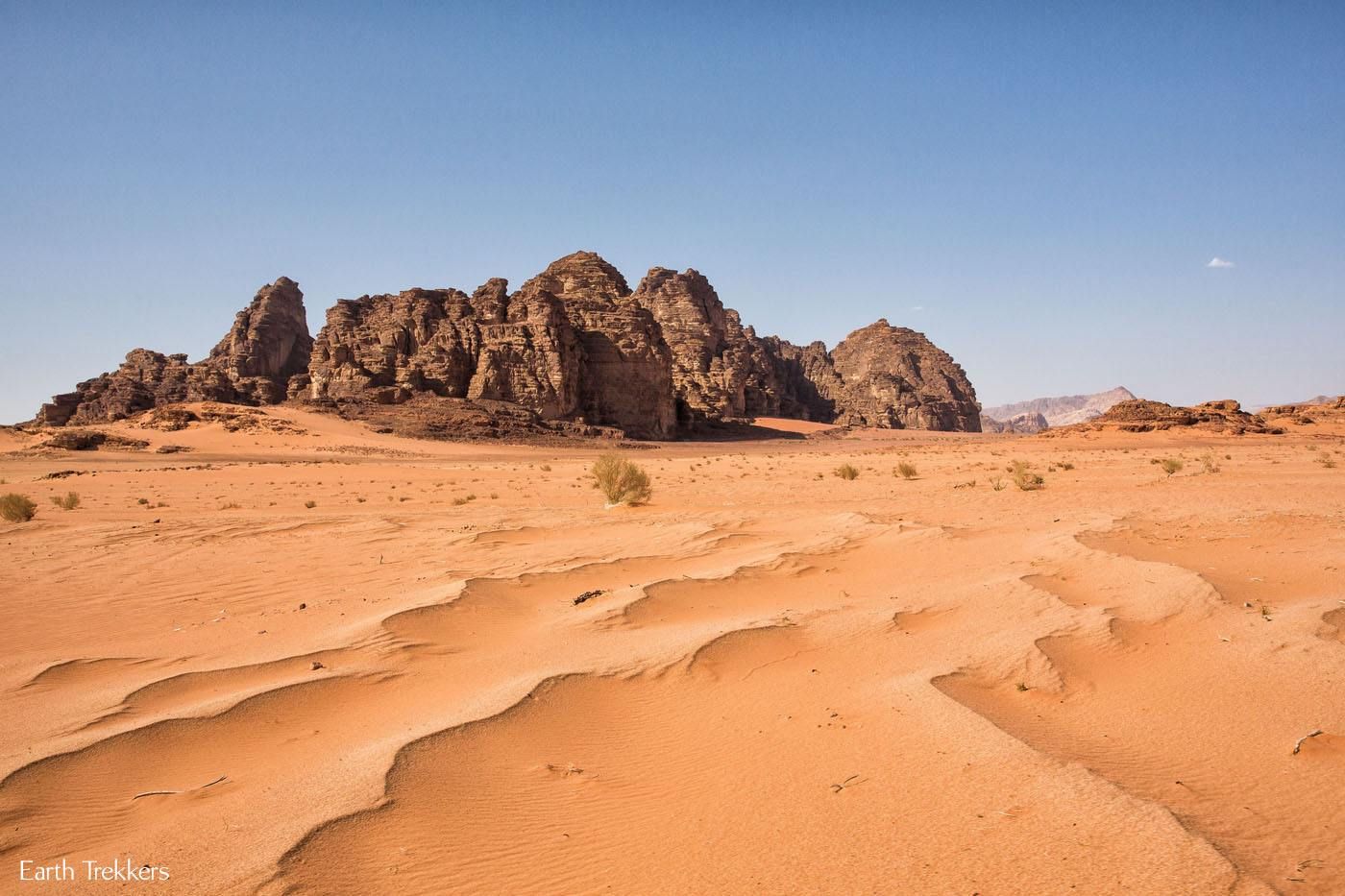 ---
More Information for Your Trip to Jordan
PETRA: Learn about the best things to do in Petra and what it is like to see the Treasury for the first time.
ISRAEL & JORDAN ITINERARY: In our 10 Day Israel and Jordan Itinerary, learn how to visit the highlights of both countries, with travel tips and essential planning information.
HIGHLIGHTS OF ISRAEL AND JORDAN: For a recap of our trip to Israel and Jordan, read our article Highlights from Israel and Jordan.
EGYPT: If you are also considering adding on a visit to Egypt to your trip, we check out our 10 day Egypt Itinerary, our Best Things to Do in Egypt article, and our Egypt Travel Guide for important planning information.
TRAVEL INSPIRATION: Here are 15 fairytale destinations to visit around the world. For more great travel destinations, check out our article 10 Destinations Perfect for the Winter Holiday Season.
All rights reserved © Earth Trekkers. Republishing this article and/or any of its contents (text, photography, etc.), in whole or in part, is strictly prohibited.