The Tongariro Alpine Crossing is often labeled as the world's greatest single day hike.
Located on the North Island of New Zealand, the volcanic terrain of Tongariro National Park breaks up the lush, green scenery that is so prevalent in this country. Here is your chance to hike in the shadow of Mt. Doom, walk through an almost lunar landscape, and watch as semi-dormant volcanoes smoke not too far off in the distance.
The Tongariro Alpine Crossing, with its ever changing views, emerald green pools, and crimson colored volcanic terrain, is one of our favorite hikes in the world. In this guide, we cover how to hike the Tongariro Alpine Crossing, how to arrange your transportation, and what it is like to do this with kids.
The Tongariro Alpine Crossing
Tongariro Alpine Crossing Hiking Stats
Distance: 20 km (12.4 miles) point-to-point
Elevation Gain: 765 meters elevation gain and 1125 meters elevation loss if you hike from Mangatepopo car park to Ketetahi car park
Difficulty: Strenuous
Length of Time: 6 to 9 hours
Location: Tongariro National Park, North Island of New Zealand

Elevation profile
The Tongariro Alpine Crossing is a 19.4 km hike, estimated to take between six and nine hours. It is a point to point hike so you will need to arrange transportation to either the start or finish of the hike.
The hike climbs up through volcanic terrain, with old lava fields, walks through giant calderas, and even past a smoking, steaming volcano that erupted just six years ago. The volcanic activity of the park is constantly being monitored, with warning signs at various points along the trail alerting hikers what to do if an eruption should occur. Already we have a little of that danger that we have been so desiring! This should prove to be a very interesting day.
Tongariro National Park was made more famous by its star appearance in the Lord of the Rings trilogy, like so many places in New Zealand. The alpine, volcanic scenery is the setting of Mordor, in which stands Mt Doom, aka Mt Ngauruhoe. For the entire trilogy, Frodo and Sam are trying to get to Mt Doom in order to destroy the infamous ring.
Tyler and Kara were thrilled not only to be hiking around a volcano but to also be hiking around a volcano featured in one of their favorite movies. At the time that they did this hike, they were 12 and 10 years old.
Please practice the seven principles of Leave No Trace: plan ahead, stay on the trail, pack out what you bring to the hiking trail, properly dispose of waste, leave areas as you found them, minimize campfire impacts, be considerate of other hikers, and do not approach or feed wildlife.
How to Hike the Tongariro Alpine Crossing
Step-By-Step Trail Guide
The Start of the Hike
Our hike started at the Mangatepopo car park at 8:30 am. It was a very chilly morning, only 45 degrees Fahrenheit or 7 degrees Celsius, and we were standing under a thick blanket of clouds.
At first we were cold and wearing hats and gloves, but all of this would quickly change. A half hour into the hike the clouds melted away and we were all taking off layers. We were thrilled to have clear skies! And there is Mt Doom!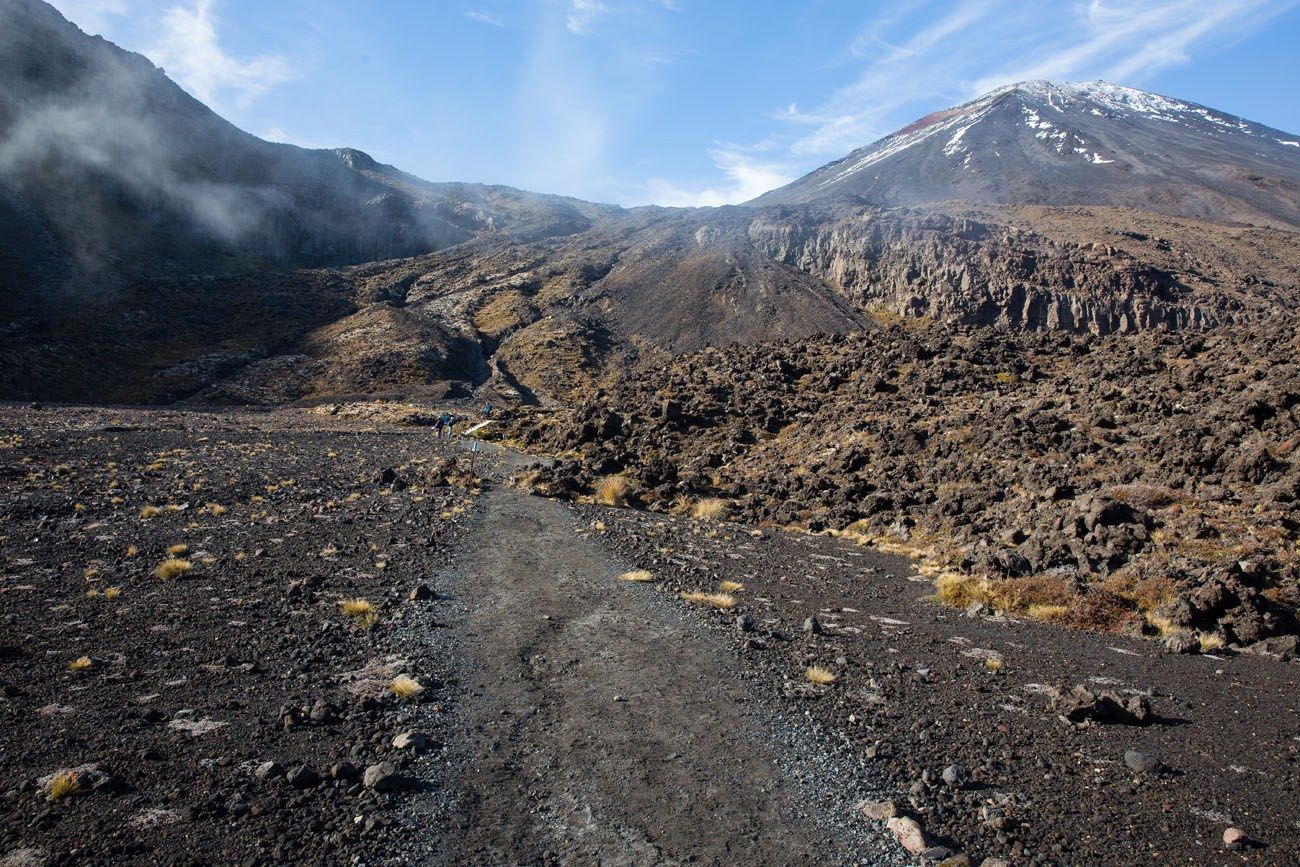 After forty-five minutes of hiking up a steady, gradual incline through alpine vegetation, the scenery began to change. The ground became darker, the soil was almost black, and there were volcanic boulders strewn across the landscape. Awesome!
After a warning sign alerting hikers as to how strenuous the trail was about to become, we began the real climb up the mountain. It was steep and tiring and had us pausing to catch our breath occasionally, but the higher we got the better the views became.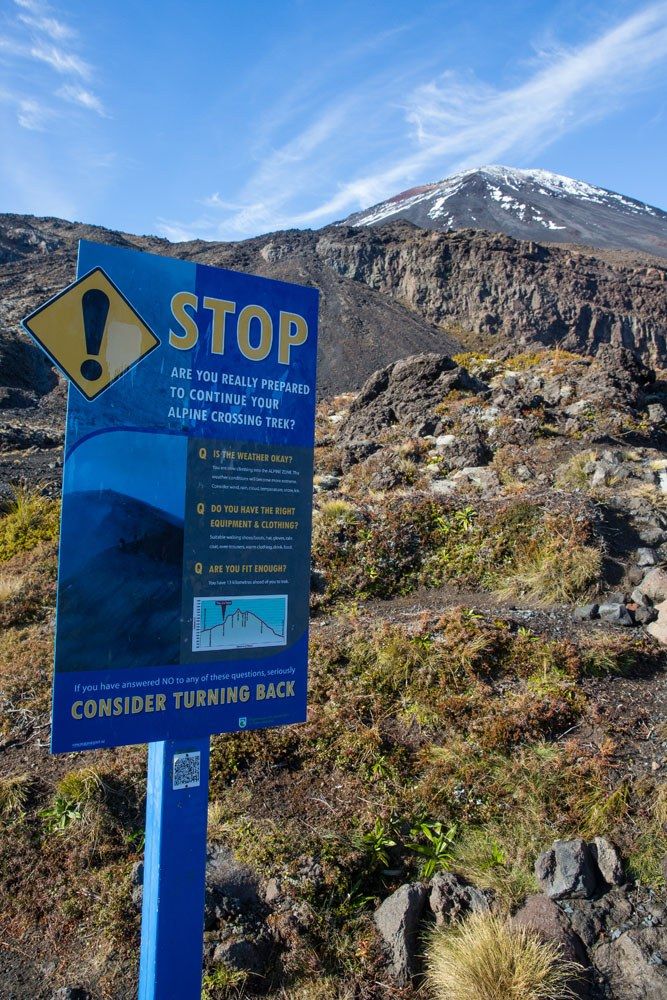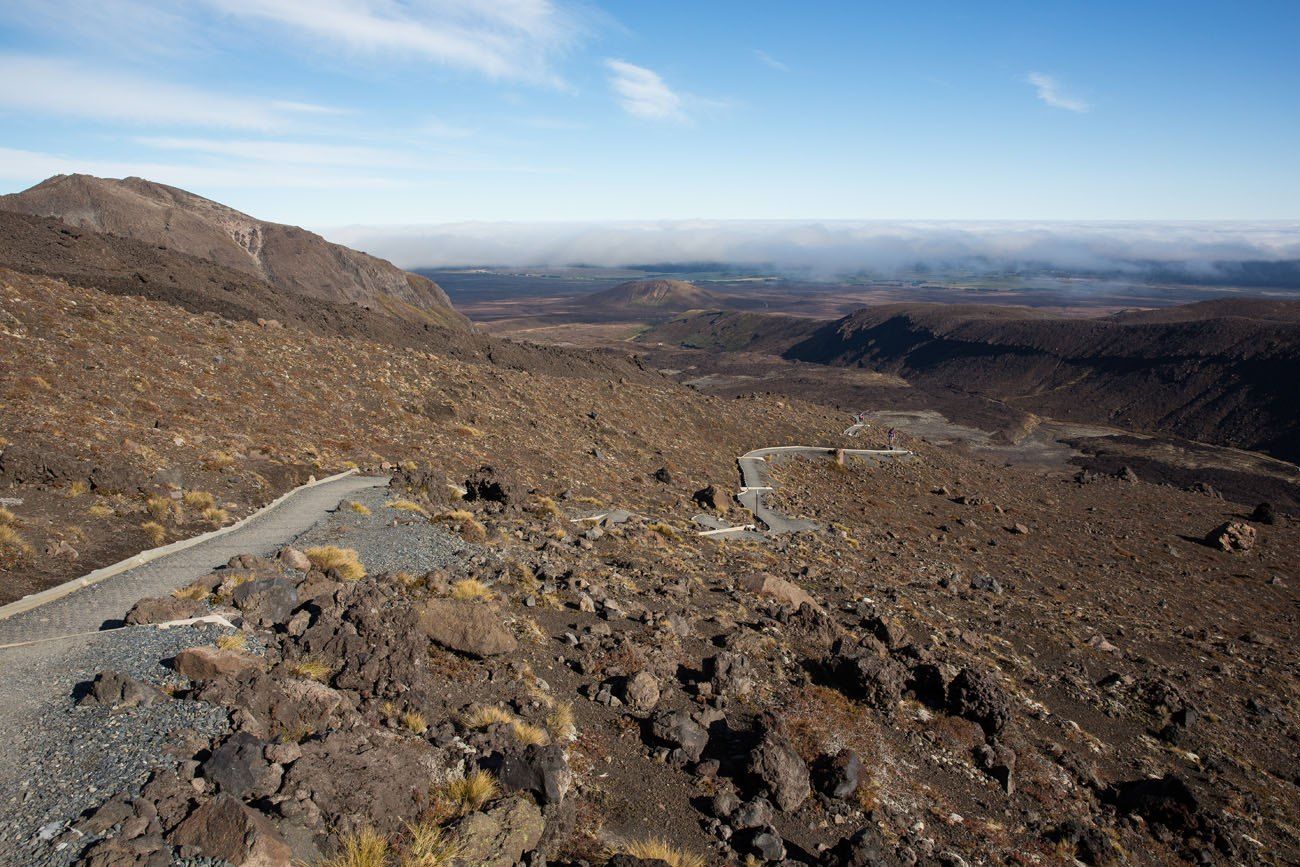 With Mt Doom looming over us we took some family photos and ate a snack of apples and granola bars. The view from here was awesome and it was about to get even better.
In the Shadow of Mt. Doom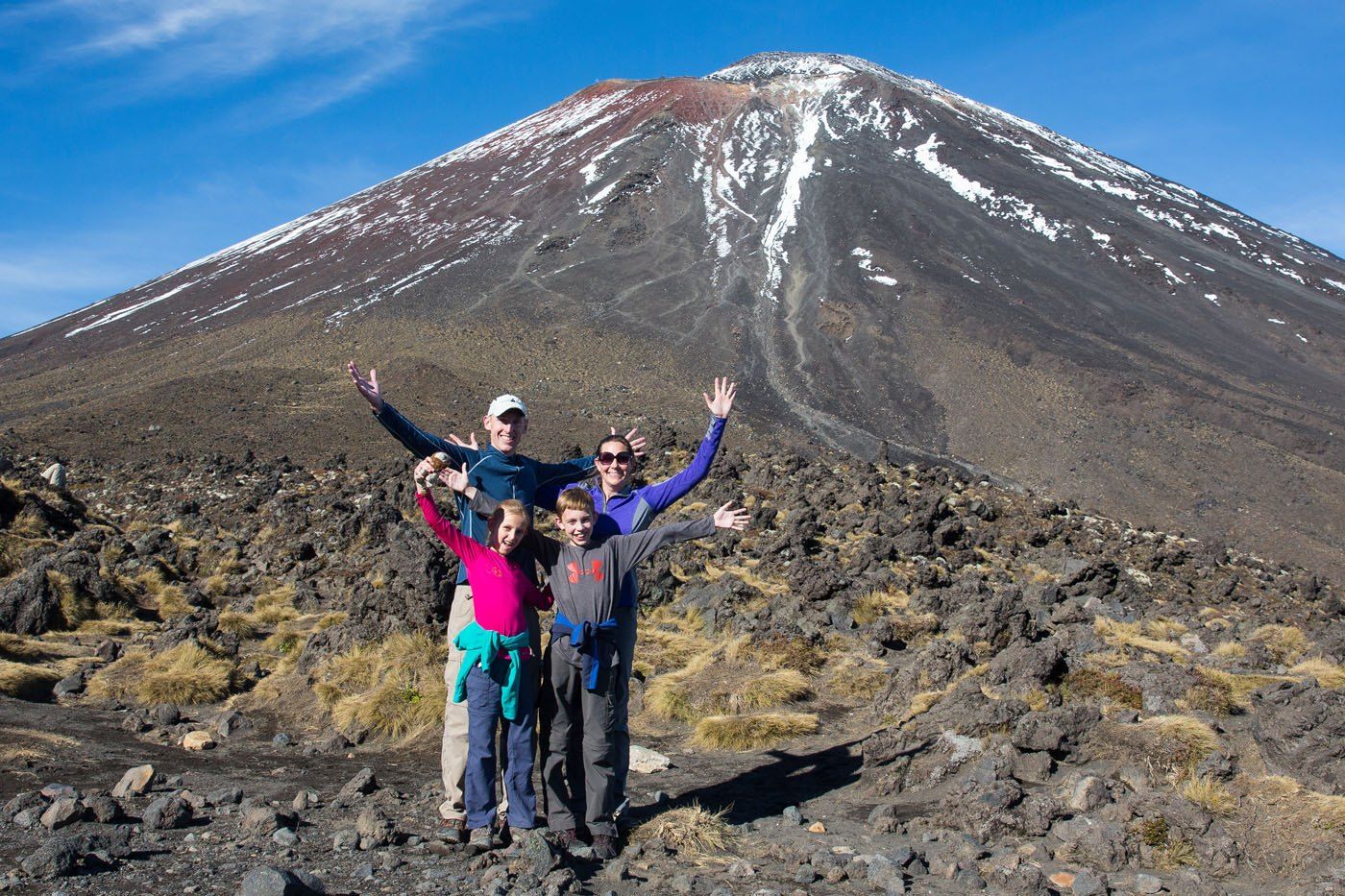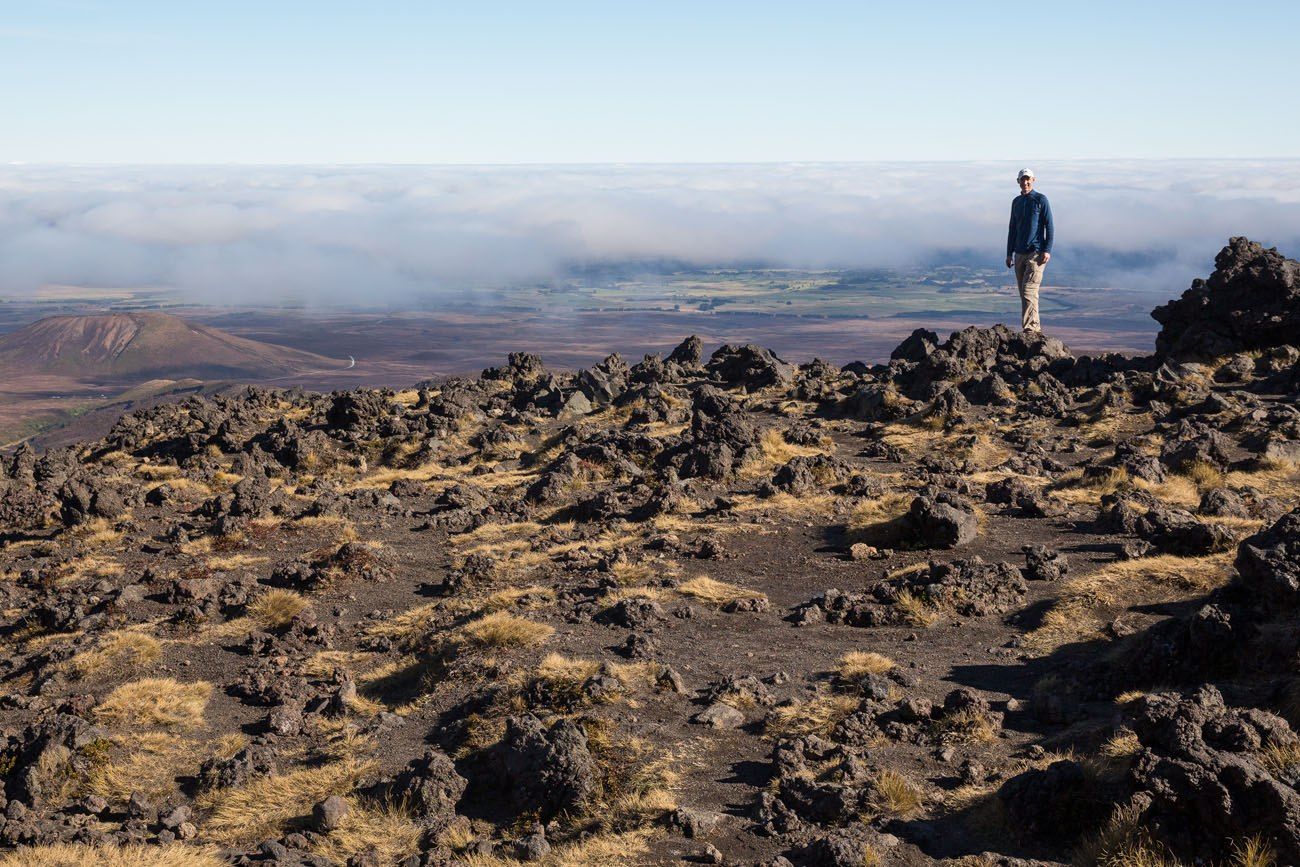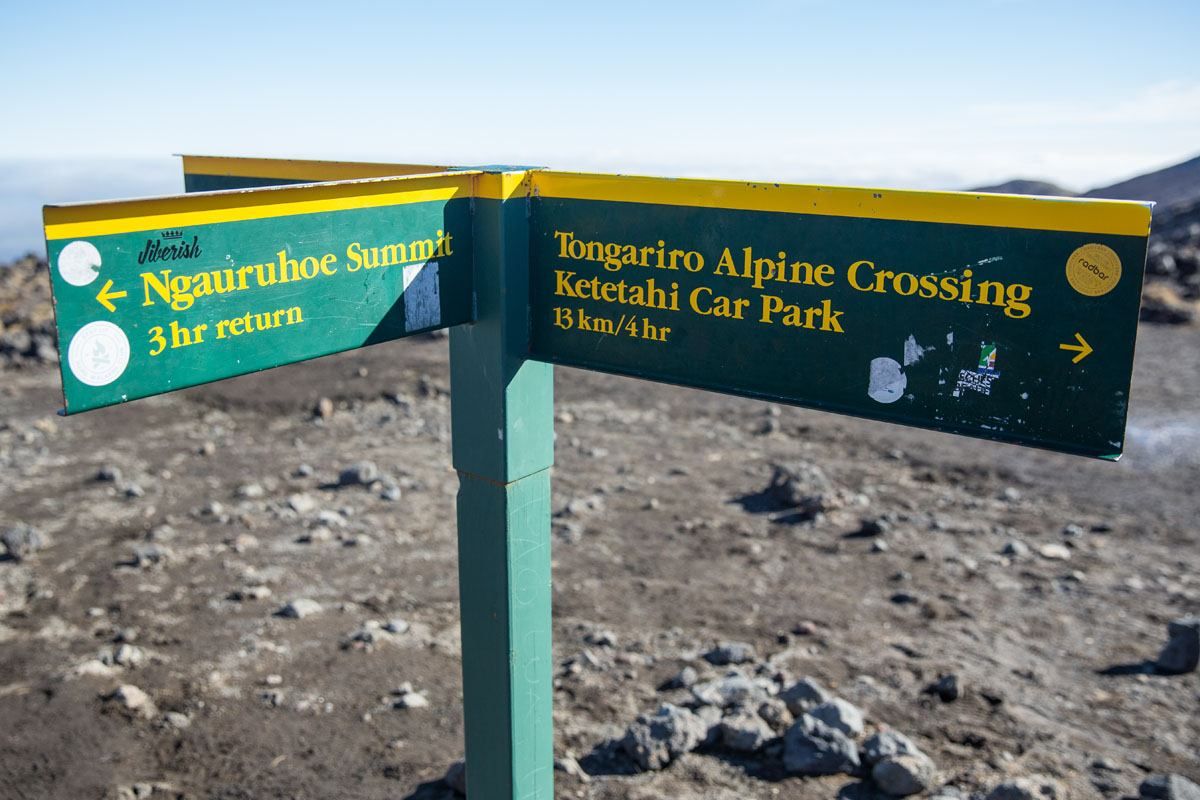 We hiked across a caldera, over flat, squishy, wet volcanic soil and then it was time for one more push to the top. The final climb was steep, strenuous, and almost a little dangerous. The ground was covered with loose gravel and it was icy, making us slip and slide at times. Not far off the trail was a drop off back down to the caldera.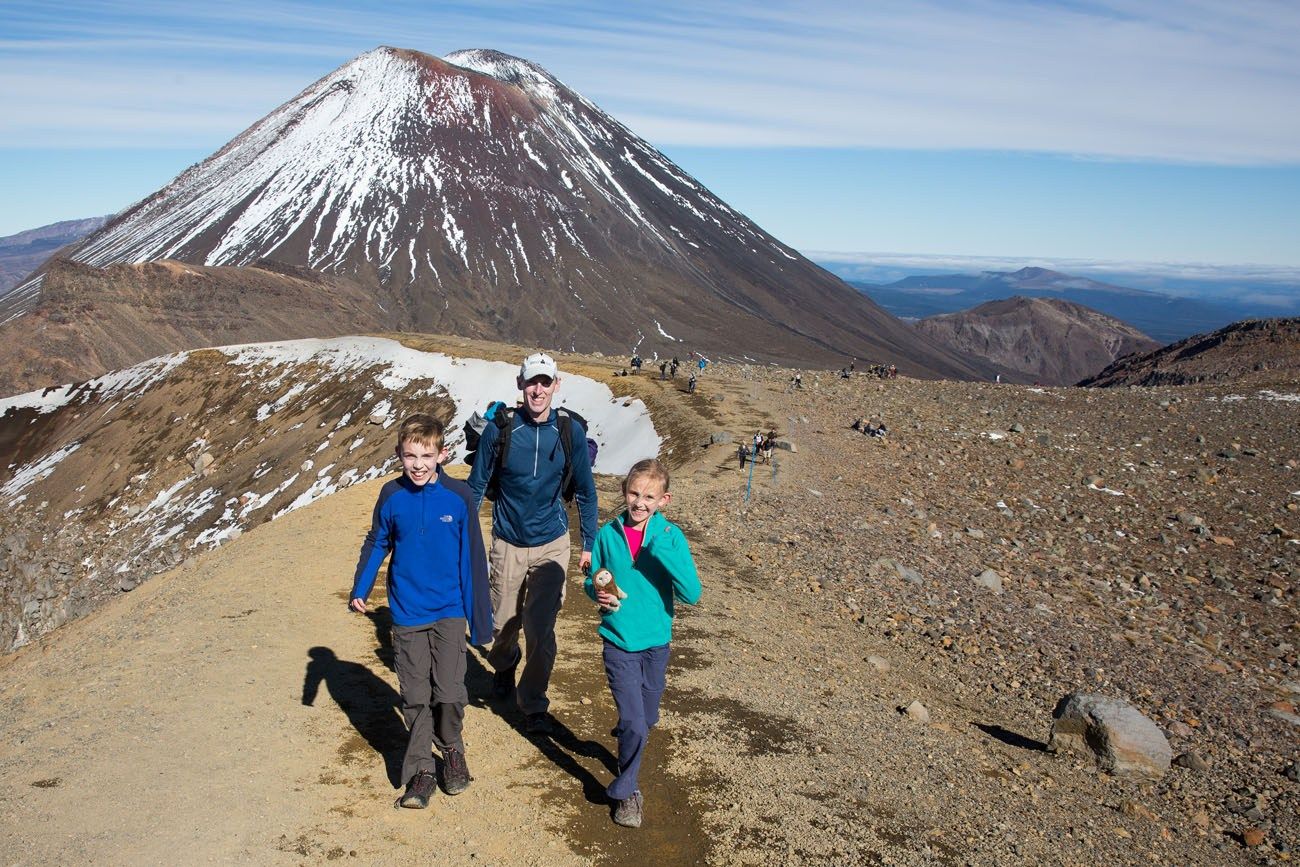 The Best Views of Tongariro National Park
From the highest point of the hike we had 360° views of Tongariro National Park. We could see Mt. Doom, the largest mountain Mt. Ruapehu, the Red Crater, small green lakes, and even Lake Taupo off to the north.
The skies were crystal clear and the temperatures were still on the chilly side but they were perfect for hiking. What a perfect day.
The ever changing scenery and the difficulty of the trail combined with a little danger here and there kept things fun and interesting. This really is a fantastic hike!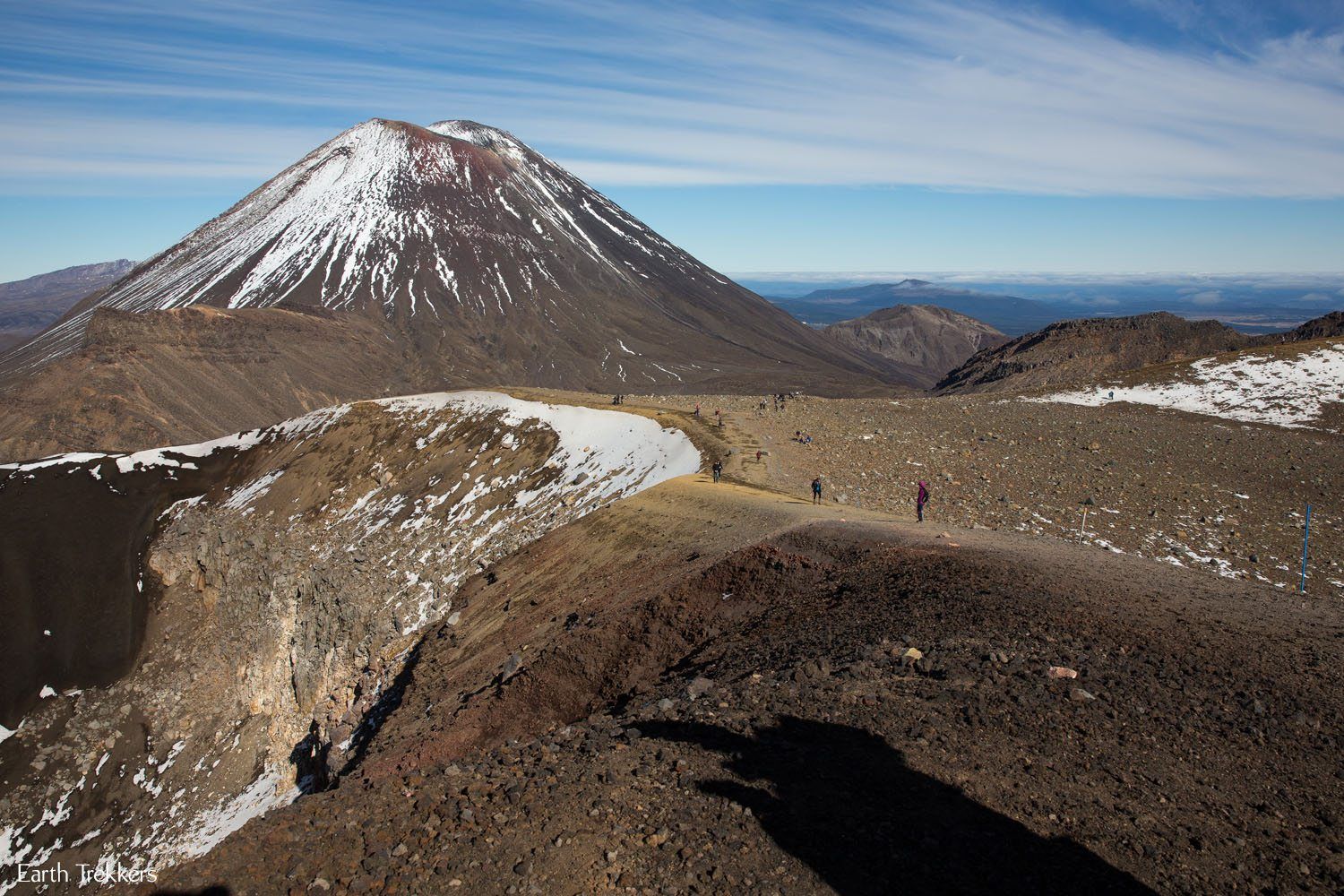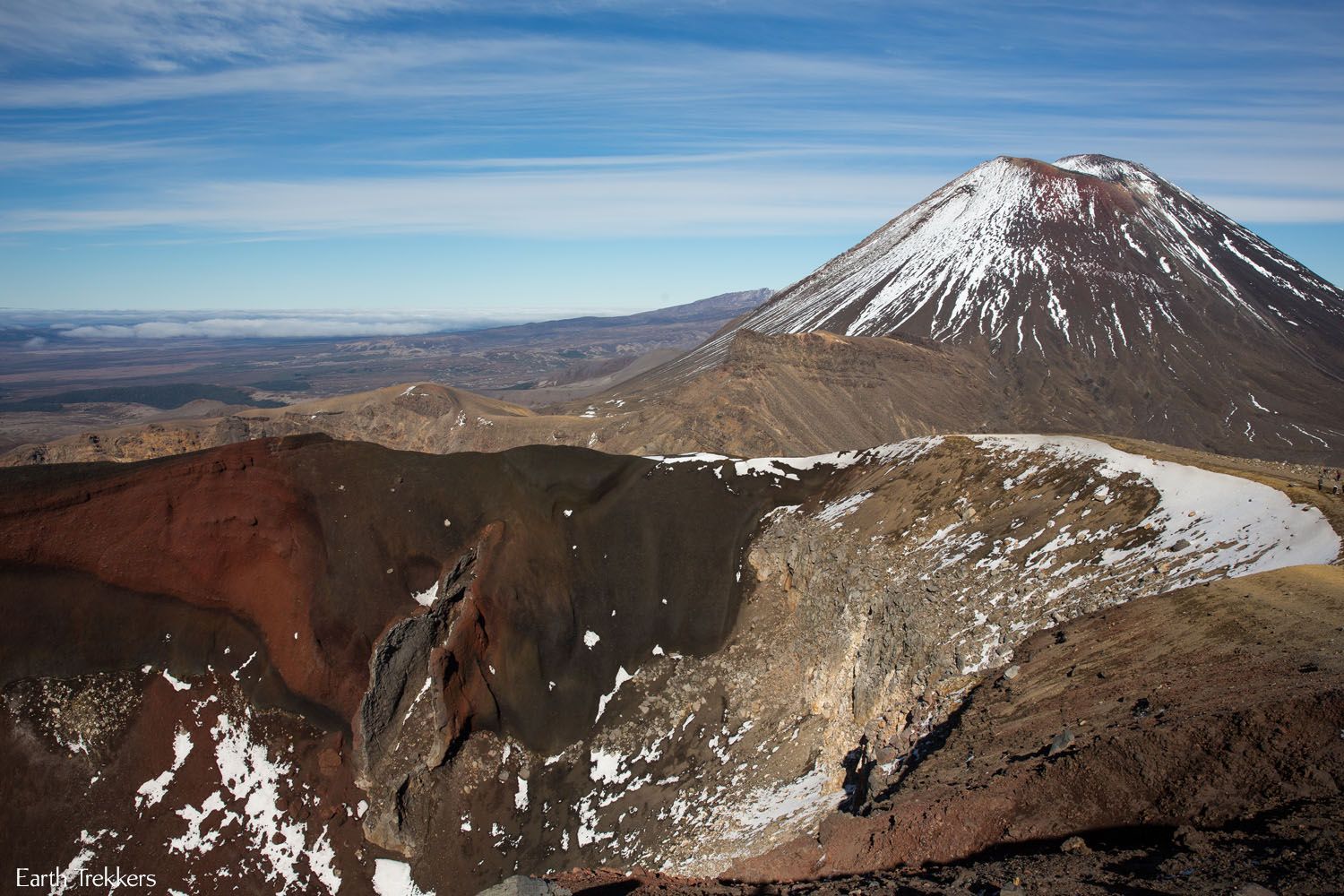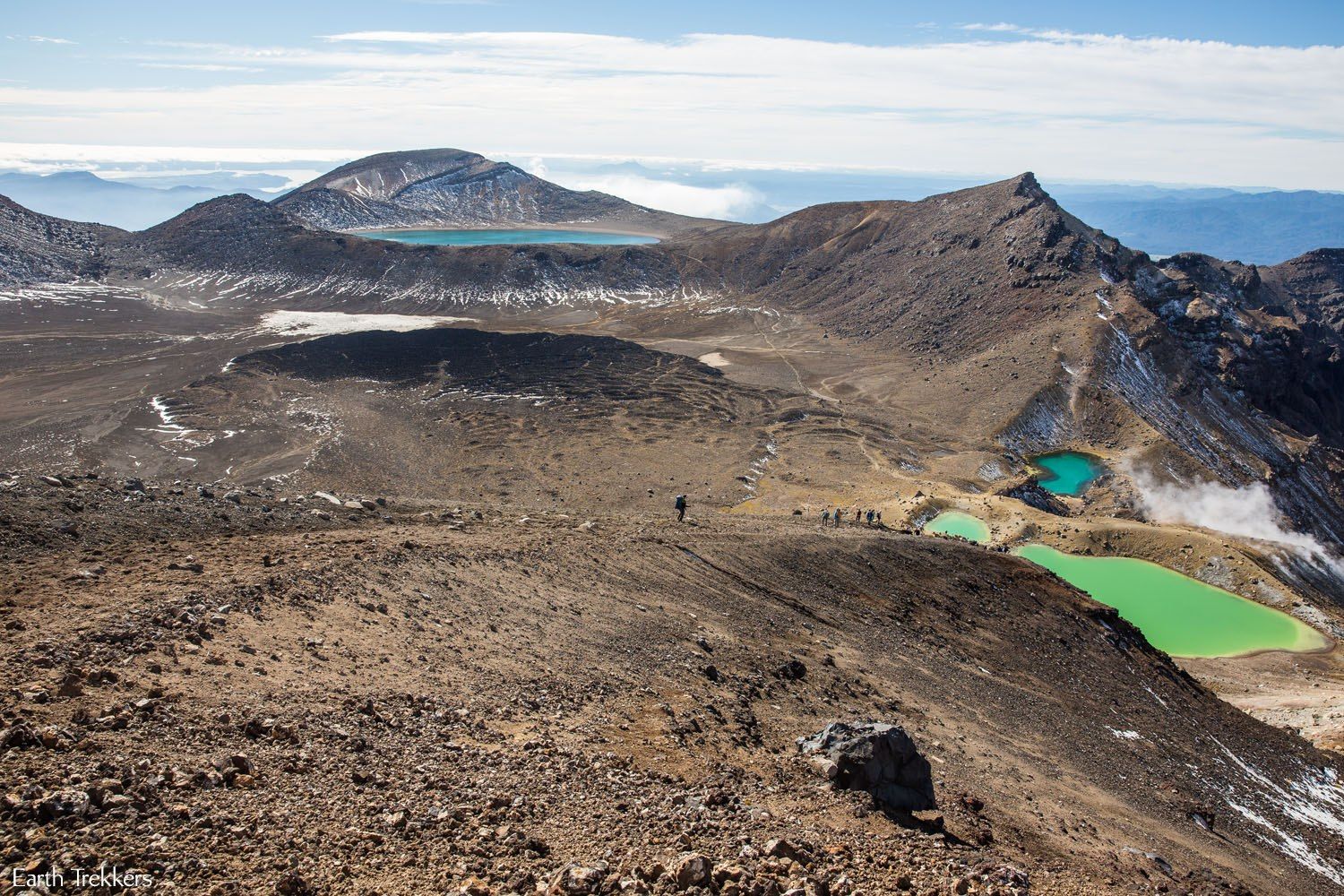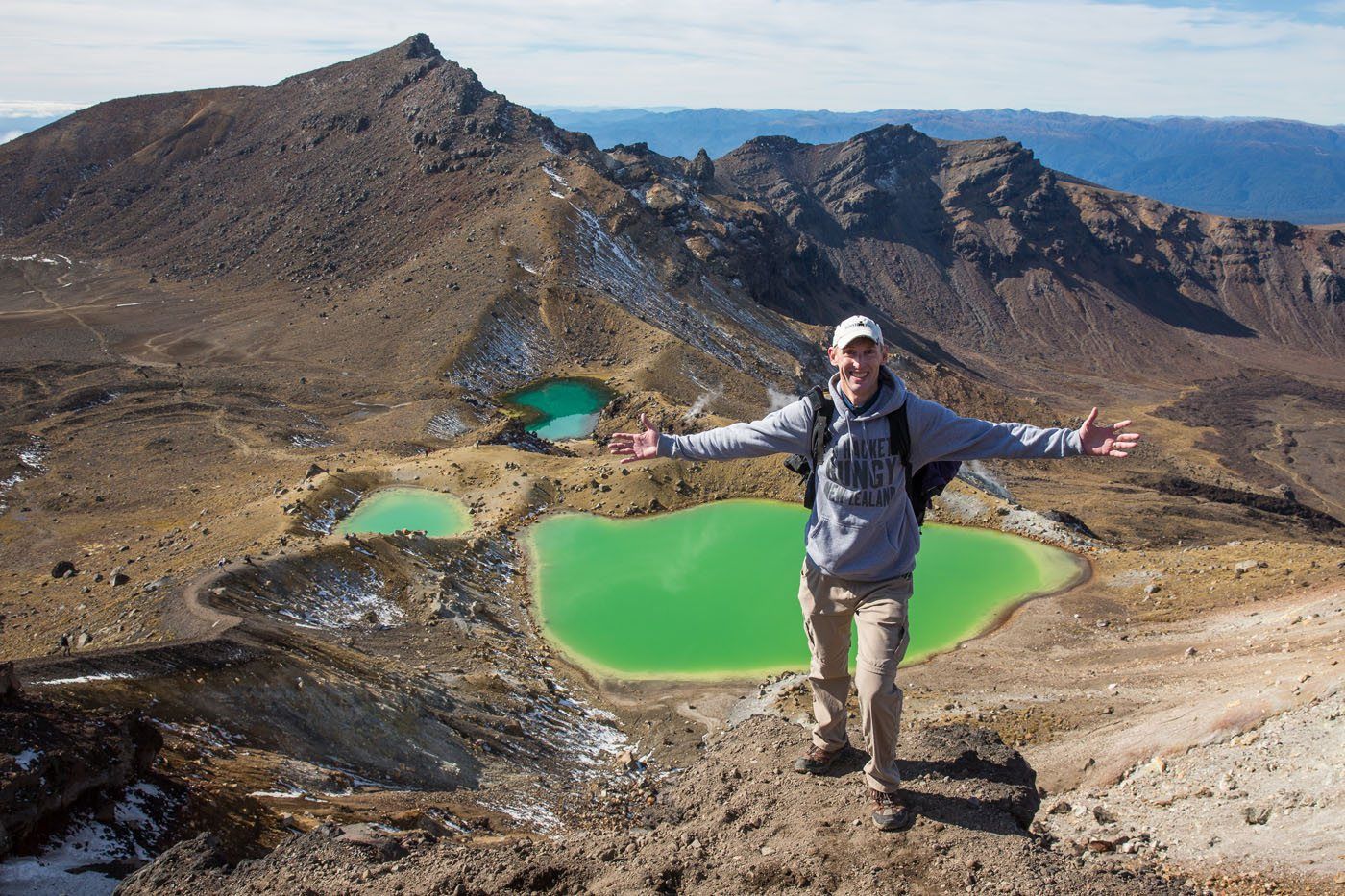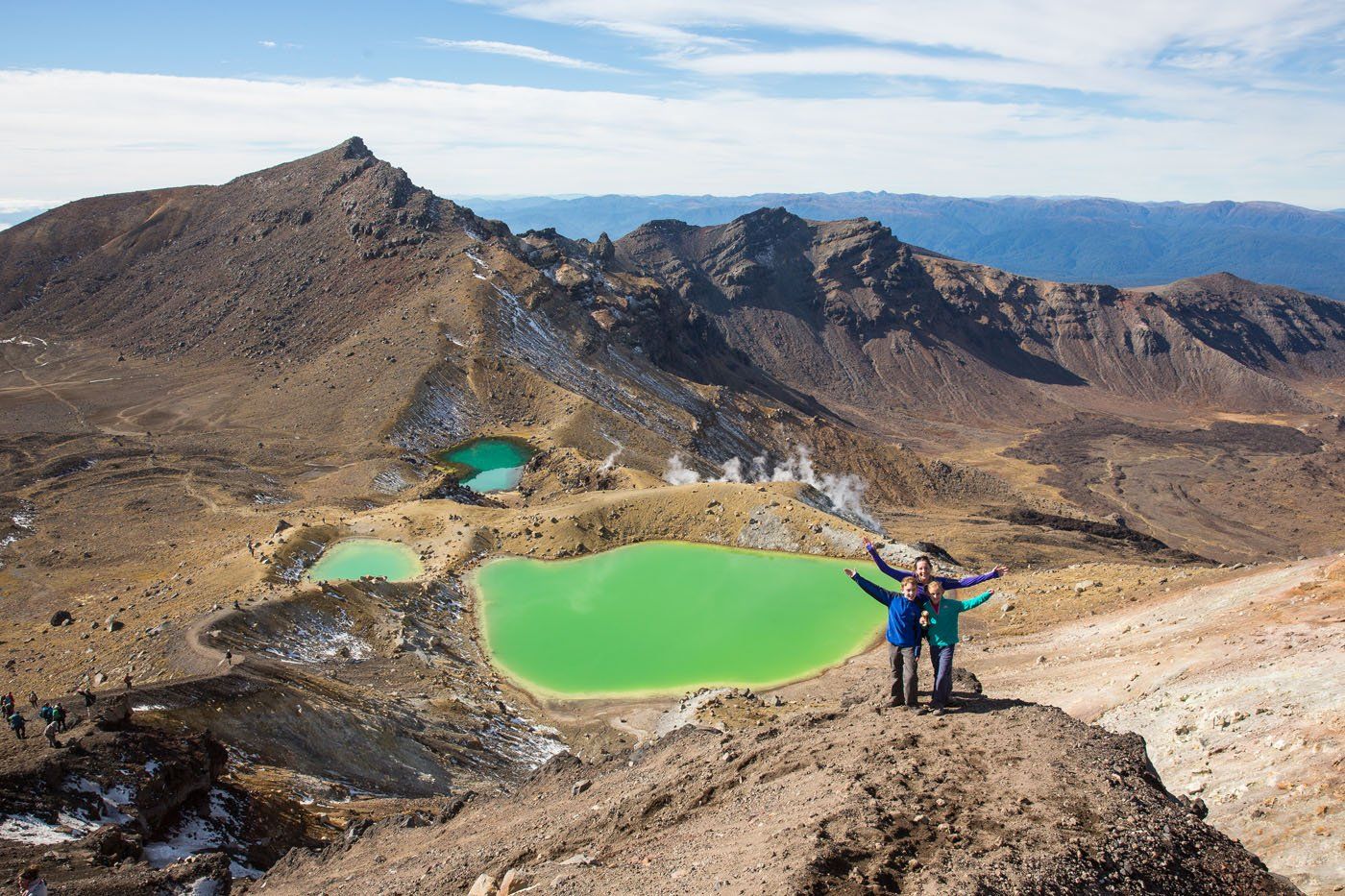 From this viewpoint we paused to enjoy the view we worked so hard to get to. It's times like these that make me thankful that we are fit and healthy enough to do things like this, especially as a family. It is a gift to be able to travel like we do but it is moments like these that really make us appreciate what we are doing.
Sliding Down the Mountain
Now comes the fun part. It was a steep descent down to the thermal pools. The path was covered with thick dirt and gravel with a drop off on either side. We figured out how to slide down through the gravel, almost like skiing, getting to the bottom in almost no time at all.
The air smelled of sulfur so there would be no picnic stops here, even though the views were amazing.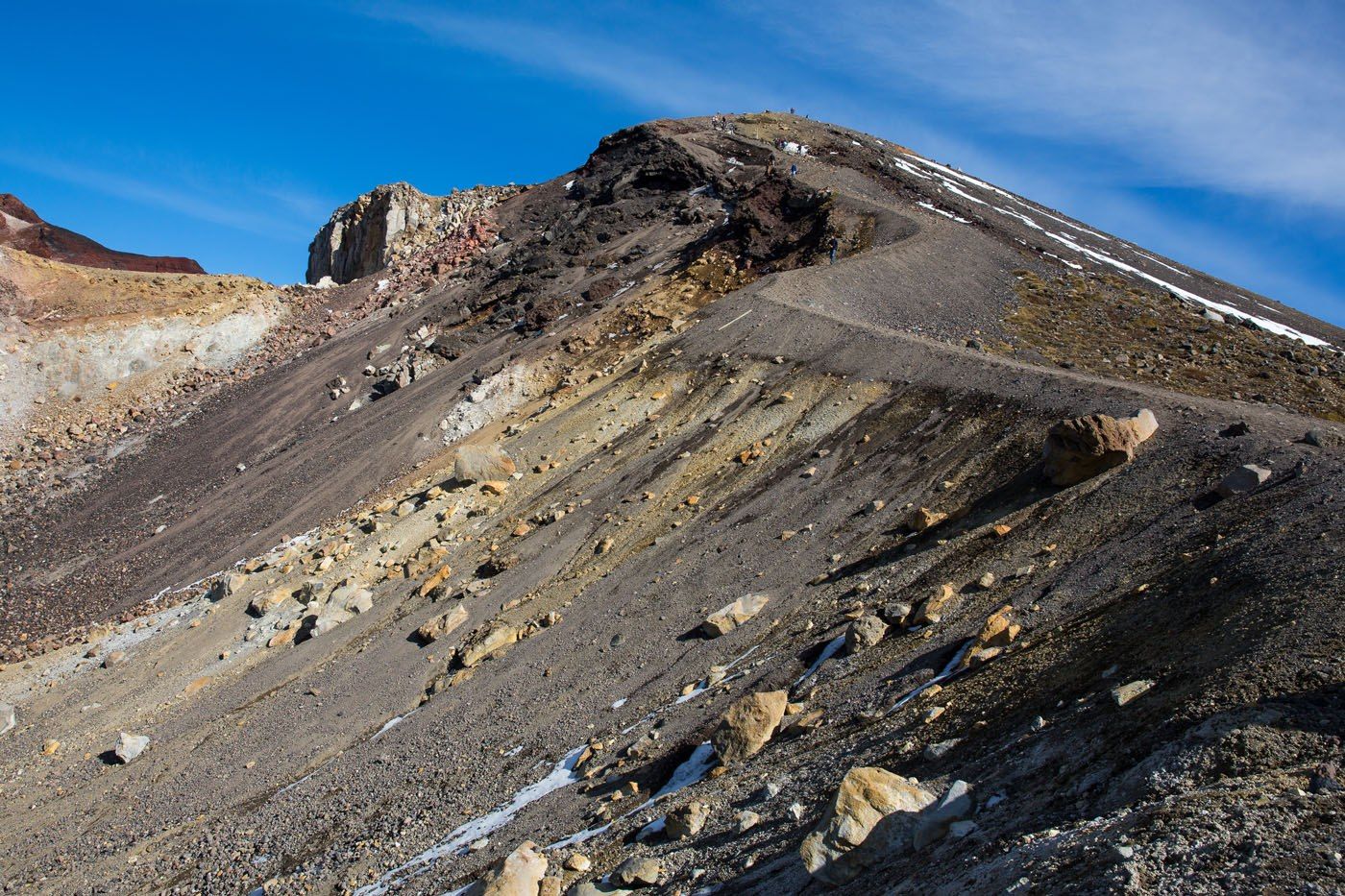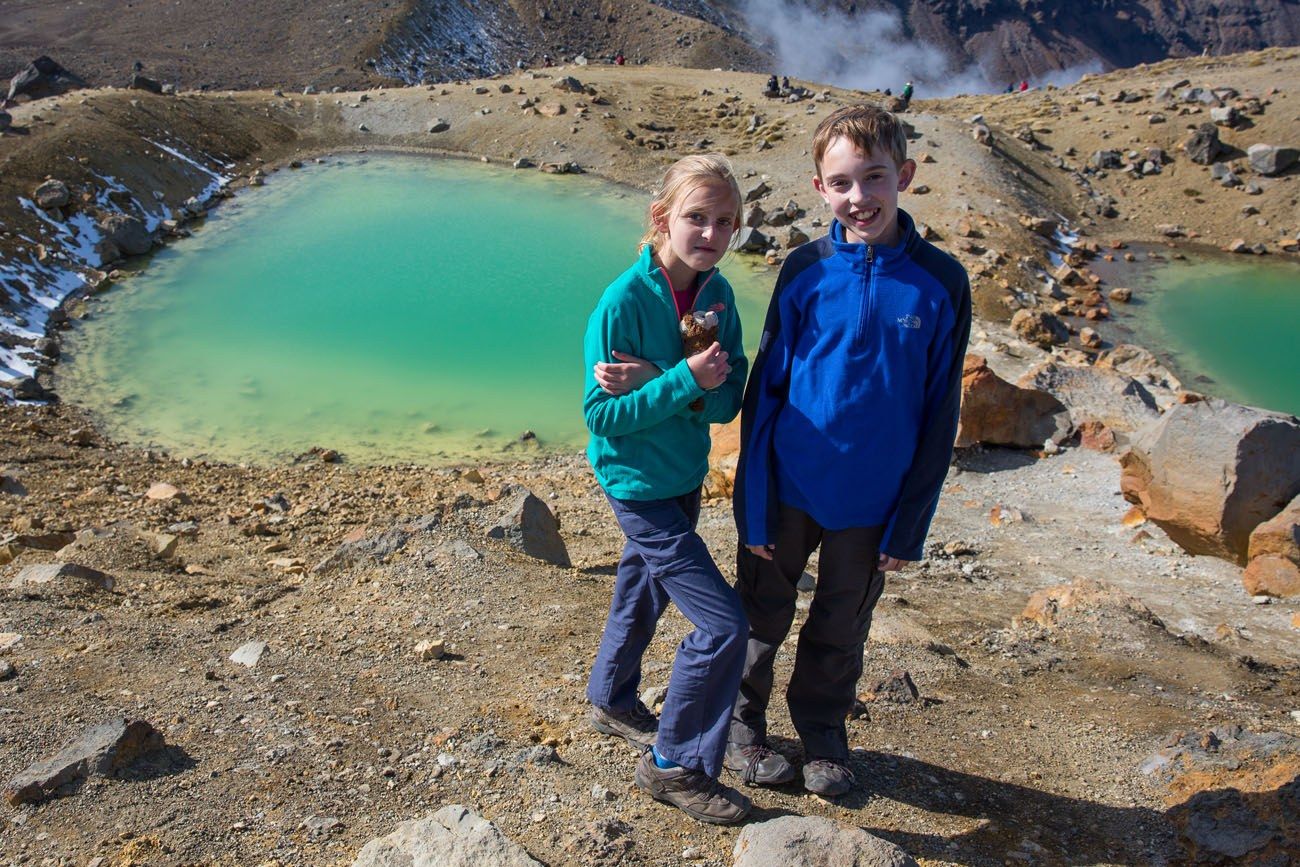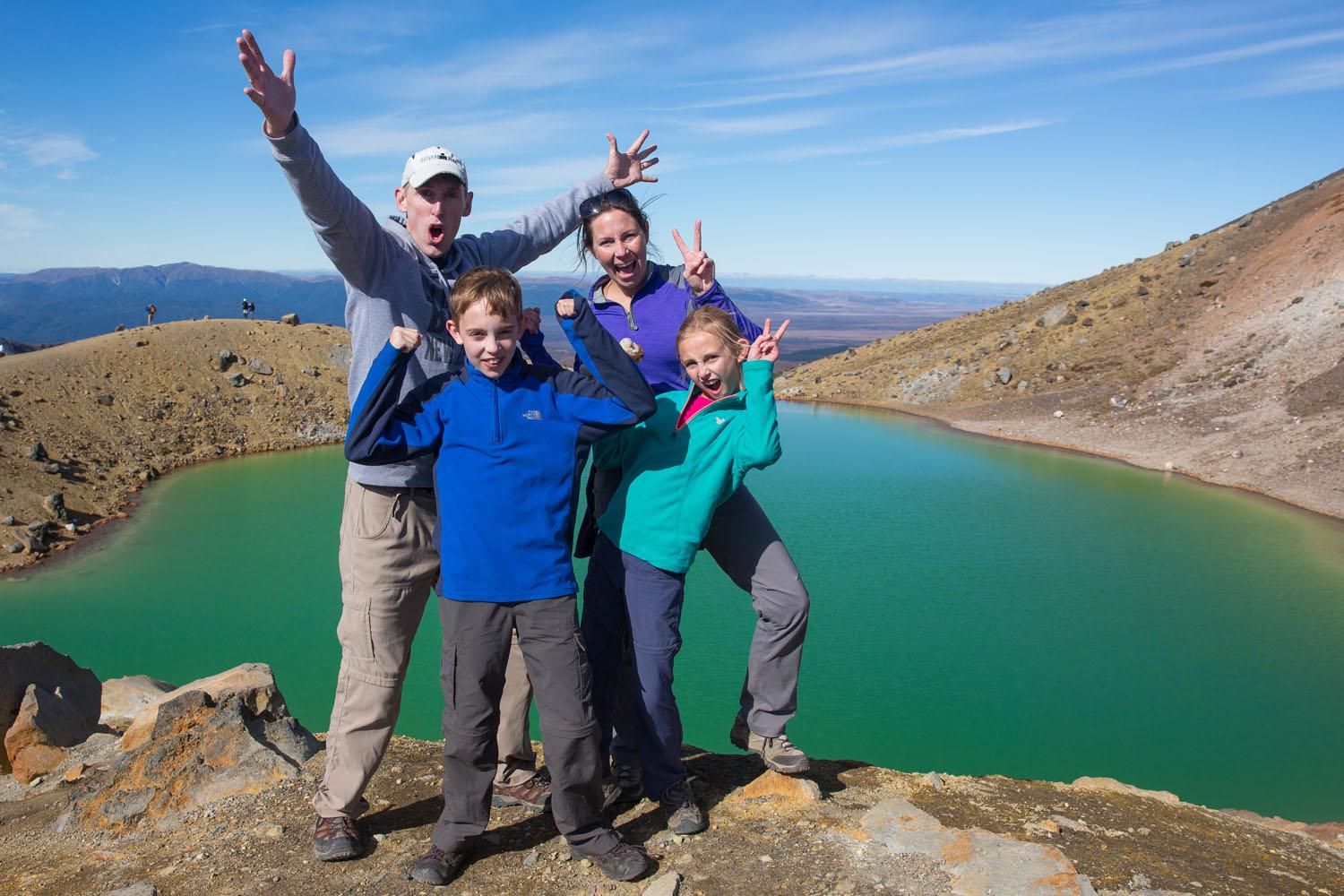 The Final Kilometers of the Hike
Now it was time for the walk towards the car park. For the most part, the most dramatic scenery was behind us, except for a few small surprises here and there. We found a sulfur free viewpoint overlooking a large lake and it was here that we ate a picnic lunch of ham and cheese sandwiches.
From this point it was a downhill walk back to the Ketetahi car park. Tyler and Kara were now determined to get back to our car as quickly as possible, so they really increased our speed. For part of the way, Tim and I were almost jogging to keep up with them.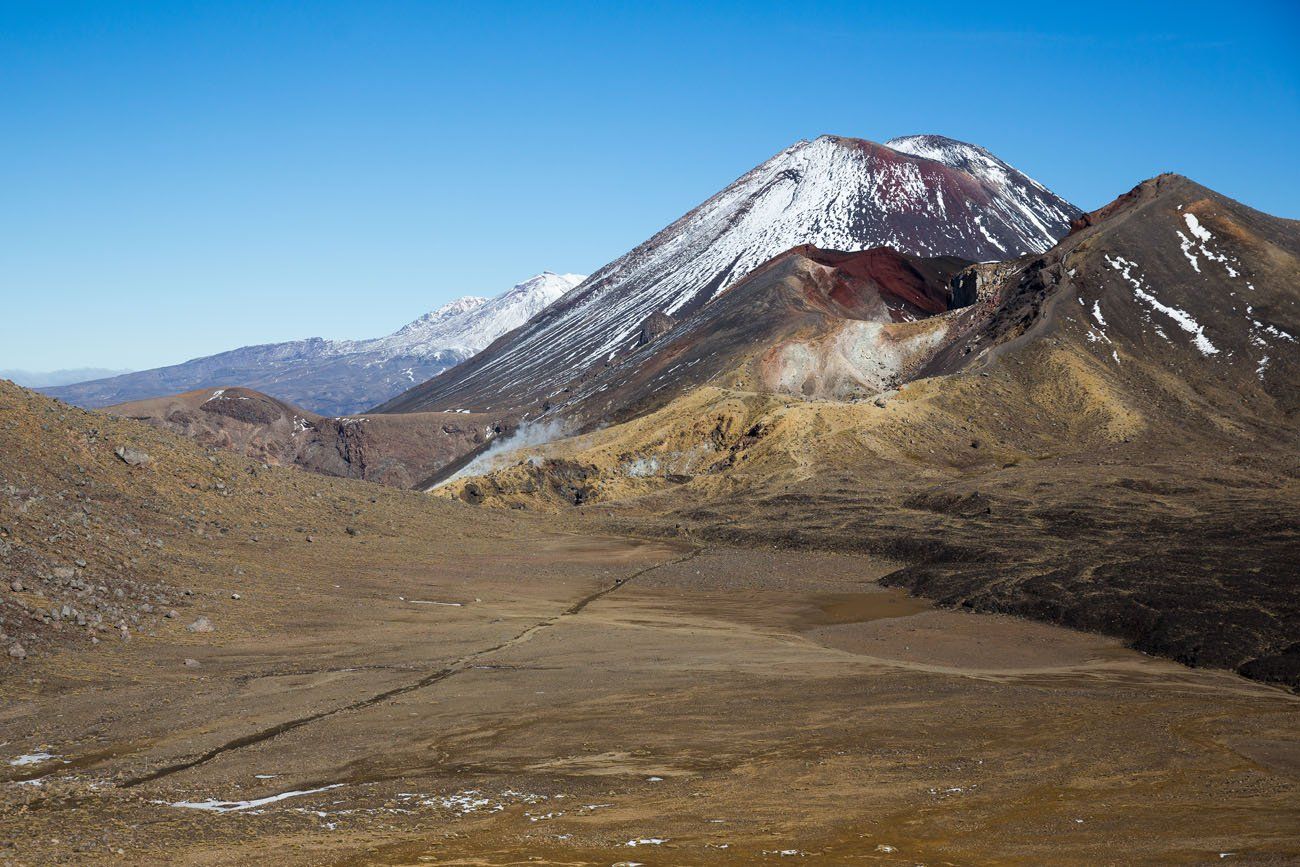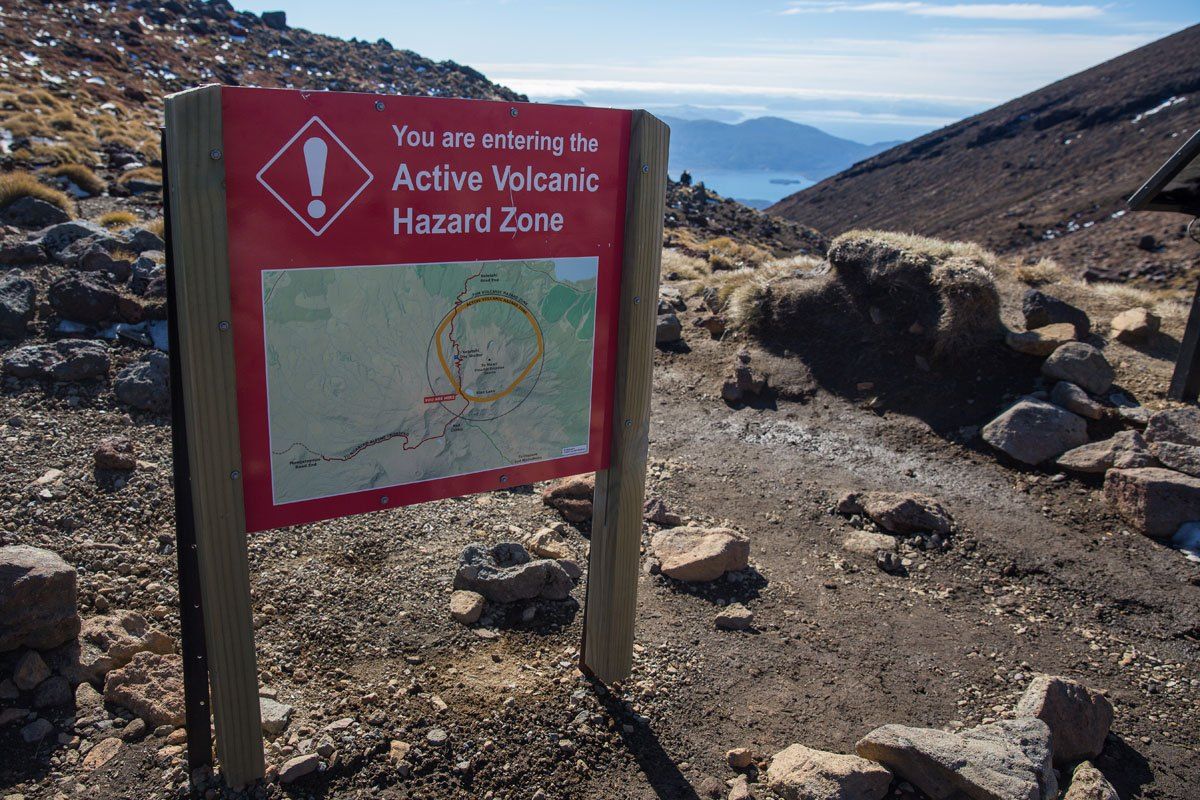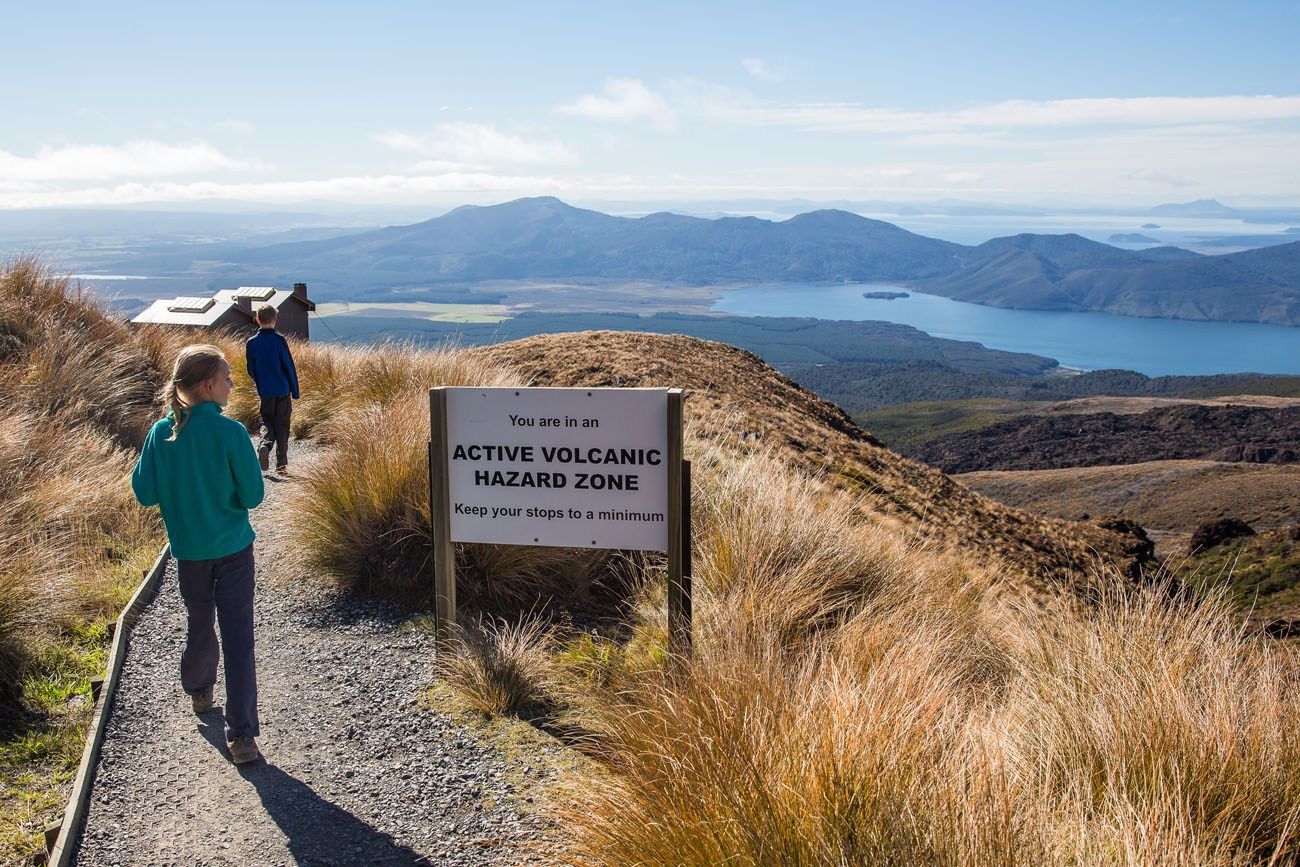 On the way down from the Tongariro Alpine Crossing we could see the Te Maari Crater, sending plumes of white steam into the sky. There were multiple warnings that we were in active volcano territory and to not leave the trail. There was no threat of eruption today, but this is the same volcano that erupted several years before our visit.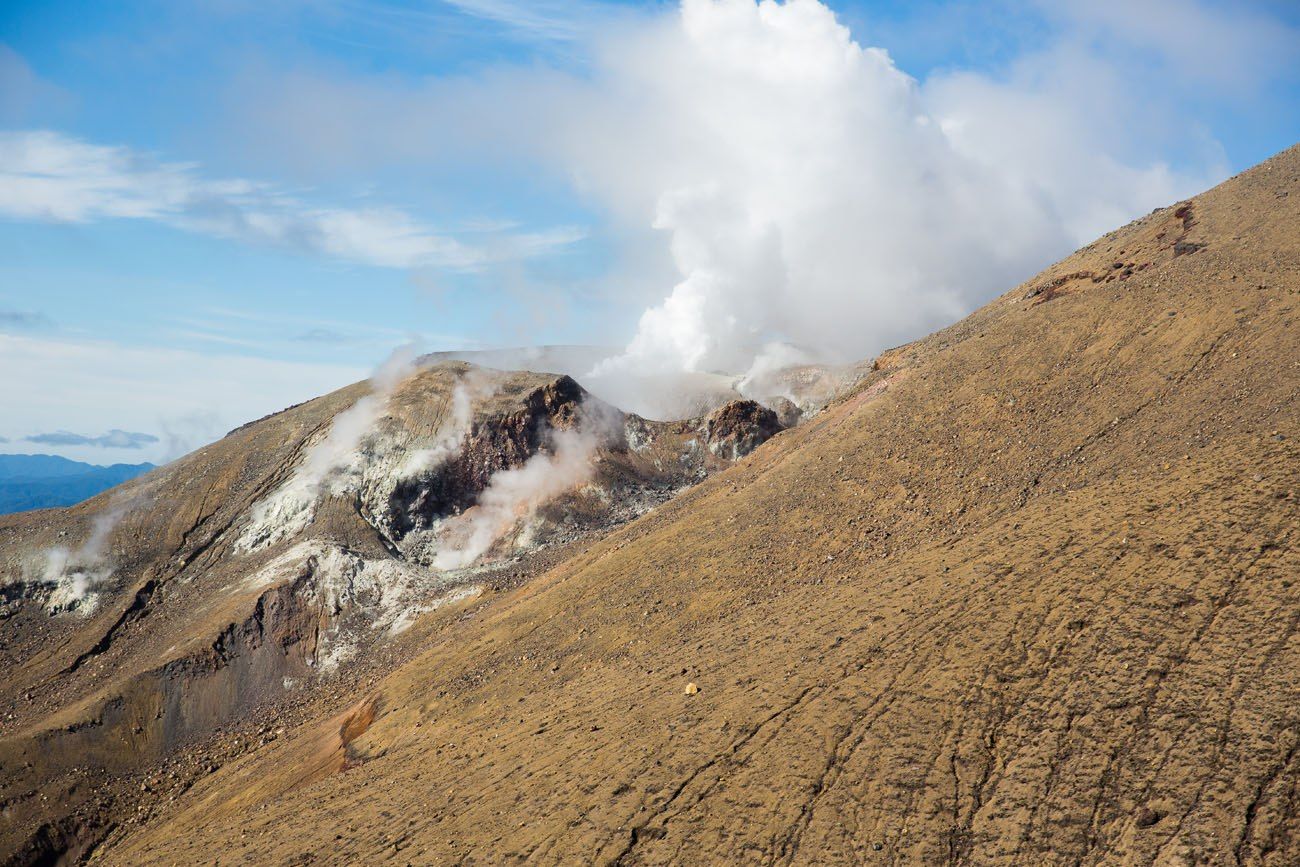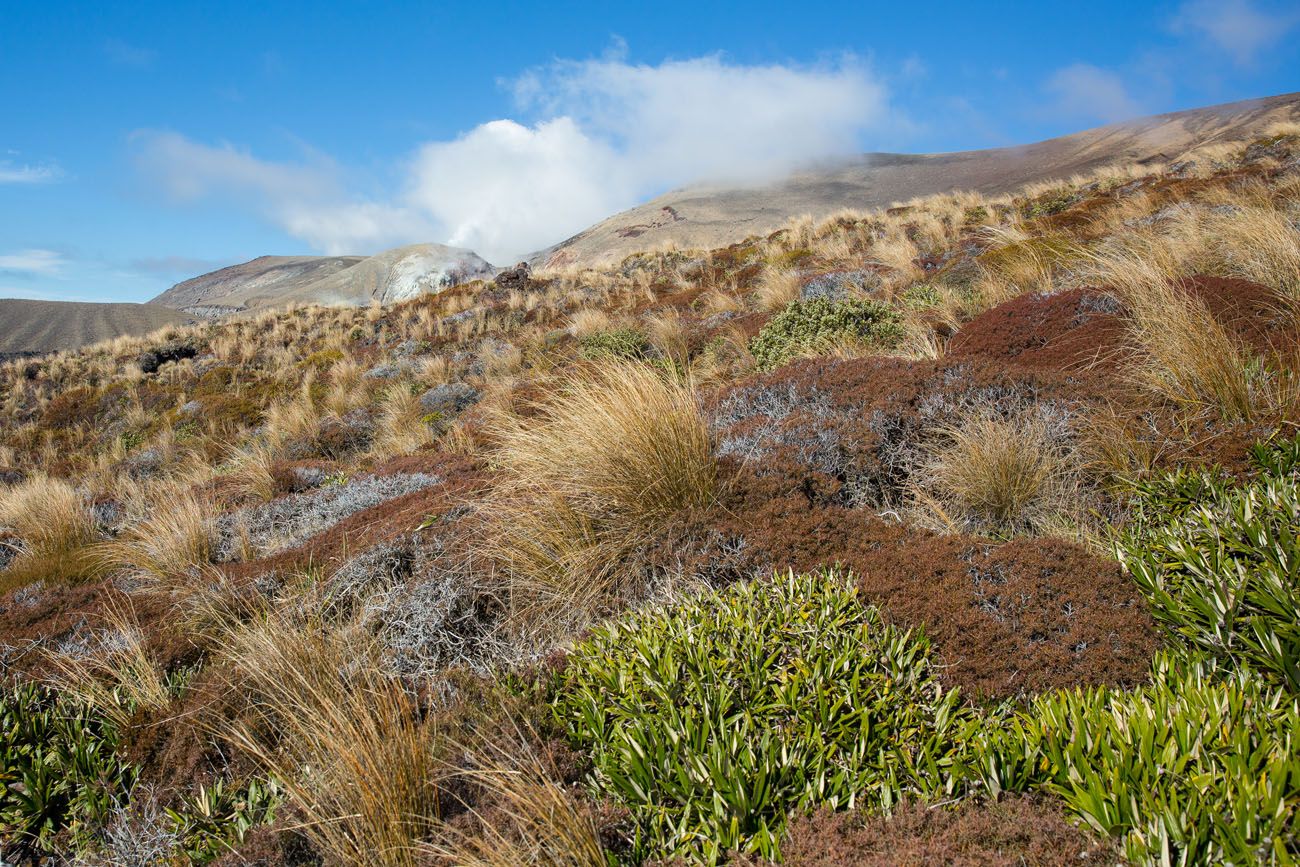 It took us about two hours to get from our picnic spot to the car park. By the time we got to the car park all of us were tired, our legs were sore, and our toes were bruised from bumping on the fronts of our shoes during the long descent. We did the entire hike in six hours and ten minutes, including our breaks for food and photos. These two kiddos are amazing hikers.
Our family thoroughly enjoyed the Tongariro Alpine Crossing. By far it was our favorite hike in New Zealand and now one of our favorites in the world. The views are fantastic, the ever-changing views kept us from getting bored, the trails are rugged, and this hike is downright fun.
If you do one hike when going to New Zealand, it should be this one!

Things to Know About the Tongariro Alpine Crossing
It is a 19.4 km hike from start to finish. We started at the Mangatepopo car park and ended at the Ketetahi car park. Since it is a point to point hike, transportation to the start or the finish of the hike will need to be arranged. We parked at the Ketetahi car park and had a shuttle take us to the start of the hike at Mangatepopo. That way, once we arrived at Ketetahi, our car was waiting for us and we could leave when we were ready. There are several companies that provide this service, such as the Mountain Shuttle and Tongariro Crossing Shuttles. Or you can check out this shuttle service on GetYourGuide.
You can do the hike in either direction, but most people go from Mangatepopo to Ketetahi. Mangatepopo sits at a higher elevation than Ketetahi, so starting here eliminates almost 200 meters of climbing. It is also much more interesting to climb up through the volcanic scenery in the shadow of Mt Doom than to climb up through the monotonous scenery near Ketetahi.
There are toilets at both car parks. There are also toilet facilities an hour into the hike right before the strenuous climb starts, as well as toilet facilities just before the long walk back down to the Ketetahi car park.
Weather conditions can change abruptly so make sure you have plenty of layers with you. It can get very cool at the summit. Also make sure you bring along plenty of water and sunblock. There is very little cover on the trails.
Try to avoid weekends. We did the hike on a Sunday and there were a lot of people on the trail. I am assuming that on weekdays the trail would be less crowded.
And finally, have fun and enjoy it! It is a fabulous hike, one of our favorites!
Frequently Asked Questions
How hard is the Tongariro Alpine Crossing?
The Tongariro Alpine Crossing is a 20 km hike (12.4 miles) with 800 meters of total ascent, so it is a challenging day hike. In order to do this hike, you need to have a good level of fitness. There are no technical sections on the trail (no rock scrambling), but the distance combined with the elevation gain and changing terrain make this a strenuous hike.
Can you hike the Tongariro Alpine Crossing with kids?
Active, adventurous kids can hike the Tongariro Alpine Crossing. Our kids were 10 and 12 when we did this and they did the full hike without any difficulty. I think an active 8 year old with some prior hiking experience can do this hike, but you should know what your kids can handle before attempting a long hike like this one. Take them on a few shorter hikes as a "test," before committing to a long, point-to-point hike like the Tongariro Alpine Crossing.
Is the Tongariro Alpine Crossing worth it?
Absolutely. This was our favorite hike in New Zealand and the Tongariro Alpine Crossing is one of our favorite hikes in the world. If you are an avid hiker and planning a visit to New Zealand, put this hike on the top of your list.
---
Are you planning to hike the Tongariro Alpine Crossing? Comment below if you have any questions or if you want to share your experience.
More Information about New Zealand
NEW ZEALAND ROAD TRIP: With 3 weeks in New Zealand, visit the highlights on a road trip to the North Island and South Island. If you have less time, you can shorten this itinerary by spending 2 weeks on the South Island.
ROUTEBURN TRACK: The Routeburn Track is one of New Zealand's Great Walks. It is one of the best hikes we have done in the world. It is typically done as a multi-day trek but can be completed in one day if you are very fit and fast.
NORTH ISLAND: Top experiences on the North Island include spending a day or two in Auckland, visiting Waiheke Island on a day trip from Auckland, touring Hobbiton, a visit to Taupō, and spending a day or two in Wellington. For the full list, read our article about the Best Things to Do on the North Island.
SOUTH ISLAND: On the South Island of New Zealand, visit Milford Sound and Doubtful Sound, hike the Hooker Valley Track, visit Akaroa and Banks Peninsula, go on a helicopter flight to see Franz Josef and Fox Glaciers from the sky, and learn about the best things to do in Queenstown. For the full list, read our article Best Things to Do on the South Island.
HIKES IN NEW ZEALAND: The Hooker Valley Track offers awesome views of Mt. Cook, Roys Peak and the Rocky Mountain Track are two gorgeous hikes in Wanaka, and Abel Tasman National Park also makes a great spot to go hiking.
We have TONS more information about New Zealand in our New Zealand Travel Guide, including Auckland, Queenstown, Wanaka, Aoraki/Mount Cook, Franz Josef, Christchurch, Wellington, Taupō, and the Milford Sound.
More Great Hikes from Around the World
20 Epic Day Hikes from Around the World
Kjeragbolten: Our Favorite Hike in Norway
How to Hike the Grand Canyon Rim-to-Rim
Everest Base Camp Trek in 18 Amazing Photos
14 Great Hikes in Norway to Put on Your Bucket List
Fimmvörðuháls Hike: A Step-By-Step Guide to Iceland's Best Day Hike
Hiking Half Dome in Yosemite: A Step-by-Step Guide
Angels Landing Survival Guide: Things to Know Before You Go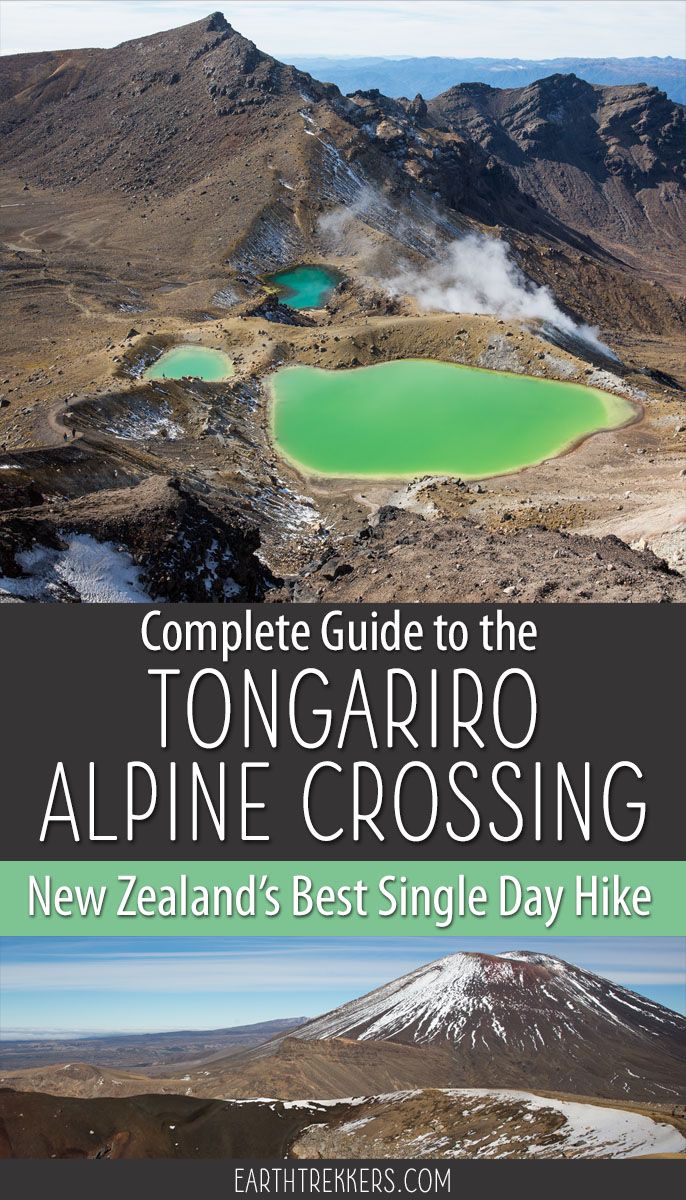 All rights reserved © Earth Trekkers. Republishing this article and/or any of its contents (text, photography, etc.), in whole or in part, is strictly prohibited.