The Waitomo caves are an underground fantasyland on the North Island of New Zealand. Ooh and aah at the stalactites and stalagmites that have been slowly growing over millennia. Go on an adventure and raft through these dark caves. And of course, the main reason for visiting the Waitomo caves, gaze up at the glowworms, which light up the ceilings of the caves like the midnight sky.
Whether you want to spend an hour or two here, to see those fascinating glowworms, or are looking for a little more adventure, there are several experiences to be had at the Waitomo caves, which we cover in this guide.
About Our Experience
We have visited the Waitomo caves two times.
The first time was in 2015. We toured the Waitomo Caves with Tyler and Kara, which was a relatively quick visit to see the glowworms and learn about these unique creatures.
Tim and I returned in 2023. On this visit, we explored Ruakuri Cave on an hour and a half tour to see the glowworms, stalactites, and stalagmites inside of this cave. In the afternoon, we went blackwater rafting through the same cave, and it is one of our favorite experiences in New Zealand.
In this guide, we share with you everything we learned from these visits, with information to help you decide which experience is best for you.
About the Waitomo Caves
The Waitomo Caves are located on the North Island of New Zealand. The word Waitomo comes from the Maori language, in which wai means water and tomo means hole. These caves have an underground river which provides the moisture the glowworms need to thrive.
There are three main caves to visit.
The most popular cave is called the Waitomo Glowworm Caves. Many tours run through this cave every day and is the best option if you simply want to see some glowworms on a very quick visit.
The Ruakuri Cave is just 5-minutes down the road. At this cave, you can take a 1.5 hour guided tour of the cave, see and photograph the glowworms, and/or go blackwater rafting.
The third cave is Aranui Cave. There are no glowworms here, but you can see cave formations such as stalactites and stalagmites.
In the area around the Waitomo caves, you can also go on a bush walk in the Ruakuri Scenic Reserve or go ziplining.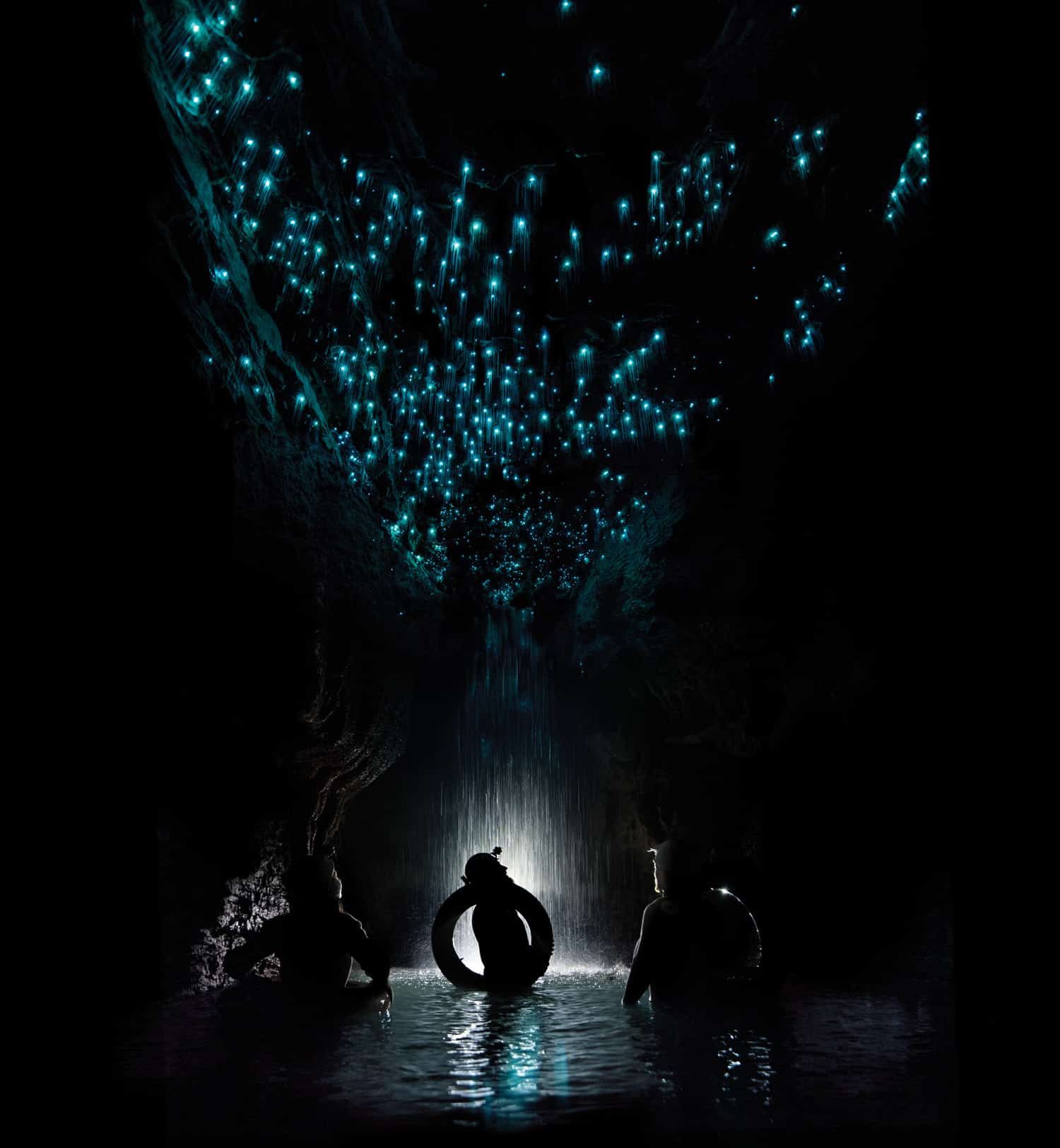 Blackwater Rafting in Ruakuri Cave | photo courtesy of Legendary Black Water Rafting Co.
Interesting Facts about Glowworms
Glowworms (Arachnocampa Luminosa), which are found throughout New Zealand, are not as "cute" as their name might imply.
Glowworms are not worms. They are the larvae of carnivorous fungus gnats, which feed on other insects. In the larval stage, they are more of maggot than a worm.
These larvae create multiple strands of mucus that hang from the cave ceiling. They use these sticky strands to capture smaller insects, similar to a spider's web. I read they can form anywhere from 70 to 500 of these lines, depending on the source.
To attract their pray, the glowworms are bioluminescent. The light from their bodies attracts mayflies, moths, and other insects. Once caught, the glowworm reels in the line, has its meal, and reuses the line.
Glowworms remain in the larval stage for over 300 days. Then they enter the pupal stage for another 10 to 15 days, emerging as an adult fungus gnat. These gnats have no mouth opening, so they have 3 to 5 days to find a mate. After mating, the females lay their eggs and both the male and the female dies.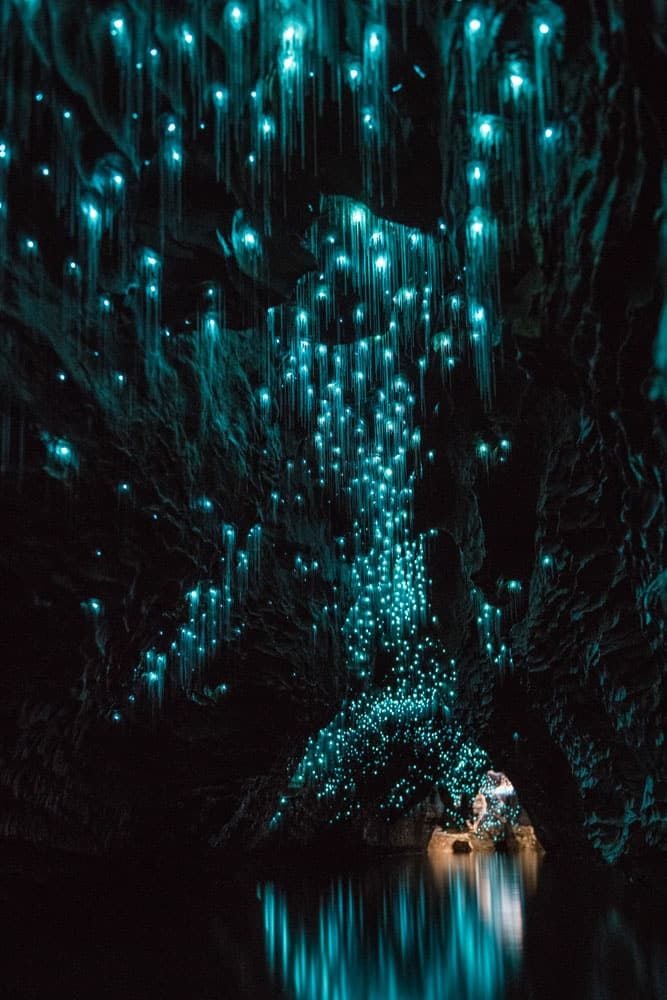 Glowworms on the ceiling of Ruakuri Cave | photo courtesy of Legendary Black Water Rafting Co.
Things to Do at the Waitomo Caves
Waitomo Glowworm Caves
This is the most popular cave experience at Waitomo Caves. This is where glowworm cave tours began and the first tours were offered in 1880.
This guided tour takes 45 minutes to an hour. It starts off with a walk through the cave to see the cave formations. The highlight of this tour is the boat ride through Cathedral Cave, where thousands of glowworms can be seen on the ceiling.
We did this tour in 2015. Tyler and Kara were mesmerized by the interesting facts about the glowworms. Plus, sitting in the small boat and staring up at the ceiling was unforgettable. It really looked like we were staring up at the night sky. Photography is not allowed on this tour.
This tour option is perfect for those who want to take the shortest tour possible and see a huge amount of glowworms. We saw more glowworms in Waitomo Glowworm Caves than we did on the walking tour of Ruakuri Cave.
Learn more, see more photos (we only have the photo of us since photography is not allowed inside of this cave), and make your reservation on the official website and on GetYourGuide (GetYourGuide offers free cancellation up to 24 hours in advance with a full refund).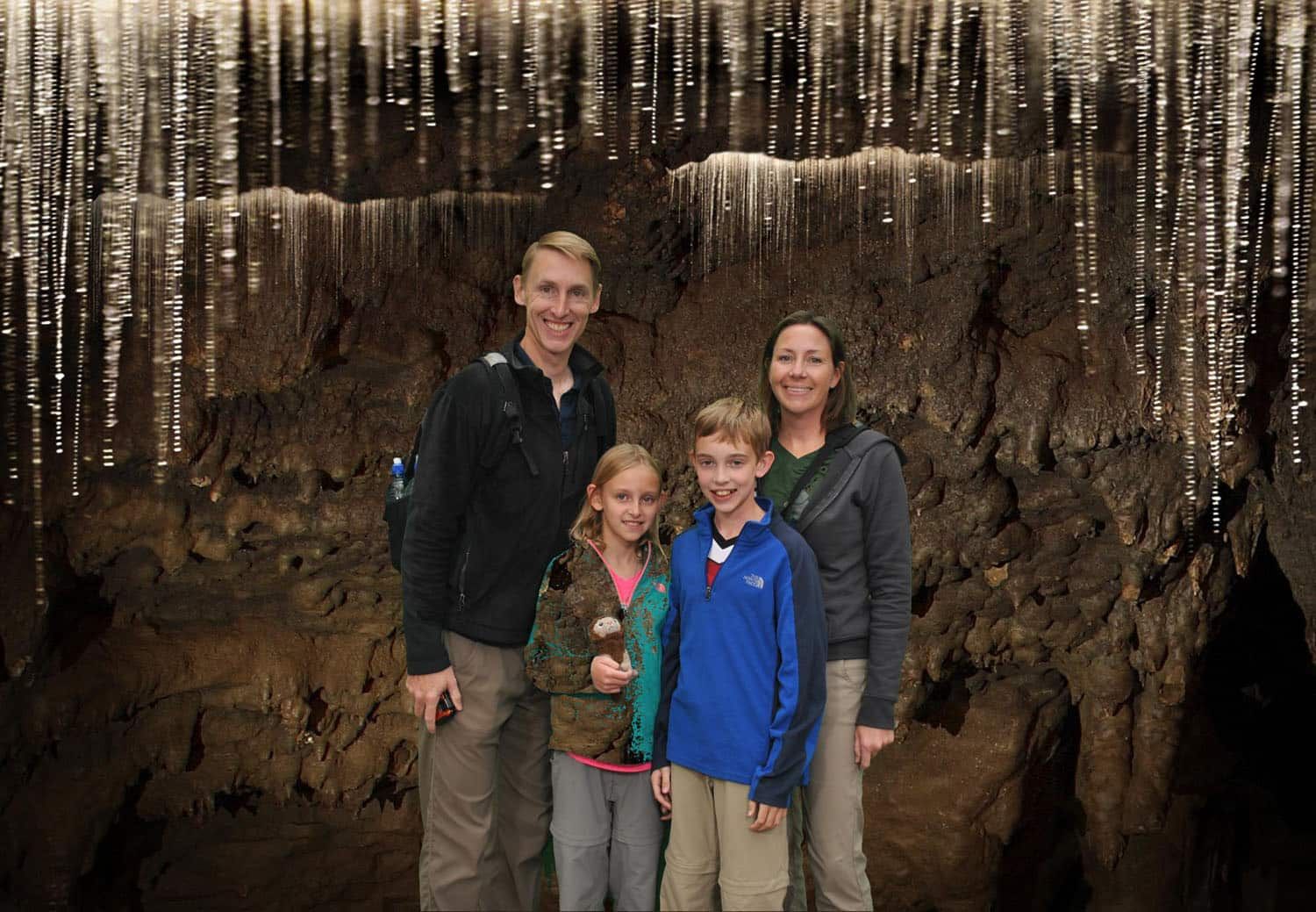 Our photo from Waitomo Glowworm Caves tour in 2015
Ruakuri Cave Tour
The Ruakuri Cave Tour is New Zealand's longest underground walking tour and the only cave in Waitomo that is wheelchair accessible. Photography is permitted inside of this cave.
On this cave tour, you will walk roughly 1 km. It starts with a short outdoor walk from the office to the cave entrance. Once at the cave, you will descend into the depths of the cave on a long, spiral walkway. Inside of the cave, you will walk on boardwalk platforms, as your guide points out stalactites, stalagmites, and glowworms.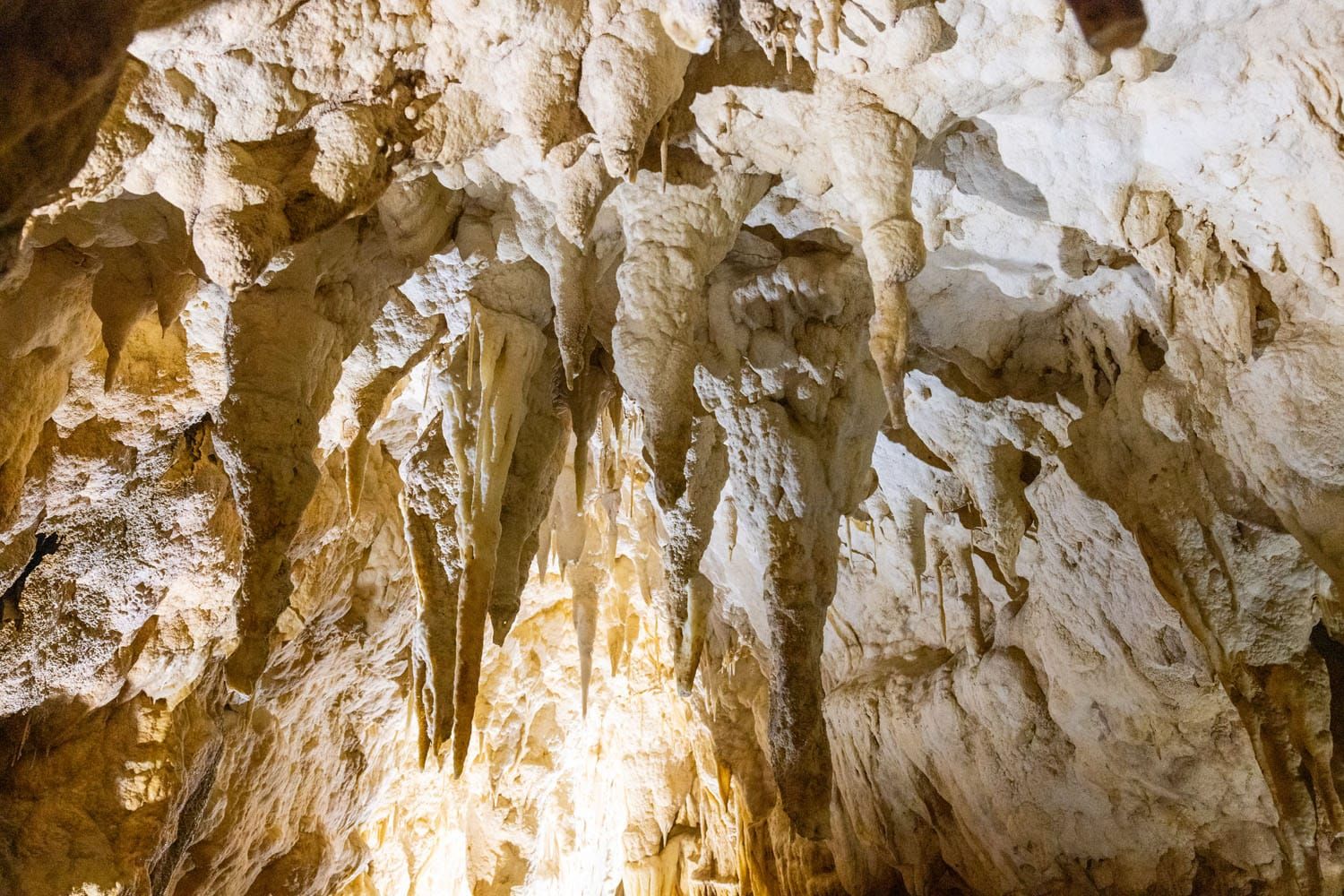 Stalactites in Ruakuri Cave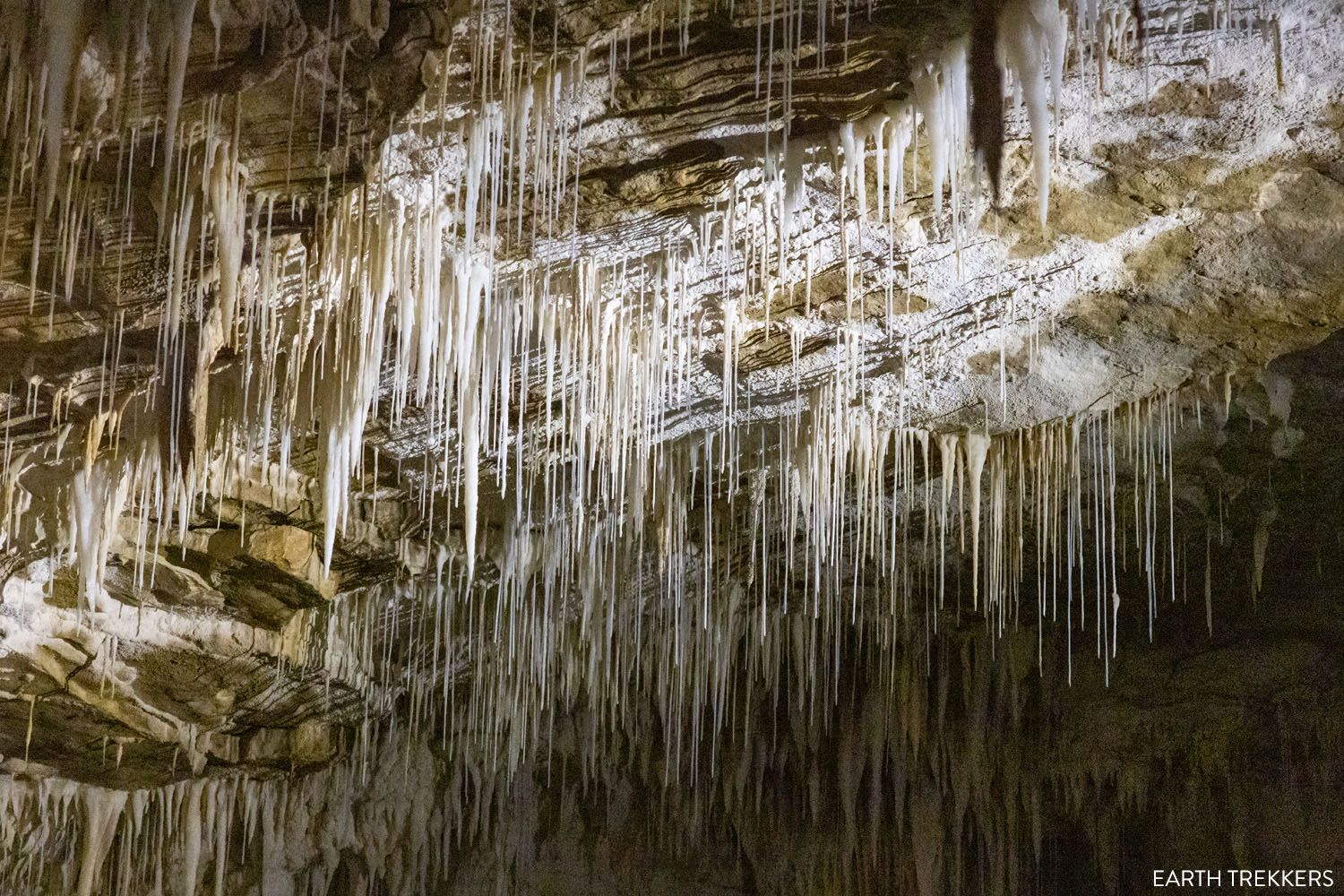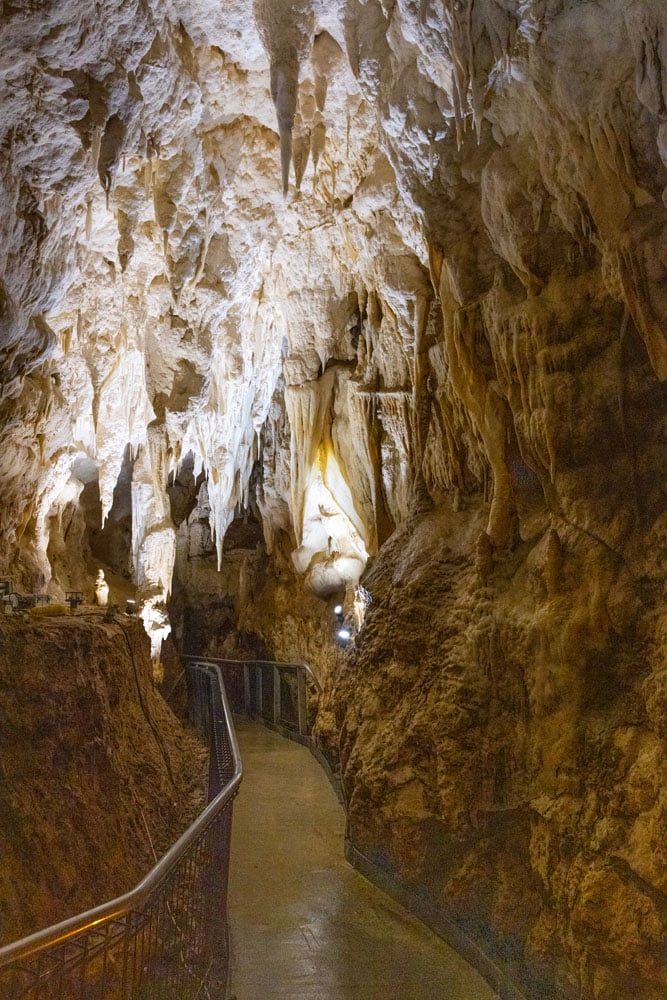 One of the main reasons we took this tour is because photography is permitted. However, you will be photographing an almost pitch black cave. At times, the only light comes from the glowworms. We have a Canon R5 and these photos were taken at an ISO of 51,200 and an aperture of 2.8 mm. Tim took photos with his iPhone and we have included one of his photos so you know what to expect while you are here.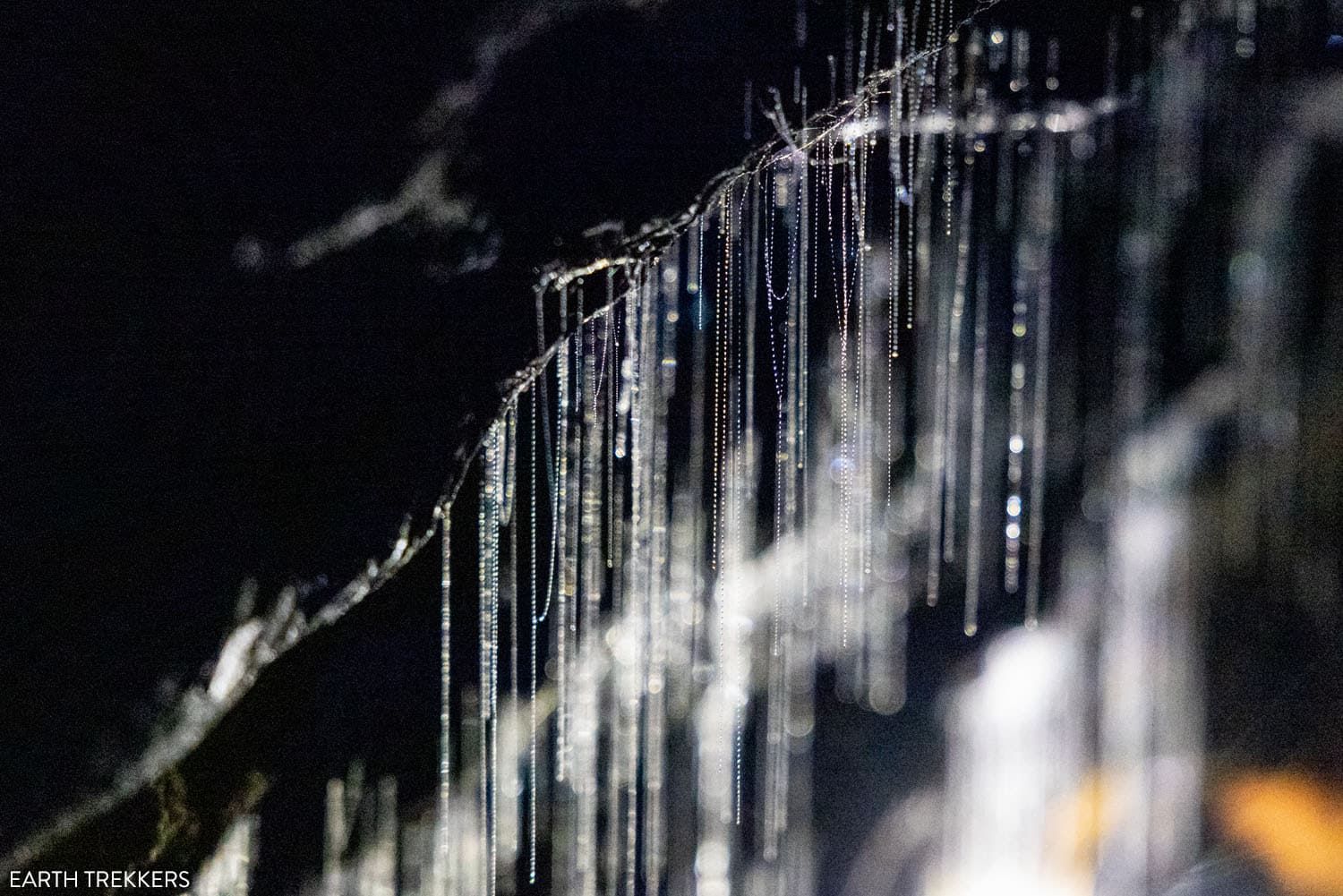 Photo of the glowworms taken with the Canon R5
Another photo of the glowworms with the Canon R5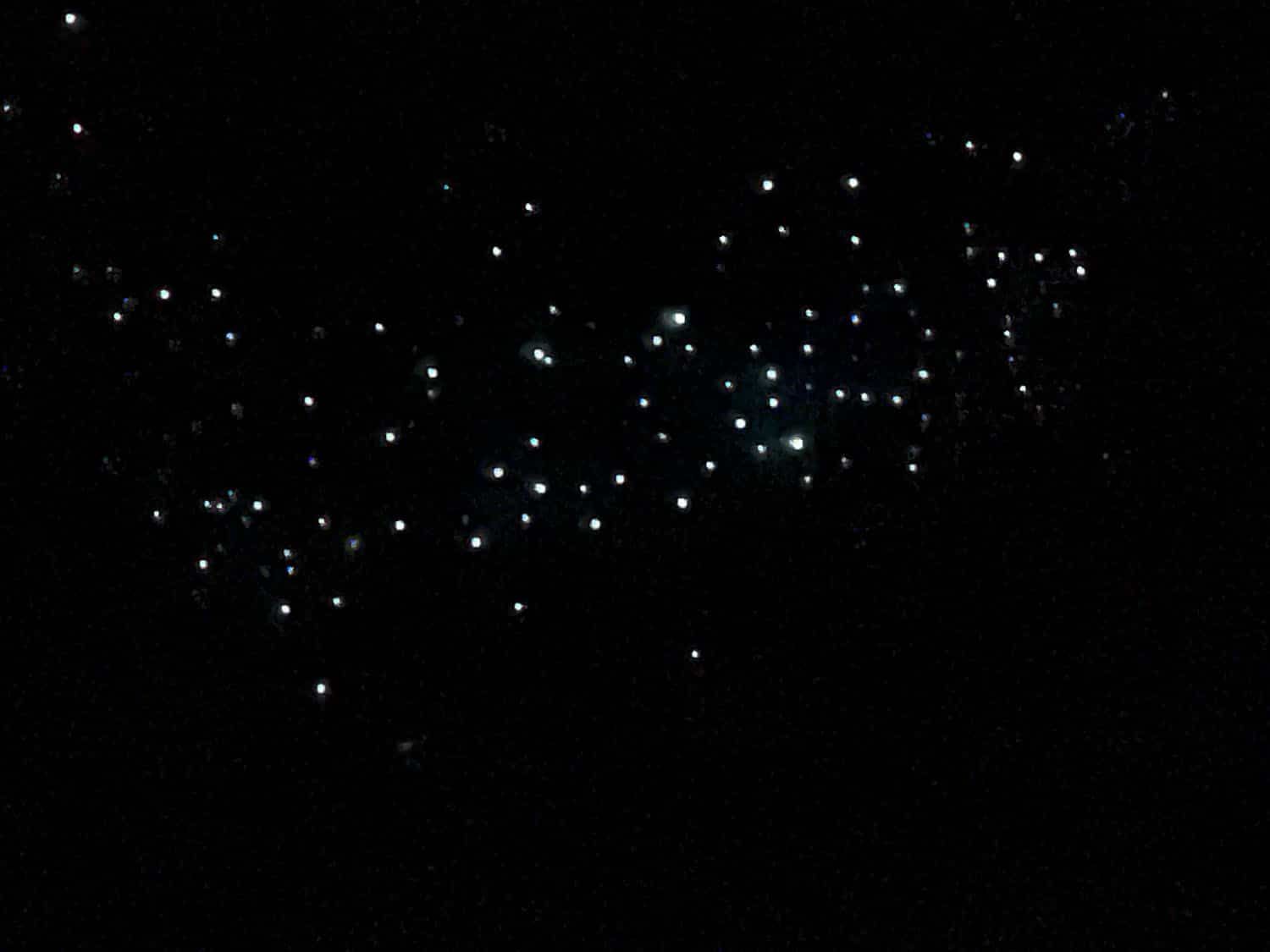 Photo of the glowworms on the ceiling of the cave taken with an iPhone
In Ruakuri Cave, you will mainly see groups of the glowworms throughout the cave. It's not quite as breathtaking as Cathedral Cave in Waitomo Glowworm Caves, but it's a nice option if you want to take some photos and see some amazing cave formations.
Get pricing, hours, and make your reservation on the official website.
Blackwater Rafting
For the ultimate experience, put blackwater rafting on your list.
It's a bit of a misnomer, but black water rafting is tubing down underground rivers in the semi-darkness. This experience also includes hiking, jumping off of waterfalls, army crawling through tunnels and openings, and in some cases, abseiling.
Blackwater rafting started here at Waitomo by those crazy kiwis and there are now a few other places around the world where you can do this.
We did this in 2023 and had a blast. Here's what to expect.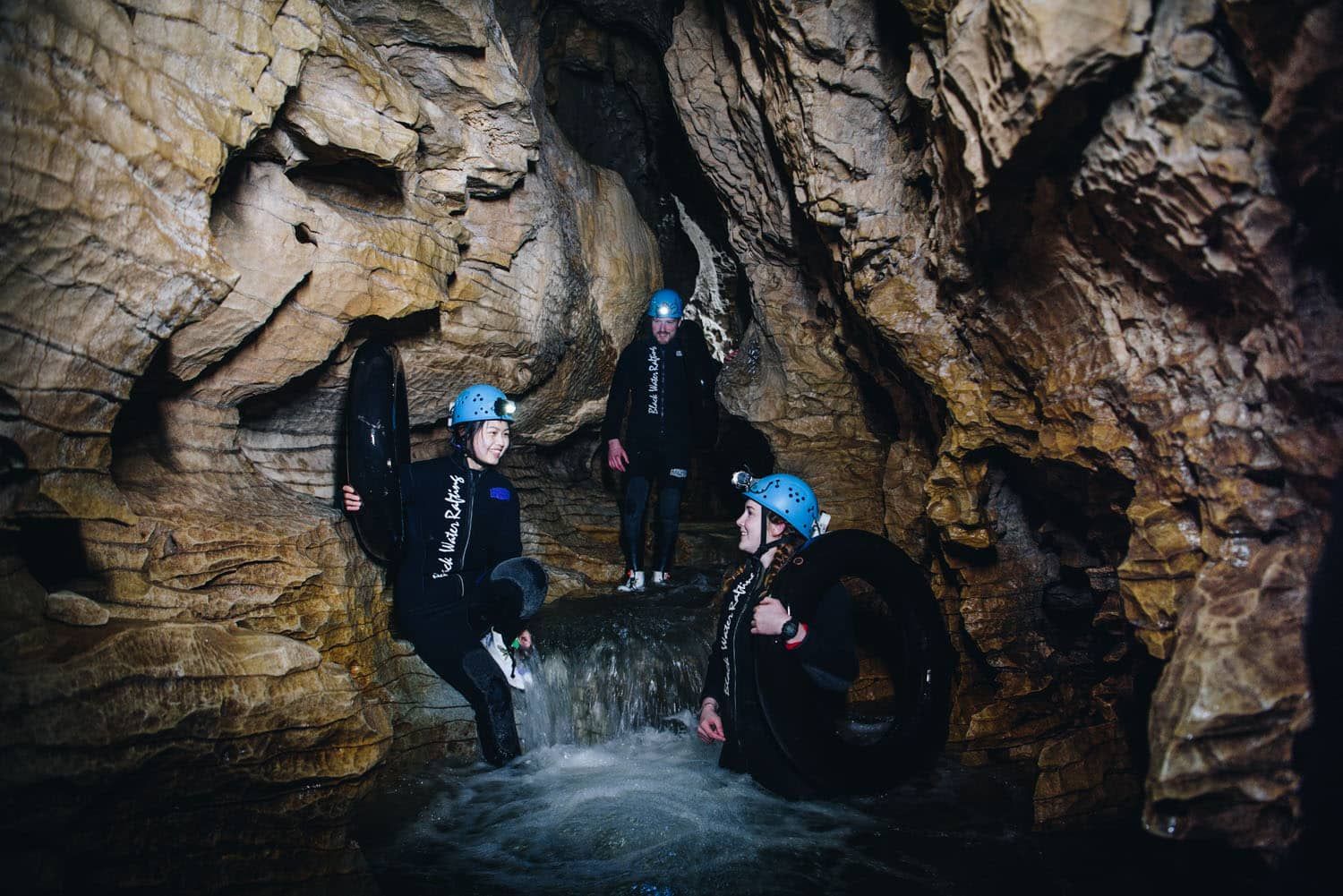 Inside Ruakuri Cave | photo courtesy of Legendary Black Water Rafting Co.
Legendary Black Water Rafting Co.
The Legendary Black Water Rafting Co. offers two tours: The Black Labyrinth and The Black Abyss. The Labyrinth is their "basic" 3-hour tour which involves hiking and tubing through the cave. The Black Abyss is an identical experience but starts off by abseiling into the cave.
Both of these experiences take place in Ruakuri Cave.
The Black Labyrinth Tour
Tim and I took The Black Labyrinth tour. This is a 3-hour tour. About an hour and fifteen minutes is spent inside of the cave. The other time is spent getting geared up and getting to and from the cave. Here is our experience.
Getting Geared Up
Our tour time was at 1 pm. We checked in at the main office at this time and met the rest of our group. In total, there were 11 participants and 2 guides. From the main office, we were driven in a van to their second office, where we changed into swimsuits, put on damp wetsuits, boots, and helmets, and were driven to Ruakuri Cave. If you have a GoPro, you can bring this, but everything else, including cameras, need to be left in your car or locker.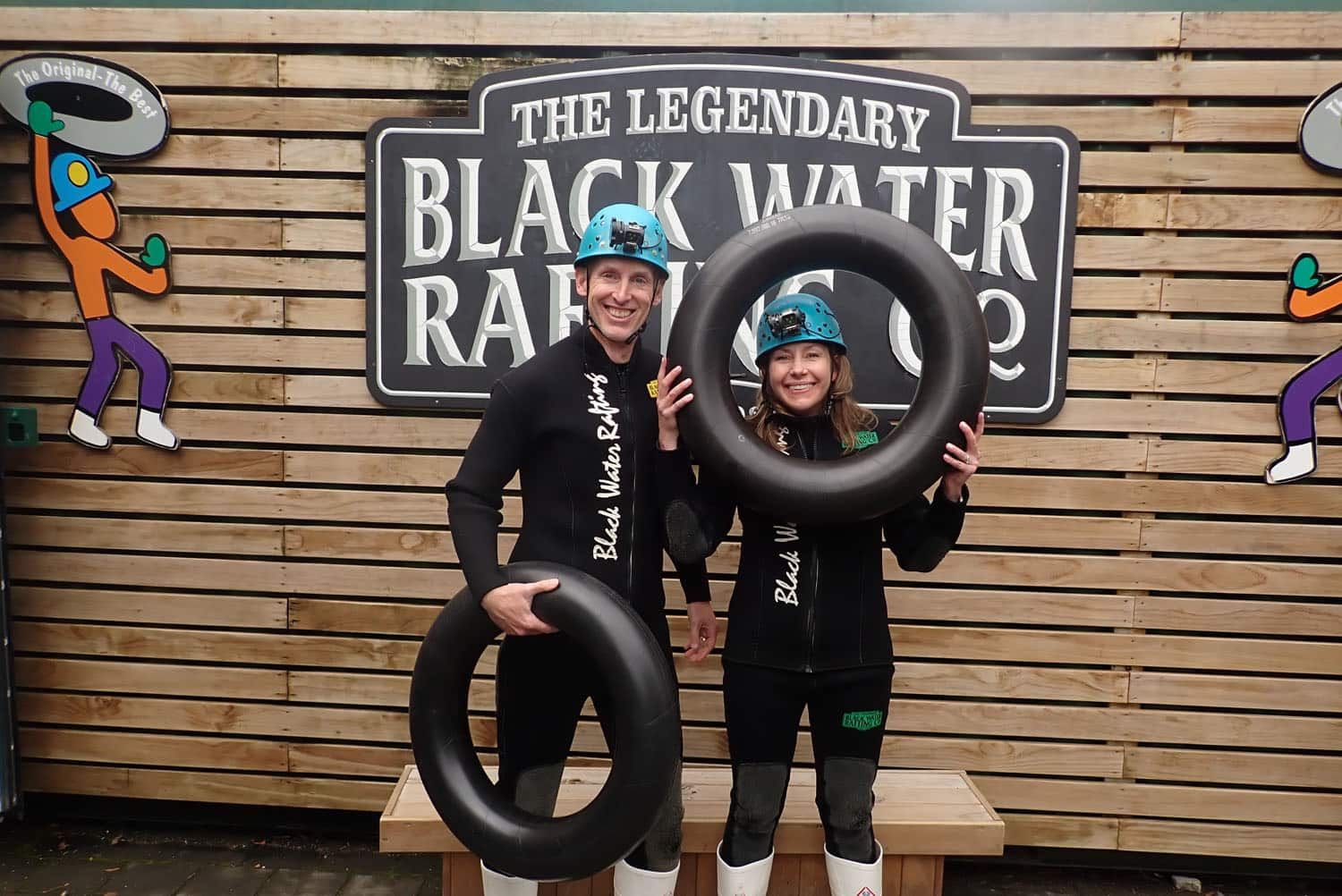 Blackwater Rafting on the Black Labyrinth Tour
There are two waterfalls inside of the cave that you can jump from. They aren't very large, but there is a special technique with the tube you need to know first, so before entering the cave, you will practice this at a small creek next to the cave.
Then, it's a 5-minute walk to the cave. To get inside the cave, you will hike/scramble over rocks (they were wet and slippery when we did this) and then squeeze through a small opening into the cave.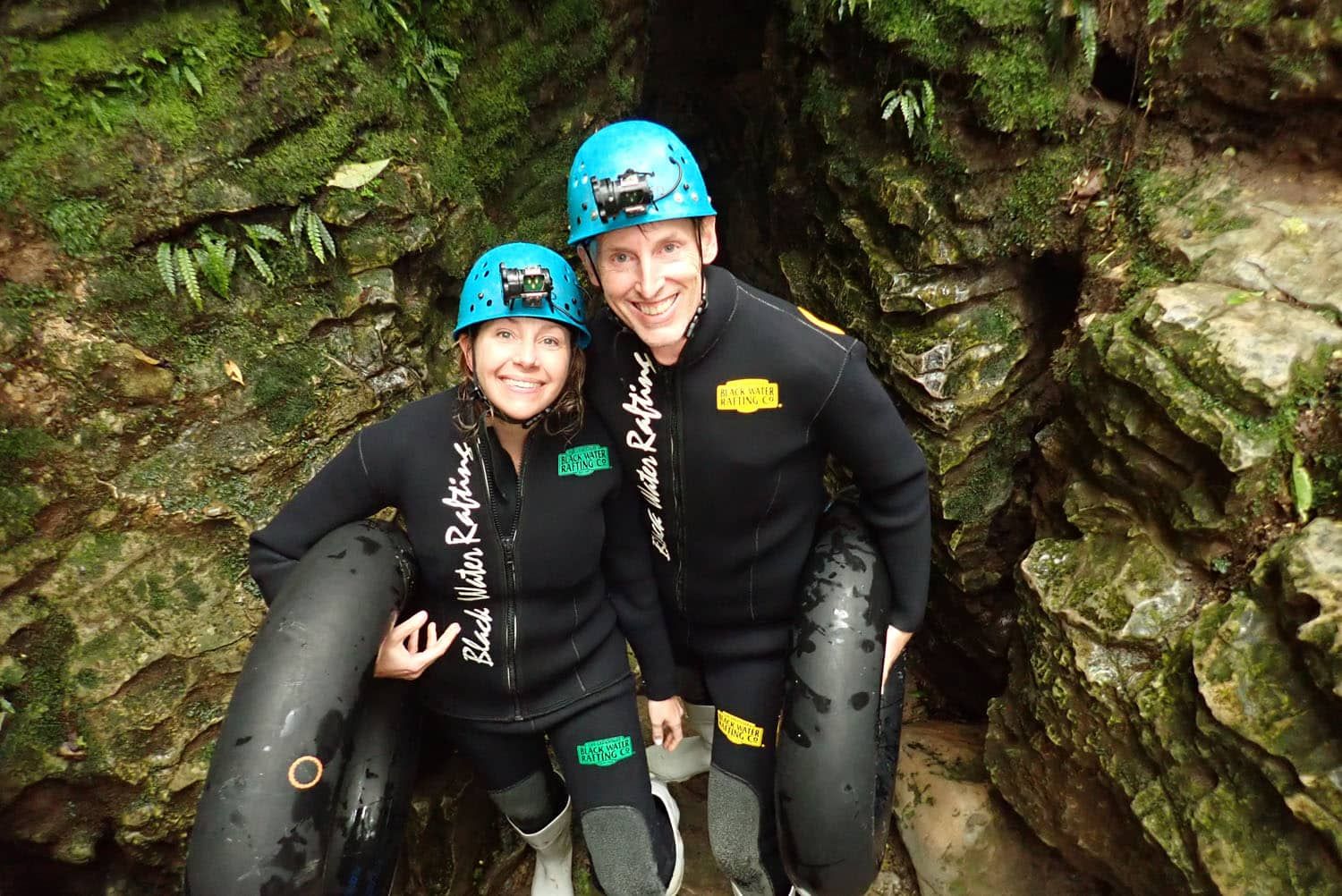 At the entrance into the cave (it's a small opening just behind us).
For the next hour and fifteen minutes, we did a combination of walking through the river (where the water was shallowest) and drifting on the tube. Since we were in a small group, we were permitted to do a few optional detours, like army crawling through a tunnel, which was a lot of fun.
Jumping off the waterfalls are also a blast.
But the best part are the glowworms. There is a short section where you lie on your tube, stare up at the ceiling, and as you drift through the cave, see thousands of glowworms. It is the best glowworm experience in Waitomo, in my opinion, since you see so many of them. And because you are sitting in a tube, drifting along underground river, it is one of those amazing, unique experiences that you can only get in New Zealand.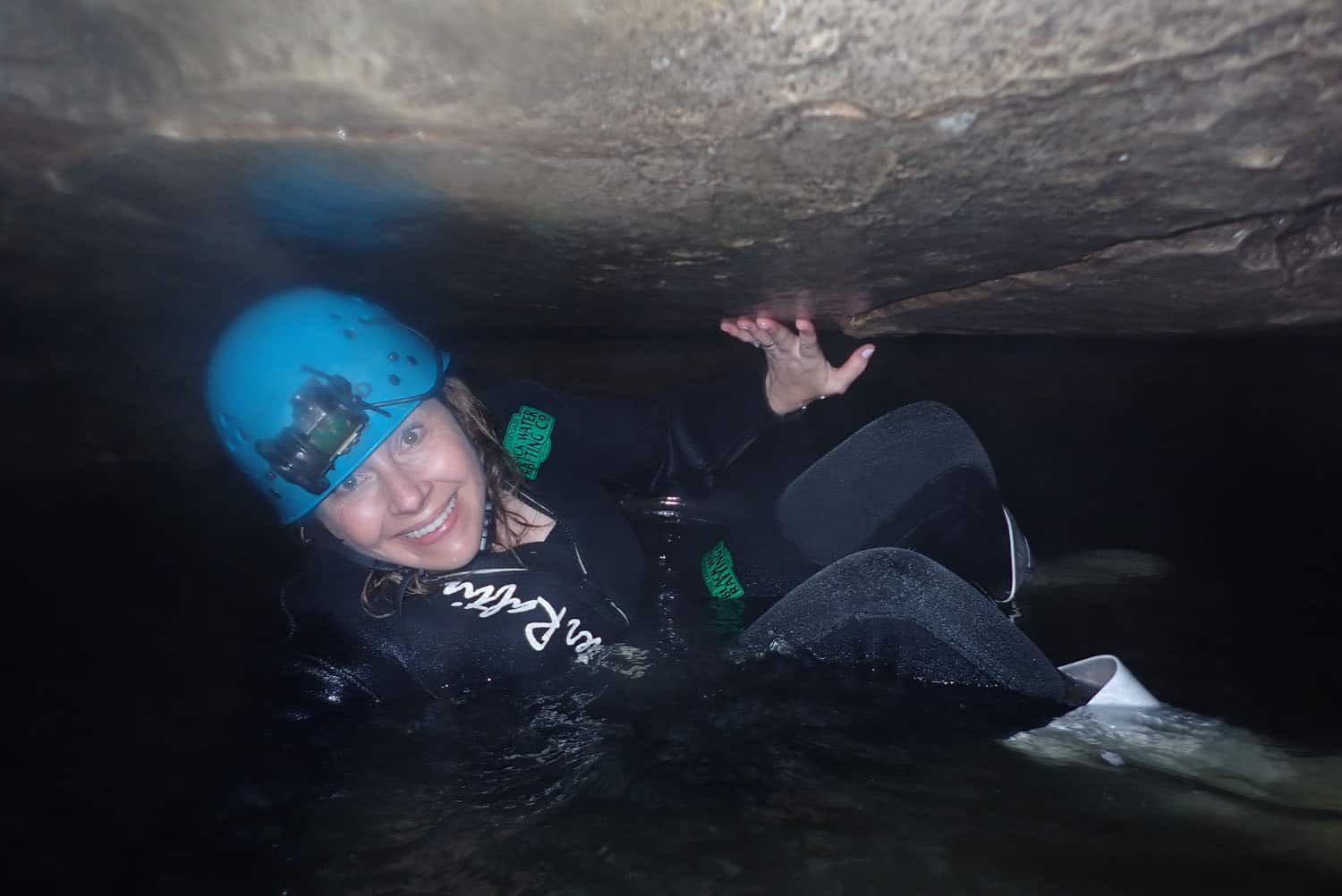 Blackwater rafting in Ruakuri Cave | photo courtesy of Legendary Black Water Rafting Co.
The tour ends with a short walk to the van, a trip back to the second office to shower and change into dry clothes, and one more van ride to the main office.
Our photos are from the photo package taken by our guides and photos of the cave provided by Legendary Black Water Rafting Co.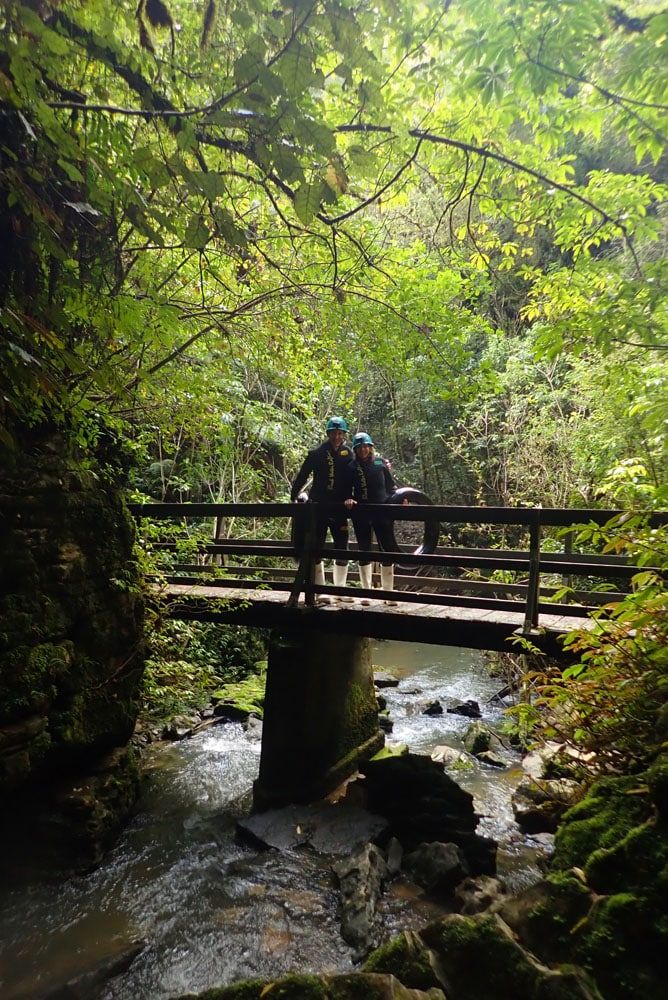 The Black Abyss Tour
The Black Abyss Tour is a 5-hour tour. Talking to the guides, it is a very similar experience in that you spend about the same amount of time inside of the cave. However, you will abseil into the cave and do a short zipline, and this can take an hour or longer, which accounts for some of the additional time.
Get pricing, hours, answers to frequently asked questions, and make your reservation on the official website.
If tickets are sold out for your dates of travel, you can also book the Black Labyrinth tour and the Black Abyss tour through GetYourGuide.
Choosing the Best Tour in Waitomo
The Waitomo Glowworms Caves tour is the best option for those who want the shortest tour possible, want to see a stunning display of glowworms, and want to minimize how much walking they do.
Ruakuri Cave is the best option for those who want to photograph the glowworms, need a cave that is wheelchair accessible, and want to see an array of rock formations.
Blackwater rafting is the best option for adventurous visitors who want a unique experience and get to see a large number of glowworms.
Combining Waitomo Caves and Hobbiton
Hobbiton is the movie set for The Shire in both The Lord of the Rings and The Hobbit trilogies. This is a fun spot to visit and easy to combine with the Waitomo glowworm caves.
From Waitomo, it takes about an hour and twenty minutes to drive to Hobbiton. You can visit Hobbiton in the morning and the glowworm caves in the afternoon, or vice versa, depending on your starting point.
Here are several tours that include Hobbiton and the Waitomo Caves and some of these are done from Auckland, so they are a good option if you won't have a rental car.
Where to Stay and Eat in Waitomo
In Waitomo, Aranui Farmstay, Te Tiro Accommodation, the Abseil Inn, and Waitomo Caves Guest Lodge all get very good reviews. If you are traveling by campervan, take a look at Waitomo Top 10 Holiday Park (which also has a chalet with multiple bedrooms, making it a good pick for families).
For lunch or dinner in the area, Huhu Café gets good reviews and is very close to Waitomo Glowworm Caves. There is also a small café at the Legendary Black Water Rafting Co. office on Highway 3.
---
If you have any questions about how to visit the Waitomo Caves, or if you would like to share your experience, let us know in the comment section below.
More Information for Your Trip to New Zealand
NEW ZEALAND ROAD TRIP: With 3 weeks in New Zealand, visit the highlights on a road trip to the North Island and South Island. If you have less time, you can shorten this itinerary by spending 2 weeks on the South Island.
ADVENTURES IN NEW ZEALAND: Go bungy jumping, hike the Tongariro Alpine Crossing, spend one day in Abel Tasman National Park, take a helicopter ride over Franz Josef and Fox Glaciers, and hike the Routeburn Track.
SOUTH ISLAND: On the South Island of New Zealand, visit Milford Sound and Doubtful Sound, drive the Southern Scenic Route, go bungy jumping in Queenstown, visit the Marlborough Wine Region, and visit Franz Josef and Glacier Country.
NORTH ISLAND: Top experiences on the North Island include spending a day or two in Auckland, hiking the Tongariro Alpine Crossing, visiting Cathedral Cove, touring Hobbiton, cruising the Bay of Islands, and seeing glowworms and blackwater rafting in the Waitomo Caves. For the full list, read our article about the Best Things to Do on the North Island.
ADVENTURE TRAVEL: Here are 50 adventures to turn your next trip into an epic travel experience.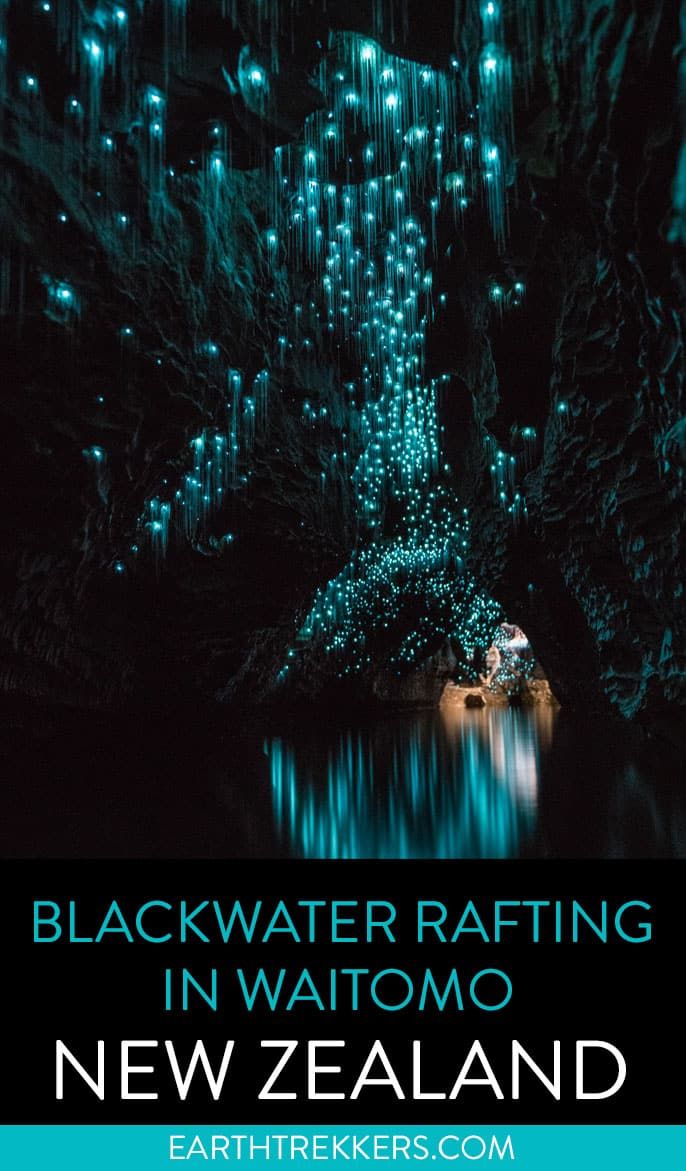 Header photo courtesy of Legendary Black Water Rafting Co.
Note: This post contains affiliate links. When you make a purchase using one of these affiliate links, we get paid a small commission at no extra cost to you.
All rights reserved © Earth Trekkers. Republishing this article and/or any of its contents (text, photography, etc.), in whole or in part, is strictly prohibited.