Acadia National Park, also called the "Crown Jewel of the North Atlantic Coast," protects the rocky coastline in Maine. Granite coastal cliffs, estuary and intertidal habitats, and the tallest mountain on the Atlantic Coast of the United States are found here.
This national park is packed with scenic drives, short but thrilling hiking trails, historic roads, and breathtaking views. Explore the park by day and go shopping and dine in the restaurants in Bar Harbor at night. Add in lobster feasts and boat cruises and you have all of the ingredients for a wonderful vacation.
ACADIA NATIONAL PARK STATS
Founded:  February 26, 1919
Annual Visitors:  4 million visitors in 2022, making it the 5th most visited park that year.
Size:  49,000 acres
Location: Maine
Entrance Fee: $30 per vehicle, valid for 7 days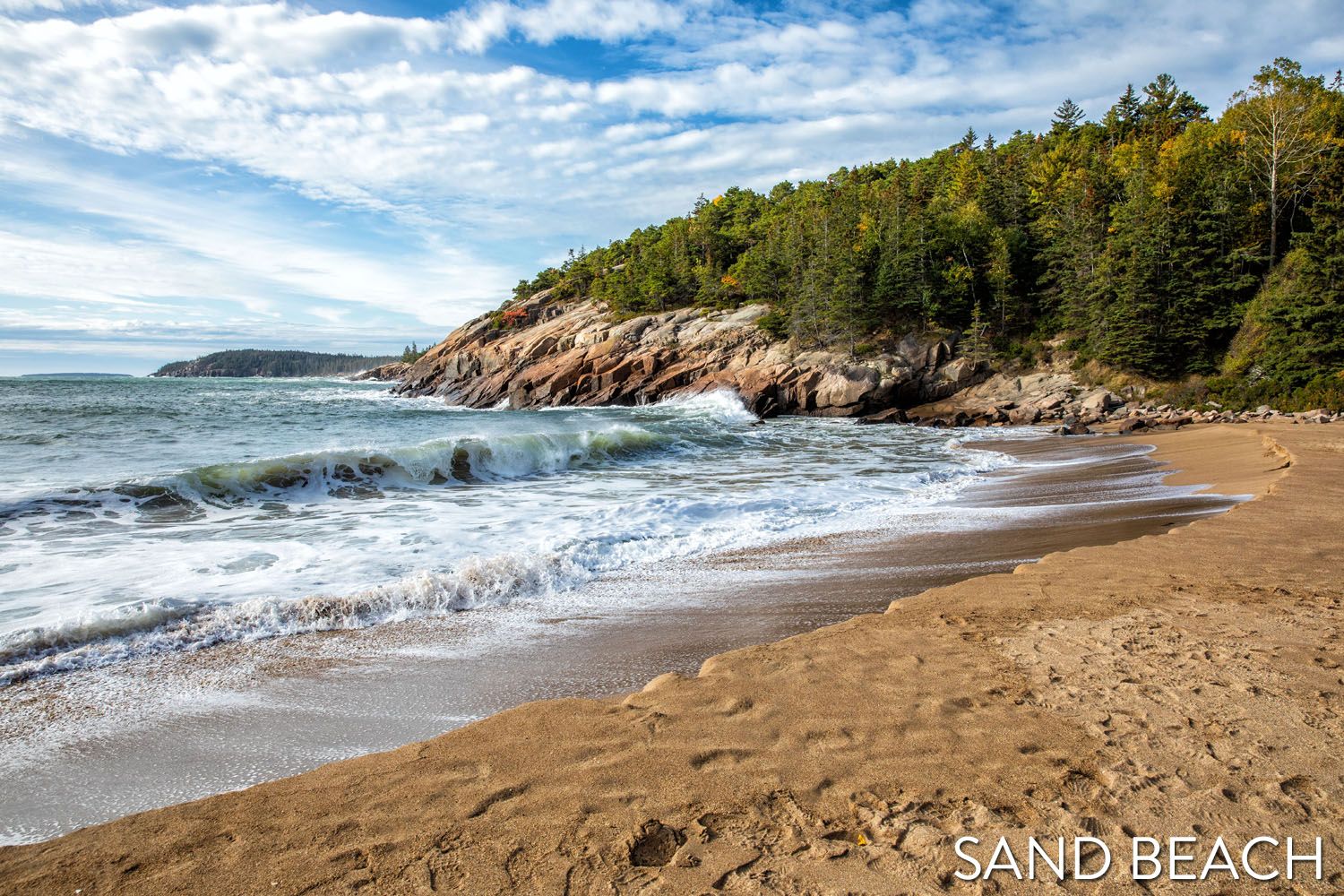 Drive Park Loop Road. Park Loop Road is a 27-mile loop through Mount Desert Island. This very scenic road connects several of Acadia's popular spots, such as Cadillac Mountain, Jordan Pond, the carriage roads, the Beehive Trail, and Sand Beach.
Go Hiking. The Beehive Trail, Precipice Trail, and Jordan Cliffs Trail are the most thrilling hikes in the park, where hikers cling to the exposed cliffs on iron rungs. But there are also easy strolls (Ocean Path, Cadillac Summit Loop Trail, and the easy walk around Jordan Pond all make great options) and more challenging mountain summits (South Bubble, Door Mountain, the Beech Cliff Ladder Trail, and summiting Cadillac Mountain on foot are all popular hikes). For more information, check out our Acadia Hiking Guide.
Watch the Sunrise from Cadillac Mountain. Due to its location and height, Cadillac Mountain is one of the first spots in the United States to view the sunrise, making this Acadia National Park's most popular sunrise spot. During the busier times of the year (May through October), you will need to make a reservation in advance to drive to the summit of Cadillac Mountain.
Bike the Carriage Roads. John D. Rockfeller Jr. played a huge role in funding and building the carriage roads that crisscross Mount Desert Island. Originally constructed to travel by horse drawn carriage through the park, these roads were built between 1913 and 1940. Now, these historic roads are also open to hikers, walkers, and bikers.
Visit Sand Beach. Located on Park Loop Road, this pretty beach is worth a quick stop. This is where you get to see an iconic stretch of Maine coastline. There are also lots of great walks to do from here.
Thunder Hole. Thunder Hole is a small inlet where the waves roll up against the rocks, creating a thunderous sound. The water can spray up to 40 feet in the air.
Eat the Popovers at the Jordan Pond House. Jordan Pond House is famous for their popovers. Located on the shore of Jordan Pond, you can enjoy these tasty treats before or after doing one of several great walks in the area.
Visit Echo Lake. Echo Lake is a beautiful lake on Mount Desert Island. It is located west of Park Loop Road, so it doesn't get the same volume of visitors as Jordan Pond. You can enjoy views of the lake from the small beach, or, if you are looking for a gorgeous hike, hike the Beech Cliff Ladder Trail. The views of Echo Lake are amazing from the cliffs.
Watch the Sunset at Bass Harbor Head Lighthouse. This photogenic spot is very popular with photographers. A gorgeous view of a lighthouse perched along the rocky coastline…this is iconic Maine.
Visit Schoodic Point. This is one of the best places in Acadia National Park to watch the surf pounding on the rocky coastline. Schoodic Point is located on the Schoodic Peninsula, north of Mount Desert Island.
Spend a Day on Isle au Haut. Isle au Haut is a remote island in Maine and half of this island is part of Acadia National Park. Due to its location and fact that you can only get to it by ferry, it is much less crowded than the rest of Acadia National Park. Visit Isle au Haut to see stunning coastal scenery and you just may have these trails to yourself.
When to Visit Acadia National Park
Park Loop Road is closed from December 1 through mid-April. To visit Acadia when the roads are open, plan your visit from May through November.
Peak season is July and August. Expect big crowds, full parking lots, and lots of hikers on the most popular trails.
Autumn is another popular season, since this is a gorgeous place to see fall colors. For coastal Maine, including Acadia National Park, early to mid-October is generally when fall colors are at their peak. However, this does vary from year to year, based on weather conditions. For the past five years, fall colors were at their peak anywhere from October 8 to October 21.
If you are planning your visit to coincide with peak fall colors, you can get foliage reports on the Maine Foliage website.
Acadia National Park makes our best US national parks to visit list for the months of June, September, and October. For more suggestions about the best parks to visit month by month, check out our guide Best National Parks by Season. It includes the full list of US national parks and the best months to visit them, based on weather, road closures, and crowd levels.
How Many Days Should You Spend in Acadia?
Acadia National Park makes a great long weekend getaway.
We recommend spending two to three days in Acadia National Park. This will give you enough time to drive Park Loop Road, do a few short hikes, bike the carriage roads, watch the sunrise from Cadillac Mountain, and snack on popovers at the Jordan Pond House.
With more time, you can also visit the Schoodic Peninsula and Isle au Haut.
Learn how to plan your time with our Acadia Itinerary.
ONE DAY IN ACADIA
Drive Park Loop Road, hike the Precipice and/or Beehive Trail if you are looking for a thrill, visit Sand Beach and Thunder Hole, and then go to Jordan Pond. Have lunch, walk around Jordan Pond, and consider adding on the Jordan Cliffs Trail or the South Bubble Trail if you still have energy. Drive up to the peak of Cadillac Mountain and then spend the evening in Bar Harbor.
Where to Stay
Bar Harbor, with its numerous hotels and restaurants, makes a great home base for exploring Acadia National Park. We recommend the Bar Harbor Inn and Spa if you want to stay in a hotel with a beautiful setting right on the coast. The Bar Harbor Grand Hotel is one of the highest rated properties in town and the Elmhurst Inn is a bed and breakfasts that get impeccable reviews. The Bar Harbor Motel is a great option for families and those on a budget.
There are four campgrounds in Acadia National Park: Seawall, Blackwoods, Duck Harbor, and Schoodic Woods. Make your reservations well in advance of your stay, especially during peak season.
Acadia National Park preserves half of Mount Desert Island, the tip of Schoodic Peninsula, a portion of Isle au Haut, as well as several other islands.
Most visitors spend their time on Mount Desert Island (abbreviated MDI), which is where you will find Cadillac Mountain, Bar Harbor, the carriage roads, and many of the top hiking trails in the park.
Schoodic Peninsula and Isle au Haut are harder to get to and are more remote, but if you are looking for lower crowds or solitude, these are well worth adding to your itinerary.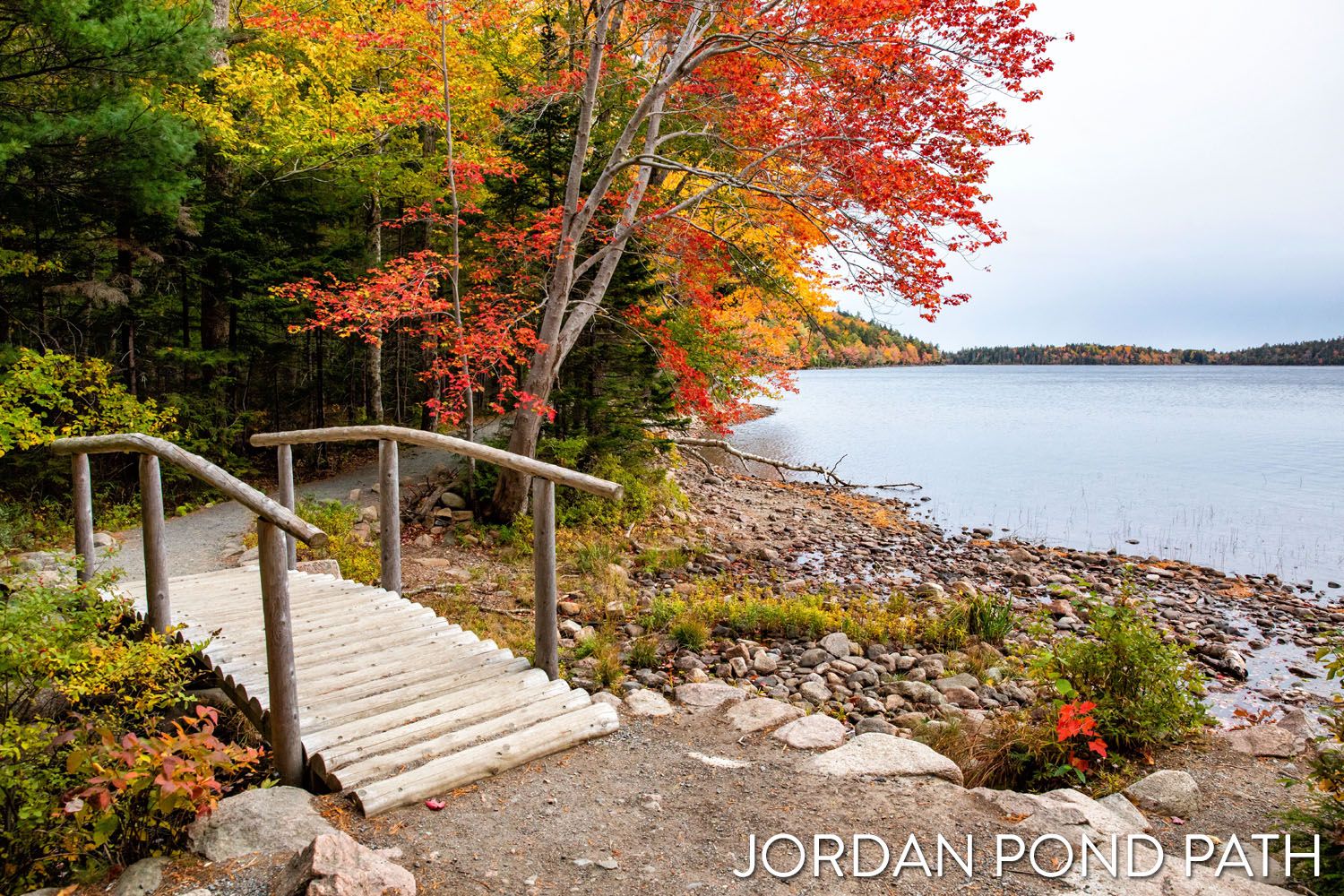 Acadia National Park Map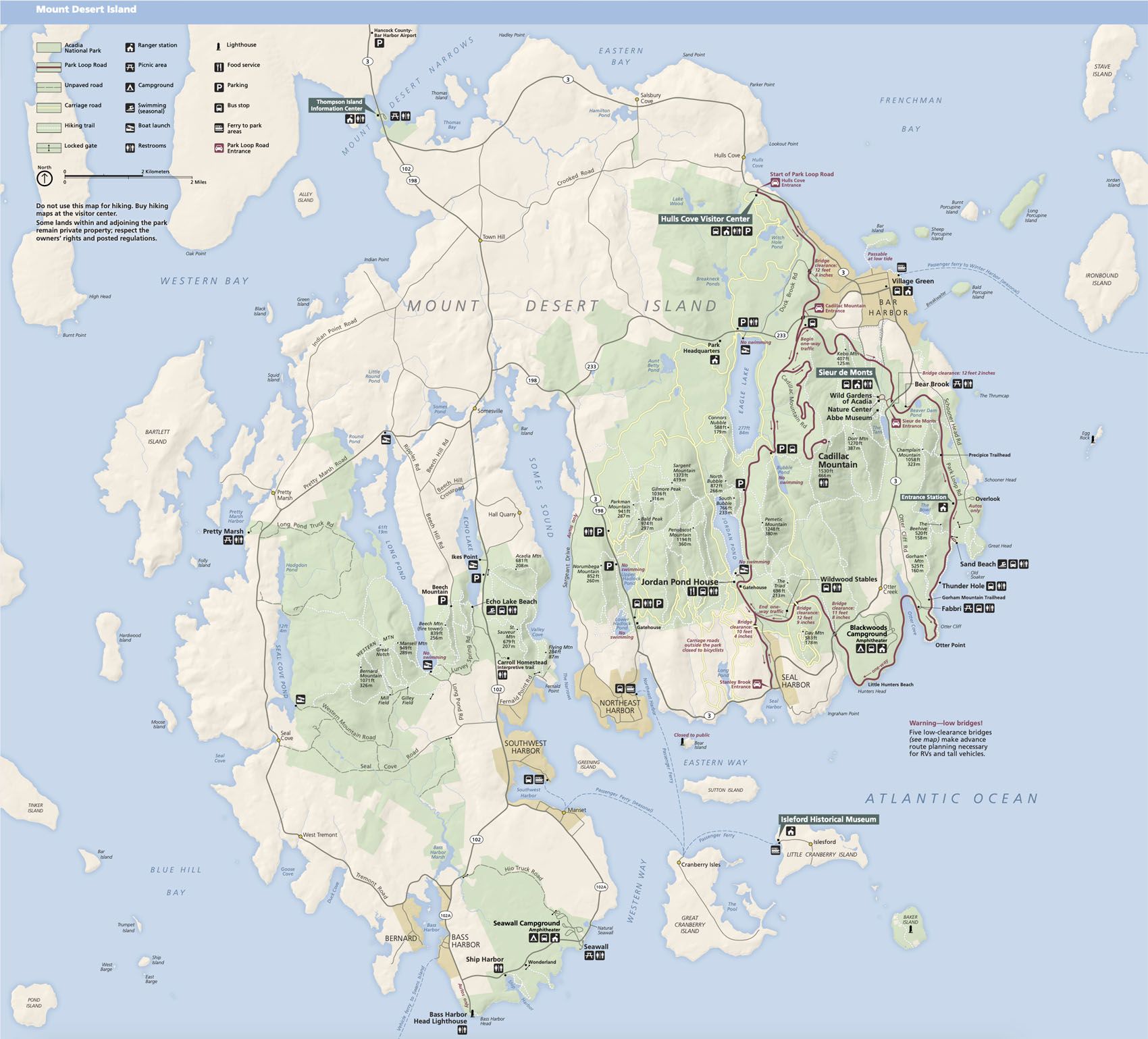 Acadia National Park in Photos
In our US National Parks List, get information on all of the US national parks, including interesting facts, the most and least visited national parks, and a FREE printable national parks checklist with map.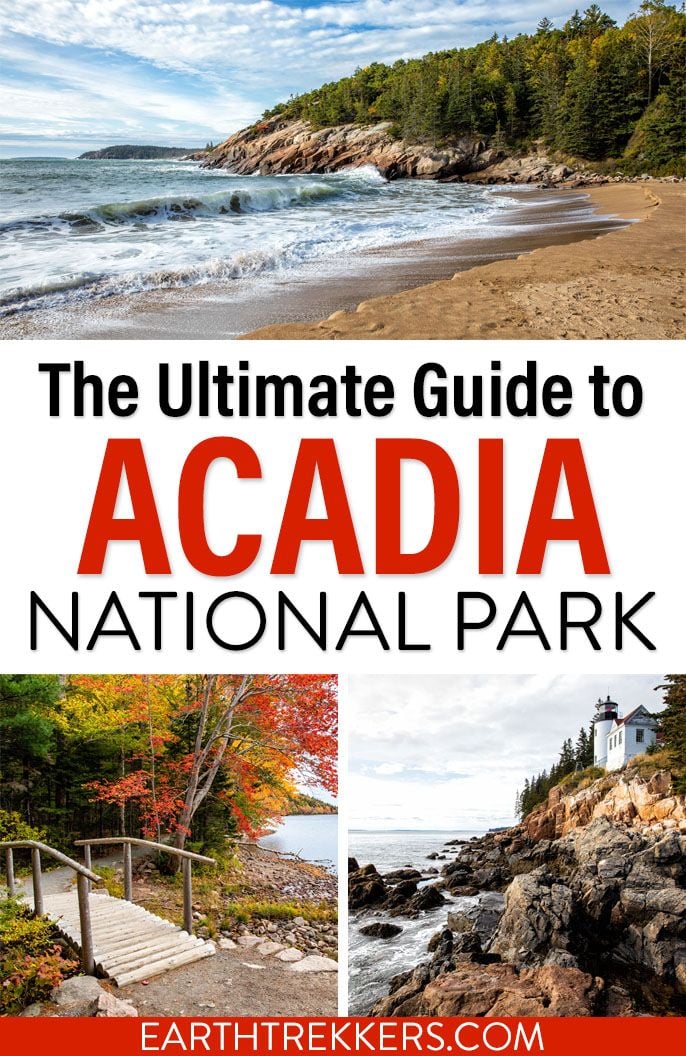 Note: This page contains affiliate links. When you make a purchase using one of these affiliate links, we get paid a small commission at no extra cost to you.
Visit More National Parks