The Precipice Trail is Acadia National Park's most thrilling hike. This short, tough hike features a steep climb, numerous climbs up metal rungs and ladders, and short walks along narrow ledges. To do this hike, you need a good head for heights, since there is a lot of exposure on this trail.
As you dangle from the cliffs, you are rewarded with some of the best views in Acadia National Park.
The Precipice Trail is notorious for being Acadia's most dangerous hike. Several people have fallen from the cliffs and died, so this trail is not to be underestimated. If you have a fear of heights or are traveling with children, skip this hike. And under no circumstances, do not hike the Precipice Trail in the rain. The granite cliffs and iron rungs get dangerously slippery when it is wet.
Precipice Trail Hiking Stats
Distance: 2.5 mile loop
Elevation Gain: 1,060 feet
Difficulty: Strenuous, challenging
Length of Time: 1.5 to 3 hours
When to Go: There is a narrow window of time that you can do this hike. From late March into the summer months, the Precipice Trail can close during peregrine falcon nesting. During the winter months, snow and ice make this trail even more dangerous. The best time to hike the Precipice Trail is from late summer through early fall, before snow starts to fall. We did this hike in early October.
Important Note: The Precipice Trail can be hiked in either direction, but for safety reasons, it is best to turn this hike into a loop. The hiking distance and time in this post is for hiking up the Precipice Trail and down the Champlain North Ridge Trail and Orange and Black Trails.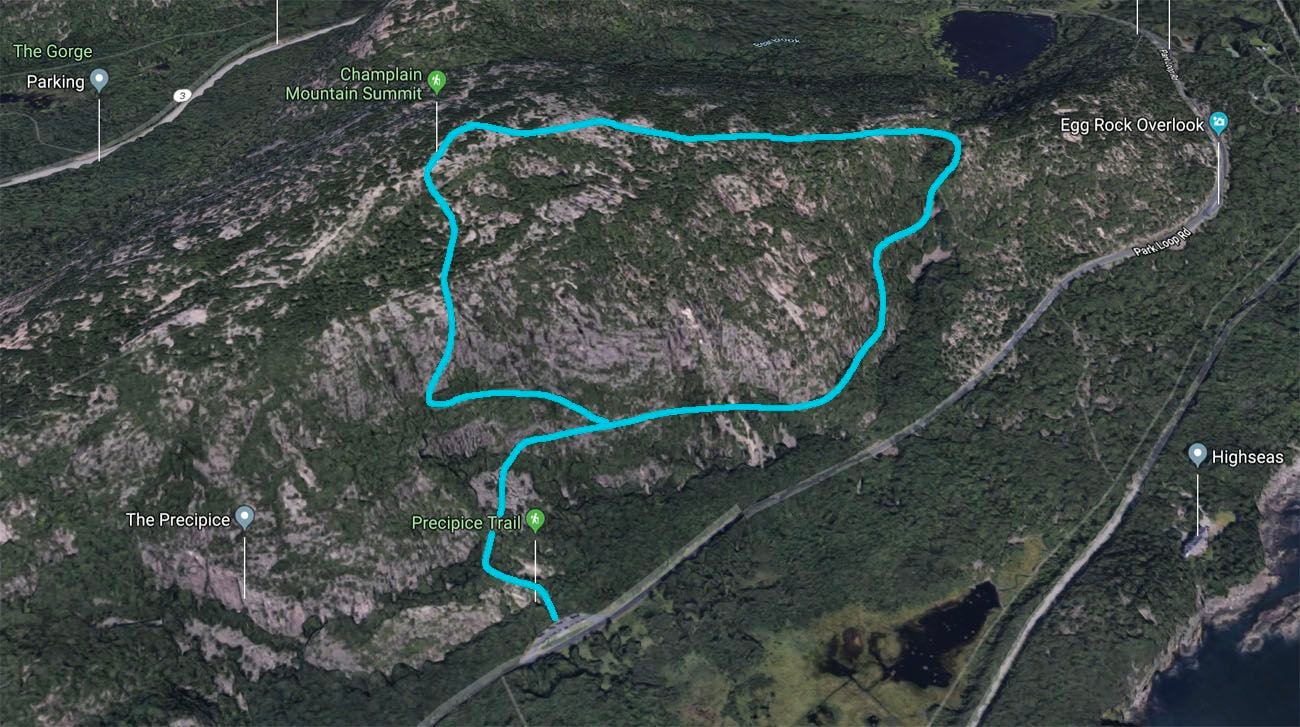 Precipice Trail Elevation Profile
Please practice the seven principles of Leave No Trace: plan ahead, stay on the trail, pack out what you bring to the hiking trail, properly dispose of waste, leave areas as you found them, minimize campfire impacts, be considerate of other hikers, and do not approach or feed wildlife.
How to Hike the Precipice Trail
Step-By-Step Trail Guide
Getting to the Trailhead
The trailhead is located on Park Loop Road. There is a parking lot that holds roughly 20 cars, so get here early in order to get a parking spot. From Bar Harbor, it is a 10-minute drive to get here.
We started this hike at 7:30 am. We were the second car in the parking lot and for the entire hike we did not see one other person.
Hiking the Precipice Trail
The Precipice Trail swiftly climbs up to the summit of Champlain Mountain. In less than one mile, you will climb over 1000 feet, making this one of Acadia's most strenuous short hikes.
IMPORTANT NOTE: The National Park Service discourages people from hiking down the Precipice Trail for safety reasons. Two-way traffic on the cliffs and iron rungs makes this hike even more dangerous. You will hike up the Precipice Trail and then hike back to your car on a different trail. This makes the hike longer, but it will also be much safer.
This trail wastes no time in gaining elevation. As soon as your feet hit the trail, you start the climb up to the summit of Champlain Mountain. You will hike up a series of staircases made from boulders and rock scramble up and over fields of giant boulders. Periodically, there will be iron bars to assist you.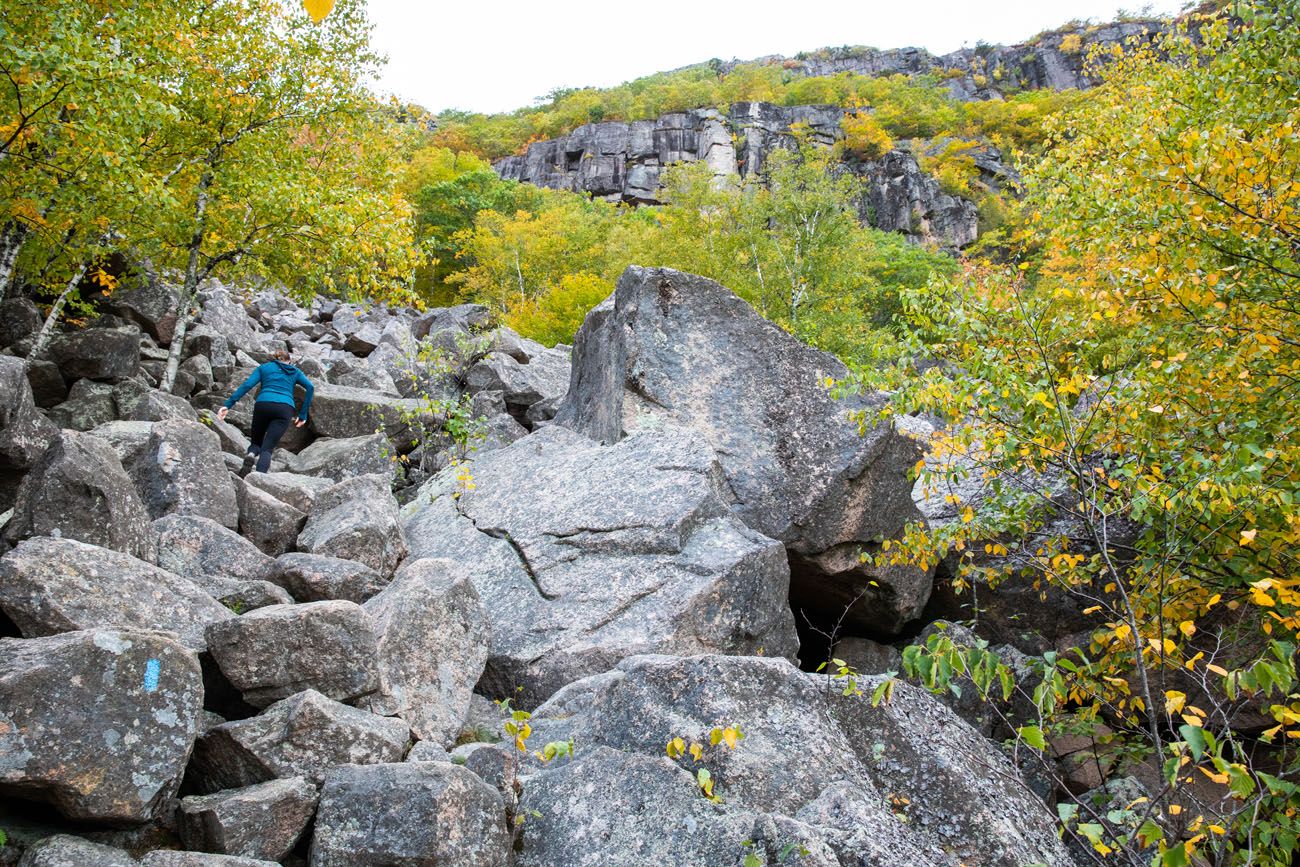 You will even scoot yourself under massive boulders larger than a car. When in doubt, just follow the blue blazes painted on the rocks.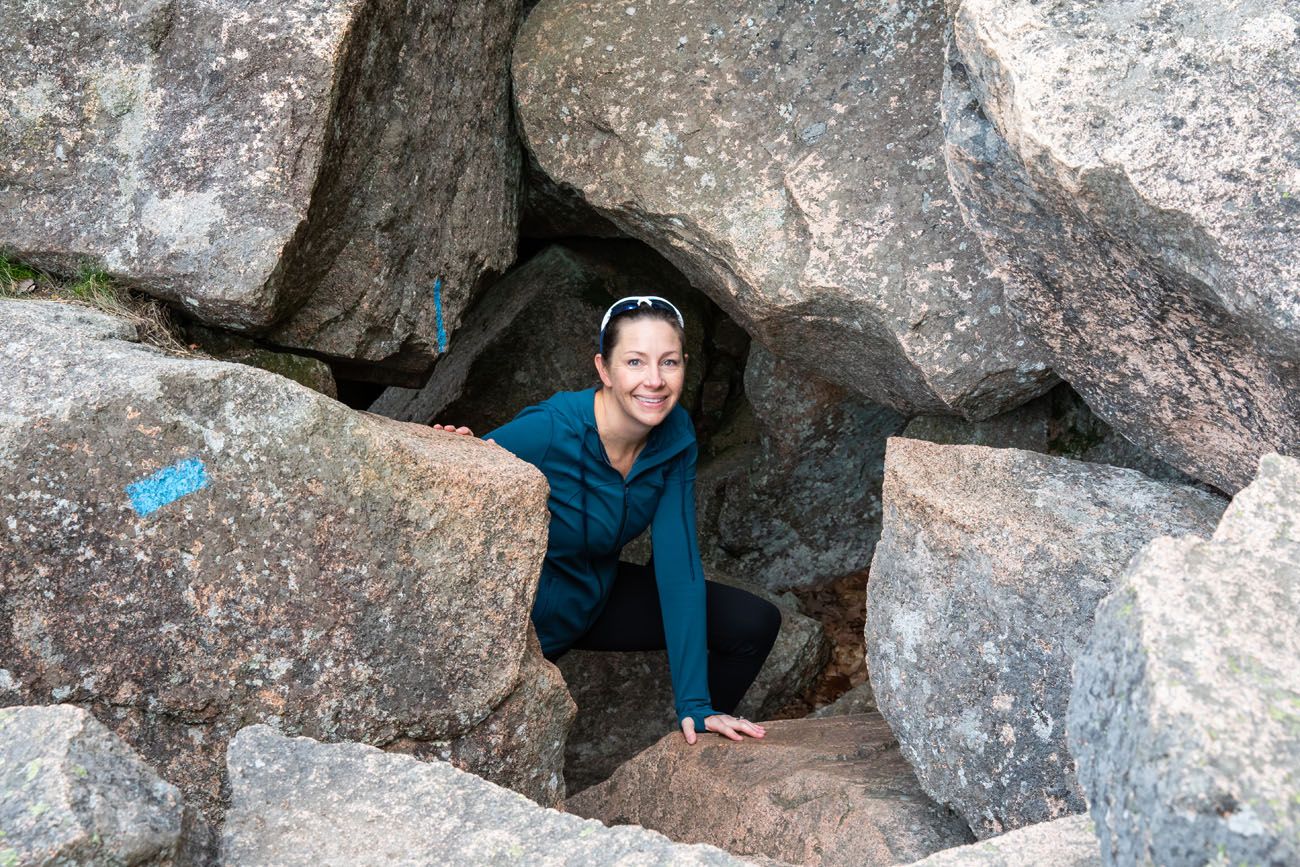 Once you get to this wooden bridge, you get to experience the narrow ledges and iron rungs that make this trail so famous. You will hike across several ledges with some exposure. It's not too bad yet and this is a nice chance to test your nerves.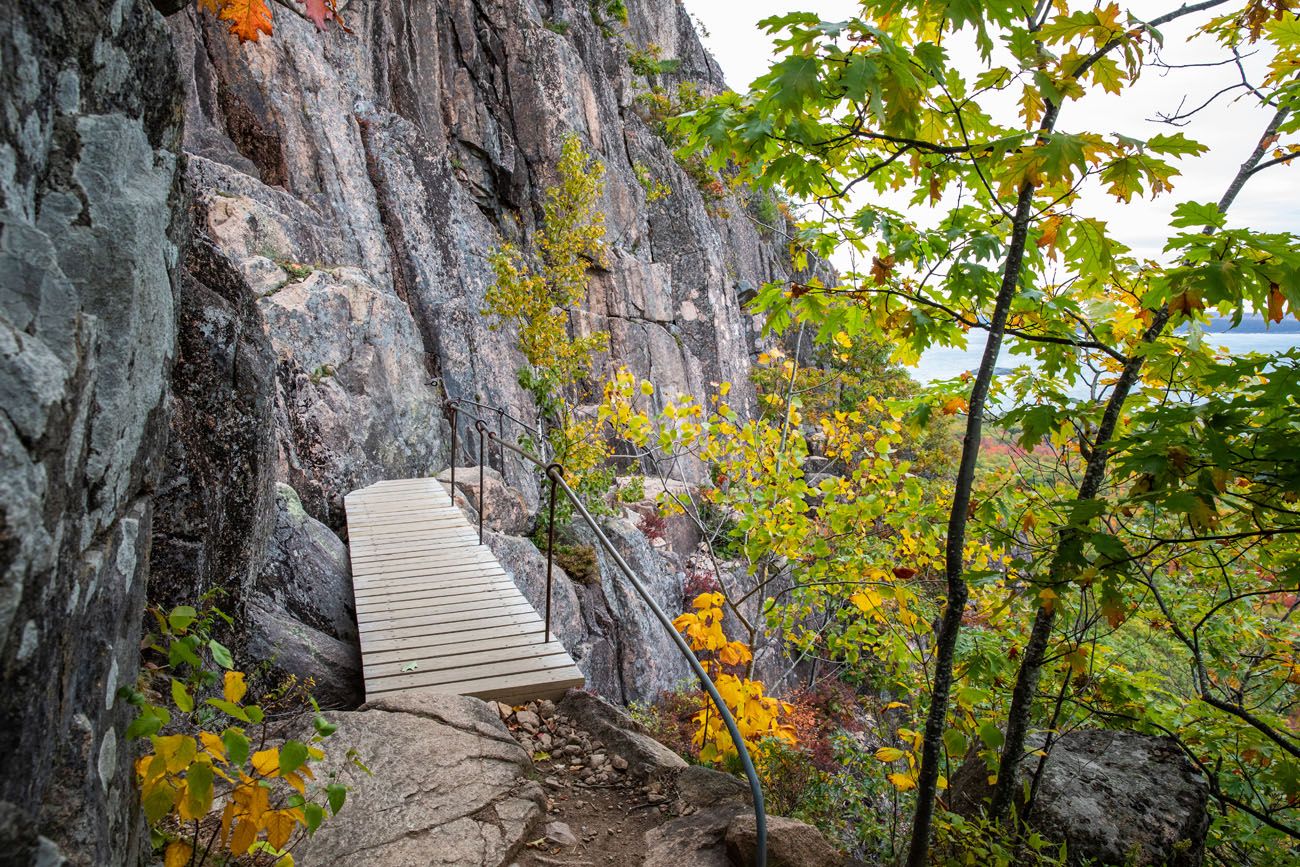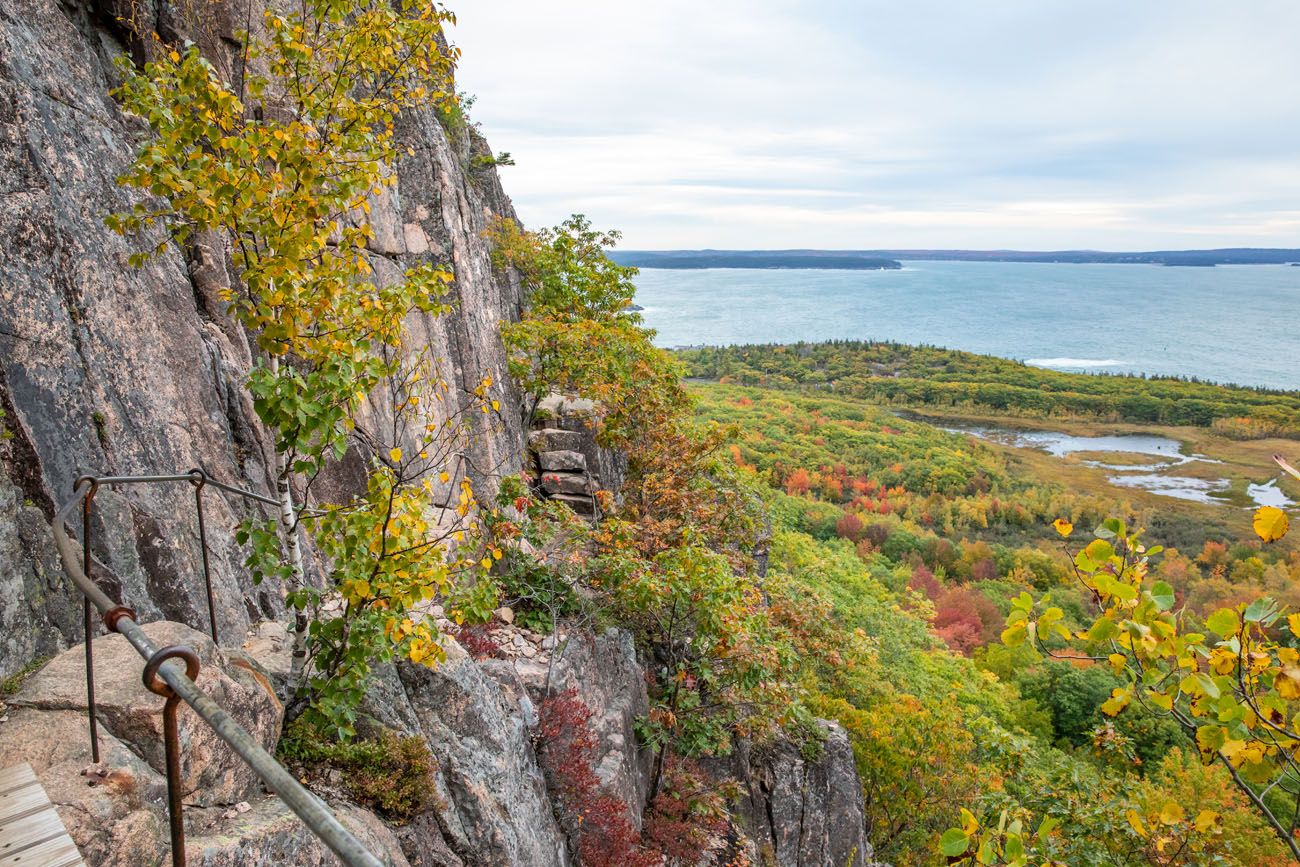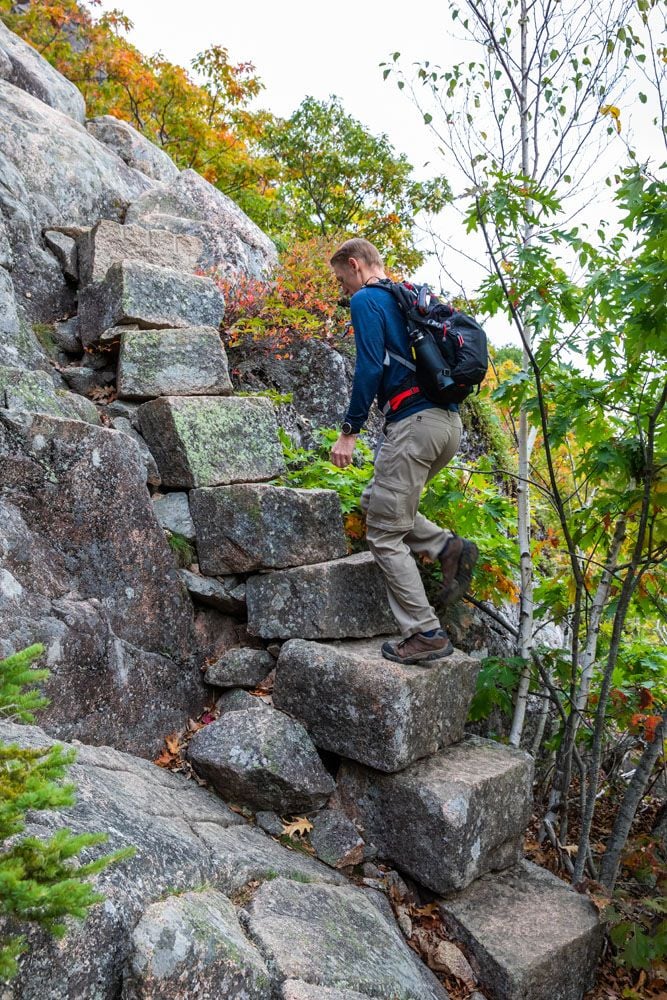 0.4 miles into the hike, the trail splits. Follow the sign to Champlain Summit to continue on the Precipice Trail. If this hike feels too challenging, or if those brief cliff walks bothered you, take the Orange and Black Trail back to the parking lot.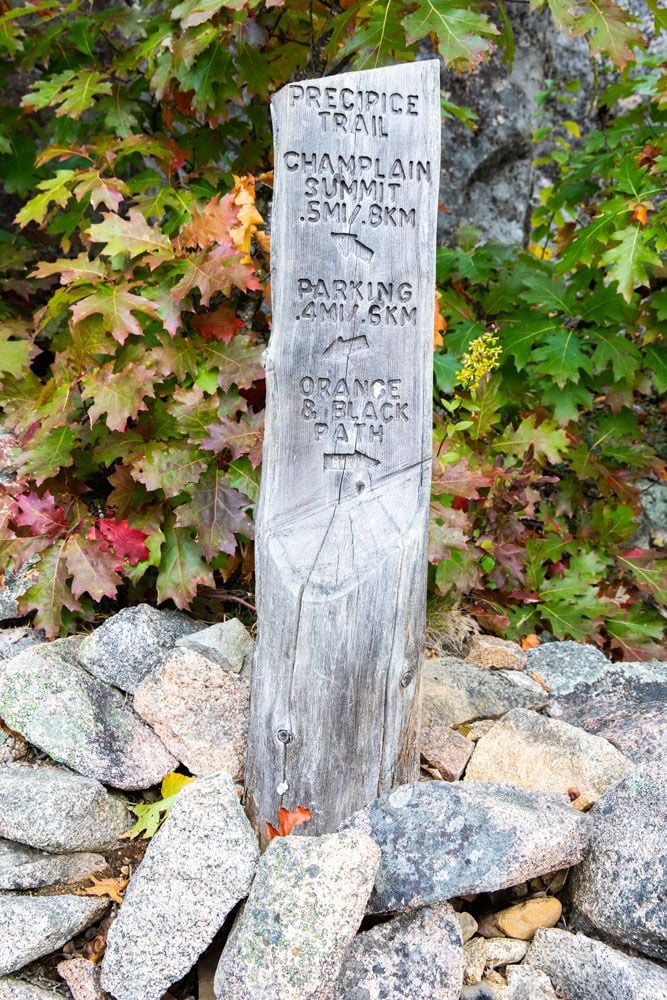 Now, the real fun begins. You will scramble up rocky ledges, hike on forested trails, and finally emerge at a series of iron rungs and cliff walks. If you like this type of thing, this is the highlight of the Precipice Trail. It's fun, it's challenging, and the views are spectacular.
Here is the top section of the Precipice Trail in photos.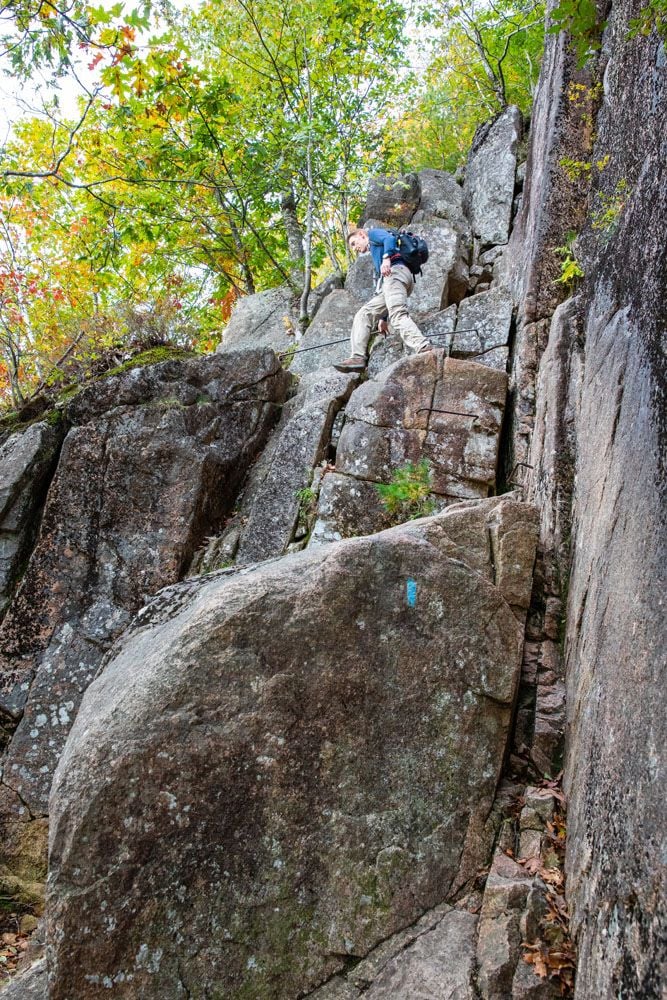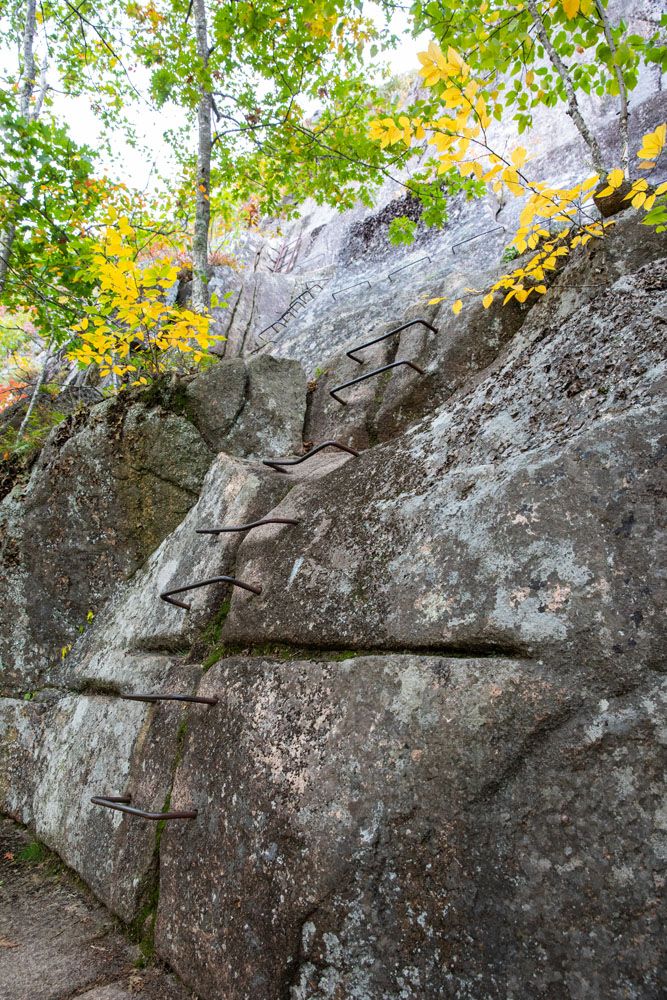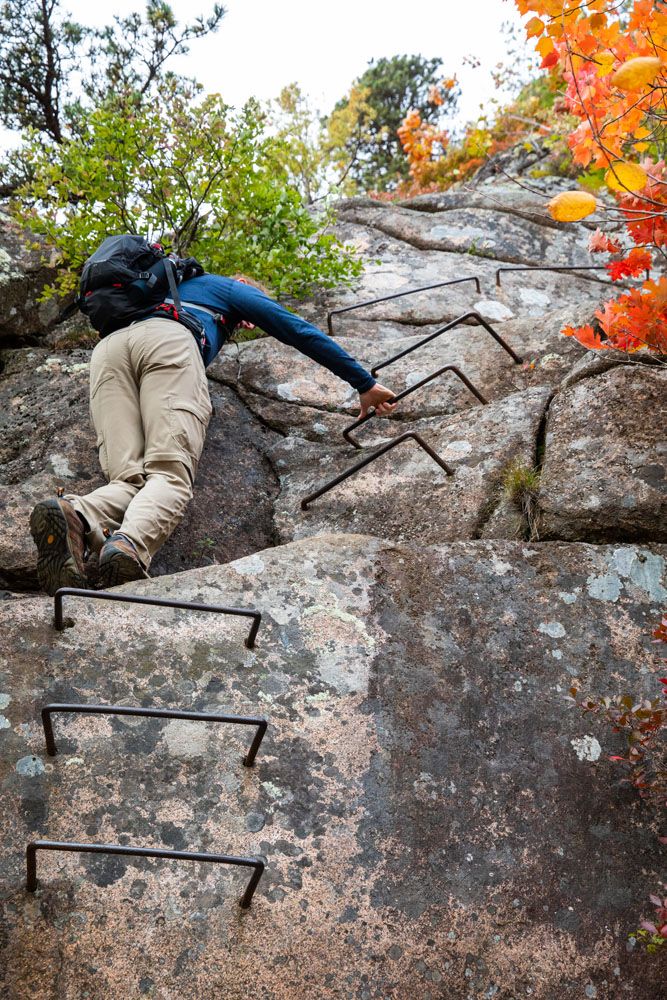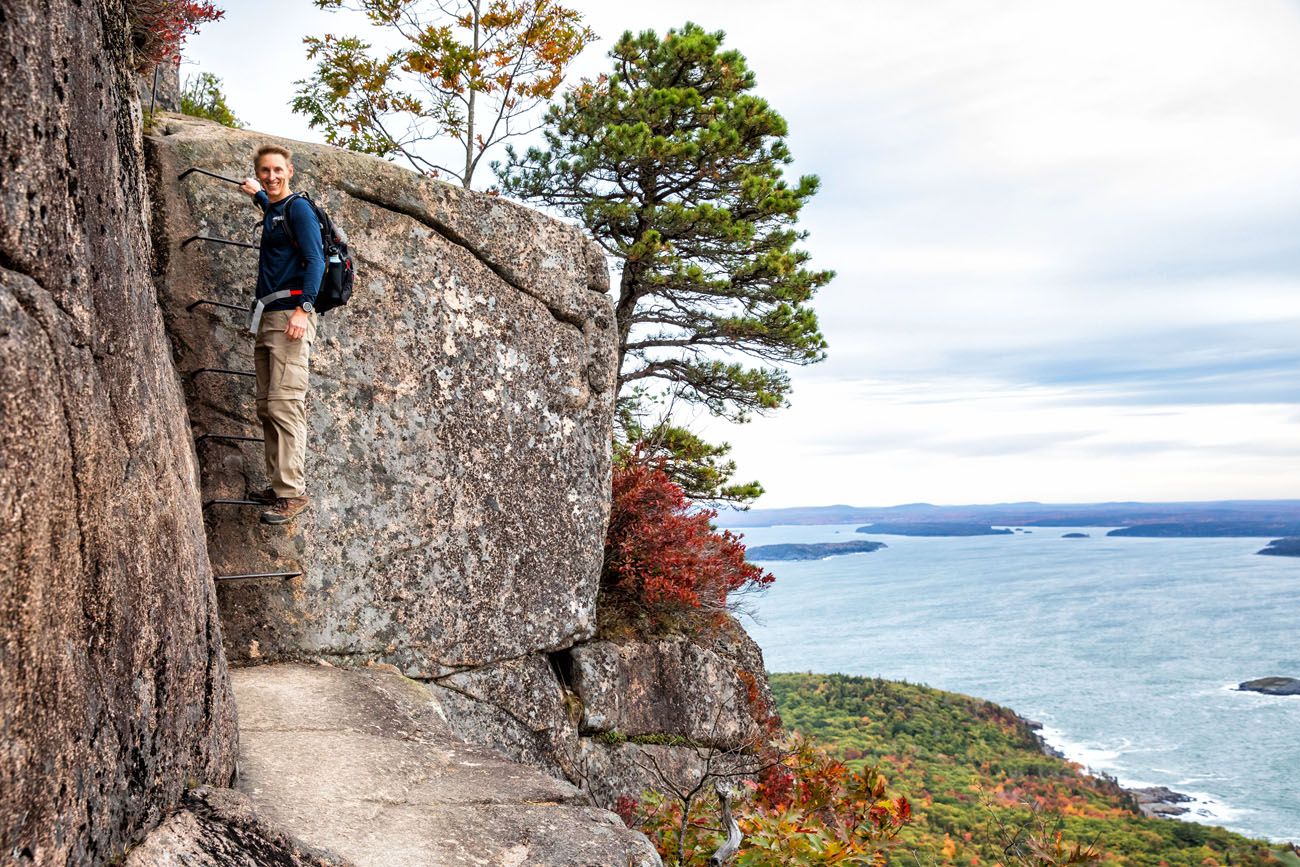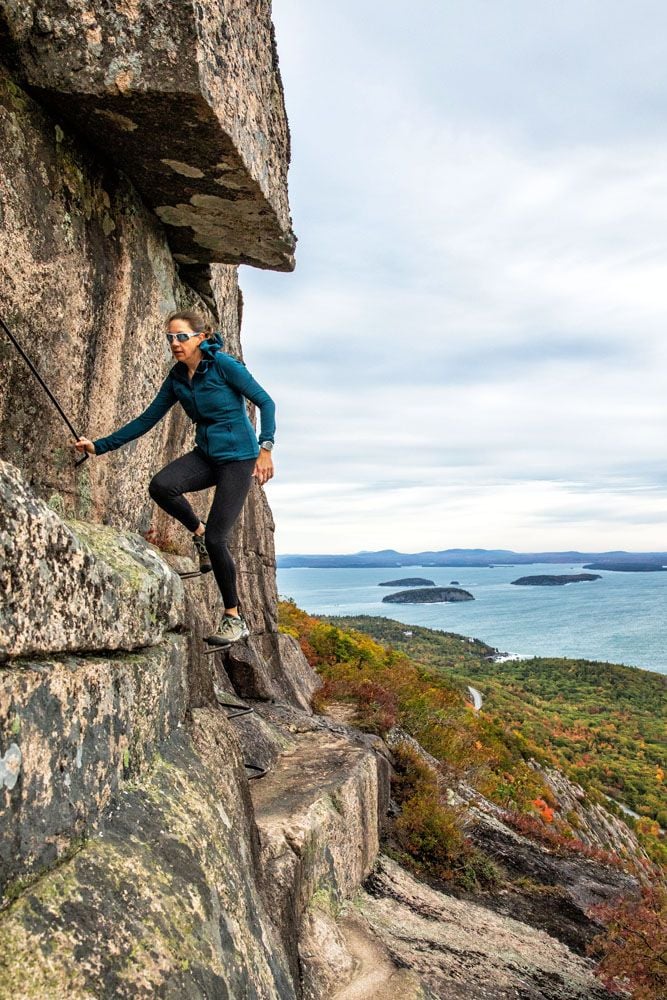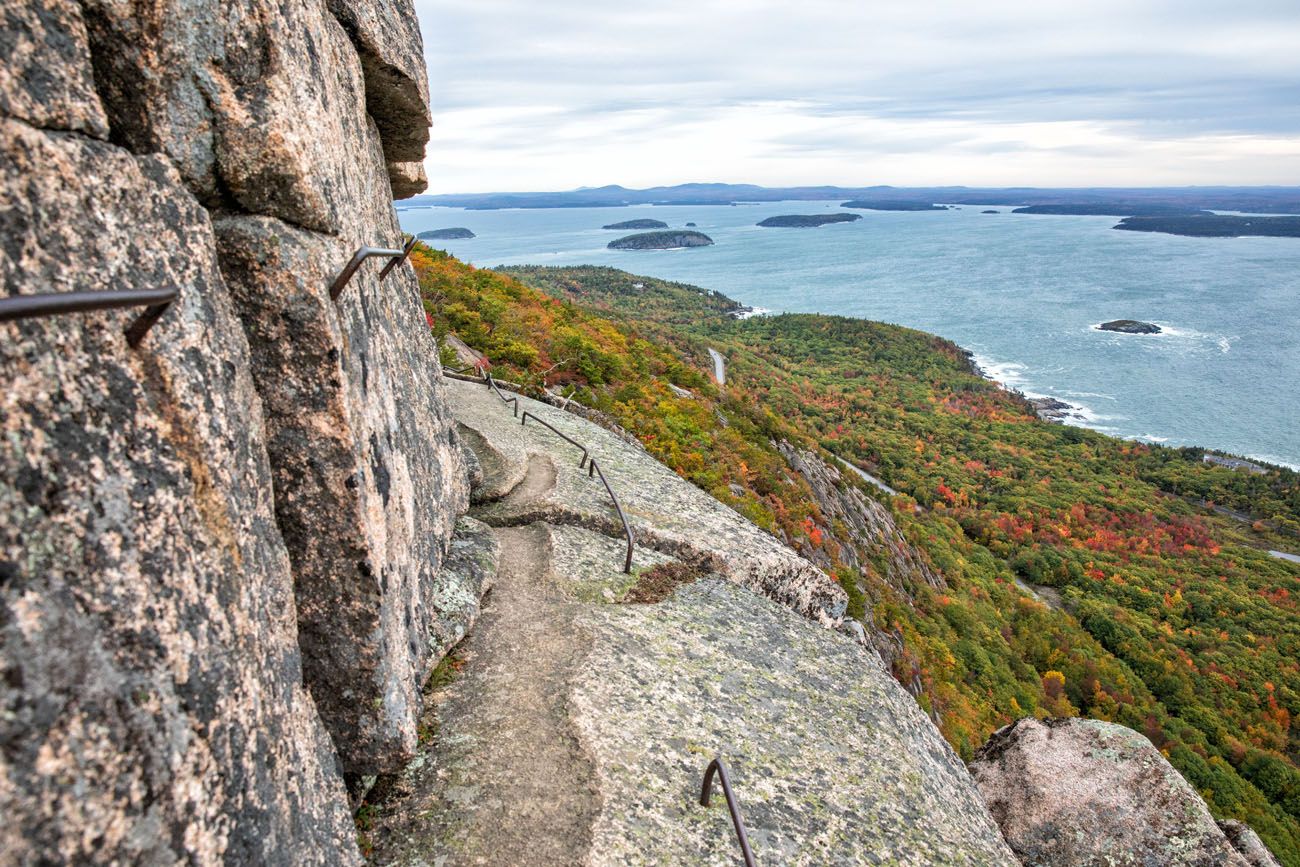 Note: You do not need any special gear to do this hike. It has metal rungs like a via ferrata, but since there are no places to clip in, there is no need for a harness or a via ferrata set-up. However, you should wear a good pair of hiking shoes or boots. You need shoes with a good grip for the smooth granite surfaces and to climb the iron rungs.
Champlain Mountain
The Precipice Trail ends at the summit of Champlain Mountain. Now it's a downhill walk back to the parking lot. No more iron rungs, no more cliff walks. Just enjoy the view and celebrate your accomplishment.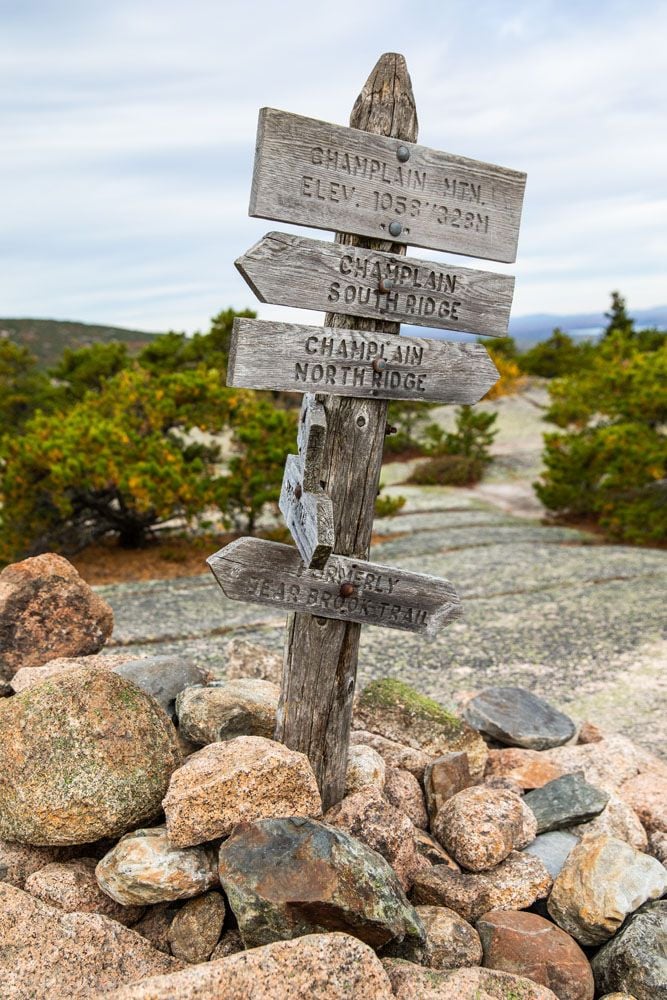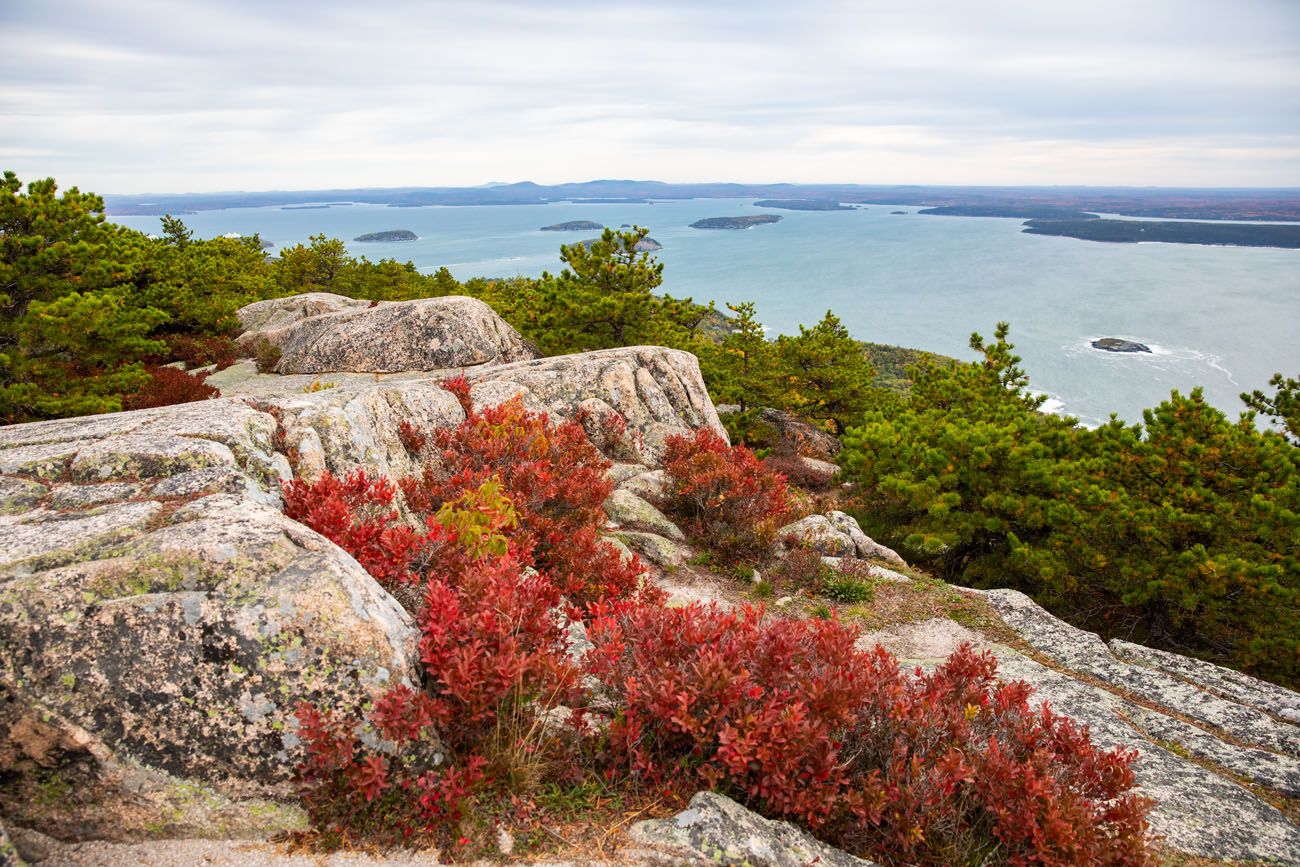 Hiking to the Parking Lot
There are two ways to hike back to your car, without going back down the Precipice Trail.
The shorter, faster way is to take the Champlain North Ridge Trail to the Orange and Black Trail. It's a steep downhill walk, so if your thighs aren't tired yet, they will be by the time you get back to your car. But the views along the North Ridge Trail are beautiful. This is what we did and recommend it if you are short on time or energy.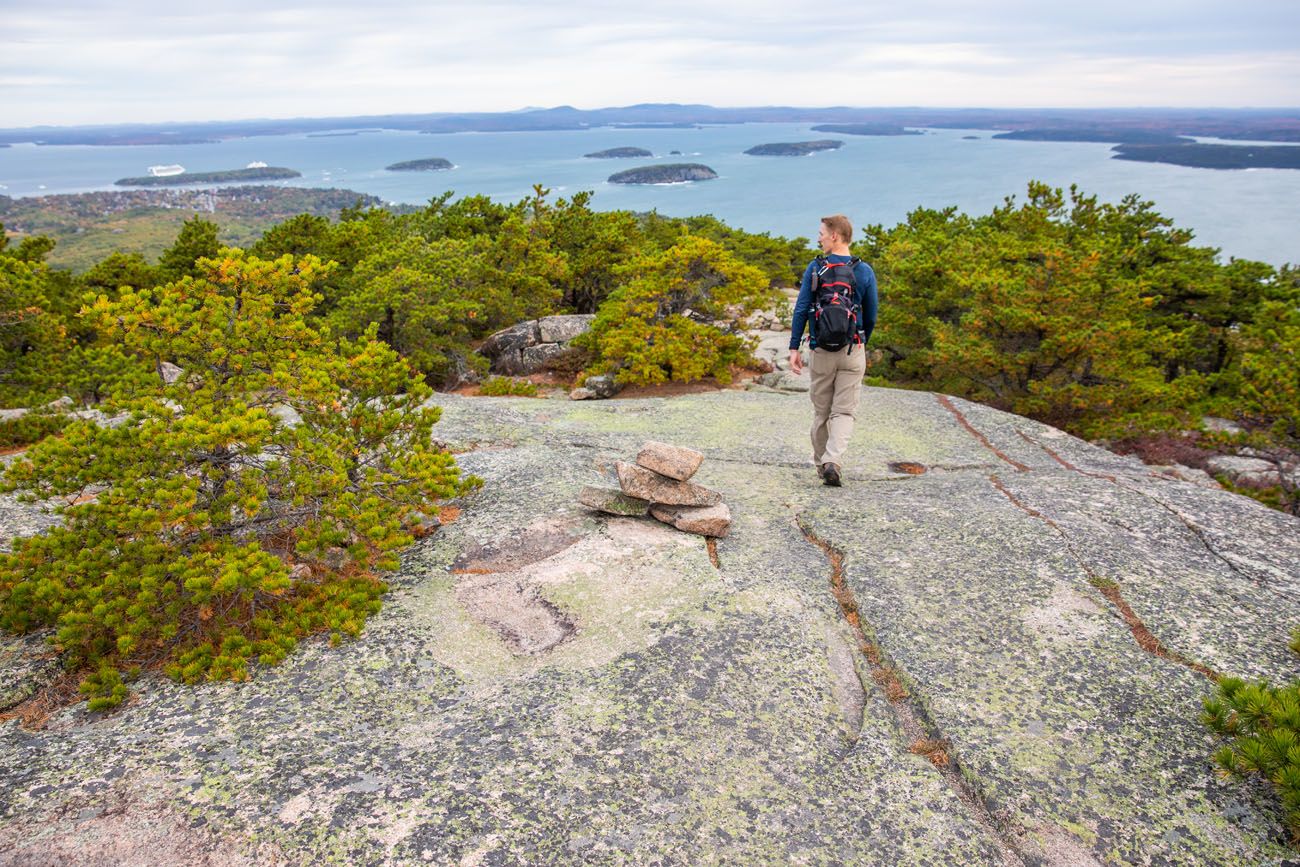 For a longer hike, and a chance to add in the Beehive Trail, take the Champlain South Ridge Trail to the Bowl Trail. You will hike down the Beehive Trail and get back to your car by walking along the Park Loop Road. This route is approximately 4 miles long and features two strenuous climbs with numerous cliff walks.
If you want to hike the Beehive Trail, I recommend doing this as two separate hikes. It is good to give your legs a little break in between hikes. We hiked the Precipice Trail, then visited Sand Beach and did the easy stroll along the Ocean Path, just to give our legs some time to recharge. The Beehive Trail is also a strenuous trail, so you need to be ready for another hefty climb.
Tips to Have the Best Experience
Get here early in order to get a parking space. Parking is very limited and fills up fast. I recommend getting here no later than 8 am, but even earlier is better.
Check trail conditions before you go. The Precipice Trail can close during the spring and summer months due to peregrine falcon nesting.
If it is wet or raining, or if rain is imminent, do not hike the Precipice Trail. The granite surfaces and the iron rungs will be very slippery in wet conditions.
Wear a good pair of hiking shoes or boots. Bring sunblock, water, and snacks.
If you are new to hiking or are curious about what you should bring on a hike, check out our Hiking Gear Guide. Find out what we carry in our day packs and what we wear on the trails.
---
Do you have plans to hike the Precipice Trail? If you have any questions, or if you want to share your experience, comment below.
More Information about Acadia National Park
ACADIA NATIONAL PARK: Check out our Acadia National Park Travel Guide for important travel information, sample itineraries, and how to plan your visit. For a list of must-have experiences, read our article Best Things to Do in Acadia National Park. Go off the beaten path and explore Isle au Haut.
ACADIA ITINERARY: Plan your perfect visit to Acadia National Park with our Acadia Itinerary Planner.
HIKES IN ACADIA: Check out our article Best Hikes in Acadia for great hikes to add to your to do list. We also have a detailed hiking guide for the Beehive Trail.
NATIONAL PARKS: In our Guide to the US National Parks, get the full list of national parks with important travel planning information, such as things to do in the parks and sample itineraries.
More Thrilling Hikes in the USA: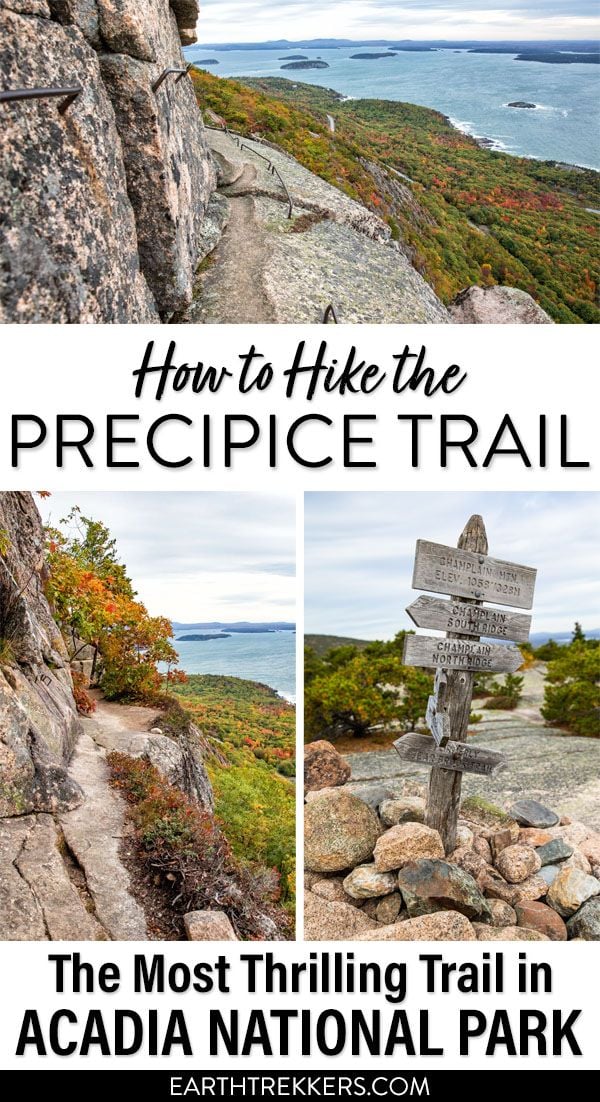 All rights reserved © Earth Trekkers. Republishing this article and/or any of its contents (text, photography, etc.), in whole or in part, is strictly prohibited.