Isle au Haut is a secluded island in Maine's Penobscot Bay, offering coastal hiking trails, scenic bike routes, and a peaceful fishing village. A significant part of the island is home to Acadia National Park, and its isolation from Bar Harbor keeps the crowds at bay, making Isle au Haut a dream escape for outdoor enthusiasts.
We loved our time on Isle au Haut, often feeling like the island was entirely ours. Continue reading for information on how to get to Isle au Haut, the best hiking routes to take, and additional activities to do on the island.
Where is Isle au Haut?
Isle au Haut is an island on Maine's coastline. The only way to reach this island is by ferry from Stonington.
If you plan to stay in Bar Harbor to visit Acadia National Park, it takes an hour and a half to drive from Bar Harbor to Stonington. Because of this island's remote location, it tends to get far fewer visitors than Mount Desert Island.
Below is a map of Maine, labeled with the various sections of Acadia National Park.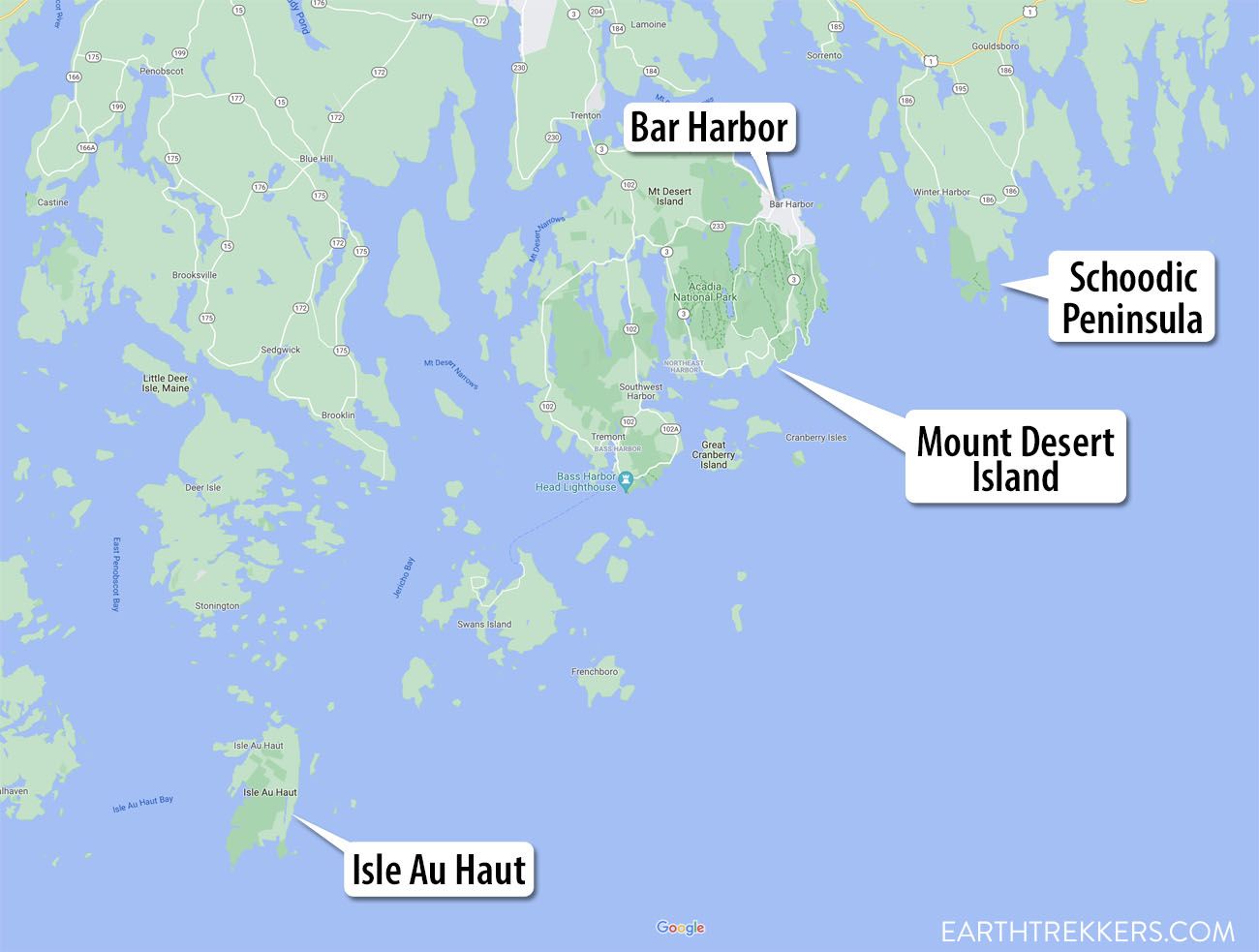 Acadia National Park map
How to Get to Isle au Haut
Isle au Haut Boat Services offers great trips to and from Isle au Haut.
Year round this ferry takes visitors between Stonington, a fishing village on the mainland, to Isle au Haut town, a small settlement on the north of the island. From mid-June to September, the ferry will also take visitors to Duck Harbor on the southern end of the island.
Visit the official website for complete schedule listings and rates.
The ferry ride between Stonington and Isle au Haut Town is 45 minutes long. The ferry will drop off passengers at Isle au Haut town dock, and then it will continue another 30 minutes to Duck Harbor, where the remaining passengers will land. There is only one ferry that runs between the three stops, and all passengers with a ticket are guaranteed a seat.
At the moment, reservations for the ferry cannot be made in advance. The ferry runs on a first come, first serve policy. Tickets are limited so it is important to reach Stonington at least an hour before the ferry departure so that you have enough time to reserve a spot. Round-trip and over-night tickets can be purchased on site. Parking is also available on site for all customers.
Our experience with Isle au Haut Boat Services was streamlined and enjoyable. We had no problems getting a ticket an hour in advance, or with parking our car. Arriving early was worthwhile, as we had additional time to prepare for our excursion. The ferry ride to Isle au Haut went smoothly, and the crew was helpful in answering our questions and in providing information on the area. Before setting sail, the crew also provided an overview of which dock is best for which activities, and when the ferry will pick people up.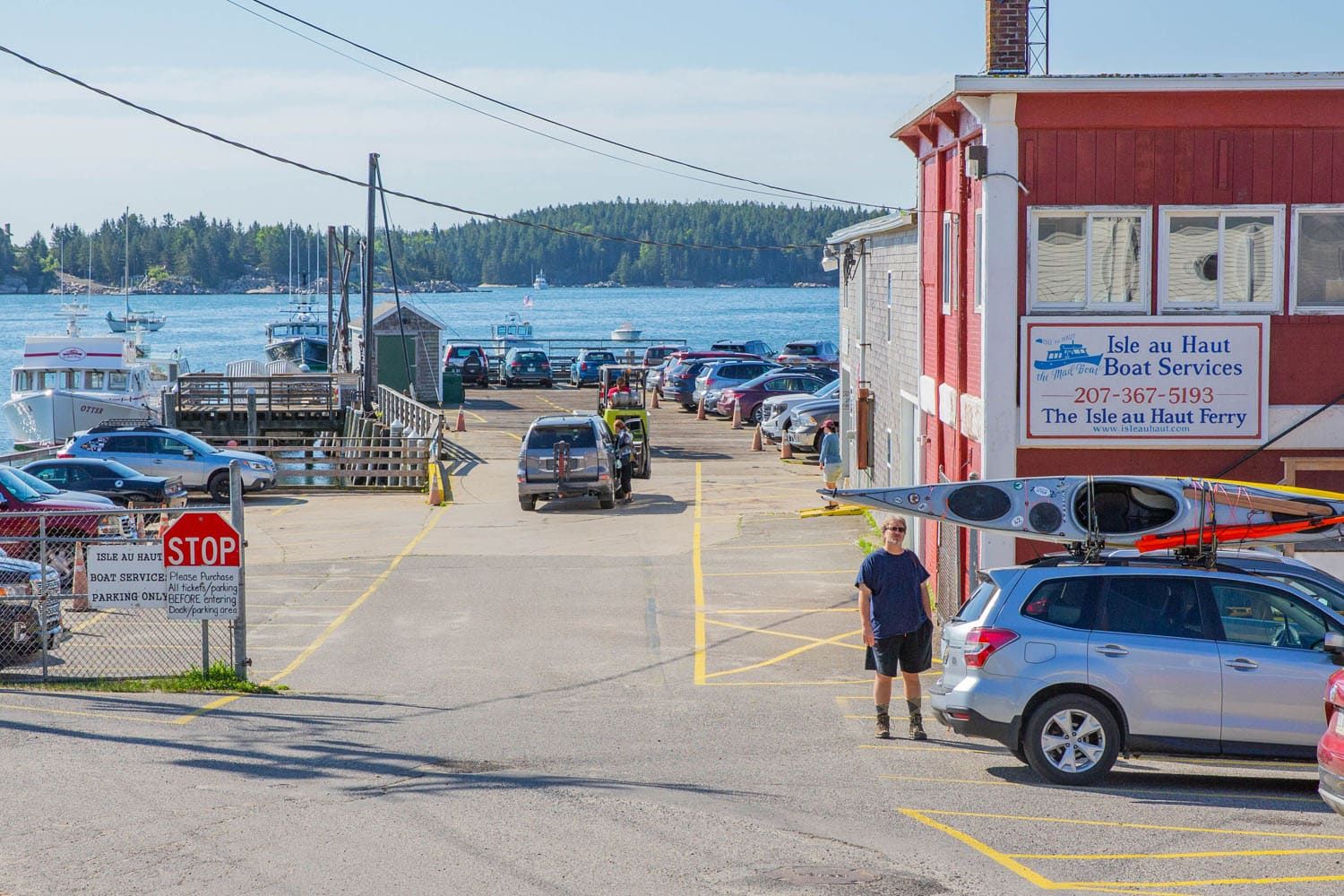 Stonington, Maine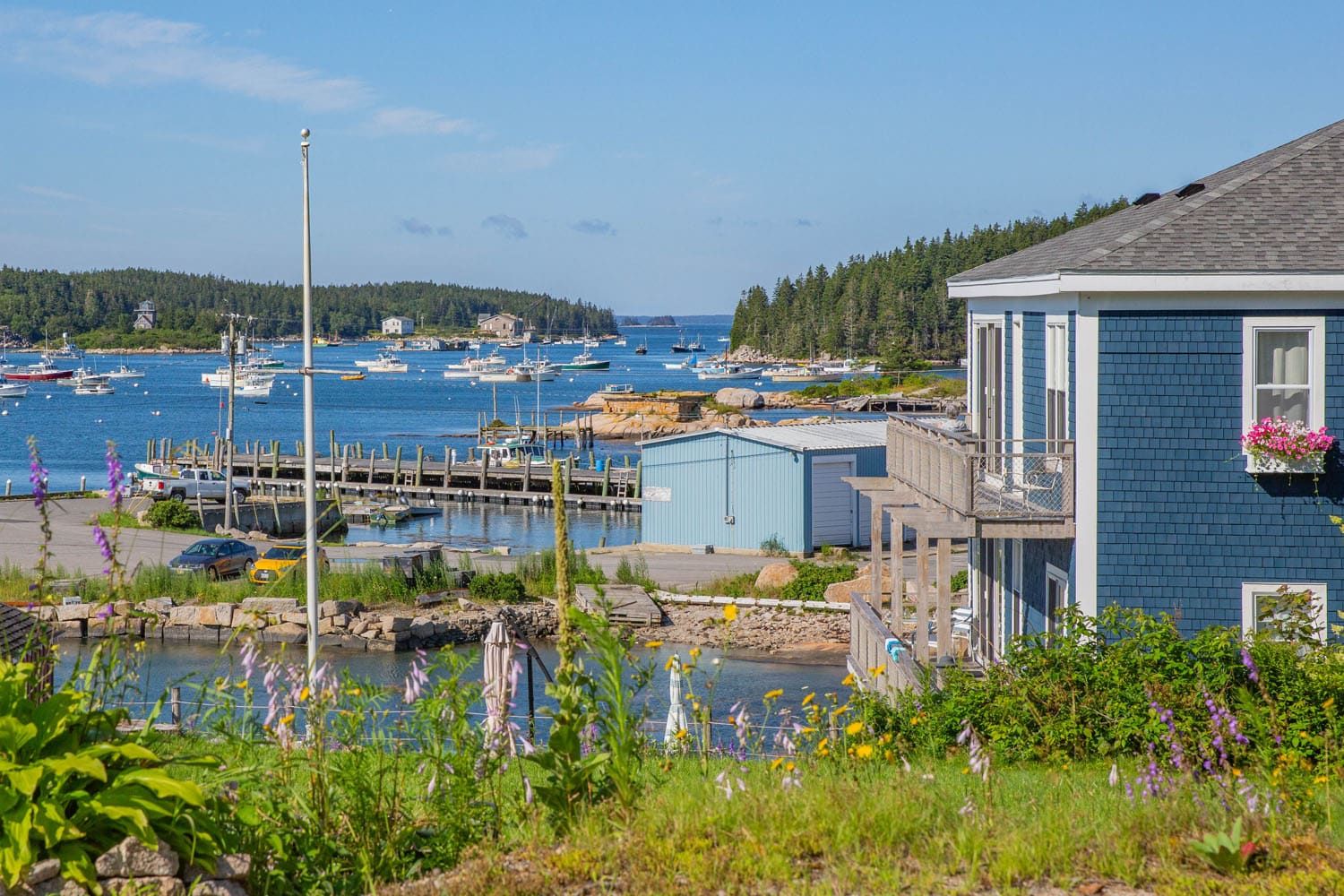 Stonington, Maine
Where Should I Go: Isle au Haut Town or Duck Harbor?
Isle au Haut has two ports where passengers can land. The first is in Isle au Haut Town, a small fishing village in the north of the island. If you are biking or kayaking around the island, this is the only port where you can disembark.
In the summer months, the ferry will also take visitors to Duck Harbor, a landing within Acadia National Park on the southern end of the island. This dock is set amidst the prettiest part of the island, but all of the trails in the area are only accessible to hikers. If you are hiking on the island, I recommend disembarking at Duck Harbor. This landing also has a small campsite for travelers looking to spend more time on the island. Reservations must be made in advance to stay at this campsite.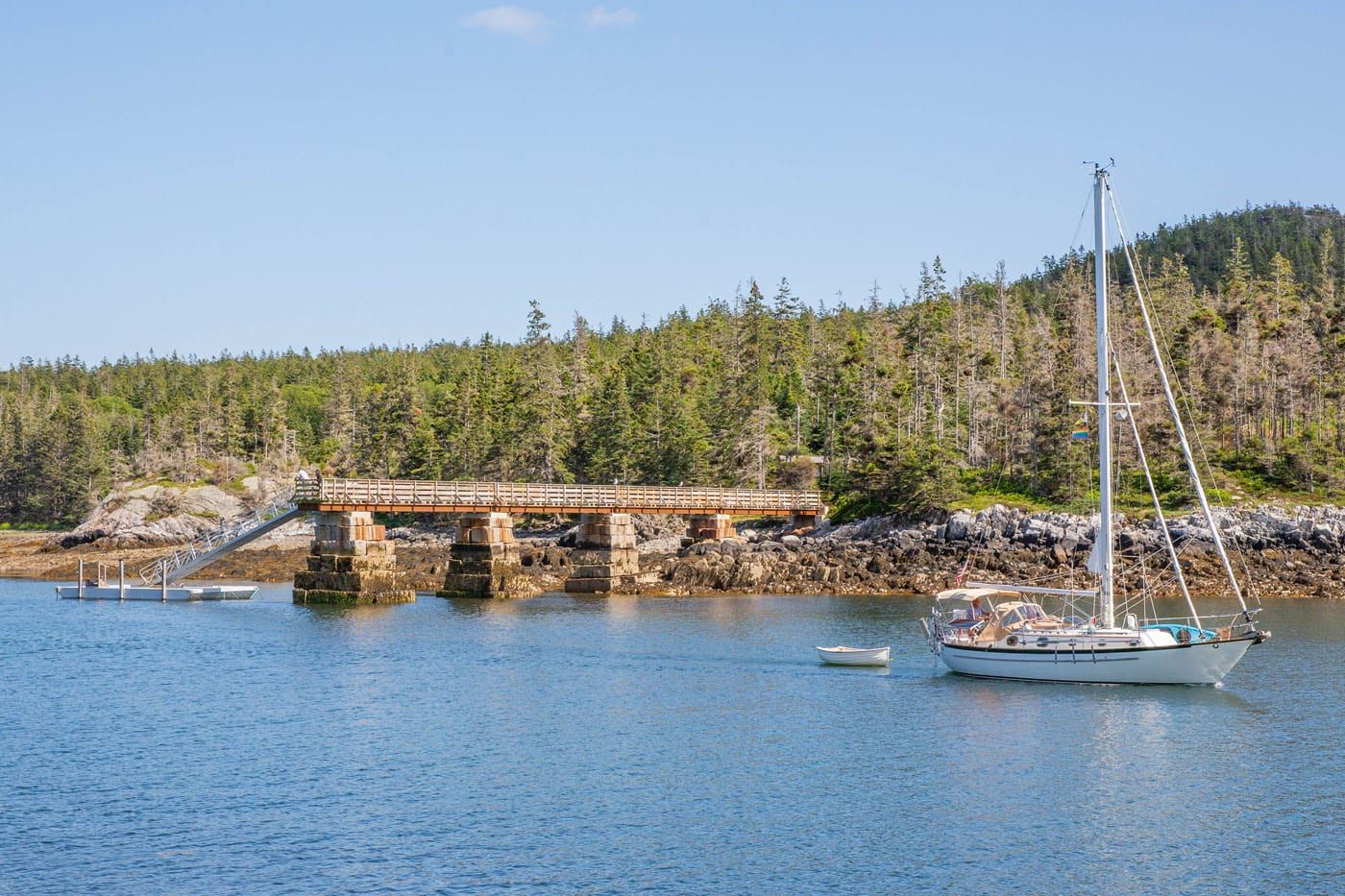 Duck Harbor, Isle au Haut
Things to Do on Isle au Haut
Hiking
Hiking is the best way to experience Isle au Haut's rugged coastline and forested ridges. The island's best trails are concentrated on its southern tip, where travelers will get views over the forested land and brilliant blue seas.
A loop hike up the Duck Harbor Mountain Trail, and then along the Goat Trail, Cliff Trail, and Western Head Trail makes for a wonderful day of exploration that encapsulates all of the island's best views. This loop hike is a total of 4.5 miles. I discuss this hike in more detail later in this guide.
The hiking trails here are not strenuous, but hikers need to stay vigilant and be able to hike across rocky terrain, over boulders, and along forested trails in a place where there are few people to turn to for assistance. If you have little hiking experience I do not recommend hiking in Isle au Haut.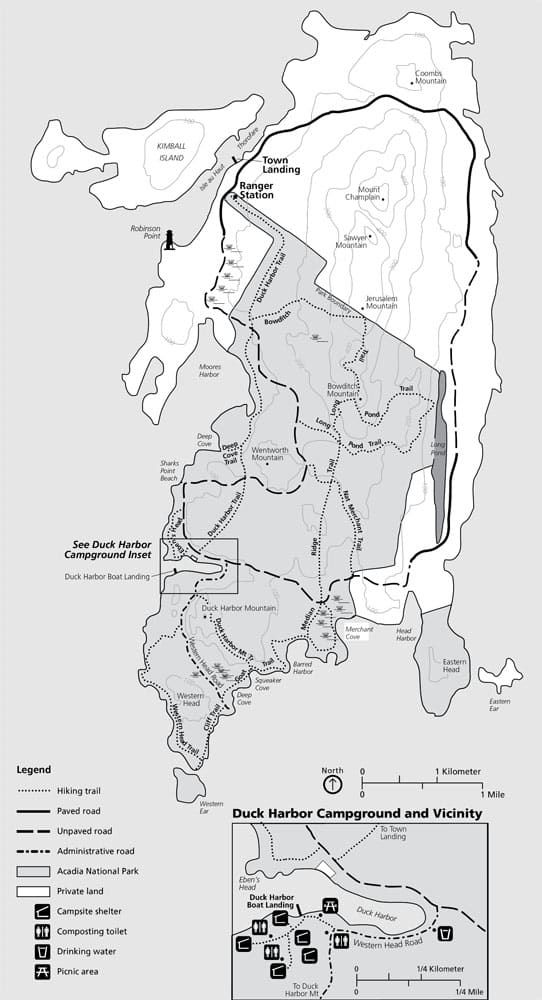 Isle au Haut hiking and biking trails | courtesy: NPS.gov
Biking
There are 5 miles of paved roads and 7 miles of unpaved roads on Isle au Haut. If you would like to bike along the island, mountain bikes are recommended. Visitors can bring their own bike on the ferry for an extra fee, or rent bikes from Isle au Haut Boat Service for $30.
Bikers must disembark at the Isle au Haut town landing.
Biking is prohibited on hiking trails.
Island Cruise
For those who want to see Isle au Haut but are not up for a full day of physical activity, Isle au Haut Boat Services offers an Island Cruise. The cruise takes place at the same time and on the same ferry as those going to and returning from Isle au Haut. This means the ferry takes its normal route and will stop at Isle au Haut Town and Duck Harbor. So, while the cruise will have little narration or sightseeing, the sail is still a beautiful one that passes through many remote islands.
Town Landing
We did not get the chance to see the Isle au Haut Town Landing. But many people enjoy spending their time around town and visiting its acclaimed Maine Lobster Lady shack, homey gift shop, and general store.
Loop Hike on Isle au Haut's Southern Coast
On our short stay at Isle au Haut, we loop hiked the Duck Harbor Mountain Trail, Goat Trail, Cliff Trail, and Western Head Trail. We loved this hike and highly recommend it. The full loop hike took us 3 and a half hours to complete, including a few stops to enjoy the view.
Isle au Haut Loop: Hiking Stats
Distance: 4.5 miles (7.2 km) Loop
Total Ascent: 1,100 feet (335 meters)
Lowest Elevation: 0 feet (0 meters)
Highest Elevation: 300 feet (90 meters)
Time: 3 to 5 hours

Elevation profile for the loop hike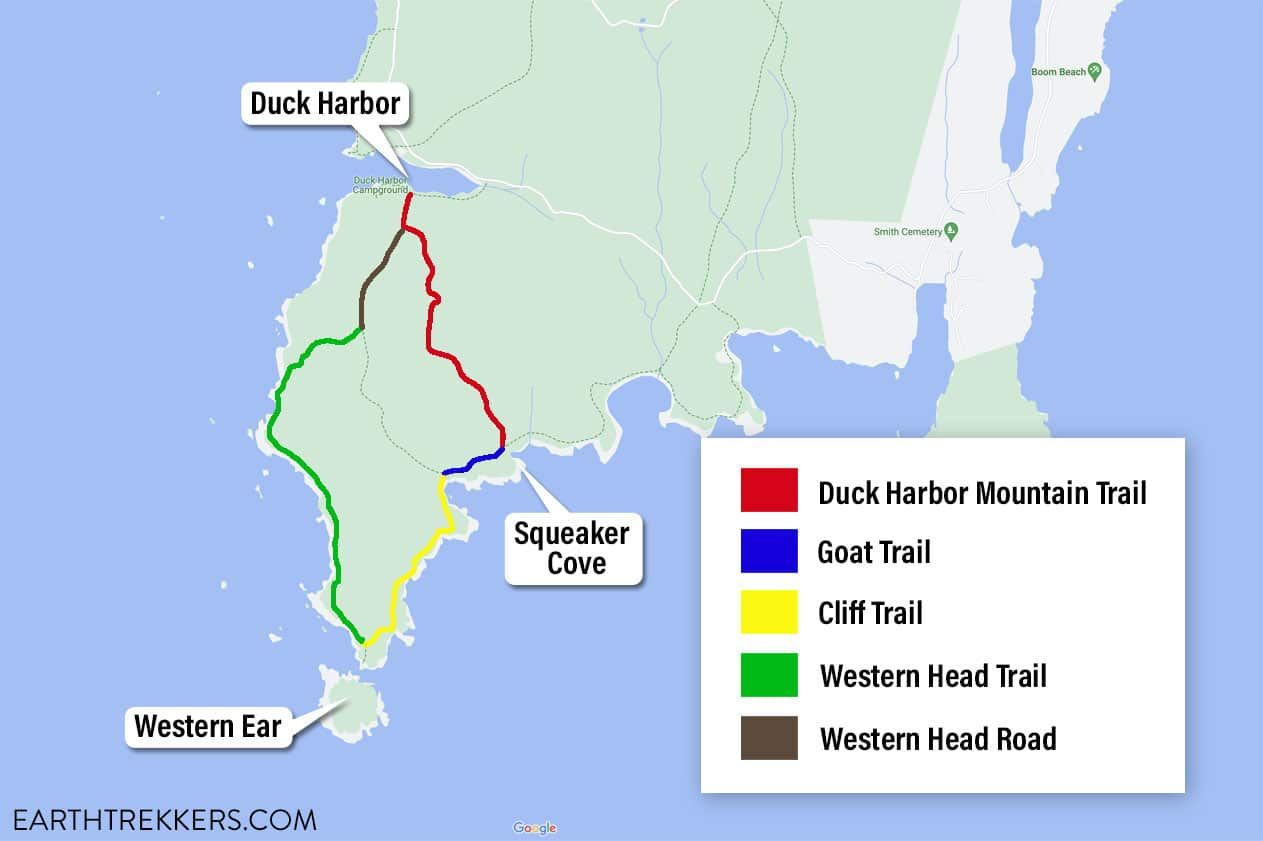 Isle au Haut hiking map for the loop from Duck Harbor
To start our journey, we arrived at Duck Harbor and then followed signs that led us to Duck Harbor Mountain Trail. This trail spans 1.5 miles and runs across the interior of the island.
Duck Harbor, Isle au Haut
The entire loop has signs at each trail junction like this one.
Although Isle au Haut doesn't boast towering mountains, there's a decent incline at the start, making it a good choice for the beginning of the day. Right away, hikers will reach one of the highest points on the island and enjoy a panoramic view of the untouched wilderness. It's important to be ready for some sections of the trail that are not well-maintained and to do some rock scrambling. Keep an eye out for blue markers and cairns that guide the way.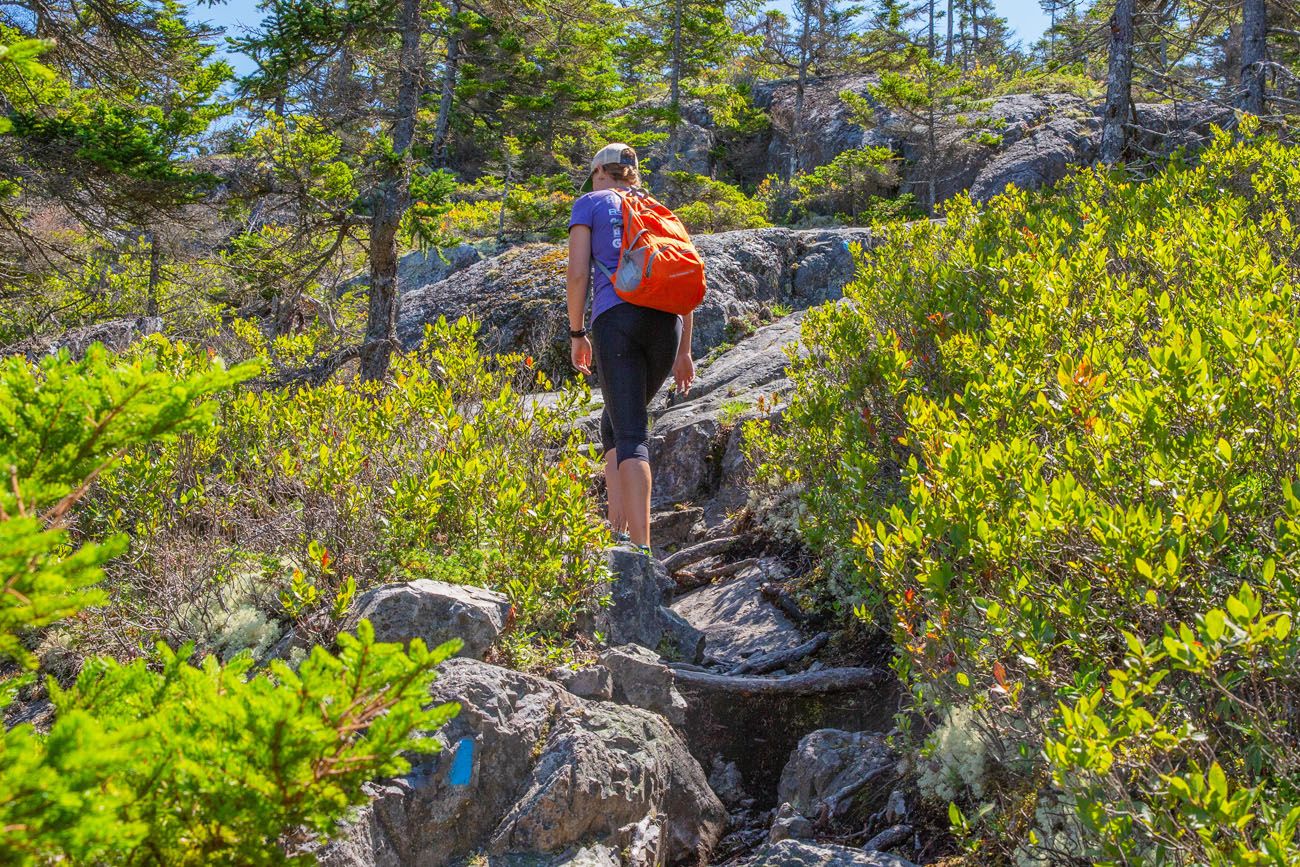 Duck Harbor Mountain Trail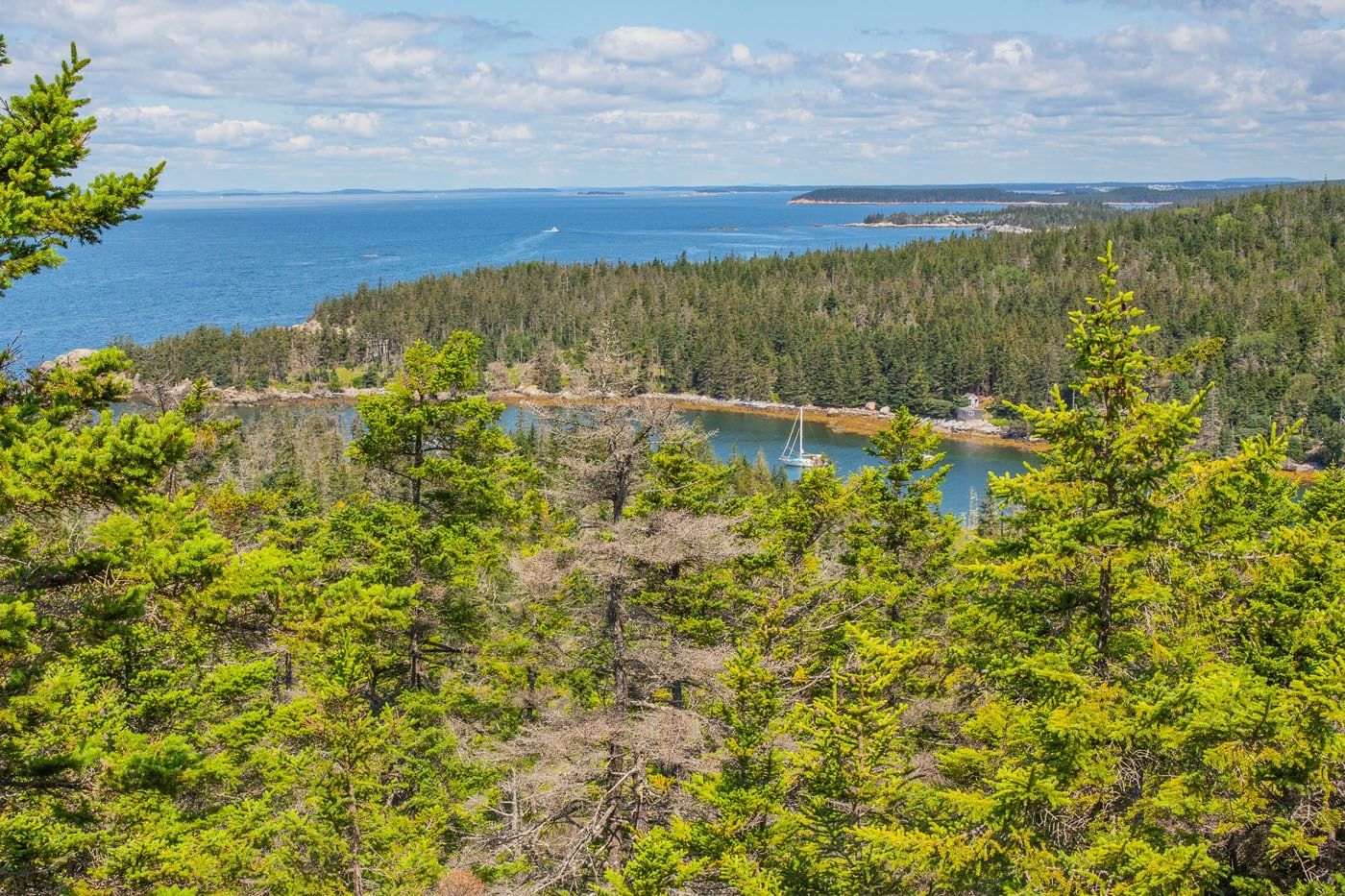 The view from the Duck Harbor Mountain Trail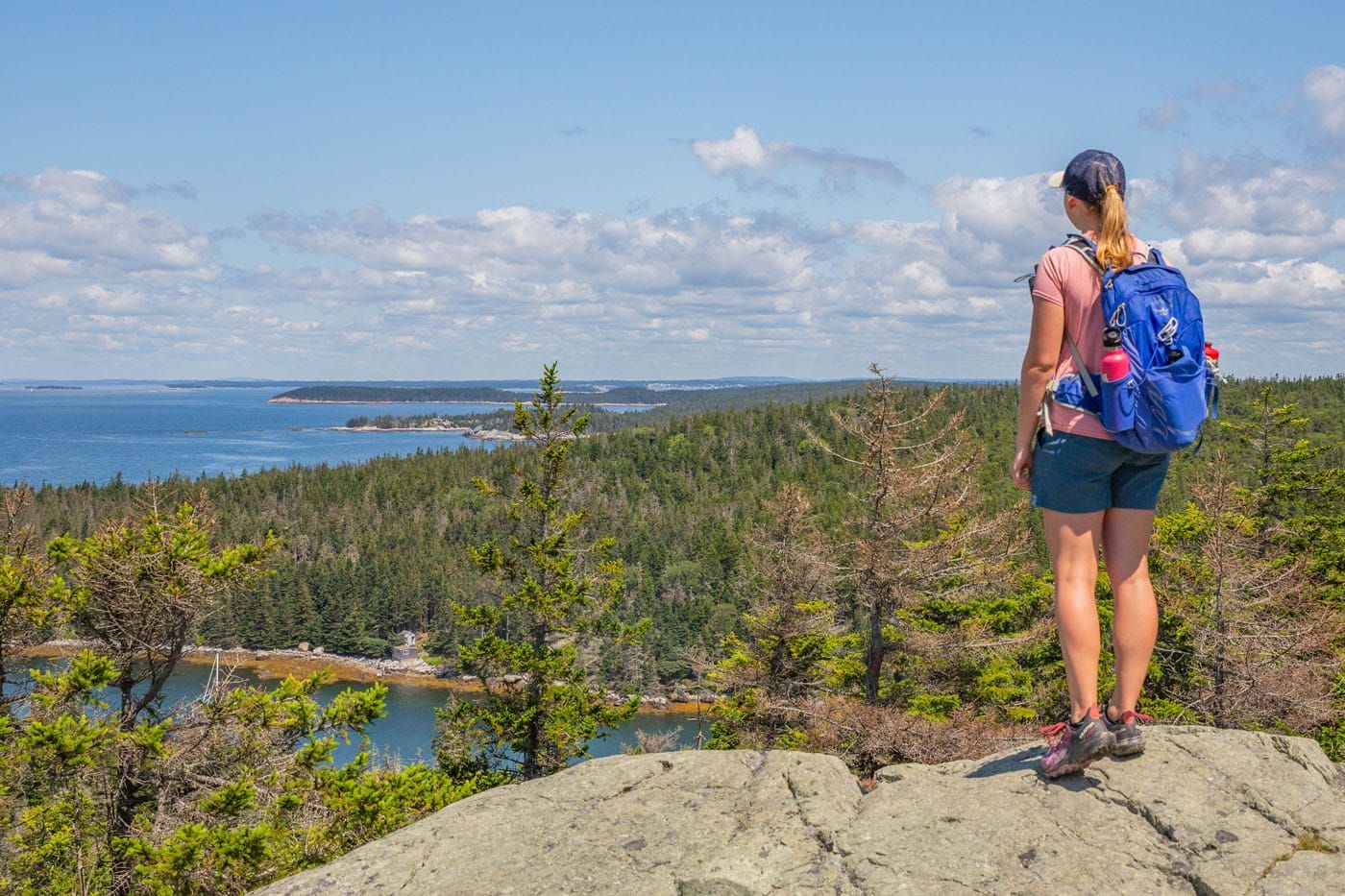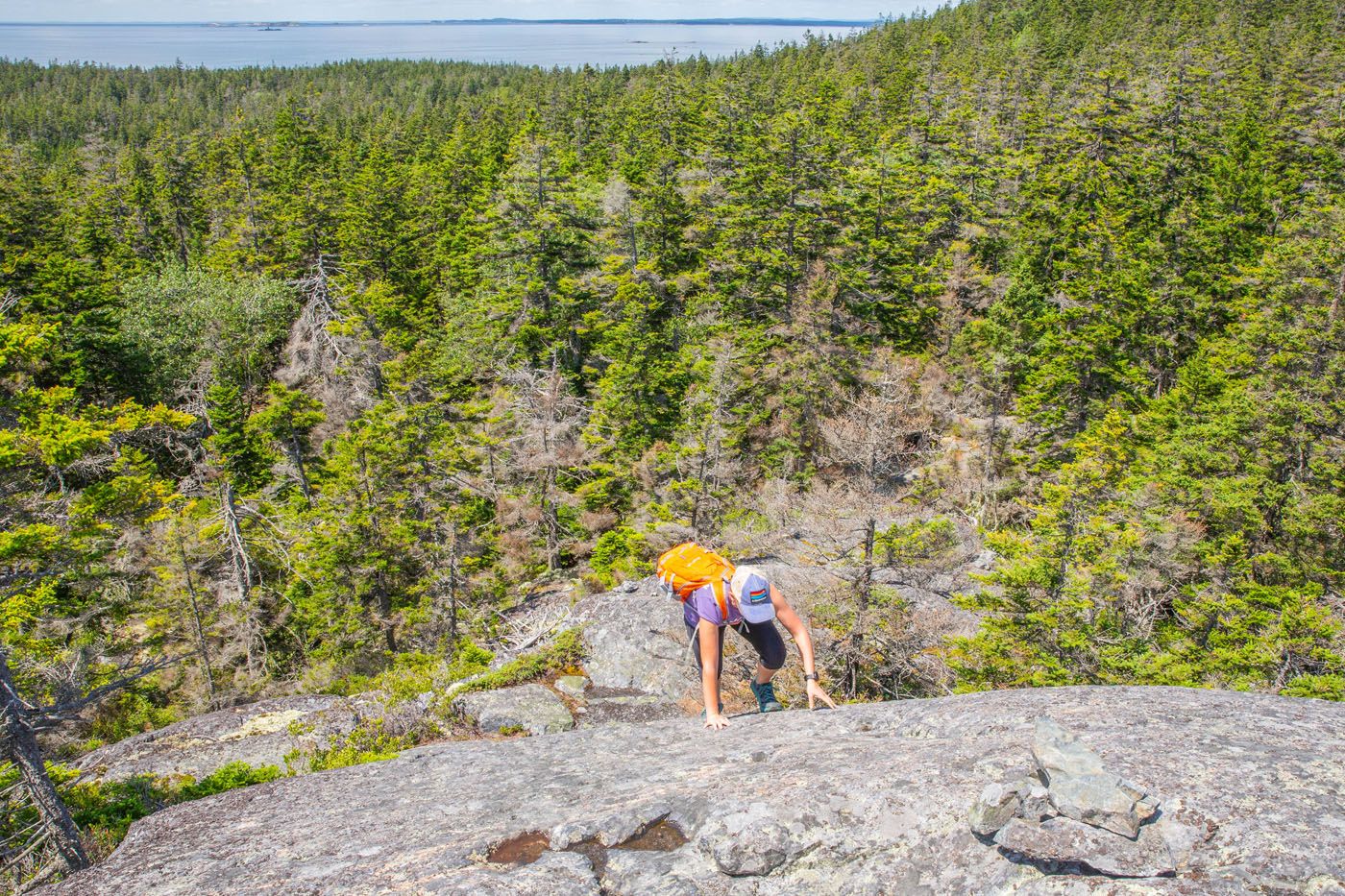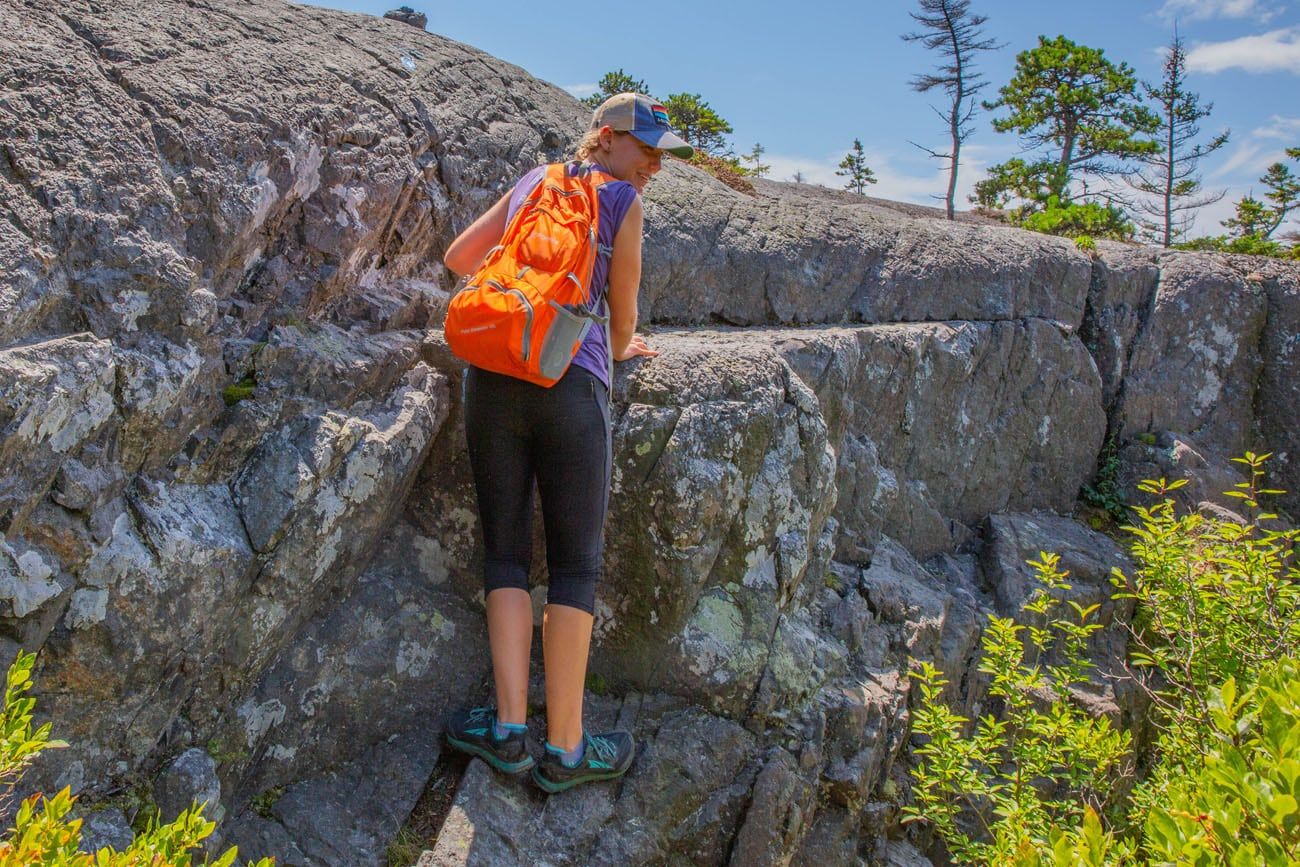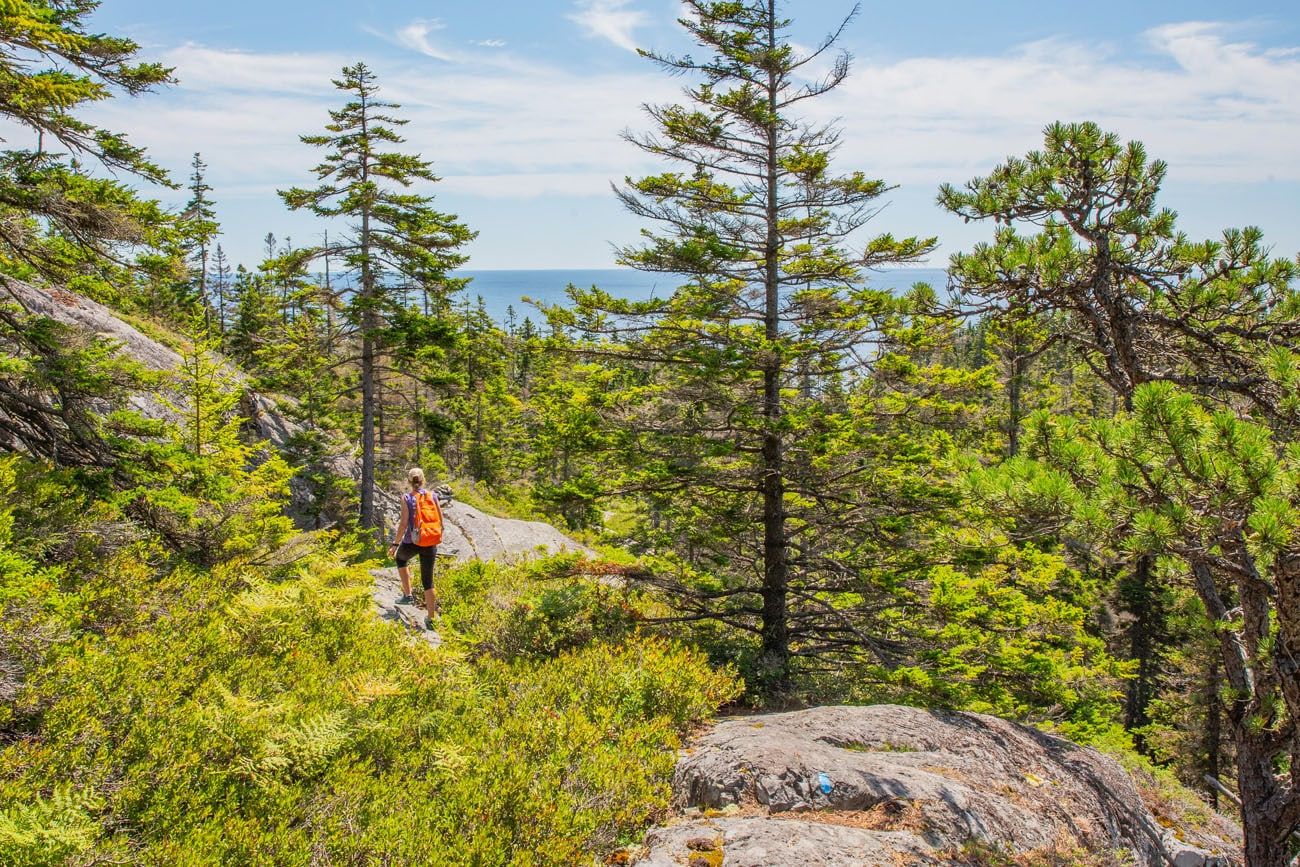 The Duck Harbor Mountain Trail takes hikers to Squeaker Cove. From Squeaker Cove, you get a very nice view of the coastline.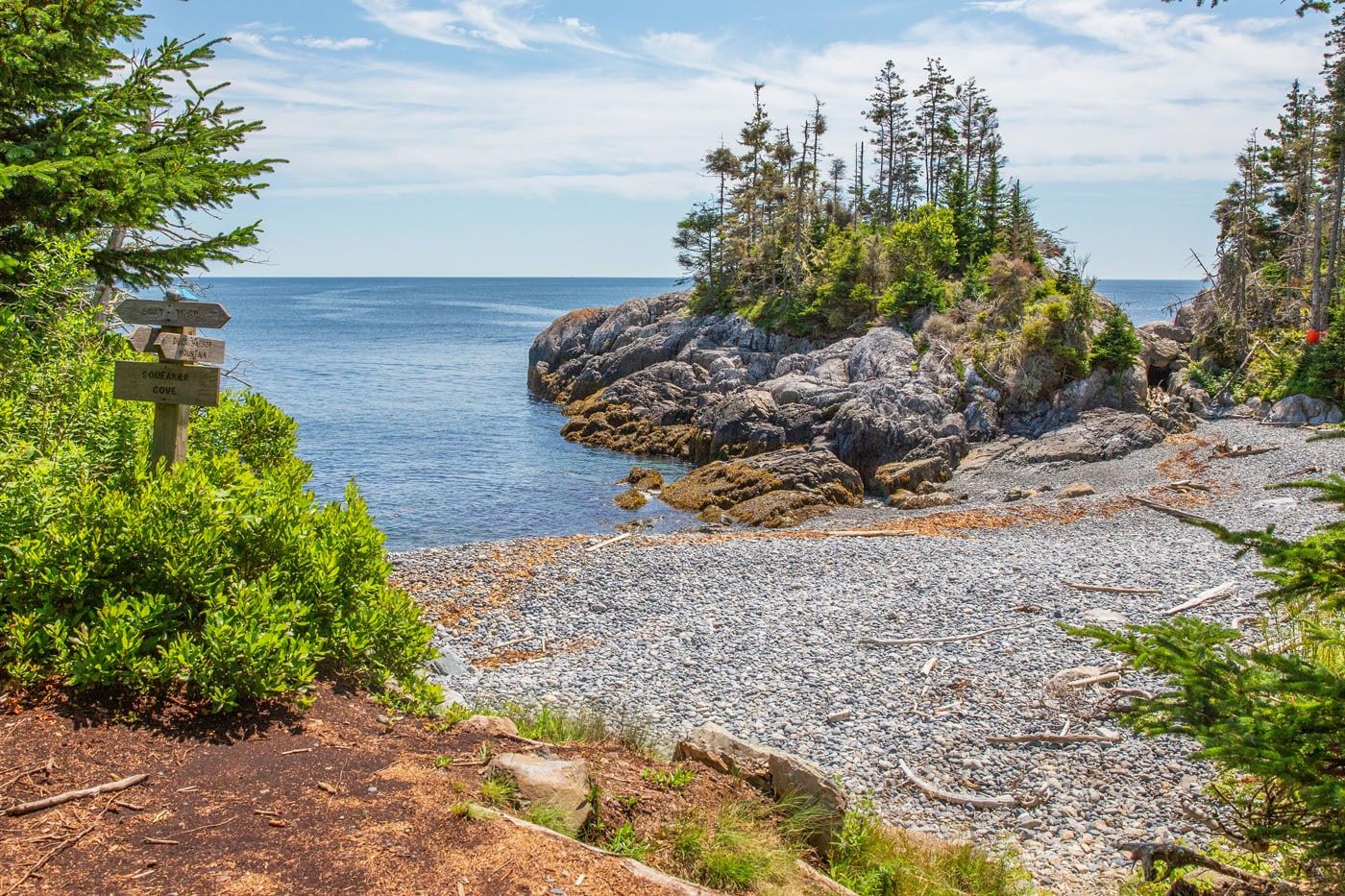 Squeaker Cove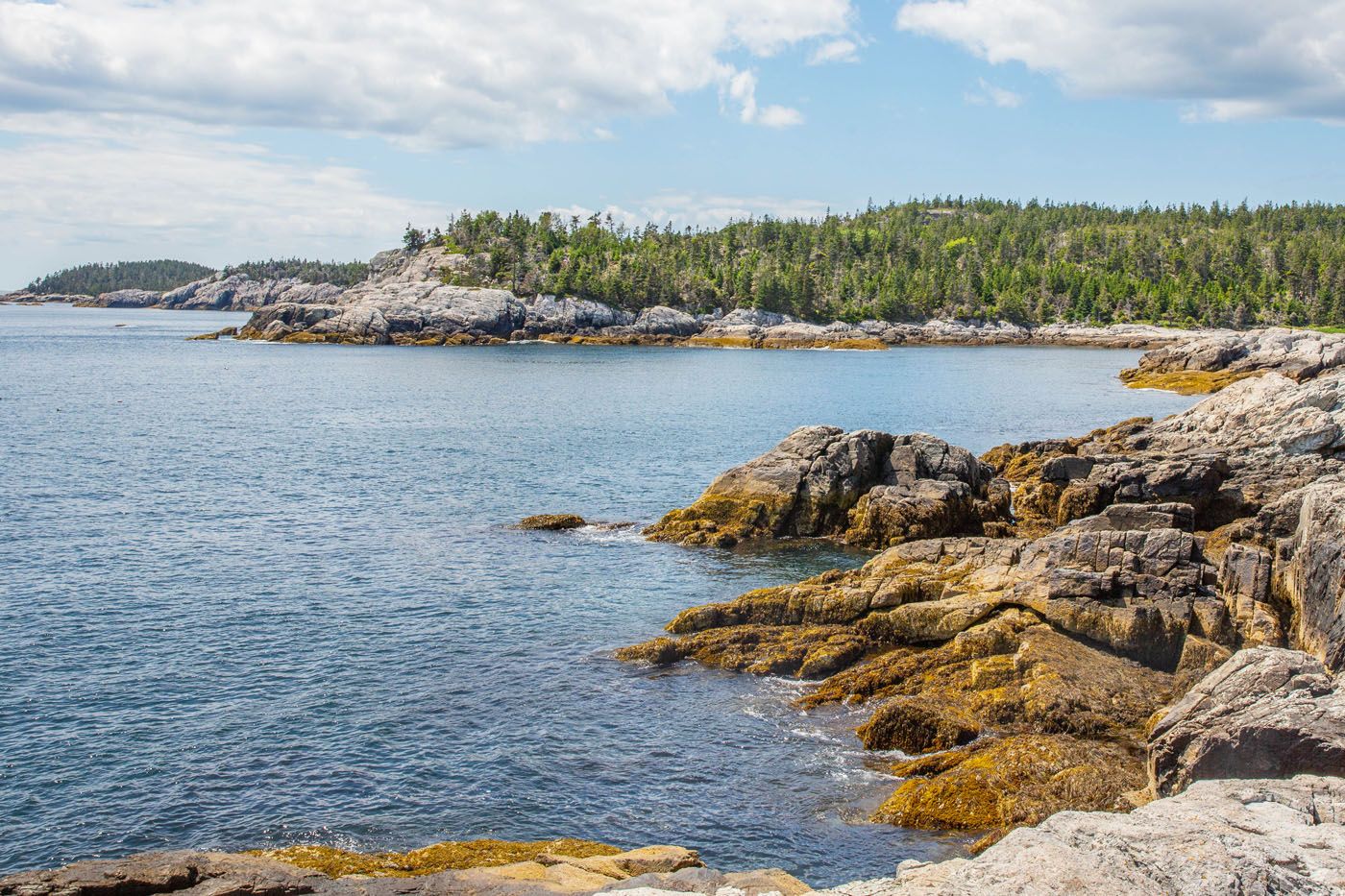 The view from Squeaker Cove
From Squeaker Cove, turn right to follow the Goat Trail in the southern direction. The Goat Trail offers a level pathway that winds its way through the serene forest surroundings.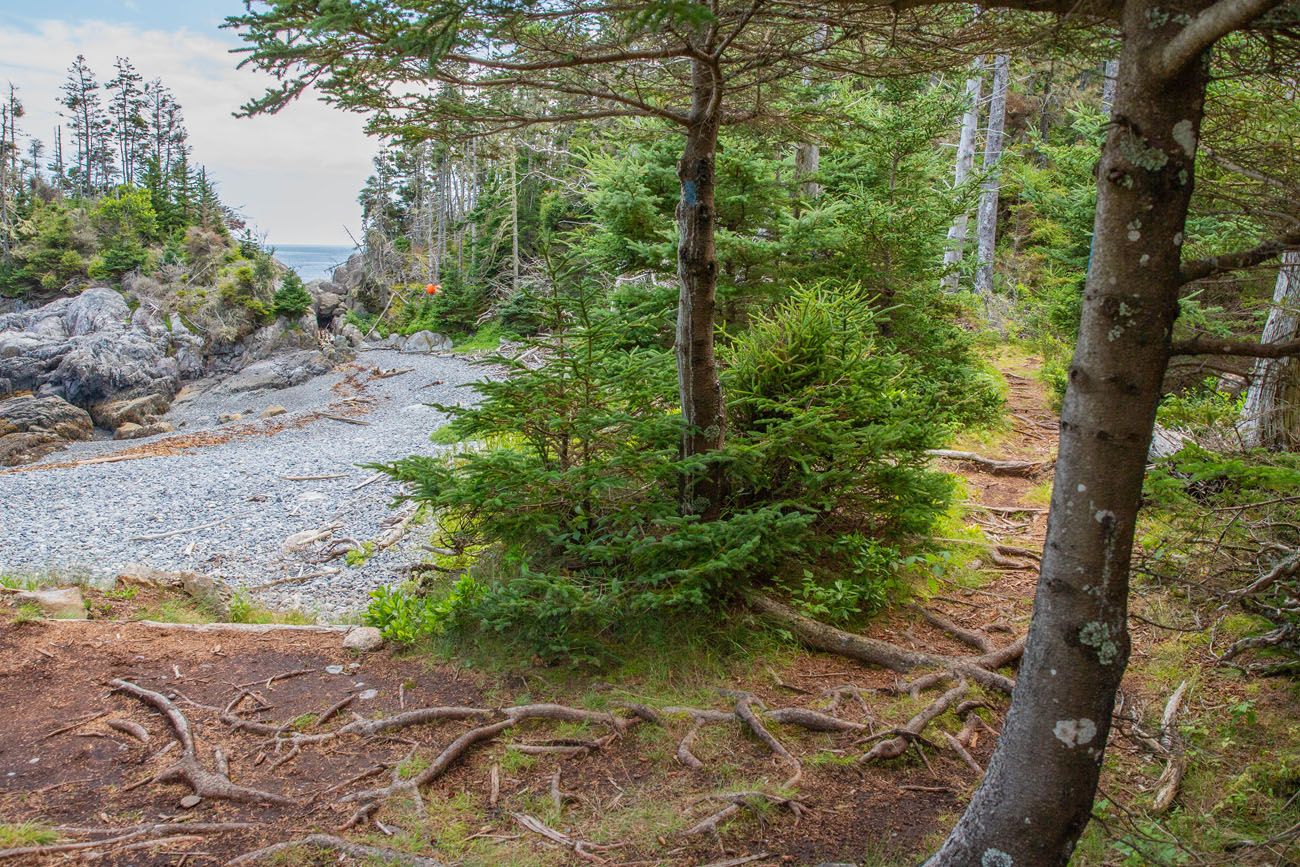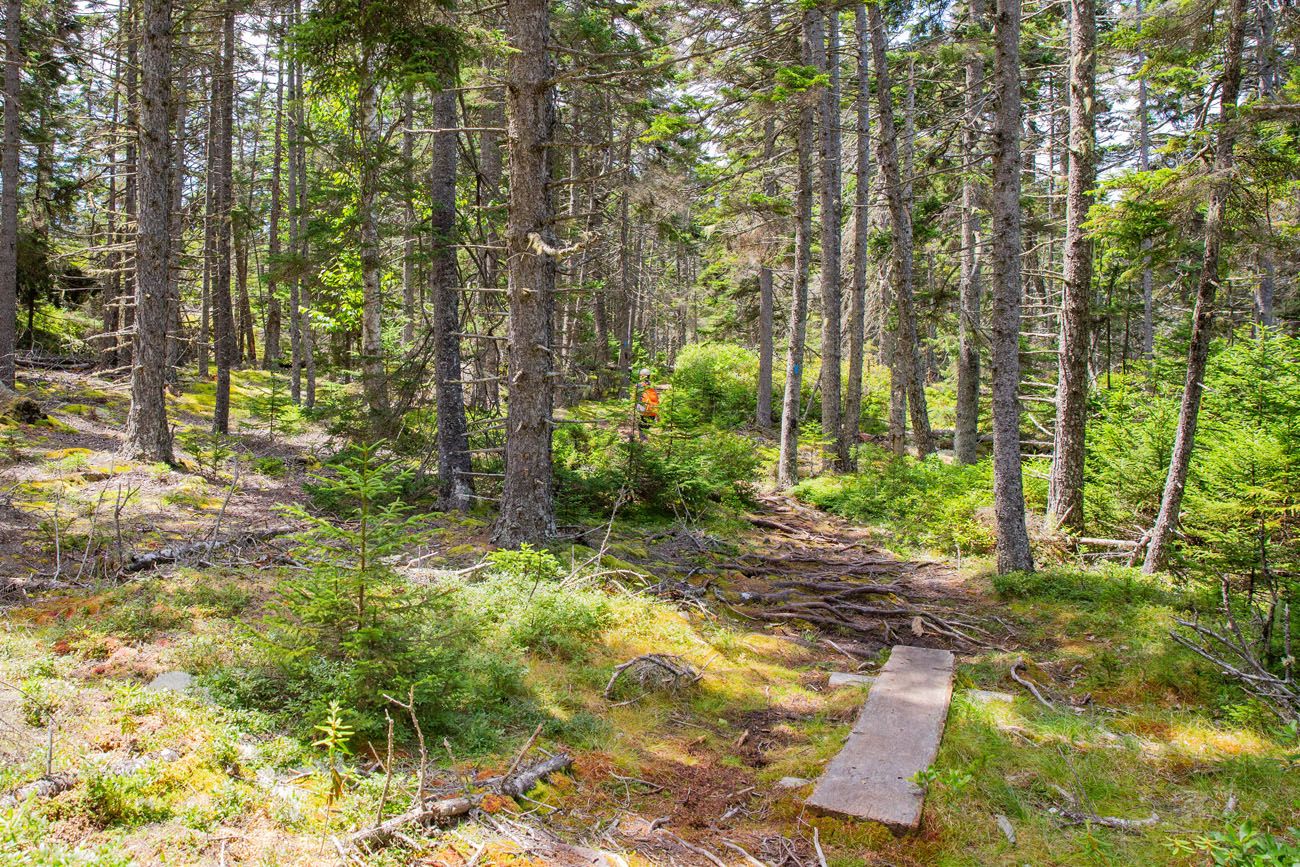 Goat Trail
After hikers come across a sign indicating Western Head road, they should make a left turn (opposite to the direction of Duck Harbor) and continue along the grassy pathway. This will lead to the starting point of the Cliff Trail. As the name suggests, the Cliff Trail runs alongside the rugged southern coastline. During our hike, we were treated to splendid sights of pebble-strewn beaches, vibrant blue waters, and gleaming cliffs.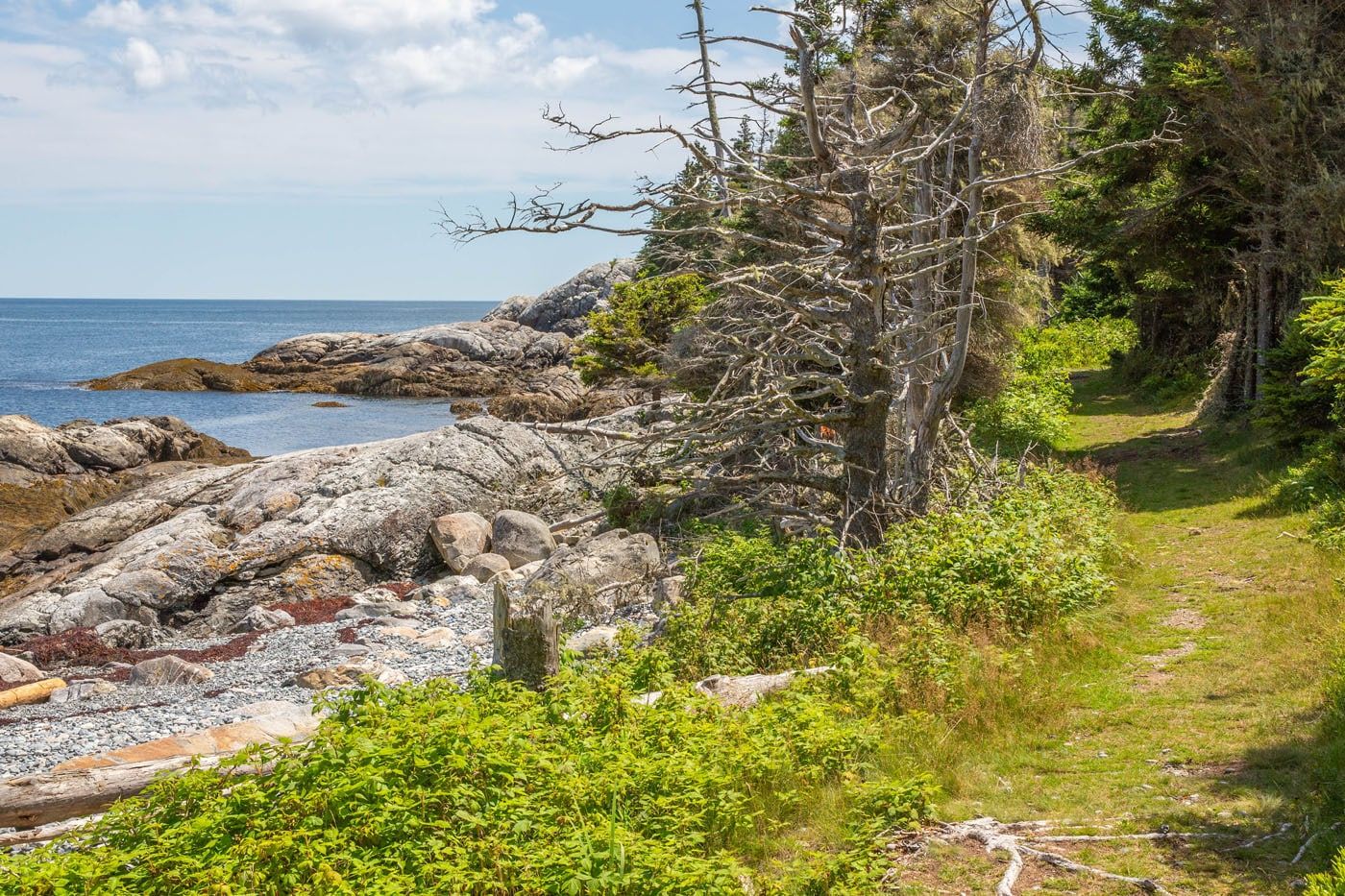 Cliff Trail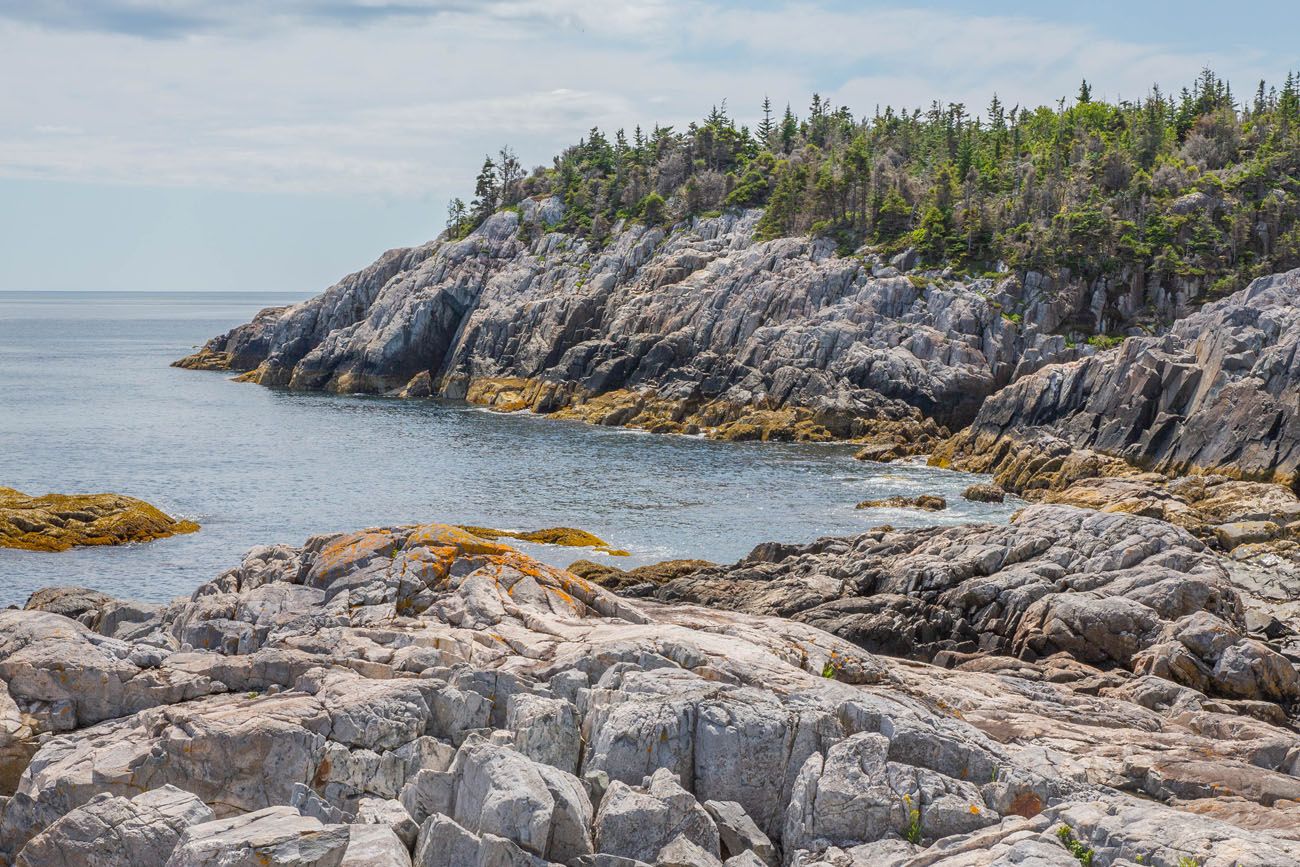 View from the Cliff Trail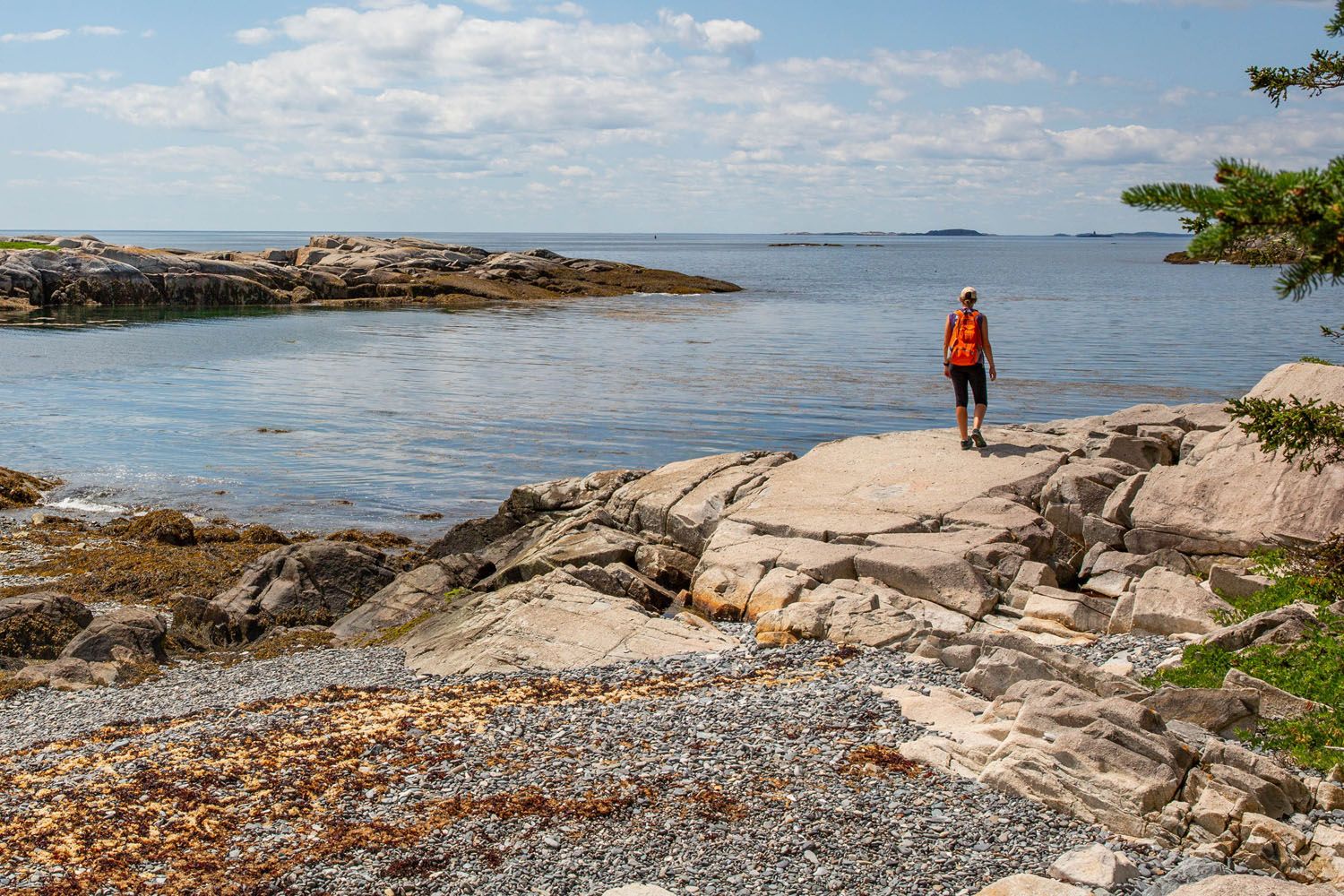 At the junction of the Cliff Trail and Western Head Trail, you have the option to take the short spur trail to the tip of the peninsula to see Western Ear.
When you reach the conclusion of the Cliff Trail, take a right turn onto Western Head Trail. (Please note that on Google Maps, Western Head Trail appears as a continuation of the Cliff Trail. Signage on the island marks this as Western Head Trail. Additionally, do not mistake this trail for Western Head Road, they are two separate paths). This particular trail is relatively level and guides hikers through the woodland area. Hikers will catch glimpses of coastal scenery and enjoy strolls across pebbled beaches.
As you near the conclusion of the Western Head Trail, make a left turn onto Western Head Road, which will lead you back to Duck Harbor.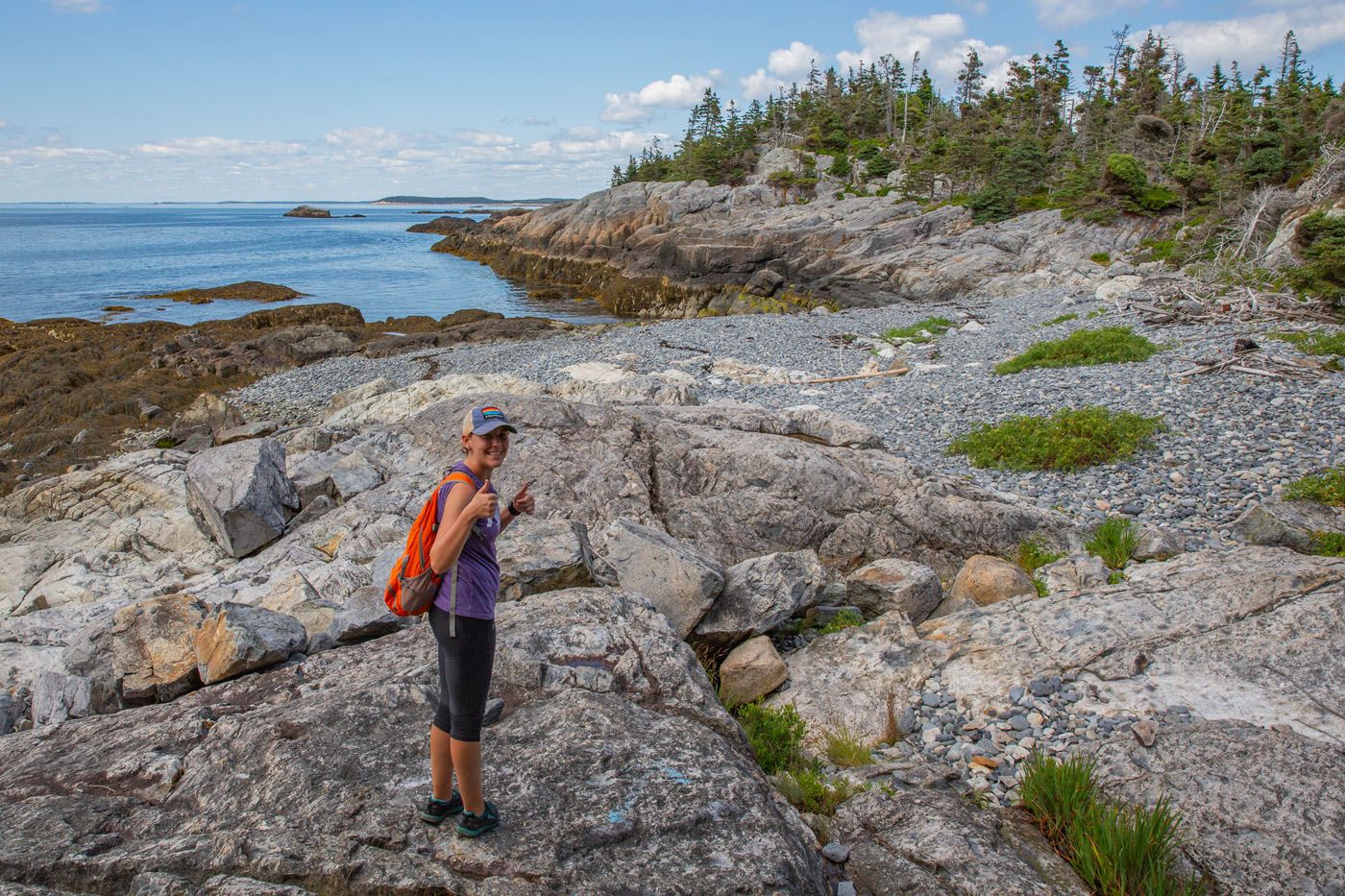 Western Head Trail
Additional Hiking Trails on Isle au Haut
If you're not up for completing the entire loop around the southern tip of Isle au Haut, there's an option to explore one of the trails in this area.
The Duck Harbor Mountain trail, spanning around 3 miles roundtrip, is best for those seeking an adventurous experience. This trail involves navigating through lesser-maintained paths with some rock scrambling, but the effort is rewarded with elevated island panoramas. The trail traverses the island to its eastern coast, with hikers turning around at Squeaker Cove, a picturesque ocean spot. Allocate around 2 hours to roundtrip hike this trail.
On the other hand, the Western Head Trail presents an easy-to-follow and level path that meanders along the coastline. While hiking this trail, you'll pass by pebbled beaches and tranquil overlooks. For an out-and-back journey along this trail, allow approximately 2 hours.
With some spare time remaining before the ferry's arrival, we decided to hike a portion of the Ebens Head Trail. This 1.4 mile round-trip hike is ideal for those who find themselves with extra time and who desire to remain in the Duck Harbor area. It offers yet another opportunity to delve into a scenic coastal trail experience. Only a quarter-mile into this trail, we encountered a captivating overlook that presented panoramic views of the ocean. Provide an hour and a half to hike the entirety of the Ebens Head Trail from Duck Harbor (due to the added mile to reach the trailhead and back). There is also the option to shorten this trail by returning along the Western Head Road (a more direct path than the coastal trail).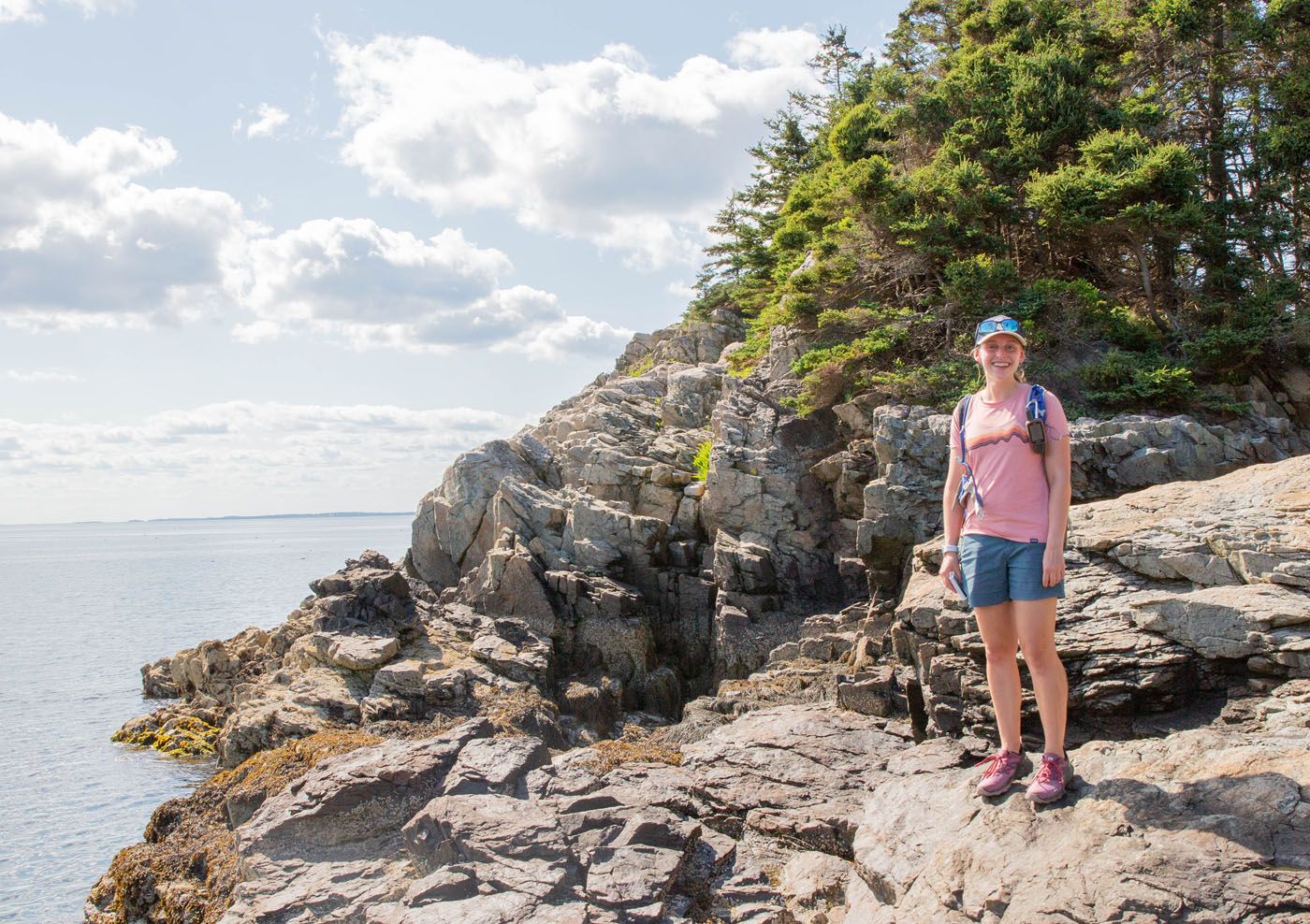 At Ebens Head
Fast hikers can take the time to walk to Isle au Haut town. The 4-mile-long Duck Harbor Trail (a different path from the Duck Harbor Mountain Trail), will lead hikers to this small civilization. If you do decide to do this, be careful about timing so you do not miss the ferry ride back to Stonington. Save at least two and a half hours to hike this path. I am unsure of the conditions, but the Isle au Haut map marks it as being a hilly trail.
Please practice the seven principles of Leave No Trace: plan ahead, stay on the trail, pack out what you bring to the hiking trail, properly dispose of waste, leave areas as you found them, minimize campfire impacts, be considerate of other hikers, and do not approach or feed wildlife.
Where to Stay on Isle au Haut
Duck Harbor Campground
Duck Harbor Campground has five lean-to shelters that can sleep up to 6 people a night. The campsite is open from May 15 to October 15, but note that the ferry to the campsite only runs in the summer months. Reservations for camping here are required, and they first become available on April 1. Reservations can be tough to get, so I recommend booking one as soon as possible. You can get more information on camping on the National Park Service website.
Keeper's House
Located at Robinson Point Lighthouse sits the Keeper's House, a homey cottage far removed from civilization. This unique stay offers accommodations in antique rooms, a larger private cottage, and provides home-cooked meals. However, booking a reservation for this lodge is extremely limited. Visitors who wish to stay here will need to make a reservation several months in advance.
Robinson Point Lighthouse and the Keeper's House
Things to Know Before Going to Isle Au Haut
You do not need an Acadia National Park pass to visit Isle au Haut.
Isle au Haut is a very remote location. You will not have cell service anywhere on the island. Additionally, we passed very few people on the trails. Make sure that you are comfortable traveling in a secluded location and have everything with you for a day on an island. Bring a map with you as you hike here. Maps are available at all landings.
Make sure to pack food, water, sunscreen, and bug protection. There is no food available on the island outside of Isle au Haut town.
There is a waterspout to refill bottles near Duck Harbor.
As you plan your trip and just before your visit, check the National Park Service website for any road or trail closures.
Best Time to Visit Isle au Haut
The best time to visit Isle au Haut is in the summer months when the ferry to Duck Harbor is running. This additional stop makes it easy for hikers and campers to experience the island's beautiful southern coast.
---
If you have any questions about how to visit Isle au Haut, let us know in the comment section below.
More Information for Your Visit to Acadia National Park
ACADIA NATIONAL PARK: Check out our Acadia National Park Travel Guide for important travel information, sample itineraries, and how to plan your visit. For a list of must-have experiences, read our article Best Things to Do in Acadia National Park.
ACADIA ITINERARY: Plan your perfect visit to Acadia National Park with our Acadia Itinerary Planner.
HIKES IN ACADIA: Check out our article Best Hikes in Acadia for great hikes to add to your to do list. We also have detailed hiking guides for the Precipice Trail and Beehive Trail.
NATIONAL PARKS: In our Guide to the US National Parks, get the full list of national parks with important travel planning information, such as things to do in the parks and sample itineraries. You can also learn more about the national parks and get a FREE printable checklist in our US National Parks Checklist.
USA TRAVEL INSPIRATION: For more great ideas on where to go in the United States, check out our article Best USA Road Trips, which has 18 sample itineraries for your next big adventure. You can also see more travel itineraries on our Travel Itineraries page and our National Park Itineraries.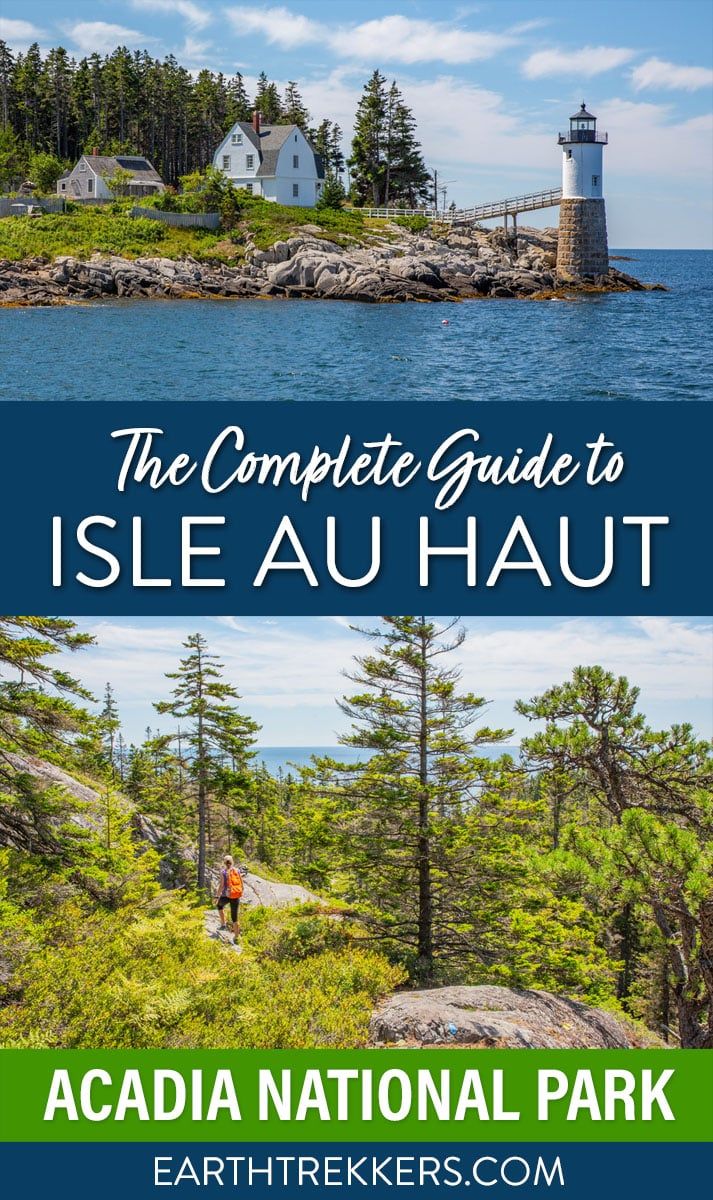 All rights reserved © Earth Trekkers. Republishing this article and/or any of its contents (text, photography, etc.), in whole or in part, is strictly prohibited.