Shenandoah National Park preserves a section of the Blue Ridge Mountains in Virginia. Skyline Drive is the main thoroughfare through the park, a road that twists and turns for 105 miles from north to south. For those who want to explore the park beyond Skyline Drive, 500 miles of hiking trails travel through the park. In this post, learn about the best things to do in Shenandoah National Park with tips on how to plan your visit.
Just two hours from where we live, we have spent more time here than any other national park in the United States. Over the years, we have learned a lot about Shenandoah, which we can't wait to share with you in this post.
Please practice the seven principles of Leave No Trace: plan ahead, stay on the trail, pack out what you bring to the hiking trail, properly dispose of waste, leave areas as you found them, minimize campfire impacts, be considerate of other hikers, and do not approach or feed wildlife.
Overview of Shenandoah National Park
Located in Virginia, Shenandoah National Park preserves a section of the Blue Ridge Mountains. This long mountain range runs through Pennsylvania, Maryland, West Virginia, Virginia, North Carolina, South Carolina, Tennessee, and Georgia.
This national park is very long and skinny. Skyline Drive runs down the ridgeline of the park. From this road, you have access to numerous overlooks, visitor centers, and trailheads.
There are four park entrances. The busiest entrance stations are Front Royal and Thornton Gap, located in the top half of the park. Swift Run and Rockfish entrance stations are located in the southern half of the park and are less busy.
Many of the best overlooks and hiking trails are located in the middle of the park, where the mountains are at their highest. This is the area between Thornton Gap (Highway 211) and Swift Run Gap (Highway 33). Most likely, you will spend most of your time here, but the northern and southern sections are still very much worth your time.
Shenandoah officially became a national park on December 26, 1935. In 2019, it received 1.4 million visitors. In terms of number of visitors, Shenandoah ranks 20th out of 63 national parks.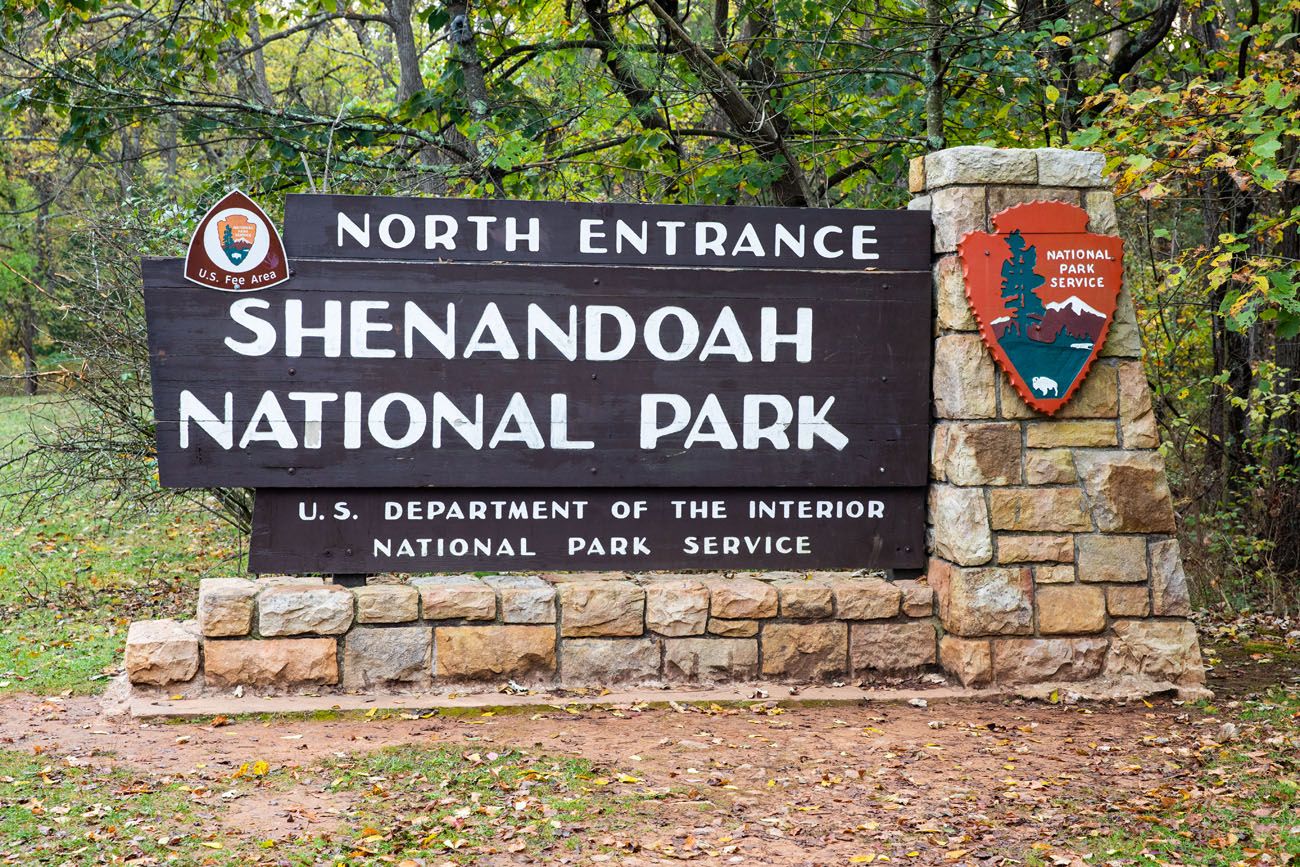 Best Things to do in Shenandoah National Park
1. Skyline Drive
Without a doubt, this is the best thing to do in Shenandoah National Park.
Skyline Drive runs down the backbone of the park, along the crest of the Blue Ridge Mountains. From this scenic drive, visitors can stop at the overlooks, take their pick from 500 miles of hiking trails, visit historic sites, and pop into several visitor centers to learn more about the park.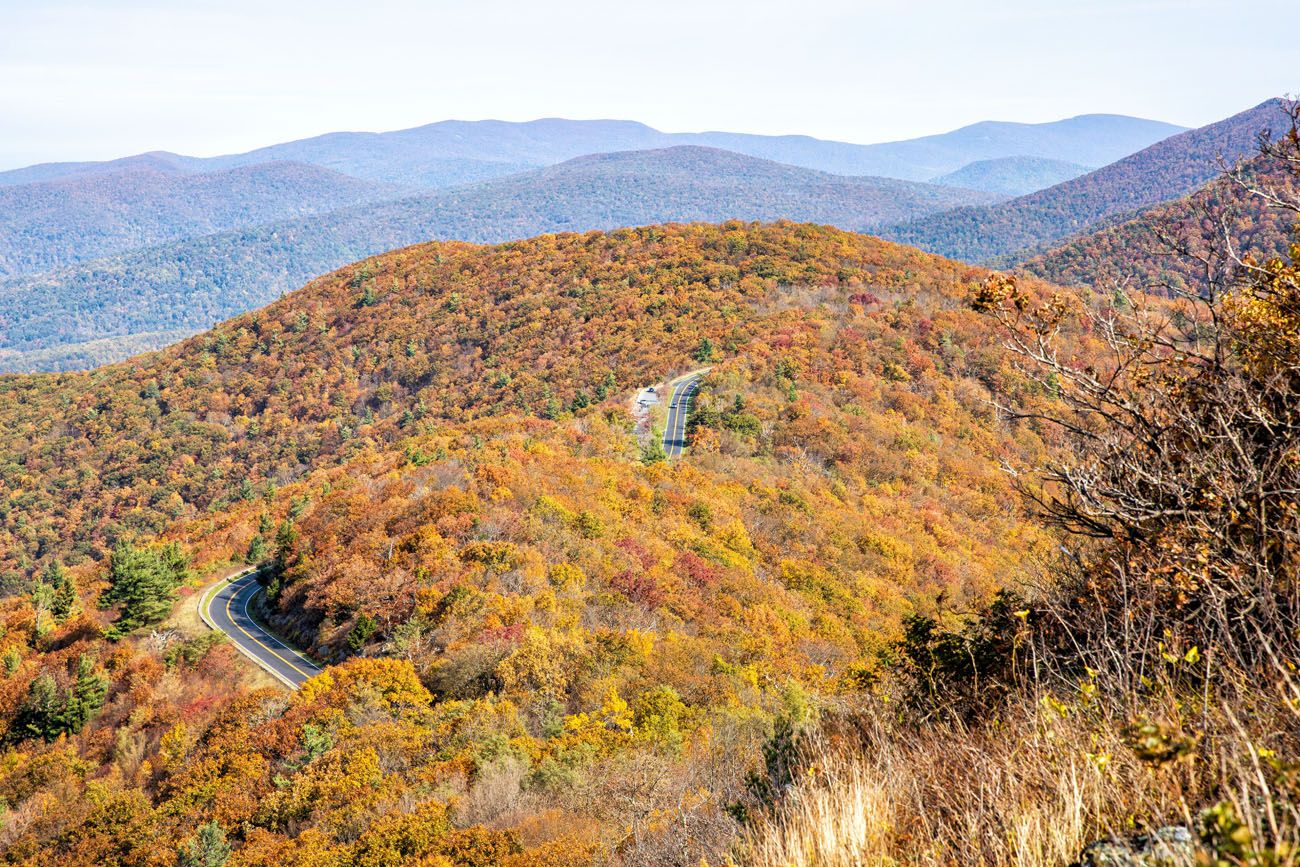 The view of Skyline Drive from Little Stony Man.
Skyline Drive is 105 miles long. It starts in the north, near Front Royal, and ends at the Rockfish Gap entrance station at the southern end of the park. With a speed limit of 35 mph, it takes 3 hours to drive the entire length of Skyline Drive. Once you add in overlooks and a few short hikes, it takes a full day to drive through Shenandoah National Park from top to bottom.
Of course, you don't have to drive the entire length of Skyline Drive. In my opinion, the best views and best hikes are found between Thornton Gap and Swift Run Gap entrance stations, which is basically the middle third of the park. However, this will also be the most crowded section of the park. If you want to escape the crowds, the southern section of the park tends to get less visitors.
Best Overlooks on Skyline Drive
There are many overlooks along Skyline Drive. In fact, I read that there are a total of 75! You don't have to go far before arriving at another viewpoint.
Some of our favorite overlooks in Shenandoah National Park:
Range View Overlook, milepost 17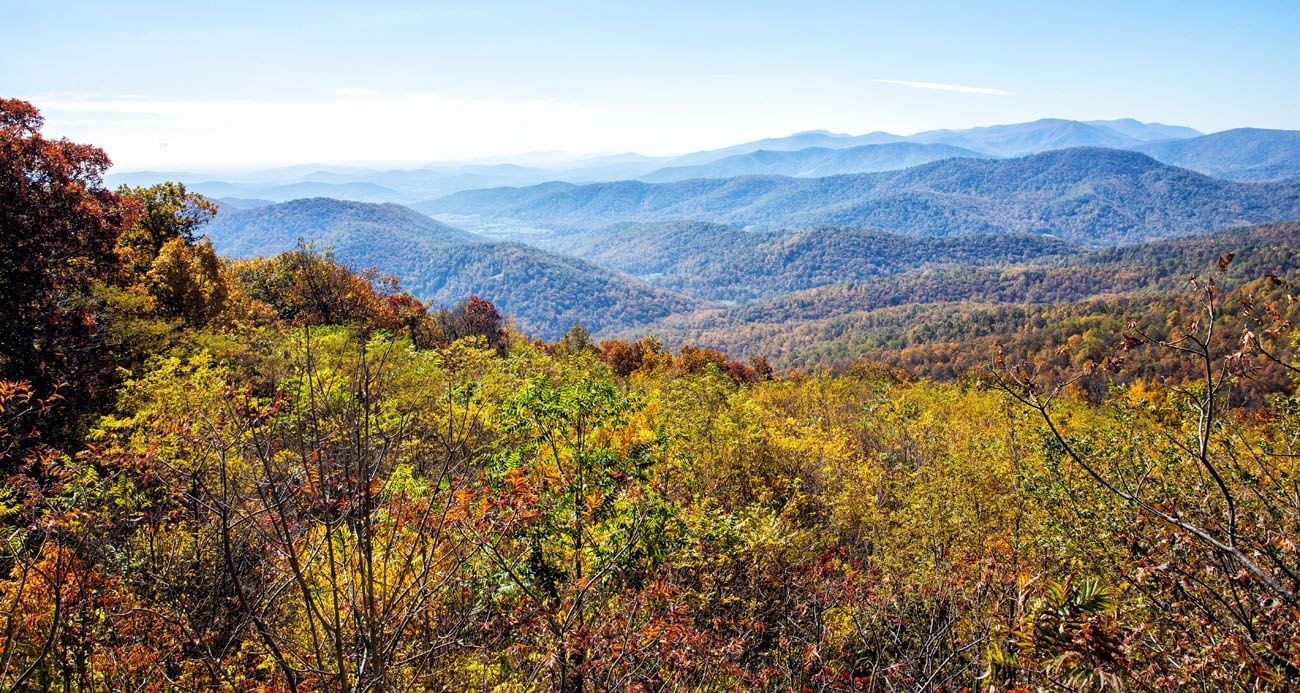 Buck Hollow Overlook, milepost 32.8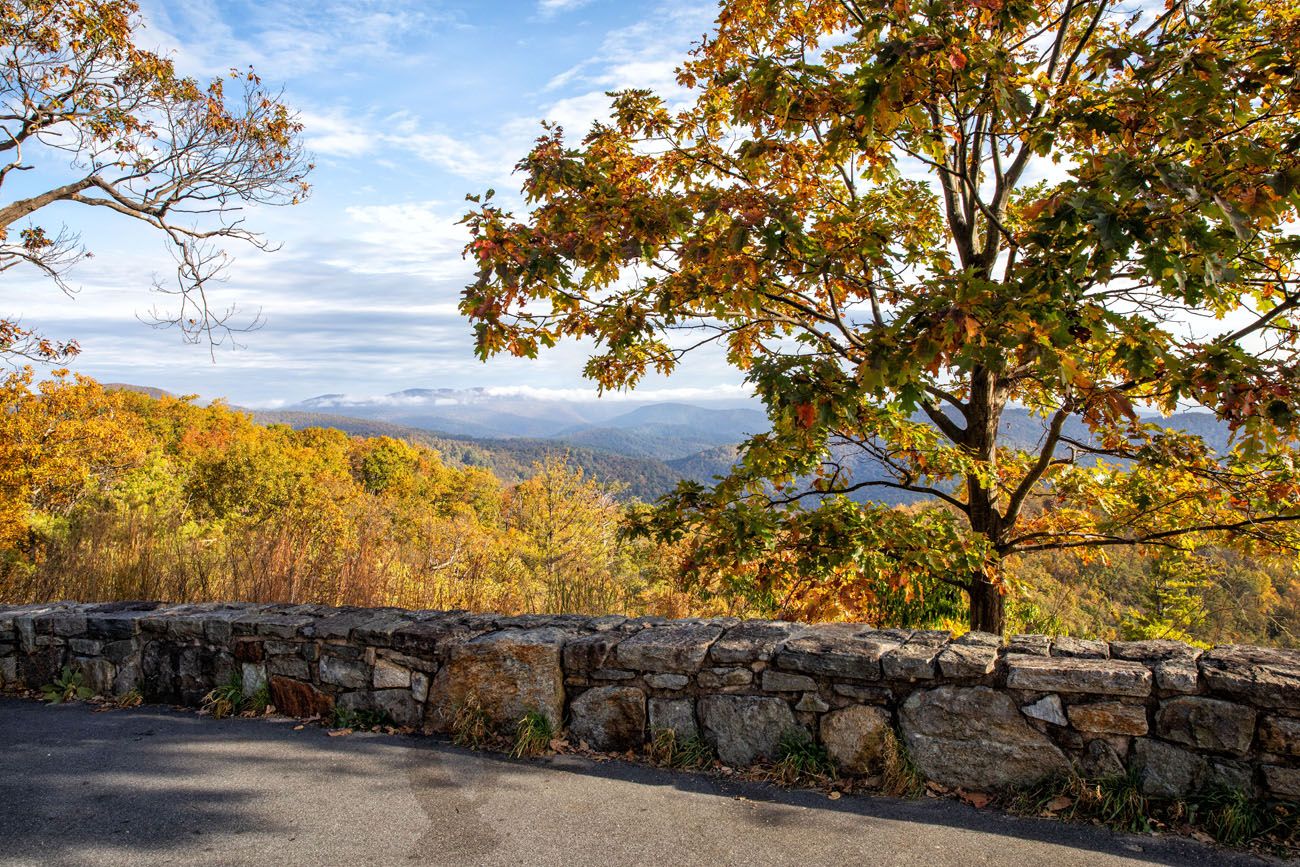 The header photo for this post was also taken at Buck Hollow Overlook.
Hazel Mountain, milepost 33
We like this overlook not so much for the view but because the rocks are fun to climb.
Crescent Rock, milepost 44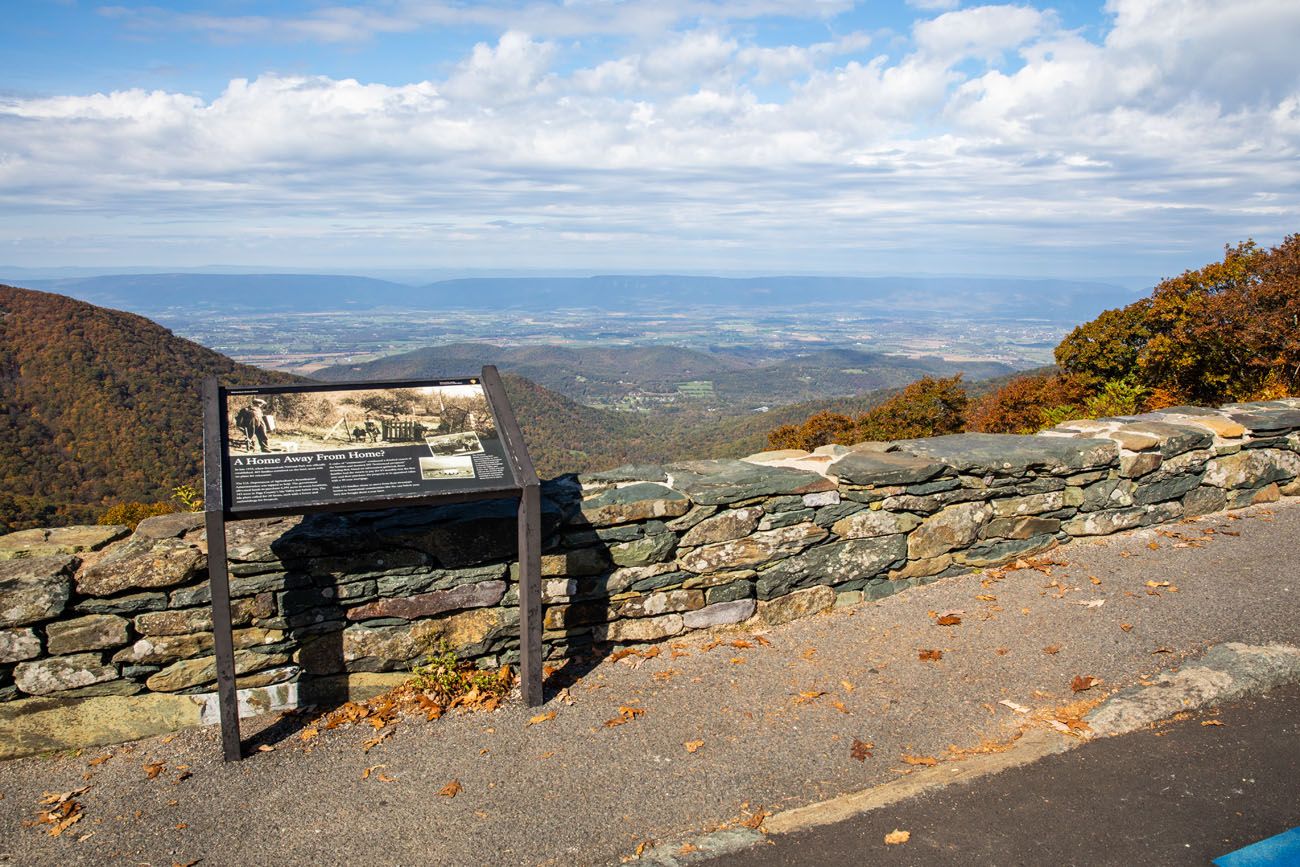 The Point Overlook, milepost 55.5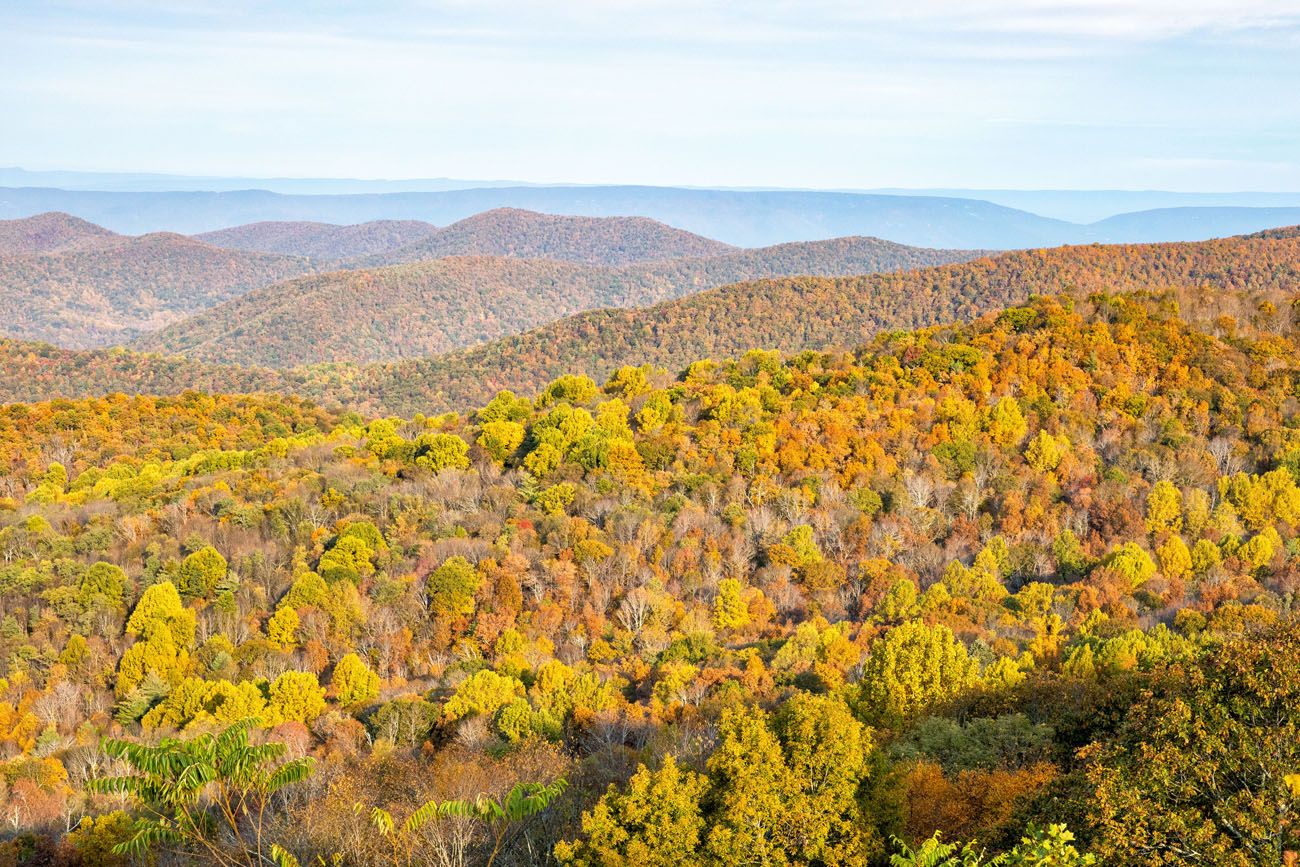 2. Dark Hollow Falls
Dark Hollow Falls is one of the most popular hikes in Shenandoah National Park. This relatively short, easy hike takes you to one of the tallest waterfalls in the park.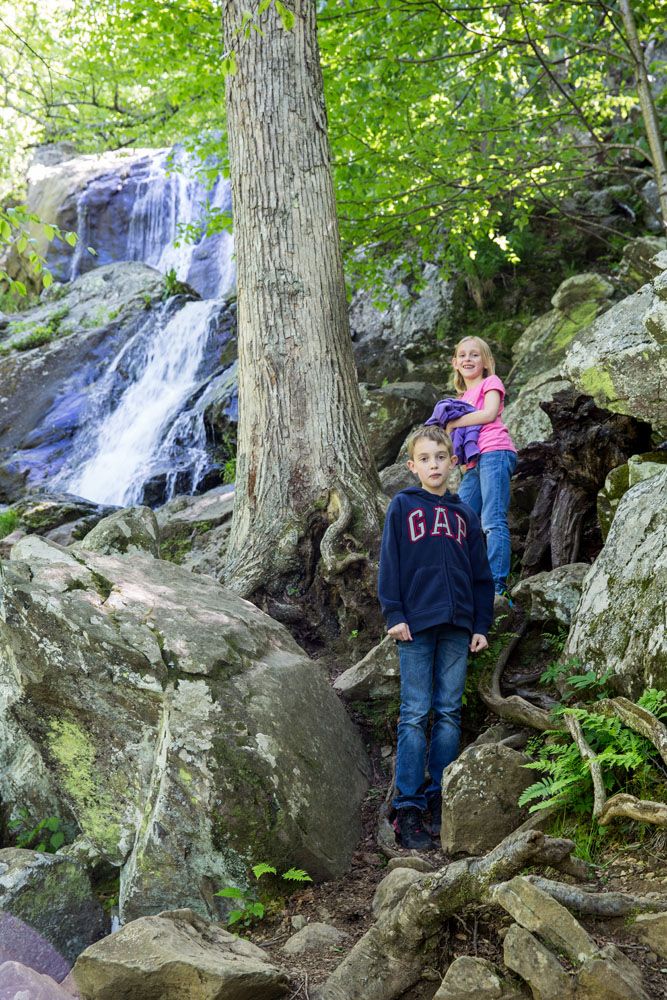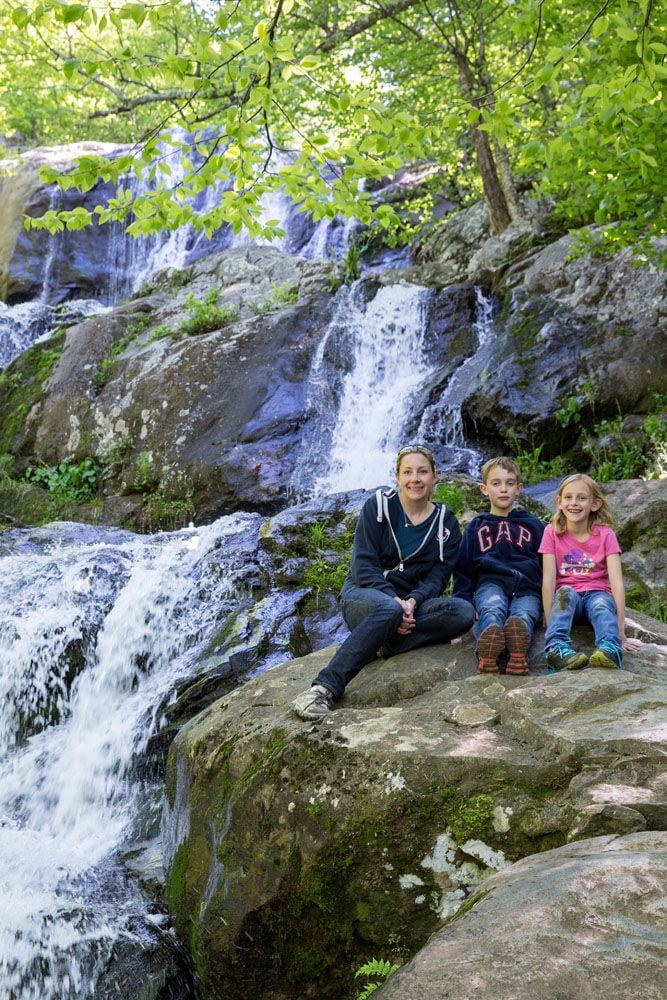 From the parking lot, you will walk down the trail to the base of the waterfall. Near the base of the waterfall, there are lots of nice spots for family photos. To get back to your car, it is an uphill walk.
How to do this: Park at the Dark Hollow Falls parking area on Skyline Drive. This is just north of Big Meadows and the Harry F. Byrd Sr. Visitor Center. The hike is 1.4 miles round trip and takes 1 to 2 hours.
3. Bearfence Mountain
This is the most thrilling hike in Shenandoah National Park. It's short, it's sweet, and with a little bit of rock scrambling, it's tons of fun for older kids and adults.
This hike is only 1.1 miles round trip. To get to the top of Bearfence Mountain, you will scramble up a short, sheer rock wall and a series of enormous, jagged boulders.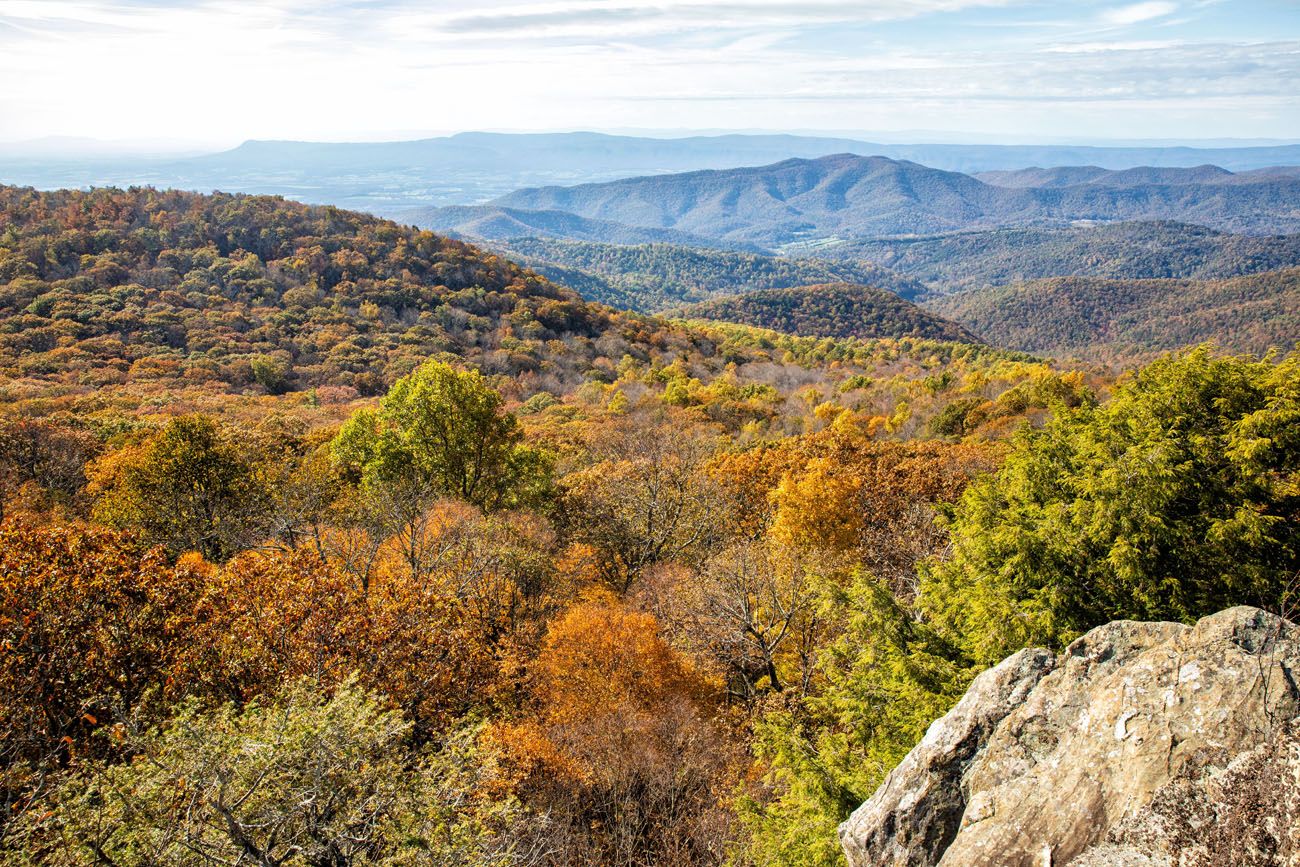 Once on top of Bearfence, the views are spectacular. This is one of the few spots in the park where you get 360° views.
I saw lots of kids on this trail, some as young as 6 years old.
4. Stony Man
At 4,040 feet, Stony Man is the second highest peak in Shenandoah National Park (Hawksbill is #1).
For a summit climb, this is a relatively short and easy trail, so it's great for almost all ages and ability levels. That being said, it is also an extremely popular hike, so expect big crowds on this trail.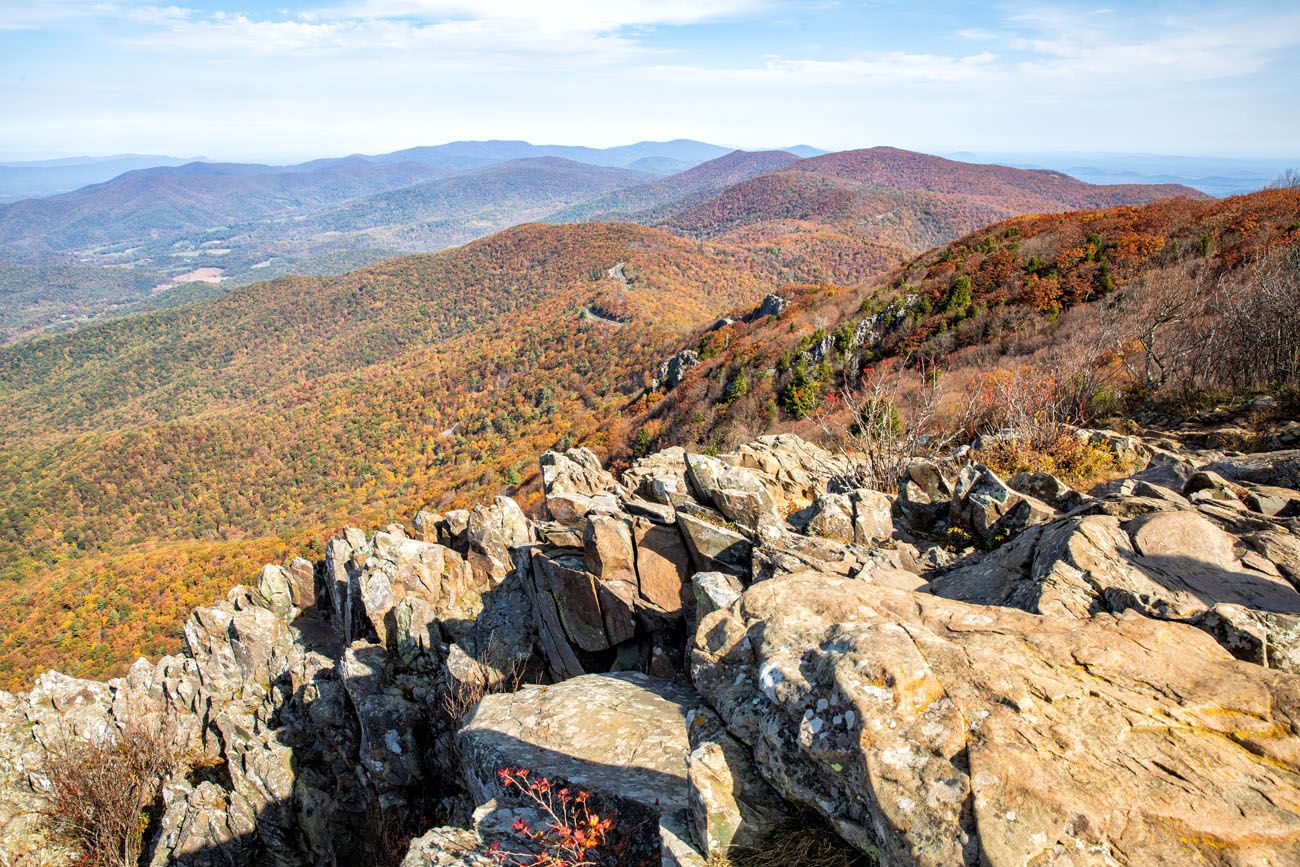 How to do this: This hike is 1.5 miles round trip and takes about 1 hour. With only 360 feet of elevation gain, it's an easy summit hike. Kids as young as 5 should be able to handle this hike. Park in the Stony Man parking lot in Skyland.
5. Hawksbill Mountain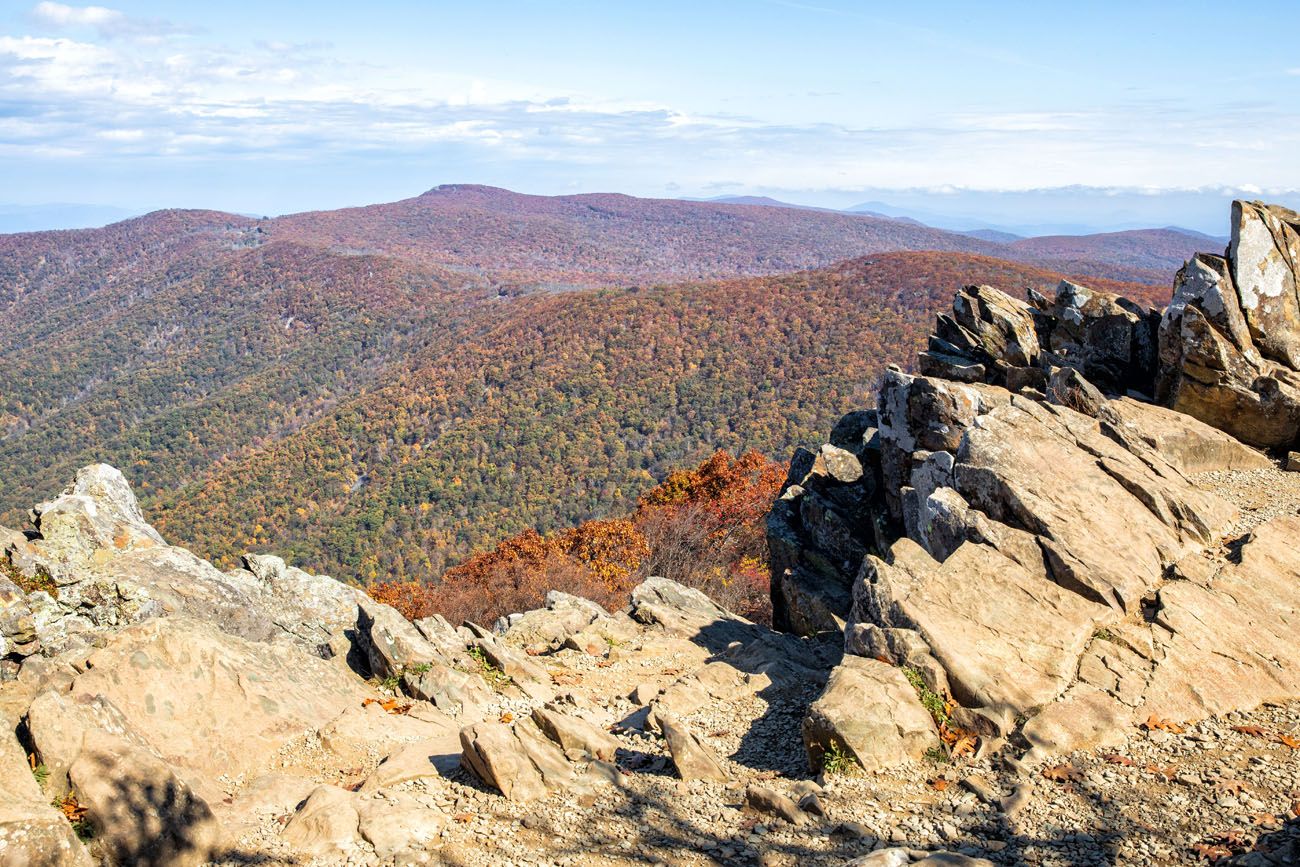 At 4,049 feet, Hawksbill Mountain is the highest peak in Shenandoah National Park.
There are several ways to get here, but the quickest, easiest route is on the Upper Hawksbill Trail. Park in the Upper Hawksbill parking lot. From here, it is a 2.2 mile round trip hike. To get to the summit, it will be a mostly uphill walk with 500 feet of elevation gain.
You can also reach the summit of Hawksbill Mountain on the Lower Hawksbill Trail. This route is shorter (it's only 1.5 miles round trip) but has a lot more elevation gain, so it's a tougher climb.
For more information on the hiking trails in Shenandoah, read our Hiking Guide for Shenandoah National Park.
6. Rose River Falls
If you want to see several waterfalls in one hike in Shenandoah National Park, put this trail on your to-do list.
This loop hike is 4 miles long. Starting on Skyline Drive, you will hike down to Rose River Falls and then loop back up, hiking past numerous cascading falls and pools of water on the Hogcamp Branch. Seeing Rose River Falls is nice but my favorite part of the hike is along Hogcamp Branch.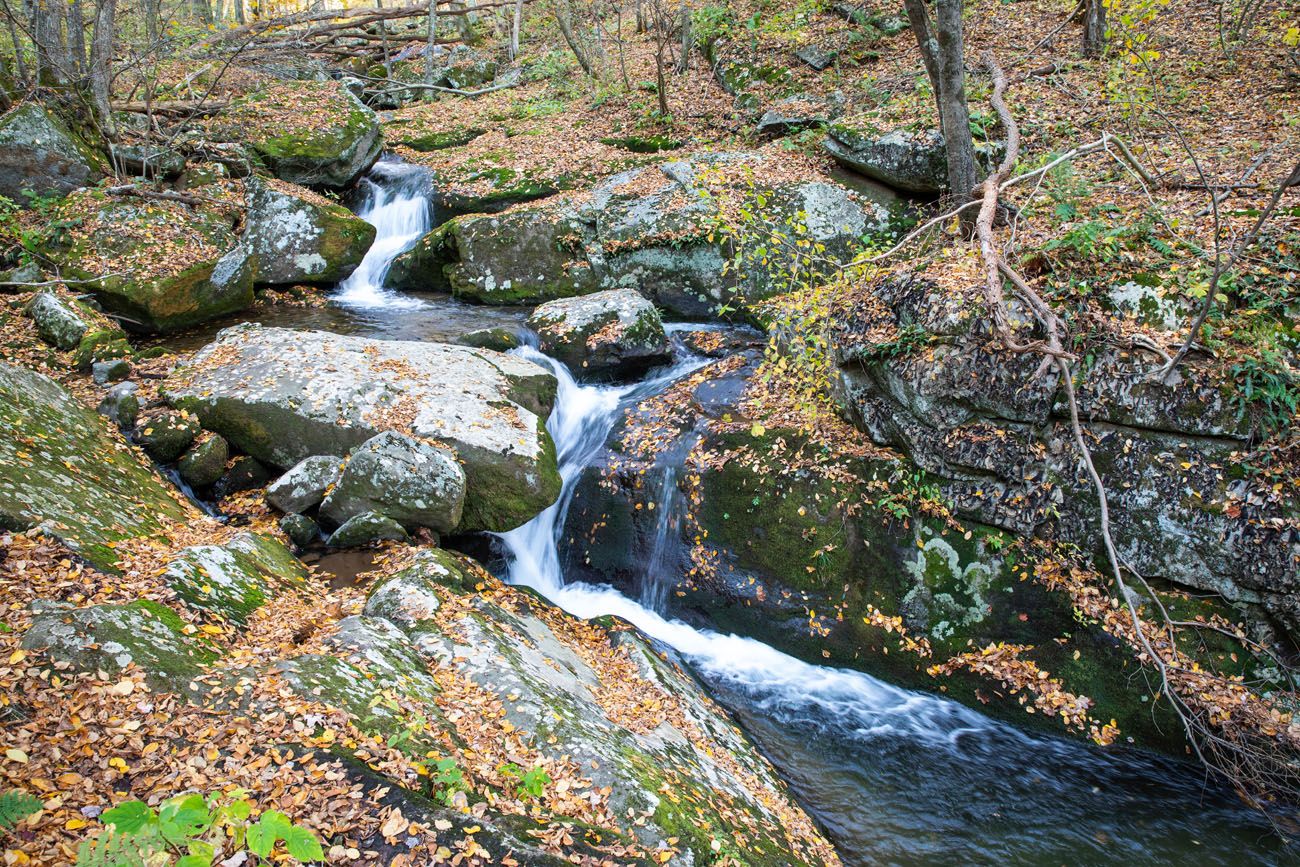 At the top of Hogcamp Branch, you will reach the trail junction with Dark Hollow Falls. You have the option to continue a little farther (less than a quarter of a mile) to see Dark Hollow Falls. To return to your car, take the Rose River Fire Road. Get the full details on how to do this in our hiking post.
7. Marys Rock
This is one of my favorite viewpoints in Shenandoah National Park. It's a longer, harder hike than some of the others on this list but the view from the top is beautiful.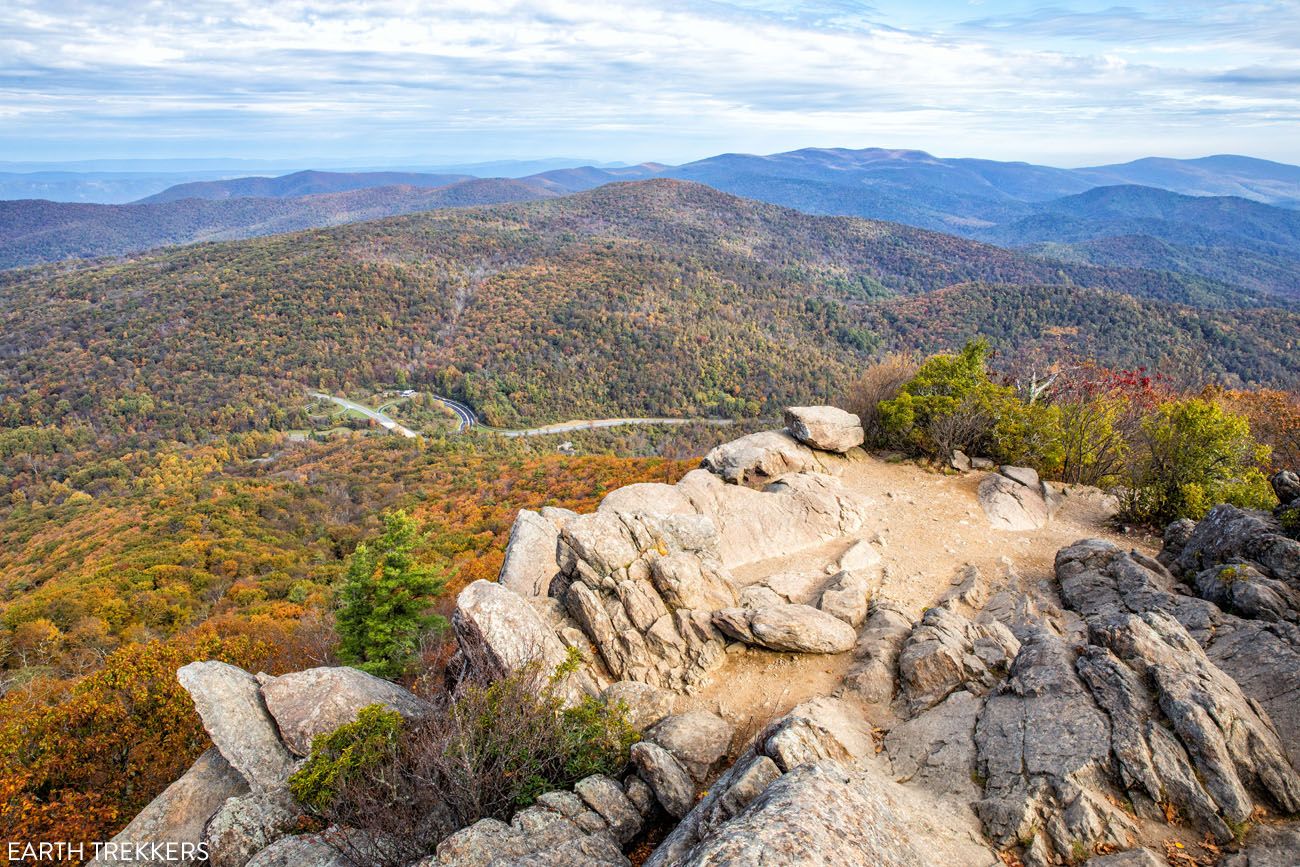 There are two ways to get to Marys Rock. Both of these routes include part of the Appalachian Trail.
Marys Rock South is the shorter, easier route to the summit. It's 2.6 miles round trip with 800 feet of total ascent. Marys Rock North is longer and harder. It is 3.6 miles with 1,200 feet of elevation gain.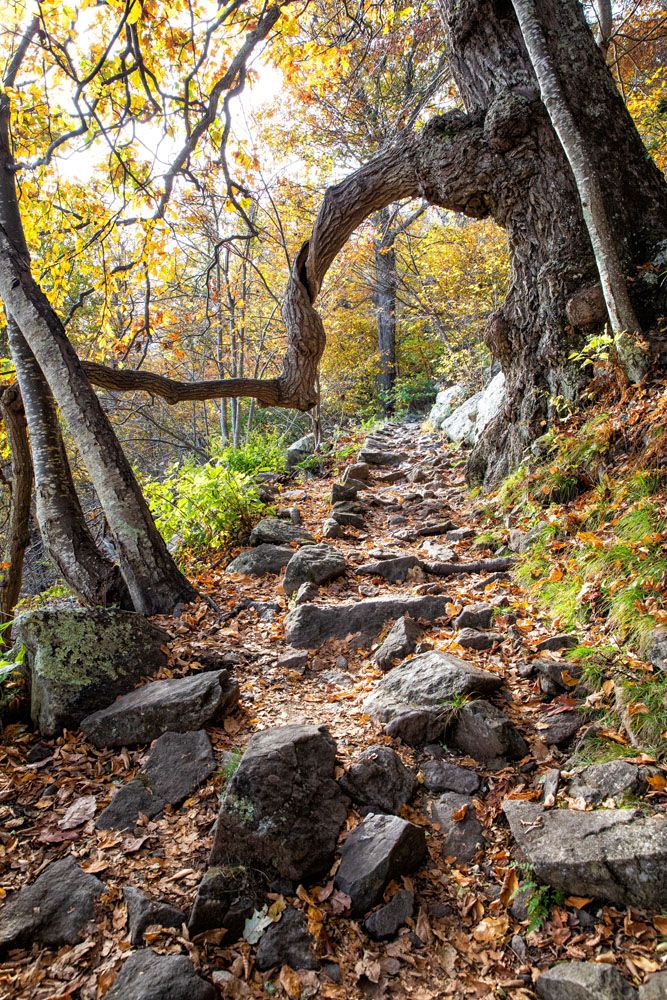 Marys Rock North trail.
8. Old Rag
Old Rag is our favorite hike in Shenandoah National Park. It's also the toughest hike on this list.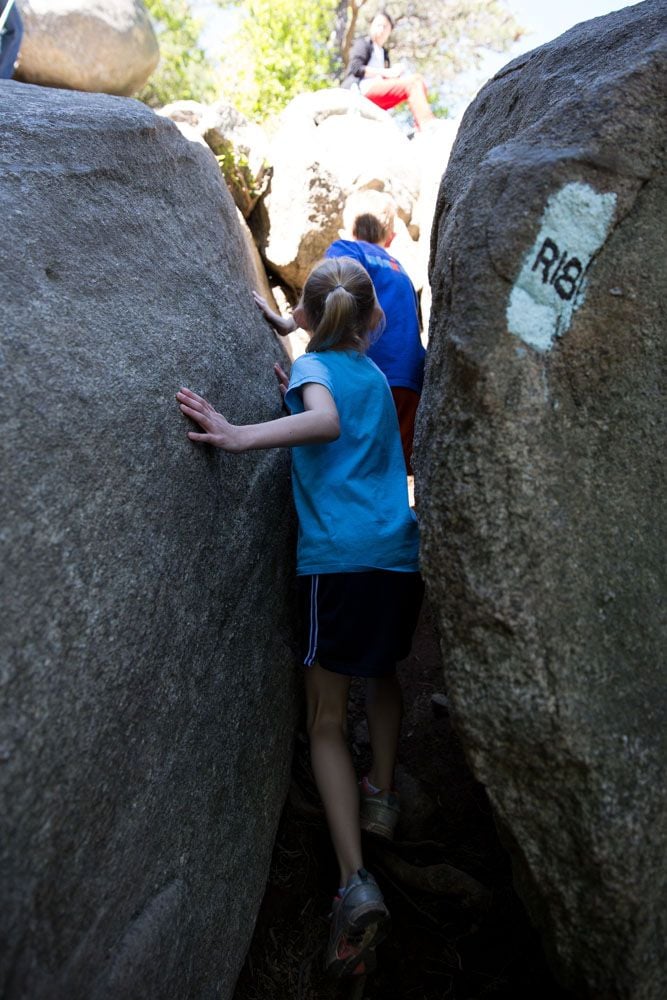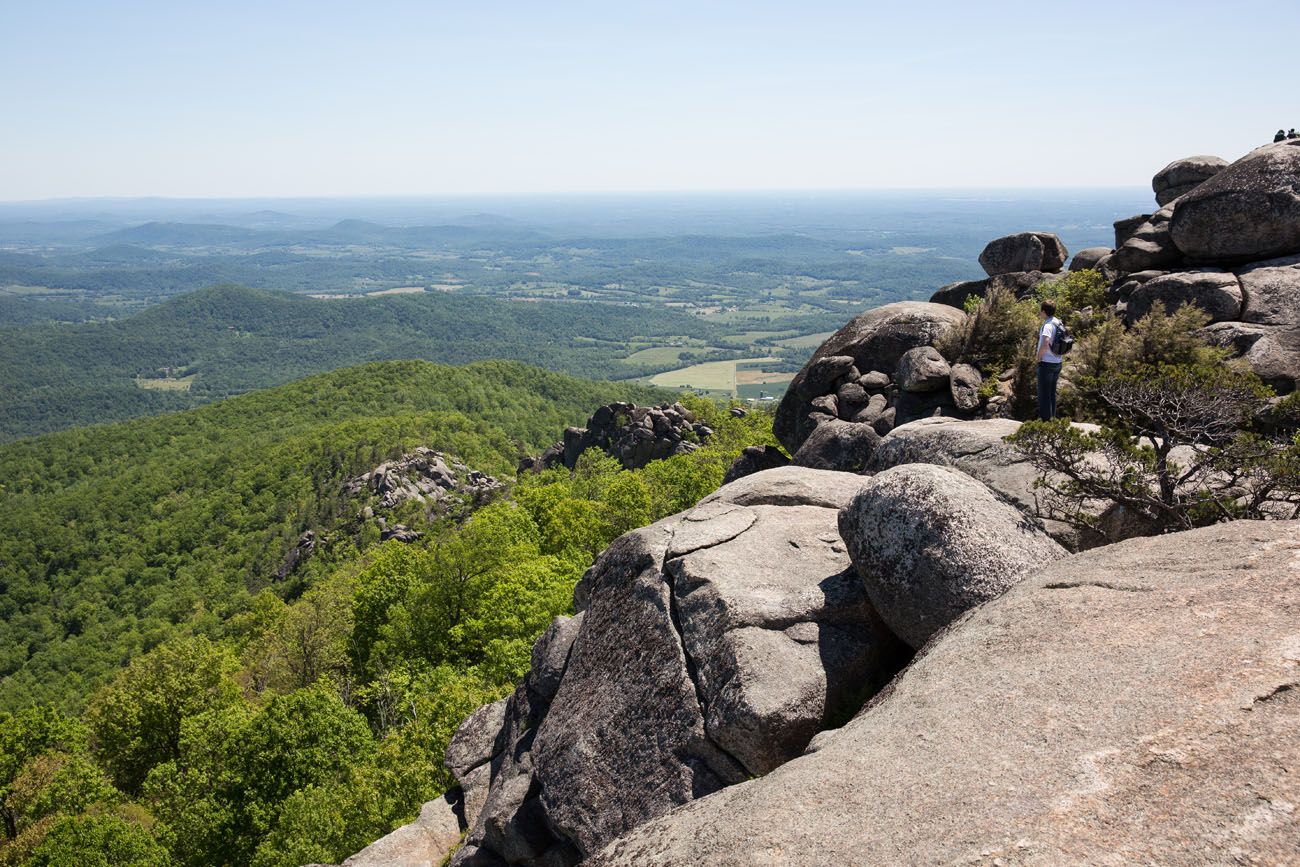 On this hike, you'll ascend to the base of Old Rag on a moderate hike up through the forest. To reach the summit of Old Rag, you climb up and over enormous boulders. The rock scrambling is challenging, fun, and the best part of the hike. From the top of Old Rag, enjoy panoramic views of the park.
How to do this: This strenuous hike is 9.4 miles round trip with 2,400 feet of total ascent. It takes most people between 5 and 7 hours to finish the hike. Get the full details on how to do this hike in our Guide to Old Rag.

9. Hike a Section of the Appalachian Trail
The Appalachian Trail is the longest hiking trail in the world, running from Maine to Georgia. It is 2193 miles long and goes through 14 states.
101 miles of the Appalachian Trail (AT) run through Shenandoah National Park. For the most part, the AT follows along right beside Skyline Drive.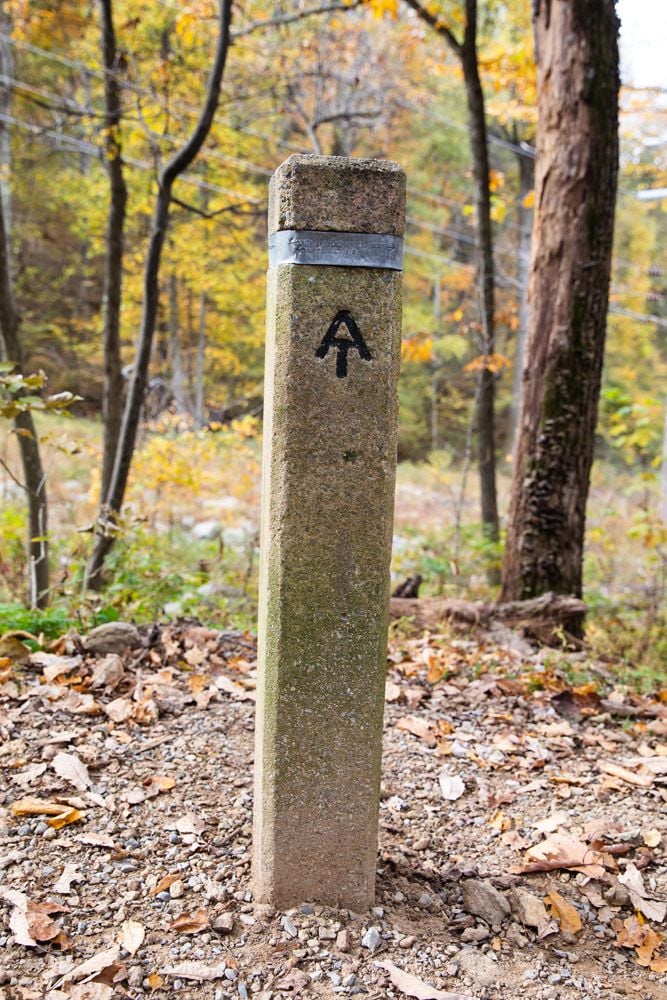 During your visit, you can hike all 101 miles, or just hike a few miles of the AT, in combination with other hikes on this list.
Several hikes on this list share the trail with the AT. These include Stony Man, the Bearfence Mountain loop, and Marys Rock. It is also possible to hike Hawksbill Mountain as a loop, combining the Upper and Lower Hawksbill trails with the AT.
Things to do Near Shenandoah National Park
Here are four places to add on to your trip to Shenandoah National Park. All of these make great places to visit with kids.
Luray Caverns
Located just a short drive from Shenandoah, Luray Caverns is the largest caverns in the eastern United States. On a guided tour, you can explore this beautiful underground world.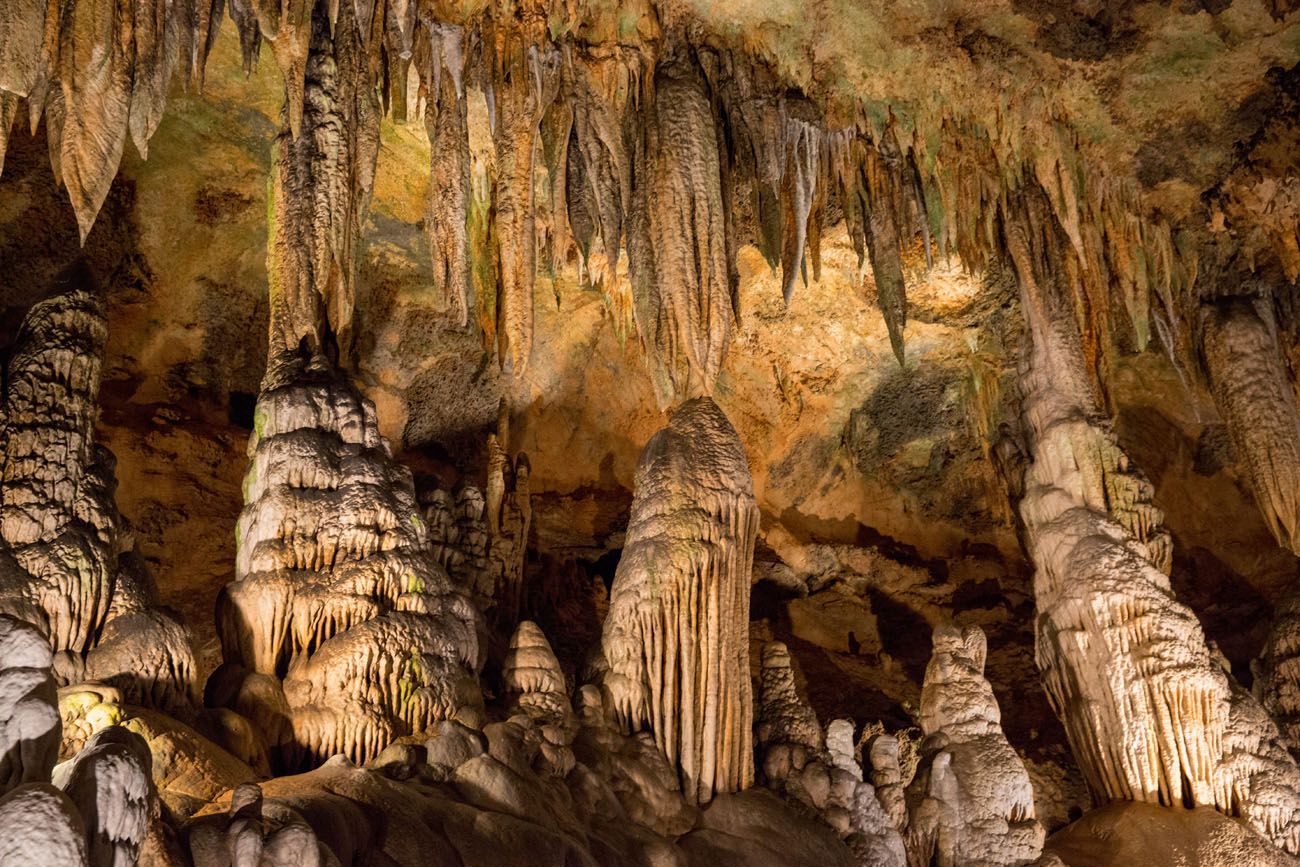 Kids will love the Rope Adventure Park, which is also located at Luray Caverns.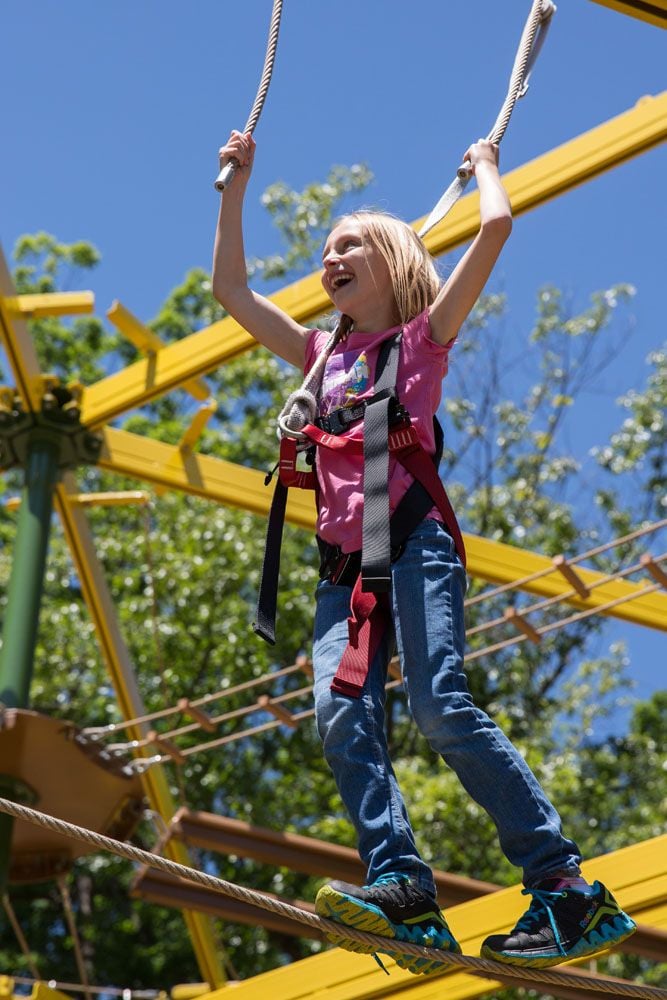 Humpback Rocks
Humpback Rocks is a short hike to a beautiful overlook, similar to Hawksbill Mountain or Stony Man. This hike is located on the Blue Ridge Parkway just a few miles south of Shenandoah National Park.
Natural Bridge
Natural Bridge is a state park in Virginia. This bridge is naturally occurring and was carved out by Cedar Creek. It is listed on the National Register of Historic Places as a National Historic Landmark. There are 7 miles of hiking trails to explore, in addition to seeing Natural Bridge.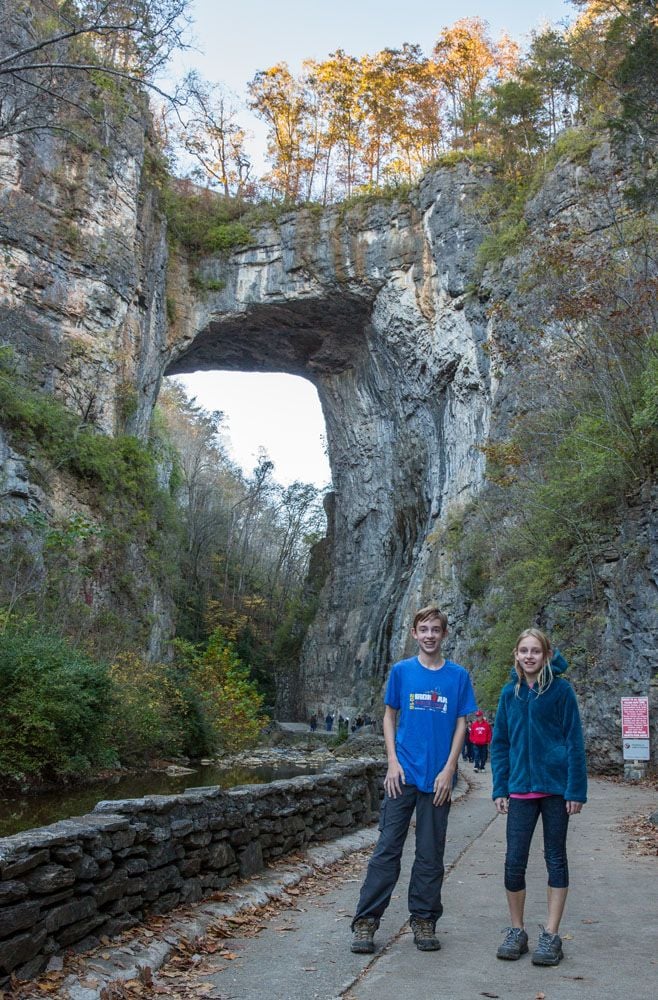 McAfee Knob
McAfee Knob is one of the most photographed spots on the Appalachian Trail. In 2015, it was featured in the movie A Walk in the Woods starring Robert Redford. The hike to McAfee Knob is located near Roanoke, Virginia, so it is an hour and a half drive to get here from Shenandoah, but if you are road tripping down the Blue Ridge Parkway, this is a great hike to consider. This hike is 8 miles round trip and takes 4 hours. Learn more here.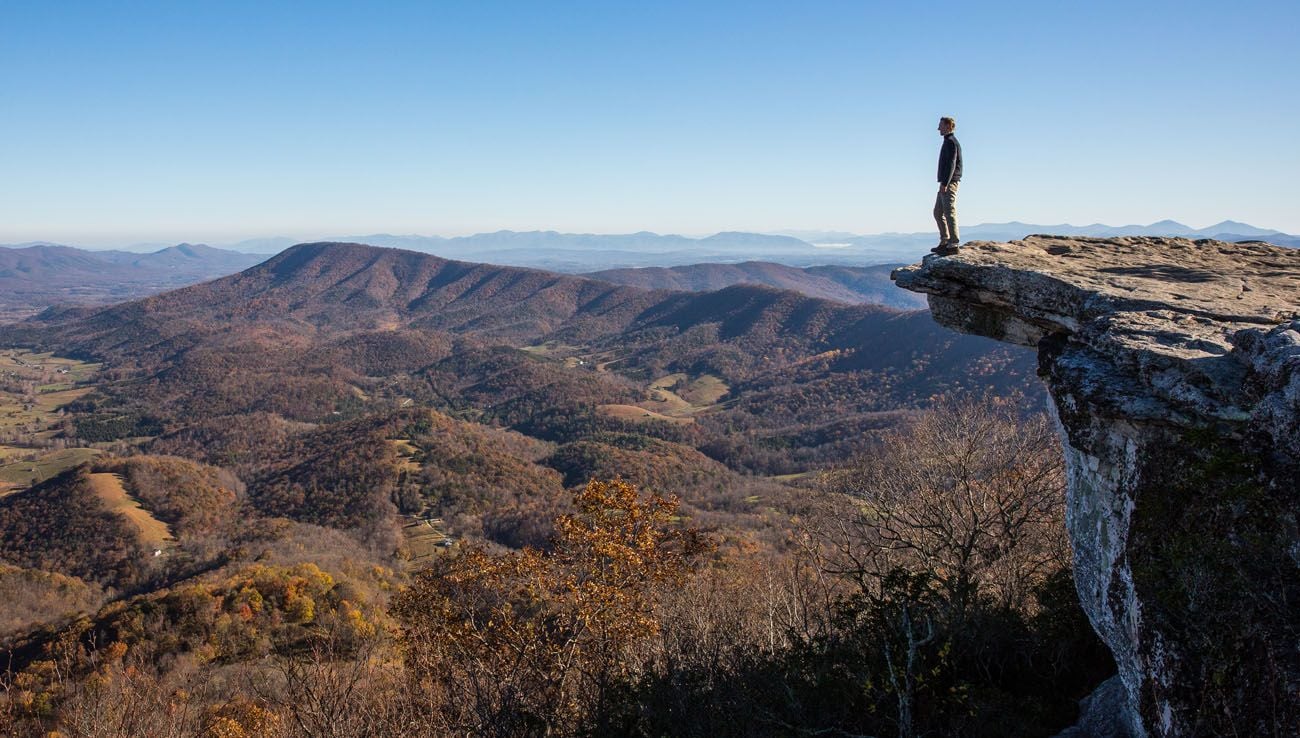 How Many Days Do You Need in Shenandoah National Park?
With one day in Shenandoah, you have enough time to drive Skyline Drive, stop at a bunch of the overlooks, and hike one, two to three short trails. I recommend Dark Hollow Falls, Bearfence Mountain, and/or Hawksbill Mountain.
With two days in Shenandoah, you can either do several more short hikes or you can hike Old Rag.
With three days in Shenandoah, you can do almost everything on this list. It is possible to do all of the hikes we list in this post in three days, if you don't mind doing two to three hikes per day. It's a good thing most of the trails in Shenandoah are short!
Best Time to Visit Shenandoah
Shenandoah National Park can be visited year round, however, there are four distinct seasons.
In the spring, trees start blooming in April and by May the park should be a vibrant green. Late spring is a great time to visit, when wildflowers are in bloom and leaves return to the trees.
In the summer, the park is lush and green. It will be slightly cooler up in the mountains than in Shenandoah Valley.
Autumn is the best time to visit Shenandoah. In October, the trees turn a brilliant golden yellow and orange. Plan your visit for the last two weeks of October to see fall colors at their peak.
On my most recent visit, I spent three days in Shenandoah, from October 19 through October 21. During this time, the fall colors were just approaching their peak. Most of the photos in this post were taken from this visit in 2020.
Several years ago, we drove through Shenandoah the first week of November. Fall colors were just past peak, but it was still beautiful. Here is a photo from the first week of November.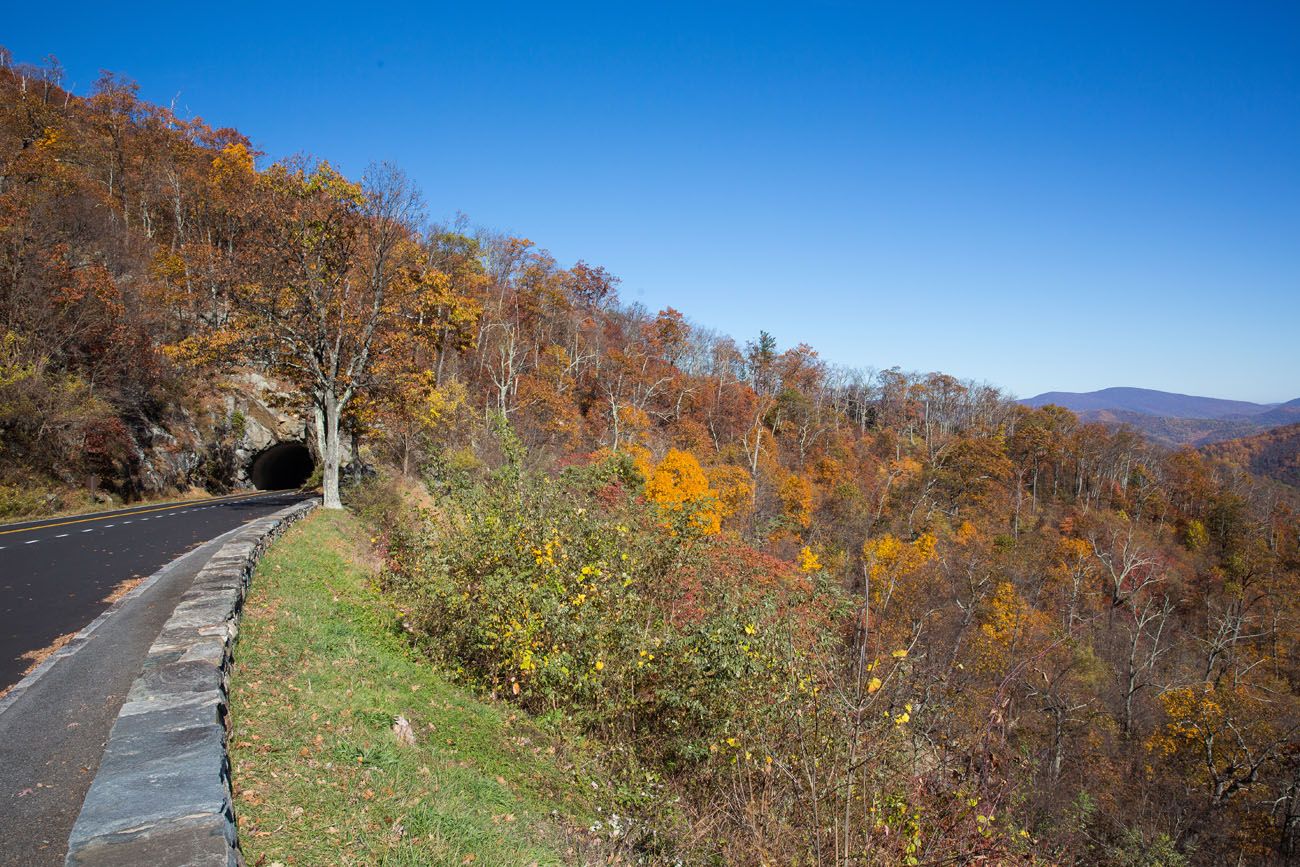 The timing of peak colors can vary from year to year, based on weather conditions. But in general, you should be able to see some beautiful fall colors if you visit Shenandoah the second half of October.
In the winter, the trees are bare and Shenandoah is a very quiet place to visit. The waterfalls can freeze and snow can blanket the ground and the branches, creating a magical scene.
Plan Your Visit
Entrance Fee: $30 per vehicle, valid for 7 days
Hours of Operation: Shenandoah National Park is open 24 hours, 365 days per year. However, portions of Skyline Drive can periodically close due to inclement weather. Visitor centers are generally open from March through November.
Where to Stay
Since Shenandoah National Park is so long and narrow, it can be tricky to decide where to stay. No matter where you stay, you will have to do some driving to get to and around the park.
In Shenandoah National Park
This is the best place to stay if you want to minimize how much driving you do inside of the park.
Within the park, there is lodging at Skyland, Big Meadows Lodge, and in the Lewis Mountain Cabins. Learn more here.
There are also five campgrounds located along Skyline Drive. Fees range from $15 to $45 per night. Learn more here.
Outside of Shenandoah National Park
Outside of Shenandoah National Park, Front Royal, Luray, and Harrisonburg are good towns to base yourself. The advantage of staying outside of the park is that you have more hotel options, more restaurant options, and access to bigger grocery stores. But you will "commute" into the park each day.
On my most recent trip, I stayed at the Residence Inn in Harrisonburg. To get into Shenandoah, it was a 30 minute drive, plus additional driving time within the park.
In Luray, Hotel Laurance and the South Court Inn get exceptional reviews. Another highly rated property is the Mimslyn Inn. From Luray, it takes 15 minutes to drive to the Thornton Gap Entrance.
In Front Royal, the Mountain Home Bed & Breakfast gets rave reviews on Booking.com. The TownePlace Suites by Marriott is another property to consider. From Front Royal, it only takes a few minutes to get into the park. However, since you are at the north end, it could be a very long drive to get to and from some sights in Shenandoah National Park.
---
If you have any questions about the best things to do in Shenandoah National Park, let us know in the comment section below.
More Information for Your Trip to Shenandoah National Park
If this is part of a bigger road trip through the USA, visit our United States Travel Guide for more inspiration and travel planning tips.
You Might Also Like: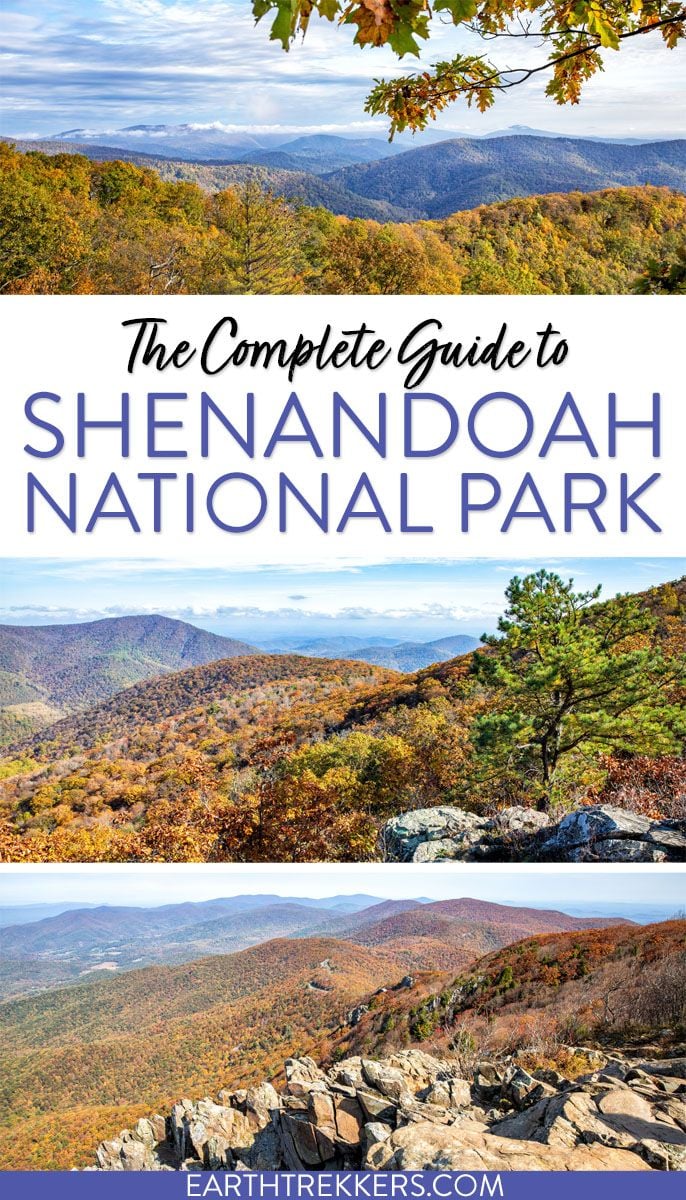 Note: This post contains affiliate links. When you make a purchase using one of these affiliate links, we get paid a small commission at no extra cost to you.
All rights reserved © Earth Trekkers. Republishing this article and/or any of its contents (text, photography, etc.), in whole or in part, is strictly prohibited.