Acadia National Park is packed with scenic drives, short but thrilling hiking trails, and breathtaking views. Explore the park by day, go shopping or dine at the restaurants in Bar Harbor at night. Add in boat cruises and lobster feasts and you have all of the ingredients for a wonderful vacation.
In this article, learn about the best things to do in Acadia National Park, with advice on where to eat, where to stay, and how to plan your time.
Let's get started!
While in Acadia National Park, please practice the seven principles of Leave No Trace: plan ahead, stay on the trail, pack out what you bring to the hiking trail, properly dispose of waste, leave areas as you found them, minimize campfire impacts, be considerate of other hikers, and do not approach or feed wildlife.
About Acadia National Park
Called the "Crown Jewel of the North Atlantic Coast," this national park protects the rocky coastline in Maine. Granite coastal cliffs, islands, estuary and intertidal habitats, and the tallest mountain on the Atlantic coast of the United States can be found here.
In 2019, Acadia received 3.4 million visitors, making this the 7th most-visited national park in the United States (coming in right after Yellowstone).
There are three main regions of Acadia National Park. Mount Desert Island (abbreviated MDI), is the main region and this is where most people spend their time. This island is the largest region of Acadia and where you will find Bar Harbor, Cadillac Mountain, and many of the top things to do in the park.
To the north is the small but scenic Schoodic Peninsula. To the south is Isle au Haut, a remote island that you can reach by ferry. It takes a full day to visit Isle au Haut from Mount Desert Island.
Best Things to do in Acadia National Park
1. Go Hiking
Acadia National Park is filled with an amazing variety of hiking trails. From easy strolls along coastal paths to summit climbs to thrilling cliff walks, there is something here for everyone.
One of the things that makes Acadia so unique, and so exciting, is the large number of trails with ladders and metal rungs. Similar to a via ferrata, you can hike along narrow ledges and climb up sheer rock faces with the aid of these metal rungs.
Hikes that feature iron rungs and cliff walks include the Precipice Trail, the Beehive Trail, the Jordan Cliffs Trail, and the Beech Cliff Ladder Trail.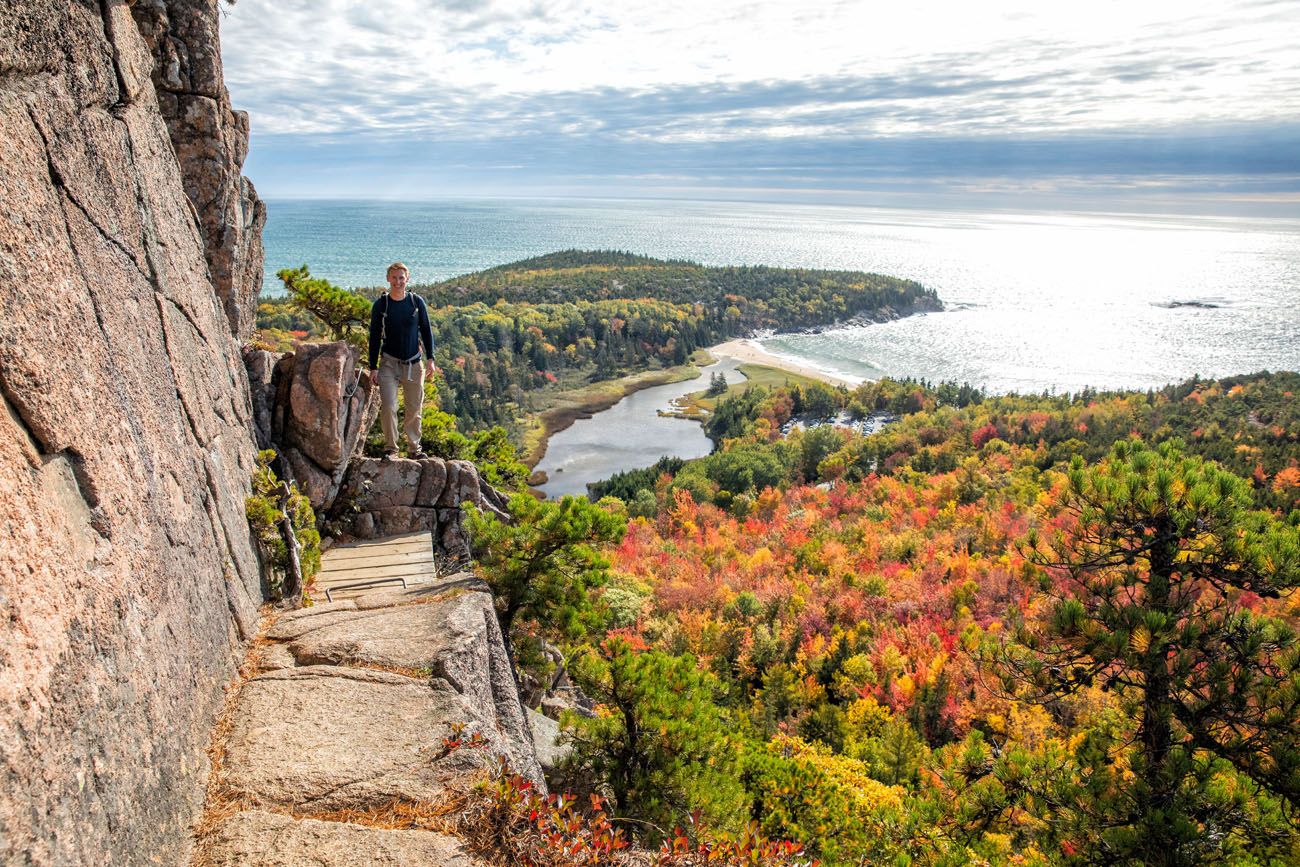 Beehive Trail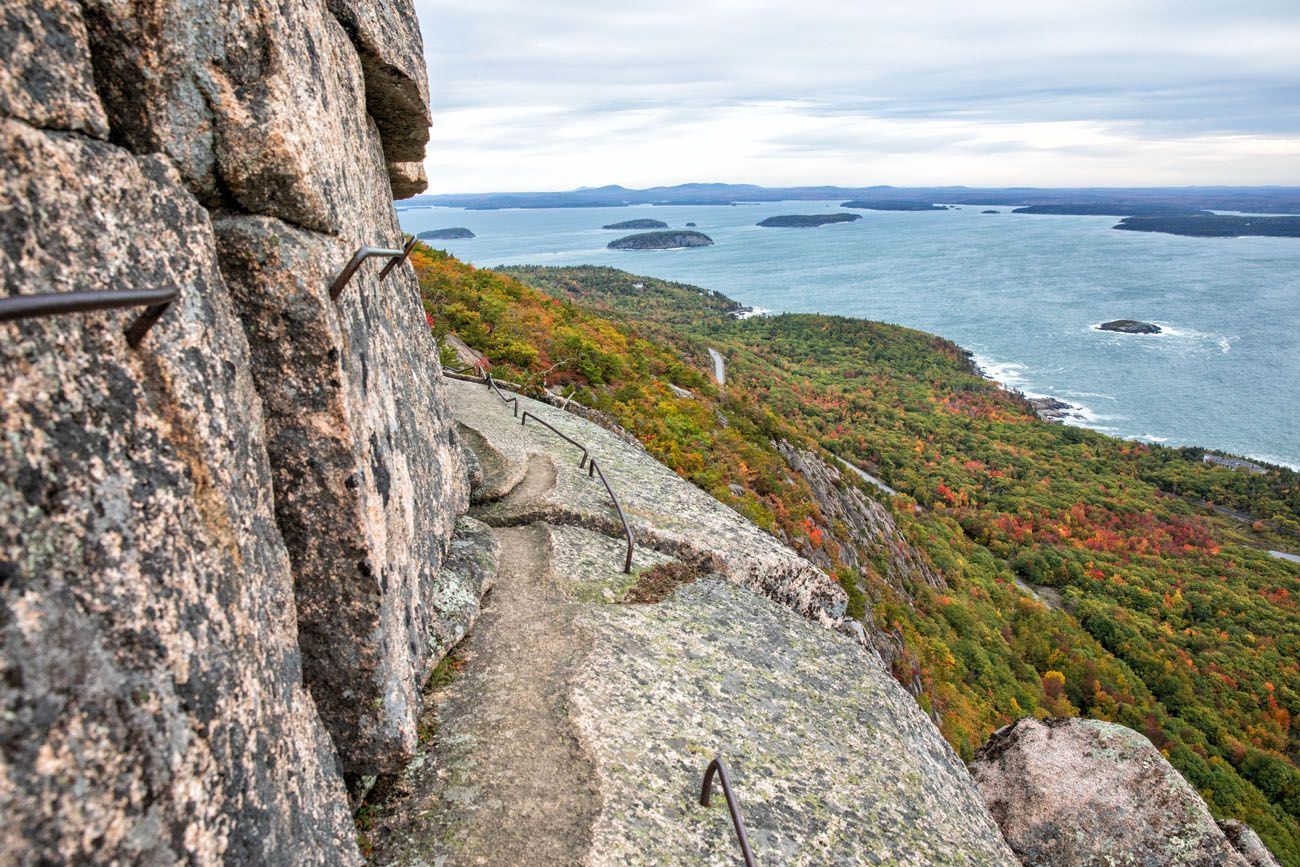 Precipice Trail
For a short, easy strolls, hike Ocean Path or the loop trail around Jordan Pond. The Cadillac Summit Loop Trail is a short, easy hike on Cadillac Mountain that offers some of the best views in the park.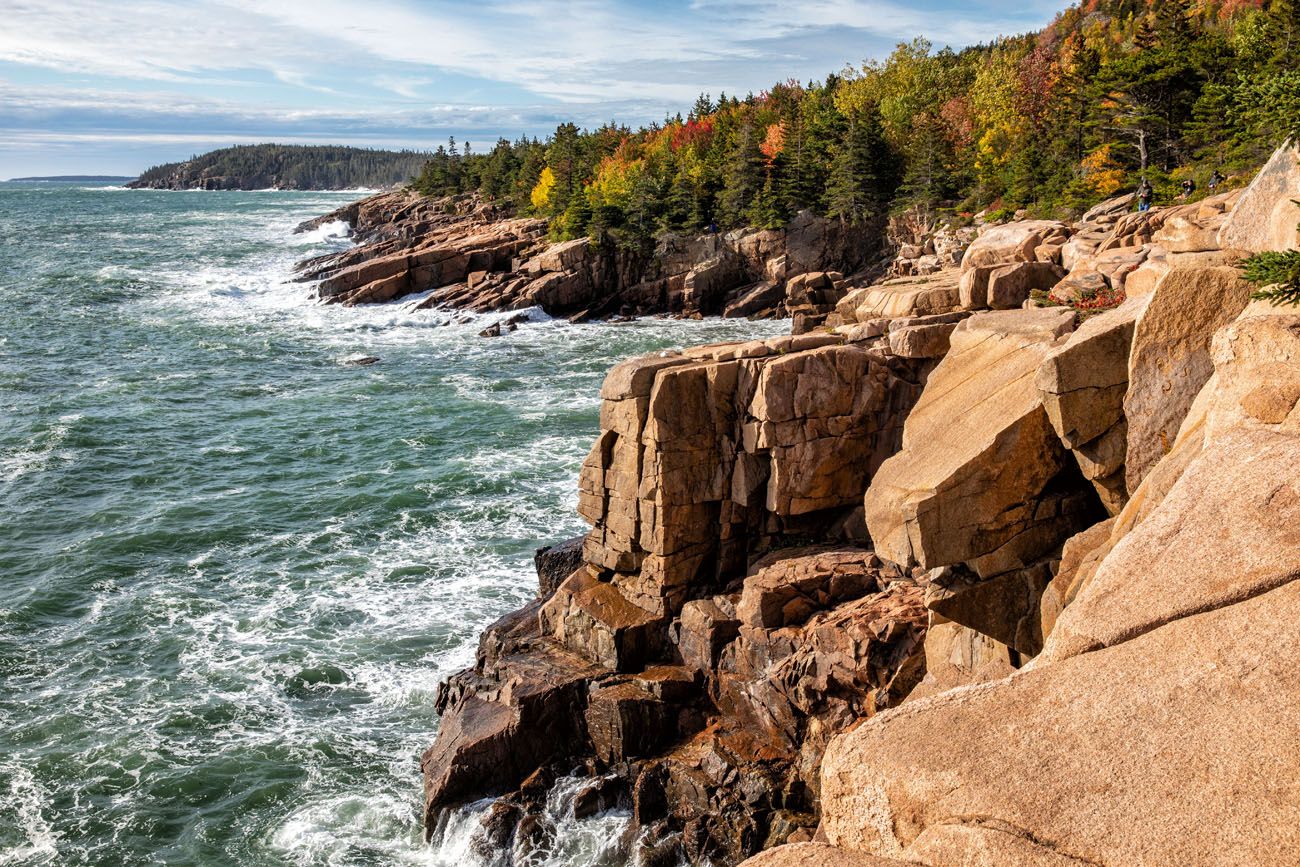 View from Ocean Path
South Bubble was one of our favorite hikes, with its great views of Jordan Pond.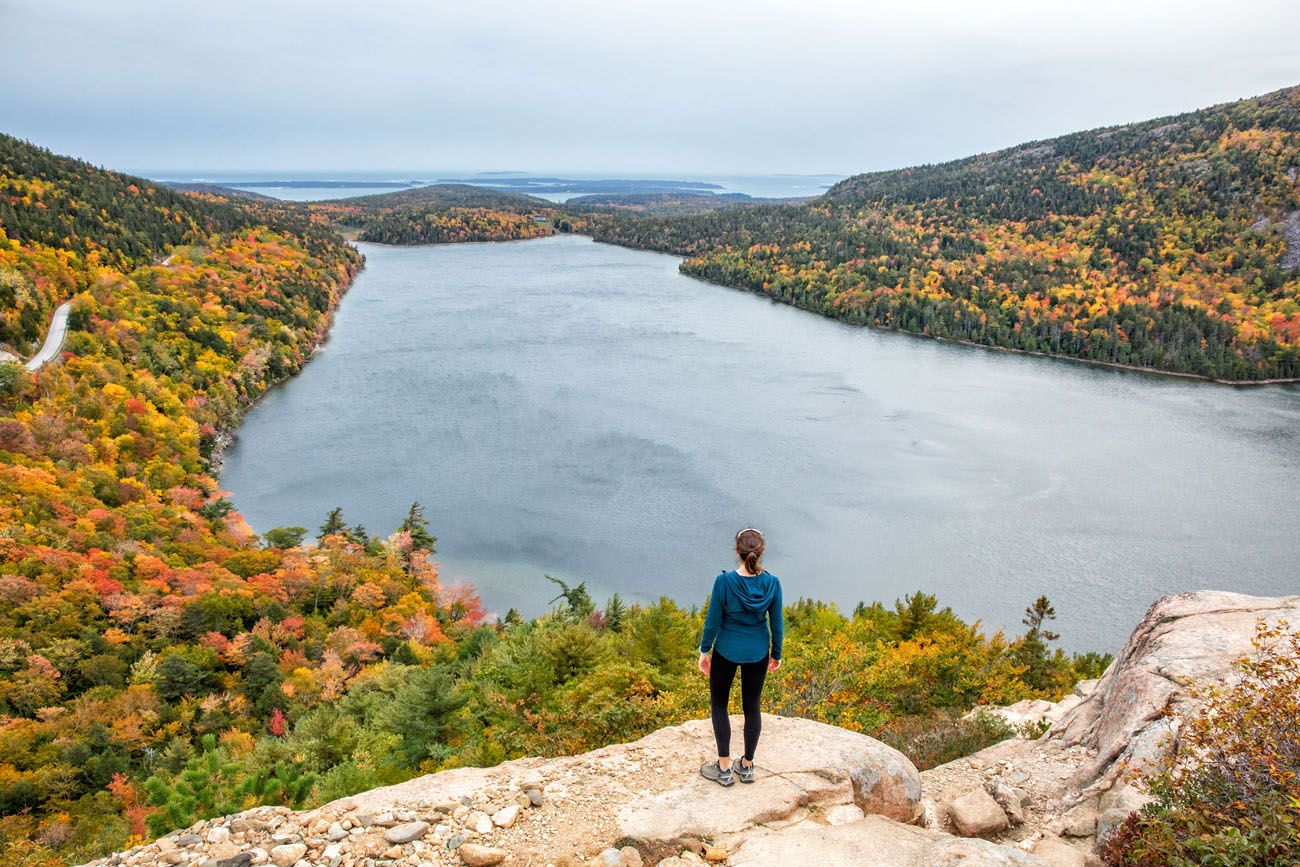 2. Cadillac Mountain
Due to its location and height, Cadillac Mountain is one of the first spots in the United States to view the sunrise, making this Acadia National Park's most popular sunrise spot.
PRO TRAVEL TIP: If you want to view the sunrise from Cadillac Mountain, get here bright and early. Despite a painfully early wake up time, this is an extremely popular thing to do in Acadia. The parking lot fills up fast, so don't plan on showing up right before sunrise, especially during the busy summer and fall season. Plan to get here 30 minutes before sunrise.
Of course, if getting up early is not your thing, you can skip sunrise and go any time of day. I have heard that sunset is a nice time to be here, as well.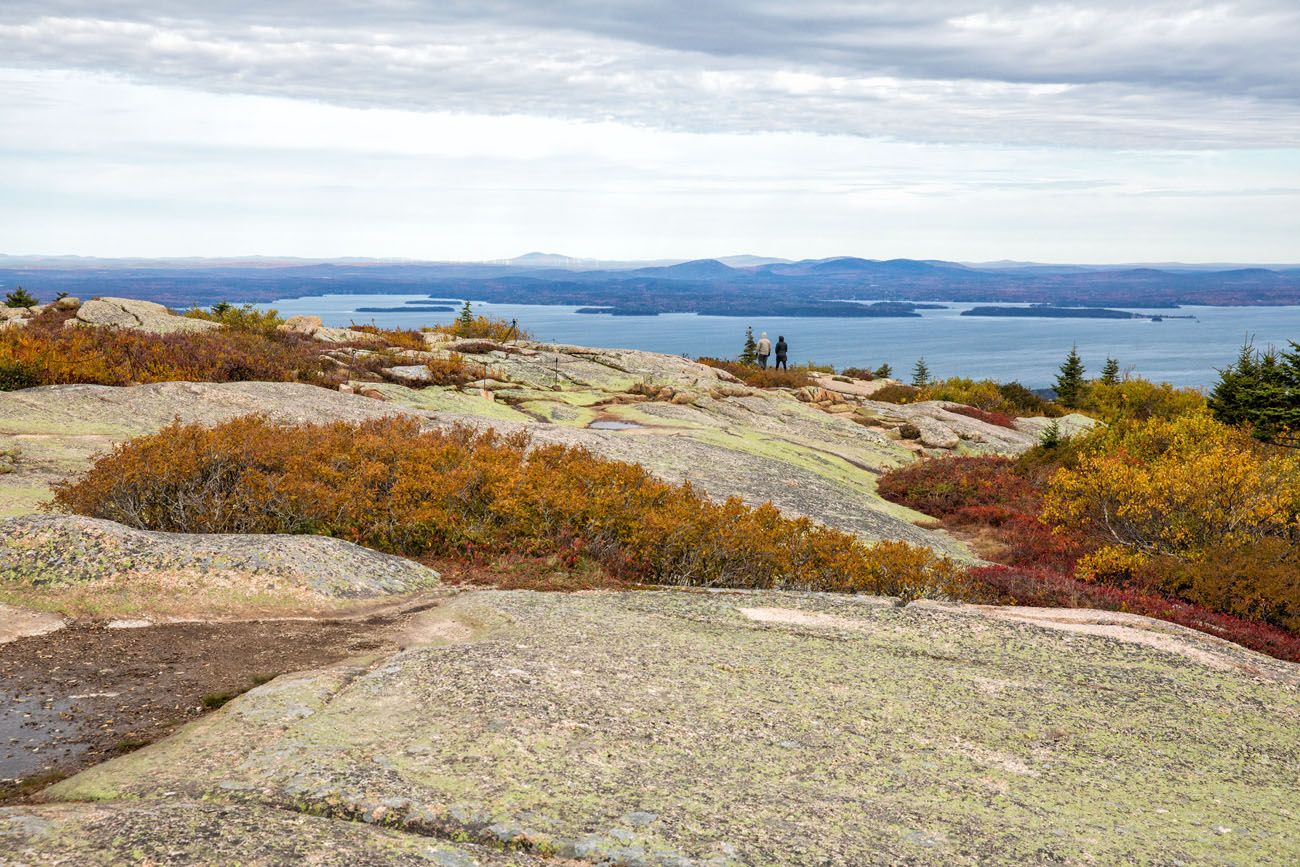 We missed seeing the sunrise from Cadillac Mountain because each morning of our visit, the sky was completely cloud covered.
Getting Here: No hiking necessary, although there are hiking trails that get you to the peak of Cadillac Mountain. You can simply drive to the top, park, and have fun exploring the summit. While you are here, walk the Cadillac Mountain Summit Loop, a 0.3 mile trail that takes 30 minutes of your time.
Important!! Vehicle reservations are required to drive up Cadillac Mountain if your visit will be between late May and mid-October. Get the full details on the National Park Service website.
3. Drive Park Loop Road
Park Loop Road is a 27-mile loop through Mount Desert Island. This very scenic road connects several of Acadia's popular spots, such as Cadillac Mountain, Jordan Pond, and the carriage roads.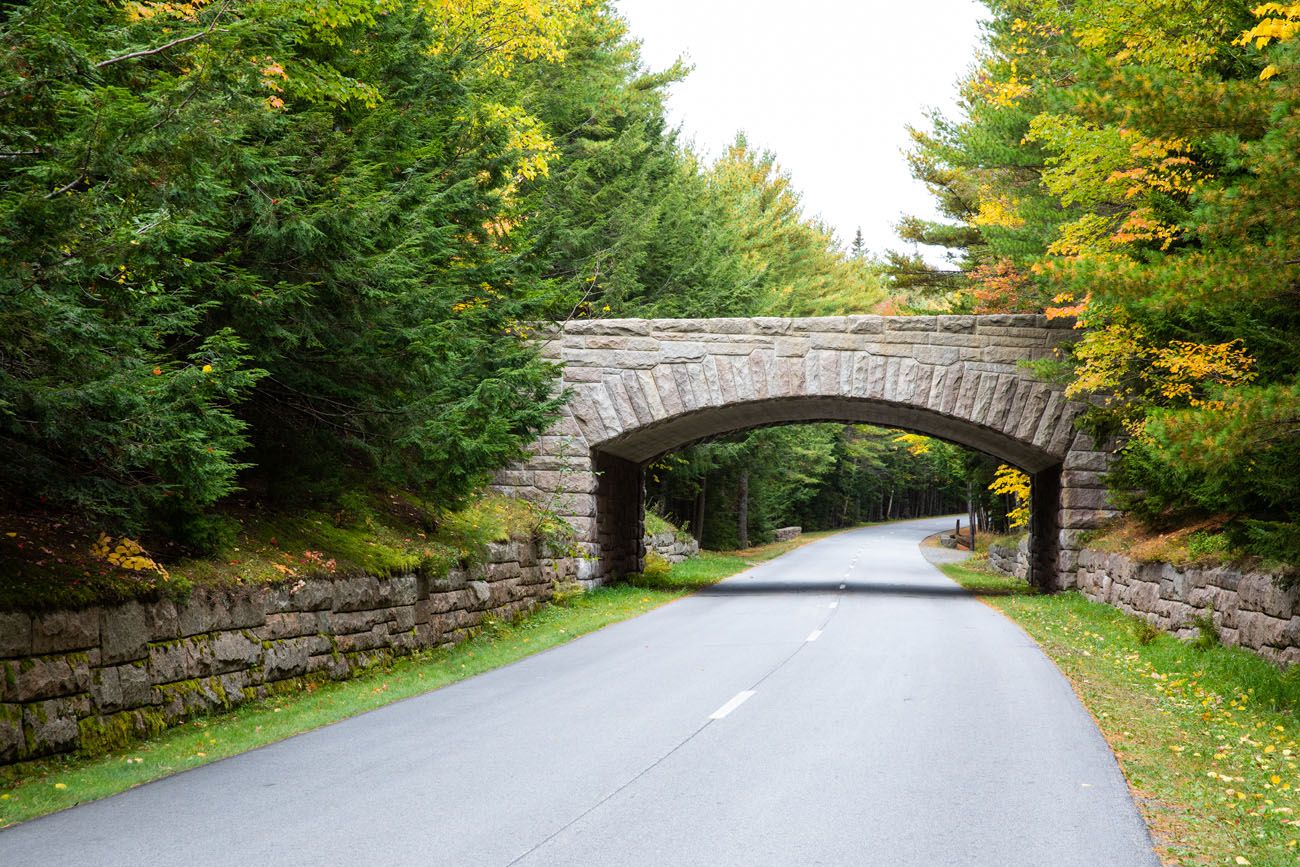 PRO TRAVEL TIP: Most this road is one-way. Starting in the north near Bar Harbor and traveling clockwise, the Park Loop Road is one-way until you reach Jordan Pond. The section between Jordan Pond and Cadillac Mountain is a two-way road.
Starting in Bar Harbor, drive the Park Loop Road clockwise. As you head down along the coast, you will pass the trailheads for the Precipice Trail and the Beehive Trail, and then come to Sand Beach, Ocean Path, and Thunder Hole. Park Loop Road continues around Otter Point and then heads inland towards Jordan Pond. As you head north, you will pass the turn off to Cadillac Mountain and then arrive back at Bar Harbor.
4. Sand Beach
Located on Park Loop Road, this pretty beach is worth a quick stop. There are also lots of great walks to do from here.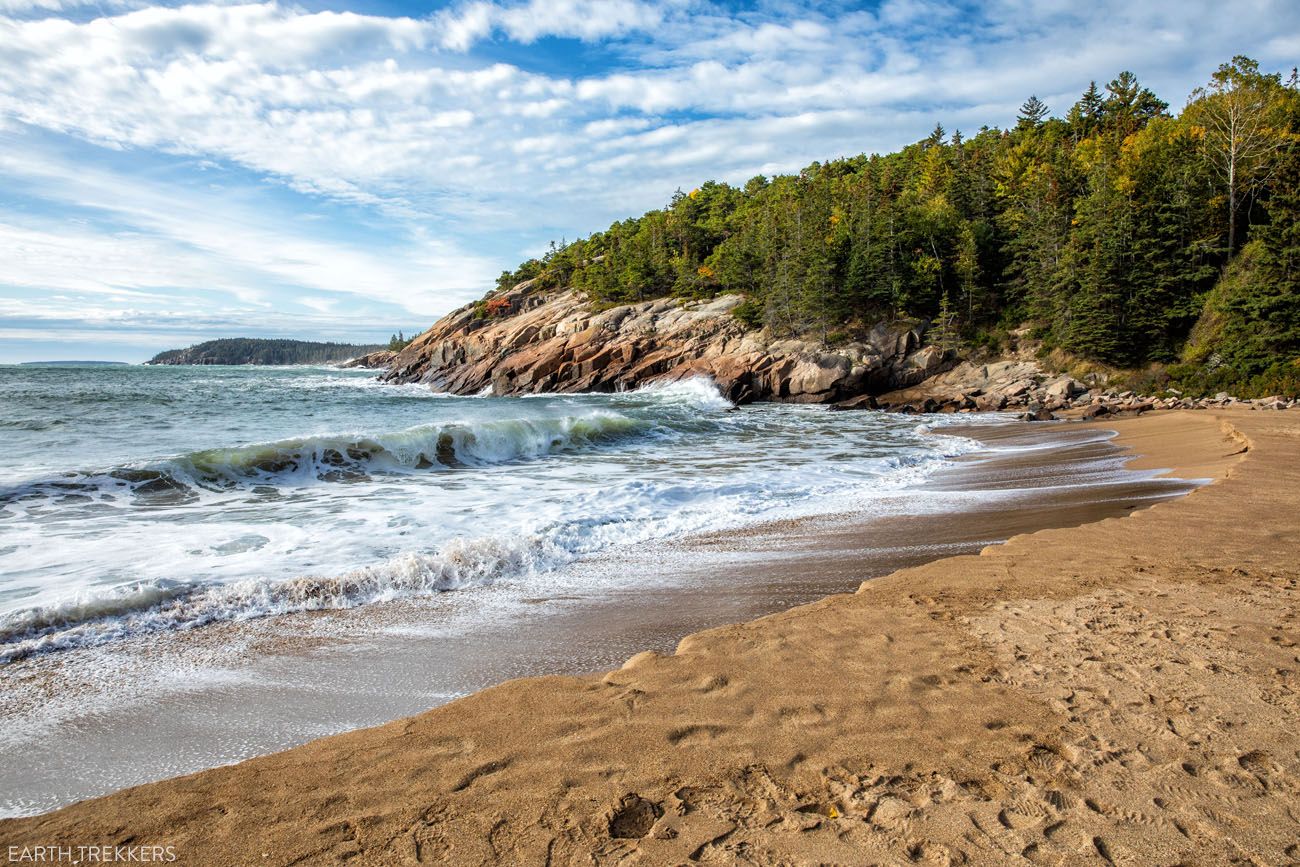 Walk the Great Head Trail or cross Park Loop Road and hike the thrilling Beehive Trail. From Sand Beach, it is a 2-mile round trip walk on Ocean Path to get to Thunder Hole. Along the way, you can make quick detours and hike out onto the rocky coastal cliffs.
PRO TRAVEL TIP: The parking lot at Sand Beach is one of the largest in the park. If you want to explore Sand Beach, hike the Beehive Trail, walk Ocean Path to Thunder Hole, or walk Great Head Trail, this is the best place to park. Just get here early (before 10 am, even earlier in July and August) because it does fill up fast.
5. Thunder Hole
Thunder Hole is a small inlet where the waves roll up against the rocks, creating a thunderous sound. The water can spray up to 40 feet in the air.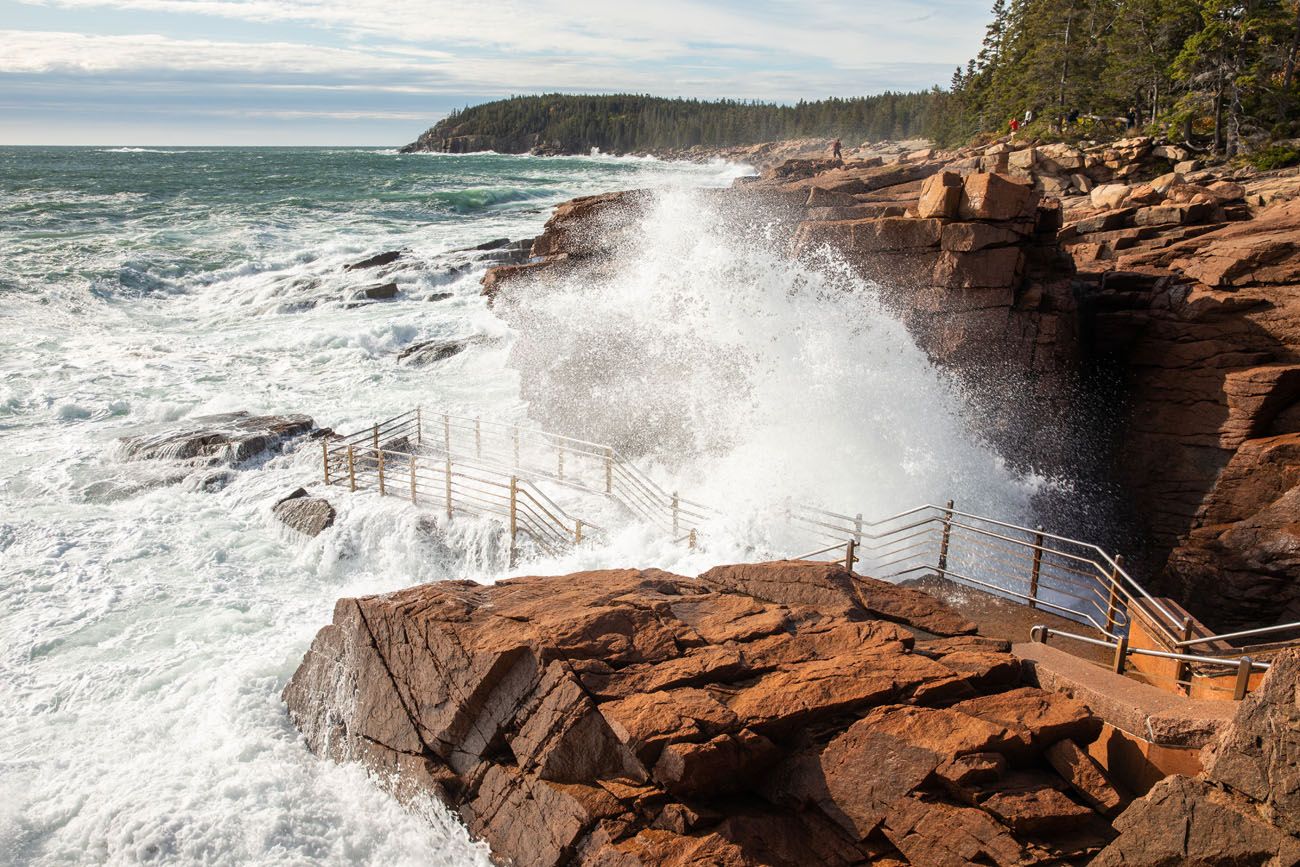 This is one of Acadia's landmarks so expect big crowds here. There is a parking lot across the street or you can walk here from Sand Beach (2 miles round trip).
I read that the best time to visit Thunder Hole is two hours before high tide, if you want to hear the thunder clap that the waves create. If you are here on a calm day or during low tide, you will not get the full experience.
This is a beautiful stretch of coastline. I personally liked the coastal views more than watching the waves hit the rocks (I took the cover photo for this article here).
6. Jordan Pond House
Jordan Pond House is famous for their popovers. Located on the shore of Jordan Pond, you can enjoy these tasty treats before or after doing one of several great walks in the area.
Midday, expect big crowds. During our visit, we couldn't even get a parking space so we had to come back later in the day.
PRO TRAVEL TIP: You can book a table in advance. Click here to visit the Jordan Pond House website.
From the Jordan Pond House, you can walk the short, easy trail around Jordan Pond, hike the more thrilling Jordan Cliffs Trail, or hike up South Bubble. Check out our hiking article to learn more.
Jordan Pond Trail
7. Carriage Roads
John D. Rockfeller Jr. played a huge role in funding and building the carriage roads that crisscross Mount Desert Island. Originally constructed to travel by horse drawn carriage through the park, these roads were built between 1913 and 1940.
Now, these historic roads are now also open to hikers, walkers, and bikers.
Click here to see the carriage road map.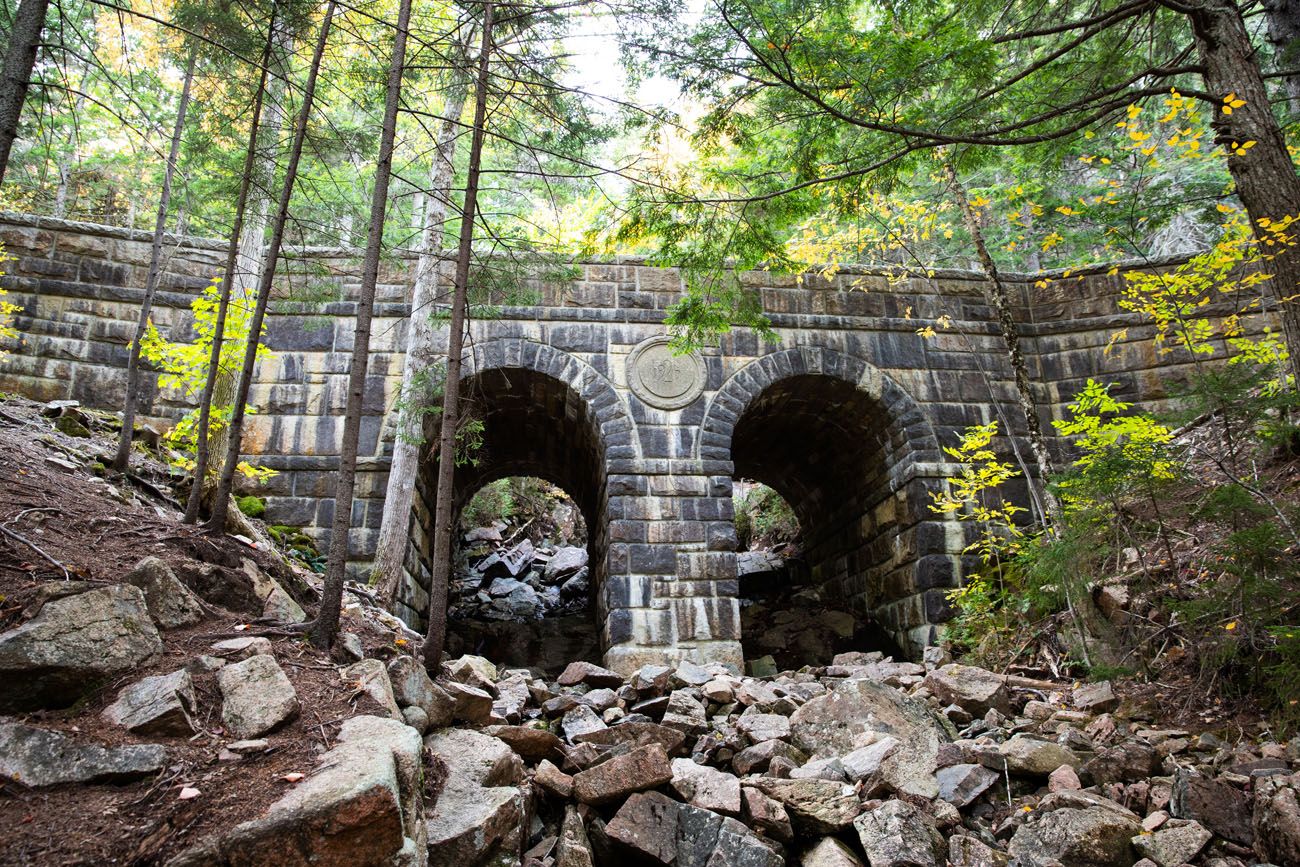 Deer Brook Bridge, a historic carriage road bridge.
8. Take a Boat Tour of Acadia
There are numerous companies offering tours of the islands and coastline of Acadia National Park. Take a sightseeing cruise, go fishing, cruise past Bass Harbor Head Lighthouse, go on a puffin cruise, or take a sunset nature cruise.
Acadian Boat Tours and Bass Harbor Cruises are two highly rated companies offering many different cruising options.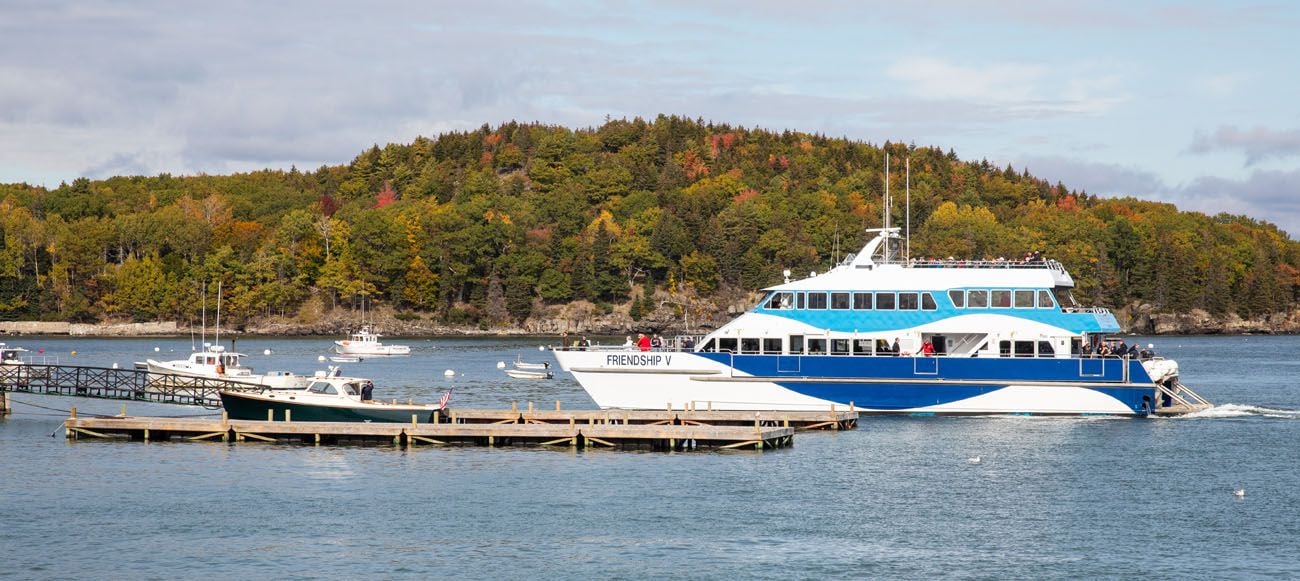 9. Bass Harbor Head Lighthouse at Sunset
This photogenic spot is very popular with photographers. A gorgeous view of a lighthouse perched along the rocky coastline…this is iconic Maine.
This is another very popular place to visit in Acadia and the parking lot is tiny. Which is a good thing…a larger parking lot would make these cliffs even more crowded.
We visited mid-afternoon on a Sunday and park rangers were turning people away. It gets that crowded.
If you have hopes to watch the sunset here, you are going to have to get here very early. How early depends upon the time of year, but I have read that people arrive as much as 3 hours before sunset to get a parking space (and the perfect tripod location).
From Bar Harbor, it takes over 30 minutes to drive here. Along the way, you will pass Echo Lake (worth the stop!!) and Seawall (nice coastal views but the views along Ocean Path and Bass Harbor Head Lighthouse are better).
10. Echo Lake
Echo Lake is a beautiful lake on Mount Desert Island. It is located west of Park Loop Road, so it doesn't get the same volume of visitors as Jordan Pond. You can enjoy views of the lake from the small beach, or, if you are looking for a gorgeous hike, hike the Beech Cliff Ladder Trail. The views of Echo Lake are amazing from the cliffs.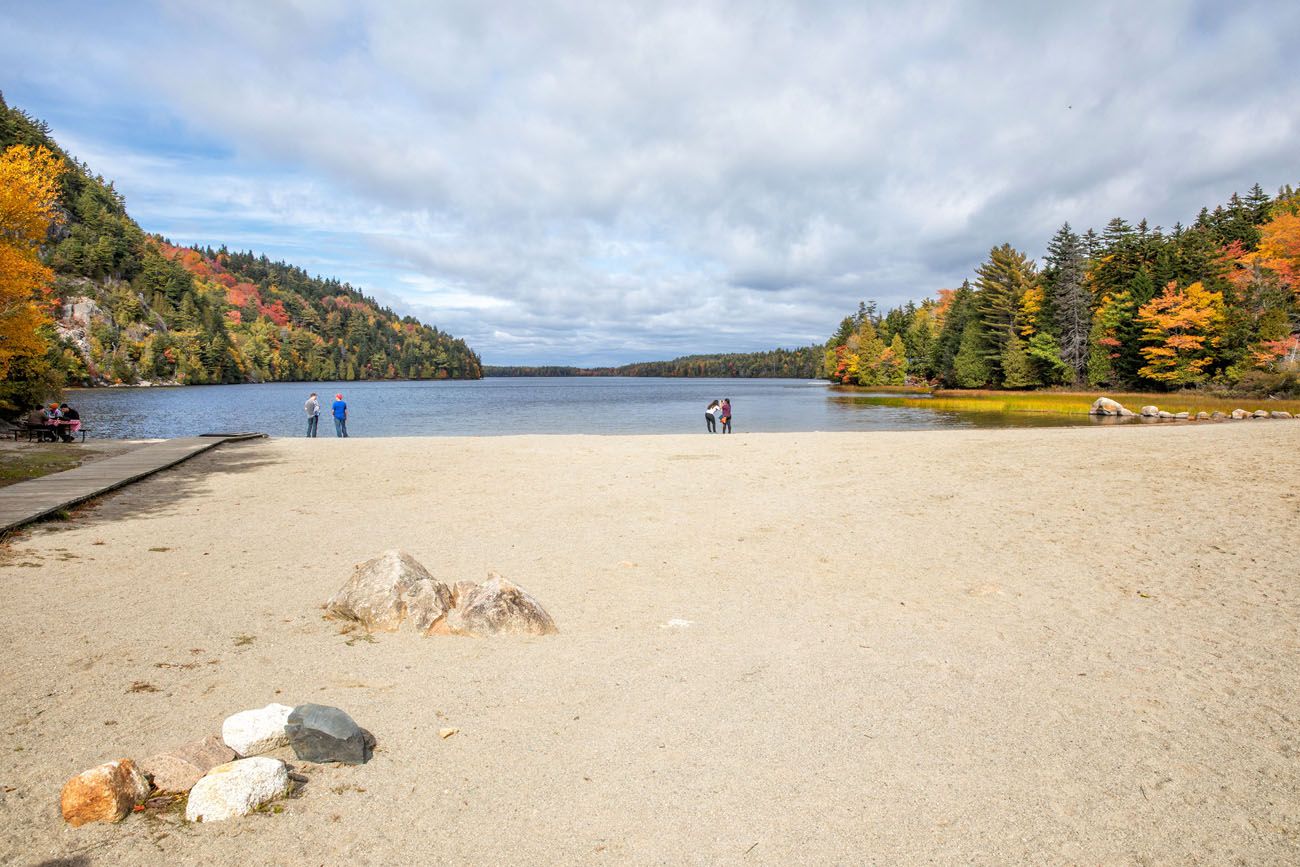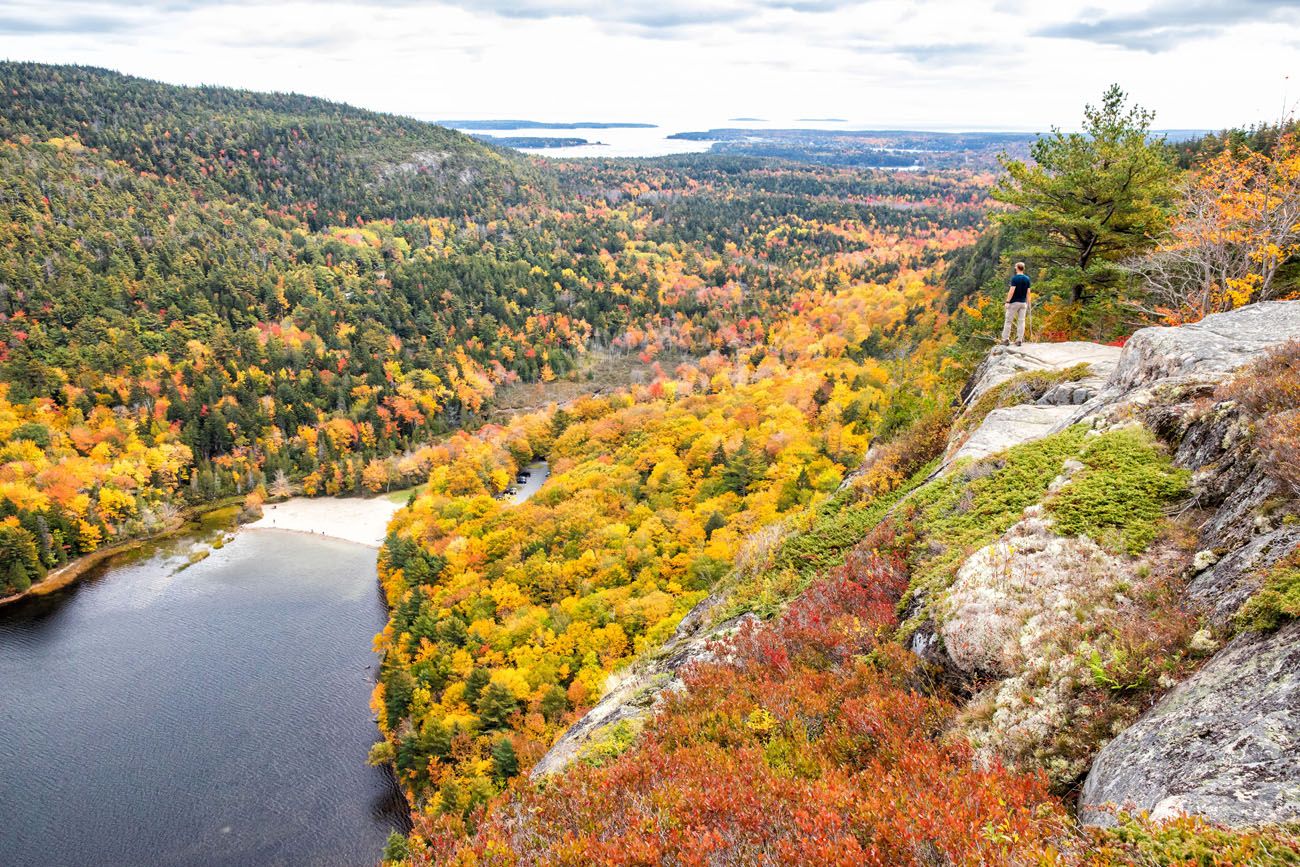 11. See the Lakes on the Gorge Trail
This easy, beautiful walking path was one of our favorite unexpected surprises in Acadia National Park. We walked this trail at the end of our hike up Dorr Mountain. The lakes and the fall colors are beautiful in October!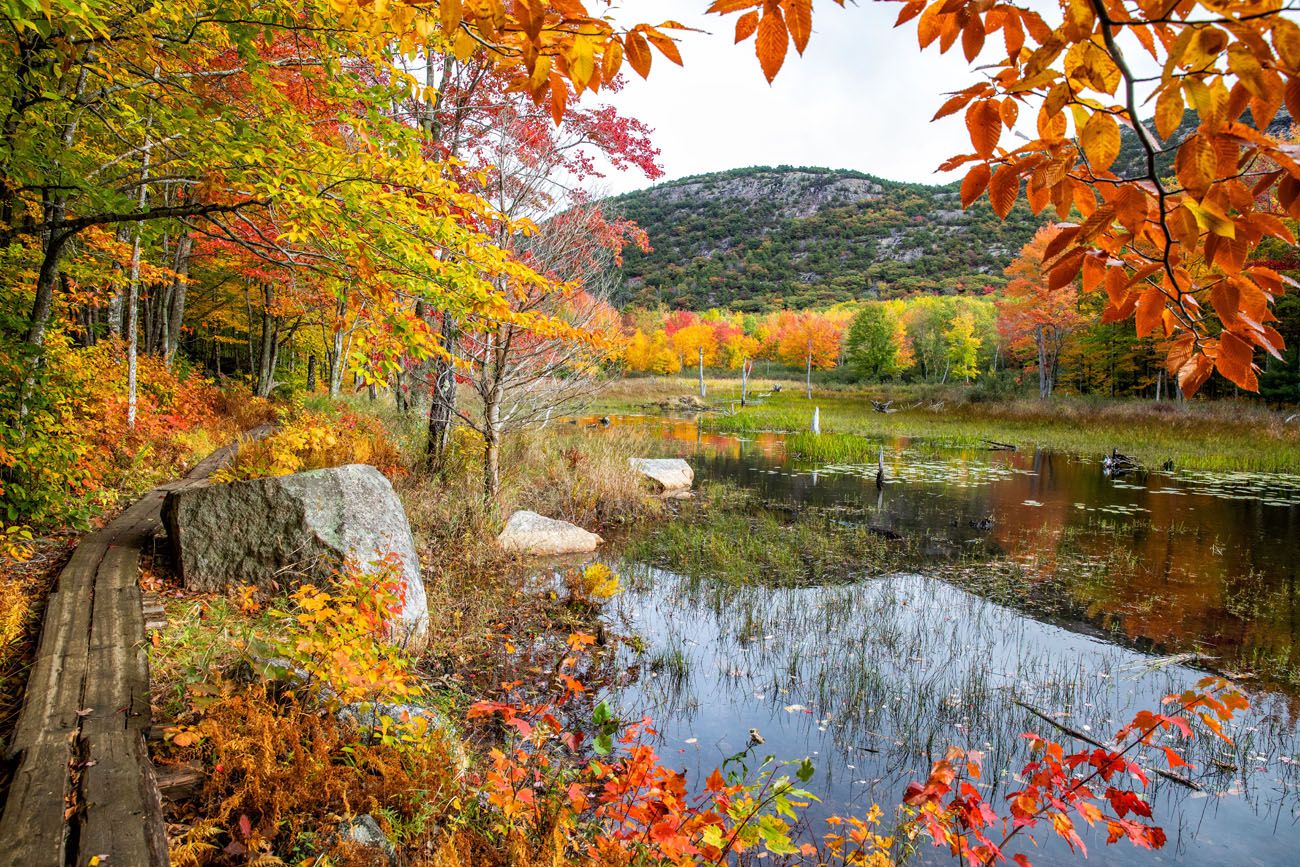 To get here, park on the turnout for the Canon Brook Trailhead on Route 3. The trail meets the Gorge Trail, right in between these two very pretty lakes. Enjoy the view!
12. Explore Bar Harbor
Bar Harbor is a lovely little town that sits just outside of Acadia National Park. This is the best place to stay, eat, and shop while visiting the park.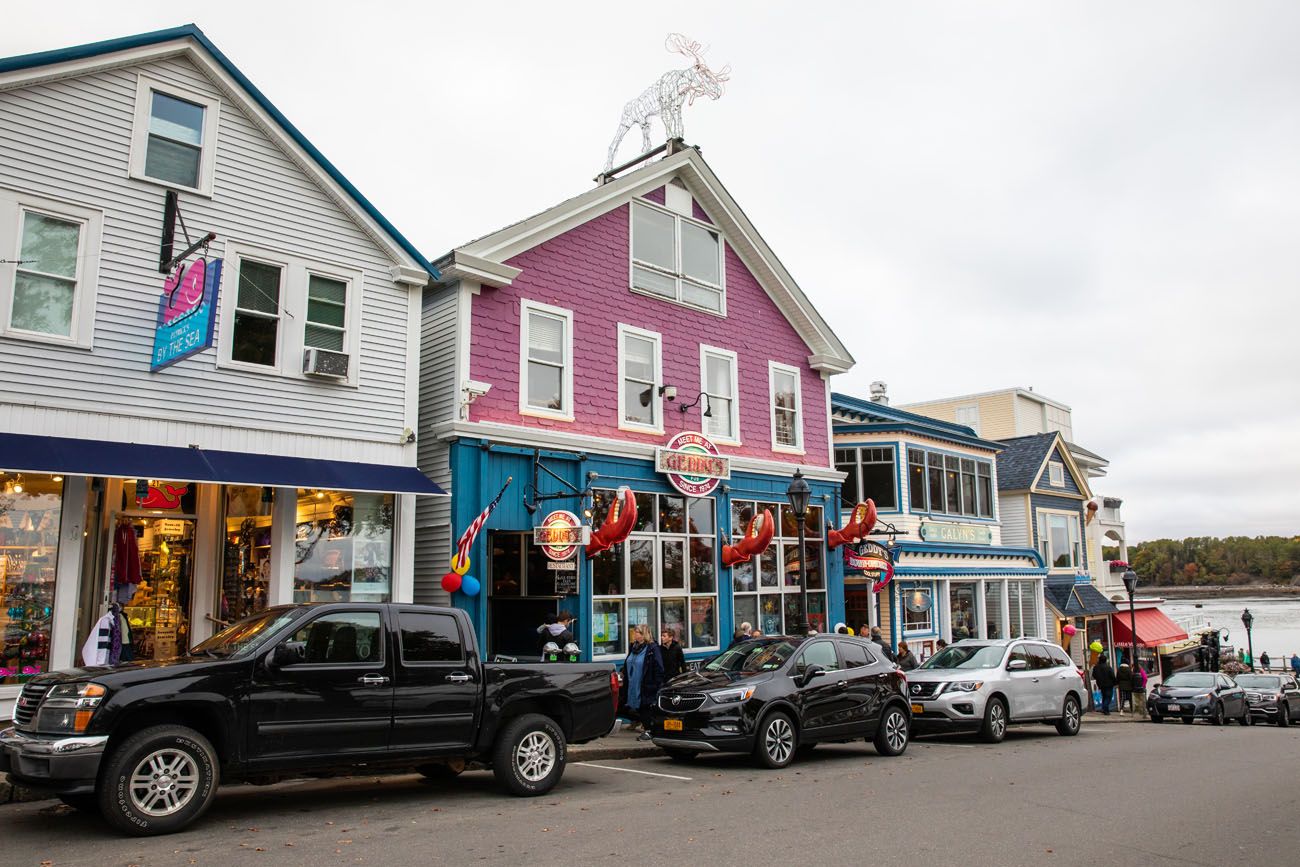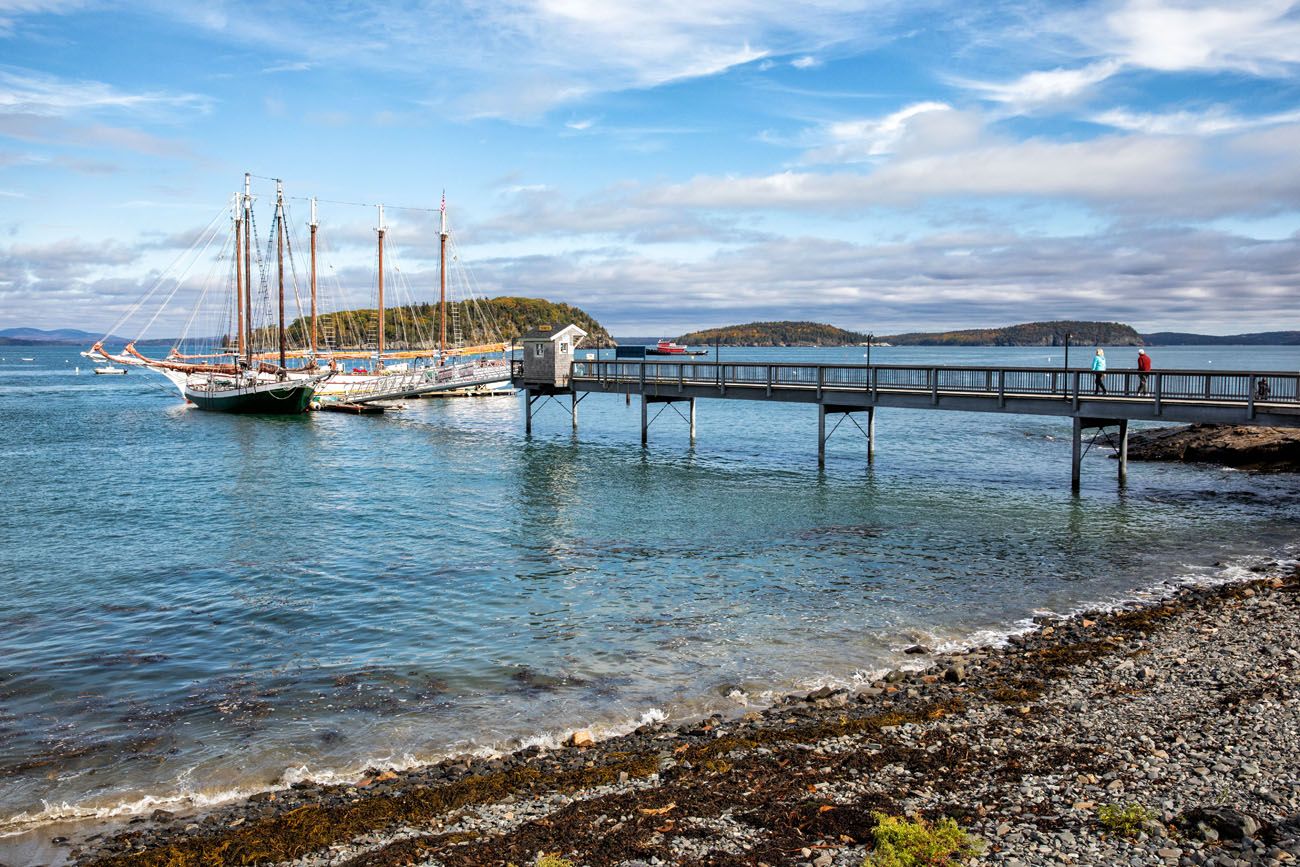 If you are looking for something to do in the evening, have dinner and watch a movie at Reel Pizza Cinerama. This movie theater serves pizza, drinks, and dessert and shows two movies a night. Get here early, reserve your "table" with a paper plate, and come back 30 minutes before show time to order your pizza and drinks.
13. Visit Schoodic Point
Schoodic Point is one of the best places in Acadia National Park to watch the surf pounding on the rocky coastline. The best time to visit is when the seas are rough.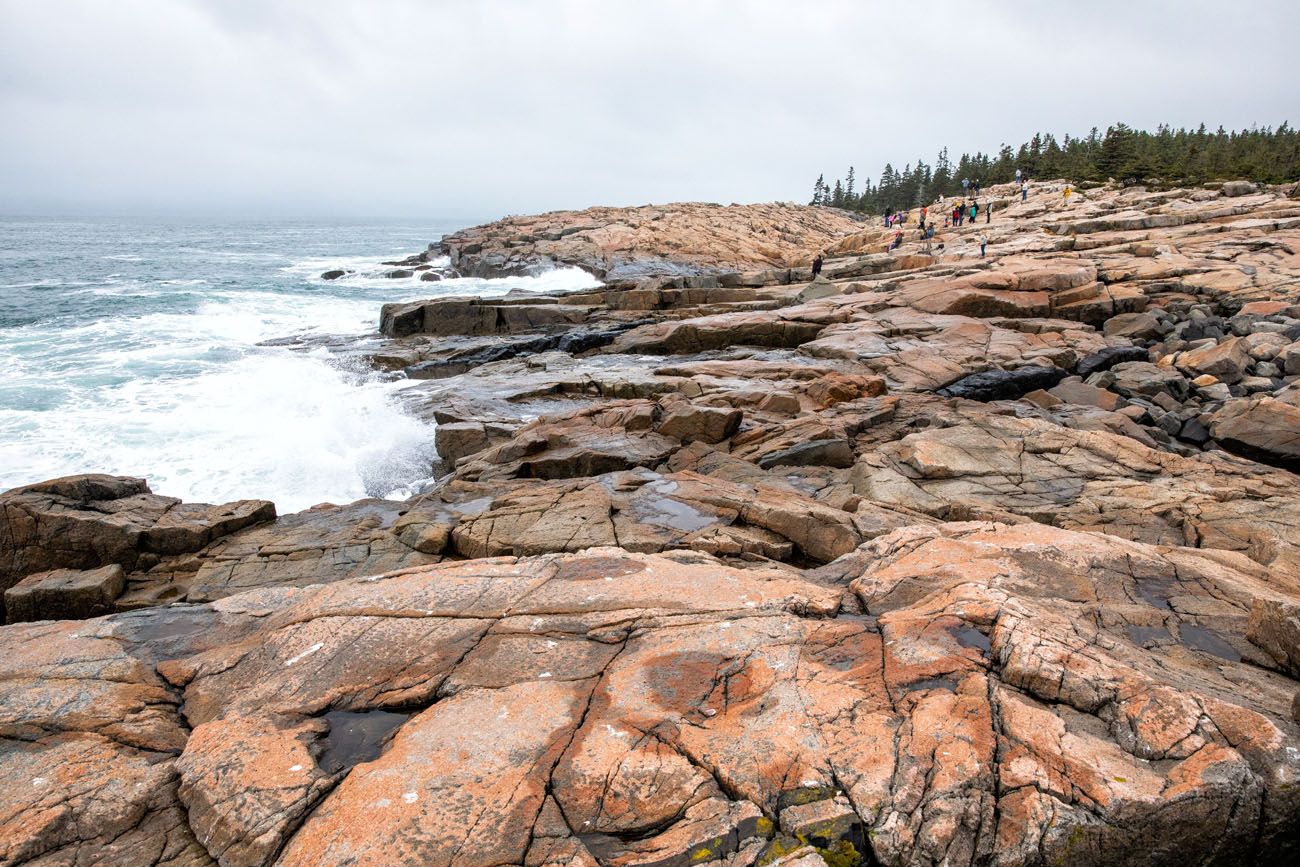 While you are here, there are several short hikes to do. We hiked the Sundew Trail, a flat, easy trail through a dense forest with detours out to the coastline. You can also hike the Schoodic Head Trails.
Getting Here: From Bar Harbor, it is an hour and fifteen minute drive to get to Schoodic Point. You can also take the Bar Harbor Ferry from mid-June through mid-September.
14. Spend the Day at Isle au Haut
"High Island" is a small island that sits off of the coast of Maine. To visit Isle au Haut from Bar Harbor, it will take most of a day.
To get here, you will need to take the ferry. The ferry runs year-round. From Stonington, it takes 45 minutes by ferry to reach Isle au Haut.
To get to Stonington from Bar Harbor, it is an hour and a half drive.
Once on Isle au Haut, you can go hiking or camping.
Things to do in Acadia National Park on a Map
How to Use This Map: Click the tab in the top left hand corner of the map to view the layers (hiking trails, where to stay, and where to eat, and to see Park Loop Road). You can click the check marks to hide or show layers. If you click the icons on the map, you can get more information about each point of interest.
If you click the star next to the title of the map, this map will be added to your Google Maps account. To view it on your phone or computer, open Google Maps, click the menu button, go to "Your Places," click Maps, and you will see this map on your list.
Plan Your Visit
Cost: $30, valid for 7 days
Hours: Acadia National Park is open year round, however, roads and visitor centers close from late fall to spring. Click here for updated hours.
There is a park shuttle that runs during peak season. The shuttle includes stops in Bar Harbor, Hulls Cove Visitor Center, and various places in the park. If you are struggling to find a parking space, or you are traveling without a car, you can get around by shuttle. Click here to learn more.
Important!! Vehicle reservations are required to drive up Cadillac Mountain between late May and mid-October. Get the full details on the National Park Service website.
When to Go
Peak season is July and August. Expect big crowds, full parking lots, and lots of hikers on the most popular trails.
Autumn is another popular season, since this is a gorgeous place to see fall colors. For coastal Maine, including Acadia National Park, early to mid-October is generally when fall colors are at their peak. However, this does vary from year to year, based on weather conditions. For the past five years, fall colors were at their peak anywhere from October 8 to October 21.
We visited Acadia National Park in October 2019. Tim and I spent three full days in the park, from October 11 to 13. During our visit, the fall colors were considered to be "high," with 50 to 70% of the trees displaying fall colors. This is based on the fall foliage report on the Maine Foliage website.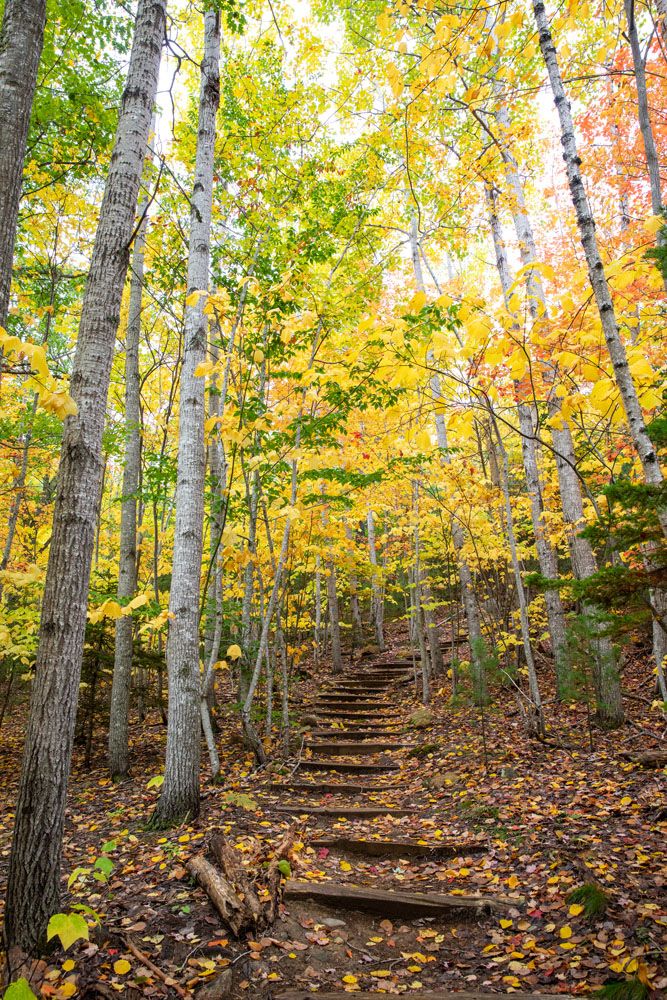 In winter, most of Park Loop Road is closed. Hiking trails can be treacherous due to snow and ice. However, the carriage trails are open and a great place to go snowshoeing or skiing.
Acadia National Park and Bar Harbor comes out of hibernation in April. This is a quiet time of year to visit the park, before the summer crowds arrive.
Acadia National Park Itinerary
In One Day
Drive Park Loop Road, hike the Precipice and/or Beehive Trail if you are looking for a thrill, visit Sand Beach and Thunder Hole, and then keep your fingers crossed that you can find a parking space at Jordan Pond. Have lunch, walk around Jordan Pond, and consider adding on the Jordan Cliffs Trail or the South Bubble Trail. Drive up to the peak of Cadillac Mountain and then spend the evening in Bar Harbor.
Optional: watch the sunrise from Cadillac Mountain or the sunset at Bass Head Harbor Lighthouse
In Two Days
On day 1, follow our itinerary above. On day 2, take a boat cruise from Bar Harbor, visit Schoodic Peninsula, or take a horse and carriage ride or rent bikes to explore the carriage roads.
In the afternoon, visit Echo Lake, hike the Beech Cliff Ladder Trail, and visit Bass Harbor Head Lighthouse. If you are a photographer, stick around for the sunset.
In Three Days
With a third day, you have the option to add on Isle au Haut or do everything we listed above.
Where to Stay
All of these properties are located in Bar Harbor.
Bar Harbor Grand Hotel. Located in central Bar Harbor, this is one of the highest rated properties in town. Rooms can accommodate up to six people and this hotel has a pool, hot tub, and fitness center.
Bar Harbor Inn and Spa. This is a big property with a beautiful setting right on the coast. From the Bar Harbor Inn, it is less than a five-minute walk to the shops and restaurants in the center of town. If you book a room with a view, you can look out at the harbor or the islands that sit just off the coast. The Bar Harbor Inn also has a spa, heated outdoor pool with hot tub, and one of the highest rated restaurants in town, The Reading Room. This is where we stayed and we had a great experience.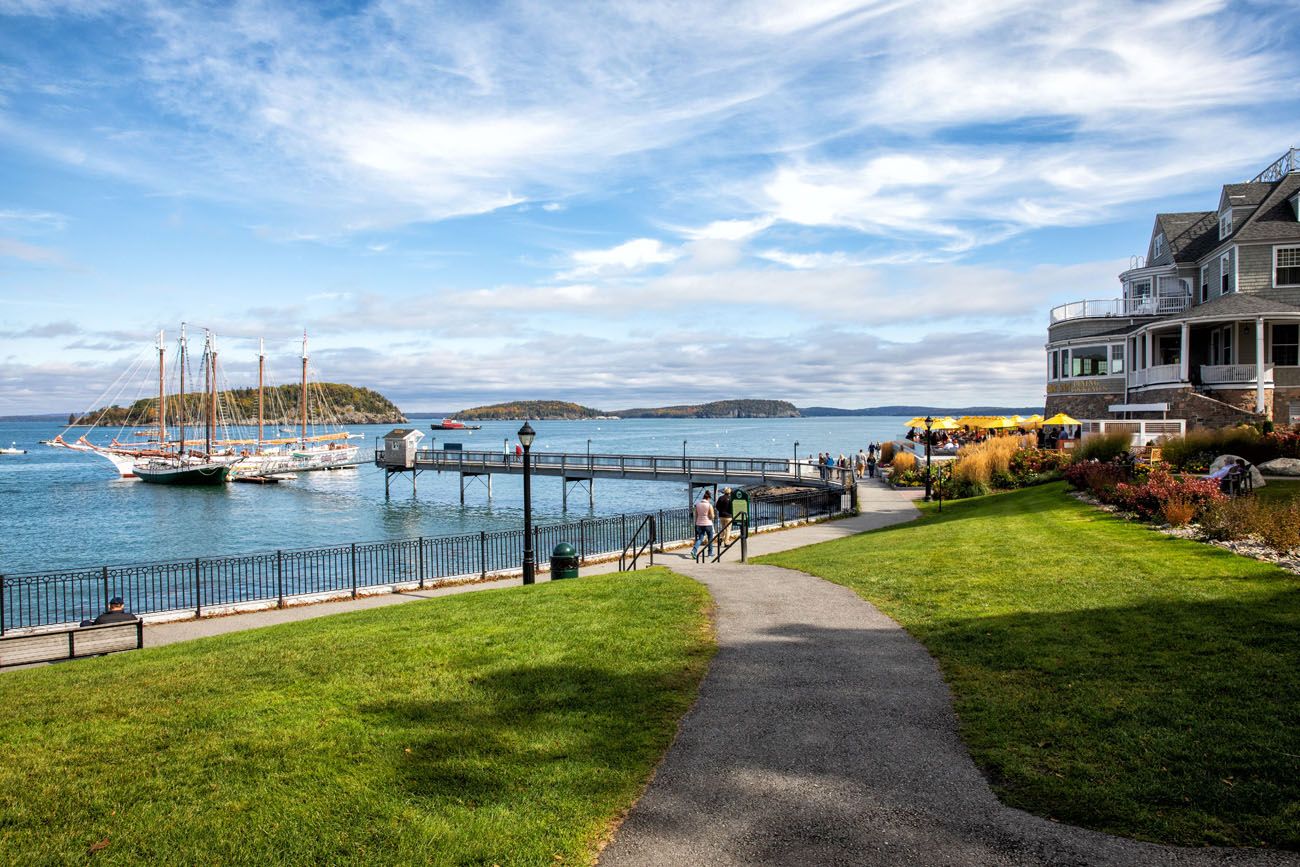 Bar Harbor Inn
The Elmhurst Inn. This bed and breakfast also gets glowing reviews and is a great value for the money. Rooms can accommodate up to two people and guests rave about the breakfast.
Bar Harbor Motel. If you are looking for a cheaper stay, this property gets rave reviews and it is one of the highest rated properties in Bar Harbor on Booking.com. This motel is located north of town, so you will have to drive and park in town if you want to eat or shop here. But this motel can accommodate up to six people in one room so it is also a great pick for families.
Where to Eat
Café This Way. Yum! We had breakfast here and it was awesome. This popular restaurant is open in the morning for breakfast and the evening for dinner.
Side Street Café. This is another popular restaurant in Bar Harbor and they are famous for their lobster rolls. We ate dinner here and the wait time was very long. However, you can shorten your wait by checking in online on their website.
Where to Go for Maine Lobster
If you want to eat a whole Maine lobster, there are two highly-rated lobster shacks just outside of Bar Harbor. Rose Eden Lobster and C-Ray Lobster offer the best quality lobsters at affordable prices.
A dinner for two comes with two lobsters, clams or mussels, and corn on the cob. You sit outside at a picnic bench and eat your freshly steamed lobster. It is ridiculously delicious and lots of fun.
We ate at both lobster shacks and Rose Eden was our favorite. The host was very friendly and outgoing and Tim paid a little extra for one of her largest lobsters.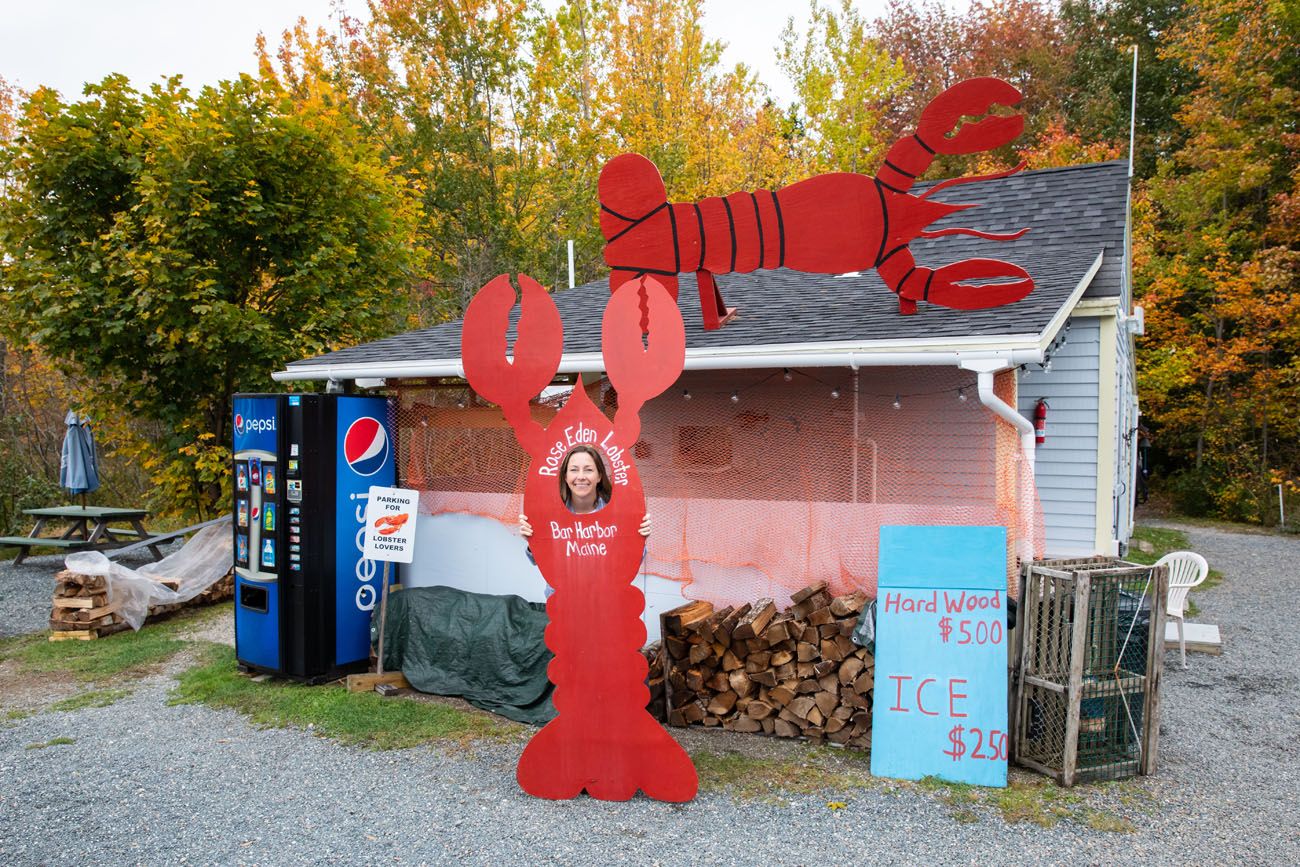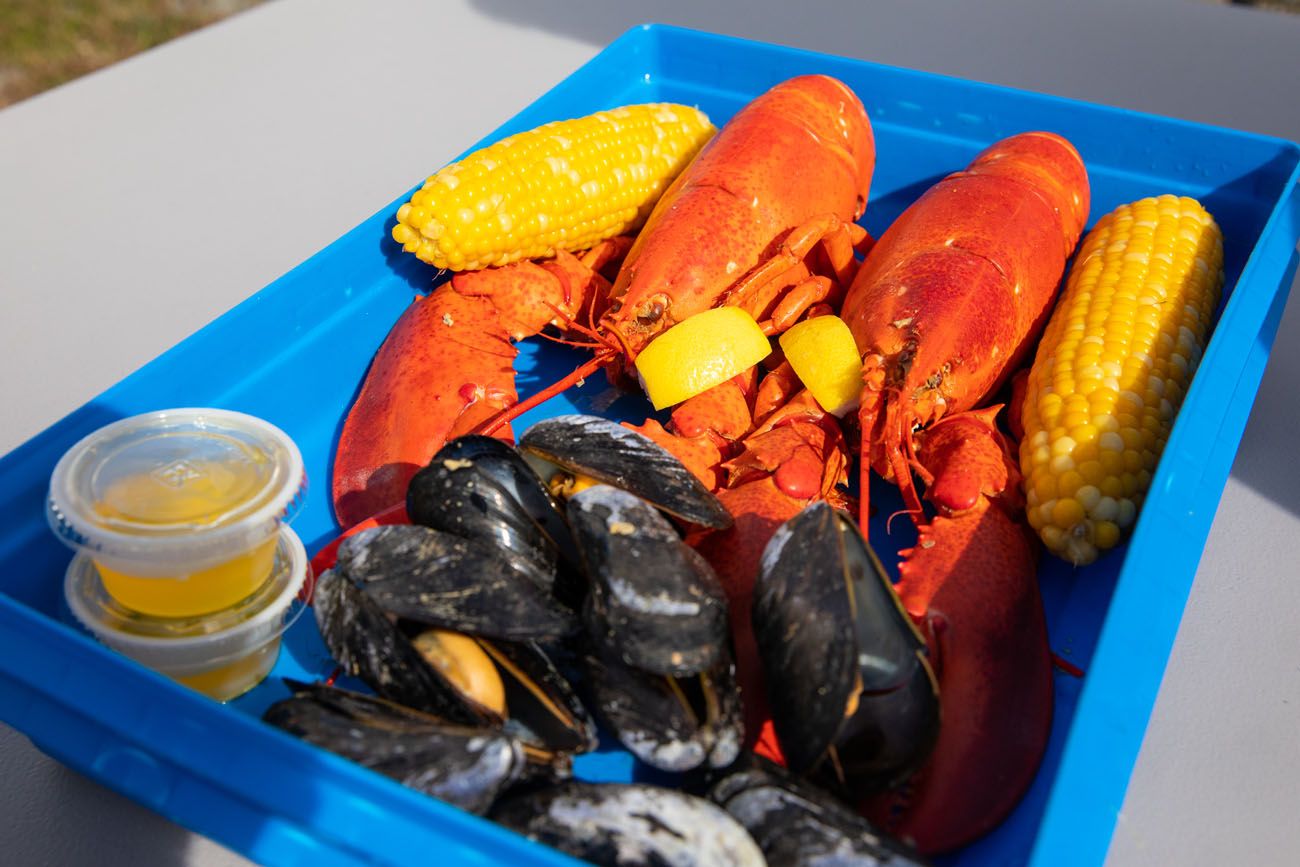 Before You Go
Visit the National Park Service website for updates in the park and to check trail and/or road closures.
---
If you have any questions about the best things to do in Acadia National Park, let us know in the comment section below.
More Information about Acadia National Park
TRAVEL GUIDE: The Complete Guide to Acadia National Park
ACADIA ITINERARY: The Perfect Acadia National Park Itinerary
ACADIA HIKES: 10 Great Hikes in Acadia National Park
PRECIPICE TRAIL: How to Hike the Precipice Trail, Acadia's Most Thrilling Hike
BEEHIVE TRAIL: How to Hike the Beehive Trail
More Great National Parks to Visit:
Note: This post contains affiliate links. When you make a purchase using one of these affiliate links, we get paid a small commission at no extra cost to you.
All rights reserved © Earth Trekkers. Republishing this article and/or any of its contents (text, photography, etc.), in whole or in part, is strictly prohibited.