Epic, awe-inspiring, jaw-dropping…these are all words that describe the Grand Canyon. But in all honesty, words, and even photos, cannot quite capture what it is like to stand on the rim and gaze out across the canyon.
There are dozens of viewpoints along the South Rim of the Grand Canyon. Each one of these viewpoints offers a spectacular view, but some viewpoints are just better than others. Some offer panoramic vistas, some are less crowded, and some make fantastic sunrise and sunset destinations.
Here are 16 of the best South Rim viewpoints. It sounds like a lot, but this is narrowed down from our original list. At the end of this article, we will give you our top 10 spots with tips to help you plan your time.
In this post, you'll notice that we are wearing Santa Hats. We visited the Grand Canyon over the Christmas holiday season and we spent Christmas morning exploring many of the South Rim Viewpoints.
South Rim Viewpoints
The South Rim viewpoints are quite spread out. The drive from Hermit's Rest to Desert View is 32 miles long and takes about an hour (without stopping for photos).
I grouped these viewpoints into three sections: viewpoints located near the Grand Canyon Village, viewpoints along Hermit Road, and the viewpoints along Desert View Road.
At the end of this article, you can see all of the viewpoints on a map.
Grand Canyon Village Viewpoints
These viewpoints are all located near the Grand Canyon Village. To get between viewpoints, you can either use the Grand Canyon shuttle (the Kaibab Rim Route, orange line) or hike the Rim Trail.
During the off-season, it is possible to drive between some of these viewpoints. On Christmas morning, we did not have any problems with parking. However, Yaki Point is only accessible by shuttle or by the Rim Trail. During peak season, it can be very difficult to find parking so the shuttle or walking is your best bet.
Mather Point
This is the most popular viewpoint on the South Rim. Located just a short walk from the Visitor Center, everyone comes here for a view of the Grand Canyon. Expect big crowds and decent views of the canyon.
Out of every South Rim viewpoint on this list, this was our least favorite. I almost didn't include it on this list, but it is so popular that it would be crazy not to mention it.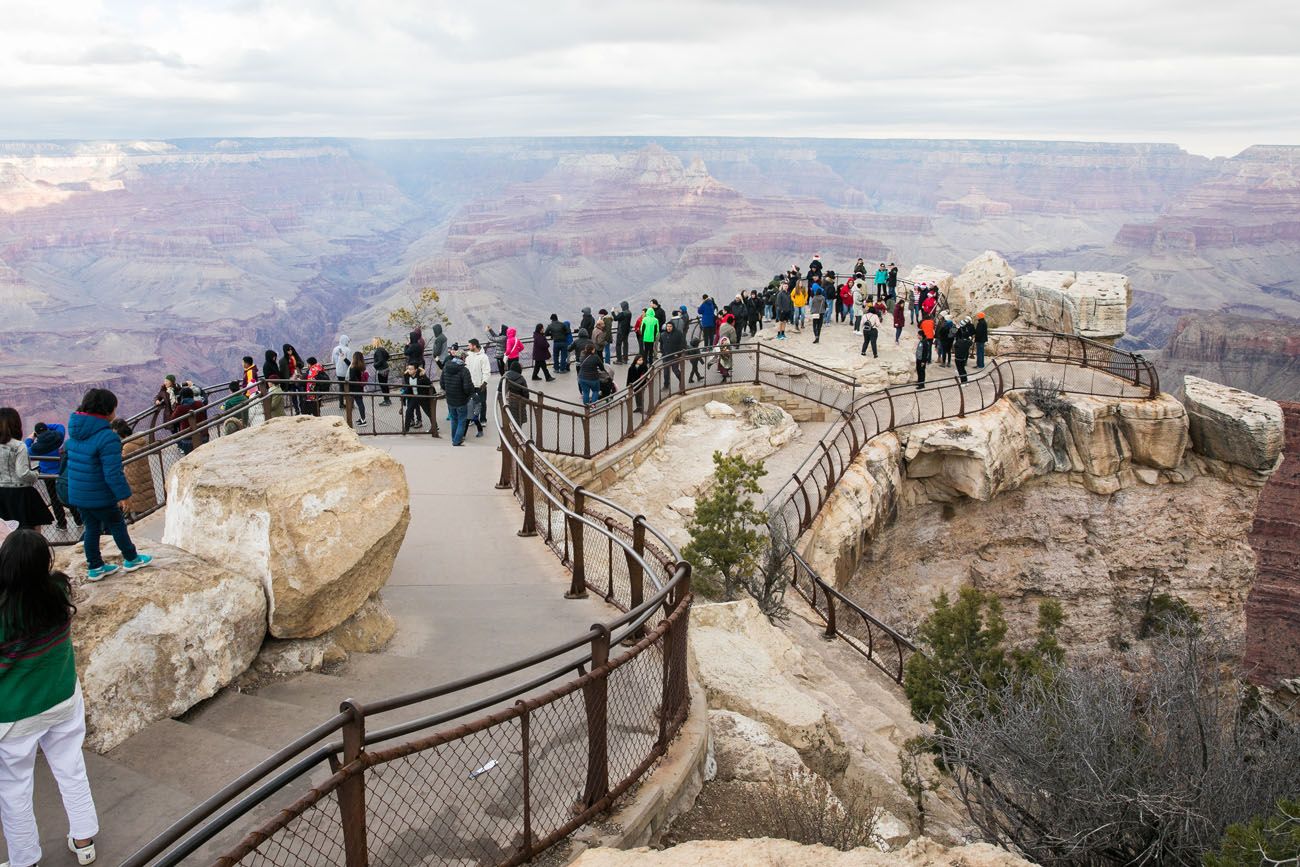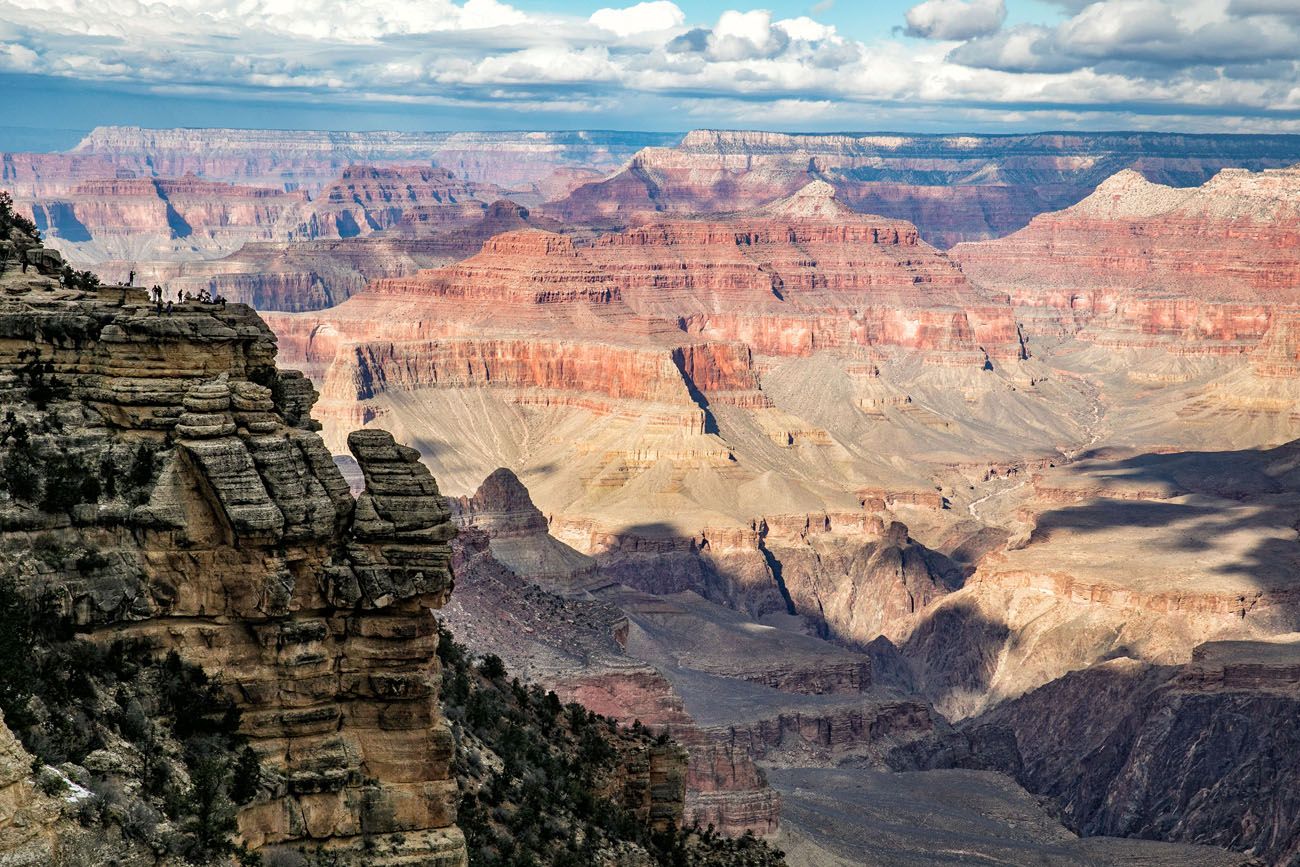 ---
Yavapai Point
For panoramic views with slightly fewer crowds than Mather Point, put Yavapai Point on your list.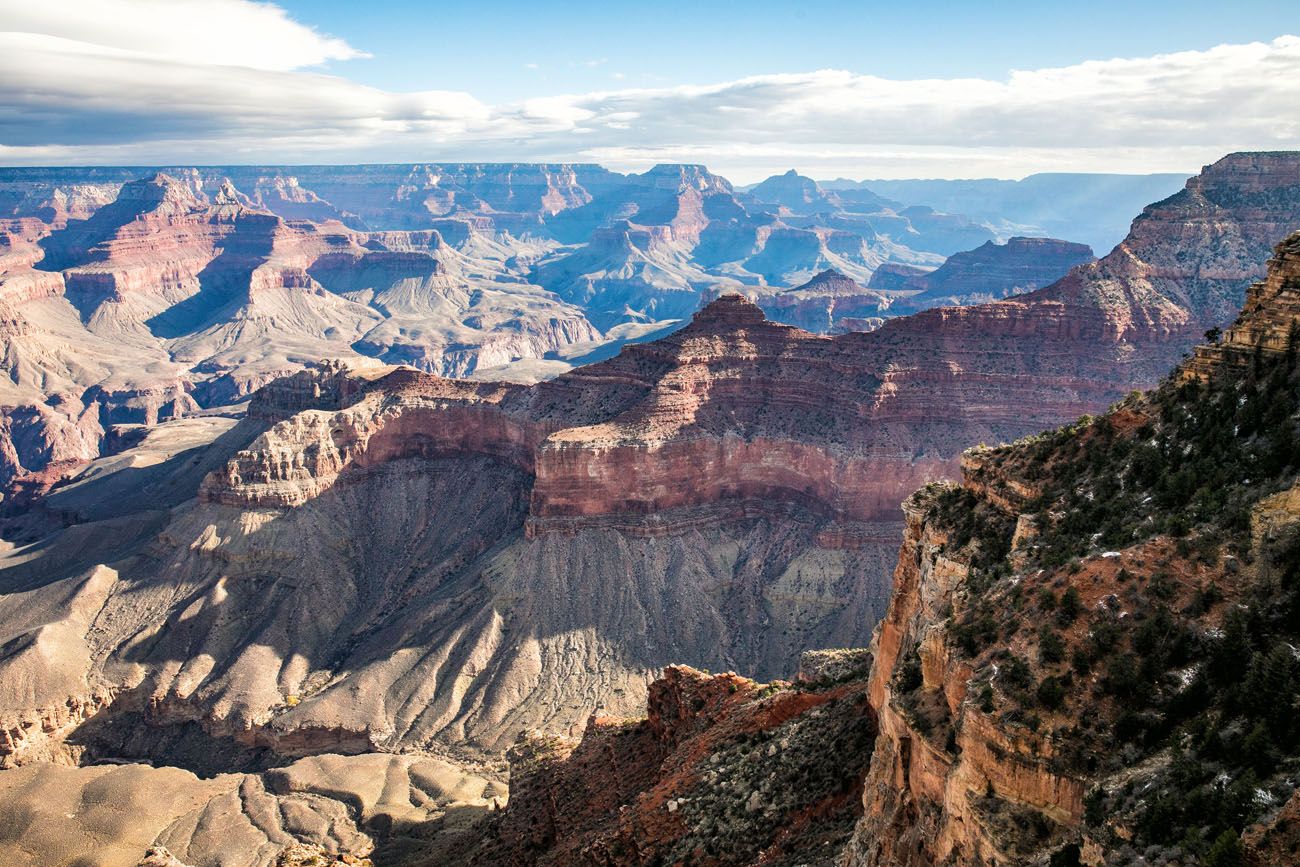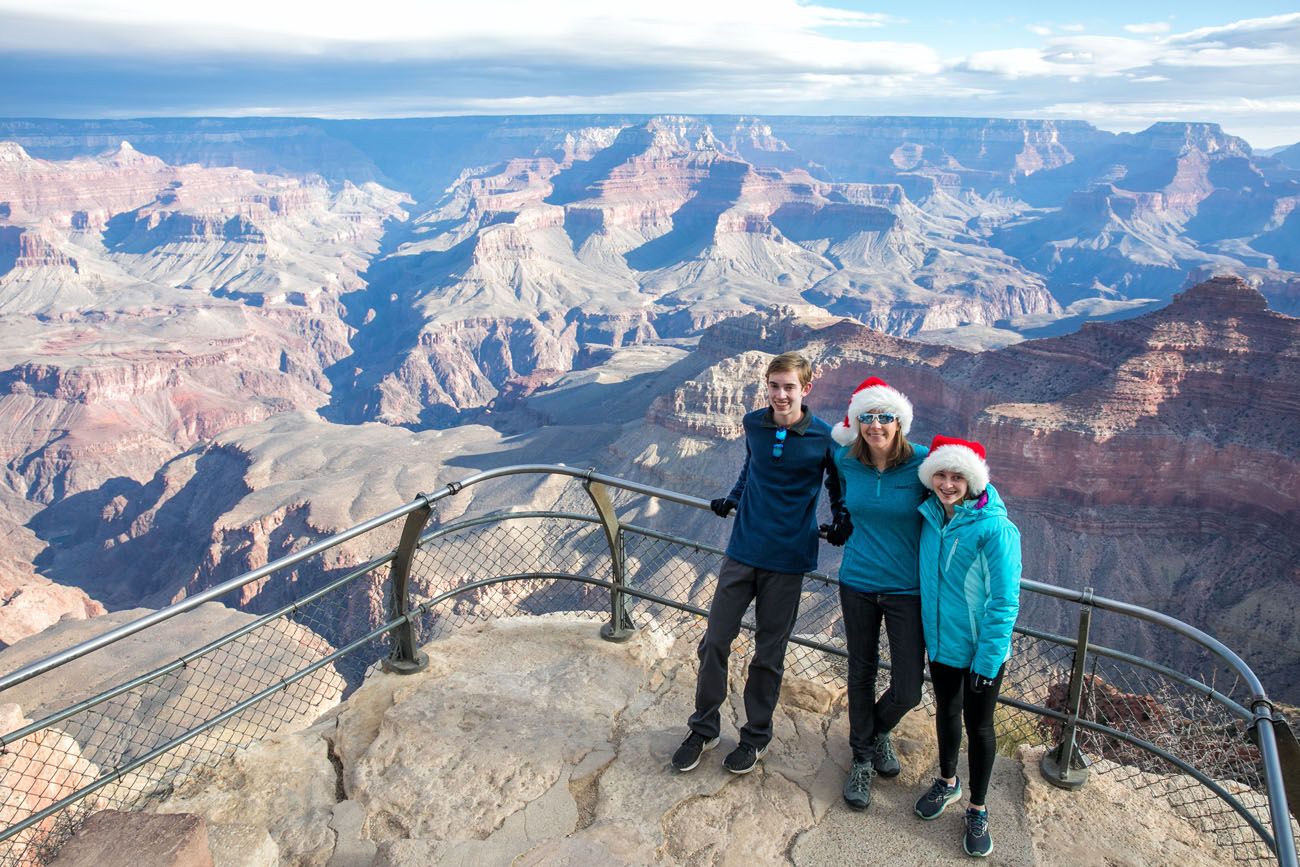 ---
Yaki Point
It is well worth your time to take the shuttle to this viewpoint. From here, you can look down at the South Kaibab Trail, as it weaves its way to the Colorado River. You also have fantastic views looking east.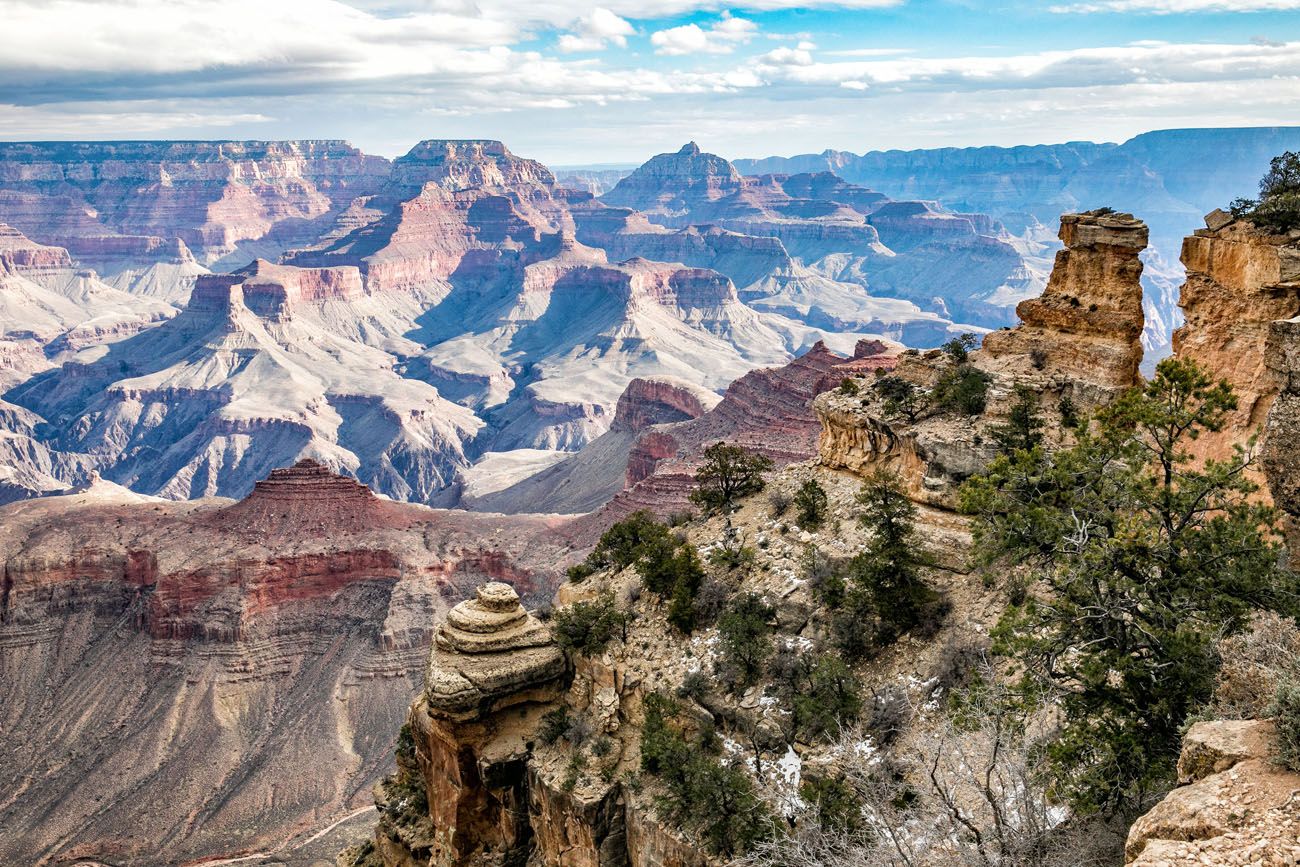 ---
Ooh Aah Point
Isn't this the best name for a viewpoint? 🙂
This viewpoint is located on the South Kaibab Trail. Getting here isn't easy but it's worth it, especially if you want to go hiking in the Grand Canyon.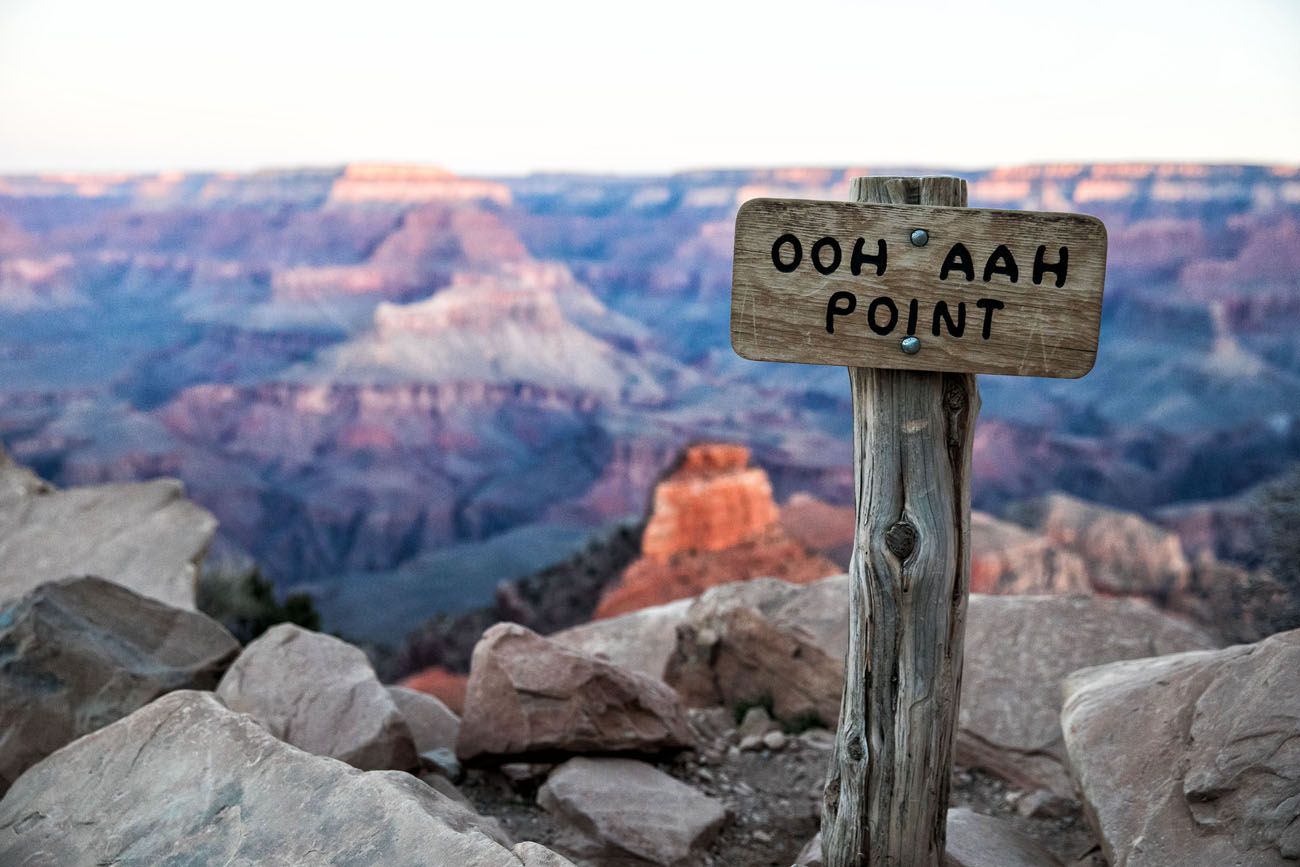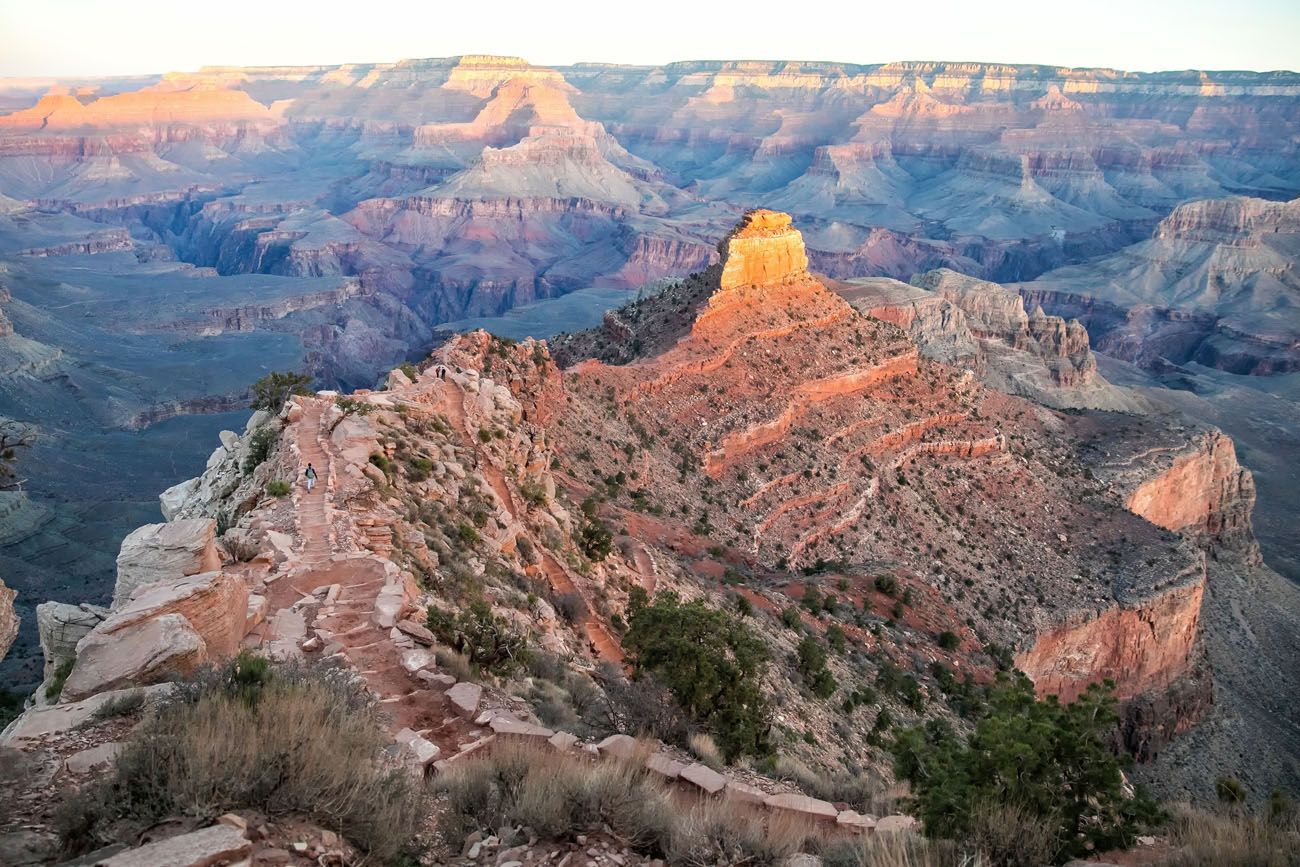 To get here, you will need to take the Grand Canyon shuttle (orange line, Kaibab Rim Route) to the South Kaibab trailhead. Then it is a 1 mile hike downhill to the viewpoint. This viewpoint puts you under the rim so you get a slightly different perspective of the Grand Canyon than from nearby Yaki Point. Just be aware that it will be a strenuous, 1 mile uphill hike to get back to the shuttle stop.
How Much Time Do You Need?
If you choose to hike to Ooh Aah Point, it can take about 2 hours, including the time for the shuttle.
Allow up to four hours if you want to visit all four viewpoints that we list (including Ooh Aah Point). It's possible to do this a lot faster if you get lucky with the shuttle schedule and don't tend to linger long at the viewpoints.
Looking for a great hike in the Grand Canyon? Learn how to hike the South Kaibab Trail to the Bright Angel Trail, an awesome adventure that takes you from the South Rim to the Colorado River and back up to the South Rim. It is usually done as a two day backpacking trip, but if you are fit and fast you can do it all in one day. Read about it here:
---
Hermit Road Viewpoints
Hermit Road is 7 miles long. It starts near the Grand Canyon Village and ends at Hermit's Rest. From March 1 to November 30, you can take the Grand Canyon Shuttle (Hermits Rest Route, red line) to get to all of these viewpoints. From December 1 to February 28, you will need to drive or walk to get between the viewpoints.
PRO TRAVEL TIP: There is very limited parking at all of these viewpoints. While the shuttle is in service, this is the best way to get around.
Powell Viewpoint
We loved this viewpoint. In fact, we liked it so much that we visited it twice.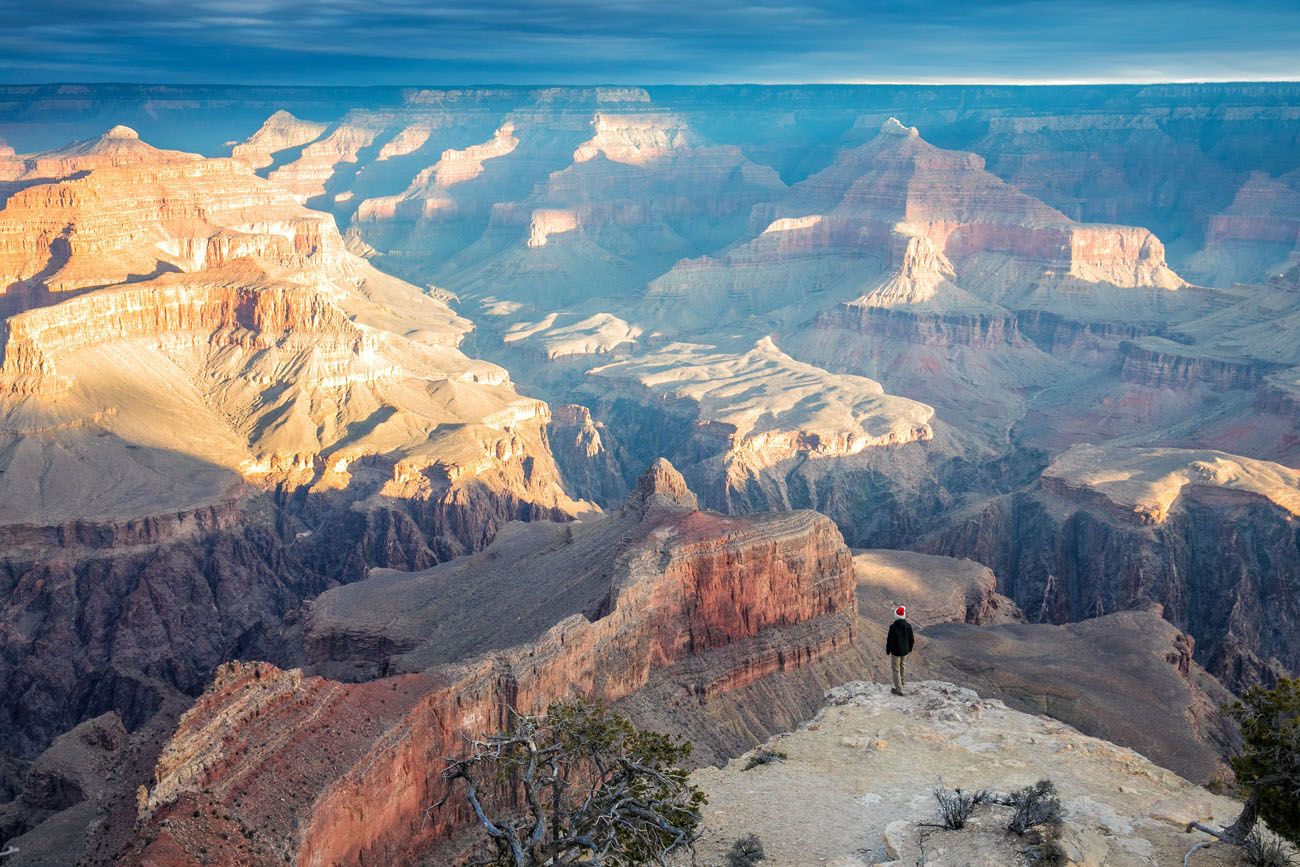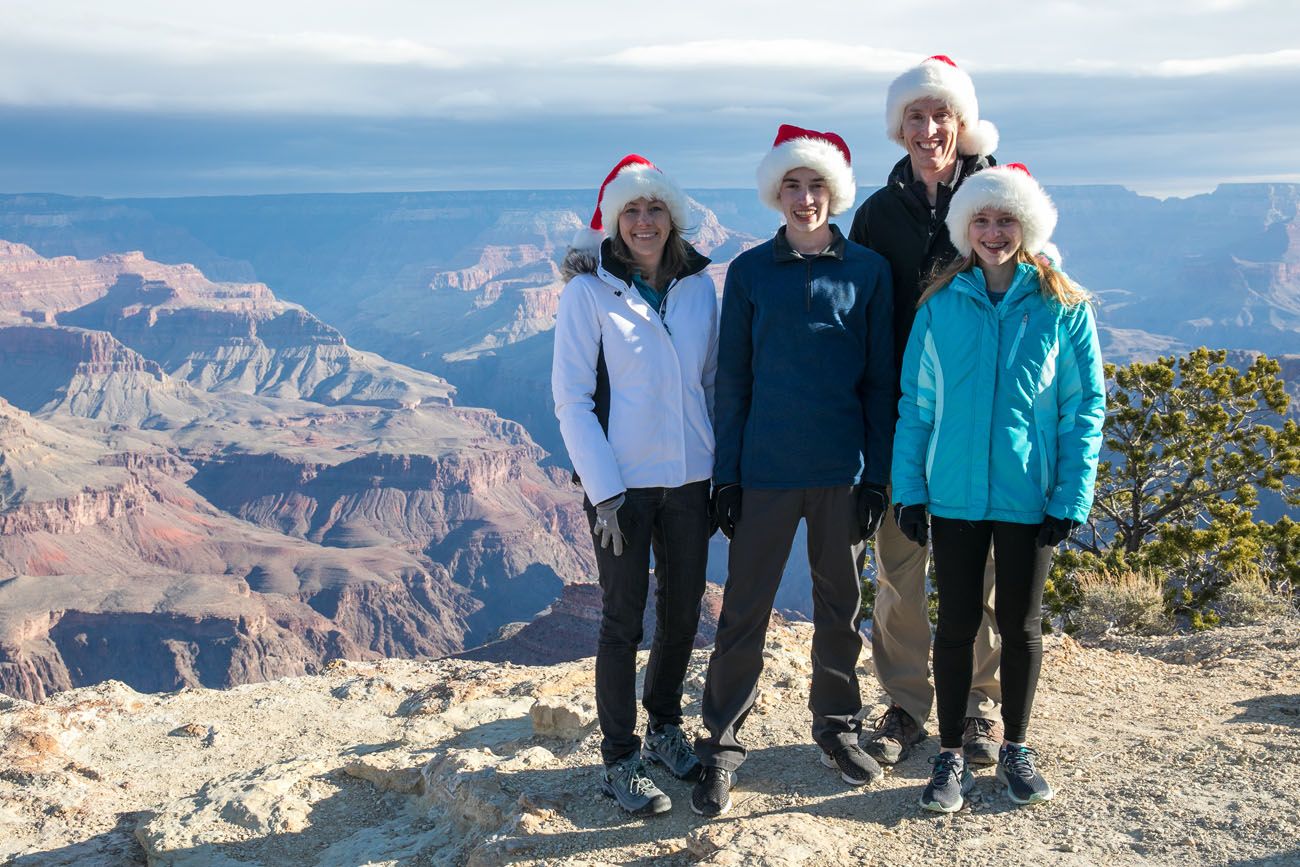 From the shuttle stop, it's a short, flat walk past the Masonic Grand Canyon Degree Memorial to the main viewpoint. Enjoy the sweeping views and if you want, you can walk down to a slightly lower viewpoint for a different perspective (and cool photos).
---
Hopi Viewpoint
This is a very popular viewpoint at sunrise and sunset. It is just a short distance from Powell viewpoint so the views do not change too much.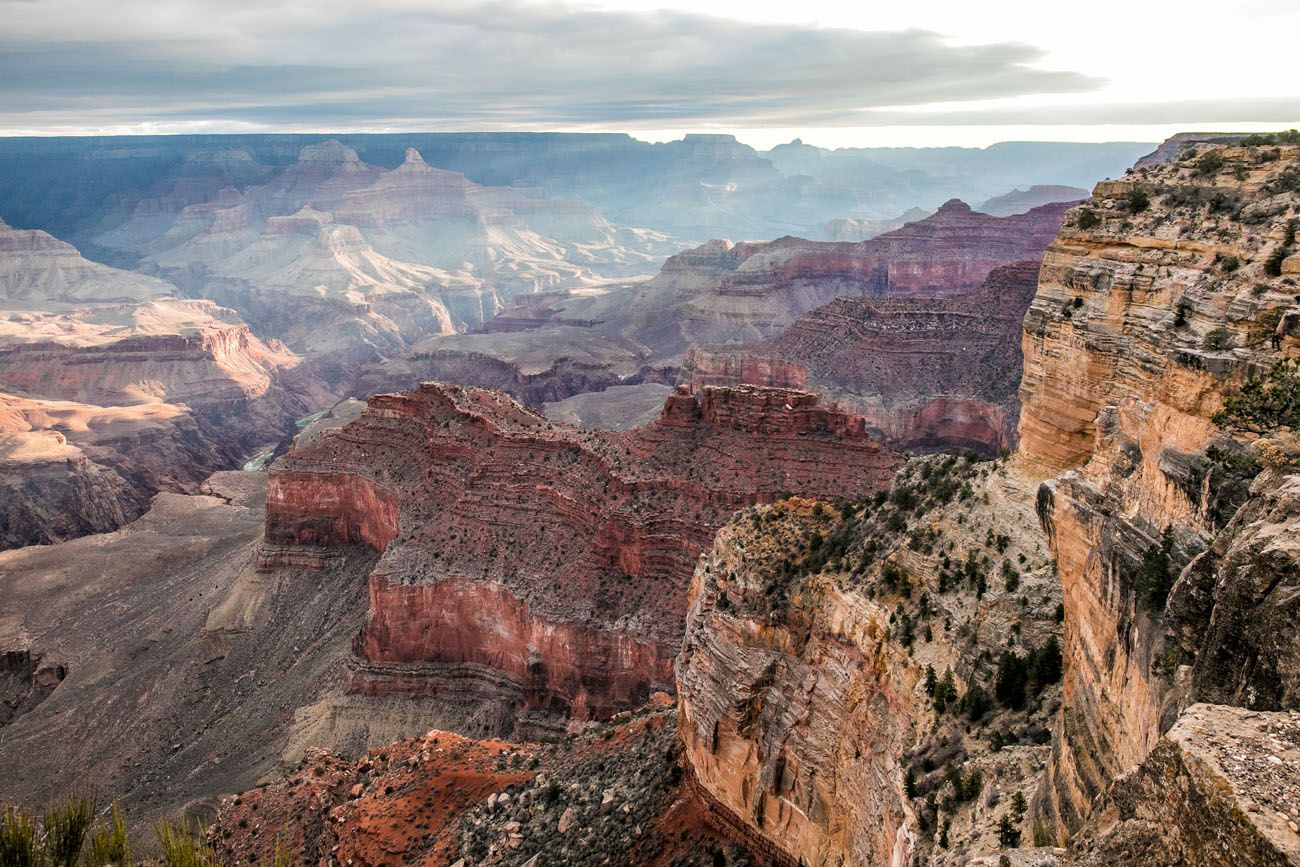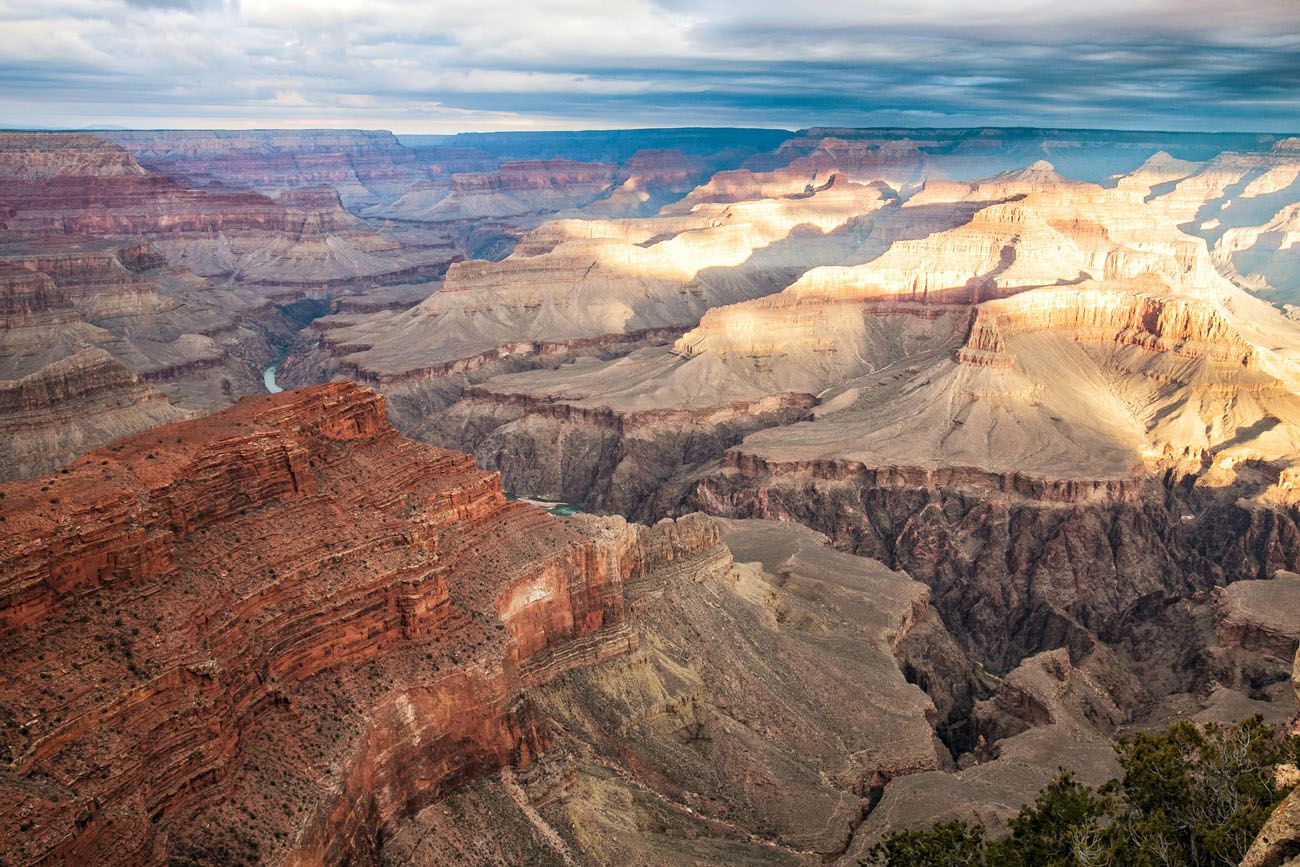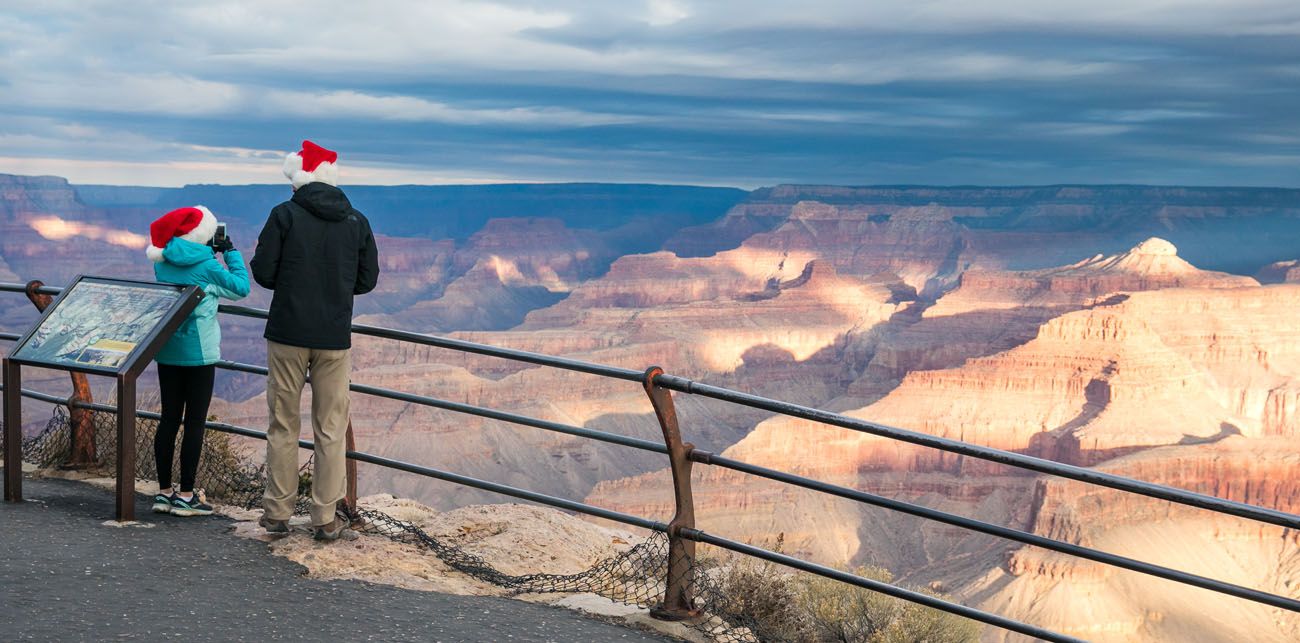 ---
Mohave Viewpoint
This is another good one! The views from here are breathtaking. There are several different photo spots that offer slightly different views.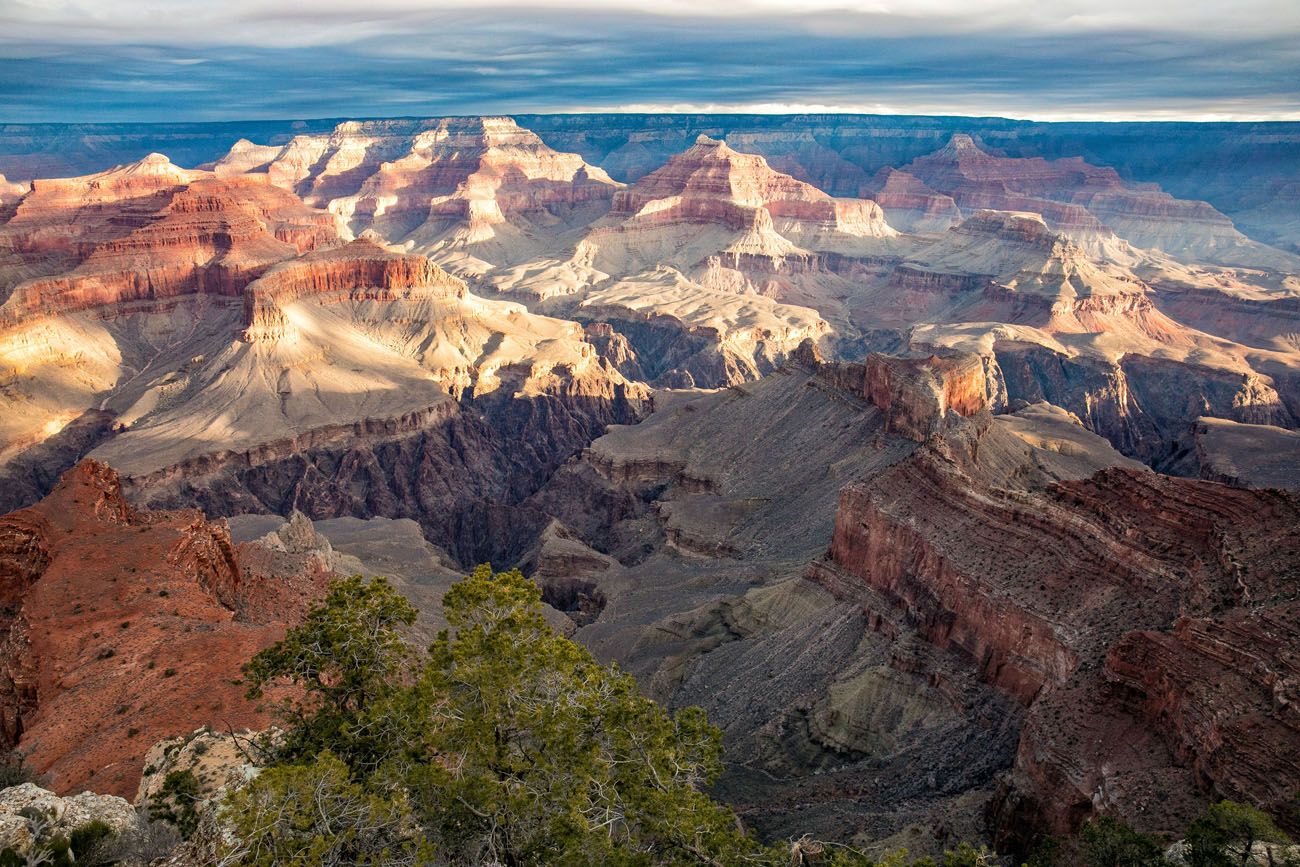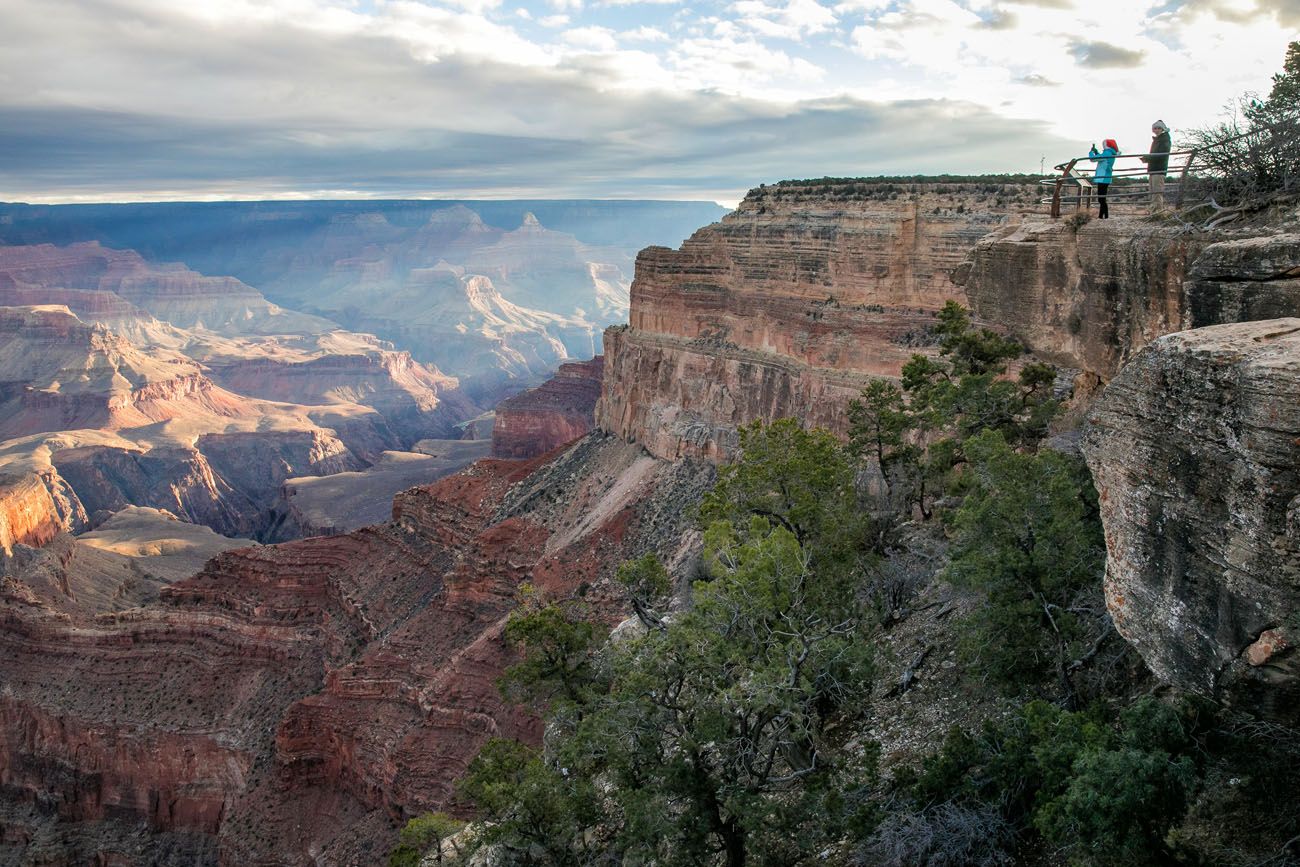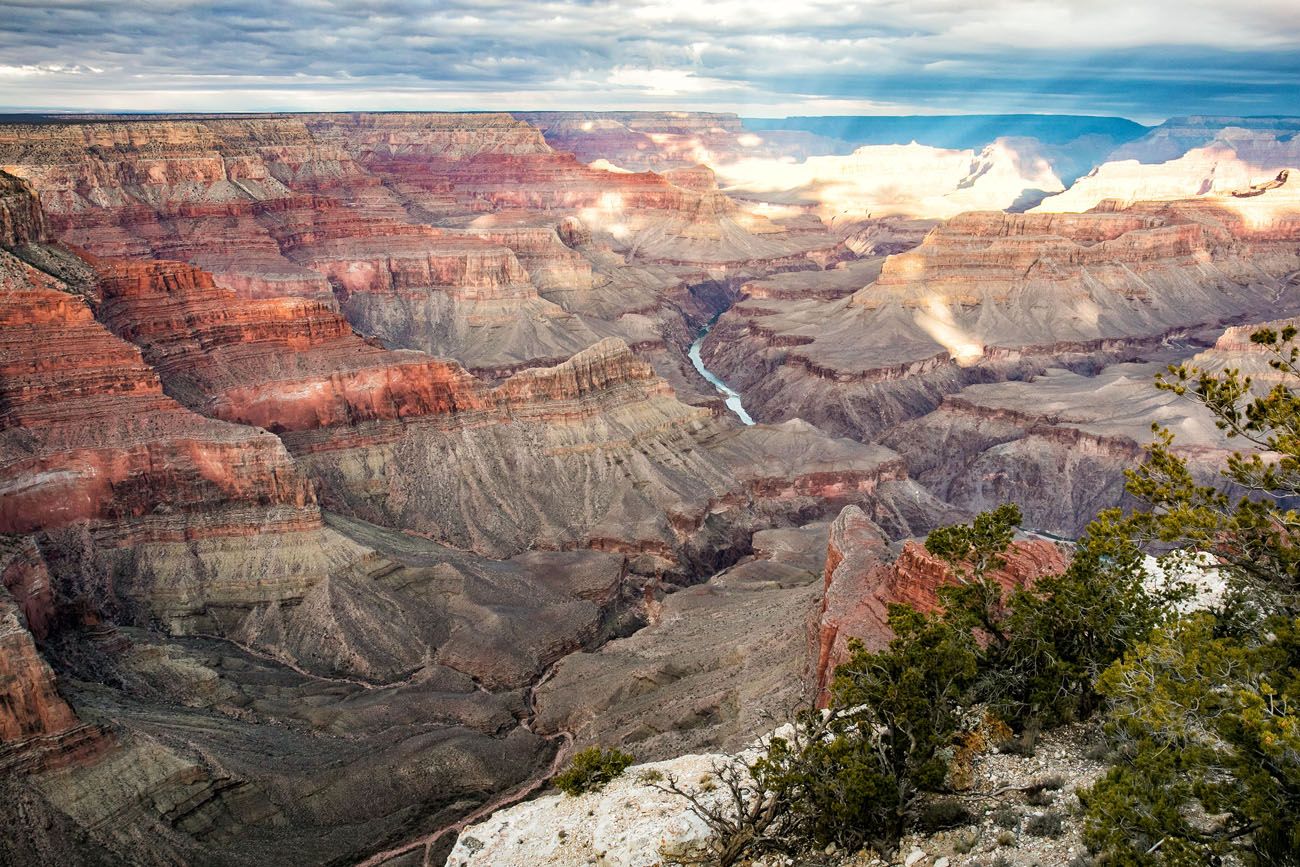 Please practice the seven principles of Leave No Trace: plan ahead, stay on the trail, pack out what you bring to the hiking trail, properly dispose of waste, leave areas as you found them, minimize campfire impacts, be considerate of other hikers, and do not approach or feed wildlife.
---
The Abyss
From Powell, Hopi, and Mohave, you view the Grand Canyon from the point of a peninsula. The Abyss is different. From here, you are farther away from the Colorado River, so you get a different perspective of the Grand Canyon.
---
Pima Point
Pima Point is another great location for panoramic views of the Grand Canyon. Once again, you are standing out on the edge of peninsula so you get sweeping views of the canyon.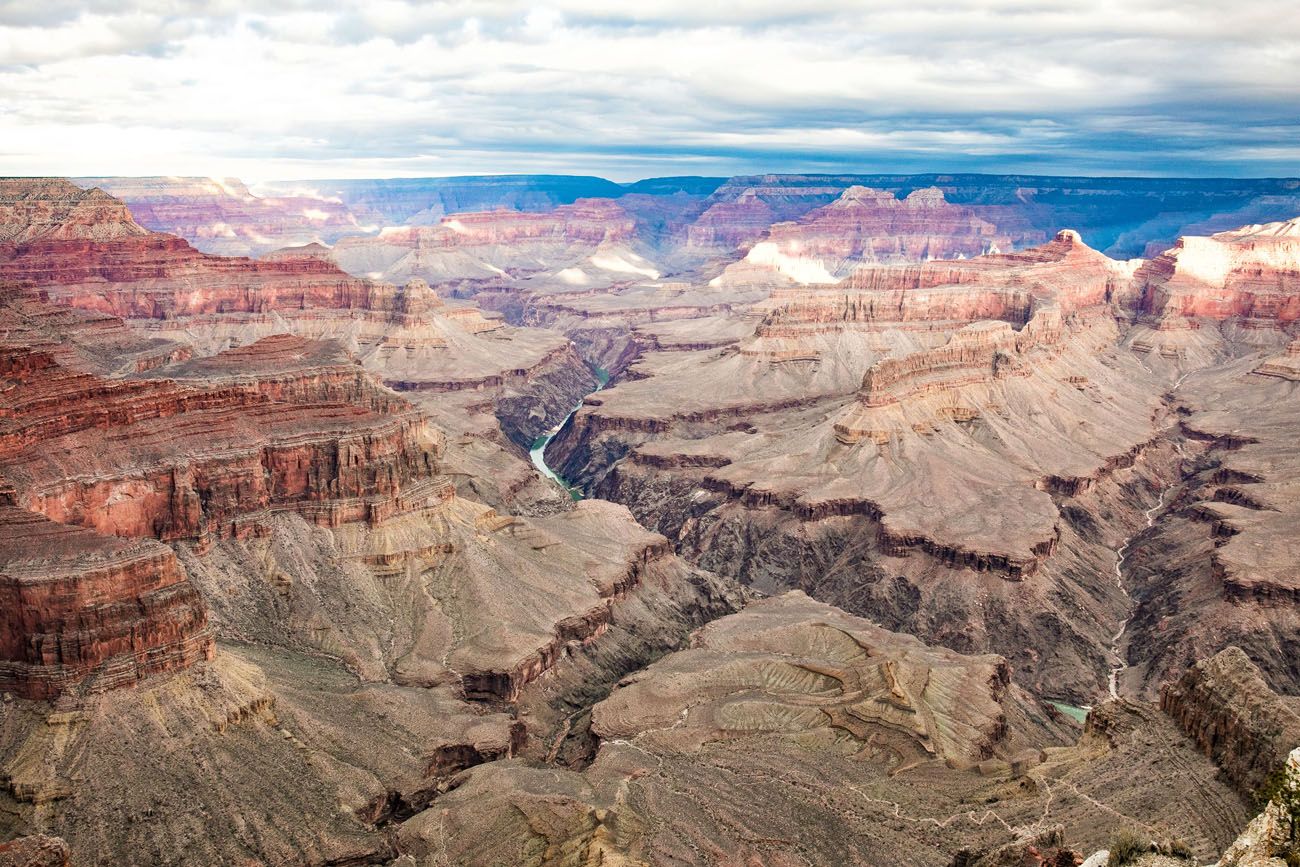 ---
Hermit's Rest
Located at the end of Hermit Road, this is the final viewpoint in this section. The views here are not as good as the other viewpoints since trees block some of the view. However, there is a great little gift shop and café that's worth a visit.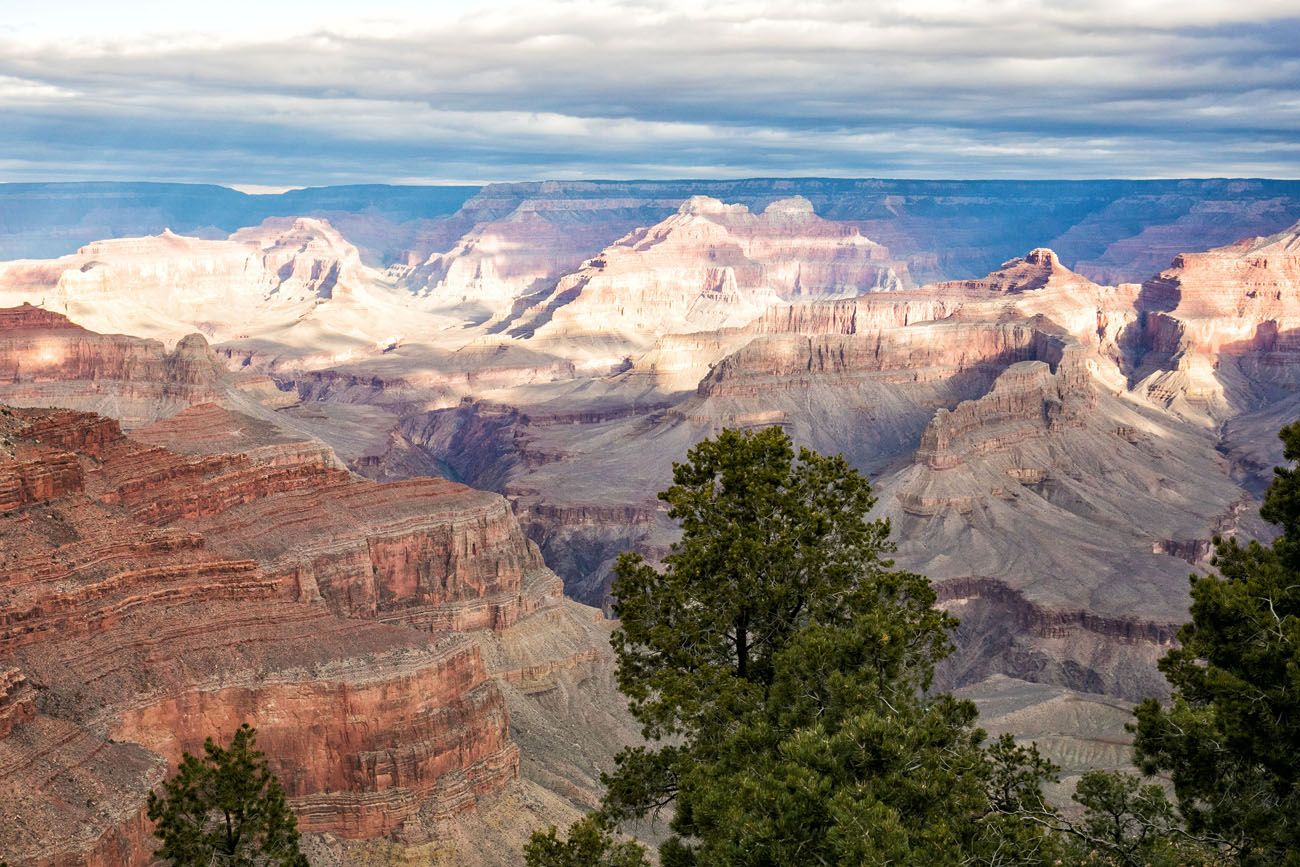 ---
How Much Time Do You Need?
We visited all of the viewpoints along Hermit Road and did a little shopping at Hermit's Rest. This took us two hours and we visited more viewpoints than we list in this article. We did drive from point to point. Using the shuttle bus might take longer, since you will most likely spend some time waiting for the bus.

---
Desert View Road Viewpoints
To get to these viewpoints you will need a car. The Grand Canyon Shuttle does not travel to these viewpoints. From the Grand Canyon Village to the Desert View Point, it is a 25 mile (41 km) drive and takes about an hour. This road can be slick and icy during the winter months.
PRO TRAVEL TIP: If you plan to visit eastern Arizona (Page or Monument Valley), consider visiting these viewpoints as you drive out of (or into) the park.
Shoshone Point
This is another view that requires a little bit of hiking. But with that, you will leave the crowds behind for views like this.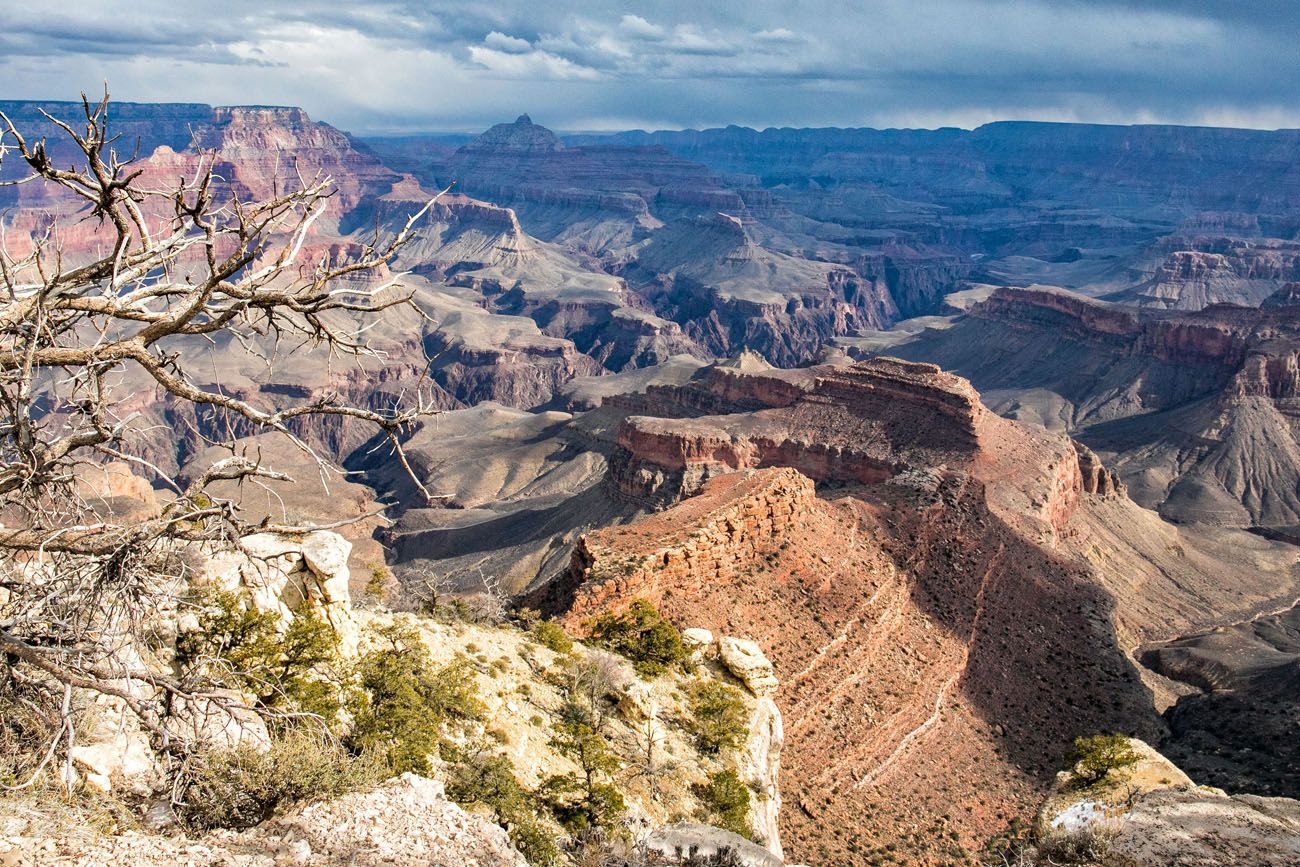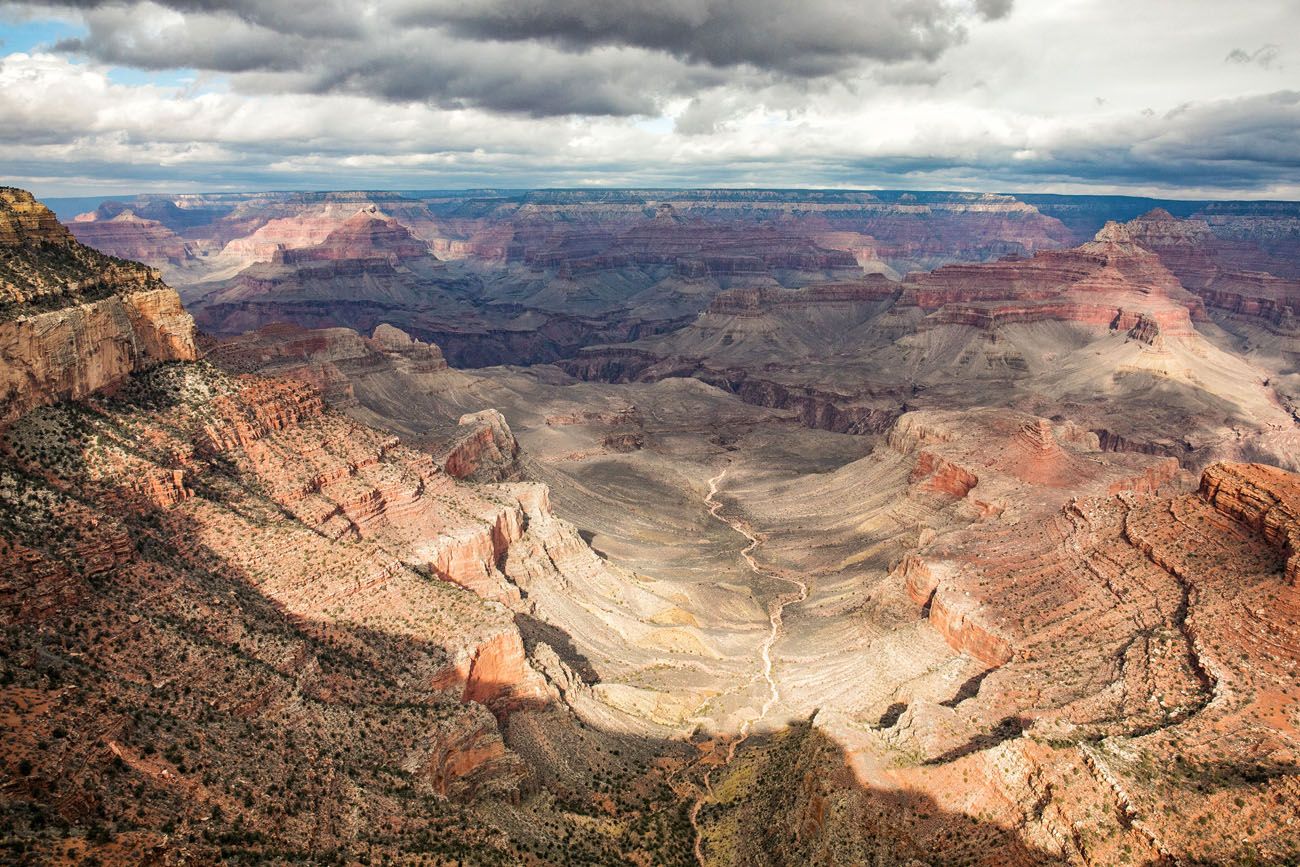 To get here, drive down Desert View Road 1.3 miles past the turn off for Yaki Point. Park in the small gravel and dirt parking lot. Take the easy to follow trail through the woods until you get to the viewpoint. It is 2 miles round trip to Shoshone Point from the parking lot.
---
Grandview Point
The name says it all. From the main viewpoint, you can walk down to several other unique photo spots.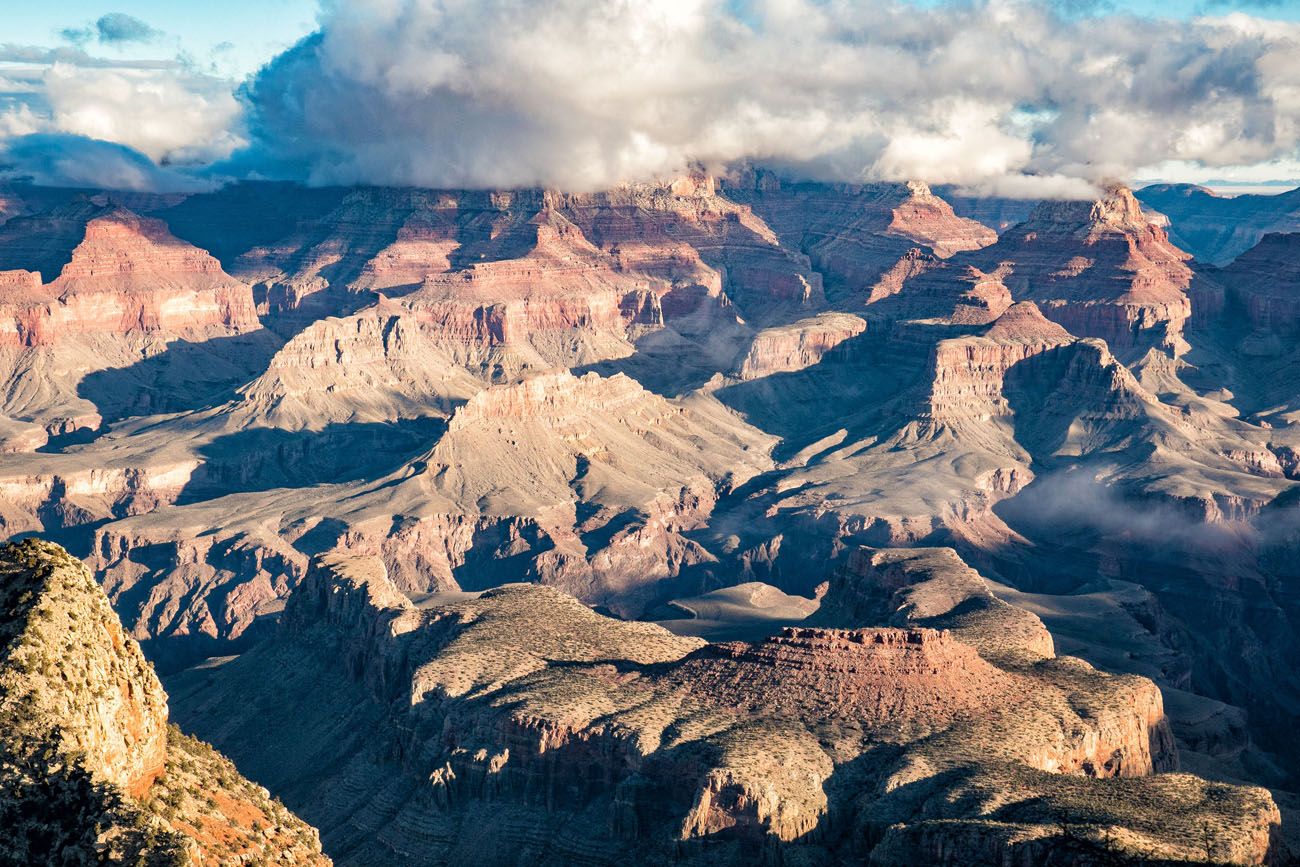 When we did this drive, this was one of the most crowded viewpoints on Desert View Road. It was also very foggy. At first, we had zero visibility at Moran and Lipan Points, but it cleared up later in the morning.

---
Moran Point
At this viewpoint, enjoy more sweeping views. Explore the outcroppings for your favorite photo spot.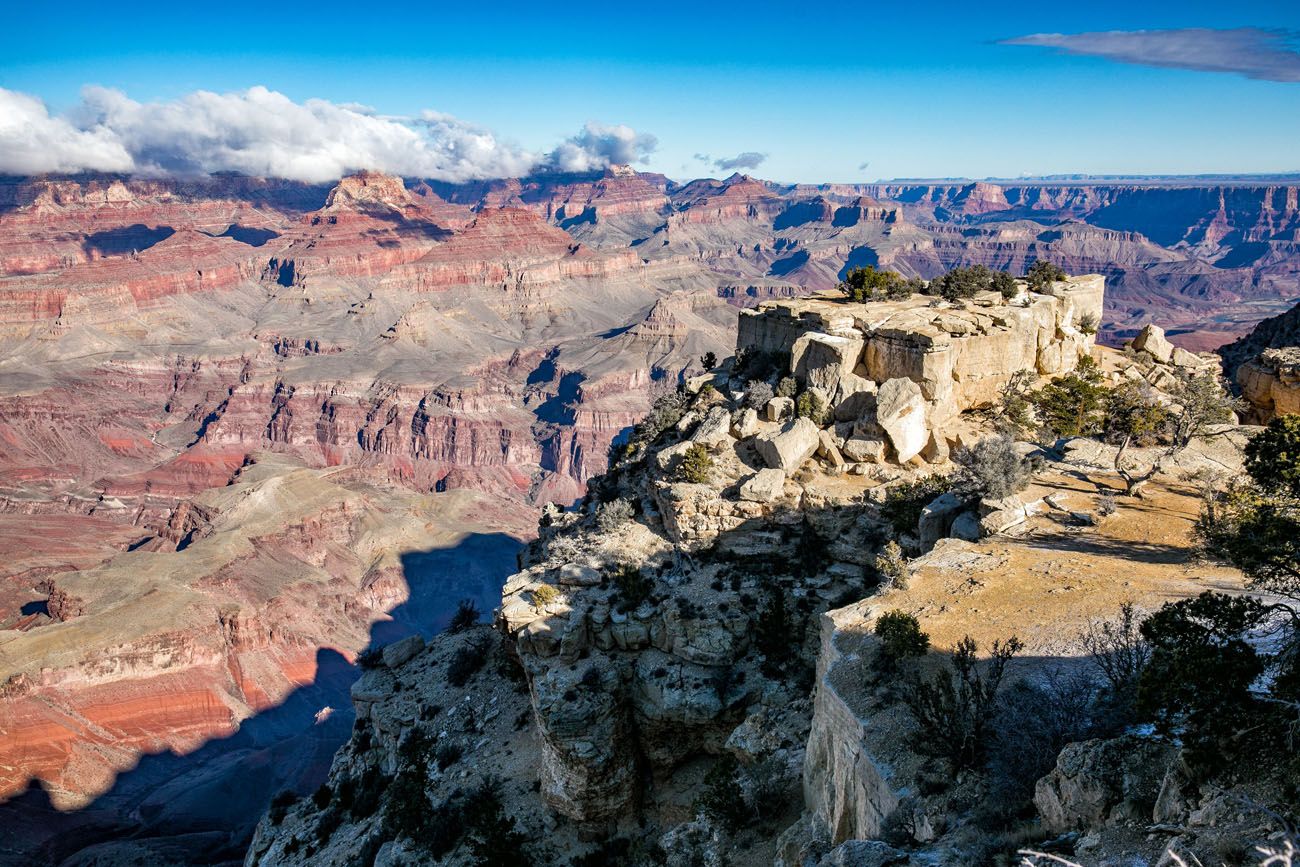 ---
Lipan Point
The canyon looks wider and more open here. The view is very similar to the view you get at Navajo Point and Desert View Point.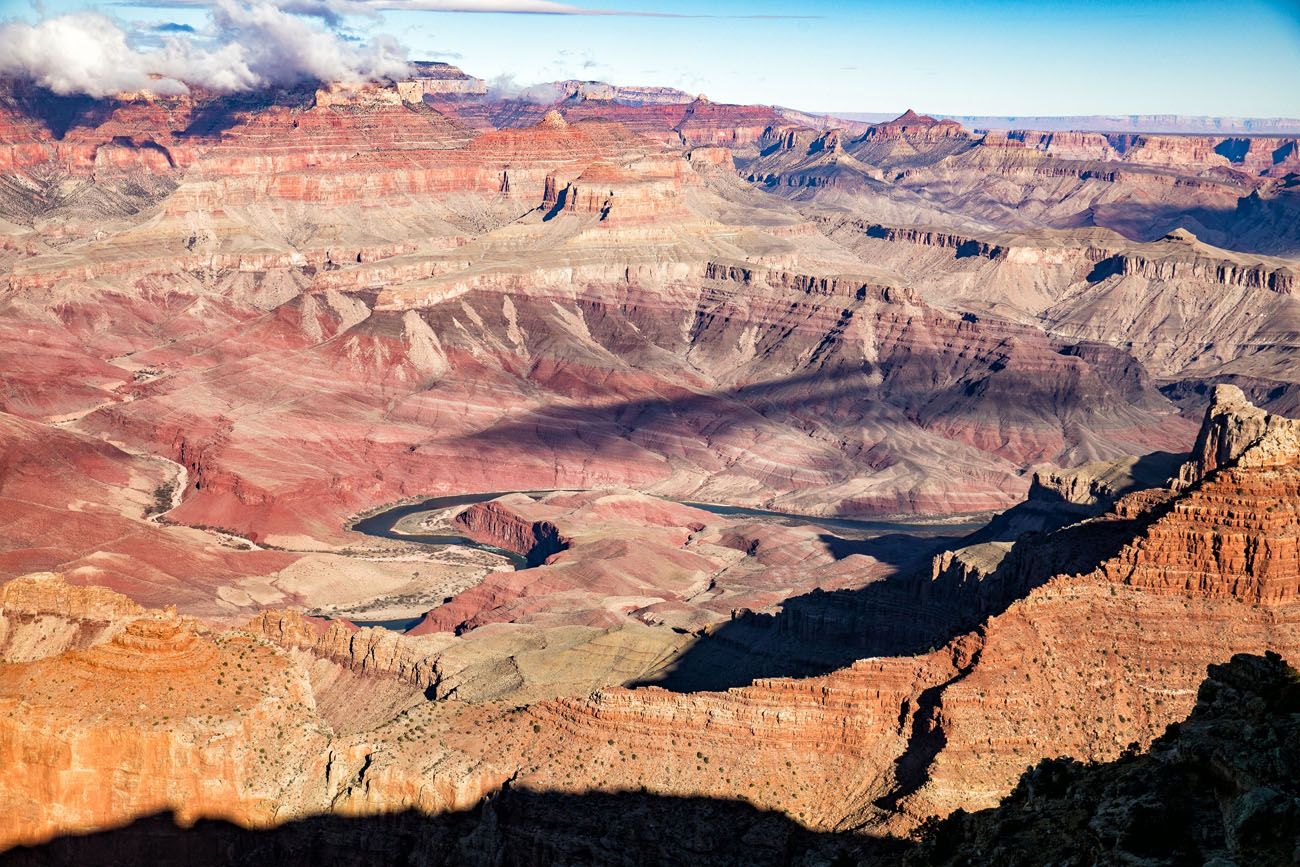 ---
Navajo Point
This is worth the stop if you want to see the Desert View watchtower from a distance. Otherwise, you can skip this viewpoint. The view is not much different than Lipan Point and Desert View.
---
Desert View Point
This is the final South Rim viewpoint. This is also a very popular viewpoint to visit. The parking lot is enormous and there are restrooms, a restaurant, and a gift shop here. Walk towards the watchtower to get to the viewpoint.
You can climb 85 steps to the top of the watchtower for 360° views. Check the official Grand Canyon website for updated hours.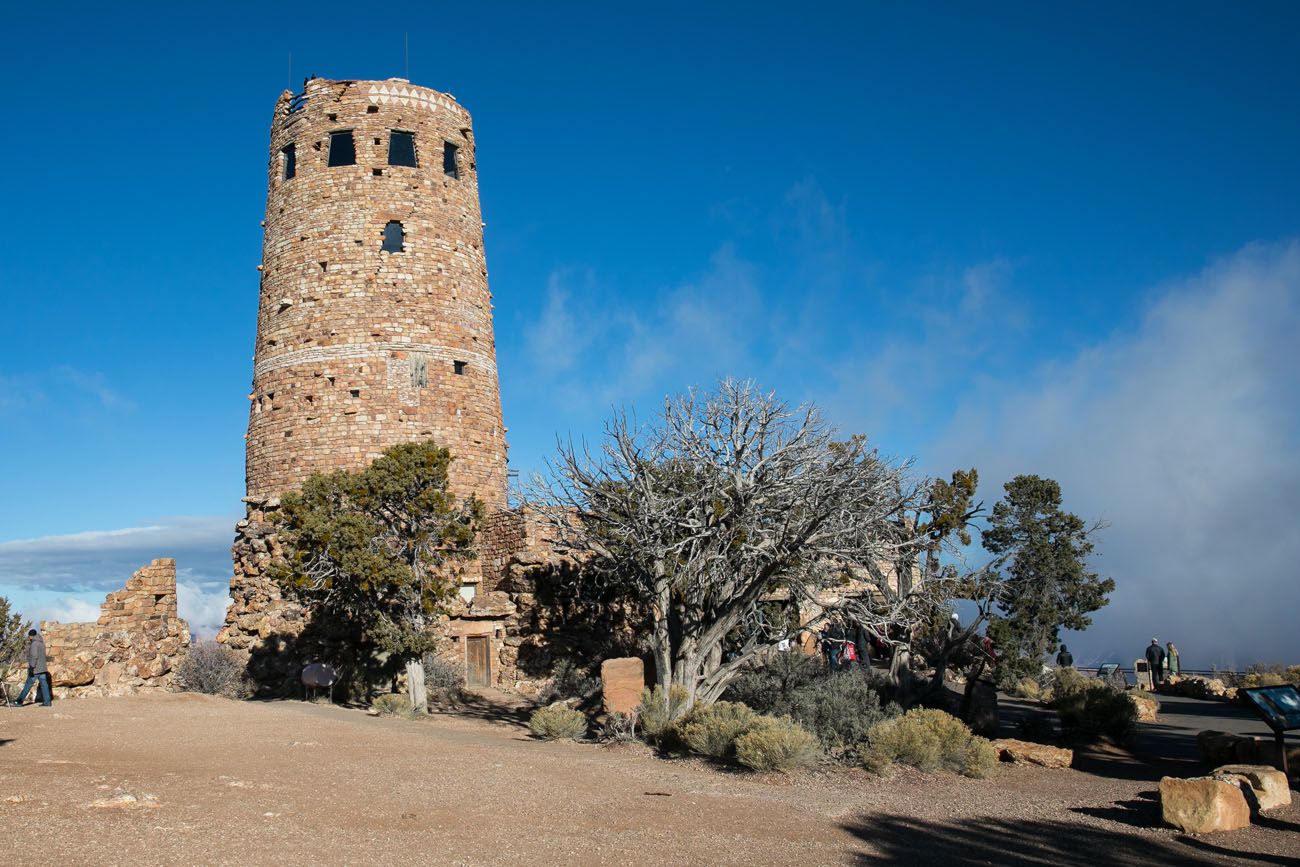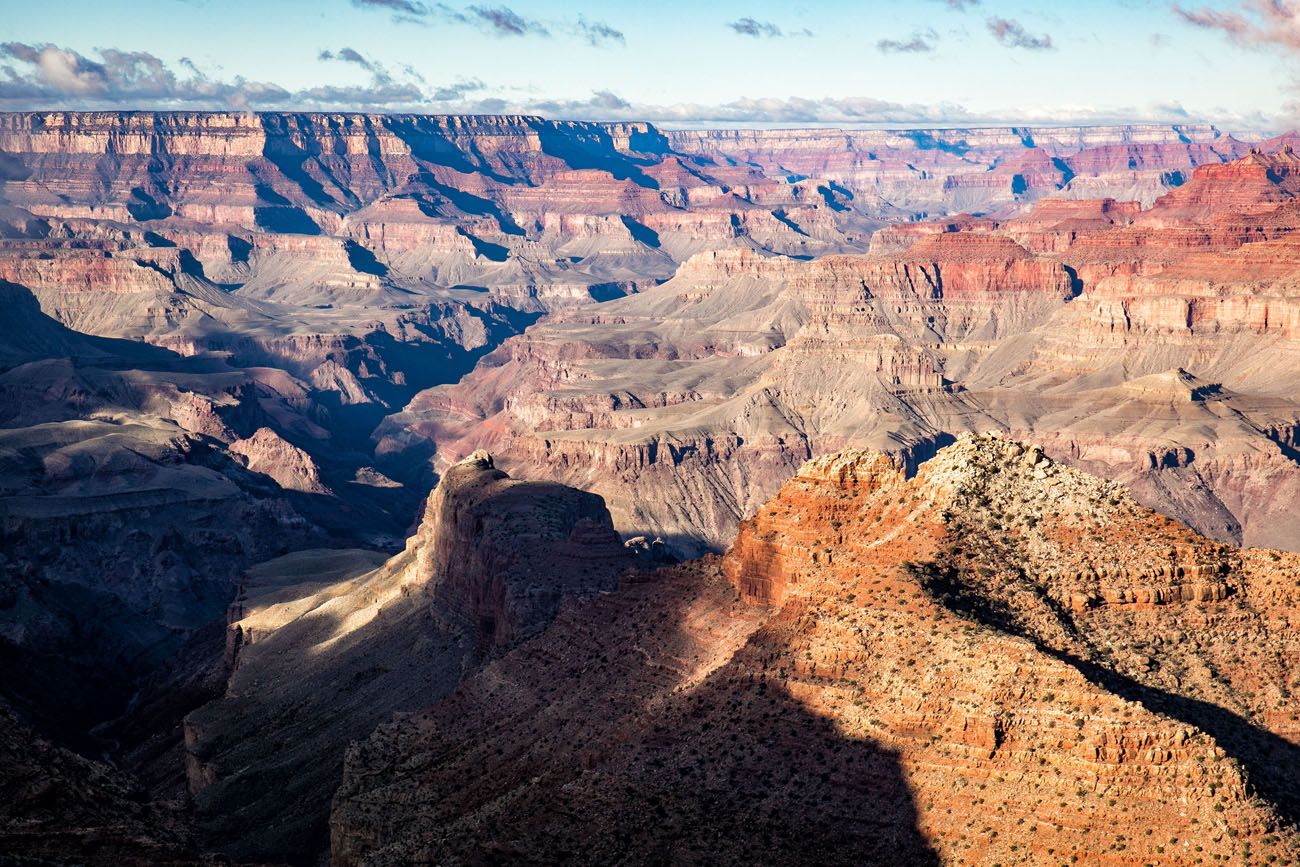 How Much Time Do You Need?
Shoshone Point will take the most time. At two miles round trip, this takes about an hour (maybe a little less depending on how fast you walk).
It takes 35 minutes to drive one way on Desert View Road. You need about 10 minutes at Grandview, Lipan, Moran, and Navajo Point, if you decide to visit all of them.
It's easy to spend 30 minutes or longer at Desert View since there is more to do here.
The entire round trip excursion along Desert View Road will take between 4 to 5 hours if you plan to do everything. Of course, skipping a viewpoint or two, or only traveling one way, will save some time.
See Them All on a Map
I recommend saving your favorite viewpoints on Google Maps before your trip to the Grand Canyon. Cache the map on your phone before you leave your hotel. We were able to get a decent cellular signal near the Grand Canyon Village but it fades out once you move farther away from the Visitor Center.
How to Use This Map: Click the tab in the top left hand corner of the map to view the layers. You can click the check marks to hide or show layers. If you click the icons on the map, you can get more information about each point of interest.

If you click the star, this map will be added to your Google Maps account. To view it on your phone or computer, open Google Maps, click the menu button, go to "Your Places," click Maps, and you will see this map on your list.
Our Recommendations
We listed 16 viewpoints. That's a lot to get to. And even though views of the Grand Canyon are amazing, it does get to be repetitive.
To help you narrow down the list, here are our 10 favorite viewpoints.
Our Top 10 South Rim Viewpoints
Along Hermit Road:If you want to narrow down the list on Hermit Road, our favorites are Powell, Mohave, and Pima Point and Hermit's Rest is worth the visit, especially if you need a snack or want to shop for souvenirs.
Near the Grand Canyon Village: We really liked Yavapai and Yaki Point. If you want to hike down below the rim, hiking out to Ooh Aah Point is awesome.
Along Desert View Road: Shoshone Point is a great spot to leave the crowds behind. We also liked Moran Point and Desert View Point.
Tips to Have the Best Experience
Don't try to visit all of these viewpoints in one day. They will all blend together. If you can, visit them over two to three days if you have the time.
Consider hiking the rim trail between some of these viewpoints. Who knows, maybe you'll get some of the best views right from the trail. Most of the trail is paved and flat, so it is easy to walk. Learn more about the rim trail here.
The viewpoints are the least crowded early in the morning around sunrise. By mid-morning, crowds steadily build and peak midday. Several popular viewpoints, such as Mather, Hopi, and Yavapai, can also get crowded at sunset. If you want to avoid the crowds, consider starting your day at sunrise.
Use the free shuttle service to get from point to point. Learn more here.
About Our Visit
All of these photos were taken in the morning from December 24 to December 26, 2018.
Over these three days, our weather varied quite a bit. On December 24, high temperatures reached the mid-50's and we had sunny skies. It was cloudy and cooler on Christmas day. On the 26th, we awoke to foggy skies and freezing temperatures. Desert View Road was covered in a thin layer of ice and we had to wait for the fog to lift in order to get these photos. It was wild. In just a matter of minutes, once the fog decided to lift, it went from zero visibility to crystal clear skies.
Where We Stayed
We stayed at The Grand Hotel in Tusayan. It is the highest rated hotel in the area. The hotel looks impressive from the outside and the lobby is very nice but the rooms are nothing special. On Booking.com it is listed as a 5-star hotel but it looks and feels a lot more like a 3 to 4 star hotel. However, the rooms are clean and quiet and fit our needs. The WiFi was a bit slow but that is the norm from what we read for any hotel in the area.
From Tusayan, it is a 15 minute drive to get to the Grand Canyon Village. There are several restaurants in town. Our favorite spots were Plaza Bonita, the Coronado Room, and Starbucks.
More Information about the Grand Canyon:
---
Which one(s) of these South Rim viewpoints do you want to visit? Do you have a favorite view from the South Rim that we missed? Comment below and share your experience.
You Might Also Like: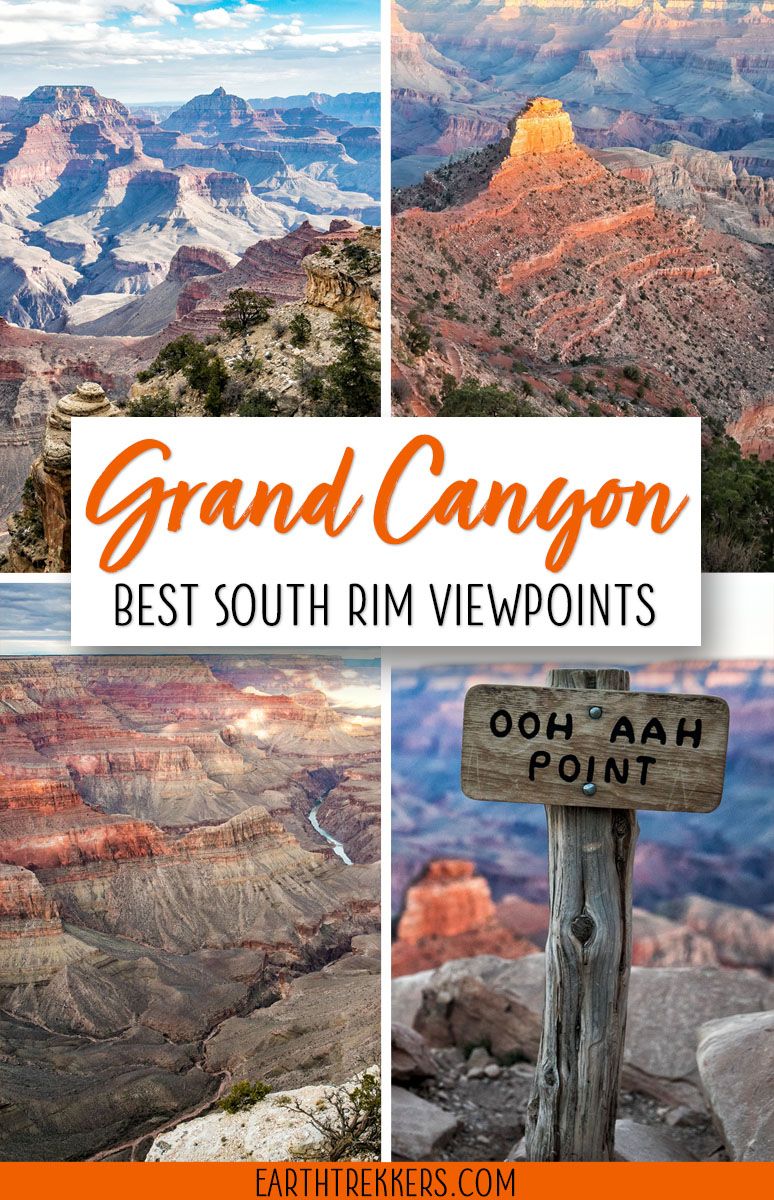 Note: This post contains affiliate links. When you make a purchase using one of these affiliate links, we get paid a small commission at no extra cost to you.
All rights reserved © Earth Trekkers. Republishing this article and/or any of its contents (text, photography, etc.), in whole or in part, is strictly prohibited.