Girona, located in Catalonia, Spain, sits between Barcelona and Costa Brava. It's a gorgeous place to visit, with medieval walls, narrow winding city streets, and one of the best preserved Jewish Quarters in Europe. All you need is one day to see the best of Girona, making it a great destination on even the quickest itineraries through Spain. Here are 9 great things to do in Girona…9 reasons why you should visit Girona, Spain.
Best Things to Do in Girona
#1 The Jewish Quarter
The Jewish Quarter in Girona is one of the best preserved in the world. From 982 to 1492, Jews lived in Girona. The area where they lived, called El Call, is a maze of narrow, winding, cobblestoned lanes, still intact and very much like they were over 500 years ago. These narrow streets are a joy to explore. For those who want to learn more, visit the Jewish Museum in town.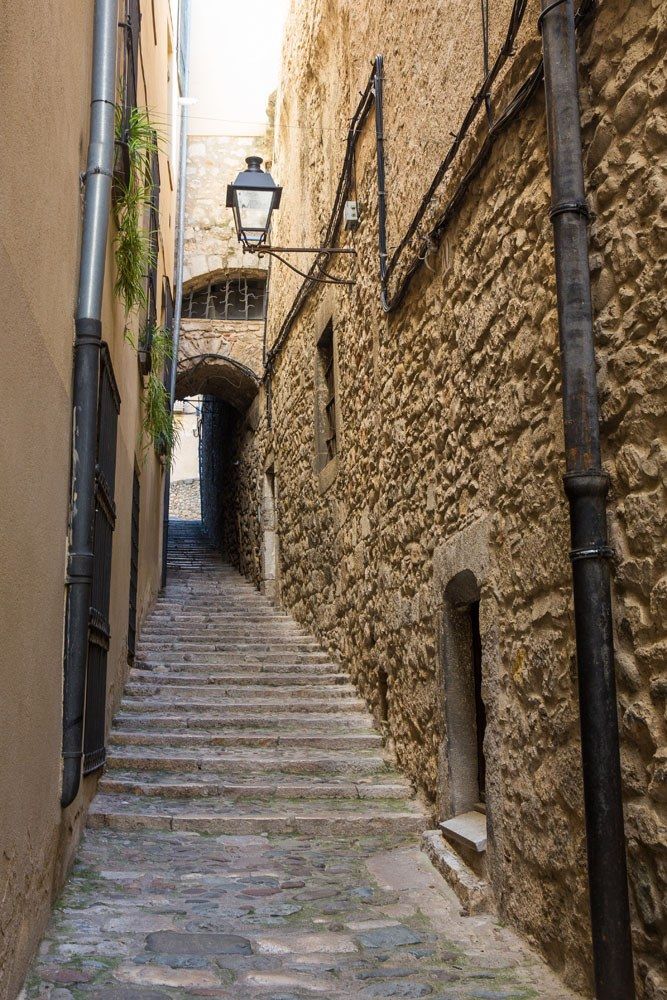 Getting Here: The Jewish Quarter is located in the heart of Girona, off of Carrer de la Força.
Guided Tour of the Jewish Quarter: On this 3-hour tour, visit the Jewish Quarter with a knowledgeable guide and get a guided tour of the Museum of Jewish History, which is also in Girona.
#2 For the Best Views, Walk on the Medieval Walls
Also called the Passeig de la Muralla, a walk on the medieval walls is a must-do activity while in Girona. The city walls span the eastern border of the old town of Girona. From the top of the walls, the views over the city are spectacular. Towers periodically interrupt the walls for even better views.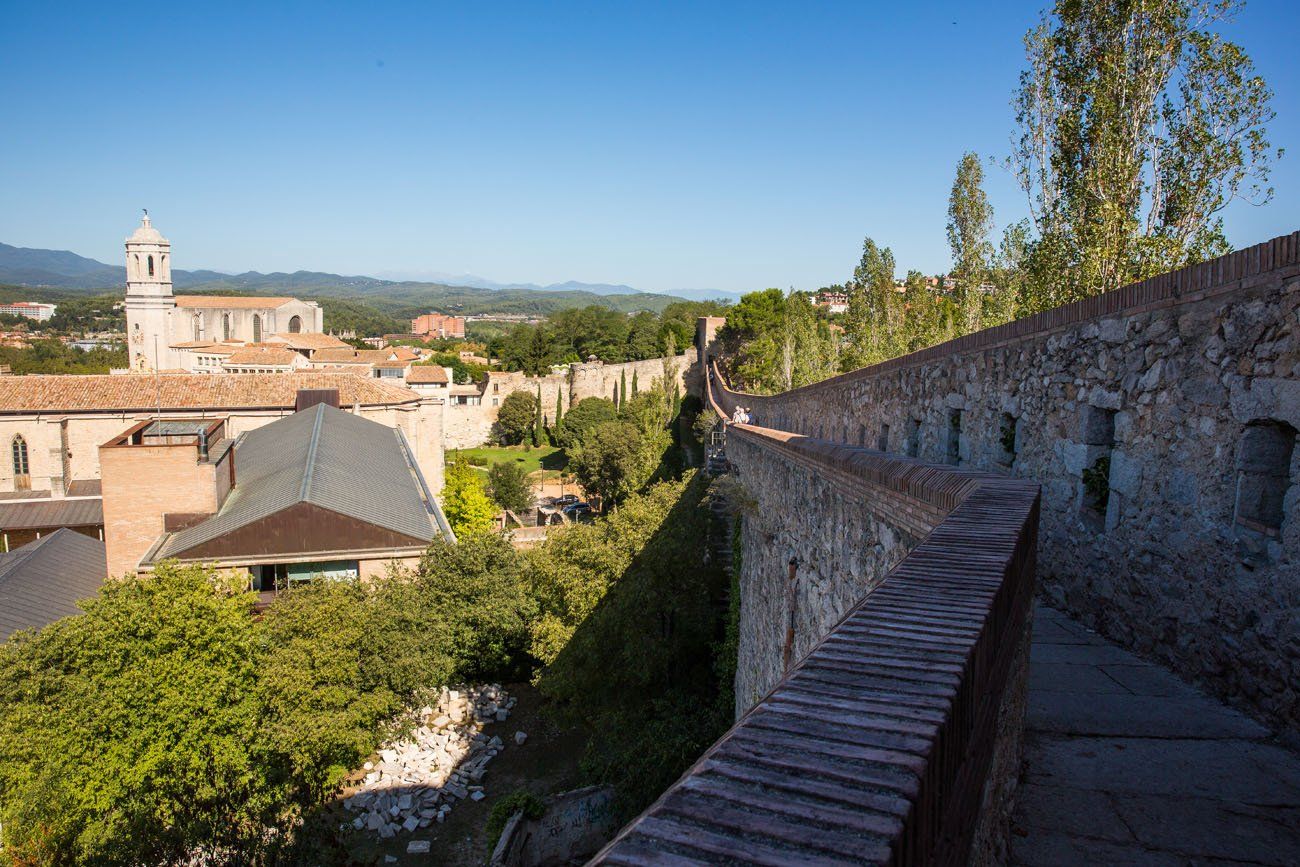 The medieval walls | Best Things to Do in Girona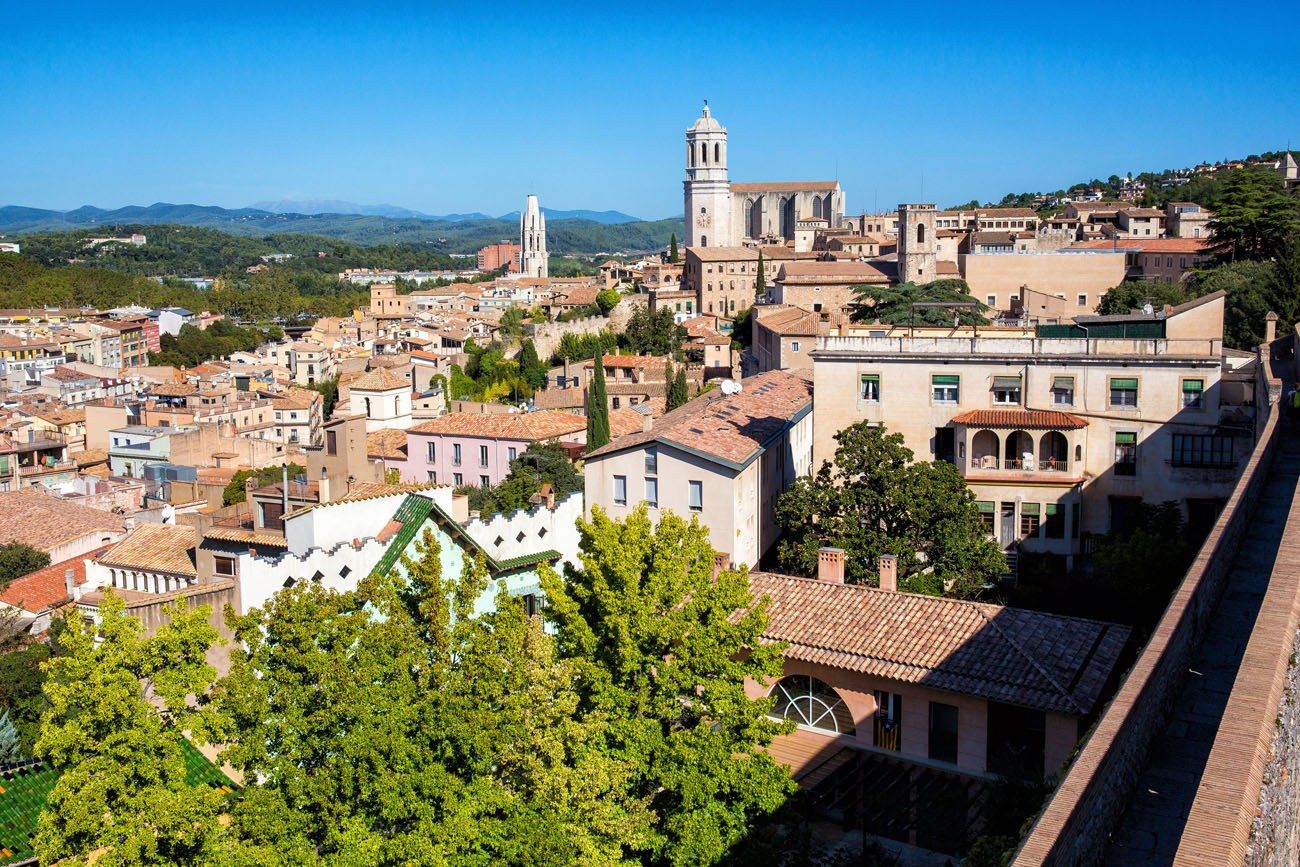 View from the medieval walls | Best Things to Do in Girona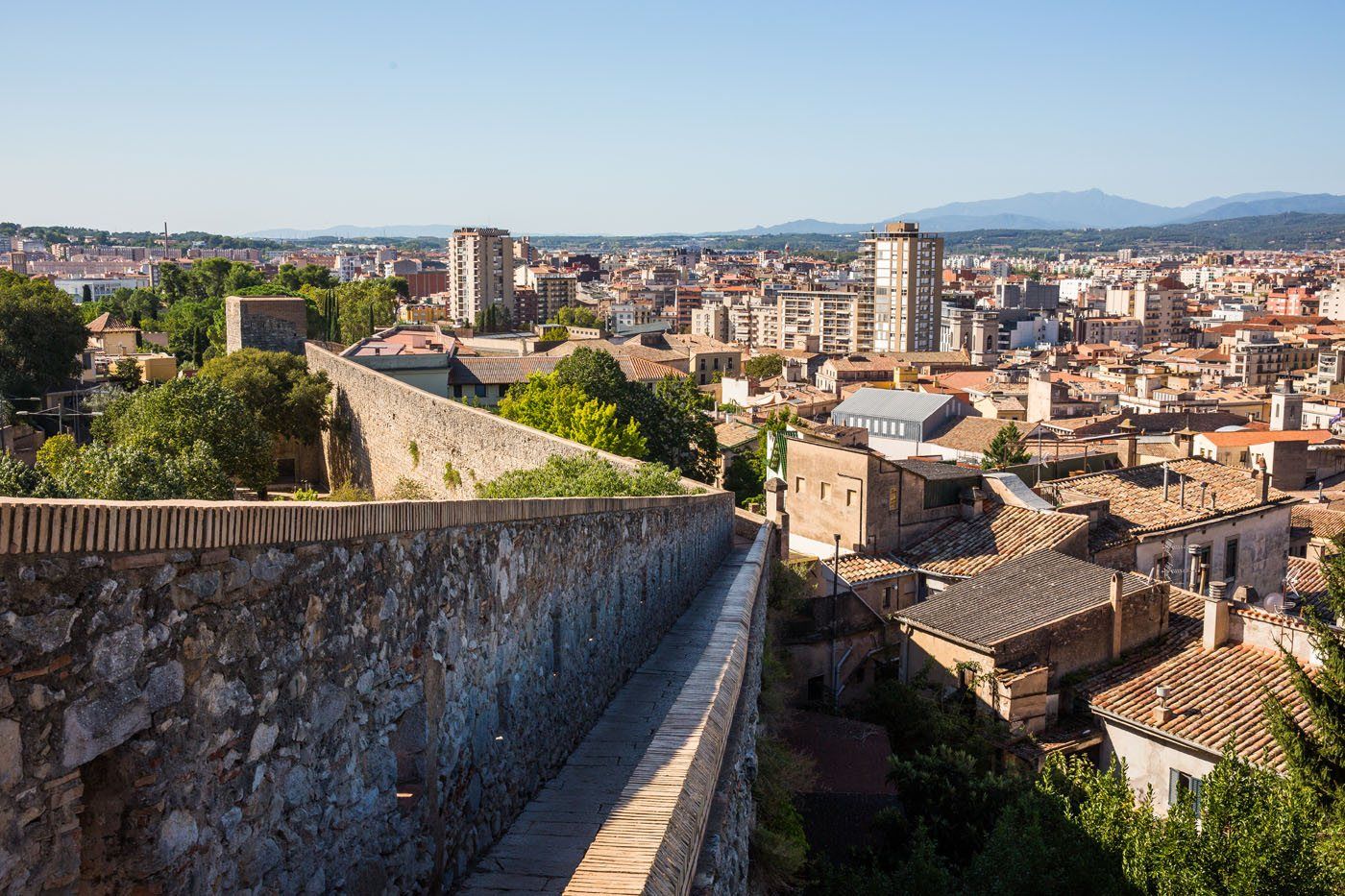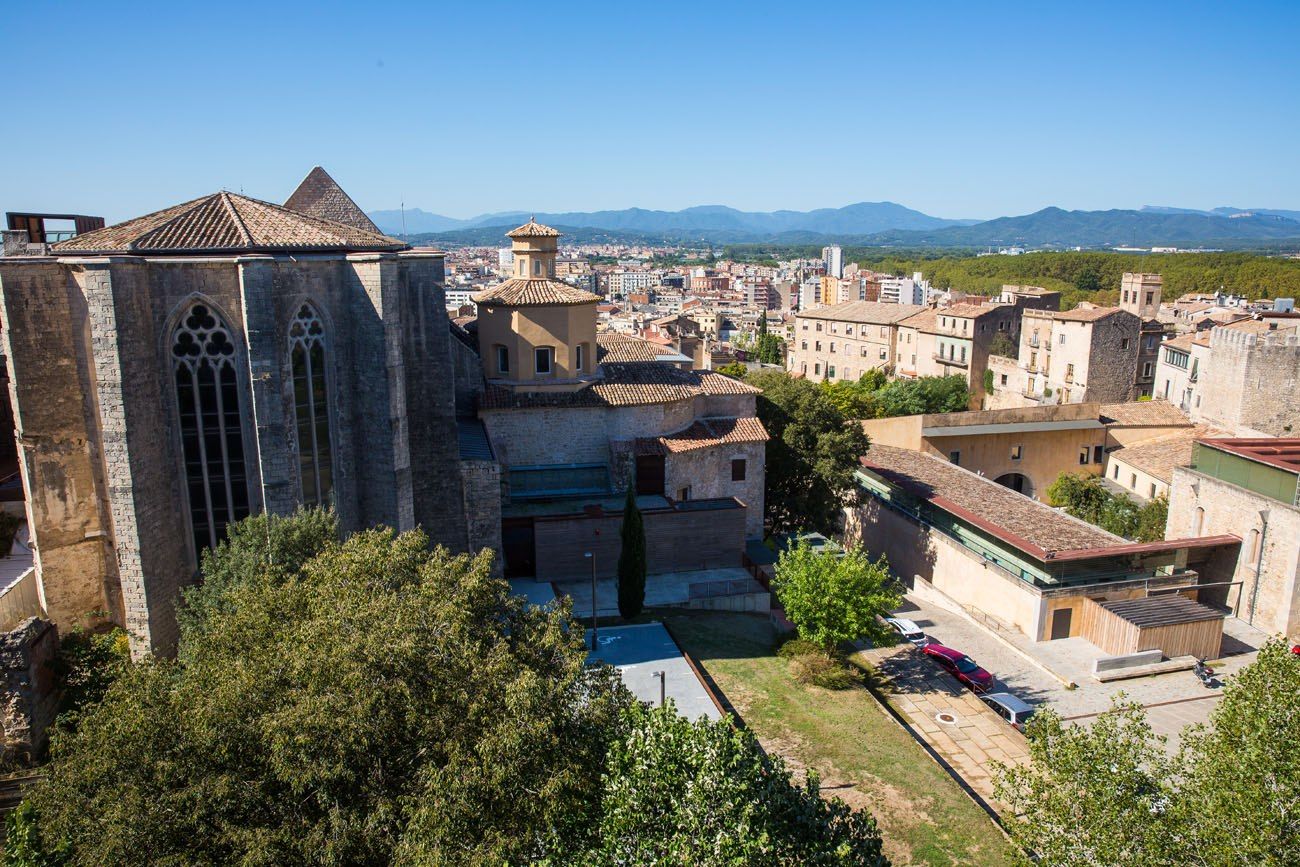 #3 Walk Across Eiffel Bridge
Gustav Eiffel constructed a bridge in Girona just before the Eiffel Tower was built. Also called the Pont de les Peixateries Velles, this bridge spans the Onyar River and is the most famous in Girona.
On this highly-rated walking tour, walk on the medieval walls of Girona, visit the Cathedral of Girona and the Jewish Quarter, walk across Eiffel Bridge, and visit the Game of Thrones filming sites.
Eiffel Bridge | Best Things to Do in Girona
#4 Onyar River View
The Onyar River runs through the heart of Girona. See it from Pont Pedra, Eiffel Bridge, or one of several other bridges that span the river.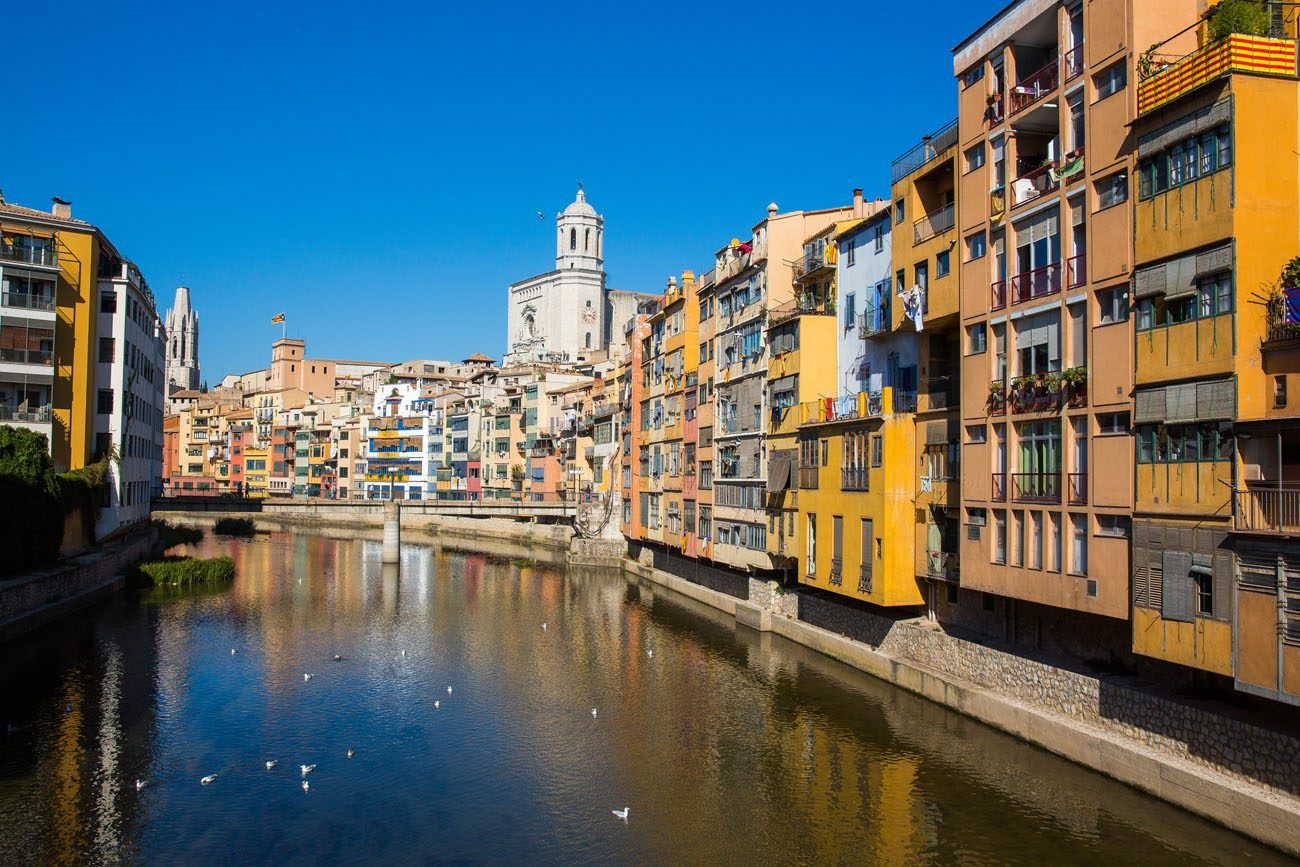 Onyar River | Best Things to Do in Girona
#5 Walk up the Steps of the Girona Cathedral
One of the highlights of a visit to Girona is a visit to the Girona Cathedral. The Girona Cathedral dominates the skyline of Girona. Perched on top of a hill, the only way into the cathedral is to climb the long staircase to the entrance. It's a scenic spot and a popular gathering point for visitors to the city.
Are you a Game of Thrones fan? This cathedral was used in the filming of Season 6! Do you recognize it? If you do not, shame…shame…shame…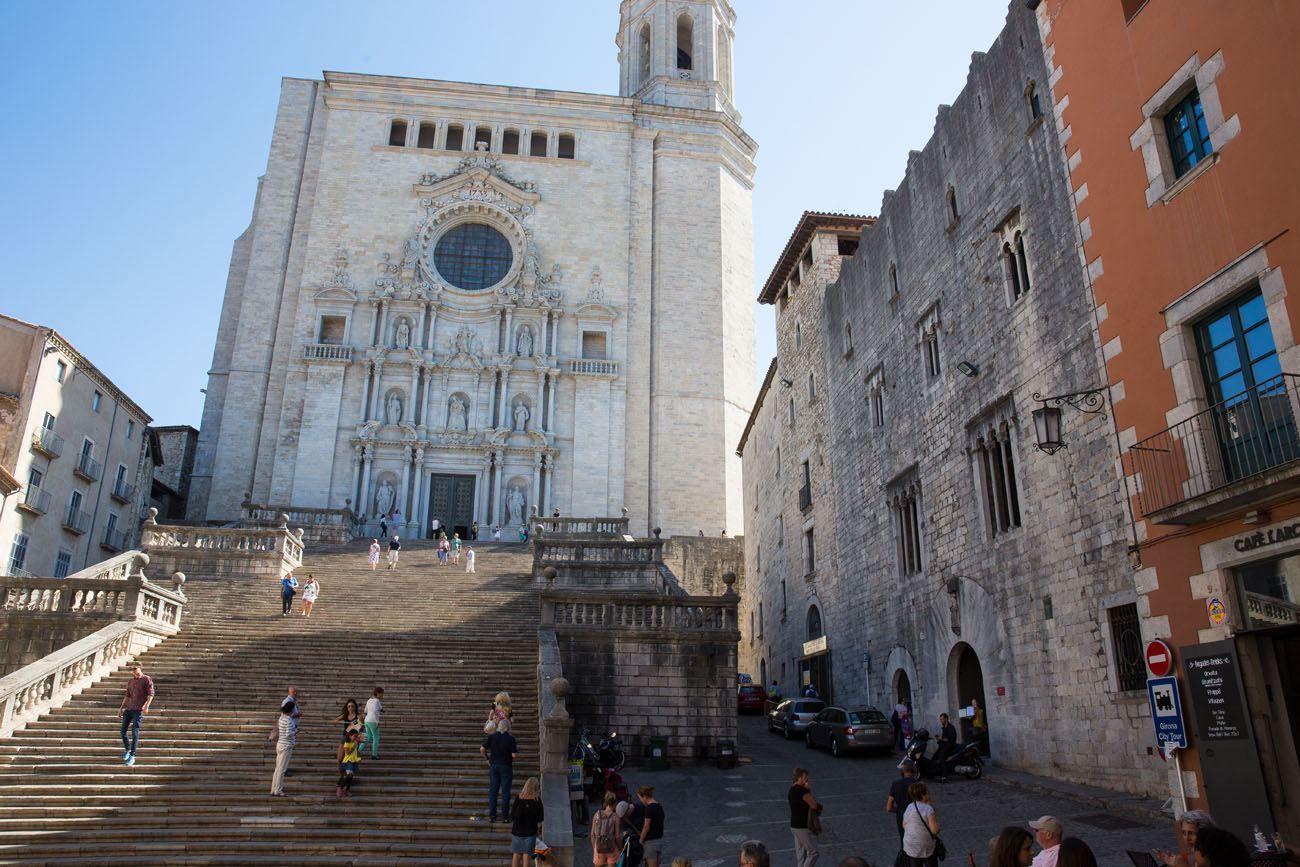 Girona Cathedral | Best Things to Do in Girona
#6 Girona is a Hot Spot for Game of Thrones Fans
OK, so this came as a total surprise to Tim and I. Prior to our visit, I had read that the Girona Cathedral was used in Season 6 of Game of Thrones. As we were sitting in front of the cathedral, I did a little more research, learning that Girona was a major filming location for Game of Thrones. Girona is Braavos in Season 6. With the narrow, twisting lanes in the Jewish Quarter and the Girona Cathedral, this city makes the perfect backdrop for Game of Thrones.
If you are a Game of Thrones fan, Girona is worth a visit. Many of the filming sites here were used with very little computer generated imagery, so these places appear almost like they do in the show.
Do you recognize the photo below?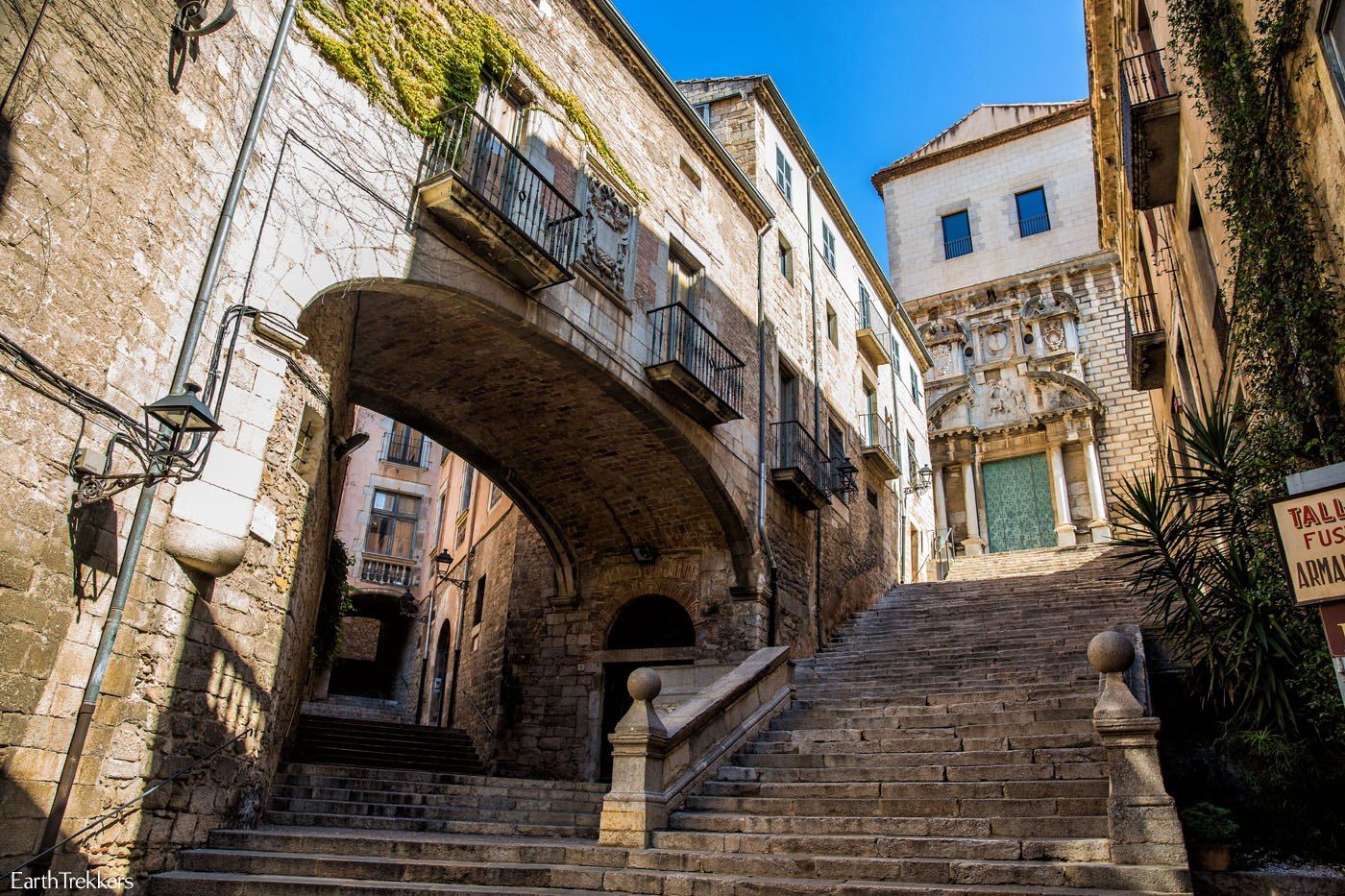 When Arya is running away from the waif, she tumbles down this staircase.
If you don't know where to go, it can be challenging to locate the Game of Thrones filming sites on your own. This Game of Thrones walking tour gets rave reviews and includes the filming locations for season 6. I wish I knew about this tour when we visited Girona.
#7 Wander the City Streets
There's more to Girona than medieval walls, narrow streets, and filming sites…the city itself outside of the main tourist quarter is a joy to stroll through. Browse small shops, have coffee in a cafe, or just wander the city.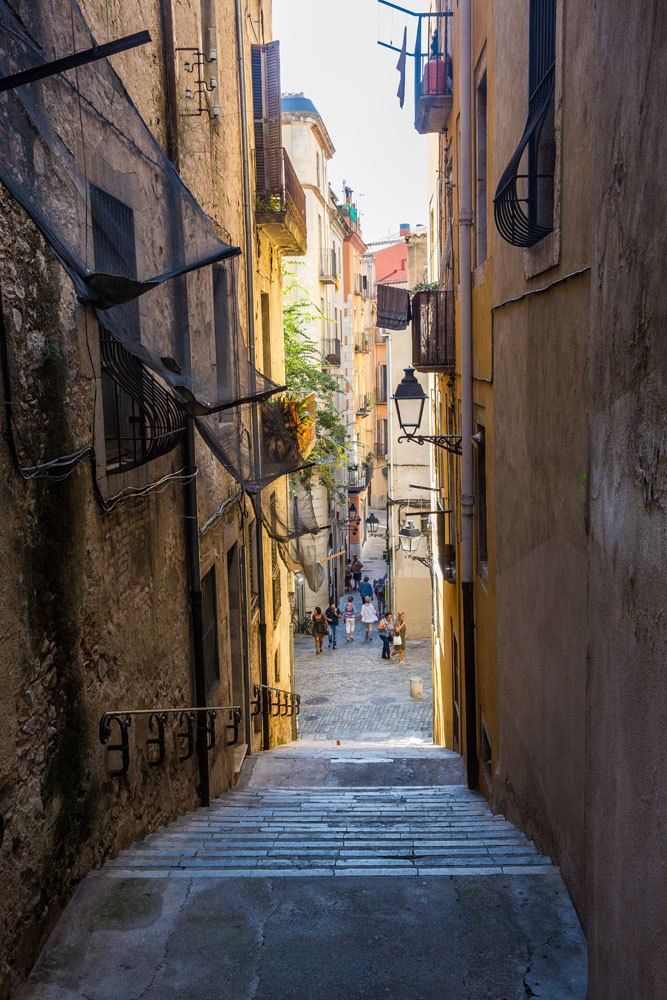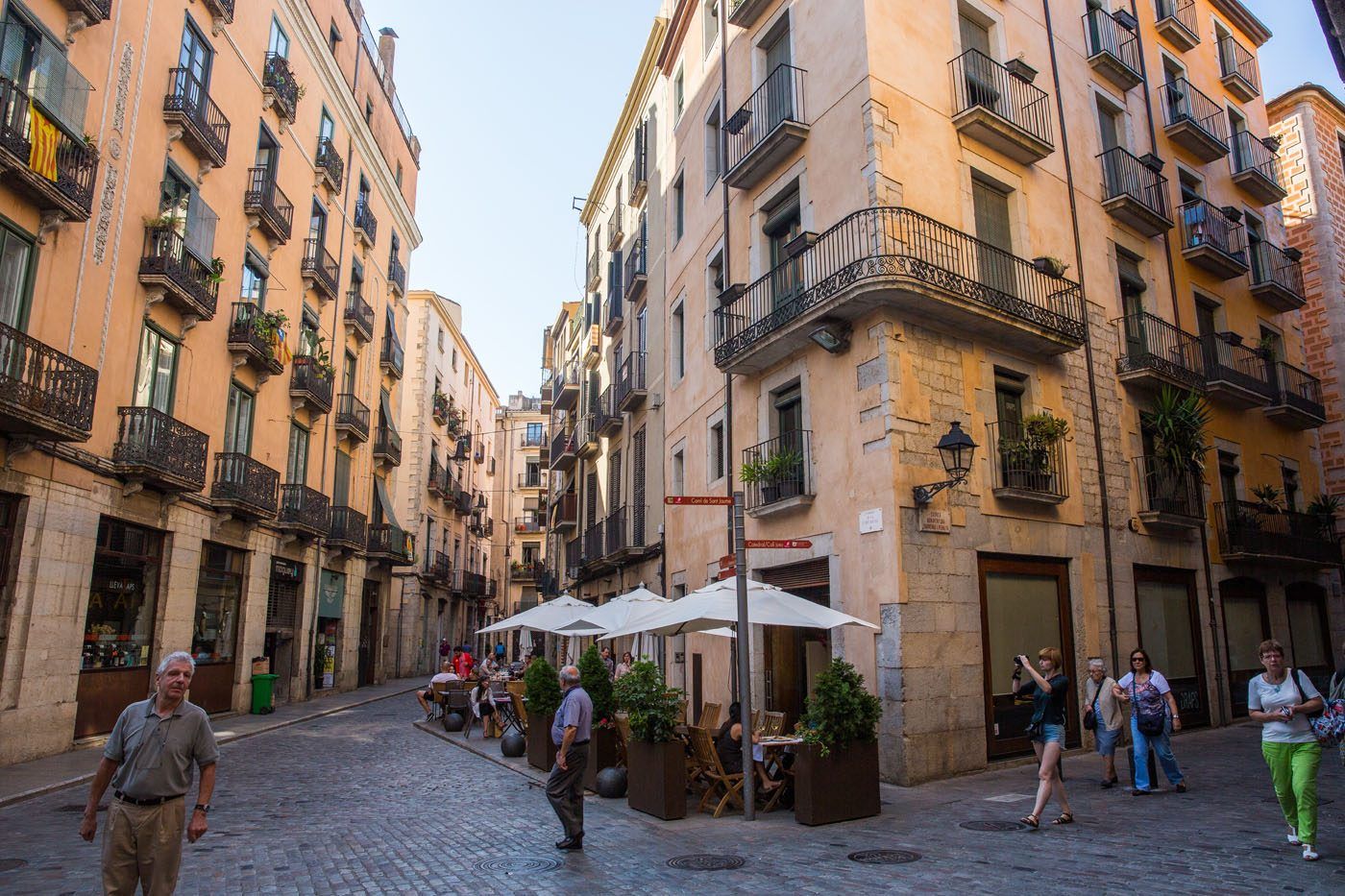 #8 Plaça Independencia
Plaça Independencia is a lovely square located just west of the Onyar River. If you are in the need of a break, stop here for coffee or wine and do a little people watching.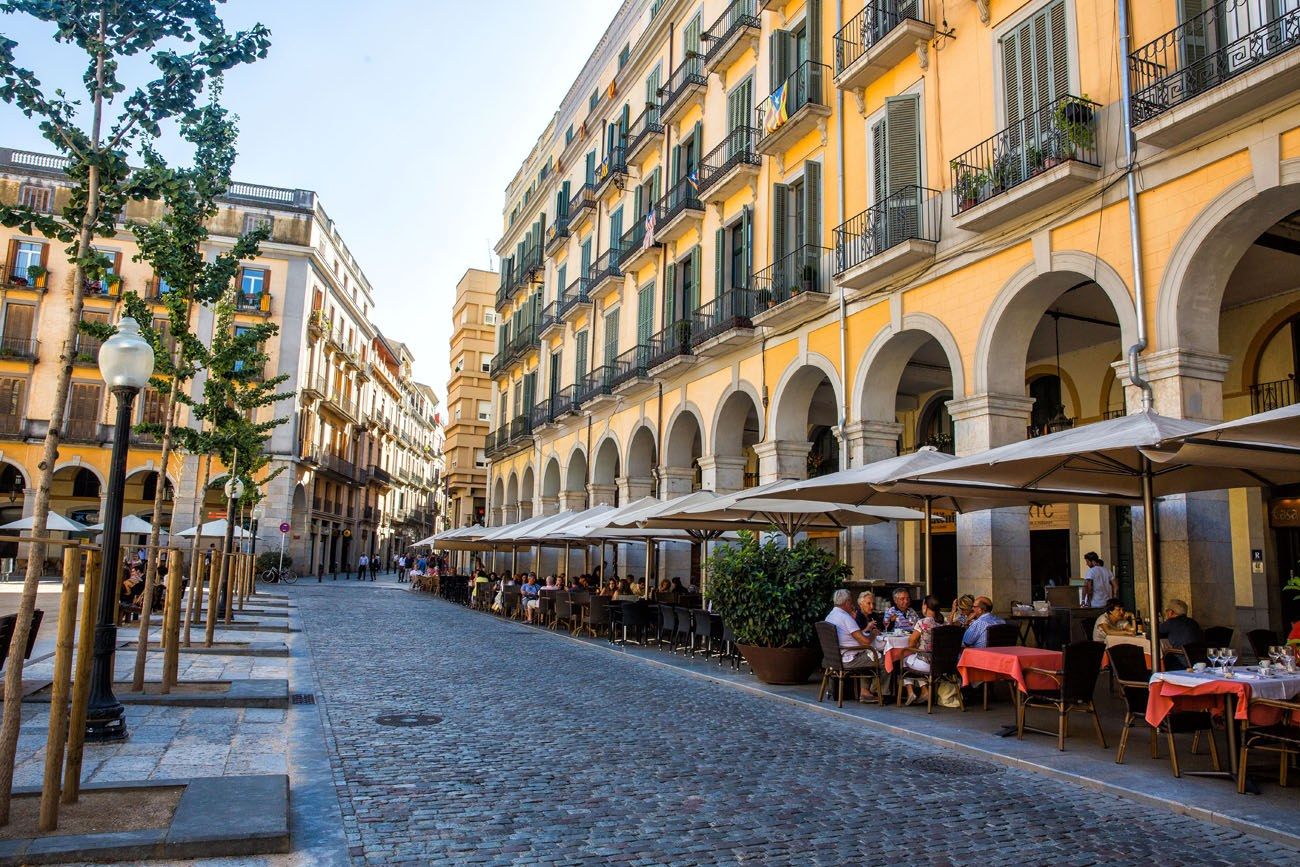 Plaça Independencia | Best Things to Do in Girona
#9 Girona is the Perfect Day Trip from Barcelona
Girona is 100 km from Barcelona. It may sound far but the two cities are connected by a high speed train. If you are staying in Barcelona, in just 38 minutes you can be standing in Girona.
Take the train in the morning, spend the day in Girona, arriving back in Barcelona in time for dinner at 8 pm. Yes, dinner between 7 and 10 pm is the norm in Barcelona…it took us a little bit to get used to this schedule. The trick is to take that midday siesta…which may be a little difficult while in Girona…but that's what the coffee break in Plaça Independencia is for!
Taking the Train: Barcelona and Girona are connected with the new high speed AVE trains and the TGV trains that continue on to Paris. In Barcelona, you can purchase your tickets at the Estacio Sants Train and Bus Station. Trains leave approximately every 45 minutes. We purchased our tickets the morning of our trip out to Girona and there were still vacant seats.
Day Trips from Barcelona
If you don't want to arrange your transportation on your own, there are many day trip options from Barcelona. You can spend the day in Girona or also add on other destinations in the area.
This private half-day hour from Barcelona includes the Game of Thrones filming sites, Eiffel Bridge, and the Jewish Quarter. The tour includes pick-up and drop-off from your hotel.
This full day tour from Barcelona includes Girona, Figueres, and the Dalí Museum. This tour includes fast-track admission into the Dalí Museum and a guided walking tour of Girona.
Finally, this full day tour includes Girona and Figueres. It gets excellent reviews and includes pick-up and drop-off at your hotel. You also have the option to add on the Dalí Museum.
Day Trip Tours to Girona
Here are several highly-rated tours in Girona. Take a Game of Thrones tour of Girona, visit Girona and Figueres, or take a full day trip from Barcelona where you also visit Costa Brava.
---
If you have any questions about the best things to do in Girona, let us know in the comment section below.
More Information for Your Trip to Spain
BARCELONA, SPAIN: Start with our guide to the best things to do in Barcelona. Plan your visit with our 3 Day Barcelona Itinerary, our guide on Where to Stay in Barcelona, and get recommendations on where to eat in Barcelona.
MONTSERRAT, SPAIN: Learn how to plan your day trip to Montserrat from Barcelona and how to hike to Montserrat (and find out if it is worth it).
IRONMAN BARCELONA: If racing a full distance triathlon is on your bucket list, Ironman Barcelona is one of the best. Read about Tim's experience racing Ironman Barcelona.
EUROPE TRAVEL INSPIRATION: For more great ideas on where to go in Europe, check out our article 30 Beautiful Places to Visit in Europe and the 20 Best Hikes in Europe. You can also get more travel ideas in our 10 Days in Europe itinerary guide, which has 10 great itineraries for your next trip to Europe.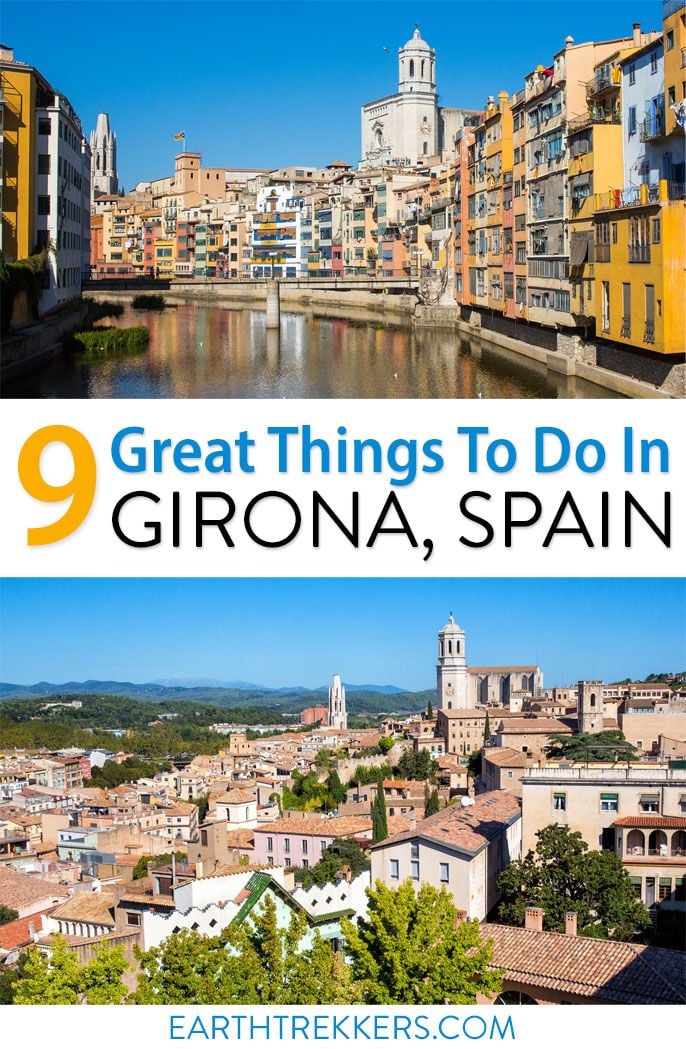 Note: This post contains affiliate links. When you make a purchase using one of these affiliate links, we get paid a small commission at no extra cost to you.
All rights reserved © Earth Trekkers. Republishing this article and/or any of its contents (text, photography, etc.), in whole or in part, is strictly prohibited.