Barcelona, Spain…this is a city that deserves to be on every traveler's must-see list. Why? Barcelona is a beautiful city. Think Rome meets Paris. This city is spotless, with wide streets, beautiful architecture, beaches, palm trees, cafés, and boutique shopping. Throw in some tapas, Gaudí, and cava, and you have yourself a fabulous destination just waiting to be explored.
We fell in love with Barcelona. For one week Tim and I explored this city and its surrounds, and here is our list of the best sights to see in this awesome city.
Best Things to do in Barcelona
How to Use This Map: Click the tab in the top left hand corner of the map to view the layers (points of interest and restaurant recommendations). You can click the check marks to hide or show layers. If you click the icons on the map, you can get more information about each point of interest.

If you click the star next to the title of the map, this map will be added to your Google Maps account. To view it on your phone or computer, open Google Maps, click the menu button, go to "Your Places," click Maps, and you will see this map on your list.
Note: This map includes 16 restaurant and rooftop bar recommendations. For more information about these restaurants, read our article Tapas! Tapas! Tapas! Rooftop Bars and Restaurants.
Wander the Gothic Quarter
For us, the Gothic Quarter was one of the highlights during our time in Barcelona. The Gothic Quarter is the old city centre of Barcelona. Wandering its labyrinth of narrow, cobblestoned streets will take you back in time. Go shopping at the small boutiques and pop into the small restaurants for tapas or cava. You could easily spend all day here, but a few hours is all that is needed to get a feel for the Gothic Quarter if you are limited on time.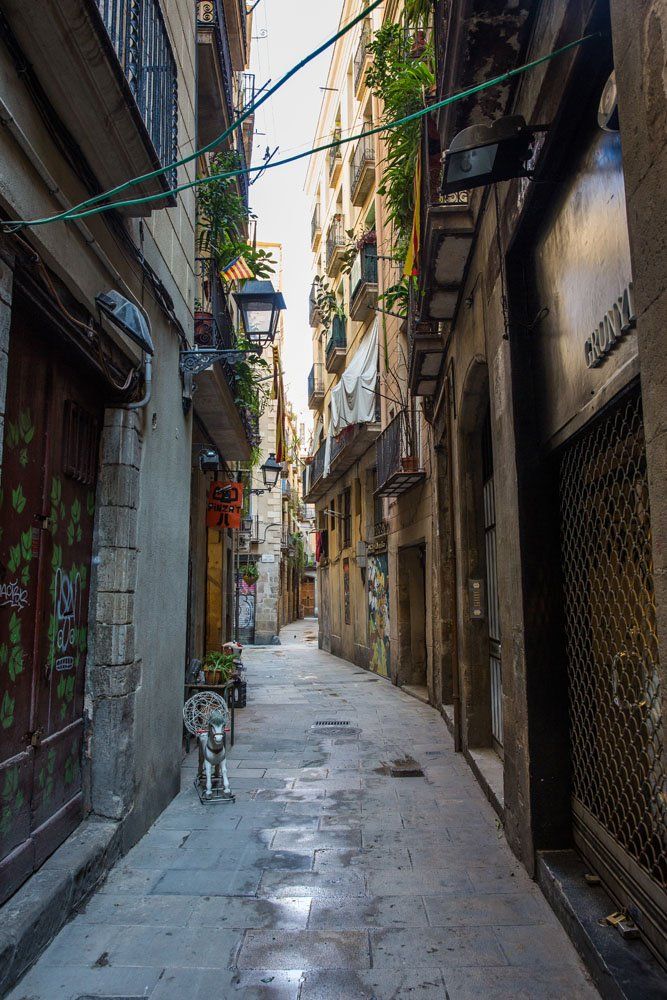 Sagrada Familia…Love it or Hate it
The Sagrada Familia is a Roman Catholic church designed by Antoni Gaudí. Although it is still under construction, this church is a UNESCO World Heritage Site. Construction is forecast to be completed by 2026.
The Sagrada Familia, without a doubt, is a place you must visit while in Barcelona. Most love it, some think it is incredibly ugly. The Sagrada Familia is the most unique church we have ever seen.
From the outside, the front of the church looks like a sandcastle that is slowly crumbling into the ocean. Our first impression was not a good one. But once inside, it is beautiful. Modern, colorful, whimsical…like so much of Gaudí's artwork in Barcelona. I love the inside…for the colors and its incredible uniqueness. I love it that Gaudí broke out of the mold of how churches are traditionally designed, and came up with this "masterpiece."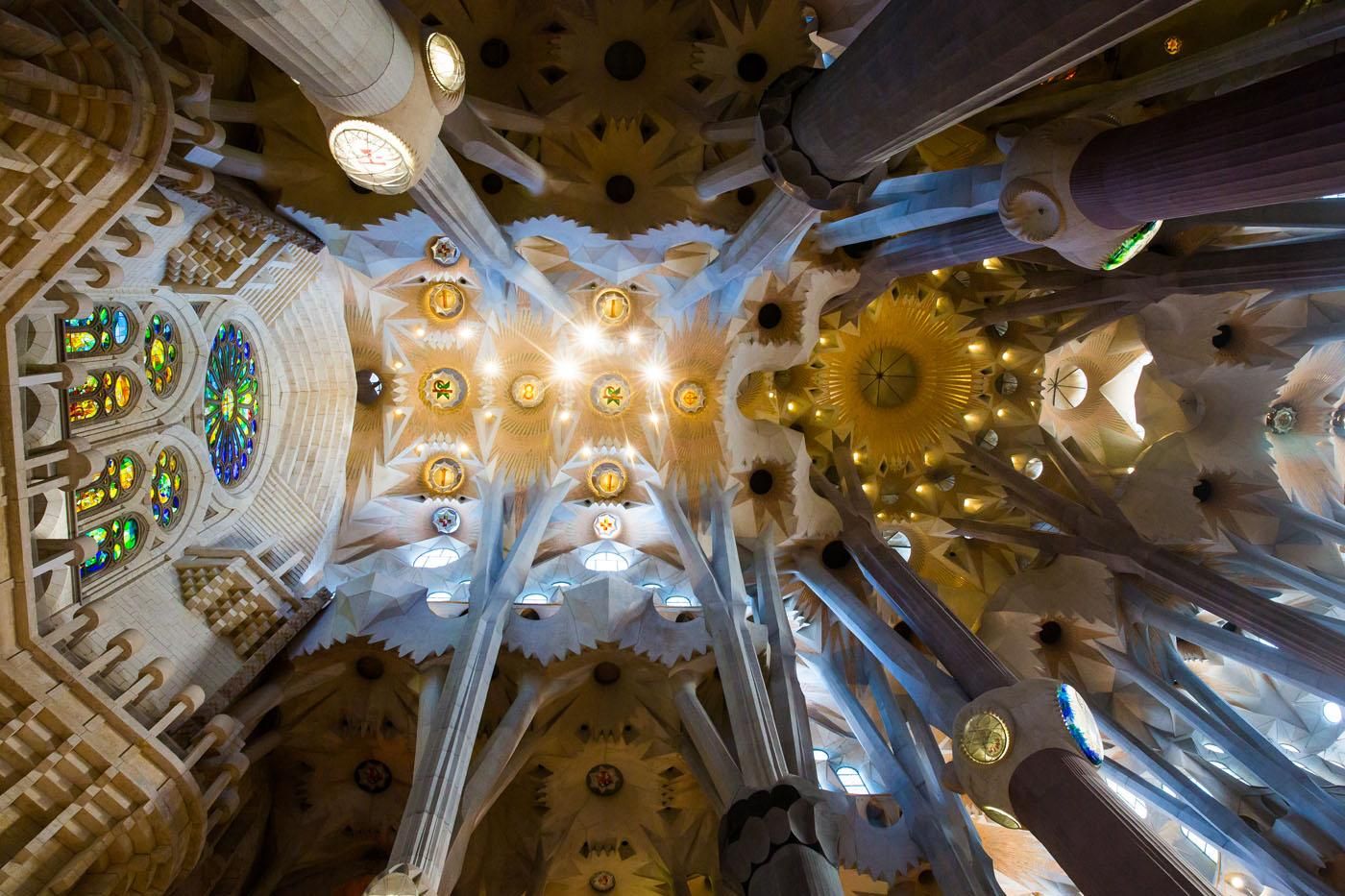 During your visit, you have the option to climb one of the two towers. We chose the tower on the Passion façade, hearing that the views over the city centre are amazing. Well, this was a total disappointment. An elevator whisked us up the tower. From the top, our view was through a small window covered with a metal grate. All we could see was the scaffolding from the current construction work. We never saw those epic views that people told us about.
Your other option is to climb the tower on the Nativity façade. This tower looks out over east Barcelona. Whether or not the views are any better, we have no idea.
For those who want to do this, please note, the only way down either tower is via a spiral staircase.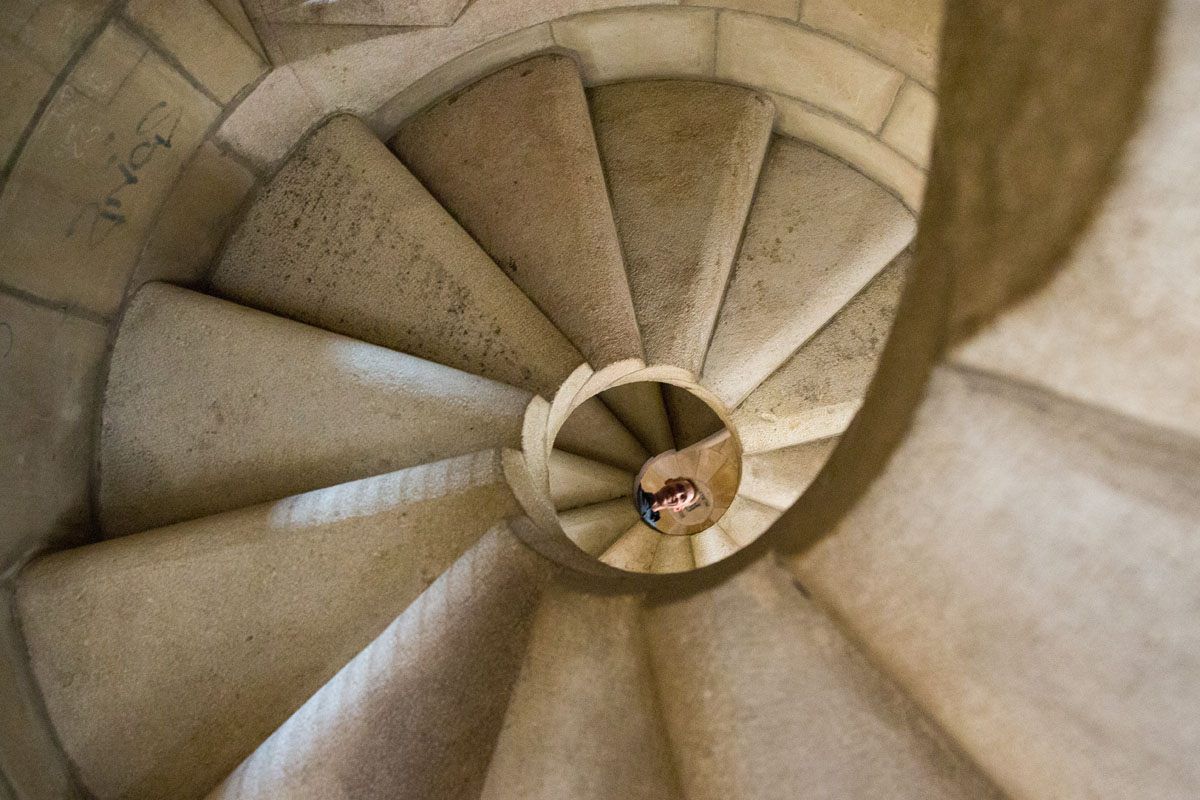 Pro Travel Tip: This is very important! Book your tickets in advance! Without pre-purchased tickets, you risk waiting up to two hours in line to enter the Sagrada Familia. To purchase your tickets online in advance, visit the Sagrada Familia website.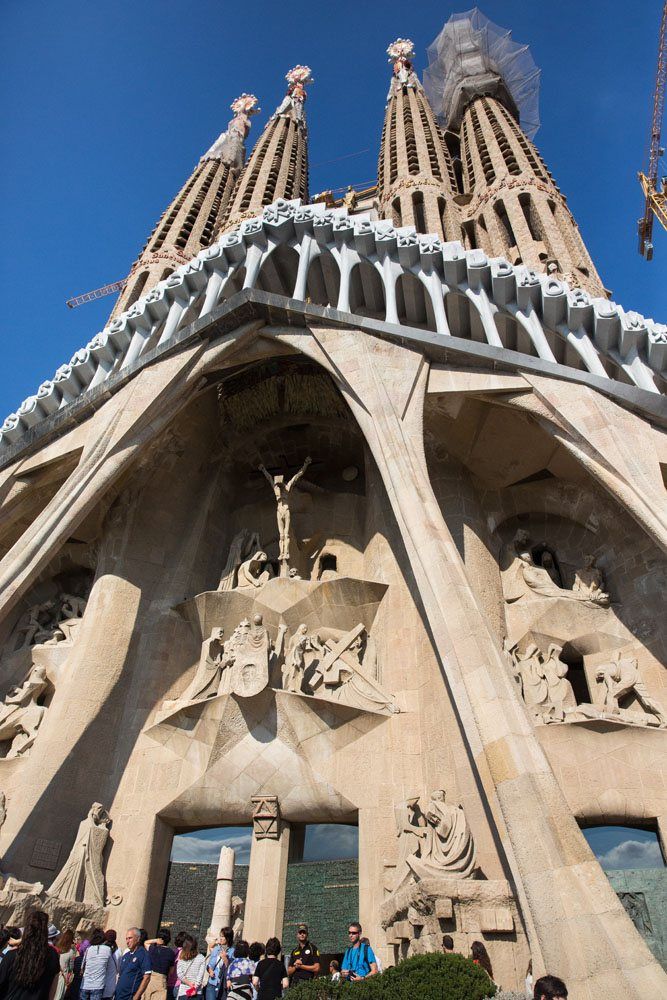 Our Favorite Gaudí Masterpiece, Casa Batlló
Casa Batlló is one of Gaudi's most famous designs. This colorful building sits on Passeig de Gràcia, one of the major thoroughfares through the city. If you are short on time (or money) view Casa Batlló from the outside. For those with an interest in Gaudí and his architecture, it may be worth paying to enter the house. Tickets are pricey and lines can be long.
This is another site where it is definitely worth purchasing your tickets in advance. To do so, visit the Casa Batlló website.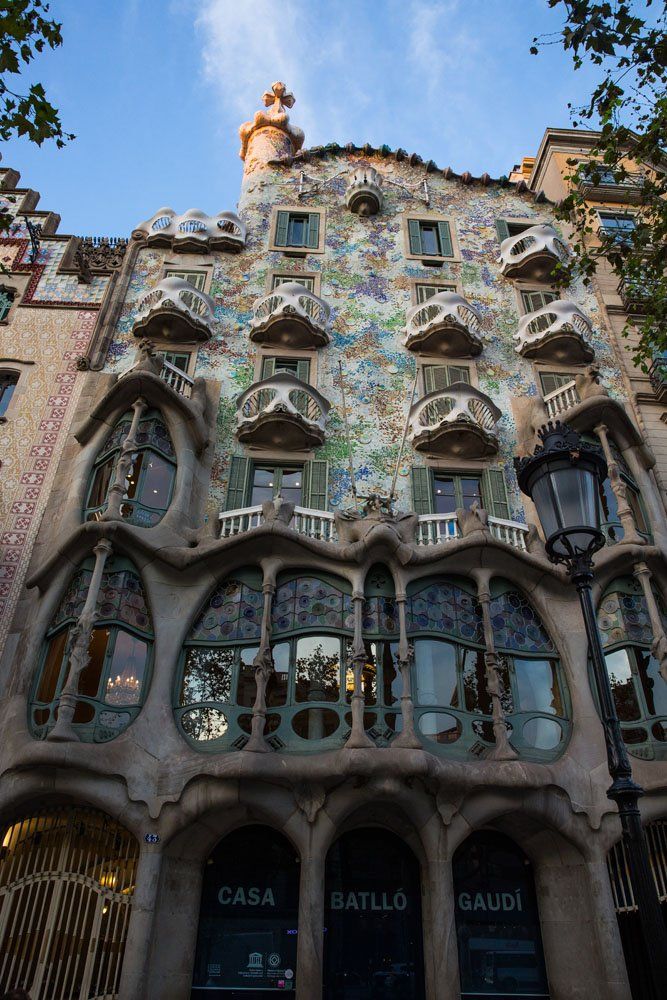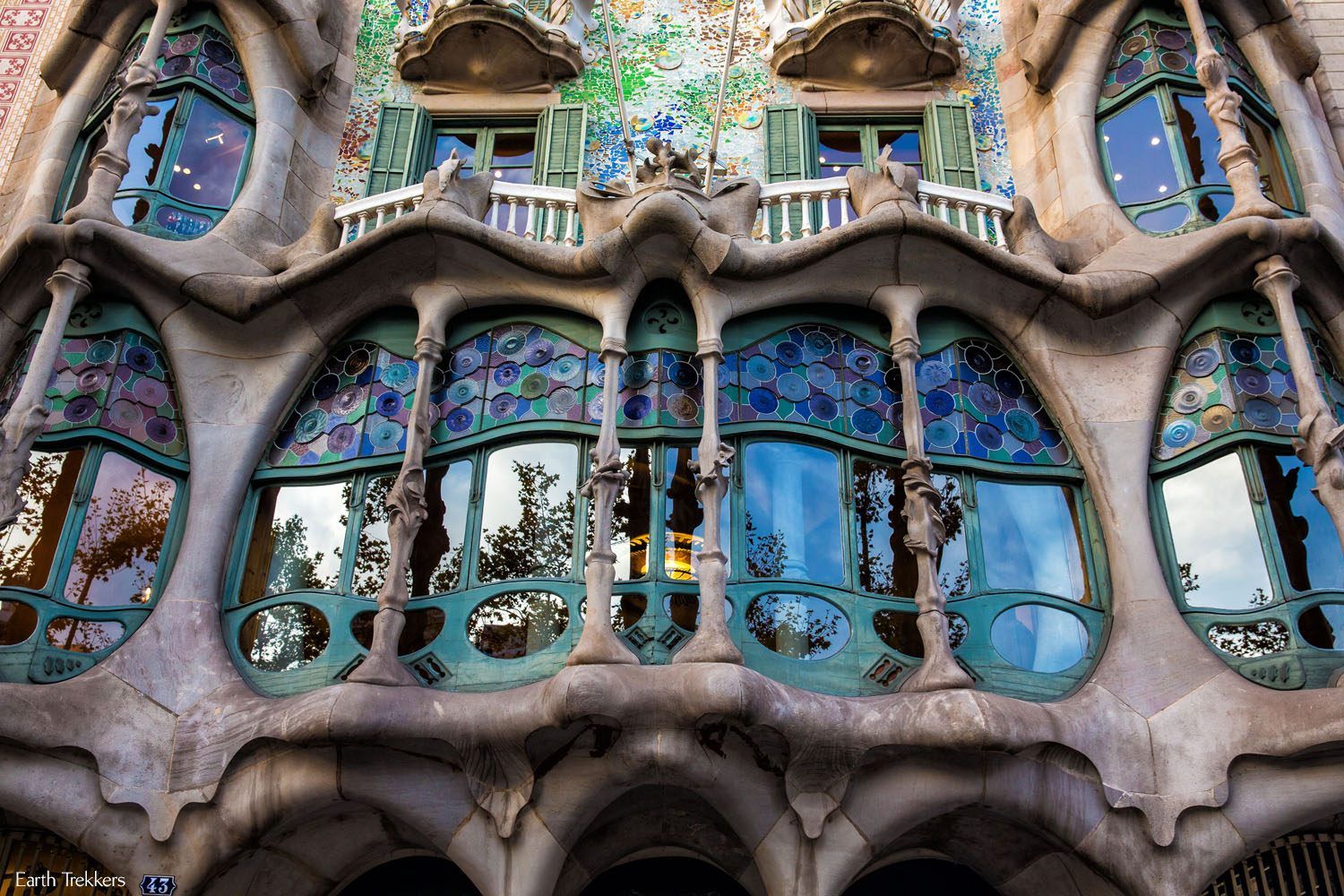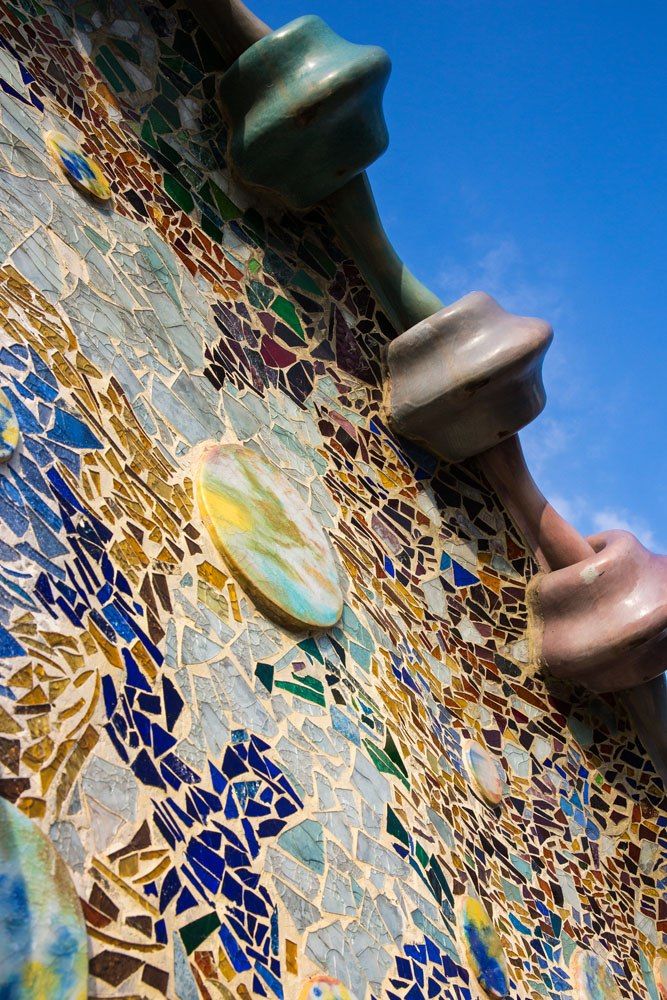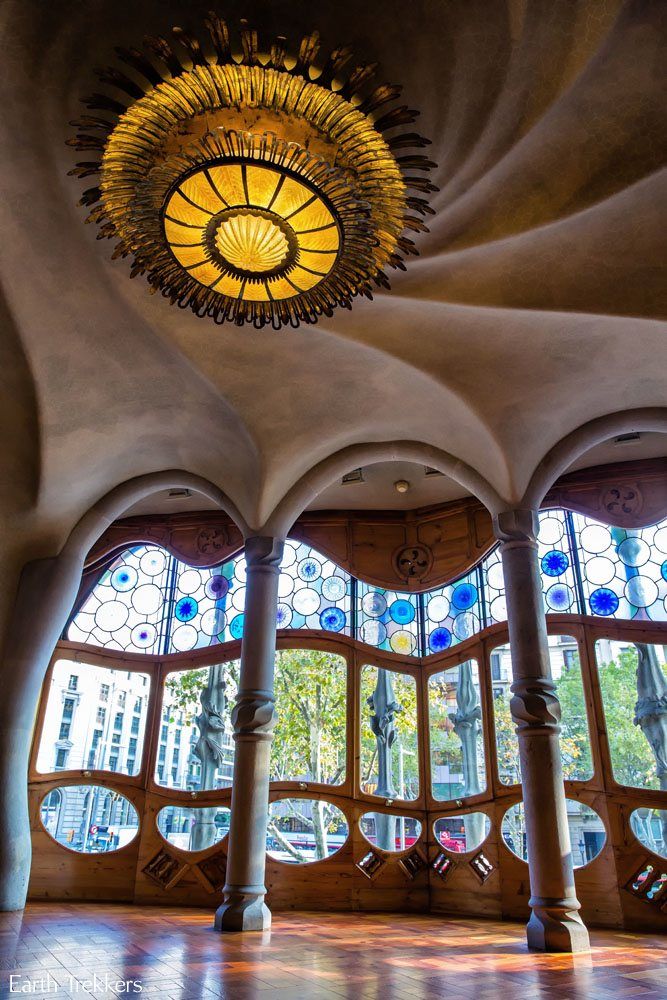 Casa Amatller, Casa Batlló's close neighbor
Located to the left of Casa Batlló is Casa Amatller, another unique building in Barcelona. This building was designed for the chocolatier Antoni Amatller.
Take a peak of the outside (easy to do since it stands adjacent to Casa Batlló) and then enter the building. Inside is a store selling Amatller chocolate. It is delicious!!! We recommend visiting the café and ordering the melted chocolate served with bread. And don't forget to buy some chocolate to bring home. Yum!!
Casa Milà aka La Pedrera
Here is yet another Gaudí work of art. Yes, Gaudí really left his mark on Barcelona.
Casa Milà, also known as La Pedrera, is located just a few blocks north of Casa Batlló on Passeig de Gràcia. This was the last civil work designed by Antoni Gaudí and it is a UNESCO World Heritage Site. Casa Milà is another icon of Barcelona but not quite as popular as Casa Batlló. We walked by La Pedrera several times and never saw the queues like we did at Casa Batlló.
You can purchase tickets online in advance for Casa Milà. To learn more, visit the official website.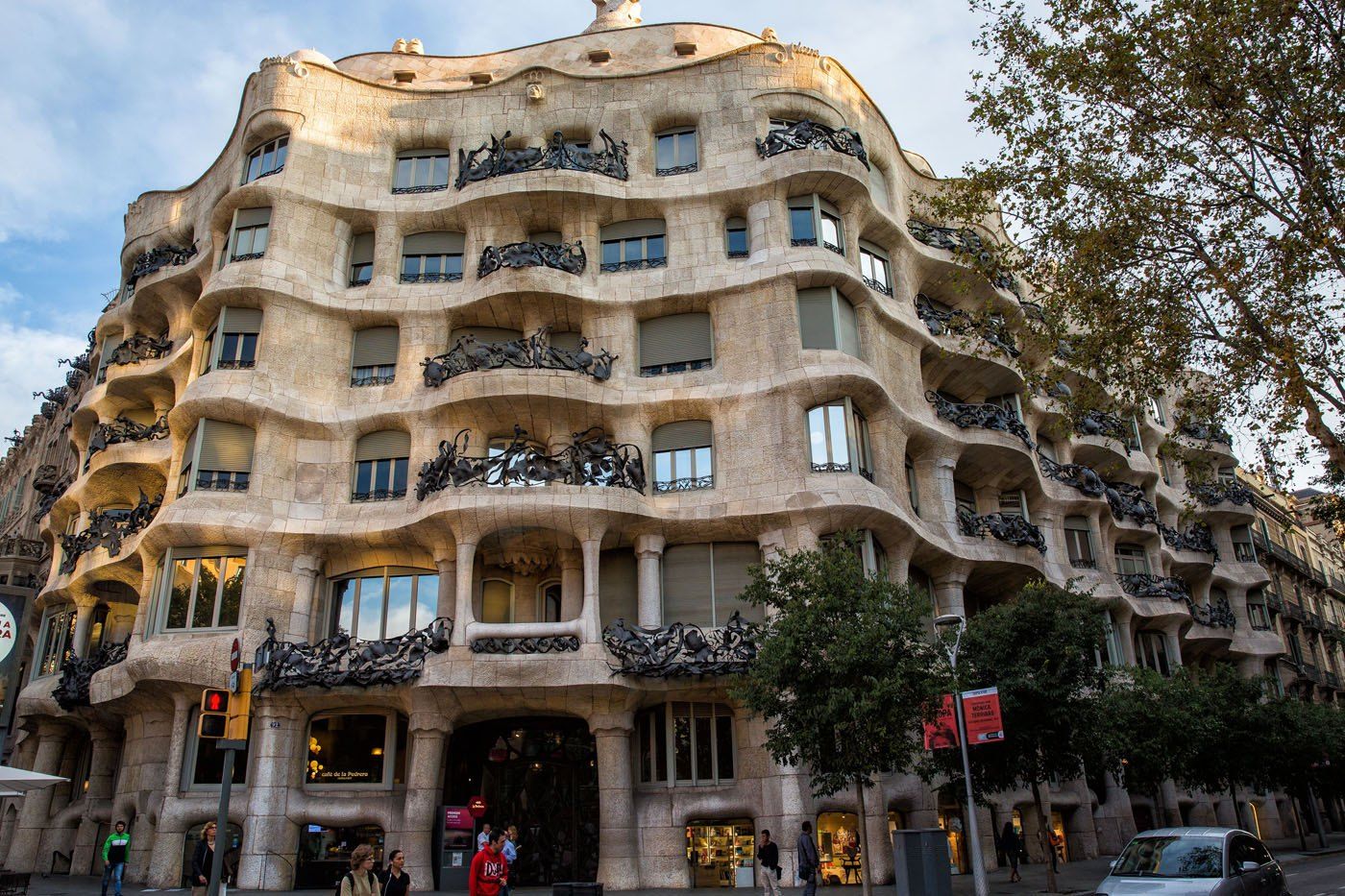 Park Güell…One of Barcelona's Most Popular Sites
Park Güell is one of Barcelona's most popular sites, but is it worth it? During peak season, expect huge crowds of people here. Entry is limited to 400 people every half hour, which sounds like a lot, but tickets can sell out early in the day. Putting a limit on the number of people makes the visit much more enjoyable, just be prepared to buy your tickets in advance.
Park Güell is another work of Antoni Gaudí and another UNESCO World Heritage Site. It's another colorful spot in Barcelona with buildings that resemble gingerbread houses and a long, tiled bench designed to represent a serpent.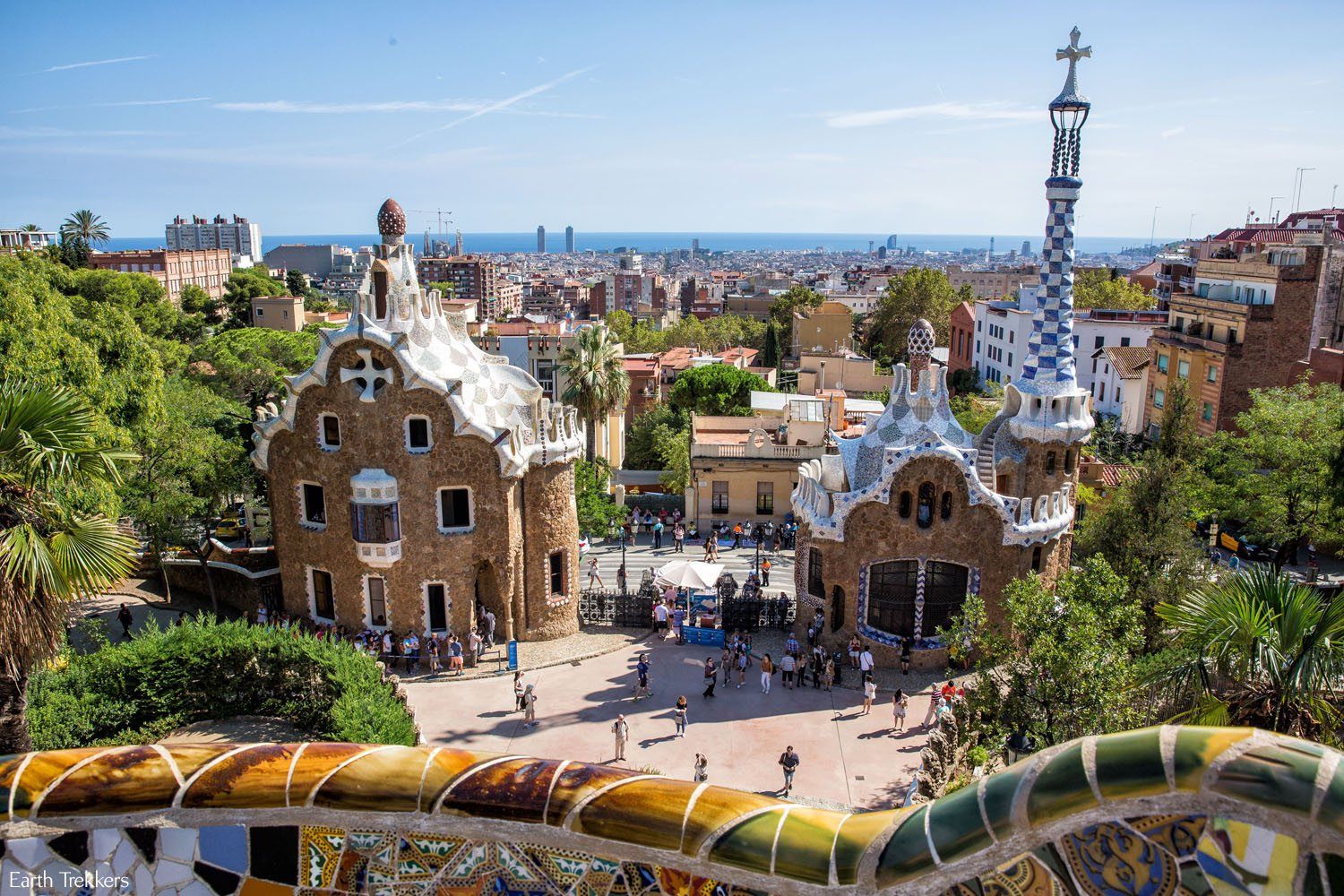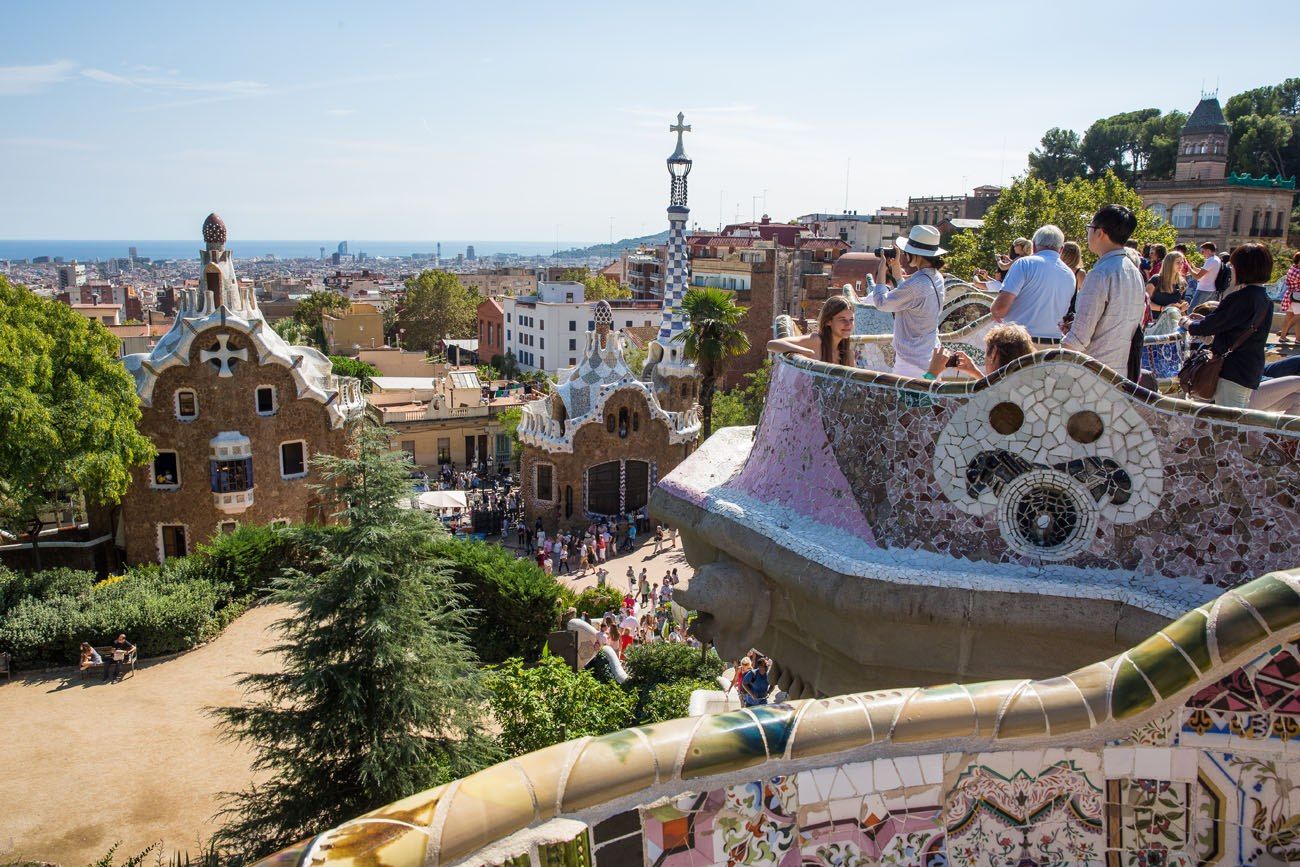 So, is it worth it? If you want to see more of Gaudí's designs, yes. If you like visiting parks and natural areas, yes. If you feel like you'd be missing something if you didn't check this one off the list, then yes.
I am glad we saw it but we did not fall in love with this one. Even with the limit on the number of people, it felt crowded and overrated.
If you are short on time, make Casa Batlló and Sagrada Familia your main Gaudí visits. There is so much more to see in Barcelona.
Pro Travel Tip: If you plan on visiting Park Güell, purchase your tickets in advance. Visit the official website here.
Palau Güell, Our Final Gaudí Recommendation
Palau Güell, located just off of La Rambla near the Gothic Quarter, is a palace designed by Gaudí for industrial tycoon Eusebi Güell. This one is only worth the visit if you are a big fan of Gaudí or want an interesting perspective over Barcelona from the rooftop.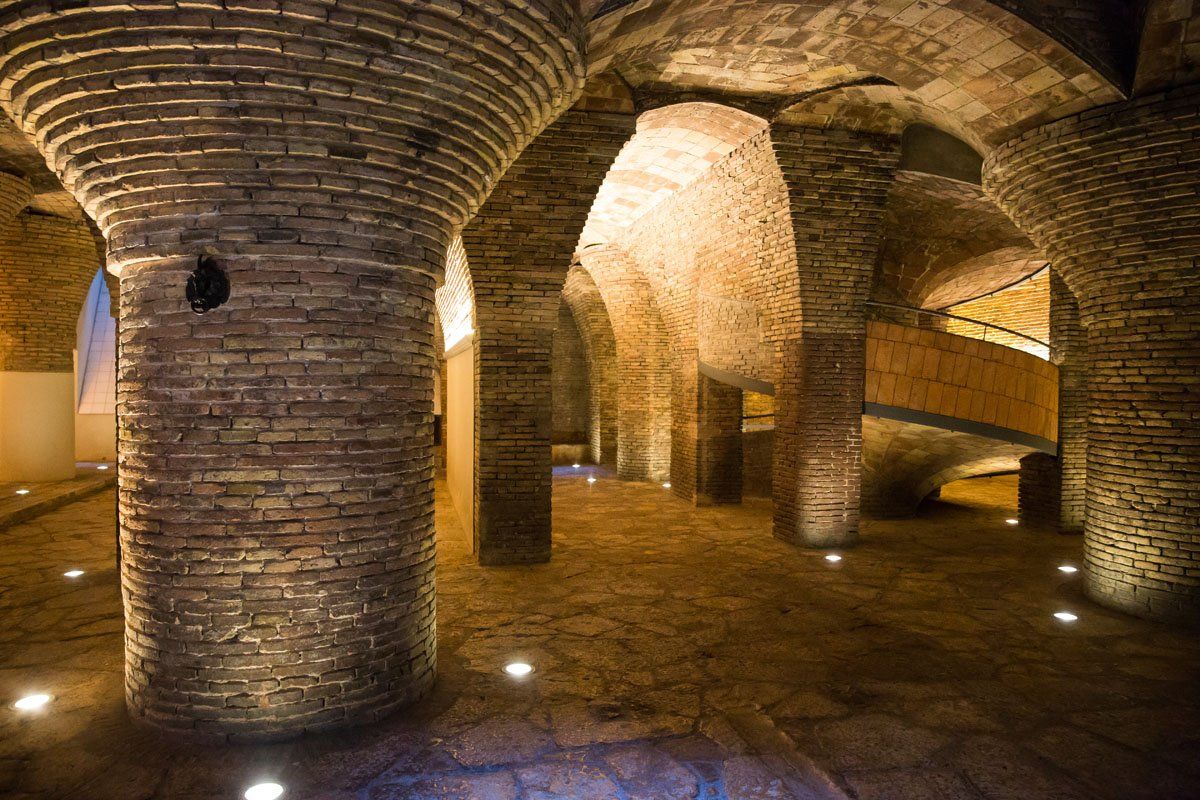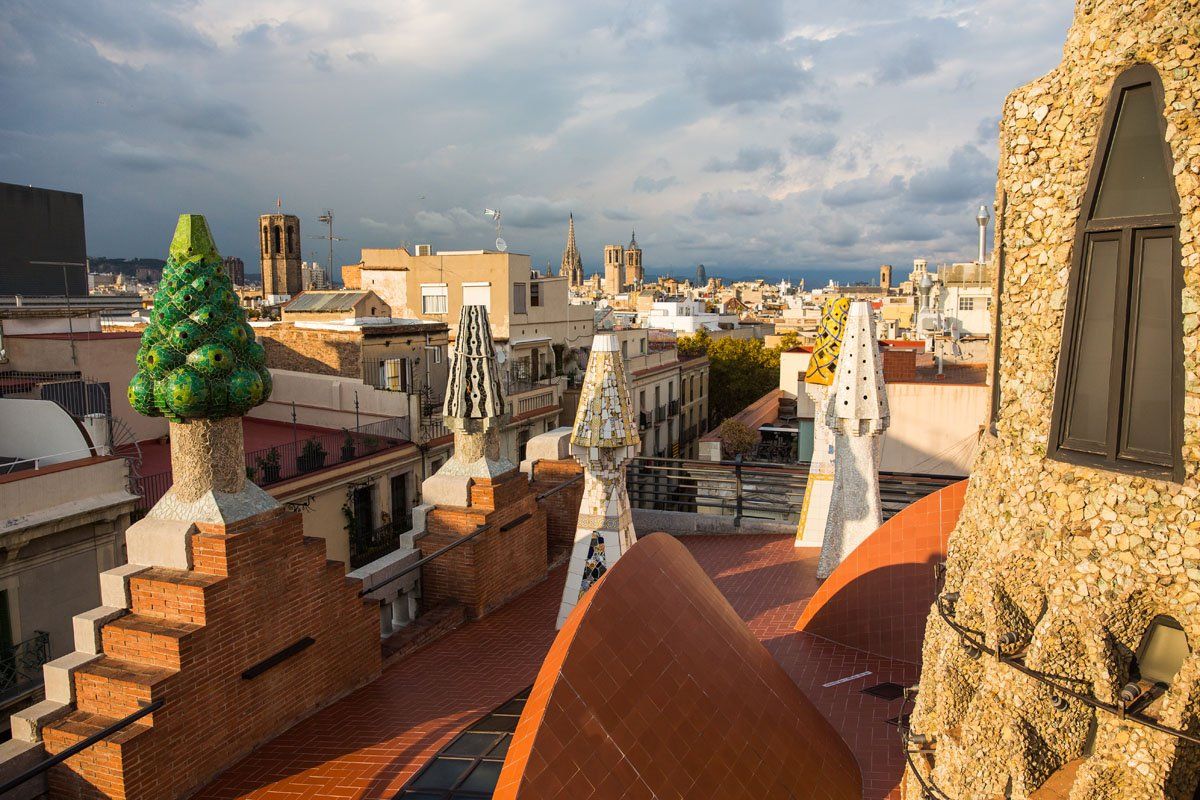 Watch the Sunset from a Rooftop Bar
Rooftop bars dot the skyline in Barcelona. What better way to watch the sunset over the city from a rooftop bar with a glass of cava or wine?
Our two favorites were Alaire Terrace Bar and 360° Terrace.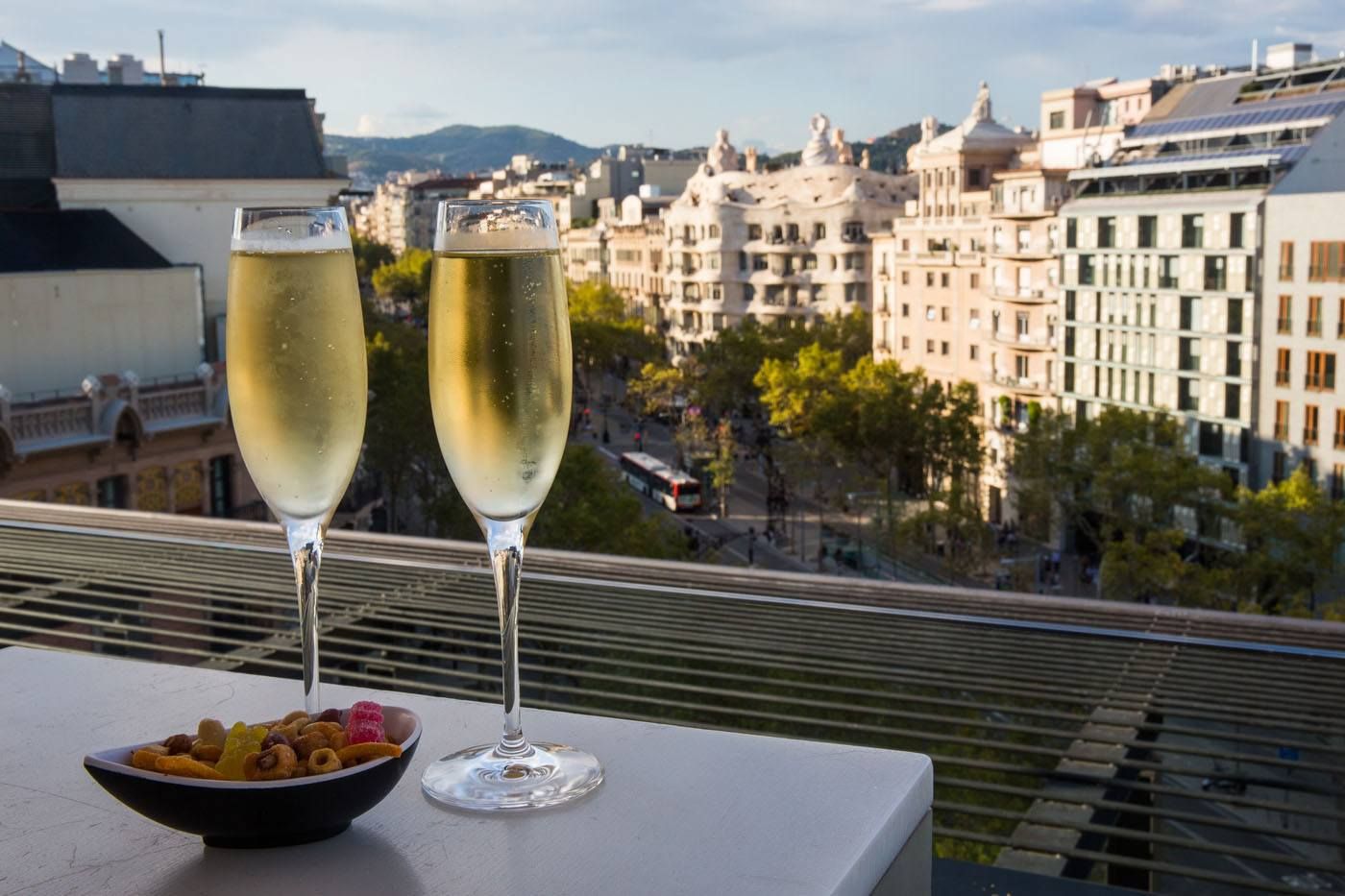 Tibidabo…Say That Three Times Fast!
Tibidabo is very small amusement park perched on a hillside overlooking the city of Barcelona. This is a great spot to take the kids when you need a break from sightseeing. To get here, you can take Bus 196 or the Blue Tram (when it's running) to the funicular.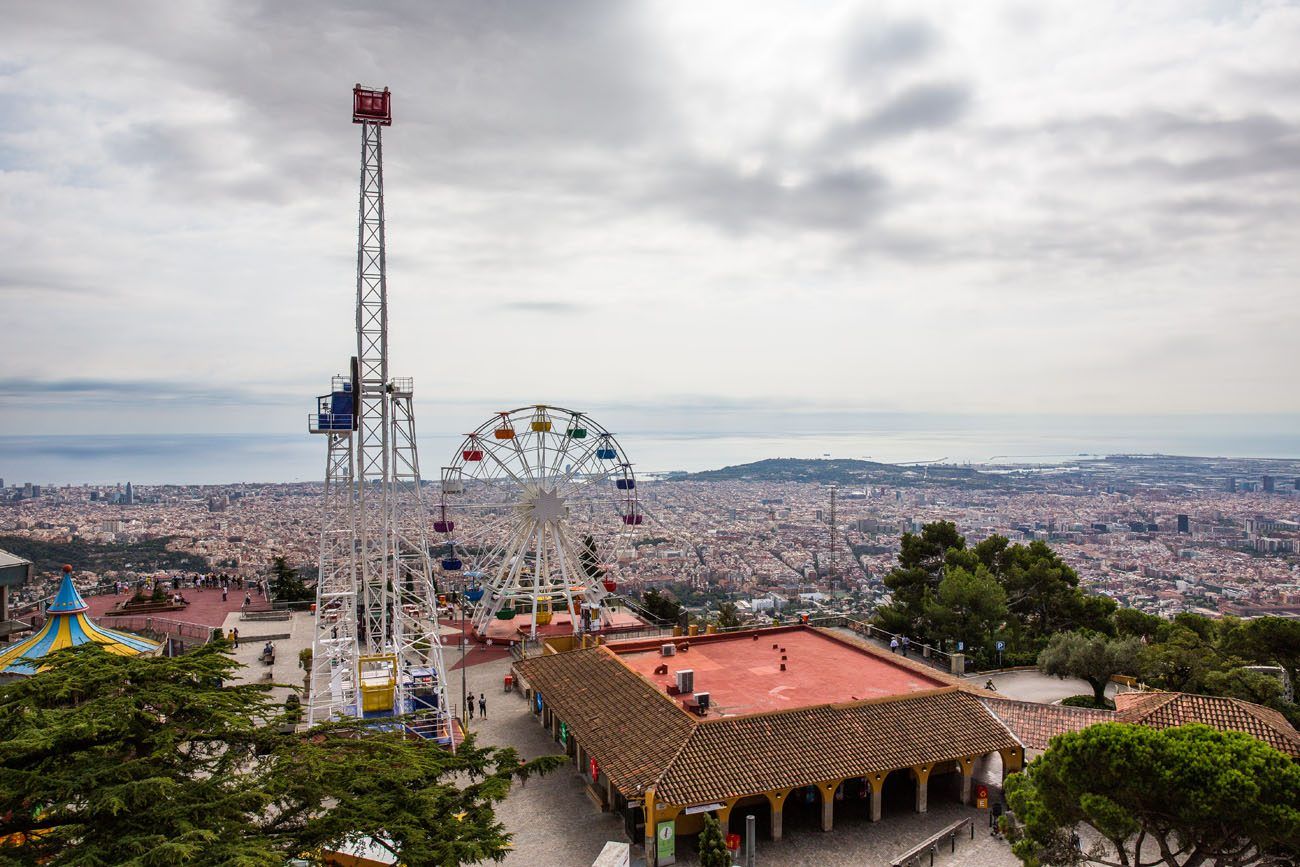 Sagrat Cor and It's Amazing View
Sagrat Cor, also known as the Temple of the Sacred Heart of Jesus, is a Roman Catholic Church located on Mount Tibidabo. Wherever you go in Barcelona, this church, on its perch overlooking the city, can be seen. For one of the best views of Barcelona, come here.
Sagrat Cor sits adjacent to the Tibidabo amusement park. For one of the best views of the city, ascend to the highest point of the church.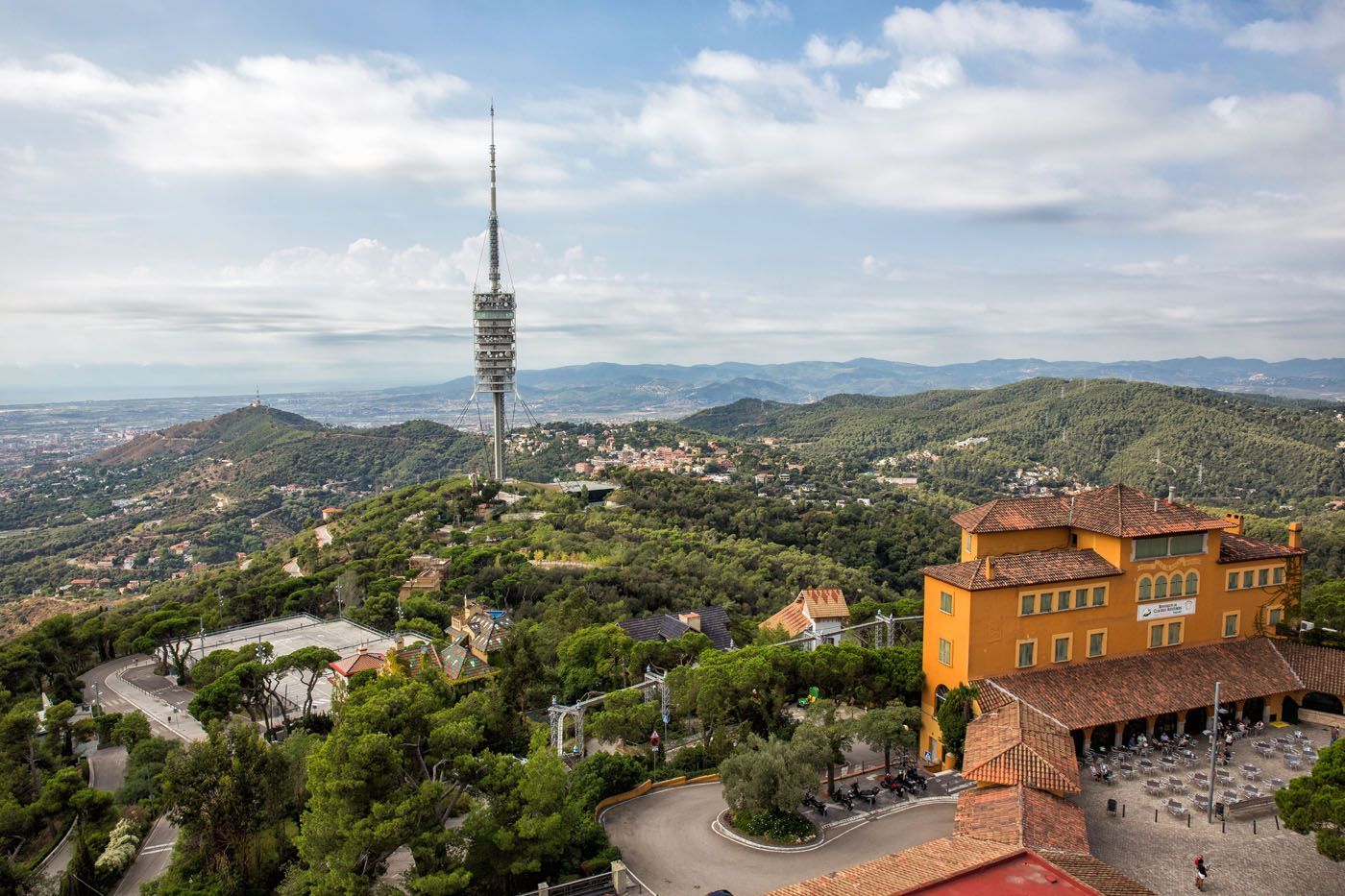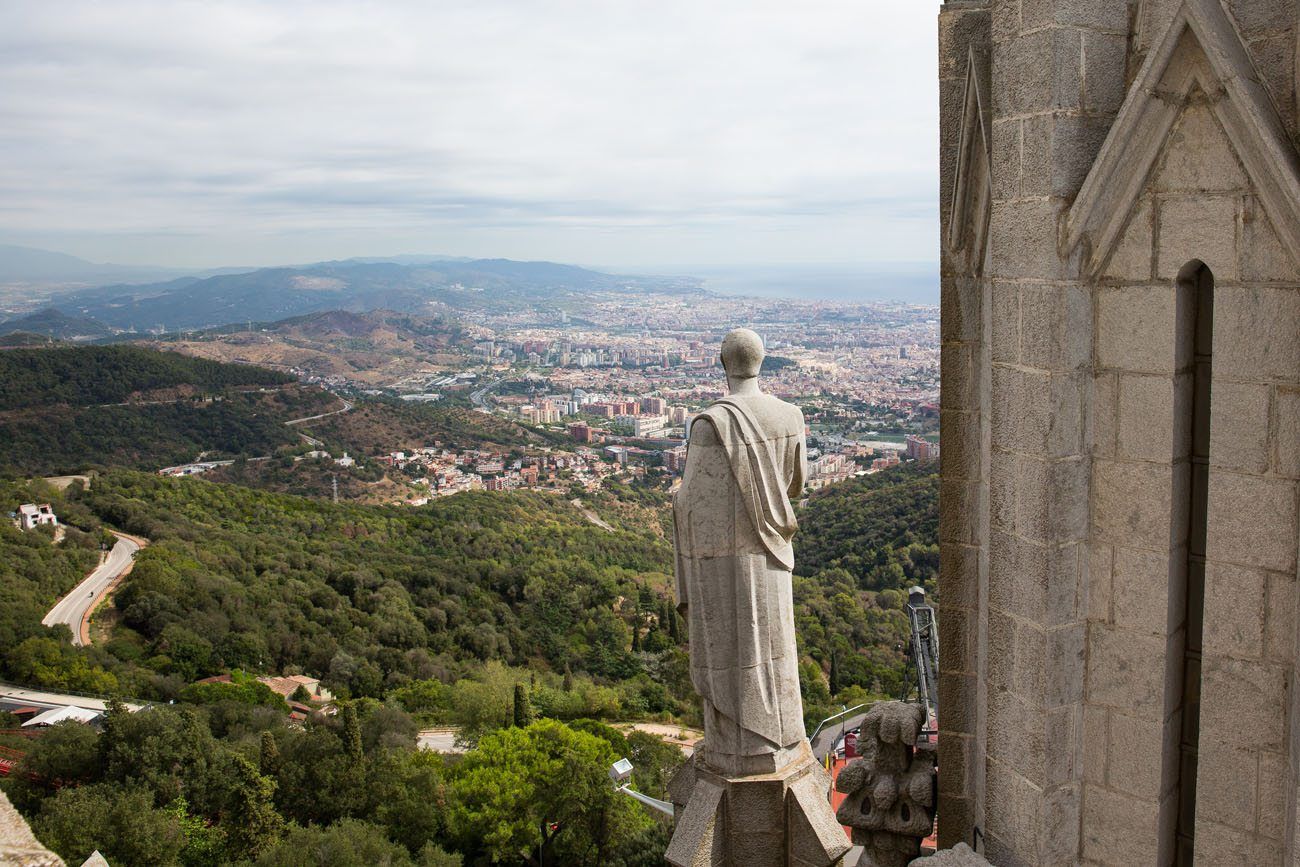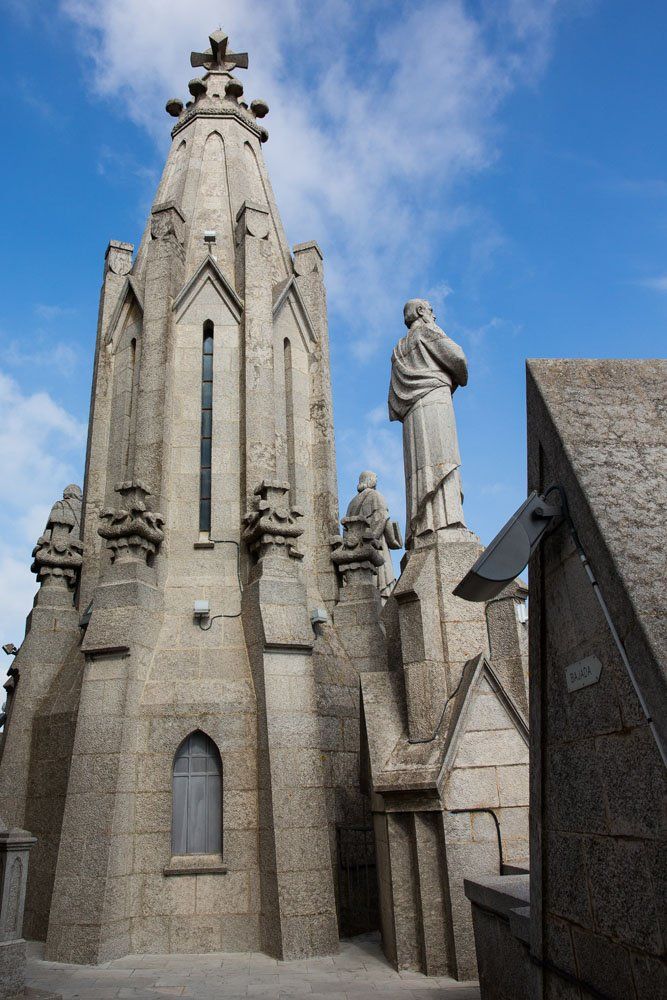 For us, the visit to Sagrat Cor was a highlight of our time in Barcelona. This was wonderful. The views are unbelievable and there were very few people here. Later, when we shared our photo on social media, many people who had visited Barcelona knew nothing about Sagrat Cor. We highly recommend a visit here, especially on a clear day. Hopefully, you will have just as wonderful of an experience as we did.
Sip Cava or Vermouth at an Outdoor Cafe
Outdoor cafes are easy to find throughout Barcelona, as are glasses of vermouth and cava. Barcelona is in the midst of a vermouth renaissance. It's found on most menus, and if you want a great place to try it out (and have some amazing tapas) try Bodega 1900.
Cava is Spain's sparkling wine. Found at almost every bar and restaurant in Barcelona, people usually drink cava at the start of a meal.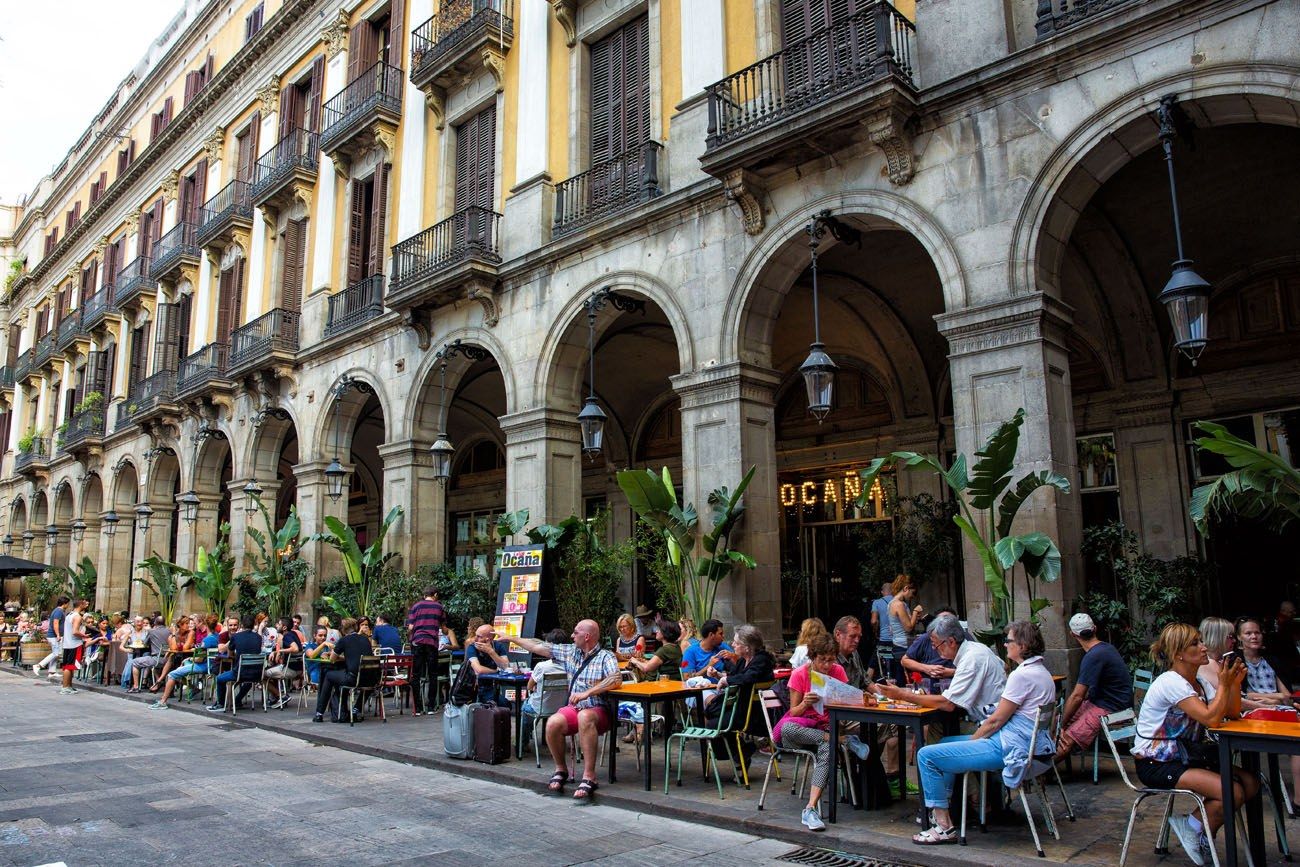 Take a Peak Inside the Barcelona Cathedral
Built between the 13th and 15th centuries, this cathedral sits just to the north of the Gothic Quarter. It's worth a peak inside if you are in the area.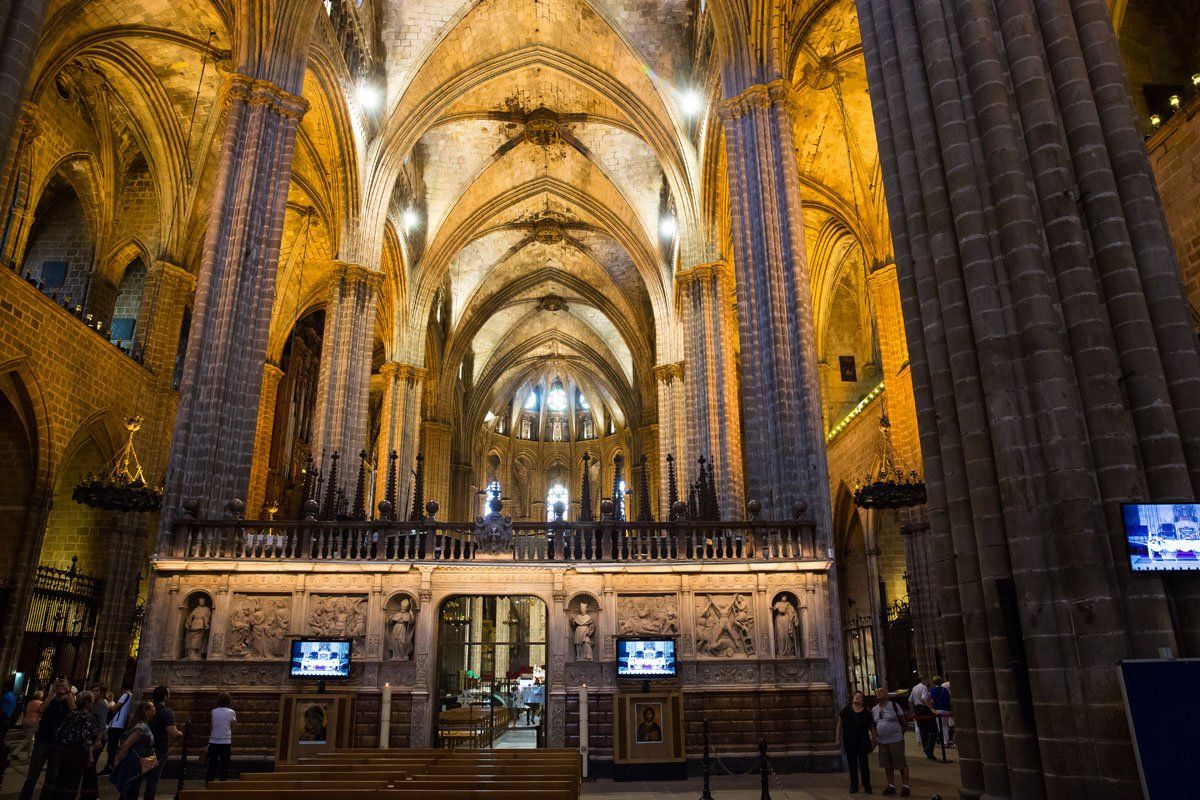 Take a Stroll through Parc de la Ciutadella
If you need a break from the streets of Barcelona, or like to explore parks, the Parc de la Ciutadella is a great place to visit. This park is located near the Gothic Quarter. Gravel paths wind through the park, lush with palm trees and tropical vegetation.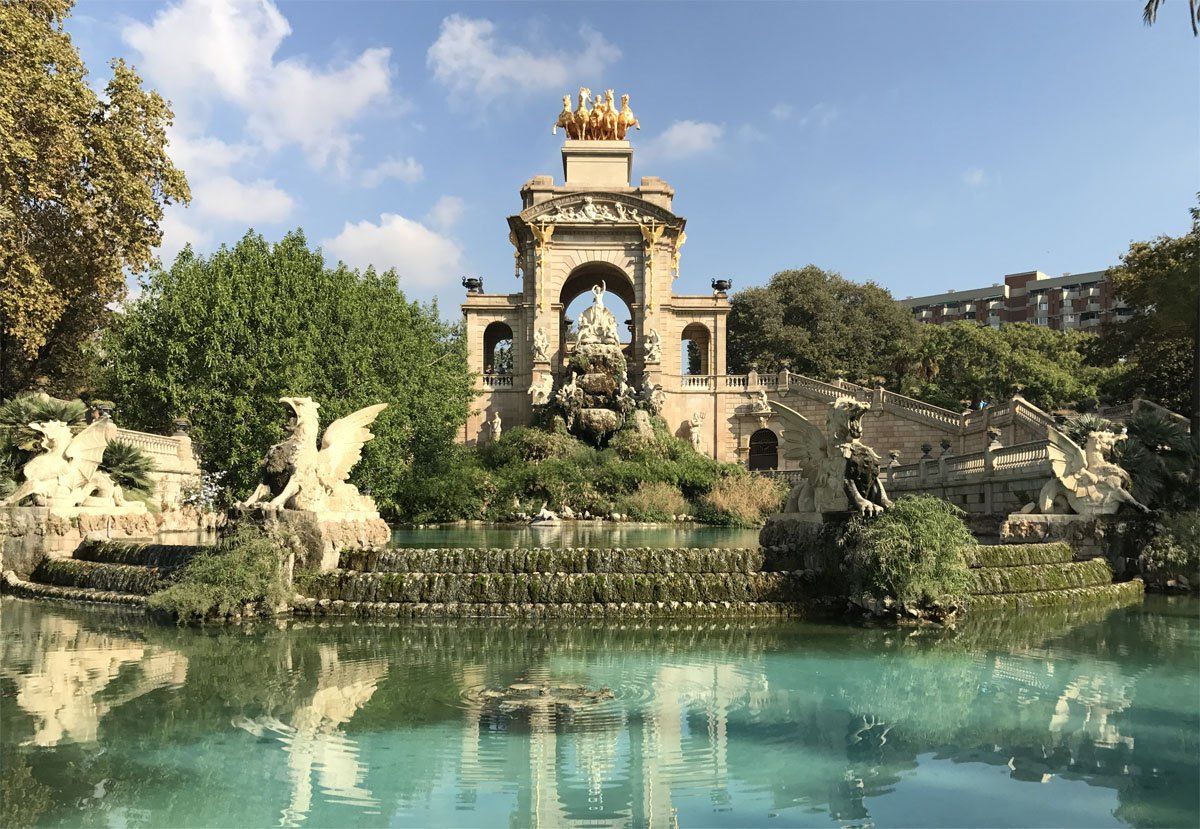 See the Arc de Triomf
Sitting just to the north of Parc de la Ciutadella is the Arc de Triomf. Maybe not is impressive as the Arc de Triomphe in Paris, but it still is worth a quick visit. This arch was the main access gate for the 1888 World's Fair.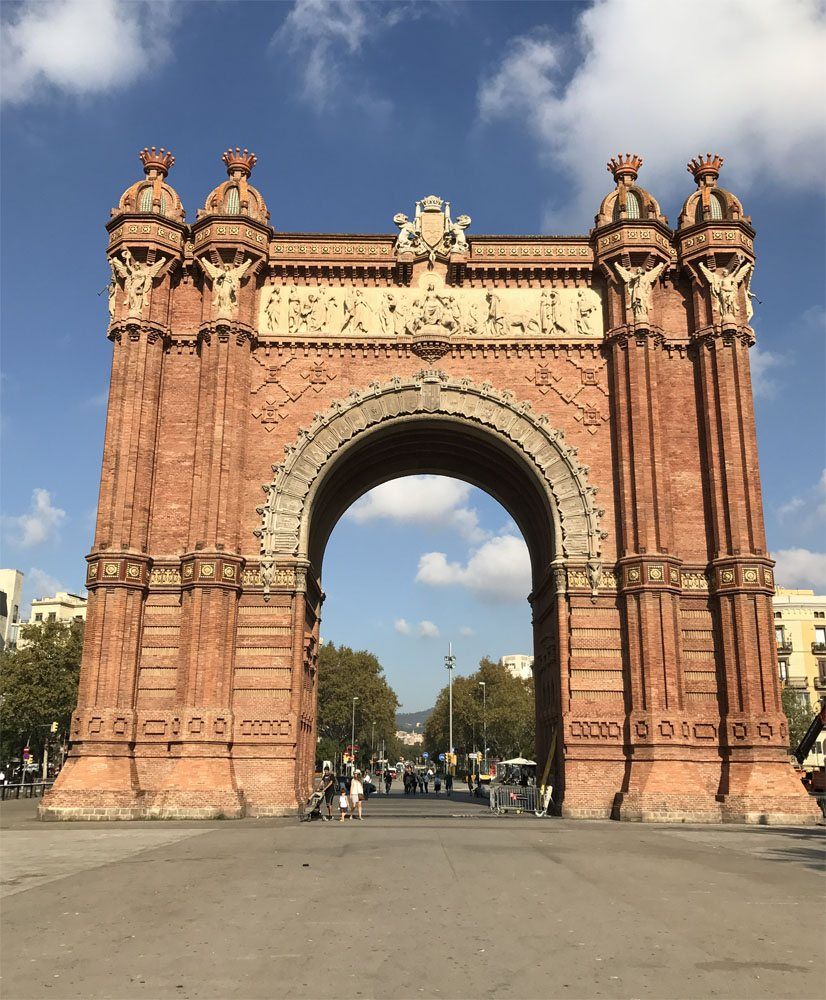 Tapas! Tapas! Tapas!
This is a must-do! Tapas are small, savory plates of food, usually eaten as snacks or as a meal. There are tapas restaurants in abundance throughout Barcelona. Try as many as you can while here! The best part of eating tapas…being able to order an assortment of delicious treats to sample.
Watch a Game at Camp Nou
Camp Nou is the official football stadium of Barcelona and the largest stadium in Spain. It is the home of FC Barcelona. Watch a game or tour the stadium and visit the museum. For more information, click here.
Don't Miss La Boqueria
La Boqueria is a large market in central Barcelona. It's a tourist landmark and worth a visit. It's a great place to go shopping for fish, fruit, fresh juices, and an assortment of foods. There are also small tapas restaurants that are excellent. We recommend Pinotxo Bar and El Quim de la Boqueria.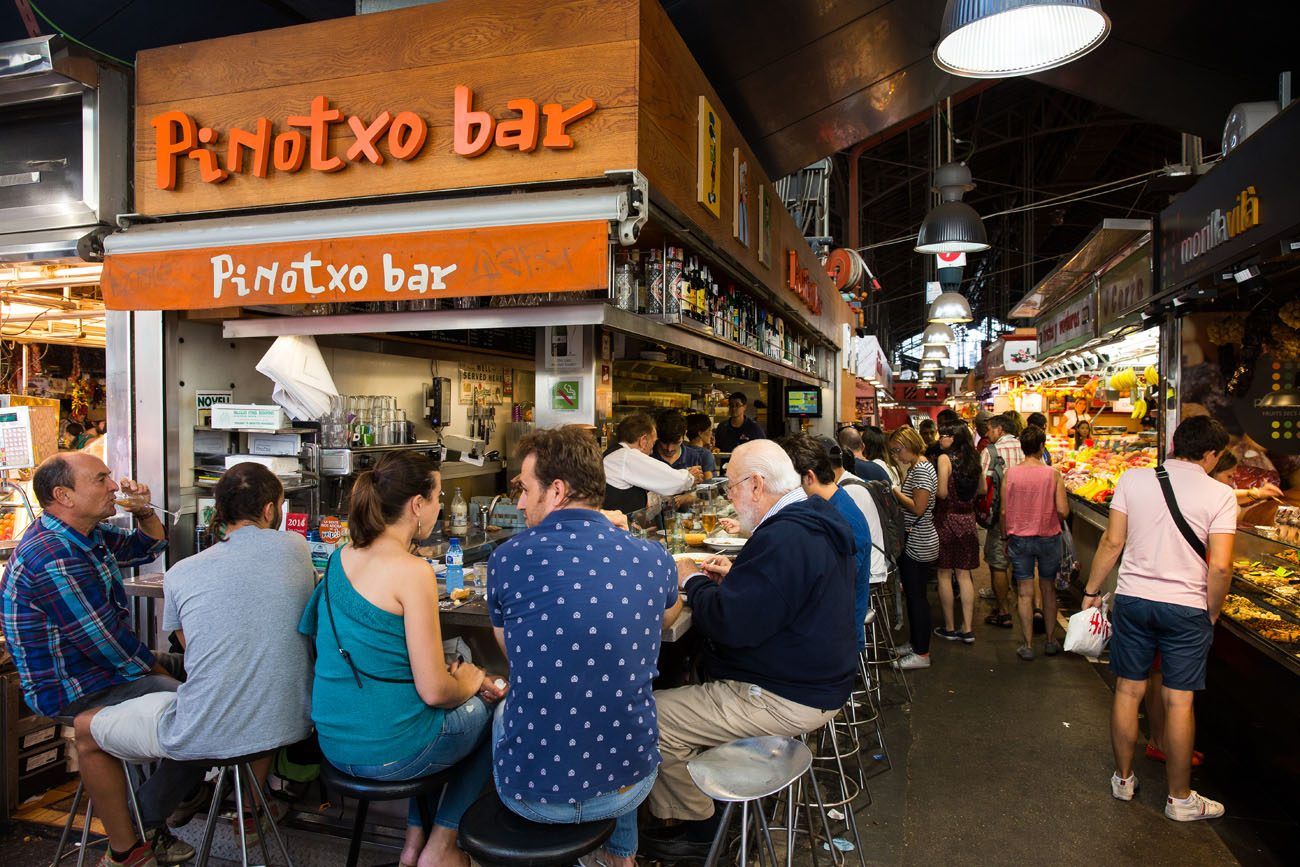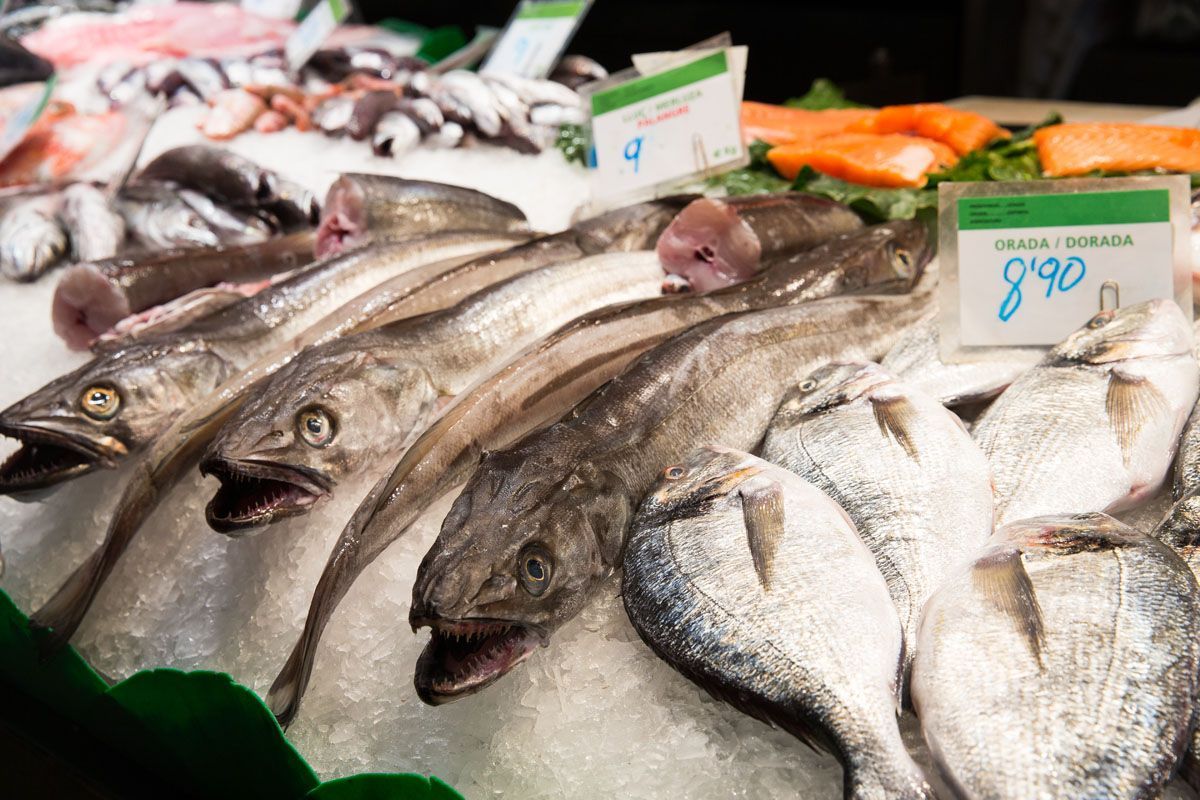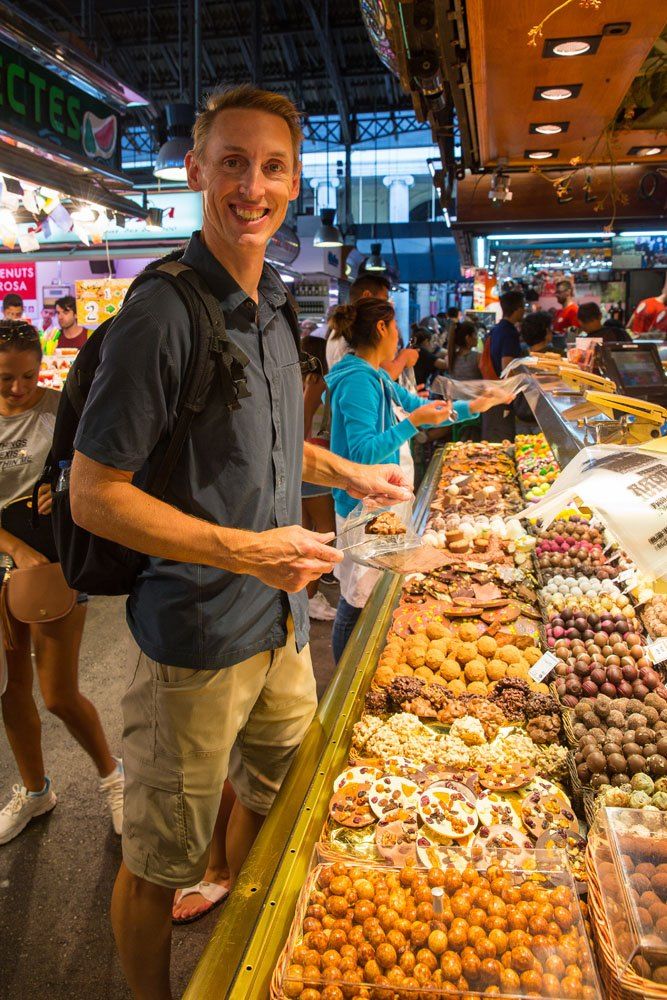 Take a Day Trip
If you have the time, you can take some excellent day trips from Barcelona. Visit Montserrat, a mountain range with amazing views, Girona, a medieval, delightful small town to visit, or Tarragona, a small town known for its Roman ruins.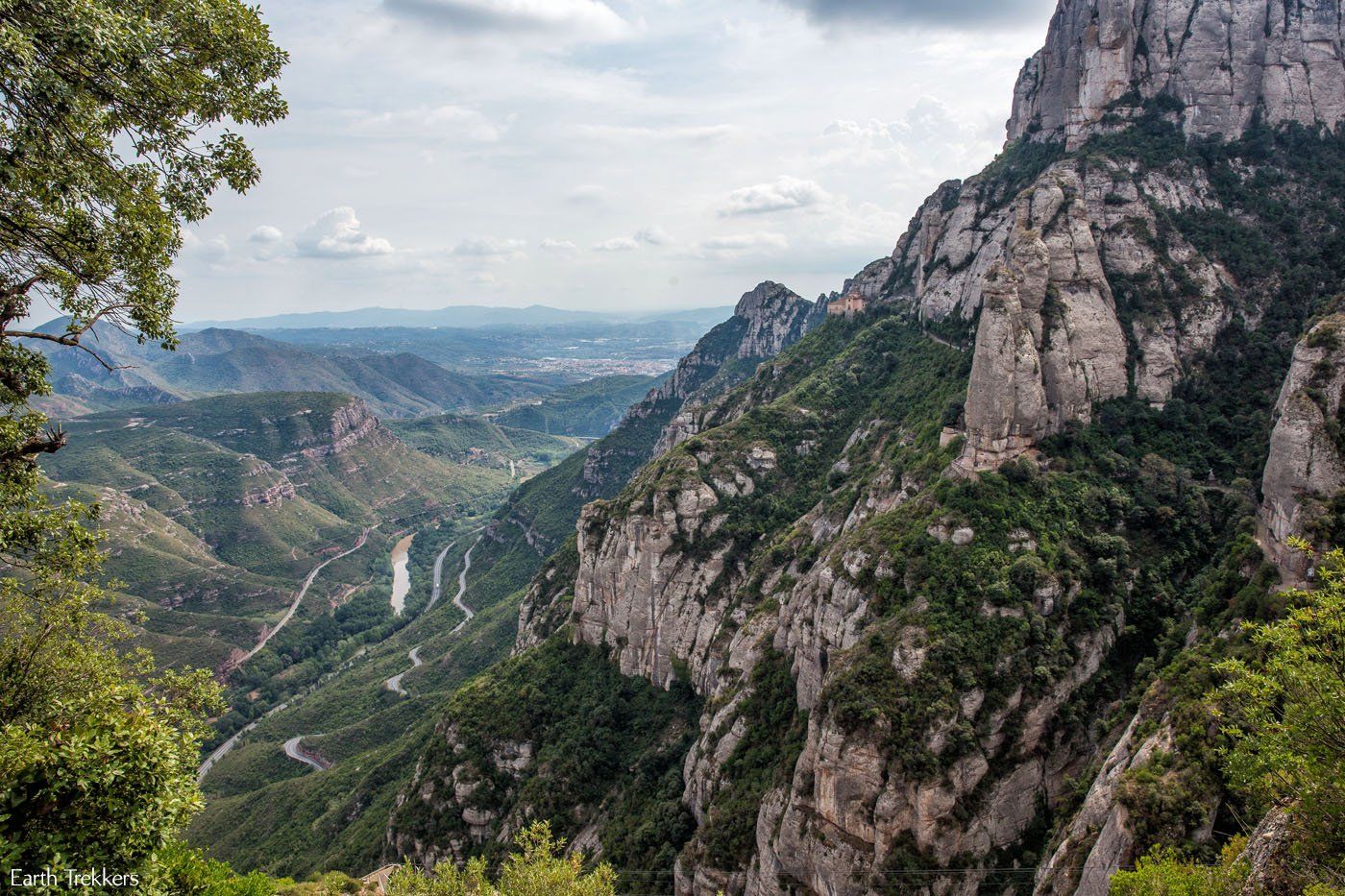 Montserrat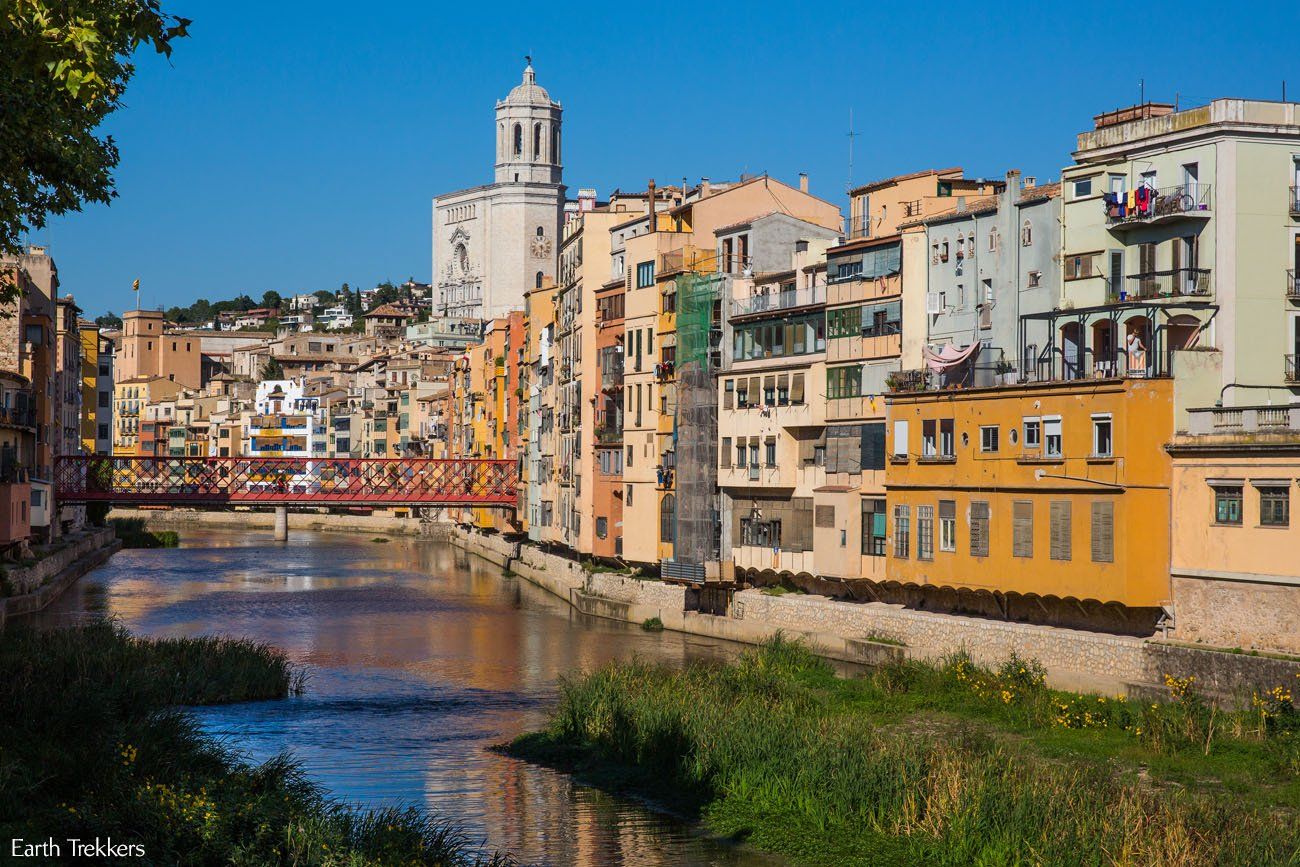 Girona
Santa Maria del Mar
This cathedral is located in the Gothic Quarter of Barcelona. It's free to visit and worth a quick stop.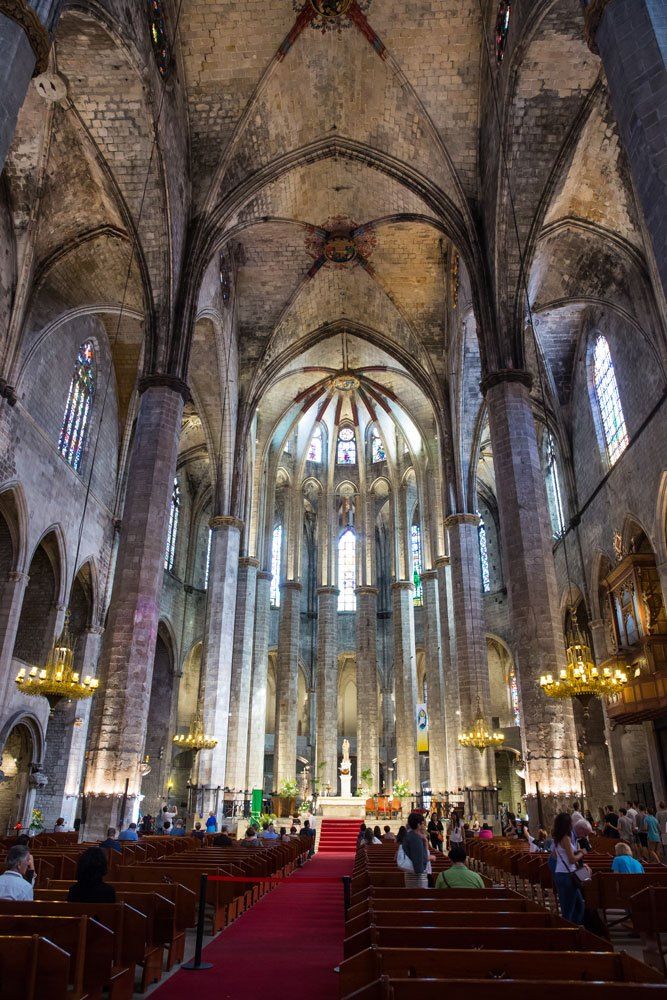 Enjoy the View from Bunkers of Carmel
For another fantastic view of Barcelona, visit the Bunkers of Carmel. These abandoned aircraft defenses are now one of the most popular spots to watch the sunset.
Take a Stroll on Las Ramblas
Las Ramblas is the main pedestrian thoroughfare through Barcelona. It connects Plaça de Catalunya with the Christopher Columbus monument. Tourists and locals can be found here and expect it to be busy!!
As a visitor to Barcelona, it's worth walking on Las Ramblas for a few blocks. But we think wandering the twisting lanes of the Gothic Quarter is much more interesting. Another nice street for strolling is Rambla de Catalunya…similar to Las Ramblas but much less crowded.
Palau de la Musica Catalana
This gorgeous concert hall is a UNESCO World Heritage Site. Designed in modernista style, it was constructed between 1905 and 1908. You can take a tour or attend a musical performance here. Learn more on the official website.
The Magic Fountain of Montjuic
This fountain puts on a display of color, water, and music several nights a week, depending on the season. People who watch the show rave about it. Unfortunately for us, we missed the showtime.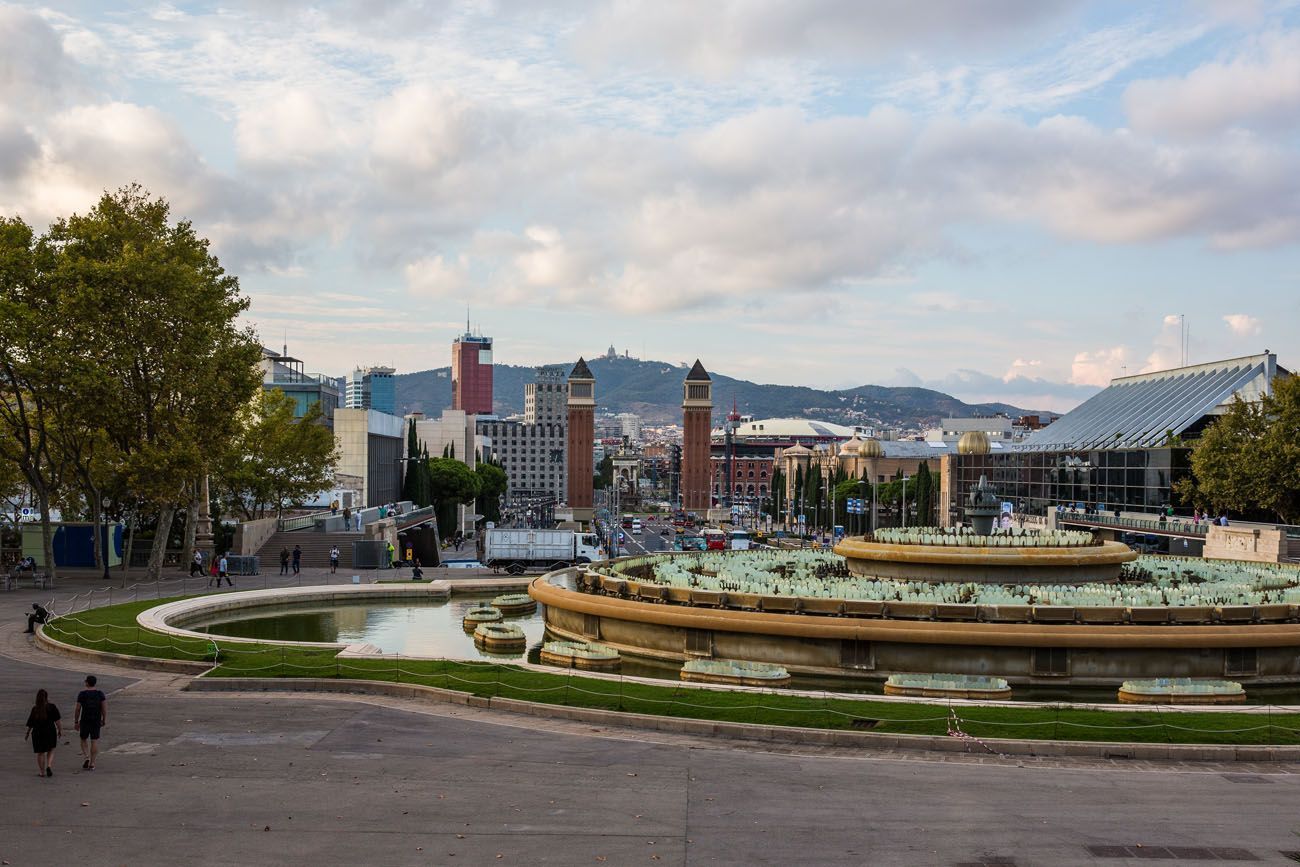 Museu Nacional d'Art de Catalunya
This is the national museum of Catalunya art from the 19th and 20th centuries. We never made it inside but for art lovers this makes a great stop while in Barcelona.
---
Do you have questions about the best things to do in Barcelona? Comment below if you have any questions or if you want to share your favorite experiences.
More Information for Your Trip to Barcelona:
Visit More of Europe's Great Cities: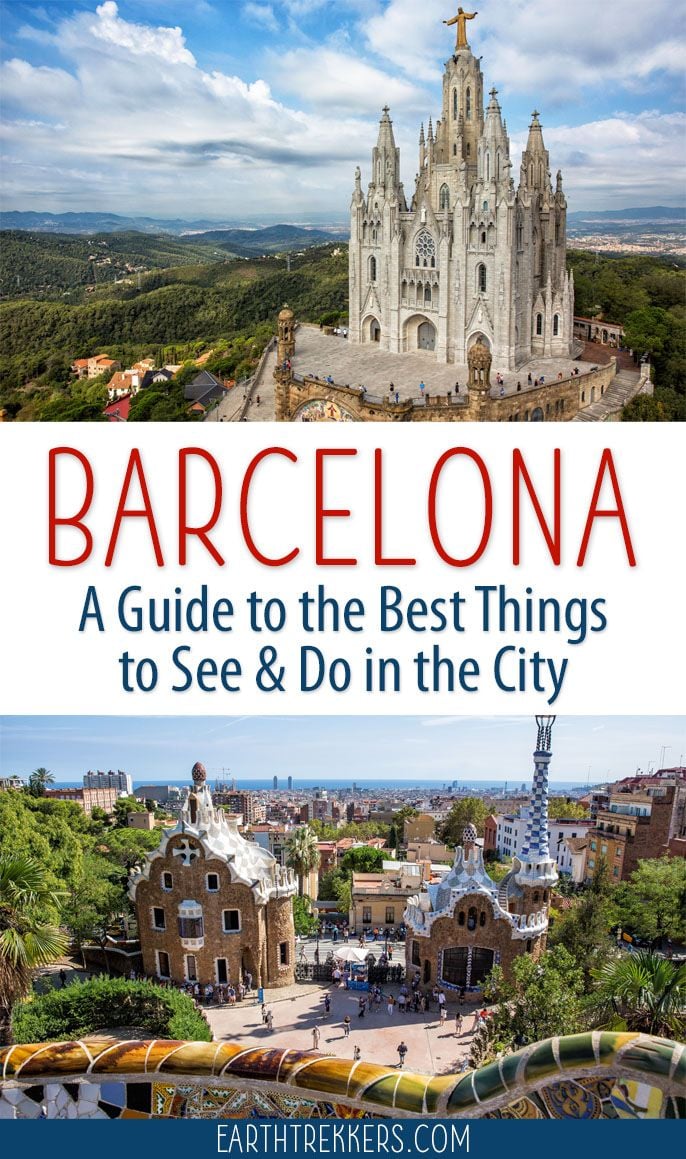 Note: This post contains affiliate links. When you make a purchase using one of these affiliate links, we get paid a small commission at no extra cost to you.
All rights reserved © Earth Trekkers. Republishing this article and/or any of its contents (text, photography, etc.), in whole or in part, is strictly prohibited.