With 3 days in Barcelona, you can visit the icons of this city…Gaudí's masterpieces (the Sagrada Familia, Casa Batlló, Casa Mila, and Park Güell), stroll through the Gothic Quarter, dine on tapas, go to the beach, and watch the sunset from a rooftop bar. We put together this 3 day Barcelona itinerary to help you have the best experience here.
About this Barcelona Itinerary
Barcelona is one of the most popular cities to visit in Europe. If you have plans to visit during peak season (June through September) expect long lines and higher prices for accommodations. In order to have the best experience, I recommend booking your attraction tickets in advance. This will save you hours of waiting in line. As you go through the itinerary, I provide the links so you can do this.
In general, I grouped sites together based on their location in order to save you time walking and using public transportation. This will keep you from spending unnecessary time on the metro and from backtracking through the city.
One of the best things to do in Barcelona is to eat. In fact, we enjoyed lunch and dinner almost more than seeing Casa Batlló or the Sagrada Familia. Tim and I spent one week in Barcelona, and during that time we were able to sample a lot of restaurants. In this Barcelona itinerary, I let you know our favorite spots.
One more thing about meals in Barcelona. They eat later in the day here than in any other European city that we have visited. Some restaurants offer breakfast until 12:30 pm. Lunch is usually eaten between 1 and 3 pm. Some restaurants do not open for dinner until 7 pm and it is completely normal to go out to dinner at 10 pm.
Tim and I quickly got on the schedule of having a late lunch, taking a siesta in our hotel, and going out again later in the afternoon for sightseeing and a very late dinner. However, with only 3 days in Barcelona, you might have to forgo the naps in order to maximize your time.
Note: As sights reopen in 2021, hours of operation and pricing may change from what I have listed in this article. I do my best to provide up-to-date pricing, but I strongly recommend that you check the official websites for each sight for current pricing and hours (the links are provided throughout this itinerary).
Barcelona Itinerary Day 1
Gaudí, Las Ramblas, and the Gothic Quarter
Today, you will spend the morning visiting some of Gaudí's best masterpieces, located on Passeig de Gracia. Take a stroll down Las Rambas and spend the rest of the day exploring the Gothic Quarter.
How to Use This Map: Click the tab in the top left hand corner of the map to view the layers (points of interest, restaurants, and hotels). You can click the check marks to hide or show layers. If you click the icons on the map, you can get more information about each point of interest.

If you click the star next to the title of the map, this map will be added to your Google Maps account. To view it on your phone or computer, open Google Maps, click the menu button, go to "Your Places," click Maps, and you will see this map on your list.
Casa Batlló
Casa Batlló is one of Antoni Gaudí's most famous designs. This colorful building sits on Passeig de Gracia, one of the major thoroughfares through the city.
If you traveling on a budget, you can simply view the building from the outside. However, if you have an interest in Gaudí and his architecture, it is worth paying to enter the house.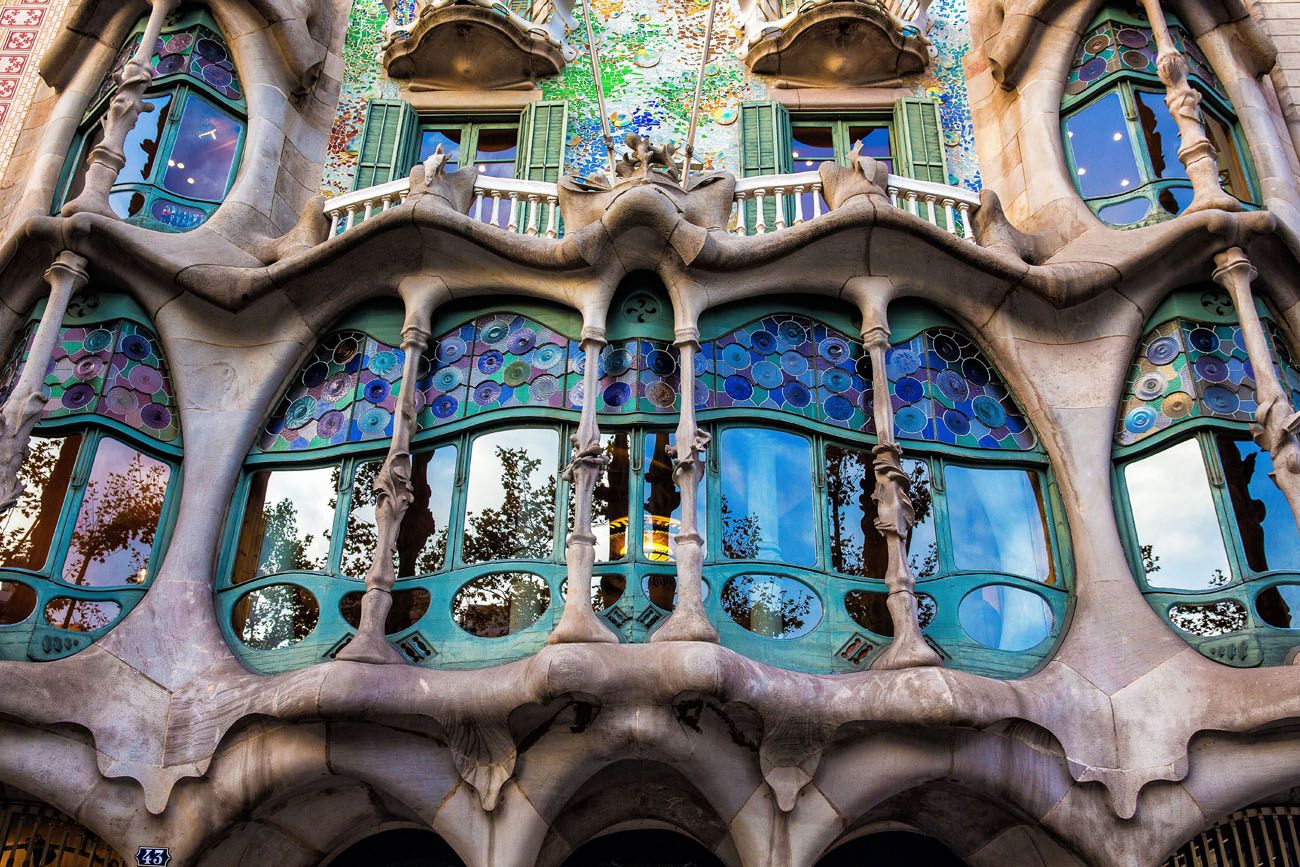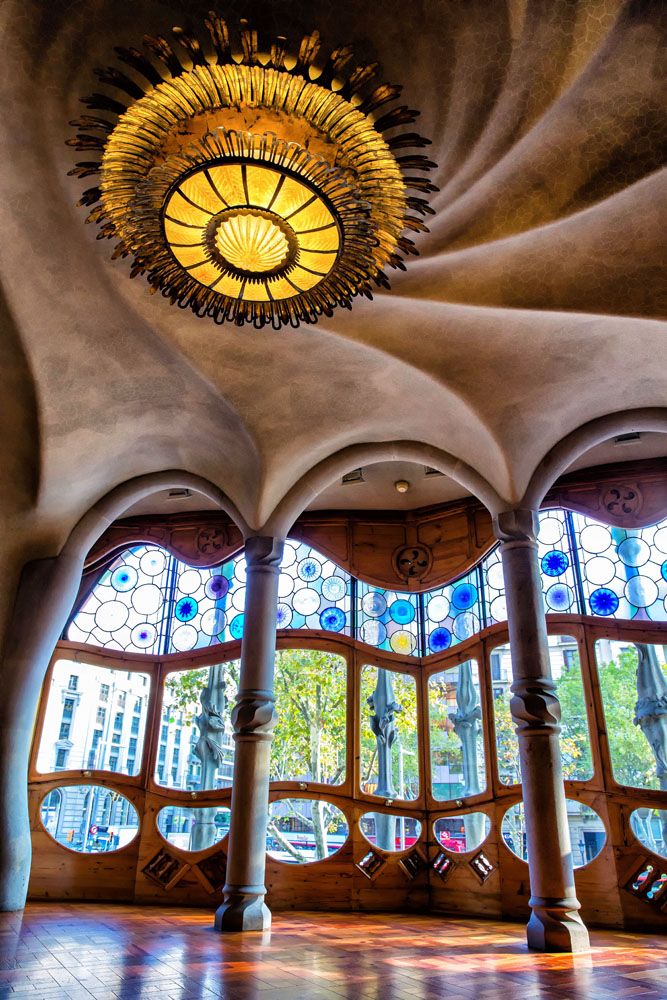 Lines can be long. This is one of several spots in Barcelona where you should book your tickets in advance.
PRO TRAVEL TIP: You can enter Casa Batlló before opening time. Casa Batlló opens at 9 am, however, you can purchase tickets to enter at 8:30 am, if you really want to skip the crowds. These tickets cost €39 per person.
Hours: 9 am to 8 pm 365 days a year (last entry at 7 pm)
Cost: €25 for a standard ticket, €35 for a Gold ticket (allows you VIP access to skip the line); tickets purchased online in advance are €4 cheaper than buying them at the box office. "Be the First" tickets cost €39 and give you early entry (and the best chance to take photos crowd free).
Website: Learn more on the official website.
Getting Here: Casa Batlló is located on Passeig de Gracia. The closest metro station is Passeig de Gracia.
Purchase your tickets in advance and plan to arrive at 9 am. I do not think that the Gold ticket is necessary if you arrive here at opening time. It takes roughly 1 hour to tour Casa Batlló.
Casa Amatller
Located next to Casa Batlló is Casa Amatller, another unique building in Barcelona. This building was designed for the chocolatier Antoni Amatller.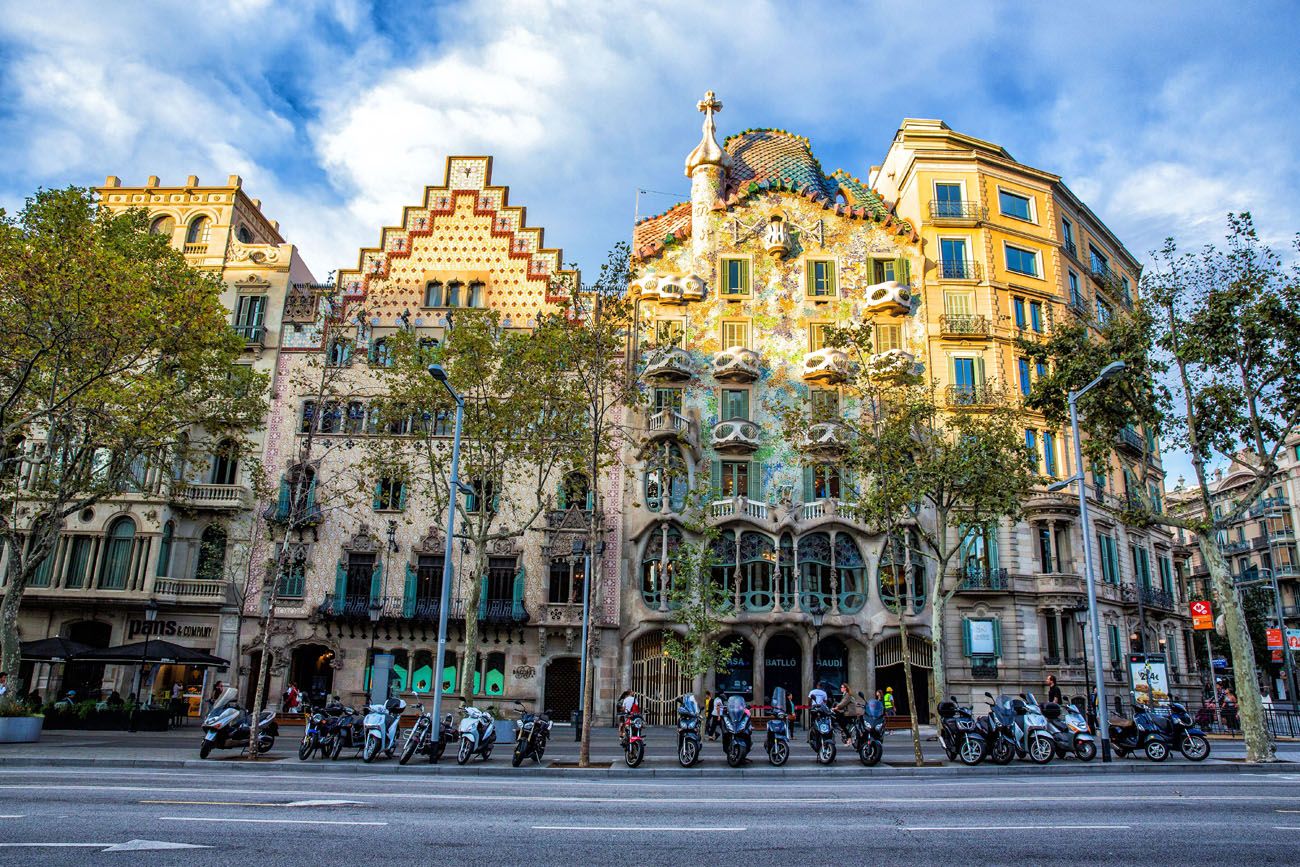 Casa Amatller and Casa Batlló
Inside Casa Amatller is a store selling Amatller chocolate. It is delicious! We recommend visiting the café and ordering the melted chocolate served with bread. And don't forget to buy some chocolate to bring home.
Casa Milà
Casa Milà, also known as La Pedrera, is located just a few blocks north of Casa Batlló on Passeig de Gracia. This was the last civil work designed by Antoni Gaudí and it is a UNESCO World Heritage Site.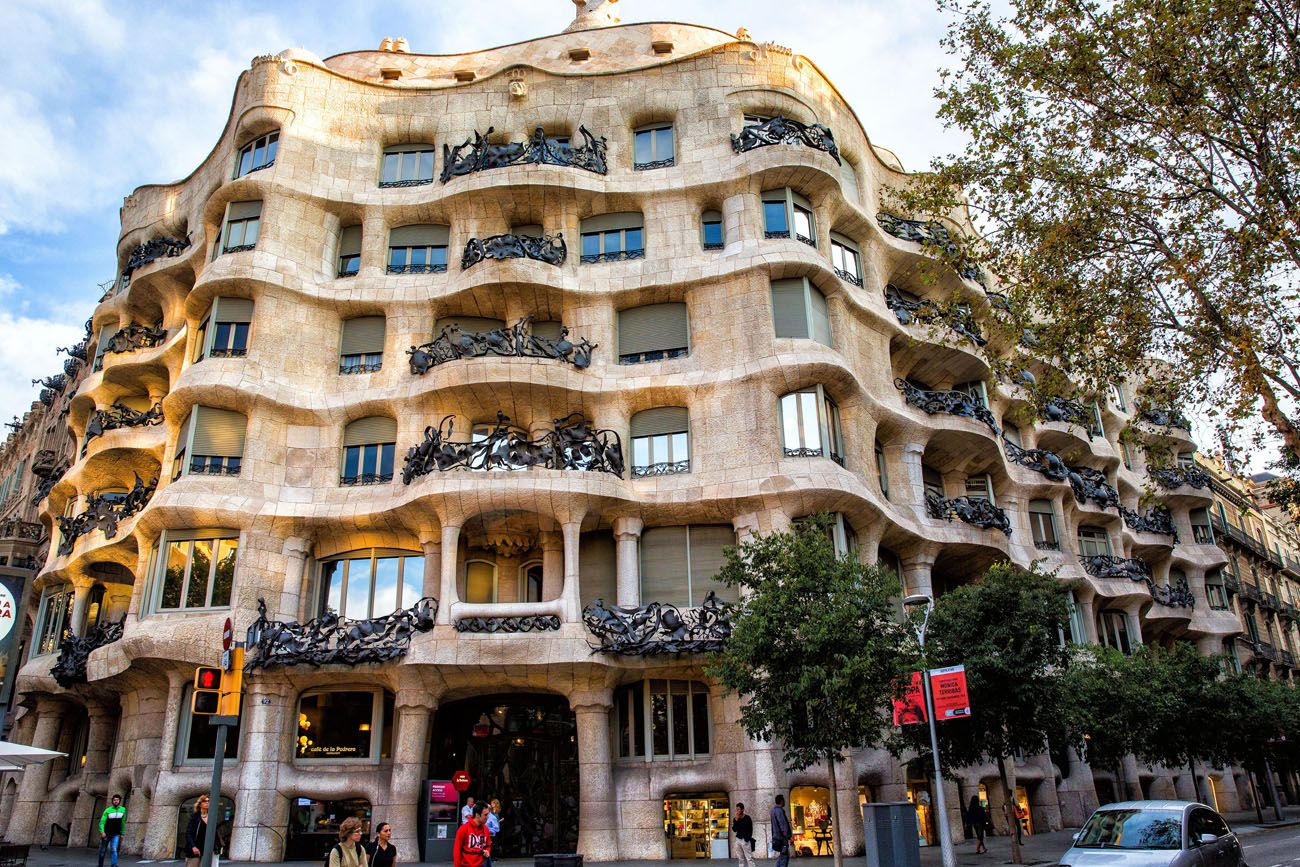 Casa Milà is another icon of Barcelona but not quite as popular as Casa Batlló. We walked by La Pedrera several times and never saw the queues like we did at Casa Batlló.
Like Casa Batlló, you can simply enjoy the view from the outside (for free) or pay to tour the building. If you choose to tour Casa Milá, the average visit lasts 1 to 1.5 hours.
Hours: Open daily at 9 am. Open until 8:30 pm March 1 to November 3, until 6:30 pm November 4 to February 28, and until 8:30 pm from December 26 to January 3. You can also visit on a night tour. Closed Christmas day.
Cost: Several tour options are available. The base ticket costs €24 online, €25 at the box office.
Website: Click here for updated hours, tour options, and to book your tickets online in advance.
Getting Here: From Casa Batlló and Casa Amatller, walk three blocks north on Passeig de Gracia.
Lunch
Time for lunch. Here are two recommendations.
Cerveseria Catalana. Tim and I liked this restaurant so much that we ate here multiple times. For dinner, expect waits of up to 2 hours. Lunchtime should be less crowded. From Casa Milà, it's just a 5-minute walk.
El Nacional. This is another highly rated tapas restaurant. It's located on Passeig de Gracia just two blocks south of Casa Batlló. From Casa Milà you can walk (10 minutes) or take the metro from Diagonal to Passeig de Gracia.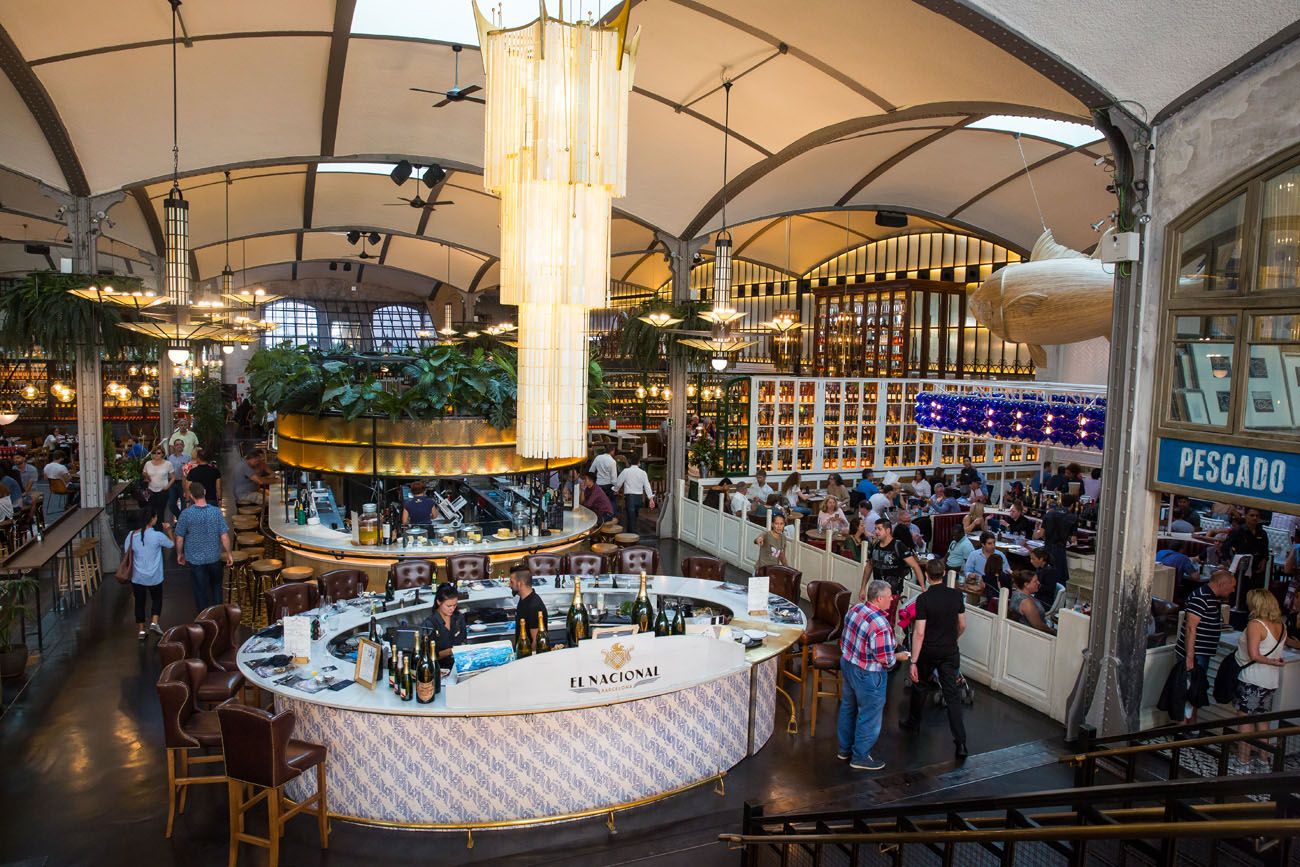 Stroll Down Las Ramblas
Las Ramblas is the main pedestrian thoroughfare through Barcelona. It connects Plaça de Catalunya with the Christopher Columbus monument. It's crowded and very touristy, but since it is one of those "must-do's" while in Barcelona, it's worth walking Las Ramblas at least for a few blocks. In my opinion, strolling through the Gothic Quarter and walking along Rambla de Catalunya is much more interesting.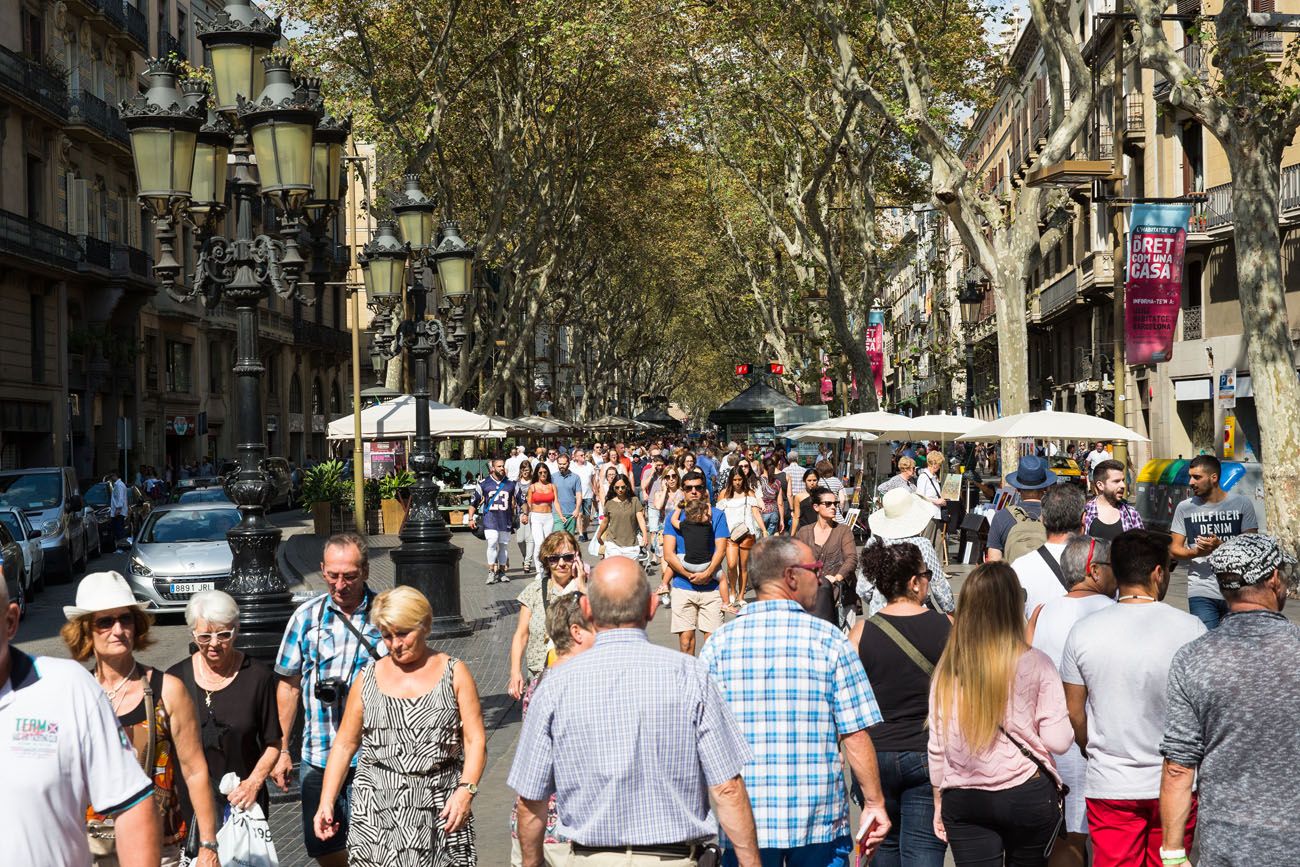 Getting Here: If you ate lunch at Cerveseria Catalana, you can walk down Rambla de Catalunya to Las Ramblas (1.5 km, 20 minutes). Rambla de Catalunya becomes Las Ramblas just south of Plaça de Catalunya. Or, you can shorten the walk from either restaurant by taking the metro from Passieg de Gracia to Liceu.
Mercado de la Boqueria
La Boqueria is a large market in central Barcelona, located right on La Rambla. This a great place to go shopping for fish, fruit, fresh juices, and an assortment of foods. There are also small tapas restaurants that are excellent. We recommend Pinotxo Bar and El Quim de la Boqueria (if you're still hungry).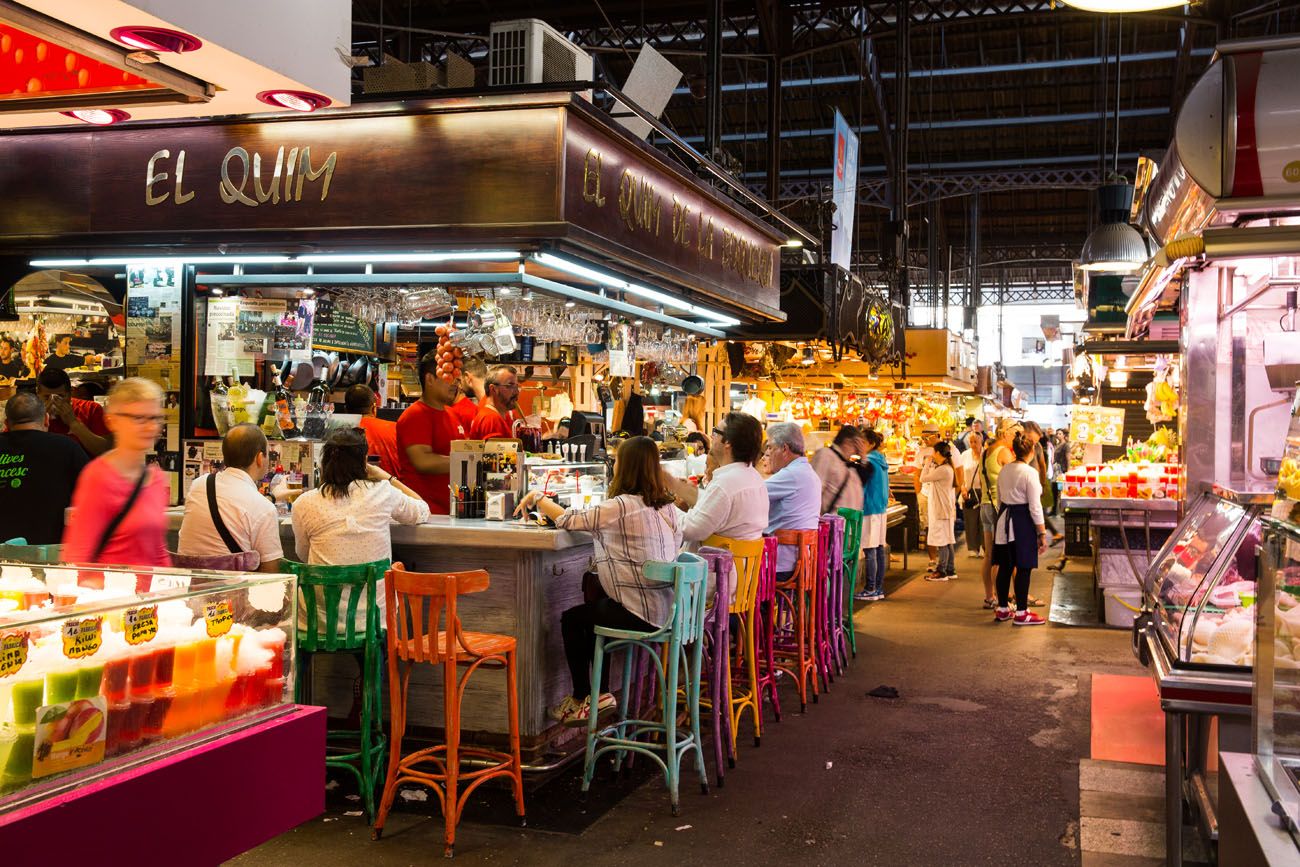 The Gothic Quarter
Spend the rest of the day exploring the Gothic Quarter. For us, the Gothic Quarter was one of the highlights during our time in Barcelona.
The Gothic Quarter is the old city center of Barcelona. Wandering its labyrinth of narrow, cobblestoned streets will take you back in time. Go shopping at the small boutiques and pop into the small restaurants for tapas or cava.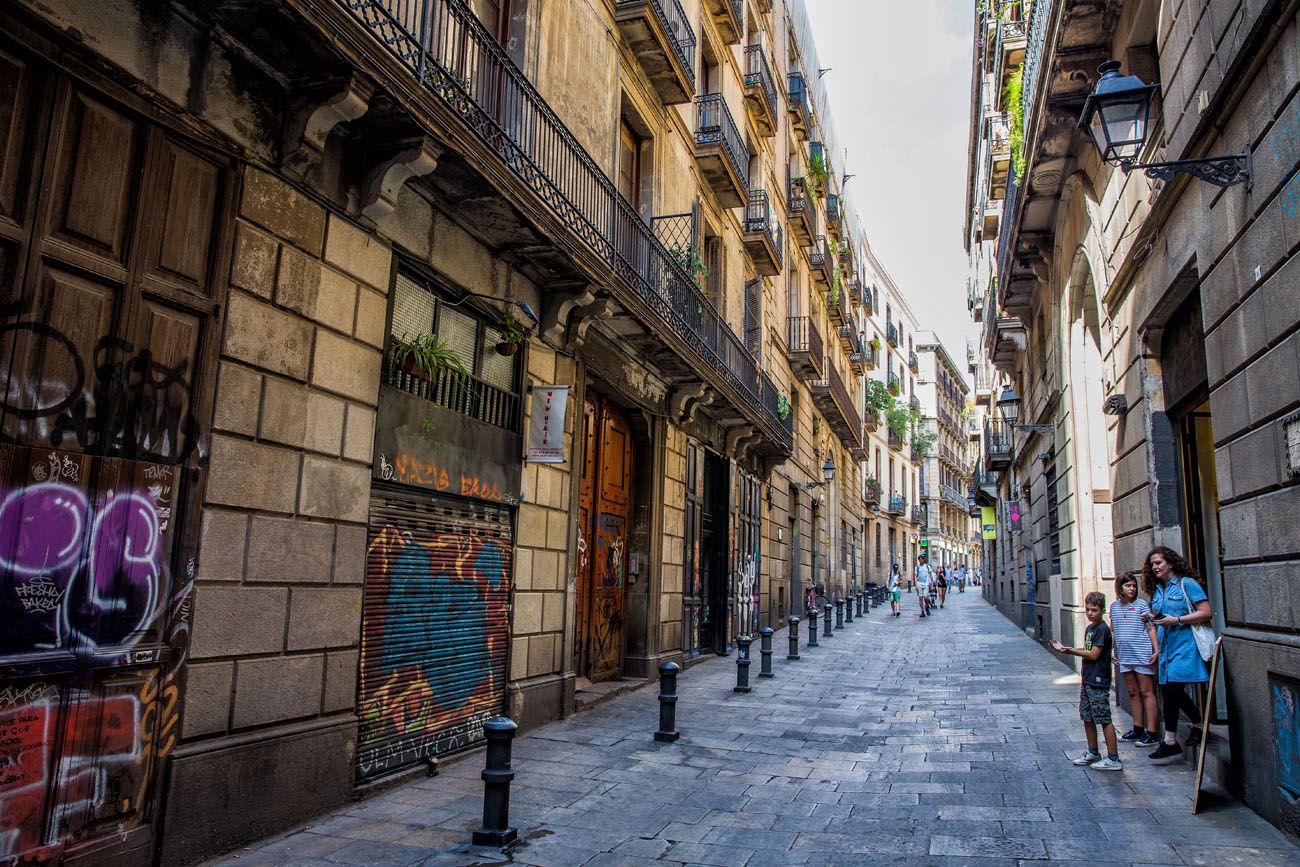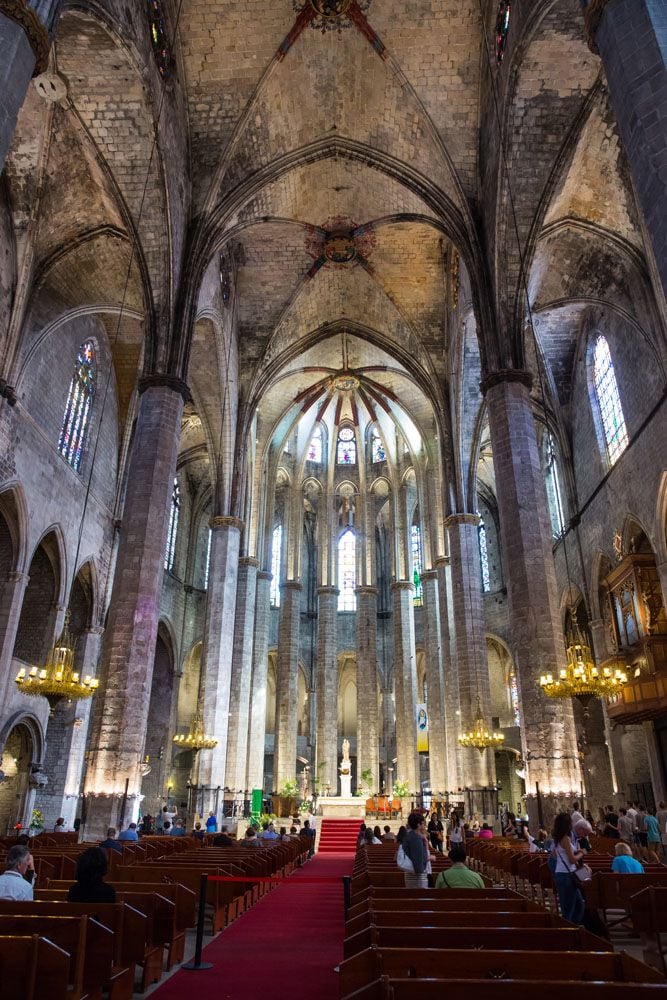 Santa Maria del Mar
While you are here, there are two gorgeous churches to visit. The Barcelona Cathedral sits just north of the Gothic Quarter and was built between the 13th and 15th centuries. Santa Maria del Mar is another historic cathedral to visit.
Dinner
As you wander through the Gothic Quarter, you will pass an almost endless number of restaurants to try. We really enjoyed hanging out in Plaça Reial to have a drink before dinner. Bodega Biarritz is a tiny, popular restaurant that serves tapas heavy with meat and cheese. For something a little bit different, try Ziryab Fusion Tapas Bar, which blends Spanish tapas with Middle Eastern flavors.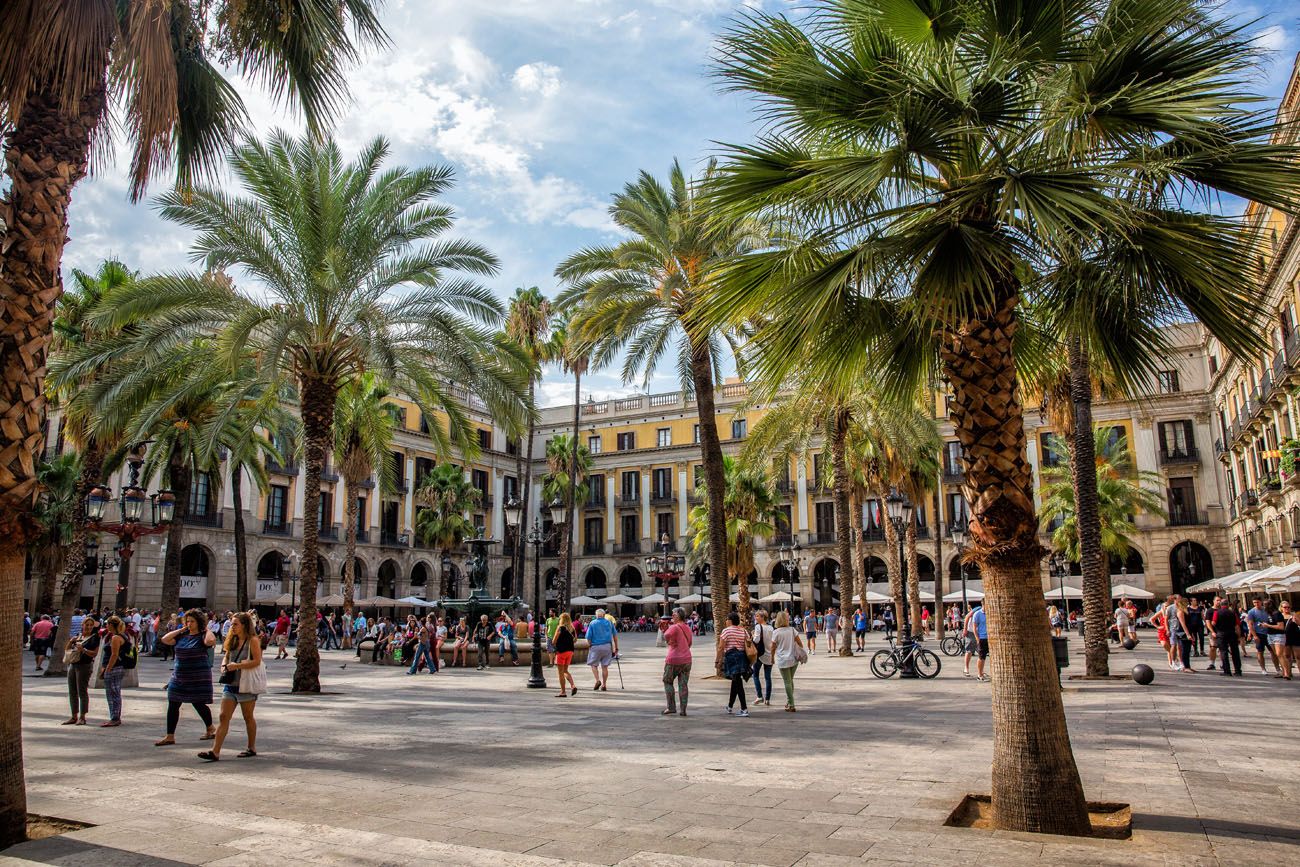 Plaça Reial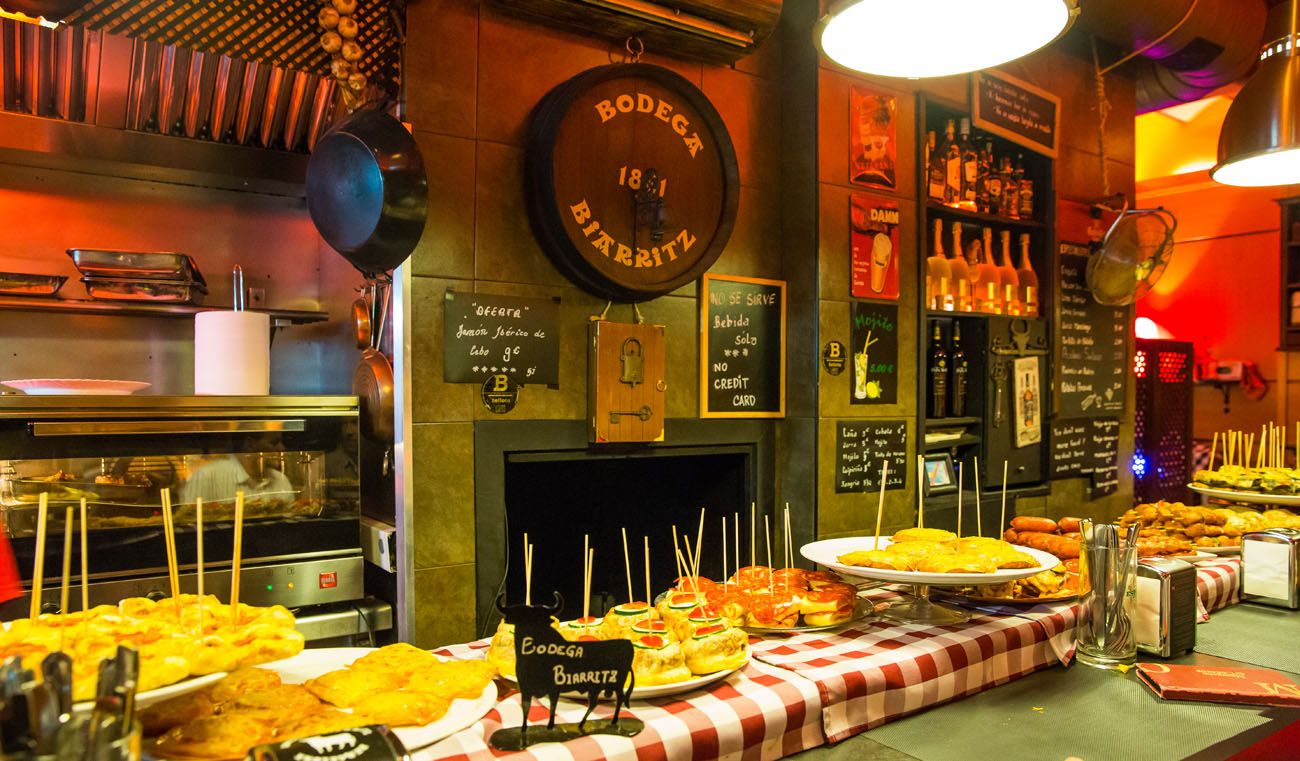 ---
Barcelona Itinerary Day 2
La Sagrada Familia, Park Güell, and Tibidabo
La Sagrada Familia
The Sagrada Familia is a Roman Catholic church designed by Antoni Gaudí. Even though it is still under construction, it is a UNESCO World Heritage Site.
The Sagrada Familia, without a doubt, is a place you must visit while in Barcelona. Most people love it, but some think it is incredibly ugly. The Sagrada Familia is the most unique church we have ever visited.
The contrast between the inside and the outside of La Sagrada Familia is startling. On the outside, it looks like a sandcastle that is slowly melting into the ocean. But on the inside, it is gorgeous. It is colorful, unpredictable, and modern, like so many of Gaudí's other masterpieces.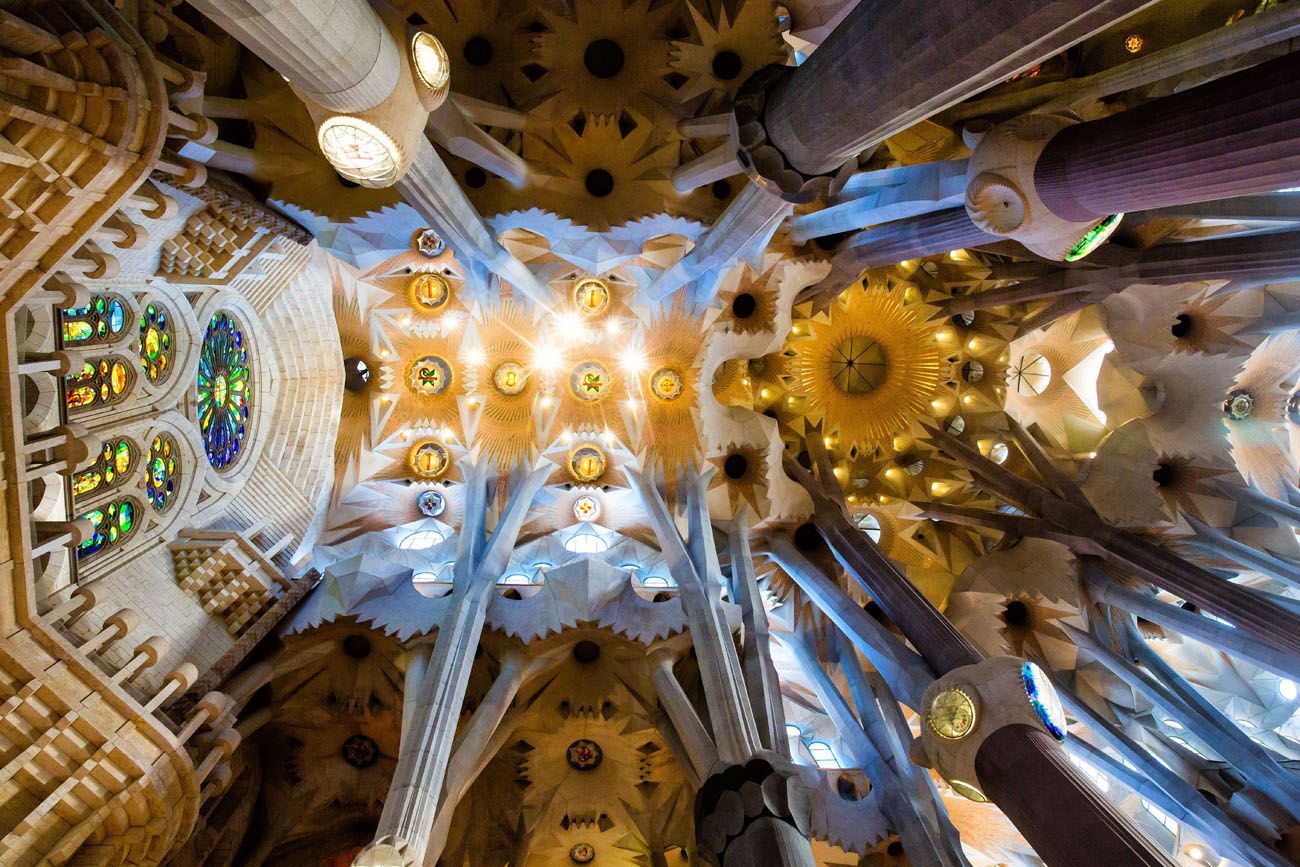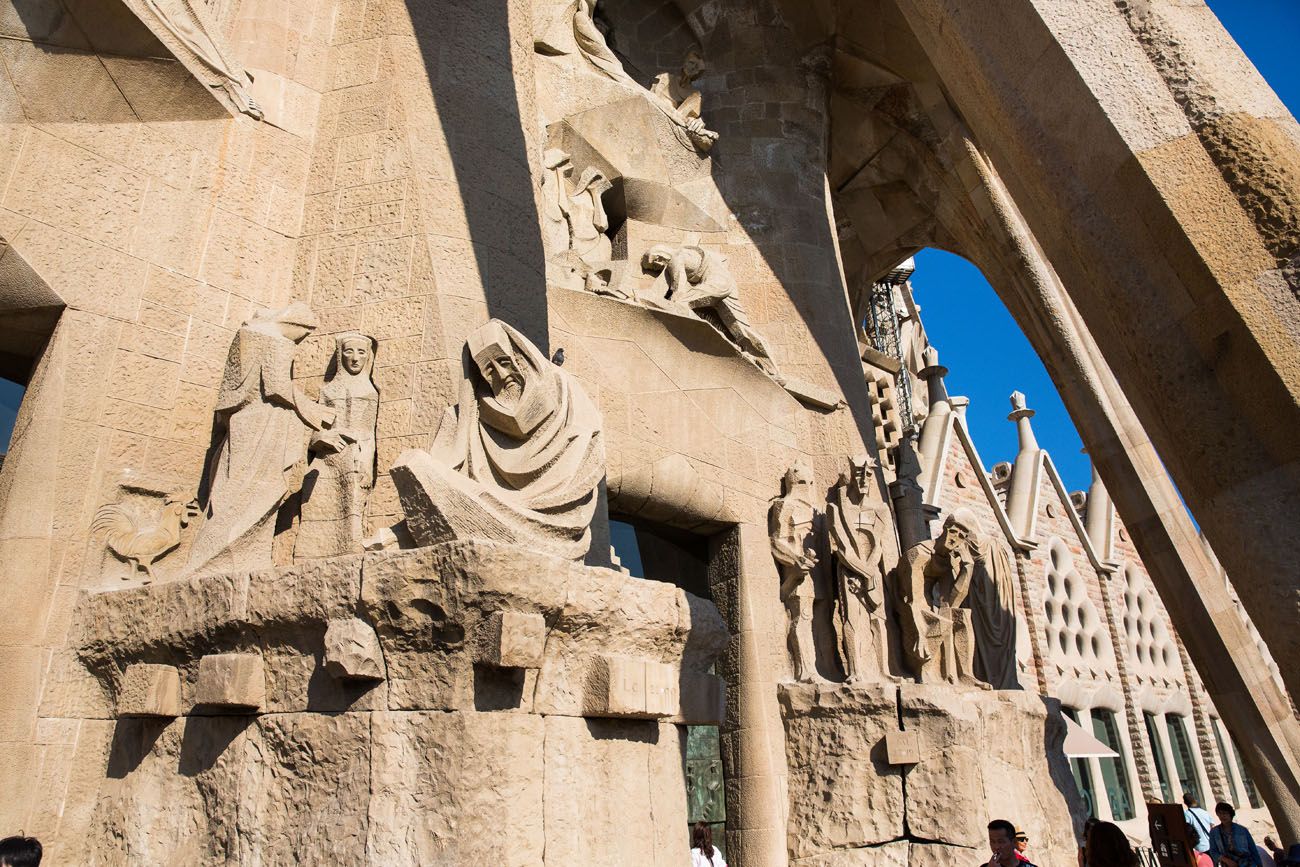 There are several options for visiting Sagrada Familia. The basic ticket (€17) simply allows you to visit the interior of the church without a guide. You can spend more money to add on an audio guide, a guided tour, a visit to the Gaudí House Museum, and/or climb one of the two towers.
Passion and Nativity Towers
You have the option to climb two towers: the tower on the Passion Façade or the tower on the Nativity Façade. For views over the city, choose the Nativity tower and for views out to the Mediterranean choose the Passion tower. On our visit, we chose the Passion tower. Scaffolding blocked most of our view so we never got to see the epic views that we heard such wonderful things about.
PRO TRAVEL TIP: Since the Sagrada Familia is under construction, the location of the scaffolding and access to the tower is constantly changing. Check Instagram or Trip Advisor for updated reviews of the views from these two towers. Or, read this article for more information.
Hours: November through February 9 am to 6 pm; March 9 am to 7 pm; April through September 9 am to 8 pm; October 9 am to 7 pm; reduced hours on holidays
Cost: as of May 2021, the base ticket price is €25 and there is not an option to purchase a ticket to climb the tower. Tickets can only be purchased online.
Website: Click here for updated hours and to purchase your tickets online in advance.
Getting Here: The closest metro stop is Sagrada Familia.
A visit here lasts 1 to 1.5 hours, if you have purchased your tickets in advance and can skip the ticket line.
Park Güell
Park Güell is another one of Gaudí's works of art. This is one of Barcelona's most colorful spots, with buildings that resemble gingerbread houses and a long, tiled bench that is designed to look like a serpent.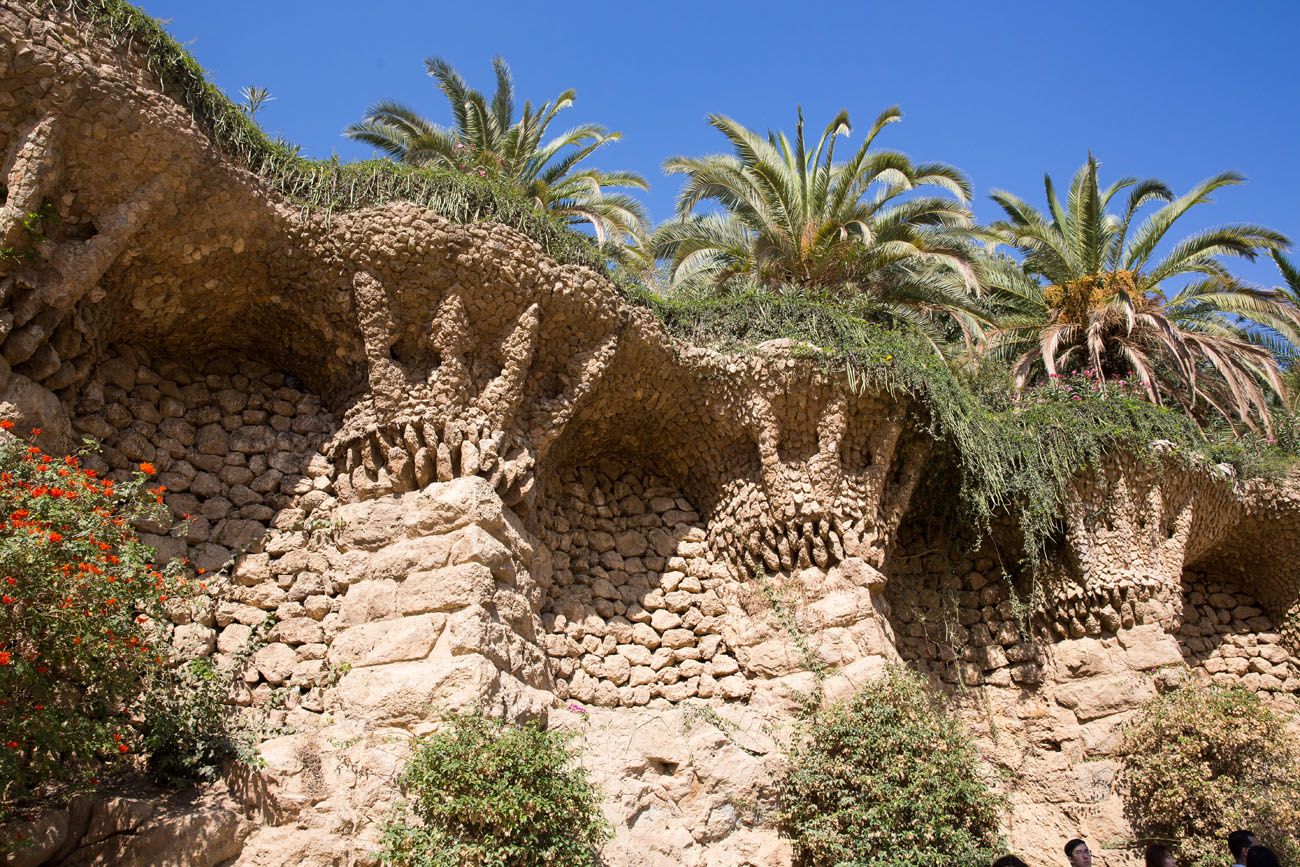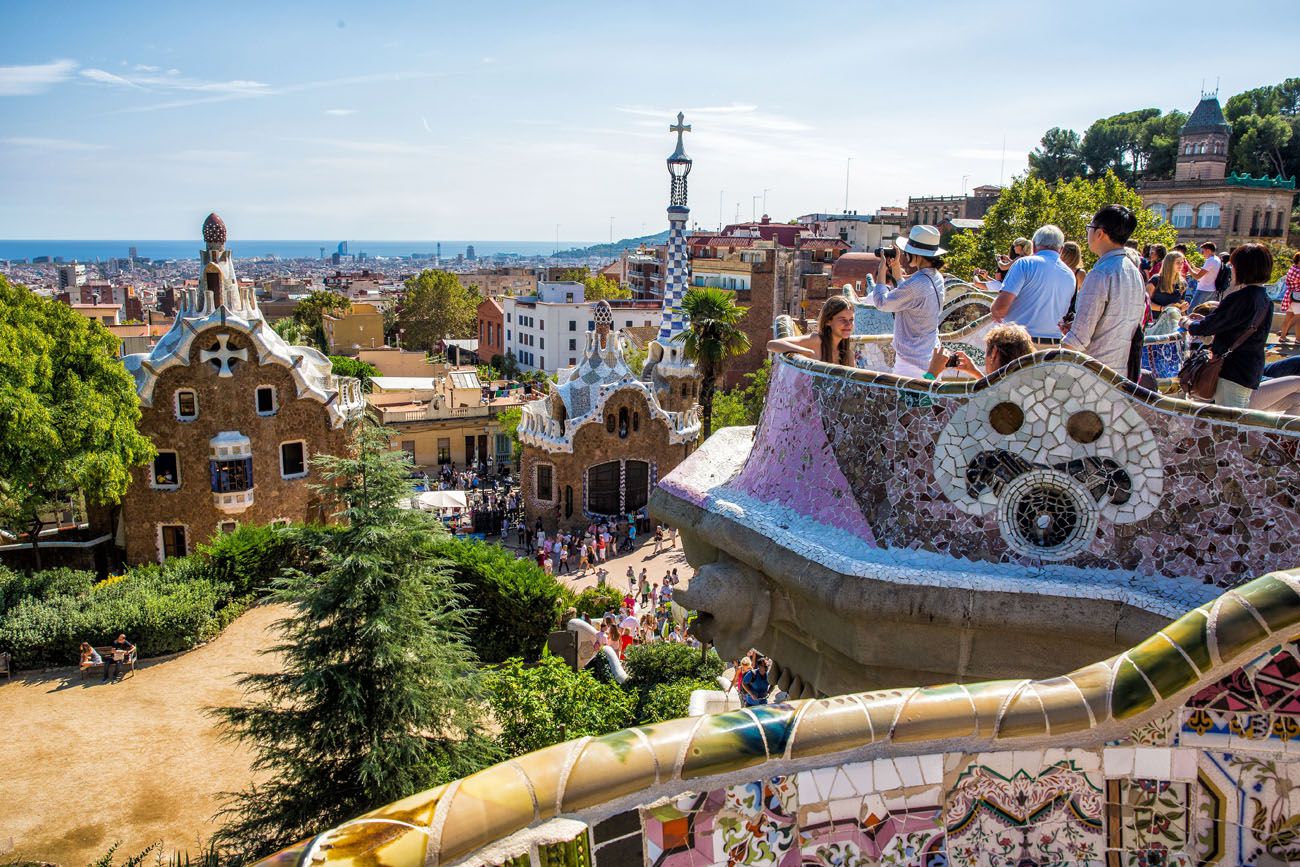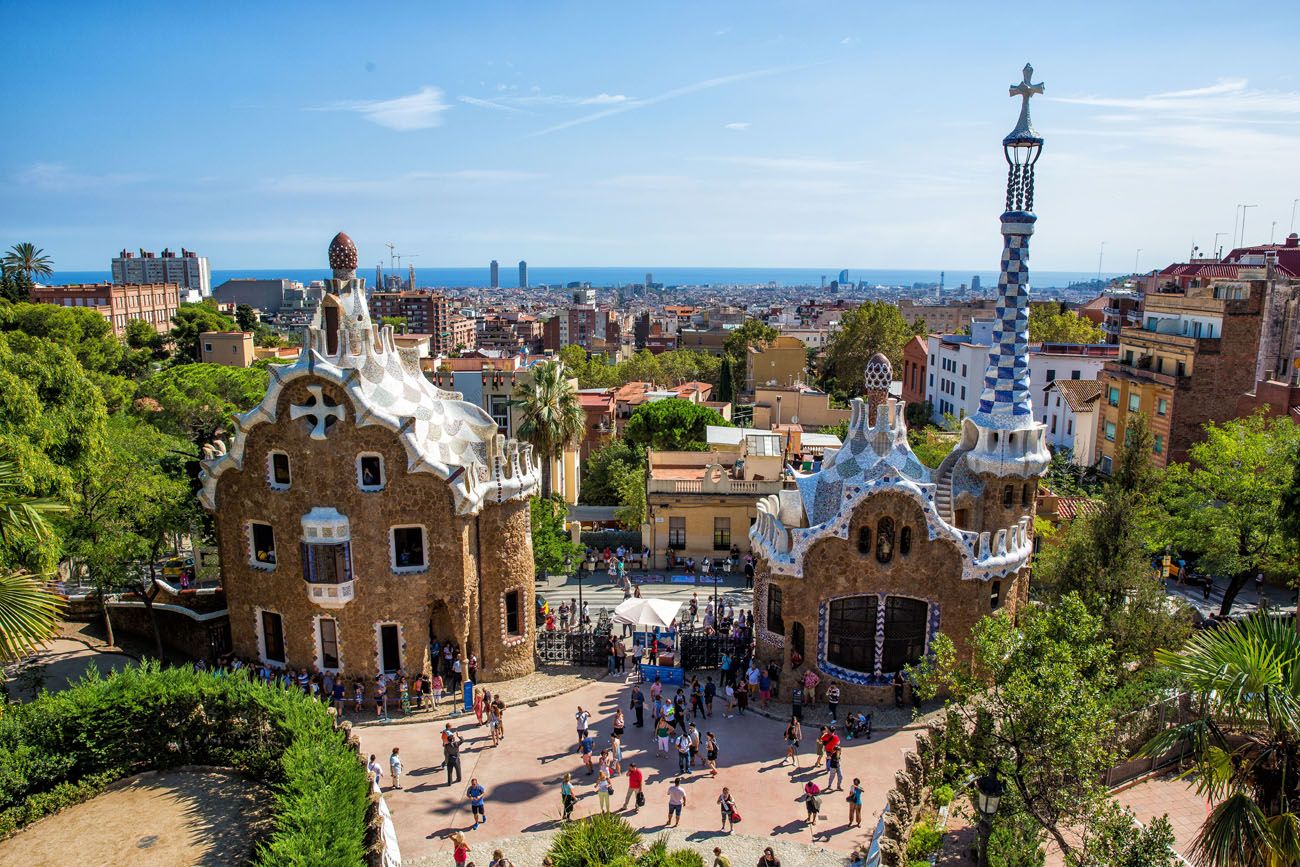 This is one of Barcelona's most popular spots to visit and a bit overrated, in our opinion. Sure, it's cool seeing the houses and beautiful tile work, but the crowds of visitors make this visit much less enjoyable. You can skip Park Güell if you want, but despite the crowds, I still think it's worth the visit.
Like all of the other Gaudí sites in Barcelona, you absolutely need to book your tickets in advance in order to avoid waiting in ridiculously long lines. Entry is limited to 400 people every half hour, which sounds like a lot, but tickets can sell out early in the day.
Hours: 8 am to 9 pm year round
Cost: Most of the park can be visited for free. However, you will need to pay an entrance fee in order to visit the "Monumental Area." This is the area that includes the highlights (the serpentine bench and iconic view over the colorful houses). Online tickets are €10.
Website: Click here for updated hours and to purchase your tickets online in advance.
Getting Here: The closest metro stations are Vallcarca, Lesseps, and Alfons X, and all are a 15-minute walk to Park Güell. We took a taxi to and from Park Güell.
Lunch
We had one of our best meals in Barcelona at Sol Soler in the Vila de Gracia neighborhood. One of our awesome readers recommended this local tapas restaurant to us and it was wonderful. From Park Güell, it is just a short taxi ride away. If you have lunch here, get the carrot cake (it's the best we have ever had!).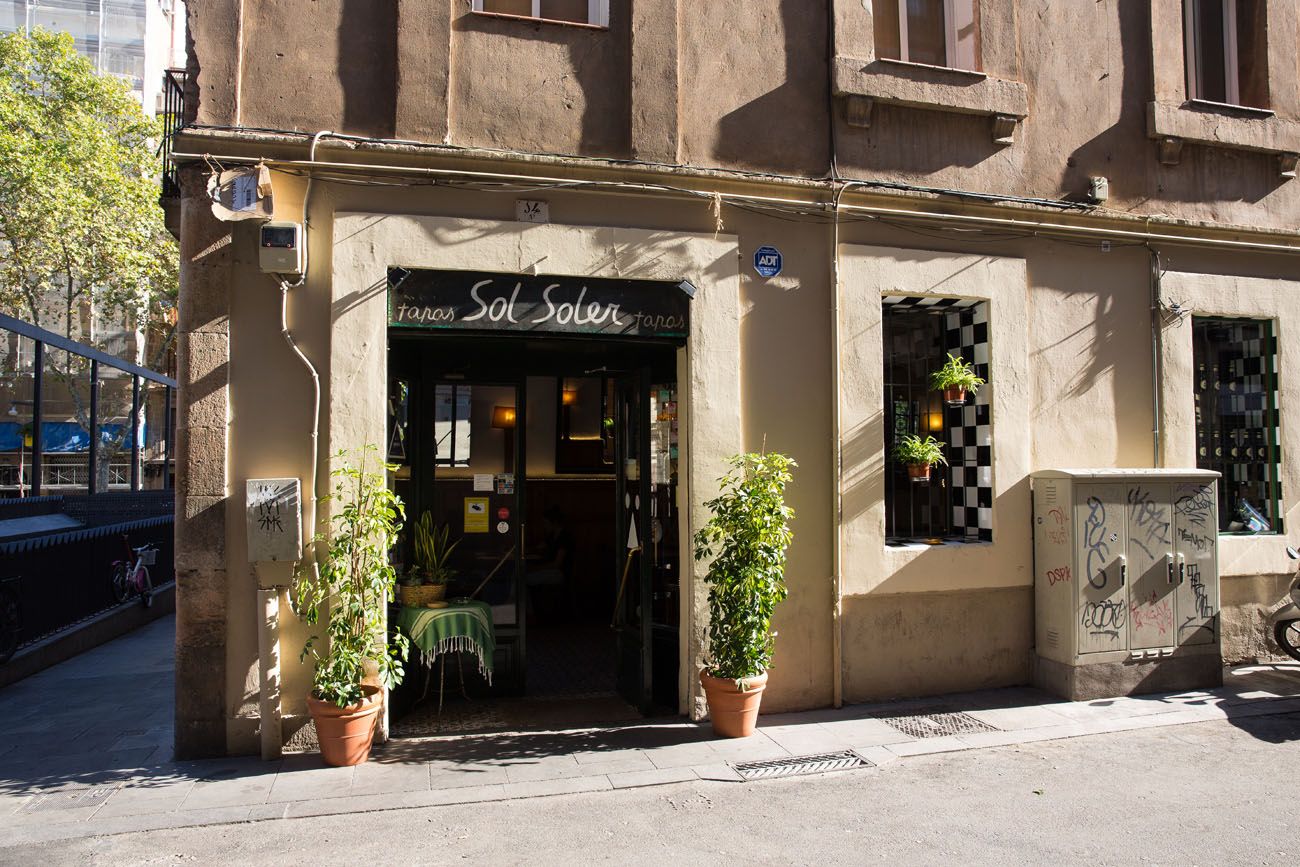 Mt. Tibidabo and the Sagrat Cor
Enjoying the view over Barcelona from Tibidabo and the Sagrat Cor was one of our favorite experiences.
Tibidabo is very small amusement park perched on a hillside overlooking the city of Barcelona. This is a great spot to take the kids when you need a break from sightseeing. You can purchase an all-day ticket to the amusement park (expensive) or pay for each ride individually.
Sagrat Cor, also known as the Temple of the Sacred Heart of Jesus, is a Roman Catholic Church located on Mount Tibidabo. Wherever you go in Barcelona, this church, prominently standing on top of Mount Tibidabo, can be seen. For one of the best views over Barcelona, climb the towers of the Sagrat Cor.
Both of these spots are located right next to each other.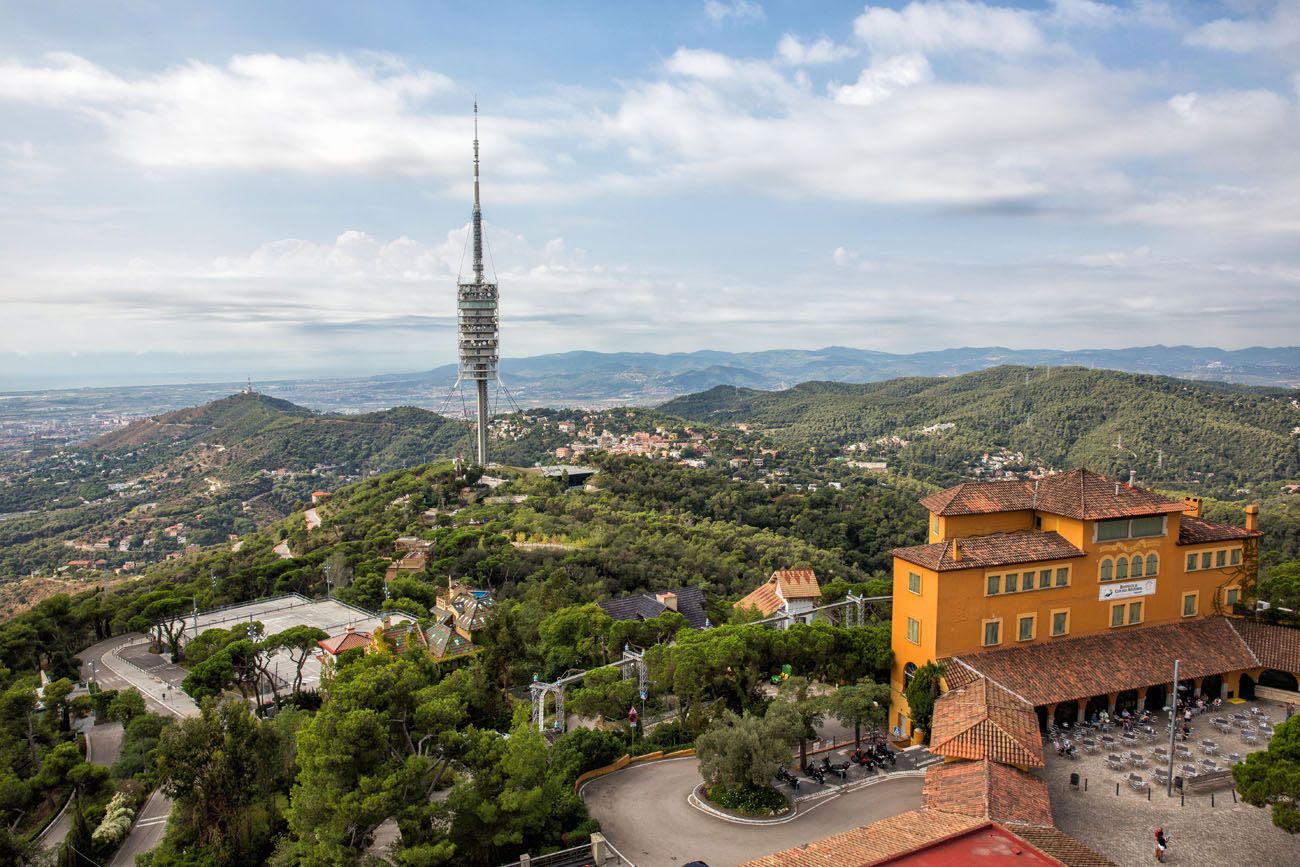 The view from Sagrat Cor
Getting Here: From Park Güell, you can walk 20 minutes to the Tramvia Blau – Tibidabo stop. Take the Blue Tram (Tramvia Blau) to the Tibidabo Funicular station (€5.50 one way). Then, take the funicular to Tibidabo (€7.70 one way). Alternatively, you can take a taxi from Park Güell or Sol Soler to the funicular station and ride this up to Tibidabo.
We often get asked how we got this photo of Sagrat Cor.
In the Tibidabo amusement park, there is a ride called the Talaia Vantage Point. Essentially, you stand inside a large bucket that is attached to a long arm. As this arm swings up into the sky, you not only get amazing views of Barcelona, but you get this gorgeous photo of the church. This is not a thrill ride. It moves slowly, like a Ferris Wheel. However, if you are afraid of heights, you might want to skip this ride.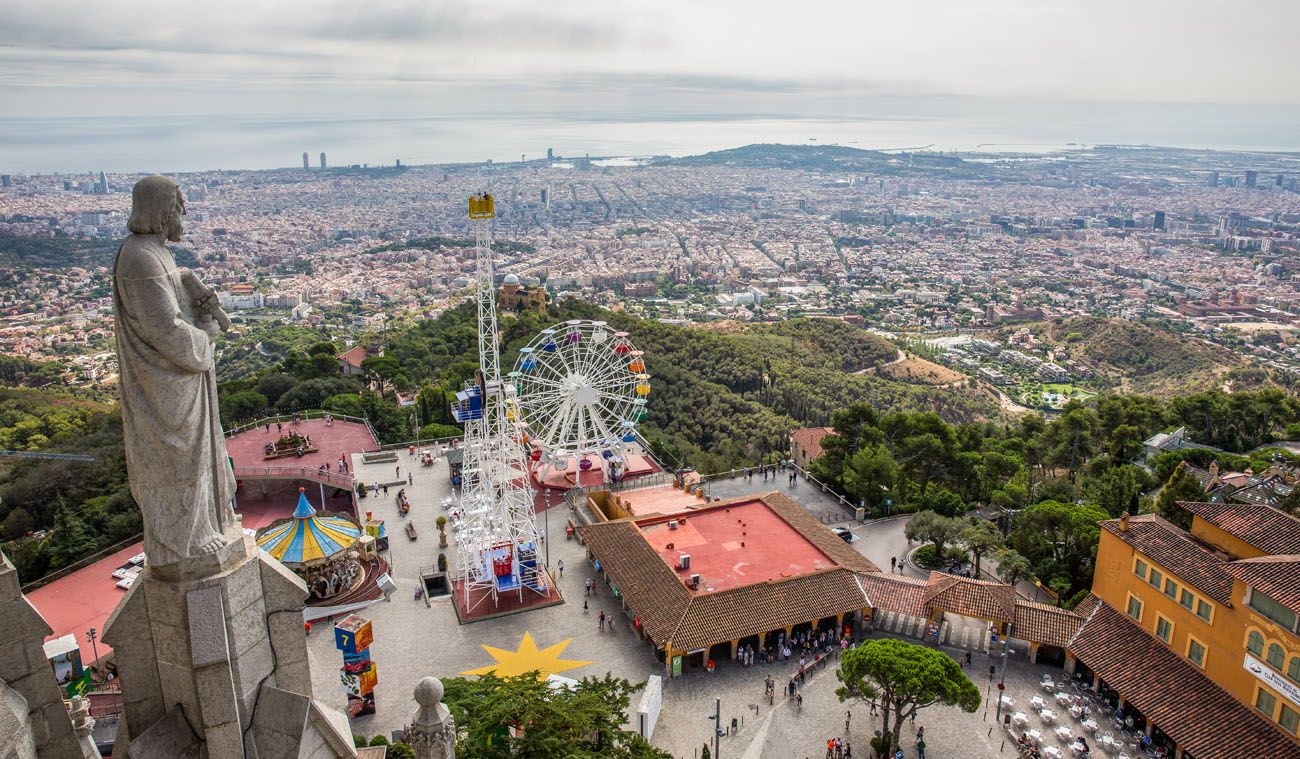 Overlooking the Tibidabo amusement park from the Sagrat Cor. You can see the Talaia Vantage Point ride in the center of this photo.
Dinner, Drinks and the Sunset over Barcelona
You can stay on top of Tibidabo and watch the sunset from here. Another very popular spot is the Bunkers of Carmel, abandoned aircraft defenses that have become one of Barcelona's most popular sunset points.
Another great option is to watch the sunset from Alaire Terrace. This is a rooftop bar that is located on Passeig de Gracia near Casa Batlló. From here you will have a wonderful view over Casa Milà.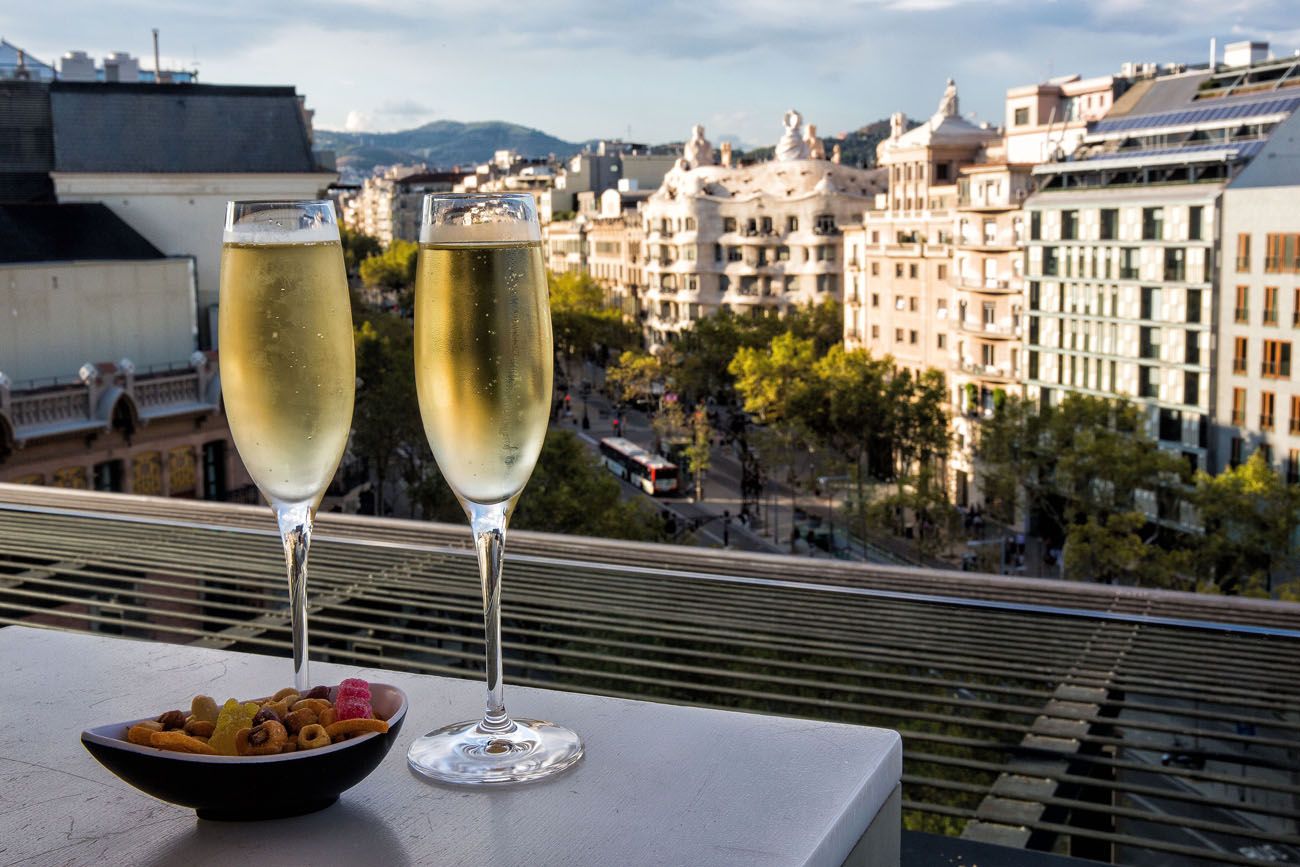 For dinner, here are several recommendations:
Cerveseria Catalana, mentioned in day 1 of this itinerary. They don't take reservations so expect a long wait for a table. This is within walking distance of Alaire Terrace.
Blavis. This restaurant is so popular that reservations need to be made weeks in advance. Delicious food at a low cost in a friendly, intimate atmosphere is what attracts people here. This restaurant is located near Tibidabo, so if you like the idea of eating here, go here after Tibidabo and then visit the Alaire Terrace rooftop bar.
---
Barcelona Itinerary Day 3
Take Your Pick from Several Different Options
There are several different ways to spend your last day in Barcelona. Rather than writing one set itinerary, here are four options on how to spend your time. These can be done in about half of a day, so pick two of your favorites and do one in the morning and one in the afternoon.
#1 Montjuic Hill
With 4 to 5 hours at Montjuic Hill, you can visit several museums, take in the view from a castle, and see the Magic Fountain. This is perfect for art and museum lovers.
Museu Nacional d'Art de Catalunya (MNAC). This is the national museum of Catalunya art from the 19th and 20th centuries.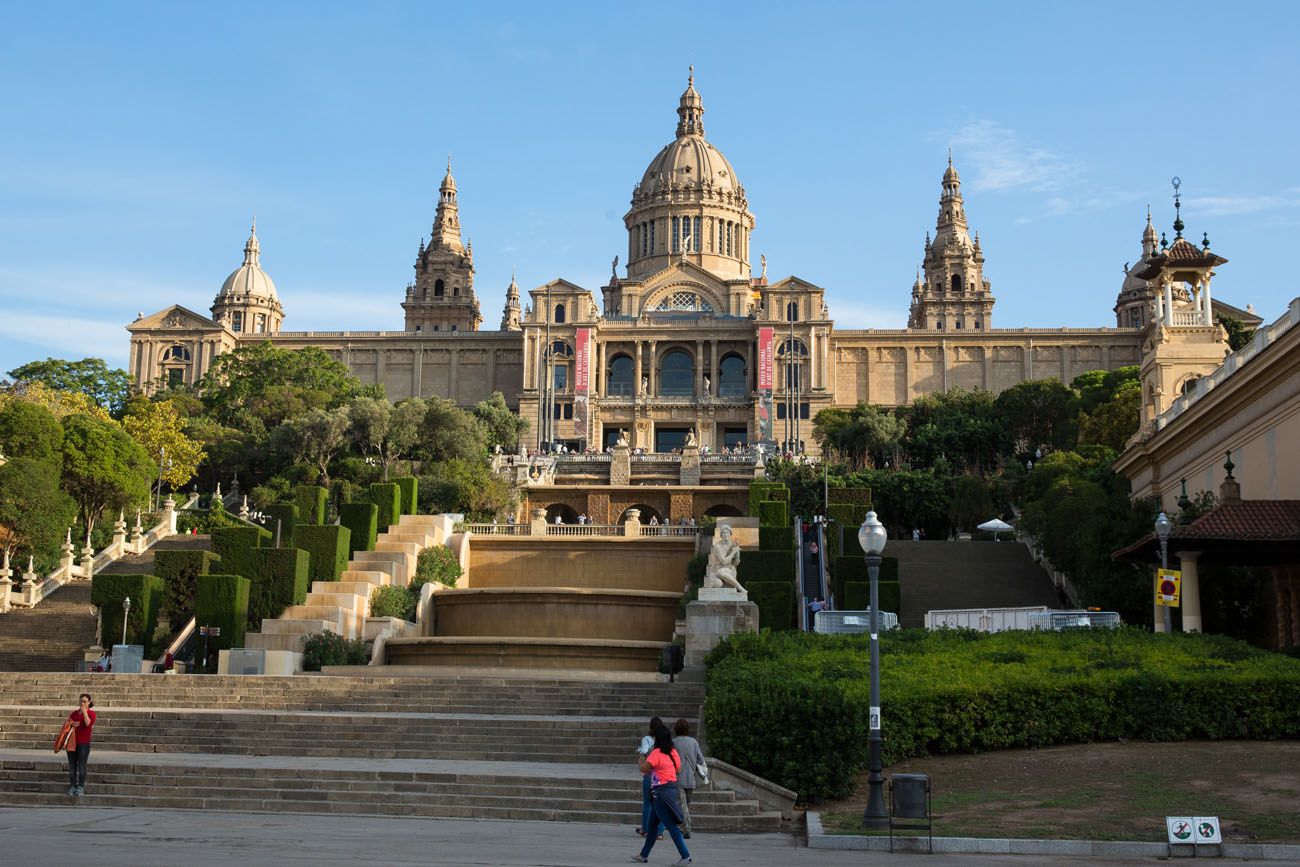 Joan Miró Foundation. This modern art museum features works of art by Barcelona native Joan Miró.
Montjuic Castle. Once a fortress and a prison, Montjuic Castle is now a municipal building and a vantage point over Barcelona. Ride the cable car up to Montjuic Castle for 360° views over the city.
The Magic Fountain of Montjuic. This fountain puts on a display of color, water, and music several nights a week, depending on the season. If you want to see the fountain show, you need to be here at the end of the day. Click here for the schedule.
#2 Spend More Time in the Gothic Quarter
We liked the Gothic Quarter so much that Tim and I wandered through it multiple times during our stay in Barcelona. There are many narrow streets and nooks and crannies to explore. Even on our fourth pass through the Gothic Quarter we were finding something new.
There are several nearby noteworthy spots that are just a short walk from the Gothic Quarter and well worth considering while you are here.
Palau de la Musica Catalana. This gorgeous concert hall is a UNESCO World Heritage Site. Designed in modernista style, it was constructed between 1905 and 1908. You can take a tour or attend a musical performance here. Learn more on the official website.
Parc de la Ciutadella. If you need a break from the streets of Barcelona, or like to explore parks, the Parc de la Ciutadella is a great place to visit. Gravel paths wind through the park, lush with palm trees and tropical vegetation. While you are here, don't miss the Arc de Triomf, a giant arch that was the main access gate for the 1888 World's Fair.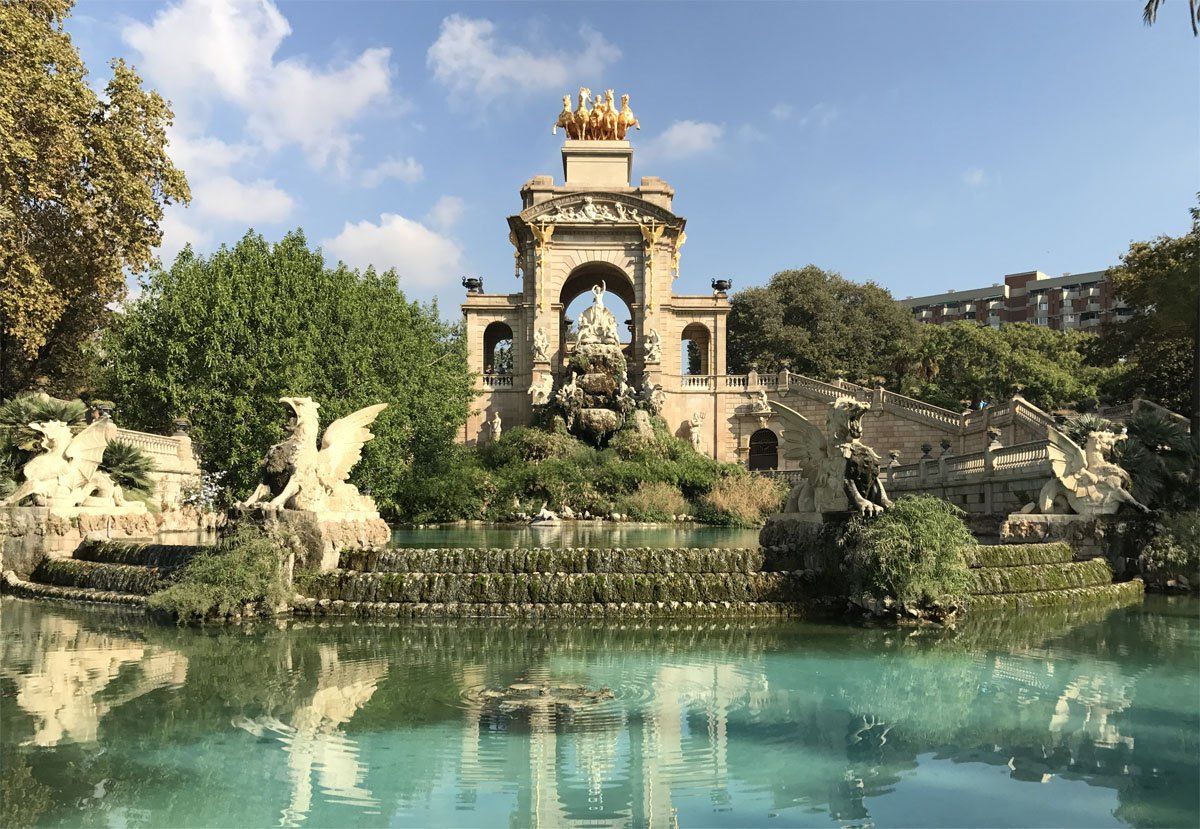 Palau Güell. Palau Güell, located just off of La Rambla near the Gothic Quarter, is a palace designed by Gaudí for industrial tycoon Eusebi Güell. This one is only worth the visit if you are a big fan of Gaudí or want a unique perspective over Barcelona from the rooftop.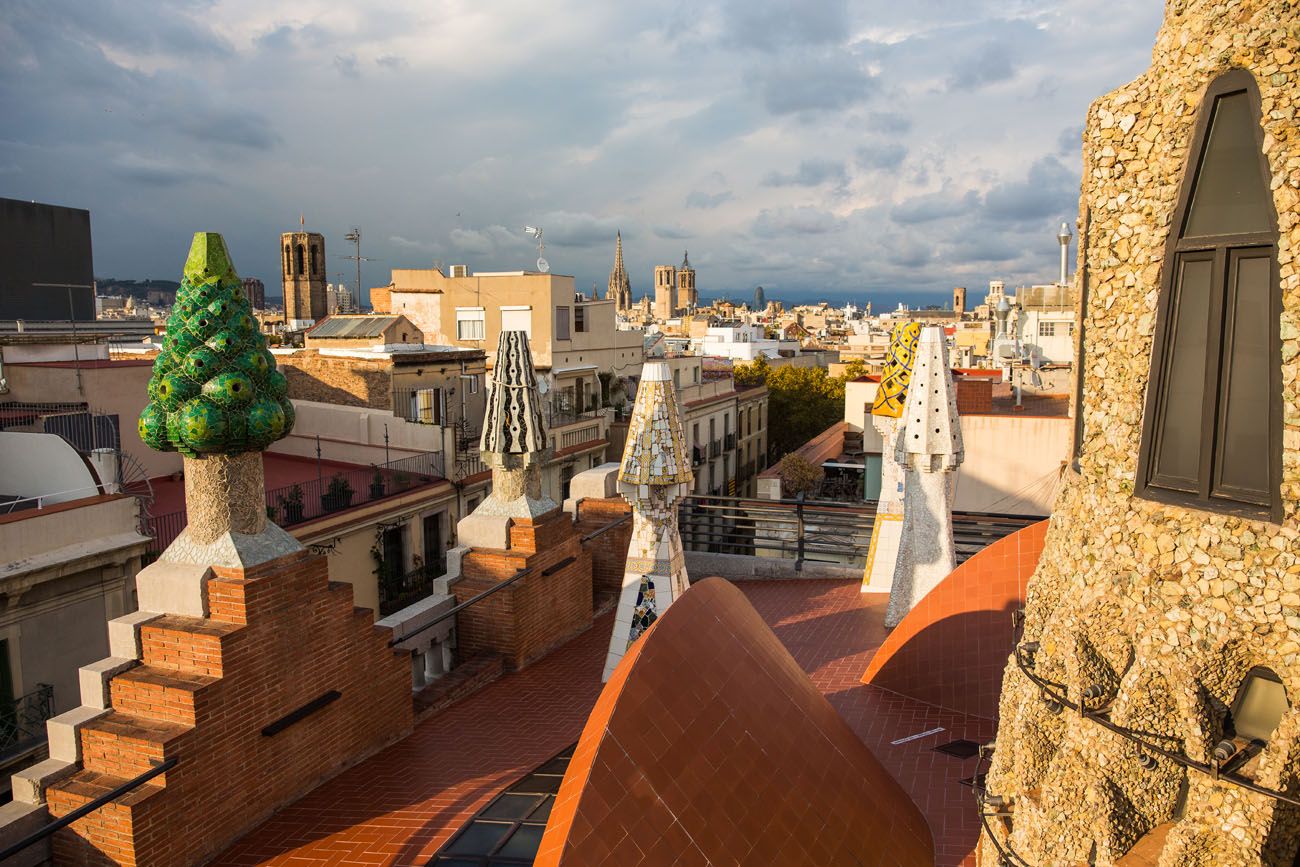 #3 Camp Nou
Soccer fans should put Camp Nou on their list. Camp Nou is the largest stadium in Europe and the third largest football stadium in the world. It is the home stadium of FC Barcelona. You can take a tour of the stadium or watch a game. Learn more here.
#4 Go to the Beach
Spend the morning or the afternoon (or all day, if you like) lounging on the beach. While you are here, you can also go windsurfing or kite surfing. Restaurants line the beach so finding food, and drinks, will be easy.
End the Day with Dinner and Drinks
If you like the idea of visiting another rooftop bar, you can watch the sunset from 360° Terrace. From here, you have a view across Barcelona back toward Tibidabo. 360° Terrace is located in Hotel Barcelo Raval (closest metro is Liceu or Sant Antoni). Have dinner nearby at either Restaurant Arume (amazing cocktails) or Cera 23 (great menu).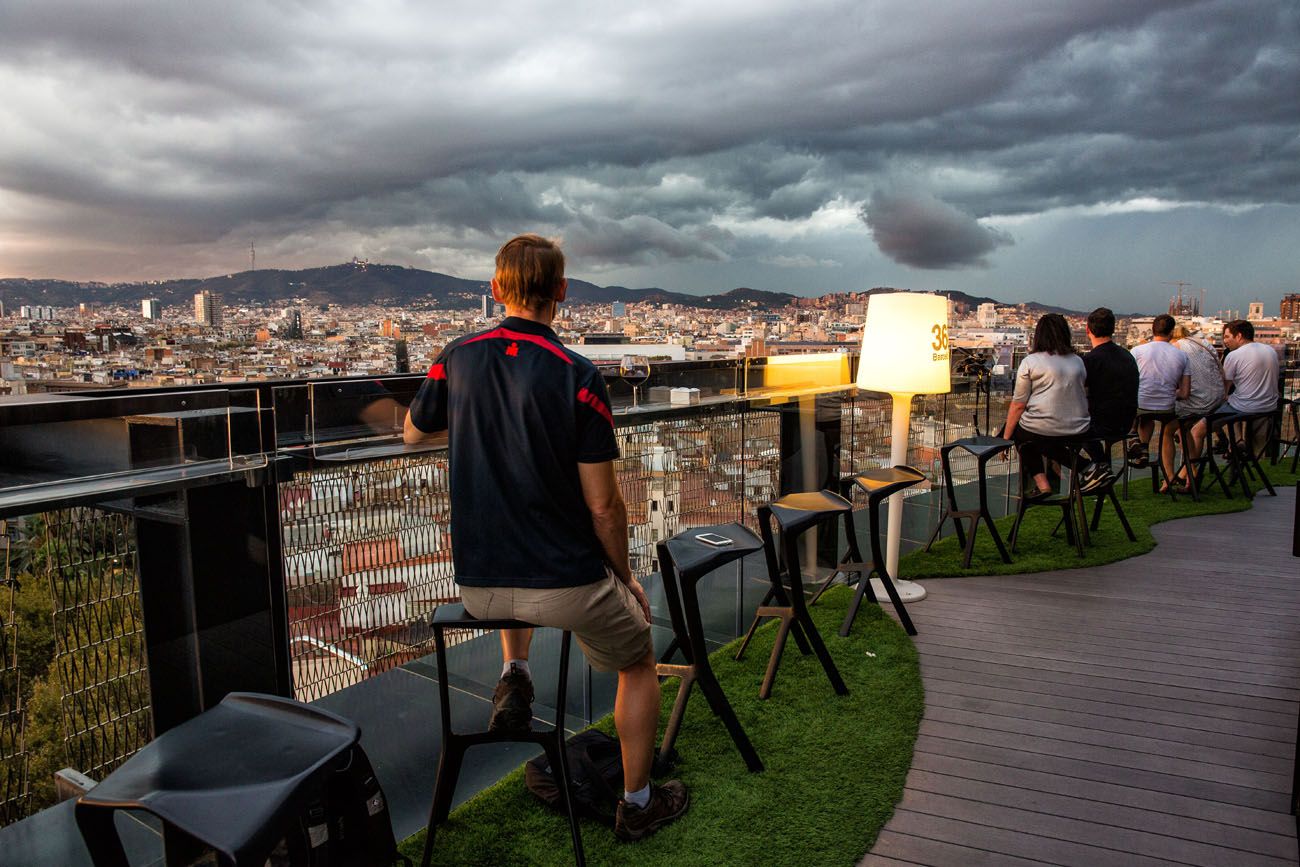 360 Terrace
One more restaurant that we heard glowing reviews about but were unable to get a reservation was for Tickets Bar. This restaurant made the list as one of the Top 50 restaurants in the world. It is a culinary adventure in the world of tapas, the brainchild of chef Albert Adria. If you cannot get a table here, try Bodega 1900 just across the street, a yummy consolation prize if you cannot get in to Tickets Bar.
With More Time
If you have more than 3 days in Barcelona, you can take some wonderful day trips. Here are two ideas and both are easy to get to by train.
Girona
Girona, located in Catalonia, Spain, sits between Barcelona and Costa Brava. It's a gorgeous place to visit, with medieval walls, narrow winding city streets, and one of the best preserved Jewish Quarters in Europe. For Game of Thrones fans, Girona is Braavos in season 6.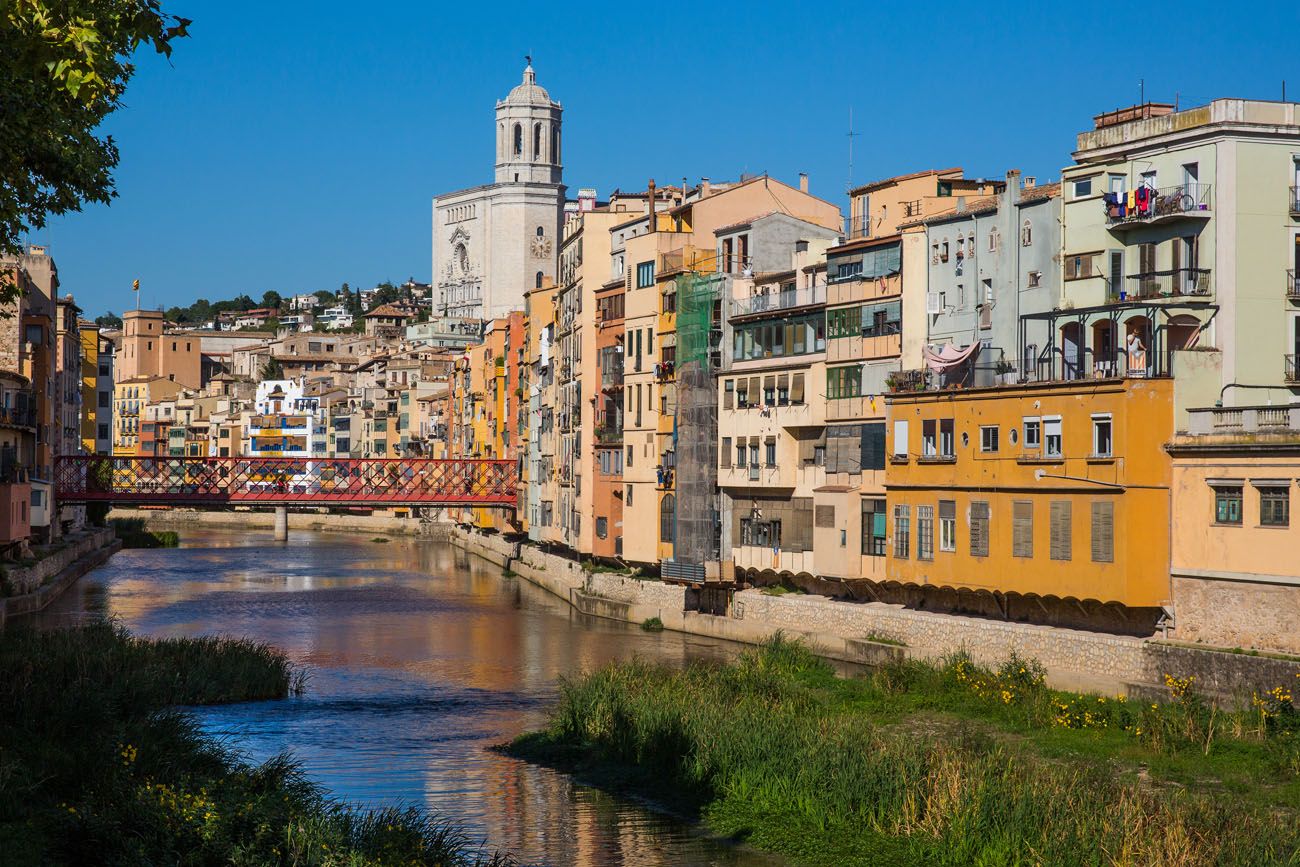 Montserrat
Montserrat is a rocky mountain range in Catalonia, Spain. You can come here to for high mountain views, to visit the monastery, and to take a one-day break from bustling Barcelona. Go hiking, ride the cable cars and funiculars, and see part of the Spanish countryside.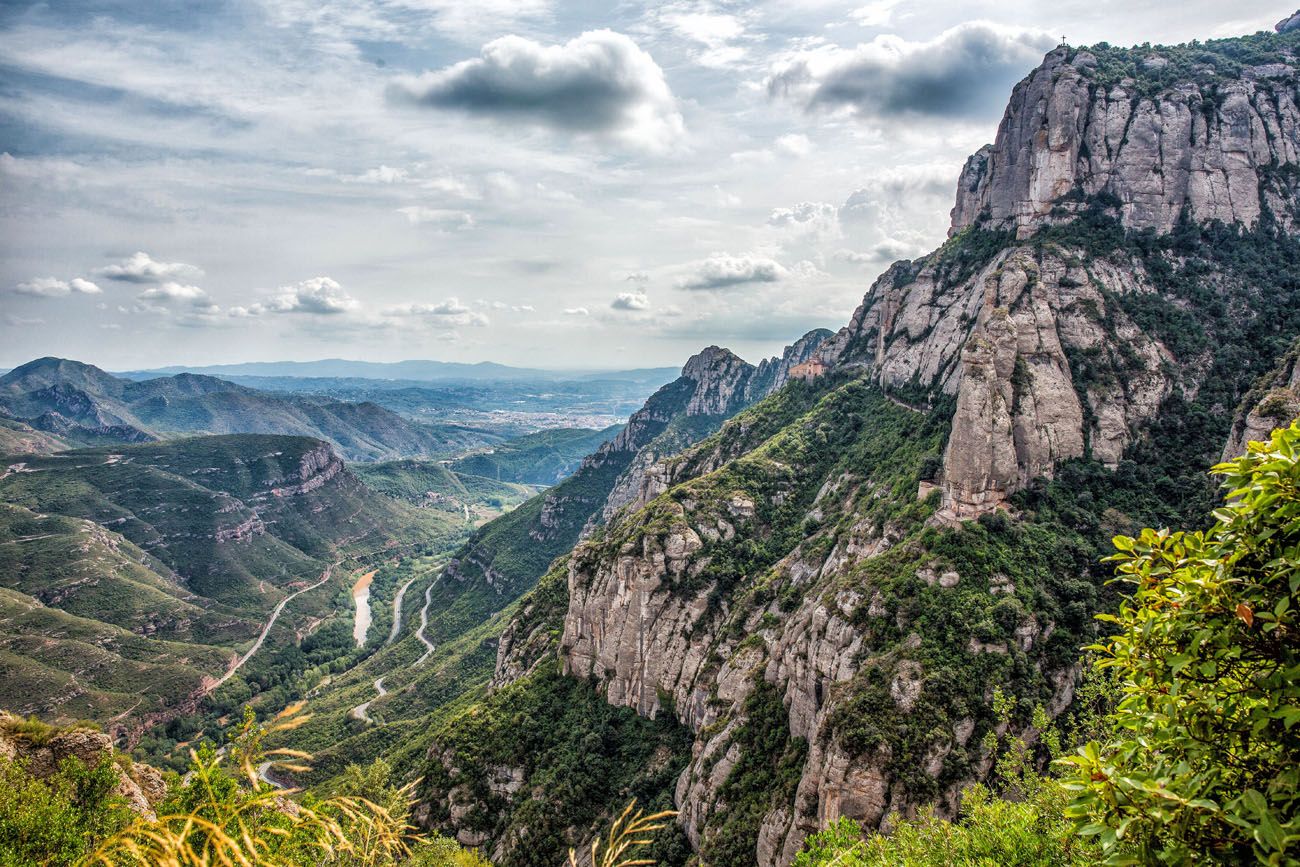 Getting Around Barcelona
Barcelona is enormous and several sites, such as Park Güell, the Sagrada Familia, and Tibidabo, are far enough from the city center that you will not be able to walk to everything.
Barcelona has an excellent public transportation network. By using the metro, trams, and buses, you can get everywhere you need to go on this Barcelona itinerary. Taxis are more expensive, but are useful to get to and from Park Güell, Tibidabo, and the Bunkers of Carmel.
Currently, you cannot use Uber in Barcelona.
Learn more about using the public transportation service here.
Discount Transport Cards
Hola Barcelona Card
The Hola Barcelona Card is travel card that gives you unlimited journeys by metro, bus, and tram while in Barcelona. It also includes the metro journey from El Prat airport and the city center, as well as the Montjuic funicular.
You can purchase cards valid for 48, 72, 96, or 120 hours. A 72-hour card costs €23.70. A one-way journey costs €2.40 (so this card pays for itself once you make more than 10 journeys).
Learn more about the Hola Barcelona Card here.
T-Casual Ticket
Alternatively, you can purchase a T-Casual ticket. For €11.35, you get 10 journeys in Zone 1 of Barcelona (the city center). Each journey may not exceed 75 minutes and you can make up to 3 transfers within that 75 minutes.
This pass cannot be shared between two people on the same journey (unlike the T10 Card that was discontinued as of January 2020). However, you can give the T-Casual ticket to another person, to be used on a different journey.
This does not cover the journey from the airport to the city center. T-Casual tickets can be purchased in metro stations.
Whether you choose the Hola BCN Card or the T-Casual ticket depends on the location of your hotel and how often you will choose to ride the metro and buses versus walking and taking a taxi.
Should You Buy a City Travel Pass?
There are three options for discount attraction cards.
The Barcelona Pass
When you purchase this card, you get free access to over 20 attractions in Barcelona. Sounds great, right? A 3-day pass costs a whopping €120. If you book your tickets on your own for everything listed in this Barcelona itinerary (that are covered with the Barcelona Pass), you will only spend €72. The Barcelona Pass does not cover everything on this itinerary, for example, the Sagrada Familia and Park Güell.
What you are paying for are a lot of attractions that may be of no interest to you. Things like the Aquarium, a hop-on hop-off bus tour, the zoo, the 4D Gaudí Experience, and several obscure museums.
You can also add on the Hola Barcelona Card, but this does not offer you any savings than purchasing it separately.
Take a look at the official website to learn more.
Barcelona Card
The Barcelona Card provides free, unlimited transportation in Barcelona, free admission into several museums, and discounts on other sites. A 72-hour Barcelona Card costs €46. If you follow our itinerary, you will get into the MNAC and the Joan Miró Foundation for free. You will also get small discounts on visits to Casa Amatller, Casa Batlló, Casa Milà – La Pedrera, and Park Güell.
The Barcelona Card is worth it if you plan to visit the MNAC and the Joan Miró Foundation. If you purchased the Hola Barcelona Card and tickets to each of these museums, you would pay €47.20. That's just €1.20 more than the Barcelona Card. The discounts you get at the other sites would make up the difference.
However, if you have no interest in visiting these two museums, it is not worth purchasing the Barcelona Card.
Learn more here.
Barcelona City Pass
This pass includes your admission into Sagrada Familia and Park Güell. It also includes a hop-on hop-off bus, free transport from the airport by bus, and discounts on other attractions. Starting at €80, this is only worth it if you plan to do the hop-on hop-off bus tour of Barcelona.
Learn more here.
Our Recommendation
Unless you plan to do a lot more than what I have listed in this Barcelona itinerary, I recommend skipping these city passes. Purchase the Hola Barcelona Card or the T10 Card to save you money on transportation and book your tickets online in advance for the attractions. This will save you time waiting in line, and by booking online, you can usually save a few euros per attraction versus buying it directly from the box office.
The only pass I would recommend is the Barcelona Card, and this is only worth it if you plan to visit the Joan Miró Foundation and the Museu Nacional d'Art de Catalunya.
Where to Stay
We have an entire article about where to stay in Barcelona. Barcelona is broken up into neighborhoods, such as the Gothic Quarter, Gràcia, El Raval, El Born, and more. Learn about these different neighborhoods and get recommendations based on your budget.
---
If you have any questions about this Barcelona itinerary, comment below.
Buy the Guide:
More Information about Barcelona
You Might Also Like: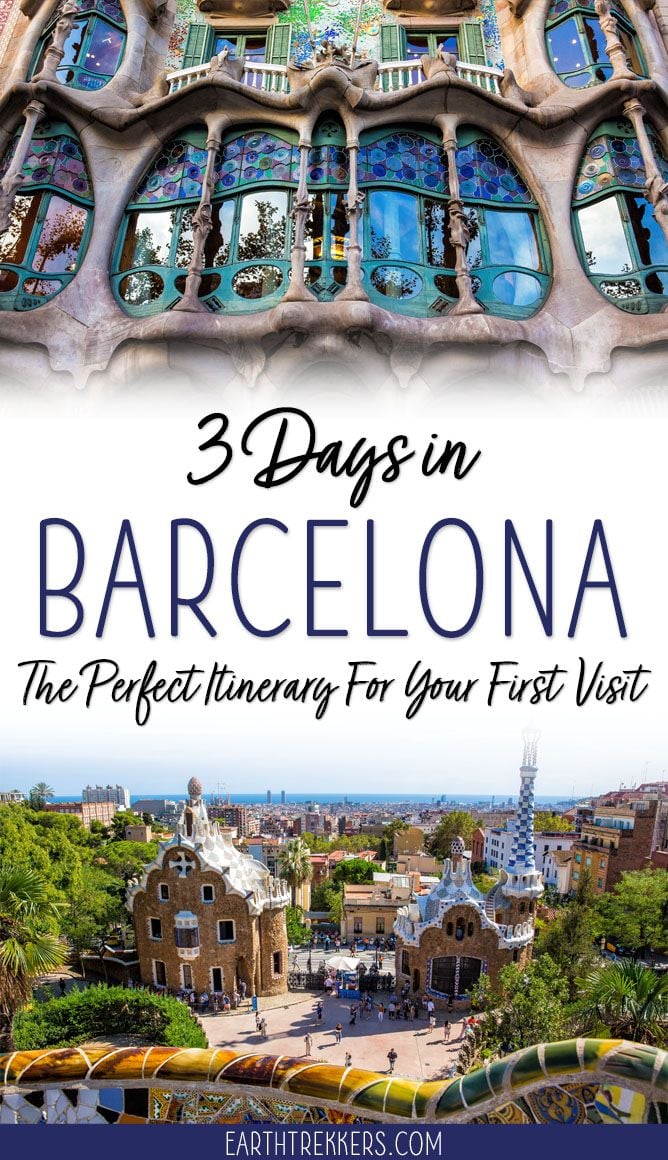 Note: This post contains affiliate links. When you make a purchase using one of these affiliate links, we get paid a small commission at no extra cost to you.
All rights reserved © Earth Trekkers. Republishing this article and/or any of its contents (text, photography, etc.), in whole or in part, is strictly prohibited.