With its maze of canals, world-class museums, boutique shops and hotels, cozy cafes, cultural centers, and, of course, coffeeshops, Amsterdam is a delight to visit. In this post, we share with you 10 of the best things to do in Amsterdam, perfect if it is your first visit to this wonderful city.
Interesting Facts about Amsterdam
Amsterdam is called "the Venice of the North." It gets this name from its extensive network of canals. There are more than 100 km of canals and most of these are navigable by boat. In fact, one of the best things to do in Amsterdam is to take a boat tour of the canals (or stay in a houseboat).
Singel, the innermost ring of the canals, was once the moat that surrounded the city.
The canals of Amsterdam are on the UNESCO World Heritage List.
The Dutch are very open minded. Coffeeshops have been legally selling marijuana way before the same movement took hold in some states across the United States. Prostitution is legal, and "window shopping" in the Red Light District once was a very popular thing to do.
Best Things to Do in Amsterdam
1. Stroll the Canals
Without a doubt, strolling along the canals is one of the best things to do in Amsterdam.
Fanning out from the city center are a series of horseshoe-shaped canals, an area called Grachtengordel. Singel is the first of these canals and was originally the moat that surrounded the main city center. Three more canals form the core of the canal ring: Herengracht, Keizersgracht, and Prinsengracht. Like spokes on a wheel, these canals are bisected by streets, bridges, and smaller canals.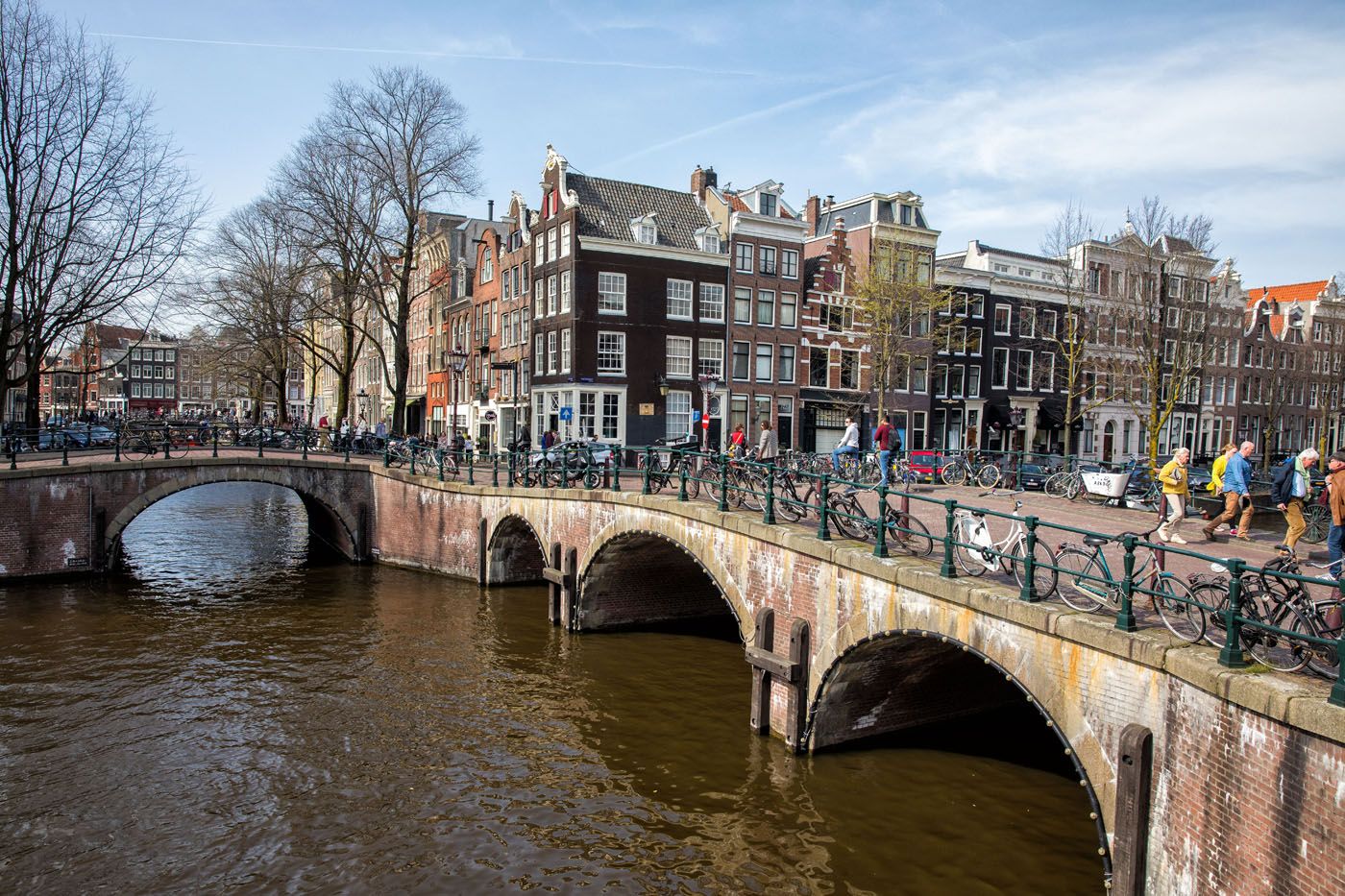 The western section of the canal ring is the most scenic. This is the location of De 9 Straatjes, or The Nine Streets. These nine little streets are a haven of boutique shops, cafes, art galleries, and restaurants. You can very easily spend an afternoon here, hopping from shop to shop. Even if shopping is not your thing, this area, with its jumble of canal houses and cobblestoned streets, is a delight to explore.
Where are The Nine Streets? The Nine Streets are located just to the south of the Anne Frank House. This area is bordered by Prinsengracht and Singel. The Nine Streets are Reestraat, Hartenstraat, Gasthuismolensteeg, Oude Spiegelstraat, Wolvenstraat, Berenstraat, Runstraat, Huidenstraat, and Wijde Hiesteeg.
2. Anne Frank House
The Anne Frank House is one of the most visited museums in Amsterdam.
During World War II, Anne Frank and her family lived in a secret annex in Amsterdam, hidden away from the Nazi's. For two years and one month, Anne, her mother, father and sister, as well as four other Jews, shared a tiny space that was only about 450 square feet (42 square meters). During this time, Anne kept a journal which would become one of the most famous historical documents of WWII.
Anne and her family were eventually discovered, arrested, and then sent to concentration camps. Only her father, Otto Frank, survived.
Photo of the Anne Frank House. The entire museum complex now encompasses several canal houses and stretches to the right of this building.
When you tour the Anne Frank House, you get to see the hidden rooms and the movable bookcase that hid the entrance into these rooms.
PRO TRAVEL TIP: Tickets can only be purchased online in advance. You will reserve a specific time slot, which eliminates waiting in line. 80% of tickets are released exactly 2 months in advance. The remaining 20% of tickets are released on the same day.
I recommend reading A Diary of Anne Frank before your visit to Amsterdam. It puts a lot of what you will see in and around the Anne Frank House into perspective.
3. Rijksmuseum
The Rijksmuseum is an enormous museum that has on display 8,000 pieces of art. At this museum you will see masterpieces by Rembrandt, Vermeer, and Frans Hals.
The building, which is a masterpiece by itself, opened in 1885. It recently underwent a massive renovation and reopened in 2013.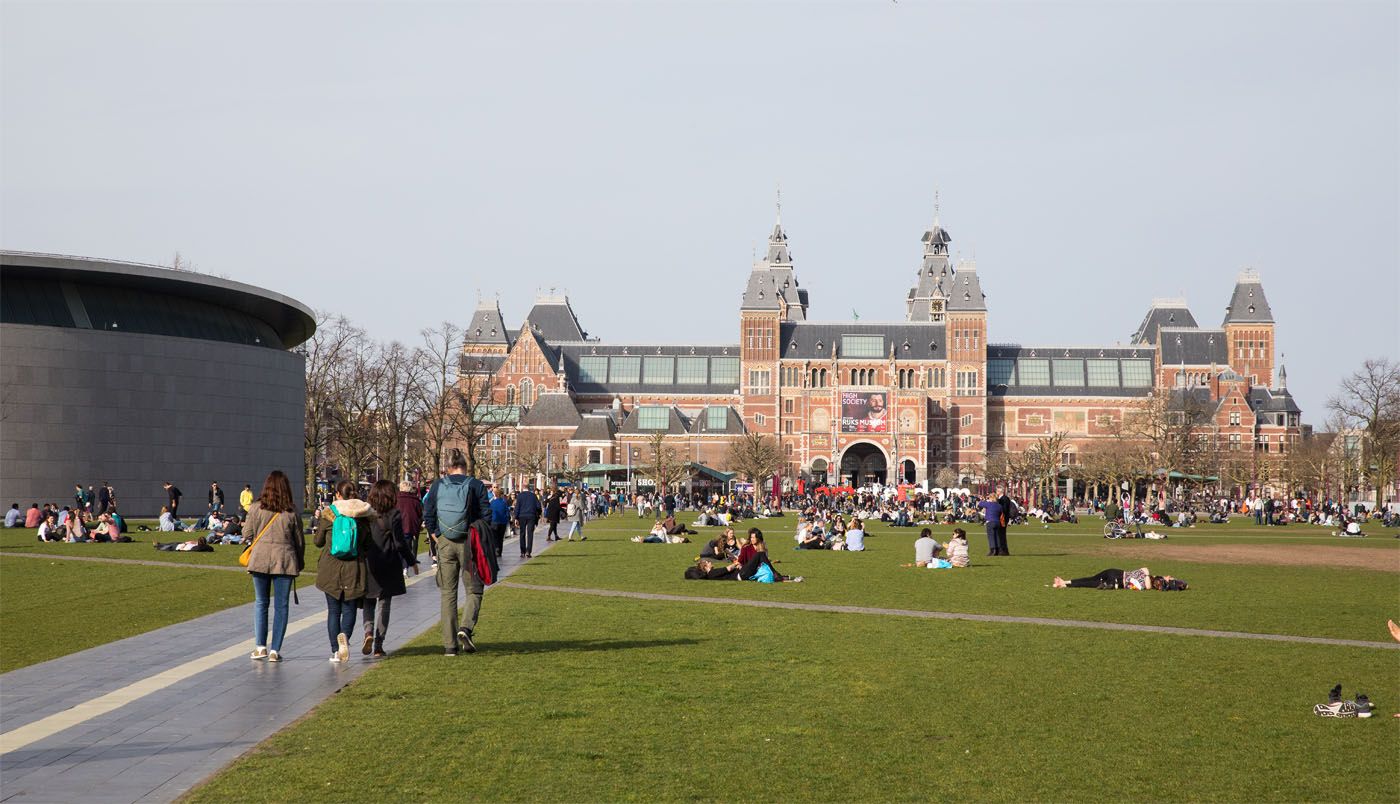 A visit here can last as little as an hour, if you just see the highlights. If you have an interest in Dutch art, plan on spending at least half of a day here.
Along with the Van Gogh Museum, the Rijksmuseum is located on Museumplein, an open green space which is a popular picnic and hangout spot when the weather is warm.
PRO TRAVEL TIP: With the e-ticket and the Museumcard, you can skip the ticket line (saving you 20 to 30 minutes during busy times). If you have the I Amsterdam Card, you still have to collect a ticket in the ticket line.
Get updated hours and pricing here.
4. Van Gogh Museum
The Van Gogh Museum is more compact and less overwhelming than the massive Rijksmuseum. This modern building contains the largest collection of Van Gogh's art work in the world. In recent years, it is the Netherland's most visited museum.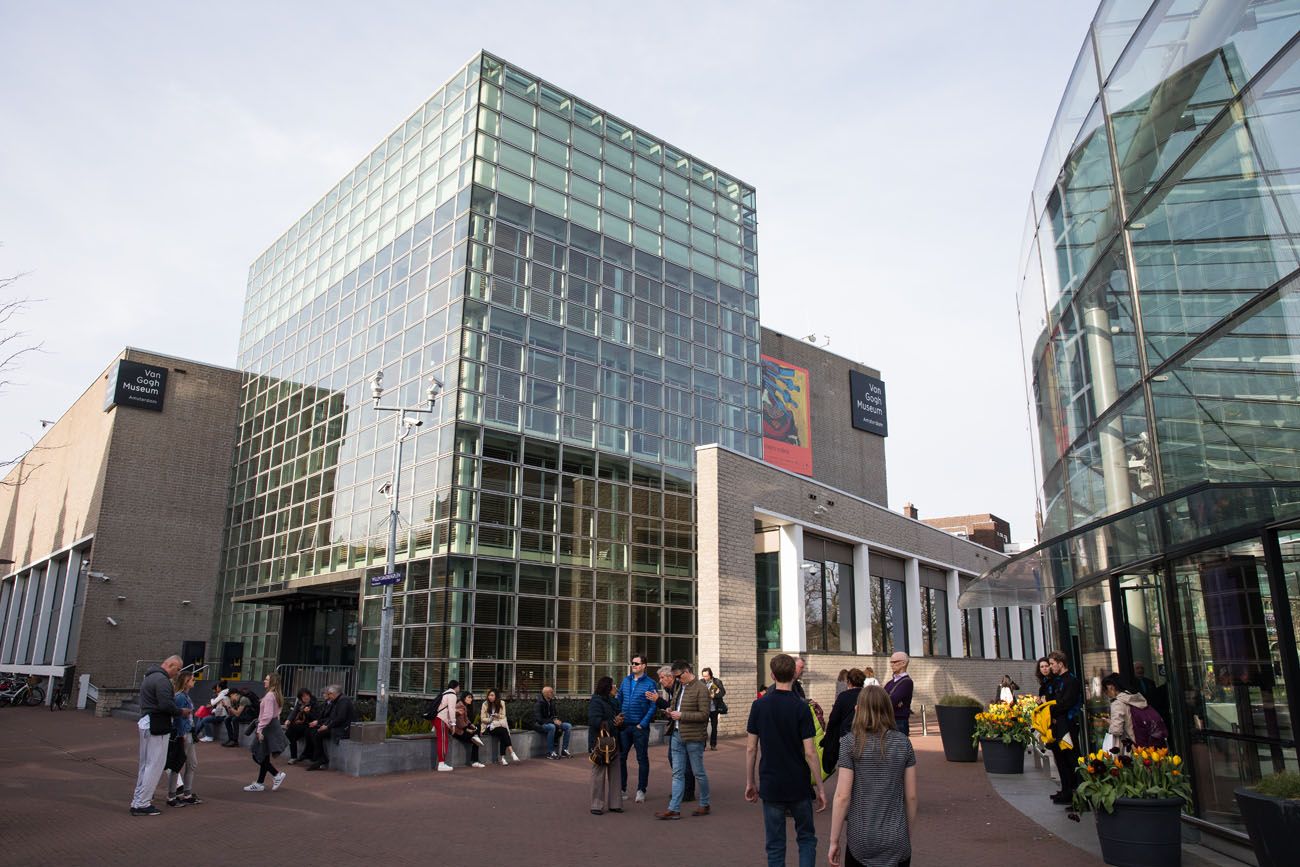 You can only purchase your tickets online. Do this in advance of your trip because they can sell out days in advance. You will pick a time slot and can enter the museum within a half hour of your reserved time. This eliminates waiting in line to enter the Van Gogh Museum.
Visit the Van Gogh Museum official website to book your time slot in advance.
PRO TRAVEL TIP: If tickets are sold out for your preferred date and time on the official Van Gogh Museum website, click here to get skip-the-line tickets through GetYourGuide.
5. Picnic in Vondelpark
Vondelpark is Amsterdam's largest green space. It sits right next to the Rijksmuseum and the Van Gogh Museum on Museumplein, so it is a great place to go for a walk if you get a case of museum overload.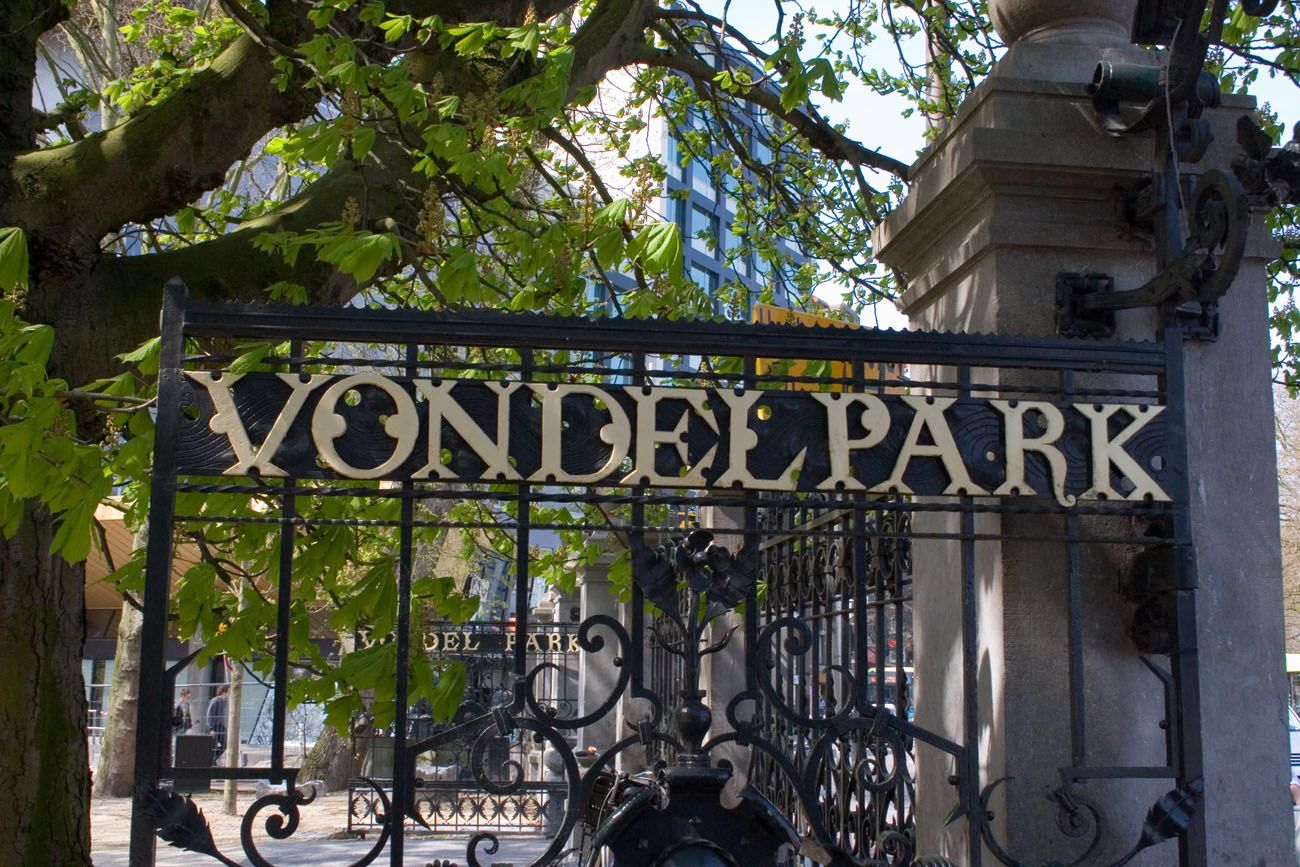 If you are getting around by bike in Amsterdam, this park, with its wide paths, is lots of fun to explore.
Interesting Fact: Public sex is allowed in Vondelpark but nude sunbathing is forbidden. Hmmm… 🤔
6. Explore Amsterdam by Bike or Boat
Since Amsterdam is such a compact city with its main sights clustered in and around the city center, getting around by foot is a breeze. However, exploring the city by bicycle is tons of fun.
In Amsterdam, there are more bikes than people. Near Central Station and around the city, parking garages are filled with more bikes than cars. And along city streets, there are separate bicycle lanes and street lights for cyclists. Amsterdam is the only city in the world where you can cycle through an art museum, the Rijksmuseum.
Some hotels offer bike rental services. There are also bike rental companies located throughout the city. MacBike is one of the largest rental companies in town.
Another great way to see the city is on a canal tour. There are numerous options, from enclosed boats with large groups of people to open boat tours to private tours. You will pay more for a smaller group or private experience but if you don't want to be sandwiched in a boat with a bunch of strangers, this could be worth the extra price.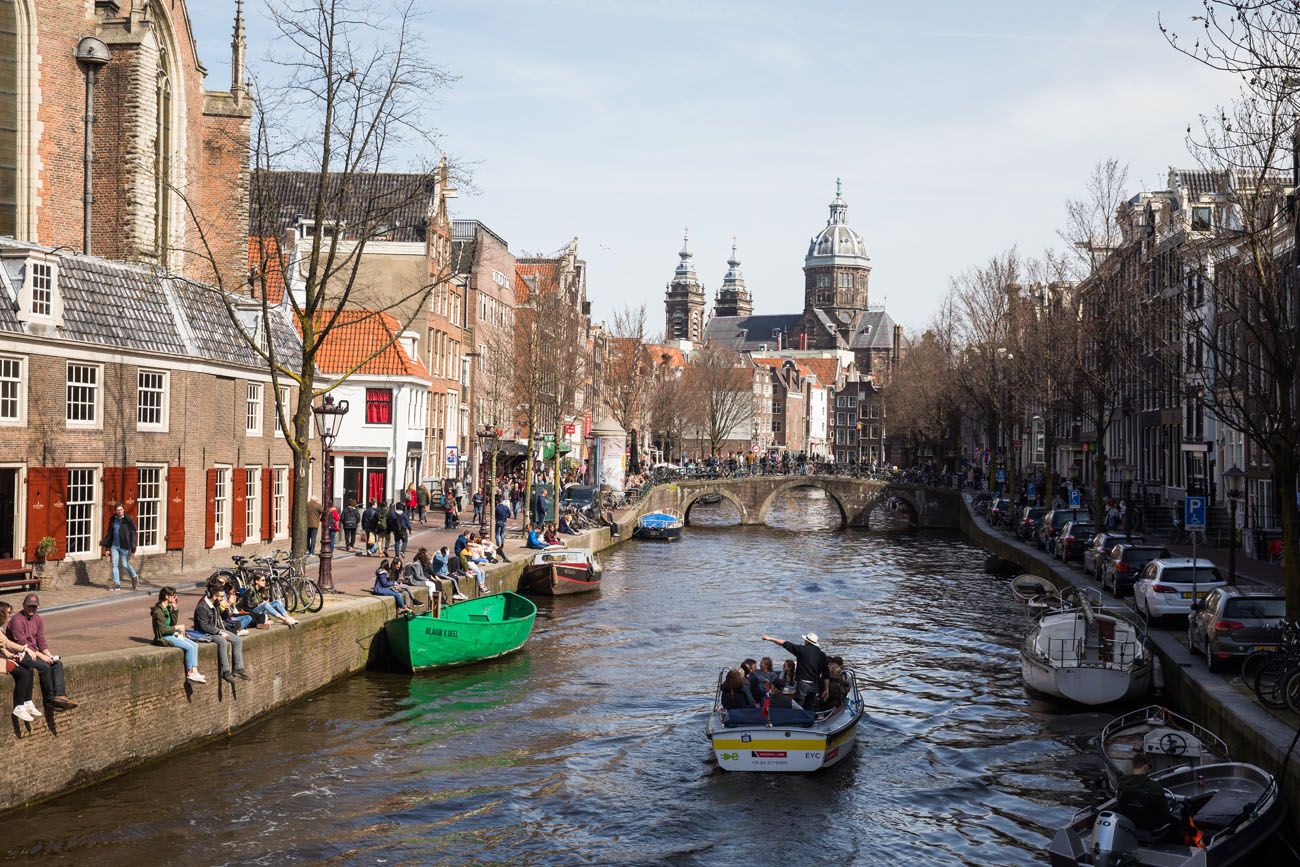 Most tours last 60 to 75 minutes. Large group cruises start at €15 per person and private cruises start at €50 per person.
7. See the Tulips at Keukenhof
In April and May, Keukenhof is a wonderland of flowering daffodils, tulips, and hyacinths. It is gorgeous and well worth the visit if you plan to be in Amsterdam during these two months.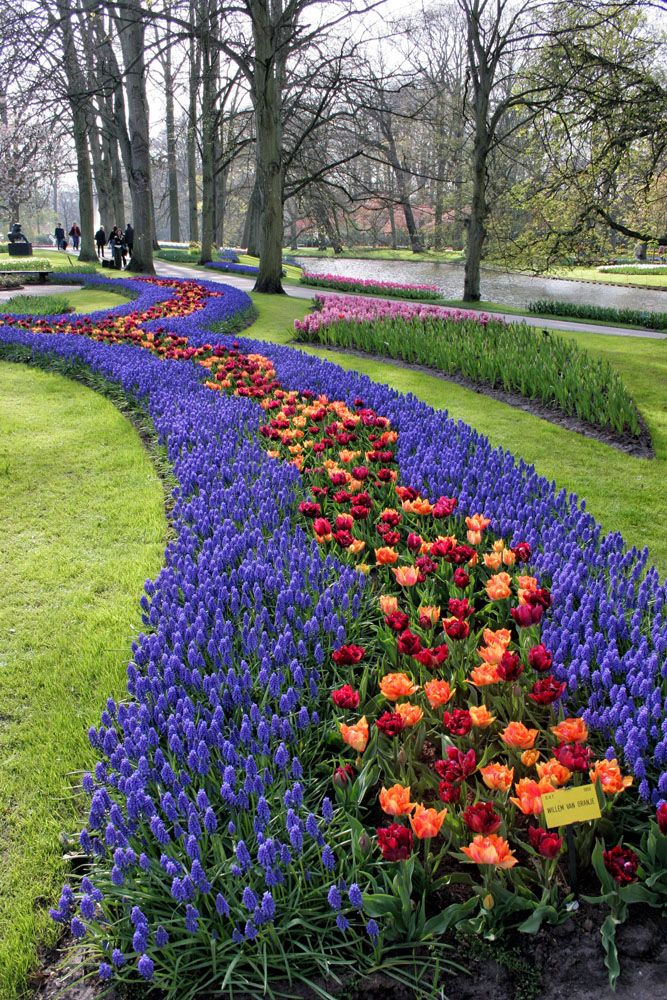 In 2023, the park is open from March 23 through May 14 from 8 am to 7:30 pm.
To get to Keukenhof, take the bus to Schiphol Airport. Bus 397 stops at Museumplein and the Rijksmuseum and takes you to Schiphol Airport. From the airport, take bus 858, the Keukenhof Express, to Keukenhof.
PRO TRAVEL TIP: Purchase the Combi Ticket, which includes your transportation to and from Amsterdam, as well as your entrance fee into Keukenhof. Since this includes your Keukenhof entrance ticket, you will not have to queue for tickets at Keukenhof. Visit the Keukenhof website for more details.
Here are tours to Keukenhof from Amsterdam. These make good options if you want to take the hassle out of arranging your transportation and/or if you like the idea of taking a guided tour of Keukenhof.
8. Take in the View from A'dam Lookout
The A'dam Lookout is one of the newer spots in town. If you want stunning views of Amsterdam or an adrenaline rush, this is one of the best things to do in Amsterdam.
From the Observation Deck you get panoramic views of the city. Or, ride the highest swing in Europe. Over the Edge is located on the Sky Deck. From here, you will swing 100 meters above the ground from the edge of the tower. There is also a restaurant and rooftop bar that offers panoramic views of Amsterdam.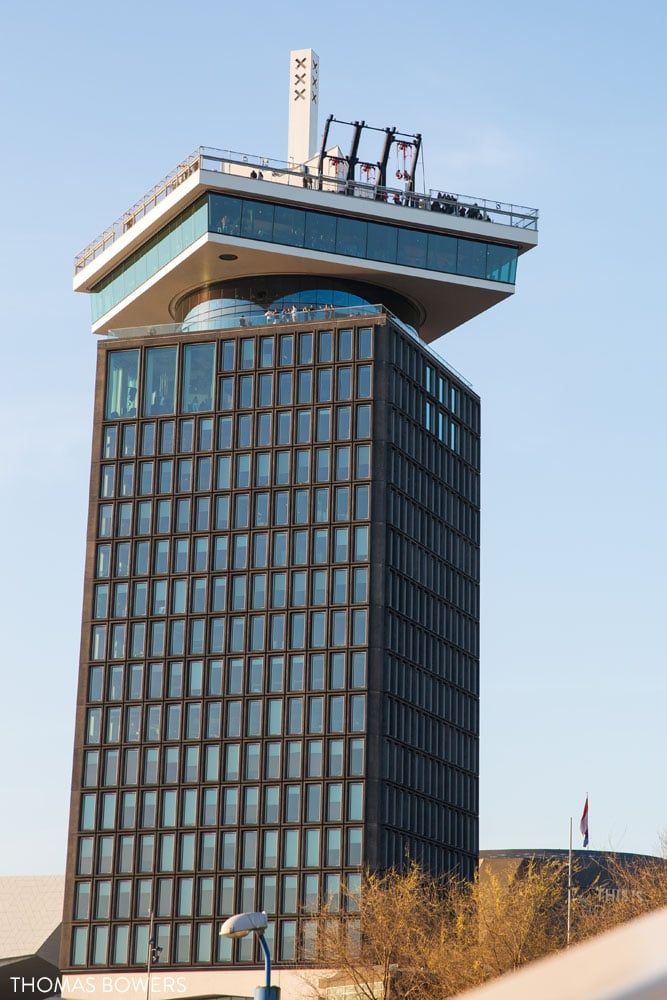 A'dam Lookout Tower | Best Things to Do in Amsterdam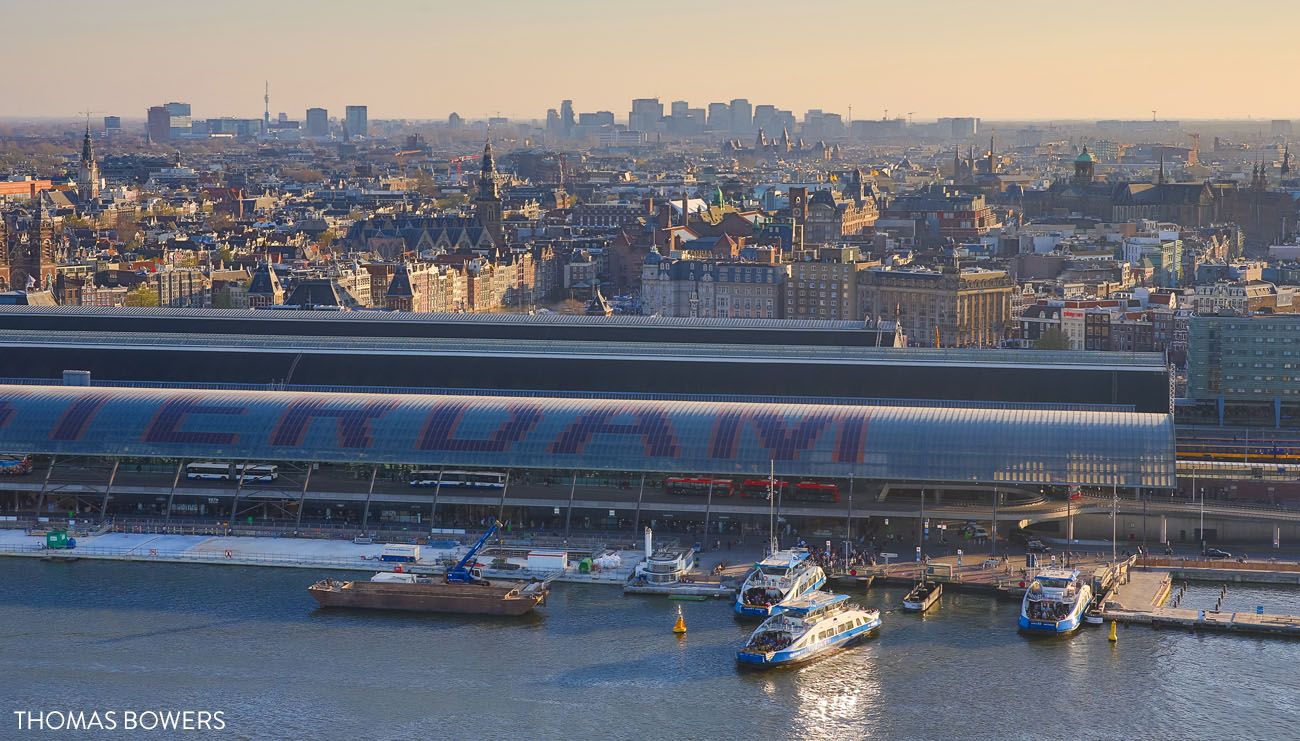 This is the view from the A'dam Lookout Tower in the afternoon. This time of day, photography can be challenging as you are looking towards the sun.
A'dam Lookout is located in northern Amsterdam. To get here, take the free ferry from Central Station to Buiksloterweg.
Get hours and pricing on the official website.
9. Get a History Lesson at Museum Ons'Lieve Heer op Solder
This museum, also called Our Lord in the Attic, is one of the best history lessons in Amsterdam.
This canal house, built in 1630, looks normal on the outside. But inside, on the top level, sits a secret Catholic Church. Catholicism was banned in Amsterdam during the 17th century, so people built small churches in their houses, hidden away from public view. This church is one of the largest and the best preserved of these schuilkerks.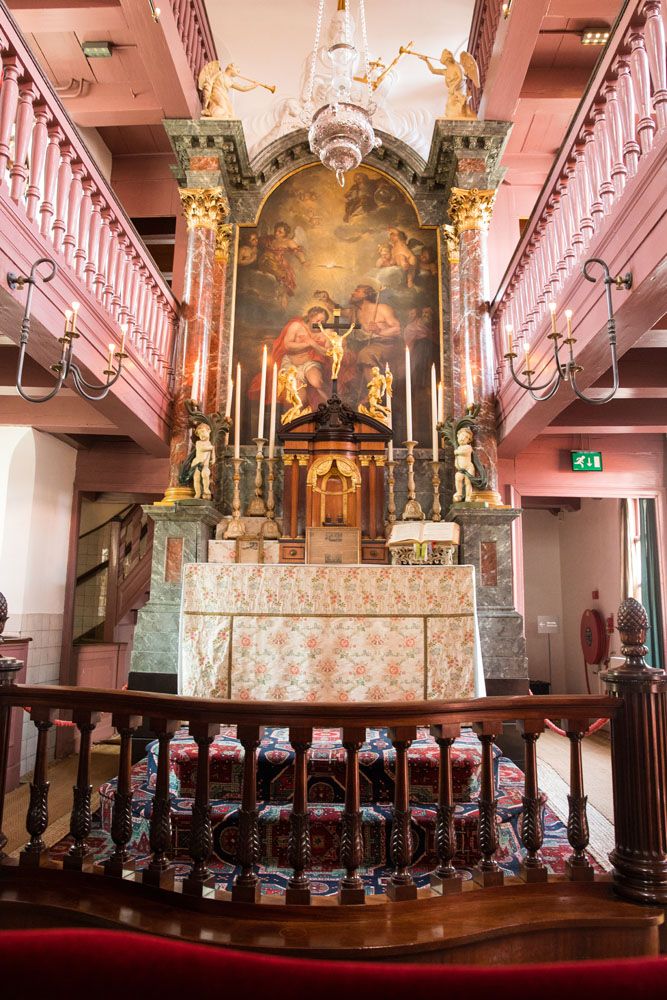 During the audio tour, you will get a fascinating history lesson about Amsterdam and the Netherlands, as you walk through the rooms of this 400 year old house. The tour ends with a visit to the spectacular church on the top floor.
I loved this museum. It's educational, thought provoking, and one of the most interesting history lessons in the city.
Get updated hours and pricing on the official website.
10. Visit the Historic City Center of Amsterdam
Some of the oldest and most historic sights in Amsterdam are found in the city center. To the north is Centraal Station, Amsterdam's main train station. Damrak runs through the center of this district, and on either side are shopping streets, museums, and historic sites.
Visit Oude Kerk (Old Church), Amsterdam's oldest building, consecrated in 1306. Nieuwe Kerk (New Church), dates back to 1409 and sits right on Dam Square. The Royal Palace is also located on Dam Square. It was built to be a town hall but was later converted to a palace for King Louis I.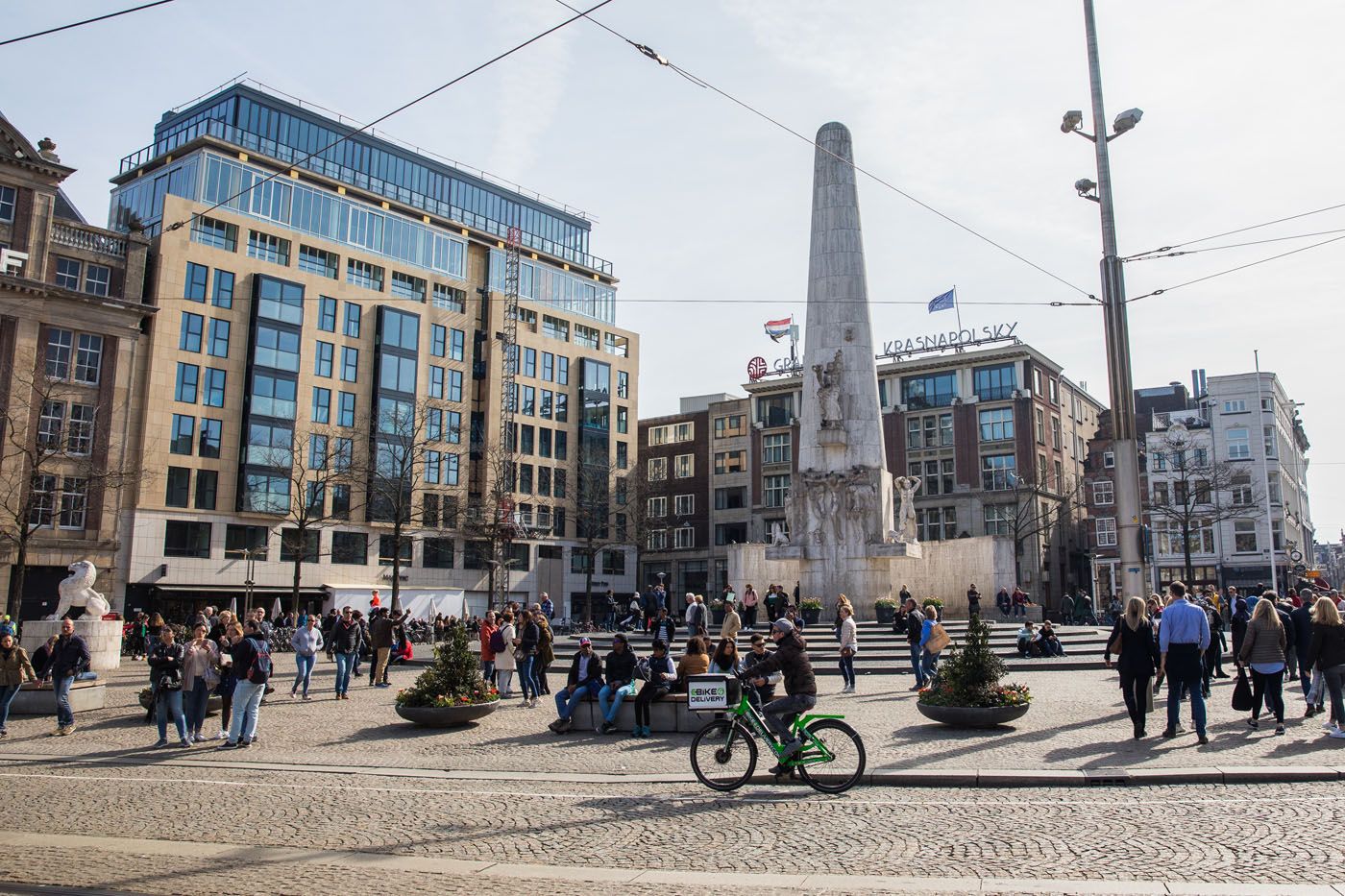 Dam Square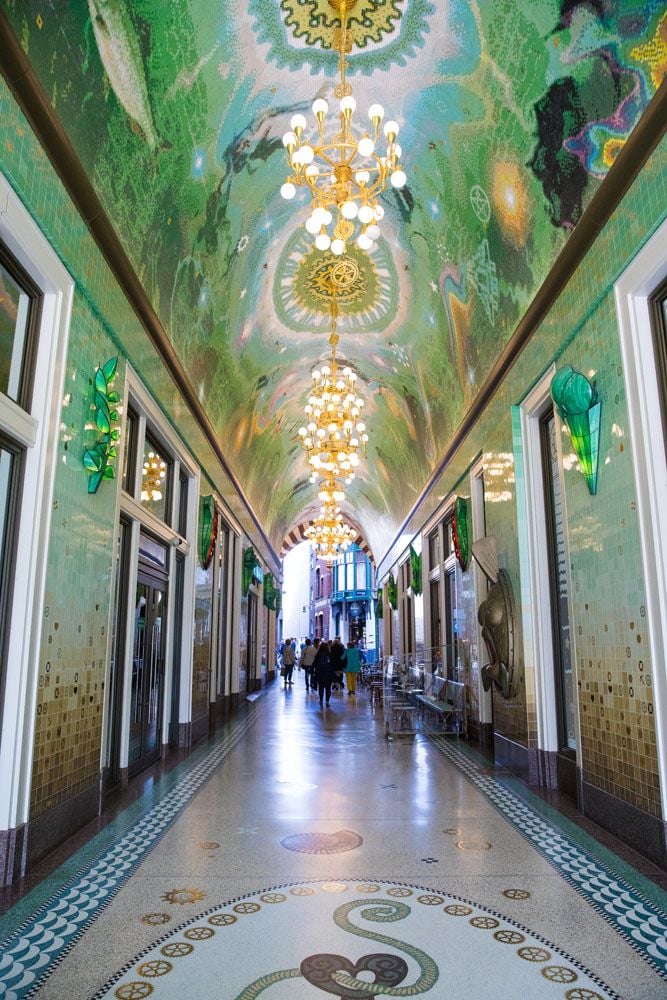 Near Dam Square is a passageway known as the Buerspassage. The walls, the ceiling, and the floors are a piece of artwork titled Amsterdam Oersoep by artists Arno and Iris. It's worth a quick peek, and a photo of two, if you are in the area. It's labeled on our map below so you know where to find it.
The Bloemenmarkt, located at the southern end of the city center next to the canal ring, is the world's only floating flower market. It's touristy but if you are looking to bring home souvenirs, flower bulbs, or wooden shoes, this is the place to go.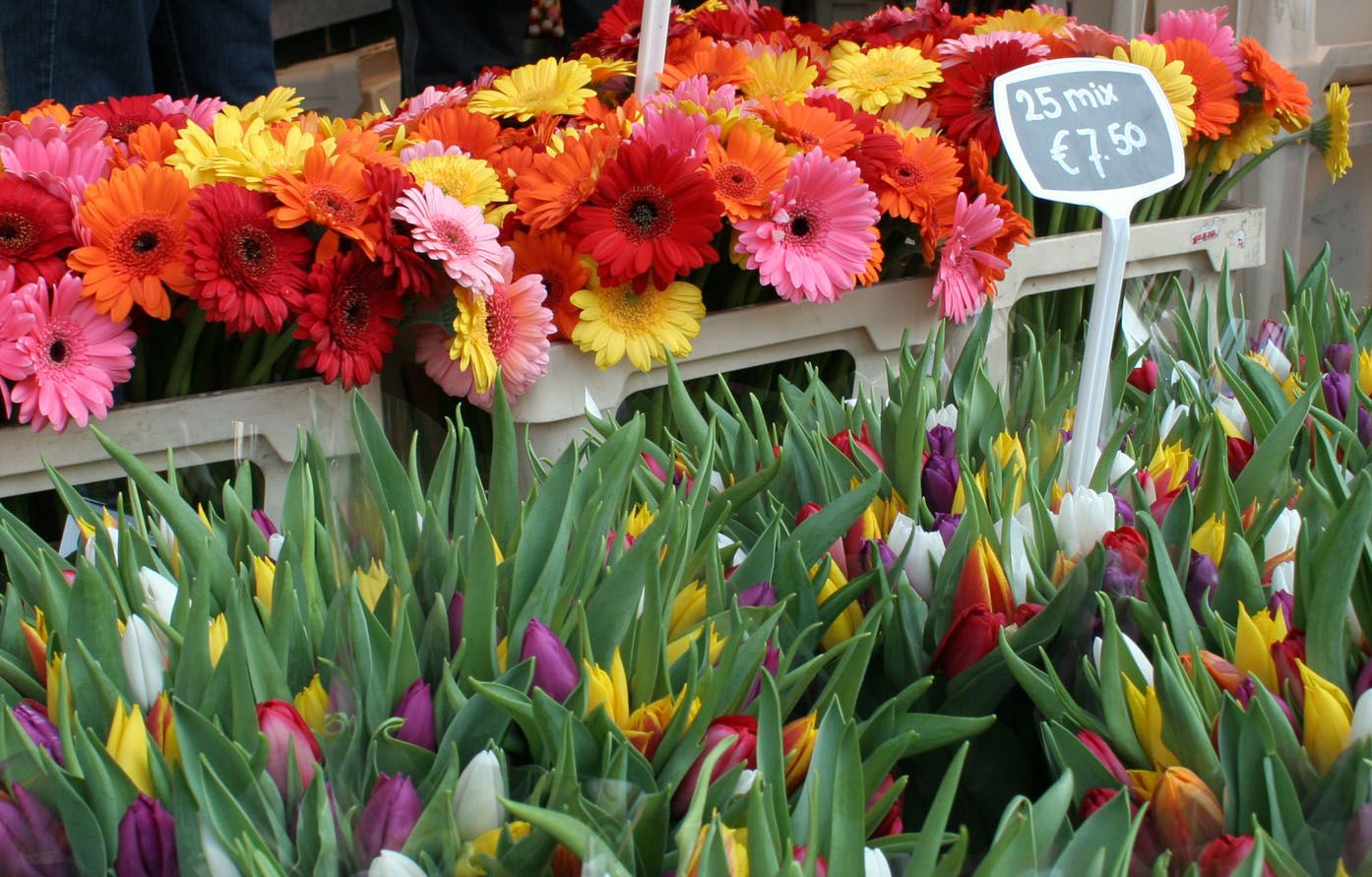 Things to do in Amsterdam: On a Map
How to Use This Map: Click the icons on the map to get more information about the things to do in Amsterdam. Click the star next to the title of the map to add this map to your Google Maps account. To view it on your phone or computer, open Google Maps, click the menu button, go to "Your Places," click Maps, and you will see this map on your list.
How to Get Around Amsterdam
Amsterdam is relatively small so it is possible to walk to most of Amsterdam's sights. However, you can also take advantage of the trams and the metro to save some steps.
A GVB ticket covers unlimited transportation on buses, trams, and the metro during its period of validity. Single tickets, valid for one hour, cost €3.40. You can also purchase multi-day tickets, which are more economical and save you the hassle of visiting the ticket machines whenever you want to take the tram, bus, or metro. Once you activate the ticket (use it for the first time) the period of validity begins.
24 hours: €18

48 hours:

€24
72 hours: €30
You can purchase the single and multi-day tickets at GVB service points, in metro stations and at tram stops. You can also purchase it in advance through GetYourGuide. Once in Amsterdam, you will take your voucher to a service point in the city to pick up your chip card.
You can also get around Amsterdam by bicycle. Hotels and small shops throughout the city rent bikes by the hour or by the day. MacBike is one of the top shops in Amsterdam that rents bicycles. It's a great to do if you just want to have fun for an hour, or you can use the bike as your mode of transportation during your entire visit to Amsterdam.
More Information for Your Trip to Amsterdam (FAQ)
When is the Best Time to Visit Amsterdam?
If you want to see the bulbs in bloom, visit Amsterdam in April and early May. The prime blooming season varies year to year, depending on the weather. However, the end of April is a fairly reliable time to visit if you want to see Keukenhof and Amsterdam carpeted in spring blooms.
April through June is one of the busiest times to visit Amsterdam, so expect larger crowds and larger prices during these months.
The summer months can also be quite busy. October is a gorgeous time to visit Amsterdam, with fall colors and cool nights.
During the winter months, the crowds fade away. It's chilly in Amsterdam but very cold temperatures are rare.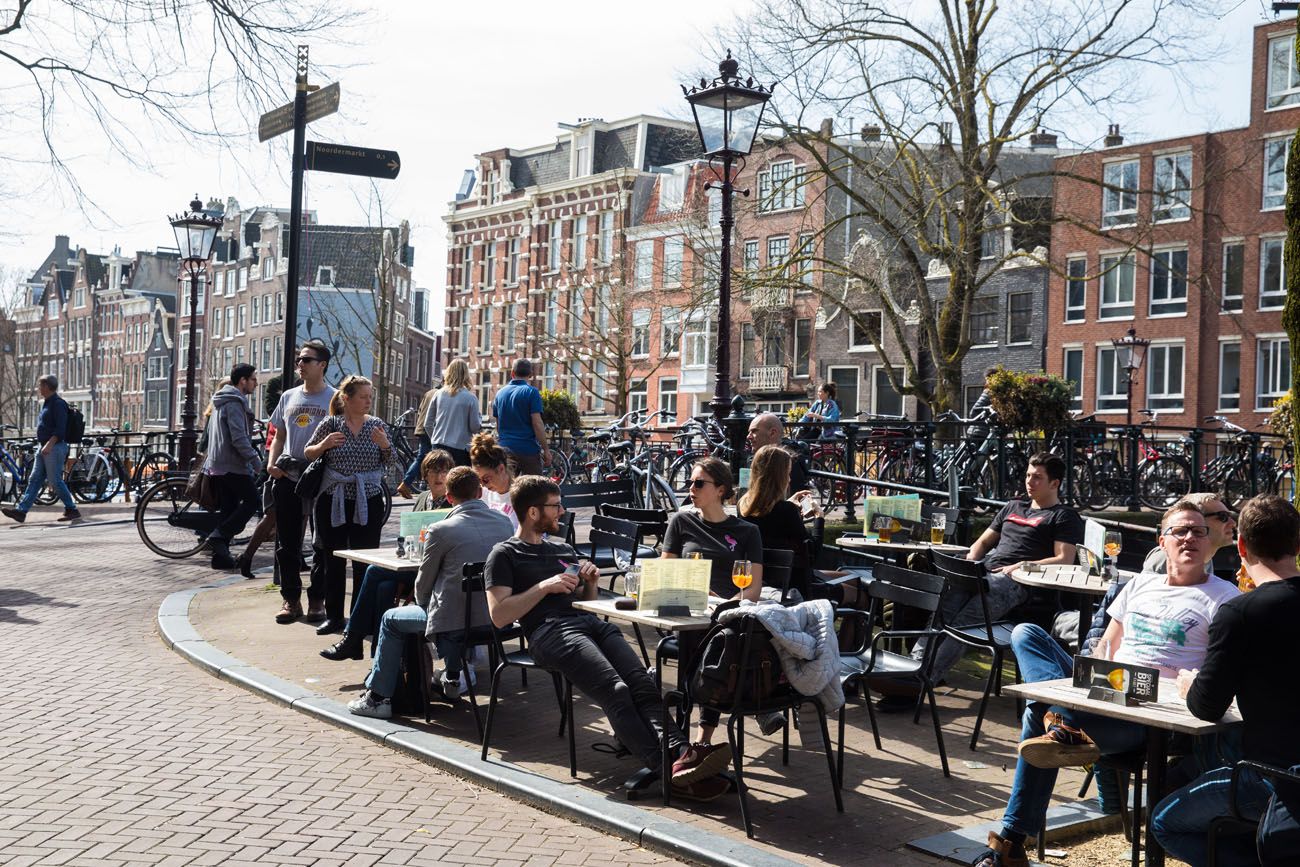 Amsterdam in April
Is the Museumcard Worth It?
The Museumcard is a card that gives you free entrance into 400 museums in the Netherlands. For Dutch residents only, the card is valid for one year. For tourists, it is valid for 31 days and can be purchased at a handful of museums.
The Museumcard costs €64.90. On this list, the four museums come to a grand total of €74.50.
If you also have plans to visit Utrecht, The Hague, Rotterdam, or other cities in the Netherlands, this card is worth the money. The Museumcard covers entrance to other popular museums in cities other than Amsterdam so this card may save you money.
If you plan on purchasing the Museumcard, you can buy it at your first museum.
How Much Time Should I Spend in Amsterdam?
Two days is the perfect amount of time if you want to visit Amsterdam's top sights. With two days, you can see and do everything on this list, although it will be a busy two days. Three days gives you more to slow down and explore some of Amsterdam's less touristy spots, such as De Pijp, or visit a few more museums.
Where is the Best Place to Stay in Amsterdam?
The best place to stay in Amsterdam is along the canal ring. Not only do you get to start and end your day with views of the canals but you are also within walking distance of Amsterdam's top landmarks. Jordaan, which sits right beside the canal ring, is a quieter neighborhood with a less-touristy vibe.
For full details on the best places to stay in Amsterdam, with recommendations for budget, mid-range, and luxury travelers, as well as families, read our Hotel Amsterdam Guide.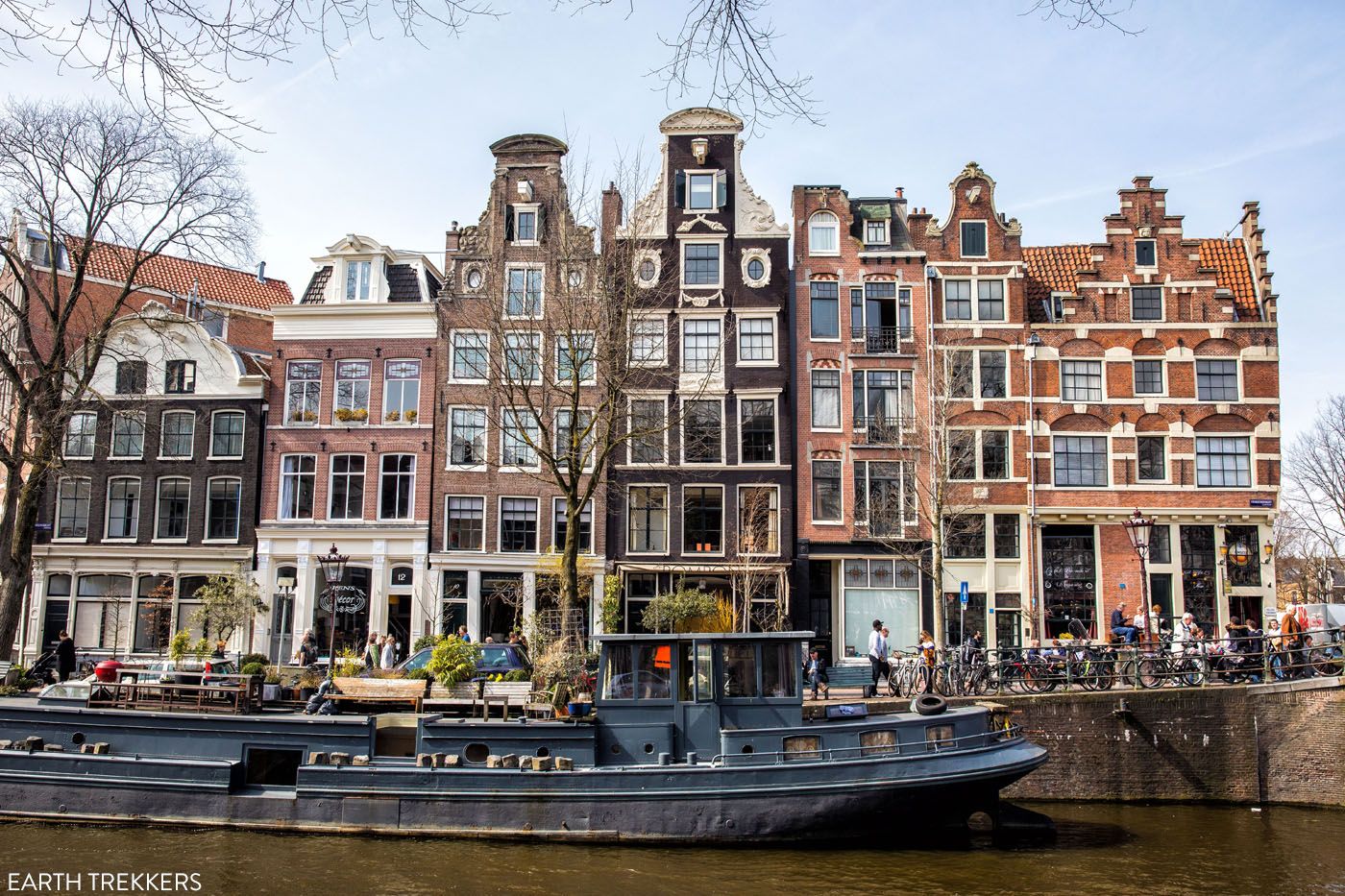 ---
Have fun exploring Amsterdam!
If you have any questions about the best things to do in Amsterdam, or if you want to share your favorite experiences, let us know in the comment section below.
More Information about the Netherlands
NETHERLANDS: Learn how to spend 2 perfect days in Amsterdam. We also have a guide on Where to Stay in Amsterdam and how to visit Haarlem, Utrecht, and The Hague.
ITINERARY IDEAS: With 10 days, you can put together a trip to London, Amsterdam and Paris or a trip to Amsterdam, Brussels, and Paris.
BELGIUM: Don't miss our guide on how to take a self-guided chocolate tour of Brussels that also includes the top sights in town. We also have a article about how to day trip to Bruges and Ghent.
TRAVEL ITINERARIES: For more travel itineraries for destinations around the world, take a look at our Travel Itineraries page.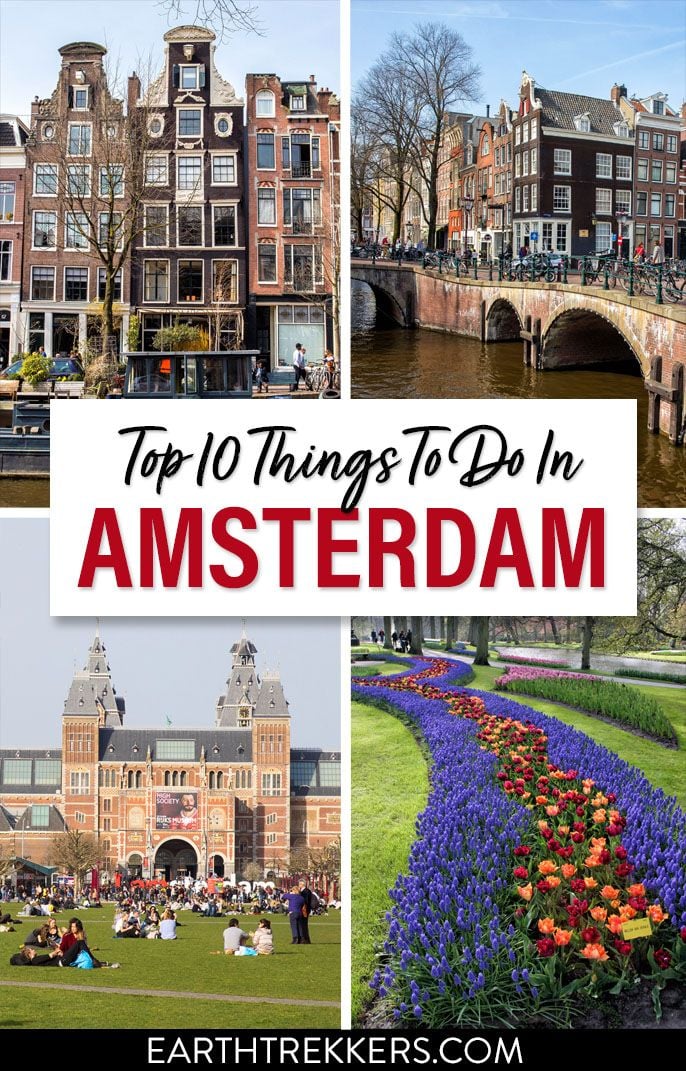 Note: This post contains affiliate links. When you make a purchase using one of these affiliate links, we get paid a small commission at no extra cost to you.
All rights reserved © Earth Trekkers. Republishing this article and/or any of its contents (text, photography, etc.), in whole or in part, is strictly prohibited.