Amsterdam is the perfect European city to visit if you only have a few days. After you visit the main museums, you get to stroll the canals and parks, take your pick from trendy restaurants, and simply enjoy this European experience. On this Amsterdam itinerary, you have enough time to see the must-see sites and still have plenty of time to wander the canals and charming city streets.
About Our Amsterdam Experiences
We have been to Amsterdam twice, in 2008 and 2018. Our first visit to Amsterdam was perfect. It was late April, the skies were sunny, the tulips were blooming, and strolling along the canals was magical. In fact, this was the first city we ever visited in Europe, so it has a special place in our hearts.
Amsterdam was even better the second time around. This time, it was early April, it was more crowded, a little chillier, and the bulbs were still shut from the unusually long and cold winter, but we loved every minute we spent in Amsterdam. On our second visit, we skipped the museums and spent most of our time wandering the canals, trying new restaurants, and just enjoying Amsterdam.
On this Amsterdam itinerary, I combined the best of our experiences so you can have the perfect two days in Amsterdam.
We hope you fall in love with Amsterdam like we did!
Amsterdam Itinerary: Day 1
Rijksmuseum, Van Gogh Museum, Explore the Canals
How to Use This Map: Click the tab in the top left hand corner of the map to view the layers (points of interest and the walking route). You can click the check marks to hide or show layers. If you click the icons on the map, you can get more information about each point of interest.

If you click the star next to the title of the map, this map will be added to your Google Maps account. To view it on your phone or computer, open Google Maps, click the menu button, go to "Your Places," click Maps, and you will see this map on your list.
We start in museum square, with the Rijksmuseum and the Van Gogh Museum. These are Amsterdam's most popular museums, so expect them to get crowded, especially midday. By starting here first, you get to enjoy at least one of the museums without huge crowds.
9 am: Rijksmuseum
The Rijksmuseum is enormous. On display are 8,000 objects of art and history, most of it Dutch, with masterpieces by Johannes Vermeer, Rembrandt, and Frans Hals. Most people spend 2 to 3 hours in the museum.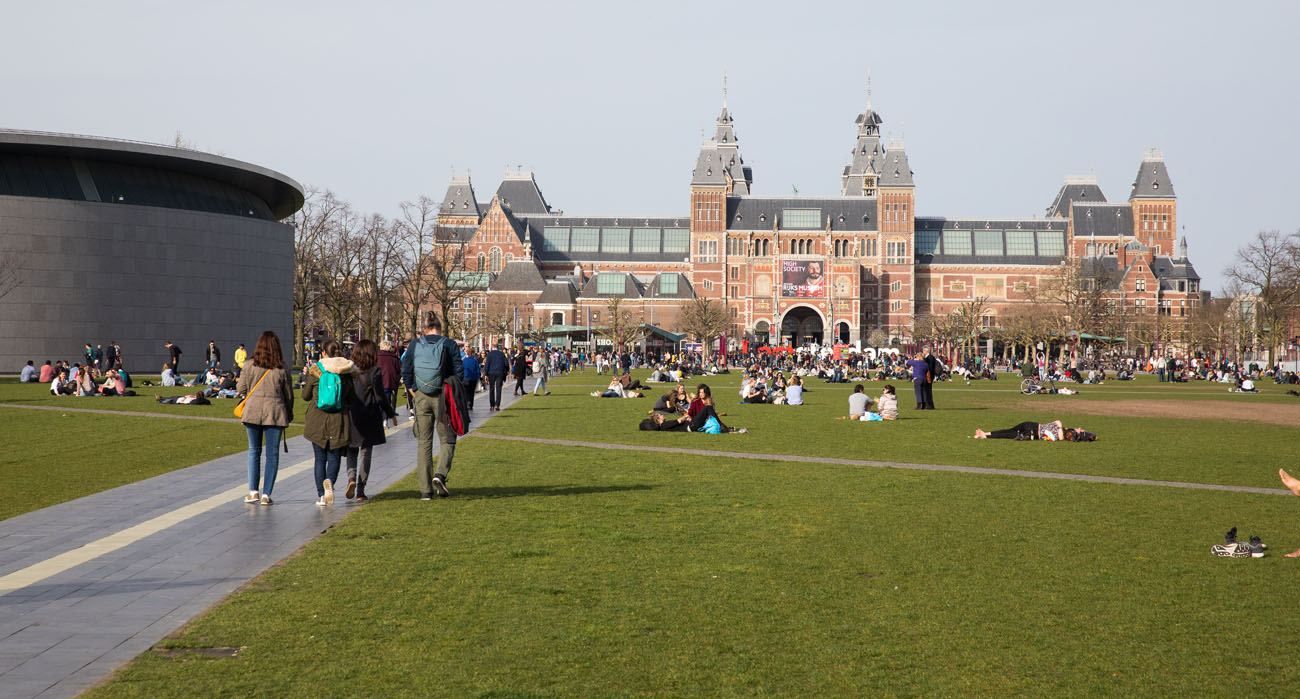 Rijksmuseum | Two Days in Amsterdam Itinerary
PRO TRAVEL TIP: With the e-ticket and the Museumcard, you can skip the ticket line (saving you 20 to 30 minutes during busy times). If you have the I Amsterdam Card, you still have to collect a ticket in the ticket line.
Should you purchase the I Amsterdam Card or Museumcard? At the end of this post we give you our recommendations.
Cost: Adults €22.50, 18 and under are free; included with the Museumcard and I Amsterdam Card
Hours: Daily 9 am to 5 pm
Get updated hours and pricing here.
Other ticket sellers: You can also purchase tickets through GetYourGuide.
11:45 Break for Lunch
A quick lunch is the perfect pick-me-up before visiting the Van Gogh Museum. There are several food stands on museum square. Kiosk Rembrandt Van Gogh gets the best reviews. You can also have lunch inside the Van Gogh Museum at the Museum Café.
1:00 pm: Van Gogh Museum
Step inside this modern building to view works of art by Vincent Van Gogh. This is the most visited museum in the Netherlands and it contains the largest collection of artwork by Van Gogh in the world.
You can only purchase your tickets online. Do this in advance of your trip because they can sell out days in advance. You will pick a time slot and can enter the museum within a half hour of your reserved time. This eliminates waiting in line to enter the Van Gogh Museum.
The average visit to the museum lasts about an hour.
PRO TRAVEL TIP: If you have a Museumcard or I Amsterdam Card, you will still need to reserve your time slot in advance.
Cost: Adults €20, under 18 are free
Hours: Hours vary by season, but the museum is usually open 9 am to 5 pm with longer hours during peak season; Click here to check the hours for your dates of travel.
Time Slot Reservations: visit the Van Gogh Museum official website to book your time slot in advance
Skip-the-Line Tickets: If tickets are sold out for your preferred date and time on the official Van Gogh Museum website, click here to purchase a ticket through GetYourGuide.
2:30 pm Vondelpark
Vondelpark is Amsterdam's green space. This is where the local people relax and sunbath on warm days and where families go outside to play. It's a pretty spot to visit, especially after spending most of the day inside of art museums.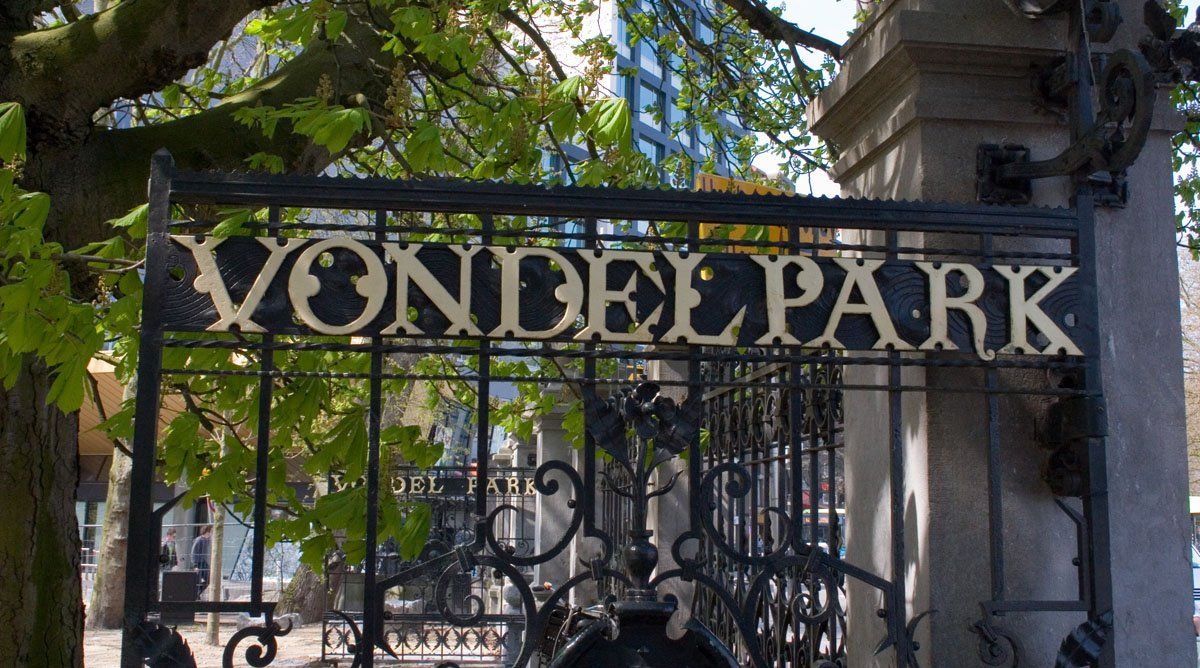 Vondelpark | Two Days in Amsterdam Itinerary
Once you are finished at Vondelpark, walk or take Tram 1 to Bloemenmarkt.
Mid-Afternoon or Early Evening: Optional Canal Cruise
If you want to take a canal cruise of Amsterdam, this afternoon or evening is a great time to do it.
Leidesplein is one of the more popular meeting points to start a canal cruise (although they can also start near Centraal Station, the Anne Frank House, or other locations in Amsterdam). You will walk through Leidesplein as you go from Vondelpark to Bloemenmarkt, the floating market.
I am including the canal cruise at this point in the itinerary since it is a great way to relax after a morning at the museums. However, if you choose to do an evening tour or night cruise, you will have to tweak this itinerary a little bit (if you have questions let me know in the comment section at the end of this post). And of course you can completely skip the canal cruise, opting to exploring the canals and Jordaan on foot, which is also very nice.
There are numerous options: glass-enclosed boats filled with large groups of tourists, smaller open boat tours with smaller groups of people, and private tours. You will pay more for a smaller group or private experience but if you don't want to be sandwiched in a boat with a bunch of strangers, this could be worth the extra price.
You can take a tour during the day, at sunset, or in the evening. Some smaller group and private tours serve wine and cheese while you cruise the canals. Most canal tours last one hour to an hour and a half.
Reserve your canal cruise before you get to Amsterdam. The small group and private tours sell out in advance. Plus, you then know your start time and meeting place and can adjust this Amsterdam itinerary. Here are a few options of highly rated canal cruises in Amsterdam.
3:30 pm Bloemenmarkt
The Bloemenmarkt is the only floating flower market in the world. About 15 florist shops sell blooming flowers, bulbs, and souvenirs. It is a bit of a tourist trap, but it's worth a quick visit if you are looking for gifts to bring home or just want to see flowers in bloom.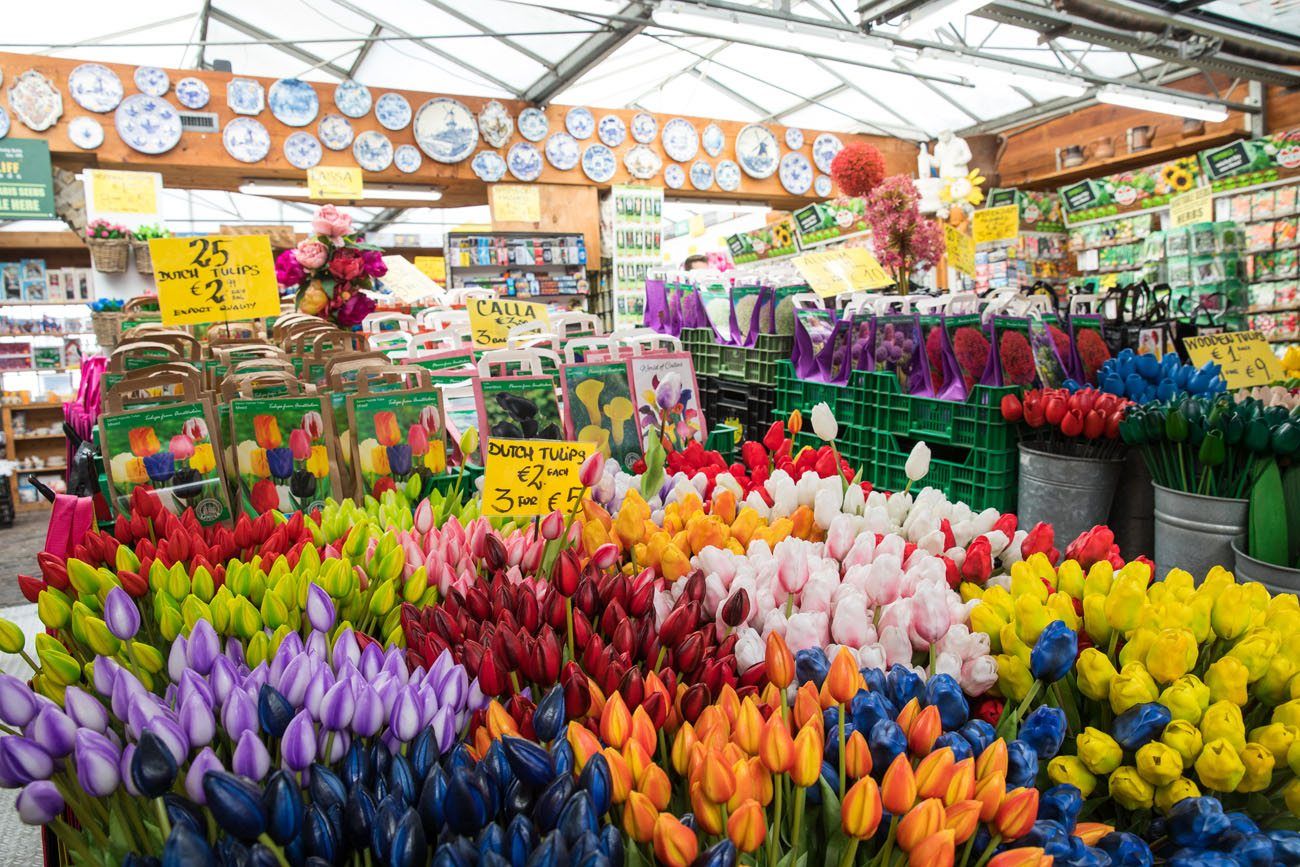 Bloemenmarkt | Two Days in Amsterdam Itinerary
4 pm: The Nine Streets (De 9 Straatjes)
Spend the afternoon and evening exploring the Nine Streets of Amsterdam. These nine little streets are a haven of boutique shops, cafes, art galleries, and restaurants. You can very easily spend the rest of the day here, hopping from shop to shop. Even if shopping is not your thing, this area, with its jumble of canal houses and cobblestoned streets, is a delight to explore.
Where Exactly are The Nine Streets? The Nine Streets are located just to the south of the Anne Frank House. This area is bordered by Prinsengracht and Singel. The Nine Streets are Reestraat, Hartenstraat, Gasthuismolensteeg, Oude Spiegelstraat, Wolvenstraat, Berenstraat, Runstraat, Huidenstraat, and Wijde Hiesteeg.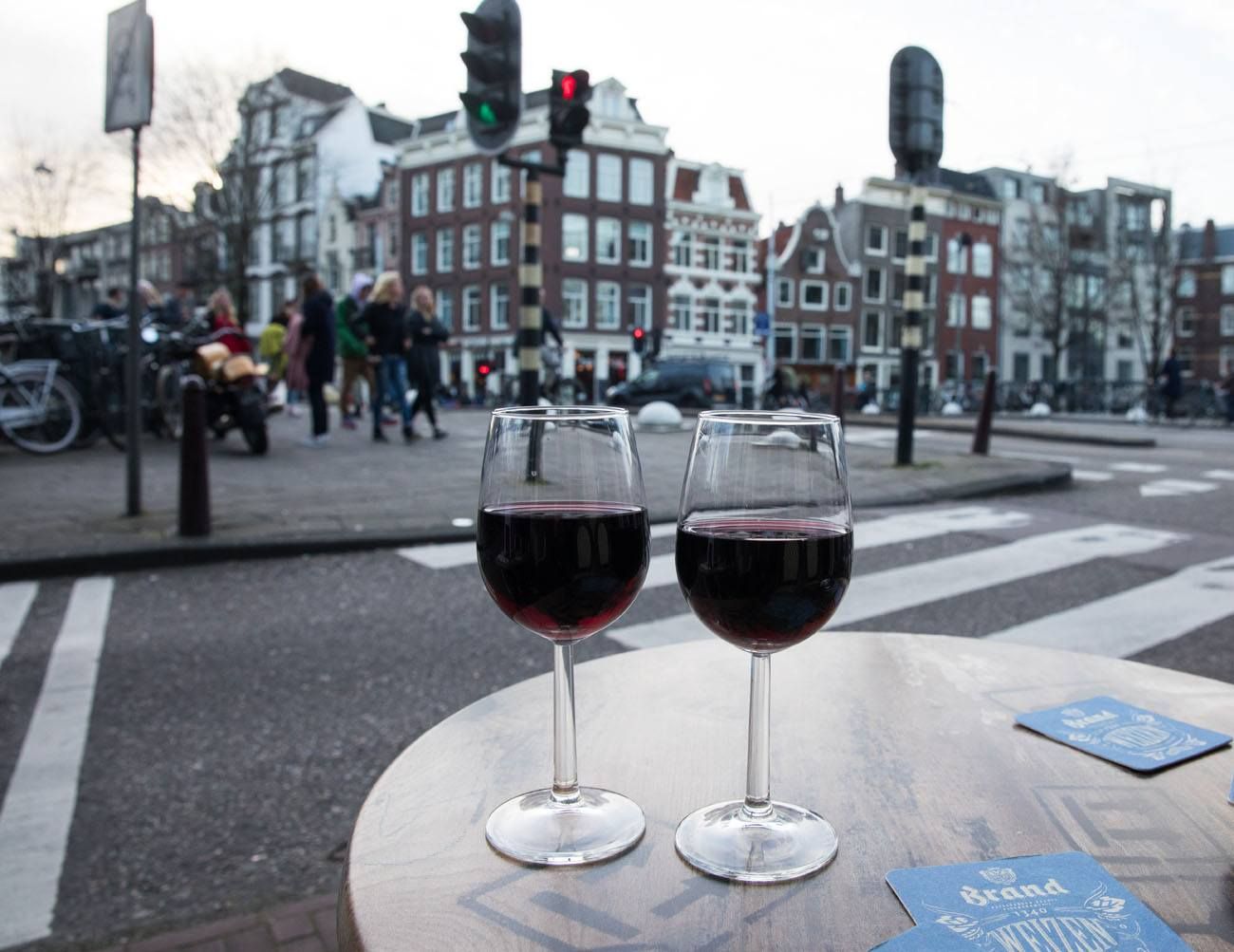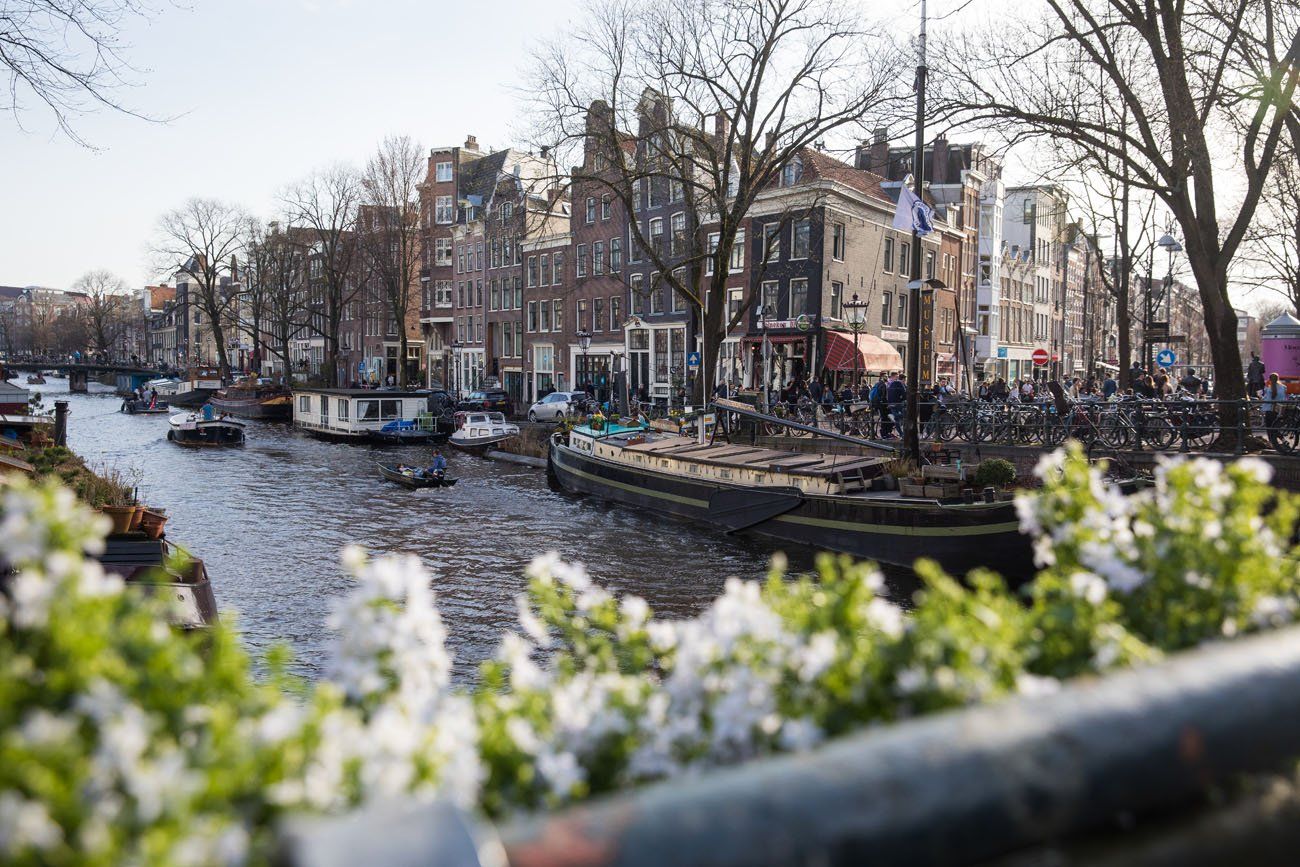 Amsterdam canal | Two Days in Amsterdam Itinerary
7 pm: Dinner
There are a lot of great restaurants in Amsterdam. If you need recommendations, here are 3 spots to try:
Vinkeles. A one star Michelin restaurant that serves modern French cuisine. Located in The Dylan Hotel on Keizersgracht in the Nine Streets. Closed Sunday and Monday.
Foodhallen. This giant food hall is filled with small restaurants that serve food from around the world. This is the perfect place to try new foods and not spend a fortune on dinner. Located 10 minutes away from the Nine Little Streets.
Café de Reiger. Located in Jordaan, this restaurant and bar is popular with locals and tourists.
End the day with drinks at bar or strolling the canals at night. One of the best bars in the area is Proeflokaal Arendsnest.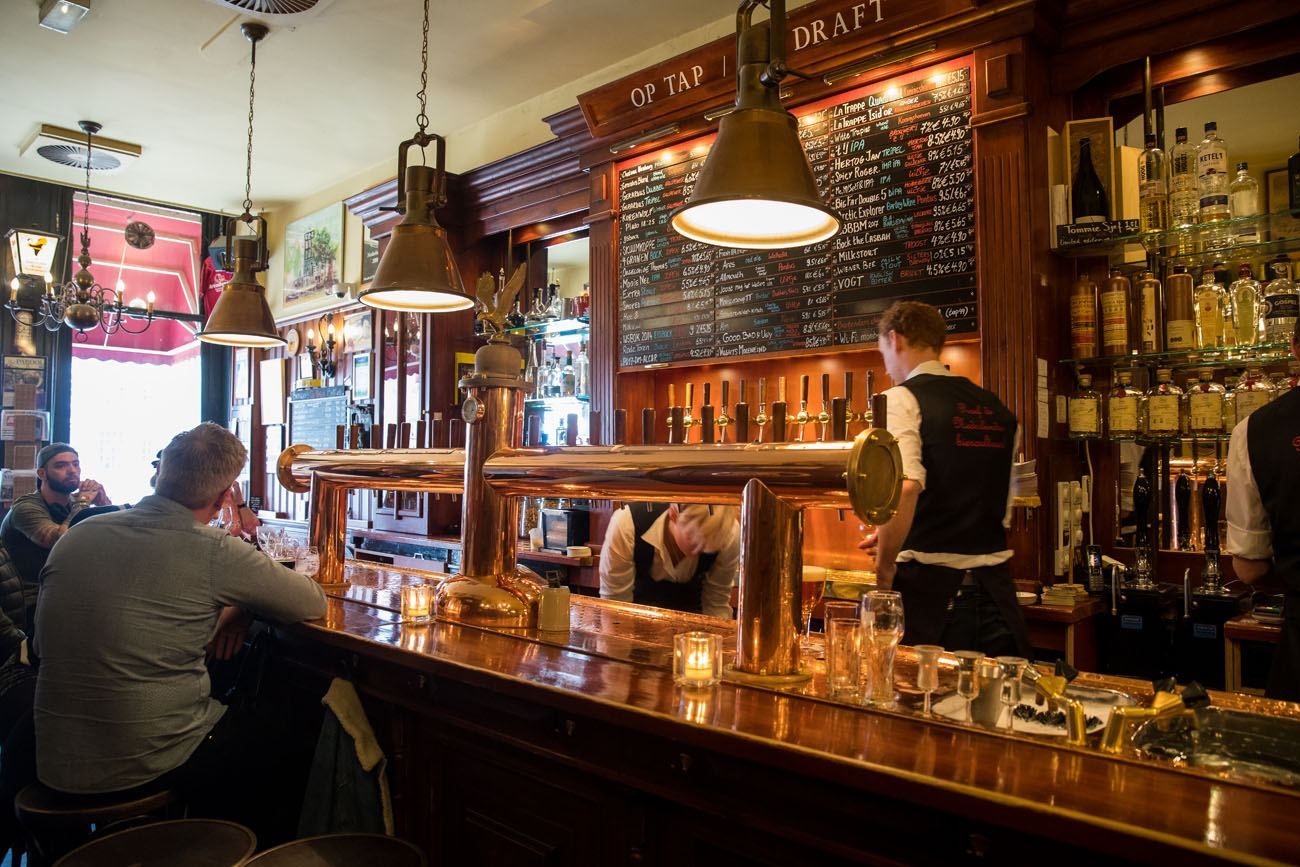 Proeflokaal Arendsnest | Two Days in Amsterdam Itinerary
---
Amsterdam Itinerary:
Day 2
Anne Frank House, Jordaan, Dam Square
9 am: Breakfast at the Pancake Bakery
For an over-the-top breakfast experience, visit the Pancake Bakery. This popular breakfast spot serves giant pancakes topped with almost anything you can imagine. If you have a sweet tooth, you can get pancakes topped with ice cream, hot sauce, and caramel. Or, if you like something savory, there are lots of options too. If you are traveling with kids, they'll love this place.
If you really want to try something sweet, we loved the Dutch pancake, a pancake topped with stroopwafel chunks, cinnamon ice cream, and whipped cream.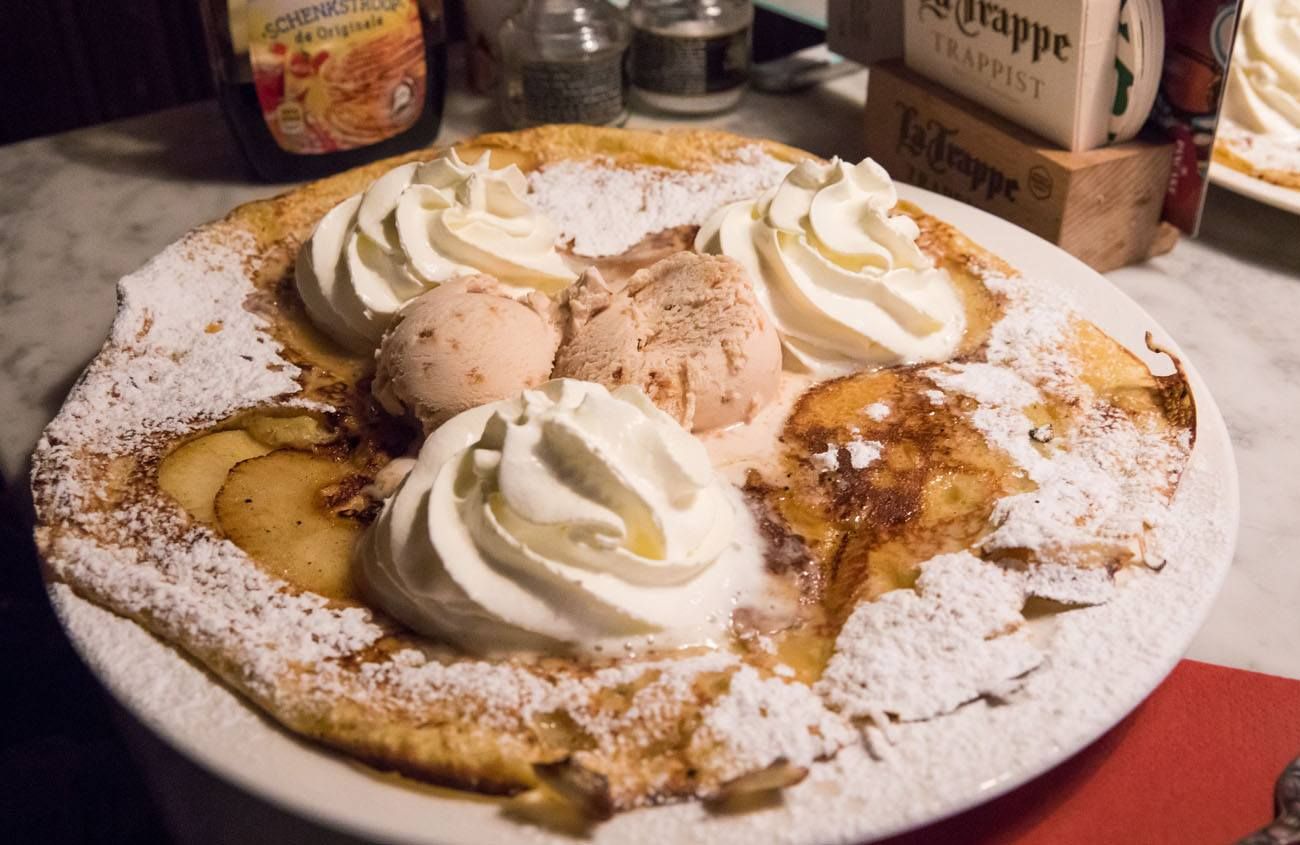 Apple Cinnamon pancake | Two Days in Amsterdam Itinerary
It helps to also order a savory pancake, because the sweet ones can be overwhelmingly sweet. We ordered the Hungarian, which was pretty good, but I'd love to try the French pancake on our next visit to Amsterdam!
PRO TRAVEL TIP: This place is one of the most popular breakfast spots in the city. Arrive a few minutes before opening time, which is at 9 am, to avoid waiting in line.
10 am: Anne Frank House
Without a doubt, a visit to Amsterdam would not be complete without a visit to the Anne Frank House. And it's just a short walk from the Pancake Bakery.
For two years and one month, Anne Frank and her family lived in a secret annex, hidden away from the Nazi's. During this time, she wrote in her diary, which became a memoir and an important piece of history.
Tour the hidden rooms and see the movable bookcase that covered the entrance into the rooms.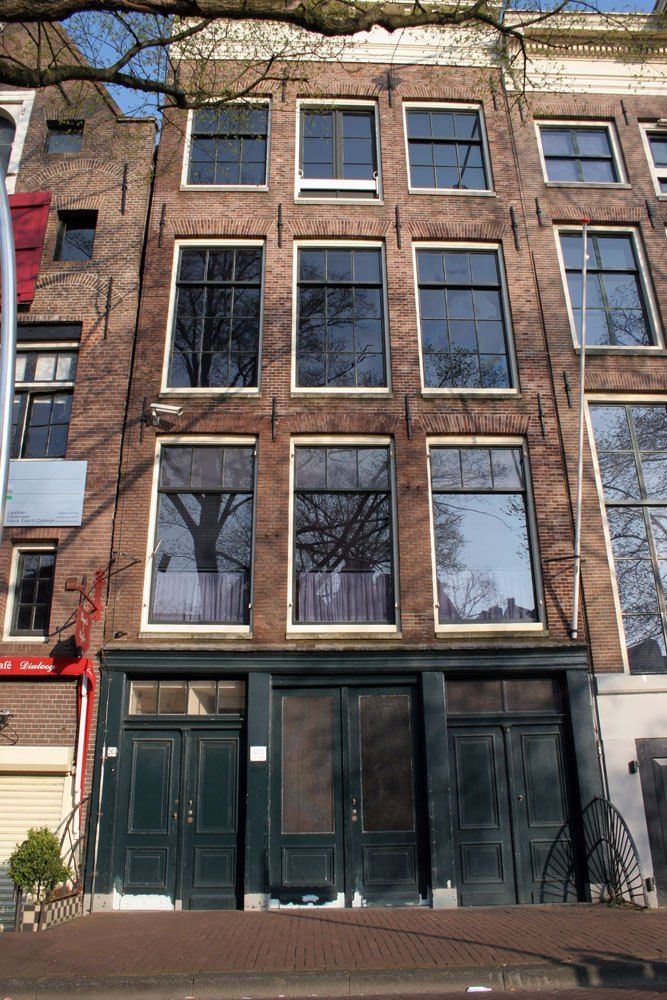 Anne Frank House | Two Days in Amsterdam Itinerary
Tickets can only be purchased online in advance. You will reserve a specific time slot, which eliminates waiting in line. 80% of tickets are released exactly 2 months in advance. The remaining 20% of tickets are released on the same day.
PRO TRAVEL TIP: Book your time slots two months in advance (this is when the tickets are released). For example, if you plan to visit the Anne Frank House on July 1, make your reservation May 1. There is such a high demand for these tickets that they sell out almost as soon as they are available.
Cost: €16, included on the Museumcard, not included with the I Amsterdam Card
Hours: Get updated hours on the official website
Website: Book your tickets in advance and check hours for your date of visit on the official Anne Frank House website.
If you want to learn more about Anne Frank and WWII in Amsterdam, this walking tour is led by an expert guide and includes the Jewish Cultural Quarter. Learn about the Dutch Resistance, anecdotes of Anne Frank's life, and important monuments in Amsterdam. It does not include admission into the Anne Frank House.
12 pm: The Jordaan Area and Lunch
Strolling the canals is one of the best things to do in Amsterdam. Spend the middle part of the day strolling through the Jordaan area of Amsterdam. Places to visit include Westerkerk and the Homomonument.
On this 3.5 hour walking tour of Jordaan, sample 13 different Dutch foods. Along the walk, you will also learn about Dutch traditions and see sites that most tourists never get to see. You also have the option to add on a canal cruise.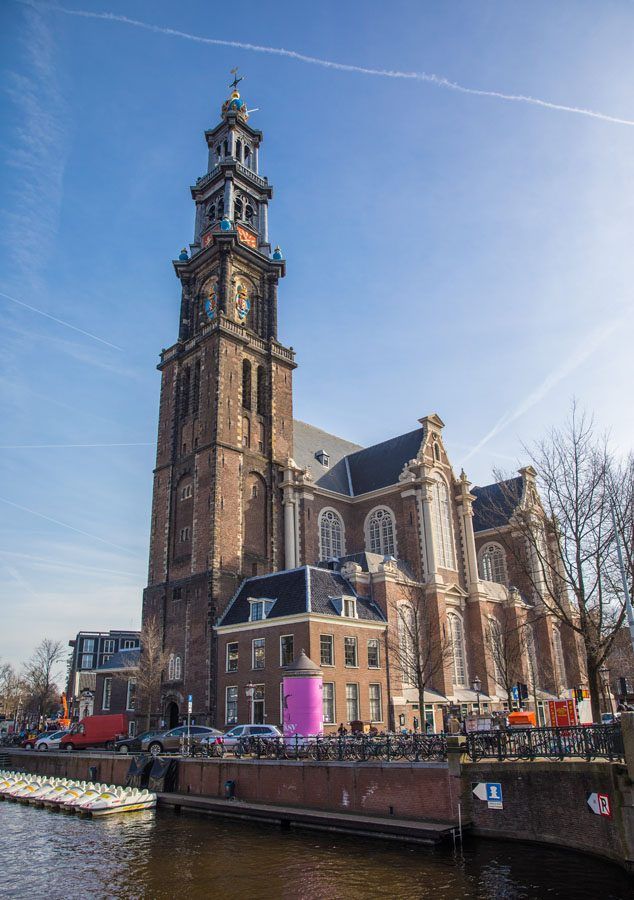 Westerkerk | Two Days in Amsterdam Itinerary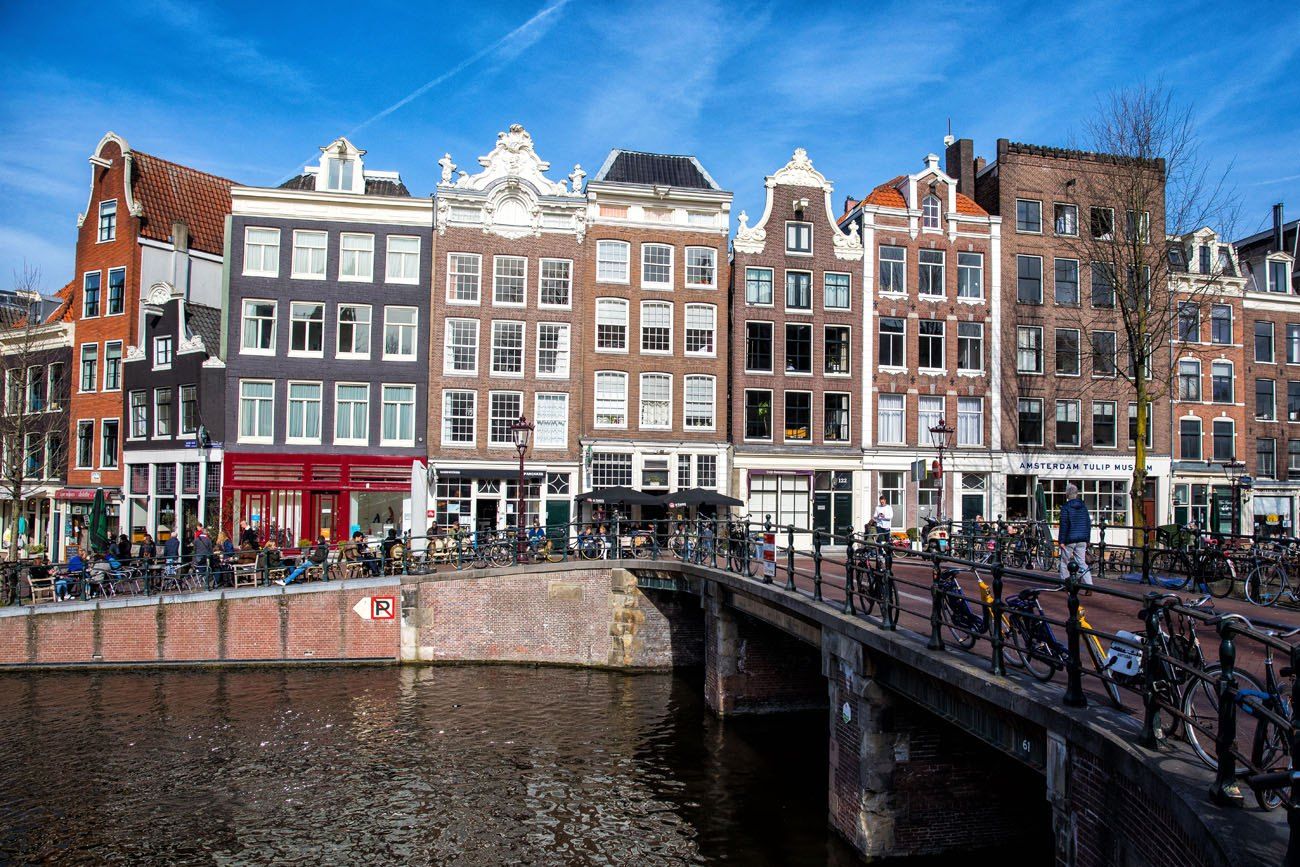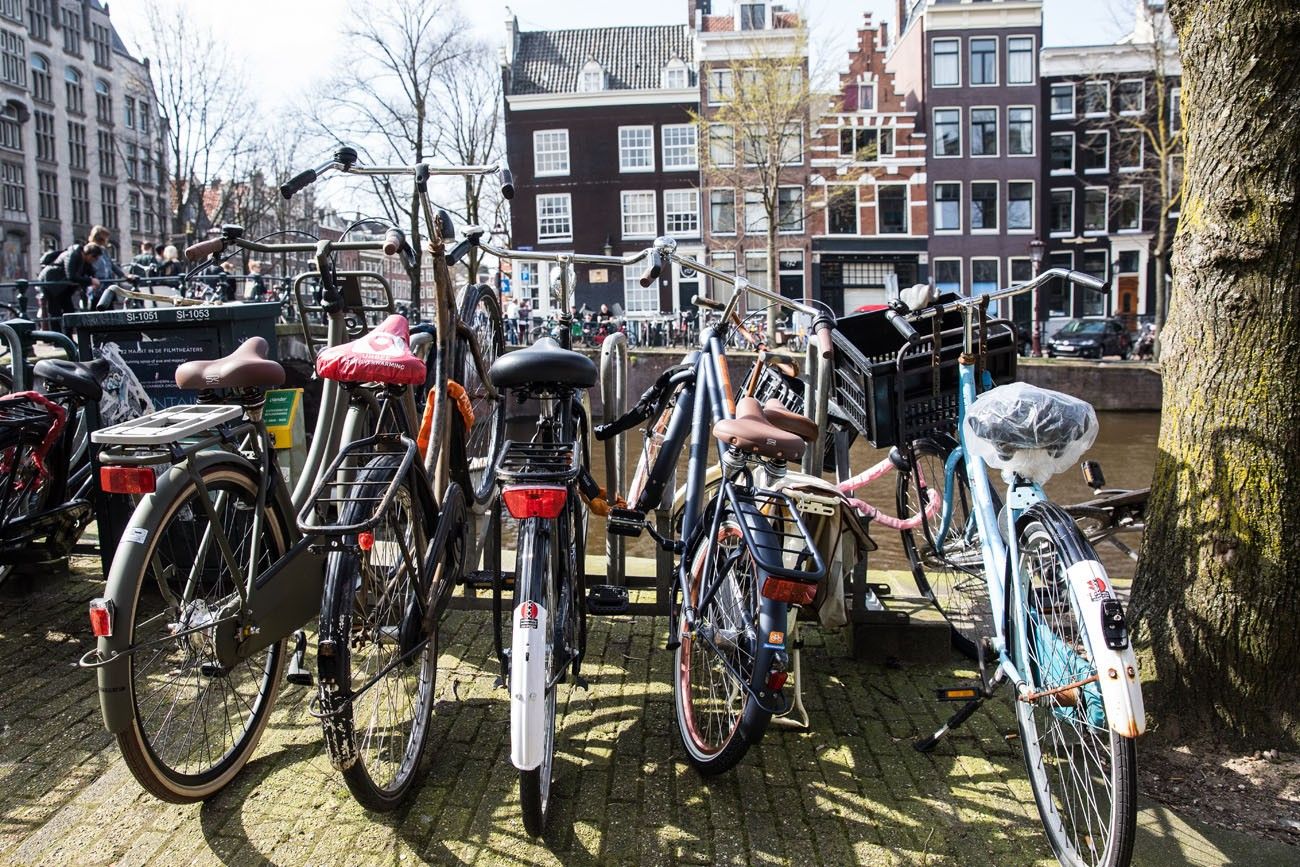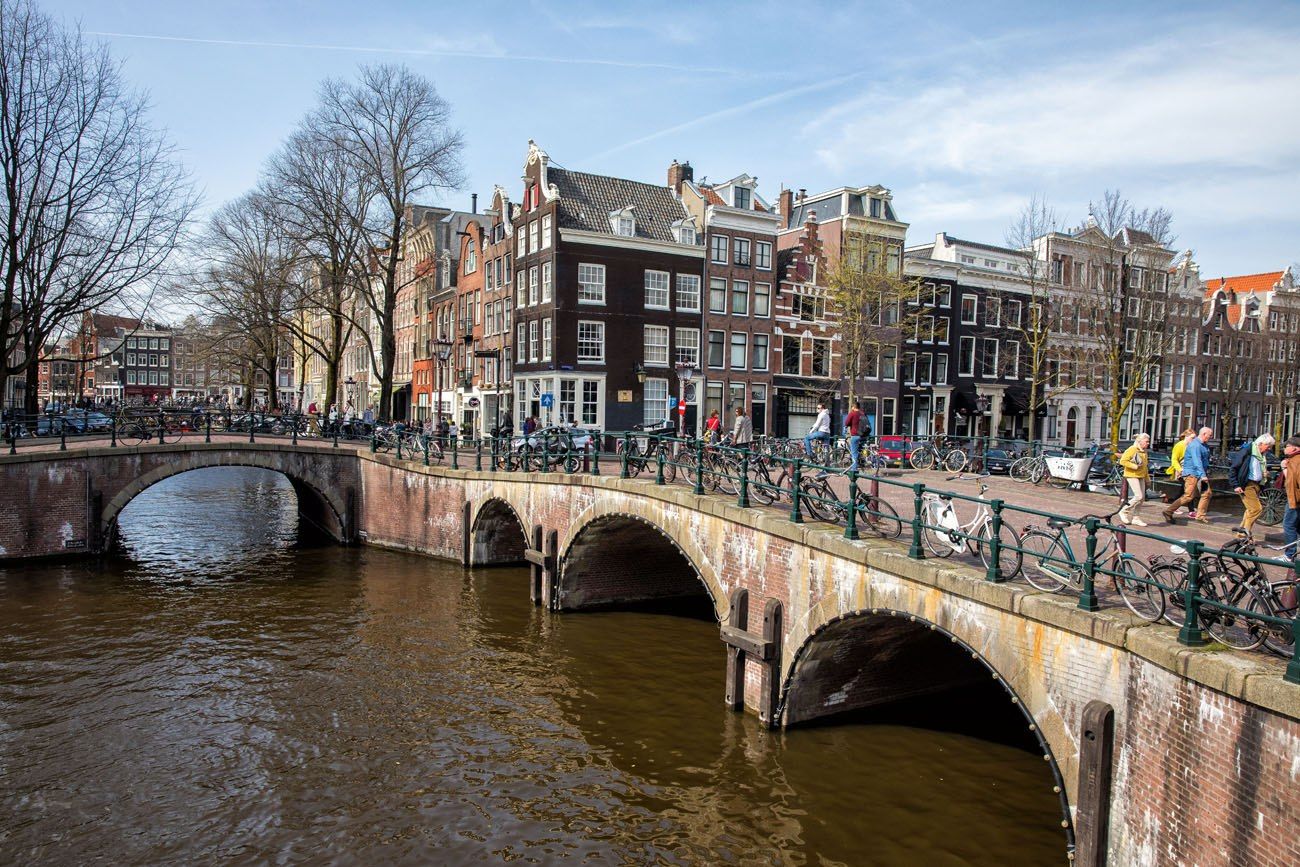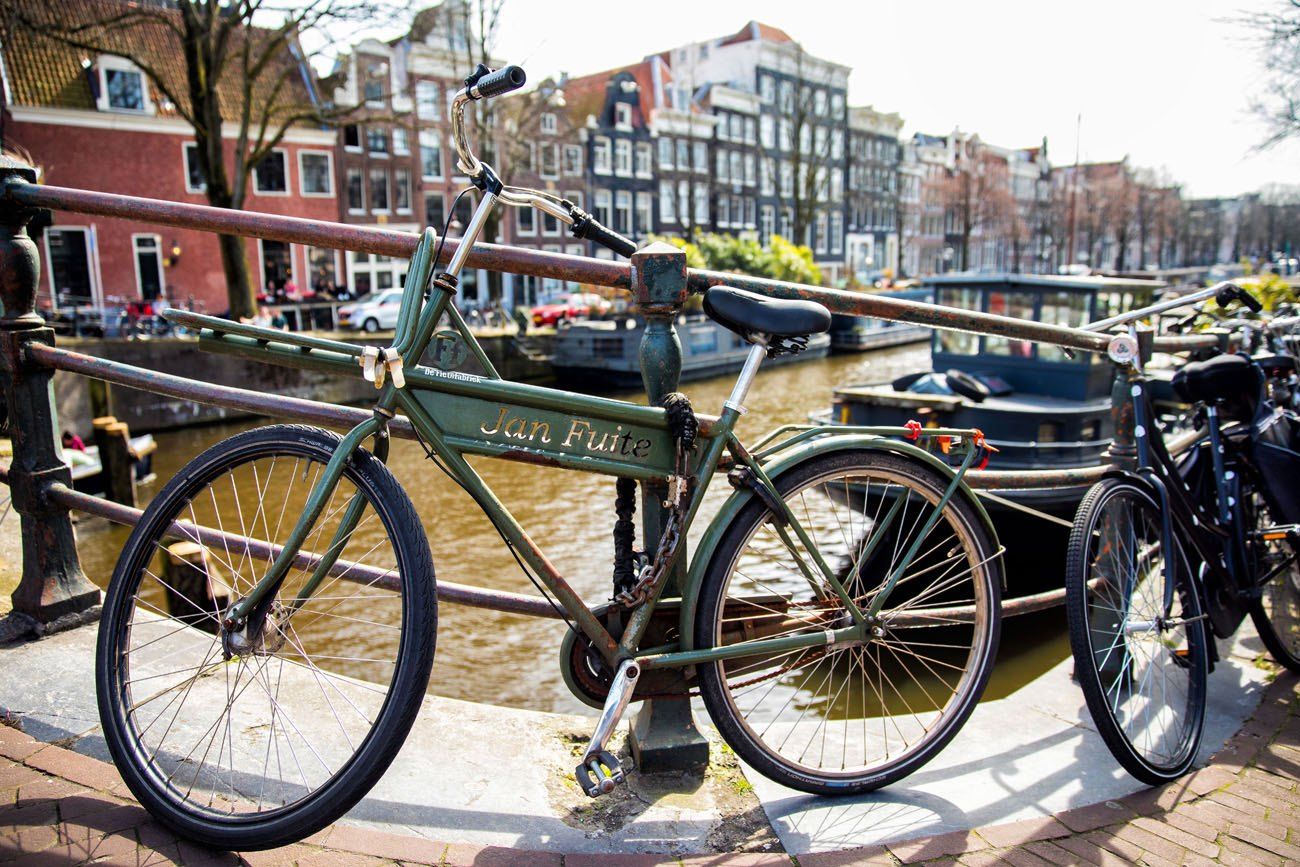 For lunch, we loved Piqniq. This small restaurant serves tiny gourmet sandwiches and soups, sort of like tapas for lunch. The food is delicious and the prices are very reasonable. This is a great restaurant to visit if you want quality food in Amsterdam without spending a fortune.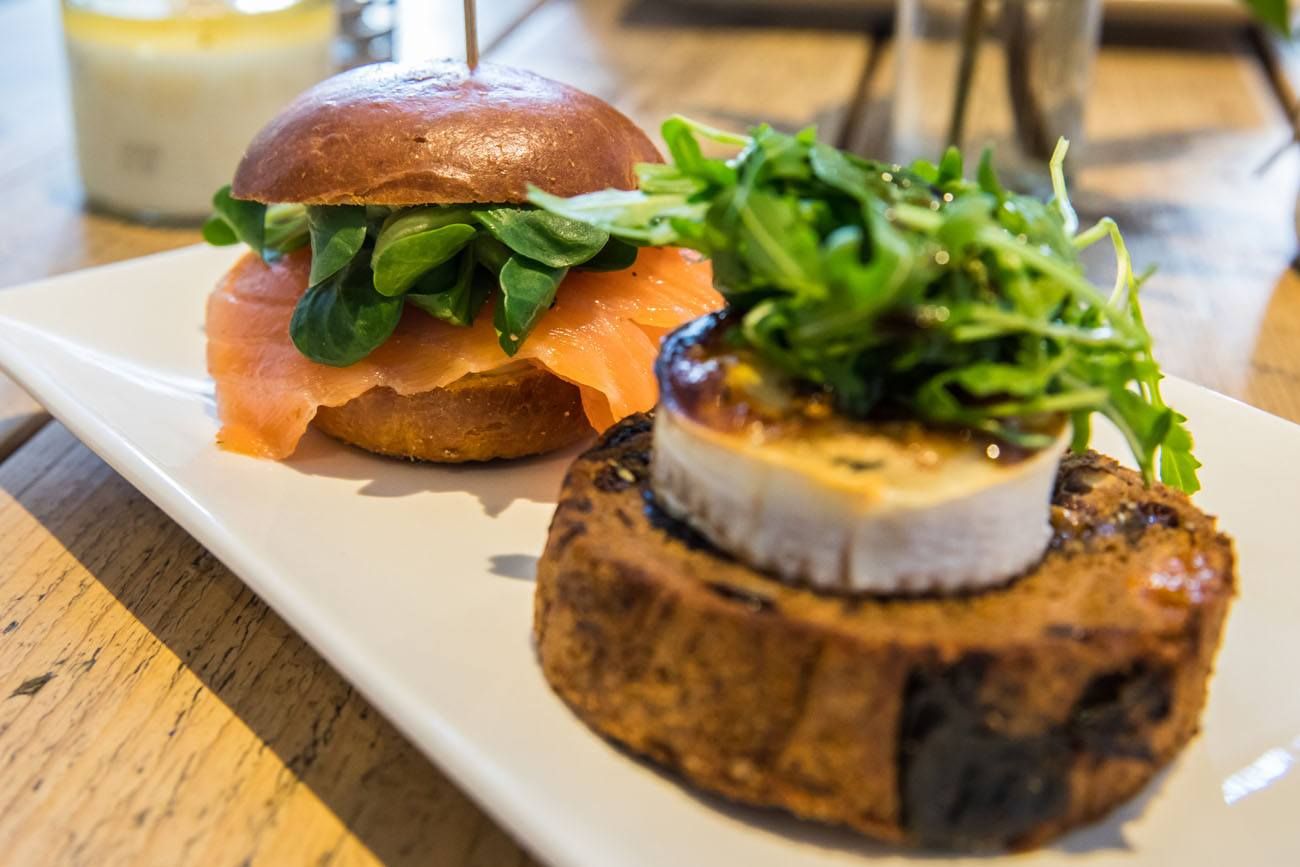 Lunch at Piqniq | Two Days in Amsterdam Itinerary
To get to our next stop (Our Lord in the Attic), walk across Amsterdam, past Central Station, in the direction of the De Wallen. To get from Piqniq to Our Lord in the Attic, it is a 17-minute walk.
3 pm: Museum Ons'Lieve Heer Op Solder
Say what? This museum, also called Our Lord in the Attic, is one of the best history lessons in Amsterdam.
This canal house, built in 1630, looks normal on the outside. But inside, on the top level, sits a secret Catholic Church. Catholicism was banned in Amsterdam during the 17th century, so people built small churches in their houses, hidden away from public view. This church is one of the largest and the best preserved of these schuilkerks.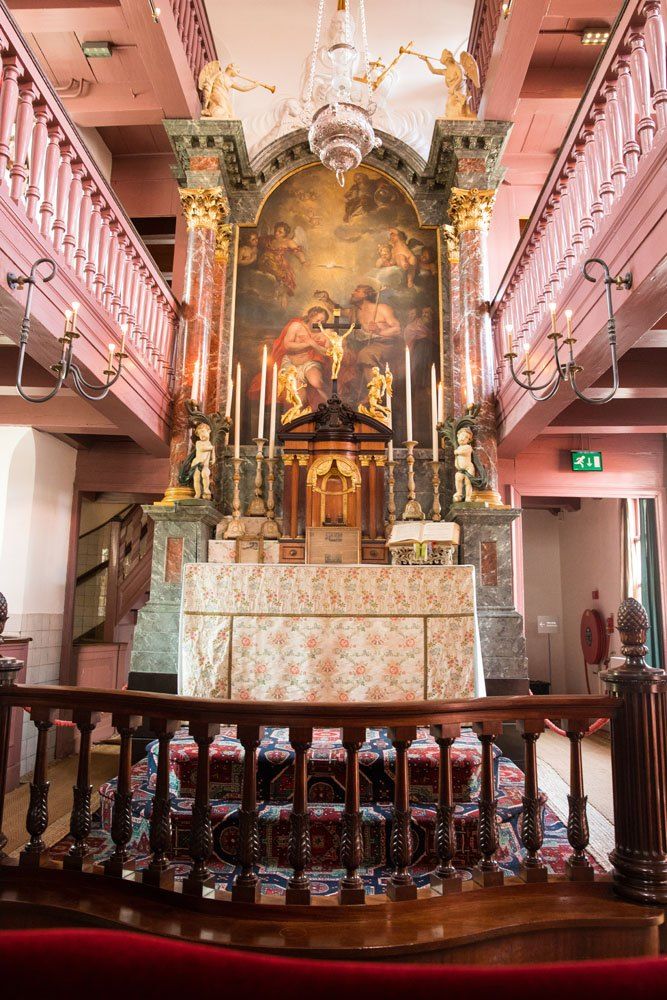 Our Lord in the Attic | Two Days in Amsterdam Itinerary
During the audio tour, you will get a fascinating history lesson about Amsterdam and the Netherlands, as you walk through the rooms of this 400 year old house. The tour ends with a visit to the spectacular church on the top floor.
I loved this museum. It's educational, thought provoking, and one of the most interesting history lessons in the city.
Cost: €16.50; included with the Museumkaart and I Amsterdam Card
Hours: Hours vary by day of the week
Website: www.opsolder.nl
4:30 pm: De Wallen
De Wallen is the home of Amsterdam's famous Red Light District.
This area also has some very picturesque canals and canal houses, so this is another spot in Amsterdam that is a delight to stroll on foot.
Very close to Our Lord in the Attic is Oude Kerk, Amsterdam's oldest building, consecrated in 1306. From here, make your way over to Dam Square.
5:00 pm Dam Square
Dam Square is crowded and touristy, but it is the main square of Amsterdam, so I think it is still worth a very quick visit. Just expect large crowds and beware of pickpockets.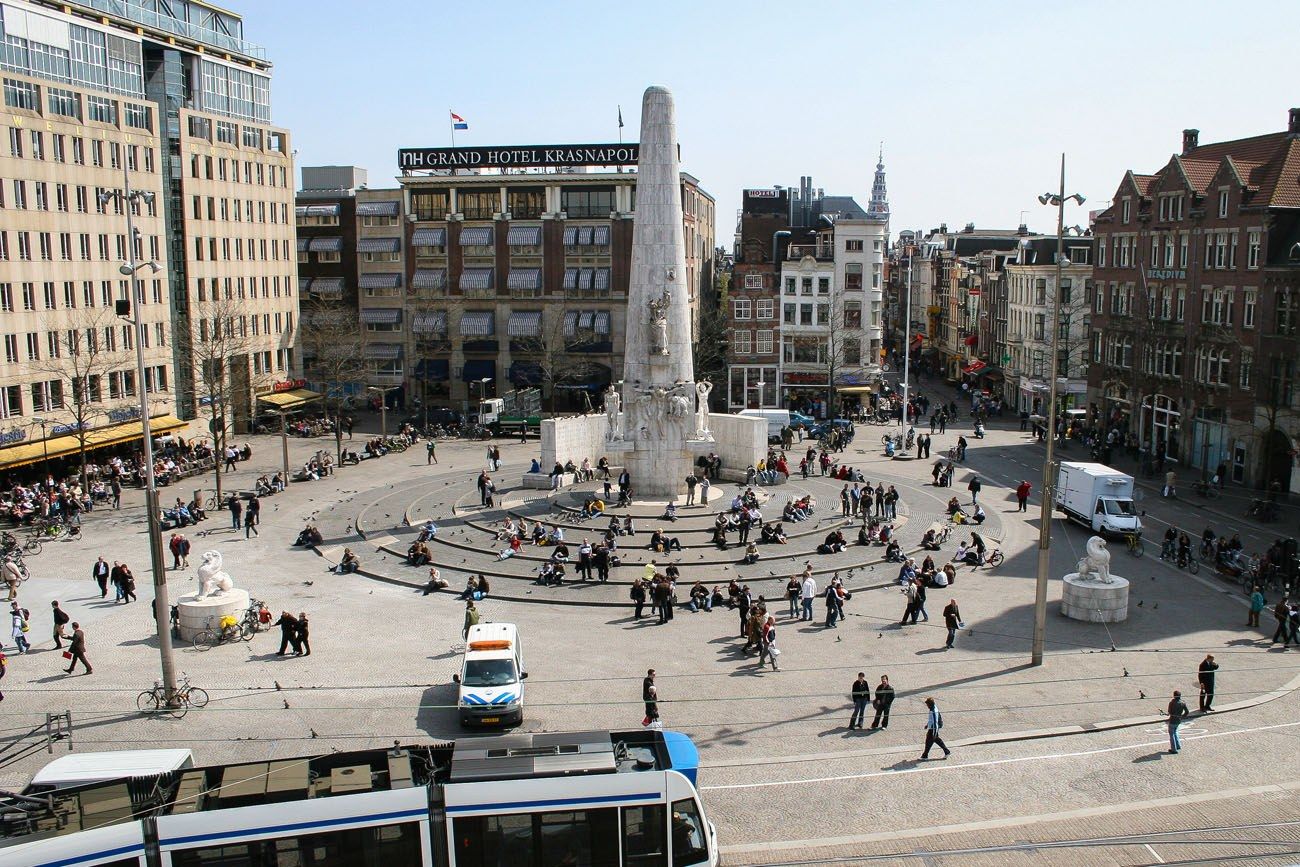 Dam Square | Two Days in Amsterdam Itinerary
Two notable buildings sit on Dam Square. Nieuwe Kerk (New Church), dates back to 1409 and sits right on Dam Square. The Royal Palace is also located on Dam Square. It was built to be a town hall but was later converted to a palace for King Louis I.
Just down the street from Dam Square is the Buerspassage. The walls, the ceiling, and the floors of this passageway are a piece of artwork titled Amsterdam Oersoep by artists Arno and Iris.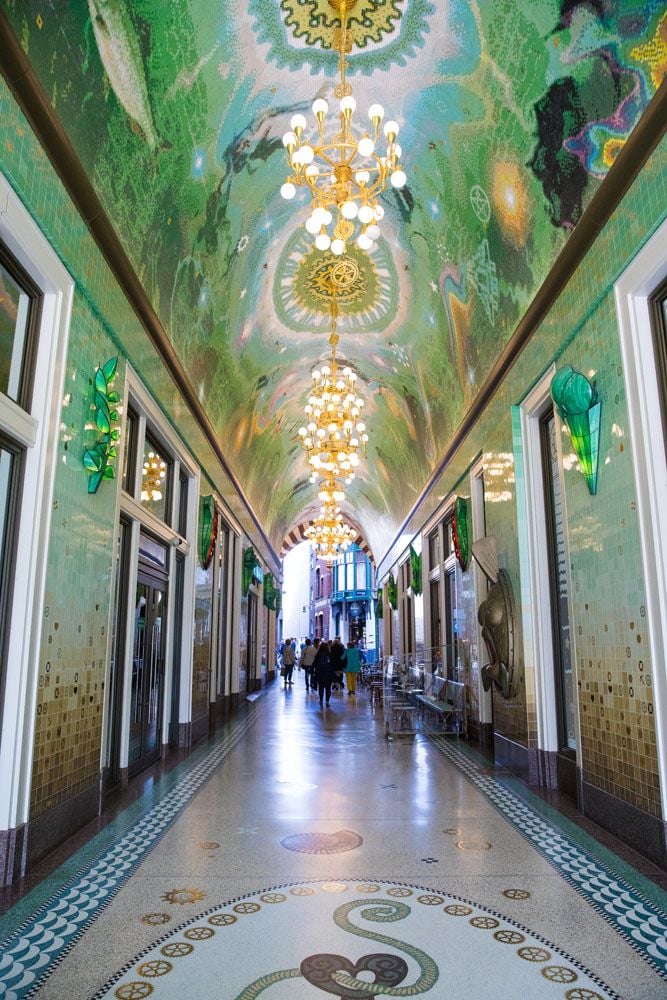 Buerspassage | Two Days in Amsterdam Itinerary
5:30 pm More of Amsterdam or Go to Haarlem
For the rest of the day you are free to explore more of Amsterdam. Rent bikes and explore the city, or consider making a quick trip to Haarlem for dinner and drinks.
If you are looking for a thrill, or just want a panoramic view over Amsterdam, visit the A'Dam Lookout Tower. The Skydeck offers 360° views of the city. Even more thrilling are the swings. Yes, you can swing out over the edge of the tower. To get here, take the ferry from Centraal Station to the tower (it's only a 2 minute ride on the ferry and the ferry runs all day). Click here to learn more on the official website.
Haarlem is just 15 minutes from Amsterdam by train. You won't have enough time to really explore Haarlem, but you can sit in the main square in town, have a drink at a café, and have dinner.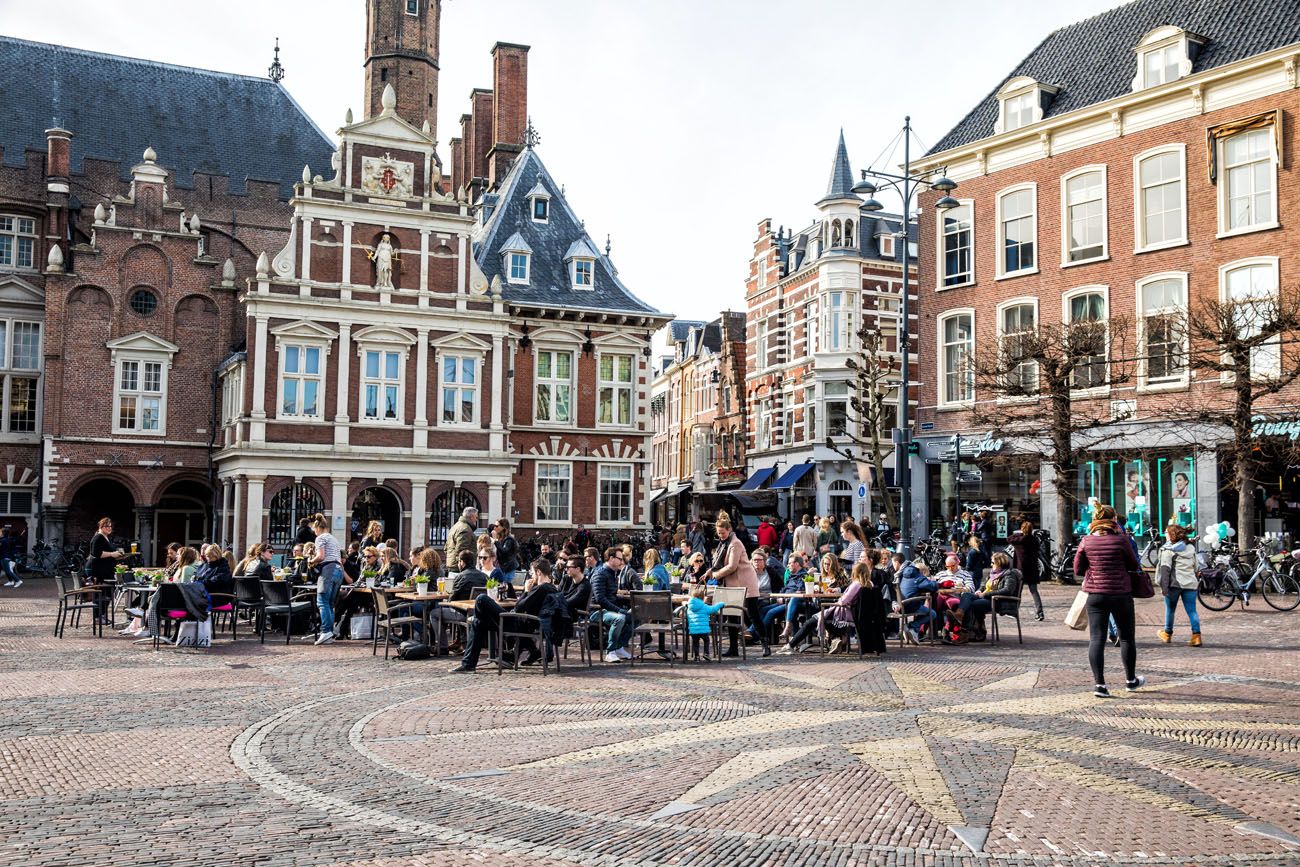 Haarlem | Two Days in Amsterdam Itinerary
Haarlem is awesome. The main square is beautiful, and on a nice warm day this is the perfect spot to just plop yourself down in an outdoor café, have a drink and enjoy the view.
For dinner we ate at the Wolfhound Irish Bar & Kitchen and it tasted like we were back in Ireland.
Getting to Haarlem: From Central Station in Amsterdam, you can take a 15-minute train to Haarlem. Trains leave approximately every 10 minutes and cost €5.60 one-way.
Amsterdam Itinerary: Places to Go
How to Use This Map: Click the tab in the top left hand corner of the map to view the layers. You can click the check marks to hide or show layers. If you click the icons on the map, you can get more information about each point of interest.

If you click the star, this map will be added to your Google Maps account. To view it on your phone or computer, open Google Maps, click the menu button, go to "Your Places," click Maps, and you will see this map on your list.
What About Keukenhof?
In April and May, Keukenhof is a wonderland of flowering daffodils, tulips, and hyacinths. It is gorgeous and well worth the visit if you plan to be in Amsterdam during these two months.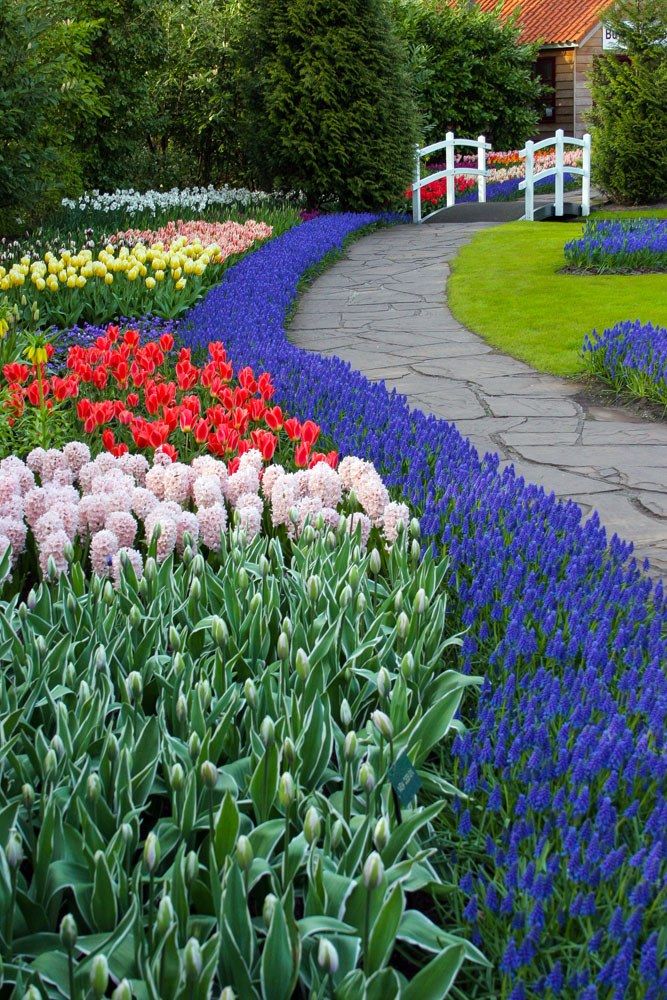 Keukenhof in April | Two Days in Amsterdam Itinerary
With two days in Amsterdam, you have enough time to visit Keukenhof and the best of the city. On day 1, after your visit to the Van Gogh Museum, skip Vondelpark and the Bloemenmarkt and make the trip out to Keukenhof. It just may be one of your favorite experiences in Amsterdam.
In 2023, the park is open from March 23 through May 14. Tickets cost €19 for an adult and €9 for children ages 4 to 17.
To get to Keukenhof, take the bus to Schiphol Airport. Bus 397 stops at Museumplein and the Rijksmuseum and takes you to Schiphol Airport. From the airport, take bus 858, the Keukenhof Express, to Keukenhof.
PRO TRAVEL TIP: Purchase the Combi Ticket, which includes your transportation to and from Amsterdam, as well as your entrance fee into Keukenhof. Since this includes your Keukenhof entrance ticket, you will not have to queue for tickets at Keukenhof. Visit the Keukenhof website for more details.
Tours to Keukenhof
Here are tours to Keukenhof from Amsterdam. These make good options if you want to take the hassle out of arranging your transportation and/or if you like the idea of taking a guided tour of Keukenhof.
Should You Purchase the Museumcard or I Amsterdam Card?
The Museumcard (Museumkaart)
The Museumcard is a card that gives you free entrance into 400 museums in the Netherlands. For Dutch residents only, the card is valid for one year. For tourists, it is valid for 31 days and can be purchased at a handful of museums.
The Museumcard costs €64.90. On this itinerary, the 4 museums you will visit in Amsterdam cost a total of €75.
If you also have plans to visit Utrecht, The Hague, Rotterdam, or other cities in the Netherlands, this card may be worth the money. The Museumcard covers entrance to other popular museums in cities other than Amsterdam so this card may save you money.
If you plan on purchasing the Museumcard, you can buy it at your first museum, which is the Rijksmuseum on this Amsterdam itinerary.
I Amsterdam Card
The I Amsterdam Card covers your entrance fees into most museums in Amsterdam, a free canal cruise, and unlimited transportation on public transportation (but not to Schiphol Airport). It comes with a hefty price tag of €85 for 48 hours (€60 for 24 hours) and does not include the €10 to visit the Anne Frank House. On this itinerary, the I Amsterdam Card is overpriced for what you will do.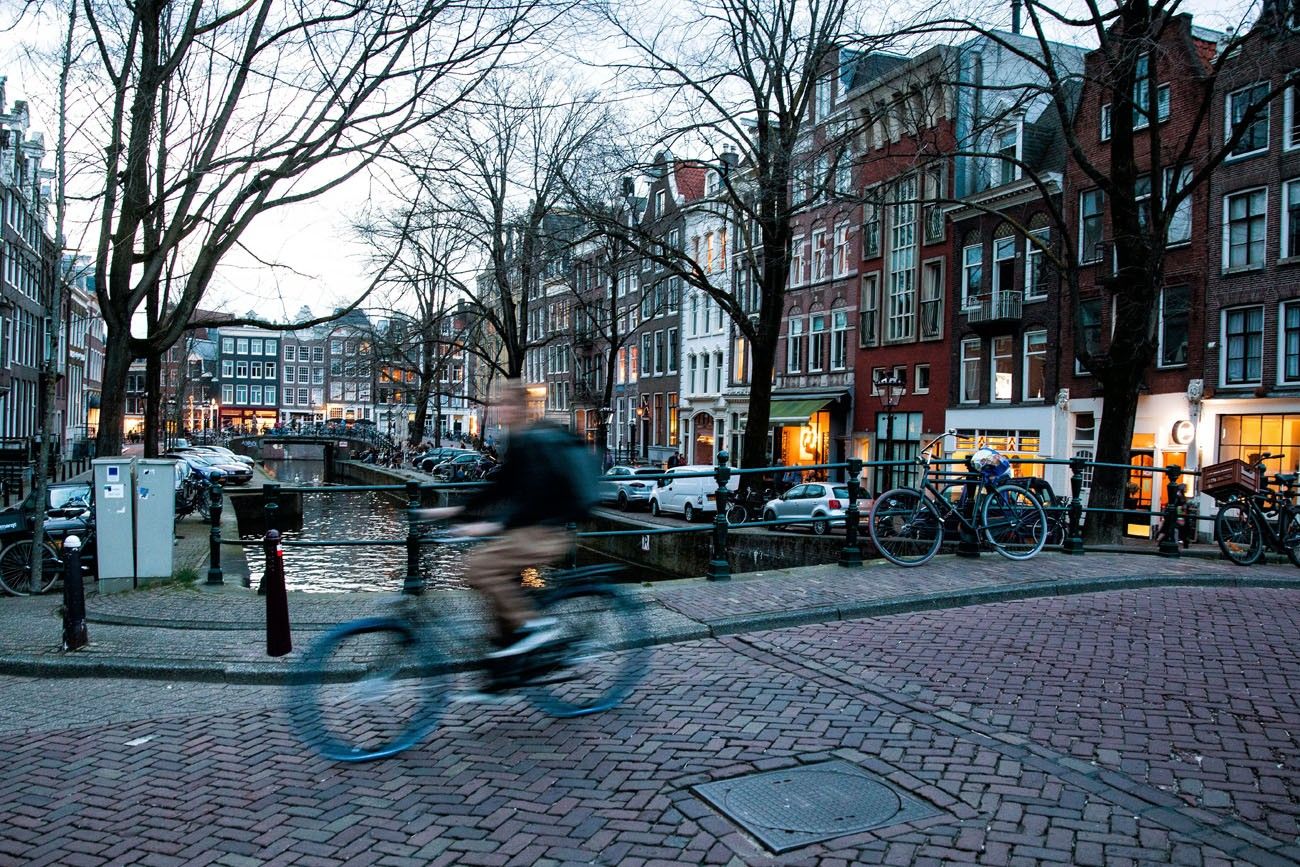 Getting Around Amsterdam
One of the best ways to get around Amsterdam is on your own two feet. However, you can also take advantage of the trams and the metro to save some steps.
A GVB ticket covers unlimited transportation on buses, trams, and the metro during its period of validity. Single tickets, valid for one hour, cost €3.40. You can also purchase multi-day tickets, which are more economical and save you the hassle of visiting the ticket machines whenever you want to take the tram, bus, or metro. Once you activate the ticket (use it for the first time) the period of validity begins.
24 hours: €18

48 hours:

€24
72 hours: €30
You can purchase the single and multi-day tickets at GVB service points, in metro stations and at tram stops. You can also purchase it in advance through GetYourGuide. Once in Amsterdam, you will take your voucher to a service point in the city to pick up your chip card.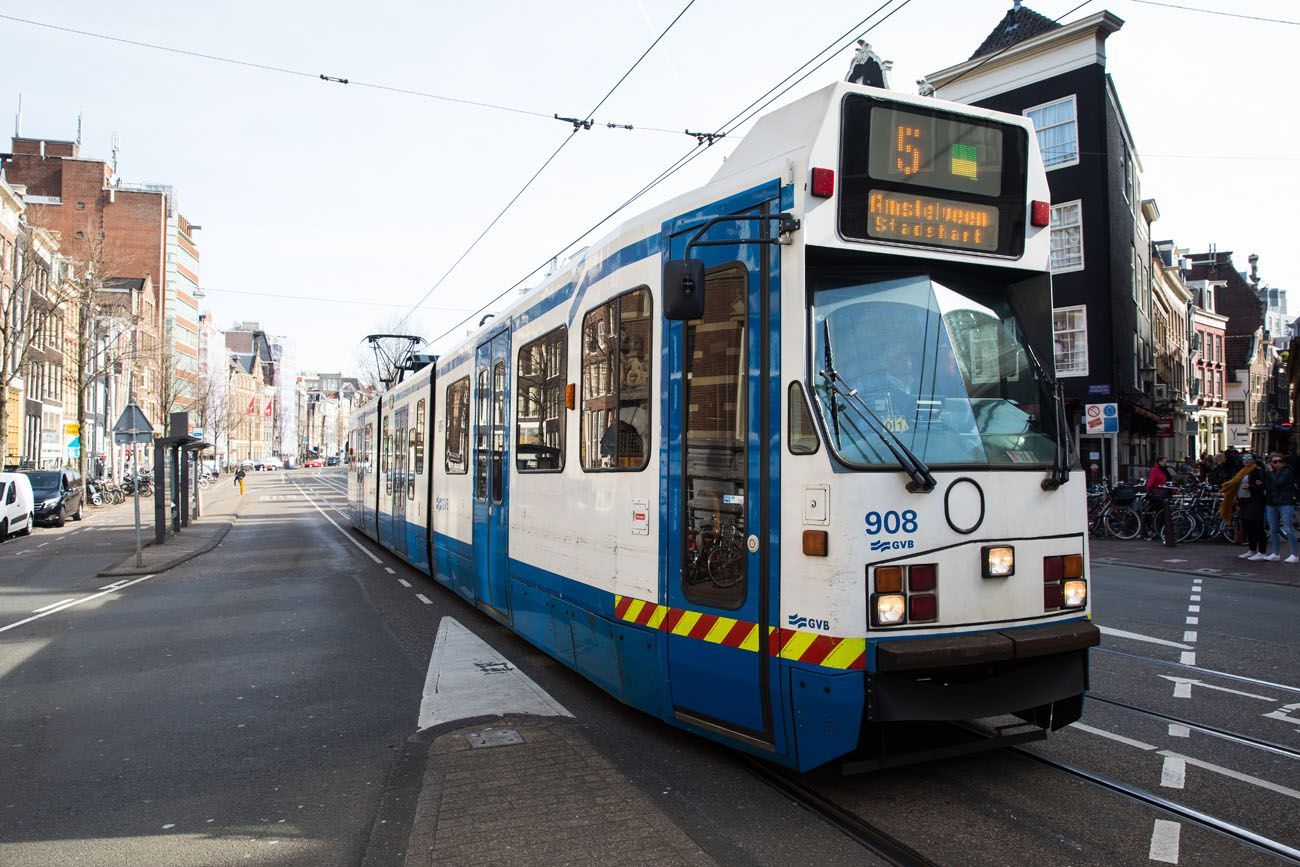 Amsterdam tram | Two Days in Amsterdam Itinerary
For this Amsterdam itinerary, we recommend purchasing the 48-hour ticket. If you also need to use public transportation to get to your hotel when you arrive or depart Amsterdam, consider purchasing the 72-hour ticket or simply purchasing additional single tickets as you need them.
You can also get around Amsterdam by bicycle. Hotels and small shops throughout the city rent bikes by the hour or by the day. MacBike is one of the top shops in Amsterdam that rents bicycles. It's a great to do if you just want to have fun for an hour, or you can use the bike as your mode of transportation during your entire visit to Amsterdam.
Best Time to Go to Amsterdam
If you want to see the bulbs in bloom, visit Amsterdam in April and early May. The prime blooming season varies year to year, depending on the weather. However, the end of April is a fairly reliable time to visit if you want to see Keukenhof and Amsterdam carpeted in spring blooms.
April through June is one of the busiest times to visit Amsterdam, so expect larger crowds and larger prices during these months.
The summer months can also be quite busy. October is a gorgeous time to visit Amsterdam, with fall colors and cool nights.
During the winter months, the crowds fade away. It's chilly in Amsterdam but very cold temperatures are rare.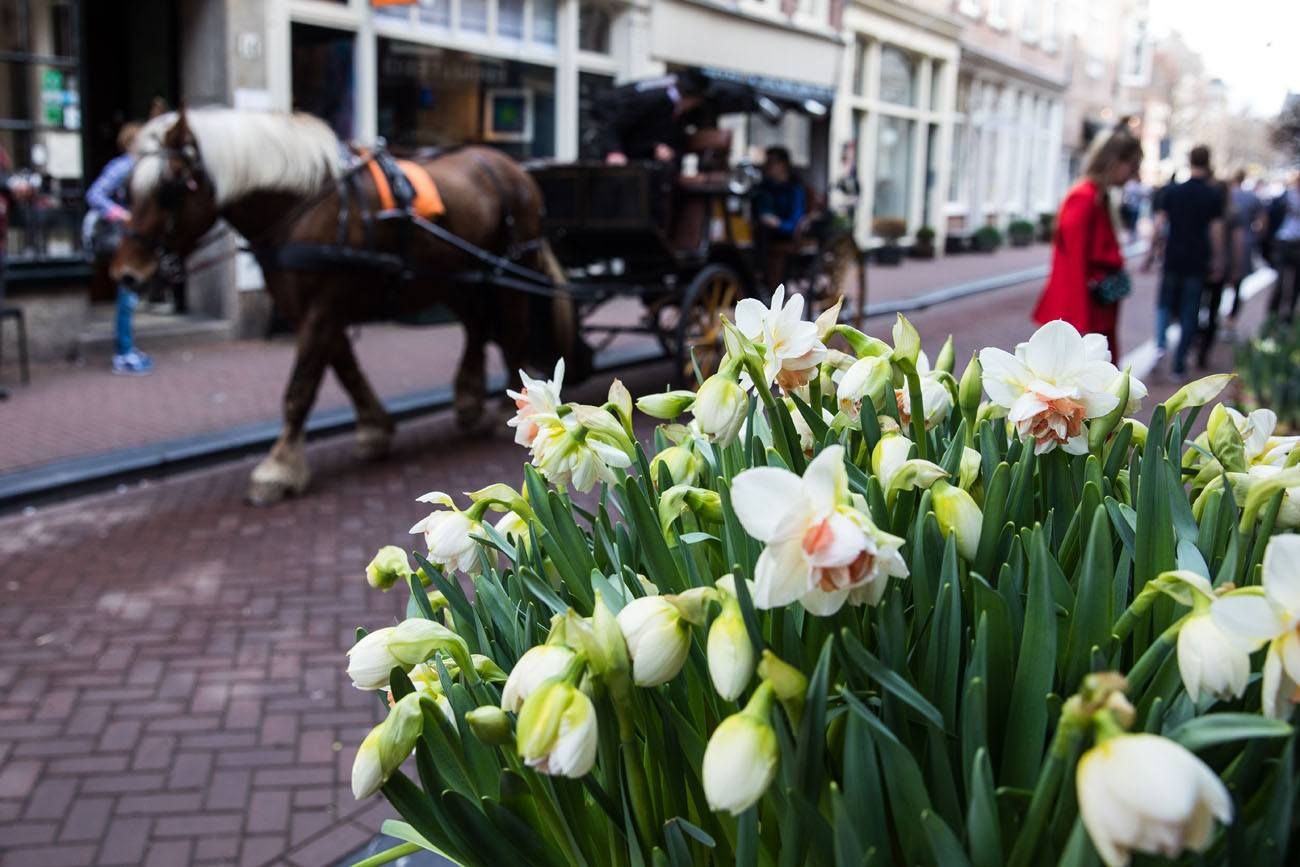 Where to Stay in Amsterdam
The best area to stay is in Jordaan and along the canal ring. This is our favorite area of Amsterdam and being on the canals at night is magical.
Luxury: The Dylan. Modern, trendy, luxurious, this hotel is located on Keizersgracht, within walking distance of the Anne Frank House. This hotel is also home to Vinkeles, a Michelin-starred restaurant we recommend for dinner.
Mid-Range: The 't Hotel. This is where we stayed on our first visit to Amsterdam. The 't Hotel has a perfect location, right on a quiet canal and within walking distance of the main sites in Amsterdam. Since our visit in 2008, the hotel has been renovated (and prices have gone up). The family room is the penthouse of the hotel with a loft for the kids.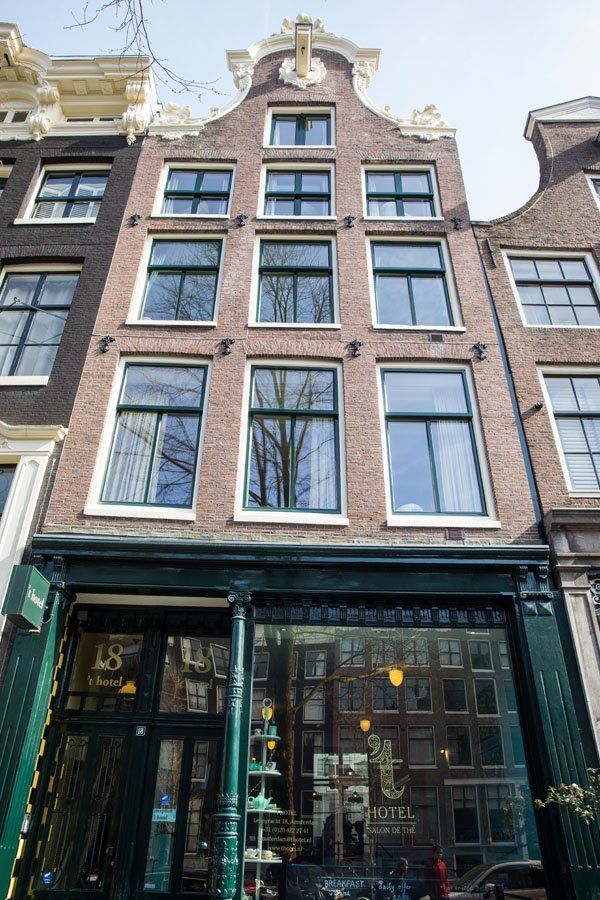 't Hotel | Two Days in Amsterdam Itinerary
Mid-Range: Crowne Plaza South. If you are looking for a clean, comfortable and quiet place to stay and don't want to spend a fortune (or most places are already reserved when you start your hotel search) consider staying a bit outside of the city. On our most recent visit to Amsterdam, we stayed here at the Crowne Plaza. It's a great hotel and we had a great stay, without any complaints. It took us 15 minutes by metro to get into town but we saved a lot of money by staying outside of the heart of Amsterdam.
Budget: Amsterdam Wiechmann Hotel. This hotel has an excellent location in Jordaan right on Prinsengracht canal. There are a wide range of room types, from single rooms to family suites. Some rooms offer a canal view.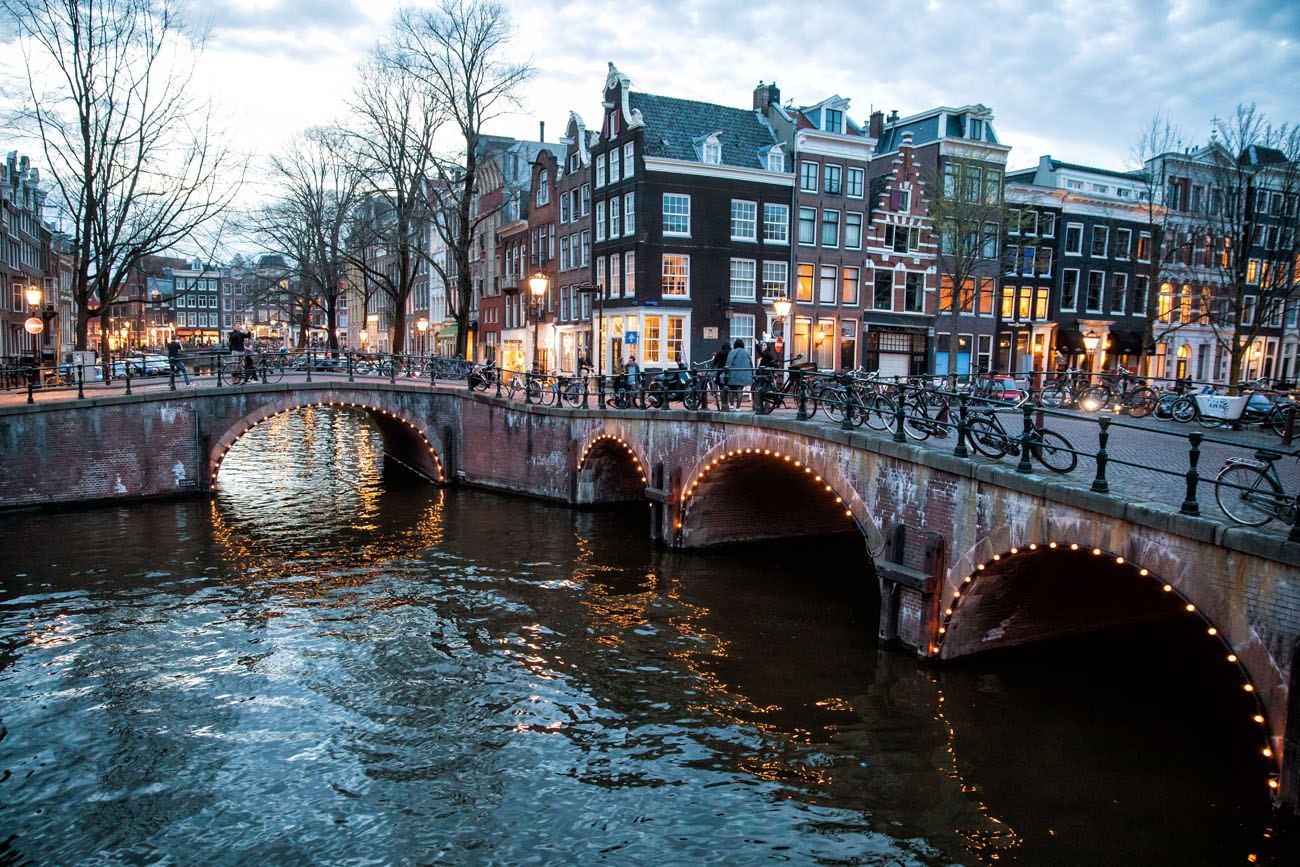 The canals at sunset | Two Days in Amsterdam Itinerary
Recommended Reading
Consider reading A Diary of Anne Frank before your visit to Amsterdam. It puts a lot of what you will see in and around the Anne Frank House into perspective.
---
Are you planning a trip to Amsterdam and the Netherlands? Comment below if you have any questions about this Amsterdam itinerary or how to spend two days in Amsterdam.
More Information for Your Trip to Amsterdam
NETHERLANDS: Learn about the best things to do in Amsterdam. We also have a guide on Where to Stay in Amsterdam and how to visit Haarlem, Utrecht, and The Hague.
ITINERARY IDEAS: With 10 days, you can put together a trip to London, Amsterdam and Paris or a trip to Amsterdam, Brussels, and Paris.
PARIS: For the top experiences in the city, read our article Best Things to Do in Paris. Learn how to visit Pere LeChaise Cemetery, plan your time with our 3 Day Paris Itinerary, learn where to get the best views of Paris, and read our Paris Food Guide for information on what to eat in Paris.
BELGIUM: Don't miss our guide on how to take a self-guided chocolate tour of Brussels that also includes the top sights in town. We also have a article about how to day trip to Bruges and Ghent.
EUROPE TRAVEL INSPIRATION: Get more travel ideas in our article 10 Days in Europe itinerary, which has 10 itineraries for your next trip to Europe. If you have less time, we also have an article that lists 25 different ways to spend one week in Europe.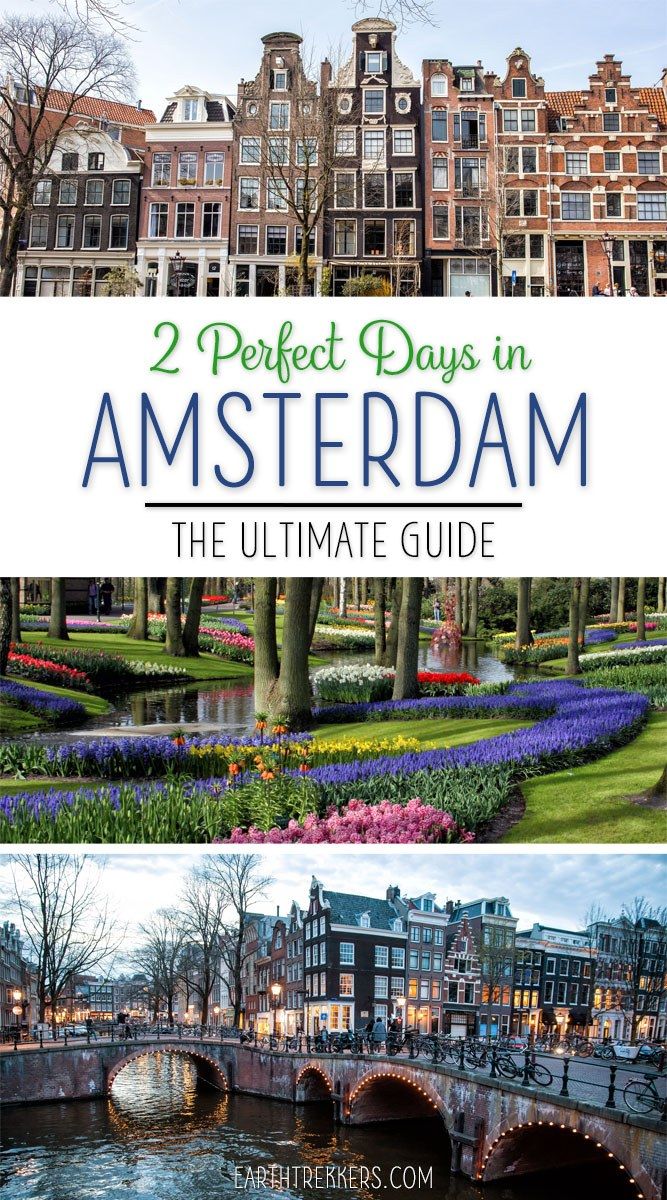 Note: This post contains affiliate links. When you make a purchase using one of these affiliate links, we get paid a small commission at no extra cost to you.
All rights reserved © Earth Trekkers. Republishing this article and/or any of its contents (text, photography, etc.), in whole or in part, is strictly prohibited.